2-in-1 laptops use a revolutionary concept that blends traditional computing with the power of touch. Over the past decade, smartphones and tablets have dominated the markets, and it's no surprise that one of the biggest trends in computers are "crossovers" that function both as a tablet and a laptop. 2-in-1 laptops combine performance with style allowing businesses, designers, students, gamers, and casual users to enjoy the next generation of computers.
Best 2 in 1 Hybrid Laptops – Comparison Table
Image
Product name
Features/Specs
Rating
The Microsoft Surface Pro 7 Bundle
10th Generation Intel Core i7 (10th Gen) 1065G7 / 1.3 GHz

16GB of RAM, 512GB SSD Storage, 10.5 Hour Battery Life

12.3 Inch (2736 x 1824 Resolution) 10-point multi-touch Display
4.4 out of 5
Buy On Amazon


The Acer Chromebook
11.6-Inch HD Touch,

Intel Celeron N3150, 4GB DDR3L, 32GB, CB5-132T-C1LK,

Denim White
4.5 out of 5
Buy On Amazon


Microsoft Surface Book 3
10th Gen Intel Core i7

32GB Memory

512GB SSD (Latest Model)
4.4 out of 5
Buy On Amazon


Lenovo Chromebook C330 2-in-1 Convertible Laptop
11.6-Inch HD (1366 x 768) IPS Display,

MediaTek MT8173C Processor,

4GB LPDDR3, 64 GB eMMC,
4.5 out of 5
Buy On Amazon


Premium Dell Inspiron 7000
7th Intel Core i7-7500U,

12GB DDR4 RAM, 256GB SSD,

Backlit Keyboard, Bluetooth
3.9 out of 5
Buy On Amazon


HP EliteBook x360 1040 G6 Multi-Touch 2-in-1 Laptop
1.6 GHz Intel Core i5 Quad-Core

Max Turbo Frequency3.90 GHz; Windows 10 Pro 64-Bit

16GB DDR4 RAM | 256GB PCIe M.2 SSD
4 out of 5
Buy On Amazon


The Lenovo IdeaPad Miix 320
Perfect budget laptop

Features ten hours of battery life

Intel's Atom processor
4.1 out of 5
Buy On Amazon


HP X360 Elite Book
1.6 GHz Intel Core i5 Quad-Core

Max Turbo Frequency3.90 GHz; Windows 10 Pro 64-Bit

16GB DDR4 RAM | 256GB PCIe M.2 SSD
4 out of 5
Buy On Amazon


ASUS T102HA-C4-GR Transformer Mini
Intel Quad-Core Cherry Trail x5-Z8500 1.44GHz

Touchscreen, smooth multitasking

10" IPS WXGA (1280x800), detachable tablet
3.3 out of 5
Buy On Amazon


Samsung XE5 Chromebook Pro
4GB RAM, 64GB eMMC,

13MP Camera,

Chrome OS
4.4 out of 5
Buy On Amazon


Check out My Ten Best 2-in-1 Hybrid Laptop Reviews
Currently, the 2-in-1 laptop market is filled with excellent options. Here are ten of the greatest 2-in-1 laptops available today.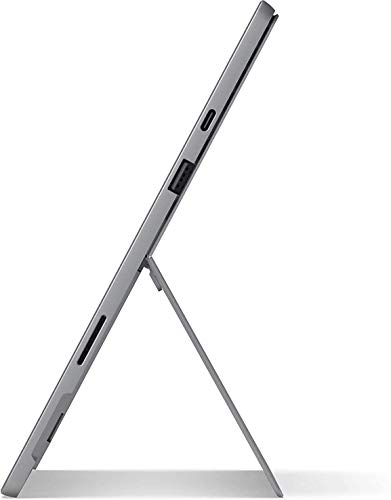 The Microsoft Surface Pro 7 brings all the best of Windows into a powerful 2-in-1. While the keyboard and the pen is normally sold separately, the Surface Pro 7 bundle has it all with it. It is specifically designed to give you everything you need in life.
The laptop comes with 2736 x 1824 resolution, and it weighs under two pounds. The screen size is 12.3″, and the battery life lasts over thirteen hours during video playback.
The performance level and price of this 2-in-1 varies with the selection you opt for. The laptop ranges from the Core M Series with 4GB of RAM all the way to the i7 Series with 16GB of RAM.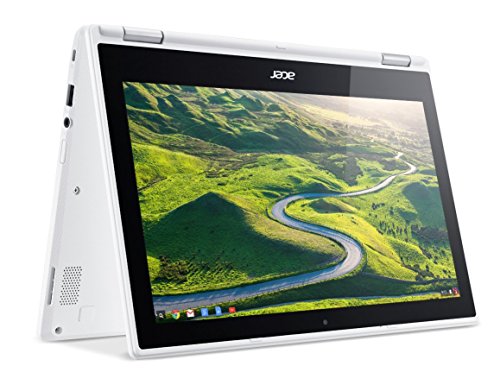 The Acer Chromebook is a hinged laptop that flips around to become a tablet. The 2-in-1 features 4GB of RAM and with the Intel Celeron Quad Core Processor. The budget friendly laptop has a 1366 x 768 resolution, and it's run on the Chrome operating system. It's an excellent choice for anyone that's looking for a 2-in-1 that can stream online and run productivity software on a low budget.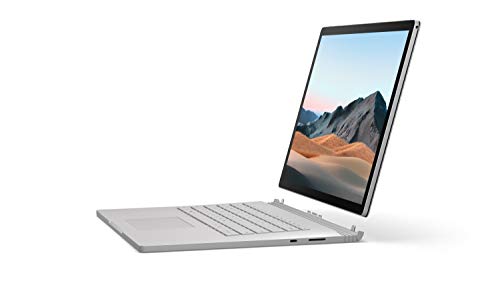 The Microsoft Surface Book is the first laptop that Microsoft has ever released, and it took years to design. The Microsoft Surface Book 3 is the latest in this edition of superb 2 in 1 hybrid laptops. This sleek and revolutionary 2-in-1 laptop features slick detachable monitor that looks and feels like a tablet. The laptop also features a pen that has thousands of pressure points. The resolution of the screen is 3000 x 2000, which makes the screen a higher quality than full HD. The notebook comes with either i5 or i7 processors and can feature up to 16GB of RAM. The Surface Book can do anything, and it's pen is a delight to use.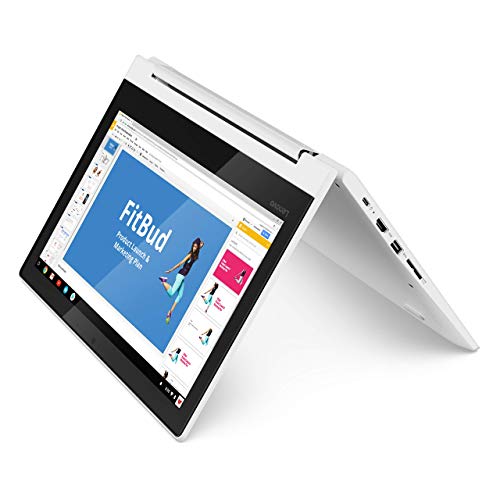 Check out this Chromebook from Lenovo! Like other Chromebooks, this device takes advantage of the powerful ChromeOS operating system. Built with connectivity in mind, it's a streamlined experience that provides quick and easy access to all of your favorite apps and services.
The best part of this Chromebook is the 2-in-1 design. At face value, it looks like your average laptop with a contemporary design. But when you flip the screen back, it converts into a responsive tablet. The 10-point touch screen IPS display is perfect for everything from graphic design to gameplay.
Overall, the Chromebook is one of the most versatile out there. Use it on your lap, in your arms on the go, or propped up like a tent. The choice is yours!
Key Features:
Utilizes ChromeOS
Convertible design
Sleek white shell
Responsive touch screen display
Built-in virus protection
Technical Specs:
11.6-inch touch screen
4 GB RAM
USB-C, USB 3.0, and SD ports
64 GB eMMC memory
Up to 10 hours of battery life
It weighs 2.6 pounds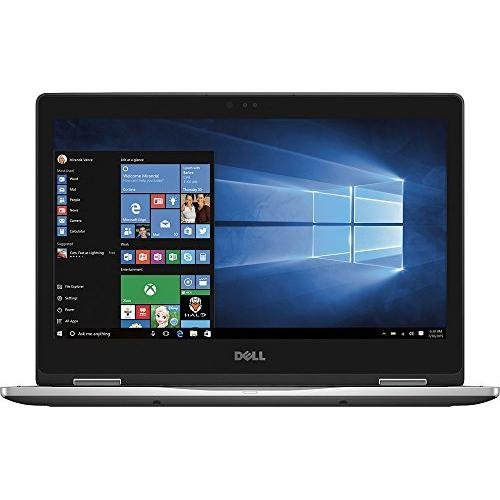 The Dell Inspiron 7000 is a hinged 2-in-1 laptop that features an i5 processor and 8GB of RAM. The monitor features a full HD display, and the laptop runs on Windows 10. The computer offers a battery life of up to six hours, which means that it's a good idea to always have a charger on hand. This laptop can be used to play most games sufficiently and runs most software without a problem.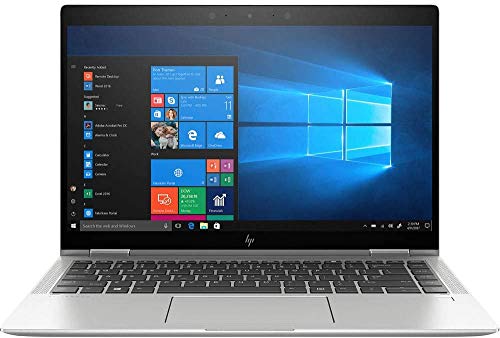 Here's another versatile laptop with a lot to offer. From HP, the Elitebook is a convertible laptop that can operate like a tablet. Flipping the screen back gives you a traditional touch screen experience. Meanwhile, the Multi-Touch display offers the responsiveness you need for intricate work.
While other 2-in-1 laptops focus on providing a streamlined OS experience, that's not the case with the Elitebook. It has the complete Windows Pro 10 system. As a result, you can install all of the usual programs and apps that you usually would. The laptop comes with ample SSD storage for games, photos, and everything else you could need for work and play.
Key Features:
Utilizes Windows Pro 10
Convertible design
Thin profile
Full Windows operating system
High-resolution screen
Technical Specs:
14-inch "Multi-Touch" screen
16 GB RAM
1.6 GHz Intel Core i5 processor
256GB SSD
USB-3.1 Type-C and HDMI ports
It weighs 4.6 pounds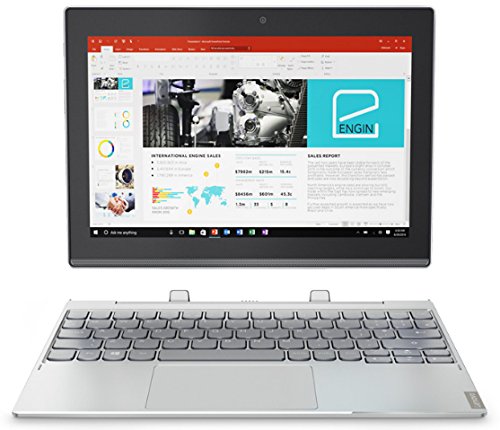 The IdeaPad Miix 320 is a ten-inch laptop that features a detachable 2-in-1 monitor. This IdeaPad features ten hours of battery life, and a lower display resolution of 1280 x 800. It uses Intel's Atom processor which sports a 2GB of RAM. This tablet is a perfect budget laptop for anyone that's looking to browse the internet and use productivity software.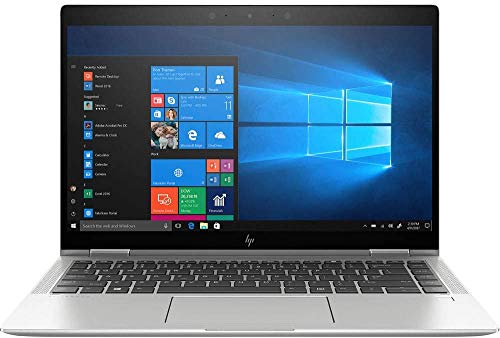 The HP X360 is a full HD 2-in-1 laptop that features 1TB of storage, 8GB of RAM, and an i5 processor. The screen is over fifteen inches, and it features a fully backlit monitor to provide an immersive visual experience. The laptop also features eight hours of battery life on every charge. This 2-in-1 laptop also features a hinge technology, and runs on the Windows 10 operating system.
Spec:
1.6 GHz Intel Core i5-8265U Quad-Core

Max Turbo Frequency3.90 GHz; Windows 10 Pro 64-Bit

16GB DDR4 RAM | 256GB PCIe M.2 SSD

14″ Laptop 1920 x 1080 Sure View Touchscreen

Integrated Intel UHD Graphics 620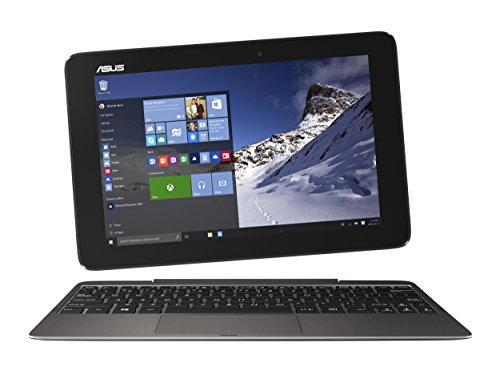 The ASUS Transformer is a ten inch, 2-in-1 laptop that features a detachable monitor that can transform into a tablet on demand. The Windows 10 laptop features Intel Atom processor and 4GB of RAM. It features a simple fingerprint login to make the computer easier to access while making it more secure. The laptop can last through eleven hours of video playback with every charge, and it has the ability to perform most common daily tasks. The display of the laptop is 1280 x 800, which puts it below HD television sets. However, this 2-in-1 does come with a pen to make taking notes and drawing on the computer fun and easy.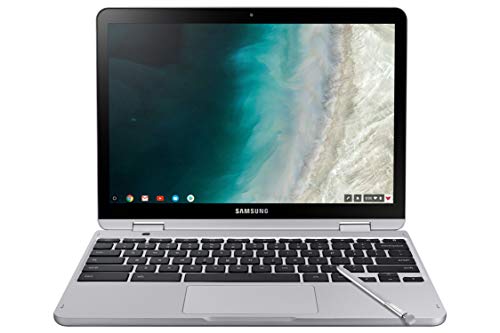 The Samsung XE5 is a thin 2-in-1 that features a pen to draw and write with. The laptop runs on an M Core Series processor that powers Google's Chrome operating system. It features a pleasant 2400 x 1600 resolution on a monitor that's a little over twelve inches. The 4 GB of RAM makes it easy to work, enjoy the internet, stream videos, draw, and take notes.
Why Should You Buy a 2-in-1 Instead of a Traditional Laptop?
Traditional laptops are reliable. They allow us to work on any project or play any game anywhere we'd like to. However, traditional laptops are limited in their portability, and they tend to be less efficient than 2-in-1 laptops. Here are five reasons you should choose a 2-in-1 as your next laptop.
Versatility
Traditional laptops are known to be one dimensional tools. We can use them to do practically anything, but we often have a vacant feeling compared to using touch screen devices. Having a full-performance laptop that can function as a tablet takes a computer to a whole new level. You can still use your computer like a computer, but you can draw on a 2-in-1. You can use it to easily browse the internet, read the news, and watch movies without worrying about a keyboard getting in the way.
2-in-1s Are More Portable
While most 2-in-1 laptops can't be compared to the weight and size of a high-end tablet, there's no doubt that a 2-in-1 laptop is designed to be lighter and more convenient to carry around. High performance laptops are usually designed for performance, but 2-in-1s are designed to function as a mobile device. 2-in-1s can go anywhere you do, and that's a cause for celebration.
2-in-1s Save Money
Most people enjoy having a tablet in their arsenal. They are a crossover between having the engagement of a smartphone while being big enough to stimulate the feeling of a big screen where we can play games, scroll through the news, take hand-written notes, and watch movies.
There's no doubt that tablets are a nice luxury to have, but they tend to be expensive to own. Having a 2-in-1 gives users the ability to have an incredibly powerful tablet that doubles as a high-performance laptop. It's two devices in one, and the versatility gives smart consumers an excellent opportunity to save money.
2-in-1s Utilize Touch Technology
It's impossible to deny the fact that modern society enjoys the ability to touch and engage with their devices. We enjoy games where we use controllers, and we use phones that are loaded with touch features. Laptops that don't function with touch are arguably outdated. Touch computers give us the ability to control our laptops like never before.
Touch laptops allow us to easily take notes, design new logos, sketch new ideas, and naturally brainstorm. They also allow us to more engage with our computers. We can use the mouse as we please, but simply navigating our hands and using our motor functions increase focus and enjoyment throughout the day.
A New Operating System
Almost all 2-in-1 laptops are all currently designed to function with Windows 10 or Chrome. This recent version of Windows was meticulously crafted to blend touch technologies into the platform. That means that without a touch computer, you can't even get the full benefits of Windows 10 or Chrome operating systems.
Having a 2-in-1 device keeps consumers up to date with the latest OS and it allows users to enjoy a world where laptops are designed to take notes, dominate presentations, and have fun.
Who would use a 2 in 1 Hybrid laptop?
2-in-1 laptops are perfect for anyone who is looking to have a laptop that isn't stationary. Sure, it's important to get the most value for our money if we're looking for a computer that doesn't move, but laptops were initially designed to be moved room to room. Crossover computers take the mobility to an entirely new level by allowing us to easily take our laptops from room to room, and they can comfortably fit in our lap while we aren't typing.
Students, programmers, business professionals, gamers, and people who are looking for a useful computer that can be taken anywhere will enjoy 2-in-1 laptops. They are high-powered computers that maximize the dynamics that shape touchscreen devices.
Things to Look for While Buying a 2-in-1 Laptop
2-in-1 Laptops are on the rise, and that means there is a wide selection of crossover laptops that is available to buy. The selection may leave you a little confused as to what you need to be looking for while you're shopping for a laptop so here are five things you need to consider while you're buying a new 2-in-1.
1. What are you Using the Laptop For?
The most important question you should ask yourself while you're shopping for a laptop is what are you looking to use it for? Are you looking to store your collections, play games, or stream movies? Are you hoping to use the laptop as your source for art and design?
2-in-1 laptops come in all sizes and performance levels. Some laptops come can serve as a studio while other laptops are designed to be light and look great. Understanding what you're hoping to do with a computer will allow you to be able to start getting a grasp on how powerful the computer needs to be in order to make the most of your budget.
2. Look at Specifications of Software
The truth is that most everyday tasks you accomplish won't need lots of computer power. That means that any new laptop will have the ability to do everything you need it to. You can use virtually any 2-in-1 to use check your email, browse the web, stream videos online, read, and enjoy social media. Additionally, most productivity software can be used with any computer. That means that word processors, budgeting software, spreadsheets, taking notes, and designing presentations will be easy to do on any budget 2-in-1 laptop.
However, there are a few reasons to buy a more powerful crossover. If you're looking to run video editing software at any point, this software can be very taxing. The reason why is editing uses computer power to be able to calculate and fuse separate frames together with sound and effects. This is something that can't be done on a computer that uses low processing power. Other reasons to buy a high-performance computer include using 3D animation software, music production software, and CAD software in order to design characters, stories, songs, products, and architecture.
3. What Games do you Enjoy?
Gaming is a wonderful way to pass the time, but most games are demanding on computers. The graphics, sounds, maps, and AI can add up to produce a game that needs to run on a pretty powerful engine to function. If you enjoy playing games, it's best to check out your favorite one to see how much processing power is needed for you to game on your computer. You may find that a low budget computer won't work as well as you'd hoped for, and that can be a frustrating experience. Graphics cards, RAM, and processors all play a role in gamers ability to play standard games.
4. How Important is Display?
Before you buy, it's important to have a good feel for how important display is on your 2-in-1 laptop. While most 2-in-1 laptops sport HD screens, full HD and 4K screens are there for people who enjoy a resolution that's similar to their television. If you're planning on watching videos, engaging in software, and enjoying games, having a high-resolution screen will be a major cornerstone of your experience. Typically, very little processing power is needed in order to stream full HD and 4K videos. So if watching video is an important aspect of buying a 2-in-1 computer, you may enjoy sacrificing CPU for resolution.
5. What Size is the Right Fit?
There's no one size fits all laptop, and it's important to contemplate where you'll be taking your computer over the next couple of years. If you keep your laptop at home most of the time and planning to use the 2-in-1 as your primary entertainment platform, getting a bigger 2-in-1 may be an excellent decision. However, having a giant screen that you need to carry across town every day will be a bit of a drawback.
Having an understanding of how often you'll be taking your computer out and where you'll be taking it will be an important factor in finding the perfect 2-in-1 laptop. There is no size that works for everyone, but there is a screen size that fits well inside of your lifestyle.
Do you Actually Need a 2-in-1 Laptop?
Asking yourself whether or not you actually need a 2-in-1 laptop is an excellent contemplation, and it's a question that only you can answer. Odds are that you're looking for a new laptop because your current computer isn't doing what you need it to. And while you may be able to survive without a 2-in-1 laptop, it's important to remember that buying a versatile computer is an investment that will serve you well for a long time.
All current computers are running on Windows 10, which means that they will function well for a long time rather than becoming outdated. 2-in-1 laptops were designed to be excellent investments for people who are looking for a computer that will stay relevant for years. It's something that you can use at home, for business, and for fun. It's also a perfect place to spark your creativity, keep notes and organize journals. It gives you access to everything you need anywhere you need it.
How to Select the Correct Laptop Size
Selecting the correctly sized laptop is a perfect blend between art and science. What size you are hoping to have entirely depends on how you'd like to carry your laptop around, and how you'd like to use it. Currently, you can find a 2-in-1 PC that matches the performance you're hoping for in a computer with the size that compliments your lifestyle.
If you're looking to drag your computer around everywhere, you may be looking for a laptop that's easy to fit inside of your current setup. 2-in-1 laptops are excellent because they are designed to be thin enough to fit into tight places but powerful enough to be productive everywhere.
The most important aspect of laptop size is contemplating whether you're planning on using your laptop at home or take it with you around town. Big screens are amazing at home, but having a screen size between nine and fifteen inches seems to be the normal extremes that consumers enjoy.
Another major factor in selecting a 2-in-1 is the weight of the screen and the laptop as a whole. It's well known that the weight of a computer tends to impact both the portability and the performance of a laptop. That means that if you're looking for a high-performance laptop that sports the weight of a tablet, you can expect to see the price match the luxury of having a desktop inside of a tablet.
Rotating Hinges and Detachable 2-in-1 Laptops
When it comes to 2-in-1 laptops, there are two major designs that manufactures use. The first style of 2-in-1 is an age-old hinge that Windows tablet PCs have used for a decade. These laptops use rotating and flipping hinges that allow laptops to flip into the keyboard to double as a tablet. The advantages of this style of 2-in-1 computer includes a better price point and increased durability. However, flip laptops create a bulkier tablet that feels heavy and can be uncomfortable to hold. Luckily, 2-in-1 laptops that feature hinges have elegant designs and thin bodies to make the tablet aspect more agile.
The second style of 2-in-1 laptop comes through a detachable hinge. These are laptops that have screens that can attach and detach from the keyboard making the laptop a tablet with the power of a fully functional computer.
The Difference in Processors
Core i3
Computers that run on the i3 are dual core processors that can run fully functional computers. This processor is inexpensive, and it works best for people who are looking to stream videos, browse the web, and run productivity apps. While the i3 isn't as powerful as the i5 and the i7, it sports the perfect power for anyone that's looking to buy a 2-in-1 at an excellent price point.
Core i5
The Core i5 is a quad-core CPU that doesn't use Hyperthreading. That makes them the perfect blend of value and performance. The i5 allows computers to run most software and games without a problem. It's an excellent option for people who are looking for a computer that can do mostly anything without having to spend a fortune to do so.
Core i7
The Core i7 is a quad core processor that utilizes Hyperthreading and produces excellent cache. In other words, it's a boosted version of the i5 processor. While jumping from an i5 to an i7 won't boost performance as much as shifting from an i3 to an i5, almost all software and games can be run easily with an i7 CPU.
Core M Series
Core M processors are designed to be low-cost substitutions for the Core Series. While these processors aren't meant to run powerful computers, they are perfect for budget tablets that can function on social media, stream videos, open most productivity apps, and browse the internet.
Screen Resolutions
Finding the correct screen resolution will help make the most of your investment on a 2-in-1 laptop. It's important to note that 1366 x 768 computer resolutions are considered HD. However, these screen resolutions are considered grainy by critics.
If you care about the quality of your visual display, ensure that you invest in a full HD 2-in-1 laptop that sports a 1920 x 1080 resolution. Some 2-in-1 laptops also come in 4K HD and 2K HD resolutions that provide a beautiful reproduction of movement and color.
Make the Most of your Budget
By understanding exactly what you're looking for in a 2-in-1 laptop, you can make the most of your budget. While you're not going to find an i7 detachable 2-in-1 laptop with a powerful graphics card for a couple-hundred dollars, knowing how you're going to use your computer will allow you to make the most of the money you're looking to invest.
Closing words on 2 in 1 Laptops
2-in-1 laptops are an excellent way to work and play comfortably on-the-go. It allows people to take production to an entirely new level while being sleek enough to enjoy. It's amazing how a slim design and solid performance can impact both entertainment and production. It's easy to see why 2-in-1 laptops are trending. They are the perfect solution for people who are looking for a versatile computer that's easy to carry.
The following two tabs change content below.
Jamie Spencer
My name is Jamie Spencer and I have spent the past 5 years building money making blogs. After growing tired of the 9-5, commuting and never seeing my family I decided that I wanted to make some changes and launched my first blog. Since then I have launched lots of successful niche blogs and after selling my survivalist blog I decided to teach other people how to do the same.
Latest posts by Jamie Spencer (see all)