If you want to become a successful YouTuber, you're going to need a lot more than just a creative mind and a great idea. The online video-sharing platform has grown massively since its launch back in 2005 ( Read YouTube stats ) . What once was a simple site to share cute cat videos is now a multi-billion dollar platform that's used by people all over the world.
Because of its prominence in today's digital landscape, viewers expect a lot. To become successful and gain a loyal following, you need to create high-quality videos with great production value. If you're a new YouTuber / Vlogger, the most important thing you can invest in is a great camera.
You don't have to invest in professional recording equipment just yet. There are plenty of moderately priced vlogging cameras options on the market that are fully capable of meeting your needs. They can provide you with stunning video quality that meets the expectations of modern viewers.
These cameras are versatile enough to be used a ton of different ways. Whether you're creating personal video blogs, skits, or fully-produced shows, a quality camera will give you the high-definition video that you need to be taken seriously on YouTube. Here's a collection of cameras to get you started.
13 Of The Best Cameras for YouTube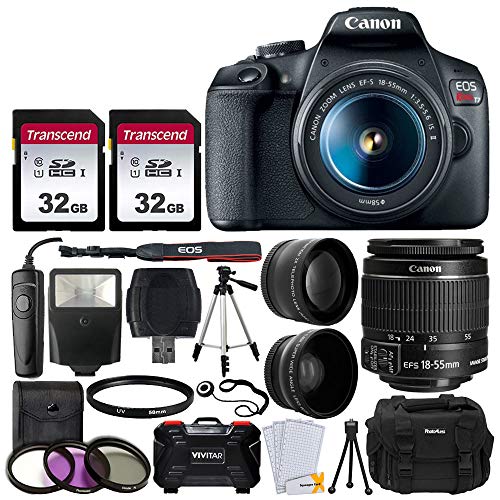 The Canon EOS cameras are known for being great entry-level options due to their attractive price point and versatile features. The T7 is no different. The DSLR camera can serve you well in a wide variety of projects. It's capable of shooting in full HD and up to 60 frames per second. You can even create time-lapse videos thanks to the camera's ability to shoot as few as 3FPS.
The T7 is made out of lightweight plastic and features a user-friendly design. All of the important functions are within reach, allowing you to shoot videos with one hand. As you're filming, you can use the 3-inch screen on the back to monitor the action.
Powering the camera is Canon's Digic 4+ image processor. It's a powerful component that can handle numerous tasks at once. One of those tasks is keeping your subjects in focus. The camera has 9-point autofocus that uses many different techniques to detect faces as quickly as possible.
Pros:
Can shoot up to 1080p
Frame rate between 3FPS and 60FPS
9-point autofocus
Includes wide-angle lens
Efficient image processor
Large sensor
Built-in Wi-Fi and NFC
Includes battery charger and cover
Cons:
No image stabilization
No connection point for external microphone
Only 3x optical zoom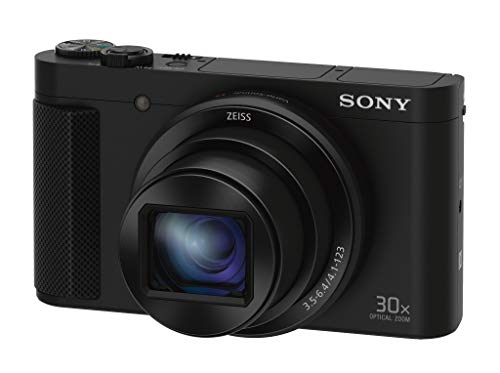 The Sony DSCHX80 is a compact point-and-shoot camera that's filled with a lot of great features. Even with its small size, this camera is more than capable of shooting high-resolution videos at 60FPS. To ensure that your videos come out clean and blur-free, the camera has optical image stabilization. It's an efficient 5-axis system that does a wonderful job at addressing subtle movements.
One of the most prominent features of the camera is the 3-inch screen on the back. It provides a clear view of your subjects as you film. If you need to make a vlog, the screen flips up and acts as a forward-facing monitor. A pop-up viewfinder is also included. It has a tiny OLED screen to help you plan your shot.
Overall, this option is best-suited as a vlogging camera. However, features like 30x optical zoom, autofocus, and a wide-angle lens make it versatile enough for other types of video recording projects as well.
Pros:
Adjustable 3-inch display
30x optical zoom, 60x digital zoom
5-axis image stabilizer system
Includes wide-angle lens
OLED digital viewfinder
Capable of shooting full HD video
Can film between 10FPS to 60FPS
Lock-On autofocus
Built-in Wi-Fi and NFC
Cons:
Can only record in 29 minute increments
Small sensor
Not compatible with other lenses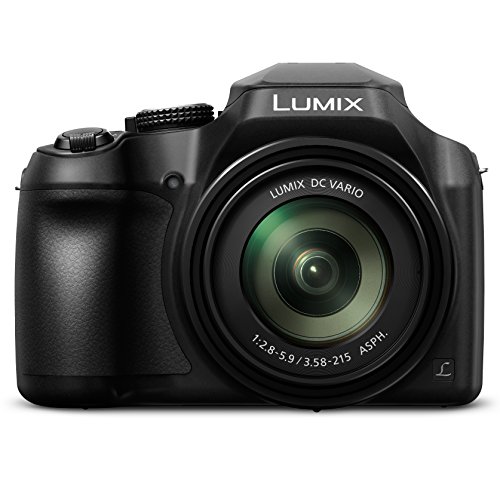 If you're looking for an entry-level 4k camera, consider this option from Panasonic. The camera can shoot crystal-clear 4k video without any issues. It also has a robust optical image stabilization system, ensuring that your films look as professional and clean as possible.
While it may look like a DSLR, this device is actually considered to be a point-and-shoot camera. It's easy to operate and can be used in a number of settings, including low-light conditions. With its 60x optical zoom and wide-angle lens, you can get great shots of expansive landscapes. Despite its ease-of-use, Panasonic also made sure that you have the opportunity to make the video that you want. Its unique movie mode puts control in your hands. Once initiated, you can fine-tune settings on the touch screen display on the back.
Pros:
Capable of shooting 4k video
30x optical zoom
Large MOS sensor
Unique autofocus feature
Can be charged with USB cable
20mm wide-angle lens
Optical image stabilization
Customizable video settings
Wi-Fi connectivity
Cons:
Not compatible with other lenses
Fixed screen
4k only shoots at 30FPS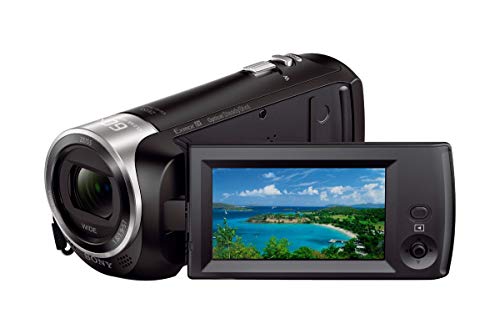 The HDRCX405 camcorder from Sony is not like the clunky units of yesterday. This model is sleek, lightweight, and comfortable enough to carry as you record future memories! Old-school devices inspire the design. It has the iconic handheld shape complete with intuitive button layouts for easy accessibility.
Inside, however, this unit is packing some tremendous modern-day technology. The sensor records full HD resolution at 1920X1080. While not the highest resolution possible, the high-definition picture is space-saving. It allows you to record more without having to worry about storage space.
The camcorder accepts SD cards of varying sizes. It also uses a rechargeable battery. All of the necessary access points and plug-in ports are hidden behind a discrete door. It keeps things out the way while still ensuring that you have access to the connections you need.
Key Features:
Comfortable handheld design
Adjustable screen
Face detection system
Intuitive button layout
Wide-angle lens
Technical Specs:
2.7-inch screen
Auto Intelligent settings
Up to 60X zoom
HDMI out port
1920X1080 video resolution
9.2-megapixel stills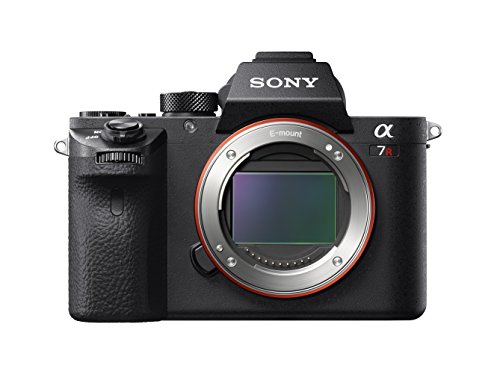 The Sony A7R II is a powerful mirrorless camera that can serve any YouTuber well. It's packed with high-tech features that help to make your videos beautiful. First off, it can film true 4k video. It's a full-frame camera, so 4k shooting doesn't result in pixel binning. The CMOS image sensor is large enough to capture everything in great detail.
Secondly, it has a 5-axis optical image stabilization. The stabilizer is very responsive and will make adjustments quickly to ensure that even fast-moving targets look crisp.
The body of the camera is also well-designed. It's made out of a durable aluminum alloy and is built to be weatherproof. A tilting screen on the back of the camera makes it easy to craft the perfect shot.
Pros:
Full-frame CMOS image sensor
Very fast autofocus system
Can shoot in 4k
Compatible with Sony's E-Mount lenses
5-axis image stabilization
Durable body
Weatherproof build
Wi-Fi and NFC connectivity built right in
OLED viewfinder
Tilting screen
Cons:
4k frame rate capabilities limited to 30 FPS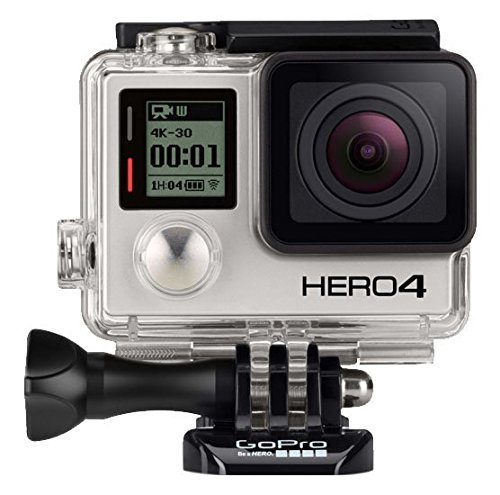 Another good camera from GoPro is the Hero 4 Black. While it's a few years older than the Hero 7, that doesn't mean that it's not powerful enough to create some awesome YouTube videos. This action camera can shoot 4k video at 30FPS. You can also lower the resolution down to Wide VGA and create unique slow-motion shots at 240FPS.
The great thing about the Hero 4 Black is its performance in low-light settings. It has an automatic low-light mode that will change settings to make your subject as visible as possible. There's even a Night Time Lapse mode for creating fun transition shots.
Many of the camera's settings can be controlled remotely. Built-in Wi-Fi and Bluetooth connectivity allow you to use your smartphone as a command center. You'll be able to use your phone to view your videos and post them directly to YouTube.
Pros:
Can shoot in 4k
Multiple resolution and frame rate settings
Specific video modes for low-light conditions
Waterproof up to 40 meters
Advanced video settings
Small information screen on front
Wi-Fi and Bluetooth connectivity
Cons:
4k frame rate capabilities limited to 30 FPS
No screen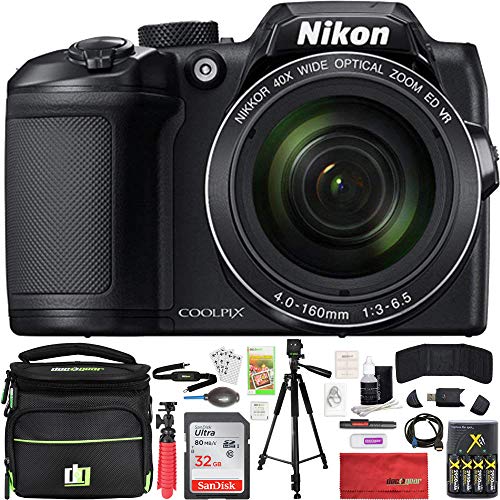 The Nikon Coolpix B500 offers plenty of bang for your buck. While it's certainly not the most powerful product on this list, it's more than capable of pushing your YouTube channel to the next level. It films high-definition video and has an efficient smoothing feature.
It has a 4-axis optical image stabilizer that Nikon calls their vibration reducer. The system works to prevent hand movement from making their way onto the final video. The point-and-shoot camera also has an autofocus system that uses contrast detection. It can follow your subject around the field of view while keeping them in focus the entire time.
Whether you're shooting an action scene or want to get a closer look at unpredictable wildlife, this camera can help you do so safely. It has 40x optical zoom and 80x digital zoom, allowing you to film up close and personal while keeping your distance.
Pros:
Shoots in full HD
40x optical zoom, 80x digital zoom
Large CMOS sensor
4-axis vibration reduction
Wi-Fi, Bluetooth, and NFC connectivity
3-inch tilting screen
Subject-finding autofocus
Cons:
Frame rate limited to 30FPS
Weak microphone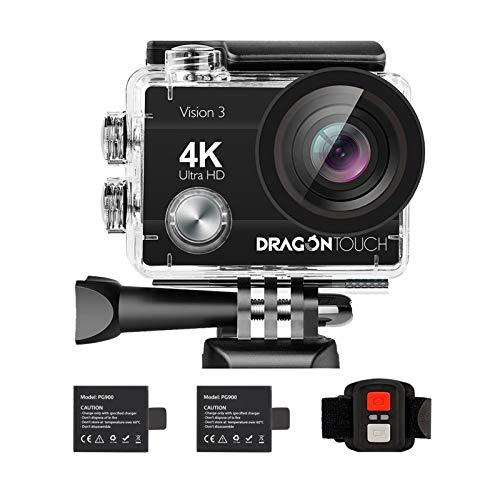 Capture your most extraordinary adventures no matter how harsh the environment is! This action cam from Dragon Touch is purpose-built for adrenaline-thumping events. It can withstand a lot, including being submerged up to 100 feet below the water's surface! Pair that with modes like slow-motion capture, loop recording, and time-lapse, and you have a camera that can record anything!
Whether you're looking to capture video or still images, the camera has you covered. It can record in resolutions as high as 4K. Meanwhile, the maximum resolution for images is 16 megapixels.
Like many big-name action cameras, this model is ready for accessories. You're getting two batteries. When fully charged, you can get up to 90 minutes of recording. The set also comes with several accessories to help you get that perfect shot.
Key Features:
It comes with a wrist controller
Waterproof up to 100 feet
Multiple shooting modes
Versatile use cases
It comes with two batteries
Includes several accessories
Technical Specs:
It Weighs 0.33 pounds
4K video recording at 30FPS
16-megapixel photo captures
Two-inch screen
170-degree wide-angle lens
Integrated Wi-Fi connection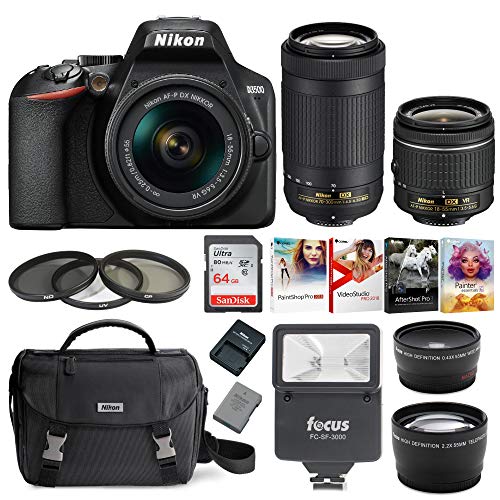 The Nikon D3500 is a flexible camera that can adapt to your changing needs. With its moderate price point, it's an exceptional entry-level camera for new YouTubers. The camera is capable of filming videos at 1080p resolution and 60FPS. It comes with a wide-angle lens. However, you can upgrade to one of the many available Nikon lenses whenever you want to change things up.
This camera is designed to be user-friendly. A simple mode dial is located on the top to help you switch between settings quickly. When you're shooting videos, the camera automatically takes measures to make things look great. The 11-point image stabilization system, for example, prevents all of your subjects from becoming blurry as you shoot.
Pros:
Shoots high-definition video at 60FPS
Responsive 11-point AF system
Large CMOS sensor
Optical viewfinder
Easy-to-use mode dial
3-inch screen
Compatible with many Nikon lenses
Built-in Bluetooth
Cons:
Weak mono speaker
No image stabilization
No Wi-Fi connectivity
Budget YouTube Camera Options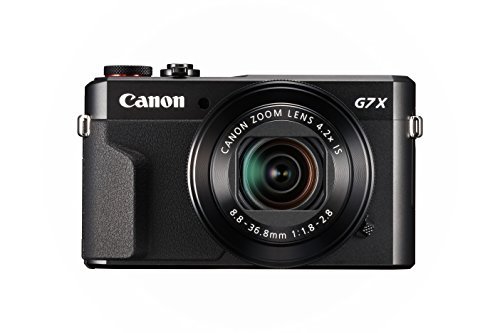 Canon is no stranger to creating excellent point-and-click cameras. This model from the PowerShot line is a shining example of what Canon can do! It's a premium piece of equipment that can capture all of life's memorable moments. This device is quite advanced, delivering professional-quality results regardless of your photo-taking skill level.
For the more experienced users, this camera has tons of adjustability. Fine-tune the photo settings to compose the perfect shot. Automatic settings are available, too, for those who don't have a ton of experience. Just turn the camera on, point, and click!
The camera is made for the modern world. It has integrated Wi-Fi, which you can use to share with your computer or mobile devices. There's also a handy tilting screen. It's perfect for getting those high-up shots at creative angles. Let your inner photographer shine! This camera gives you all the tools you need to take some killer photos.
Key Features:
Flexible photo parameters
Grippy exterior
Tiltable screen
Wireless sharing
Straightforward button layout
Technical Specs:
20.1-megapixel sensor
Three-inch screen
4.2X optical zoom
Up to 8 FPS auto-shoot
Integrates Wi-Fi connection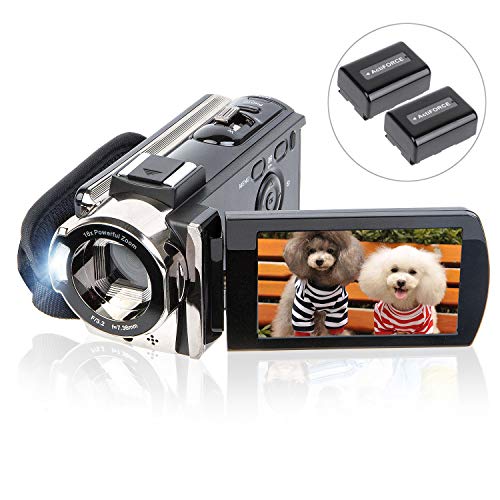 This is a good camera if you need to make quick videos on the go. It's lightweight, ergonomic, and incredibly simple to use. Like the previous option, the camera is pretty limited in terms of preparing custom settings. However, those limitations provide overall simplicity, making the camera suitable for new YouTubers.
The camera is capable of filming 1080p video at 15FPS. You can easily watch your recorded videos on the swiveling 3-inch screen. Alternatively, you can use the video output port to connect it directly to your television. The camera can also be connected to your computer and function as a webcam.
Pros:
Records in HD
Also functions as a webcam
Built-in flip screen
16x digital zoom
Built-in TV output
Anti-shake technology
Comes with two rechargeable batteries
Power-saving features
Face detection with smile capture
Cons:
Frame rate limited to 15FPS
No optical zoom
No wireless connectivity
Battery only lasts up to 90 minutes
No autofocus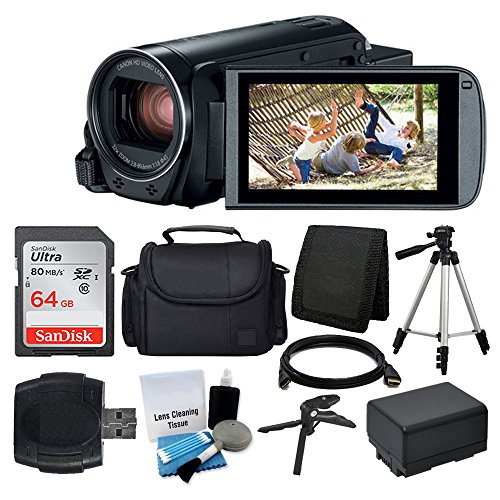 As one of the most affordable Canon cameras on the market, the Vixia HF R800 is a great option for new Youtubers who are just getting their channel started. It's specifically made for videos. While this may not seem like a huge deal at first, you'll quickly see that Canon put a lot of effort into building a camera that can make good videos without any hassle. The video functionality is not an afterthought like it is with many cameras on the market.
The camcorder records full HD video at 60FPS. It's one of the best blogging cameras in this price range thanks to its advanced processor and CMOS sensor. When you're filming, the camera will make corrections to any issues caused by backlighting. This results in colors that are more vibrant and true to life.
Pros:
Records HD video at 60FPS
Impressive 57x digital zoom
5-axis optical image stabilization
Reproduces colors accurately
Purpose-built for recording video
High-capacity battery
Touch LCD screen
Uses Digic 4 processor
Cons:
No optical zoom
No wireless connectivity
Audio quality of microphone is lacking
Choosing a Camera for Your YouTube Channel
If you're unfamiliar with the world of video and photography, you may be surprised to learn just how many types of cameras are out there. While each piece of equipment can make shooting videos a breeze, some are best suited for specific tasks. To find one that's right for your new YouTube channel, you need to consider what type of content you'll be making.
Do you plan on creating adventure blogs in new and exciting locations? Are your videos going to benefit from features like slow motion or extreme optical zoom? Or, do you simply need a stationary camera to shoot from a single angle?
These are all questions that you should be asking yourself. You can use that information to narrow down your options and choose the type of camera that will help you make the best videos you can.
Point-and-Shoot Cameras
These types of cameras are considered to be the most basic. Point-and-shoot cameras are typically used by casual photographers who want a quick and easy way to capture the moment. Most options are quite affordable, allowing you to hit the ground running without breaking the bank.
In terms of size, point and shoot cameras are very compact. They're about the size of a smartphone. As a result, they're best for vloggers. You can take these cameras with you wherever you go and make quick videos whenever the moment calls for it.
These cameras are designed with ease of use in mind. So, you're not going to have a ton of flexibility when it comes to composing your shot.
Action Cameras
As the name implies, action cameras are fine-tuned for fast-paced action. They're one of the smallest types of cameras that you can get. Not only that, but they're built to last. These cameras are often made with high-quality shells that can hold up well to wear and tear. One of the most popular action camera brands, GoPro, offers a huge variety of accessories as well. They can be used to mount the camera on your body, shoot underwater videos, and more.
Despite their small size, action and sports cameras can produce great image quality. Many are capable of shooting high-definition video with high frame rates. This opens up a world of possibilities when it comes to editing your final project.
DSLR Cameras
A DSLR camera, or Digital Single-Lens Reflex camera, is one of the most versatile cameras you can get. Revered for their versatility and quality, these cameras are perfect for most YouTubers. Within the camera housing, a small digital image sensor captures your subject in high-definition.
The great thing about a DSLR is its adaptability. Once your channel starts gaining traction, you can easily upgrade your equipment with some accessories. Popular camera brands offer unique lenses that create visually stunning videos.
The only downside to a DSLR is its size. Cameras can be quite bulky, making them a bad choice for quick shots and action pieces. Furthermore, DSLR cameras tend to be on the higher end of the price spectrum. Though, the features they offer make them well worth the investment.
Mirrorless Cameras
At first glance, it's easy to mistake a mirrorless camera for a DSLR. Both offer the same impressive video quality and customization features. However, mirrorless options are a bit more compact. The lack of an internal mirror results in a slimmer profile.
Camcorders
We don't recommend getting a camcorder just yet. They can be very difficult to operate, especially to newbies. Camcorders are purpose-built for shooting videos and are often used by professionals. When it comes to features, you can't get much better than a camcorder.
They have manual controls to adjust every imaginable setting. Camcorders are perfect for serious filmmakers and YouTubers who want complete control of how their content looks on-screen.
Features To Consider
Once you have figured out what type of camera is right for you, you can start looking at finer details. Cameras are complex electronics. While you don't have to be a master filmmaker to operate them, it does pay to have a basic understanding of some of the specifications you'll come across.
Most cameras on the market are capable of shooting videos and capturing still images. When you're shopping for that perfect YouTube camera, it's the video features that you need to pay attention to. Here are the most important considerations to keep in mind when you're shopping.
Resolution
These days, most people will avoid grainy YouTube videos with poor resolution. HD videos are now the norm, so you need to invest in a camera that delivers. Resolution refers to the overall pixel density of the image. The more pixels you can capture, the better your video will look.
Most video cameras can shoot in standard high-definition resolution, which is commonly referred to as 1080p. HD video has a pixel density of 1920×1080. A lot of equipment can also shoot with smaller resolutions as well. At the very least, the camera you choose should be able to handle high-definition video without a problem.
If you want to set yourself apart, you may want to consider 4k resolution as well. 4k video has four times the amount of pixels as HD at 3840×2160. To view these types of videos, users have to have a 4k-capable television or computer monitor. While this resolution is not as common as HD, it's growing in popularity. There's a huge collection of 4k content on YouTube. In fact, YouTube is one of the biggest sources of 4k currently available on the web. Most of the videos you'll find in 4k are short films, action videos, food blogs and travel blogs.
Newer cameras utilize more powerful image processors that are capable of capturing 4k video. While you can still be successful with standard HD, shooting in 4k is a great way to get noticed by a growing audience.
Frame rate
Frame rate refers to how many images are taken to produce a video. Measured in frames per second, the frame rate can ultimately affect how smooth and crisp your videos look. Have you ever watched a YouTube video that looked like it was skipping? It probably was shot with low FPS.
Most modern cameras allow you to choose what frame rate setting you want to use. Like with 4k resolution, not everyone is capable of viewing ultra-high FPS settings. Most smartphones, computer monitors, and televisions have a refresh rate of only 60hz. As a result, YouTube currently only supports 60FPS video. If you try to upload a video with a higher frame rate, the platform will automatically compress it down to 60FPS.
Quality of the Camera Sensor
All digital cameras utilize a high-tech image sensor. It's the component that captures light and converts it into images that you can see. When most people shop for cameras, they focus a lot on the megapixel rating to gauge image quality. However, it's actually the quality of the sensor that's most important.
You see, the size of the sensor is going to determine the size of each pixel. The best DSLRs and mirrorless cameras use large full-frame CMOS sensors. That's why they're considered to be the best types of cameras for producing crystal-clear images. Keep this in mind when you're searching for the right video camera.
Focusing Capabilities
To ensure that your video looks good, your camera needs to be able to focus on the subject you're shooting. Whether you're shooting multiple targets or you're standing in front of the camera yourself, autofocus is an important feature to have. Instead of having to manually focus the lens every few moments, the autofocus system can take care of the task for you.
It's not as simple as just choosing a camera with an AF system. Autofocusing features are constantly improving. A faster system is always preferred. Slower systems can take several seconds to hone in on your subject. It can be a glaring issue, especially with YouTube videos. Also, consider how many subjects the camera can focus on at one time. Multi-point systems make sure that every subject in your video is clearly visible.
Stick with powerful cameras that have enough processing power to operate the autofocus feature efficiently. Most DSLR cameras have great AF systems. Mirrorless cameras do well too, but they're usually not as fast as the best DSLRs.
Performance in Various Lighting Conditions
How your camera performs in different lighting conditions determines what types of settings you can shoot in. All digital cameras do well in very bright conditions. However, cameras can vary dramatically when it comes to low-light conditions.
Remember, digital cameras record video by capturing light in the image sensor. If there's not enough light reaching the sensor, your videos will appear very dark. This is a problem that many new YouTubers encounter. A substandard camera is not going to pick up subtle lighting details, resulting in a video that's difficult to see. Just because you're able to see the soft glow of distant light doesn't mean that your camera can.
One big factor that determines low-light performance is the size of the image sensor. Larger sensors have more surface area to capture light. Thus, they are ideal for shooting in dimly lit settings.
Image Stabilization
Image stabilization is must-have technology whenever there's a real person holding the camera. If your camera is not on a stable surface or attached to a tripod, it's going to move a bit. This creates blur on your video. Image stabilization features work to reduce that blur so that the final video looks clear.
Optical vs. Digital Image Stabilization
When you're examining the features of a camera, you may see two different kinds of image stabilization. With digital image stabilization, the processor within the camera does all of the work. It uses complex algorithms to get rid of any unnecessary movement.
Optical image stabilization uses analog technology. The lens itself compensates for any vibrations and movement. It uses tiny gyroscopic sensors to manipulate light's path to the sensor, fixing motion blur.
When it comes to video, optical image stabilization is recommended. It's considered to be much more reliable and effective.
Sound Equipment
To accompany your video, you need good audio. Digital cameras have small built-in microphones to pick up sound waves from the immediate area. While it's always a good idea to invest in a separate microphone, it's important that you pay attention to the built-in components as well. You're not always going to be able to carry a microphone with you on shoots, so the quality of the camera's microphone is a necessary consideration.
The biggest thing you should pay attention to is its sensitivity. There will be times when you need to record your subjects from a considerable distance. Is the built-in microphone capable of picking up their voice from far away? Also, you need to to make sure that the microphone isn't sensitive enough to record unwanted ambient noise, such as wind or movements of the camera itself.
Microphone Compatibility
Your best bet for picking up high-quality audio along with your video is to invest in a separate microphone. Before you buy a camera, make sure that it's compatible with external audio equipment. Many DSLR and mirrorless cameras have a hot shoe on the top and a 3.5mm jack to attach a large stereo microphone.
Battery Life
In the early stages of your YouTube journey, you'll quickly find out that filming a video is not a quick process by any means. It takes time to compose your shot and get the right take. Through it all, your camera needs to be powered and ready to capture the moment. There's nothing worse than having to deal with a dead battery in the midst of a creative spark.
Cameras typically use lithium-ion batteries that can be recharged. At the very least, your camera battery should last between three to five hours. To maximize your filming time, you can consider purchasing replacement batteries. Once your device runs out of juice, you can quickly swap out the old battery for a fresh one.
Another thing to consider is how the batteries charge. Some cameras have non-removable batteries that are built into the body. They require you to connect a charging cable. Others have a removable battery and a charging dock for convenience.
Zoom
If you plan on making some content outdoors, it pays to have powerful zooming capabilities. With a flick of your finger, you'll be able to focus in on distant subjects without having to move any closer to it. A 10x zoom rating is a good place to start. That's more than enough for standard vlogging cameras. If you need more than that, there are plenty of options that offer 60x or more.
Digital vs. Optical Zoom
Like image stabilization, there are two types of zooming functions available. Many cameras offer both. Though, the power of each one may differ significantly. With digital zoom, the camera's processor essentially magnifies the image and trims away the elements that aren't in the frame. While it can be effective for some applications, digital zoom has a reputation for producing bad video quality. This is because the magnification process makes the pixels larger.
Optical zoom maintains your native resolution. To bring your view closer to your subject, the lenses with the camera physically move. This changes how light reaches the sensors. Optical zoom is considered to be the better option of the two.
Versatility Features
As you improve your video-making skills, you may want to try experimenting with different filming techniques. The best video cameras provide you with complete control over how the camera operates. Detailed video settings allow you to adjust exposure, fine-tune the white balance, change the aspect ratio, and much more.
The most versatile types of cameras are DSLRs and mirrorless cameras. Point-and-shoot devices tend to be a bit more limited.
Lens Compatibility
With the right camera, you can use different lenses to create a unique perspective. Many big-name manufacturers produce accessory lenses. Before you commit to a camera, check to see how compatible those lenses are with your device. Different mounting systems can affect which lenses work on your camera and which don't.
If you want plenty of filming options, DSLRs are the way to go. You can get a macro lens to get extremely close to small subjects or a wide-angle lens to show more of your surroundings.
Connectivity
With wireless technology being such a huge part of modern living, it only makes sense to implement connectivity features into cameras. This isn't a requirement for making YouTube videos, but it can do a lot to enhance your workflow.
Some cameras are capable of connecting to Wi-Fi networks. This is commonly seen in point-and-shoot cameras. With this feature, you can share videos to YouTube without even having to use a computer. BlueTooth is another option. It lets you send videos to your computer or mobile device without having to remove your SD card or use cords.
Finally, there's NFC. Near Field Communication capabilities are being implemented more and more into smartphones. Instead of having to send videos to your computer and then transferring them to your phone, you can simply touch your device to your camera to initiate a transfer.
Viewfinder and Screen
The parts of your camera that you're going to be interacting with the most are the viewfinder and the preview screen. The viewfinder refers to the small window that you look through to compose your shot. Some high-quality DSLR cameras have a digital viewfinder. It's capable of providing you with some important information about your video in real-time.
Not all cameras are going to have a dedicated viewfinder. In fact, most compact cameras have eliminated them completely. This doesn't have a huge effect when it comes to making videos. It's actually better to not use a viewfinder at all because they don't provide an accurate representation of what your video will look like when they're viewed by your audience on a screen.
To see how your shot looks, you should pay closer attention to the preview screen. The live feed from the image sensor is shown on the camera's screen each time you record, making it easy to line up shots how you want.
When you're looking for the best YouTube camera, look for a screen that acts as a monitor. Larger screens that tilt and rotate are very beneficial. Some cameras even have an integrated touch screen, allowing you to make setting adjustments quickly.
Frequently Asked Questions
Do I need a high-end camera to start YouTube?
You don't have to use professional equipment right off the bat. However, it's still a good idea to invest in a camera that's capable of creating videos that look professional. Luckily, budget options are available. While these cameras may be limited in features, they're still able to produce HD content for YouTube. As you start to gain more traction, you can consider upgrading.
Can action cameras be used for vlogging?
While they're made for rugged activities, many consider action cams to be the best vlogging cameras. They're small enough to fit in a pocket or bag, have long battery lives, and are protected from accidental drops. Many modern action cameras are capable of shooting in 4k as well, so there's no concern about video quality.
Should I focus on providing 4k content?
4k has gained a lot of traction in recent years and is sure to become the go-to resolution in the future. However, the number of people on YouTube who are actively viewing 4k content is still relatively small. It doesn't hurt to invest in a 4k-capable camera, but it's not a requirement to be successful on YouTube.
Where are videos stored after recording?
This depends on the size of your files and the specifications of your camera. Many cameras have some storage built-in. If there's enough space, files are stored there first. Everything else will be put on an SD card.
SD cards are available in a range of sizes and capacities. Most cameras use standard SD cards. Smaller devices, such as action cameras, may utilize mini SD cards or micro SD cards.
How large are video files?
File sizes vary based on resolution and frame rate. Typically, one minute of high-definition video at 60FPS takes up about 200MB of storage space. When you film in 4k, your required storage space goes up significantly. A minute of 4k video at 60FPS can be well over 700MB in size.
Are there any accessories I need to make YouTube videos?
There are plenty of accessories that you can use to enhance the video-making process. Additional lights and a sturdy tripod to keep your camera stable are good starting points. Those two accessories alone can make your videos look noticeably better. It's also a good idea to invest in a reliable video editor, a travel bag for your camera, and extra SD cards.
The following two tabs change content below.
Jamie Spencer
My name is Jamie Spencer and I have spent the past 5 years building money making blogs. After growing tired of the 9-5, commuting and never seeing my family I decided that I wanted to make some changes and launched my first blog. Since then I have launched lots of successful niche blogs and after selling my survivalist blog I decided to teach other people how to do the same.
Latest posts by Jamie Spencer (see all)