Afraid of commitment? We get it.
From committing to a relationship to buying a house, not everyone wants to be locked into a long-term commitment. The same is true for web hosting.
For some website owners, it makes more sense to go month-to-month. Doing so will allow you to test the performance, security, tools, and customer support of a hosting provider before committing to a long-term deal.
The problem is most web hosting companies only offer their best deals when you sign up and pay for a year or more in advance. Although they may offer monthly hosting packages, you will pay over the top for the convenience and freedom of being able to go month-to-month.
With that in mind, we dug deep into several of today's top hosting providers to find the most affordable choices for a variety of budgets and needs.
However, before we get into the meat of the matter, it's worth pointing out that just because the hosts below offer the freedom and flexibility of month-to-month hosting at shockingly low prices, it doesn't mean they lack quality in any way.
The month-to-month hosting providers on this list are all widely respected within the industry and known for providing reliable services and friendly customer support. So, without further ado, let's dive in.
Disclosure: When you purchase web hosting through links on this page, we earn some commission. This helps us to keep this site running. There are no extra costs to you at all by using our links.
Best Overall Month to Month Hosting Provider – Cloudways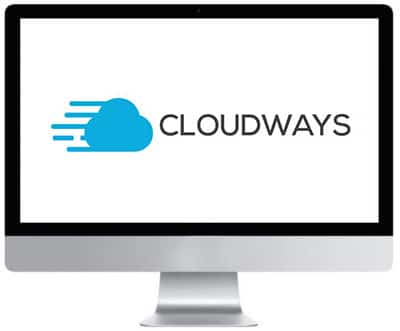 Cloudways comes top of all the hosts listed in this guide simply because the offer outstanding value for money and is the most flexible host when it comes to server choices, scalability and performance. Read more about Cloudways further down the page in our Best Month to Month WordPress hosting section.
Alternatively head over to Cloudways to get 25% Off for 3 months with coupon code SITEHUB
Best Month-to-Month Shared Hosting
When choosing a web host, you'll find there a dozens upon dozens of options at your disposal. However, in addition to deciding on a company to host your site, you'll also have to decide which type of hosting package works best for you.
Most hosting companies offer several different hosting packages to choose from, but shared hosting is by far the most popular option for those just starting out with their first website.
Like its name suggests, shared hosting involves the sharing of a server amongst multiple websites. Most of the time, you'll have no idea which sites you're sharing a server with, and each customer is allotted a certain amount of server resources like bandwidth and disc space.
Since you're sharing a server with other websites, shared hosting is the most affordable and economical hosting option. However, not all hosting companies are alike or operate the same way, so it's important to go with one you can trust.
Here's the rundown on four of the top month-to-month shared hosting providers in the industry today.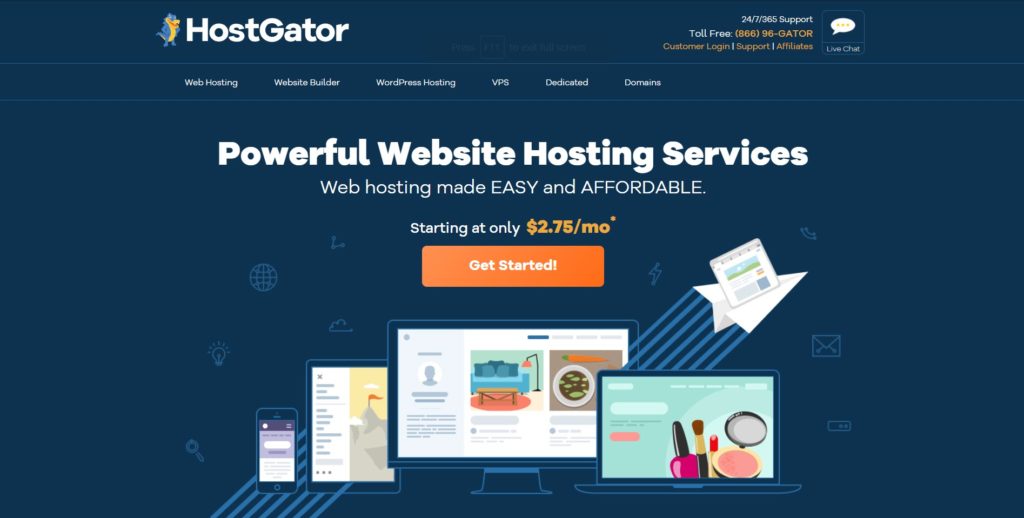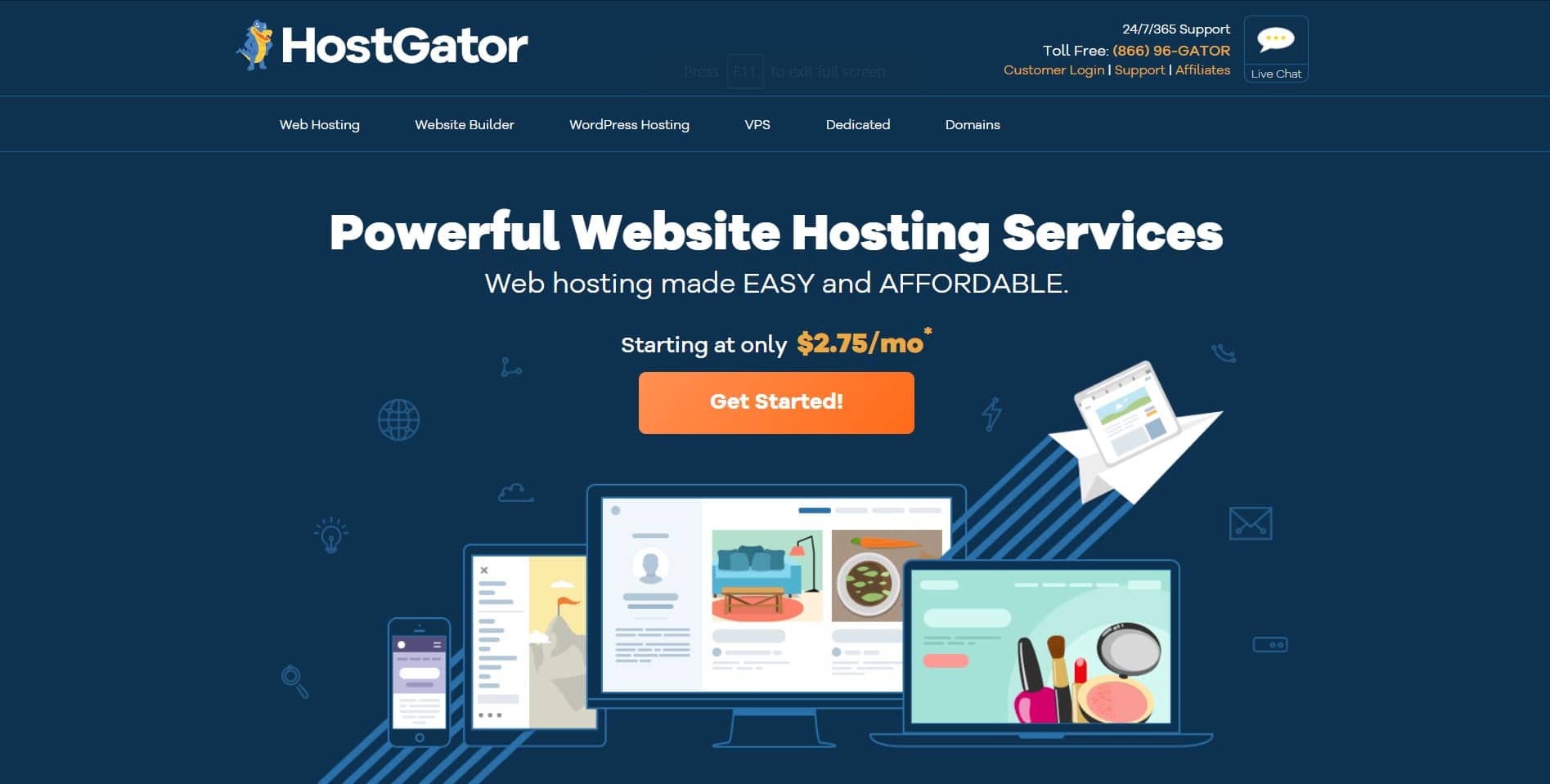 Affordability Rating: 4.6
Pricing
HostGator's month-to-month shared hosting costs $10.95 a month, which is right in the middle when it comes to similar shared hosting plans. With its excellent uptime, support, and all that it offers, this price is more than reasonable and certainly competitive with other web hosts.
Features:
• 99.9 percent uptime guarantee
• Unlimited bandwidth, disc space, and email addresses
• One-click WordPress installation
• Free SSL certificate
• Free blog tools
• New domain – $15 with month-to-month plan
HostGator is one of the best-known hosting providers, and for many it's the perfect compromise between price and performance. With its month-to-month shared hosting plan, you can benefit from 99.9 percent guaranteed uptime, unlimited disc space and bandwidth, unlimited emails, MySQL databases, and easy one-click installation of WordPress and other open-source projects.
On top of all this, HostGator also has a nifty custom website builder with thousands of mobile-friendly, drag-and-drop templates. With an easy-to-use cPanel as well, it has plenty of features any newbie is sure to appreciate.
Of course, as one of the largest names in the industry with a lengthy track record of success, HostGator offers excellent support as well. With a comprehensive online knowledgebase and 24/7 live support via phone, email, and chat, you'll never be left blowing in the wind or hung out to dry.
If you're searching for a reputable and reliable web host with a ton of power and plenty of flexibility, HostGator deserves a long, hard look.
Advantages:
• Several different hosting options to choose from
• Intuitive, easy-to-use control panel
• Lots of features and freebies
• Great support and uptime guarantee
Read our Hostgator Review to find out more about this web host.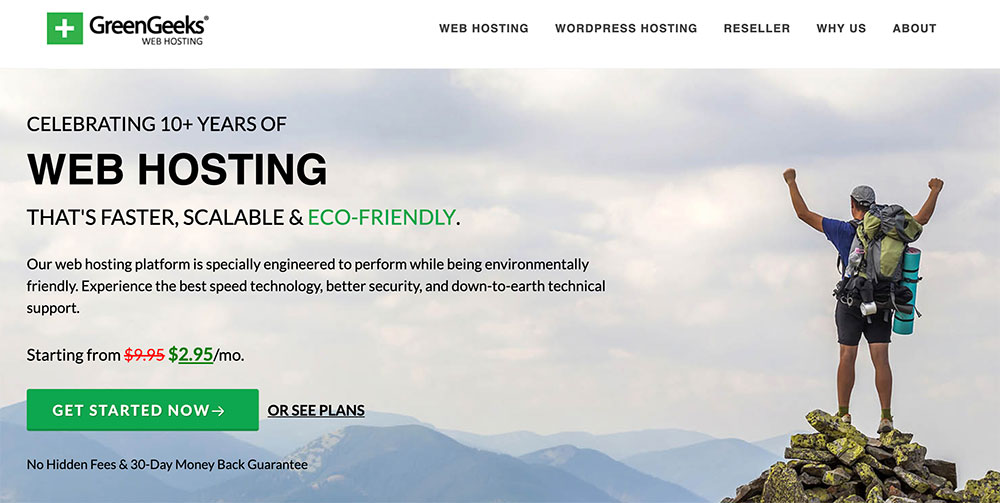 Affordability Rating: 4.5
Pricing
GreenGeeks offers month-to-month shared hosting for $9.99 a month. Although it isn't the cheapest shared hosting option out there, it's more than competitive considering its cutting-edge SSD infrastructure. With all of the other bonus features and perks included, GreenGeeks is definitely a solid value.
Features:
• 99.9 percent uptime guarantee
• Unlimited disc space, bandwidth, emails, and domains
• RAID-10 storage with real-time security scanning
• One-click app installation
• Free website builder, SEO, and marketing tools
• New domain – Free for one year
GreenGeeks offers an impressive combination of features designed to appeal to bloggers, small business owners, and developers alike.
Experienced users will appreciate premium SSD RAID-10 storage, unlimited data transfers, built-in caching, and daily backups. Meanwhile, first-time site owners will enjoy GreenGeeks' free site builder, hands-free migration service, and an array of free SEO and marketing tools.
That's right; GreenGeeks delivers the best of both worlds – customer-focused usability and cutting-edge technology. As a GreenGeeks customer, you can manage your hosting account using the company's updated and intuitive online interface. With it, you can register a domain, request site or domain transfers, change your billing information, and access a variety of hosting resources.
Backed by a 99.9 percent uptime guarantee and responsive 24/7 support as well, GreenGeeks's month-to-month shared hosting plan is a worthy option.
Advantages:
• "Green" data center powered by wind energy
• Premium servers and storage
• Intuitive interface
• Many premium perks available for free
Read our GreenGeeks Review to find out more about this web host.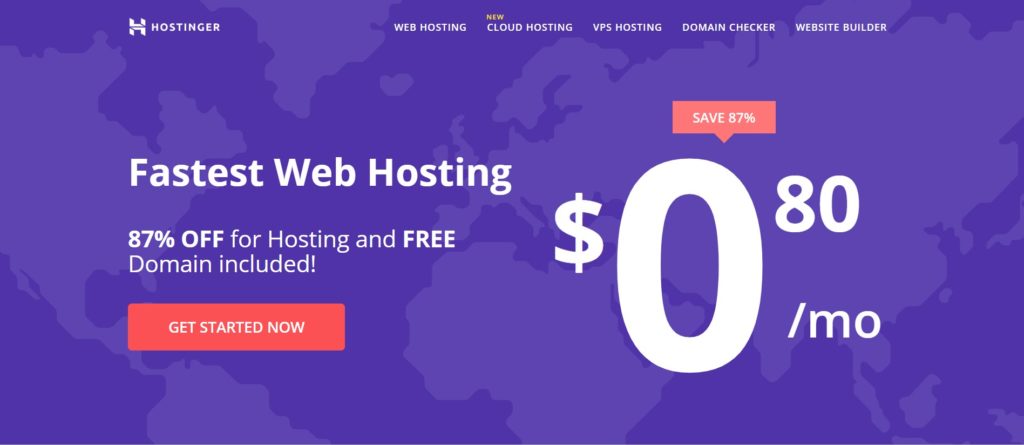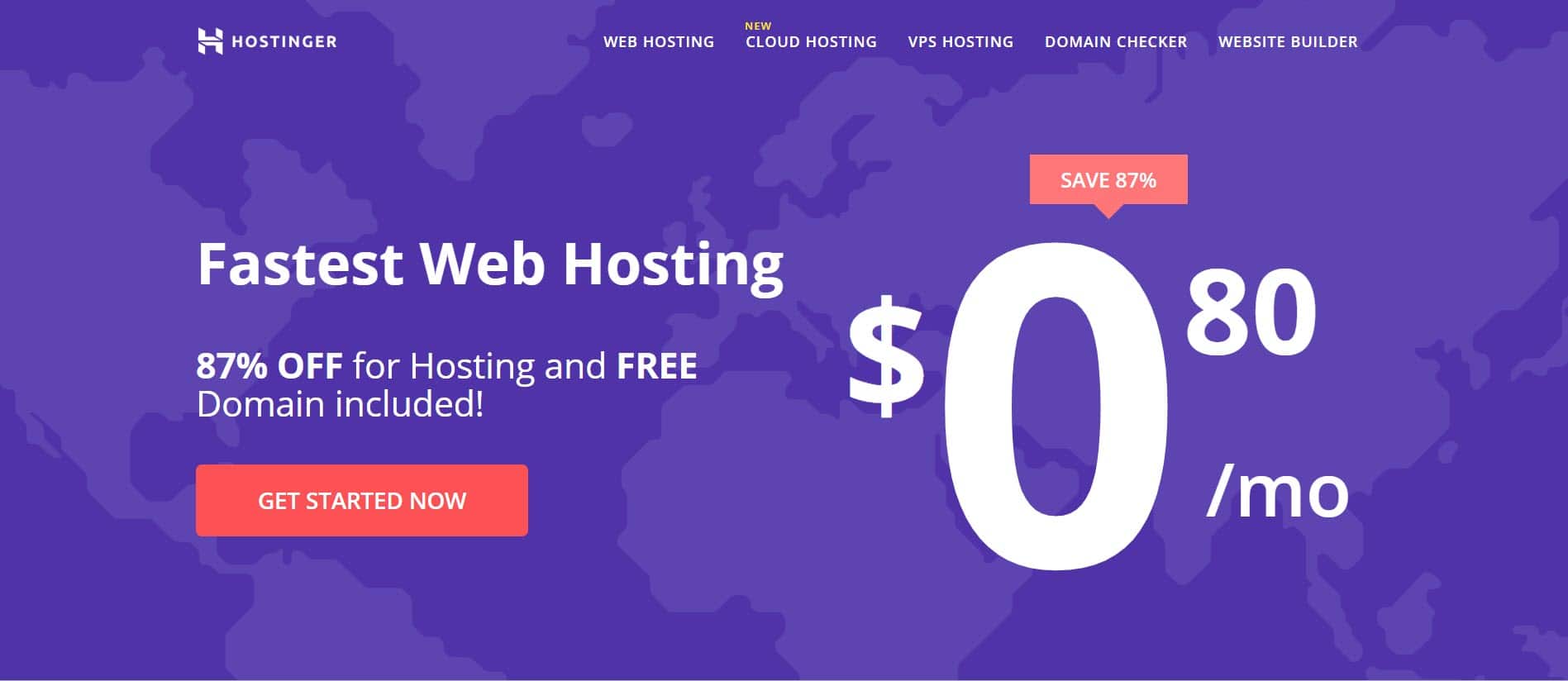 Affordability Rating: 4.1
Pricing
The month-to-month pricing for the Premium Plan, which is what we looked at, is $14.99 plus a $9.99 setup fee. Although the Single Plan cost less at $9.59 a month, it's only good for one website and has limited bandwidth and less processing power. If you're interested in Hostinger, it's definitely worth paying a few bucks more for unlimited storage and performance.
Features:
• 99.9 percent uptime
• 10-30 GB of disc space
• SSL certificates and SSH access
• Weekly backups
• Free site builder
• New domain – Free for one year
Hostinger utilizes a state-of-the-art SSD infrastructure to deliver solid performance, security, and uptime for all of its shared hosting customers.
That said, unlike the other month-to-month shared hosting providers on this list, it pays to upgrade with Hostinger. By opting for a slightly more expensive hosting package, Hostinger users can enjoy an entirely new level of inclusiveness with truly unlimited databases, websites, subdomains, parked domains, emails, and FTP users.
If you're looking for the cheapest month-to-month Hostinger plan, which is the Single Plan, you won't receive these perks and level of computing power. With it, you'll only be able to get a single site up and running, connect one email account, and have limited performance and disc space.
Overall, we like the fact that Hostinger is able to appeal to budget-conscious site owners while still maintaining a high level of performance and functionality. With an upgraded SSD infrastructure, solid uptime, and an easy-to-use website builder, it provides everything you need to create a site or multiple sites and keep them running fast and smooth without committing to a long-term relationship.
Advantages:
• Upgraded SSD hardware
• Fast loading times
• Intuitive custom dashboard
• Excellent plan flexibility
Read our Hostinger Review to find out more about this web host.
InterServer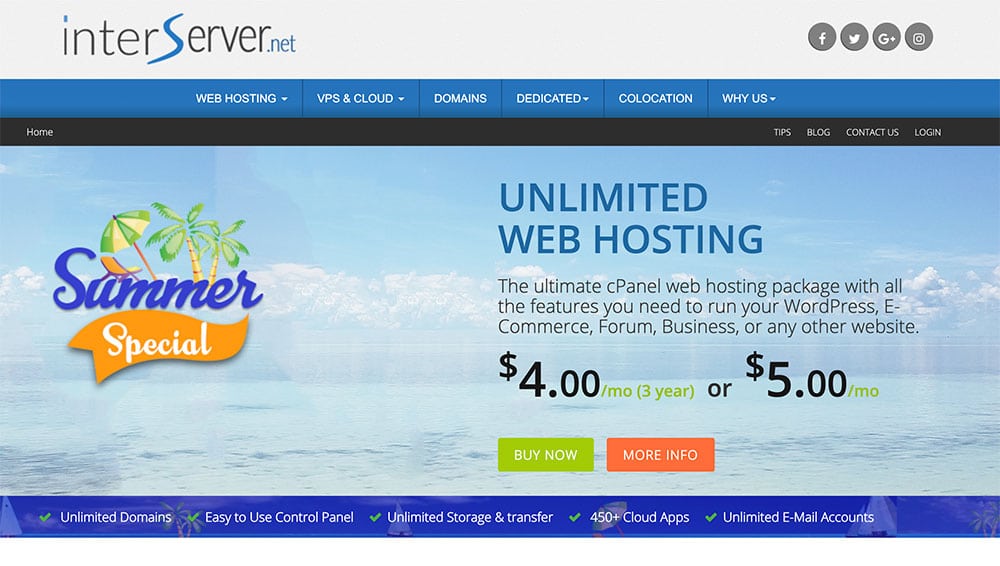 Affordability Rating: 4.8
Pricing
InterServer's month-to-month shared hosting costs $5 a month, which is one of the cheapest month-to-month rates around. Best of all, thanks to the company's price-lock guarantee, the monthly price won't increase a month or year after signing up.
Features:
• 99.9 percent uptime
• Price-lock guarantee
• No annual contracts
• Unlimited data transfers, storage space, and email
• New domain – $11 with month-to-month plan
It's tough to beat a shared hosting plan with unlimited data transfers, storage space, bandwidth, email, and websites, but that's exactly what InterServer delivers. While it may not have the brand recognition of HostGator and some of the other hosting providers on this list, it outperforms many of them.
In fact, in addition to what seems like unlimited everything, InterServer's month-to-month shared hosting plan also features a bunch of added perks like RAID-10 storage, SSD caching servers, free SSL certificates, and Cloudflare CDN. With automatic weekly backups and free migration as well, it offers a lot for a modest monthly fee.
InterServer's interface is comprehensive yet clean and easy to navigate. That said, it isn't as polished and easy on the eyes as some other web hosts we've used. Nonetheless, aside from uptime, service and support is what truly matters when choosing a hosting provider. InterServer shines in this regard by making it easy to manage your hosting and receive help when needed.
In fact, the founders of InterServer are about as hand-on as it gets. Between managing the data center and answering support tickets, it's clear they take reliability and customer service seriously. If you have a problem or question, you can access their extensive knowledgebase and community forums or reach out for help 24/7 via phone, email, or live chat.
Advantages:
• Flexible pricing plans
• Variety of full-service hosting options
• Feature-rich shared hosting plans
• Private data center
• Strong customer support
Best Month-to-Month WordPress Hosting
WordPress is the world's most widely used content management system. Unfortunately, it's also one of the most difficult platforms to host in terms of both security and speed. Since WordPress powers nearly 1/3 of all websites online, they can sometimes be vulnerable targets for hackers.
While some web hosts offer on-click WordPress installation with their standard shared hosting plans, others go a step further by combining affordable month-to-month rates with the upgraded hardware and security WordPress sites need to thrive online.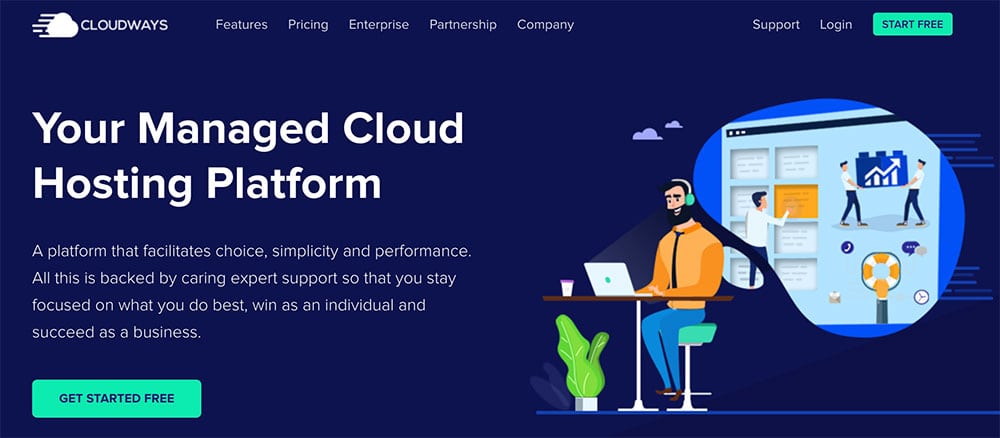 Affordability Rating: 4.6
Pricing
Cloudways offers a variety of pay-as-you-go cloud hosting packages. Its cheapest package utilizes DigitalOcean servers and starts at just $10 a month, which is really inexpensive for WordPress hosting. However, you can also opt for a Vultr package at $11 a month, Linode package at $12 a month, Google Cloud package at $33.30 a month, or an Amazon Web Services package at $36.51 a month. Regardless of which plan you choose, Cloudways truly is as month-to-month as any hosting provider can get.
Features:
• Super-fast servers
• One-click WordPress staging
• WordPress caching plugin
• Free SSL certificates
• 24/7 support
Cloudways offers a lot for the money, making it one of the best WordPress hosting providers from a value perspective out there today. With flexible cloud hosting, excellent uptime, quick setup times, and solid customer support, it's a web host you can count on to get and keep your WordPress site up and running without a hitch.
Unlike traditional shared, dedicated, and VPS hosting plans, Cloudways leverages the resources of several server clusters for added security and balanced page loading. In our WordPress testing, it was able to create a server in just a few minutes. Afterwards, you can just login, select a theme, tweak the appearance of some pages, add some images, and you're good to go.
Best of all, other than the appearance of your site, just about everything is completely managed. Not only does Cloudways auto-update the WordPress CMS, but it automatically performs daily backups and utilizes real-time site monitoring for hands-off security and peace of mind.
Plus, unlike many web hosts, Cloudways provides one-click cloning, allowing you to create server and app duplicates. That said, we particularly like the fact that it includes staging areas, so you can test various WordPress elements without adding them to your live site. Pretty neat indeed.
Cloudways is also extremely flexible. In addition to WordPress, it can be used with Joomla, Drupal, Magento, Prestashop, PHP Stack, and several other CMS options. This flexibility is on display when it comes to choosing servers as well. In addition to picking your server locations, you can build your site on the server infrastructure of Digital Ocean, Vultr, Amazon Web Services, the Google Cloud Platform, and several other infrastructure-as-a-service solutions.
Cloudways also offers great support, although its phone support could use some work. If you want to actually talk to someone over the phone, you must first fill out a form and wait for a call back, which can be a bit frustrating.
That said, this is easy to overlook given Cloudways' solid performance and money-saving pay-as-you-go billing plans. In fact, thanks to a 14-day free trial, you can create a site with Cloudways and not spend a dime.
If you continue using their service, which you probably will, you're only billed for the amount of time and resources you've used. That's right; if you cancel a week into a month, you'll only be billed for a week's worth of hosting. Talk about flexibility!
Advantages:
• Very affordable
• Flexible server and payment structures
• Fast and secure servers
• Quick and easy WordPress installation
Read our Cloudways Review to find out more about this web host.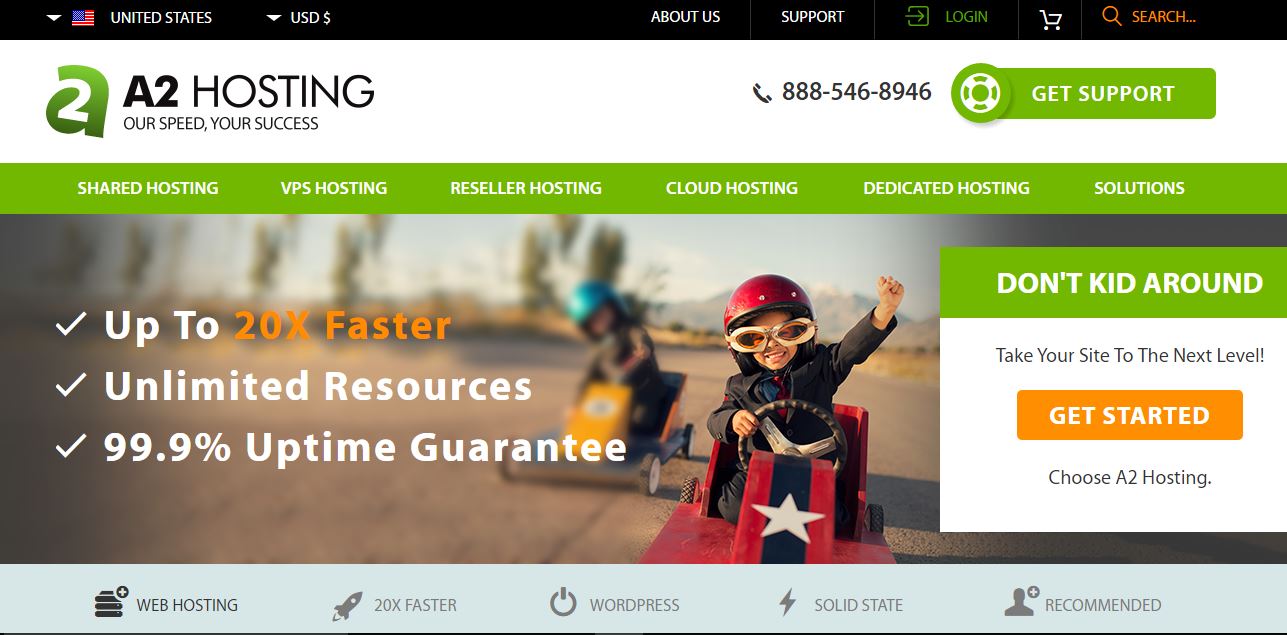 Affordability Rating: 4.8
Pricing
A2 Hosting offers three pricing plans for its WordPress hosting packages. The Lite Plan costs $9.99 a month, the Swift Plan costs $12.99 a month, and the Turbo Plan is available for $24.99 a month. Although these plans aren't necessarily the cheapest in the hosting space, they certainly pack a lot of bang for the buck.
Features:
• 99.9 percent uptime
• Turbo SSD server with optimized caching and unlimited disc space
• Optimized WP plugins
• PayPal integration and SSL certificates
• Free KernelCare, HackScan, and 24/7 support
Known for their performance optimization capabilities, A2 Hosting is a popular choice for those needing extra power for resource-heavy WordPress sites, Drupal sites, and sites powered by other CMS platforms.
A2's web hosting plans come with cPanel, where you can access the automatic Softaculous installer to easily install WordPress and any other web applications with a single click. You can also opt for a managed plan and allow A2's experts to install and configure WordPress with HTTPS and PHP7 protection.
In addition to having a full SSD infrastructure, A2 Hosting uses proprietary Site Accelerator software and Turbo Servers to allow WordPress pages to load up to 20 times faster.
In terms of security, A2 utilizes a custom program to proactively protect its WordPress sites from malicious attacks. Plus, they also offer a firewall, virus scanning, and powerful attack protection.
With 24/7 support as well and many more features optimized for WordPress users, it's hard to go wrong with A2 Hosting. If you're launching a fresh site with WordPress or any other CMS and you want both speed and security, A2 Hosting has earned our recommendation.
Advantages:
• Lightning-fast SSD servers
• Enhanced security with 24/7 monitoring
• Variety of apps for marketing, ecommerce, and more
• Databases, domains, and several developer perks
Read our A2 Hosting Review to find out more about this web host.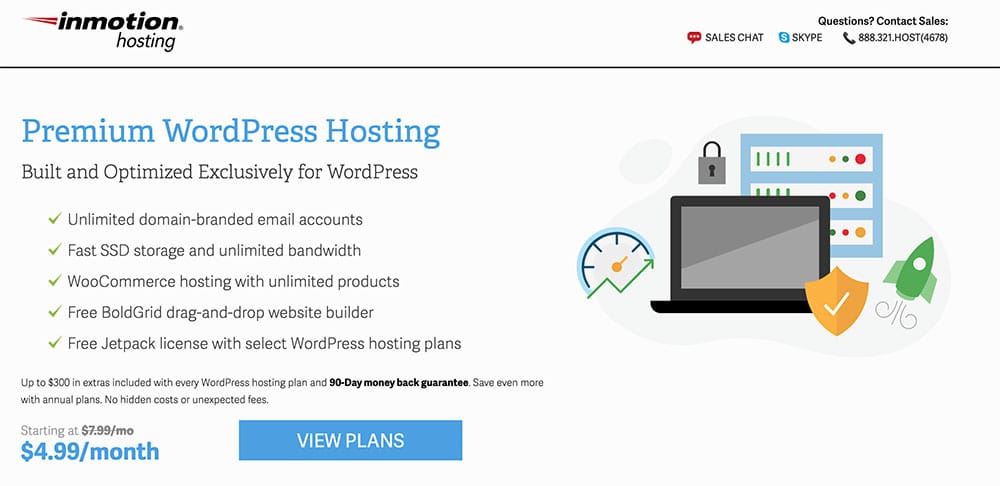 Affordability Rating: 4.3
Pricing
InMotion's Pro Plan is available month-to-month at $18.99 a month. While this package is perfect for most WordPress sites and features everything discussed above, other WordPress packages are also available at an additional fee for ecommerce business owners.
Features:
• Pre-installed WordPress options
• Unlimited bandwidth
• Free SSL certificate
• Free drag-and-drop WordPress page editor
• Automatic updates available
• New domain name – Free for one year
InMotion has a long history of providing fast, affordable, and reliable shared hosting options, but the company has also hopped on the WordPress bandwagon and now offers a solid plan designed specifically to fit the needs of WordPress site owners.
With nearly 1/3 of today's websites being powered by WordPress, we definitely can't blame them. While it's month-to-month WordPress hosting is a bit pricier than more budget-friendly shared hosting plans, it's loaded with some nice features that definitely help justify the difference in costs. For more options on WP hosting, head over to our budget WordPress Hosting guide.
First of all, InMotion features a completely modern SSD infrastructure, so its speeds are really good. If you're creating your first website, or simply a new one, you also get a free domain name for a year, which is a nice plus. Unlimited emails, unlimited disc space, free data backups, and a free SSL certificate are included as well.
As far as WordPress goes, it comes with a free drag-and-drop WordPress page editor, and thanks to its intuitive cPanel and one-click Softaculous installation script, installing WordPress with InMotion is quick and hassle-free.
If you get stuck, which you shouldn't, all InMotion accounts benefit from outstanding support. Aside from InMotion's community-based Q&A forum and ample online tutorials, the hosting provider also offers 24/7 phone, email, and live chat support.
When you add it all up, InMotion is one of the best WordPress hosts around. Although it isn't the cheapest, its month-to-month WordPress packages are rich in features and deliver solid, reliable performance.
Advantages:
• 99.95 percent guaranteed uptime
• Cutting-edge technology and infrastructure
• Open-source applications
• Great features and freebies
• Excellent customer support
Read our InMotion Review to find out more about this web host.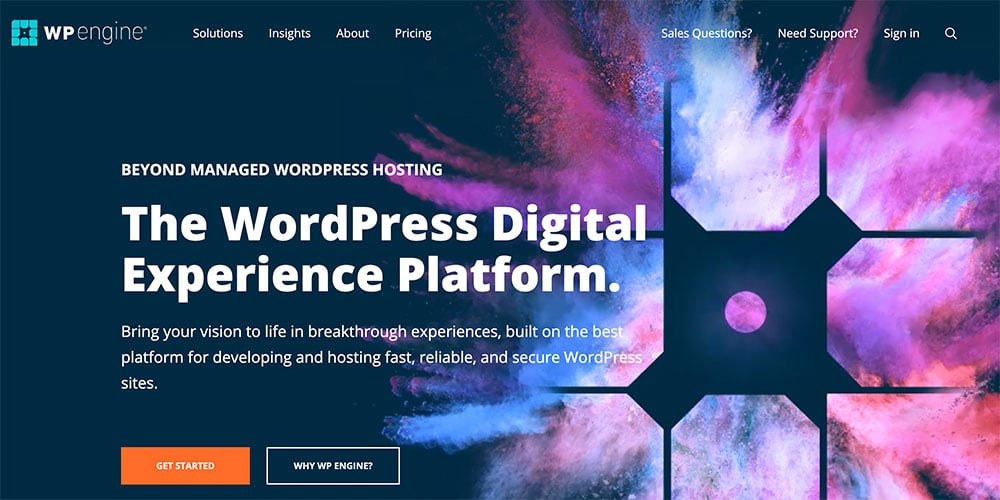 Affordability Rating: 3.8
Pricing
WP Engine offers three pricing plans, all of which seem quite expensive compared to the plans of other hosting providers. However, given the amazing performance they provide, they're actually competitively priced. That said, they're built for businesses and agencies, not newbie site owners putting together a personal blog.
The Startup Plan costs $35 a month and is more than enough for most WordPress sites. At $115 a month, the Growth Plan costs considerably more, and the Scale Plan is higher yet at $290 a month. All three plans utilize WP Engine's awesome servers and in-house technology. The primary difference is simply the number of visitors your site is able to receive.
Features:
• 99.9 percent uptime
• 10-30GB of disc space
• Genesis Framework and free StudioPress themes
• Bult-in caching system
• CDN-ready
WP Engine's prices are a little higher than most and might not be for everyone. However, if you're a designer, developer, or growing business looking for stability, performance, and supercharged WP features, you'll love WP Engine.
This WordPress-specific host makes setting up WordPress, installing a theme, and developing a site easy as 1-2-3. With WP Engine's recent acquisition of StudioPress, its users also have free access to the powerful Genesis framework, giving them endless design options.
Meanwhile, more experienced WordPress users will appreciate WP Engine's Git integration, one-click staging areas, CDN compatibility, choice of server locations, and several other niceties. With add-ons for security, geotargeting, and more, it's loaded with high-end features that justify the higher monthly price.
Best of all, WP Engine also has a built-in caching system, allowing the sites it powers to outperform virtually all other WordPress sites. You got that right. WP Engine works hard behind the scenes, so you can focus on design, content, and growing your bottom line.
Advantages:
• Designed specifically for WordPress sites
• Ultra-performance and security
• Outstanding developer tools
• Great for scaling
Read our WPengine Review to find out more about this web host.
Making the Decision
It's hard to beat $2.95 a month from Bluehost, but not if you have to pay for three years upfront. Unfortunately, this is how most hosting providers operate.
As you can see, however, there are several web hosts with month-to-month hosting plans as well. They just want to lock in your business for as much and as long as possible, so these plans are rarely advertised. Hopefully, this guide has helped.
Now, it's up to you to pick the right provider for your budget and website needs. New sites are popping up online every day, and these flexible month-to-month hosting plans can allow you to do the same – only on your terms!
Other related guides…
The following two tabs change content below.
Jamie Spencer
My name is Jamie Spencer and I have spent the past 10 years building money making blogs. After growing tired of the 9-5, commuting and never seeing my family I decided that I wanted to make some changes and launched my first blog. Since then I have launched lots of successful niche blogs and after selling my survivalist blog I decided to teach other people how to do the same.
Latest posts by Jamie Spencer (see all)