A Buyers Guide To The Best Noise-Cancelling Headphones for People In Creative Industries
There are two types of creative people in the world: those who get inspiration surrounding themselves with others and those who want to zone out when working. If you find yourself falling into the latter camp, noise-cancelling headphones can help save your sanity and let you get work done. Whether it's kids playing outside while you're trying to hit a deadline for a client or just tuning out the office when you're trying to code, you'll find peace and quiet with a set of noise-cancelling headphones. However, like most technological items, one size doesn't fit all when it comes to these headphones. You'll need to consider a number of factors before purchasing any pair of headphones, including the style, audio quality and the features.
Contents
Best Noise-Cancelling Headphones
Best Budget Noise Cancelling Headphones
Best Mid-range Noise Cancelling Headphones
Best High-End Noise Cancelling Headphones
What are Noise-cancelling Headphones?
There is no mystery about what benefits noise-cancelling headphones provide; the name itself is a dead giveaway about what you can expect. These headphones cancel out all ambient noise to provide you with silence. There are two distinct types of noise-cancelling headphones available: passive and active. Passive noise-cancelling headphones isolate sound while active noise-cancelling headphones cancel it out. With passive noise-cancelling headphones, noise is blocked out through physical means. In other words, it's the seal that the headphones makes around your ears that block out the noises from your surroundings. If you're working by yourself, these types of noise-cancelling headphones are your best bet if you don't want to hear anything.
However, if you're working in an office, these headphones are likely not a perfect fit. The last thing you want to happen is not to hear your boss or colleagues calling your name! Active noise-cancelling headphones provide a similar level of silence but without blocking you off from the world. Active headphones use technology instead of physical means to block out all noise. Rather than isolate your ears, a pair of active noise-cancelling headphones use technology to cancel out the sounds.
These headphones are good for droning sounds at a constant pitch, but will not block out sharp changes in tone, such as someone yelling out your name suddenly. When buying a pair of noise-cancelling headphones, just keep in mind that passive is an excellent choice for creatives who work alone while active is perfect for those that work in a shared space.
Why Are Noise Cancelling Headphones So Good?
Simply put, it's the technology nestled deep within your noise-cancelling headphones that make them so useful. Understanding how passive noise-cancelling headphones work is relatively easy; just cover your hand with your ear, and you've got the basic idea. On the contrary, active noise-cancelling headphones use a technology called digital signal processing to negate all sound in your vicinity. Inside of each pair of active noise-cancelling headphones are a microphone and audio processor.
When these devices hear any incoming sound, they create a sound on the opposite wavelength to cancel it out. As a result, you hear nothing. This process is known as destructive interference. In mathematical terms, both waves are creating a zero sum and negating each other. This process is why sudden changes in volume, such as a car horn or simply someone yelling in your ear, can break through your silence. This technology can not quickly adjust to sudden changes in volume on the fly, as it needs at least a couple of seconds to match the wavelength.
What Should Creatives Look for When Buying Noise-cancelling Headphones?
Deciding between active or passive noise-cancelling is the biggest decision you'll need to make when purchasing a pair of noise-cancelling headphones; however, it's not the only one. There are an array of smaller but equally as important features to look at before committing to any pair of headphones.
The most important thing you can look for on any pair of headphones is a comfortable fit. noise-cancelling headphones, like other headphones, fall into three categories: in-ear, around-the-ear and over-the-ear. In-ear headphones are your standard earbuds that go directly into your ear canal. Around-the-ear headphones are worn around your outer ear, creating a light seal. Over-the-ear headphones are large headphones that rest on your entire ear.
When it comes to the degree of noise cancellation each fit offers, there are pros and cons to each style. While in-ear headphones don't provide as much cancellation as the other two fits, they are the easiest to transport. Around-the-ear headphones suppress noise better, but some may find that this style of headphones causes ear pain. Over-the-ear headphones offer the best noise cancellation but are bulky and hard to transport easily.
When it comes to fit, there is no one best option, as every user has his or her own preference. Experts recommend that you try on each headphone style for a minimum of a few hours at one time to see which one suits you best. What may feel great for five minutes could turn into a painful experience after a few hours. While larger headphones will block out more noise, it won't do you much good if they are painful to use. Striking the right balance between comfort and size will allow you to select the best noise cancellation headphones for you.
Another thing you'll want to keep an eye on is the amount of battery life offered by a pair of active noise-cancelling headphones. Nearly all active noise-cancelling headphones use replaceable batteries, with the most common being AA or AAA batteries. Without any batteries, the technology in your headphones has no power, which means all noise cancellation immediately comes to an end. If you're planning on using your noise-cancelling headphones in a location where you won't have easy access to batteries, opt for a pair with a longer battery life. Otherwise, plan on carrying at least four spare batteries with you at all times.
The final feature you'll want to look at is the audio quality. Because a set of noise-cancelling headphones packs in so much technology focused just on cancelling noise, don't expect superior audio quality from a set of these headphones. If you're an audiophile who is looking for a stellar sound experience, you're going to have to make a choice: an excellent audio quality or no ambient noise. While there is some noise-cancelling headphones that provide decent sound, you'll need to shell out a hefty fee for that privilege. As a result, your noise-cancelling headphones are going to end up on the bulky side as well, making them more of a hassle to transport or even wear. However, that isn't to say the sound quality is terrible on most noise-cancelling headphones; in fact, your typical user will not even notice a difference between a pair of noise-cancelling headphones and a pair of high-end ones made for audiophiles.
Pros To Noise Cancelling Headphones
A pair of noise-cancelling headphones has only one very distinct advantage, which is the reduction of all sound. If you're looking to isolate yourself from your surroundings and truly immerse yourself in your creative works, then you won't find a better product to help you do that. Active noise-cancelling headphones work better to cancel out noise than anything else currently on the market.
Cons To Noise Cancelling Headphones
While noise-cancelling headphones have one major pro, it comes at the cost of a few minor cons. While the ability to cancel out all noise in your vicinity is great when you're stationary and working on a project, it is a huge detriment if you're out on the town. For example, if you're wearing a pair of noise-cancelling headphones while walking down the street, there is a chance you may not hear a car honking at you. It's for this reason that many experts recommend that you don't wear your noise-cancelling headphones in situations such as walking down the street or using public transportation. Any situation where you need to be acutely aware of your surroundings is not an ideal one for you to wear these headphones.
As mentioned earlier, a pair of noise-cancelling headphones is not usually ideal for audiophiles. If you're the type who is looking for a pristine sound and won't settle for anything less, these headphones will disappoint you. Audiophiles frequently complain that the sound from a pair of noise-cancelling headphones comes across as muffled, making it hard to discern the finer points of any given audio track. While some noise-cancelling headphones do provide pristine sound, you'll need to pay upwards of $300 for it.
Battery life is also a major concern as well. For some creative types, it's a huge hassle to always have a pair of batteries on your person at any given time. Once the batteries in your noise-cancelling headphones die, you now have an expensive pair of average-sounding headphones if you don't have any extra batteries on hand. Also, the cost of the batteries themselves adds up over time. Unlike other headphones, where you can make just one purchase that lasts a few years, you'll find yourself constantly buying new batteries every few months. While there are headphones that allow you to charge them with nothing more than a USB cable, these headphones are considerably more expensive. It also presents another problem, as when your headphones die, you'll need to scramble to find a USB port instead of just popping in some fresh batteries.
An average pair of headphones can take a beating and still come out sounding just as good as the first day you bought them. Unfortunately, this isn't true of most noise-cancelling headphones. The technology in a pair of these headphones is considerably more fragile than what you'd find on other headphones. For example, if your pair of active noise-cancelling headphones comes into contact with the rain, there is a good chance the technology inside will short out. If you live in a humid area, you may find that your passive noise-cancelling headphones lose their seal much quicker. Once the noise-cancelling technology becomes damaged, you will lose the one and only advantage to owning this device. However, you can offset this disadvantage by purchasing a case for your noise-cancelling headphones.
What Kind of Case is Best For Noise-cancelling Headphones?
Like a pair of noise-cancelling headphones themselves, there is no one size fits all approach when shopping for a case. You'll want to look at three key areas when shopping for a case for your headphones: size, features and durability.
For the size, all you need to do is purchase a case that provides a secure fit for your headphones with little to no extra room. For example, for a small pair of in-ear headphones, you don't want to purchase a case that is better suited for larger over-the-ear headphones. Likewise, you don't want to buy a case too small for your large headphones as you could cause damage to them.
For the features, the most important feature to look for is a waterproof case. With a waterproof case, you can ensure that getting caught in a thunderstorm doesn't mean the end of your noise-cancelling headphones. Other features you'll want to look for include a hard exterior, a soft interior and additional compartments for items like extra batteries.
Lastly, durability is a key factor when purchasing a case. To determine the durability of any given headphones case, look at both user reviews along with a list of materials used in the case's construction. While most cases won't last forever, you'll want to purchase a case that can last at least a few years at the minimum.
8 of the Best Noise-Cancelling Headphone for Creatives

Now that you know what to look for, it's time to pick out a pair of noise-cancelling headphones of your very own. Each of these headphones will drown out any ambient noise and let you create in peace. We've split our selections up into four different categories to ensure that no matter what your budget is, you can afford a pair of these headphones.
Jamie's Best Choice Noise Cancelling Headphones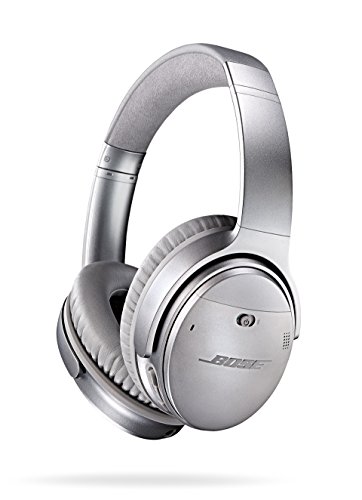 If you're looking for the best of the best and money is not an object, then you want the Bose QuietComfort 35 Wireless Headphones. Without a doubt, the Bose QuietComfort 35 Wireless Headphones are the best noise-cancelling headphones on the market today. These noise-cancelling headphones provide an incredible aural experience while filtering out all ambient noise. This list is just a sample of the many features that the Bose QuietComfort 35 Wireless Headphones provides:
Up to a 90 percent reduction in ambient noise
Balanced audio performance regardless of volume
Wireless compatibility with all Bluetooth devices
Up to 40 hours of battery life per charge
Easy charging via the included USB cable
A dual-microphone to ensure clear voice quality in even the loudest environments
High-end Noise-Cancelling Headphones That Are Ideal for Creatives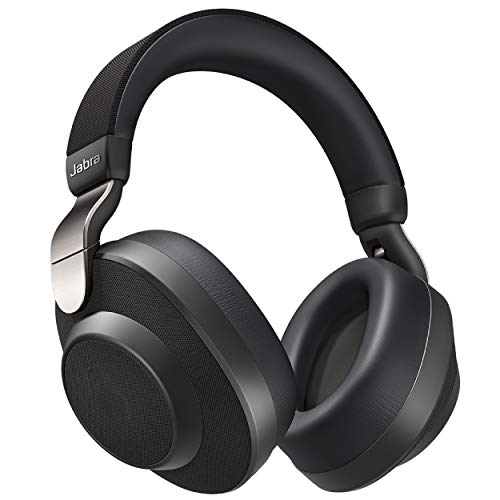 Drown out the world and lose yourself in your music! These noise-canceling headphones from Jabra let you tune out the noise from your environment. They don't just rely on physical barriers to block sound. This device utilizes Smartsound and active noise-canceling technology.
Smartsound analyzes the ambient noise coming from the environment around you. With this information in tow, the headphones create complementary sound waves that cancel out the noises you don't want to hear. It doesn't affect your music at all. Instead, it cancels out the chatter to create a small haven in your ears.
The Smartsound feature continually adjusts. So, you can move from one noisy environment to the next without having to worry about dips in performance. It'll keep up the pace so that you can have peace wherever you go.
Key Features:
Available in four colors
Over-ear design
Smartsound technology
Up to 36 hours of battery life
Water-resistant build
Built-in microphone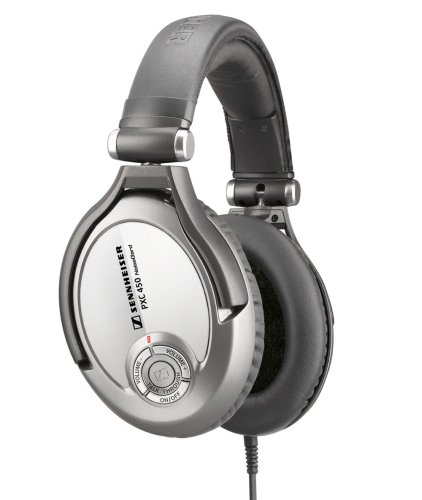 While it's true that many noise-cancelling headphones produce a sound that is inferior to standard headphones, the Sennheiser PXC 450 Active Noise-Cancelling Headphones proves that this isn't always the case. These noise-cancelling headphones use a proprietary Duofol diaphragm to produce a crystal-clear sound. The NoiseGard technology allows the Sennheiser PXC 450 Active Noise-Canceling Headphones to block 90 percent of all incoming sound. Thanks to the TalkThrough function, you don't even need to take these noise-cancelling headphones off to communicate with others.
Mid-range Noise-cancelling Headphones That Are Ideal for Creatives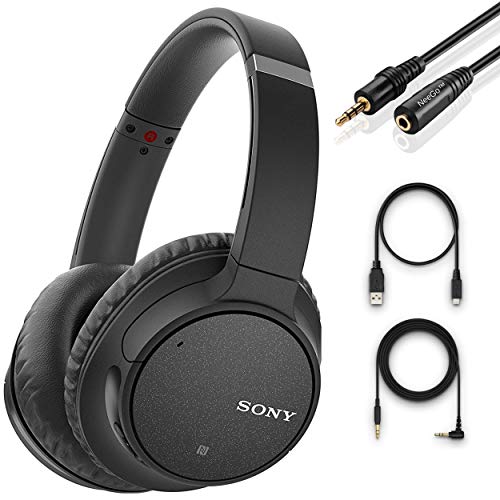 Digital noise cancellation is the name of the game here. It works similarly to active noise cancellation. However, this technology is AI-powered and continually adapts. It's said to get better the more you use it.
As a whole, the headphones are pretty versatile. You can use them in many ways based on your needs. Thanks to the integrated microphone, you can take calls, use voice assistants, and more. Sony even gives you a choice in how you want to connect. Use Bluetooth to enjoy your tunes untethered or the included 10-foot wire to save battery life.
Speaking of which, a full charge can give you up to 35 hours of runtime. When you're running low, plug it in for 10 minutes to get juice quickly.
Key Features:
Over-ear design
Active noise cancellation technology
Bluetooth or wired connection
Built-in microphone
Up to 35 hours of music playback
Fast-charge feature
NFC connectivity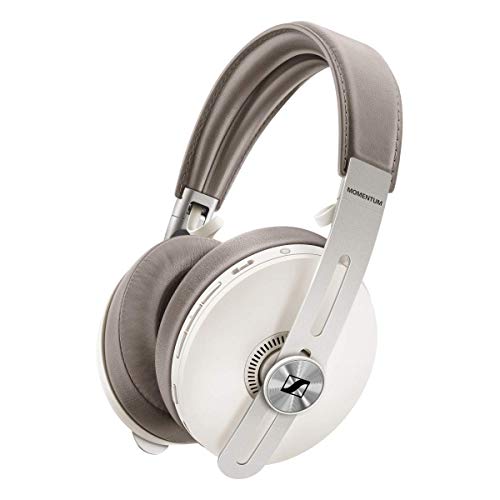 Sennheiser has a solid reputation for creating some of the best consumer and professional gear in the audio industry. The Momentum 3 headphones are a welcome addition to the brand's lineup.
From a design standpoint, these cans are nothing short of breathtaking. Solid metal accents, genuine leather cups, and gorgeous color-matched elements make this device something you'll want to show off.
But of course, the technology is where the headphones really shine. The listening devices use active noise cancellation, which creates counteractive sound waves to eliminate ambient noise. The unique thing about these headphones is the additional features. It has a transparent hearing mode, which could come in handy when listening to train announcements or other important messages. You can still enjoy your music. However, those all-important messages will go through.
Key Features:
Over-ear design
Active noise cancellation technology
Transparent hearing mode
Physical controls
Genuine leather cups
Automatic wireless pairing
Available in two styles
Budget Noise-cancelling Headphones Ideal for Creatives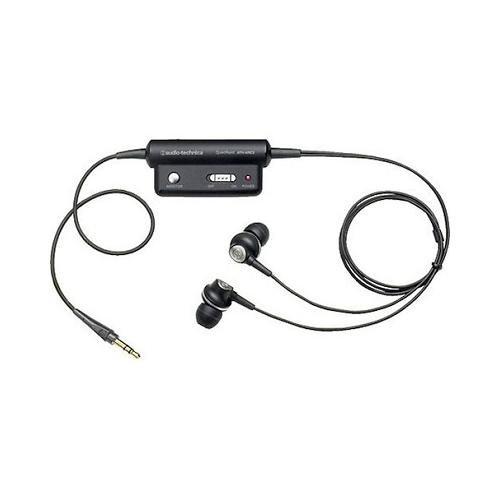 If you're looking for something smaller in both size and price, then you'll love the Audio-Technica ATH-ANC23 QuietPoint Active Noise-cancelling In-Ear Headphones. These noise-cancelling headphones can block up to 90 percent of all ambient noise in your vicinity. The padded foam on the end of each earbud ensures that these headphones won't damage your ears even after prolonged use. The included airline plug adapter will let you use these noise-cancelling headphones on any flight.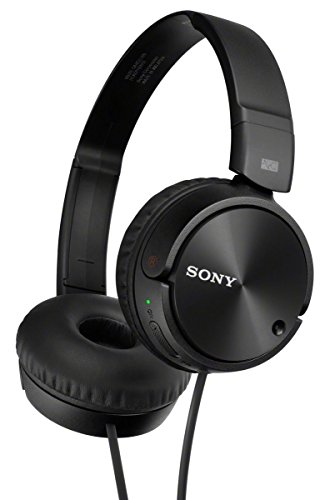 If you're planning on a taking a long trip and want to leave the batteries at home, you'll want the Sony MDRZX110NC Noise-cancelling Headphones. These noise-cancelling headphones offer up to 80 hours of blissful silence on one set of batteries. The 30mm neodymium driver provides you with a sound that rivals headphones even three times their price. The flexible headband lets you adjust these headphones so you can ensure a perfect fit.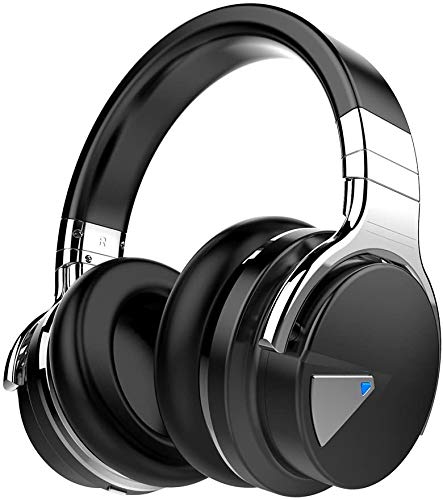 If you're on the hunt for some noise-canceling headphones that won't hurt your wallet, you're in luck! The OWIN E7 headphones have active noise cancellation technology at your disposal. It's pretty efficient, turning an otherwise noisy environment into one that's quiet enough to enjoy your tunes.
The over-ear design is quite comfortable. Thanks to the thick padding that conforms to your ear, you can listen with less fatigue.
You'll have a good time hearing your music collection, too! The headphones use high-quality drivers. The large-aperture replicates low and mid-range tones well, adding some new dimension to your favorite songs.
Key Features:
Available in several colors
Over-ear design
Active noise cancellation technology
30 hours of battery life
NFC pairing
Booming bass
Enjoy Peace and Quiet At Last
No matter which pair of noise-cancelling headphones you purchase, you'll receive a high-quality product that will block out all incoming sound. As soon as you slip any of these headphones on, you'll wonder how you ever managed to get work done without them. noise-cancelling headphones will allow you to reach a level of concentration you never thought possible and will have you creating at a brisk pace. If you're serious about your creative endeavors, noise-cancelling headphones are a must-own product.
The following two tabs change content below.
Jamie Spencer
My name is Jamie Spencer and I have spent the past 5 years building money making blogs. After growing tired of the 9-5, commuting and never seeing my family I decided that I wanted to make some changes and launched my first blog. Since then I have launched lots of successful niche blogs and after selling my survivalist blog I decided to teach other people how to do the same.
Latest posts by Jamie Spencer (see all)