It's a common misconception that Mac computers don't need to be protected from Internet-based attacks. While Apple's iconic operating system is certainly built to prevent many of the issues that Windows users experience, it's far from perfect. Macs have become increasingly popular over the last couple of decades. What once was a computer for artists and digital creators has become a highly sought-after product for a wide range of users.
Unfortunately, with increased popularity comes more vulnerability. Mac computers are still susceptible to hacking, monitoring, and a slew of other issues that come with connecting to the World Wide Web. A solid VPN service can help to combat those problems and restore your Internet privacy.
A VPN, or private virtual network, acts as a gateway to the Internet. While many casual users don't realize it, your identity is exposed each and every time you connect to a website or streaming service. Everything you download or view can be traced right back to you. With all of the surveillance and cybercrime happening nowadays, anonymity is more important than ever.
VPN services for Mac users are a dime a dozen. It can be tough to find an option that's right for you. Here are some of the best VPN services for Macs and crucial information you need to know.
The Benefits of Using a VPN With Your Mac
There's a good reason why so many Mac users have started to use VPNs. While the service may seem simple enough, there's a lot going on behind the scenes. VPNs do a lot to keep you safe and secure. They're also very easy to use. You don't have to be tech-savvy to take advantage of all that a Mac VPN has to offer.
Complete Anonymity
The biggest benefit that a VPN service can provide you with is complete anonymity online. As we mentioned earlier, it's not difficult to track your Internet activity back to you. That's because every website you visit logs your IP address, which is a series of numbers that is unique to your device. A VPN hides your IP address by acting as the middle man. Before your computer communicates with a website, your connection is first tunneled through the VPN. As a result, the website will see the VPN's IP address instead of yours. It's a very secure form of browsing. You don't have to worry about censorship, monitoring from your employer, or surveillance from a governing body. Not even your Internet Service Provider can see what you have been doing online.
Online Protection
Chances are, you do a lot of important things on the Internet. Almost every business, bank, and financial institution has an online platform. This makes it easier than ever before to pay bills and make purchases. Unfortunately, these platforms are a popular target for online hackers, phishing scams, and more. VPN service providers work to protect your from these online risks through encryption.
Some of the best VPN services utilize military-grade encryption. Essentially, your data is heavily scrambled to ensure that no one gains unauthorized access. This can prove to be useful if you connect to public Wi-Fi.
Unrestricted Access
Since the advent of the Internet, we've been able to communicate with other computers on the opposite side of the globe in an instant. However, that hasn't stopped companies from introducing location-based restrictions. Media streaming services, such as Hulu, Netflix, and BBC iPlayer, use your IP address to determine if you can view a piece of content or not. This is to appease licensing limitations. VPN providers let you connect to servers all over the world, essentially tricking these streaming platforms into thinking you're there. With a solid VPN, you can view content from anywhere. That's why people buy VPNs specifically for Netflix and other streaming services.
VPNs can also help you out with file-sharing platforms. ISPs are notorious for blocking P2P websites and platforms. Some will even send out warnings or stop Internet service altogether if they see that a customer is downloading large files through file-sharing platforms. With a VPN, that's something you don't have to worry about. You can download to your heart's content.
What Features Should You Look For?
Finding that perfect VPN provider for your Mac is all about finding the right features. Not all services operate the same way. To distinguish reliable VPNs from ones that may compromise your online safety, here are some things to keep in mind on your search.
Device Compatibility
Obviously, you're going to want a VPN that works for your particular device. While Mac computers are incredibly popular, they're still a minority when compared to Windows computers. Not all VPNs support Mac computers. Before you commit to a VPN, check to make sure that it has a specific Mac app. It's also a good idea to go with a service that allows more than one simultaneous connection.
If you use a Mac computer, there's a good chance that you also use an iOS device. iPhones and iPads have software that's designed to work harmoniously with Macs. To keep all of your Internet activities safe and anonymous across all of your connected devices, you need to make sure that your VPN lets you protect them all at one time.
Security Measures
When you're on the hunt for the best VPN for your Mac, you'll probably come across a lot of information about security protocols and encryption. If you're not well-versed in this type of technical jargon, it can be hard to separate the good from the bad. Here's some basic terminology that can help you with your search.
Protocols
Security protocols are the technique that VPNs use to shield your identity and keep your information secure. There are many different options available. Most providers offer a couple of different protocols, giving you the opportunity to choose one based on what's you're doing. However, they'll often also utilize the most secure option automatically. OpenVPN is considered to be the best protocol. Alternatives include L2TP/IPsec, IKEV2, and PPTP. Generally, the more protocols a VPN has to offer, the better.
Leak Protection
Some other security measures you'll need to look out for is leak protection. Despite all of the measures that VPNs take to keep your connection as private as possible, issues do occur. Leak protection ensures that your IP address isn't compromised in the middle of a browsing session. Kill switches are one of the most effective forms of leak protection. If the VPN client or your computer has connection issues, a kill switch makes sure that your identity isn't suddenly made public. DNS leak protection is also important. This feature will prevent your Mac computer from connecting to an unsecured DNS server when you visit a website.
Server Numbers and Locations
The number of servers a VPN provider has and where they are located can ultimately affect the browsing experience. A higher number of servers is always preferred. You'll have more opportunities to view unrestricted content. If you want to view specific streaming libraries from Netflix, BBC iPlayer, or any other content service, make sure that there's a server for that particular location.
Connection Speeds and Bandwidth Limitations
There's nothing worse than having to deal with slow connection speeds. There's always going to be a slight dip in speeds when you're connected to a VPN. This is due to the way they operate. Your data has to go through the VPN server before it makes it to the website you're visiting. The best VPN providers will offer high speeds to make sure that you can get something close to what you're paying the ISP for.
Bandwidth caps are another thing to consider. This refers to how much data you can send and receive. Free VPN options tend to have very strict bandwidth limitations. Luckily, paid VPN subscriptions almost always have unlimited data caps. However, some providers place caps on P2P downloads. Read the fine print to ensure that you're getting the most out of your subscription.
Logging Policies
Logging policies are, perhaps, one of the most important things to pay attention to. A VPN may keep information about how you use the service. They may gather information about when you connect to the network, how long you use it, and even what you do. The whole point of a VPN is to get privacy, so you should always go with a VPN that has a zero-logs policy.
VPN companies are usually at the whim of laws in the country they are headquartered in. Privacy regulations vary across the world. If you want the most secure browsing experience possible, stick with providers that are based out of countries with good privacy laws, such as Switzerland or Malaysia. In the United States, VPNs have to hand over any logged information anytime it's requested by law enforcement.
Service Details
Now, let's talk about some of the finer details that could make or break your VPN experience. Even if a service provider checks all the boxes in terms of security and privacy, that doesn't necessarily mean that it will be beneficial to your needs. The key areas you should consider are payment policies, user-friendliness, and customer service.
Payment
Using a Mac VPN requires an ongoing subscription. Many providers offer affordable pricing and multiple payment options. While you can certainly invest in single month plans, it's much cheaper to buy in bulk. You can save a considerable amount of money if you purchase yearly subscriptions. It's a good idea to consider how you'll be paying for the subscription. If you value your privacy, many companies accept cryptocurrency.
Money-back guarantees are also important. They give you the opportunity to give the service a try with no real risk. However, you need to read the terms of that guarantee. You may find that your window to claim a refund has passed due to exceeding the usage threshold.
User Experience
If you're not familiar with using a VPN, having a user-friendly client is crucial. A simple user interface and one-click connection make the process much easier. Some VPNs also offer automatic features that set up your connection for you. These can often be configured based on the type of things you want to do online.
Customer Service
A solid support system can be beneficial if you ever run into problems with your VPN connection or have billing questions. Unfortunately, some providers fall short in this department. Check to see what forms of communication a provider has. The most reliable companies will typically offer live chat, e-mail, and a troubleshooting page.
Best VPN Services for Mac Users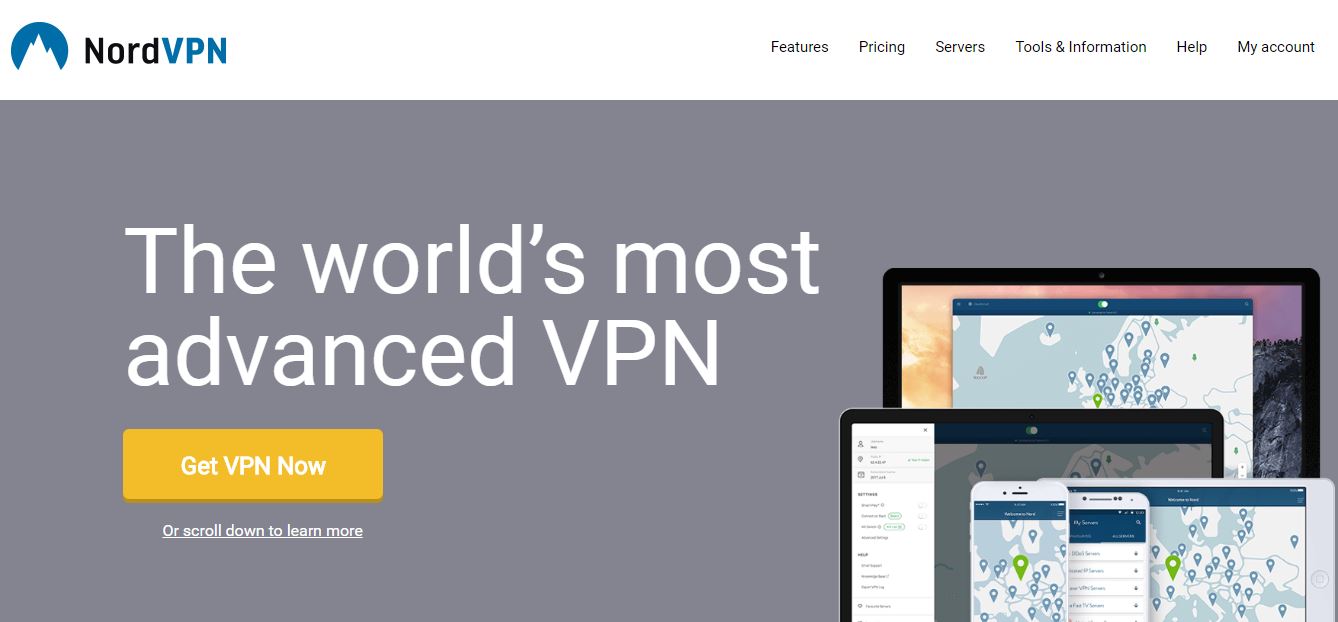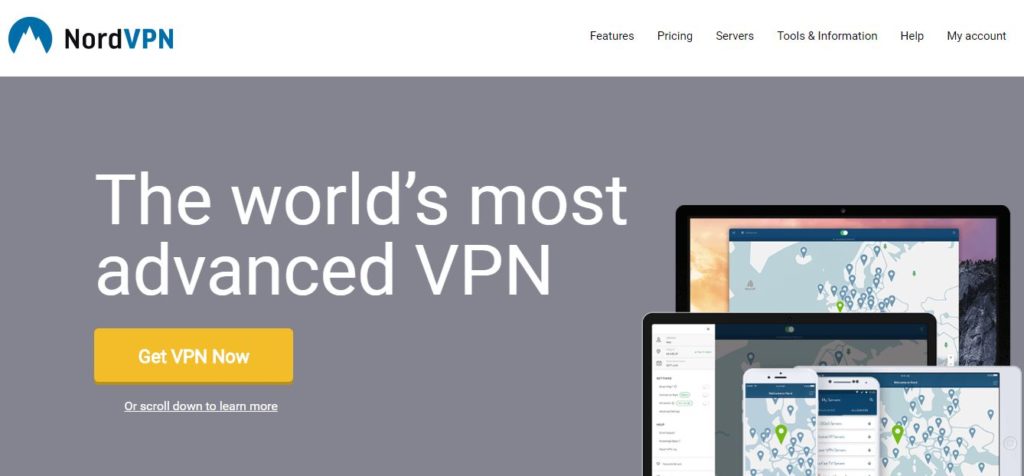 Whether you want to access foreign content, download files through P2P clients, or browse anonymously, NordVPN can handle it all. The Panama-based VPN provider has over 5,000 servers across the world. The service is quite reliable and connection speeds are consistent. Because the company is based out of Panama, NordVPN doesn't keep any data logs about your activity online. Multiple platforms are supported. There's a specific client for Mac computers that complements the operating system's simplicity and user-friendliness. NordVPN also has a dedicated application for iPhones and iPads.
Pros:
Over 5,100 servers in 60 countries
Kill switch and DNS leak protection
Clients for MacOS and iOS
Up to 6 devices can be connected with a single subscription
30-day money-back guarantee
Cons:
A bit pricier than other options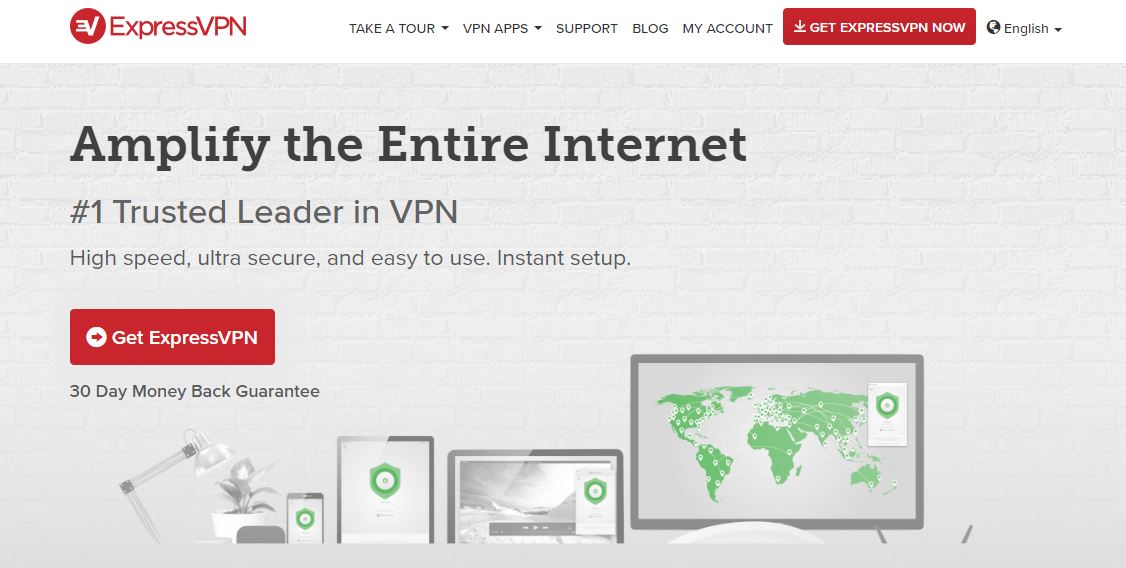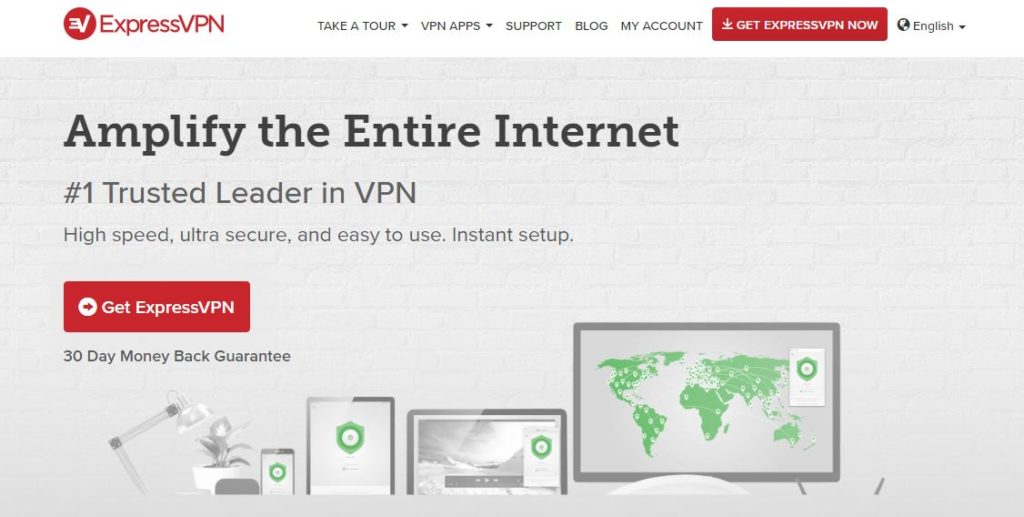 ExpressVPN is a trusted service provider that offers dedicated applications for Apple devices. In addition to a Mac computer client and iOS devices, ExpressVPN can be used with Apple TV. Many different security protocols are used. Though, the easy-to-use client can select the appropriate protocol based on your needs. Data is encrypted using 256-bit AES technology. There are also great features like split-tunneling and a zero-knowledge DNS. ExpressVPN has a great reputation for its customer-focused approach. Not only is ExpressVPN very easy to use, but there are a robust support section and multiple ways to get help should you ever need it.
Pros:
Easy to Use
No-logs policy
Dedicated client for Mac
Browser Extensions
30-day money-back guarantee
Includes Kill Switch, DNS leak protection, and split-tunneling
Over 3,000 global servers
Cons:
Only 3 simultaneous connections per account
Higher subscription price than other options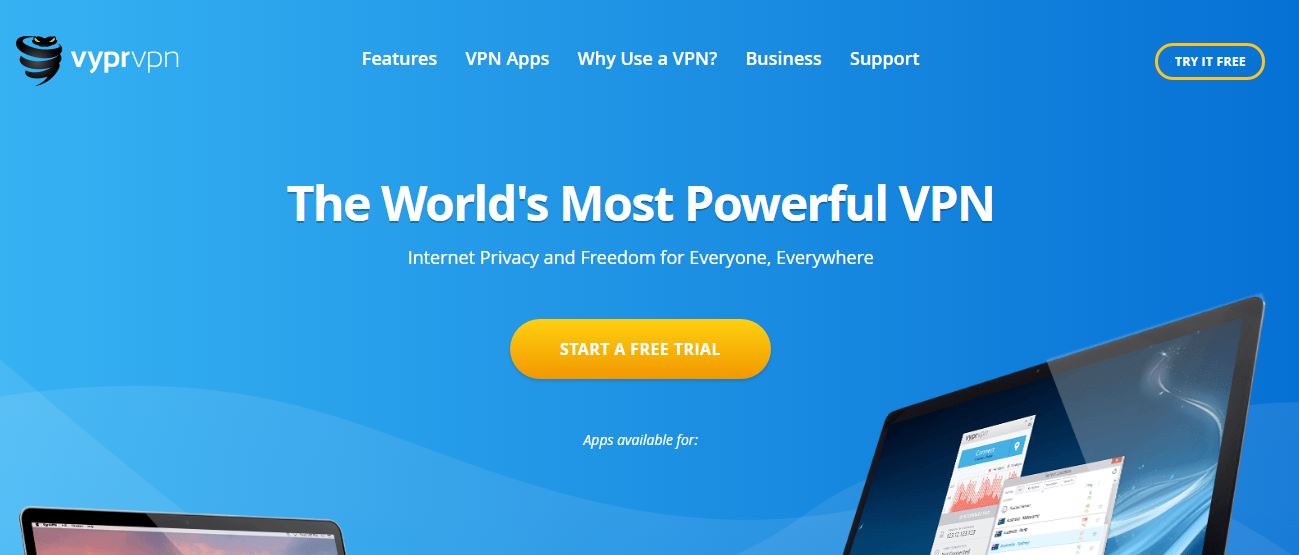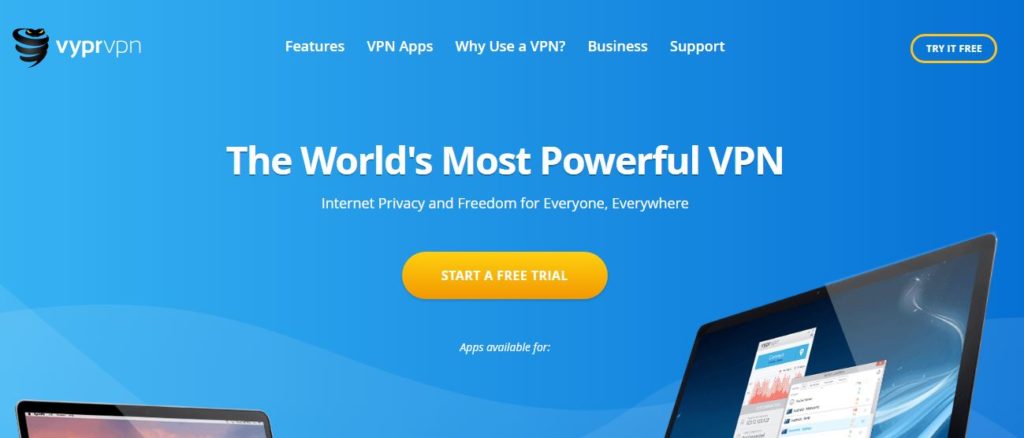 While VyprVPN has fewer servers than its competitors, the company's dedication to new technology has made them a popular option among Mac users. They have their own unique security protocol, called Chameleon. It's built to bypass VPN blocks. As a result, VyprVPN is an excellent option for accessing streaming services from anywhere. They have over 700 servers in more than 70 locations. All of those servers are owned and operated by VyprVPN. To offer even more peace of mind, the company has its servers audited by an independent third party. They're based in Switzerland and don't keep any logs.
Pros:
Owns and operates their own servers
Mac client uses OpenVPN, L2TP/IPsec, and proprietary Chameleon technology
Automatically connects to fastest VPN server based on your location
Doesn't keep logs
Kill switch and NAT Firewall protection
24-hour support
Cons:
No money-back guarantee
Only 3-day free trial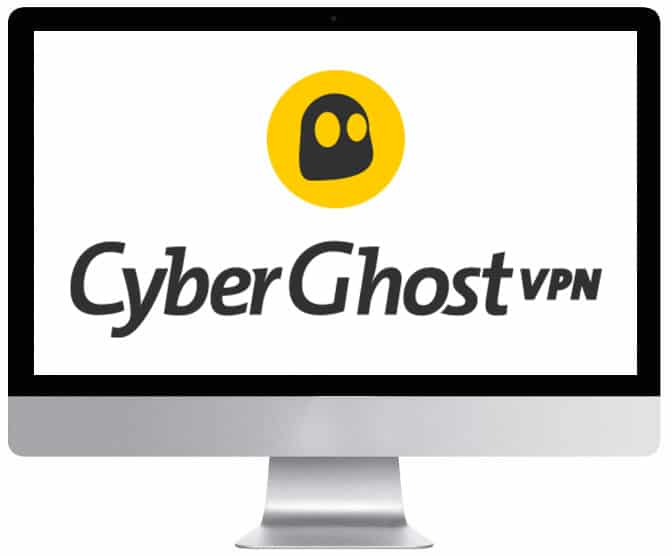 CyberGhost has a beautifully designed Mac client that will fit right in on your computer. It's very easy to use and gives you the opportunity to customize the VPN connection to your needs. To make things even easier, there are also curated servers for downloading torrents and streaming video from foreign Netflix libraries. CyberGhost uses many different protocols. They include OpenVPN, L2TP/IPsec, and PPTP.
Pros:
Generous 45-day money-back guarantee
Over 3,500 server locations
Up to 7 connected devices at once
Log-free service
Curated servers
Kill switch, DNS leak protection, and 256-bit AES encryption
24/7 customer support
Cons:
Not compatible with older Mac computers
TunnelBear
TunnelBear is a unique service that has a lot to offer. The company has a very strict zero-logs policy. To provide peace of mind, they are independently audited every year. TunnelBear has over 1,000 servers in more than 22 countries. While many VPN providers do provide more server options, TunnelBear has been continually expanding these numbers over recent years. The available platforms are limited. Though, they do have dedicated clients for Mac and iOS devices. The Mac client, in particular, is very easy to use. There's a simple ON/OFF switch as well as a visual map to help you choose which server you want to connect to. A small icon on the top toolbar lets you check on your connection at all times.
Pros:
Graphical MacOS client
Independently audited
No-logs policy
Log-free service
Kill switch and VPN blocker bypass feature
Military-grade encryption
Cons:
Fewer server locations than competitors
Based in Canada, which is part of Five Eyes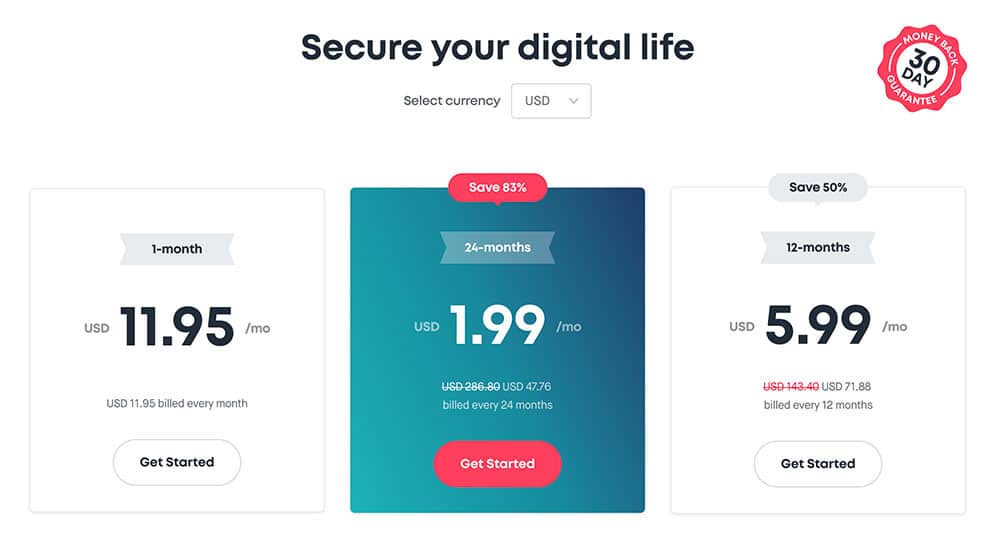 Based in the British Virgin Islands, SurfShark isn't subjected to strict privacy laws. They have a no-logs policy and have many additional features to keep your online activity private. These include Camouflage, which helps to prevent your ISP from knowing that you're using a VPN, and MultiHop, which allows you to connect to multiple servers in different countries at once. A built-in kill switch and a private DNS on every server adds even more protection. The great thing about SurfShark is that you can connect as many devices as you want. In addition to compatible with Mac and iOS devices, SurfShark works with Windows, Android, and Linux.
Pros:
OpenVPN and IKEV2 security protocols
30-day money-back guarantee
Low subscription costs
Over 800 servers in 6 continents
Simple Mac app
Unlimited simultaneous connections
No logs
Cons:
May experience speed issues on some servers
Based in Canada, which is part of Five Eyes
Private Internet Access
Private Internet Access is a simple VPN option for Mac users. It's affordably priced and has many great security features. The provider uses OpenVPN, PPTP, and L2TP/IPsec for security protocols. There's also a kill switch and solid encryption techniques for Wi-Fi. Private Internet Access focuses on simplifying the browsing experience. It has a built-in ad blocker and works to keep all of your Internet traffic safe from prying eyes.
Pros:
Up to 10 connected devices per account
Accepts cryptocurrency for payment
Unlimited bandwidth
Simple Mac client
Does keep any traffic logs
Over 3,300 servers
Cons:
No live support
Only 7 days to request refund
Must request refund in writing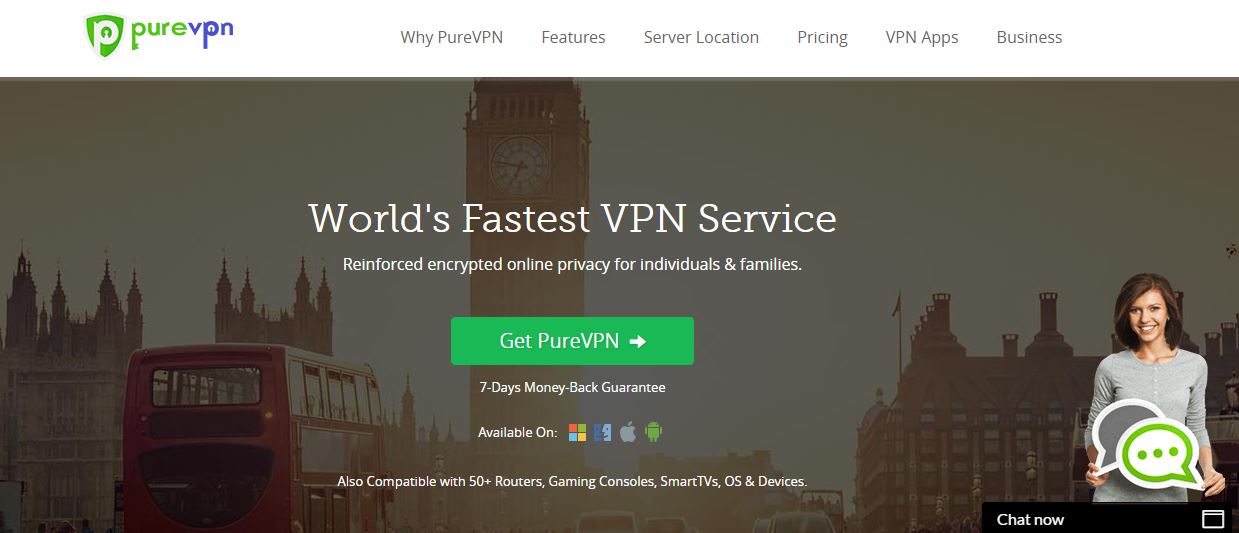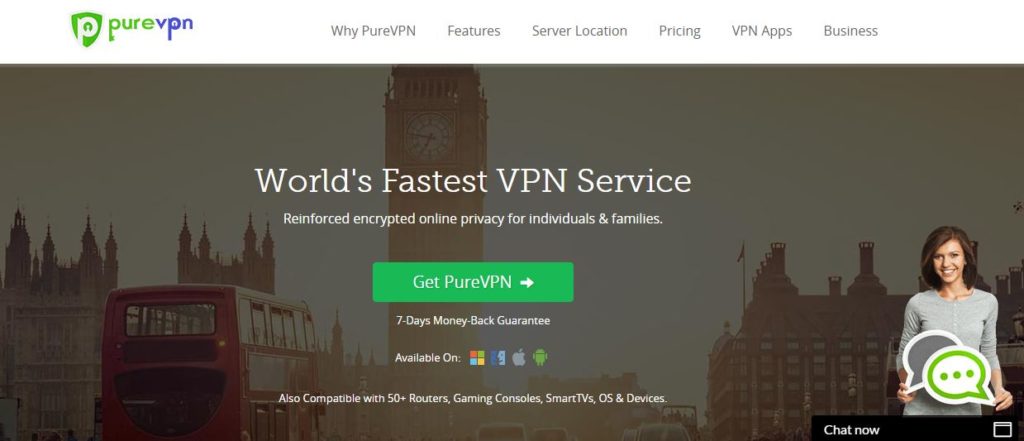 Based out of Hong-Kong, PureVPN is a feature-rich option for Mac users. The service provider has clients for a wide range of devices. The Mac version offers one-click connection. A smart selection tool is included too. It helps to find the best server choice for you based on what you plan to do. PureVPN has a dedicated kill switch as well as DNS leak protection, DDOS leak protection, a built-in antivirus, and much more. Most of the major security protocols are used. While the Mac client will choose the appropriate protocol automatically, you can select specific security features to customize your browsing experience.
Pros:
As many as 5 simultaneous connections
24/7 customer support
Compatible with multiple devices, including Mac computers
Self-managed network of over 2,000 servers
Kill switch, DNS leak protection, and available NAT firewall protection
Split-tunneling
Smart server selector tool
31-day money-back guarantee
Cons:
May experience slower speeds when connected to distant servers
Conclusion
Mac computers need just as much protection from hackers and surveillance as Windows computers do. The best Mac VPN will provide all of the anonymity you need. They can help you explore all that the Internet has to offer unencumbered and without worry. Each one of these VPN service providers can keep your online activity hidden. They all have dedicated Mac clients that are easy to use and complement the unique properties of your operating system.
The following two tabs change content below.
Jamie
My name is Jamie Spencer and I have spent the past 5 years building money making blogs. After growing tired of the 9-5, commuting and never seeing my family I decided that I wanted to make some changes and launched my first blog. Since then I have launched lots of successful niche blogs and after selling my survivalist blog I decided to teach other people how to do the same.