We all like getting free stuff in exchange for doing almost nothing, let's admit it. So if there's a method where you can save money or even earn it just by doing what you usually do, it's well worth a try. One way to make this happen is just by making a few changes on how we use the Internet, like using a search engine like Bing when we search for things online. Making money online has never been easier. Ok, you're not going to get rich from just this, but every little helps.
Bing Rewards program—now called Microsoft Rewards—is a free program offered by Bing that offers incentives for using their search engine service. You can accumulate reward points by searching online using a desktop, your mobile device, or even by playing games on your PC or Xbox.
You can earn Bing Reward points if you use Microsoft Edge and other tasks such as taking surveys, completing quizzes, checking emails and many others. In this post, we will take a deeper look on how you can make the most out of Bing Rewards or Microsoft Rewards.
Bing Rewards—An Overview
Bing Rewards was launched in 2010 to attract people to use the Bing search engine. In this program, members can earn reward points or credits when they search online using Bing, and perform other tasks such as answering quizzes and surveys. As long as your Bing Rewards account is signed in on any device you use to go online, you can earn credits.
In August 2016, Microsoft Rewards replaced Bing Rewards. A new points system was put in place as part of the change wherein users could earn points just by browsing using Microsoft Edge. Credits can also be earned by buying items from the Windows store, or by taking daily quests or quizzes. The points can be accumulated and can be redeemed as Xbox or Microsoft Store gift cards, Amazon gift cards, or even Starbucks gift cards.
Why does this matter, anyway?
As of July 2016, Microsoft Edge only held 5.09 % of the global browser market share, while Google Chrome monopolized the 50% of the pie. With the Microsoft Rewards program, Microsoft hopes to lift their numbers. This is also the reason why they locked down Cortana to only use Bing for searches and can seem like the stick holding the carrot, which is Microsoft Rewards.
As of February 2023, Edge's share of the browser market has declined to 4.26%, whereas Google Chrome has expanded their share to 65.74%. While search is still at the heart of the rewards program, Microsoft clearly see the benefit in incentivising activity beyond the realm of search, into other online behaviors.
What Changed with Microsoft Rewards
In the past, Bing Rewards offer credits for every 2 searches in Bing you perform each day, roughly 30 searches on your desktop and 20 on your mobile. If you do the math, the rewards can add up quickly—if you accrue 475 credits you will get a $5 Amazon.com discount coupon, or a $5 Starbucks gift card. The same thing is applicable under the new Microsoft Rewards program, only with a few changes.
Under the new program, Bing Rewards are called Microsoft Points. Your old Bing Rewards credits were swapped for 10 Microsoft Points. So if you had 10 Bing credits, you received 100 Microsoft points.
On top of the other Bing Rewards features and benefits, you can also earn points when you shop at physical Microsoft stores, as well as when you buy movies, music and apps at the Windows 10 store. Credits can also be earned every time you browse with Microsoft Edge. There is also a tier system in place, enabling users to earn more discounts when they reach a certain amount of points.
Top Tips on How to Quickly Rack Up Microsoft Rewards Points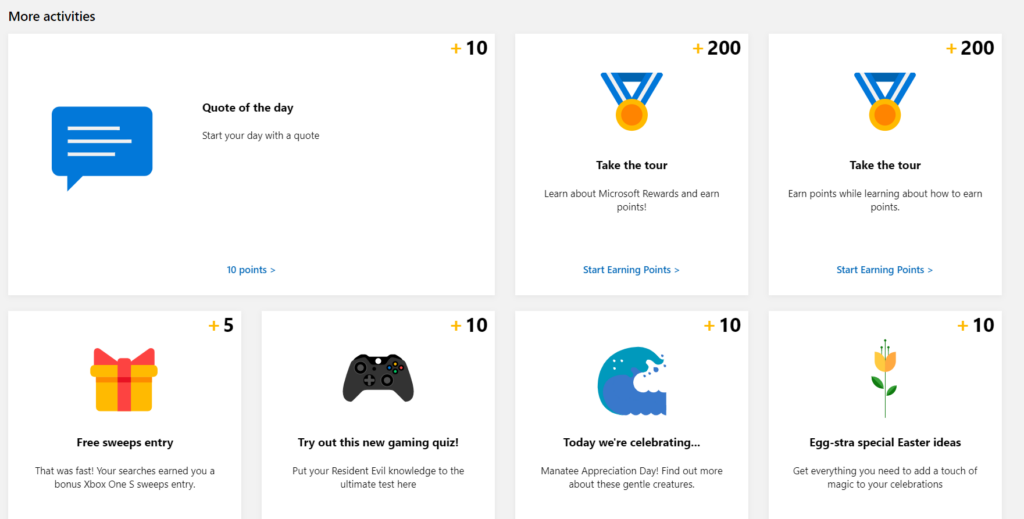 There are a few tips and tricks you can do to help you earn more Microsoft Rewards faster.
Bing Searches—you can earn points every time you search for something online on Bing, but you can double the points on some weekends. Microsoft recommends that you start your Bing searches with the keyword "US News", but another great way to earn credits when you search is to click on the TRENDING searches you see on the home page.
When you click on the Bing.com search box, a list of the most popular searches will open up, and will from then on update you on what's popular in your country. You can earn more points if you click on Bing's "Related Searches" section. You will see this section rightmost side of the screen after you run your main search. When you click on the related searches, it will expand to show what you previously searched for, and in the process, accrue additional credits to your Microsoft Rewards account.
Bonus quests, quizzes and other offers—aside from Bing searches, another excellent way to earn Microsoft Rewards points is to use Microsoft Edge to perform several fun tasks under Bing's daily quests and quizzes. The Edge bonus can rack you up a nice 30 points each, with varying themes according to the season and trends. These quizzes and quests can be fun, too. For example, there are quizzes on all things Star Trek and sometimes even about your favorite TV series.
You can keep yourself updated of these quests by visiting the Microsoft Rewards Dashboard where all the current offers and listed and some tips are shown on how you can rack up more points.
Invite friends—aside from a loyalty program, Microsoft Rewards also has a referral system in place. You can earn 100 credits for every referral who reaches the Silver status.
Mobile searches— you can earn 1 credit for every 2 searches you perform in Bing via your mobile device. You can accumulate up to 10 points per day on this method.
Bing Rewards Dashboard—check the Bing Rewards dashboard regularly to see offers that are usually worth 1 points each when you complete a task. For example, you will be asked to use the MSN Food and Drink app and when you do you will earn 1 point.
How to Amass Points Using Microsoft Edge
If you don't like using Bing for points, one other avenue is by using Microsoft Edge Browser. You can stock up to 1,500 points if you are an active Edge user, and an additional 25 points per browsing hour.
You can keep track of the usage time and points you earned by downloading the Microsoft Rewards Extension, then sign into your Windows 10 through your Microsoft account.
You will see a green checkmark if and when you are browsing actively and a yellow exclamation mark if you are not actively using it. Clicking on the extension will activated the drop down menu and will show how you can earn points. Here you will also see the link to the main dashboard page of the Microsoft Rewards program.
Here are the things you can do to earn points while browsing with Edge:
Sign into any Windows 10 device using the Microsoft account you used when you registered for the Microsoft Rewards.
Make sure that your settings for "diagnostic and usage data" are ticked on "Full" or "Enhanced". This will ensure that you earn the maximum amount of points when you browse with Edge.
Launch the Edge browser when you are actively browsing.
You must set Bing as the default search engine when you browse with Edge.
Make sure that the Microsoft Rewards Extension is installed.
The Edge browser icon must be highlighted on your taskbar
You should be engaging actively on the browser—meaning, there should be mouse clicks and movements, screen touch gestures and keyboard presses—like when checking emails, watching full screen videos, or searching with Bing.
You will earn reward points for every hour you are actively on Microsoft Edge, up to 30 hours each month. The points you earned today will be displayed on the rewards dashboard the following day. The earning cap per month is reset on the last day of each month at 11.59 PM of your local time.
Microsoft reiterates that Microsoft Edge only collects the total time you spend actively while browsing but will never collect information on the websites you visit or use your info for monetization or other purposes.
Microsoft Rewards Step by Step Guide
Now that you have decided to start racking up points under the Microsoft Rewards program, here are the steps to help you get started:
1 – Open a Microsoft Account
A Microsoft account is necessary so you can tap into the rewards. Click HERE to create an account. Then browse to this website and click the button at the bottom of the page. Start using Microsoft Edge browser when you do this step.
2 – Start
The welcome page starts you off with a quiz and a little Q and A that will give you 100 points right away.
3 – Get Your Bing On
Set Bing as your default search engine so you can earn more points.
4 – Choose a reward
Microsoft will present suggestions on what kind of things you can get when you collect and redeem points. In this step, you will be asked what type of things you can spend your points on. You will then be asked to set a goal.
5 – Complete!
You will be prompted to access the Rewards Dashboard once you are done answering the questionnaire.
6 – Check the Rewards Page
When you open the full rewards page, you will see how many points you've accrued. You will see the 100 points you earned earlier when you answered the questionnaire and completed the tour. The tasks and activities available for you to perform are also listed as well as their corresponding points.
7 – Time to Set a Goal
The interface will also show an option for you to set 3 goals which you can change on the Dashboard. Find "Your Goal" when you scroll down, and you will see the goal you chose when you started earlier. If you want to change this, you can click on "Remove Goal" and then click on your chosen goal and then click "Set Goal".
8 – Goals to Select From
There are many options available, such as membership deals for Xbox Live Gold, and points to earn when you buy gaming hardware.
9 – Earn Points
Other than answering quizzes, there are other opportunities to earn points. If you browse actively with Bing, you can rack up to 150 points per month. You can add more by doing this every day for as many as 50 points for daily searches. There are also points to earn for every dollar you spend at Microsoft online stores. As you earn more points, you can advance from Level 1 to Level 2.
10 – Redeem Points
If and when you have accumulated enough points, you can redeem them in exchange for different incentives. Click on the Redeem link at the top of the page, and click on one of the offers. You can enter a sweepstakes raffle, get Starbucks or Amazon gift cards, receive Microsoft online store discounts and even donate your redeemable rewards to a charity of your choice.
Many Microsoft Rewards options are from Microsoft and Microsoft Store such as apparel, subscriptions, Skype credits, and Xbox membership.
You can also exchange your points for hotel loyalty programs and airline miles. Your points can also be exchanged for Shutterfly photobooks and prints. There are also other options such as gift cards from Burger King, Applebee's, Groupon, Domino's Pizza, iHop, Sephora, iTunes and many other businesses.
It's Not All About Points
From time to time Microsoft also issue featured promotions to incentivise using Bing and Edge. At the time of writing this post I can see that the latest promotion is offering Spotify Premium for free, for the simple task of using Bing for search, on the Edge browser, for 3 days. That's quite a bonus reward for just a little tweak to an existing behavior.

Is Microsoft or Bing Rewards Truly Worth It?
Because Microsoft and Bing have made the process really simple, participating in the program takes little effort. Whether you are on your mobile or desktop, you can earn points doing something that you always do anyway. So why not earn credits from it? Be on the lookout for credits promotions because these offer a great amount of rewards points.
Many of the rewards are issued for doing things that are a part of your normal day anyway. Playing a game on Game Pass, or using a search engine. The only thing you need to add to your existing behaviour is remember to collect your reward points. That's it.
Final Thoughts

Bing Rewards can be used by any United States or UK citizen as long as they are 13 years old and above. They should own a Microsoft account, one for each person. Their real first and last names should be provided, along with their complete mailing addresses, an email address and a working phone number.
Set goals every time the previous one is completed, and aim for the Gold Status. This level gives you an additional redemption discount, usually 50 credits.
Visit bing.com/explore/rewards to get started.
The following two tabs change content below.
Jamie Spencer
My name is Jamie Spencer and I have spent the past 10 years building money making blogs. After growing tired of the 9-5, commuting and never seeing my family I decided that I wanted to make some changes and launched my first blog. Since then I have launched lots of successful niche blogs and after selling my survivalist blog I decided to teach other people how to do the same.
Latest posts by Jamie Spencer (see all)