When the time comes to build your own online store, you'll have your choice of eCommerce website builders and tools.
One of the most popular and easy-to-use tools is Shopify. It's a subscription product that's built for beginners who want to create their very first online store and start an online business.
It's very easy to use and with this tool you can build a professional online store in record time!
If you want to create a Shopify store from the ground up, then this post is for you. We'll walk you through every single aspect of setting your online store up the right way.
Let's dive in!
What Is Shopify? (And How It Works)
Shopify is probably one of the most well-known eCommerce builders in the world. But, that doesn't mean everyone knows what this tool is, or how it's used.
Essentially, Shopify is a SaaS software that you pay a monthly fee to use. It contains all the tools necessary to create, manage, and grow an online store.
It helps you sell physical and digital products to people all over the world. It includes a website builder to help you create a professional storefront, product management tools, shipping and tracking software, payment integration, and more.
It seeks to be an all-in-one eCommerce store management tool. It's the only tool you'll need to invest in if you want to create a functional and successful eCommerce store.
Planning Your Shopify Store
It can be tempting to jump straight into building your online store. However, by taking the time to plan everything out up front, you'll save yourself time during the setup process.
You might already have your store planned out, if so, then feel free to skip this step. But, if not then grab a pen and paper and spend some time with the following questions.
Store responsibility questions:
Do you have a business partner or is it a solo operation?
If a partnership, who has what responsibilities?
Will you be doing the technical work yourself? Or hiring a developer?
How much time do you have to dedicate towards your store each week?
Store foundation questions:
What's your budget for your store?
What type of eCommerce companies do you admire?
How big do you want to grow your store?
What are some competitor stores you admire?
Do you want to bring on a team down the road?
Store organization questions:
What site pages do you need to create? About? Contact? Blog?
How many product categories will you have? i.e., Boots? Jackets? Shirts?
What will your homepage layout include? i.e., Best-selling products? No products? Everything?
With all the above questions answered you'll have a better idea of what you want to get out of your store, what its future looks like, and a general direction on how you're going to design your site.
Naming Your New Online Store
One important consideration you'll want to take into account is the name of your store. Note, that this isn't legal advice on registering your business name. Instead, its creative advice on naming your store.
Your store's name is important. It's the name of your brand. It's what people will type into Google. It's what people will remember your store as.
The last thing you want to happen is to have to go under a massive rebrand down the road. Think about where you want your store to be in 10 years when considering your name.
For example, let's say you're selling custom putter covers, so you name your store "Putter Heads". It's simple, easy to remember, and a solid name to build a brand around.
But, when happens down the road when you want to branch out into covers for drivers and other clubs, or even golf accessories that are totally different. Now your brand name doesn't make sense at all, it's actually quite limiting.
Often, it's a better idea to choose a brand name that's more broad, while still speaking to your target market. This gives you the space and freedom to grow your store without having to go through the difficult process of rebranding.
Shopify Pricing Breakdown
How much will Shopify cost you?
Beyond the 14-day free trial to test out the service, Shopify offers three different plans, Basic Shopify, Shopify, and Advanced Shopify.

Most store owners will start with the Basic Shopify plan, as this can support stores up to $20,000 per month in total sales. The main difference between each plan is the transaction fees you'll pay, and the level of shipping discounts you'll be able to offer.
As your store grows, you can upgrade to the higher priced monthly plans, but to save money getting your store online start with the free-trial, then Shopify Basic plan.
How to Create Your Own Shopify Store in Record Time
You're here because you want to create your very first Shopify store in the shortest amount of time possible.
Follow this guide step-by-step and you'll have your very first Shopify store online in no time at all.
1. Sign Up With Shopify
The first step is signing up for an account. Currently, Shopify offers a generous 14-day free trial, so you can create an account and build out your store without any money down.
So, head over to Shopify and start your free trial.

Enter some information about you and your store, then click 'Next'.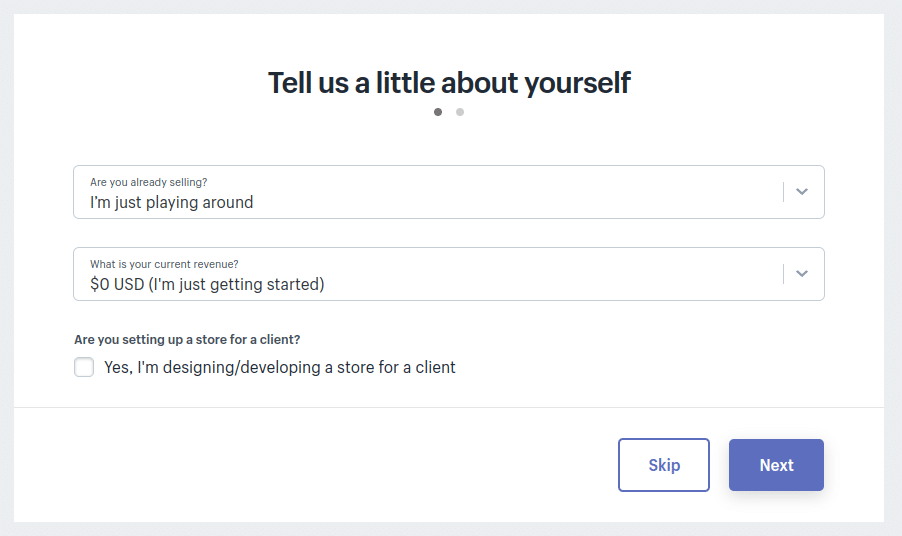 On the next screen you'll need to enter even more information about your store. This is useful as it'll help Shopify configure your storefront for the exact kind of products you're selling.
Once you enter all the relevant information, you'll be taken to your Shopify dashboard. This will be your home base for everything related to creating and managing your store, so it's time to get comfortable.
2. Get Comfortable with the Dashboard
The Shopify dashboard is where you'll be building your store, adding products, managing orders, setting shipping rates, installing apps and much more.
This is where you'll be completing every task related to your new online store.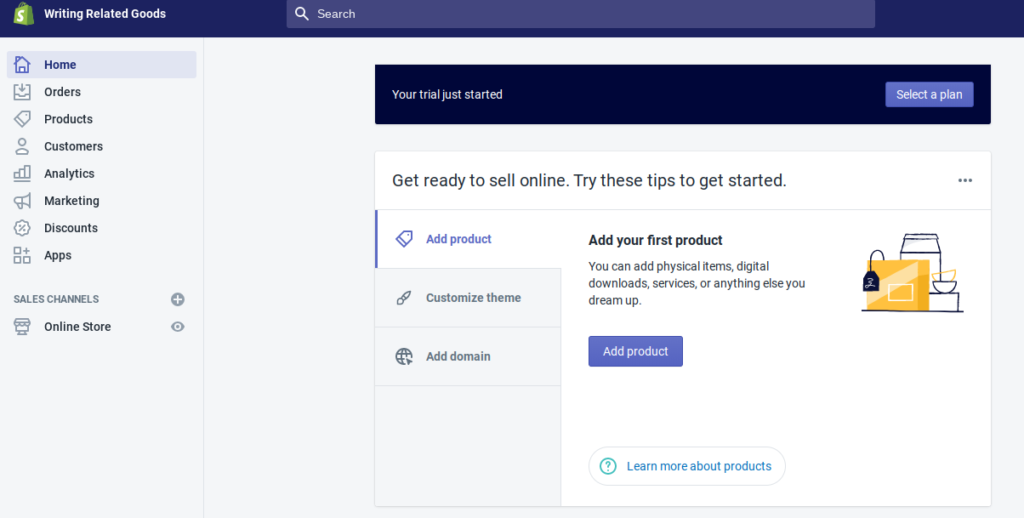 3. Choose Your Store's Design
Now it's time for the fun part, designing your storefront.
Shopify is equipped with its own theme store. It's similar to WordPress in that you'll find a massive selection of themes that will form the foundation for the design of your store.
Now, the theme selection isn't as large as WordPress, but the library is higher quality, since every theme is vetted by the Shopify team. All the themes you'll find here have full support from their designers.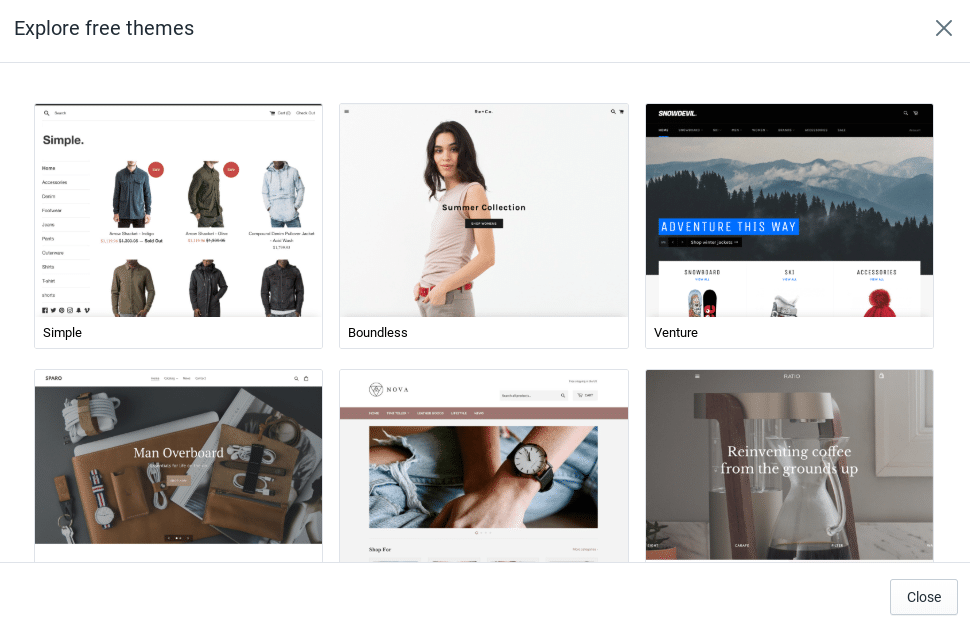 The free themes showcase all the customizations you can make to theme without having to touch a line of code. If you want even more features and modifications, then you might want to invest in a premium theme.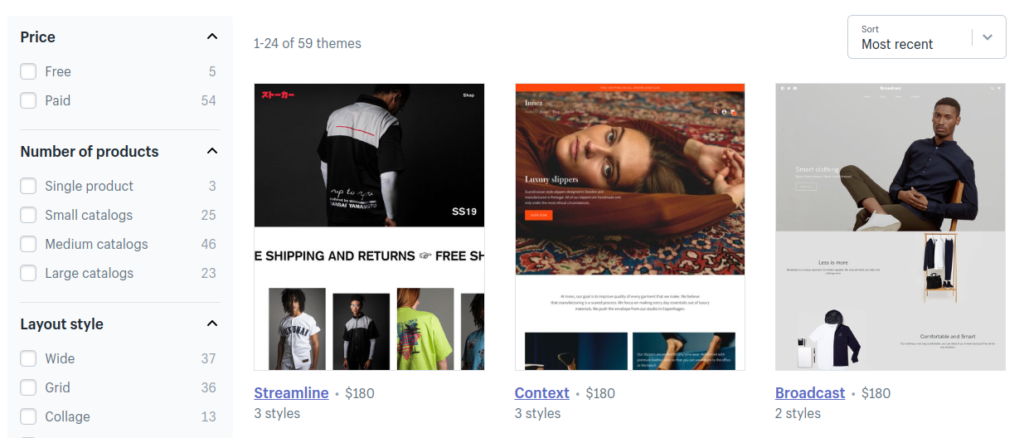 Here's how you can find the best theme for your online store:
Spend Time Browsing the Theme Store
The theme store has hundreds of different themes to choose from across multiple different industries.
You can filter by category, whether or not that theme is free or premium, or even filter by specific features.
Vet Each Theme for Your Goals
Every store owner will have different goals for their online store. You'll find theme that follow different layouts, but others might have a full-width slider, while others will jump right to the products. Some might not even have products featured on the home page.
Make sure you have an idea of what you're looking for in a theme before you start looking through the expansive marketplace.
Preview the Theme
If you think you've found the perfect theme, you can preview it before you decide to install it on your site. This will let you see how the layout works in real-time, how the navigation works, and more.

If you've found a theme that you like, then select that theme and click 'View demo'.
Recommended Shopify Themes
You'll want to choose a high-quality Shopify theme that will help you accomplish all of your eCommerce goals. But, with so many quality themes to choose from it can be hard to choose the best one.
1. Kala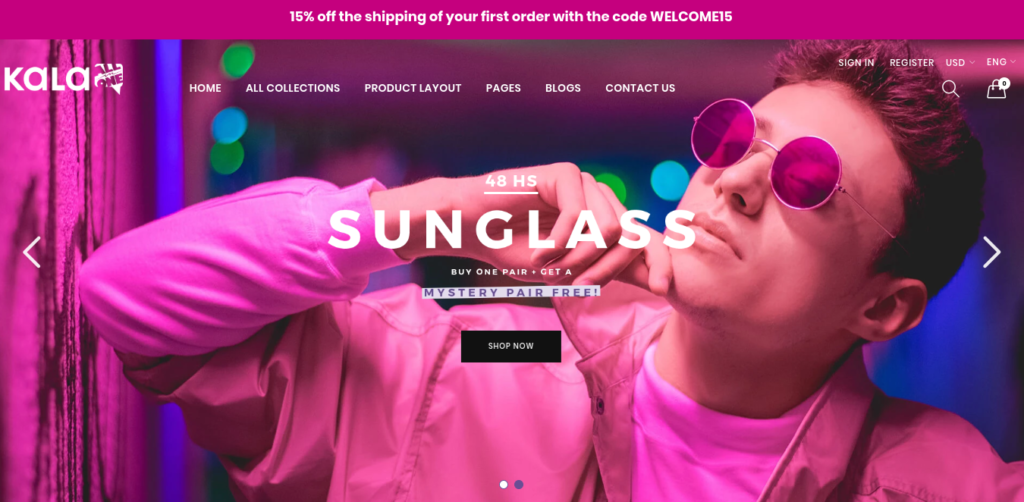 Kala is a theme that can do pretty much everything. Everything is one of the best-selling themes on the ThemeForest marketplace. It can be heavily customized to suit nearly any kind of online store. From single product stores, to online stores with multiple categories, to massive Amazon-like stores that sell nearly every kind of product imaginable.
If flexibility is what you're after, then this could be the perfect theme for your new store. Since it's so flexible it can grow with your store as you add new products and expand into more niches.
It has over 50 different templates to choose from right out of the gate, plus it's fast, responsive, and easy to set up.
2. Brooklyn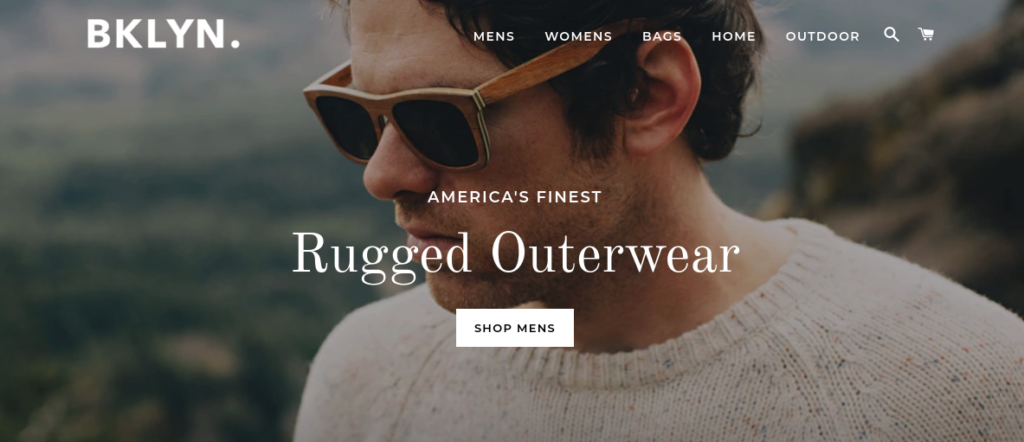 Brooklyn is a clean, simple, and minimalist theme that's entirely free. If you want to launch your store on a budget, then this could be a great choice.
These theme works well for online stores that want a clean and minimalist focus. It comes with a few advanced features too, but not as many as you'll see in a premium theme.
In a crowded and overwhelming online world, more is less. This theme will help to create a relaxing experience for your visitors.
3. Startup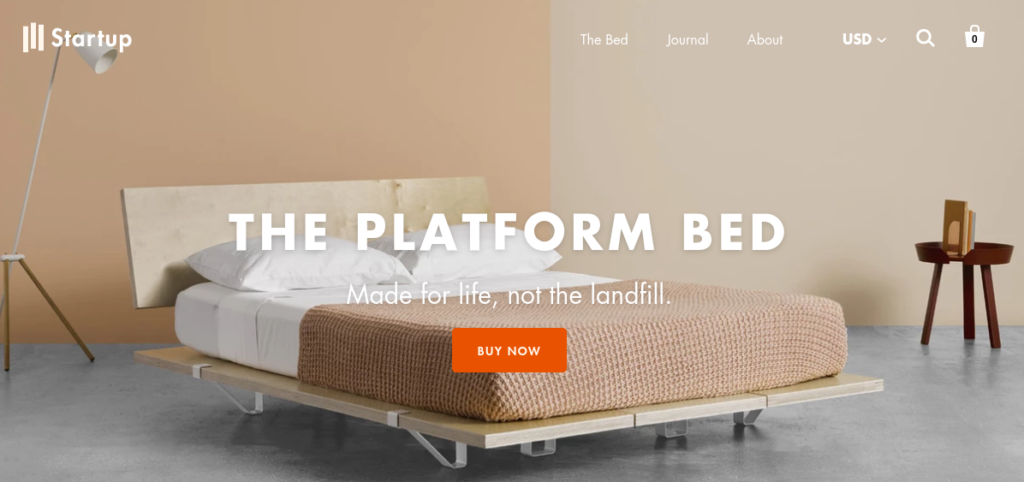 Startup is another super clean Shopify theme. It's focus is on online stores that only sell a handful of different products. Or even stores that just sell a single product!
This theme is incredibly fast, responsive and can be customized to your exact specifications. It includes four different templates for home goods, clothing, art, and technology.
If you want even more themes to choose from, then make sure you explore our list of the top 21 Shopify themes on the market today.
Customizing Your Theme
Once you've found the perfect theme, it's time to start customizing.
One great thing to do before you start making customizations is to create a duplicate of your current theme. That way, if you end up making changes that you don't like, you can just revert back to the original version. To duplicate your theme navigate to Online Store>Themes, then scroll down and click Actions>Duplicate.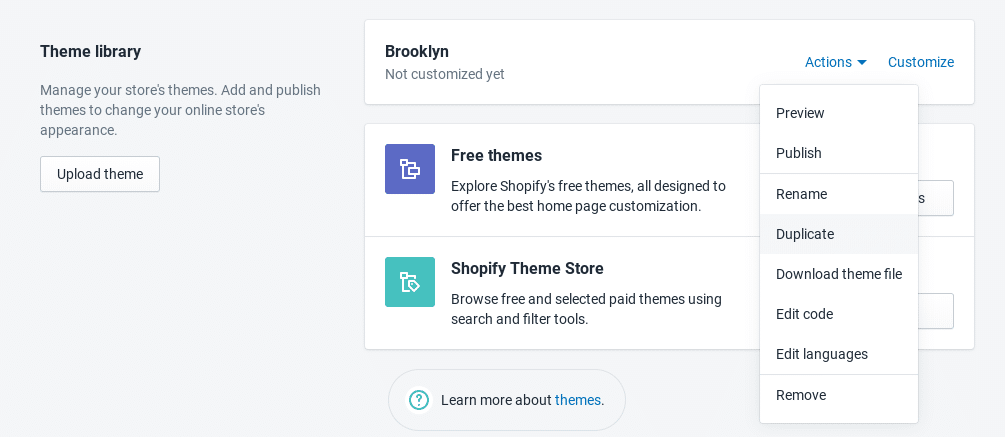 To customize your theme, you'll navigate to Online Store>Themes. Then, click on the 'Customize' button.
Once you're on the theme customization page, you can start making all kinds of changes to the layout and design of your store.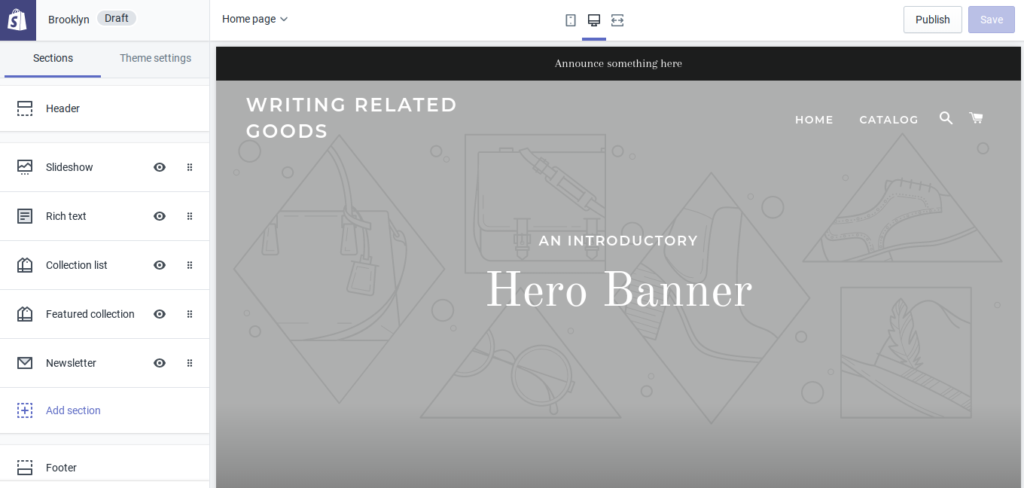 There are all kinds of different customizations you can make to your theme. Premium themes will generally offer you more customization options that free themes.
For example, some common things you'll want to change, include:
Your store's logo
Your overall color scheme
Your homepage slider or featured image
How the products display on the front page
Turning on related product features
Changing your fonts
Adding an email subscription box….. And more
4. Setup Your Store's Settings the Right Way
Shopify comes equipped with some pretty awesome stock settings. But, if you want to get the most out of your store, you can optimize these even further.
Here's how you can change your "out of the box" settings. Navigate back to your home dashboard, then click on 'Settings' in the bottom-left corner.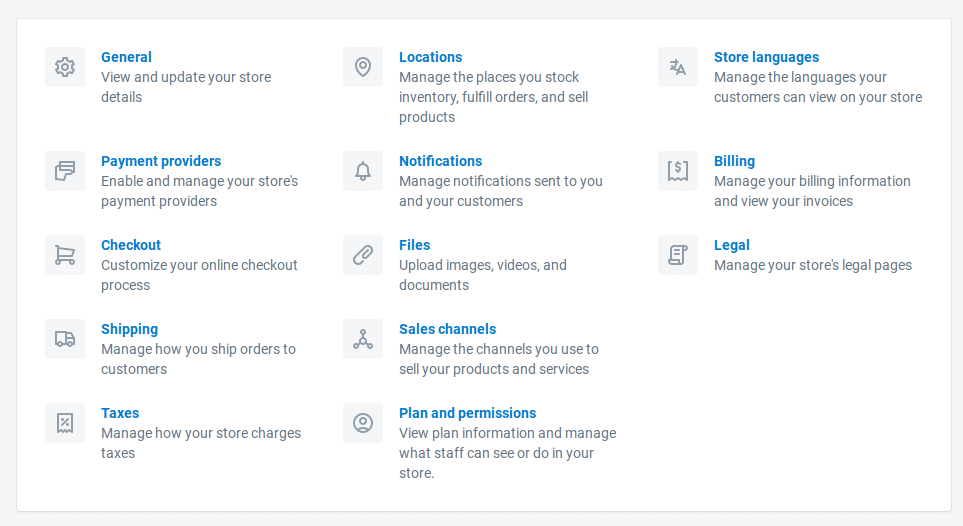 This will bring up a screen where you can adjust all of your store settings.
General. Here you'll change your store name, contact information, and currencies.
Payment providers. This is where you'll setup and manage your different payment providers.
Checkout. Here you can customize how you want the checkout process to work.
Shipping. Here you'll manage shipping rates, how you ship, print packaging slips, and even integration with distributors.
Legal. Here you can create and manage pages like your refund, privacy, shipping, and terms of service pages.
Sales channels. Here you can integrate your store with different sales channels like social media, Amazon, eBay, and more.
Taxes. Here you'll setup how you calculate and charge for sales taxes across the world.
5. Create the Right Pages for Your Store
By now you've found the perfect theme for your online store and optimized your setting perfectly. Now, it's time to create your site's pages.
To create a page navigate to Online Store>Pages. Then click the big 'Add Page' button.

Then, you'll be able to name your page and enter your page content on the next screen. It's pretty straightforward.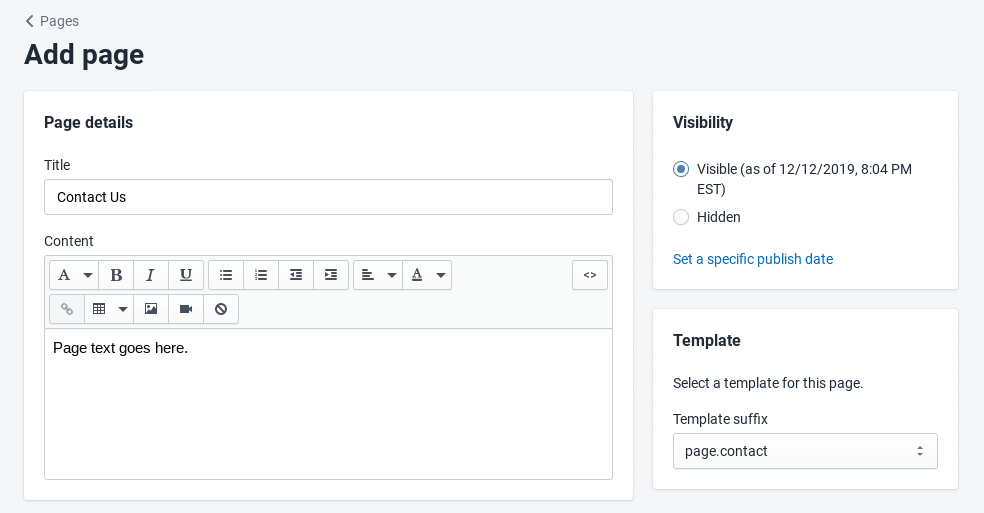 Now, you'll probably want to create more pages than what we cover below. But, here are three pages are the most necessary pages that every online store will need to have.
Contact us page. This page can be as simple as a contact form, to more complex sharing your story and a brief about us.
Shipping policy page. This page breaks down your shipping policy, rates, where you ship to, and more.
About us page. This page will share your story and the "why" behind your store and the reasons you sell what you sell.
Some people might even want to start a blog for their online store. A blog can be a great way to drive qualified traffic to your store. To create a blog post just navigate to Online Store>Blog Post and you'll see a similar screen to the page screen above.
6. Adding Products to Your Store
With your store's design in a good place, it's time to start adding products to your store. Click on the 'Products' tab on the left-hand side of your dashboard.
Then, you'll see a big blue button that says 'Add product' at the center of your screen.

This will bring you to a new product page where you'll enter all of your product information.

It's important that you enter as much product information as possible. Compare the online shopping experience to buying something in a store. When you're checking out a product in person, you can hold it in your hand, read the packaging, and even look up reviews online.
When you're buying things online you have to rely on other buying factors like product images and videos, a detailed product description that has the product features and benefits, plus online reviews of what other people think of the product.
The more information and media you have related to each product in your store, the better.
Another consideration is to make sure that all of your product photos are the same dimensions and quality. When a visitor is scrolling through your product photos you'll want the experience to be seamless.
Creating a Product Collection
Unless your store only has a handful of products, you'll probably want to create product collections.
These are groups of products that go well together, or are defined by certain features. For example, clothing that's specifically for men or women, furniture for specific rooms in the house, products best for certain seasons, and on and on.
You can think of your product collections as different categories of products. You'll display these collections as options in your navigation menu, or on sections of your home page. If your store serves multiple niches, then this is a great way to separate out your site, so your visitors don't have to dig through your entire store to find what they're looking for.
There are two ways to create a collection: manual or automatic. To create a collection navigate to Products>Collection, then click 'Create Collection'.
With manual you choose the collection you want a product to be added to, with automatic you create a set of conditions which will automatically add products if they meet those conditions.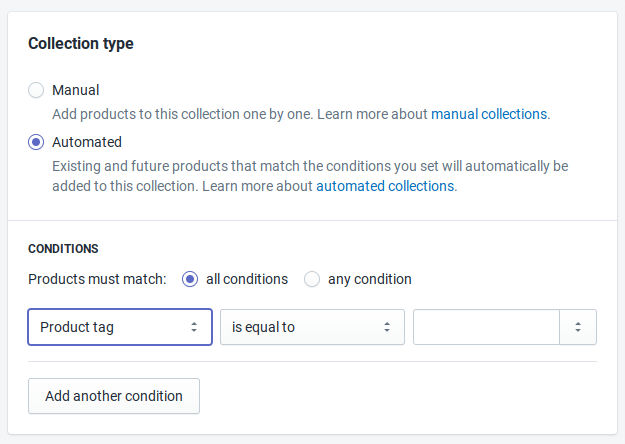 7. Setting Up Your Domain Name
Your domain name is what your visitors will type into their browsers when they want to visit your store. In most cases, you'll want your domain name to be the same as your store name.
If you already have an existing domain that you purchased through another registrar, then you can forward the name servers to the Shopify servers.
But, if you don't have a domain name yet, then you can purchase it through Shopify. This is arguably easier, as your domain, hosting, and everything else will be all in one place.
If you're stuck on trying to find the perfect domain name, then make sure you check out our guide on finding the perfect domain name.
To add a domain name to your Shopify store navigate to Home>Add Domain.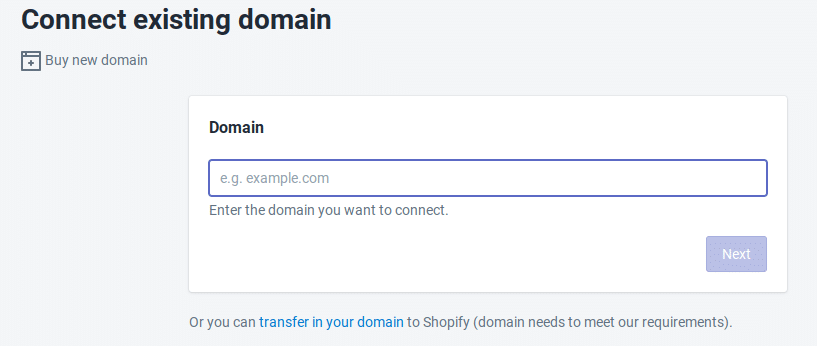 Here you can choose whether you want to connect an existing domain, or purchase a brand new domain through Shopify.
8. Syncing Up Your Payment Processor
By now your store is getting very close to launch. To set up a payment processor Settings>Payment providers on the left-hand side of your dashboard.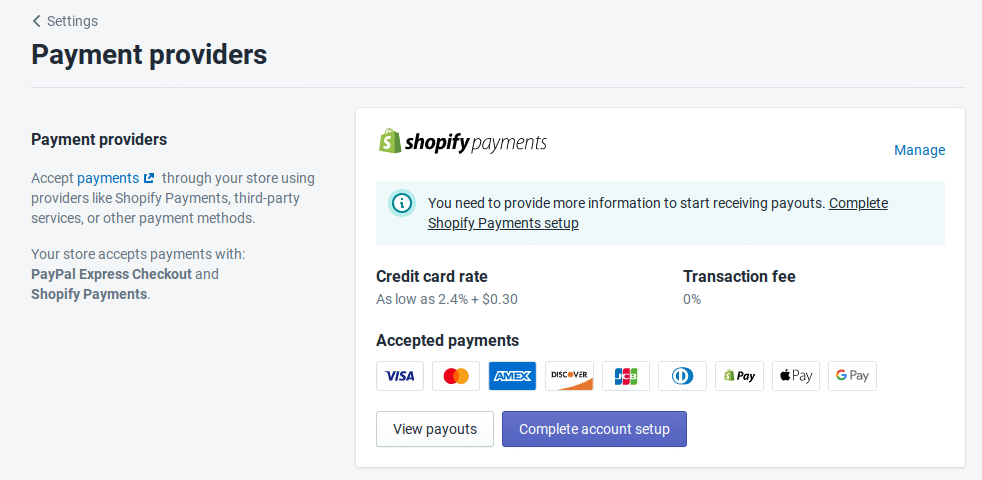 Here you can select from dozens of different payment processors to add to your store. The easiest option is probably going to be activating Shopify Payments, but feel free to choose a different payment processor if it suits your needs better.
We dive deeper into choosing the best payment processor for your needs below, so if you're unsure what's going to suit you best, then keep reading before setting up your payment gateway.
9. Integrating Google Analytics
Before you launch your store to the world, you'll want to integrate Google Analytics with your Shopify store. Once your store starts to get traffic, you'll get all kinds of useful analytics data you can sort through, like what pages are getting the most traffic, which items are bringing in the most sales, how your audience is behaving, and a lot more.
To integrate Google Analytics and Shopify you'll need to have a Google Analytics account. If you don't have one already, then head over to this page and create an account.
Once you've created an account navigate to Online Store>Preferences, from your Shopify dashboard. Then, find the Google Analytics section and paste your Google Analytics code into this box.

Now you'll be able to have in-depth analytics setup that'll give you valuable data about your audience and your store's performance.
10. Launching Your Store
With everything above taken care of you should be able to launch your store. Here's a quick checklist of everything you should have complete before launching:
A quality theme that you've customized to your liking
A catchy domain and online store name
A handful of products that you've uploaded and optimized
Your core site pages are created and maybe a few blog posts are written
You've entered all of your relevant store details including your shipping and tax information
Make sure you spend time going through every page on your site to make sure that all of your links work and there are no glaring typos.
You'll also want to test out your payment processor to make sure you're ready to accept payments.
To do this, navigate to Settings>Payment providers. Then, in the Shopify Payments' section click on 'Manage'. On this screen locate 'Test mode', then select 'Enable test mode'.

Now, place an order just like one of your customers and see if it goes through.
If you followed all the steps above, then you should have a beautiful and functional online store, all thanks to Shopify.
Below we dive deep into things like discount codes, shipping, the app store, and more. So keep on reading if you want to learn even more about Shopify and the features it offers.
Shopify App Store
The Shopify App store has hundreds of apps that'll allow you to add additional features to your site. It's similar to the WordPress plugin library. Just search for a feature or plugin you'd like to add to your site, click install, and you're done.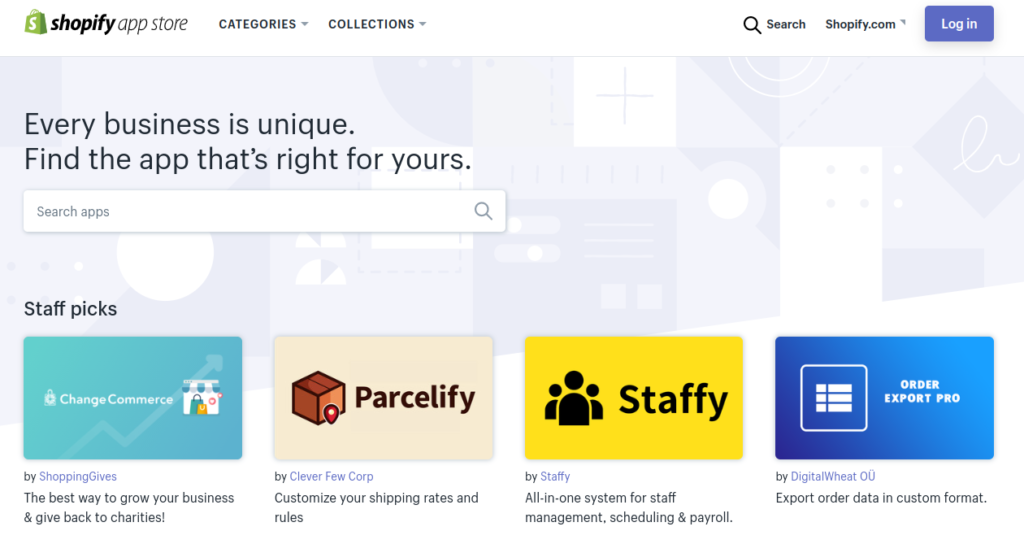 There are all kinds of app categories. For example, you'll find apps that'll help you find products to sell, integrate with social media, add new design features, help you with advertising, improve inventory management, offer new support channels, manage your books and much more.
No matter what kind of features you want to add to your store, you'll be able to find what you're looking for in the app store.
Some apps are premium, meaning you'll need to pay a fee to install them on your site. However, there's a massive library of free add-ons as well, if you're looking to keep costs low.
The other good thing about the app store is that all the apps are high quality. The listed apps have been thoroughly vetted by the Shopify team, so you know they're guaranteed to work with your site.
Shopify Discount Codes
Everybody loves a discount. Luckily, Shopify makes it easy to offer discount codes to your visitors. Even though you might not be making as much per sale, it can be a great way to move old inventory, or even get buyers in the door with a cheap discount and upsell them on more expensive products.
You can create a wide variety of discounts. For example, you can apply discounts on all products over a certain price. Or, you can apply discounts to total order volumes, like those who spend over $100 will receive 15% off.
To create your own store discounts head over to your Shopify dashboard and navigate to 'Discounts', then click 'Create discount' and you can set your own unique discount parameters.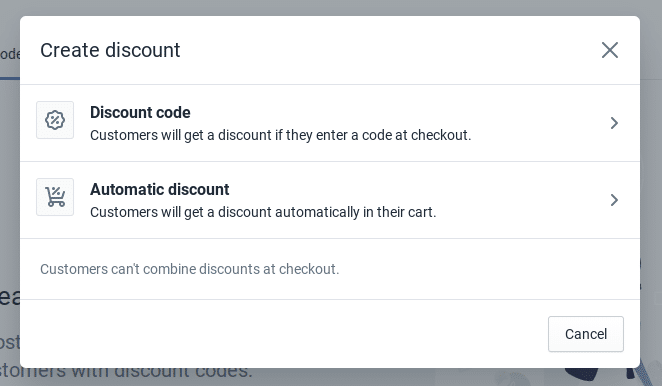 Shopify Payment Options
Shopify offers a myriad of different payment options. The last thing you want is a visitor to walk away from their purchase, because they don't want to use any of the payment options offered. Generally, it's better to offer more payment options than less.
Just because you're a big fan of using PayPal to complete online transactions doesn't mean your visitors will be.
Shopify has a massive payment dashboard that'll allow you to choose between dozens of different payment processors. It's even got its own payment processor, which is easy to set up and integrate with your store.
Here are some considerations to keep in mind when choosing the best payment processor for your online store.
How large of a transaction fee. Nearly every payment gateway will charge a small fee whenever a transaction is processed. Ideally, you'll want to choose a payment processor that charges the smallest fee possible, as you'll be able to pass on these savings to your customers. Some payment processors will charge different fees depending on the total volume of orders you process. So, make sure the payment processors are in alignment with how your store sells products.
The types of cards that are supported. You'll want to choose a payment processor that accepts a wide range of different credit cards and alternative forms of payment like PayPal or Stripe. You'll never know how your customers will prefer to pay and it's important to offer a ton of different options to suit their diverse needs.
How streamlined is the checkout process? It's important that a payment processor integrates with your site and makes checkout easy. Think about sites like Amazon, it literally takes a single click to order an item and have it on its way to your home. Your checkout process should be as streamlined as possible, so you don't run the risk of your shoppers abandoning their carts. This is known as reducing buyer friction. You'll want to make it as easy as possible for buyers place an order.
Shopify Shipping Options
We briefly touched on how Shopify handles shipping above. But, here's a more detailed look at all of its shipping options.
Shipping is one of the main concerns of online buyers. It's part of the reason they've been able to seemingly take over the online shopping world. Fast shipping is too good to pass up and is a big determining factor in whether people will buy from you.
Shopify is equipped with a ton of different shipping options right out of the gate. It has a built-in shipping calculator that will automatically calculate the shipping costs from trusted providers like UPS and DHL.
For store owners who are shipping their own orders you can print shipping labels, calculate shipping times, and overall costs right from your store dashboard. It's dead-simple and very straightforward. This feature alone helps to stand above other eCommerce tools out there on the market.
Shopify also has pre-existing relationships with some of the largest shipping providers in the world. This allows them to provide discounted shipping rates that other providers can't match. As a result, you can pass these discounts onto your shoppers to encourage more sales.
To get accurate shipping estimates you'll need to fill out as many product details as possible. This includes product dimensions and weight for every product variation listed in your store.
On the backend you can offer multiple forms of shipping, different shipping speeds, and even free shipping options.
Starting a Shopify Dropshipping Store
Shopify offers users a ton of different ways to sell products and create an online store. One of those is called dropshipping.
Dropshipping is an incredibly popular way to build an eCommerce store. It seems to have taken the world by storm.
If you're not familiar with dropshipping, it's the process of selling items in your store, which are then processed and shipped by a third-party. This greatly simplifies the process of running your own eCommerce store, as you'll never have to do any ordering, storing, and shipping of products.
Plus, there's no risk that you're going to sink all of your money into your products, only to find that no one wants to buy them.
All you have to do is host the product on your website. When someone orders that product it's forwarded to the third-party company who will handle everything else on your behalf.
Luckily, Shopify makes dropshipping easy. All you have to do is install a Shopify add-on and integrate it with your store. Then you can directly import products and start selling the very same day.
Two of the most common dropshipping apps include Oberlo and Spocket. Oberlo easily integrates with Shopify and offers products from all over the world, while Spocket focuses specifically on products that were manufactured in America and Europe.
Creating a Shopify Print-on-Demand Store
As you can see, there are a multitude of different types of online stores you can run. Maybe your dream is to build a print-on-demand eCommerce shop. This approach is similar to dropshipping, where you'll be working with a third-party provider for product fulfillment and shipping.
Essentially, you'll be working with a supplier who will customize your products for you. Usually, these are things like bags, hats, shirts, phone cases, and the like.
With Shopify you'll add print on demand functionality through a third-party tool. These apps integrate with your site and allow your visitors to select and purchase products as they would any other store, then orders are handled by the service you choose to work with.
Here are two of the most popular Shopify print on demand add-ons:
Printful. This is one of the most well-known print-on-demand apps. It has a user friendly interface and tons of different products to choose from. You even have the ability to customize your own boxes.
Lulu Xpress. This print-on-demand app is specifically for people who want to sell their own books. You can create cookbooks, chapbooks, one of a kind books, and much more. Plus, there's a huge library of free templates to get you started.
Shopify vs WooCommerce: Which One is Best?
If you're building your first eCommerce store, then you're probably aware of the multitude of different tools available to you. Another very popular option is WooCommerce. This eCommerce tool is designed to turn your existing WordPress website into a full-fledged online store.
It functions in a similar fashion to Shopify, but it only works with the WordPress CMS. With Shopify you pay a monthly fee to access an all-in-one eCommerce solution.
WooCommerce operates in a slightly different fashion. It's a free plugin that you install on your existing WordPress website.
Shopify is a great tool for beginners who don't want the hassle of dealing with all the technical elements of setting up and growing an online store. You want it to be easy and you want everything to work like it should.
WooCommerce is a solid option for users who want to run their sites on WordPress and want to heavily customize their storefronts. Since it runs on WordPress, you'll have more customization options available to you, however there is a greater degree of difficulty involved in getting your site to function exactly the way you want it to.
Overall, Shopify will be the preferred choice for 90% of people looking to build their own online stores.
In Closing: Share Your Shopify Store With the World!
If you managed to make it through everything above, then you're a Shopify master. At the very least you're well past the beginning stage.
Starting an online store can be an exciting experience, hopefully the guide above has helped you get your Shopify store up and running in record time.
Now it's time to start generating traffic, so you can watch those sales roll in!
The following two tabs change content below.
Jamie Spencer
My name is Jamie Spencer and I have spent the past 10 years building money making blogs. After growing tired of the 9-5, commuting and never seeing my family I decided that I wanted to make some changes and launched my first blog. Since then I have launched lots of successful niche blogs and after selling my survivalist blog I decided to teach other people how to do the same.
Latest posts by Jamie Spencer (see all)