Builderall and Clickfunnels are both popular and powerful landing page building solutions, with numerous similarities and differences. So it can be hard to know which platform is the right option for your next project.
In this Builderall vs Clickfunnels guide, we look at exactly what features and tools these two platforms provide, consider the user experience of each, and discuss the different prices and packages offered. Let's get started…
Full affiliate disclosure:
I earn commission should you buy either Builderall or Clickfunnels. It's how I keep this site updated and completely free to use. There is no extra costs to you at all if you buy through my links. I've personally used and tested both products in this guide.
An Introduction to Builderall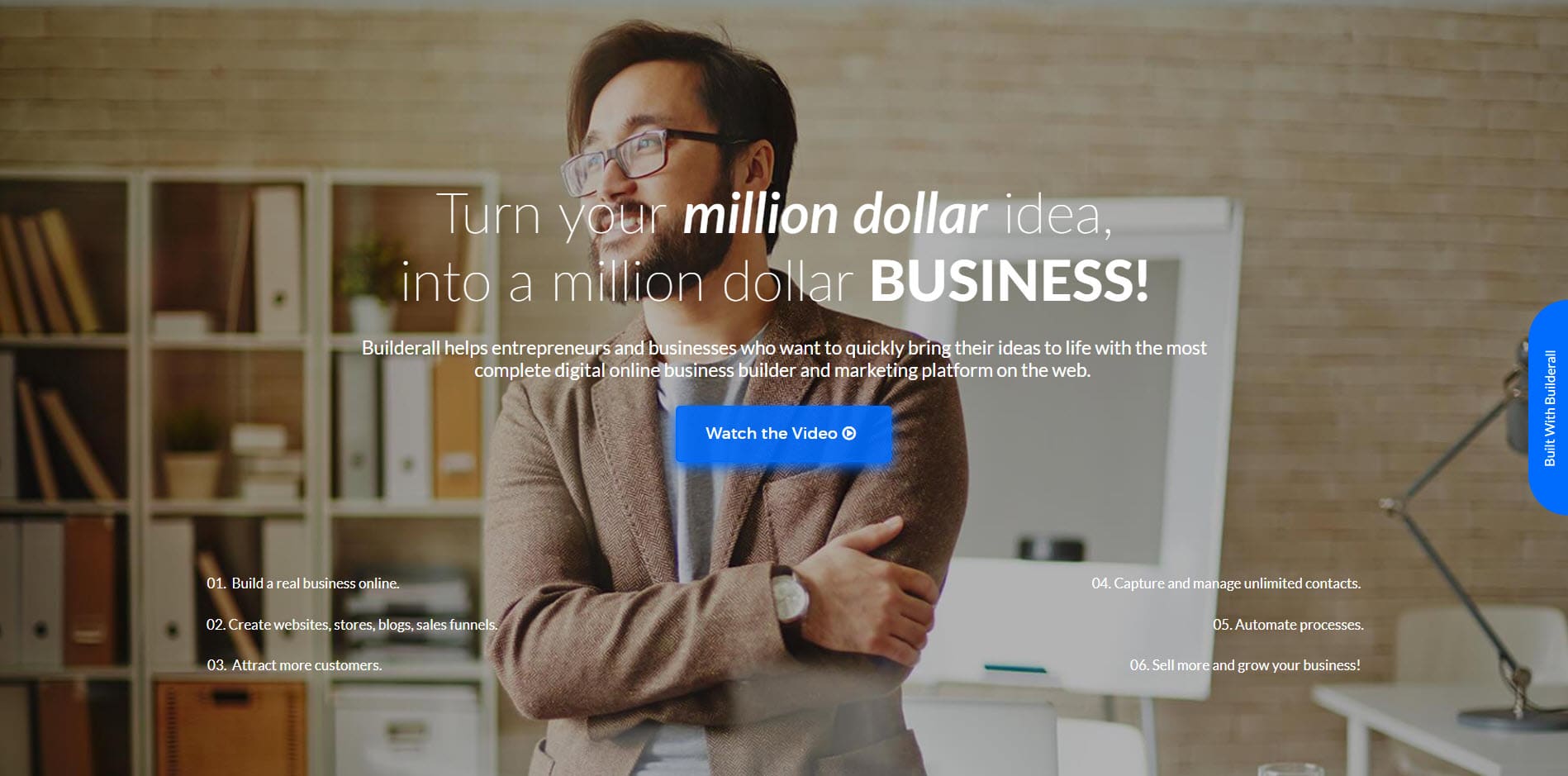 Builderall is a hosted, all-in-one, online business builder and marketing platform. Incorporating a plethora of features and functionalities, Builderall boasts that it contains all the tools you will need to create and promote your website and business.
Builderall was created by Erick Salgado in 2011 to enable entrepreneurs and small business owners to easily manage their online presence, marketing, and sales processes. This platform focuses on usability, making website creation and online marketing accessible for all, even those with no web design experience or technical skills.
Whatever your business ideas, you can not just bring them to life with Builderall, but importantly, you can make them successful and profitable. Whether you want to create a website, promote a membership site, host webinars, design sales funnels to collect leads or sell products, or something else, Builderall has the tools to ensure your vision becomes reality.
Builderall Top Features
Let's now have a look at some of Builderall's top features…
Hosting – Builderall uses its own dedicated servers and content delivery network, based in five different continents, to host any sites and pages created on its platform. This ensures websites and content load quickly, and downtime is kept to a minimum.
Drag and Drop Website Builders – Builderall provides three intuitive website builders (the Pixel Perfect Builder, the Responsive Builder, and the Mobile First Builder).
App Builder – Users can create apps using the Builderall App Builder.
Customizable Templates – Builderall provides a wide assortment of stylish and professional templates, so whether you want to create a website, start a blog, sales funnel, landing page, or something else, you will find a template to suit your project.
Design Tools – Builderall has a multitude of design tools to ensure your images and videos make an impact and grab the attention of your audience. Tools include the Design Studio, Photo Studio, Video Editor, and the Builderall Image Spinner, to name a few.
eCommerce – With Builderall you can create a complete eCommerce business. Whether you are selling physical, digital, or affiliate products, you can do so on this platform. Builderall lets you promote and manage products, take payments, and even set up an affiliate program.
Membership Site – Design your own membership site and charge users a one-off or recurring subscription for accessing the content. Alternatively, you can create a restricted area within your website, simply blocking access to certain pages and posts. Users can then log in or pay a fee to view this content.
eLearning – If you are thinking about creating an online course or series of tutorials, then Builderall is the ideal platform for this project. Create courses, individual lessons, tests, and much more. You can then lock your content away and charge users a premium to access it.
Webinars – The Builderall webinar tool will enable you to stream live or pre-recorded webinars from your website.
Email Marketing – Builderall's very own autoresponder service, Mailing Boss, has no limits to the number of email campaigns you set up, or emails you send. Create engaging emails, track their success, target individual groups of users, and much more.
Split Testing – Find the designs that best convert by split testing your content, design elements, web pages, sales funnels, and more.
Heat Mapping – Understand how your audience navigates your website or sales funnel by using the Builderall Heat Mapping tool. Learn where visitors are clicking, and what is preventing them from converting against your goals.
Integrations – Builderall integrates with an impressive number of third party providers and services. These include PayPal, Aweber, Shopify, and many more.
Support – There are numerous support channels to ensure Builderall users can find the information they need on any topic. Browse the Builderall knowledge base, ask a question on the Builderall Facebook page, view one of the numerous Builderall YouTube videos, or open a ticket and receive expert help from a Builderall support team member.
As you can see, Builderall is an extremely feature-rich product. But how does it compare to the tools Clickfunnels has to offer. Let's find out…
An Introduction to Clickfunnels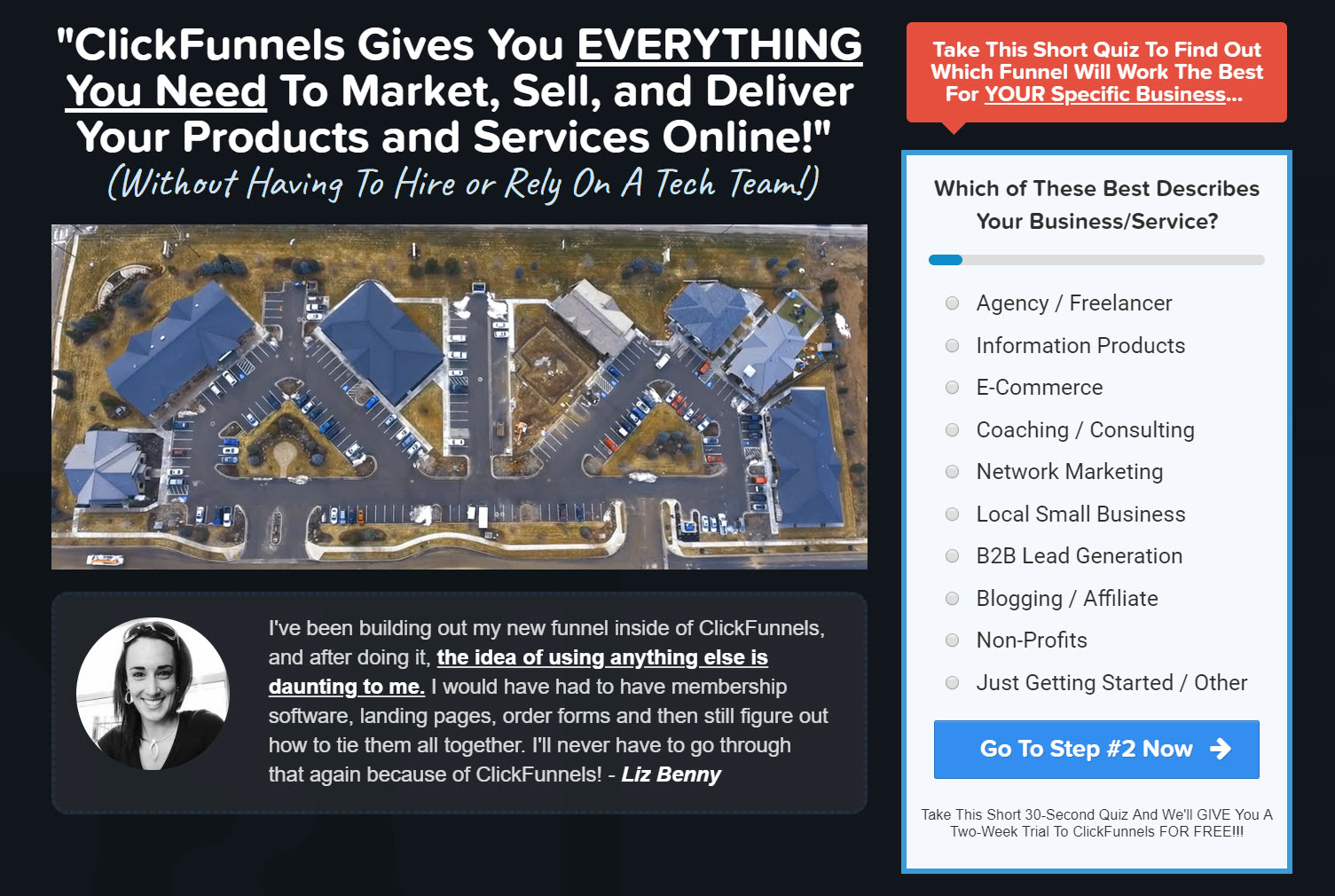 Clickfunnels is another all-in-one, fully hosted solution, with a focus on enabling users to create highly converting sales funnels and landing pages. Like Builderall, this platform provides all the tools and features that you need to market, sell, and deliver your services and products online.
Clickfunnels was created in 2014 by Russell Brunson and Todd Dickerson. Since then, it has grown hugely in popularity, and the business is now worth over $360 million. Created for entrepreneurs, small startups, large companies, and anyone else looking to grow an online presence, you can use this tool to generate leads, sell products, promote events and webinars, and much more.
Whatever your goal, you can use Clickfunnels to design a funnel to help you achieve it. Clickfunnels provides a range of pre-made funnel sets and templates that can be easily customized using its drag-and-drop editor. These can then be displayed on your own domain, added to a website using HTML, shared on social media, or embedded on a WordPress page using the Clickfunnels WordPress plugin.
Clickfunnels Top Features
Here is a rundown of Clickfunnels top features so you can see what is on offer with this solution…
Templates and Pre-defined Funnel Sets – Clickfunnels offers a range of pre-made templates and funnels sets to enable users to quickly create stylish and professional funnels. You can also select a blank template and design your sales funnel from scratch.
Drag and Drop Webpage Editor – The Clickfunnels editor allows you to customize each page of your funnel. Add design elements, change the text, alter the background, and much more.
eCommerce – Easily promote and sell products through your funnels. Whether you are selling physical or digital products, with Clickfunnels you can take payments online. Clickfunnels also integrates with the eCommerce fulfillment service Shipstation, a good option if you want all packing and shipping taken care of for you.
Backpack Affiliate Program – The Clickfunnels Backpack tool lets you set up and manage your own affiliate program, recruiting affiliates to sell your products.
Membership Site – Clickfunnels provides a number of membership site funnels that will enable you to promote your site, then allow your users to sign up and access the content.
Webinars – If you want to host a webinar, Clickfunnels also provides a selection of webinar funnels that you can use to advertise and then automatically run your webinar.
Email Marketing – You can connect your Clickfunnels account to numerous third party email marketing services, including Aweber, MailChimp, Hubspot, and many more. Equally, by opting for the Clickfunnels top-tier package, you can access Actionetics, the in-house marketing automation platform.
Integrations – Clickfunnels integrates with a wide assortment of third party tools and services. These include Shopify, Zapier, and WordPress, to name a few.
Split Testing – With Clickfunnels you can split test any aspect of your funnels, from different design elements, to colors and text. This will help you understand which designs appeal to your audience, and importantly, which designs are converting against your goals.
Analytics – Clickfunnels tracks your funnels' analytics, enabling you to easily view how each funnel is performing. From this data, you can monitor conversions over time, page views, user behavior, and much more.
Support and Documentation – Users can benefit from extensive support via the Clickfunnels knowledge base, as well as connect with the Clickfunnels community through Facebook, YouTube, support forums, and more. You can also submit a support ticket to the Clickfunnels help team.
Evidently, both Clickfunnels and Builderall are packed full of features and tools. So let's now look more closely at some of the key features on offer to see how they compare between solutions…
Try a free trial of Clickfunnels
Builderall vs Clickfunnels: Templates
Both Builderall and Clickfunnels provide a range of templates to help users quickly and easily create appropriate web pages for their projects. All of Builderall's templates are free, whereas Clickfunnels provides a selection of both free and premium. Let's take a look…
Builderall Templates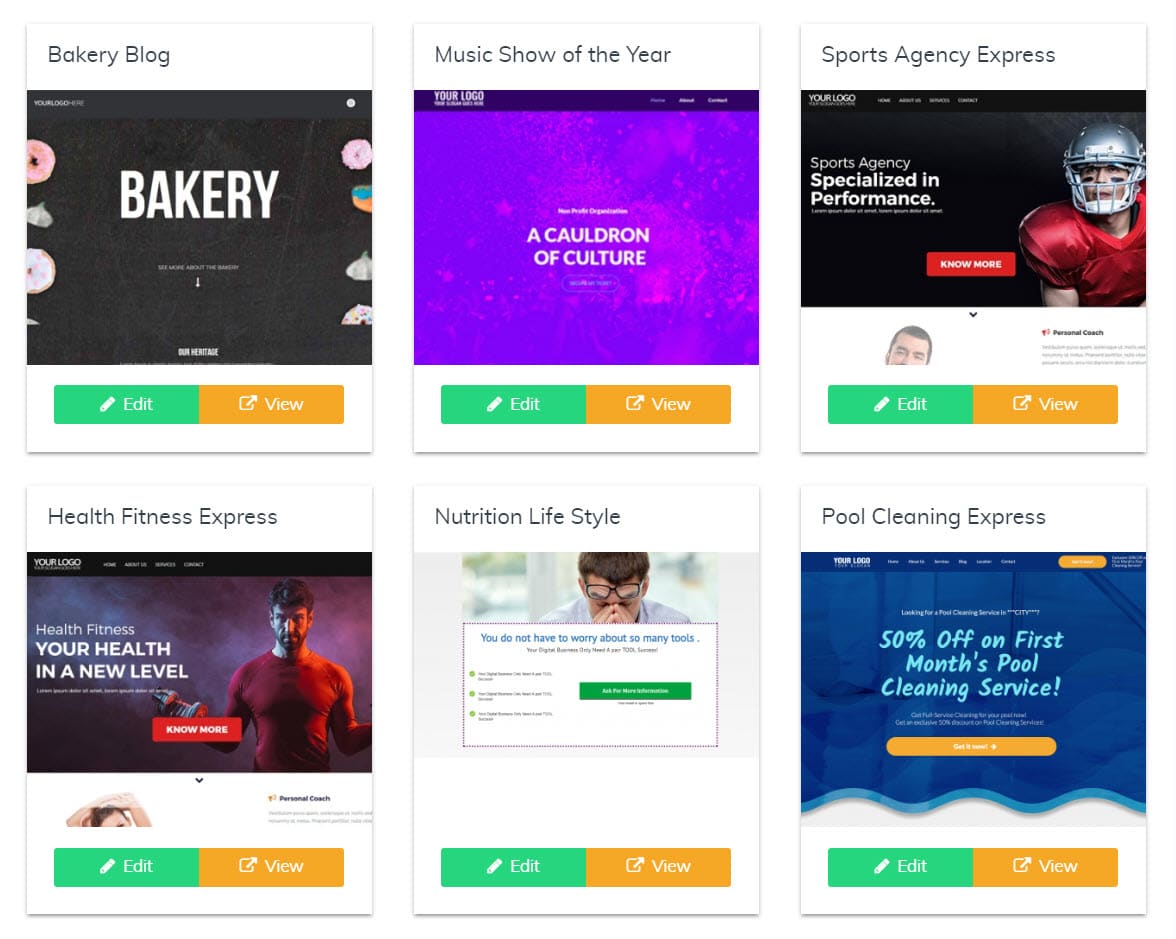 The Builderall platform enables users to create websites, online stores, blogs, landing pages, sales funnels, and more, and their templates reflect this. Templates are also split into categories, ensuring whatever your industry or niche you will be able to find a template that suits your needs. Categories include…
Health and Beauty
Fashion
Food
News
Travel
Templates are 100% customizable within one of Builderall website builders, and you can also select to use a blank template and create your website or webpage from scratch. Templates are all modern in appearance, and importantly, contain design elements and features relevant to their individual niches.
Clickfunnels Templates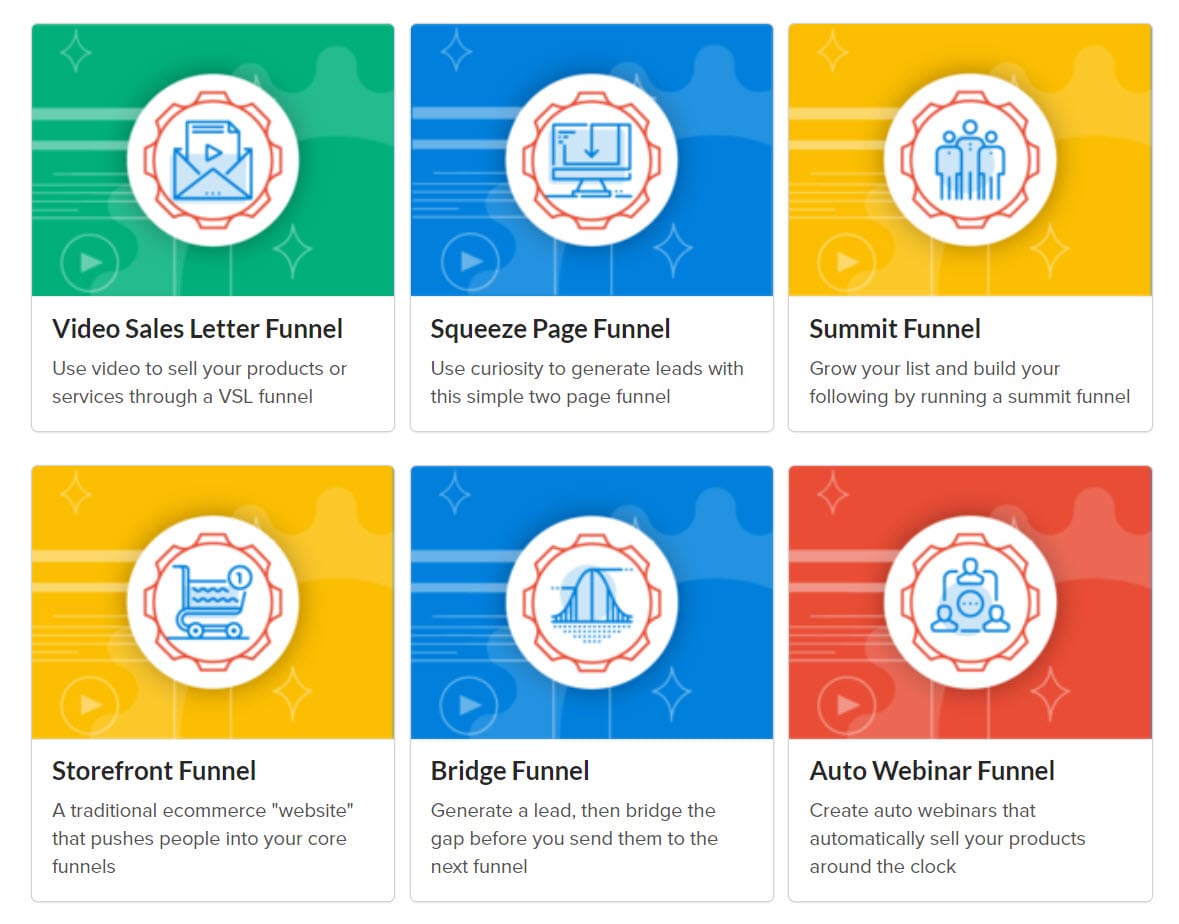 The Clickfunnels tool has been designed to help users create sales funnels. Consequently, Clickfunnels provides a range of pre-defined funnel sets and matching landing page templates. These are both industry and goal based, helping you find the right funnel for not only your niche, but also to ensure you achieve your objectives.
Goal categories include…
Generate Leads
Sell Products / Launch a Product
Run a Webinar
Sell Access to an Event
Like Builderall, Clickfunnels templates can all be customized in the editor. And although Clickfunnels doesn't offer as many template options as Builderall, the ones provided are all fully optimized for conversions.
As you can see, both Builderall and Clickfunnels offer a range of impressive templates to select from. If you are simply looking to create funnels, then Clickfunnels highly optimized funnel sets and landing pages are perfect. However, if you are looking to design your own website, then Builderall will have templates and the resources to match this need.
Builderall vs Clickfunnels: Drag and Drop Builders
Both Builderall and Clickfunnels incorporate drag and drop builders, allowing users to easily customize templates without having to touch a line of code. Let's take a look at what each builder offers…
Builderall Drag and Drop Builders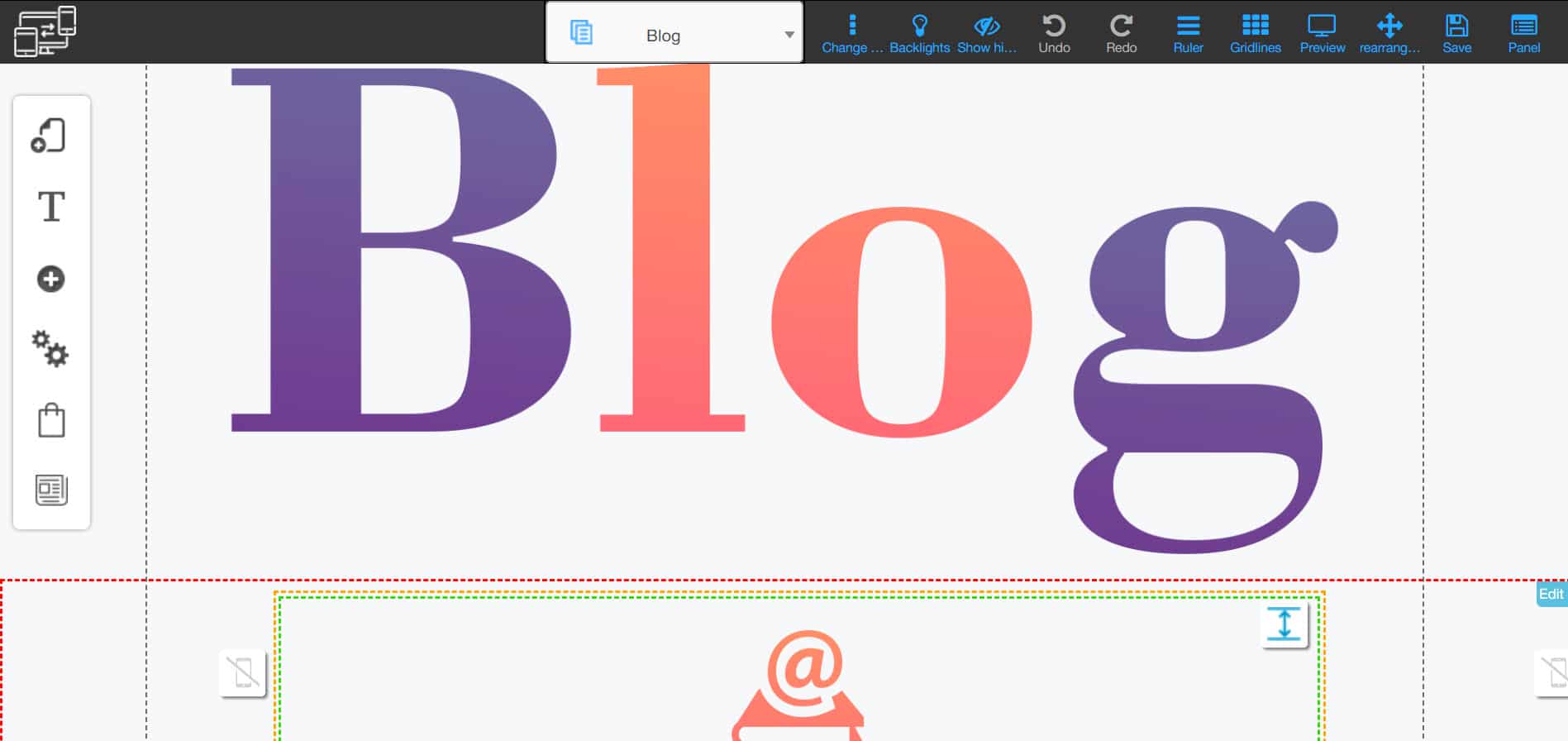 Builderall provides four drag and drop builders to cater for a range of needs…
Drag and Drop Pixel Perfect Builder
Drag and Drop Responsive Builder
Mobile First Drag and Drop Builders
App Creator
The Drag and Drop Pixel Perfect Builder is Builderall's original builder. If you opt to use this builder, you have to create your website three times over – one version for desktop, one for tablet, and one for mobile. For some users, being able to control how your website appears across different devices will be a real benefit. For others, having to design your website three times over is not convenient.
If you would rather Builderall takes care of making your website responsive, then it is better to use the Drag and Drop Responsive Builder. Using this tool, you only need to design your site once, and Builderall alters the design and layout to ensure your site is responsive on all devices. The other two builders are also effective tools for anyone looking to create mobile or app specific products.
All the Builderall builders are extremely intuitive and allow for a fun and easy design process. Users can browse a wide assortment of design and media elements that can be dropped anywhere on a web page. Elements can then be repositioned by simply dragging and dropping them on the screen.
We will discuss more of the Builderall builder features in the User Experience section further on in this article. But for now, let's have a look at the Clickfunnels editor to see how it compares…
Clickfunnels Drag and Drop Editor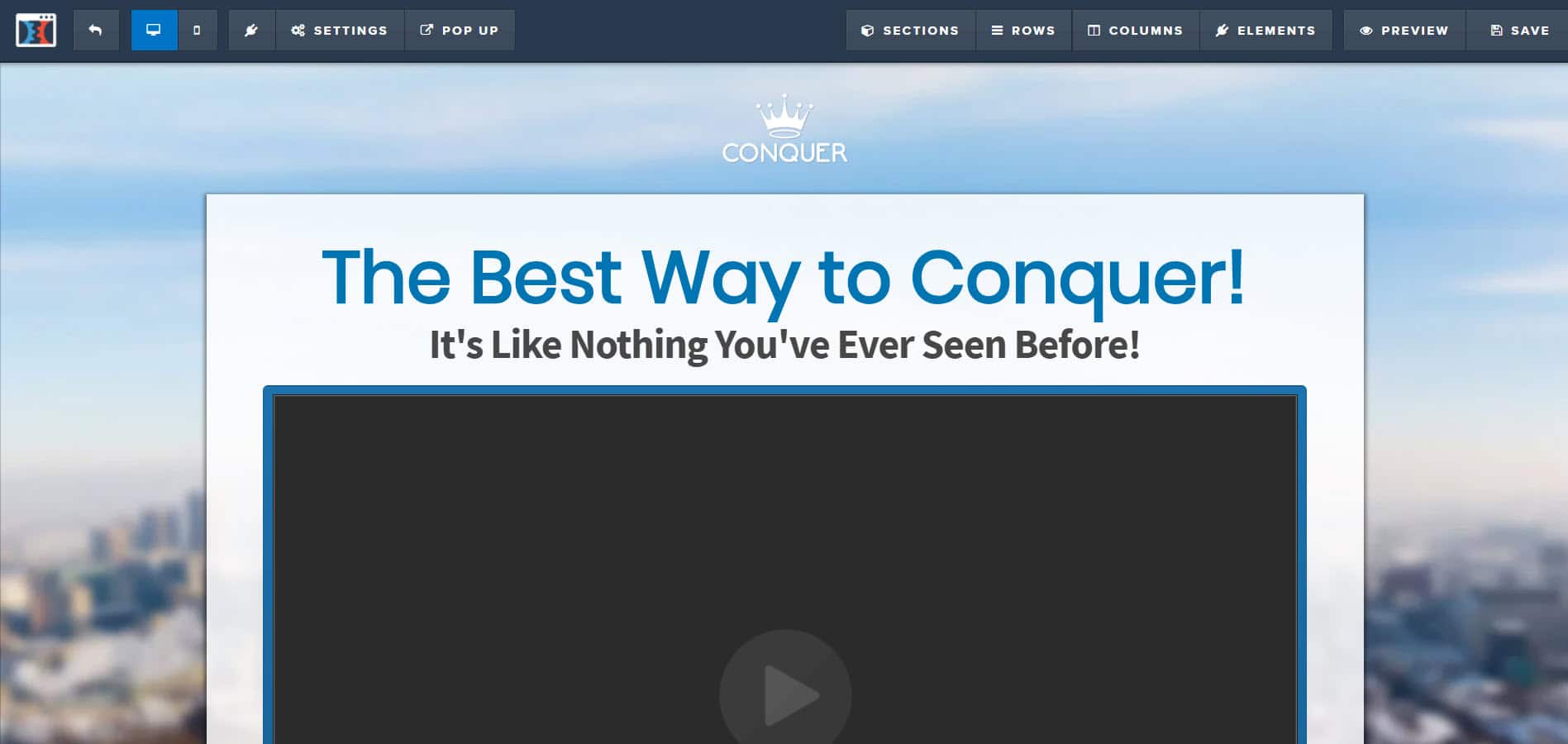 Clickfunnels provides just one drag and drop editor that can be used to customize all of the templates and funnel sets available. However, Clickfunnels also incorporates a separate funnel dashboard, where the majority of the funnel settings, integrations, and other options can be customized.
Within the Clickfunnels editor, you can again add numerous design elements to your funnel. You can then drag and drop elements around the page, positioning and resizing elements in seconds.
Clickfunnels also allows you to either upload images and other media, or search for stock images from Pixabay, IconFinder, and UnSplash, without even having to leave the editor. Videos can also be embedded from YouTube, Vimeo, and Wistia.
It is clear to see that Clickfunnels and Builderall both provide impressive builders that enable users to create professional and stylish web pages. Personal choice will be the deciding factor between these two tools, so it is worth having a play around with both the Clickfunnels editor and the Builderall builders before making a decision on which platform is a best fit for your project.
Builderall vs Clickfunnels: Publishing Options
One of the major differences between Builderall and Clickfunnels is the publishing options they offer. Let's take a look…
Builderall Publishing Options
When publishing your Builderall website or sales funnels, your two choices are simply to use a free Builderall subdomain, or purchase a domain and connect it to your Builderall site. There is no option to integrate your web pages with any other website or software, like WordPress, making Builderall a very standalone product.
Clickfunnels Publishing Options
Clickfunnels is a much more flexible tool that offers a number of effective publishing options to cater for the many needs of its users. Here are a few of the most useful…
WordPress – Use the Clickfunnels WordPress plugin to easily embed your funnels within your WordPress website, on any page or post.
Embed Code – Add your funnel pages inside an iframe and then embed this on any website.
Download HTML – Download the .html file of each funnel page and then host anywhere.
ClickPop Code – Add a ClickPop version of your funnel on any page of any website using ClickPop code.
Add to Facebook – Automatically connect and display your funnel inside of your Facebook page.
As well as all of these publishing options, Clickfunnels also makes it extremely easy to share your funnels on social media.
Evidently, if you are looking to create more than just a standalone website, and you want funnels that integrate with your existing sites and pages, then Clickfunnels is the tool for you. However, if you are starting a website from scratch, or don't need to integrate your web pages with any other software or website, then Builderall may suffice.
Builderall vs Clickfunnels: Email Marketing
Builderall and Clickfunnels both offer their own email marketing service, enabling users to send emails, create email campaigns, target specific groups of individuals, and much more. Let's start by checking out what Builderall has to offer in the way of email marketing…
Builderall Email Marketing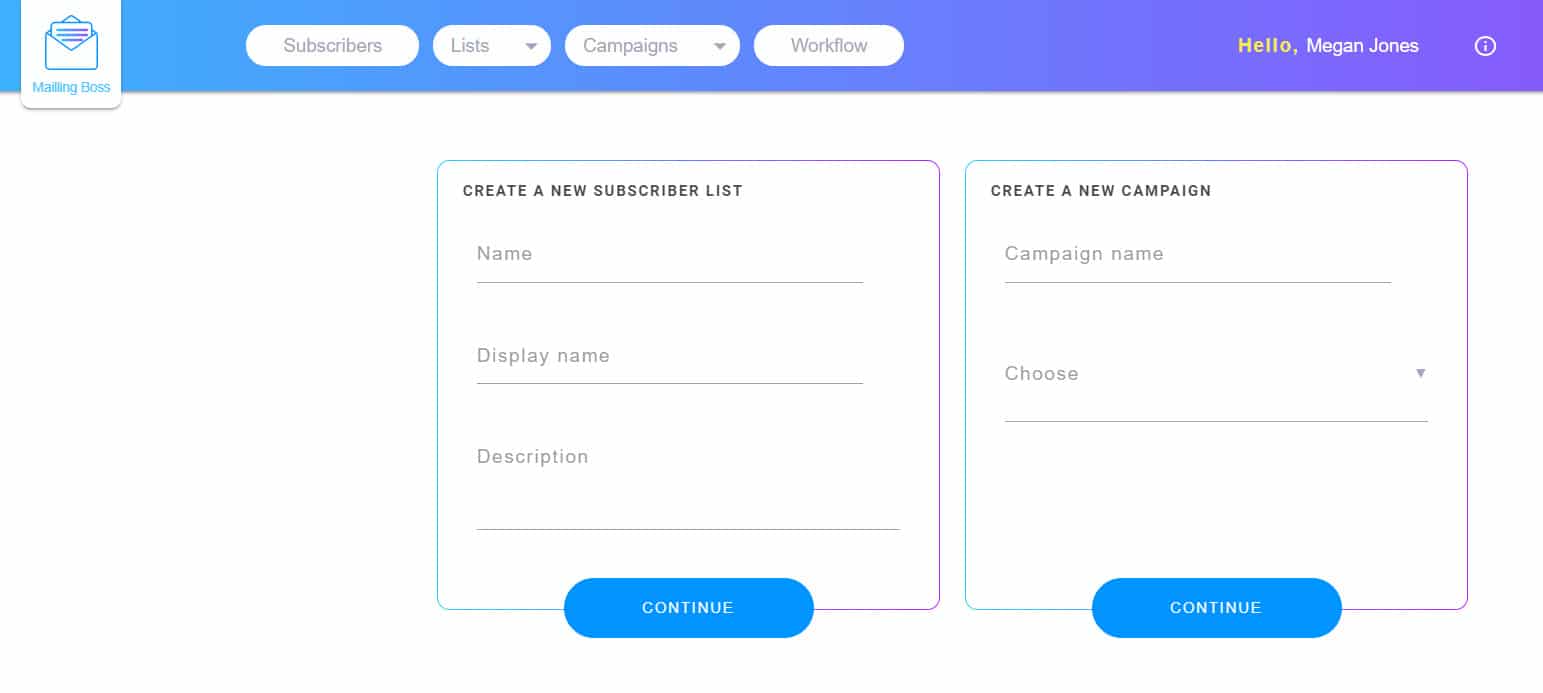 Builderall's email marketing service, Mailing Boss, allows you to easily create and automate email campaigns. Users can take advantage of the pre-made email templates and design elements, ensuring that every email you send is attractive and professional. Here are a few other useful features that Mailing Boss offers…
Target Emails at Particular Groups of Users
Send Personalized Emails
Track New Subscribers
Manually Add New Subscribers
Monitor Campaign Analytics
Importantly, Builderall allows you to send unlimited emails to an unlimited number of recipients.
Clickfunnels Email Marketing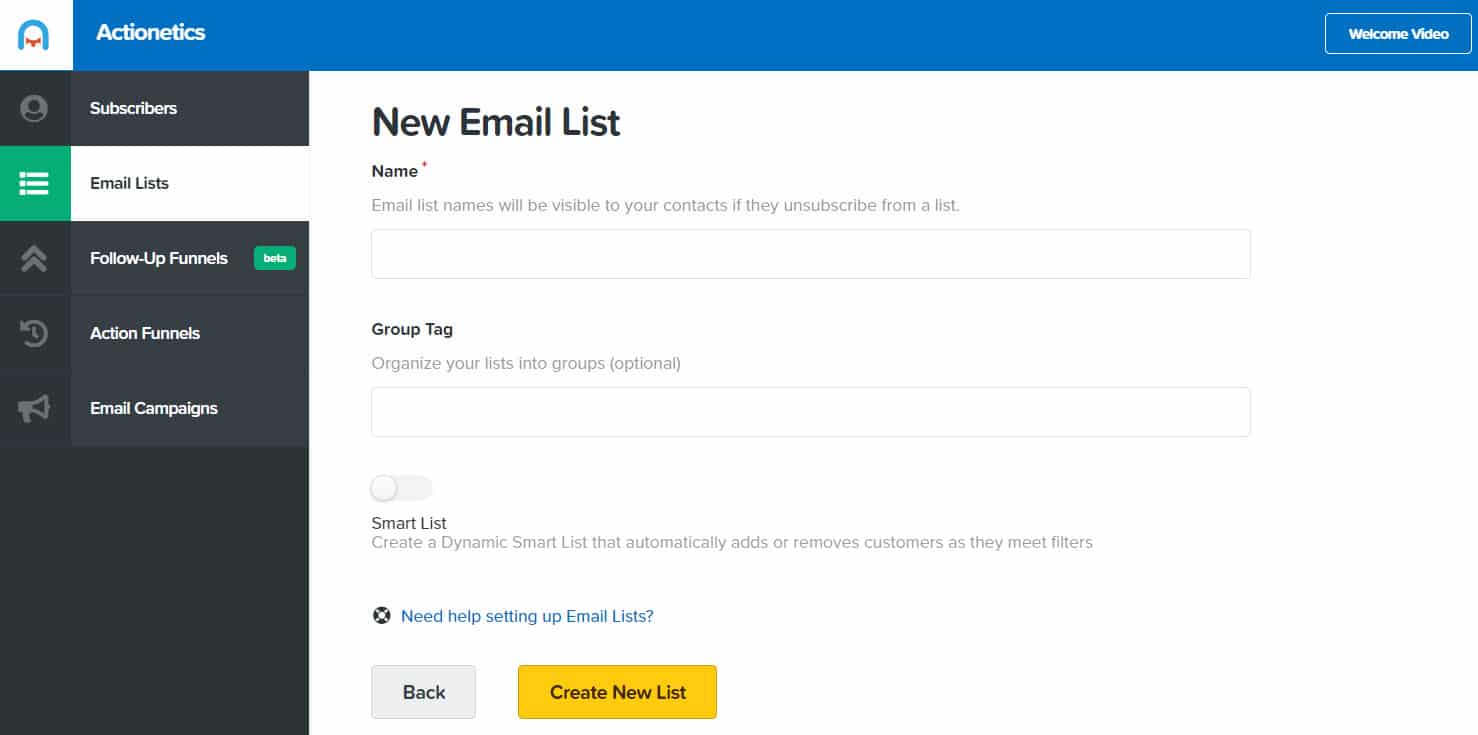 Clickfunnels email marketing service, Actionetics, is an advanced tool, which is reflected in the fact it is only available on Clickfunnels top-tier Etison Suite package (packages and prices will be discussed further on in this article). This is what you can do with it…
Create Email Campaigns
Set up Email Lists and Targeted Smart Lists
Integrate Emails with Funnels
Create Follow-Up Funnels
Track Email Metrics
Actionetics also allows you to send unlimited emails, and collect an unlimited number of contacts. Both Clickfunnels and Builderall also integrate with third party email marketing services, like Aweber and MailChimp.
Builderall vs Clickfunnels: Support
Both Builderall and Clickfunnels offer impressive levels of support. Let's find out how they compare…
Builderall Support
Builderall has an in-depth knowledge base which can be accessed from inside your Builderall dashboard. Here you will find numerous videos sharing how-to tutorials and training material, helping you to get the most out of this platform. The only downside to these videos is that a few need to be updated to match the improvements that have been made to some of the Builderall features.
Other support channels include…
Builderall Facebook Page – Connect with over 30,000 Builderall users, ask questions, share ideas, read of success stories, and much more.
Builderall YouTube Channel – This inspiring channel shares top tips, best practice, and weekly live chats.
Support Tickets – The Builderall team is always on hand to personally help with your problems or queries. Simply submit a support ticket via your Builderall dashboard, and the team will get back to you with the information you need.
As you can see, the Builderall support options are extensive. So what about Clickfunnels?
Clickfunnels Support
Like Builderall, Clickfunnels also has multiple avenues of support. As well as an extremely organized Help Center, Clickfunnels also provides videos and top tips within your Clickfunnels dashboard. This helps users understand the funnel creation process, ensure they pick the right funnels to support their business goals, and have a clear idea on how to use each funnel to receive the highest amount of conversions.
Clickfunnels support channels also include…
Community Forums – Within the Clickfunnels knowledge base, you can also access the Clickfunnels community forums. Here you can search previous discussions or post your own questions.
Clickfunnels Facebook Page – This page is currently followed by nearly 200,000 Clickfunnels users and is an inspirational resource those looking to successfully create sales funnels for their business.
Clickfunnels YouTube Channel – Follow Russell Brunson discussing tactics and strategies to help increase sales and conversions.
Support Tickets – Submit a support ticket to the Clickfunnels support team to get answers to any questions you may have.
As you can see, both Builderall and Clickfunnels provide a plethora of support channels. So whether you are just starting out on one of these platforms, need some help with a problem, or are simply looking for inspiration, then you will find it whichever solution you choose.
Builderall vs Clickfunnels: User Experience
So now we have a good idea of how the key features of Builderall and Clickfunnels compare. Let's next look at how to get started with both of these solutions and gain an understanding of their user experience when creating a basic web page and/or funnel. We'll start with Builderall…
Builderall User Experience
To get started with Builderall, you will need to register with the service and fill out some basic contact information. Before parting with a credit card, Builderall offers a seven day trial, so if you aren't sure if this is the right solution for your project, this is an offer worth taking advantage of.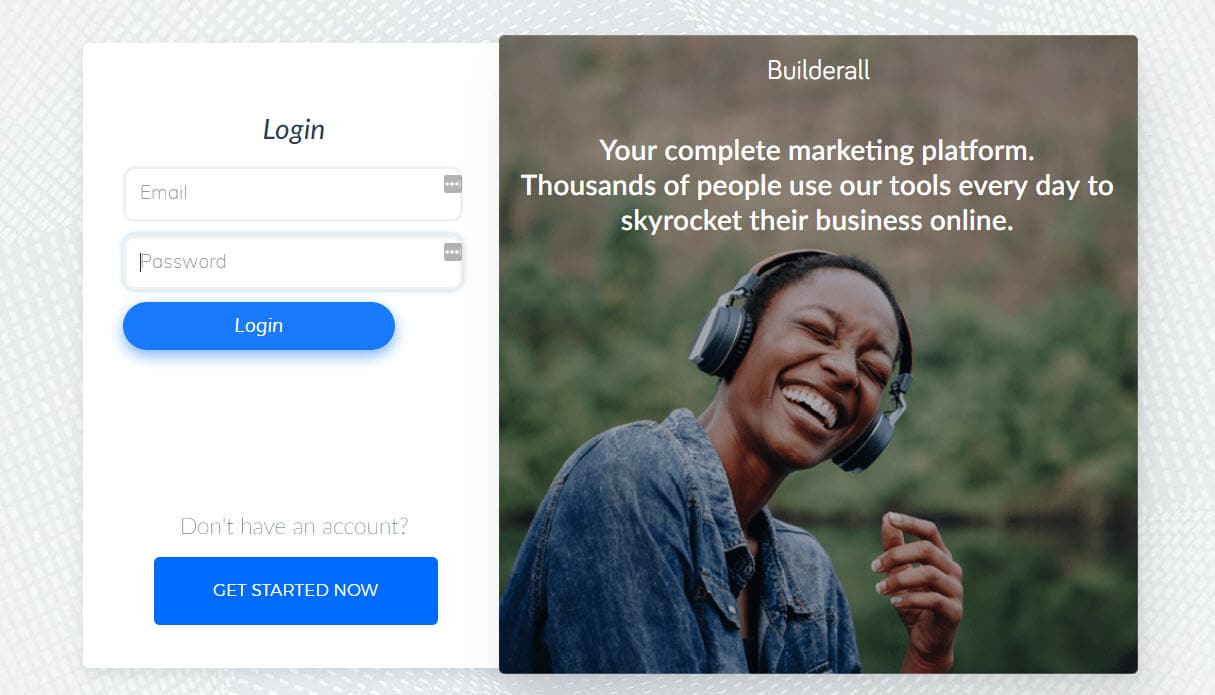 Once you have signed in you will find yourself within the Builderall dashboard. Here there is an interesting welcome video that shows you around the platform and helps you familiarize yourself with the most useful and important aspects of the solution.
Choose a Website Builder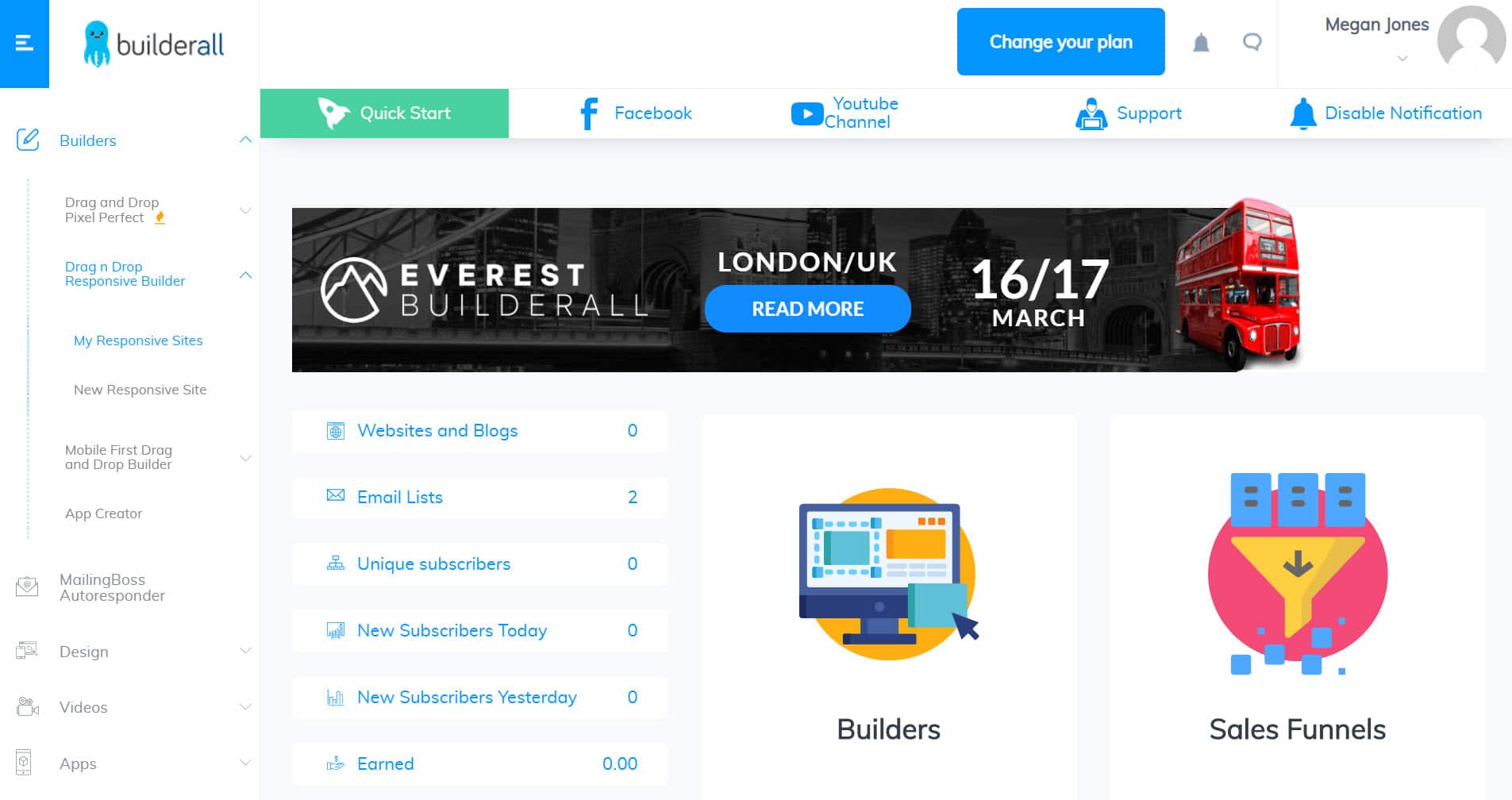 The first step in creating a website is to select which website builder you want to use from the left-hand menu. Options include…
Drag and Drop Pixel Perfect Builder – This builder gives you control over how your website will look on mobile, desktop, and laptop devices.
Drag and Drop Responsive Builder – Create your website or pages once, and then Builderall will ensure your content is fully responsive across all devices.
Mobile First Drag and Drop Builder – Use this builder to create a mobile friendly site.
All builders use similar layouts and features, although the Drag and Drop Pixel Perfect builder provides a wider range of templates and sales funnels.
Select a Template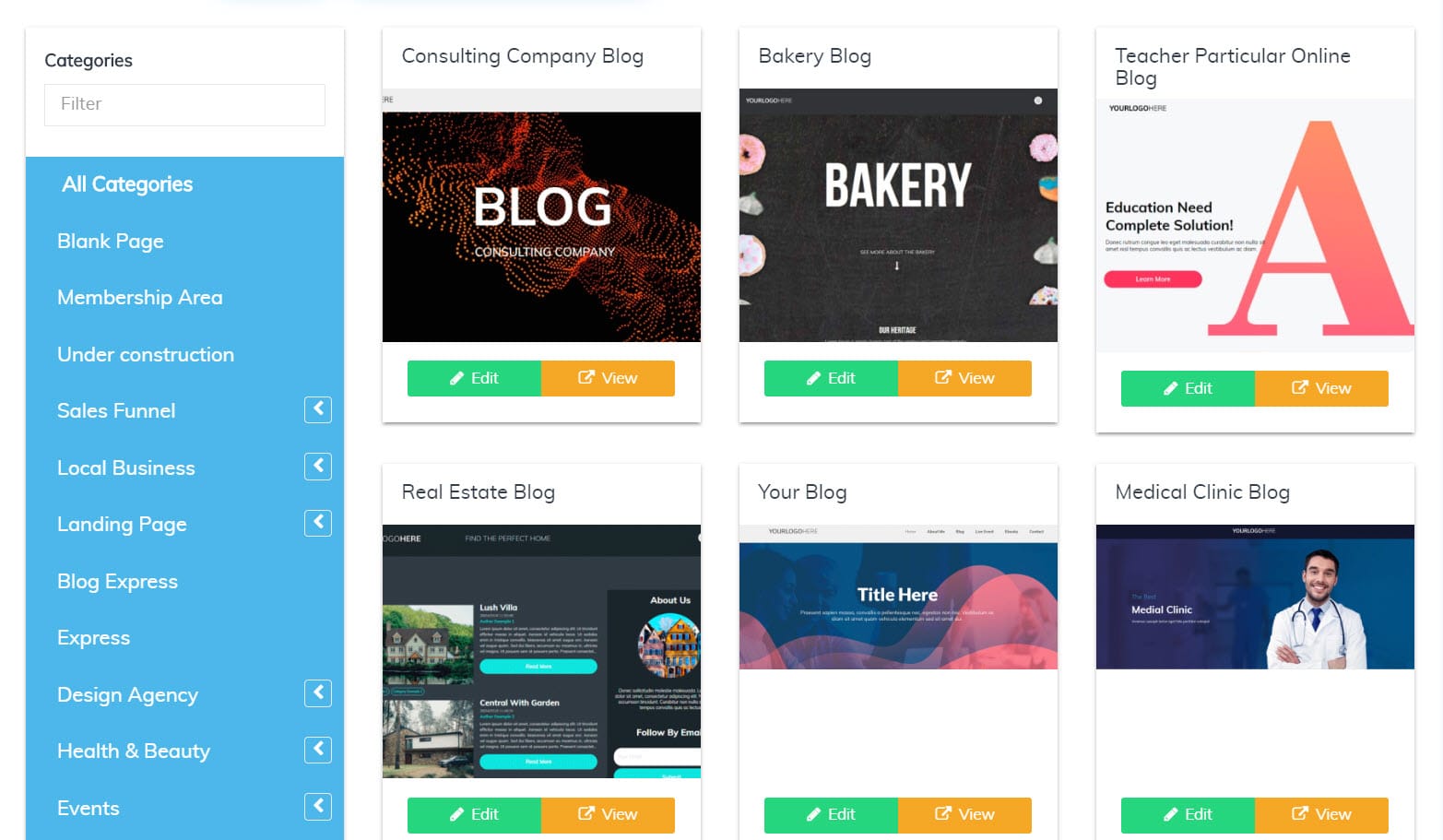 Once you have chosen the appropriate website builder for your project, next you need to select the right template. Here you can filter the templates from the left hand Categories menu to find a template that fits your industry or niche.
Select View to preview each template, and when you have made a decision, click on Edit. Your template will now open within the Builderall website builder.
Customize Your Template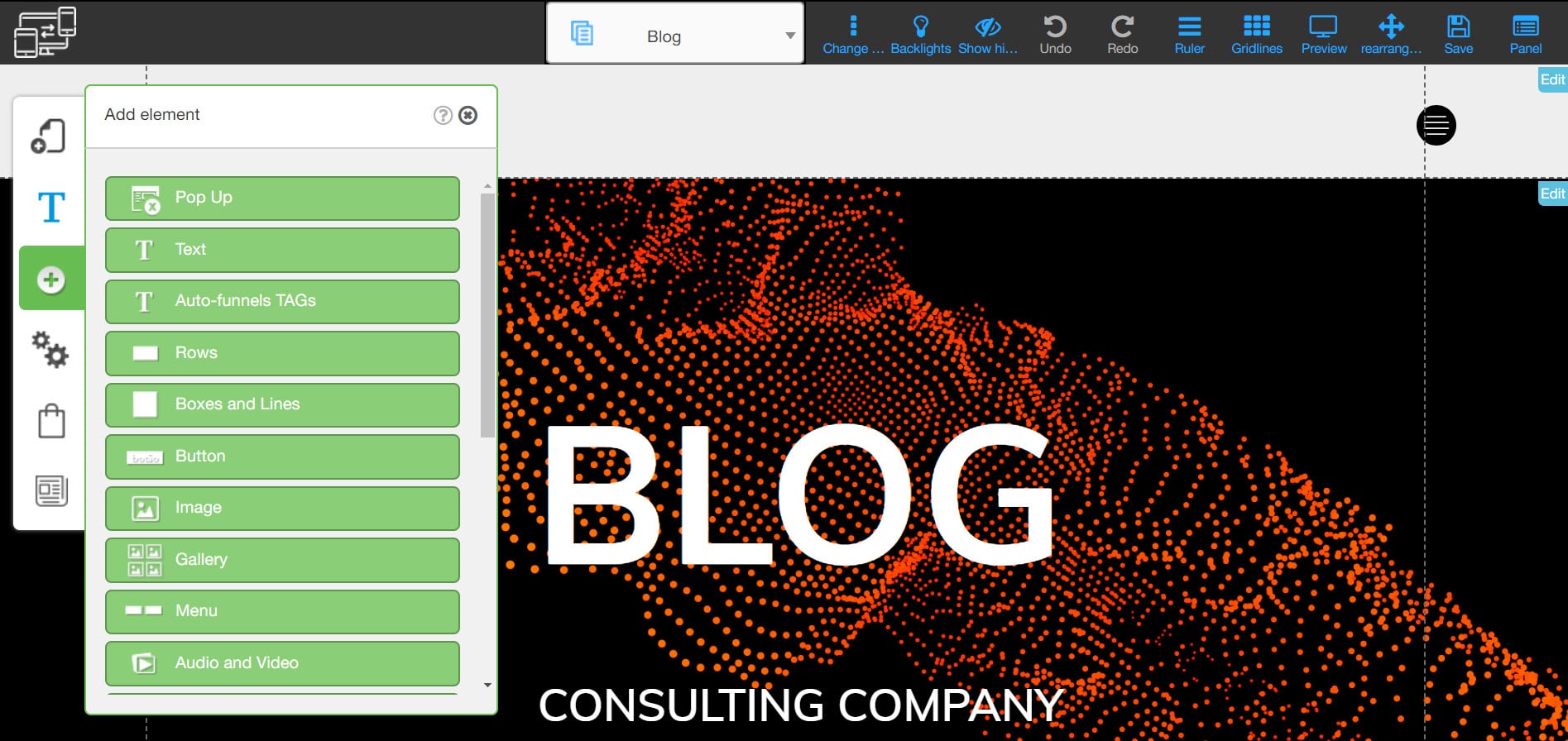 The Builderall website builders have extensive features and can be used to fully customize your template. Here are just some of the tools that are available to use from the left hand menu…
Pages – Easily add pages to your site, and then manage page features including SEO, domain settings, language options, and much more.
Text – Select font layout groups and manage font styles, colors, size, and more.
Elements – Builderall provides a wide assortment of design elements including pop-ups, buttons, images, video, audio, and forms, to name a few options.
Checkout – If you are looking to sell products or services then you can add checkout options, and manage sales and payments methods.
The Builderall website builders are extremely intuitive, and page elements can simply be drag-and-dropped around the page to change their positions and size.
Once you are happy with the changes you have made to your template, Preview your website and then select Save from the top menu bar.
Publish Your Website

Back in the Builderall dashboard, re-select your chosen website builder, and then click on My Sites. Here you have a few options including…
Change your Subdomain
Publish your Website
As you can see, creating a basic website with Builderall is extremely quick and easy. So let's see how this compares to Clickfunnels…
Clickfunnels User Experience
To get started with Clickfunnels you will first need to register by clicking on the button labeled Start your Free 14 Day Trial. Although Clickfunnels does offer a 14 day free trial, you will still need to part with your credit card details to make use of this offer.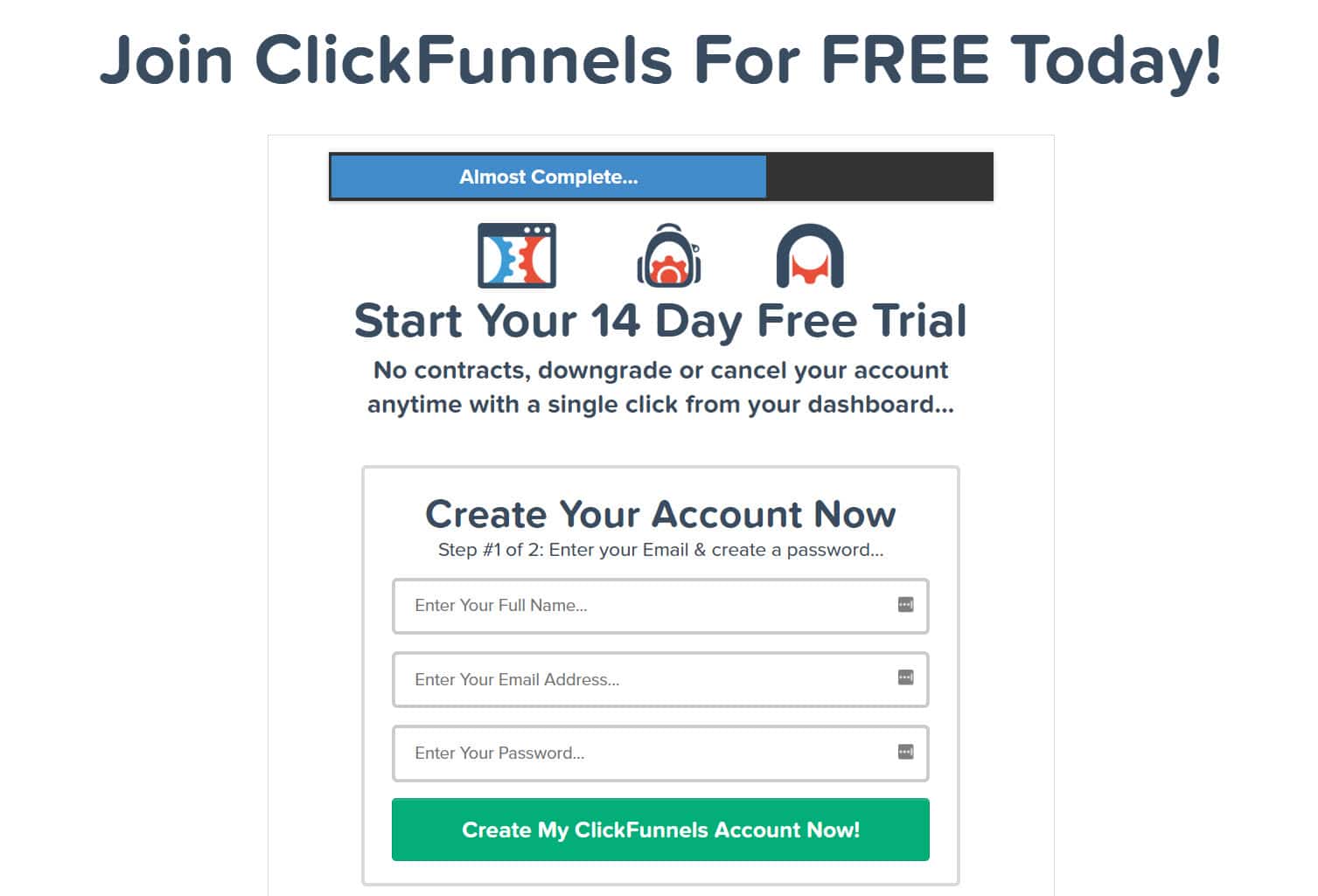 Once you have signed up with this service, your screen will display the Clickfunnels dashboard. Here you can easily access Clickfunnels many features, including their high end tools, Actionetics and Backpack.
Configure Your Clickfunnels Settings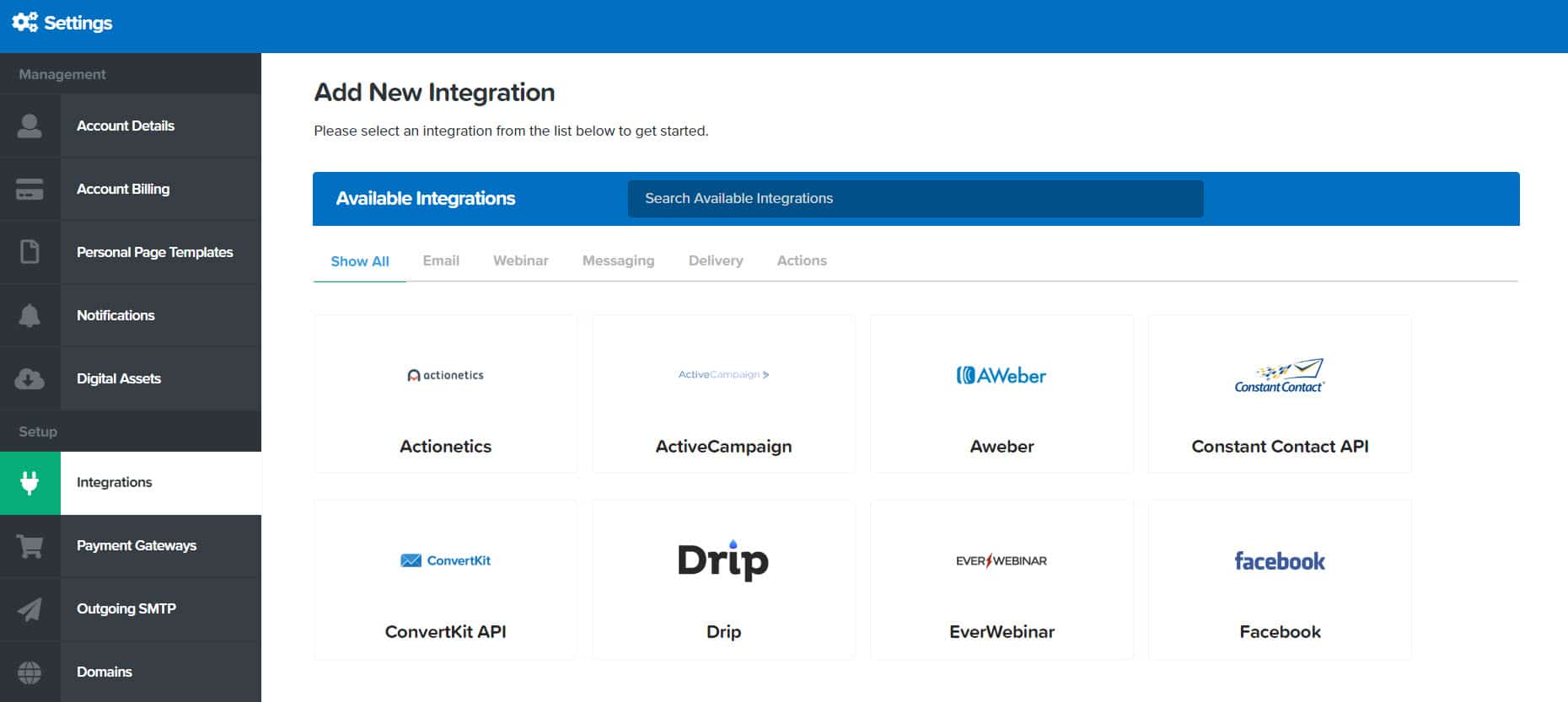 Before you can create a funnel with Clickfunnels, you first need to configure your settings. To do this, click on your avatar in the top right hand corner of the screen. Important settings to consider include…
Domains – Clickfunnels allows you to connect your own domain or purchase a domain with them. New members also receive one free domain for the first year of Clickfunnels membership.
Integrate an Email Provider – Here you can choose from numerous third party providers including MailChimp, GetResponse, Infusionsoft, and many more. Equally, you can select to integrate Clickfunnels own Actionetics email application which is available to anyone on the Etison Suite package.
Payment Gateways – If you want to take payments through your sales funnel you will need to select and integrate a payment provider. Third party payment providers include Stripe, PayPal, ClickBank, and more.
Outgoing SMTP – Emails are included when you register a custom domain, but you can also add your own existing SMTP service to enable you to send promotional mail, invoices, shipping notifications, and other transactional emails.
Once you have added the necessary integrations and configured the other settings, you are now ready to create a funnel.
Select a Template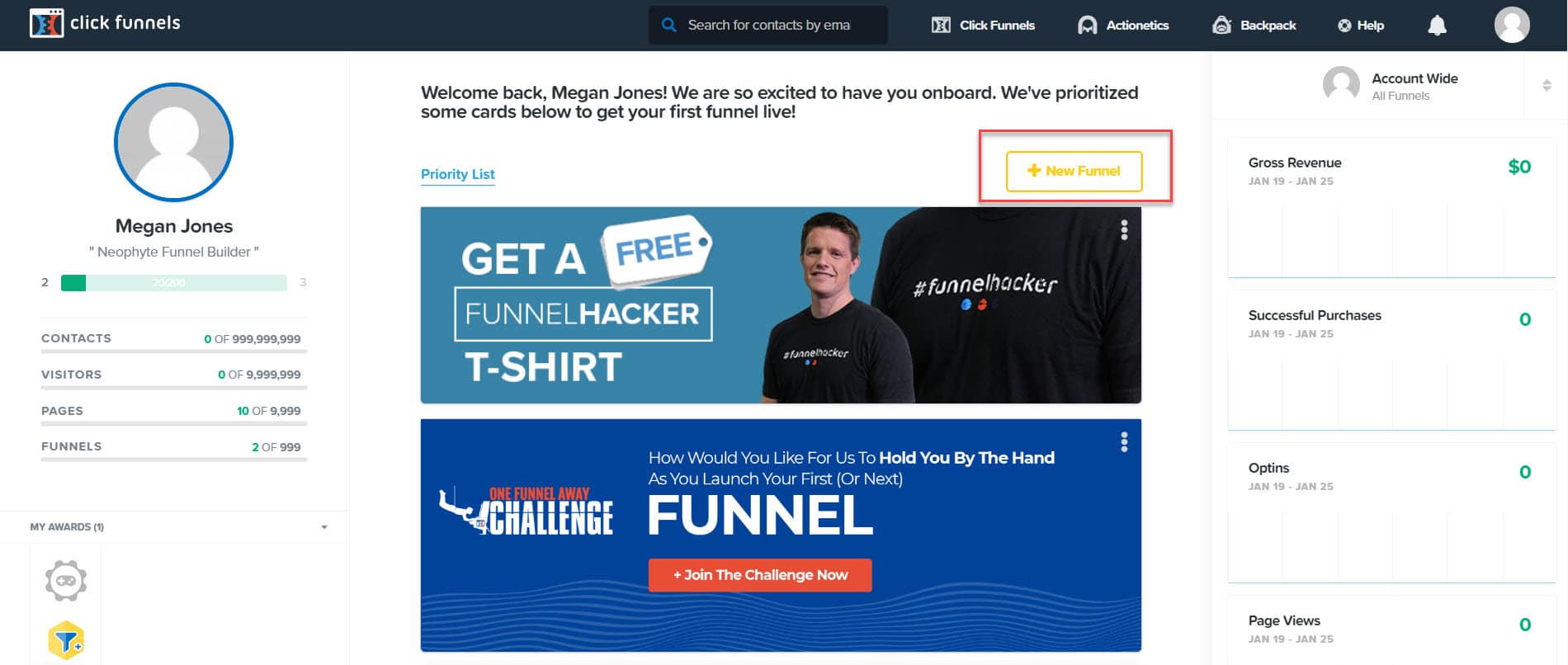 Back on the Clickfunnels dashboard homepage, select + New Funnel. You can now use the Clickfunnels Funnel Cookbook to help you select a funnel set and template.
The Funnel Cookbook tool is the best way to find the right template for your goal and niche. To get started, simply select…
Your Industry
The Type of Funnel
The Funnel Goal
Clickfunnels will now present the funnels sets that closest match your needs.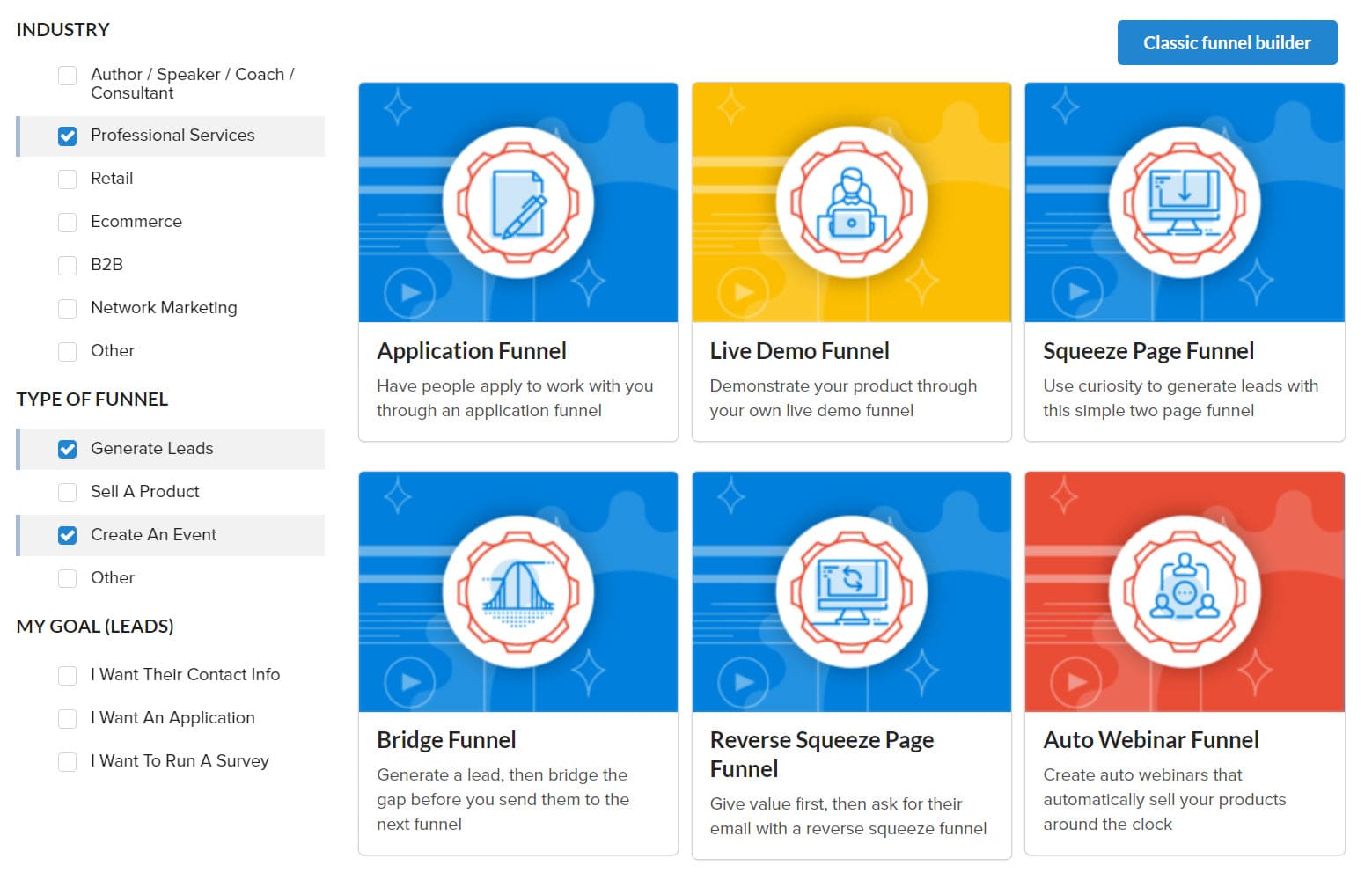 Once you have selected the appropriate funnel set for your project, Clickfunnels will then display a selection of free and premium landing page templates that match this funnel set. Here you can preview the template, and Clickfunnels also provide a selection of videos and top tips to give you a good understanding of how best to use these pre-made layouts.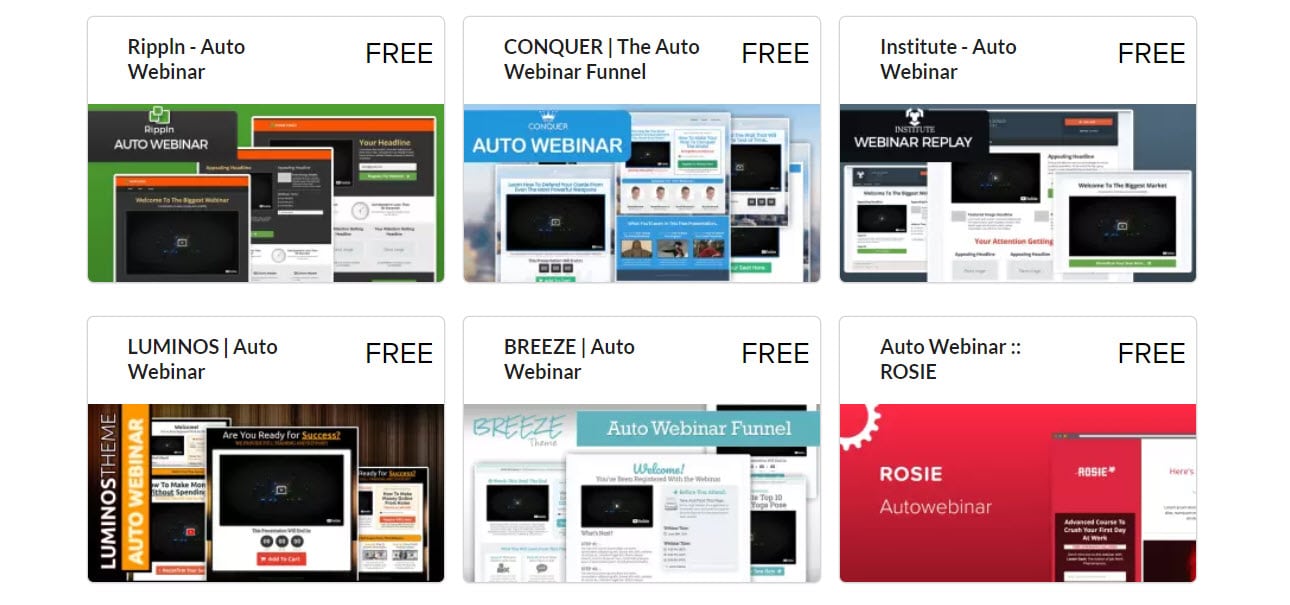 After selecting the template, you will now be taken to the Clickfunnels funnels dashboard, where you can configure the funnels settings and edit your funnel.
Configure your Funnel Settings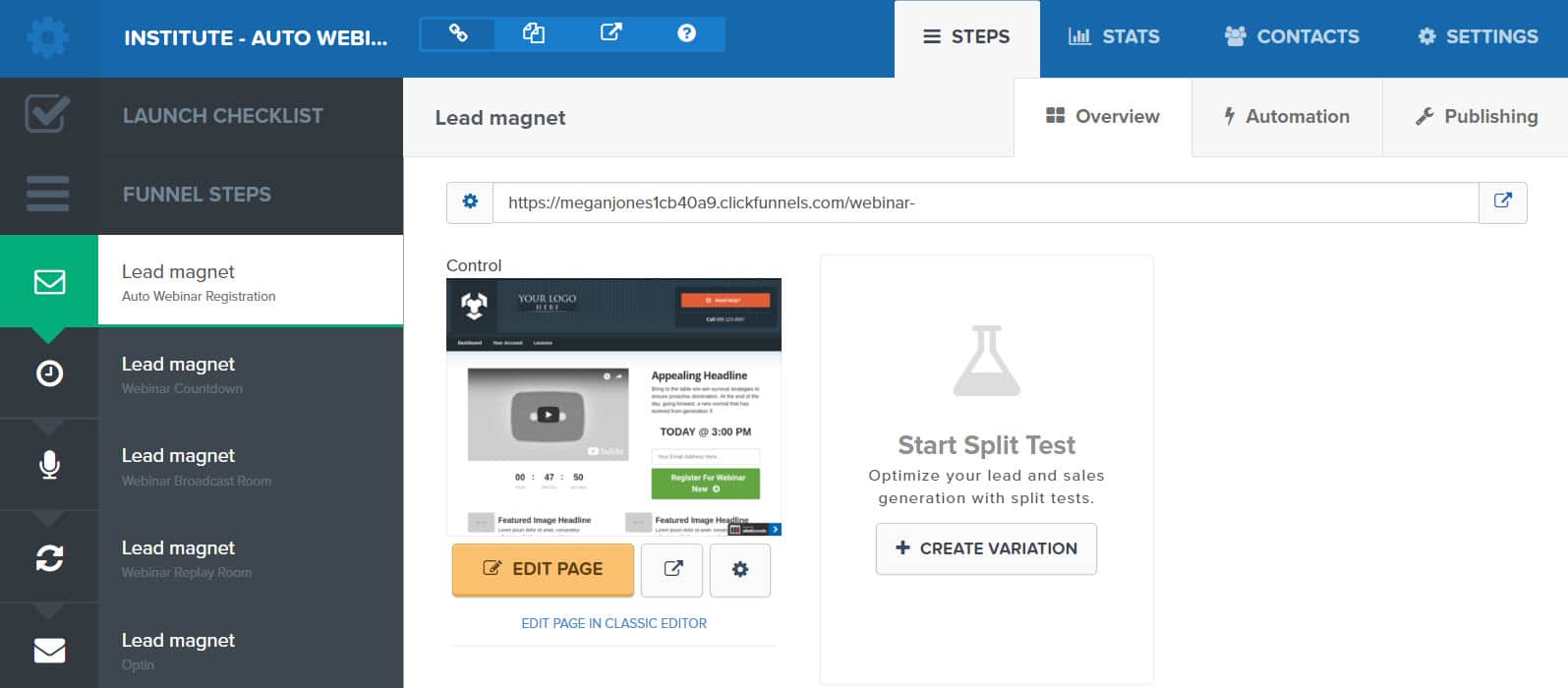 Within the Clickfunnels funnel dashboard, there are many tools and features to help you optimize your funnel. These include…
Email Automation
Analytics Reporting
Clickfunnels Editor
Funnel Settings
Publishing Options
Importantly, you need to configure your funnel settings. To do so, click on Settings.
Here you should…
Domain – Select the domain you want to use for this specific funnel.
SMPT – Select the configuration that you want to use.
Tracking Codes – Add any tracking codes (eg – Google Analytics).
You are now ready to customize your funnel template in the editor.
Customize Your Template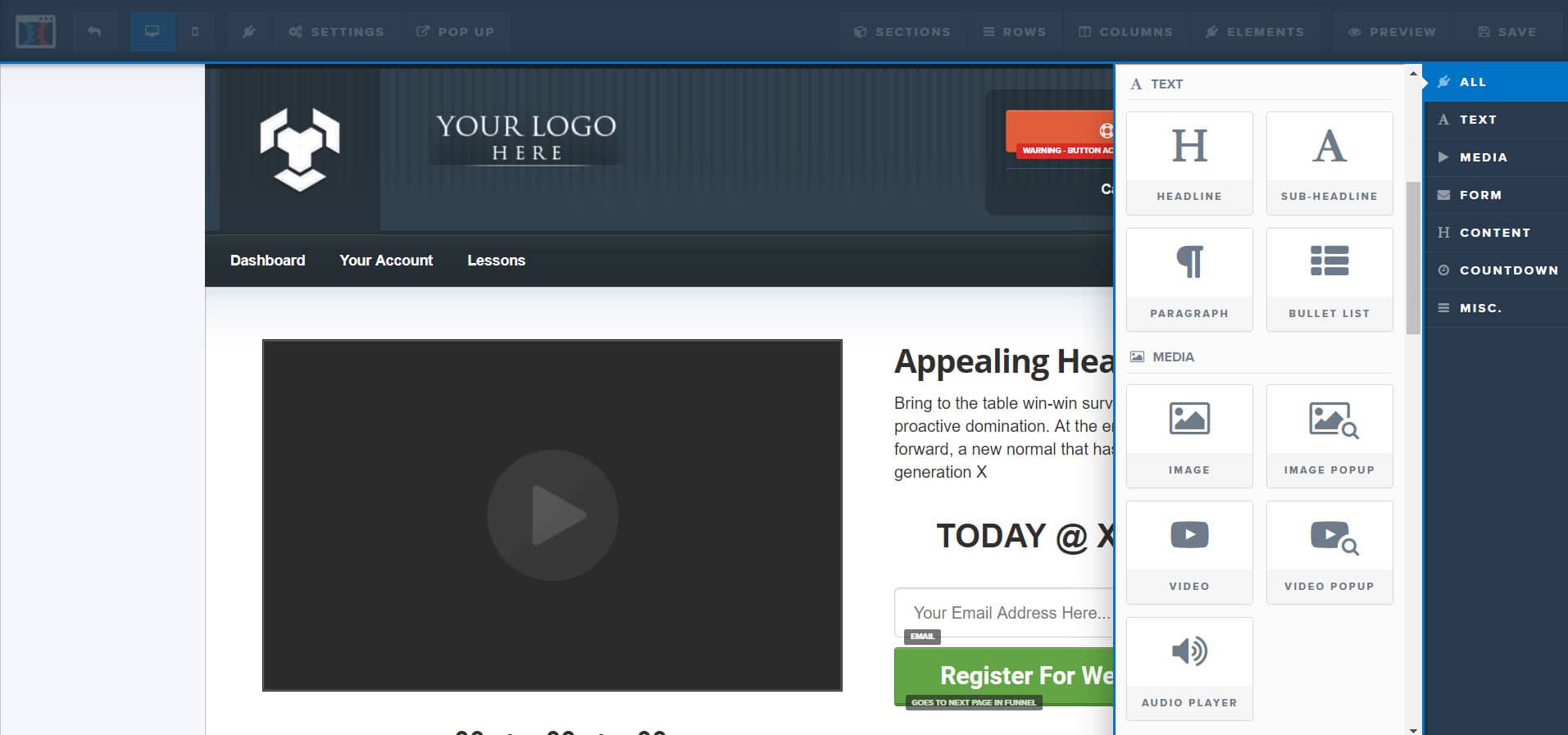 As we discussed earlier, the Clickfunnels editor will enable you to fully customize your funnel template. Here are some of the options available within the editor…
Media – Add images, video, and audio to your funnels. Upload your own media files, browse stock images, or embed videos from other channels.
Text – Select font types, colors, sizes, and much more.
Forms – Display advanced forms on your funnels, including SMS sign up forms, billing address forms, or surveys.
Content Blocks – Add a number of stylish and useful content blocks to your web pages including a FAQs section, a pricing table, and text blocks, to name a few options.
Social Media – Display social share buttons on your funnels or even add a Facebook comments section.
Like Builderall, the Clickfunnels editor is extremely user-friendly and fun to use, giving you complete control over the aesthetics of your funnels.
Publish Your Funnel
Your last job when creating a funnel with Clickfunnels is to publish it. As previously mentioned, Clickfunnels provides a range of publishing options, including sharing on social media, embedding code on your website, or using the Clickfunnels WordPress plugin.
To find the options, open the funnel dashboard and select Publishing. You will now find the list of publishing options, which you can click on directly to access. Clickfunnels also provides walk-through videos with some of the options to ensure that you can easily publish your funnels to the place of your choosing.
To summarize, both Clickfunnels and Builderall provide an impressive user experience. Builderall is extremely quick and easy to set up and get started with. Although it doesn't offer the same level of professionalism or features as Clickfunnels, for the price it is a great option. Clickfunnels has a slightly steeper learning curve but does offer more advanced tools. However, this results in a higher price tag. Let's check the pricing out next…
Builderall vs Clickfunnels: Pricing
Pricing is another area where Builderall and Clickfunnels greatly differ. So let's take a look at their plans, and what they offer…
Builderall Pricing
Builderall provides four different packages for users to choose from, either as standalone or for use with WordPress. These are extremely cheap compared to Clickfunnels, whilst offering impressive features. Here are some details…
Builder/WPBuilder ($16.90 a month) – This basic plan is a perfect starting point for those looking to create a website or online presence for their business. This plan will allow you to create an unlimited number of pages and funnels, receive an unlimited number of visitors, and gives you unlimited bandwidth on local hosting. You can also make use of all the Builderall templates and website builders.
Marketer/WP Marketer ($76.90 a month) – On this Digital Marketing plan, subscribers can connect up to 15 domain names, send unlimited emails via Mail Boss, access all the Builderall apps, and secure all websites with SSL certificates.
Premium/WP Premium ($87.90 a month) – This Premium package is the complete solution that will enable entrepreneurs and companies alike to launch and run a successful business. All websites built on this plan receive premium CDN hosting, unlimited ecommerce sales, and access to the Builderall affiliate program.
Funnel Club/WP Funnel Club ($87.90 a month after first payment of $199) – This is the flagship package from Builderall. It offers all the features of the previous packages, but also includes the complete set of Builderall's funnel templates. This is everything they offer in one complete package.
These prices make Builderall very accessible to the masses, ensuring that there is a plan to suit any budget. So what about Clickfunnels?…
Clickfunnels Pricing
Clickfunnels originally offered two pricing plans that are significantly more expensive than Builderall…
Startup ($97 a month) – Access all the templates, the editor, and numerous other Clickfunnels features on this Startup plan. Subscribers can create up to 20 funnels, 100 landing pages, and receive up to 20,000 page views a month. You can also register or connect up to three domains.
Etison Suite ($297 a month) – Users that sign up to the Etison Suite package gain access to Actionetics, Clickfunnels own email marketing service, and Backpack, Clickfunnels affiliate management programme. On top of this, users can create an unlimited number of funnels and landing pages, as well as receive unlimited amounts of traffic and register as many domains as necessary.
As of October 2022, ClickFunnels have also launched their ClickFunnels 2.0 products, which come in three different packages…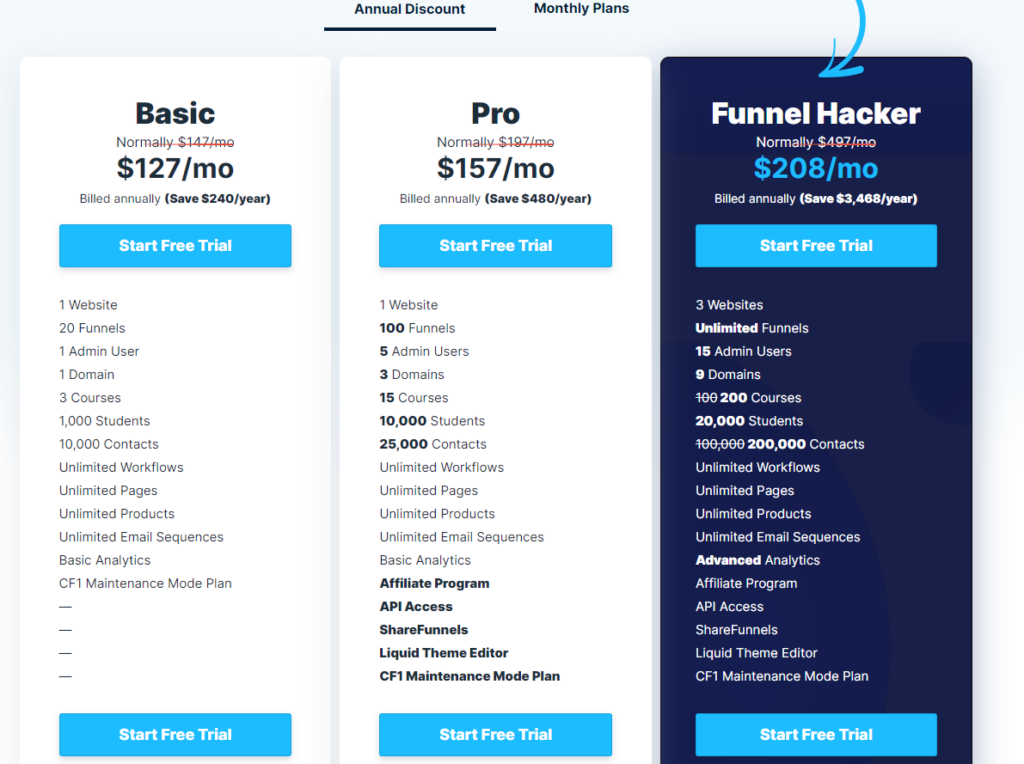 As you can see, Builderall is a much cheaper product, that contains numerous tools and applications and is ideal for those creating a new business or website on a budget. On the other end of the spectrum is Clickfunnels, with high price points that reflect its more advanced features. This makes Clickfunnels more attractive to bigger businesses looking to utilize sales funnels to increase conversions.
Who Wins? Builderall or Clickfunnels
Both Buidlerall and Clickfunnels are impressive platforms and have much to offer their users.
For me, the winner has to be Clickfunnels
If you are still unsure which solution is best for your project, then take advantage of the free trials provided by both. By logging in and using the tools for yourself, you will gain crucial insight into what each solution can do, and help you choose the right product for your business.
Builderall vs Clickfunnels – which solution will you choose? Please share your thoughts in the comments below…
The following two tabs change content below.
Jamie Spencer
My name is Jamie Spencer and I have spent the past 10 years building money making blogs. After growing tired of the 9-5, commuting and never seeing my family I decided that I wanted to make some changes and launched my first blog. Since then I have launched lots of successful niche blogs and after selling my survivalist blog I decided to teach other people how to do the same.
Latest posts by Jamie Spencer (see all)