If you're a private entrepreneur or business owner of some kind, you're probably familiar with the online digital marketing engine, ClickFunnels. It helps you assemble a sticky landing page and automatic sales funnel for any kind of business, with plenty of templates and digital features to help you along the way. If you're like me, you might even be overwhelmed with all the features they offer!
ClickFunnels is, however, far from the only service of it's kind, let alone the best – services like Instapage, Leadpages, PipeDrive, Copper CRM, and Ontraport, just to name a few, all provide similar options with different strengths and weaknesses. If you're dedicated to making sure you do what's right for your business, you'll need to make sure you do all the research you can. There's no one-size-fits-all platform, so keep in mind the needs of your company. With that in mind, here are the top ten alternatives to ClickFunnels for businesses and online marketers of all kinds.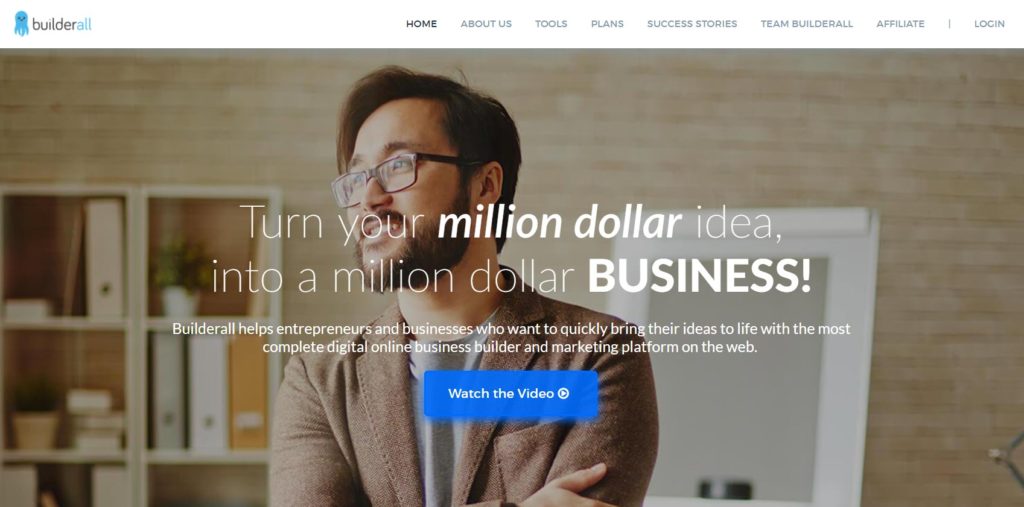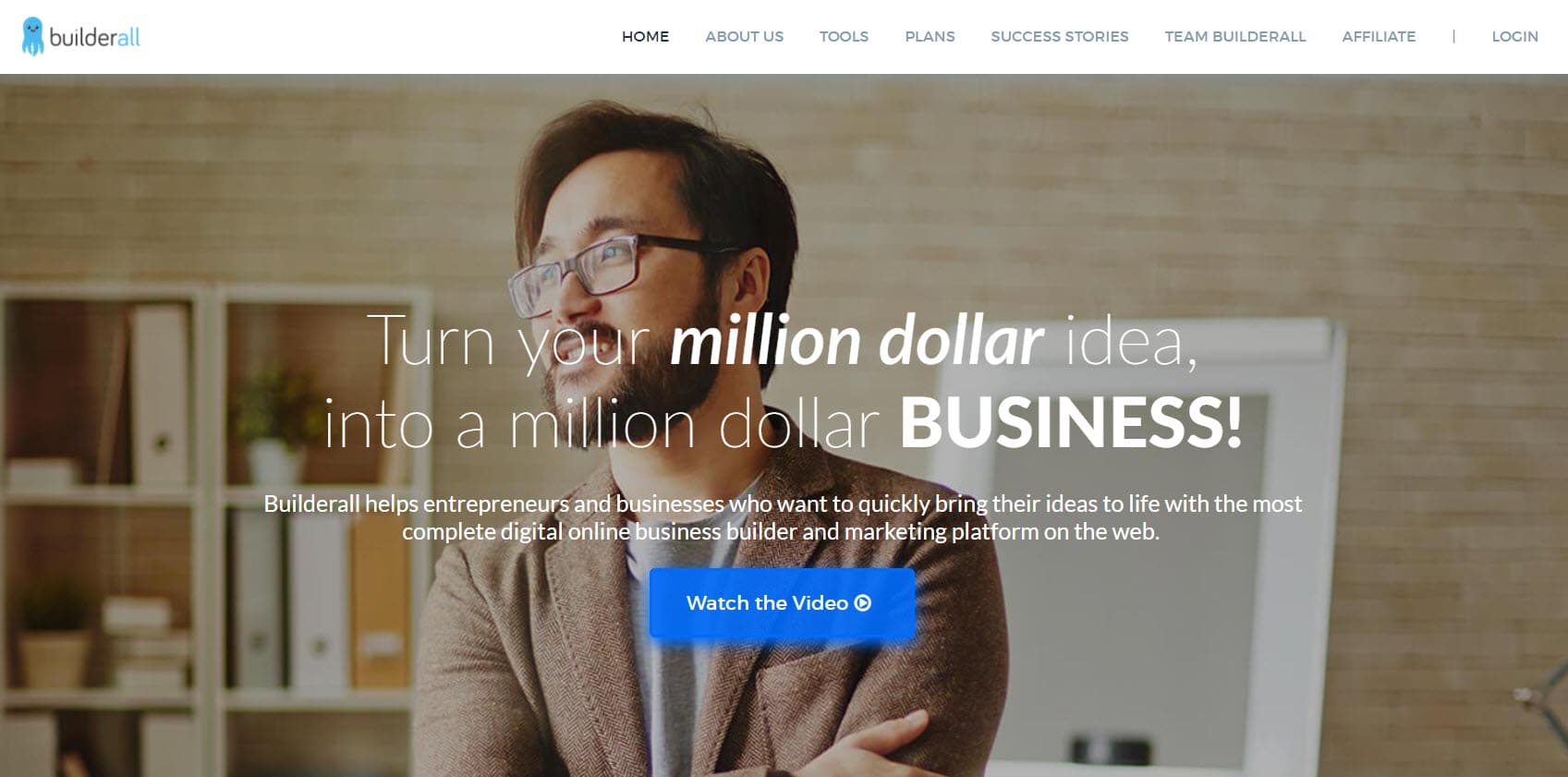 BuilderAll is a young and ambitious marketing platform that tries to be a one-in-all solution for marketing tools and sales funnels, just like ClickFunnel. Though it has a lot of advantages over ClickFunnels, such as an entirely complete set of marketing tools, it is held back by being young, inexperienced, and having a much smaller community and much weaker customer support. It has a lot of glitches and bugs, and the editor can be much more difficult and clunky to use. If you have a smaller budget, though, it might still be worth checking out.
Pros:
* Significantly cheaper
* Most complete marketing platform
* Unlimited pages, domain names, and data streams
* Nothing to do with wordpress
Cons:
* Has a lot of bugs and glitches
* Poor customer service and support
* More clunky and frustrating builder

Ontraport offers a lot of the same features as ClickFunnels, as a comprehensive digital marketing platform that offers you a wide array of tools. From campaigns, to sales, to finance, Ontraport does it all. The main advantage and difference between Ontraport and ClickFunnels is a focus on automating as much of the process as possible.
This automation could get in the way for a small team or single-person company, but for a bigger, more complicated business it makes Ontraport invaluable, as well as a clear winner over ClickFunnels. Although ClickFunnels does has one job – which is sales funnels – and does that job very well, comparatively, Ontraport does everything. You may not want a single service to have so much control over your business, and if that is the case, then Ontraport may not be for you or your company.
Pros:
* Heavily automated process helps bigger businesses
* Better at working with the whole picture
* Lots of other features focused on running a business
* Good payment integration
Cons:
* Heavily automated process can be clunky or frustrating for small businesses
* Not as good with individual sales funnel features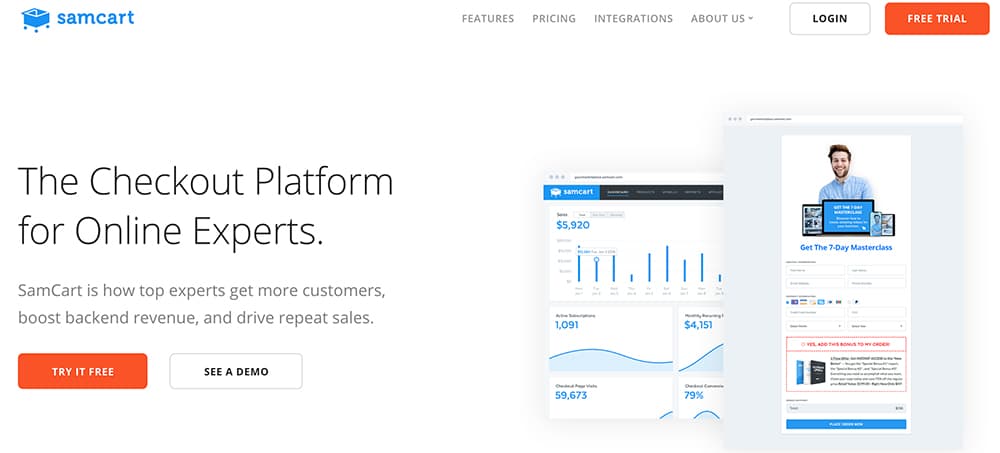 Samcart is considered one of the best shopping-cart services for small online businesses out there. It's not as much designed for the funnel part of the sales funnel, instead focusing mostly on a smooth and optimized cart transaction and checkout page. Thus, while it may lack in generating engagement or building interest in your products, it does a good job of retaining customers already committed to a purchase and lowering your cart abandonment rate. It doesn't have any e-mail management or autoresponder features, and isn't very good at building landing pages, but if you have all of those things under control it can make for a powerful digital sales tool.
Pros:
* Easier time integrating with PayPal
* Checkout is easy, optimized, efficient, and most importantly, attractive
* High retain rate for already-interested consumers
* One-click up-sell popup feature
* Cheaper affiliate management
Cons:
* Poor sales funnel support
* No e-mail marketing or campaign automation
* Many features only available in the more expensive Premium version
* Bafflingly, can only be used for purchasing items one at a time

Unbounce is a specialized landing page builder with a very strong drag and drop page editor. It gives you a lot of freedom in creating standalone landing pages or fully customizing your features. It's designed to work well with other features or tools, unlike ClickFunnels, which requires you to use their own expensive tools. Unfortunately, at the same time, it doesn't have very many of it's own features, instead offering a simplistic and nearly single-use tool. If you use Unbounce, you'd need to use a lot of other services as well. However, using Unbounce with these tools is still often cheaper than ClickFunnels. ClickFunnels offers a lot of different services and is a very broad platform. If you're not looking for that specifically, then Unbounce might be more your speed.
Pros:
* Much cheaper than Clickfunnels ($79 – $159, as opposed to $97 – $297)
* Does not force you to stick to landing page templates
* Integrates easily with other tools and features
* Good at creating landing pages
* Very easy and powerful drag and drop builder
Cons:
* No included e-mail marketing or campaign management
* Fewer overall features
* Poor checkout page and shopping cart support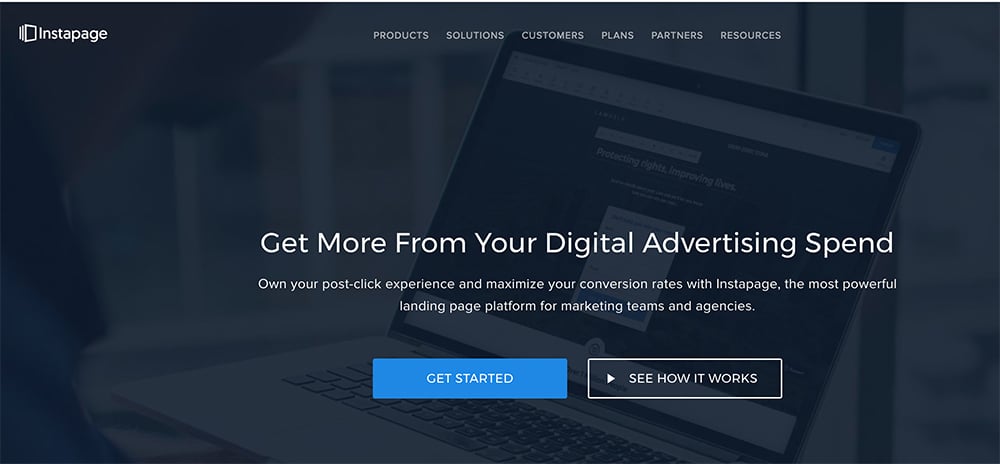 Instapage is a landing page tool, very similar to Unbounce. It features a strong, easy landing page builder with pixel-perfect drag and drop. Many of the other pros and cons are the same, but Instapage stands out with their heatmap feature – a feature that lets you view activity on your site in the form of a heat map that helps you design around your customer's experience. Other advanced testing metrics are also available. If you're trying to decide between Instapage or Unbounce, it's highly recommended that you test the editor out for yourself. They both have very powerful landing page builders, and it may end up coming down to personal preference between the two for ease of use or user interface.
Pros:
* Better user interface than even Unbounce
* Integrates easily with WordPress and other tools
* High quality landing page creation
* Heatmap and A/B testing
* Very easy and powerful drag and drop builder
Cons:
* Fewer overall features
* Not many built-in images, requiring you to find your own
* Poor checkout page and shopping cart support
Leadpages is another tool primarily focused on being able to build the perfect landing page. The editor is a little clunkier than Unbounce or Instapage's, but it has a couple of unique features that make it stand out. For one, there are two different editors – one for beginners, and one for experts.
This makes it more versatile for new users. It also has the ability to open pop-ups on any page. Leadpages is good for beginners or new developers who aren't ready to make the kind of investment a more expensive editor would require, but are still looking for a quality way to produce relevant and useful websites for their business. The pages don't look or feel as good as what the more expensive landing page builders can make, but it's a quality tool for what it costs.

Pros:
* Very cheap, with cheapest plan at 25/month
* Strong popup support
* Many different templates
Cons:
* Editor can be frustrating to use, and not very aesthetically pleasing
* Not as customizable
* Fewer overall features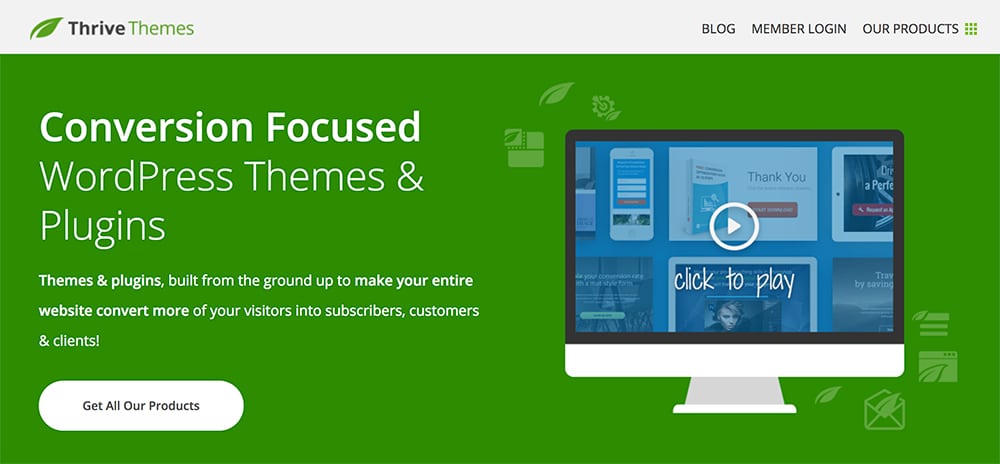 Thrive Themes is essentially a collection of WordPress plugins that all come together to perform the same services as ClickFunnels. Though fundamentally different, the end result and their applications are still the same. One of the biggest differences is that Thrive doesn't host the site for you, which means you need to buy your own additional hosting service.
This isn't a big downside, as Thrive is cheaper enough that paying for the added hosting service is still far less costly than paying for ClickFunnels, and there are advantages to being in charge of hosting the site yourself. For example, although you have to pay, and have more responsibility if things go wrong, you own the site and pages yourself and also have a higher level of control over what goes on. Aside from the hosting issue, though, Thrive Themes is comparable to ClickFunnels in terms of overall functionality.
Though it has to be used with WordPress, it offers the same focus on the overall funnelling, with e-mail and checkout page support along with everything else. It doesn't have quite as many features as ClickFunnels, but it does have a stronger and cheaper testing plan that helps you understand your customer's needs.
Pros:
* Up to 5 times cheaper than ClickFunnels for the same service
* Better testing tools
* You can host the pages yourself
Cons:
* You have to host the pages yourself
* Less comprehensive suite of features
* Has to be used with word press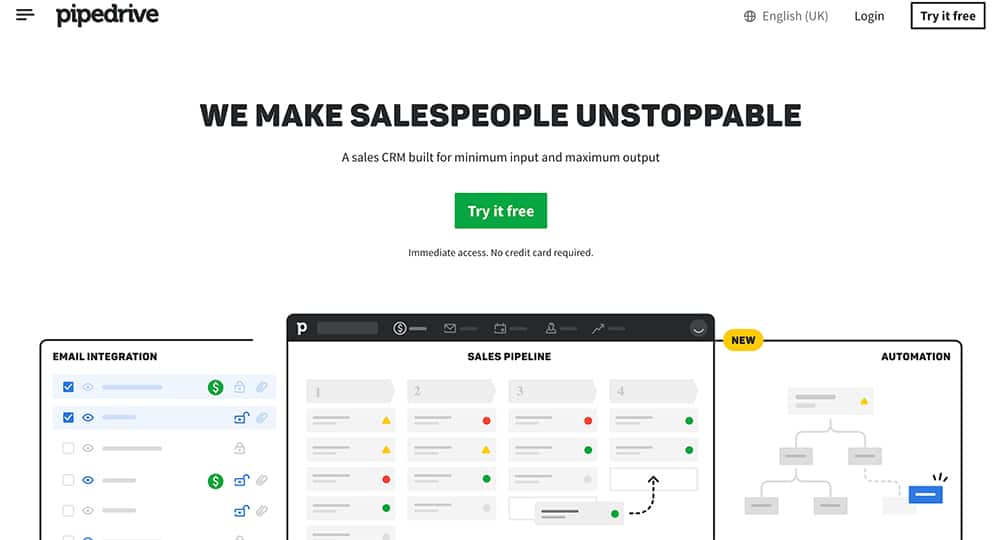 PipeDrive is a comprehensive CRM service that is similar to ClickFunnels. They both emphasize work on the overall sales funnel itself, unlike a lot of the other options on this list. PipeDrive has more features, more integration support, and is much cheaper overall, although it focuses less on the web page development. Though they don't have a phone-based customer service system, their customer service is considered to be top notch. The service is easy to use and subsequently easy to teach to your employees. PipeDrive has won several Expert's Choice Awards for sales pipeline service, which are a testament to it's ability to oversee the entire sales funnel pipeline, if not it's ability to set up the various parts of the webpages.
Pros:
* Their most expensive plan is half of ClickFunnels' least expensive plan
* More features
* More support for integration
* Expert's Choice Award for sales pipeline service
Cons:
* Less webpage focus
* No phone customer service
10 Minute Funnels is very similar to ClickFunnels. They serve the same purposes, have many of the same features, price points, and are both considered to be very solid sales funnel engines with a lot to offer. The differences come down to minutae – 10 Minute Funnels is newer, with more intuitive flowing graphical interfaces, but ClickFunnels is better known and older, with its' own legion of diehard fans.
Pros:
* Newer, more intuitive interface
* Restrictionless for only $197 monthly
* More focused
Cons:
* No native affiliate or autoresponder solution
* Younger, smaller customer base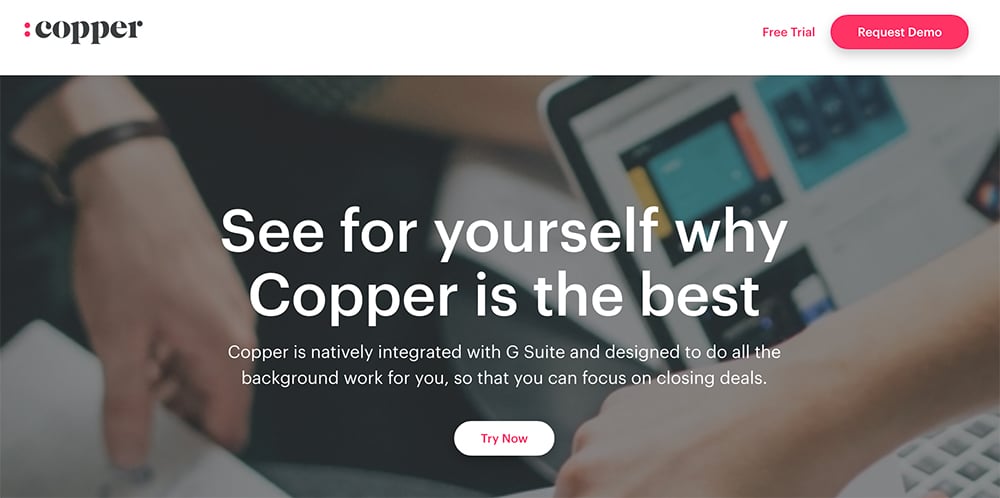 Copper is a cloud-hosted CRM (formerly named ProsperWorks) that puts the funnel in sales funnel. It's very reputable and easy to use, focused for the most part on increasing visibility and control over the sales pipeline. Though it falls into a similar category to ClickFunnels, they can actually be used in conjunction. It has features to help you manage sales productivity and stay in communication with your team as well as analytic functions to improve the transparency of your own system. Like PipeDrive, the other CRM on this list, it doesn't have as big a focus on the web development side of its nature, but for bigger companies it can be a useful tool.
Pros:
* Cloud-hosted databases with automatic data entry save time and improve security
* Integrates with just about anything
* Easy to use
Cons:
* Price is per user, making it fairly expensive
* Bad at making landing pages or checkout pages
There are a lot of options out there on the market for you as a prospective web salesperson.
Each different option has it's own benefits and disadvantages, and it's hard to claim that any one platform is objectively the best. If you have a bigger business, you may want to pick something like Ontraport or Copper CRM, but if you're just starting out and can't afford those sorts of prices, you might be better off with Thrive Themes, Leadpages, or even PipeDrive, powerful as it is. Picking what's best for your situation is only a matter of knowing what you need and knowing what's out there.
Hopefully now you have a better understanding of your situation as well as the lay of the land for the digital sales platform market, and are ready to take your first steps into the new internet-sales age.
The following two tabs change content below.
Megan Jones
Megan is a freelance writer who loves all things WordPress. She currently lives in Brighton with her partner and two small children. When she isn't online she likes walking by the sea, coffee and traveling anywhere and everywhere.
Latest posts by Megan Jones (see all)