Get up to 60% off hosting with Hostgator and Make a Website Hub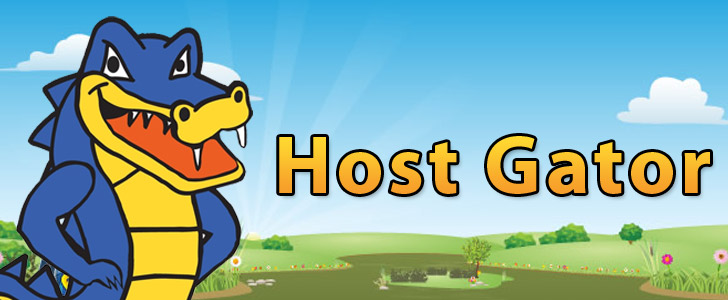 Are you searching for the best possible Hostgator hosting promo codes? Well you've found the top spot for the latest discounts and promotional offers available today. I have been a loyal customer of Hostgator for many years now. One of my first sites that I ever built is still sitting on a Hostgator server, 10 years on!
The process of using a Hostgator coupon code is really simple!
1. Copy one of the codes below.
2. Paste it into the "coupon code" box on the Hostgator checkout screen.
3. Get a great deal on your hosting from Hostgator and you're golden!!!
Is that all?
Yes!! If you know how to copy and paste, you are about to save some serious cash on your web hosting costs.
Below you'll see what the coupon section looks like.

Latest Hostgator Discount Codes
SNAPPY – 20% off all hosting plans
ONECENT – pay just 1 cent for your first month of hosting
FREEUPGRADE3 – 60% off Business Hosting
How to Use HostGator Coupon Code?
All you have to do is follow the instructions below to properly redeem the HostGator coupon code, so you can get maximum discount on HostGator.
First off you must click this HostGator link to visit their website.
Click the "Start Your Site Now" button to get started.

Next, enter your desired domain name. This will be your website's address on the web (i.e. makeawebsitehub.com). If you need help choosing a name for your website one, check out our list of the best domain name generators.
Below that, you can choose your hosting plan (Hatchling, Baby, or Business) and your billing cycle (1, 3, 6, 12, 24, or 36 months).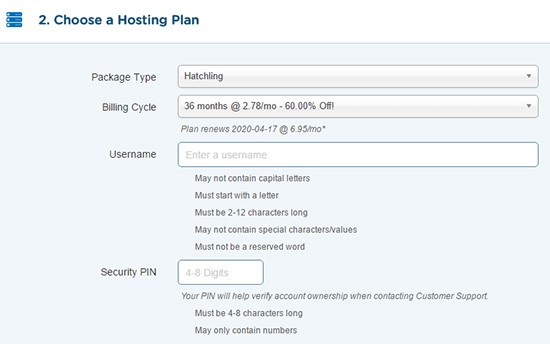 You'll also have to create a username for your Hostgator account, and choose a 4-8 digit PIN number for security.

Towards the bottom of the page, you can verify that the relevant Hostgator coupon code has been entered. It should already be automatically applied since you clicked the link from our site. If not you can enter it again here.
That's all. Go ahead and click "Checkout Now" at the bottom to complete your purchase.
We hope you found our HostGator coupon code to be helpful.
Please check out our other exclusive coupons and deals here.
SO, IS HOSTGATOR GOOD ENOUGH?
Unlike a lot of its competition Hostgator, true to its name, focuses on providing hosting solutions and that's about it. A lot of modern low cost hosting solutions attempt to offer a little bit of everything. They try and offer hosting and a fully functional domain purchasing system, they try and offer shopping carts and advanced e-commerce solutions while simultaneously trying to offer online business advising, SEO and other marketing solutions.
Often these other companies fail due to their far-reaching ambition. They fail because they try and offer everything and end up offering nothing of real value. It doesn't matter if a web hosting company also offers a fully integrated shopping cart solution for an up charge if you can subscribe to a superior third party solution for less money.
If you read my Hostgator Hosting Review you will see I find Hostgator is far superior to a lot of other web hosting products or you can read my comparisons of Hostgator to Godaddy, Bluehost and Dreamhost.
WHAT, EXACTLY, WILL YOU GET FROM HOSTGATOR'S WEB HOSTING PLANS?
Hostgator offer 3 popular types of shared web hosting, they are:
Hatchling – 1 domain and unmetered bandwidth
Baby – unlimited domains and unmetered bandwidth
Business – unlimited domains, unmetered bandwidth, Dedicated IP
Here is a full breakdown of what you will get with the Baby hosting package:
• Unlimited Hosting Space
• Unlimited Data Transfer
• SSL, FTP and Statistics
• Unlimited Email Accounts
• Free domain Registration
• Free Site Builder
• Full Customer Support
• Unlimited Domain Hosting
• Support for CGI, Ruby, RoR, Perl, PHP, MySQL
• WordPress, Drupal and Joomla 1-Click Install
• $100 of Google Adwords Advertising
• Multiple Free Scripts (including message board scripts)
• Multimedia Support
For the average person a baby web hosting plan with Hostgator will provide them with absolutely everything they need to get online and build a website they've always wanted.
Do Hostgator offer a money back guarantee?
Yes, Hostgator offer a generous 45 Day no questions asked money back guarantee. If you have any issues in those first 45 Days Hostgator will refund you the full amount.
Do Hostgator offer discounts for annual billing?
Hostgator has some great discounted deals available to people who buy hosting 12, 24 or 36 months in advance.
How can I pay for my Hostgator account?
Hostgator accepts all major credit cards and of course Paypal