Did you know that some of the sites listed on this post earn more than $200k a month!!?? Crazy right??
Gaming has exploded in popularity over the past 5 years, especially since streaming services like Twitch has come about and embraced the gaming community. Gamers are becoming the new Youtube stars or rockstars. The demand for gaming content has increased so much that even relatively new gaming blogs are attracting tens of thousands of hits per week.
Have you every wanted to start your own gaming blog?
Perhaps you're a lifelong gamer that has always wanted to share your passion for gaming but don't know where to start?
Or maybe you're just starting out in gaming and want to gain as much knowledge as you can so you can hit the ground running. Whatever the reason for landing on this page, I'm pretty sure you're going to get lots of inspiration from this carefully collated list of the best gaming blogs around.
If you want to start your own blog and become a top gaming blogger, or even just learning all there is to know about a certain type of game, then this list will help you in one way or another.
The top video game streamers either run their own blog, make money on Twitch or consume content daily on the best ones gaming blogs. Why not do the same?
I have put together a great list of the best gaming blogs that you should read in 2022 and to potentially help you reach your goal of either:
a) Starting your own gaming blog
b) Give you the knowledge to perhaps improve your gaming skills on certain games
c) Introduce you to the world of streaming your gaming endeavours on Twitch
d) Keep you up to date on everything that is going on in the world of gaming.
Let's go!!!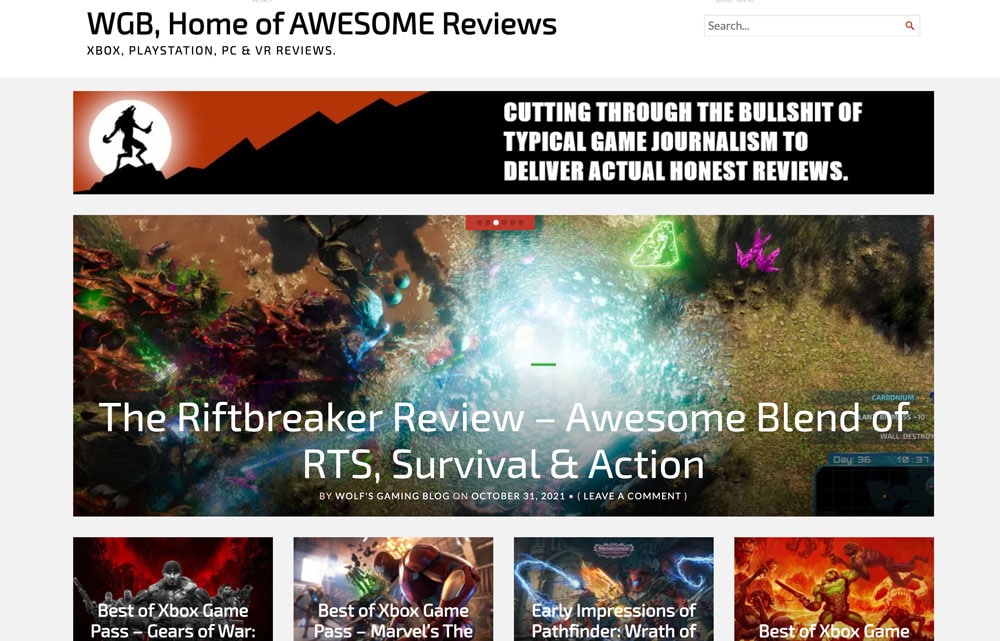 Wolf's Gaming Blog started from humble beginnings with just one guy blogging about what he loves the most….gaming and tech. His name is Baden Ronie. With his passion for the subject of gaming, the site grew and grew in popularity, with many big gaming companies hitting him up to sign big sponsorship deals on his site. Today, Wolf's gaming blog is one of the biggest on the web. There's always something new to learn about gaming every day on this site. Please do check it out.
Blog platform: WordPress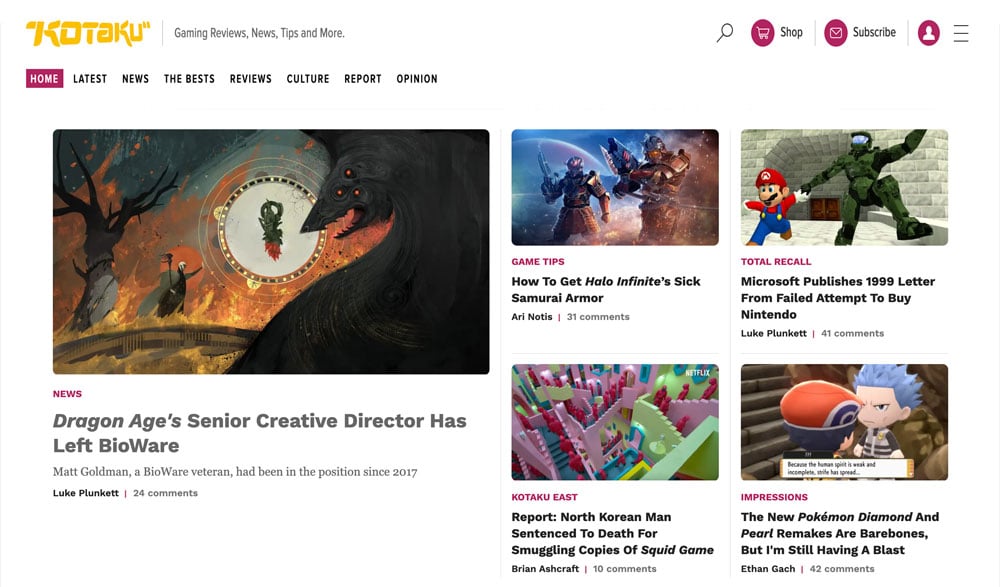 Kotaku is one of the grandfathers of gaming blogs. It's been around since 2004 and was founded by Brian Crecente. It's well known for producing quality and witty gaming content ranging from video game reviews to daily gaming news. It's was part of the Gawker Media network until 2019 when it transitioned into G/O Media.
Blog platform: Express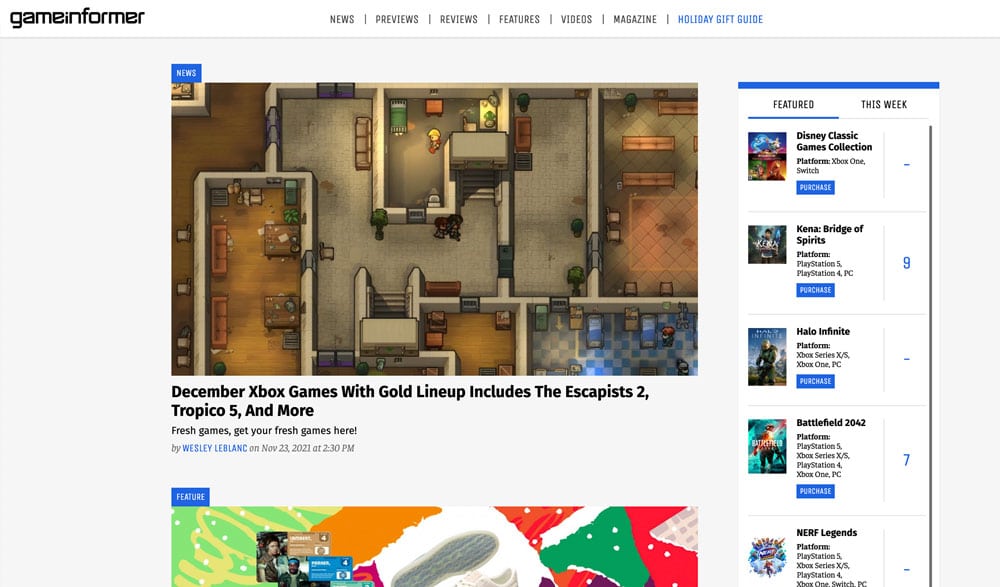 Game Informer or GI Online as it is known now, is the digital offspring of the insanely popular magazine of the same name. It's the online magazine version that covers everything video gaming-related.
Gamers can get the lowdown on everything there is to know about games, including Xbox, PlayStation, GTA, etc. You'll also be able to read detailed reviews and posts about general entertainment.
Blog platform: Drupal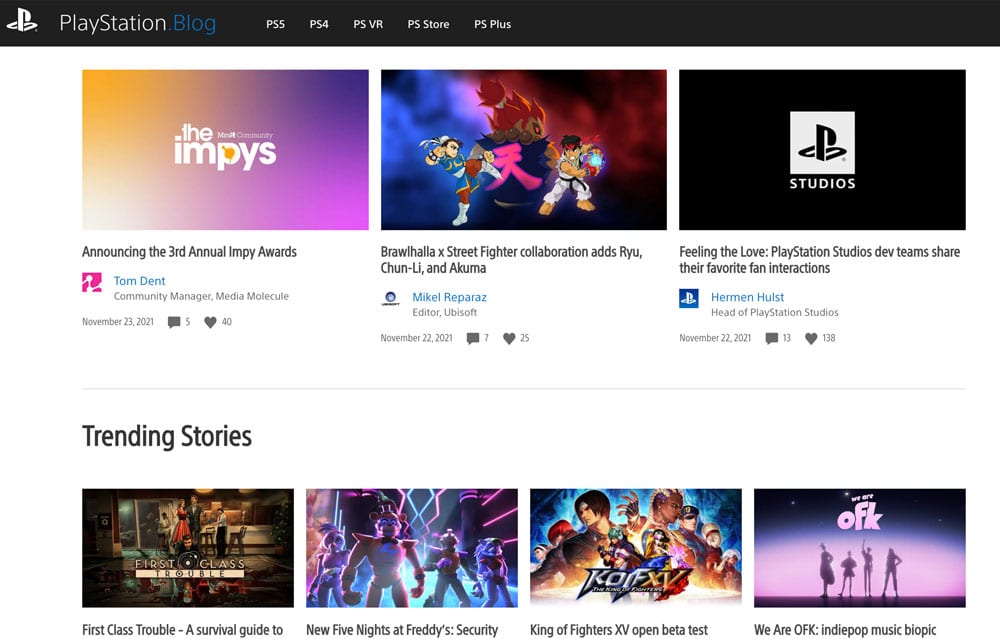 No surprises to what this gaming blog focuses on! This is theofficial PlayStation blog. It features everything related to PS-related news, including PS4, PS5, PS VR, and more.
Blog platform: WordPress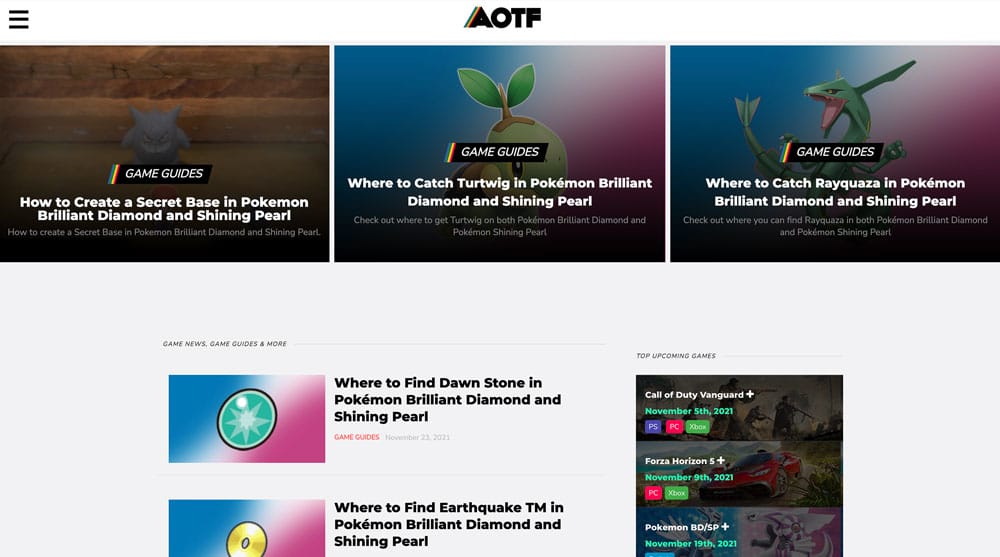 Attack of the Fanboy was founded in 2010. It prides itself on publishing quality and informative video game news, reviews, guides and videos for a diverse readership and viewership across their blog and video outlets.
Their writers and content creators who contribute to the site are all avid gamers with a passion for the industry. They also cover a broad number of topics in the world of video games, technology, and entertainment.
Blog platform: WordPress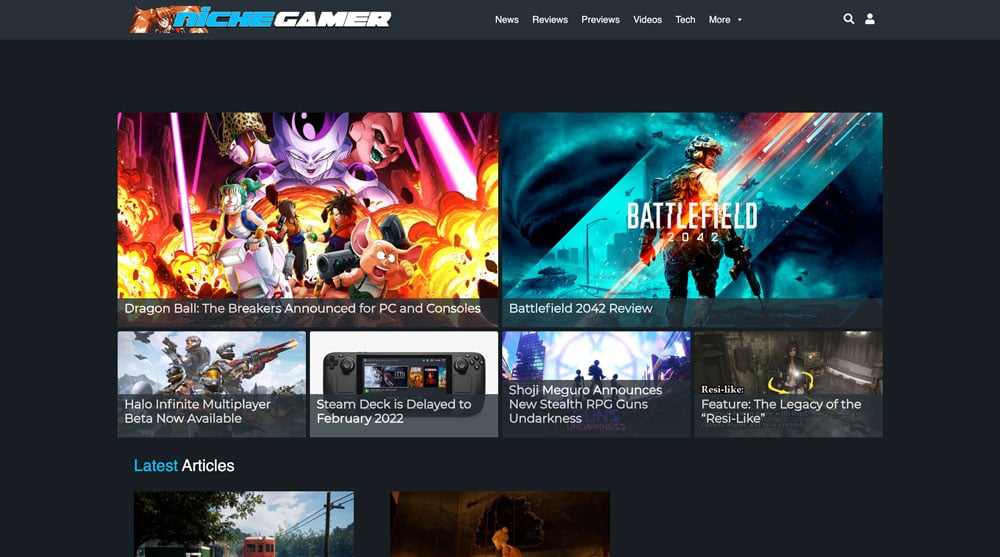 Niche Gamer is the pipe dream of Brandon Orselli, a gamer since the age of 5, hobbyist, activist, and game design student graduate. The site was founded in 2013 when he was inspired to finally start a site dedicated to the games that Brandon loved playing. These games were the more less well-known games, hence why the blog is called "Niche Gamer". He tends to shy away from the mainstream games, and focuses on the underbelly of the gaming industry.
Any example of the type of games they like to cover would be this Japanese countryside train ride simulator called Nostalgic Train.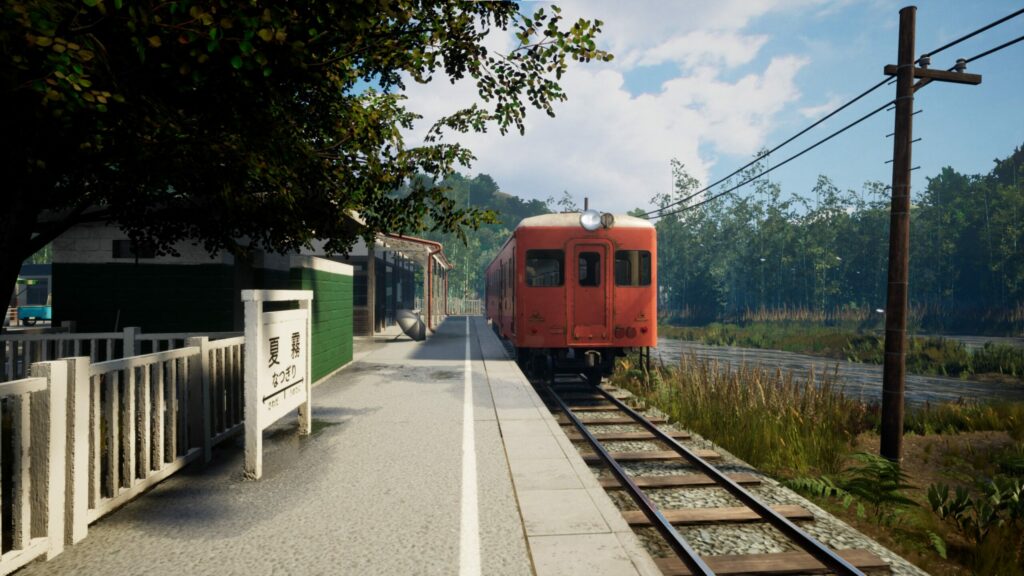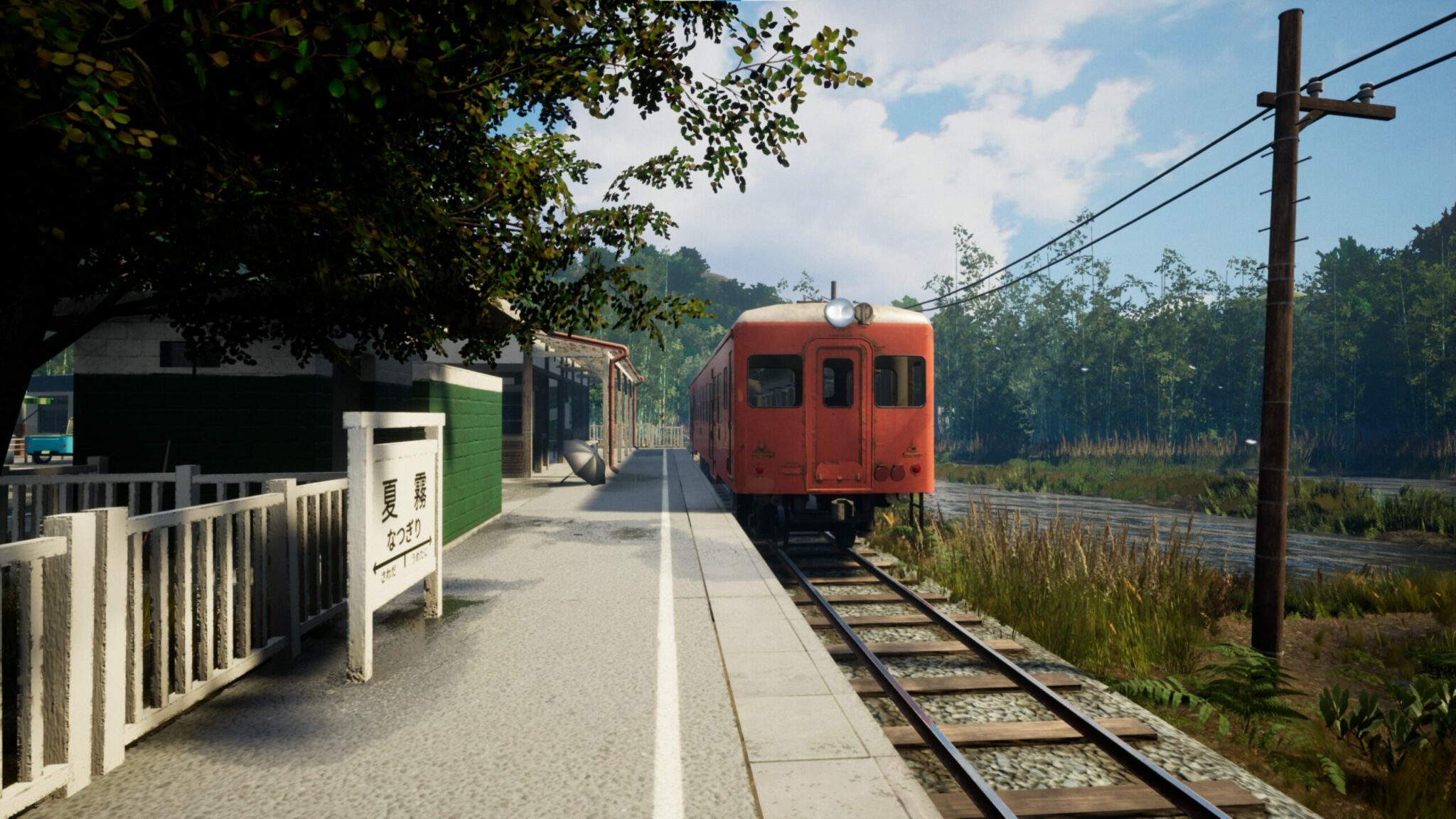 If you're into your strange and unusual games, this is the blog where you can find out more about them.
Blog platform: WordPress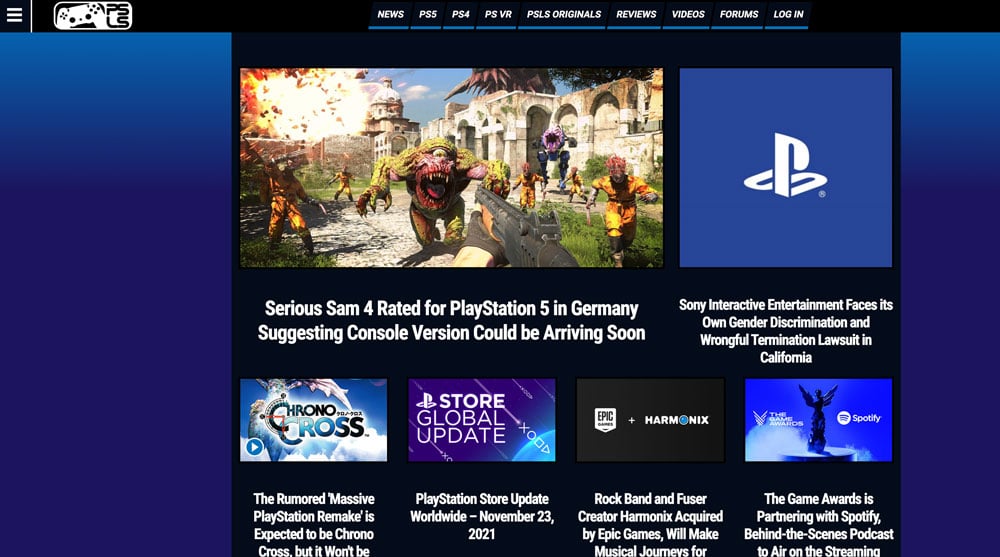 If you're passionate about all things Playstation then this blog is targeted towards people like you. It's a gaming blog that is purely dedicated to PlayStation fans.
It's focus on just one console brand is refreshing, as they are providing un-biased content just for one focused gaming community. The main topics that they cover are PS5, PS4, PS VR and PSLS originals.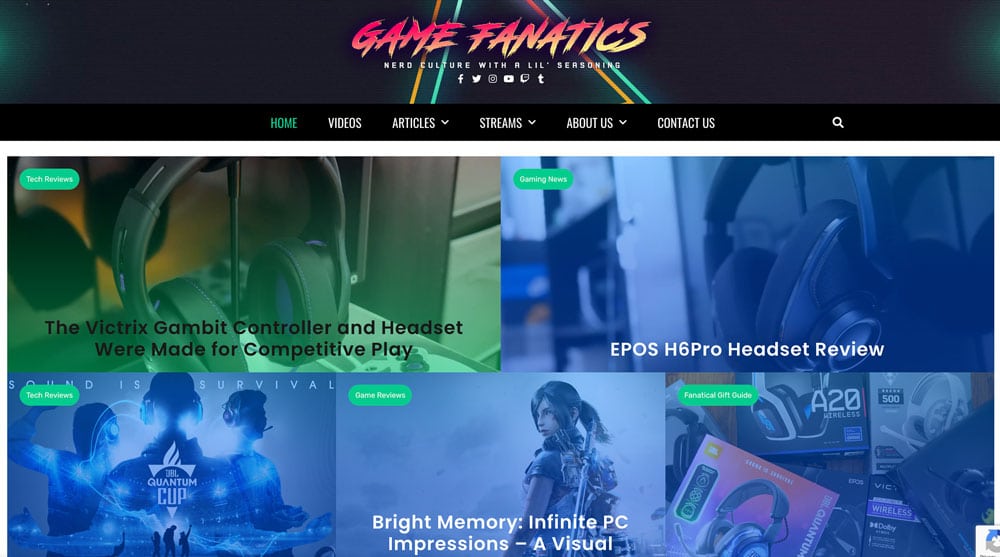 Game Fanatics is a collection of geek creators in a diverse community of gamers. The blog really does feel like a little gaming village full of characters who are passionate about gaming. This is a proper gaming blog. I love everything about it from the retro, 80s looking logo to the tag line "Nerd culture with a lil seasoning".
They produce top quality video game reviews, gadget reviews, movies and TV news. If you're into cosplay & fashion, collectibles, toys, comics, and anime, then you have truly found your home!
Blog platform: WordPress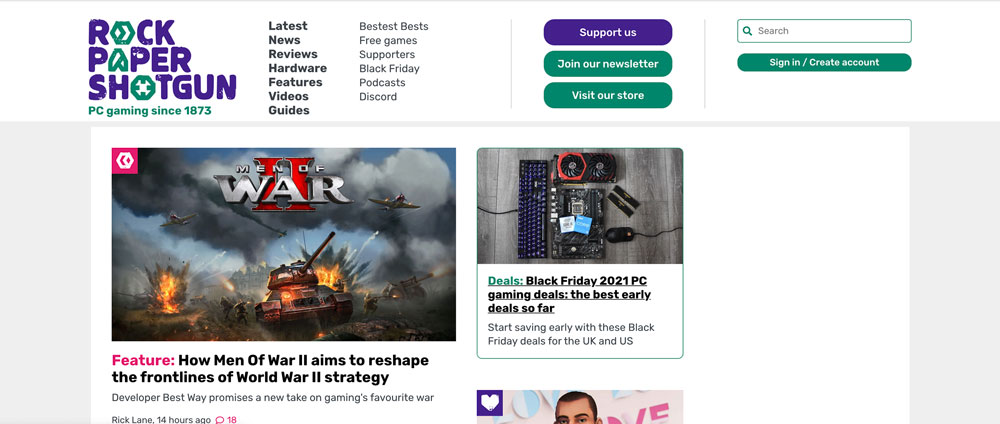 UK-based gaming blog Rock Paper Shotgun features all latest news and guides that mainly focus on PC games. They cover stuff about video, simulation, indie and tabletop. They also write about the latest reviews on games and PC setups. It was an independently run blog from 2007 until 2017 when it was acquired by the Gamer Network.
Blog platform: WordPress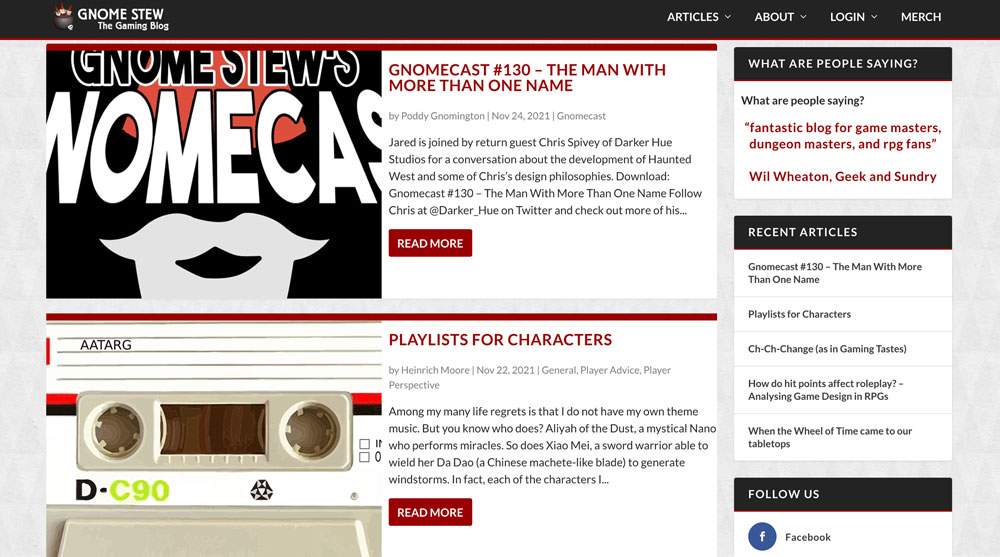 Gnome Stew is a gaming blog packed full of gaming knowledge from fanatical gaming fans. These writers have immense knowledge about the industry that write about anything from bite-sized articles to detailed reviews. Gnome Stew is well known for creating insightful gaming articles for tabletop role-playing games.
They also have a vibrant podcast and invite readers to become guest writers for the site.
Blog platform: WordPress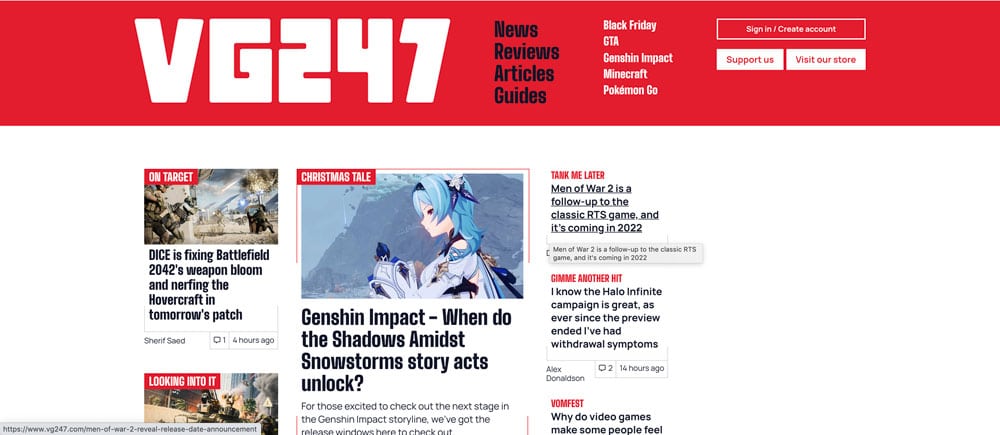 VG247 is a very popular video game blog. The site is published in the United Kingdom and was founded in 2008 by games journalist Patrick Garratt.
They cover a range of gaming topics such as PlayStation, Nintendo, Xbox, PC, GTA, Pokemon, Animal Crossing, reviews and guides.
Blog platform: WordPress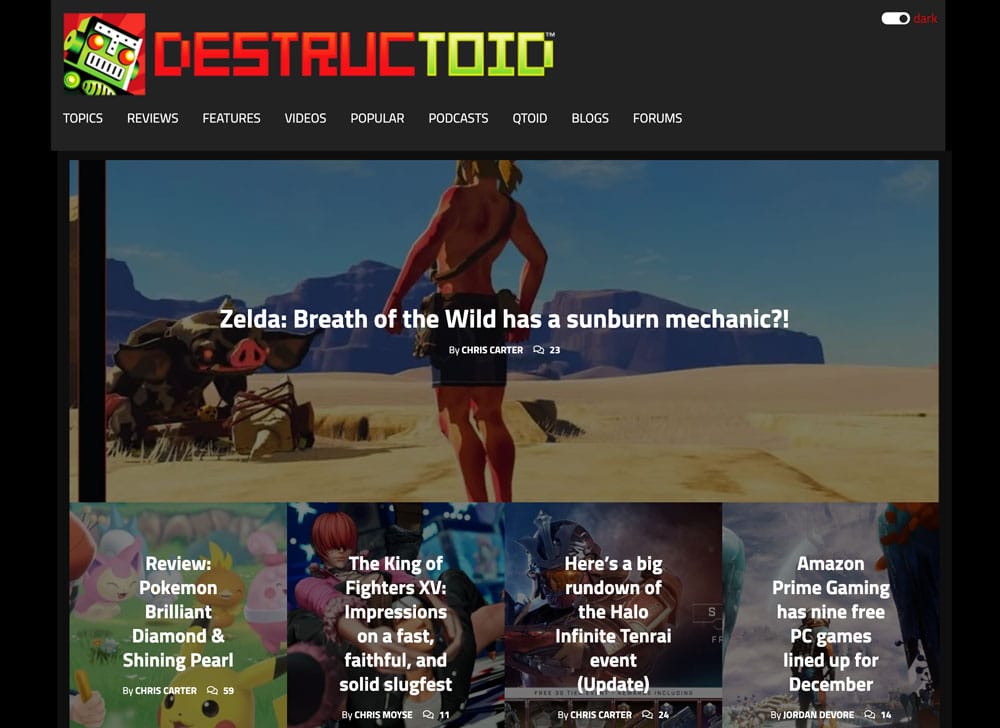 Destructoid is another hugely popular gaming blog that was founded in 2006 by Yanier Gonzalez, a Cuban-American cartoonist and author. Destructoid is now part of the Enthusiast Gaming network and covers a wide range of gaming topics such as PS5, PS4, Xbox, Animal Crossing, Pokemon and much more. They also have a vibrant community forum to engage with.
Blog platform: WordPress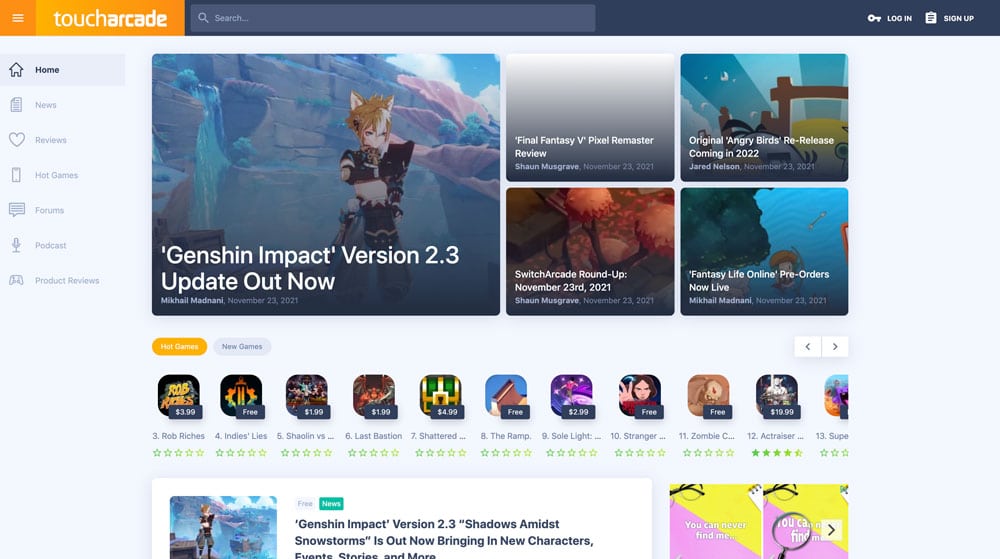 TouchArcade is a gaming blog that covers the latest games and apps for Apple's iPhone and iPod Touch. It's one of the largest blogs purely dedicated to iPhone and iPod Touch gaming.
Blog platform: WordPress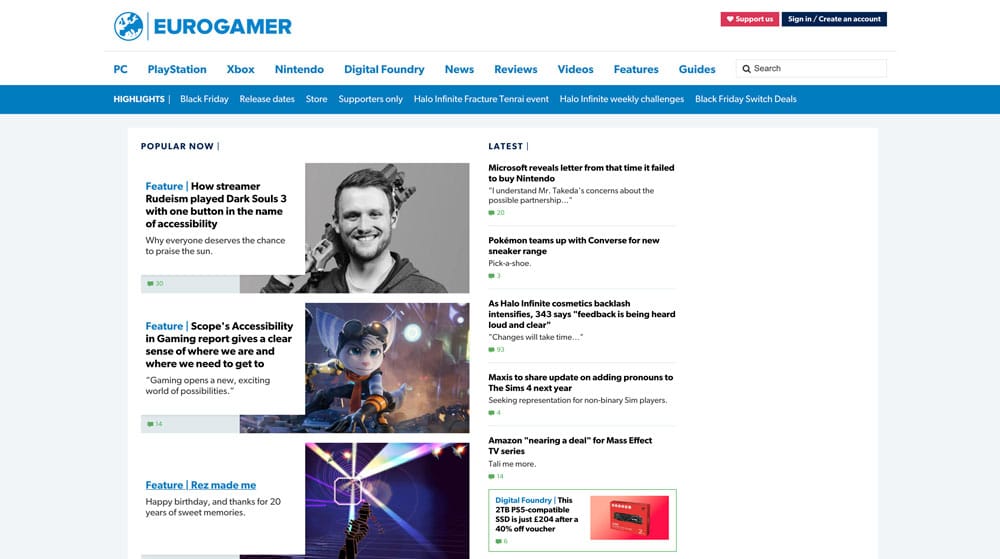 Eurogamer is a gaming blog that focuses on video game journalism. This UK based website is owned by Gamer Network and was founded back in 1999. It's one of the oldest gaming blogs. The content is witty and entertaining, as you could probably gather from their tag line… "Bad puns and video games since 1999."
Blog platform: WordPress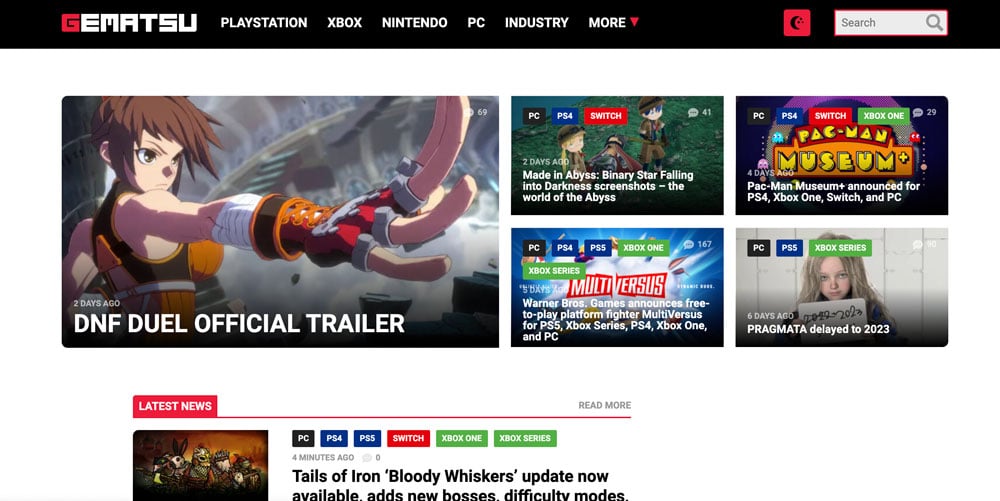 Gematsu is the most popular video game blogs that focuses on Japanese games. It was founded in 2008 by Sal Romano, who runs it entirely on his own. It's a great source for video game news and information for those who love Japanese gaming titles. Gematsu attracts roughly around 3.6 million page views per month.
Gematsu prides itself on its straightforward and detailed reporting that has earned it a reputation as the go-to place for Japanese video game news.
Blog platform: WordPress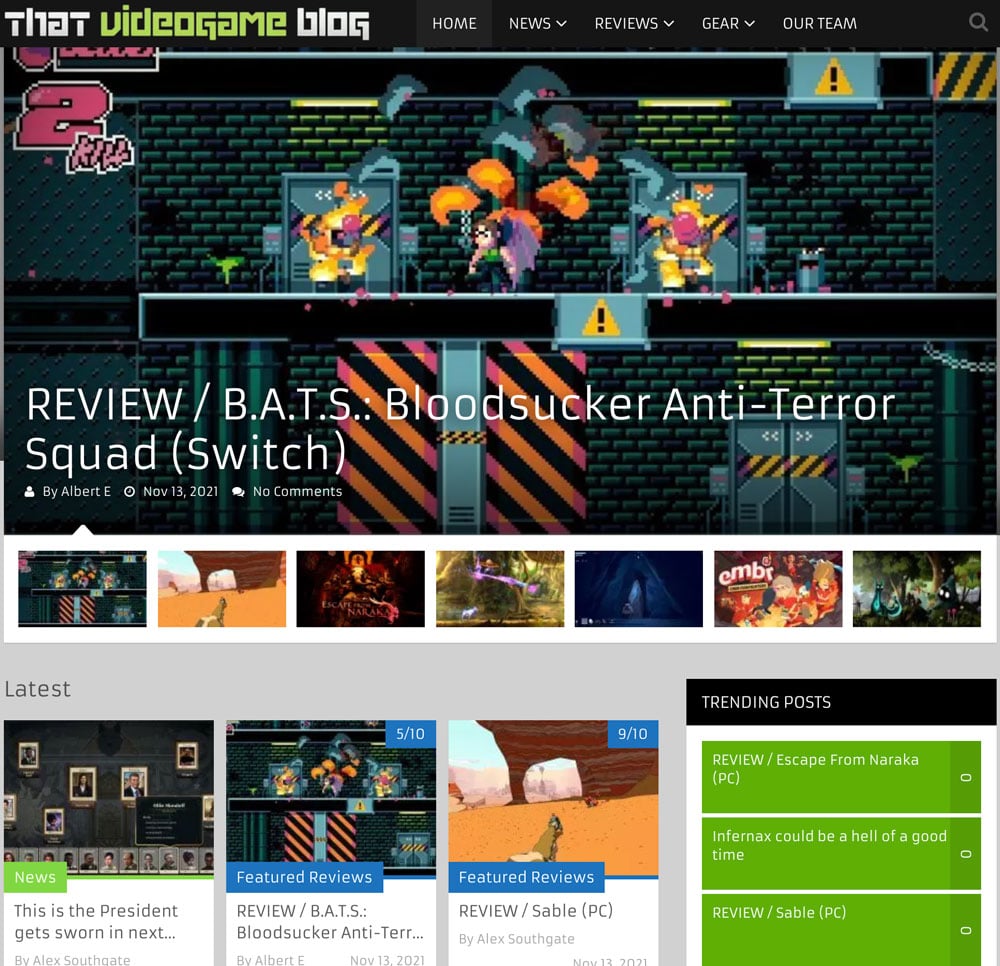 With over 20 gaming experts writing content everyday, you're bound to find something you fancy on TVGB. This is one of the most popular niche gaming sites around, which covers topics like Xbox, PlayStation, PC games, reviews, gear and news.
Blog platform: WordPress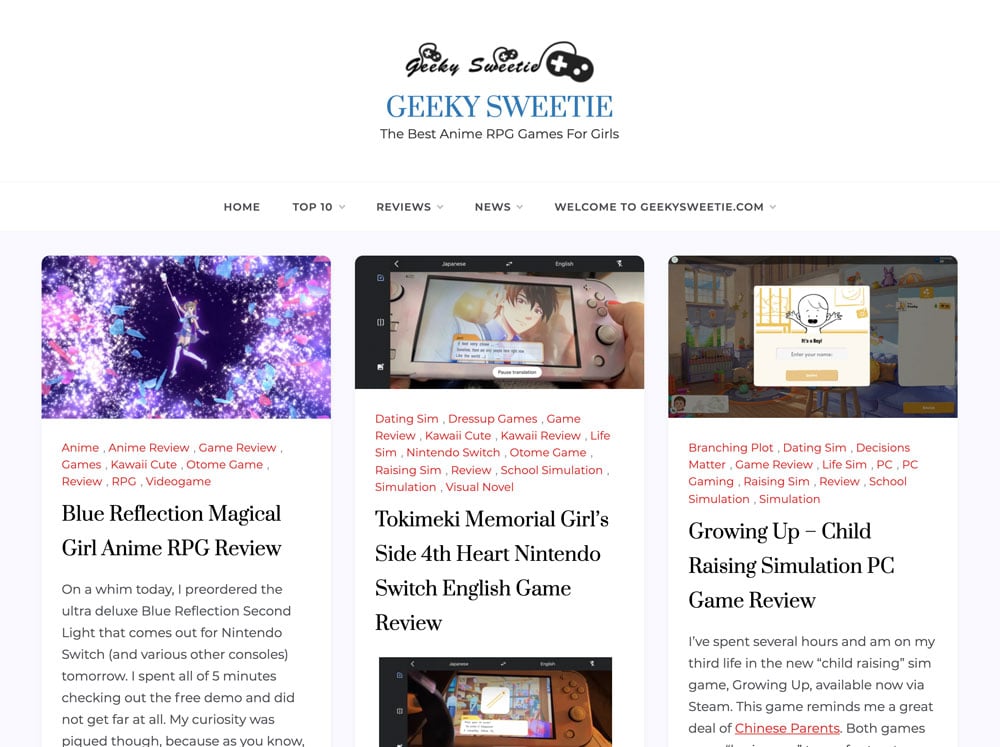 I love niche sites within a niche. This site is aimed at gamer girls, which is pretty much under served in the gaming niche.
Geeky Sweetie is a blog that is full of content that girls are typically interested in. There's a lot of game reviews as well as content on anime, manga, toys, gadgets, and much more. As they say on their site, "If it's geeky, or sweetie, it will be highlighted here."
Blog platform: WordPress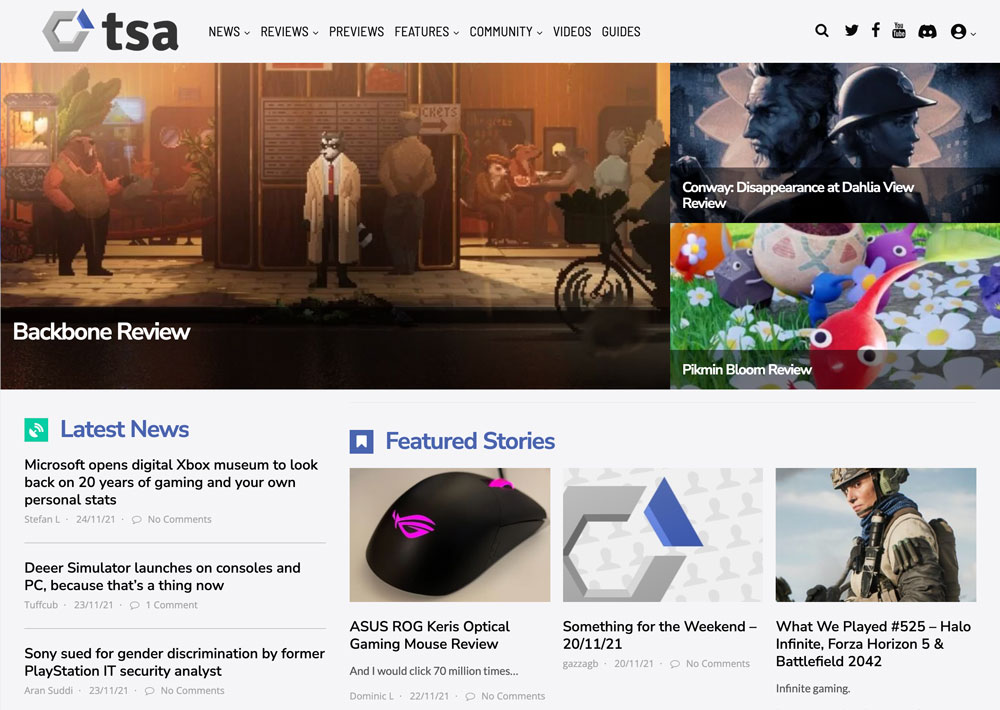 The Sixth Axis publishes regular posts about all gaming-related areas. They cover news relating to video, mobile games as well as detailed guides on games such as Animal Crossing and Monster Hunter Rise. They also have plenty of interviews with who's hot in gaming.
Blog platform: WordPress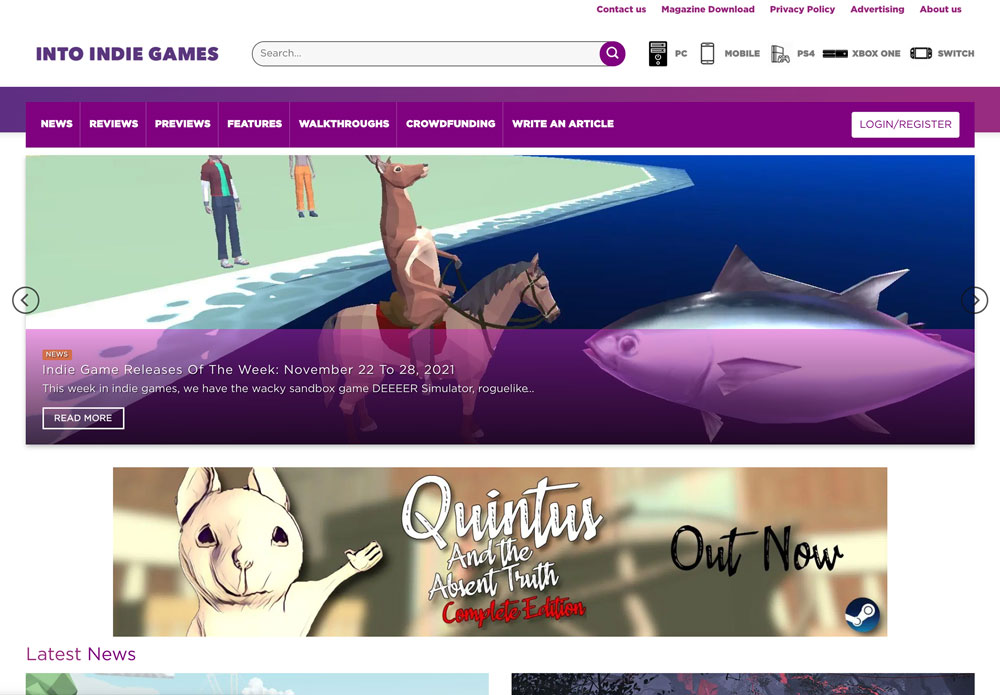 This blog is ideal for those who are interested and well versed in indie game development. You'll find everything there is related to the indie gaming industry. Packed full of the latest indie game news and views from around the globe. The community involved in this site is clearly passionate about indie games and are often invited to write for the site.
Blog platform: WordPress
Gamespew is a gaming blog that came about in 2015 by two friends who were passionate about gaming who one day decided to start a blog. They wanted to direct their love for gaming into something that could potentially blow up and make them a fortune. And it did. This blog is so popular! It gets tens of thousands of hits a day and rightly so!
The content is engaging, funny and fresh.
Blog platform: WordPress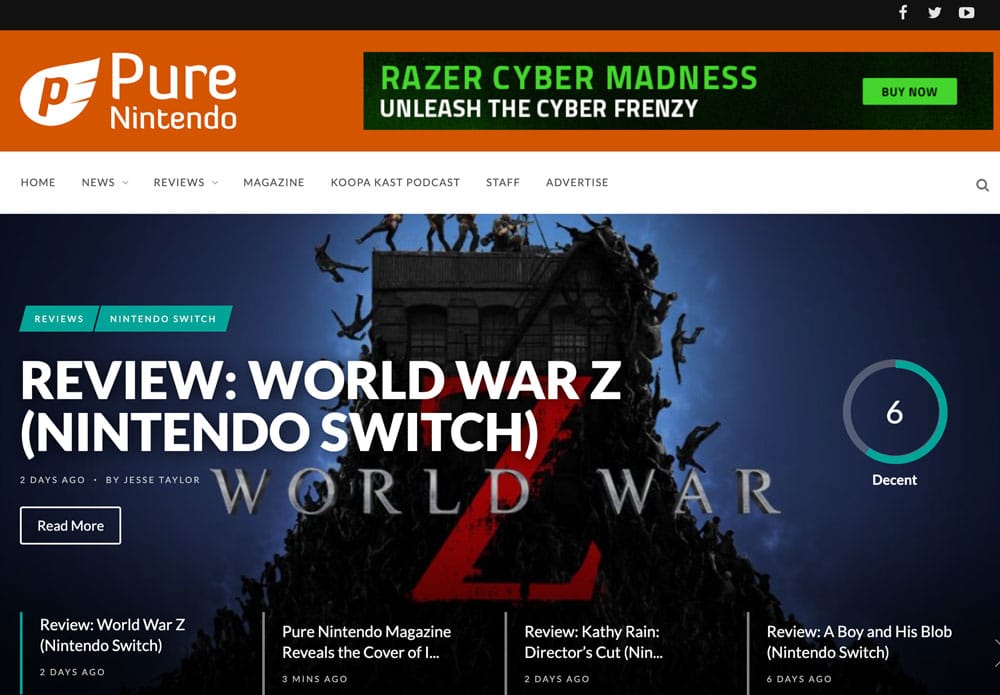 PureNintendo is a gaming blog focused on just Nintendo games. From game reviews to Nintendo gaming guides, you will be well versed on the daily goings-on in the world of Nintendo. You can also read useful things about Wii and 3DS.
Blog platform: WordPress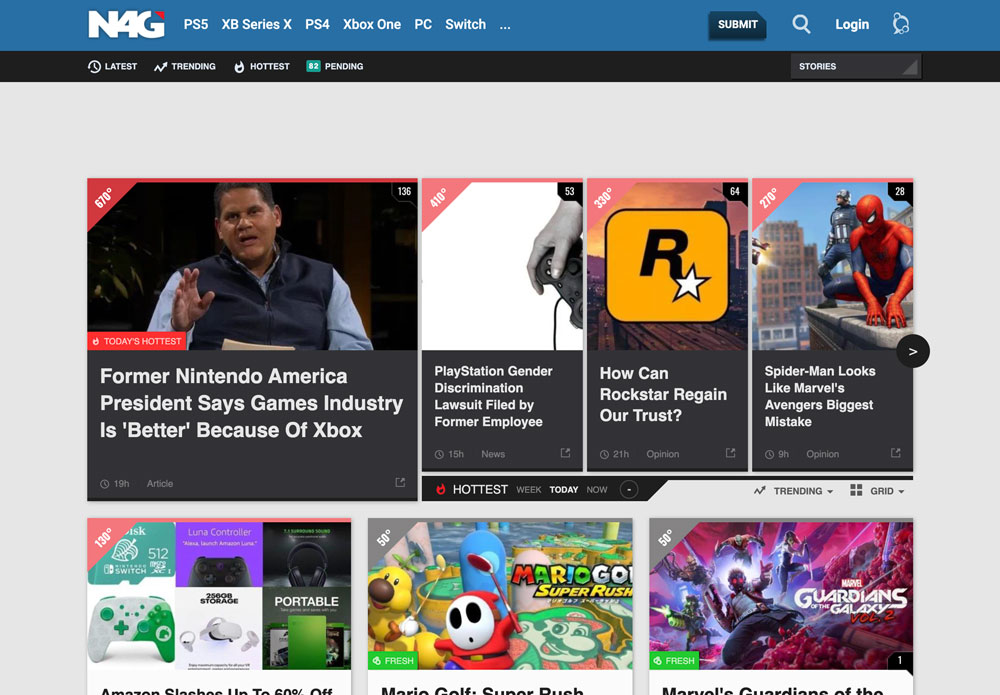 N4G is a gaming blog that is partly user generated. It allows the reader to create posts and take part in discussions, which makes it a great place for any up and coming bloggers to get their creative writing out there on the web. N4G is part of the NewsBoiler network.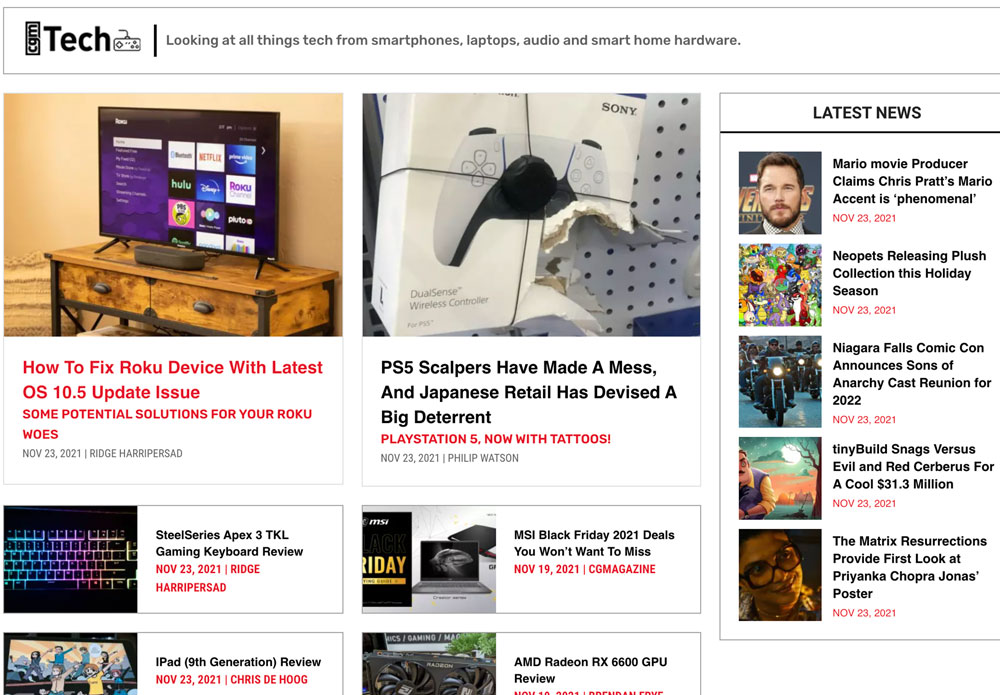 CGM started life as a Canadian print publication in 2010. It has since moved online, focusing on gaming culture, gaming news and comics. It's effectively a safe haven for geeks and nerds to explore what they love.
Blog platform: WordPress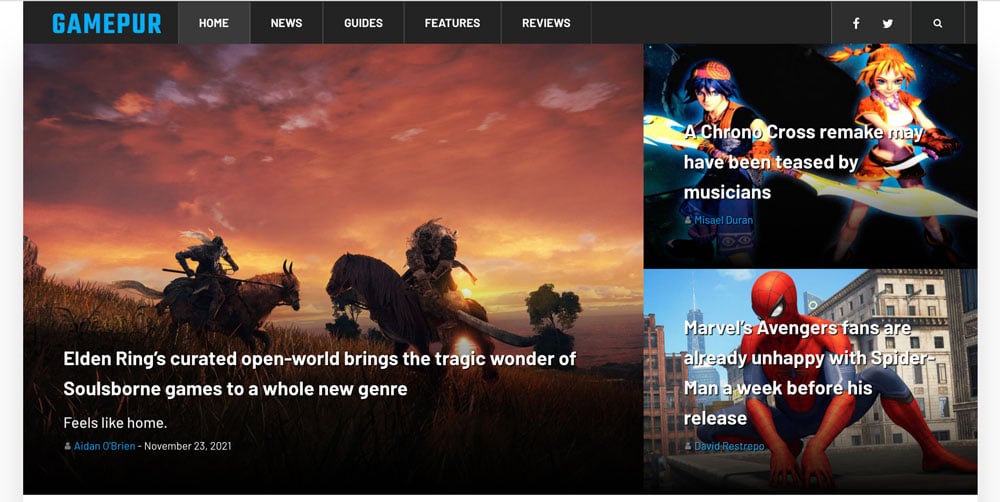 Gamepur was founded in 2010. It was a hobby / passion blog for two hardcore gaming fanatics. Fast forward to today, and its a hugely popular site where gamers can go and find out about the latest news and developments in the video game world. There's also expert guides on playing games.
Blog platform: WordPress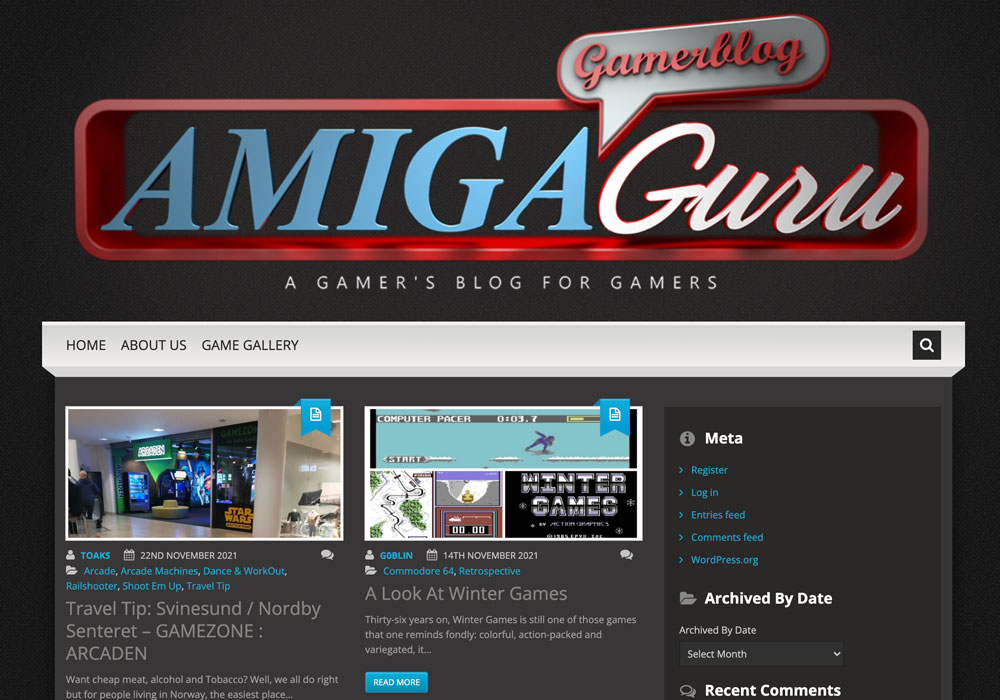 One of my favourite gaming blogs ever! This site is a real labour of love. Tony Aksnes and Gianluca Girelli are the crazy retro gamers behind Amiga Guru. They regard themselves as a retro gamer freaks who who collect and play games older than most people out there.
They write about classic Amiga games such as Lotus Turbo Challenge II and Jimmy White's Whirlwind Snooker.
Blog platform: WordPress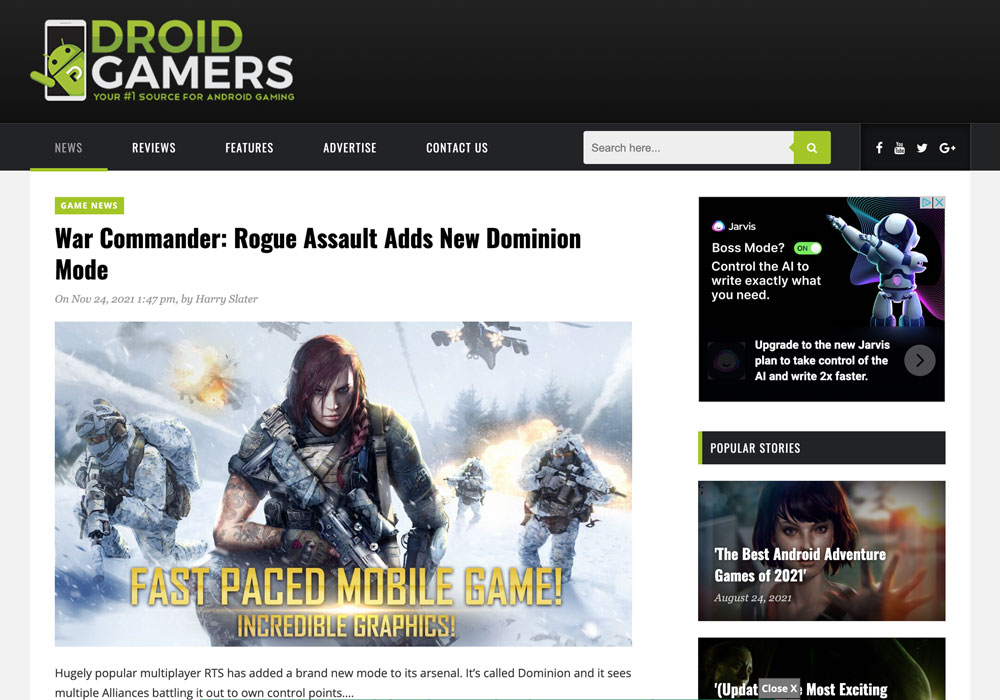 Droid Gamers is the Number 1 resource for Android Gaming. This blog is all about Android games, where the writers are super passionate about everything Android-related. Definitely bookmark the site if you're an avid Android user as it covers all you need regarding gaming on Android devices. The type of content on the siute includes game news, reviews, previews, and more.
Blog platform: WordPress
Monstervine is a gaming blog that was created in 2008 by William Saw and James Cobb. Their initial goal in creating the site was to providing the latest gaming reviews, news, previews, features, and commentary from around the world of gaming.
Monstervine is a great Independent video game website for hardcore gaming enthusiasts. The content writers have an unconventional approach to covering games, which makes this gaming blog a must read feature to any gamers reading list.
Blog platform: WordPress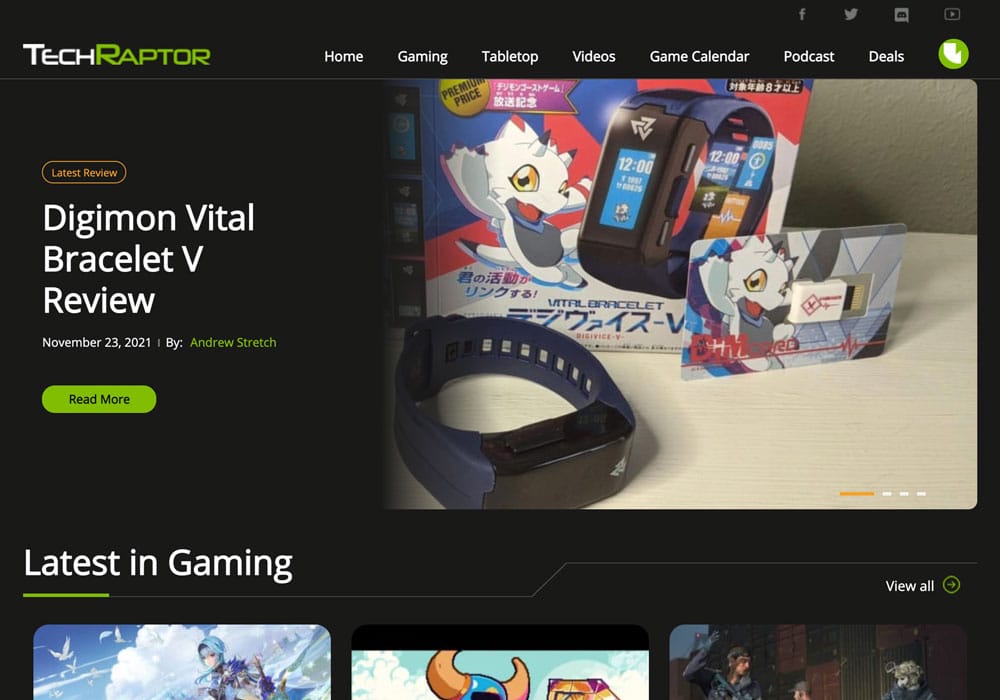 TechRaptor is a great place online for gaming news and gaming reviews, offering insightful content across every platform, genre, and both AAA and Indie Gaming.
Blog platform: WordPress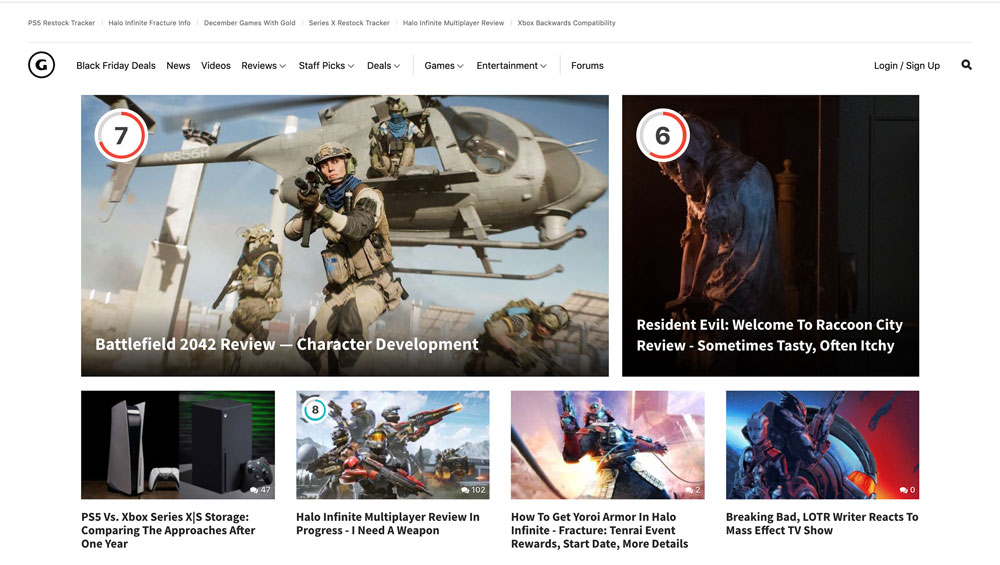 GameSpot has been around since the beginning of the internet. It's an American video gaming website that provides news, reviews, previews, downloads, and other information on video games. Launched in 1996 by Pete Deemer, Vince Broady and Jon Epstein, it was acquired by ZDNet, which was then later purchased by CNET Networks.
Gamespot covers a wide range of gaming content such as comprehensive video game and entertainment coverage, news, reviews, trailers, walkthroughs, and guides for PS4, PS5 and much much more.
Blog platform: WordPress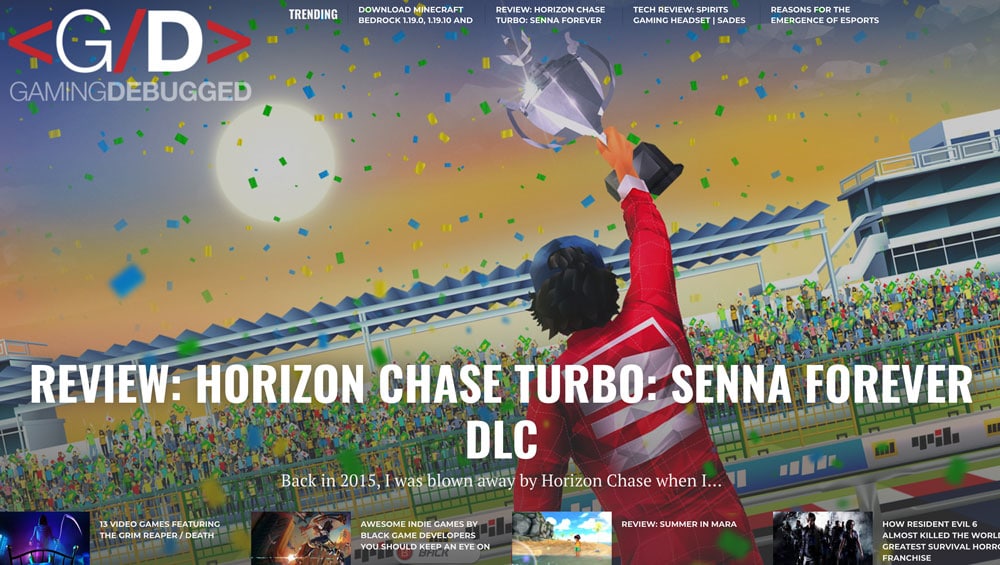 Gaming Debugged is a video game blog covering mainstream and indie gaming, game design and development, and features from the games industry.
Blog platform: WordPress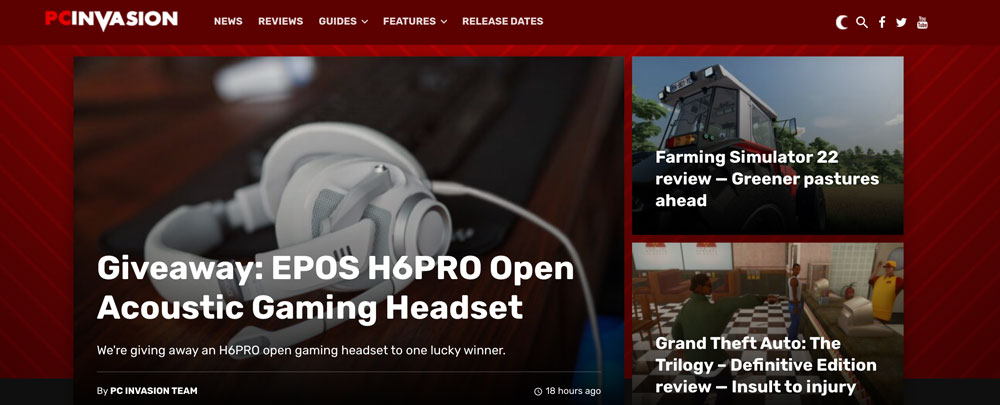 PC Invasion publishes daily PC game news and features including news, reviews, previews, interviews and articles. It has a large PC gaming community attached to the site where you can find a wealth of knowledge about PC gaming.
Blog platform: WordPress
Nova Crystallis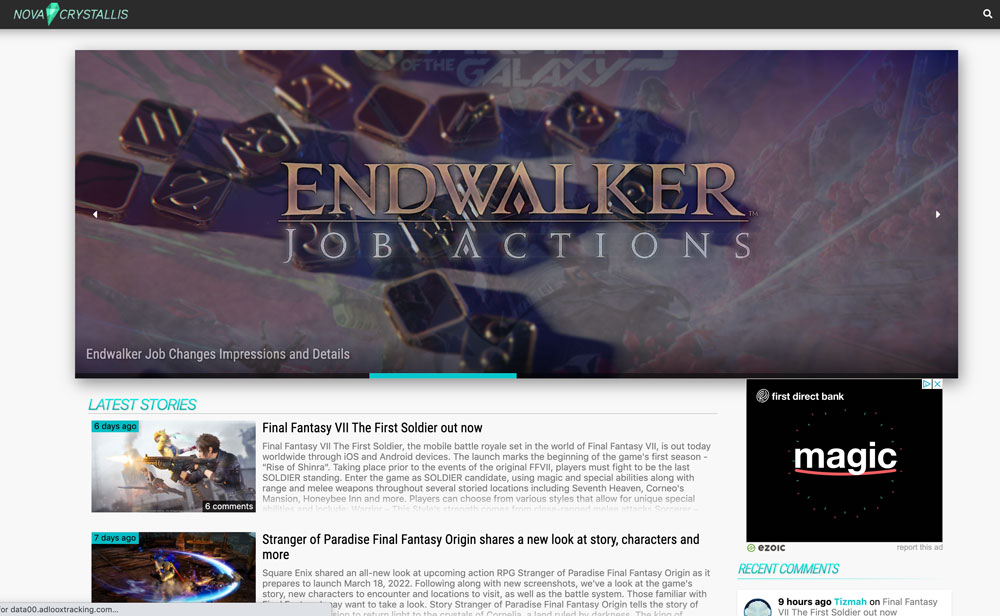 Nova Crystallis is a popular niche gaming blog. It's a place for news and community source for Square Enix games including Final Fantasy, Kingdom Hearts, Dragon Quest and more.
Blog platform: WordPress
GamingBolt specializes in providing up to date content about the latest in video games. They also run regular contests to reward their loyal readers as well as covering all major gaming events like E3, GDC and TGS. Their goal at GamingBolt is to make a platform where gamers can interact, play and enjoy gaming with each other.
Blog platform: WordPress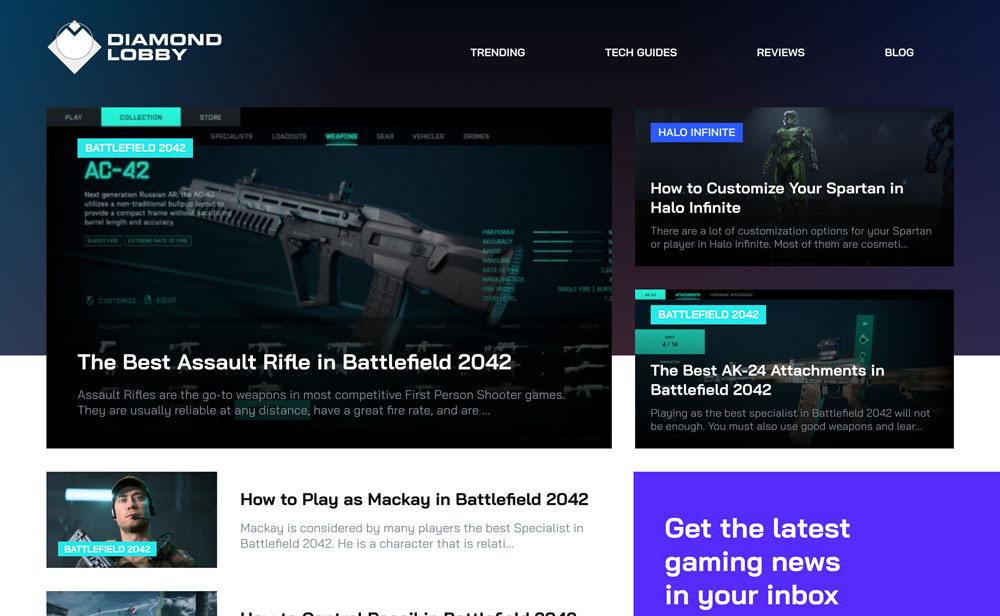 DiamondLobby publishes gaming guides and reviews, with a focus on helping people improve at multiplayer PvP games – though they'll still help you get through campaigns and other game modes, too. Whether you're looking for a great loadout or you're stuck on a mission, DiamondLobby will usually have a guide for you.
Blog platform: WordPress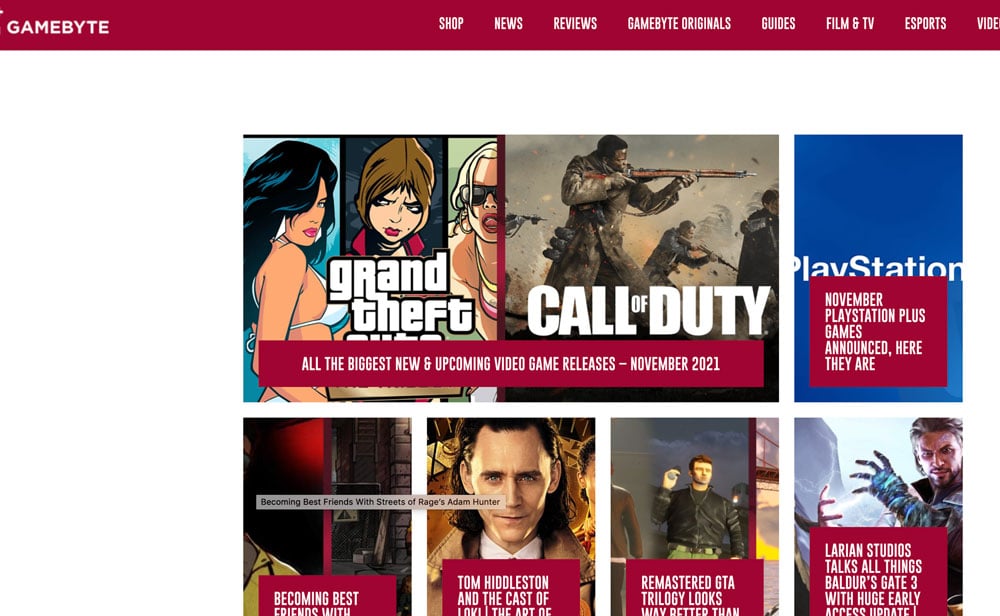 GameByte is made by gamers, for gamers. It is a huge site!!! It has a community of six million gamers and they are the one gaming publisher on Facebook. It's owned by Social Chain Media, who are based in Manchester, UK.
On GameByte, you'll expect to read about rending stories, breaking news, trusted game reviews, long-form features and gaming /entertainment content.
Everyone who writes for GameByte are gaming enthusiasts and active members of the gaming community themselves. You won't find ghost writers with no passion for the industry.
Blog platform: WordPress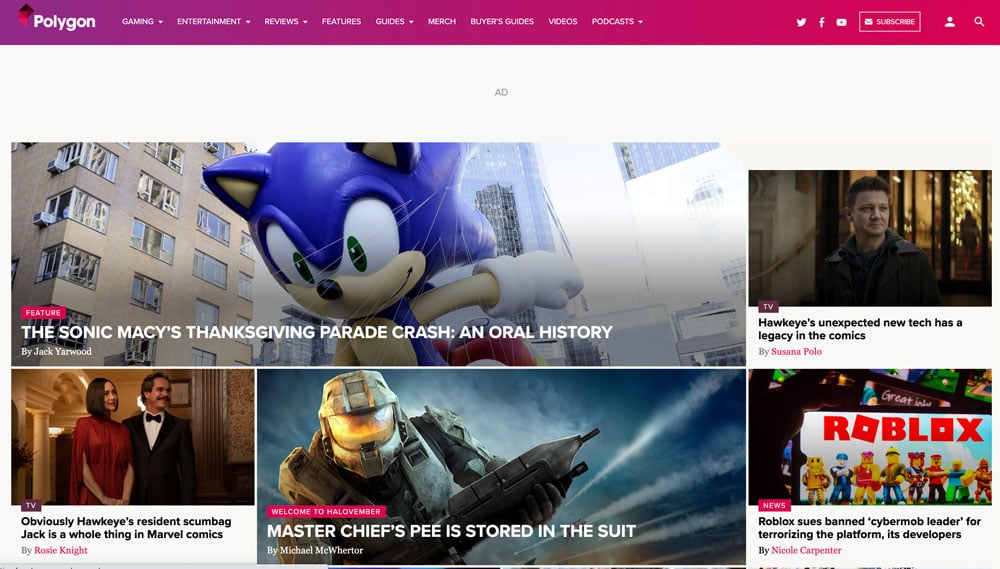 Polygon is a popular gaming blog that's in partnership with Vox Media. It's an American video game website that publishes loads of content around video games such as reviews, guides, videos, and news.
Blog platform: WordPress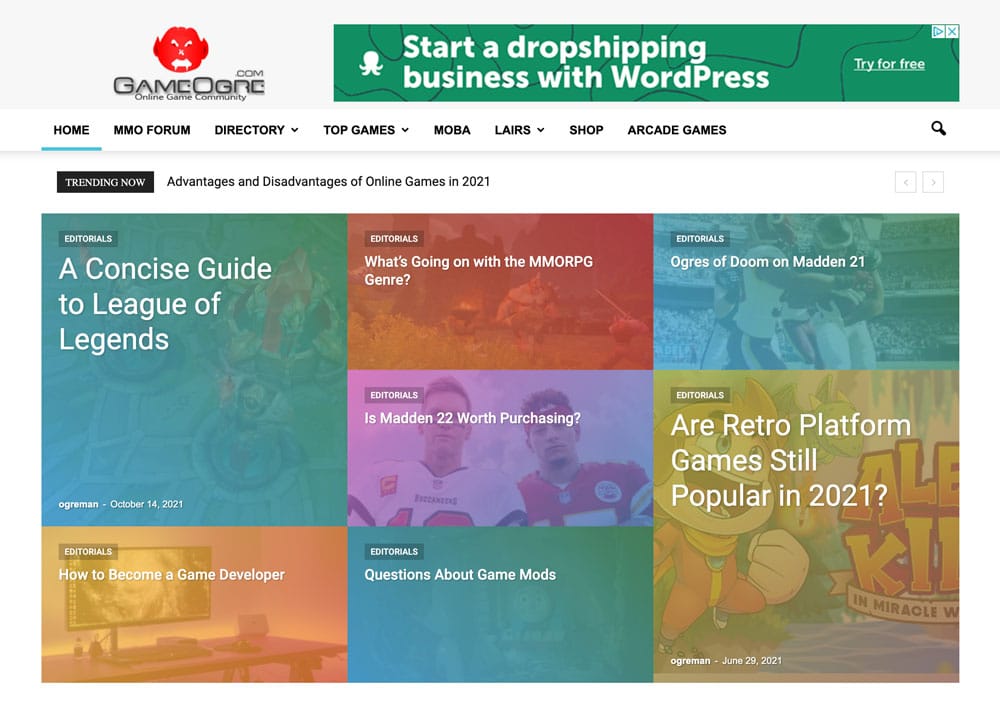 GameOgre.com states that it is the largest MMORPG communities on the internet. It's also a free online game community with a forum and blog that covers MMO and indie games and hosts code giveaways and multiplayer group sessions.
There are over 165,000 members on their forum. It's a vibrant and lively place for gamers to hangout. and filled with things for you to enjoy. They have reviewed thousands of games and are constantly striving to add more content.
Blog platform: WordPress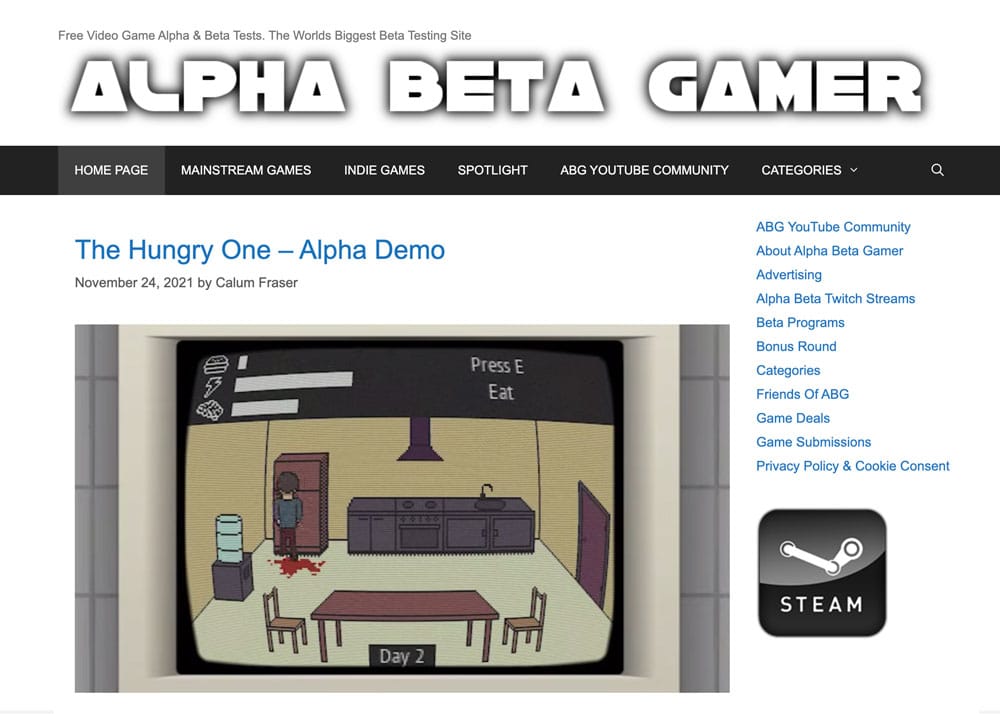 One of the most interesting and original gaming blogs out there, ABG (Alpha Beta Gamer) is the worlds number one site for video game alpha/beta testing. They currently feature hundreds of alpha and beta tests with new additions every single day. You can also read about all the latest indie games and reviews.
Blog platform: WordPress
Inspired To Start Your Own Gaming Blog?
If this post has inspired you to build your own gaming blog then why not check out the following free, step by step guides on How to make your own website and How to start a blog. You could literally be up and running with your very own blog in just 30 minutes.
Good luck. If I've missed any awesome gaming websites, please let me know by leaving a comment and I will do my best to add them in on the next update.
The following two tabs change content below.
Jamie Spencer
My name is Jamie Spencer and I have spent the past 10 years building money making blogs. After growing tired of the 9-5, commuting and never seeing my family I decided that I wanted to make some changes and launched my first blog. Since then I have launched lots of successful niche blogs and after selling my survivalist blog I decided to teach other people how to do the same.
Latest posts by Jamie Spencer (see all)