Buying a website is a decision one shouldn't take lightly. In fact, buying a website includes such rigorous research, budget planning, SEO knowledge, as well as proper experience that it's all but a walk in the park.
However, this doesn't mean it's impossible. It only means you should be careful when choosing a website – engage in previous research and simply do your share. If you think that purchasing an already existing website means you get to simply sit around and do nothing, while the money makes itself – you're completely wrong.
In fact, trying to purchase a website that already has a previous history, clients, revenue, traffic and a digital life in general can be quite tricky. From knowing whether you're obtaining the right website, to being absolutely sure you're getting good value for money – it's all very overwhelming even for the pros.
That's why we prepared an in-depth guide to help you navigate your website-buying journey in a much easier way.
We'll cover the reason(s) why people buy websites; how you can choose a website that suits your business needs best; what factors are at play when deciding; as well as how you can actually buy a website.
So, if this grabs your attention, read on!
Why Would You Buy a Website?
Making Money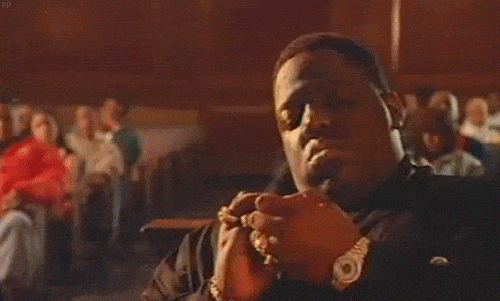 This is probably the main reason why people buy websites. Having a website allows you access to a worldwide market and endless possibilities. You can turn it into a full-time job or a part-time activity; it can bring you passive income by allowing you to create a stream of revenue that suits your needs best.
And if you're successful, buying websites can support the lifestyle you'd like to have. Plus, working for yourself has benefits that many would take advantage of. Making money from the comfort of your home sure sounds attractive, especially when it gets you the profit you crave.
That being said, there are two ways in which you can proceed after buying a website:
you can either run it as your own business
or you might decide to flip your website instead.
Running an Online Business
People opt to buy websites because the overall way of doing business has become digitized. That doesn't mean there are no physical companies anymore, as that's clearly not true. However, there have been many instances where brick-and-mortar shops have failed to catch up with the latest social trends, and thus they're starting to face a decline and lose a share of the market to digital enterprise.
Let's take the video stores as an example. Remember the 90s when you would head to your favorite video store, rent a few movies for a fee, go back home, and return them a couple of days later?
Well, the existence of all those video stores was threatened by the appearance of online movie streaming websites such as Netflix, Hulu, or HBO Go. They basically overtook the movie rental practice.
This only highlights the increasing importance of online businesses. So, it's only natural that people are starting to see online business as a solid investment as well as a job opportunity.
To illustrate this, let's go through a few enlightening 2020 e-business stats:
1.79 billion people shopped online last year
Millennials make 60% of purchases online
Global eCommerce sales are expected to reach $4.8 trillion by 2021
Flipping Websites
Another reason why people buy websites is so to later resell them at a higher price. Flipping websites is perceived as a legitimate business as well as an attractive way to make money online.
Apart from flipping whole websites, you can also flip domain names only. Both are significant in their own way, however, with flipping whole websites you take many things into account such as the website's content, traffic, speed, revenue, line of business, to name a few; whereas with domain names you focus on the actual domain name and its specifics.
Want to learn how to flip domain names for $1k+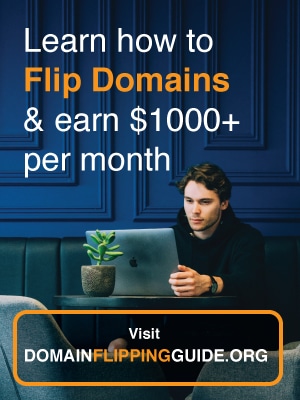 Head over to: DomainFlippingGuide.org
You'll learn exactly how to find premium domain names for under $50 and sell them on for over $1k
Now just $29 one off fee
To Build or To Buy a Website?
There's always a dilemma whether it's better to create a new website from scratch, or buy an already functioning one. One isn't necessarily better than the other. In fact, both options come with specific challenges as well as advantages.
First and foremost, building a website requires a lot of effort, initial investment as well as rigorous planning. Plus, you have to be extremely patient because it's probably going to be a while before your website actually starts ranking and making a profit.
You have to choose a domain name (don't forget about domain name registration as well), plan a wide range of marketing strategies (social media platforms, advertisement), and so on. However, if you're a beginner, you get to learn things as you go, and as they pop up. You have to get acquainted with search engines, the importance of SEO, web hosting, to name a few. You have to opt for a website builder too (such as WordPress, Wix, Weebly or others, as there are many options). You basically have to start from the very beginning, and see where your website and your plans take you.
On the other side, if you decide to purchase a fully developed website, you need to make sure you've purchased a website worth having. Otherwise, you've just made a bad investment and nothing more. So, basically you need to do a full website scan and analyze its most important metrics to determine whether you're dealing with a high-quality website. Engaging in an established online business has its benefits that usually come after you've purchased the website.
This is so because you'll get a certain number of clients (probably a mailing list too), a revenue strategy that you can keep or expand, an already established social media presence, ongoing website traffic, and even more importantly, previously obtained rankings.
However, in order to know if you're dealing with a website worth buying you need to be knowledgeable about all of these website aspects to a certain extent so that you can assess the one you're interested in.
Ultimately, both building a new website and buying an already existing one has its pros and cons, however, for the purposes of our article, we'll focus on the latter.
Identify the Right Website
There are more than 1.7 billion websites at this moment, and their number keeps increasing. So, what made you set eyes on THAT specific website you want to buy? How can you tell it's the one for you?
In fact, there's more than meets the eye when buying a website. A website that may leave you with a good first impression might prove to be lacking in many technical aspects. And the opposite applies as well. A website might come across as vague at first, however, afterward, it might turn out that it's a website with a lot of clients, high organic traffic, satisfactory revenue, and so on.
That's why we'll highlight a couple of factors that can help you gain a greater understanding of the website you're interested in buying. These aren't rules you should follow blindly; these are merely suggestions to assist you in understanding where your current business needs lie and which direction you should take to make the right decision.
How Much Do You Know About the Specific Niche?
Before opting for a specific website, make sure you're knowledgeable about its specific niche. Closely study its business model, themes, products, content, services (or whatever the website offers).
Buying a website that is completely outside your field is not only challenging but frustrating too. You can never be fully sure you've made the right choice with the website purchase as you simply don't have the right criteria for something you have no knowledge about. There's simply no point in purchasing a website that you struggle to understand. It will only cause you tons of unnecessary stress and challenges.
Even if you want to flip the website and have nothing to do with it yourself, it's still better to stick with something you're confident in.
Of course, you can always hire writers to produce content for the website; or a broker to sell it if that's the road you're taking. Still, when it comes to a specific niche, it's key that you know how this niche operates and how it makes money so that you understand the flow of things. Otherwise, you'll end up paying writers, brokers, and website experts and you'll soon come to understand that you've spent tons of money without realizing quite what you've been doing all along. Running an actual website is much more than producing content on set intervals, or checking SEO metrics and website traffic occasionally. It's a whole system on its own with many unpredictable twists and turns.
Spending some time to think about the niche you're interested in is highly advisable – in that case, you won't waste time checking out random websites. If you're having a hard time deciding, use online tools to help you (try SEMrush to discover related websites – it will show you competitor websites in the same niche just to give you an idea).
Consider Both Your Personal and Business Interests
Have a plan about what you're going to do with the website before you buy it. It's like going to the shopping mall to buy a jacket – you think about which color you wear the most; whether it's going to match the shoes you frequently wear or not; and so on. This all depends on your interests and preferences.
So, where do your interests lie?
If you're an experienced cook it would make no sense to purchase a website about online video games, right? Technically you can, of course, buy it if you have the money – but would it make sense?
Doing something you're not passionate about won't bring you money or satisfaction – it can only frustrate you until you realize your interests lie elsewhere and you toss the website aside or try selling it (which you might struggle with anyway as it's likely not going to happen overnight).
What would make sense to purchase, however, is a website offering cooking content (recipes, cooking courses, stuff like that). Afterward, you might further develop the website – you can start a YouTube channel with different cooks preparing a specific meal (you might even do it yourself!); you can start selling kitchen supplies as part of an affiliate marketing strategy and so on.
When you're clear on your interests, and know where your passion lies, the ideas flow easily. For example, if you're already running another business – could the new website become a sister site to your previous one? Maybe your new website purchase can be a nice addition to your previous business plan. For instance, if you already own a travel blog and you purchase a website selling travel equipment you can easily see how the two of them will interlink and there are endless business possibilities. It all comes down to having a solid strategy while pursuing your individual interests. Cross promoting websites, for instance, is also possible in such scenarios.
Make a potential draft plan before you buy a new website, if necessary – having a plan about what you'd like to do with your new website is very important. Even if all your potential goals don't end up being fulfilled, some will and that's enough for a neat start.
Analyze Your Current Skills/Qualifications
Buying a website that's in line with your skills and qualifications is key to every website's success. Sure, you have to decide on your interests and preferences first, but what happens if you don't have the necessary skills to run such websites?
The skills needed to run an online business will most often fall in several categories:
marketing & SEO knowledge,
website maintenance,
and content production.
No one expects you to be good at all of them – this simply means that different lines of online business require a different set of skills. It's always useful to identify the dominant skills a specific website needs, and whether you can satisfy them. You can always hire people to help you, but the more YOU know, the better it is for the overall business.
Let's say you want to buy a website about fashion – that means the website is probably going to be filled with many images, pieces of clothing, reviews of upcoming as well as past collections, and so on. Plus, the website is going to try to be present on social media as much as it can as these platforms are extremely suitable for promoting fashion content.
However, if you're someone who hates photography, has no interest in visual content, or you simply don't think you have the necessary skills to run a fashion website, there's no point in doing it. Even if you think it can bring you some side income, or you want to turn it into a passive income you still need to be proactive to get things done. Today's competition doesn't allow you to just sit back and wait for the money to show up miraculously.
Check out Competitors and Current Trends
You should never delve into online business endeavors without checking out competition within the same niche. This doesn't mean you should copy your competition or steal content. It simply means you're serious enough to see how others approach the same niche you're interested in. Or, equally important, how they don't tend to approach it.
For example, what if there's simply no demand for a specific niche any longer? Don't make the mistake of buying a website in a niche that's practically dying. If you don't have the faintest idea about the current selling trends, you can always use Google Trends to check ongoing niche market demands. It shows you significant search trends for any niche, along with other topics surrounding it. If a specific topic has a rising graph (or a steady one), it means there's interest for it.
So, if you try searching for the term "gardening" here's what pops up on Google Trends: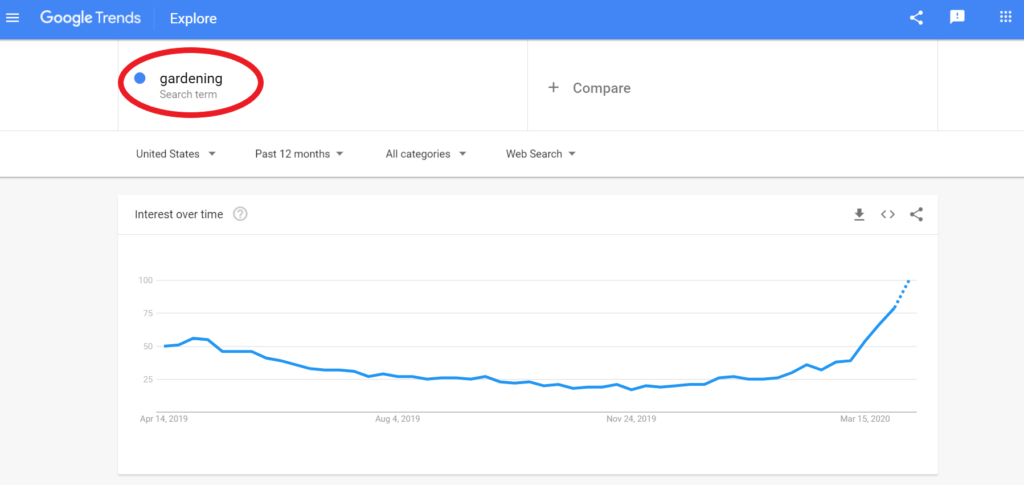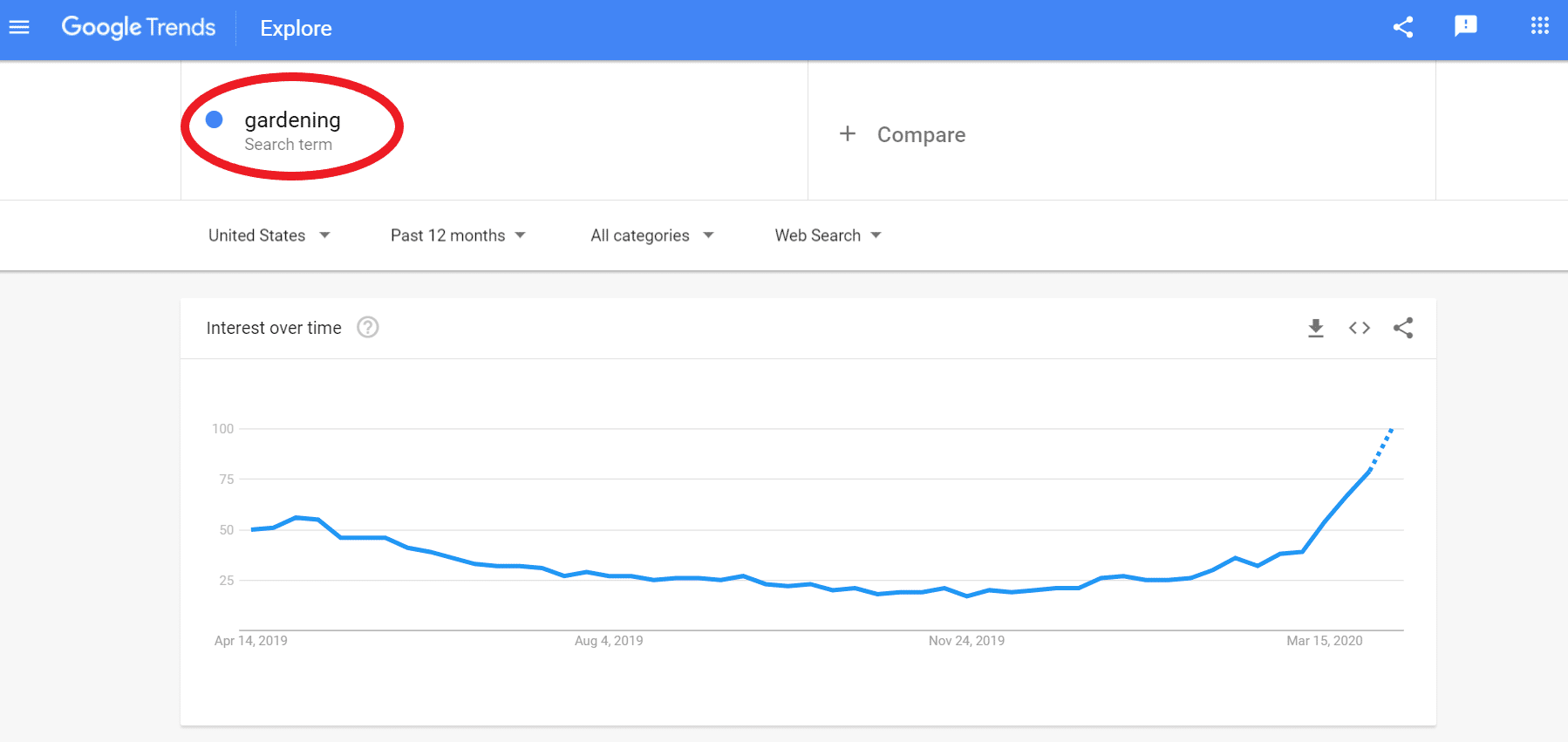 You can clearly see there's increasing interest in this keyword, so it might be an area worth exploring. You could purchase a website giving gardening instructions and ideas; gardening photography; or even gardening equipment and tools. The point is that you've discovered a niche that's worth investing in potentially.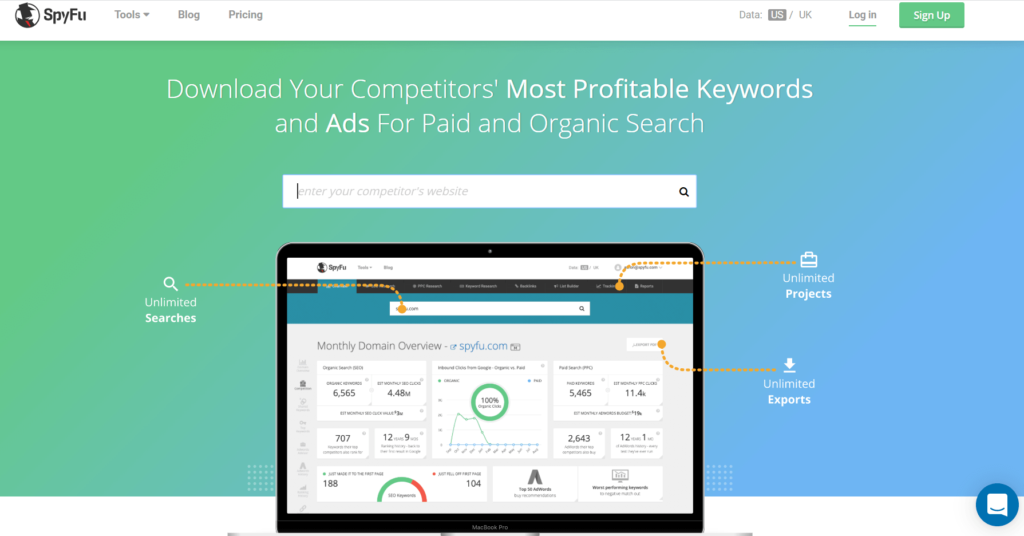 Yet, knowing the market demand isn't going to give you the full picture. In fact, we advise you not to skip checking your competitors' overall ranking, website traffic, and the keywords they're using. You can easily do so with tools such as SpyFu, for example. It's very intuitive to use, and you can gain valuable competitor information. It allows you to download your competitor's most profitable keywords as well as ads both for paid and organic search.
Additional Competitor Insights
Additionally, examining your competitors can also help shed light on other aspects as well:
How well are they doing?
Are they proactive in their marketing strategies?
What are their strengths?
Their weaknesses?
Using tools such as SpyFu can help you get insight into analytics and practical website data, however, sometimes you need to take a look at things from a higher perspective.
Very often people might even check out their competitors because they're interested in buying a competitor's website. Such a practice isn't uncommon. In fact, it frequently happens even among very well-known businesses. For instance, Audi, Seat, Škoda, Bentley, Porsche, Lamborghini, and Bugatti fall within the Volkswagen groupation. Similarly, Adidas bought its rival Rebook back in 2005.
You get the point.
However, this doesn't work with large companies only. It can very well work with smaller brands, so even smaller companies are known to function like this. Still, in order to do so, it's good to know whether your competitor is large enough to actually be a threat to your business – otherwise, there's no point in attempting to buy it.
See the Website through the Eyes of Others
This might sound confusing at first, but it's actually very practical. Namely, it's very important to assess a website as a potential buyer, but it's also very useful to try to see it as a potential visitor too.
Seeing the website through the eyes of others can help you in assessing what the user experience is like, what struggles you might be facing as a user (for example, if you can't find the contact page easily; struggle to read the content on your mobile device, and so on).
Also, what does the website look like?
Is it well-designed?

Can you easily find the social media buttons if you'd like to follow this brand on Facebook, for instance?
Does it offer a subscription?
What are the website's conditions?
Identifying such loopholes can help you determine how much more work is needed on a specific website. If a website has smooth performance and you have hardly any remarks, then it's going to be an expensive website to buy.
Instead, look for a website that has most of its basic features covered, performs relatively well, yet it still has areas that need improvement. You can expect such a website to be reasonably priced as opposed to an impeccable one (if there's even something such as an impeccable website).
We all know that being objective isn't easy, but at least trying to see things from a different perspective might be just what will help you make the right decision.
Types of Websites to Choose from:
A Content Website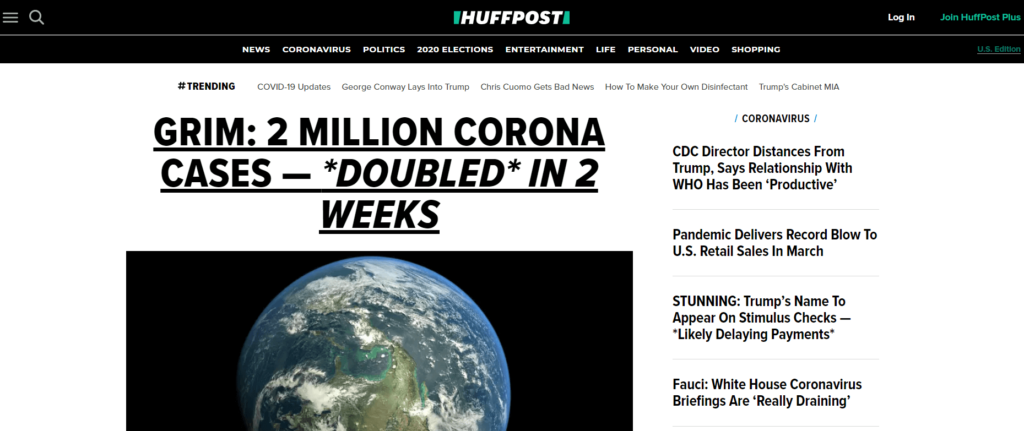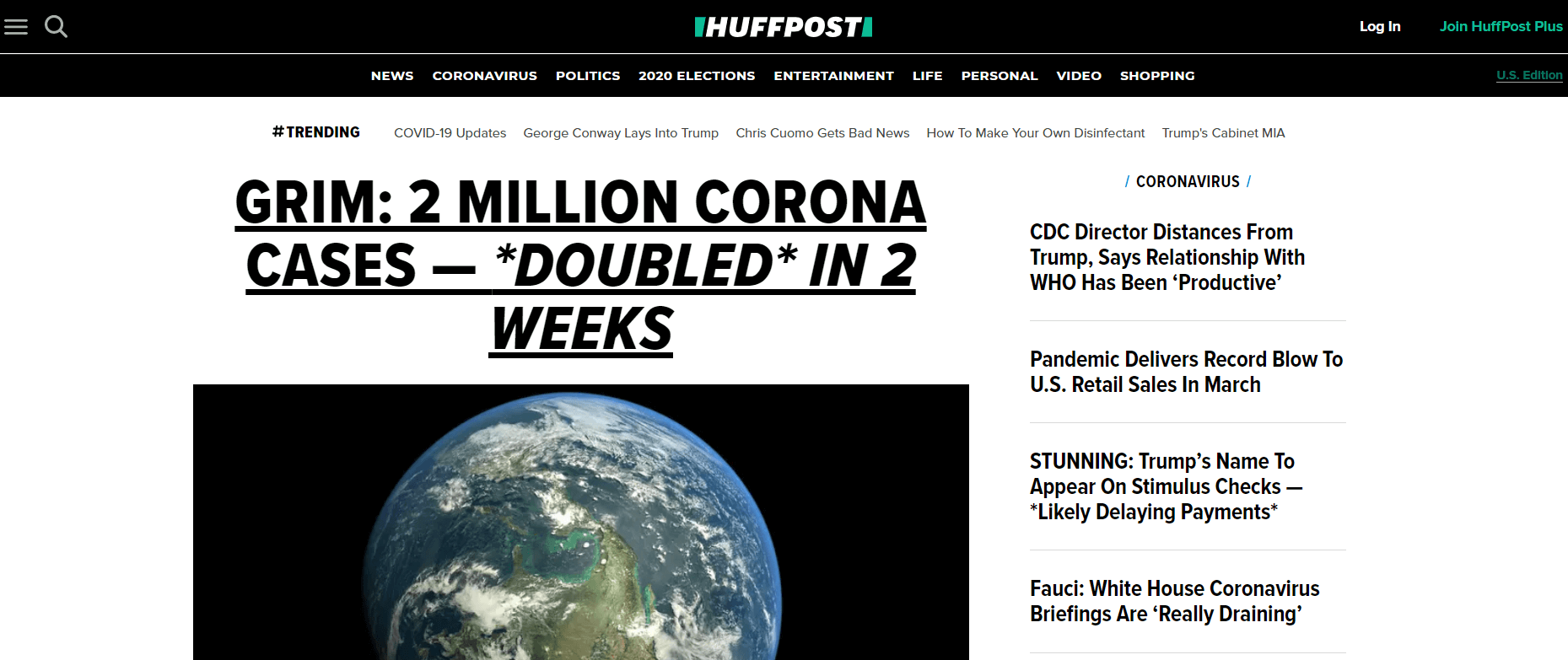 Content websites are websites that mostly consist of creating and publishing content for the audience. It's what's known as blogging practice.
It's highly advisable to focus on one specific niche you're good at, however, there are many websites producing a variety of content, thus, attracting a wide range of readers.
Whatever the case may be, it's important to write about topics you're passionate about and/or have experience in. Starting such a website is a low-cost investment, and you can figure out a proper income strategy while building authority in your niche and attracting an audience.
Examples of a content website:
Ecommerce Store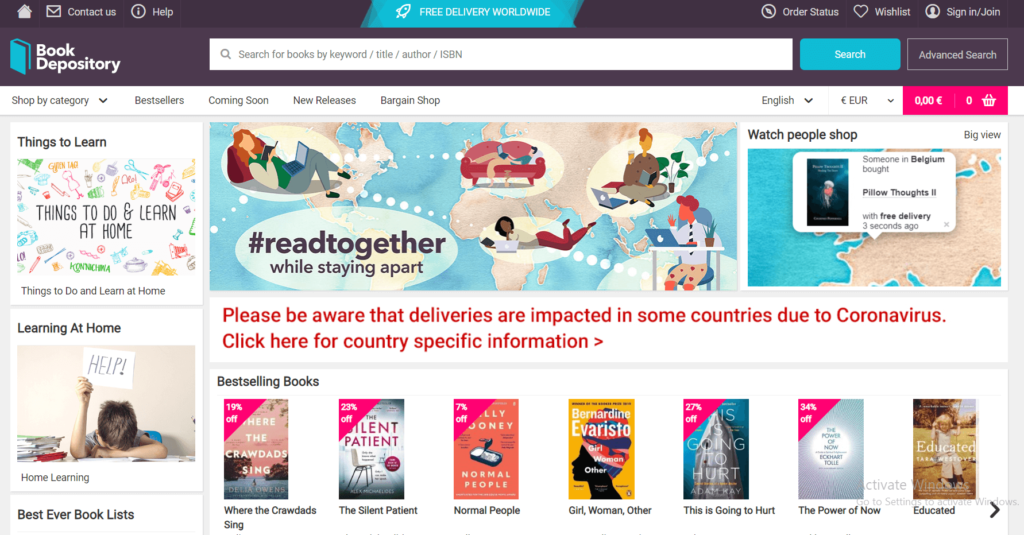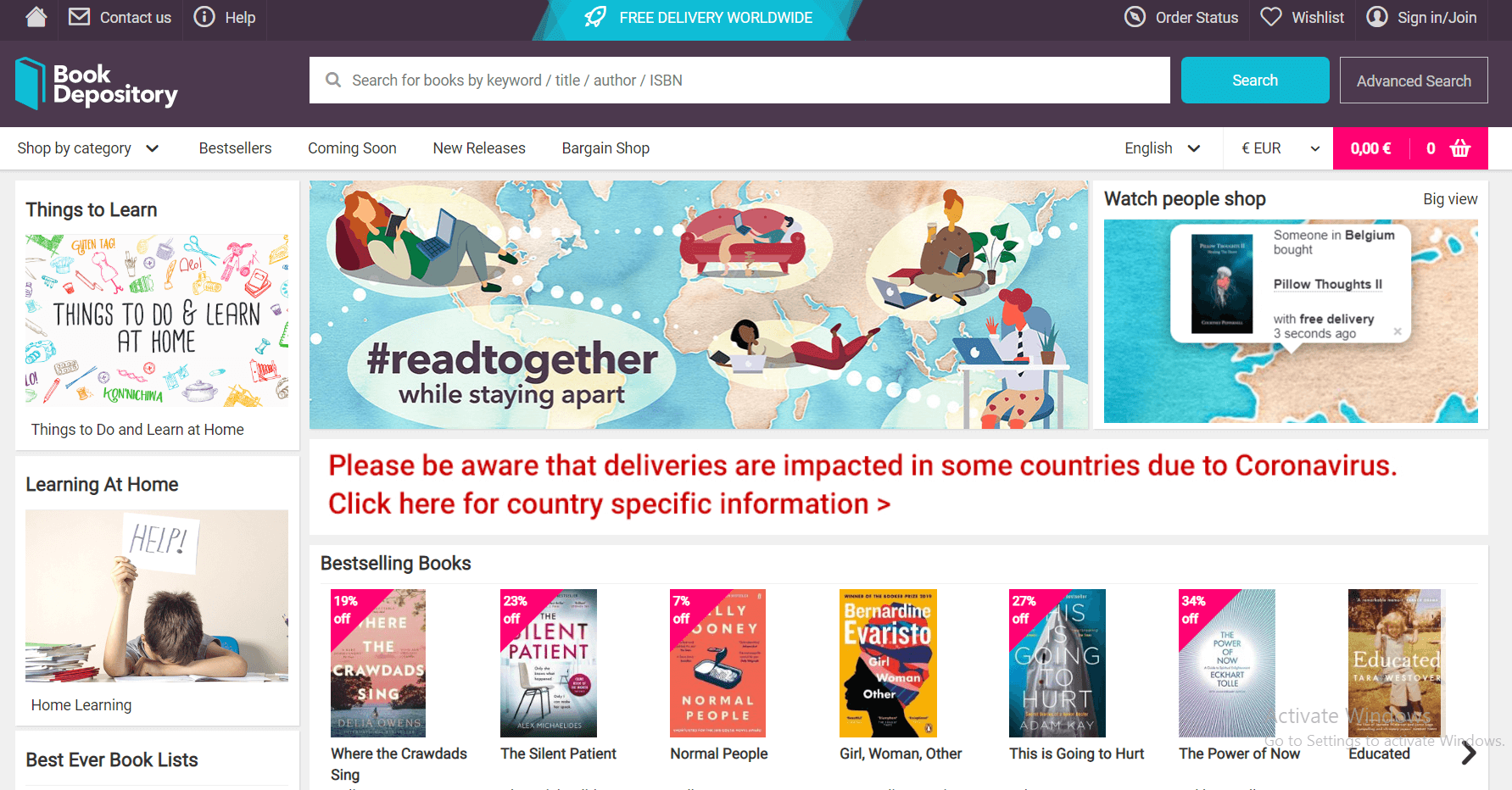 Owning an eCommerce store is a very frequent business nowadays. It obviously includes a lot of logistics (for example, payment methods, refunds, shipping fees, planning deliveries, and so on), however, it can turn out to be quite profitable.
And that's because you can sell WHATEVER YOU WANT. Plus, you're open 24/7, you don't need any physical place to set up (you just need software tools such as Shopify, for example), and initially, you have much fewer investment costs than opening a brick-and-mortar shop.
However, keep in mind that eCommerce stores are highly competitive, and if you aren't among the best in your niche, you probably won't be able to make a lot of money. Yet, if you happen to have a unique product and know how to advertise it, you might as well make money pretty fast.
Examples of an Ecommerce store:
Dropshipping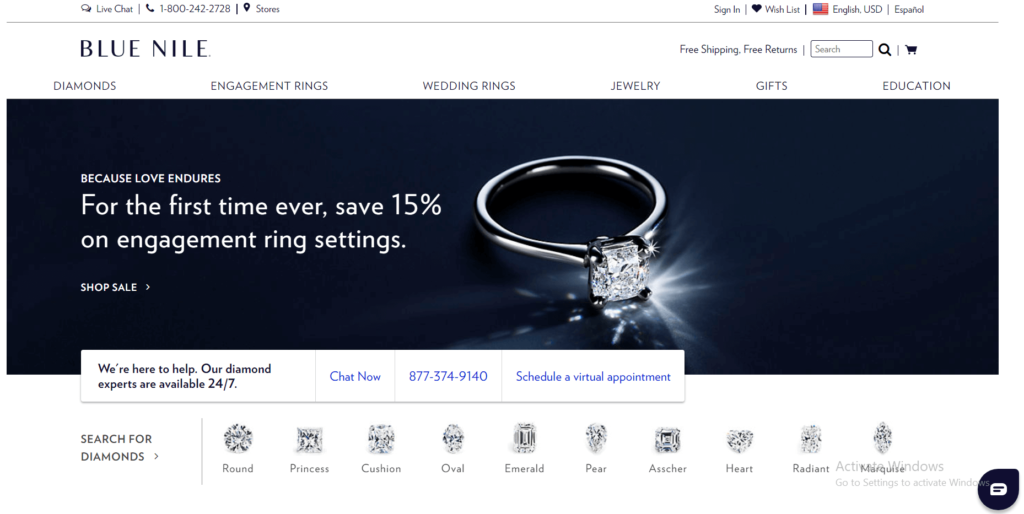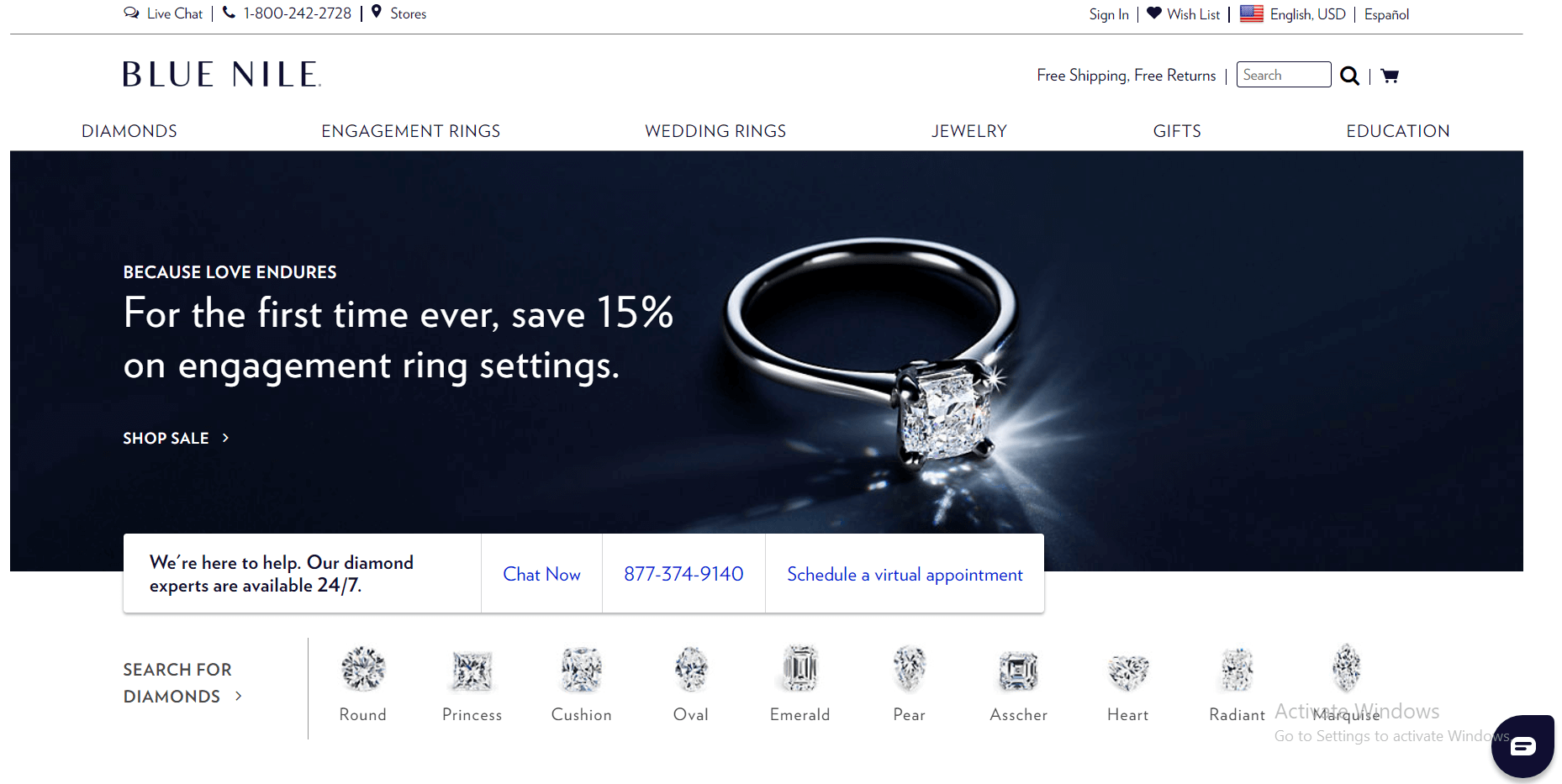 A dropshipping website includes an eCommerce store but doesn't own any inventory. This means that it's only used to market products and when a buyer makes a purchase, those products are supplied through a specific vendor.
To put it simply, the item is taken from a third party and then directly distributed to the end-user, the buyer. It's fairly easy to start engaging in a dropshipping business as you don't have to worry about securing a warehouse, packing and shipping your orders, as well as handling potential returns of items.
Of course, dropshipping comes with its own set of challenges. For example, you don't really have any control over the items and there's almost zero branding and customization. You also might find it difficult to keep up with the inventory because you're collaborating with multiple warehouses and they collaborate with others as well, so it's challenging at times to keep track of the exact number of certain items.
Examples of Dropshipping:
Selling Digital Products
Websites selling digital products are definitely on the rise, as that's what the market seems to ask for. Here are some of the most frequently sold digital products divided into six broader categories:
Textual: eBooks, guides, planners, academic papers, writing cover letters/CVs
Audio: songs, beats, eBooks with audible narration, jungles, ringtones, sound effects, instrumental tracks, audio courses
Video: short films, video animation intros, video tutorials, editing videos services, paid webinars
Design: wallpapers, infographics, logos, fonts, emojis, animations, comics, coloring templates/books, printable templates, business cards, wedding invitations, photoshop and editing services, printable calendars and visual journals, newsletters, worksheets
Photography: stock images, personalized images, image presets, mockup images
IT: apps, online tools, hosting services, plugins, games, plugins, and themes, email services
If you decide to buy a website that sells digital products you can decide whether you would create the products (if you have the skills/knowledge to do so) or you can always hire someone else to do it instead.
You also need to decide how to sell your products – you can always sell them on your website, or you can also use a marketplace such as Amazon, for instance. The best thing about selling digital products is that you don't need to ship anything, and your product will never be "out of stock".
Overall, selling digital products is a great way of securing passive income. And with today's digital possibilities, the sky's the limit!
Examples of websites selling digital products:
A Membership Website
Establishing a membership website is very tough, but totally worth it if you manage to build a large number of members. It usually works in the following way: your customers need to pay a monthly subscription in order to access the content. Obviously, you can also offer free content so that potential members can get acquainted with the website's content and if they decide to pay they'll get further access.
If you want people to subscribe you need to offer high-quality content. There are tons of websites out there offering attractive membership fees, so you have to offer quality if you want to keep up with your competitors or even better – to surpass them.
Our hint would be to work on your social media following and growing your mailing list – the more people know about you, the higher the number of people that would potentially like to subscribe. And if you become dominant in your niche, you might as well know this will bring you large sums of money.
Examples of a membership website:
Affiliate Websites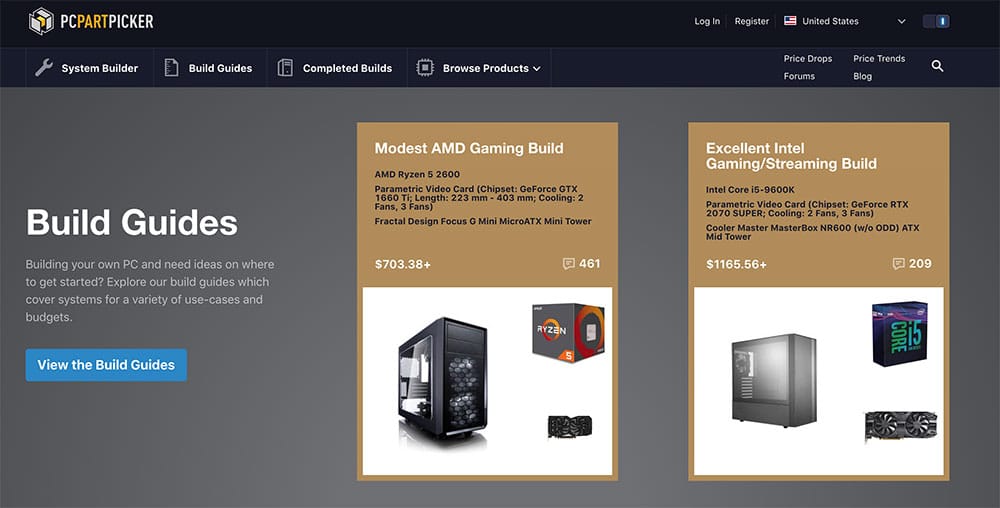 The concept of affiliate marketing has been around for quite some time now, and it keeps on expanding because it's a great source of income for many. Affiliate marketing is the process where an affiliate gets a commission for promoting another company's products or services to increase their sales. It's an excellent way of obtaining passive income, and you don't need to handle any customer complaints, refunds or any other product-related issue. All of that is the brand's responsibility.
Many online businesses use affiliate marketing to generate more income. They just differ in their approach to promoting a specific product/service. Affiliate marketing can be done via a blog post, a social media platform, and so on. Creating attractive promotional content is every affiliate marketer's goal, as that's what will secure them a higher commission at some point.
Examples of affiliate marketing:
Coaching/Consulting Websites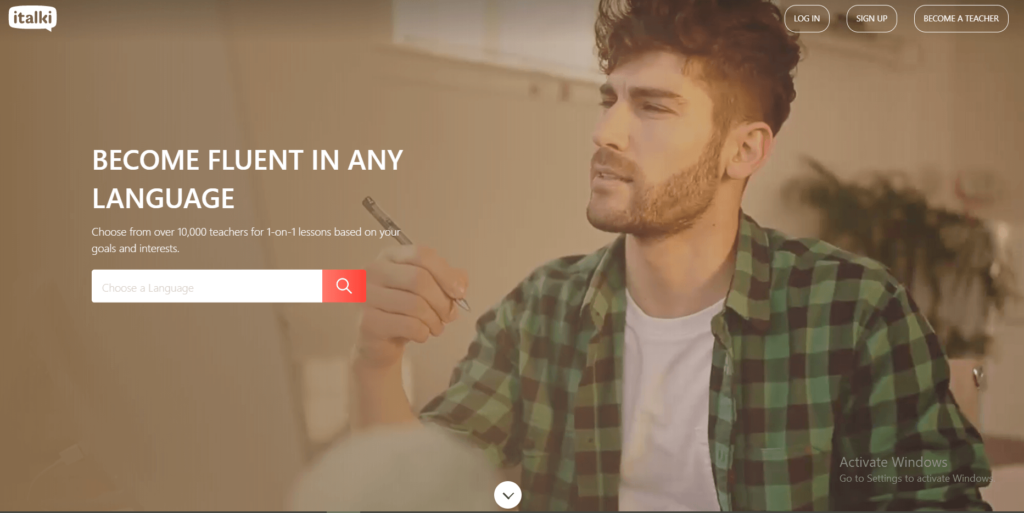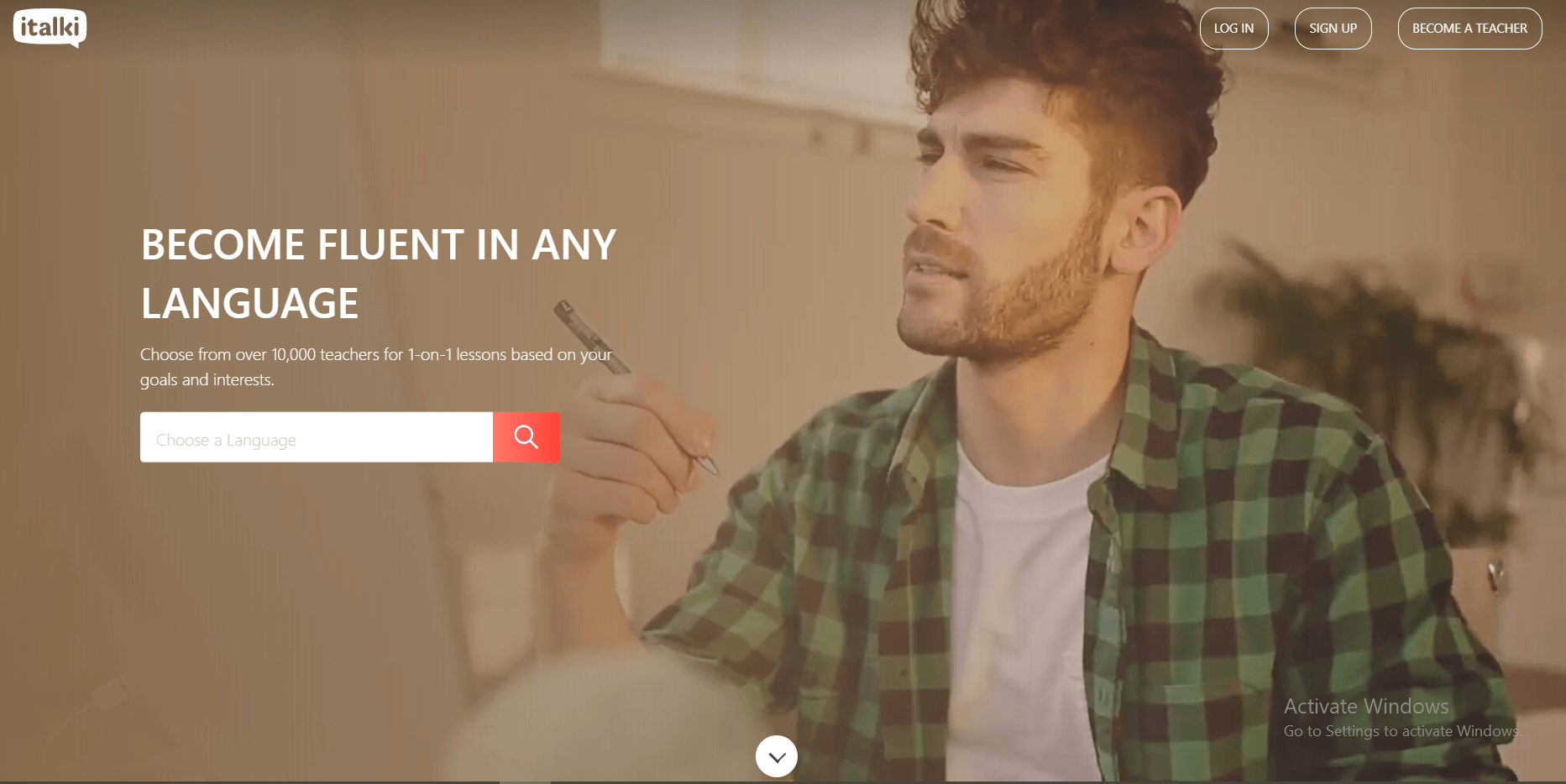 Coaching and consulting websites are frequently created by people offering help/assistance/information in a particular field. Thus, selling your knowledge can not only be fulfilling, but it can be a great source of income. Plus, you can run this business from the comfort of your home.
There are endless possibilities in this line of business, as you can offer coaching or consultations in almost every field. This means that the earning potential is also quite high. Of course, you need to build authority and gain a reputation in your preferred field first. Plus, you might need to obtain some formal certifications and/or qualifications before you start, so that's also something you need to consider.
Here are some of the most frequent ideas for such websites:
language lessons & tutoring
financial consultations & planning
coaching/mentoring sessions
essay-writing services, editing & proofreading
translations
career consultations
skincare consultations
hosting webinars & online courses
Examples of coaching/consulting websites:
Things to Consider When Buying a Website
Domain
A good domain name says a lot about the specific niche you're in. Therefore, it's very important to choose a website that comes with a high-potential domain name as the domain name becomes a kind of an ambassador for the brand.
This doesn't mean it's easy to choose the right domain name. However, when you're buying an already existing website, it's crucial to be comfortable with the chosen domain.
Make sure you're informed about the domain name registrar the owner opted for (the company accredited by the ICANN to handle domain registration). Along these lines, it's also a good idea to know more about the overall domain registration (for example, when does the domain expire?).
Domain.com Promo Code! 25% Off Everything
Simply use the Promo Code: SiteHub at checkout.
This means you can secure a .com domain name for less than $8 which is very competitive when compared to other domain registrars such as GoDaddy.
Stay away from obscure domain names full of hyphens, symbols, and weird letter combinations. Aim for simplicity. Also, it's better if the domain name is short and easy to memorize and write down. And most importantly, how does it represent the brand? Imagine you want to buy a website about sports equipment and the domain name is something like this: 133-mun.com.
Don't forget to check the domain extension as well. Here are the most well-known TLDs: .com; .edu; .info; .gov; .net. However, the .com extension is the most popular domain name extension by far – it's what you'd like to see in a domain name more often than not, irrespective of whether we are talking about an older or a new domain name. In short, focus on websites that come with the com domains.
Website Analysis
Website History
The website's history is probably one of the most important and determining factors when decided whether to purchase or not to purchase. It shows the website's life so far. If a website has been around for quite some time, then it's more than likely to continue that way.
However, that doesn't mean you shouldn't take matters into your own hands and do proper research. You wouldn't like to buy a website that was penalized by Google at one point, right? The owner could have done any of the following:
used PBNs (or any other black-hat SEO technique)
manipulated backlinks to increase website traffic (use Ahrefs, for example, to successfully track the website's backlink profile; or SEMrush to get more SEO details)
paid for links
stole content from other websites (use tools such as Copyscape to check for plagiarism) or produced very low-quality content without any reader value
Dealt with website traffic inconsistencies for whatever reason (use Google Analytics to see if there were any sudden traffic drops).
Or he could be hiding the website's real identity (for instance, now it can be a fashion website, but two months ago it could have had a lot of spam content). Use tools such as Wayback Machine to get access to reliable snapshots from the site's past.
Stay away from websites whose reputation has been stained due to the reckless behavior of an irresponsible owner. Remember, Google penalties affect the overall website's reception, SEO, and traffic. It's all interconnected. When one goes down, so do the others. What took months and years to build can literally disappear overnight.
Website Speed & Traffic
Analyzing a website's speed and traffic can tell you a lot about how the specific website operates. For example, a slow-loading website will certainly rank lower in search engines and it will have higher bounce rates. In fact, the following stats clearly show you what slow page loading can lead to. As page load time goes from:
1s to 3s the probability of bounce increases by 32%
1s to 5s the probability of bounce increases by 90%
1s to 6s the probability of bounce increases by 106%
1s to 10s the probability of bounce increases by 123%
Website speed should never be ignored, as it can bring about many harsh website consequences. Yet, even if a website doesn't have the ideal speed, that's something you can work on after you buy it (for example, you can install a CDN, work on image optimization, and so on).
Anyway, you can always run a website speed test to check the website's performance and speed (use tools such as GTMetrix or Google Page Speed Tool). Finally, don't forget mobile responsiveness plays a huge part in this. So you basically want to make sure the website loads as fast as it should both on desktop and mobile devices.
In terms of traffic – stats don't lie. A closer look at Google Analytics can show you everything you need to know. Check for noticeable trends, see if the website is targeted at the right demographic, and make sure you understand the stats (for instance, if there was a traffic spike that happened 3 months ago on the website, what's the explanation behind it?).
Finally, examine different types of traffic. Don't forget the organic one – would you be happy with the data if you were currently running the website? What would you change?
Website Platform and Hosting
What blogging / website platform does the website run on? Is it a free one such as WordPress, for example? Or a paid one? This is important because these are all real costs you should be aware of.
Also, if a website is running on an open platform, you have greater freedom to make changes the way it suits you best. However, a customized website specifically coded for the business' needs can't change drastically from what it currently is.
Also don't skip the importance of hosting. What's the current hosting plan this website has? Do you think that's the best option? Can you afford to pay more?
We recommend Bluehost.com for Web Hosting – $2.95 p/m
Get a FREE DOMAIN NAME when you buy hosting: Use this link
You can get fast, reliable, easy to set up web hosting + a Free domain + Free email address for just $2.95 p/m
Go Through the Mailing List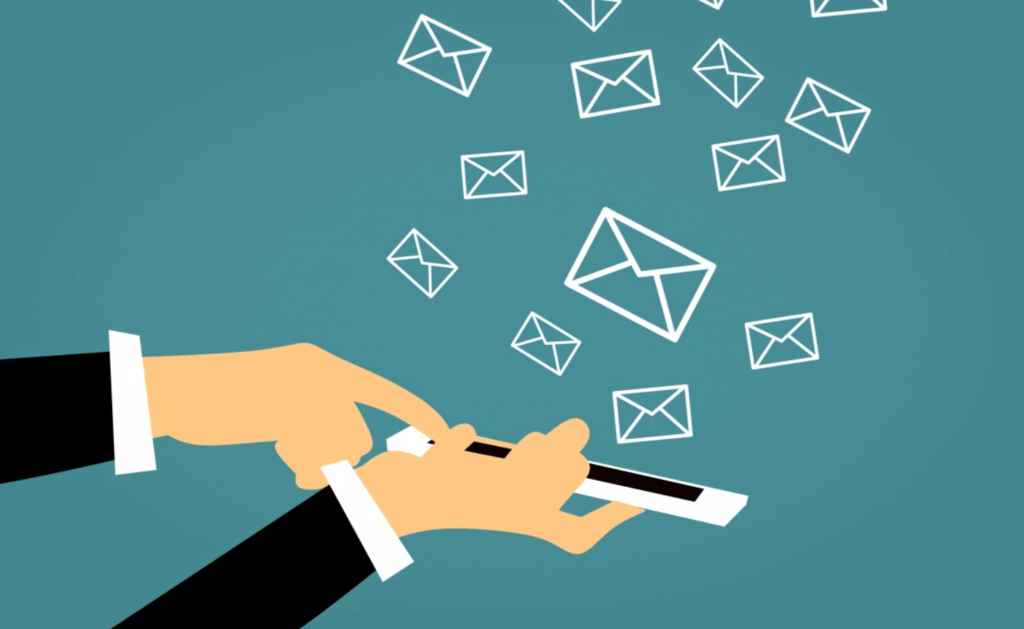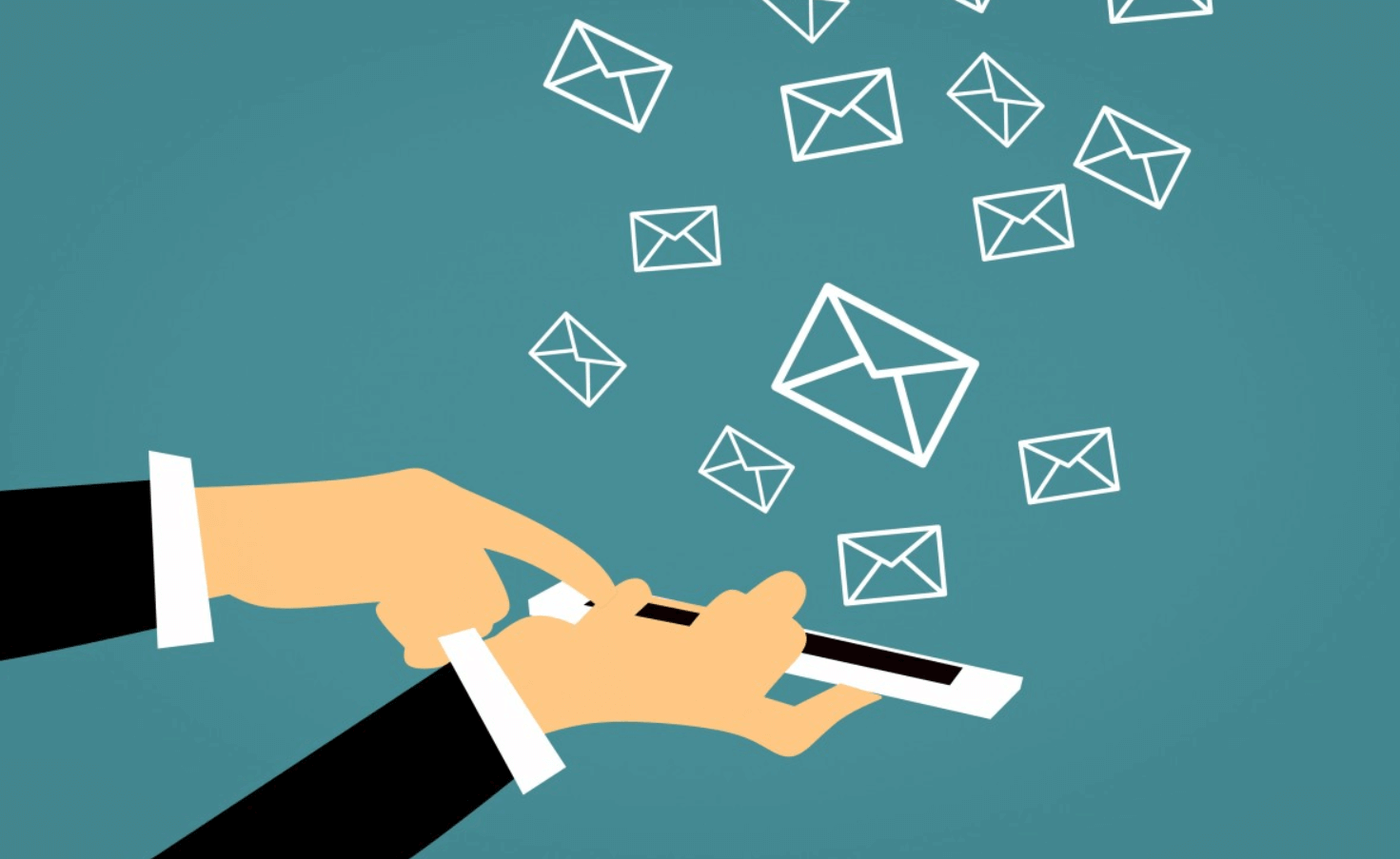 This might not be the main reason why people would purchase a whole new website, but it's still quite a relevant one. Growing a mailing list isn't easy. In fact, it's quite time-consuming and requires you to have a lot of patience before you see actual results. Yet, the mailing list remains some of the most overlooked factors when buying a website, while you can actually turn it in your favor if you know how to. Did you know that 78% of marketers have seen an increase in email engagement over the last 12 months? Plus, their email ROI seems to go even beyond their initial expectations – $42 for each $1 spent.
Obtaining an already existing website's mailing list can truly set your business forward if you understand the importance that a mailing list holds. Simply consider the following mailing list stats for a brief moment:
40% of B2B marketers say email newsletters are most critical to their content marketing success
73% of millennials prefer communications from businesses to come via email
99% of consumers check their email every day
59% of respondents say marketing emails influence their purchase decisions
>59% of marketers say email is their biggest source of ROI
35% of marketers send their customers 3-5 emails per week
If you happen to know that a specific website you're interested in has a large mailing list it might prove practical in the long-run to buy that website (even if the overall website isn't quite amazing) and use the mailing list as a starting point for your income strategy.
Revenue Analysis
This is very important as it tells you where the overall website revenue comes from. As much as expenses reports are specific, they can sometimes be manipulated so make sure to watch out for red flags. If finances aren't your strong suite, feel free to hire an expert to help you analyze the financial situation as well as answer any frequently asked questions you might have.
For example, the business might make $15,000 per month (which you'll also be happy with), however, out of this sum of money imagine $5,000 going in marketing and advertising, an additional $5,000 to pay content writers. In this case, would you be happy with the remaining $5,000?
So, consider whether you're happy with the revenue this business has. Does it look like it's stable? Does it have unpredictable oscillations? Is it diversified or it comes just from one source? Of course, if you end up buying the website you can always work on expanding it, but it's very important to have a stable starting point first.
Tools To Analyze An Existing Website
Besides following all our suggestions, you might decide to use certain digital tools to help you evaluate the website you're eyeing. And the best thing? They're all free.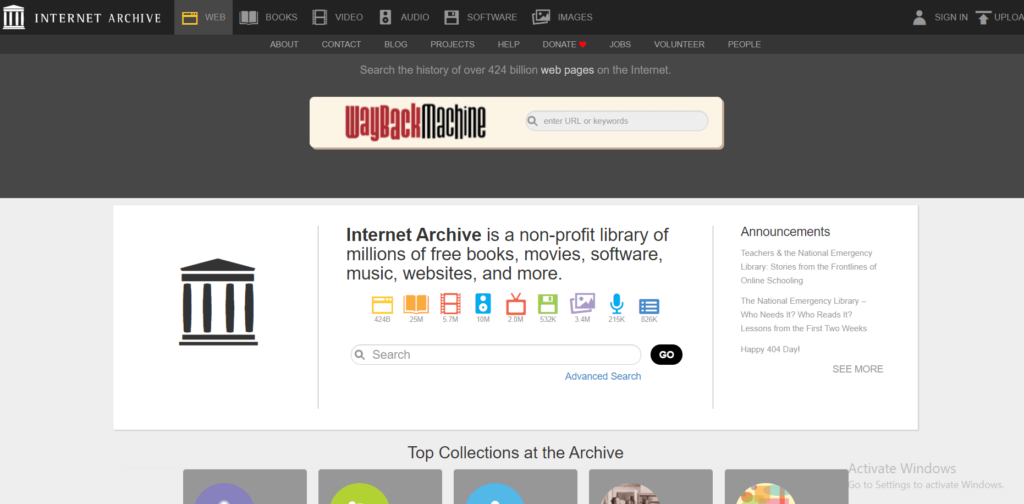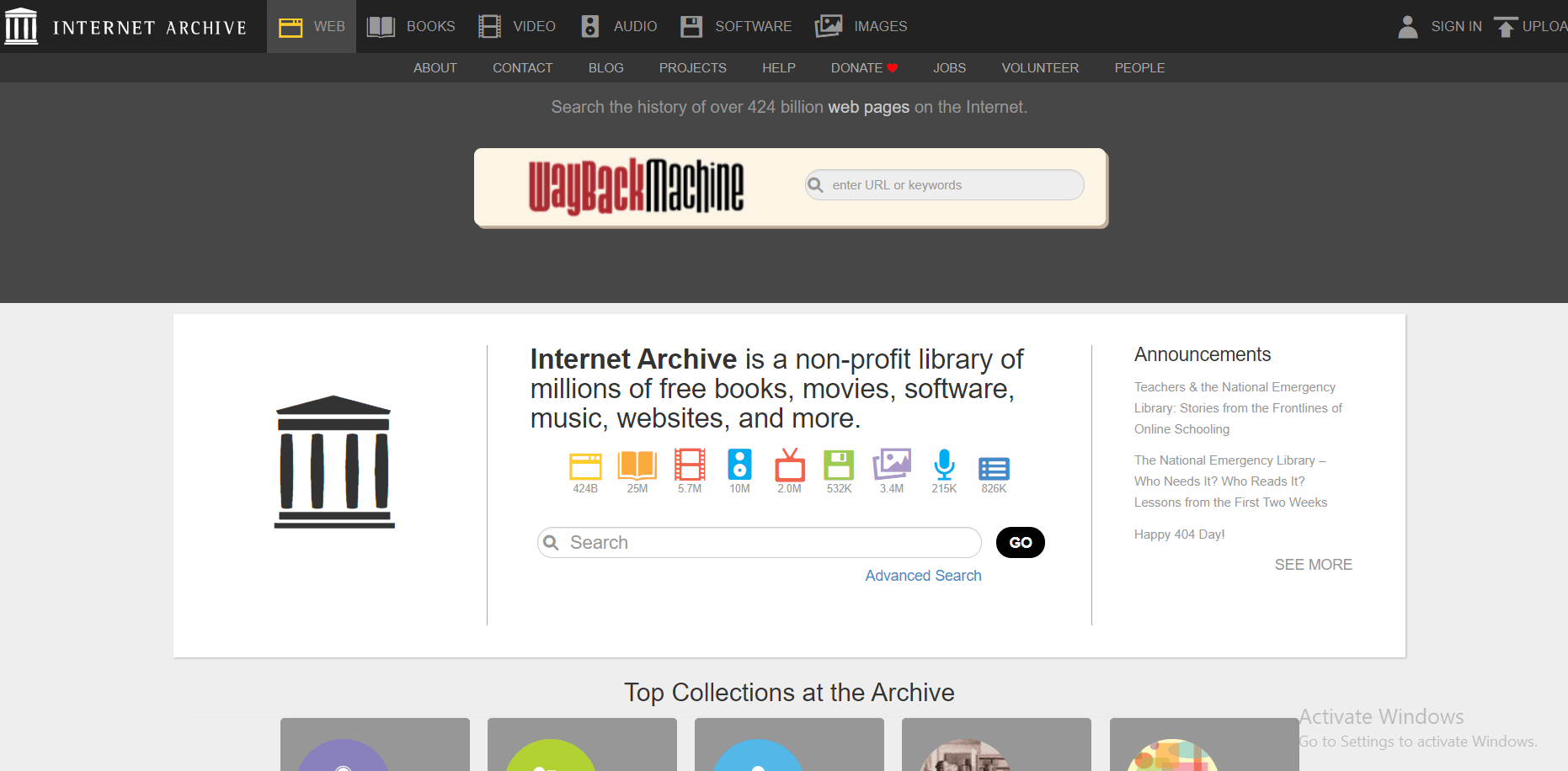 Obviously, you can always hire an expert to closely examine a website for you, but that's going to cost you. Although having a specialist by your side might take your website analysis further, think twice about whether you like to make such an investment if you aren't quite sure you'll end up purchasing the website.
Ways to Buy a Website
Check Prospective Websites
This is probably the most popular way to buy a website. Checking out website marketplace platforms to find the website that suits your needs best will help you get an idea of what's being offered and what people are usually interested in buying.
Our recommendation is to try websites such as Flippa or Freemarket. Here you'll find thousands of websites listed, each with its specific details.
While Fippa seems to be the most popular option, as it has tons of deals and websites waiting to be sold from every possible niche, there are a couple of problems that should be mentioned.
First of all, websites sold on Flippa are more expensive than those on other website marketplaces and as if this wasn't enough – during biddings on Flippa you might find yourself spending a lot more money than you've originally planned.
However, there are alternatives you can check out such as Exchange Marketplace, Sideprojectors, Warrior Forum and so on.
Overall, Flippa and the likes will usually either allow you to buy a website by an online auction (by the way you might be allowed to enter the maximum amount of money you're willing to pay) or to make an offer on a specific website that's listed for a private sale.
Check Groups on Social Media Platforms
You'll probably find a lot of deals on Facebook and engage in discussions in a group. You can simply search for "buy website" in the Facebook search section and go through a couple of them and see what's being offered at the moment.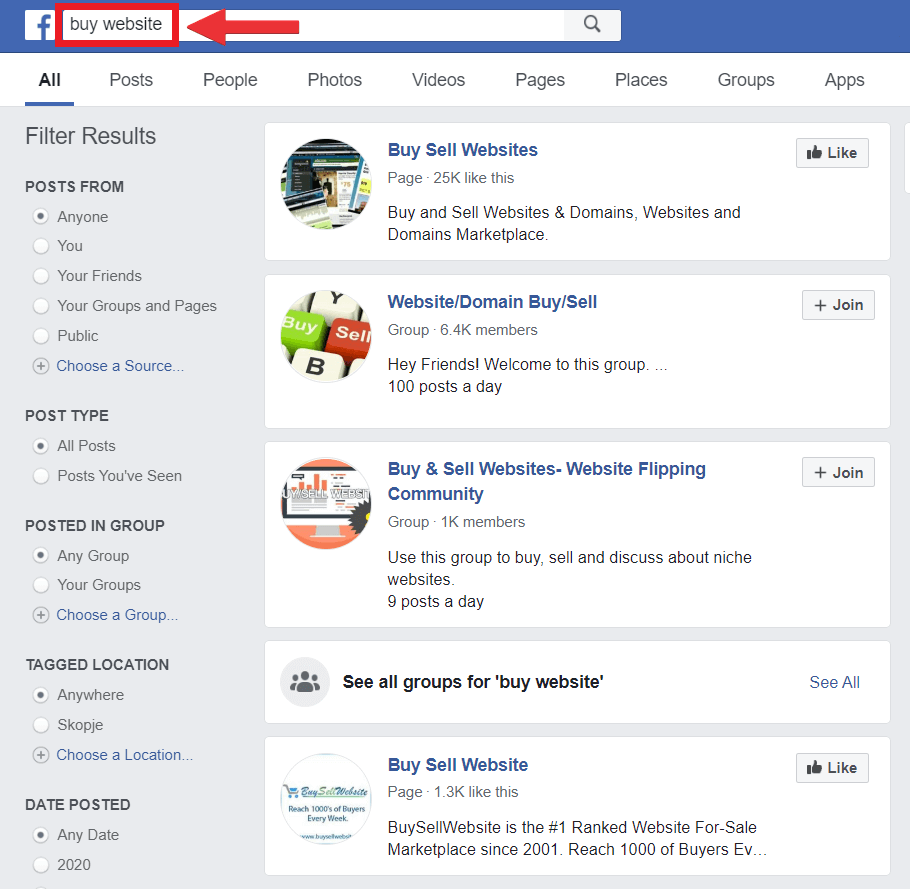 However, keep in mind that you'll have to do thorough research in these groups and with these deals in general as these groups don't offer the same terms and conditions such as a professional website. Yet, the websites being sold here are likely to be much cheaper than those you can purchase on Flippa, for example.
Use a Broker
Buying a website via a broker is not an uncommon practice. However, keep in mind that the broker works for the seller and needs to be paid too in the form of commission (but that's not your concern). I have never had a positive experience using a broker for domains or websites. They tend to get in the way of really good deals between buyer and seller.
Contact the Owner
The last option is to directly contact the website's owner. Let's say you've found a website you're interested in, the niche suits you perfectly, the content seems great, and you'd like to try your luck.
You can send the owner an email, or simply try contacting them through their website's contact page. Introduce yourself, be clear about what you're after, and wait for their feedback. Obviously you can always get rejected, as a specific website may not be up for sale at all. Depending on what they respond, you'll know how to proceed with the communication.
Things to Take into Account Before Purchasing
We outlined many key factors when it comes to deciding on the website you'd like to purchase. However, it goes without saying that buying a website involves a lot of administrative tasks too. Once you choose the website you want to buy you're faced with other kinds of issues. Here are some things we consider important to consider before actually purchasing any website:
Make sure you know what you're getting with the purchase. Check everything that's included: the actual website, social media platforms, the domain name, to name a few.
Is there an official contract? Do you agree with everything that's written? Are you $100 comfortable signing this contract? Remember, it's your money – don't feel as if you're settling. A successful website selling story is one where both the buyer and the seller come to a mutual understanding and no one feels as if they had to make compromises.
If the seller previously collaborated with freelancers (photographers, content writers, social media marketers, and so on) and had contracts on an ongoing basis, would you continue working with them? Can you continue paying them? Do you have other ideas for the website?
How are you going to handle the payment procedure? Have you reached a mutual agreement with your seller?
Do you know why the seller actually wants to sell their website? What's their reason behind it? This might come across as a silly question, and most of the time you probably won't get an honest answer, however, it's important to consider why someone is willing to sell something that brings them income (of course, they'll get money for selling you their website, but what if their business is being sued, for example?). Make sure everything's clean before you proceed with payment.
If you're planning on buying a website that sells products, how familiar are you with the products in terms of their quality, country of origin, and so on? Let's say you're purchasing a website selling skincare products – would you use those products on your own skin?
How Much Does it Cost to Buy a Website?
This might be the area you're interested in the most, yet paradoxically it's also the section where we'll have to be the least specific. The problem is, there isn't a widely accepted money formula that applies to buying each website. If there is, we'd like to know it too! :)
That's why this is the trickiest part. However, as with any other business out there, there are still certain guidelines we can follow.
Larger websites (such as those listed on Flippa) usually aim at selling a specific website 20-30 times their average monthly profit (usually you would consider the past 12 months). So if we do the math, at 30x a website earning $2000 in profit per month should be sold for $60,000.
It's not uncommon to see larger prices too. This especially applies to larger websites and businesses that have been around for quite some time now. So, using the price to earnings ratio seems to be the main criterion in calculating whether a website is valuable or not.
Overall, whatever the calculations may be, never spend more than you can afford to lose.
The Purchasing Process
It's not a bad idea to have a lawyer beside you to sort out all legal issues as well as handle documentation. Better to be safe than sorry. Plus, the lawyer will surely guide you through the most frequently asked questions about website purchasing as well as secure necessary privacy protection.
Also, make sure you always get a sample of any signed contract. Discuss the payment process with your seller. After you settle on a price, what's next? You can either transfer the money on Paypal or an even better option would be to use Escrow.
Escrow is very user-friendly and intuitive to use. Both sellers and buyers are protected because the money is held up by a third party in escrow.
All you have to do is set up the transaction, make sure both you and the seller agree with the deal, and deposit money. Afterwards, Escrow will confirm to have received the money and the seller will transfer the website to you. Both parties confirm their status. Then there's an introspection period when you confirm traffic and the revenue is set to begin (this usually lasts 14-28 days). Once you're satisfied all you have to do is accept the transaction, and the funds reach the seller.
And now the website belongs to you!
Experts' Thoughts on Buying a Website
It's always useful to hear others' opinions before we make an important purchase. However, what might prove to be even more useful is when we hear the opinions of people especially knowledgeable in their field.
So, if you're buying a website, it can be truly helpful to see what certain experts skillful in website-related matters have to say. That's why we made a selection of practical pieces of advice to assist you in making an informed purchasing decision.
Let's take a look at the following suggestions from seven experts who are a living example of practicing what they preach.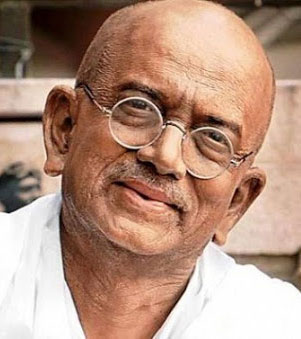 "When you are buying a site you want to avoid buying sites that are fully fine-tuned. Those types typically have less opportunity for potential growth and you'll notice that their quarterly or yearly growth rate won't be as high.
Often, when I purchase a website, I look for low hanging fruit first. This usually involves either traffic generation or conversion optimization."
2. Richard Patey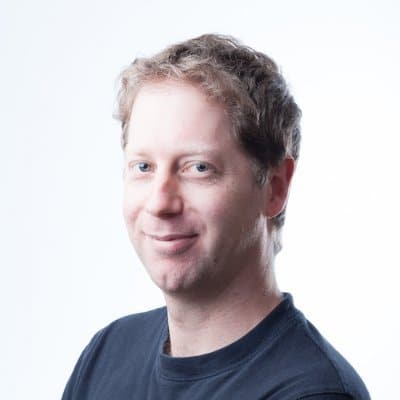 "I focus on content websites based on WordPress, and as such the first thing I check for is how the site is structured and what's in the Google index.
If there are no hub pages set up (i.e. the owner is still using the standard category pages) then that's an opportunity to rank for some big keywords. Likewise, if there is a load of thin or no-value pages dumped into the google index then you'll likely get a boost cleaning that up. On the flip side, I, therefore, avoid sites where site structure and on-page SEO is set up well. I only like to get involved in sites as the operator where I know that adding my skill set will generate upside."
3. Adam Riemer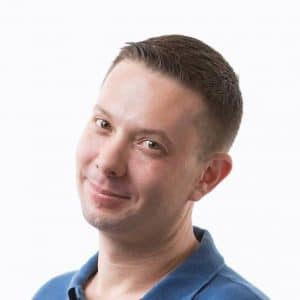 "When buying a used/aged domain, I always pull the history. You need to know why the person abandoned it. Some URLs are built with spammy links or thin content and get penalized. Other times the owner got tired and let it go.
Look at archives.org, run a backlink scan, and mention scan to see what happened to it.
You'll also want to pull a traffic history report to see if it got a penalization and what type it was. You can do this by referencing the larger search marketing blogs that have calendars and archives with algorithm changes and dates."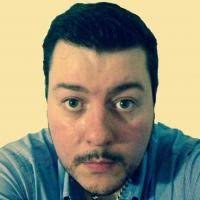 "The main things I look for when buying websites which are reliant on organic traffic are:
Check for any signs of previous penalties. During the due diligence phase I would be asking the seller lots of questions around any noticeable dips in traffic in the Analytics accounts.
Check the link profile of the website – mainly for the usual Penguin-style links e.g. low quality PBN's, high volumes of directory links, or links using exact match anchor text etc.
Content – the two main things here are low quality content which might be a Panda issue, and the high quality content assets which could be used for outreach."
5. Dom Wells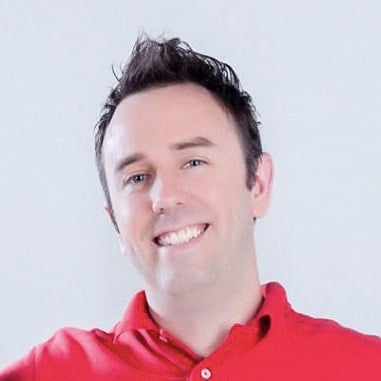 "A lot of people will send too many keyword-anchor text links to their sites, which is asking for a Penguin penalty.
Out of all the penalties that hit sites these days, Penguin seems to be the most common.
As for the site itself, I'd avoid anything with too much duplicate content or a poor user experience. While this is not strictly SEO related, I think having a poor quality site will ultimately be reflected in poor rankings."
6. John Escusa
"I've bought several sites before and I'm always on the lookout for more. So here are the steps I go through when I want to check the SEO done to a site:
Step 1: Check to see if the content looks natural and make sure that it doesn't contain duplicate content. You can check for duplicate content with Copyscape.com.
Step 2: Check SEMRush for keywords ranked in Google. This will give me an idea if some keywords are already ranked. It will also show me whether the rankings are in an upward trend or a downward trend.
Step 3: Check Page Authority (PA) and Domain Authority (DA) on OpenSiteExplorer.com.
Step 4: Check Majestic SEO to see if the site has a natural link profile. I like to see Trust Flow (TF) and Citation Flow (CF) of 20+. I also like to see natural and evenly spread anchor text.
If the site passes all of these steps, then I can generally buy it with confidence."
7. Nathan Rossow
"If I were looking to purchase a website today, there are a few things that I would check out first. Especially in terms of SEO, since a lot of websites and website owners rely on organic traffic coming to their site and making money off of that traffic.
First I would run the site through Moz OSE, Ahrefs, Majestic, and also do a Moz Crawl Test.
Running the site through Moz, Ahrefs and Majestic will give you a good idea of what kind of SEO has been done to the site. The reason to run it through multiple platforms is to ensure you catch most things, since not anyone crawls or tracks everything.
This will help you get an idea if it's been strictly White Hat or crossed over and had Black Hat SEO done to it."
Final Thoughts
Having to buy a new website, while adjusting to a new website layout, a new business approach and a new domain name isn't easy.
Still, we hope our guide helped you make the process of website purchasing less stressful. Our suggestions about buying a website have proved to be more than useful in many situations, so we're sure that if you follow them closely you'll have no problem opting for the right website.
Yet, if you find yourself confused or have some doubts at any point during your website buying pursuit, feel free to re-read our detailed guide to jog your memory.
We'd love to have you back!
In the meantime, have fun website buying!
The following two tabs change content below.
Jamie Spencer
My name is Jamie Spencer and I have spent the past 10 years building money making blogs. After growing tired of the 9-5, commuting and never seeing my family I decided that I wanted to make some changes and launched my first blog. Since then I have launched lots of successful niche blogs and after selling my survivalist blog I decided to teach other people how to do the same.
Latest posts by Jamie Spencer (see all)