(last updated February 20th 2023)
The internet is becoming an increasingly prevalent part of our day to day realities. I'm sure a lot of us end up spending more time communicating through screens than we do physically with people in our daily lives.
One thing is for certain, the internet and the role it plays in our lives is here to stay.
With the internet being just under 32 years old this year (the commercial internet was made publicly available in 1991), it's amazing to see just how fast it's become a necessity for our work, our leisure, our entertainment, and relationships.
Below we examine what the internet looks like today by exploring the latest internet statistics.
You'll learn how many people use the internet, what the most popular websites are, what countries have the greatest levels of internet access, how much the eCommerce market has grown, what the most popular streaming networks are, and much much more.
Note this post reflects the latest information, but will be updated as new statistics become available.
Overall Internet Stats Breakdown
We'll start with the big one–how many people use the internet?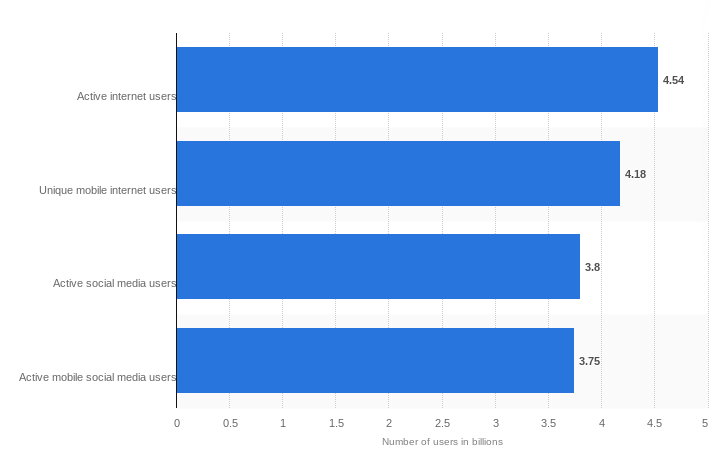 The current number, at the start of 2023, is over 4.54 billion active internet users. While the current world population figure stands at 7.76 billion people. This means that over 56 percent of the entire world's population are active internet users. Today every six out of ten people have access to the internet.
This level of internet growth has been steady and shows no signs of slowing down. Imagine what this figure will be 10 years from now.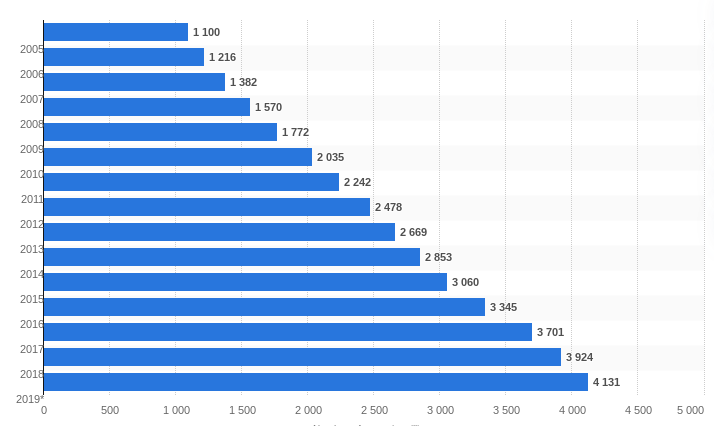 Let's put this into perspective further–the world's average population growth currently stands at around one percent, while the adoption of the internet is at 8.2 percent per year. Compare the current figure to the 3.7 billion internet users in 2017.
The internet didn't hit 1 billion users until 2005, but it only took 6 more years for that number to double and reach 2 billion.
The region with the largest internet usage is Asia (they are home to the world's largest population after all. Of the 4.54 billion internet users, nearly 2.4 billion are located in Asia.
However, the fastest-growing group of internet users is in Africa, five out of the top ten fastest-growing groups of internet users are in the African region.
Web Hosting and Website Traffic Stats
The very first website was created in 1991 by British physicist Tim Berners-Lee. Since then the total number of websites created has soared exponentially.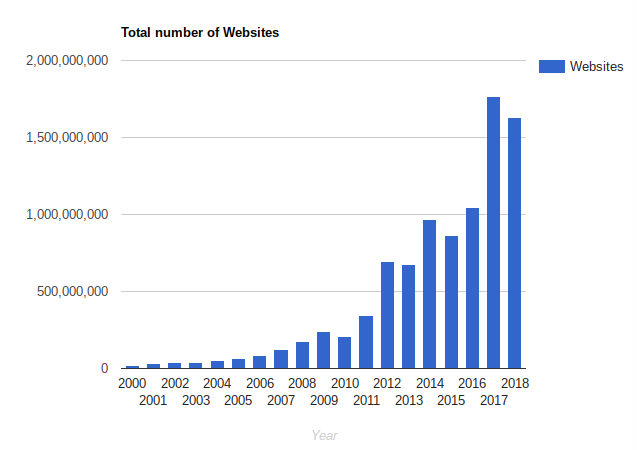 Today there are nearly 1.8 billion websites live on the internet, and that number only continues to grow by the second.
However, not all these websites are being visited by humans…
The latest report in 2019 shows that over half of website traffic is bot traffic, and this number grows year after year.
Regarding domain name registration, GoDaddy hosts the largest majority of those domains, with over 17 percent of the domain registration market.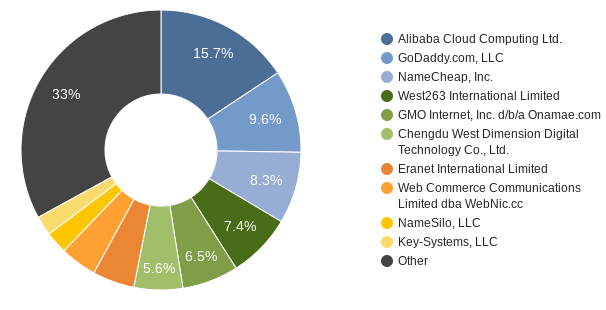 Image via nTLDStats
Here are some interesting facts about domain names and hosting:
How Much Time is Spent on the Internet?
Internet users across the world spend 6 hours and 42 minutes online every single day. This figure might seem like a lot, but we have to consider the multitude of devices a user has.
It's no longer just desktop devices, it's mobile phones, tablets, and even smart TV's that are connected to the internet.
But, what exactly are people doing on the internet: surfing the web? Scrolling through social media? Watching streaming videos? Keep reading to find out.
What Do People Do on the Internet?
We now that people spend a lot of time online, using the internet every single day. But the ways that we're using the internet are evolving too. What used to be dominated by desktop users has changed rather quickly.
Here's a breakdown of how people spend their time on the internet, the browsers they use, and what kind of devices they prefer.
The Most Popular Websites
What kind of websites are people viewing every day?
Here's a list of the seven most visited sites across the world: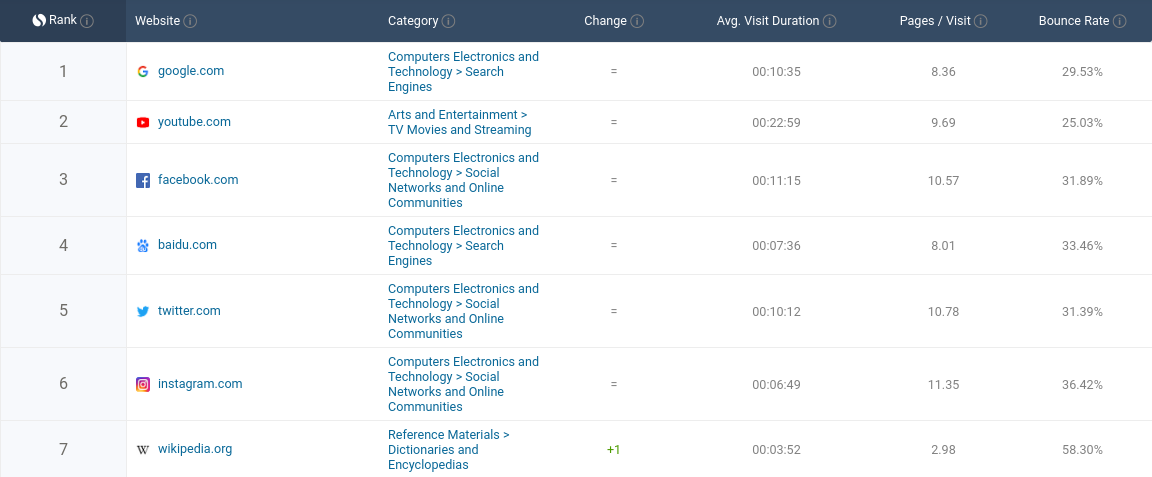 As you can see, the most popular sites are search engines, social media, and Wikipedia which can be classified as a reference site.
However, other types of sites are on the rise as well. For example, the online retail giant Amazon.com is the 14th most popular website in the world.
Most Popular Internet Browsers
The most popular browser is Google Chrome, with a current market share of nearly 60 percent.

This is followed by Safari, then Internet Explorer & Edge, Firefox, and finally Opera.
The same goes for the mobile browser market. Google Chrome makes up over 60 percent of the worldwide market for mobile browser share. This is partly due to the popularity of the Android OS. Currently three of every four mobile phones on the market today run on Android.
The second most popular browser is Safari, which comes pre-installed on Apple devices. To extend the dominance of these two browsers even further, Chrome or Safari are used on 8 out of 10 mobile devices.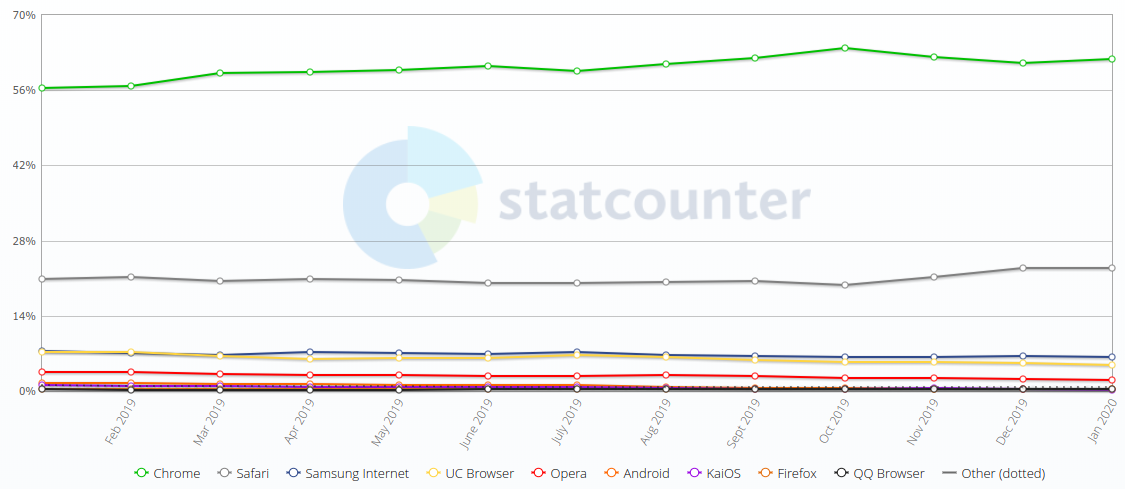 However, if we look at the US we see that Safari is leading the mobile browser wars at 52.3% of the market.
The Mobile-First Future is Here to Stay
For example, mobile is increasingly becoming the preferred way to use the internet. There are currently 4.1 billion mobile internet users, which means that just over half the world's population accesses the internet via mobile devices.
Mobile internet traffic now accounts for 51.98% of internet traffic globally.
In terms of mobile app traffic, YouTube is actually the biggest driver of traffic at 37%: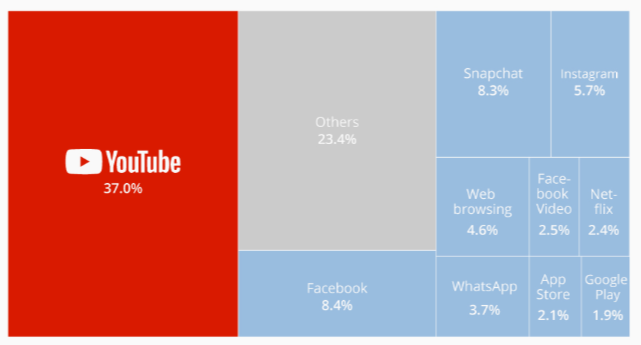 More YouTube stats here.
Here are some interesting stats about the mobile arena:
Half of all video streaming is from mobile devices
In the US, users spent around 90% of their time on mobile devices using an app
98% of all internet users in China use their mobile phones to access the internet
Domain Name Registration Market
Just as every other internet-related metric is increasing, so is the number of domain name registrations at domain registrars. Today there are over 350 million domain names currently registered.
From 2018 to 2019 domain names saw an increase of 4.4 percent across the board. However, the most popular domain name extensions being registered are .com and .net, as they make up nearly 40 percent of the total domain names registered.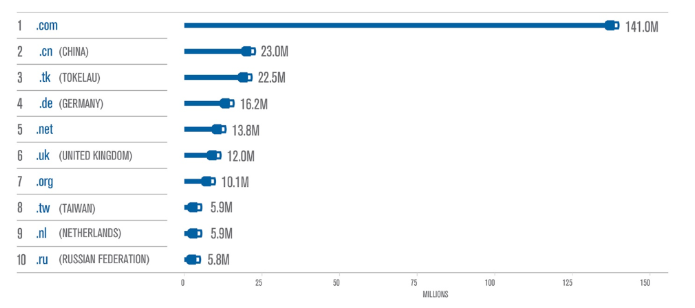 Regarding country-code domain names it's no surprise that China leads the list with over 23 million registrations using the .cn country-code domain.
Where Does the eCommerce Market Stand?
The eCommerce market continues to explode with the rise and prevalence of the internet. The eCommerce market totalled $4.2 trillion in sales in 2019. This figure is expected to grow to $6.54 trillion in 2023.
China dominates the list in having the largest eCommerce market. China alone is expected to bring in nearly $2 trillion in sales in the global eCommerce space this year, which accounts for 36.6% of the total market.
One thing is for sure, the eCommerce market is starting to take over, take a look at these stats:
However, if you're running an eCommerce store there's a lot you'll need to think about to optimize for conversions:
If you have a 1-second delay in loading time you can lose 7% in conversions
28% of online shoppers will abandon their carts if shipping costs too much
80% of video marketers say that video helps directly with online sales
Social Media
There are over 3 billion people who use social media. With all these users, mobile devices are the preferred method for using these apps and networks, accounting for over 80% of the total time spent on social media.
However, the penetration of social media networks isn't as widely distributed as overall internet access. However, adoption is increasing quickly in most regions of the world.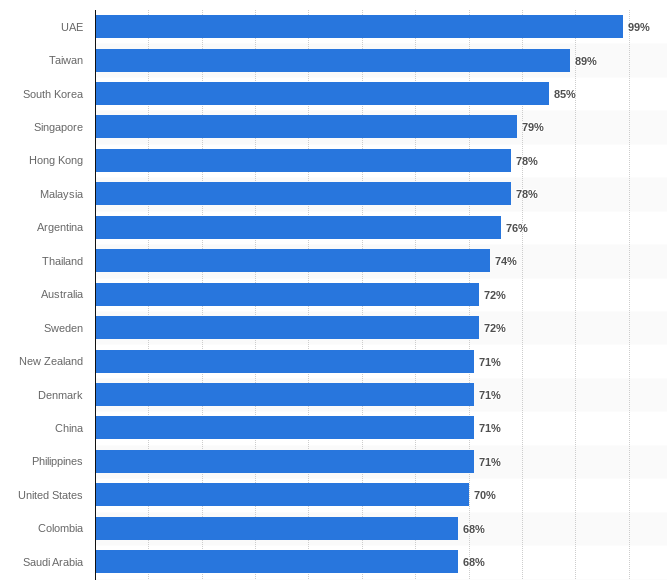 Social media penetration across Asian countries is higher than most due to the mobile-first connectivity of these markets.
But, what social media media apps are being used the most?
Currently, Facebook is dominating the market, with Facebook, Instagram, Facebook Messenger, and WhatsApp riding high in the rankings.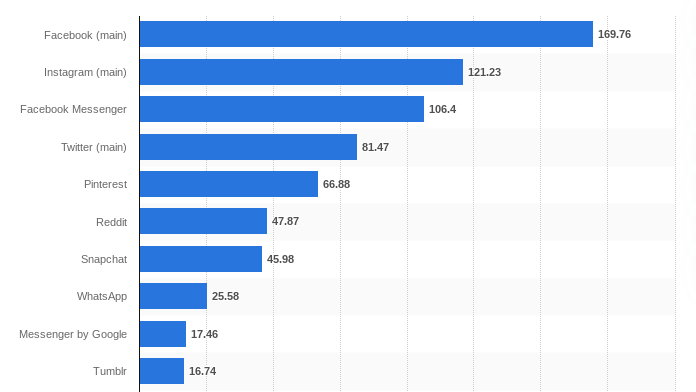 However, even though social media use is widespread, it has a different generational breakdown. The millennial generation continues to be the biggest users of social media, followed by generation X and finally the baby boomers.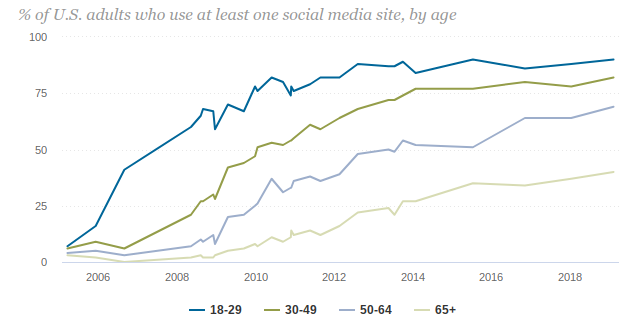 Image via Pew Research
Here are some interesting social media statistics to take home:
People spend over 2 hours per day on social media
Snapchat is the most popular social media app amongst the Gen Z population
Facebook Messenger and WhatsApp are the two top messaging services
Cybersecurity and Hacking
There's nothing more important than keeping your website safe from prying eyes and other hackers. However, a lot of users don't realize just how common hacking is.
Thousands of websites are hacked every day, and thousands of hacking attempts happen every minute. A lot of these attacks can be short too, with some only lasting less than 5 seconds.
The most commonly hacked CMS is WordPress, making up over 90% of all CMS hacking attempts.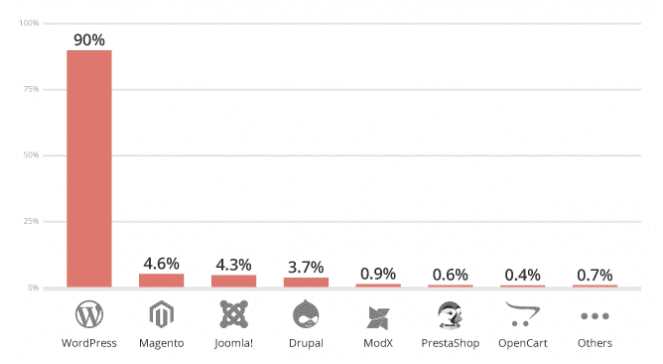 Image via Sucuri
However, a lot of this is due to its overall popularity. WordPress is the leading CMS in the world today and has a market share of almost 60% percent.
Here are some concerning stats about the current state of cybersecurity:
I don't know about you, but those statistics make me want to double down on website security.
If you don't know where to start check out this valuable resource.
Content Streaming Breakdown
We love our content streaming platforms the world over. Video consumption is on the rise and shows no signs of slowing down. Over 92% of internet users consume videos online every single month.
We're also seeing a shift in the preferred form of media consumption. Today 70% of consumers believe that streaming services offer better value and services than traditional television.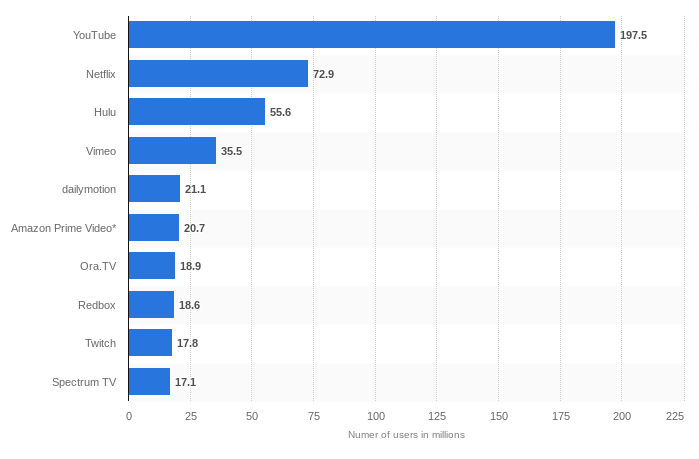 As we can see, YouTube is leading the charge. But, popular subscription based video services like Netflix, Hulu, and Amazon Prime Video are on the rise.
Here are some interesting stats about the current state of online video streaming:
The global video streaming market is currently worth around $124.57 billion
YouTube has over 1 billion users which makes it the most popular video streaming site the world over
More than half of the content consumed through YouTube is done through mobile devices
The largest video streaming service is Amazon with over 20,000 different titles
Over half of Americans have a Netflix streaming subscription
Search Engine Usage
We use search engines every day to help us access information, research, and learn new things. If you couldn't have guessed it, Google is the undisputed leader of the search engines, making up over 73 percent of the global search engine market.

The rest of the market share is divided between Bing, Baidu, Yahoo!, DuckDuckGo, Yandex, and Ask.
Google processes over 3.5 billion searches every single day, which equates to roughly 40,000 searches every single second.
If you couldn't have guessed it, Google earns over 134 billion in revenue directly from online advertising.
In Closing: How Can These Statistics Help Your Website?
Hopefully, this deep dive into the current state of the internet has given you hope and excitement.
Whether you're already running a successful website, or are just getting started online building your first blog, the potential for your next project is nearly endless. The internet and how we use it will continue to evolve.
If you're not online already, then it's time to make your first website today and start riding the technology wave.
Now that you're well equipped to use the statistics above to sculpt your digital marketing strategy that takes advantage of the latest trends.
Featured Image: Photo by Leon Seibert on Unsplash
Other Statistics You Might Like…
Chinese Social Media Statistics
The following two tabs change content below.
Jamie Spencer
My name is Jamie Spencer and I have spent the past 10 years building money making blogs. After growing tired of the 9-5, commuting and never seeing my family I decided that I wanted to make some changes and launched my first blog. Since then I have launched lots of successful niche blogs and after selling my survivalist blog I decided to teach other people how to do the same.
Latest posts by Jamie Spencer (see all)