With the emergence of online shops, eCommerce platforms such as Magento seem to be highly sought after. And this shouldn't come as a surprise, as Magento is one of the leading content management systems (CMS) for online stores.
eCommerce businesses seem to be on the rise, and are turning out to be very profitable. Did you know that online retail sales on a global level are expected to reach $4.2 trillion in 2020?
Keeping this in mind, how can Magento assist you in achieving your eCommerce goals, and help you live up to these stats' requirements?
What's Magento?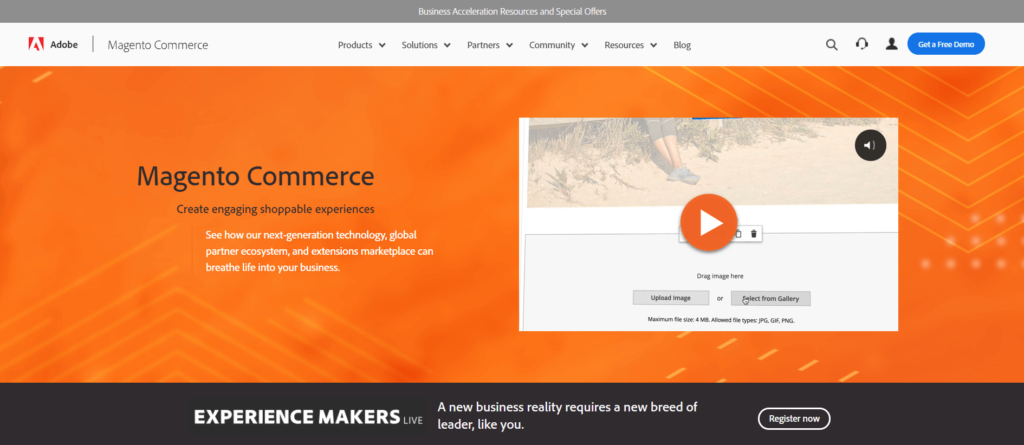 Magento is an open-source, eCommerce platform, and one of the most popular content management systems (CMS) out there. Magento is written in PHP and is great for both entry-level websites and larger businesses. It offers the following business size solutions:
● Small Businesses (includes a very reasonably priced monthly subscription, a customizable platform, and it's trusted by the world's fastest-growing merchant base);
● Mid-market and Enterprise (provides users with integrated B2B functionality, it's cloud-hosted, extensible, and highly scalable);
● Enterprise (you can benefit from the enterprise tools of Adobe Experience Cloud, and get valuable business support from a global network of partners).
With its tools, Magento allows you to create the eCommerce platform you need, while at the same time allowing you considerable customization and flexibility. It always strives for digital progress and follows the latest eCommerce trends and needs.
The History of Magento
● Magento's official development began in early 2007, and in August the same year the first public beta version came out.
● Varien, the company that owned Magento, had previously worked with osCommerce. However, instead of sticking to its plan to fork osCommerce, Varien decided to rewrite it as Magento.
● During its initial years, Magento won the following 2 awards: "Best of Open Source Software Awards" and the "SourceForge Community Choice Awards" (Magento actually ended up winning these awards a few times).
● In February 2011, eBay made it public knowledge that it had invested in Magento in 2010 (worth a 49% ownership share of the company). Then, in June 2011, it was announced that eBay will acquire the rest of Magento.
● This meant that Roy Rubin and Yoav Kutner were Magento's leaders back then.
● In April 2012, however, Yoav Kutner left Magento with the explanation that Magento's overall vision had changed.
● This led to a new owner for Magento in November 2015 – Permira private equity
● In May 2018, it announced that Adobe will acquire Magento for $1.68bn.
Security Concerns
● In October 2015, Magento websites were being targeted by the Guruincsite malware – hackers were injecting malicious scripts designed to create iframes from "guruincsite[.]com". Magento users were immediately advised to follow Magento's best practices, security recommendations, as well as to remove any malicious scripts on their files that can be used for other attacks in the future.
● In November 2015, it was reported that outdated Magento web stores were prone to a cross-site scripting attack (this allows attackers to engage in online skimming to steal user credit card information). Based on this data, more than 4000 Magento stores were susceptible to this type of attack in October, 2016.
● In 2016, Magento received reports suggesting there was a new malware stealing information from checkout, and customers' credit cards. The attackers probably used the Admin area (or database access to do so).
● In 2017, DefenseCode reported that Magento CE web stores are prone to a remote code execution attack (this enables attackers to do web skimming, steal already stored credit card information, take control of the database, and so on).
● In 2019, Magento announced a potential vulnerability in its admin URL location for the following three versions: 2.1.x, 2.2.x, and 2.3.x. There was also a critical security breach for users running the 1.0.2 version (or some earlier ones) of the Magestore Store Locator extension.
For all security matters, head over to Magento's security center to get recent patches, and security updates. There's also a free Magento Security Scan Tool that helps you monitor your website for security risks, and detect any potential unauthorized access.
Finally, although Magento always strives to come up with new ways to handle security attacks (such as releasing advanced security updates, better vulnerability management program, and so on), there are things you can do to prevent (or at least minimize the occurrence of such attacks):
● always use the newest Magento version
● install the latest security patches as they become available
● don't forget to frequently backup your website
● use strong passwords
Empowering Magento Stats
It's always good to support theoretical claims with numbers and relevant statistics. In the previous section we brushed up on some Magento basics, and now we'd like to go through some empowering Magento stats to help you understand Magento's development and ongoing progress:
● Roughly 250,000 clients use Magento as their CMS;
● The number of Magento-based websites has doubled between March 2017 and August 2018;
● Magento provides its users with approximately 5000 extensions;
● 9.5% of all Magento websites are located in the USA;
● 202 Magento users are included in the Internet Retailer Top 1000 list;
● Well-known brands such as Ford, Omega Watches, Bulgari, and Pepe Jeans use the Magento platform;
● There are more than 150,000 Magento developers around the world;
● Magento is the third most popular eCommerce platform out there;
● Worldwide online eCommerce sales on Magento are expected to grow to $224 billion by 2020.
Magento Usage Statistics
Magento powers 1.3% of all websites using a content management system (CMS). That's basically 0.8% of all websites. To get a better idea of where Magento is on the market, take a look at the following diagram:
Magento Market Position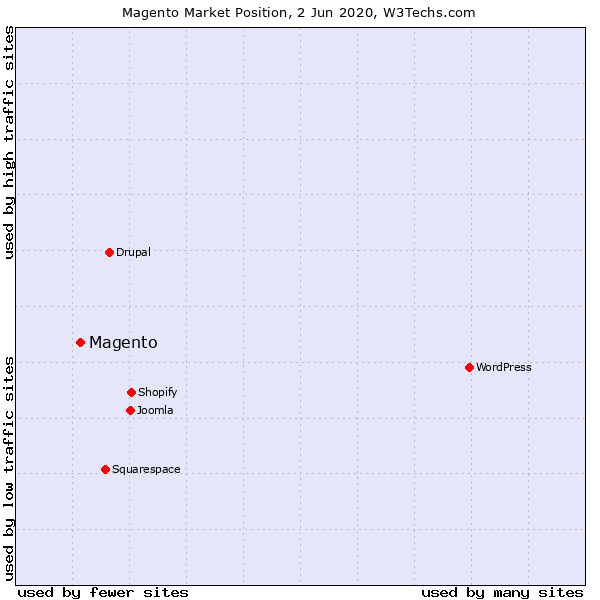 Source: W3Techs
The diagram is pretty straight-forward to read: the CMS placed in the lower right-hand side corner is used by many websites (yet, mostly by websites that have average traffic). The platform located in the upper left-hand side corner is used by fewer websites (but heavy-traffic websites). Finally, the best position is the upper right-hand side corner: it refers to a CMS used not only by many websites, but websites with heavy traffic too.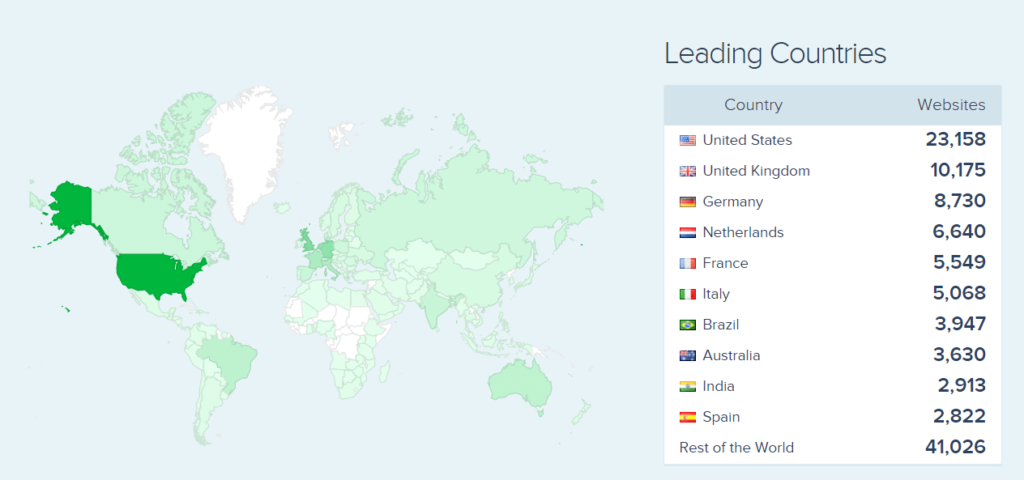 Magento usage by websites across the globe
Source: SimilarTech
This map shows the countries where Magento is used the most. Therefore, it's safe to conclude that Magento is most popular in the United States, followed by the United Kingdom, and then Germany.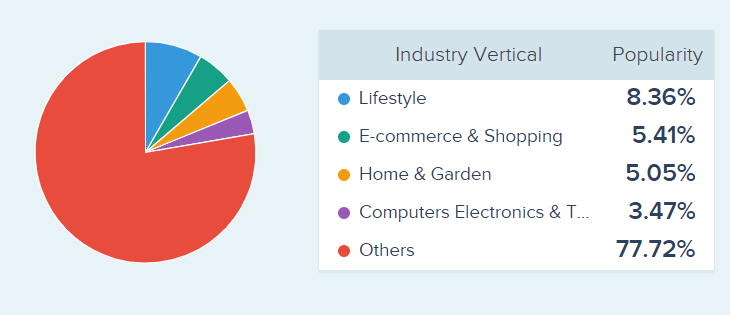 Industry verticals where Magento is being used
Source: SimilarTech
It's also useful to know the industries where Magento seems to be very popular. For example, Lifestyle, eCommerce & Shopping, and Home & Garden are the most popular industries that use Magento.
Finally, it's better if you actually know the specific websites that use Magento as their content management system. Here are some of them:
harborfreight.com 2,075 traffic rank 23.1M monthly visits
bouyguestelecom.fr 1,578 traffic rank 20.6M monthly visits
g2a.com 2,977 traffic rank 13.6M monthly visits
reserved.com 3,910 traffic rank 11.5M monthly visits
newsweek.pl 7,515 traffic rank 10.2M monthly visits
Magento Events Stats
There have been many Magento events over the years. Here are some of the most significant ones:
MagentoLive
MagentoLive is a well-known educational and networking event hosted by Magento itself. The purpose of the event is to gather around 2,000 business leaders from more than 60 countries across the world and let them discuss upcoming eCommerce changes and strategies.
The first such event happened in Australia in 2019, while the following one was later on in 2019 and had the European market in focus. More than 2000 experts and top key speakers were welcomed in Amsterdam.
If you want to learn more about this event, you can always check out the official website.
Meet Magento
Meet Magento is Magento's official partner. It's basically a non-profit organization whose purpose is to connect everybody that uses Magento as their eCommerce platform. These Meet Magento events happen in many countries around the globe and are usually organized by local Magento experts.
Those who take part in these events are eCommerce insiders and business leaders.
If you want to learn more about these events, and know where/how to attend one (or even how to sponsor such events!), head over to their official website.
MagentoImagine
The Magento Imagine Summit is an event that takes place in Las Vegas and it officially represents Magento as a company. The summit brings together 3,000 experts and it's open to all nationalities.
This year's 2020 summit was canceled due to the COVID-19 situation, however, an online event took place instead. The 2021 summit is expected to take place from March 14-18, 2021 in Las Vegas.
If you're interested in the MagentoImagine summit, take a look at the AdobeSummit website.
Conclusion
To recap, Magento is one of the leading eCommerce platforms out there. It offers advanced business solutions for webmasters while providing an enjoyable user experience as well.
It's highly suitable both for smaller and larger businesses, and its wide selection of features gives each webmaster and site what they need at any given moment. Plus, all the above-mentioned stats help us understand what Magento can do, where it is positioned on the market, and how it has developed over time. Don't forget to check out my guide on the best Magento hosting.
We have even more stats for you!
Chinese Social Media Statistics
The following two tabs change content below.
Jamie Spencer
My name is Jamie Spencer and I have spent the past 10 years building money making blogs. After growing tired of the 9-5, commuting and never seeing my family I decided that I wanted to make some changes and launched my first blog. Since then I have launched lots of successful niche blogs and after selling my survivalist blog I decided to teach other people how to do the same.
Latest posts by Jamie Spencer (see all)