Wireframing and mockups are essential elements of the web development process, and although some designers choose to bypass this phase of the design process, choosing to proceed from the information architecture and design brief directly into the design, it is immensely beneficial to create wireframes between the elements of conceptual site planning the development of the site. There are several benefits to wireframing that make it an integral part of the design process.
In its simplest form, wireframing can be done with a pen and paper; however, there are multitudinous wireframing tools that will allow designers to create a highly expressive wireframe in a matter of minutes. When wireframing is included in the process it allows for a more fluid and consistent transition from concept to reality. This article is centered on introducing some of the top wireframing tools currently available; however, it may be worth the time to offer a succinct explanation of what wireframing is.
Why and When to Use Mockup and Wireframing Tools?
You would use wireframes and mockups ideally when you're planning a new website or app.
Here are a few reasons why wireframes are so useful:
Clarity: They help you to visualize how your website or app will look and work.
Communication: They help you explain your ideas to other people, like clients or team members.
Problem-Solving: They help you find and fix problems before you start building.
Defining a Wireframe
Before listing some of the top wireframing programs, it is important for readers to have a functional perspicacity of what a wireframe is. Although experienced designers will understand the need for a wireframe, a novice designer may not. The advancement in technology has introduced CMSs that offer highly functional features that make it easy for a novice to design and build highly functional and optimized sites, so it is imperative that these designers understand the vital nature of including wireframes in the design process.
A wireframe can be viewed as a low-fidelity impression of a website's layout design — often referred to as the skeleton blueprint or outline. The wireframe represents the basic layout of each page of the structure; however, it does not possess all of the finished elements. The wireframe will reveal the navigational scheme of the site as well as all of the major components of the site.
Accessing Wireframing Tools
For those project managers who have a proclivity to showcase their work prior to actually starting the project, wireframe tools can be a major benefit. Wireframing has the capacity to help a designer design a mockup site within a matter of minutes, using drag and drop technology, allowing them to move different elements of the website to its specific location on the application workspace.
Below you will find a list of some of the top free wireframing tools.
In our latest 2023 version, Mockingbird and iPhoneMockup are removed, while Figma and Wireframe.cc are added to the list.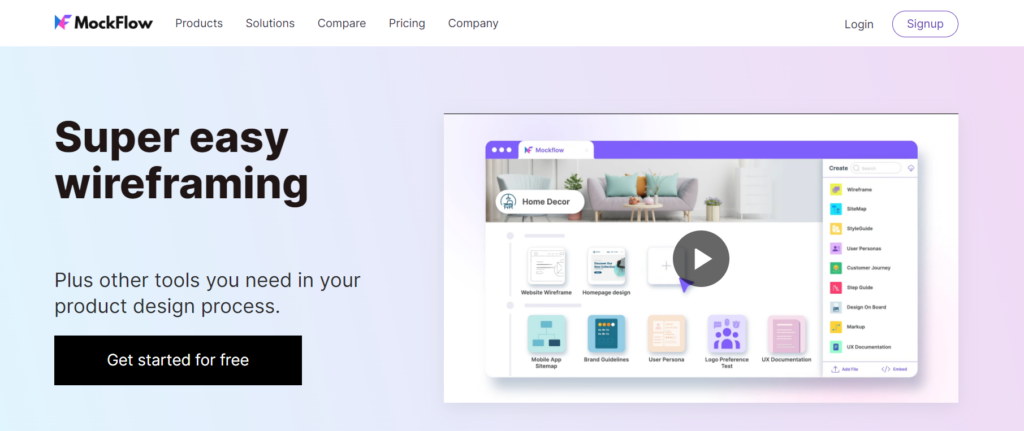 Mockflow is an intuitive, easy to use wireframing tool that provides the capacity for designers to create mockups, of websites such those created through Drupal and WordPress CMS's. Additionally, it can be used to generate software GUI and a mockup app wireframes within minutes. Due to the fact that a designer has the option to choose between mobile, web and theme based options, it is fairly simple to add new projects.
Mockflow also makes it easy to export completed projects in multiple formats including Power Point, html, pdf and high-quality PNG files, etc. Mockflow currently has the most extensive library of mockups that can be used to create wireframe blueprints.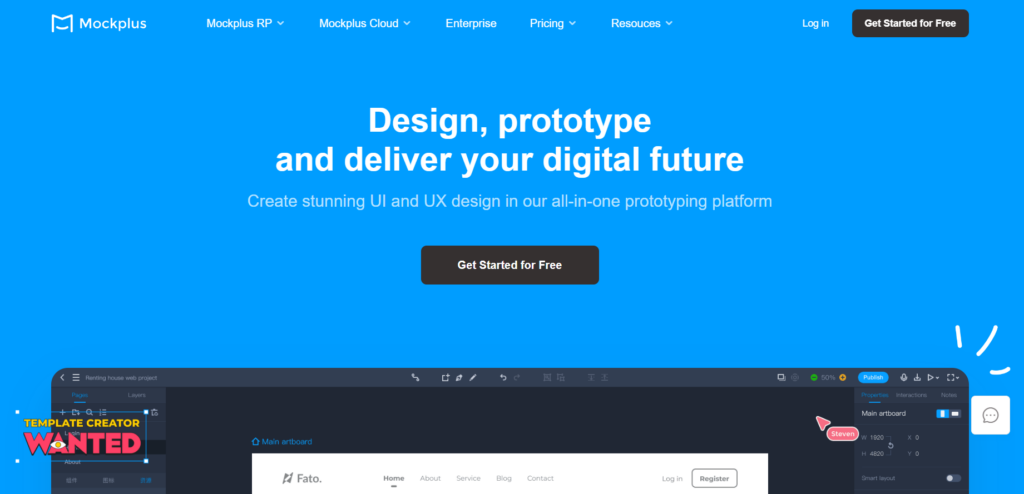 Mockplus is a wireframing tool that provides the capacity for designers to create mockups, of websites and mobile apps.
Mockplus comes with 3,000+ icons and 200 components. Just drag these components into the canvas for a combination to prototype your app ideas within few minutes. Focus on design itself and no more efforts will be spent on making a component. It also supports multi users working on the same project. One click to sync the project to cloud and the works of different designers will be combined.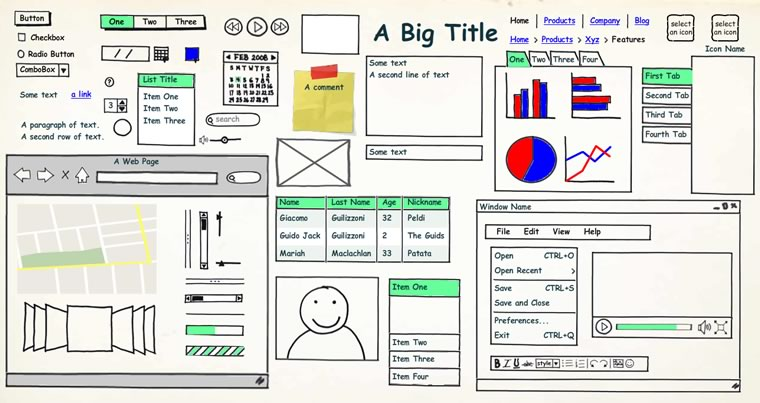 The Balsamiq wireframe tool has the capacity to be downloaded to all of the major operating systems. Additionally, it also offers the ability to build online wireframe projects. This tool has a high focus on website mockup and wireframes, as well as mobile apps and user interfaces. It offers some exceptional features — ranging from accordion lists to charts and more. Also, the designer has the option of exporting files from this tool as a PDF, PNG or as a clipboard element.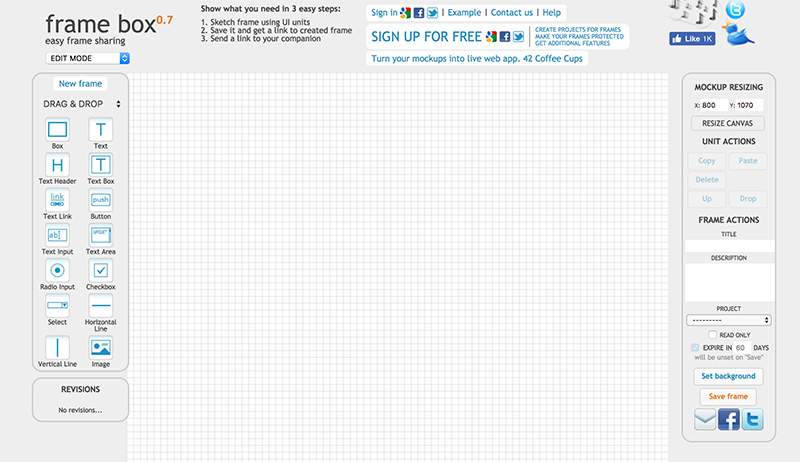 Frame Box is a simple online wireframe editor that facilitates the development of online prototypes that can be easily shared directly from the website. Frame Box allows the designer to create a wireframe in three simple steps, which include:
Sketch the frame using UI units
Save the project and receive a link to the created frame
Send the generated link to the appropriate colleagues
This online application is lightweight, meaning that the program features are very basic; however, it still has the capacity to provide a number of simple overlay elements for basic designs.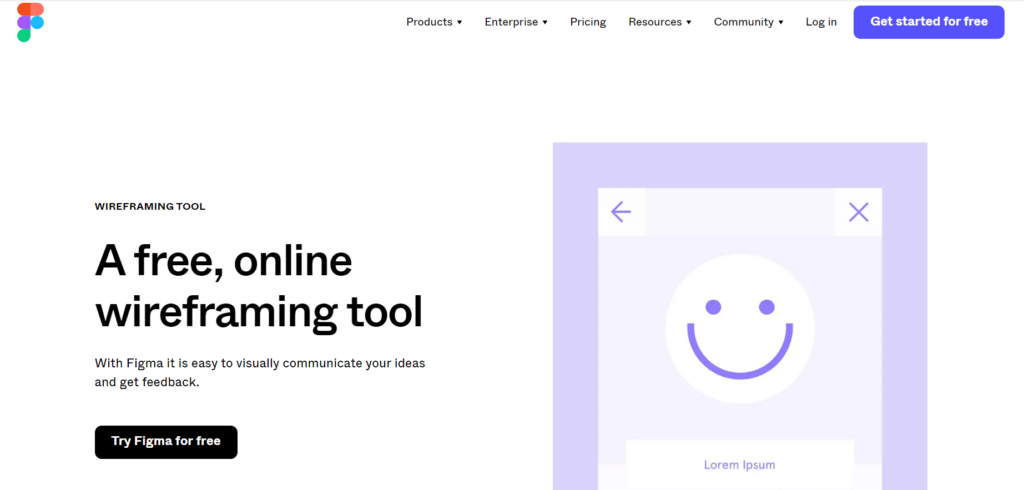 Figma offer a comprehensive tool set for designing sites or whiteboarding across teams. Part of their solution for designing websites, includes a free wireframing tool. The free Figma suite is notably more limited than the paid versions, but it is free for life and enough to work on most small to medium projects.
Here are some of the standout features for Figma:
Figma stands out for its strong collaborative features. Multiple people can work on the same project simultaneously, seeing changes in real-time.
Figma is entirely web-based, meaning you don't have to download any software to use it. All your work is automatically saved and accessible from any computer.
Prototyping and Interactions
In Figma, you can not only design but also add interactions and animations to create fully functional prototypes. This is incredibly valuable when you want to test your designs and gather feedback.
Figma offers a powerful component system. You can create a design element, turn it into a component, and then use it elsewhere in your design. If you update the master component, all instances of it will also get updated. This feature can save you a lot of time and helps maintain consistency in your designs.
Design Files and Version History
Figma keeps all your design files in one place and also maintains a version history, allowing you to revert to previous versions if needed.
Integration with Other Tools
Figma can integrate with other tools, like Slack, Jira, Trello, and Zeplin, streamlining your workflow.
These are just some of the features make Figma a versatile and comprehensive design tool, suitable for both beginners and professionals.


Wireframe.cc stands out for its minimalistic interface. Unlike other wireframe tools that can sometimes overwhelm with options, Wireframe.cc offers a 'less is more' approach, which allows you to focus on the essential aspects of your design.
Here are some of the key features of Wireframe.cc:
Simple, No Frills Wireframing
The platform is designed primarily for creating simple, low-fidelity wireframes. It doesn't provide the comprehensive design capabilities of some other tools, but this makes it a great choice for quickly sketching out a basic design concept.
The tool is easy to use. You can simply click and drag on the canvas to create elements, which are automatically aligned to a grid for easy positioning.
You can add annotations to your wireframes, providing context or instructions for your team or clients. This helps to make your intentions and ideas clear.
Different Device Templates
Wireframe.cc provides templates for different devices (Desktop, Mac, Tablet, Mobile), helping you to design with different screen sizes in mind.
Remember, while Wireframe.cc might lack some of the extensive features of other tools, its simplicity can be a major advantage, especially for quick ideation and uncomplicated wireframe needs.
In the free version, you are limited to single page wireframes, and your projects are saved on publicly available urls – meaning anyone that has access to the url can work on the document. In the paid version you can create multiple page wireframes and save your work to private urls to restrict access to yourself and your team.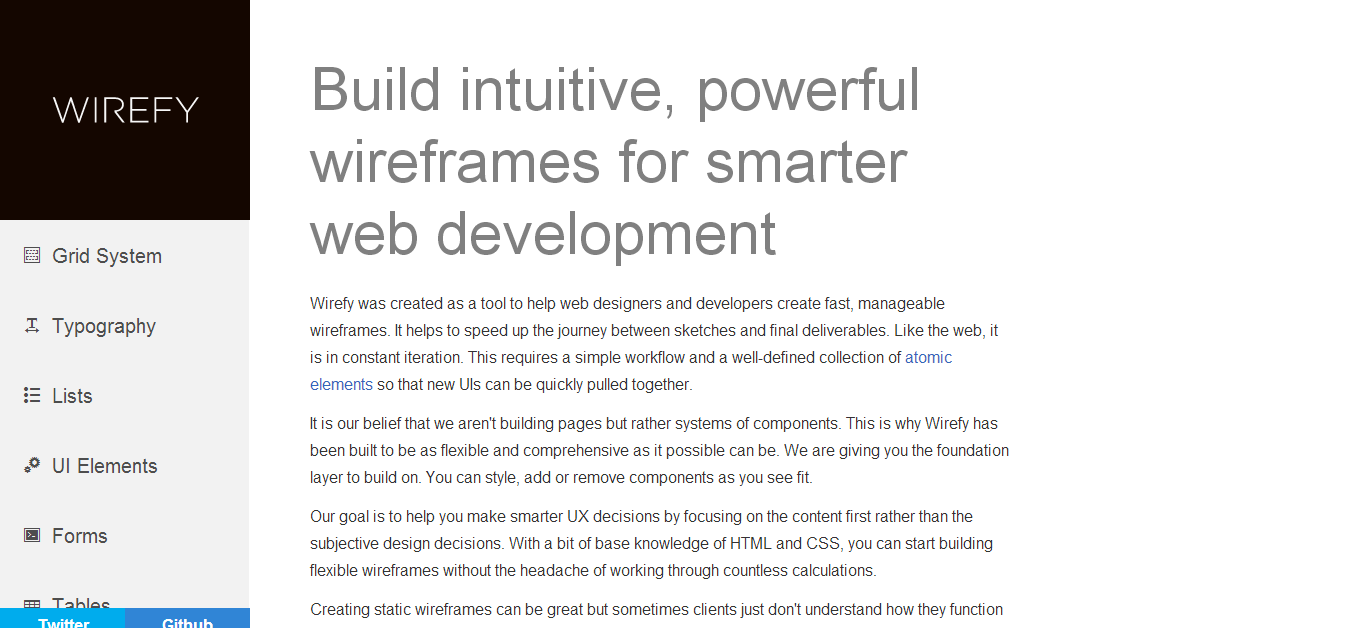 Wirefy is an online application that was designed with the specific idea of providing web designers and developers with a tool that has the capacity to allow them to build manageable wireframes in an extremely short period of time. This application will serve to expedite the design process as it creates a smoother transition between the initial sketches and the deliverables. This platform does require workflow that is simple, as well as a well-defined collection of atomic elements in order to ensure that new UIs can be pulled together in a rapid fashion.
Designers will have the option of upgrading to premium plan; however, I believe the free plan possesses all of the tools that are necessary for a designer to create sample pages as well as develop a better idea or feel about the direction the project should take.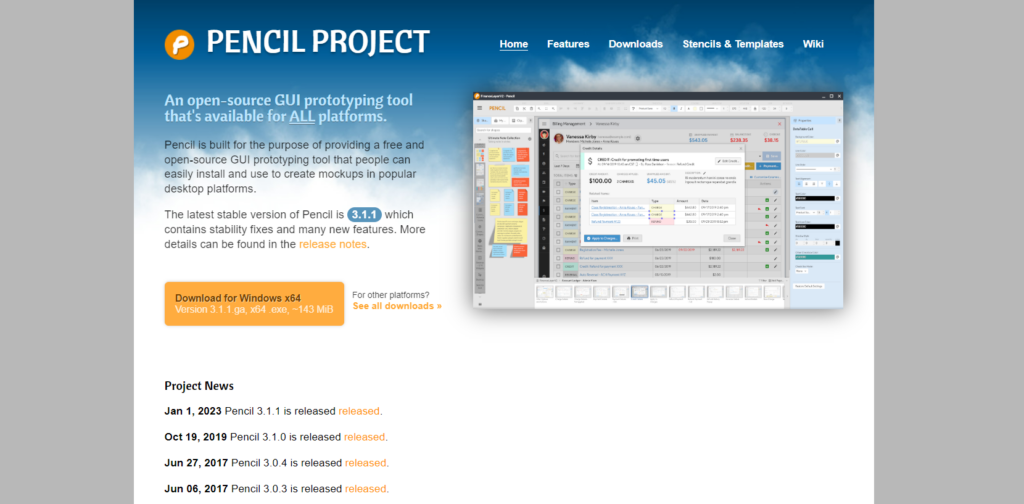 Pencil Project has a broad capacity range, allowing it to be used for a number of tasks, such as building diagrams and mind-mapping; however, it was designed to function as a wireframe tool for web designers and developers as well as to build prototypes. The platform is offered as an open source desktop application, which is completely functional on most current platforms. Pencil Project allows a designer to easily build Android or IOS templates, which can help save the designer a significant amount of time.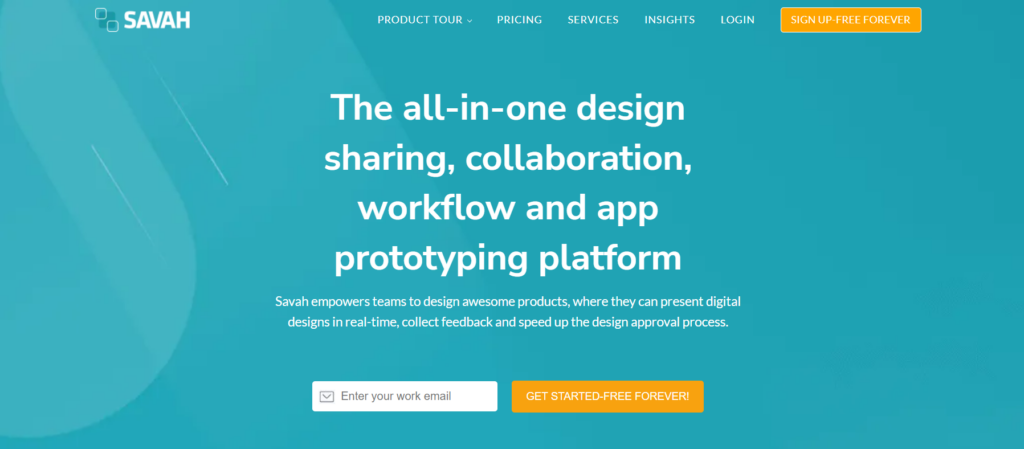 The designer of Savah wireframing platform gave a considerable amount of thought to ensuring that the end user would possess the control and creative freedom necessary to maximize their productivity when building a new wireframe. This platform has the capacity to function as a desktop tool or as a mobile application. Savah also has built-in collaboration support. This program has a nice set of features considering that it is free.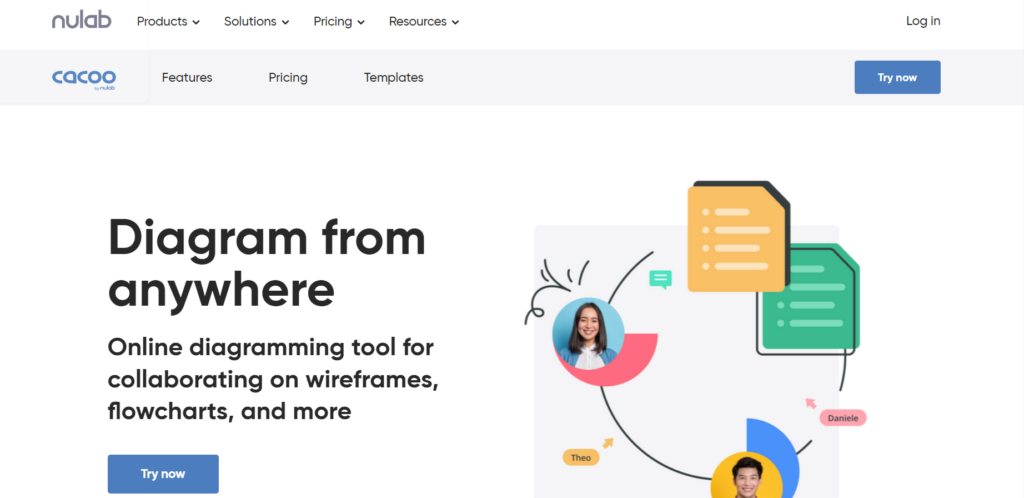 Cacoo was originally released in 2009, and while it was originally hosted on it's own website, it has since been brought inhouse to Nulab's (the developers) home site, sitting alongside their other products. The product and name are still the same though.
Cacoo's free plan makes it extremely easy for designer to create wireframes of website mockup on their desktop, or even on a smartphone. Unfortunately, the free plan only allows exportation in the PNG format; however, for freelancers who are not contracted to major clients, this should not create an insurmountable obstacle. It is perfect for using as a platform that will allow a designer to expand their ideas. The free version comes with a nice set of features and tools, and if the workload and demand increases, it is extremely easy to upgrade.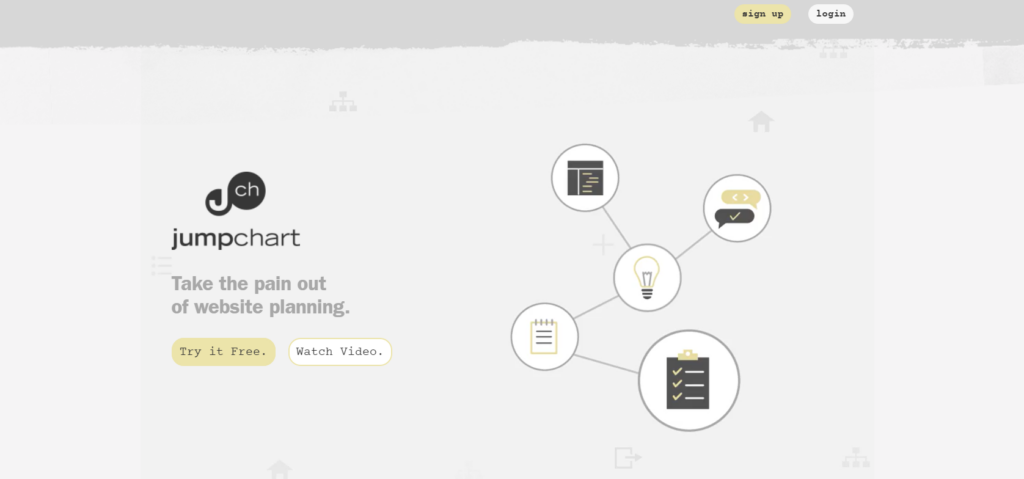 Jumpchart offers the capacity to involve the entire project team, meaning that everyone that is assigned to a single project will have access to all of the latest changes — allowing them to contribute to the needs and direction of the project. Additionally, the efficiency provided by this platform helps to eliminate a great deal of the back and forth confirmation communications. Because all changes and updates can be easily monitored, there is no reason for consistent questions concerning whether a particular task has been completed or not.
Jumpstart is ready to be used on tablet devices, and the platform also allows the designer to export their designs to WordPress, subsequently facilitating the creation of live sites within a matter of minutes. The free plan supports up to two users, with one project and a maximum of 10 pages. This should be adequate to give the program an adequate spin.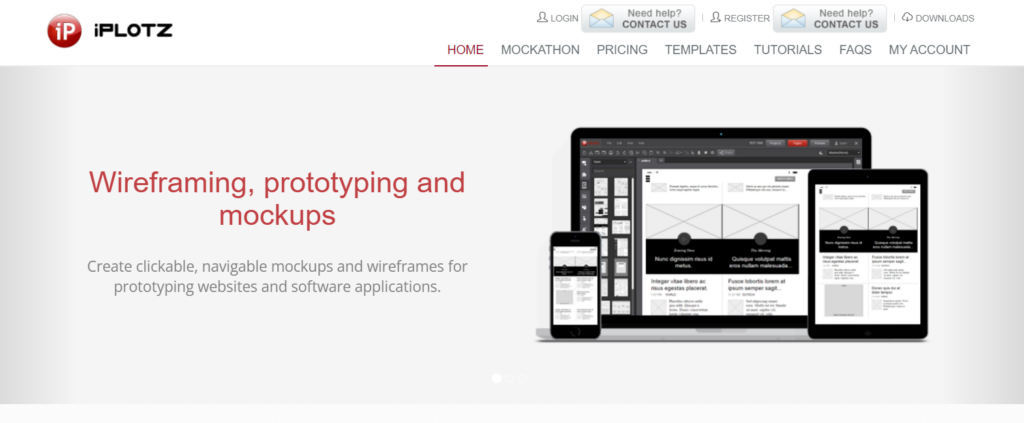 iPlotz offers the designer the option of creating navigable, clickable wireframes that provide the experience of a live software application or website. The designer also has the option or inviting others to offer comments on the design. Additionally, once the design is finished, the designer will have the capacity to effectively manage the task of developing the project. The free version offers one project with a total of five pages.
The aforementioned wireframe tools are each unique in some form; however, they are all highly functional when considering that they are free. In those cases in which a designer will need fewer functional restrictions, the free plan will allow them to test drive the program to determine which one works best for their particular task.
The following two tabs change content below.
Jamie Spencer
My name is Jamie Spencer and I have spent the past 10 years building money making blogs. After growing tired of the 9-5, commuting and never seeing my family I decided that I wanted to make some changes and launched my first blog. Since then I have launched lots of successful niche blogs and after selling my survivalist blog I decided to teach other people how to do the same.
Latest posts by Jamie Spencer (see all)