000webhost Review 2021
Is Free Web Hosting Actually
Any Good?
Written by Jamie Spencer – Updated 22nd August 2021
While you may not have heard of 000webhost before, it's certainly a company that deserves your attention. Paid hosting options are a dime a dozen these days, so it's not difficult to find a suitable provider to meet your needs. However, in the realm of free web hosting, things get a bit more sparse.
Free web hosting providers tend to offer subpar service and have questionable business practices that turn off webmasters, bloggers, and small businesses. 000webhost is one of the most popular free hosting providers in the industry. The company has earned a solid reputation among those looking for free solutions to their hosting needs. The provider reportedly hosts over 19 million sites for users across the world.
So, is the service as good as people say it is? Let's find out!

About 000webhost
000webhost is no stranger to the market. It's been around since 2007. You might be familiar with its parent company, Hostinger. 000webhost is wholly owned by Hostinger and was purposely created to be a free subsidiary of the brand.
Since its launch, 000webhost has been an integral part of the larger Hostinger family. Many see the smaller brand as a unique form of marketing that's designed to help website owners test the waters before moving on to a paid plan with Hostinger.
However, the free plan has a lot to offer. Thanks to the technology and resources from Hostinger, 000webhost is regarded as one of the better-performing free hosting solutions out there. Currently, the provider is headquartered in Cyprus.
What Kinds of Plans Does 000webhost Offer?
Unlike other web hosting companies, 000webhost does not offer a bevy of plans to choose from. There's no paid VPS or dedicated server plans to consider The only plan you can take advantage of is the free one. It's a type of shared hosting plan with limited resources.
When you host a site with 000webhost, your data is stored on the same server hardware as several other sites. As the name would suggest, all of the server's resources are shared among these sites to keep costs low. In the case of 000webhost, it keeps the costs non-existent.
The free plan does have some strict limitations when it comes to storage and bandwidth. After all, this is a free plan. So, you can't expect much in terms of resources. With that said, you do get enough to create a decent site. If you go over your allotment, 000webhost will throttle your connection speeds or take your site offline until the next "billing" cycle.
Paid plans are advertised on 000webhost.com. However, clicking on the associated links brings you to the official Hostinger website for registration.
000webhost Review
Now that you understand a bit more about 000webhost, let's get into the finer details. As a free hosting provider, 000webhost has no obligation to provide top-notch service like paid alternatives. Don't expect to receive the same level of service as you would with an expensive paid plan from a premium provider. With that said, 000webhost does have an impressive collection of features that you can do a lot with. Here are some of the most notable.
Reliability
Overall, the service at 000webhost is surprisingly reliable. Uptime ratings are a core part of any web hosting service. Providers go to great lengths to keep their equipment up and running at all times so that you don't have to worry about downtime for your site. 000webhost is no different.
While the company doesn't offer a traditional uptime guarantee like some competitors, they do advertise a 99 percent uptime rating. According to the provider's website, a dedicated administrative team works diligently to ensure that things are running smoothly. The equipment is optimized to provide good performance without any hiccups.
Data Centers
Web hosting providers are only as good as their data centers. 000webhost doesn't give you any information about the exact locations of their data centers. However, we can assume that the brand uses many, if not all, of the same centers as its parent company Hostinger.
Hostinger currently has centers in the United States, the United Kingdom, Netherlands, Lithuania, Indonesia, Singapore, and Brazil. When you sign up for a free 000webhost account, you do get the opportunity to choose the data center you want to use. This helps to improve performance for the audience you're targeting.
Performance
From a performance standpoint, 000webhost does well across the board. Again, we have Hostinger's technology to thank for this. The servers and hosting platform are optimized for good performance regardless of the type of site you're hosting. The service uses the latest version of PHP and MySQL, so you can rest easy knowing that your visitors are getting a good experience.
Connection speeds are decent. Bust, they're not the greatest in the industry. 000webhost does not offer solid-state storage or content delivery networks. So, you may encounter some performance issues once you start capping out your resources.
Currently, the free plans do not come with any major performance features. There's not a caching system or specialized scripts that you can use. These features are available on paid premium plans from Hostinger. However, the only thing you can use with a free account is the optimization effort of the administrators on the server side.
Storage and Bandwidth
For most free hosting plans, you only get enough disk space and bandwidth to create basic sites. With the expectations of web users being so high, most of those plans are not even worth the trouble.
Luckily, 000webhost gives you plenty of resources to create a beautiful website. The free plan includes 300 MB of data and 3 GB of bandwidth. You won't be able to include high-resolution video on your site or implement a ton of resource-heavy animations. But, you can still create an attractive website that meets the standards of modern web users.
User Friendliness
Managing your site is very easy with 000webhost. The company makes things as simple as possible to help you take full advantage of the platform. The company utilizes its own proprietary control panel. This can be a bit of a turnoff for established webmasters. Currently, cPanel is not available to use.
Fortunately, the control panel this provider uses isn't too complicated. It's basically a streamlined version of cPanel. You can still perform many of the same functions, such as manage your domain, change FTP access, and more.
Flexibility
We're happy to say that 000webhost doesn't limit what you can and can't do with your free site. Because it supports PHP and MySQL databases, you're free to use your favorite content management system. You can install WordPress, Joomla, Drupal, and more.
000webhost takes things a step further by making it easy for you to install your favorite scripts, content management systems, and plug-ins. A user-friendly one-click auto-installer lets you implement over 50 different scripts onto your site. There's no need to dig into the technical weeds or customize the scripts to your sites. Just press a few buttons and you're good to go.
WordPress Compatibility
One of the best ways to take advantage of the free service is to use WordPress. WordPress is the most popular content management system in the world. It's open-sourced, allowing you to create a custom site that stands out.
The free plan is fully compatible with WordPress. Not only can you install it in a few clicks, but you can use all of your favorite plug-ins or widgets to make your site your own. You can even download a premade theme to get your site looking presentable in minutes.
The only limitations you may encounter is disk space. WordPress can take up a lot of space once you start adding pages and posts to your site, so keep that in mind when you're building. Some plugins and widgets may not work with the platform due to size space limitations.
Available Security Features
000webhost does have some built-in security features, but they are limited. You can take advantage of the firewalls that are built into the server side. All accounts also come with DDoS attack protection to keep your site running smoothly.
However, there isn't much in terms of malware protection. Furthermore, the provider does not offer SSL certificates. This could be problematic for some sites. Many modern browsers alert web users if a site does not have that important security features. Plus, it opens up a world of risk for sites that are sharing sensitive information.
Say, for example, that you want to launch an e-commerce site. With no SSL certificate, the connection between the host server and client device will be completely open. This could expose you and your customers to potential privacy and security threats.
Website Builder
If you're launching a new website, you can use the included website builder. The free website builder is powered by Zyro. It's easy to use and comes with a lot of cool functionality.
For one, you don't have to know any coding whatsoever to create a visually stunning site. Some basic CCS experience can help you take full advantage of the tool, but it's not necessary.
Zyro has a ton of free templates for you to choose from. Once you find one you like, you can customize small details to get things just right. You don't even need to upload your own photos. Zyro has over a million high-quality images that you can use to make your site pop.

The unique thing about the free website builder is that it has some artificial technology built in. The tool can automatically create copy and perform some design tasks based on the decisions you've already made.
It's a surprisingly powerful site builder with tons of unique features you can play around with. Considering that the tool is free to use, it's a nice little perk that makes the free account very attractive It can help you get your site published in no time.
Extra Tools and Features
Whether you're planning on using 000webhost for WordPress hosting or want to create a custom web page from the ground up, you're going to need various tools to make it happen.
Aside from the free website builder, 000webhosting is pretty limited in terms of extra features. While the service itself is great for free users looking to save on upfront hosting costs, you may find yourself needing to pay for other services just to make your site the way you want.
One of the most notable absences of the free web hosting plan is domain registration. 000webhost doesn't act like a registrar like other providers. Thus, you're not able to get a free domain name. Instead, you'll get a free subdomain. It will have the ".000webhost.com" extension, which doesn't offer the most professional look to your site.
If you do have a domain or want to register one with a third-party company, you do have the ability to link it to your 000webhost account. Of course, this process will cost you more than just using the free subdomain, so keep that in mind. Check out our guide to the best domain registrars.
000webhost also lacks any real backup feature. If the servers experience a catastrophic failure, your site will be lost forever. For this reason, we recommend keeping local backups of your site for good measure.
Customer Support
Despite the fact that 000webhost doesn't cost you a dime to use, the company still provides some decent support. It's not going to be as superb as what you'll get with Hostinger. There's no integrated live support chat function to connect you to support specialists in real-time. However, there are some other ways to get help.
A sizable knowledge base on the site allows you to find solutions on your own. It has answers to many FAQs. There are also some how-to guides and a handy search function.
If that doesn't work, you can always contact the customer support team through email. The team is available around the clock and will respond to most queries within 24 hours.
We also appreciate the inclusion of a customer forum. The forums are a place where users can ask questions and get help from the community. A convenient search function on the forum pages allows you to find pertinent topics quickly. Or, you can always create a brand-new post to ask your questions. Moderators are pretty active on the forum and will provide answers alongside the community to help you get answers fast.
What Can You Do With a Free Hosting Plan at 000webhost
So what exactly can you do with a free hosting service? If you choose 000webhost, you can do a lot more than you think. While there aren't as many resources thrown in for free users, the provider does not limit you in any way in terms of content.
You can create personal blogs or use the flexibility of WordPress to create a modest e-commerce store. Whatever the case may be, the amount of disk space you get is enough to create a relatively small website. It's enough to create multiple posts, host moderately-sized projects, or provide information. 000webhost is quite popular among small businesses looking to create a basic site with contact information.
Free hosting has a bit of a bad rep for being useless. While that may apply to some other providers, 000webhost is not one of them. You're getting a decent amount of resources that you can do whatever you want with. Plus, whenever you've outgrown the limitations of the free site, you can always upgrade to Hostinger to expand the possibilities of your digital space even more.
000webhost Free and Premium Plan Details
As we mentioned earlier, 000webhost only provides a single free hosting solution. The company does advertise premium plans, but they are with Hostinger rather than 000webhost. To show you how cost-effective it is to eventually upgrade, we will provide a bit of information about those plans, too.
Paid plans come with a lot more features than the free options. Not only are you getting more resources, but the technology used is improved as well. The premium solutions are just like traditional shared hosting plans. So, you get the flexibility that comes with them. Plus, 000webhost takes your needs a bit more seriously, offering 24-hour live chat and more ways to reach a real person for assistance.
Free Plan
With the free plan, you're getting 300 MB of disk space and 3 GB bandwidth. It comes with a free 000webhost subdomain and access to the WordPress site builder as well. The plan is ad-free, which is a rare perk.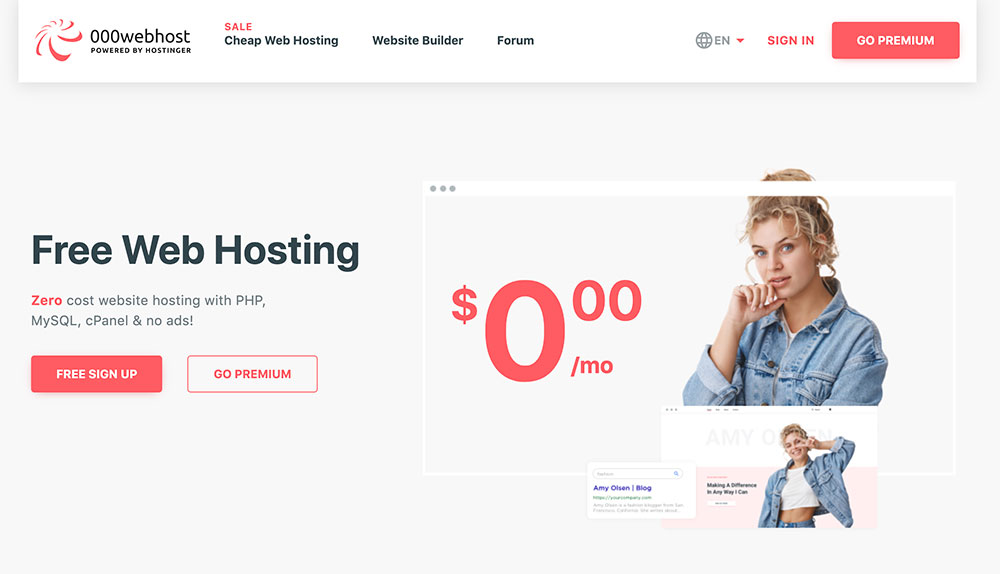 You can sign up in minutes using your social media credentials. You may also have to provide some payment information. Though, you're not charged unless you purchase a paid feature.
Price:
$0.00 per month with no hidden fees.
Single Shared Hosting
The Single Shared Hosting Plan, which is powered by Hostinger, allows you to create a single website with 100 GB of bandwidth. You can also create one email account. There are no hard storage limitations to worry about.
Price: $0.79 per month with promotion
$9.99 per month thereafter
Premium Shared Hosting
If you want unlimited resources, you can bump up to the Premium Shared Hosting plan. You get to create as many websites as you want with unlimited storage and bandwidth. This plan comes with twice the processing power, which can improve connection speeds and overall performance.
Price: $2.31 per month with promotion
$10.99 per month thereafter
Business Shared Hosting
Finally, there's the Business Shared Hosting Plan. It comes with all of the same features as the previous plan. However, it also includes a free domain name, free daily backups, and 4 times the processing power.
Price: $3.19 per month with promotion
$15.99 per month thereafter
Should You Give 000webhost A Shot
If you have no budget for hosting, then its a great host. If you do have budget, then do yourself a favour and buy hosting from Bluehost.
You'll get a free domain, email and a higher quality of service and product for near enough the same price.
000webhost if a pretty decent provider with a lot to offer. It's powered by the equipment and technology that Hostinger uses, so you know it can serve you well.
The thing that sets 000webhost apart from others on the market is that it's completely free to use, which is an attraction to everyone. Anyone can sign up and start creating a fun digital space for their audience to explore.
But being free means there's limitations to the service you'll get. Downtime is an issue and expect your site to be down for up to 1 hour per day.
On paper, the features and capabilities of 000webhost can't be compared to some other big-name providers. There aren't a ton of security features or innovative performance specs. However, when you consider that you're not paying a single penny to use the platform, 000webhost becomes a very impressive provider worth your attention.
The bottom line is that the provider offers way more than other free companies. Most free providers don't go to the lengths that 000webhost does to give you consistent and powerful performance. It's certainly worth giving a try. While it may not serve your needs for too long, the hosting platform is a great way to get started and learn the ways of web hosting.