Many Magento store owners face a peculiar challenge when it comes to choosing the best Magento hosting service.
The fact is Magento is built with a complex architecture and it's not easy for those who aren't tech-savvy at all. Therefore, many online store owners prefer hiring Magento developers which is quite acceptable, but they also will need to hire system administrators to look after server-side issues.
In today's age where managed hosting platforms have emerged, hiring sys-admins is a liability, rather than an asset. Even though I was in a similar situation for almost a year and a really lucky one to find a managed hosting partner for my websites – Cloudways :)
So, in this blog, I will review the Cloudways platform and how ThunderStack supports my Magento store performance along with the delightful support.
Challenges I Found with other Hosting Solutions
Most of the common challenges that Magento store owners face in the context of the hosting solution include:
Slow Performance
Generally, the web page takes more than 3 seconds to load. According to Google, a website takes more than 3 seconds to load a page is a SLOW website. Many online store owners tend to lose their customers, due to the website's slow performance.
No Scalability
When you are having a low-cost hosting server (cPanel), the server resources cannot be scaled. If the web store gets more traffic – which usually happens during the holiday season – the website goes offline and users have to face the 504 Gateway Timeout. The only way to get it back up is to interact with the support team to assist in resolving the problem.
Server Management Hassles
The worst part: Store owners have to update their applications and servers, all by themselves. If they don't have the required server knowledge, then they have to hire a team that costs a lot of money to manage the servers. Instead, this money could be invested in other parts of the business to get more revenue.
Types of Website Hosting Solutions
Let's check out different server hosting solutions available to Magento store owners.
Shared Hosting
Shared hosting is suitable for static websites. With this type of web hosting you only get limited bandwidth and storage option. One of the major disadvantages of shared hosting relates to server scalability. You cannot scale your server because there are other users already sharing the resources and space along with you, thereby nullifying any chances of server scalability.
With shared hosting, you have to compromise on server performance and bandwidth available to you.
Dedicated Hosting
Dedicated hosting plans are ideal for those websites that engage with the large number of traffic. The users get the full access of the server which allows them to configure server operations as per their store requirements.
The major disadvantage with dedicated hosting is that you have to start with a completely scratch server that you set up according to your store requirements. In the end, you will end up spending a lot of time managing your dedicated server. Regardless of the above facts, you enjoy dedicated resources (RAM, CPU, Storage, and Bandwidth).
VPS
A VPS is a virtual private server that is more or less similar to a dedicated hosting server. It allows you to scale your server resources, but the cost of the process is still high enough to bear for many web store owners. With a VPS, you still have to manage all of the server-related operations.
Managed Cloud Hosting
The managed cloud hosting server comes with a layer of server management delivered through a browser-based platform. You own the cloud server, but you don't have to manage it. The cost is almost the same as a cloud server, but here you have peace of mind and are free to run your online store.
Introducing Cloudways: A Managed Cloud Hosting Service
Cloudways is a managed hosting service that offers Magento managed cloud servers on top cloud hosting providers DigitalOcean, Vultr, Linode, AWS and GCE. The users are allowed to launch an unlimited number of stores on their cloud servers and scale them on the go.
Cloudways Hosting Features
Cloudways offers many user-friendly features that ensure an amazing Magento hosting experience, sustained performance – for online store owners – without any ambiguities. Let's check out some important features of Cloudways Hosting Platform:
Free Migration: Moving to Cloudways is quite easy. You can migrate your Magento website in just a few clicks. The rest will be on the support team. Note: Cloudways will migrate one of your Magento websites for free.
CloudwaysCDN: If your users land at your website with a diversified background from different countries and you're worried about the slow page load time. Don't worry though! Because Cloudways offers a built-in CDN that helps to improve the website speed while covering the different users from different parts of the world. You can avail of this add-on at any time you want.
Auto-Heal: All Cloudways managed servers come with an auto-healing feature which helps reduce site crashes in user browsers. With Cloudways, you don't have to worry about the Magento store crashing because of most of the server related issues resolved via this feature.
Free Let's Encrypt SSL Certificate: Secure your Magento store with a free Let's Encrypt SSL certificate and secure end-to-end communication on your online store. It helps in building the visitor's trust and improve the bounce rate of the landing page of the store.
Advanced Security Features: Cloudways offers two-factor authentication to secure your account from unwanted access. An IP Whitelisting feature – the secure way to access your server via SSH and SFTP. It allows you to create lists of trusted IP addresses, IP ranges so that you can limit and control access only to trusted users. Along with a dedicated firewall and many other security features to add extra layers of security.
Cloudways ThunderStack: Cloudways engineering team has built its own stack which is a unique combination of server and cache technologies that ensure the continued high performance of the Magento store. Cloudways ThunderStack is powered by Nginx and Apache that are backed by the latest PHP version, Memcached, Varnish and Redis that brings the lethal combination and lightning-fast Magento hosting.
1-Click App Deployment: Users can quickly deploy 10+ applications of their choice on their Cloudways managed servers in a few clicks.
Launching Your First Server On Cloudways
To launch a server on Cloudways Platform, you must create an account on the Cloudways managed Magento hosting platform.
Once you are on the Cloudways dashboard, you will see a screen shown below. Click 'Launch' to launch your first server.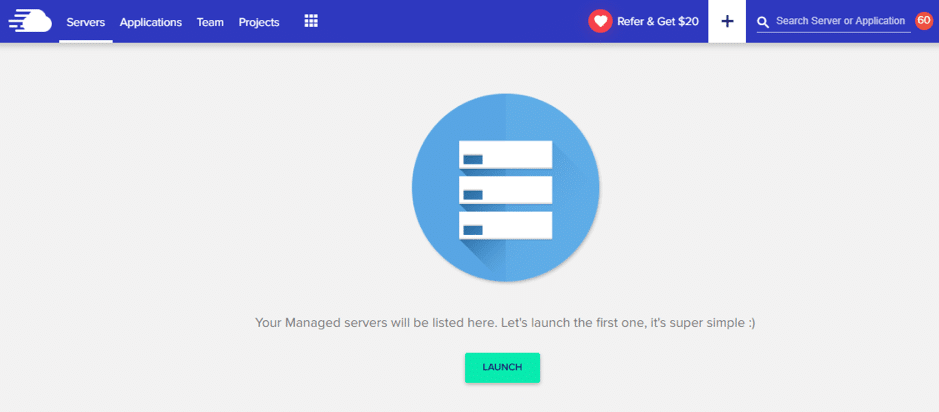 Add a relevant name for your Magento Application, Server, and Project.

Select any one of the five cloud infrastructure-as-a-service (IaaS) providers of your choice, including DigitalOcean, Vultr, Linode, Google Cloud, and AWS.


Once you have selected an IaaS provider, select the server size as per your Magento store requirements. If you aren't sure about server size, contact the Cloudways Support Team to assist you in this regard.

I have selected a DigitalOcean cloud server. DigitalOcean offers servers with bandwidth ranging from 1 GB to 192 GB. If you select, an AWS or GCP server, you can separately choose server size, bandwidth, storage capacity, and database size, etc.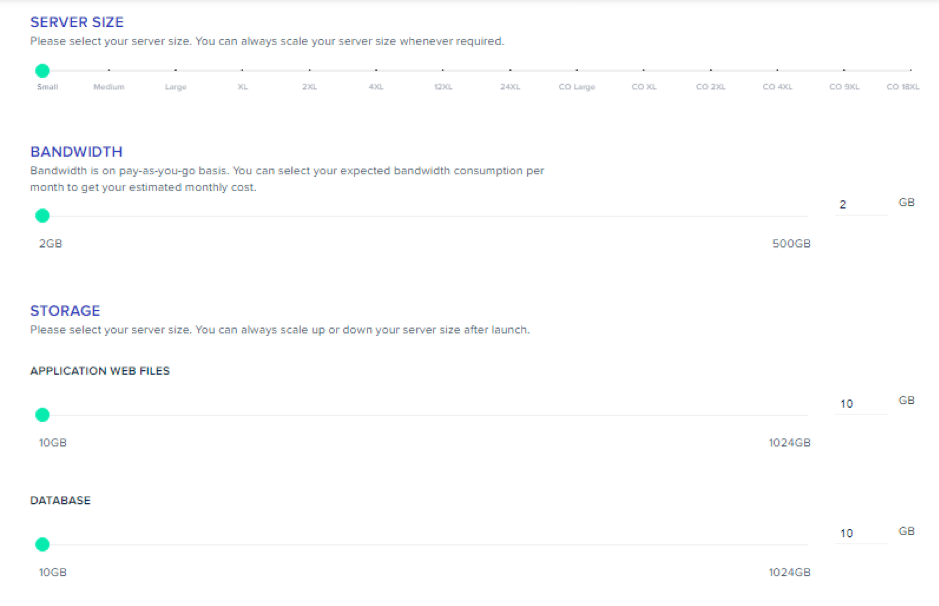 Now, you must select the location where you want to host your cloud server. You must select the location that is nearest to your home country or from where you get the largest number of your customers. The nearer your server is to your customers, the faster your site performance will be.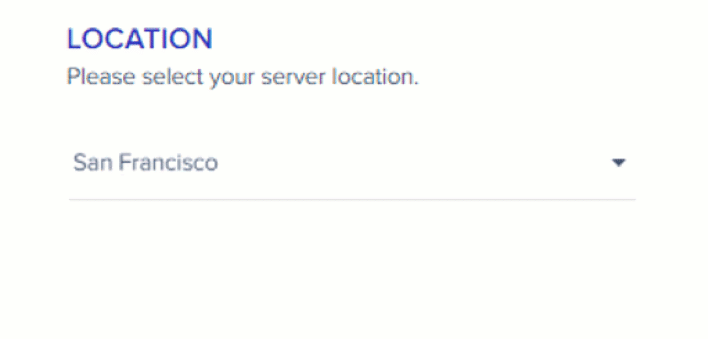 Hit 'Launch Now' and wait for a while as the server is set up.

Once the server is ready, you can use your Magento website and run your online store smoothly.
It's Your Call!
Launching your managed Magento server store with Cloudways is quite easy. It just takes a few minutes to launch your server (depending on the speed of your internet).
You don't have to worry about managing your ecommerce server. Just select an app, select the server parameters, and you are good to go! Moreover, you get many user-friendly features like Deployment via Git, dedicated firewall, staging area and much more. in-case if you have custom requirements to set up your Magento store you can hire Certified Magento 2 Developers.

Get a 3-day free trial on DigitalOcean, Linode, and Vultr to test Cloudways Magento servers and migrate your first Magento website for Free!