Simbla Review Scores
Here's how we scored Simbla's web builder.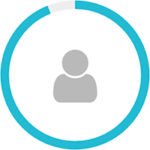 Intuitive interface, easy to use and a powerful web builder.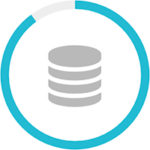 Large variety of exceptionally designed themes.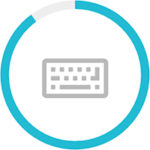 Simbla has loads of awesome features that set them apart from the rest of the competition, but lack eCommerce capabilities.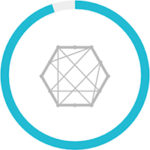 Excellent support. We did a few tests and response time from Simbla was very fast indeed.
What is Simbla?

It was created in 2013, and since then, Simbla has grown into a popular resource for website builders, and it offers several unique capabilities. When compared to some of the bigger website builders, Simbla is still quite small, but due to its long list of features, it's growing quickly and capturing new users.
[unordered_list style='circle' number_type='circle_number' animate='no' font_weight="]
Founded in 2013
Based in Israel
User numbers: 100,000 registered users
Founded by Ilan Zrien & Shlomi Stein
If you're looking for a drag-and-drop website builder, Simbla could be what you've been searching for. One of the major advantages of this type of website builder is the simplicity, and it's designed to make website building easy for the average person who has limited experience in building websites.
The drag-and-drop interface allows for the creation of beautiful websites, and Simbla is engineered for small to medium businesses. Simbla serves as an all-in-one website builder, and it allows users to manage a cloud-based database.
What Makes Simbla Different?
One of the reasons why Simbla is different is because it emphasizes SEO. The reality is that most website builders don't do very good with search engine optimization, and Simbla is designed to make SEO easier to understand and implement.
Another major advantage of using this website builder is Bootstrap 3 technology, which makes it easier to build responsive websites. However, not everything about Simbla is magical, and many users would like to see some eCommerce features added to the builder.
Advantages & Reasons to Choose Simbla
If you're thinking about using this website builder, you should know why other users like it. A major selling point for Simbla is the drag-and-drop functionality, which makes the process of building a website simple and easy.
Another reason why Simbla is popular is because it provides a unique database and offers many features for web application building. Unlike some competing website builders, Simbla is very SEO friendly, and it helps users get ranked in the top search engines.
A great reason to choose Simbla is because it creates websites that are mobile responsive, which is extremely important. Today, desktop computers are being replaced by mobile phones, and most people access websites with their mobile device.
Websites that aren't optimized for mobile will have a hard time attracting users, and if a website doesn't get any traffic, it's almost pointless. After you sign up, Simbla offers a helpful guide and features a friendly onboarding process, which will get you started with the builder.
A major advantage of using Simbla is the lack of required coding experience, and you can build your own website with zero knowledge of complex coding. Some other reasons to choose Simbla are the great blogging system and Bootstrap 3 technology, which are great features for new users.
What Are Some of The Downsides to Simbla?
Simbla is a great web builder, but like most web builders, it's not perfect.  One of the major downsides is the lack of eCommerce capabilities.
For users who're trying to sell online, the lack of eCommerce functionality is a reason to consider a different website builder. Another downside is the incomplete app market, which is lacking many essential features.
Many users don't like that Simbla plans must be billed annually, and many users view this as an upfront investment that is too large. Another problem with Simbla is that it doesn't accept credit cards, and users can only pay with PayPal.
I know that eCommerce is high on Simbla's priorities, so watch this space.
Plans and Features
If you decide to use Simbla, you can choose from four premium plans. There is also a free plan, but it's a branded version of the premium plans. The four premium plans are Starter, Basic, Advanced and Pro, and these plans are billed annually.
For many users, the required annual billing is not desirable because it's a significant upfront investment. Unlike many other website builders, Simbla offers a free plan, which is free for life. If you decide to try the free plan, you can get a 60-day trial for premium features.
The Starter plan is the cheapest, and it costs $72 per year. At $576 per year, the Pro plan is significantly more expensive, and it's the highest plan available. When looking at the pricing, you'll notice the different plans are quoted at a monthly price, but the billing system will charge your payment method for the upfront cost of an entire year.
Although many users would consider these prices to be quite high, Simbla is known to offer deep discounts, and with the right timing, you might be able to score 75 percent off some of their plans.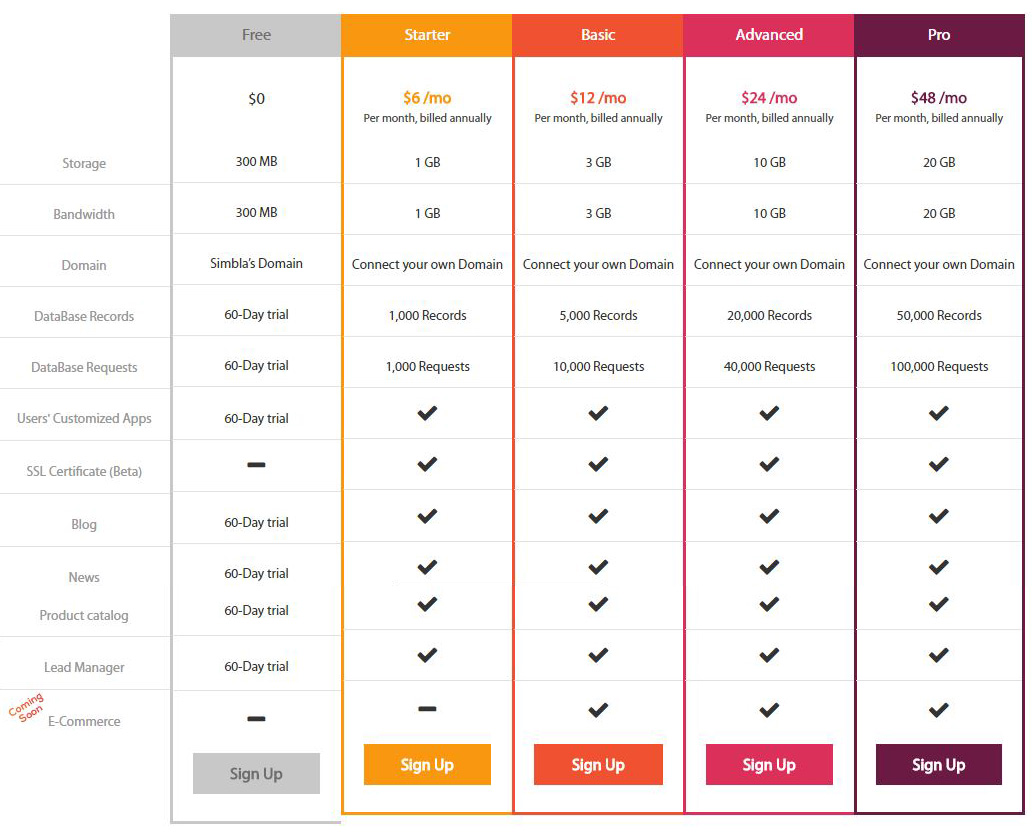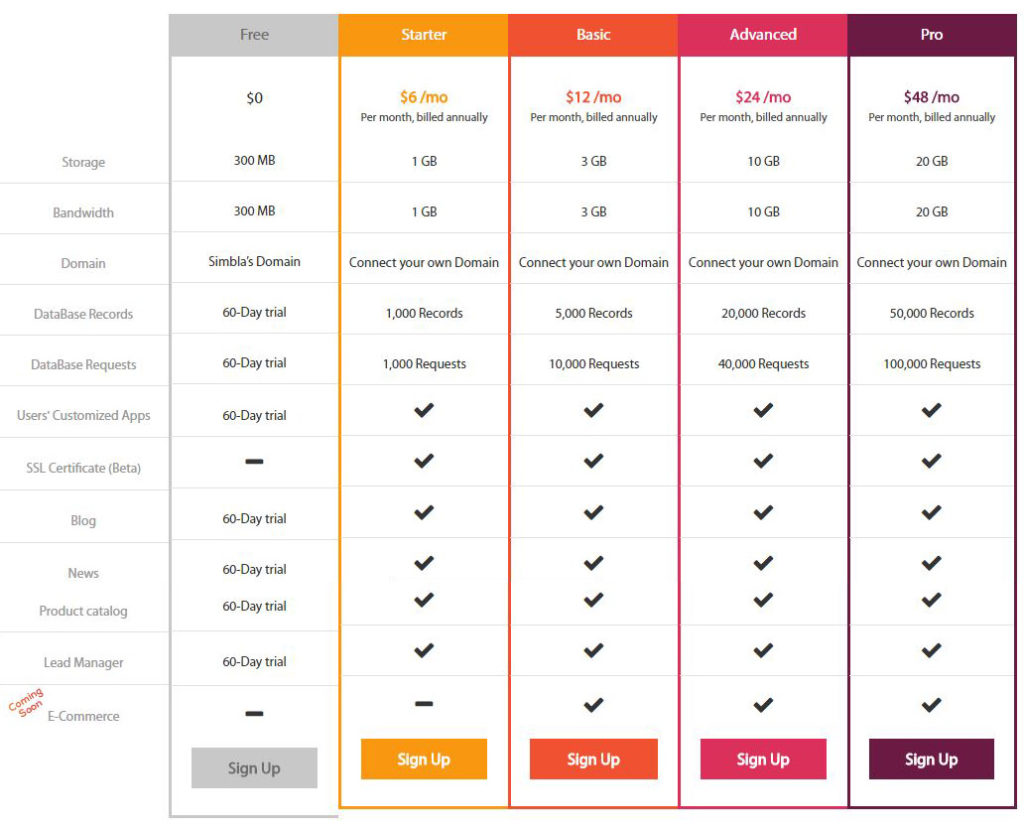 Starter
The Starter plan comes with 1GB of bandwidth and storage, and it allows you to connect your own domain. This plan offers 1,000 database requests and records, and it also comes with a variety of premium features.
Some of these benefits are SSL, product catalog app, news app, blog app and customized app. If you don't need a lot of bandwidth or storage and want access to advanced features, the Starter plan might be the best choice for you.
Basic
With the Basic plan, you get everything you'd get from the Starter plan, but it comes with several additional features. The bandwidth and storage for the Basic plan is 3GB, and you get 5,000 database records. The Basic plan offers 10,000 database requests, and it's recommended for new customers.
Advanced
The Advanced plan offers everything that you'd get from the Starter and Basic options, but it comes with more database requests, bandwidth, database records and storage. The Advanced plan will give you 10GB of storage, 20,000 records and 40,000 database requests.
Pro
The Pro plan is the most expensive, and it offers 20Gb of bandwidth and storage. This plan will give you 50,000 database records, and you'll get 100,000 database requests.
The problem that many users have with the advanced plan is the storage and limitations because many other website builders are unlimited at this price range. If you don't need a huge database, then the cost of this plan might be difficult to justify.
Managing Your Account
Once you sign up with Simbla, you'll gain access to three different products. These tools are the database builder, application builder and website builder.
After you sign into your Simbla account, you'll see the three main products visible within the dashboard, and you can quickly switch between the three main products.


Website Builder
The website builder is straightforward and easy to use, and when you create your account, it will ask you if you want to choose a template or use the website's wizard.
If you're totally new to Simbla, then you might want to consider using the website wizard, which will guide you through most of the features.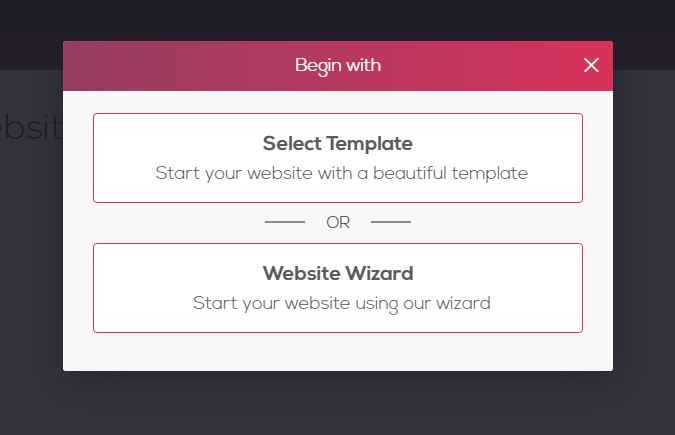 However, if you're a fast learner and want to start building your website, then you should select a template and get started.
The website builder is very easy to use because it features a drag-and-drop interface. With a few clicks, you can customize the layout of your website, change the text or add your own background. Even if you choose a template, you can still customize several aspects of the website.

Above is the web builder user interface. As you can see, it's very intuitive and user friendly and gives the user the ability to access and edit various parts of their web pages via the secondary navigation bar. There's pre made page templates which allow you to easily apply different page structures to your site.
Application Builder
The second main product is the application builder, and it allows you to add available applications and customize your website. If you can't find the right applications for your website, Simbla will allow you to build your own.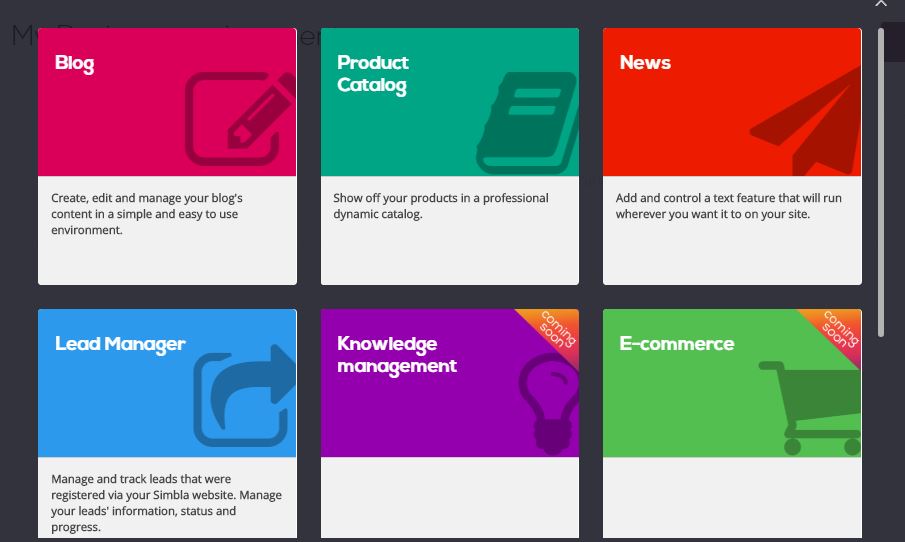 The main apps that you can choose from are the Product Catalogue, News, Lead Manager and Blog, but you can expect more apps to be added at a later date. Simbla is planning to add Site Analytics, Knowledge Management and eCommerce apps in the near future, so worth keeping a look out for these new additions.
Database Builder
The third major product that Simbla gives you access to is the database builder, and since the database is cloud based, it requires no knowledge of coding to set up.
The database builder is perfect for creating web apps, and you can use it to connect your website to content. The process for creating your own database is very easy and consists of clicking a single button.
Once you've decided to create a database, you can easily manage all of the different features, and you can set permissions, edit users and add tables to the database.
The Disadvantages of Simbla
It wouldn't be fair to mention all of the benefits and ignore the downsides. Although Simbla is an impressive platform, it lacks a couple of desirable features, and one of the disadvantages of choosing this service is the lack of monthly billing.
Simbla advertises their plans with monthly pricing, but they charge for the entire annual cost of the plan upfront. Since the highest plan can cost nearly $576 per year, some people might want a Pro package but can't afford to pay all of the money upfront.
For many potential customers, the lack of monthly billing is a huge turnoff. Most other website builders offer their plans as monthly subscriptions, which is why it doesn't make much sense for Simbla to avoid this option.
This can be bad for many users because they might not see the fine print and end up getting billed for an entire year of service. Another downside of choosing Simbla is the incomplete app market, which only offers a few useful apps. The market doesn't include many apps that are essential for business owners.
Main Highlights and Features of Simbla
If you're thinking about going with Simbla, you should consider the main highlights and features. When it comes to website building systems, Simbla is a pioneer, and they offer many great features. One of the major advantage of using Simbla is the built-in responsiveness.
Mobile devices are rapidly overtaking desktop computers, and today, most people browse the Internet with their smartphone. If people aren't using their phones to browse your website, there is a good chance they're using other small devices, and a website that isn't mobile responsive is almost useless.
Business owners cannot overlook the importance of having a responsive website, and since Simbla is equipped with Bootstrap 3, it automatically makes your website mobile friendly.
By automatically adjusting your website for the device it's being viewed with, Simbla makes it easy for mobile users to view your website. Two other major features that Simbla offers are the application and database builder, and you'll find that most competitors don't offer these important products.
With the database builder, you can easily manage a cloud-based database, and you don't need complex coding skills. The web application builder allows you to create useful web applications, and you can use it to completely customize your website.
If you're an advanced web designer or developer, you should really enjoy this feature. Another major advantage of choosing Simbla is the included SEO friendliness.
Unfortunately, search engine optimization is one of the areas where most website builders fail, and since Simbla places a strong emphasis on solid SEO, it's a step ahead of many competitors.
Websites created with Simbla are based on HTML5, which displays your website in a way that makes it easy for search engines to analyze.
Unlike many competing website builders, Simbla offers several advanced SEO tools. Some of the best tools allow you to customize metadata, 301 references, friendly URLs and site maps.
Conclusion
Do we recommend Simbla? Yes! 100%
Before choosing Simbla, you should know that all website builders come with strengths and weaknesses, and to decide if Simbla is right for you, it's important to consider the services, pricing and features.
Many customers prefer this website builder because it doesn't need web hosting, and to keep your information safe, it uses the latest security technology.
At the end of the day, Simbla isn't the best choice for everyone, but if you're looking for a website builder that is SEO friendly, responsive and easy to use, then Simbla should be top of your shortlist for web builders.
[button size="medium" icon="fa-arrow-circle-o-right" target="_blank" hover_type="default" text="GO TO SIMBLA" color="#ffffff" background_color="#1796d1″ hover_background_color="#66d617″ border_color="#ffffff" icon_color="#ffffff" link="https://makeawebsitehub.com/go/simbla2″]