Webflow Review 2023 – Building Websites Easier And Faster
Written by Jamie Spencer – Updated March 17, 2023
You don't need to have a ton of coding knowledge to create amazing websites these days. While most webmasters, small business owners, and Internet entrepreneurs are familiar with traditional content management systems like WordPress, Drupal, or Joomla, newer website builders are starting to gain a lot of traction.
One website builder that's been making a huge splash in the web development scene in recent years is Webflow.
Launched back in 2013, Webflow is catered to those who want to create contemporary websites without doing a single line of code. While the service may sound familiar to that of competitors like Wix, Squarespace, and Weebly, Webflow manages to provide a unique twist.
Webflow isn't just a website designer. It's a complex online toolkit that allows you to create, publish, and manage your site from one single place. Often dubbed a "hybrid" service by those in the industry, Webflow strives to be your one-stop-shop for all your Internet publishing needs and is very good Wix alternative.
To see if this service is right for you, check out our Webflow review below. Because the company operates very differently to some other website services out there, we're going to take a look at each individual category to see what Webflow has to offer.
Webflow Review – A Detailed Overview On This Powerful Website Builder
Webflow Services
There are a lot of features and services offered by Webflow. If you're not familiar with what it takes to publish a site, the company's pricing structure can be a bit confusing. The best way to look at what Webflow has to offer is to separate the features into three distinct categories. These include website design, CMS, and Hosting.
The Webflow Website Builder
The most impressive thing that Webflow has to offer is the website builder. It's designed to provide you with ultimate flexibility. Webflow's entire building model is about taking advantage of the power of HTML, CSS, and JavaScript without having to do the coding yourself.
The website builder uses a drag-and-drop interface. However, it's not like other systems you might have used. It's much more complex and feature-rich. While this does create a steep learning curve, it provides great versatility once you get the hang of things.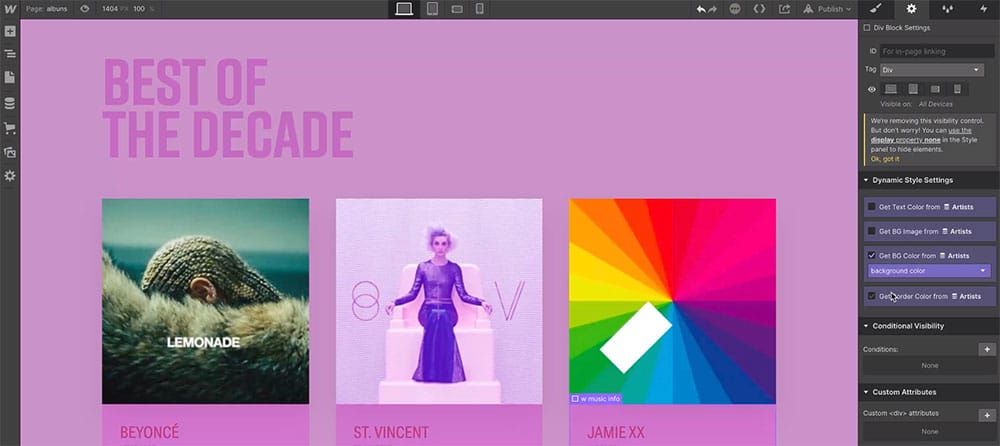 When you launch the builder, you'll notice that it looks a lot like Photoshop or other professional graphics software. There are several tools on the sidebar to use and a large preview window. This preview area is where you're going to be doing most of your design work.
Webflow uses a unique "Box Model" approach when it comes to site creation. Essentially, you can add, move, and edit individual elements. Webflow puts the elements in a box, allowing you to adjust them as if they were physical items. On the CMS front, there are plenty of great design tools to fully customize your site. These include precision typography tools, a simple coloring system, and even a "Classes" function to make sweeping changes across the entire web page.
The cool thing about Webflow's website builder is that HTML and CSS coding is done automatically. You don't have to do a thing. Of course, Webflow does give you the opportunity to manipulate the code yourself if you're comfortable doing so. But, markups generated instantly if you choose to work in the graphical interface.
With that said, Webflow does not pretend that coding doesn't exist. With a lot of other drag-and-drop website builders, you can create sites without even having to think about the fact that there's coding being done on the backend. Obviously, no website builder is going to be able to create every design element your mind thinks up. If that were the case, there would be no need for coding at all.
Webflow never lets you forget that coding is necessary to create your site. You have to work within the parameters of what HTML, CSS, and JavaScript are capable of. While you don't need a ton of coding experience to make the most out of the website builder, you could benefit from some basic knowledge.
Available Templates
Webflow gives you many options on how you want to start your site. If you already have some coding know-how, you can begin with a blank canvas and let your imagination go wild. Alternatively, you can start out with one of the builder's many templates.
There are over 40 free templates and a large collection of premium templates to choose from. The premium options can cost upwards of $149. However, they're created by professional web developers and offer unique style and performance qualities that can help your site stand out. Many of the premium templates are made by community developers, which is great if you want some truly creative options.
New Website Templates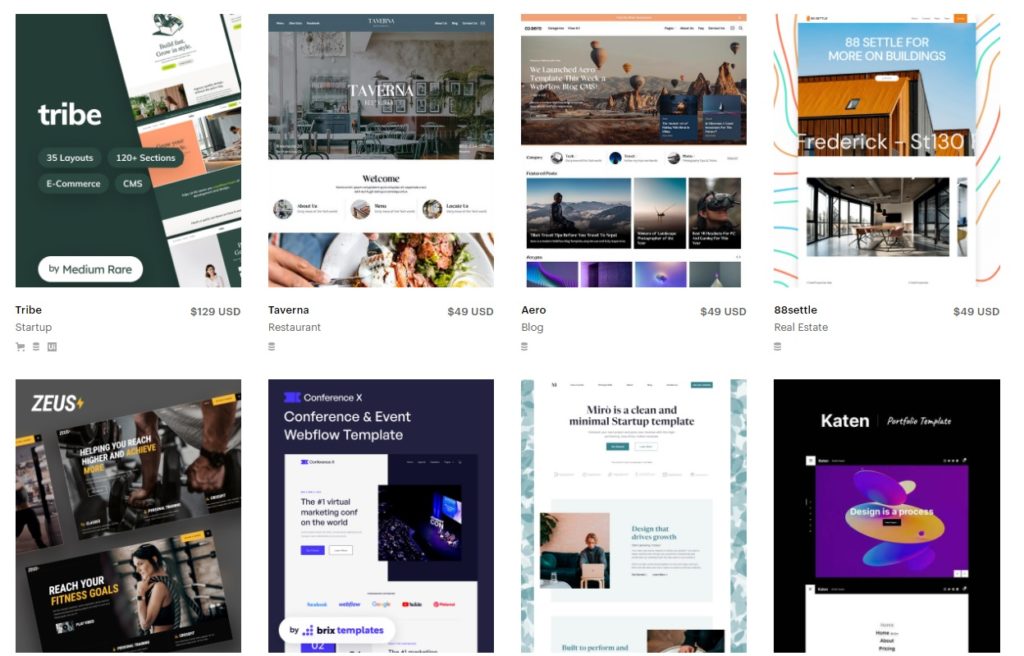 Whether you choose a free or premium template, building your site out is fairly easy. You can modify virtually every element to make the finished product your own.
Webflow also has three wireframes to get you started. Wireframes are a lot like traditional templates in the way that they guide your creative journey. However, they offer much more flexibility because they don't contain any graphical elements. Instead, wireframes are focused on the structure of your site. Currently, Webflow has Startup, Business, and Portfolio wireframes.
Interactions
If you're looking to create a modern and interactive site, Webflow has you covered. The coolest part of the Webflow site website builder is the Interactions section. Basically, it's a JavaScript automation design tool that lets you implement interactive features into your site.
Internet users have a strong response to small interactive elements. Whether it's parallax scrolling or animated menus, those small details can have a big impact on how people view your site. They give off a modern and professional vibe that stands out.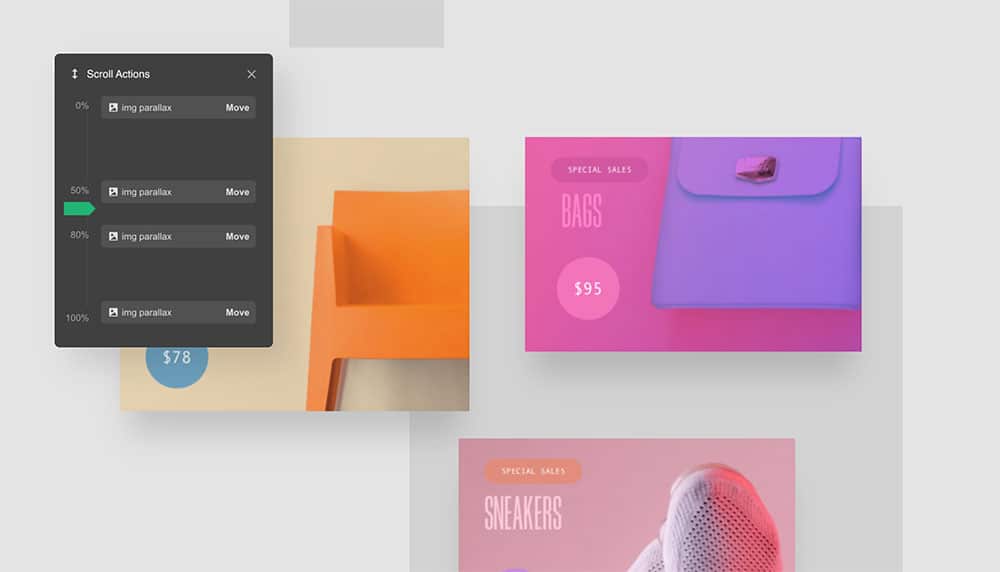 Usually, implementing those elements is a time-consuming process. With Webflow, it can be done with a few simple clicks. There are several Interaction elements. They are all triggered based on what people are doing on your site. So, activities like scrolling, clicking, and hovering provide some exciting visual details.
Responsive and Mobile-Friendly
It doesn't matter what kind of digital space you create with Webflow, you can rest easy knowing that it'll look great on most devices. The website builder is designed to create responsive websites that automatically adapt to the user's needs. The coding is all mobile-friendly. Thus, your visitors will have the same experience whether they're accessing your site on a smartphone, tablet, or desktop.
Sites that feel clunky and unresponsive often have coding issues. The problem with other website builders and content management systems is that they rely too much on separate plugins and custom scripts. With Webflow, all of those complex codes are generated automatically in a single environment. There are fewer systems to communicate with. As a result, the front-end runs smoothly.
Webflow Content Management System
In addition to taking care of all your web design needs, Webflow can manage your content efficiently. The Webflow CMS gives you all the tools you need to import content, create new pages, and manage features from one place. It rivals big-name CMS systems like WordPress and Drupal. This is because Webflow is purpose-built to work for designers, developers, and webmasters
Simple Control Panel
When it comes to ease of use, the Webflow CMS is a breeze to adopt. While it doesn't use cPanel or any other platform that experienced webmasters may be used to, the management system is very user-friendly. The great thing about it is that you don't have to mess with database management features or separate pieces of software. It's all graphically powered, making it easy for you to find and edit the content you're looking for.
Webflow also has a unique "Collections"å feature. With it, you can define specific types of content or web pages. This makes it easier to edit or add the content across the entire site without having to do a ton of manual work.
No Plugins Necessary
The Webflow Editor, which is part of the content management system, puts a lot of highly efficient publishing tools at your fingertips. Something that we appreciate a lot about the CMS is that you don't have to utilize a ton of extra plugins. With platforms like WordPress, you would need to install and manage plug-ins to create different types of content. Webflow has all of that functionality built in.
You can create and manage static or dynamic content all from one place. Whether you need to create a simple blog post or complex landing pages, the content management system lets you get the job done without having to worry about installing extra plugins.
Live Editing
Another noteworthy perk of the Webflow Editor is that you can publish new pages in an instant and edit the content in real-time. Webflow states that adding a new page is as simple as creating a form. When you take a look at this feature in the Editor, it really does look like a business form. All you have to do is define a few parameters, upload an image, and hit the "Publish" button. Your new page will be created right then and there.
Even after publishing, you can still edit the site's content. The live editing feature allows you to change the page's structure and craft your content while getting a live preview. You don't need to mess with the backend at all or navigate a complicated CMS control panel. Having the ability to see a page come to life as you edit is great. Not only does it speed up your workflow and improve efficiency, but you can see firsthand what your visitors will encounter when they take a look at the page.
SEO Tools
Producing growth and generating traffic is just as important as building your site. With most content management systems, taking care of your site's SEO requires the use of additional plugins or complicated software. Webflow has features built right into the CMS to help you get noticed on Google search engine result pages.
The included SEO tools are very easy to use and understand. You can create meta descriptions, set up Open Graph, and much more right from the page settings. Thanks to the "Collections" feature, you can even define SEO values quickly to get the task done in minutes.
E-Commerce
Webflow's e-commerce platform is a relatively new addition to the company's service offerings. However, it's hit the ground running and has quickly become a worthy contender against big-name competitors like Squarespace. On the website building front, Webflow makes it very easy for you to create and manage your site. There are plenty of great templates to take advantage of. As always, you have full control to make your online store your own.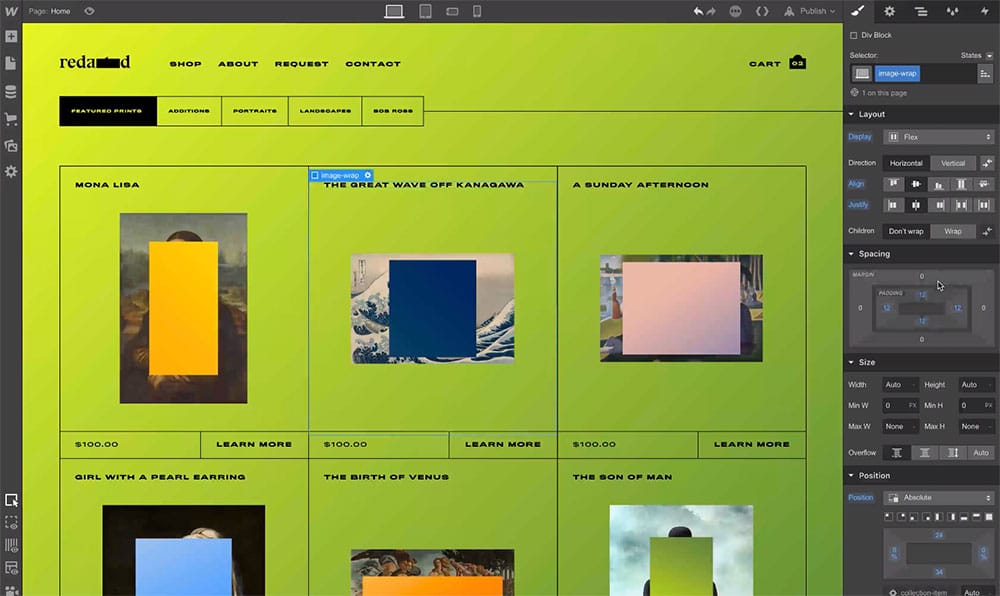 You can create product grids, custom product pages, and so much more. Webflow has custom shopping carts and checkout pages as well. Both of those features can be personalized with everything from unique graphics to fun animations.
If you're worried about the technical side of things, Webflow e-commerce takes care of it all. Currently, the platform accepts credit card, Apple Pay, and Google Pay. The company does have plans to implement PayPal in the future as well. All of the sales tax and VAT fees are calculated automatically for the sake of simplicity.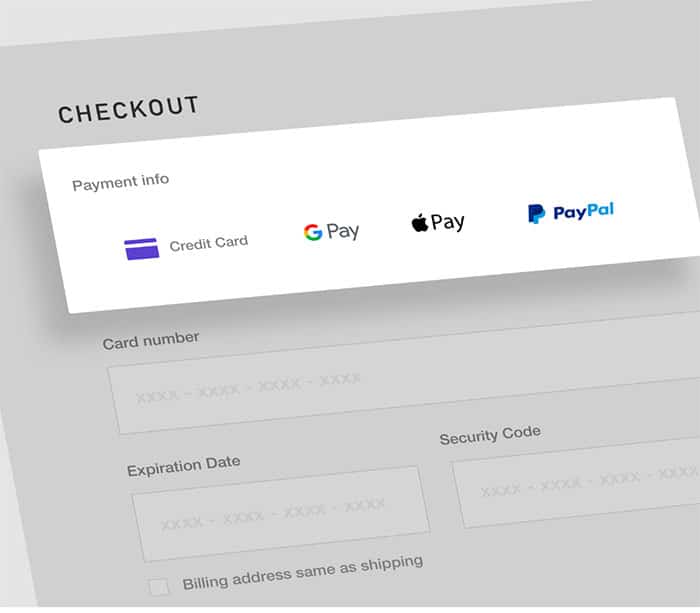 The sales features are all connected to important backend systems as well. Webflow e-commerce includes a robust inventory management system and is compatible with Zapier for increased functionality. With Zapier's apps, you can do everything from generating shipping labels to track the fulfillment process.
While the e-commerce platform is not as full-featured as some other options just yet, it's getting there. The platform is still new. However, Webflow has already primed it to become an adaptable solution that will work for small business owners and larger enterprises.
Webflow Hosting
Once your site is perfect, you can publish it through Webflow's many available hosting plans. Currently, starting the design and building process is completely free. You can even publish your creation for testing purposes without paying a dime. This allows first-time website owners can get a feel for the service and see how their site looks live. Free sites come with limited features and are published with a .io subdomain.
Webflow's true hosting service takes things to the next level. As a hosting provider, Webflow does not disappoint. Not only are there several plans to choose from, but you're getting high-quality service that rivals dedicated web hosting companies.
Good Performance and Reliability
As if Webflow's site builder and CMS weren't enough, the hosting service runs off of some of the best equipment available to provide you with impressive performance. Webflow offers cloud hosting that runs uses the Amazon CloudFront and Fastly networks. These established networks have robust equipment in data centers that are heavily monitored and impeccably maintained. In total, there are over 100 datacenters and server locations around the globe.
Because the hosting plans run on cloud infrastructure, a lot of the issues that come with traditional hosting plans do not exist. You don't have to worry about slow connection speeds or reliability issues. Webflow offers a 99.9 percent uptime rating. All plans are compatible with HTTP/2 and take advantage of a CDN to ensure that speeds are consistent regardless of where your visitors are located as well.
Included Security Features
All hosting plans are secure right off the bat. They come with a free SSL certificate. SSL stands for secured sockets layer. Essentially, this technology works to encrypt the connection between the hosting servers and your visitors' devices. With all of the cybersecurity risks out there, this is a feature that many web users look for. An SSL certificate provides some peace of mind to your audience and lets them know that your site is safe to visit. The hosting plans at Webflow come with this security feature free of charge.
Scalable Solution
Because Webflow uses cloud hosting technology, all of the plans are completely scalable. With standard shared hosting services, you're limited to the capabilities of the server. If you experience a boost of traffic or grow faster than you expected, you're out of luck. At Webflow, you can modify your hosting plan to meet your needs. You can increase your storage allotment, get more bandwidth, and more to ensure that your site is always running smoothly.
What About Customer Support?
Earlier, we mentioned that Webflow's website builder has a steep learning curve. Webflow is unlike any other company on the market. Every aspect of the available services is unique and proprietary. Thus, it will take time for you to get the hang of things. Luckily, Webflow's customer support is there to provide you with assistance.
Webflow has various ways to get help. If you prefer to figure things out for yourself, the self-help resources have you covered. Webflow has one of the most detailed knowledge bases on the market. There are step-by-step guides and video tutorials for pretty much every feature that the website builder, CMS, and hosting service have to offer.
Called Webflow University, the knowledge base is designed to help you make the most out of the various features. Everything is split up by category. This makes it easier to work your way through Webflow University or find specific topics that pertain to your needs. If you want to find informative content quickly, there's also a search bar.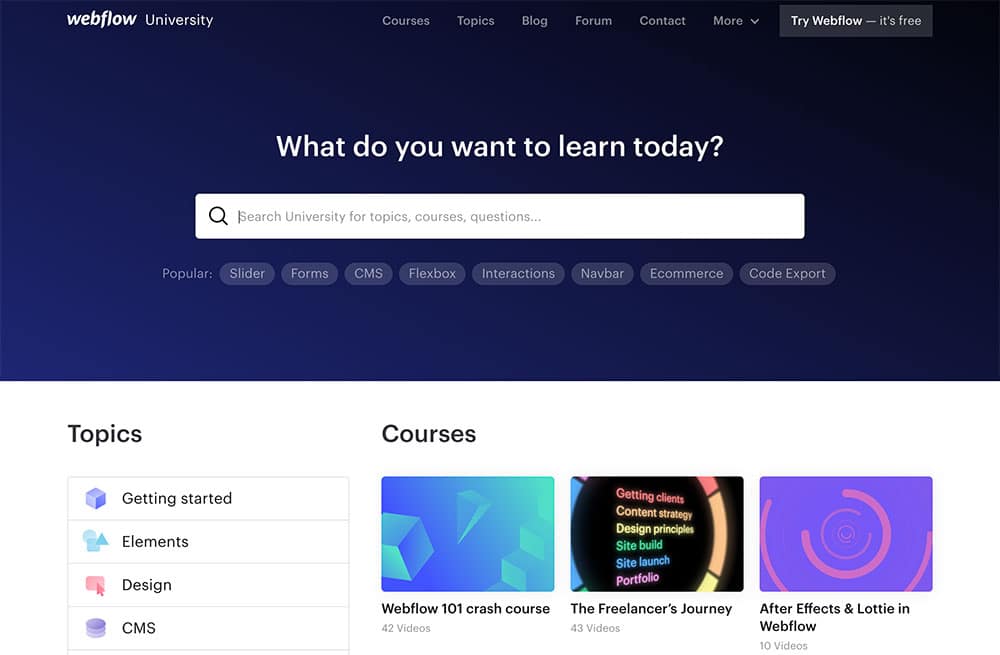 For personalized help, you have a couple of options. First, you can contact customer support directly with a ticket submission. This simple form sends a message to the support specialists directly. The team is available from 6:00 AM to 6:00 PM, Monday through Friday. After you submit a ticket, you can expect a reply 24 to 48 hours later.
Unfortunately, Webflow's personalized support is lacking a bit compared to other companies. There's no live chat function or phone support. Plus, the hours and response time are a bit disappointing. When you consider the fact that other companies offer ways to get in touch with support 24 hours a day, the fact that you have to wait at least 24 hours for a personal response is a letdown.
With that said, you can get help from the community. Webflow has a forum where members are free to ask questions and get assistance. The Webflow community is pretty large and dedicated, so you shouldn't have any issues getting some good advice.
Webflow Pricing Plans
When it comes to pricing and subscription fees, Webflow does things very differently. Remember, Webflow is a "hybrid" toolkit that does the job of many different service providers. Thus, you can expect to pay a bit more than what you would with a standard website builder.
Webflow does have a free plan that allows you to start creating your site. The costs start to come when you decide to publish your site. Webflow offers a wide range of plans. They're separated into two distinct categories. You can choose to be charged based on the number of sites you can go with the more traditional option and pay for your account. Here's some information about Webflow's plans.
Website Plans
With these kinds of plans, you're paying for every website you have. This option is ideal for those who have a clear idea of what kind of project they're creating. It's great for individual blogs, business websites, or e-commerce sites.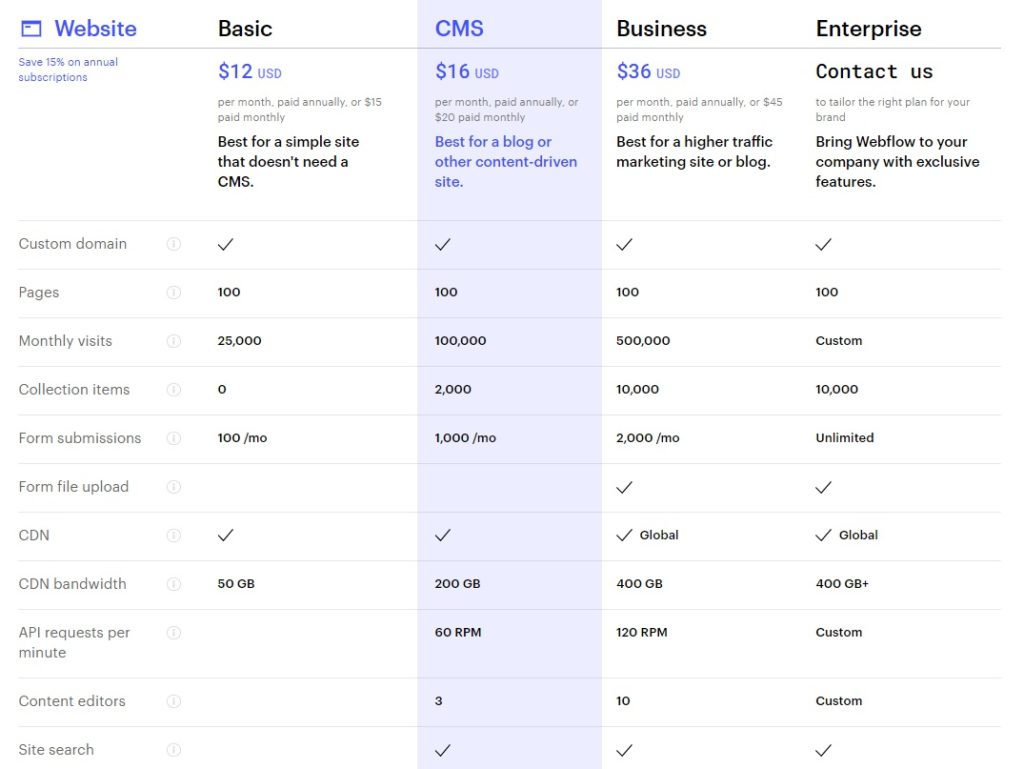 Basic Website Plan
The Basic Website Plan is perfect for smaller websites. It doesn't include access to the CMS features (collection items). As for hosting, it includes enough bandwidth for 25,000 monthly visitors.
Price:
$15.00 per month
$12.00 per month with a 12-month term, billed as $144.00 annually
CMS Website Plan
With the CMS Website Plan, you get access to CMS features and have the bandwidth for 100,000 monthly visitors. You can also create 3 logins for content editors.
Price:
$20.00 per month
$16.00 per month with a 12-month term, billed as $192.00 annually
Business Website Plan
Great for high-traffic business sites, this plan comes with bandwidth for half a million visitors a month. You also get 10 content editor logins and 2000 form submissions per month.
Price:
$45.00 per month
$36.00 per month with a 12-month term, billed as $432 annually
Enterprise Website Plan
Great for large company sites that need room to manoeuvre, these site plans come with unlimited form submissions and are scalable to specification for each clients needs.
Price:
$ Tailored to client
E-Commerce Plans
Standard E-Commerce Plan
This plan is for businesses that make roughly $50K in sales a year. The plan comes with all of the features of the CMS website plan. All transactions come with a 2-percent fee.
Price:
$42.00 per month
$29.00 per month with a 12-month term, billed as $348.00 annually
Plus E-Commerce Plan
The Plus E-Commerce Plan comes with all of the features as the Business Website Plan. It's for companies with yearly sales of around $200K. It has a 0-percent transaction fee and 10 staff accounts.
Price:
$84.00 per month
$74.00 per month with a 12-month term, billed as $888.00 annually
Advanced E-Commerce Plan
The highest e-commerce plan does not have a yearly sales limit or a transaction fee. It comes with all of the site features and 15 staff accounts.
Price:
$235.00 per month
$212.00 per month with a 12-month term, billed as $2544.00 annually
Individual Account Plans
With an account plan, you're paying to take advantage of the service features. You're not charged per site. However, there are some limitations on how many projects you can make. Currently, all new account holders start off with a free plan and the ability to start two projects. You can then upgrade for custom hosting with your domain.
All of the individual accounts come with login credentials for one person. It's great for freelancers, as you can bill clients directly and utilize white labeling services.
Lite Individual Plan
With the Lite plan, you can make up to 10 projects. It does not include white labeling. But you have unlimited project transfers and client billing services included.
Price:
$24.00 per month
$16.00 per month with a 12-month term, billed as $192.00 annually
Pro Individual Plan
This plan comes with the ability to create an unlimited number of sites. You also get client billing, white-labeling service, and site password protection.
Price:
$42.00 per month
$35.00 per month with a 12-month term, billed as $420.00 annually
Team Account Plans
If you're a part of a larger group of web designers and developers, team account plans are a great option. These plans allow you to collaborate with other developers from one team dashboard. As the owner of the account, you're granted the most control. However, you can provide login credentials to your team members so that you can all work in the same space. In addition to the team plan, Webflow offers an Enterprise plan. It's a personalized package, so pricing will vary based on your needs.
With the team plan, you're getting all of the features of the Pro Individual Account plan. This means that you have the ability to make an unlimited number of sites. You can also bill clients directly and take advantage of white labeling.
Price:
$42.00 per person, per month
$35.00 per person, per month with a 12-month term. Billed as $420.00 per person, per year.
Does Webflow Have a Money-Back Guarantee?
Webflow does not offer a money-back guarantee. They don't do refunds either. While this might like a huge negative, we understand why the company operates in this way. Webflow allows you to start projects free of charge. You can take advantage of the website building tools and even check out the quality of the hosting service without paying anything.
You get to see if the service is right for you before you provide any payment information. This is a pretty generous perk that most companies don't offer. Money-back guarantees are meant to provide you with peace of mind when you don't know what the quality of a service provider will be like. Because you can test all of that out beforehand, there's no need for it.
Should You Give Webflow a Shot?
Webflow has a lot to offer small businesses and individuals. The website builder is very intuitive and the hosting service is quite reliable. While the plans can get a bit confusing and expensive, Webflow's strongest aspect is that it's much more than a website builder. The company gives you a single place to build, manage, and publish your site. If simplicity is what you're after, you can get it with Webflow.
Webflow is not perfect by any means. The company is relatively new. Thus, there are some areas in which we would like to see improvement. There's a pretty significant learning curve to use the website builder and the customer support takes a while to respond. But, if you can overlook those issues, Webflow can serve you well. This website builder is constantly improving. We're excited to see how Webflow will evolve and adapt in this competitive market.