Not sure which Weebly pricing plan is right for you? Guess what, you're not alone.
Like other top website builders, Weebly offers several different pricing plans ranging from its free plan with limited drag and drop, WYSIWYG functionality all the way to its Business Plus pro plan with full ecommerce functionality and more. Weebly is highly customizable and you can achieve
In this article, you'll learn all about Weebly's pricing tiers and what each offers. We'll even discuss the Weebly free plan and those it may be suitable for.
That's right – Weebly offers a free plan, but it's important not to focus on price alone. Instead, it's best to focus on what you receive and what you can do with each Weebly pricing plan.
This is what I'll cover in this Weebly pricing guide. Since time is money, let's get started.
Weebly Pricing For UK – Quick Summary UK Pricing
In the UK Weebly's prices start from £5 per month for the Personal plan, based on annual billing. Next package up is the Professional plan which costs £9 a month. This adds video and membership features to your site and gets rid of the annoying Weebly ad. You also get a free domain name for 1 year. Weebly Performance plan is £19 per month and is ideal for small or larger online stores. With this package you get priority support and can take payments for an eCommerce site through PayPal.
Click to Start Your Weebly Website For FREE 
Weebly Pricing Overview
As mentioned, Weebly offers a free starter plan, but there are also three paid plans ranging from $10 a month up to $26 per month with annual billing – $13 to $29 with month-to-month billing.
Only the top two paid plans are ad-free and provide unlimited storage, varying levels of ecommerce functionality, and a range of features you may or may not find important. As is the case with most website builders, the more you pay, the more features and functions you can unlock.
This wide-variety of features and range of Weebly pricing plans has made this platform a top choice for millions of website owners.
Weebly is known for its easy-to-use website builder, and the people behind the platform work hard to make building a website simple and uncomplicated. In fact, they follow this mantra with everything they do from the tools they provide to their pricing structures.
Weebly Pricing – How it Works
Weebly's prices begin at $10 per month for the entry-level Personal plan. The Professional plan costs $12 per month and allows you to add video to your site along with membership features. This plan also includes a free domain and it removes Weebly ads from your site.
Meanwhile, the Performance plan costs $26 per month and adds extra eCommerce functionality, like advanced insights, item reviews and PayPal payments. Some of these extra features are essential for large stores or stores that need room to breathe and scale.
Weebly Free Plan – Basic Features for Basic Sites
If you've never created a website before and only want a basic site, Weebly's free plan might work for you. Despite being free, you'll still have access to a drag-and-drop site builder, free SEO tools, and SSL security. However, if you want a dynamic website that's seen by a ton of people, it isn't ideal.
Not only are you forced to use a subdomain with a weebly.com URL, which will make it difficult to stand out and rank highly in the search engines, but it doesn't include any ecommerce features.
Websites created with Weebly's Free plan are also ad-driven. So, if you choose this plan, your site will have Weebly ads placed on it – not very professional.
While the Free plan might be okay for a basic blog, if you want anything more, upgrading to one of the paid plans would be a smart choice. Also, if an eCommerce store is part of your plans, I would suggest you are really looking at the top two plans exclusively. If it's blogging that you're interested in then may I suggest you taking a look at my blogging platforms guide.
There might be a better alternative to Weebly.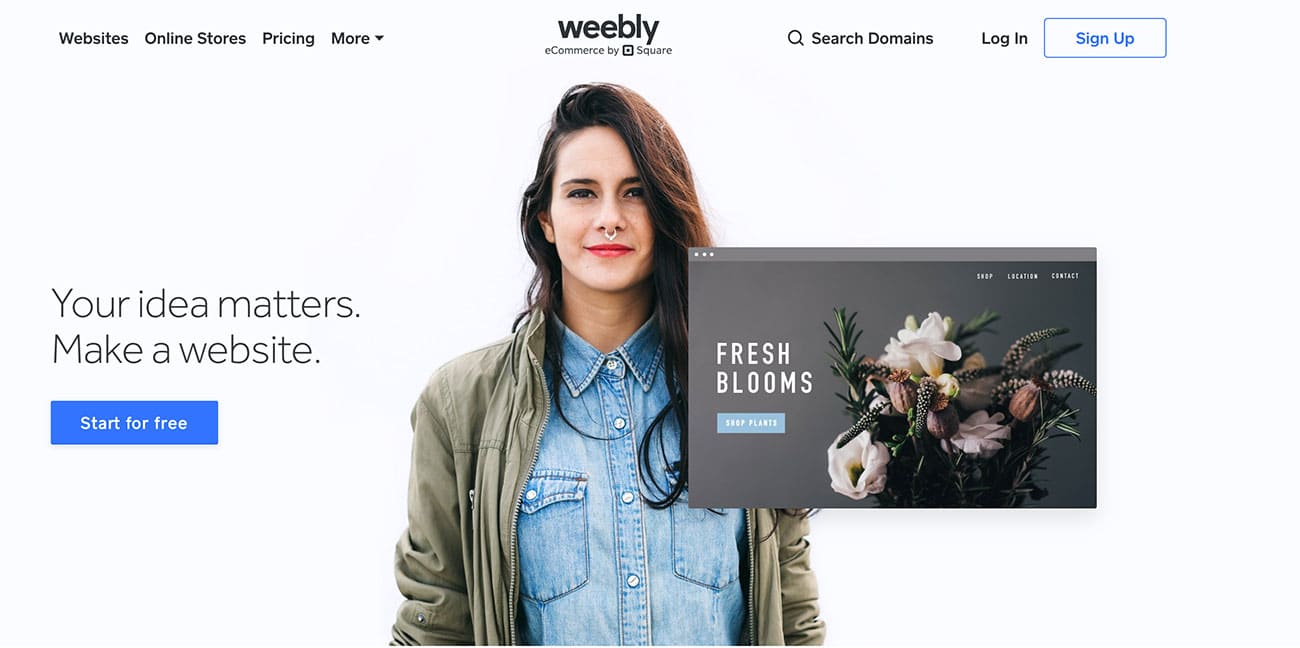 Weebly Pesonal Plan – Ideal for Getting Started
Weebly's Personal plan includes all of the same features of the Free plan plus some more important features, including:
Ability to connect an existing domain
Ability to showcase and sell up to 10 products
Shipping Calculator & Labels
Pop-Up Notifications
Inventory Management
The Personal plan is great for people and small businesses just starting out, where eCommerce is not the main focus of the site. With it, you'll benefit from the ability to connect an existing domain if you have one. This will make your website much more professional and SEO-friendly.
This plan is also suitable for small online stores with 10 or fewer products, perhaps to test out the idea before scaling to a more suitable product. You can also utilize Weebly checkout for a nominal three percent fee, making it a good place to get your feet wet with ecommerce.
Some of the main drawbacks to the Personal plan is the lack of a video player and membership functionality. if you want to create websites with HD videos or build a subscriber base, you won't be able to do either with this plan.
Weebly Professional Plan – Full of Features and Functionality
Weebly's Professional plan is another tier up in terms of Weebly website cost. It offers all of the same features as the Personal plan, but it also includes:
HD video and audio
Password protection
Advanced Site Stats
Square Ads Removed
Free Domain
Phone support
As you can see, this plan supports the creation of more robust websites and allows you to have an ecommerce store with a broader selection of products. For smaller stores, it's ideal. However, it's still simple enough for beginner sites or store owners to work with.
The downside to this plan is the fact that it limits a site's growth potential. Although it's fine for many, it might not be ideal if you want to sell lots of digital products, offer a large range of payment options, or take advantage of more top-end features.
Weebly Performance Plan – Loaded with Features to Go All Out
Of all of the Weebly plans, this one of the most popular. Sure, it costs a little more, but if you're ready to fully commit to running a successful website and/or online store, then upgrading to Weebly's Performance plan is probably one of the smartest moves you could make.
With the Performance plan, you'll get all of the Professional plan's features, plus the ability to:
Sell unlimited products and digital goods
Offer a product review function
Use an automatic tax calculator
Offer coupons and a shipping discount
Automatically manage inventory
Accept Payments Through PayPal
Abandoned Cart e-Mails
This Performance plan offers a good selection of resources and tools for any small business looking to create a more robust and dynamic webstore. It offers just about everything needed to sell products online, manage your store, and provide customers with the best checkout options.
With this plan, Weebly offers the ability to boost customer convenience with real-time shipping rates and the use of gift cards. Meanwhile, you can save sales with abandoned cart recovery and increase traffic and conversions with built-in email marketing functions.
Weebly Pricing Plans – A Detailed Look
Personal:
Ad-Free – No
SSL – Yes
Design options – All templates
Video/audio – No
Email accounts – Yes, through G Suite at $72 per user per year.
Site search – No
Password protection – No
Membership areas – No
Storage – 500MB
Ecommerce – Limited
Support – Chat & Email
Pricing – $10-$13 per month
Visit Weebly for a FREE trial account 
Professional:
Domain names – Free domain for one year, then $19.95/year. If you already have an existing domain, you can use it instead if you wish.
Ad-Free – Yes
SSL – Yes
Design options – All templates and with video backgrounds
Video/audio – Yes
Email accounts – Yes, through G Suite at $72 per user per year.
Site search – Yes
Password protection – Yes
Storage – Unlimited
Ecommerce – Yes
Support – Chat, Email, Phone
Pricing – $12-$16 per month
Visit Weebly for a FREE trial account 
Performance:
Domain names – Free domain for one year, then $19.95/year. If you already have an existing domain, you can use it instead if you wish.
Ad-Free – Yes
SSL – Yes
Design options – All templates and with video backgrounds
Video/audio – Yes
Email accounts – Yes, through G Suite at $72 per user per year.
Site search – Yes
Password protection – Yes
Membership areas – Yes, unlimited members
Storage – Unlimited
Ecommerce – Yes, with:

Unlimited products
Zero transaction fees
Inventory management
Shipping & tax calculator
Use of discount codes
Own checkout domain
Real-time shipping rates
Abandoned cart recovery
Gift cards
Can use PayPal for payments

Support – Premium Support
Pricing – $26-$29 per month
Visit Weebly for a FREE trial account 
Weebly Plans – Our Evaluation
First of all, it's worth pointing out that both the Free and Personal packages display a Weebly ad. While small, it's definitely visible. To get rid of the ad, you must upgrade to the Pro or Performance plans. When you do, you'll also receive a domain name for one year at no cost.
If finances are tight or you just want to get used to the platform and opt for the Free plan, then your site will be on a Weebly sub-domain, which will look like this: yourname.weebly.com. Obviously, this isn't very professional.
The Pro plan solves this dilemma, and includes even more features, including a site search function and HD video and audio players to create a more dynamic website. It also offers password protection and the ability to set up a member's area.
While Weebly Personal can also be used to create an eCommerce store, we wouldn't recommend it. In addition to only allowing limited products to your store, it lacks a shipping and tax calculator and several other valuable ecommerce features.
The Pro plan, on the other hand, is a good choice for anyone looking to create an ecommerce business. Not only does this plan allow you to sell both physical and digital goods, but it also allows you to share coupon codes, include a shipping and tax calculator, and benefit from an integrated inventory tracking system.
If you want Weebly's ultimate ecommerce solution, then the Performance plan should be an obvious choice. It offers everything in the Pro plan but is supercharged with real-time shipping rates and an abandoned cart recovery feature, which should honestly be used by every online shop owner.
That said, for small online shop owners, the Pro plan will likely be just fine. Small businesses and freelance operations with no ecommerce aspirations, on the other hand, would be okay with the Personal plan. However, we wouldn't recommend any plan below these as they simply lack many of the features you'll not only want but need.
Weebly FAQ
Does Weebly Offer a Money-Back Guarantee?
Yes, Weebly will issue you a full refund if you cancel within 30 days of signing up for a paid plan. They also have a Free plan you can use to create a simple site or test the waters before committing to one of the more robust paid options.
Do I Pay Monthly or Annually?
Like many website builders, Weebly allows you to pay monthly, annually, or bi-annually. This means, even with the monthly option, you must pay upfront in advance for whichever plan you choose.
How Does Weebly Compare to the Competition?
For what Weebly offers, their prices are pretty fair. However, some of its competitors like Wix and Squarespace offer comparable features and functionality at slightly lower rates.
You can check out our Website Builder Buying Guide for an in-depth look at the prices, pros, and cons of all of today's top site builders.
Is Weebly Worth It?
Most people want to get as much as they can for free, and we don't blame them. After all, if you can get something for free, then why not, right?
However, as is the case with just about everything, you get what you pay for. Fortunately, what you get with Weebly is quite a lot. In fact, from our perspective, Weebly offers a very solid value, especially for online store owners who can pay two or three times as much with other platforms for similar features and functionality.
So, back to the question at hand – is Weebly worth it? In our opinion, yes. This is especially true if you're able to make your website or online store a success.
For around $1 a day, Weebly gives you access to the tools and features you need to launch a thriving site. It's tough to argue with that!
Click here to get started building your website with Weebly today!
Looking for examples of what's possible with Weebly? Our handpicked selection of Weebly example sites showcases the platform's versatility and potential.