A web presence can be an invaluable marketing tool, and thanks to website building platforms like Wix, creating a blog or online store is more accessible than ever. Figuring out what you need in a site creator means understanding both what you need and what they're bringing to the table in terms of site creation, pricing options, and marketing tools. Wix is one of the top names in the game, but it's far from the only site building tool out there; check out these alternatives to find out what services you may be missing out on.
What's Great About Wix — And Where It's Lacking
Wix promises a lot, and with a user-friendly drag and drop interface and streamlined, appealing templates, it delivers. While there's plenty to love about the service, it's still not perfect for every client or website. Here's what's great about Wix, as well as where it comes up short.
Pros
Cross-industry template availability:
One issue with some template-driven website builders is a lack of diverse options, which means that blogs and portfolios may look great while business sites suffer. Wix has sleek, modern templates that are sorted by category, so no matter your goal or industry you're likely to find a template you love.
Freedom while designing:
When we say template-driven, you may not imagine much freedom of choice — not so with this platform, which uses a drag-and-drop editor that allows you to control the placement of every element on the page.
Cool features, no extra tech knowledge necessary:
Building a dynamic website sometimes means adding features specific to the needs of your business, like an event management software for ticket sales and RSVPs or a professionally-styled gallery app that showcases your images at their best. Wix's third party App Market allows users to buy and/or install these features with the click of a button, no specialized knowledge necessary.
Backups are created automatically:
Worried about data loss and unwanted site changes? It's not an issue with Wix, which creates backups automatically and allows you to roll back your site to a previous version if necessary.
Cons
Price:
Building a great website isn't cheap, but Wix isn't the lowest-priced offering out there; some alternative services offer similar features for a lower cost.
No template-switching: While some website building platforms retain your content between template switches, Wix does not. Once you've published your site officially, you will have to re-add your content if you switch to a new template. However, the individual elements of the template may still be edited. Read more on Wix Pricing here.
Not ideal for e-commerce:
Wix puts a limit on the amount of e-commerce that can take place on their sites, so it's not a great pick for larger retailers or those who intend to be.
Open-ended design tool: Because their design platform makes templates so editable, designers without experience may end up creating overcrowded, over-featured websites that aren't great at retaining visitors.
Examining The Alternatives To Wix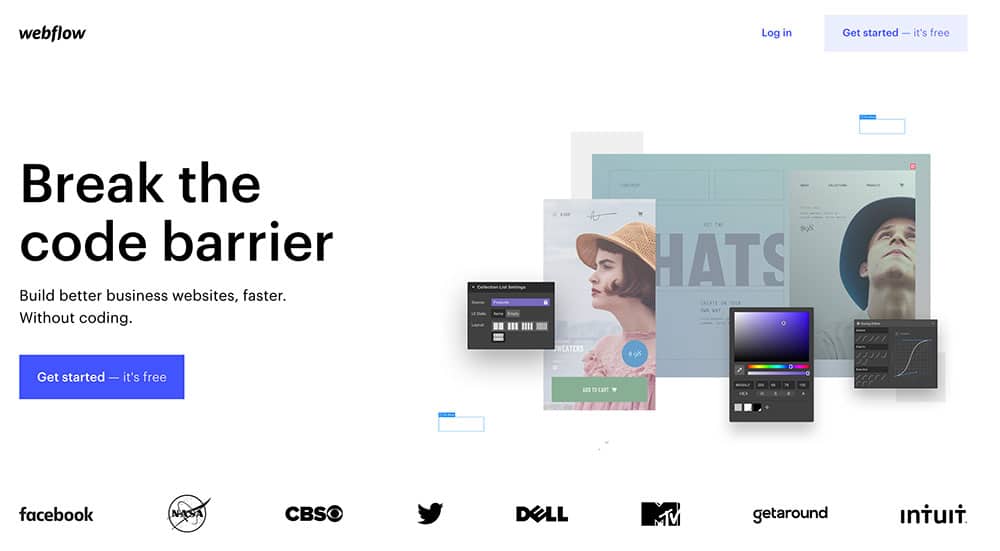 Price: Free to get started, basic plans ranging from $12 – $36, e-commerce plans ranging from $29 – $212
eCommerce Functionality: With appropriate plan
Best Industries: Software, health care, blogs
If you're looking to customize your site down to the pixel, you'll be able to do so with Webflow. The service brags high-profile clients like NASA, Facebook, and Twitter, so it goes without saying that a lot can be done with a Webflow site. Of course, you don't need to be a multi-million dollar corporation to get started; in fact, getting started with Webflow is free, and you'll only pay when your site goes live.
Once you've signed up, you can start creating immediately, but a rather complex and feature-filled design interface means that actually building the site can be tough for beginners. The company offers a series of user-friendly video tutorials that can make learning the basics a bit easier, and no coding knowledge is ever technically needed to use the platform. However, the website building tool is fairly complex, so the learning curve can be drastic for someone with no experience.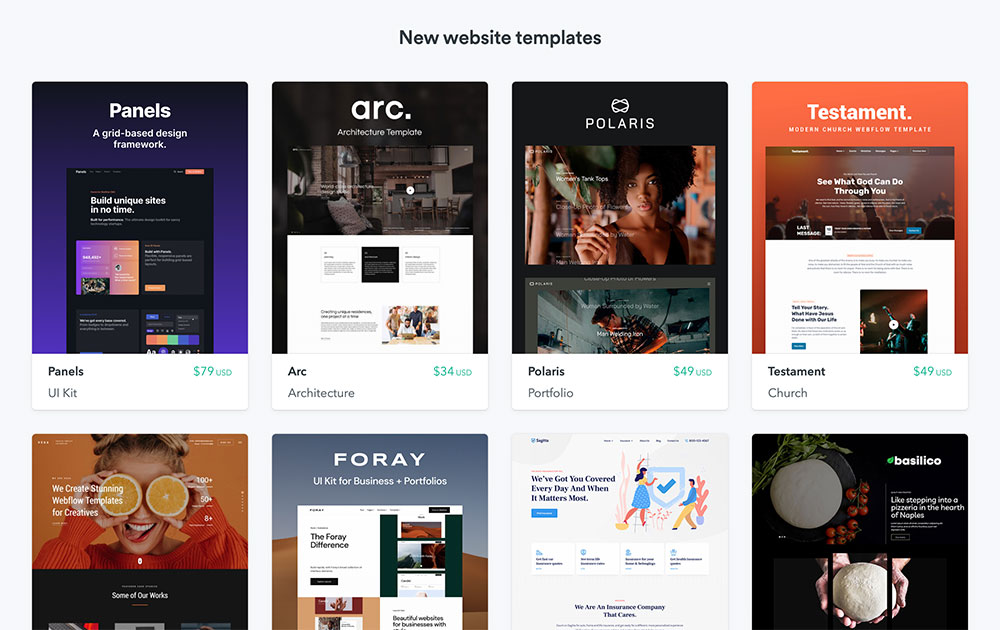 Site designs are template-driven, and there's over 100 to pick from. There's a caveat though, which is that only 40 of those templates are free-to-use – you'll need to pay a premium price to use the others. It also means that while there's options for several different industries, there's only a few for each one. After you've designed and launched your site, you'll be able to use built-in SEO tools and flexible integration to link up with your marketing tools and perform simple, productive content updates.
Our verdict: Webflow offers a dynamic tool set for both building and managing your website with a free-to-start platform that's friendly to low budgets, but the design interface is more complex than many of its competitors.
Price: Free plans available with footer ad and Weebly URL; plans ranging from $8 – $26 a month
eCommerce Functionality: Yes
Best Industries: Health care, restaurants, retail, non-profits, civil and social organizations
Feeling intimidated by the idea of creating a website with an online site building tool? Weebly may be the platform for you, thanks to a user interface that's tailored for beginner friendliness and ease of use. They're also a good place to get started if you're not sold on investing in your website yet, as they'll allow you to design and host a site for free (but, it will have a Weebly URL and Square ad of their choosing).
Your free site will even have e-commerce functionality, lead capture, and SEO tools but the features offered in Weebly's tiered plans are likely worth paying for, especially because they're not that expensive. If you're willing to shell out for a professional or performance plan — $12 and $26 a month respectively — you'll receive a free domain to connect to your site, and ads for parent company Square will be removed.
Weebly's website building tool is one of the simpler options out there, which means that first timers aren't likely to struggle while putting their site together. On the flip side, those who are accustomed to more complex site building tools may find the grid-based design interface limiting, as it doesn't allow you to adjust to the exact pixel, only place items within grid spaces.
There's a lot to like about Weebly, but we'd be lax not to mention two big issues. There's not much in the way of multilingual options, so it's difficult to create a site in multiple languages; that's a huge obstacle when doing business internationally. The number of templates offered is also somewhat limited, so it's hard to create a site look that's truly unique to you.
Our verdict: Weebly is a great pick for beginners, as their free site offering is highly functional and their tiered plans are affordable. Their website builder is extremely simple to use, but elements can only be adjusted to grid square positions, not moved pixel by pixel. Template selection is limited, and it's not ideal for designing sites for international use.
Other Weebly resources:
Weebly Pricing
Best Weebly Alternatives
Weebly Website Examples
Weebly vs Wix vs Squarespace vs WordPress
Jimdo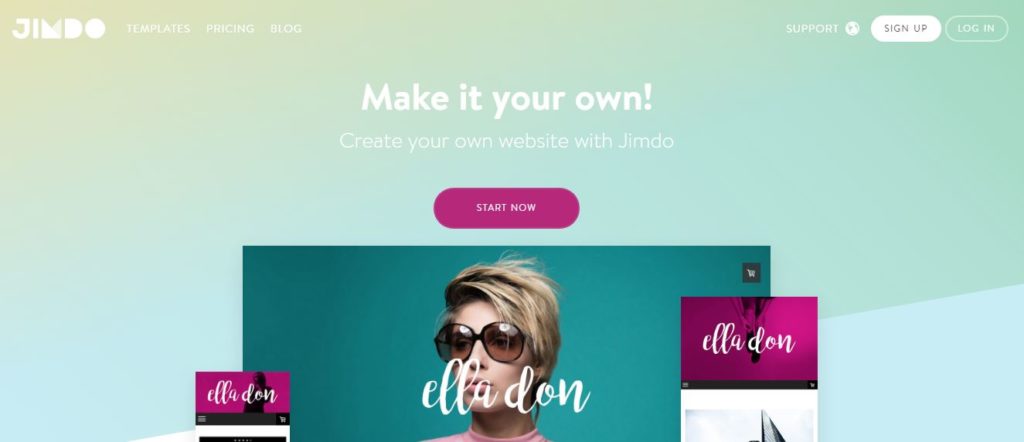 Price: Free plans available with Jimdo URL and ads; tiered plans ranging from $9 – $39 a month
eCommerce Functionality: With appropriate plans
Best Industries: Restaurants, retail, health care, recreational/hospitality
In a world of relatively similar products and offerings, it can be tough to differentiate yourself without a competitive price. That's something Jimdo brings to the table, with their most expensive plans topping off at only $39 a month. That may not immediately sound cheap, but when you consider that some competitors offer a similarly-featured e-commerce plan for over $200, the bargain becomes evident.
Jimdo utilizes an editor that's quite beginner-friendly — so much so, in fact, that it may be frustratingly lacking in features and functionality to experienced designers. You wont't be able to resize individual elements or move them around in a template, so the available designs are somewhat inflexible. If you're more about function than form, you'll be happy to hear that their suite of SEO tools offer valuable analytics and help their users to rank high in search engine results. Users can also edit their site or online store on the go via Jimdo's mobile app; few site builders offer this option.
Though it's easy to put a site together and the prices are right, Jimdo might not be the best pick if your goal is to become a large online retailer. You won't be able to import or export data about your products, which makes keeping records tedious, and some basic functionality options like site membership and logins aren't available through the service.
Our verdict: Low prices and an interface that's very simple make Jimdo beginner friendly, and legitimately good SEO tools do help site owners maintain a high rank in search engine results. However, sites aren't highly customizable and product data can't be imported or exported, so it's less ideal if you're looking to sell products online.
SquareSpace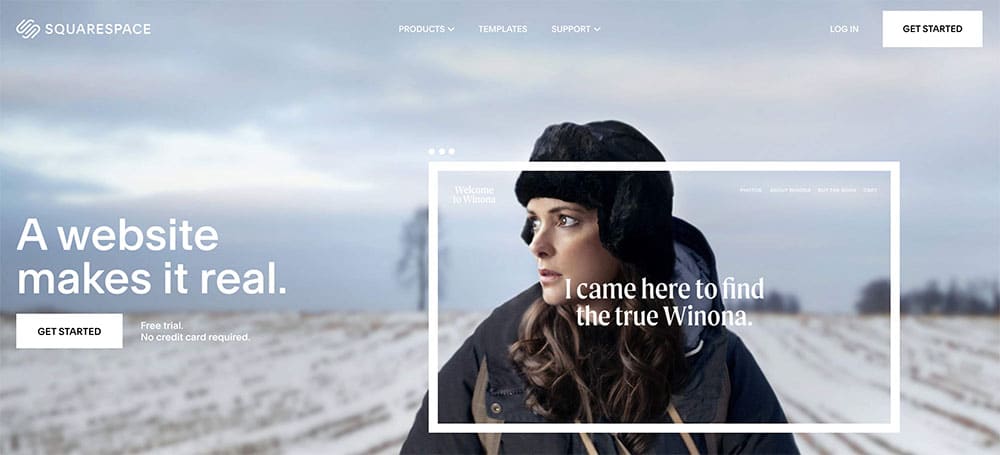 Price: Plans ranging from $12 to $40 a month
eCommerce Functionality: With appropriate plans
Best Industries: Restaurants, health care, retail, marketing, non-profits
Listened to a podcast lately? If you have, you've probably heard of SquareSpace, who ever-so-smartly made their brand an earworm to millennials by advertising on the increasingly popular medium. They claim that their templates deliver sleek, modern designs that appeal to consumers, and they're not lying; theirs are objectively some of the most aesthetically pleasing templates available from a site building platform.
Pricewise, they're a bit less competitive, and may feel expensive to some users. Though you can make a trial website for free, there's no way to publish your site without paying for a plan. It is a good way to get used to their site building interface, though, which is flexible but has a small learning curve.
It's important to know that the majority of SquareSpace's templates count on you bringing high quality, high resolution product images to the table. They're incorporated in a really cool way that will speak to your brand, but the templates don't look half as good without them, so if you don't have any brand images, they may not be an ideal pick starting out.
They're a great platform for bloggers, as they have efficient blog management software that makes editing and posting your content easy. However, they don't have the SEO tools that close competitor WordPress does, which means optimizing your posts for Google algorithms is a separate task.
Our verdict: SquareSpace is great for creating truly modern and attractive websites that capture clients' attention, but you get what you pay for, so it could be cheaper. They're an affordable pick for bloggers, though, but make sure you're bringing high res product images and separate SEO optimization software to the table if you want to be successful.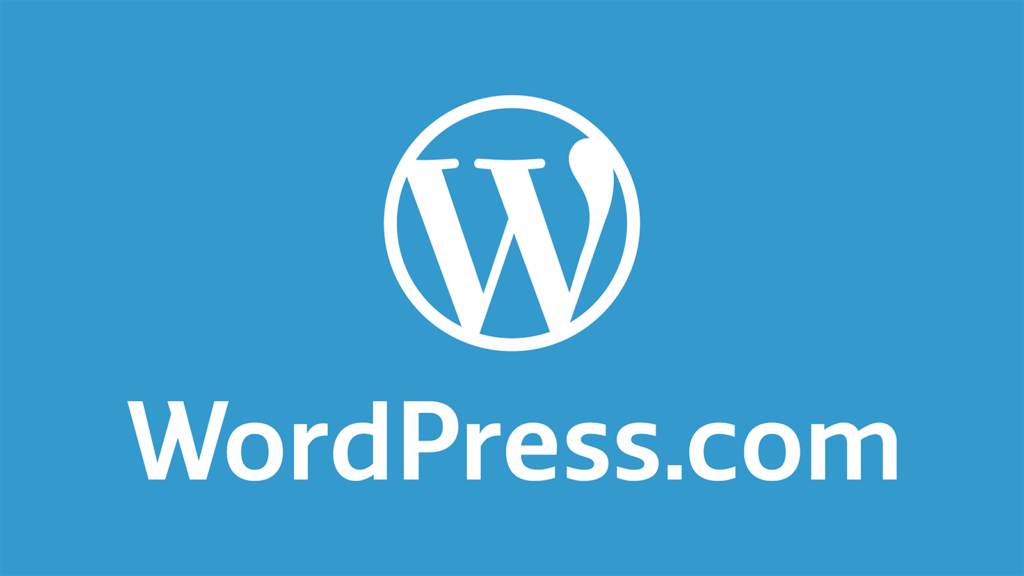 Price: Free plan available; Paid plans ranging from $4 – $45 a month
eCommerce Functionality: With top tier plan ($45/mo)
Best Industries: News, blogs, content publication
WordPress, an open source content management system, is powering over 30% of the world's websites as we speak. It's been around far longer than the majority of today's drag and drop site editors, which means it's a bit more clunky in use, but it's still considered one of the most highly functional pieces of site creation software available.
If you're wondering how WordPress.com and WordPress.org differ, let us clear that up for you. Sites made with WordPress.com are hosted by WordPress, which means that you either pay the company for hosting or opt for the free plan, which includes a WordPress URL and ads. Those using WordPress.org do so on a website and hosting plan that they maintain.
Arguably, using WordPress.com is the simpler option for those who aren't familiar with the complexities of installing CMS and managing a domain. Only the price of the e-commerce plan is enough to raise eyebrows, and it's not particularly intuitive to the creation of an online store without plugins — the platform is naturally better for bloggers, as it was one of the first pieces of blogging software ever made. With plugins, the software can transform into just about any kind of site; they're also great at allowing for SEO improvements before publishing content.
Some amount of technical knowledge will be needed to select and edit your template, but not nearly as much as if you use stand alone web design software. Also, you won't have that many options if you opt for a free or lower-tier plan. You'll also be responsible for updating your plugins and security features, which isn't the case with builders like Wix. Finally, technical support is limited, so be prepared to use your search engine for unanswered questions.
Our verdict: It's old-school, but WordPress is still highly functional software, especially when used alongside free plugins that transform what it can do. There's less design flexibility without the need for technical knowledge, particularly with lower-tier plans, and no drag and drop editor — that means control over element placement is limited. Opting for a WordPress.com site over hosting your own generally means a savings of both time and money unless you're a pro at installing and managing a CMS.
WordPress.org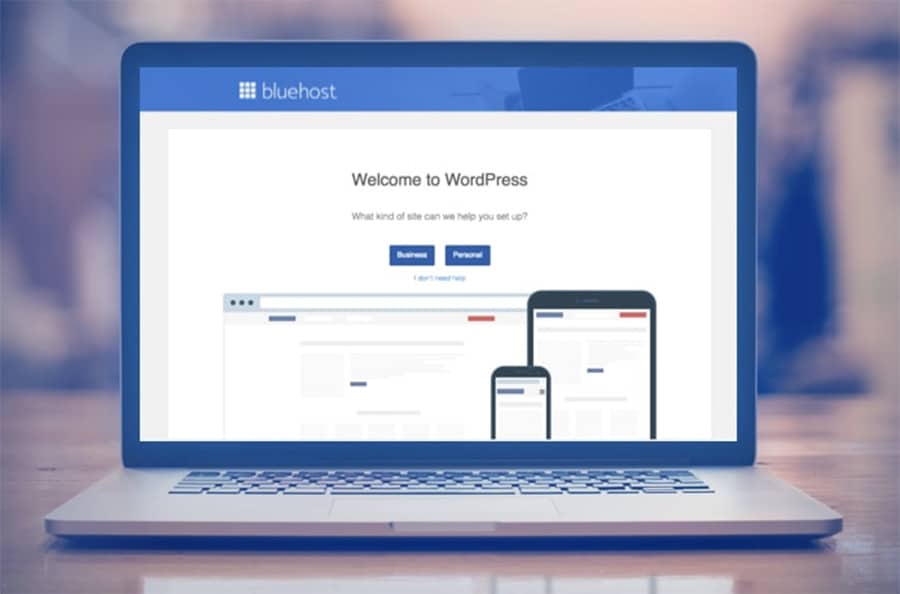 Price: Free, you pay for your web hosting
eCommerce Functionality: With plugins
Best Industries: News, blogs, content publication
As we've already established, from a software perspective, there's no difference between WordPress.com and WordPress.org. The big difference here is in the user experience — let's discuss.
Using WordPress.org as a standalone content management system will require you to purchase a domain and web hosting from a hosting company. You can save on cash by opting for a pick like Bluehost, which offers low-cost monthly hosting as well as a free domain with registration; other registrars and hosts offer the same service at sky-high prices, so you're better off keeping starting costs low.
Once your site is registered and your domain has propagated, you'll be able to install WordPress. Some hosts, including Bluehost, offer the convenience of one-button WordPress installation. This means that you'll simply click a link, select a directory, and the server will automatically do all the hard work for you. If your host doesn't offer this, you'll need to manually install WordPress software via an FTP client, which requires some technical knowledge.
Ultimately, the advantages of choosing WordPress.org over WordPress.com or Wix come down to price and ease of use. If you have an exceptional hosting deal with built-in site analytics and one-touch WordPress install, you may well wind up getting away with hosting your whole site for a lower price than you'd pay to simply host a WordPress.com blog, and a much lower price than you'd pay for your Wix site.
Our verdict: WordPress.org is functionally the same as its .com sibling, but it's hosted on your domain and storage space, and some hosts offer one-click install. This has the potential to be a savings price-wise over a WordPress.com site and is definitely cheaper than Wix, but more technical knowledge is definitely needed — especially because self-hosted WordPress.org copies require you to handle all security updates manually.
Try WORDPRESS.org – Bluehost.com
Other WordPress.org resources:
WordPress Stats
WordPress Website Checklist
How To Make A WordPress Website
How To Move From Blogger.com to WordPress.org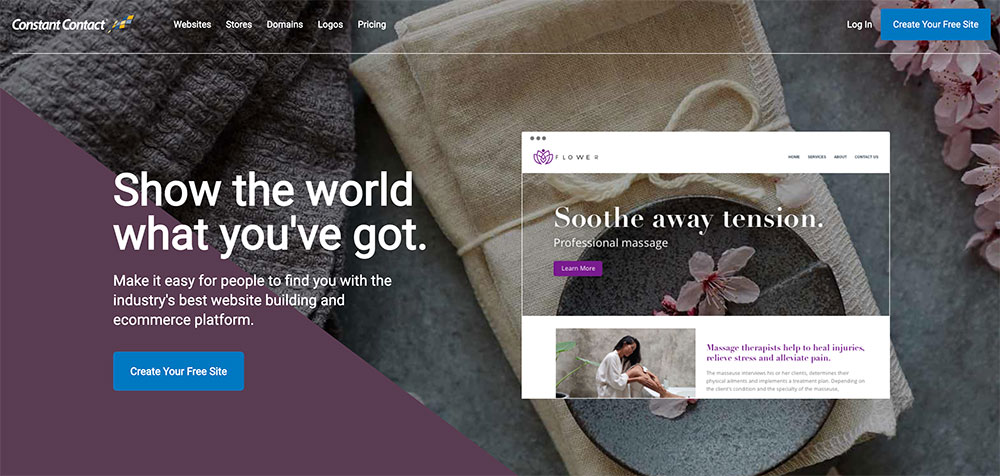 Price: Free plans available; two paid tiers at $10 or $20 a month
eCommerce Functionality: Yes
Best Industries: Restaurants, hotels, hospitality, blogs
Unlike the other services on this list, you may be hearing about Constant Contact Web Builder for the first time. Thankfully, that lack of name recognition can save you a few dollars — the company offers affordable prices, and users can get started for free without a credit card.
While it's not as feature-heavy as some competitors, it's a good starting point if you're looking to push email marketing, as it will allow you to integrate your site with Constant Contact's effective email marketing list service. You can also get a professional-looking site put together fairly quickly, especially if you already have a presence on Facebook Business. Constant Contact can import all of the pertinent info you've already published there, so you'll shave some time right off the top.
If you're an inexperienced web developer, you might actually love Constant Contact's site building tool, which doesn't offer much in the way of design flexibility. There aren't many templates to choose from, and elements can only be formatted differently, not changed outright. The site builder does provide access to a rich library of stock photos, which can be great if you're lacking in brand images for your website.
Those with more design savvy who prefer their site building experience to be more flexible aren't likely to enjoy the service as much, and bloggers may not enjoy it due to backend glitches in the provided blogging platform. There's also no SEO support tools, but e-commerce is supported even by the company's generous free plan (though you can only sell three items at a time).
Our verdict: You'll be able to save money and time by using Constant Contact Web Builder, and linking up with their savvy email marketing capabilities and generous e-commerce capabilities is helpful. However, they don't offer much in the way of modern design, customization and SEO support, and the CMS can get glitchy.
Other Constant Contact resources: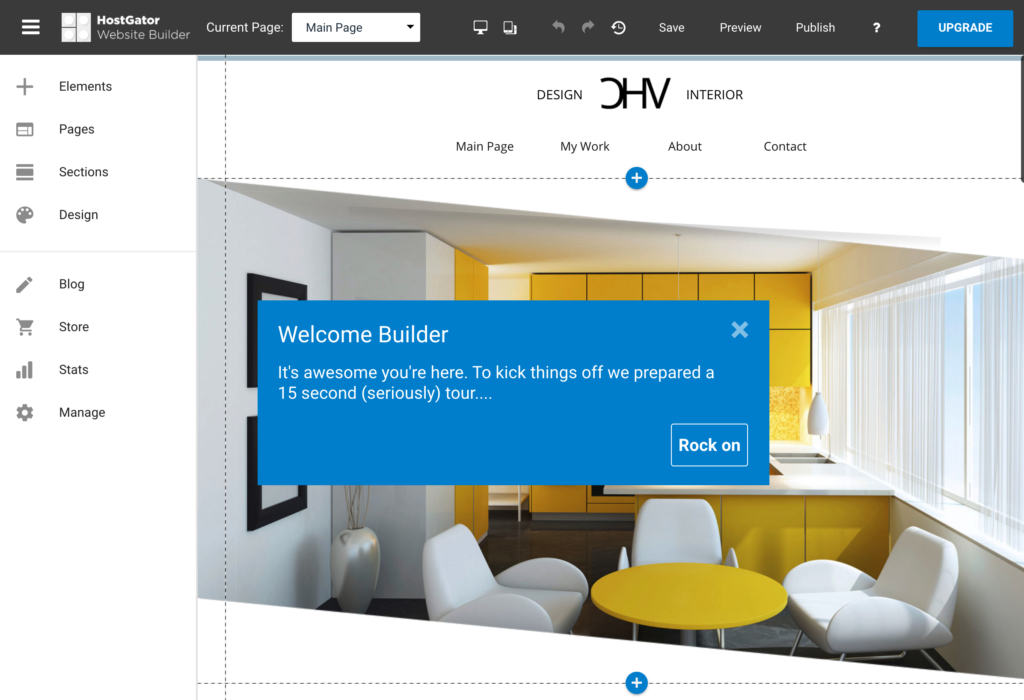 Price: Plans ranging from $7.68 to $18.45 a month
eCommerce Functionality: With appropriate plan
Best Industries: Blogging, small business
HostGator thrives as a top provider of web hosting services, and their Gator Builder site building tool is a bit of a hidden gem. It combines their trusted hosting services with a drag-and-drop editor that's beginner-friendly and great for simple sites, but may not be able to cut it if your needs are more complex.
While there's no option to try the service out for free, their three-tiered price plan is pretty reasonable. You can choose from the starter plan at $7.68 a month, premium for $11.98 a month, or eCommerce for $18.45 a month, but the starter plan is probably best for those starting out — the cost is reasonable, and there's not much difference in availability of features between the starter and premium plans. While the e-commerce plan is cost-efficient compared to some competitors, the site builder isn't designed to support more complex sites, making it less-than-optimal for anything other than small-scale online retail.
When it comes down to actually designing your site, Gator Builder offers up a very user-friendly drag-and-drop builder that allows you to reposition template elements wherever you'd like for maximum control. The selection of templates available is a bit lackluster, but they're optimized for basic site creation — as we mentioned, more complex sites are less likely to thrive here. At times, the drag and drop template editor is less intuitive than you'd want, allowing text elements to overlap one another without automatically resizing, but it's an easy fix.
Our verdict: Beginners, bloggers, and those with basic website needs will probably find all that they need with Gator Builder, but it's less ideal for more complex, intricate designs and larger online retailers.
Duda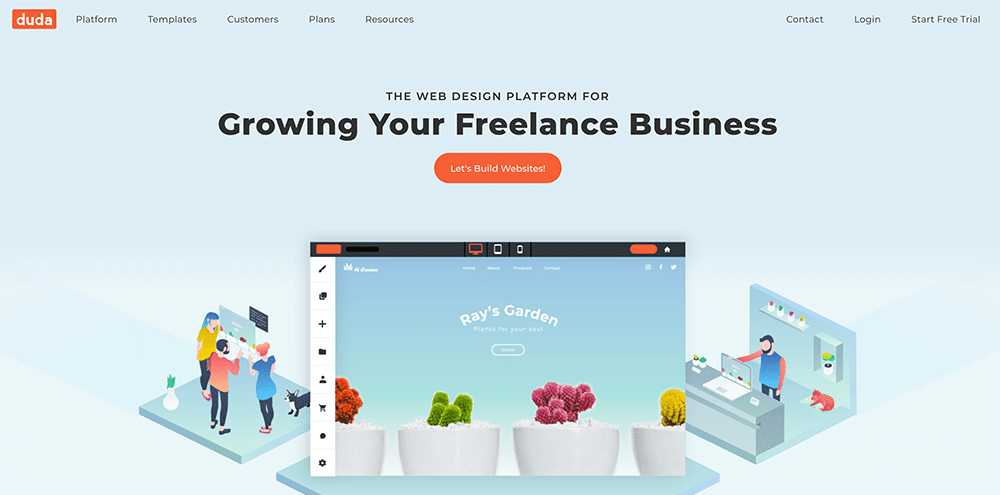 Price: Basic plan for $14/month, commercial plans for $22 – $74/month
eCommerce Functionality: With add-on sold separately
Best Industries: Health care, legal, automotive
Attractive, professionally-designed templates that make it easy to get your site started are a good hook, and Duda's offerings are impressive. They're also competitively priced, with an individual site plan costing only $14 a month. That said, even with snazzy templates, site designers who prefer a drag-and-drop interface may not be so fond of this service.
While it's easy to edit the content of individual elements featured in Duda's templates, you won't be able to drag and drop them to your desired location; in fact, you won't be able to move them at all. If that's not a bother, there's a chance you're looking to design a relatively simple site, in which case you're in the right place.
One of the sharpest tools Duda offers comes in the form of its client management suite, which is available with their Team and Agency plans. It's an excellent pick for freelancers and/or web designers building sites for others, and allows users to set up a sleek, professional, front-facing site access experience for clients.
It's great for professionals who need a web presence that's simple to create and can be done in a jiffy, but the service might not be ideal for bloggers. There's no newsletter tool or other marketing features that can help to grow your site, so unless you already have a base clientele established, you'll have to look to other marketing avenues.
Our verdict: Duda has attractive, professional template options, but your ability to edit individual templates is rather limited. They provide excellent client management tools with higher tier plans, making them an ideal pick for freelancers and professionals working directly with their clients.
Site123

Price: Free plan available; plans ranging from $10.80 to $28.80 a month
eCommerce Functionality: With paid plan
Best Industries: Freelance, small business, blogging
It would seem that there are two types of website building tools; those that have elaborate designs and features but require serious time and effort to use, and simpler picks that streamline the process but take a bit of the creativity out of it. Site123 is the latter, offering a setup process that's so easy you can finish your site in a day, but templates that may feel boring or lackluster to some users.
As implied by the speed at which you can build a site, there's nothing complex about Site123's website building tool. It's as easy as clicking on the element you'd like to change to perform edits, and you'll even be able to preview your design as seen on desktops, cell phones, and tablets. What you won't be able to do is change the position of individual elements or the design of their pre-fabricated templates — however, if you're an inexperienced designer or someone who prefers to leave the creative decisions to someone else, less is sometimes more when it comes to design options. The templates are also pretty attractive as-is, so you won't be stuck with a site that looks outdated.
From a marketing standpoint, Site123 offers a few useful tools that subscribers may take advantage of. Paying for your site removes advertisements, and it also adds an e-commerce option to your plan. However, since the templates offered aren't highly customizable, it's not the best for big or complex online stores. You can edit your page's meta tags, titles, URLs and descriptions, so the service is very SEO friendly, but you won't be able to monetize through the use of ad services that require external code since Site123's templates don't allow it to be inserted. Affiliate links are still more than fine, however, making it a great pick for a blogging and review site.
Our verdict: While their templates don't offer much freedom to edit, Site123's plans are reasonably priced and their design offerings are attractive and modern; their toolkit is best used on less complex websites and online stores.
GoDaddy Web Builder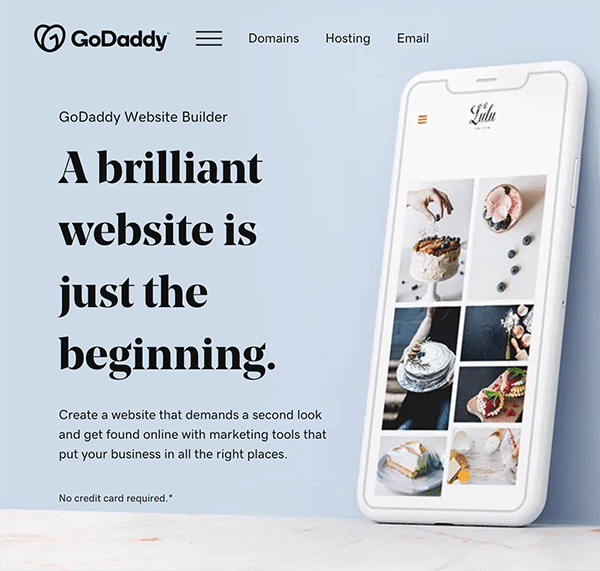 Price: One month free trial for all customers; plans ranging from $5.99 to $19.99 a month
eCommerce Functionality: Yes, but uses a third party service
Best Industries: Freelance, small business, blogging
GoDaddy has used creative advertising and reliable service to conquer their corner of the web hosting market for quite a few years, which can make it tempting to put faith in the GoDaddy Web Builder. While the simple interface does have a few positives, overall, it has a hard time competing with newer and more feature-packed services like Wix and Weebly.
Let's start with the good stuff: the Web Builder has a pretty robust selection of templates, and they're all stylish and modern. They're also divided by industry/topic, which takes the hesitation out of choosing a design that's appropriate for your project. However, you'll quickly come up against an issue that's common to more simplistic web building tools — you can't do much editing of the template's individual elements, so what you see is pretty much what you get, and any other user who picks that template will have a site that looks similar to yours(with minor accent differences).
The stacked editing style the site builder uses is relatively foolproof, and most people with basic computer skills won't have a tough time using it. That means that you can put together a site "in minutes", just as their website advertises. However, you won't be endowed with any marketing tools without upgrading to their Business plan, which offers only a minor SEO toolkit — you can find similar resources elsewhere for cheap or free, so an upgrade probably isn't necessary for the kind of simple sites this tool allows you to create. Sticking with the personal plan will cost you only $5.99 a month, but given the lack of features available to users, one might argue that you're getting what you're paying for.
Our verdict:
GoDaddy is a trusted name in hosting and the templates they provide are modern and attractive, but there's little in the way of editing options and marketing features, so it's not a top pick and it's not great for big sites.
E-Commerce Alternatives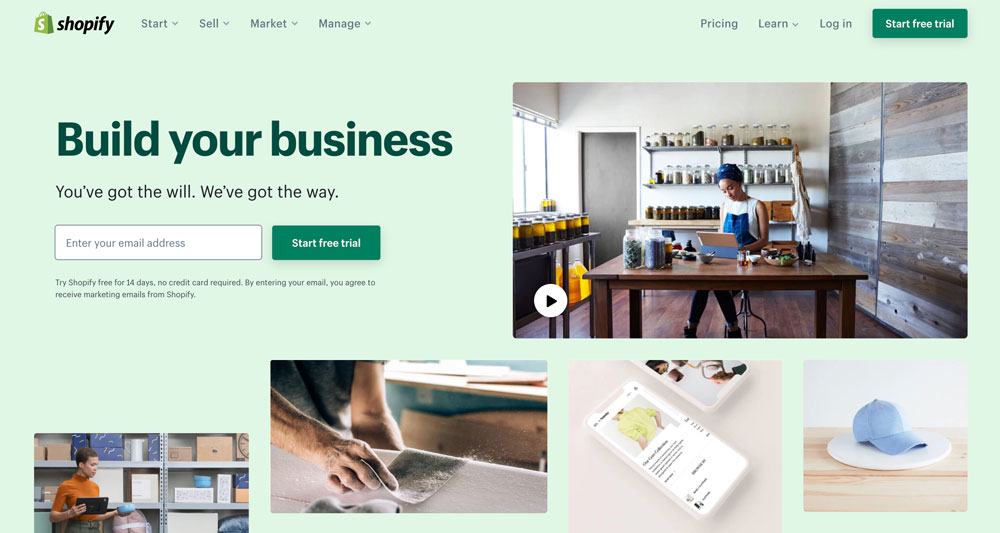 Price: Plans starting at $29
If you're attempting to break into the competitive world of online retail, you're no doubt familiar with Shopify. They've provided a sales platform to over 800,000 intrepid sellers, and they're widely considered to be one of the best services for creating an online store. Of course, even the most loved services don't come without a few quirks, but it really seems like there's a lot to like about the service.
First: the designs. They're flexible, customizable and numerous, and you won't need any technical knowledge to edit your store's design. In fact, putting together your store's aesthetic is really the fastest part of the journey. Familiarizing yourself with Shopify's feature-packed backend interface and learning to list and tag your items takes far longer, but it's still a more intuitive process than e-commerce predecessors like Etsy offer users. Their inventory system is highly rated by customers for bringing efficiency to site management, giving you a helpful overview with visual cues.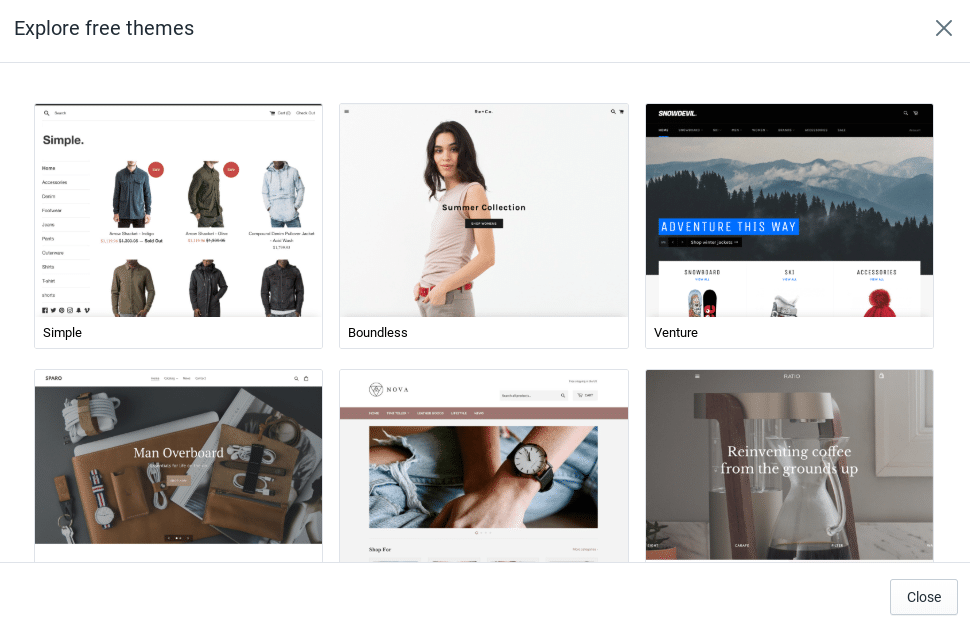 Second: the sales channels. When you use Shopify, you'll also be able to use social media outlets like Instagram and Facebook and other e-commerce sites like Amazon and eBay for selling. This expands your audience significantly, especially when it comes to mobile users who tend to spend more time on social media than other sites. One of the few cons of using Spotify comes in the form of its transaction fees — it's the only platform to enforce its own per-transaction fee, but if you're willing to use their Shopify Payments service, you can wiggle out of that cost.
Finally: the features and tools. While their SEO toolkit isn't robust, there's plenty of good information to help you get your store off the ground. However, no keyword assistance is offered, which is a pretty big aspect of SEO — third party services can offer this, but to make a point, it's part of the sales package when opting for competitors like BigCommerce.
One place Shopify shines in terms of features is their app store, which can enable tons of useful marketing features like the creation of wish lists, interactive pop-ups, geolocation, email marketing, and more. Some of these apps are free or have free plans, but others have a monthly cost, so it's important to choose wisely to avoid racking up big fees. On the whole, however, they're a top rated brand when it comes to customer satisfaction for cost, and it's very easy to scale your plan to accommodate a growing store.
Our verdict:
Shopify has more than earned its top dog reputation, offering easy store creation with simple, flexible templates and a feature-filled backend that makes managing your shop on desktop or mobile easy. They have some helpful SEO tools, and their app store is full of options to increase your store's functionality and customize it to your industry's needs.
Other Shopify resources
Shopify Tutorial: How to Quickly Build a Professional Online Store
Shopify Review
How to Buy a Shopify Ecommerce Store
Shopify Alternatives
Shopify Vs WordPress (WooCommerce)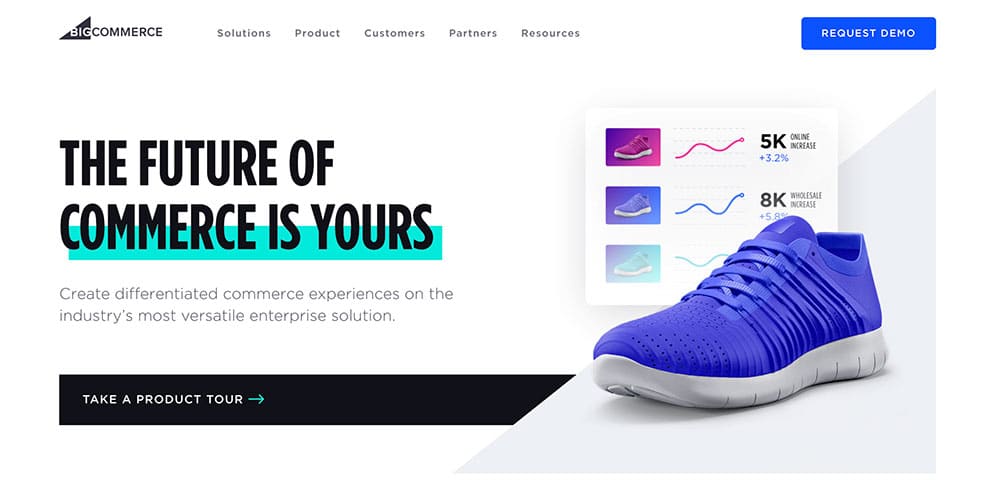 Price: Plans starting at $29.95 a month
There are a lot of store and site building services specifically tailored to those just starting out; BigCommerce isn't one of them. It's a site that presumes users have a bit of experience in the e-commerce world, and with that assumption comes a powerful set of features and a scalable store creation experience that's enjoyed by multi-million dollar corporations like Toyota and Ben and Jerry's.
If you're impressed, it's with good reason — BigCommerce isn't messing around when it comes to limitless business growth opportunity, and even their standard plan lets you sell an unlimited number of products and have unlimited accounts for staff members. You can also generate coupons, discount codes, and even your very own gift cards, all of which are of major benefit when marketing your store.
Of course, no company is perfect, and some entrepreneurs may not love the template selection BigCommerce provides. Only 12 of their templates are available for free, while the rest require a one-time fee; this wouldn't be so bad, except almost all the templates cost in excess of $100. Both free and paid templates can be edited, however, so it's very possible to customize them in a way that reflects your brand.
As your business grows, BigCommerce gives you the tools you'll need to scale up seamlessly. When upgrading from the standard to the plus plan, you'll add abandoned cart recovery, which can boost your sales. You'll also be able to group your customers in order to send out frequent shopper rewards, and even offer store credit cards as a bank affiliate. Hitting the big time? You can always move up to the Pro plan, which accommodates up to $400k in sales per year — it also adds the ability to filter when searching for products and allows for Google-based customer reviews, among other things.
Our verdict:
If you're a semi-established or well-established brand, there's a lot to like about BigCommerce — even low-level plans don't limit the number of products you can sell, and helpful marketing tools can help you grow your business from small to large with the easy-scaling platform. It may not be a great pick for those brand new to e-commerce or new businesses, as prices are somewhat high and a lot of technical terminology is used.
Other Big Commerce resources
BigCommerce vs Shopify Comparison
Best Ecommerce Platforms Comparison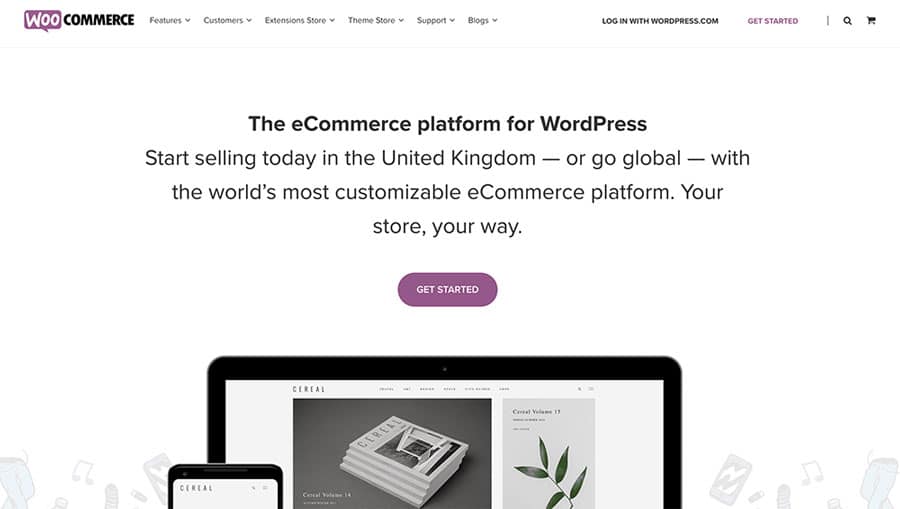 Price: Free — but not really
Site designers familiar with WordPress have no doubt seen WooCommerce used in full force. The open-source plugin is free to obtain and works specifically with sites that use WordPress, so it's become a well-loved piece of software to the tune of over 48 million downloads.
Of course, WooCommerce really isn't free — it can't be, because an online store needs to be hosted. It can't be used with WordPress.com unless you've upgraded to their business plan, which costs a steep $299 a year. It's better used on your own domain with a copy of WordPress.org, but both installing and using WooCommerce will absolutely require some advanced technical knowledge that not every user has. You'll also have the best luck integrating it with a "WooTheme", a WordPress theme specifically designed for use with WooCommerce.
Experienced techies who won't find the install a struggle will be rewarded with a straightforward store building interface that, again, requires a fair bit of technical knowledge and focus. You'll also have the opportunity to supplement your store's features through the use of add-ons and extensions — they're not free, but most of them are a one-time cost, making it overall a cheaper bet than springing for Business hosting from WordPress.
As the software is no-cost, it follows that there's no software costs related to scaling your business, so using WooCommerce over time won't eat into your profits in the same way that store creators like Shopify and Etsy might. As your business grows, however, your bandwidth needs may also grow; this means that you'll need to invest in a web hosting plan that can accommodate your site's visitors.
Our verdict:
Experienced site builders, techies, and WordPress users probably won't struggle with the use of WooCommerce, but it requires a LOT more technical knowledge than most of its counterparts to even install and the interface isn't focused on user experience. It's still a powerful sales tool, however, with no ongoing costs and seemingly unlimited scalability.
Which Wix Alternative is Right For Me?
Though Wix has plenty of competitors, it's important to choose the one that's right for your website or business and has the features you need to succeed. Wondering which pick is best for you?
I'm a blogger, freelancer, or small business owner:
WordPress.org and Weebly all offer simple site building tools at low prices that have the features you'll need to get started. If you want to create something truly unique and have a bit of experience designing websites, then Webflow is awesome!
I run a hospitality business, like a B&B, restaurant, or cafe:
Weebly, Jimodo, and SquareSpace all have sleek, highly customizable templates with a modern flair that attracts visitors and makes it easy to cleanly present relevant information.
I run a small, relatively new online store, and I'm not very experienced:
Shopify is an excellent tool for helping new business owners establish an online presence from scratch, even facilitating SEO support and offering tiered plans that let your store grow without a massive initial investment.
I'm looking to take my established brand into the online market:
BigCommerce depends on users to have some amount of business and marketing knowledge, but still translates it into a web interface that can be used and updated fluidly without limits on product listings or staff accounts
The following two tabs change content below.
Jamie Spencer
My name is Jamie Spencer and I have spent the past 10 years building money making blogs. After growing tired of the 9-5, commuting and never seeing my family I decided that I wanted to make some changes and launched my first blog. Since then I have launched lots of successful niche blogs and after selling my survivalist blog I decided to teach other people how to do the same.
Latest posts by Jamie Spencer (see all)