As a business owner, you'll know how much you value your time. And you'll also realise that you need to maintain a healthy social media presence.
However, those two don't go hand-in-hand, because if you're not careful, managing social media can quickly turn into an all-consuming affair.
In this article, we're looking at two social media management tools that help you streamline your social media activities – Sendible and Sprout Social.
Using their all-in-one dashboards, you can engage with your audience, publish content, and measure your performance across all social media channels.
Let's take a look.
(Note: Affiliate disclaimer: This review contains affiliate links. These links earn us money if our readers click on them and then buy the service we are reviewing. This enables us to earn a bit of money to keep this site running and most importantly, keeping the content on here FREE. We wouldn't recommend a service or product if we wouldn't use it ourselves. Both Sendible & Sprout services are marketing leading in the social media management world)
Sendible
Getting started with Sendible is painless. Click the 'Sign Up For Free' button and enter your details to start your 7-day free trial:

Once you've created your account, there's a handy Setup Wizard to take you through a few essentials like connecting your social media accounts and adding users if you're working with colleagues in a team.
Sendible integrates with Twitter, Facebook, LinkedIn, Instagram, Google+, and Google My Business.
Let's take a look at the key areas of the dashboard.
Engage with Your Audience
At the heart of Sendible's dashboard is their Priority Inbox, which lets you manage all your social interactions in one unified social inbox, just like you would for email.
You connect each of your social accounts by clicking the 'New Stream' button at the top of the dashboard:

For example, if you choose Instagram, you can select from Manage, Post, Search, and the new Business Profile (Beta):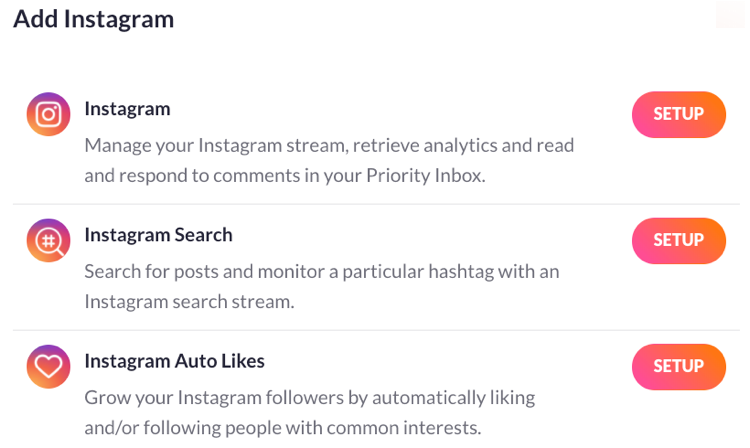 Note: each stream that you add uses one of the available services that are included with your chosen Sendible plan. See the Pricing section for more info.
After you've added your social network streams, your dashboard starts to look something like this: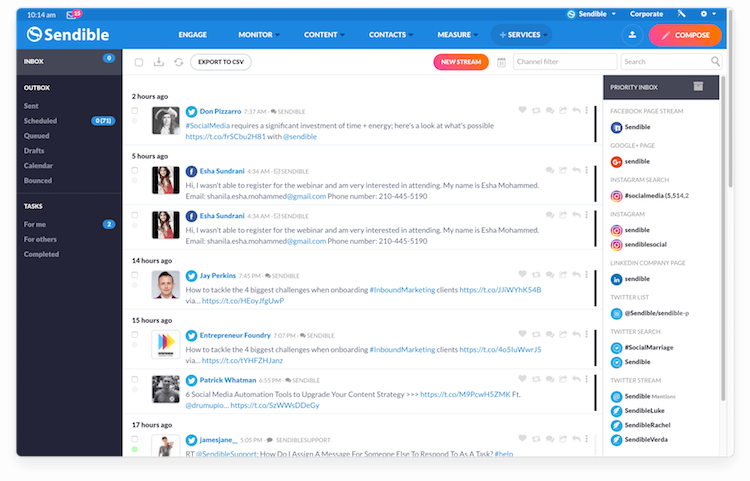 In the central part of the screen, you'll see your consolidated list of messages from each network stream that you've added.
But there's an alternative option where you can view one social network at a time. On the right-hand side, you can see each network stream listed. And if you were to click on the Twitter Stream, for example, then the central display would show only Twitter messages.
For each message in your Priority Inbox, you can take various actions depending on the social channel. For example, you can:
Like the message
Retweet the message
Repost to other social channels
Reply either to an individual or everyone on the message
Show the conversation if there's an ongoing dialogue
Archive the message to remove it from your inbox
Assign the message to a colleague in your team
Publish Your Content
Sendible offers various ways to publish your social media content including once-only messages and recurring evergreen posts.
From the dashboard, click the 'Compose' button to start creating a message:

The New Message box appears: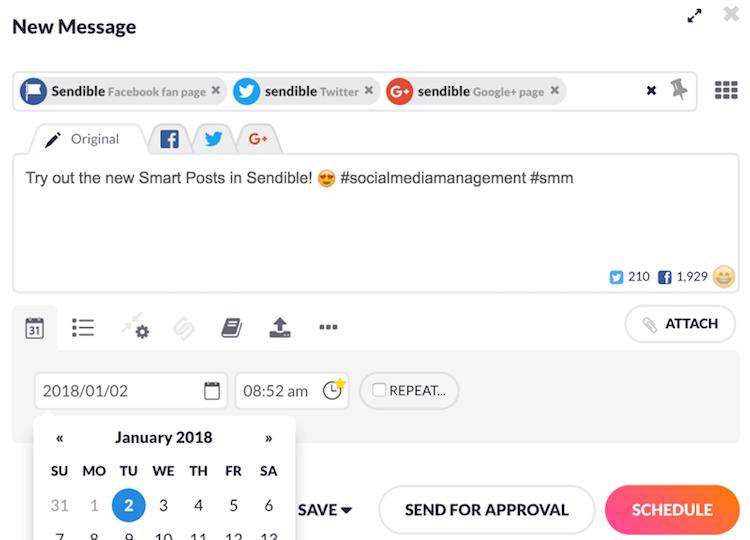 Inside, you can
Select the services (social accounts) to publish to; e.g. Facebook, Twitter, etc.
Compose your original message and add emojis and hashtags as required.
Select the publishing date from the drop-down calendar.
Enter the publishing time, or click the clock icon for the optimal posting time.
Check the repeat box if required.
Click the schedule button.
Although tailoring individual messages for each social network is considered best-practice, it takes more of your valuable time. That's why Sendible introduced their Smart Posts feature. Take a look at the video to see how it works: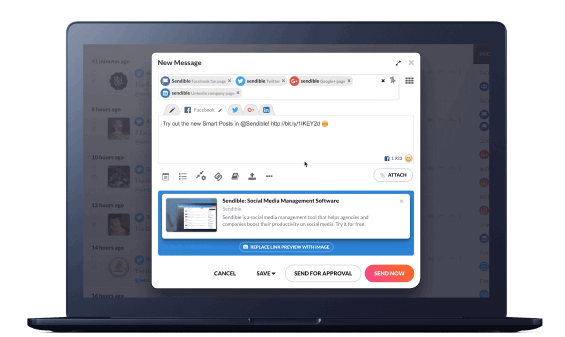 Open the Compose Box and select your social media profiles.
Create your original message.
Click on the appropriate network tabs to edit the text and @mentions.
Tailor your message and add or remove hashtags and emojis as required.
Sendible also gives you the option to compose your messages in bulk. You can either use the built-in table or upload a CSV file from Excel containing the message details: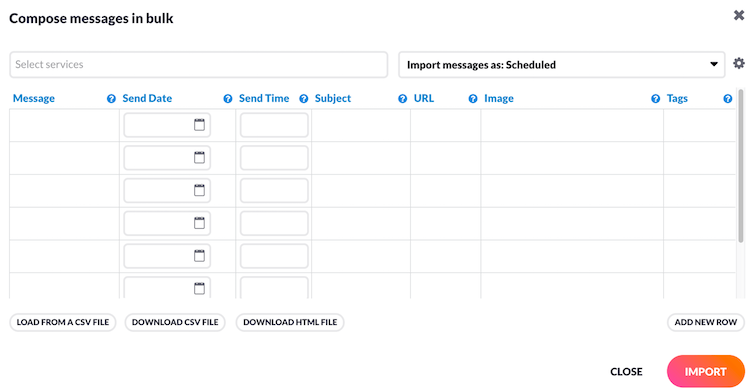 Either way, you can save time by dedicating a couple of hours and scheduling your content in advance.
Sometimes you may want to publish a message more than once. Sendible's Smart Queue feature lets you recycle your best-performing content: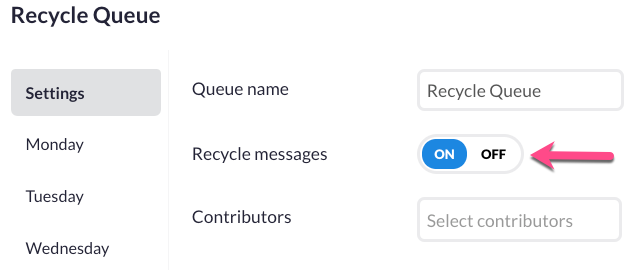 With the 'Recycle messages' option switched 'On', the messages in the queue will continue to repeat until you delete them.
You can add publishing times to each day of the week, either by entering a manual time or choosing the suggested optimal time: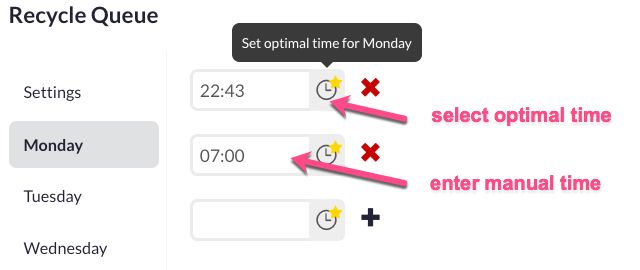 You can review and manage all your scheduled and queued messages in the content calendar: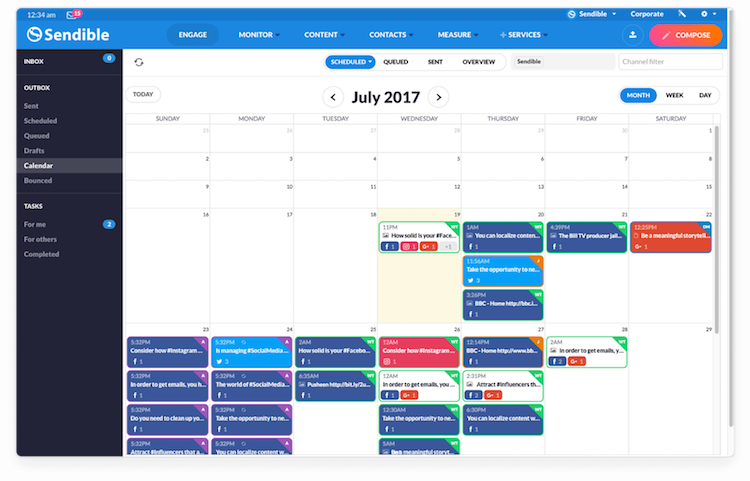 The entries are colour-coded so that you can visualise the content for each network. And if you need to adjust anything, then you can drag-and-drop entries to new dates and times.
Sendible also has a couple of ways to help you source and publish relevant curated content:
Content Recommendation Engine
RSS Auto Poster
The Content Recommendation Engine analyses existing social media posts and suggests content most likely to generate higher engagement.
The first set of recommendations are based on your recent Twitter activity. So, if you've been tweeting about computers, then it'll show computer-related content in the list.
Underneath are a series of Staff Picks covering categories like Politics, Technology, and Sport: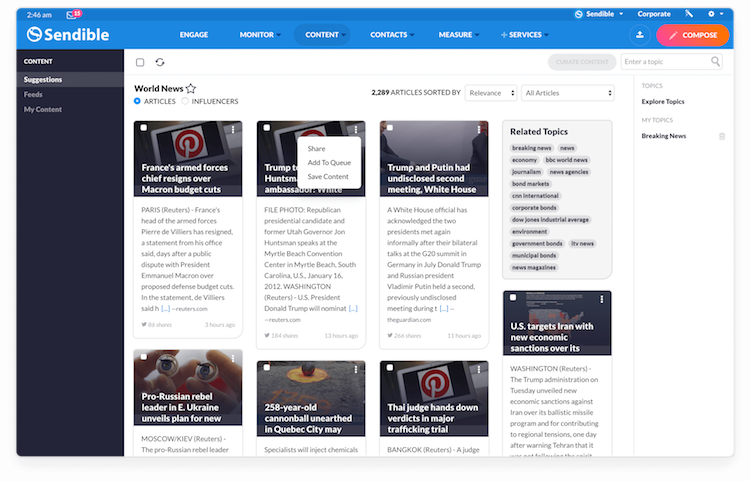 Click on a relevant category and then choose the article(s) you think would be of interest to your audience. You have the option to draft, schedule, queue or post the content.
The RSS Auto Posting feature allows you to publish content from blogs you know and trust. For example, you could add the Social Media Examiner RSS feed:

And each new blog post would automatically be shared on your social media accounts.
Measure Your Performance
Sendible includes a couple of options for measuring your social media performance:
Reports Hub
Reports Builder
The Reports Hub gives you nine ready-to-go social media reports for an instant snapshot of your social data: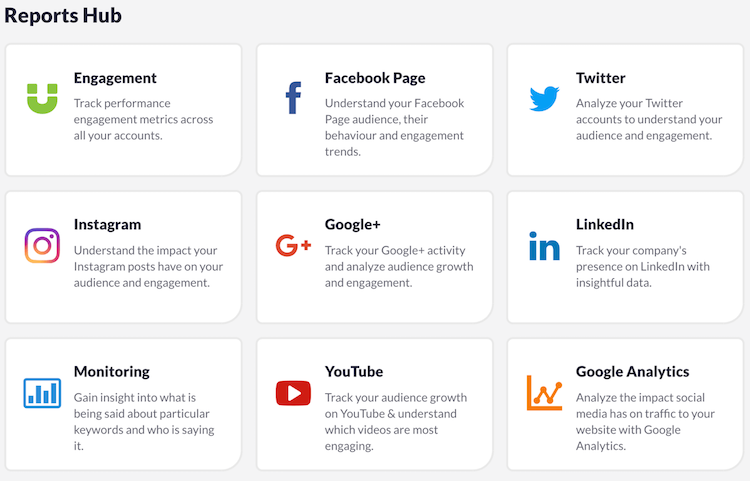 The Engagement report shows your combined audience, post engagements, posts, and mentions across all your social networks so you can check your overall performance.
Then there are individual reports for Facebook, Twitter, Instagram, LinkedIn, and more. Each report has a Cheat Sheet to help you understand the metrics: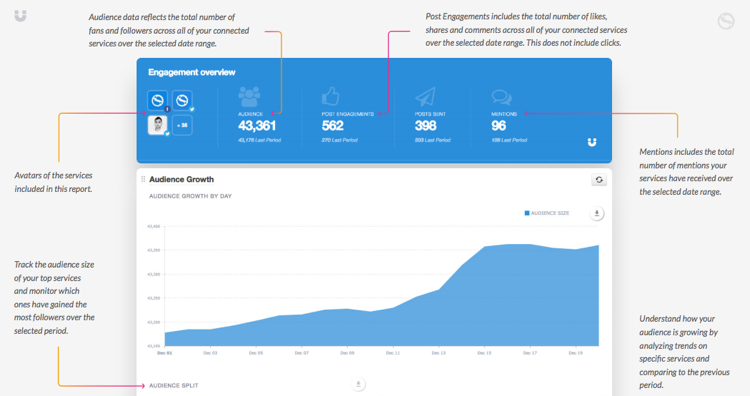 There are options to filter each report by date, and then email, print or save it.
The drag-and-drop Report Builder lets you build a custom report from a range of templates and modules. Afterwards, you can generate a presentation-ready report in a few minutes.
Pricing
Sendible has a range of subscription plans starting from $24/month:
Micro – For solopreneurs.
Small – For small businesses.
Medium – For growing agencies.
Large – For large teams.
Prices are based on the number of services that you want. For example, the Small plan includes 48 services, so you can manage 16 social profiles and build 6 custom reports with 3 users. You also have the option to purchase additional users and profiles rather than upgrading to the next plan.
If you're not too sure what you'll need, you can start with a free 30-day trial to see which plan works best for you. Check out our latest Sendible review as well.
Sprout Social
Getting started with Sprout Social is straightforward – click on the 'Start Your Free Trial' button and enter your details to start your 30-day free trial: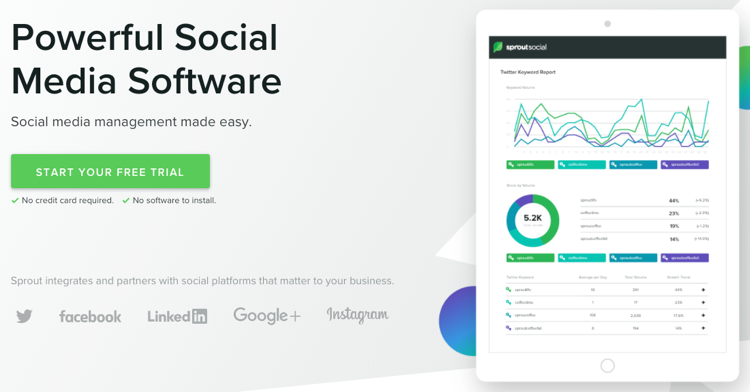 After that you'll be prompted to connect your social profiles, starting with Twitter: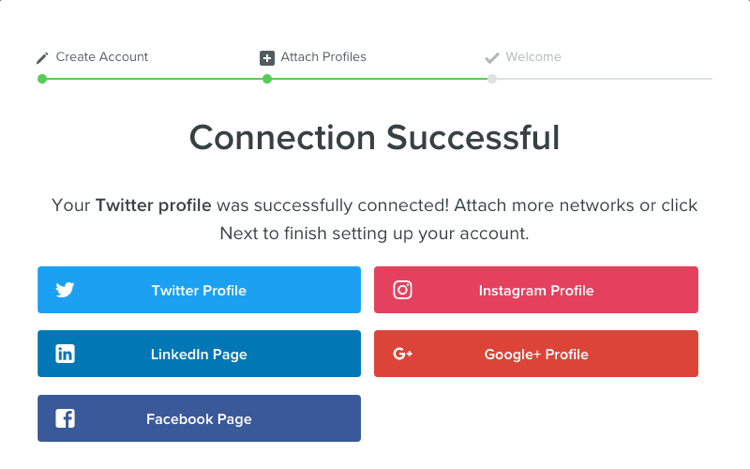 Sprout Social integrates with Twitter, Facebook, LinkedIn, Google+, and Instagram.
Let's take a look at the key areas of the dashboard.
Engage with Your Audience
Sprout Social has a single-stream inbox called the Smart Inbox that lets you engage with your audience across multiple social networks in one place.
After you've connected your social profiles, your inbox will look something like this: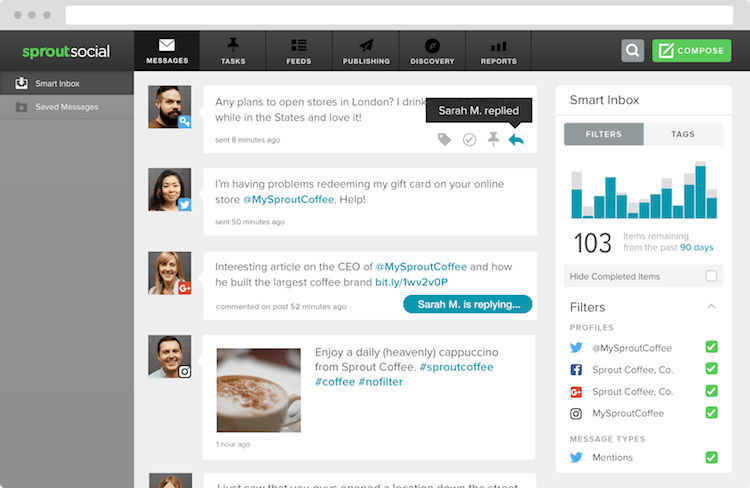 For each message in your inbox, you can take various actions including:
Like the message
Retweet the message
Reply to the message
Mark it as complete
Assign a task to a colleague
Email the message/conversation
On the right-hand side, there's a chart to show how you're progressing with answering messages. And below that, there's an option to 'Hide Completed Items' from the inbox so you can focus on the remaining items.
There are also some options to filter the messages. For example, you could uncheck Twitter, Facebook, and Google+ to leave only your Instagram messages visible on the screen. Or you could choose to view Twitter Mentions but exclude Direct Messages, Retweets, and New Followers.
Publish Your Content
There are four ways to publish your content in Sprout Social:
Publish Now – to post your content immediately.
Sprout Queue – to auto-schedule using the queue settings to fill gaps.
Schedule Manually – for time-specific promotions or marketing campaigns.
Save as Draft – to store content for future use.
Begin by clicking the 'Compose' button in the top right corner of the dashboard:

A message box appears where you can add your social profiles, write your message, and decide when you want to publish your content. Here's how it looks if you use the manual schedule: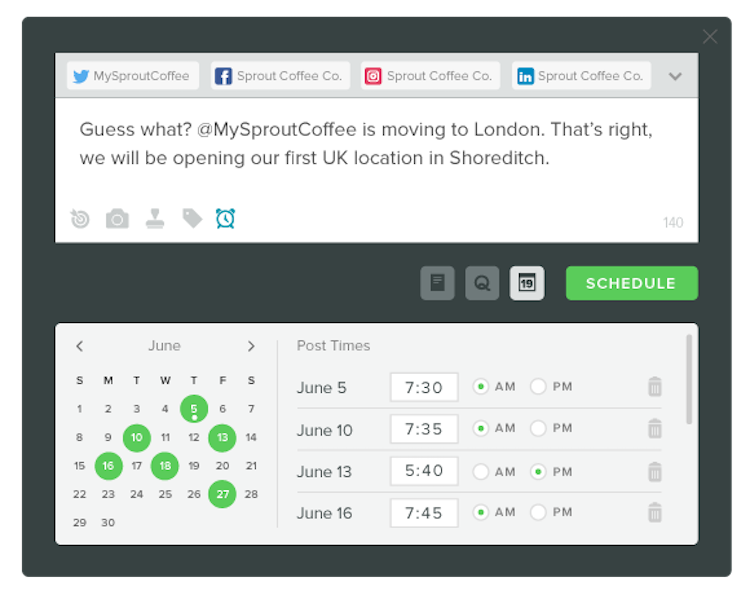 Sprout Queue lets you place your content in a queue to share at predetermined times. You can choose the timings yourself, or you can let ViralPost determine the optimal time:

ViralPost analyses your audience's usage and engagement patterns to determine the best times to deliver your content:

You can always check what content you've shared and what's planned in the publishing calendar: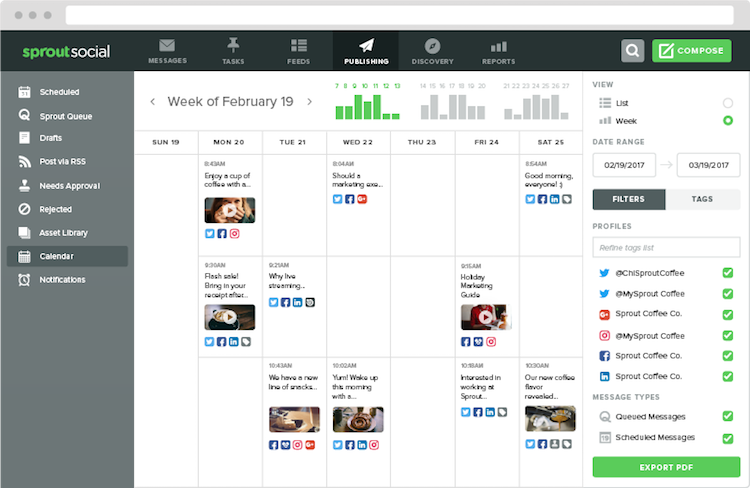 You can view by List, Week or Month, and there are also filters to select by social profiles and message types.
Sprout Social has a BETA feature to help you find relevant content to share with your audience. Select a category from the right sidebar and Sprout Social displays content that has already performed well: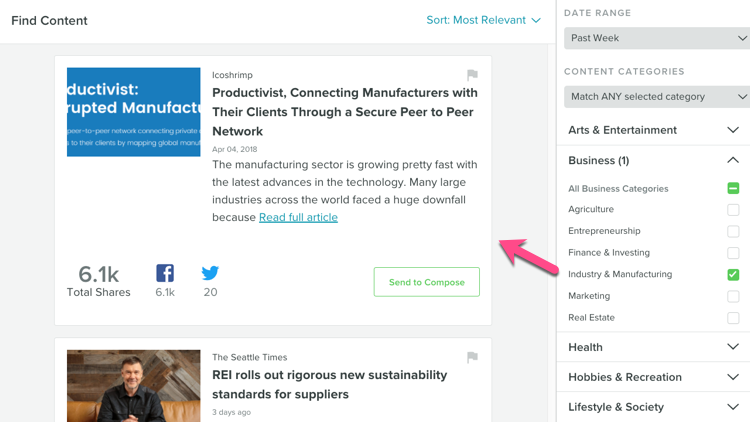 Click on the 'Send To Compose' button to draft, schedule, queue or post the content you want to share.
Sprout Social also has an RSS Scheduler that allows you to add up to five RSS feeds, including your blog. It checks your selected Feeds every hour and then auto-tweets messages when it finds new blog posts.
Measure Your Performance
Sprout Social has a full Reporting Suite that includes separate platform reports and combined group reports.
For instance, the Twitter platform has five reports: Twitter Profiles, Twitter Trends, Twitter Comparison, Twitter Keyword, and Twitter Feedback: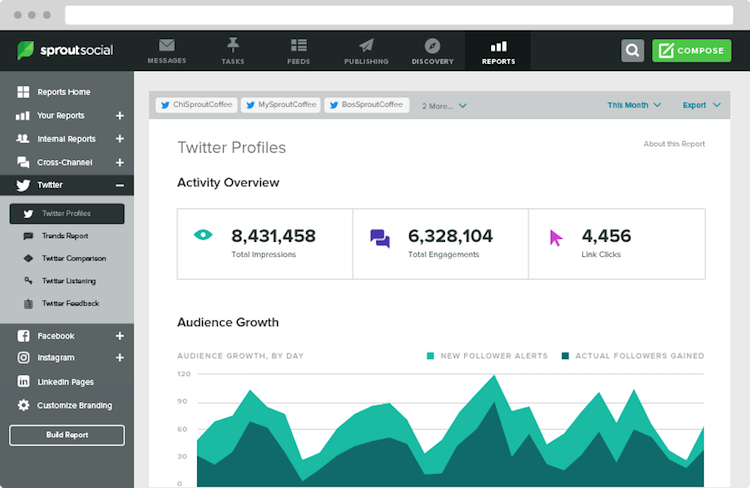 The Engagement Report combines data from all social platforms: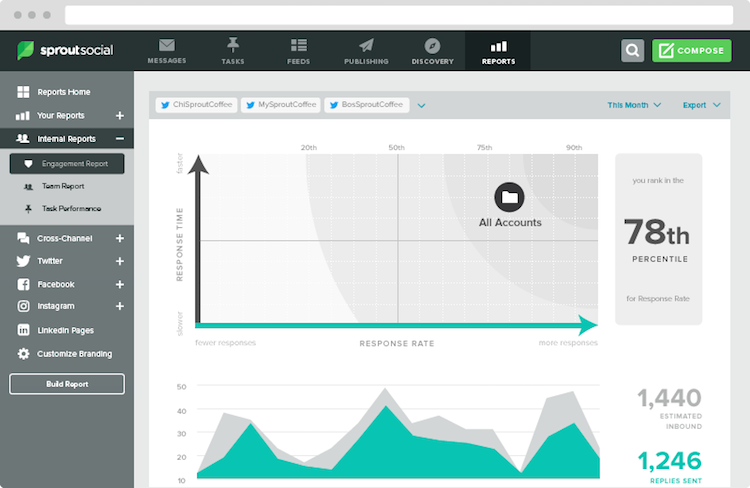 And there's also a Report Builder so you can create custom reports: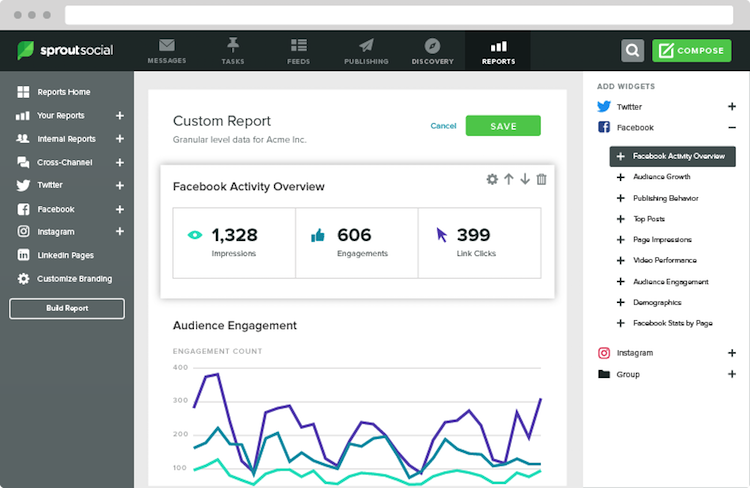 You can export any of the presentation-ready reports in PDF or CSV formats.
Pricing
Sprout Social has three subscription plans starting from $99 per user/month:
Premium – Essential tools for professionals.
Corporate – Powerful tools for social business.
Enterprise – Advanced tools for social business at scale.
Prices are based on the number of users that you require. For example, if you wanted 2 users on the $99 Premium Plan, it would cost $198 per month. There's an option to buy 5 additional social profiles for $25/month rather than upgrading to the next plan.
If you're not too sure what you'll need, you can start with a free 30-day trial to see which plan works best for you.
Final Verdict
Both of these social media management tools are excellent. And either of them will help you streamline your social media activities. So which one is best?
Which tool is best for you?
Both tools offer similar functionality:
There's an inbox to manage all your social media messages in one place, publishing options to help you schedule, queue and post your content, and a set of reports to help you evaluate your social media performance.
Our choice: Sendible's Smart Posts and Recycle options give it the edge over Sprout Social.
Both tools integrate with the major social networks:
Sprout Social and Sendible integrate with the main social networks: Twitter, Facebook, LinkedIn, Instagram, and Google+. However, Sendible also integrates with Google My Business – an innovative way of posting regular updates in Google search results that might suit your business.
Our choice: Sendible's new feature is worth considering.
Both tools have an excellent user interface:
Each app operates slightly differently, but both are easy to navigate and use.
Our choice: There's nothing to choose here and this will come down to individual preference.
The significant difference is pricing:
With Sprout Social, pricing can become expensive if you start adding more users to your plan. Plus, Sendible also has the Micro Plan, which is an ideal starter package for solopreneurs.
Our choice: Sendible has the advantage with pricing.
Ultimately, you have to choose the tool that best suits your needs. Take the free trial and see what works best.
Over to you…
Which social media management tool are you going to choose?
You might want to also read our guide on the best instagram tools.
The following two tabs change content below.
Jamie Spencer
My name is Jamie Spencer and I have spent the past 10 years building money making blogs. After growing tired of the 9-5, commuting and never seeing my family I decided that I wanted to make some changes and launched my first blog. Since then I have launched lots of successful niche blogs and after selling my survivalist blog I decided to teach other people how to do the same.
Latest posts by Jamie Spencer (see all)