If you've been thinking about building your own website but have hit a brick wall and don't know where or how to begin, then this guide is here for you!
My name is Jamie Spencer and I've helped thousands of people like you get online and thrive with their businesses, personal websites, or ecommerce stores.
In 2021, ANYONE can build their own website. You don't need to know a thing about web development, coding or how to design a website. NOW is the perfect time to get your personal blog or small business website built and attracting traffic.
The barrier to entry is non-existent.
So what is stopping you now?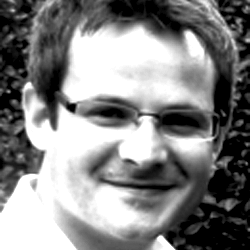 My name is Jamie Spencer and I have been building and creating websites since the beginning of the internet ( shows my age a bit! ). Blogging has been my main source of income for the past ten years. I've created and sold a wide variety of websites and blogs in different niches which means I probably have the credentials to help you create your first website, and perhaps show you how to monetize your site.
My aim was to create a simple, step by step tutorial for individuals, business owners, bloggers and anyone else who is daunted by the prospect of building their own website. With this guide, I want to show you that you don't need to code or hire a web developer to have a great looking and functioning website.
If you have just one hour spare, then this guide could potentially be a game changer for you.
Why Build Your Own Website?
There are loads of benefits to creating your own website. Whether it be for business, fun or as a hobby, there is a space on the web for your site to thrive and become popular in it's own right.
You might be thinking that there are already websites out there that have already written what you want to say or have covered all the topics that interest you and how on earth could you compete.
The most important thing when creating your own website is to carve your own style of writing and to come at a topic from a different angle. It's not about trying to compete with the likes of Wikipedia. It's about creating content that resonates with people.
Let's not forget about the benefits of creating your own website….
Here's a few reasons why people start up their own websites:
1. To Promote A Business
2. To Share A Passion
3. To Make Money
4. To Get A Job
5. To Get Clients
6. To Promote A Business
Table Of Contents – Create A Website Guide

Choose what platform you want your site to be built on.
We recommend WordPress.

Get yourself a custom domain name so people can find your website
and web hosting so people can access your site.

Set up your website, choose a theme, customize the design
and make it look awesome!

Bring your website to life by easily adding content via
the WordPress dashboard.
There are only 4 Quick steps to building your own website! So let's start Right now!
Literally anyone can make a website in 2021. As I mentioned before, you don't need to know anything about coding, website design or web development. All you need is the motivation and drive to build something amazing for you personally or your business. With the right tools and resources you can have your very own website in just a matter of 1 to 2 hours, without the need to spend money on freelancers, web design agencies or expensive web building software.
Things You're Going To Need To Create Your Website
Domain Name – ( Your website's address www.YOUROWNWEBSITE.com )
Web Hosting – ( a provider that hosts your website on a server )
Blogging Platform – ( a free platform like WordPress.org )
These three things are vital if you want to create a functional, fast and professional website. A domain name ( website address ) helps people find your website and web hosting makes it accessible to the world. Without these two component, you will be unable to create your website.
Once you've purchased your domain name and hosting, you can then start to create your website. The easiest and best way to do this is to use a website building platform called WordPress.org. It's free, robust, can be installed with just one-click and is used by over 30% of all websites on the internet.
Take 1 to 2 hours to go through this guide and by the end of it you will have a website that you can be proud of.
Step 1 – Choose What Platform Your
Website Is Built On
The first thing you need to do is choose what website platform to build your website on. There are many different CMS (content management systems) to choose from and choosing the right platform is a top priority. You don't want to start building your site on a CMS platform to find out that it's totally wrong for you and your site. There's a load of free website building platforms that you could use, but these free websites aren't great for the long term. You're restricted to using their own hosting and their own sub-domain ( yourwebsite.freewebsitecompany.com ).
Building out your own a fully functioning and nicely designed website isn't rocket science. It's quite easy actually, even for a complete novice who hasn't had very much experience with computers. But you can get into trouble when you don't choose the right website building platform.
Some platforms require you to know a little bit of HTML / CSS or other coding languages, so you really need to decide where you are at in terms of website building ability. If you are a beginner then you would be best to choose WordPress.org. There are others out there such as drag and drop builders like Wix, Squarespace and Weebly, but these aren't free and aren't as customizable as WordPress.
Below is a diagram that shows the most popular website building platforms that many of the world's best websites are using today.
WordPress, Drupal or Joomla. Which one will it be?
There are three main content management platforms that most of the world's websites are run on. WordPress, Drupal, and Joomla.

WORDPRESS
30% of websites are run on WordPress

DRUPAL
2.2% of websites are run on Drupal

JOOMLA!
3.1% of websites are run on Joomla!
And the winner is…..WordPress!

For me, I choose WordPress.org all the time.
There are plenty of other website builders out there to choose from, but WordPress wins hands down.
Here are the main 5 reasons why WordPress is my number one choice…
#1 – User-Friendly & Beginner Friendly
WordPress.org is hands down the best blogging platform and is so easy to use. Ideal for new bloggers and people starting a business that need a solid online presence. It's intuitive and if you know how to use standard Microsoft programs such as Word or Excel, then chances are you'll already know how to publish your own content on the site you're about to build.
Another great thing about WordPress is that it can be easily customized with plugins, that can pretty much do anything to your site and make it exactly how you want it. You might want just a simple small business website or a complex e-com site with hundreds of products. WP can handle this.
#2 – Powerful CMS
WordPress is extremely powerful and can run most types of sites. It's a trusted platform for many of the busiest websites in the world. It can handle pretty much anything.
#3 – Websites Are Responsive & Mobile Friendly
With more and more people viewing sites on their smartphones and other mobile devices, it's really important to have a site that is responsive to these digital demands. With WordPress, most themes come mobile friendly as standard.
#4 – It won't cost you a thing!
WordPress.org is free. All you have to do is buy your domain and hosting and then you're up and running before you can say "www."
#5 A community of awesome people to help you out.
WordPress is blessed with a vibrant and helpful community of developers who will be happy to help you out should you get stuck with anything to do with your WordPress site.
Step 2 – Buy a Domain Name & Web Hosting
Hosting your website on WordPress.com is free. GOOD NEWS!!!
And you get a free WordPress domain name. GOOD NEWS!!!
But the hosting service they give you it's really slow (which will impact your rankings on Google) BAD NEWS!!!
And the free domain name they give you is rubbish, as its a sub-domain and will make you look unprofessional. MORE BAD NEWS!!!
Example: YourWebsiteName.WordPress.com
So let's look at the better way for your site to get up and running! By spending that little bit more money, your website can have its own hosting which is much faster and reliable than any free hosting you can get and your own domain name!
Example: www.YourWebsiteName.com
This means that you will have your very own web property and not a site that's owned and rented to you from WordPress.
Web Hosting and Domain Name Costs
Before you can start creating your website, you're going to need to take care of the basics. The two most important components to get your site up and running is a domain name and web hosting service. Without these two things, your visitors will have no way to access your site.
Domain Name
The domain name refers to the address that people will use to visit your site. It's what your site will be identified as moving forward. Needless to say, it plays a bit part in defining your brand, so it's important to choose a domain that represents you or your business well.

Web Hosting
Web hosting is where your site is actually going to be stored. Hosting companies have large data centers filled with servers. When you purchase a hosting plan, part of one of those servers is dedicated to your site. It's where you will be putting on your files, copy, images, and anything else pertaining to your web creation.
---
Disclosure: When you purchase a product or service through links on this page, I earn a commission. This helps me to keep this site running. There are no extra costs to you at all by using our links.
---
Choose Your Web Hosting
Typically, hosting will cost you approximately $3 – $6 per month. It's worth it, really it is! If you're serious about building your own website then you need your own hosting and domain name.
In most of the websites that I have built, including makeawebsitehub.com, I have used Bluehost for my web hosting.
Go to www.BlueHost.com and click on the "get started now". Use this link to get a FREE domain name for the first 12 months.
You can get the basic hosting package for an incredible $2.95 a month + free domain name, but I recommend the Plus plan for new bloggers, as you get more unlimited features with this deal and you can host more than one website on the account.
If you're starting up a blog, personal website or business website, you will need both a domain name and hosting package. With the hosting package, you also get unlimited email addresses that are assigned to your domain name!
Example: [email protected]
This is super useful as everything is under one roof! No hassle with having to arrange email accounts elsewhere!
If you are looking to create an online store or eCommerce website then read my guide on starting a website with Shopify.
Where to Register a Domain and Get Web Hosting Service
Now that you know why a domain name and hosting is important, where do you get it?
For this guide, we'll be using BlueHost. It's a hosting provider that I've been using since the very beginning of my career.
BlueHost is a safe pair of hands. They're one of the biggest brands in hosting and have been around forever. They have a great reputation for exceptional customer support and providing reliable hosting services at affordable prices. While the provider's data centers are located in Utah, users from around the world will have no problem accessing your site.
BlueHost's shared hosting plans start at only $2.95 per month with a promotional offer for new members. There are a few different plan tiers to choose from and there's also different types of hosting plans available for whenever you need to upgrade.
In addition to offering hosting service, BlueHost acts as a domain registrar. So, you can take care of both tasks in one place. Bluehost offers a free domain for one year with all of their hosting packages.
One thing to note is Bluehost don't offer country specific domain names such as .de .fr .es. For these you'll need to buy them over at Domain.com. Use our coupon code SITEHUB to get 25% off everything.
Getting your domain name and hosting service is very easy and only takes a few minutes. Here's a step-by-step guide on how to do it at BlueHost.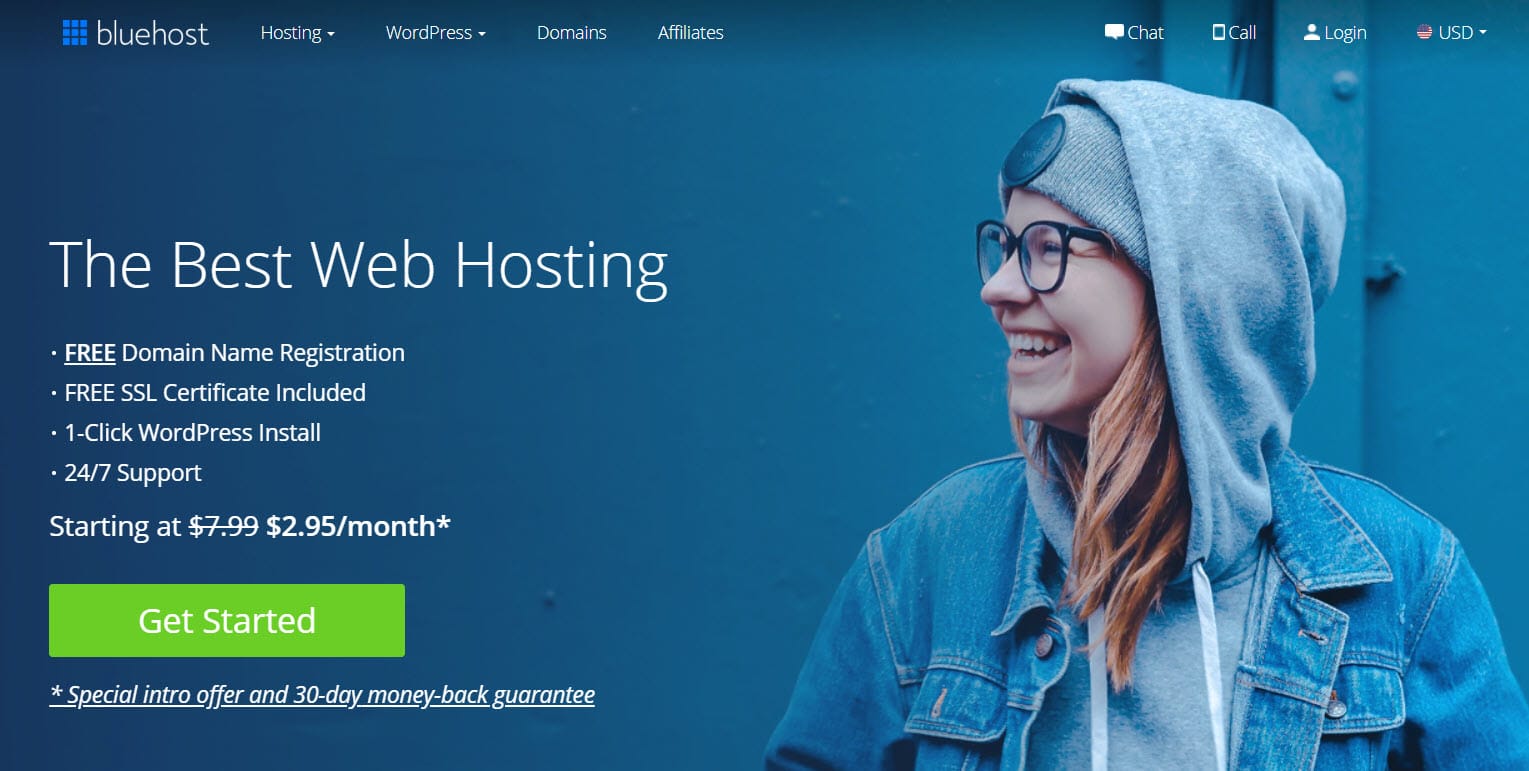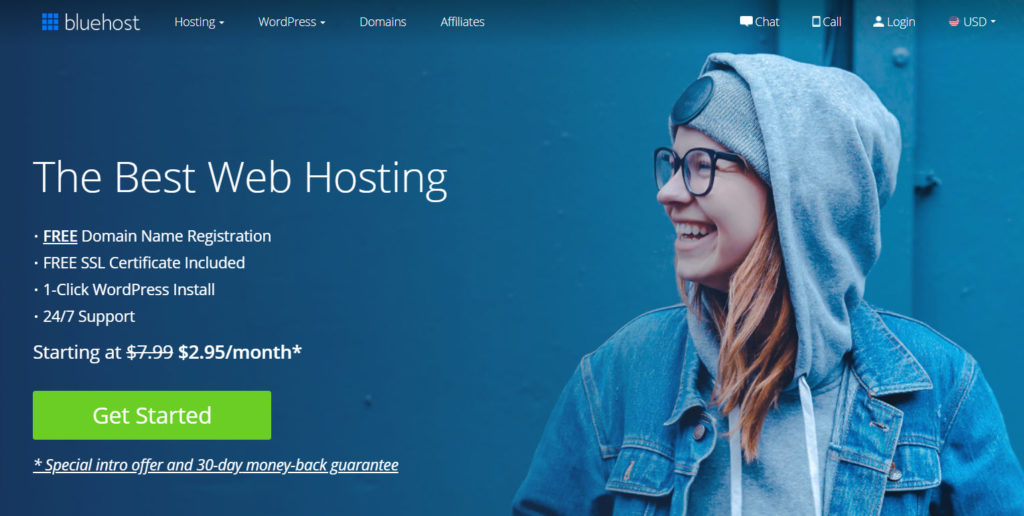 On the homepage, you'll be able to see some basic information about the services the company provides. When you're ready to get started, click on one of the "Get Started" buttons.
2. Select A Web Hosting Plan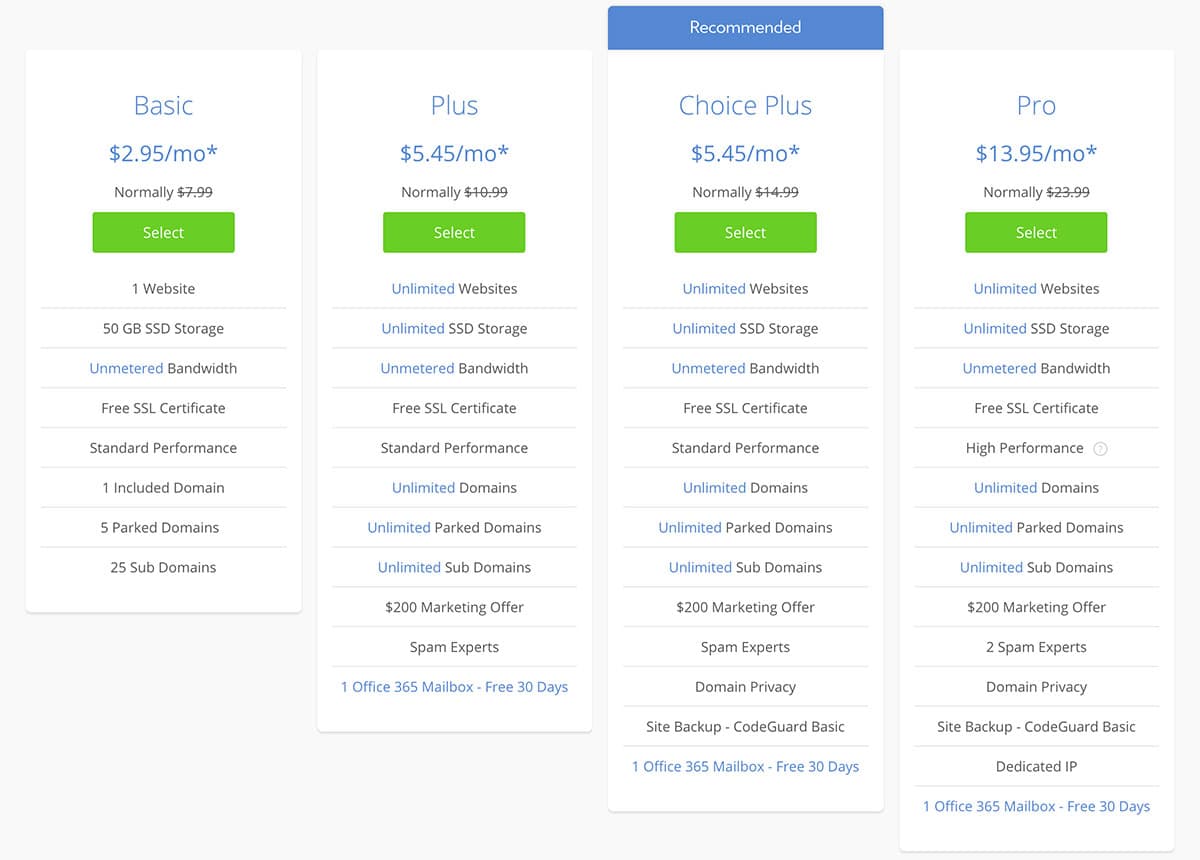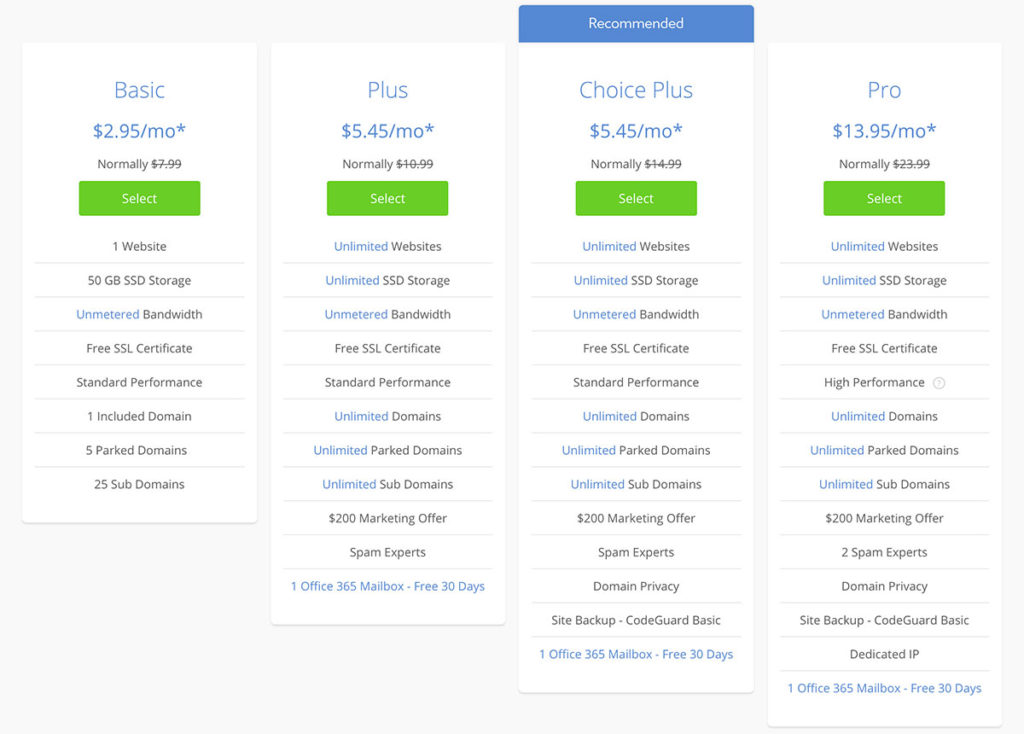 This page is for the shared hosting plans. If you're interested in VPS hosting or Dedicated hosting, you'll need to visit their respective pages. Links to those can be found on the toolbar up top. They are towards the upper left side of the screen under the "Hosting" submenu.
If you're just getting started, shared plans are the way to go. Not only are they cost-effective, but they have all the resources you need to get your site up and running. Scroll down the page a bit to see a detailed breakdown of the available pricing plans.
Currently, BlueHost offers four different shared hosting tiers.
Basic
Plus
Choice Plus
Pro
The most affordable is the Basic plan, which gives you hosting for one site and 50 GB of SSD storage. The second plan is the Plus plan. It offers unlimited sites, storage, and domain. The Choice Plus plan throws in domain privacy and a site backup feature. Finally, there's the Pro plan. It's one of BlueHost's newest offerings and includes a dedicated IP address.
We recommend going with the Choice Plus plan. Pricing is currently $5.45 per month ( normally $14.99 pm ) The unlimited storage and extra features make it well worth the upgrade.
The great thing about BlueHost is that you can easily change your plan as your site grows. To move onto the next step, click on the "Select" button for the plan that you want.
3. Choose A Domain Name
Now you're on to the fun stuff. On this page, you get the chance to choose your domain name. If you already have one, type it out in the righthand box. To register a new one, focus on the box to the left.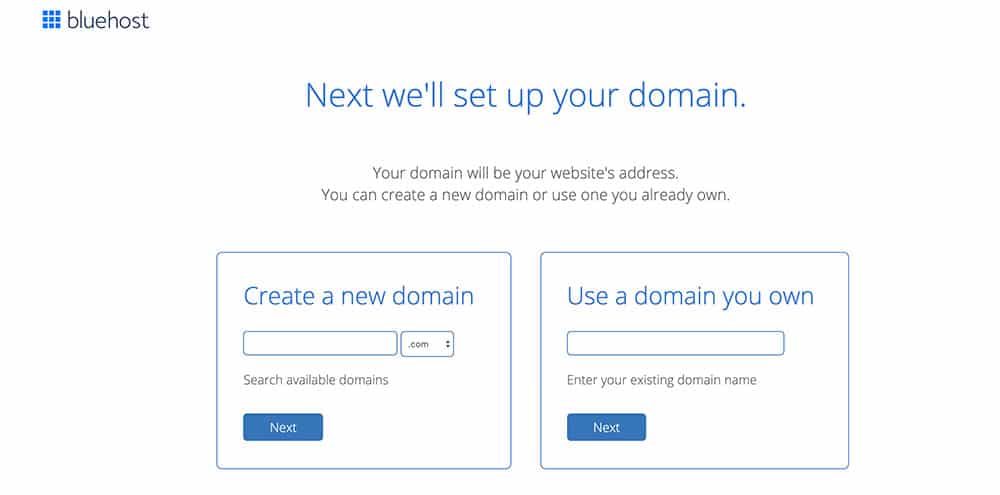 Think of something creative and relevant for your domain. If you own a business, you could do something as simple as your company name. Alternatively, you can use your own name. Whatever the case may be, type it in and choose a domain extension.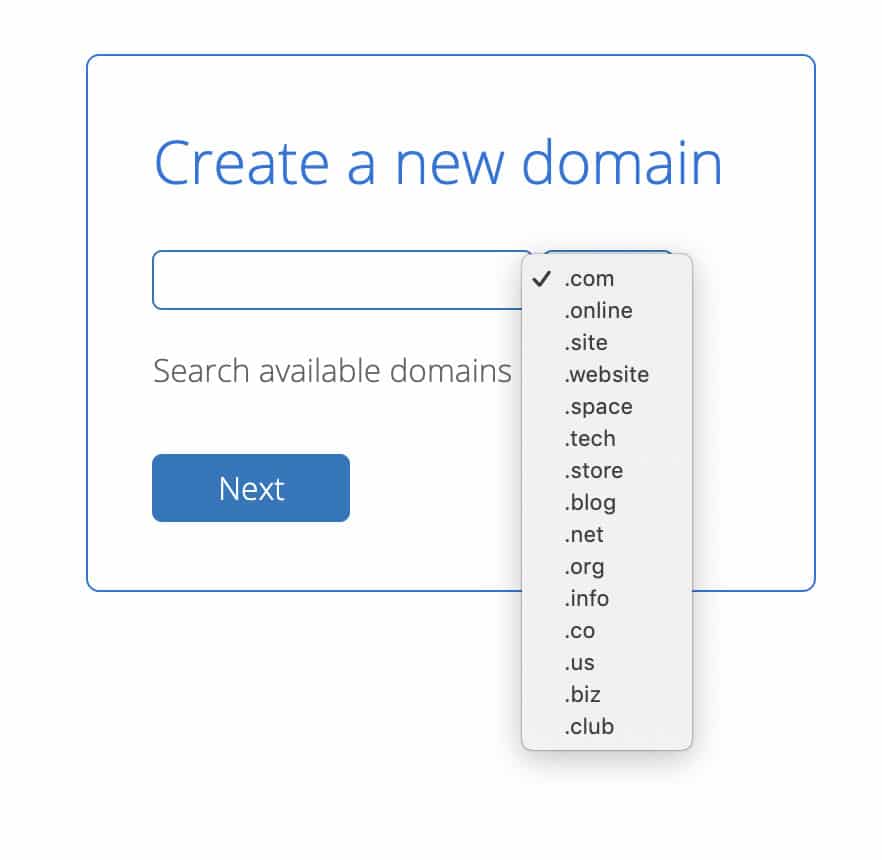 Pressing on the small dropdown menu next to the text input box will show you a selection of domain extensions you can choose. Currently, it's only showing you 15 of the most popular extensions that qualify for the free domain offer.
It's recommended that you stick with something that's familiar. .com, .net, and .gov extensions have been around for a very long time, so people are familiar with them. They'll give your address a professional touch.
If you want to register one of the many new top-level domains, you'll have to purchase it separately from a different part of the site.
Note that Bluehost doesn't offer country-specific domain extensions, such as .fr, .es, or .us. These domains can be purchased from Domain.com or GoDaddy.com separately.
4. Create Your Account
Now it's time to create your hosting account. This is the information that's going to be used by BlueHost for billing and contact purposes. All you have to do is input your name, address, email address, and all other required information.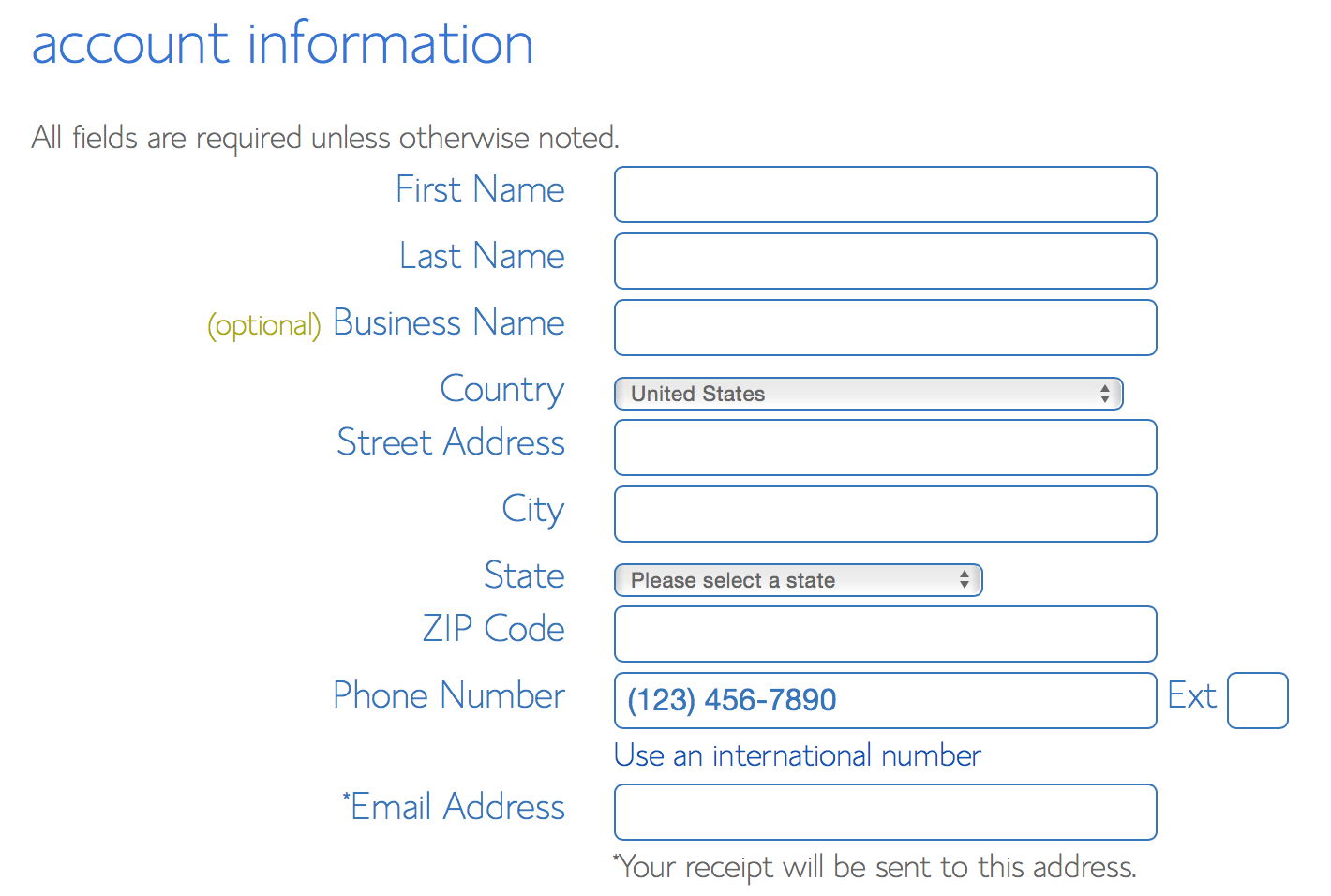 Scroll down the page to see where you'll provide your billing information. BlueHost accepts many different types of payment methods, including most major credit cards. The connection between you and BlueHost's billing department is encrypted and protected for peace of mind.
5. Check Your Plan Information and Finish the Registration Process
Now it's time to create your hosting account. This is the information that's going to be used by BlueHost for billing and contact purposes. All you have to do is input your name, address, email address, and all other required information.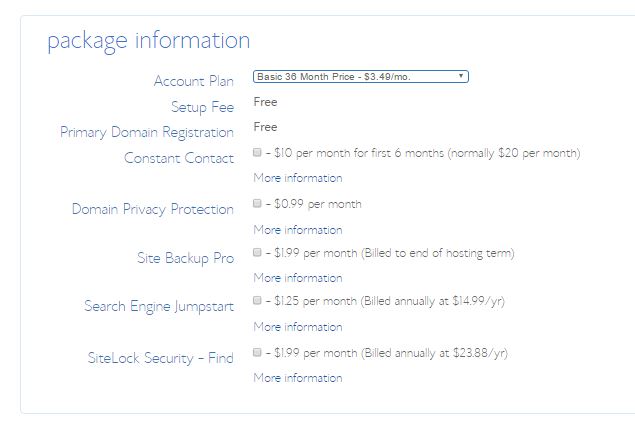 Scroll down the page to see where you'll provide your billing information. BlueHost accepts many different types of payment methods, including most major credit cards. The connection between you and BlueHost's billing department is encrypted and protected for peace of mind.
6. Confirm Your Account
After you've completed the registration and submitted your payment information, you'll receive an email from BlueHost with a unique link that's used to confirm that you made the account yourself.
Below the congratulatory message, you'll find a button to create your password. Click on it and choose a password that's easy to remember. BlueHost will require you to provide this password anytime you log in or contact support.
After that's completed, you're all done. You can now log into your BlueHost hosting account and get started.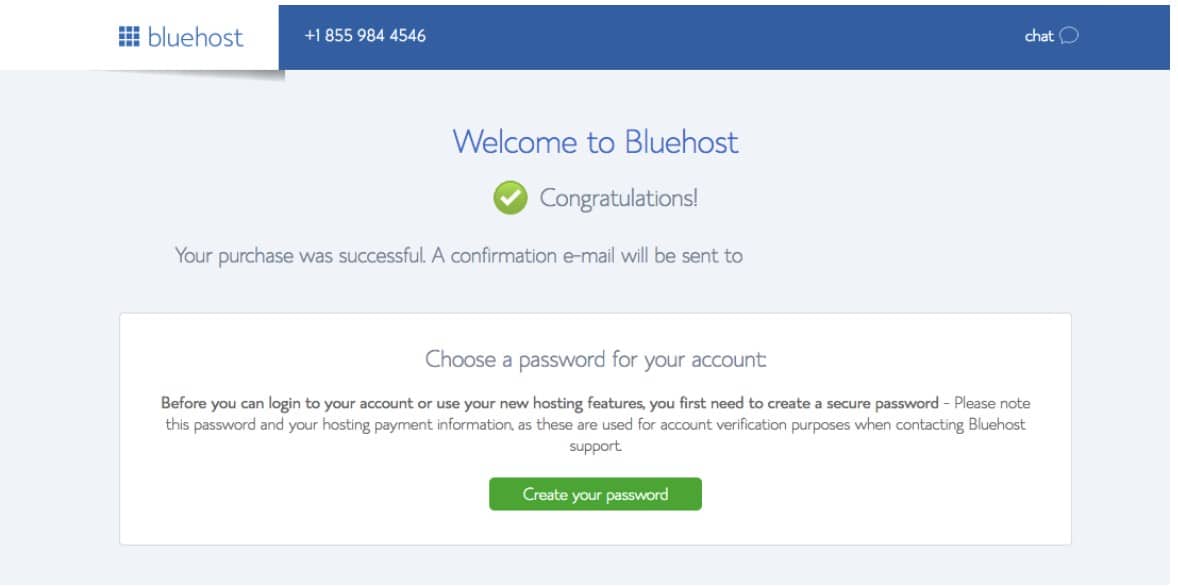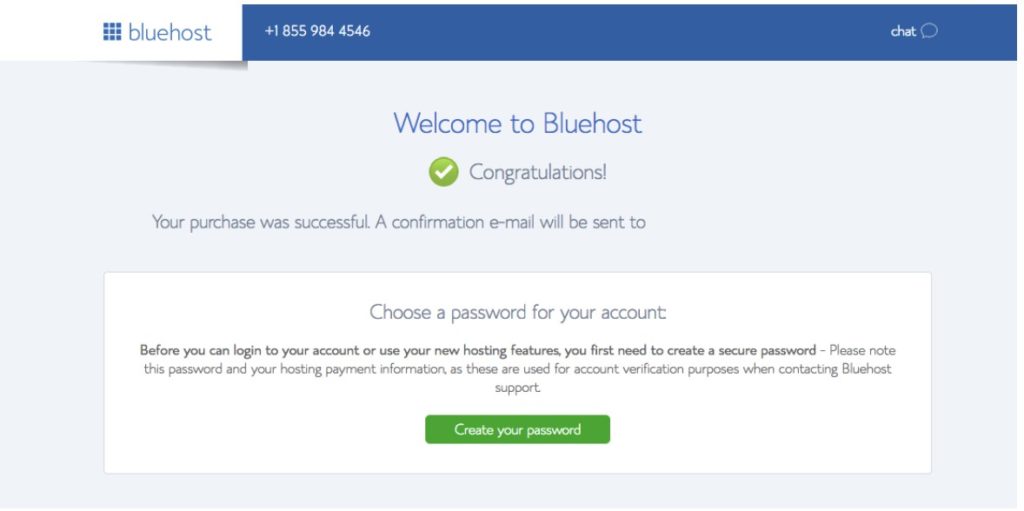 What if I already have a domain name?
This is no problem at all. If you have a domain and hosting already, feel free to skip this step and move onto Step 3, where I will explain to you how to set up a website.
What sort of domain name should I choose?
Thinking of a decent name for your website can be the toughest thing about building your own website.
In short, your domain should be…
1. Catchy
2. Unique
I have put together some quick tips for thinking up a really good domain name for your site.
What are your Top 10 Keywords
Think of about 10 keywords or terms that describe your website in the best way possible. When you have a good bunch of them you can then start to put them together, mix them up, add prefixes & suffixes to create some really cool domain name ideas.
A Unique Domain Name Is The Way To Go!
Don't buy a name that will be confused with another website. Be unique, otherwise, it could mean your website falls flat before it has even started. Never buy domains that are simply the plural, hyphenated or misspelled version of an already established domain.
Go for Dot-Com Available Domains or a Top Level Local Domain
There's no shortage of domain extensions nowadays with .this and .that at every turn. But only a few are really worth having. Dot-Com domains are considered the most valuable and important if you are going to be building a brand. If you want to target a worldwide audience with your site, go for a .com .org or .net, in that order of preference.
Local domains such as .co.uk for UK or .es for Spain are preferable. Avoid local domains like .uk.com
Make it Easy to Remember and Easy For People To Find Your Site.
Although people tend to find your site through a branded search in Google, it's still important to make your domain easy to spell/type out. If it requires a lot of effort to type correctly, due to trying to spell it, the length or the use of un-memorable words or sounds, you've probably kissed goodbye to a good portion of your branding and marketing value.
Make it Stick In Peoples' Heads
Keep your domain name snappy and memorable. Word-of-mouth and search engine prominence are both reliant on easy to remember domain names. You don't want to have an amazing website that no one can ever remember to tell their friends about because they can't remember the name of the damn site!
Short Domain Names Go A Long Way!
Short is great! Short is the way to go! It's easy to type and easy to remember. It gives the possibility of using more characters in the URL in the SERPs and a better look and fit for offline marketing material.
Watch Out For Copyright Infringement
A rare mistake to make but one that isn't made that often. But if it does it can blow a great domain and a great company out of the water! Check that you're not infringing on anyone's copyright with the name of your website. To do this head over to copyright.gov and search before you buy your URL name.
DON'T USE… Hyphens or Numbers
Hyphens and numbers suck! Simple! It makes it really difficult to give your domain name verbally and it fails the easy to remember or type test.
Other useful resource: How to Register A Domain Name
Step 3 – Setting Up Your WordPress Website
Installing WordPress
We're going to show you how to set up WordPress via Bluehost.
So you have purchased your domain name and hosting and now it's time to make your website function. In just a few minutes your site will come alive.
The first thing you need to do is install WordPress. Sounds hard, but it's not! Easy as pie!
You have two choices. Install with 1-click installation or manual installation. One click install is very very easy, so would recommend going down this route.
1. One click installations to create a website with WordPress
One-click installation is just that – one click and you've installed WordPress. Most web hosts will have the 1-click-installation integrated as standard within their dashboard. This service will have you up and running in a blink of an eye and help you to make your own website with ease!
I'm going to show you how to install WordPress using Bluehost.
If you haven't signed up to Bluehost and you're using another web host, then the "1-click-installation" should be in the hosting dashboard or cpanel.
These are the steps you need to follow with the "1-click-installation" process. This will be the same or very similar to all of the other major web hosting company websites.
1 – Log in to your own Bluehost hosting account
2 – Click on the "My Sites" option in the left hand navigation bar.
3 – Then click on the "Create a Site" button.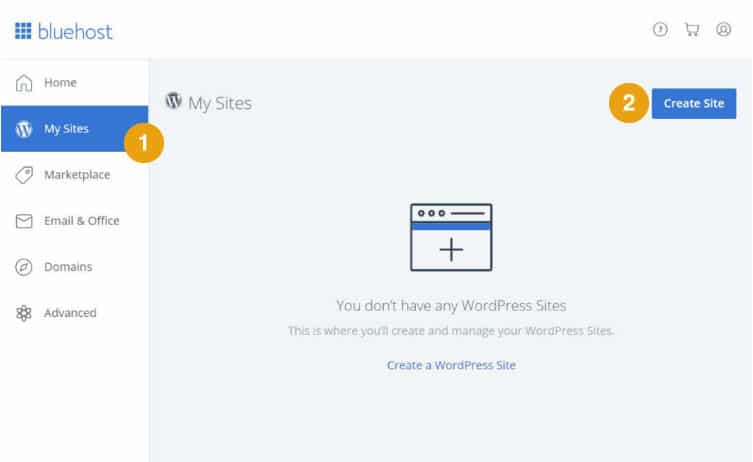 4 – You'll then need to add in some details about your new site. Once you've done this, the WordPress installation will happen automatically. Bluehost will then show you all your login details to access your new WordPress website. Please make sure you make a record of these details and store them somewhere safe.
Manual installation
Some web designers/developers like to install WordPress manually to get a custom install of the components they want and don't want. Others will need to manually install because their web host does not have the "1-click-installation" capability. If this applies to you then you'll need to have a quick read through of my Manual WordPress Set-Up Guide.
#ProTip: If your web host doesn't have "1-click-installation" then you should really change your web host!
Follow these quick and easy steps to install WordPress manually onto your server.
2. Test To See If Your Website Is Live
Your website should be live once the WordPress install is complete. Make sure you this is the case by typing in your domain name (URL) into your web browser.
With WordPress installs, they will set your website with the default theme TwentyTwentyOne. You should see a basic website that looks something like this…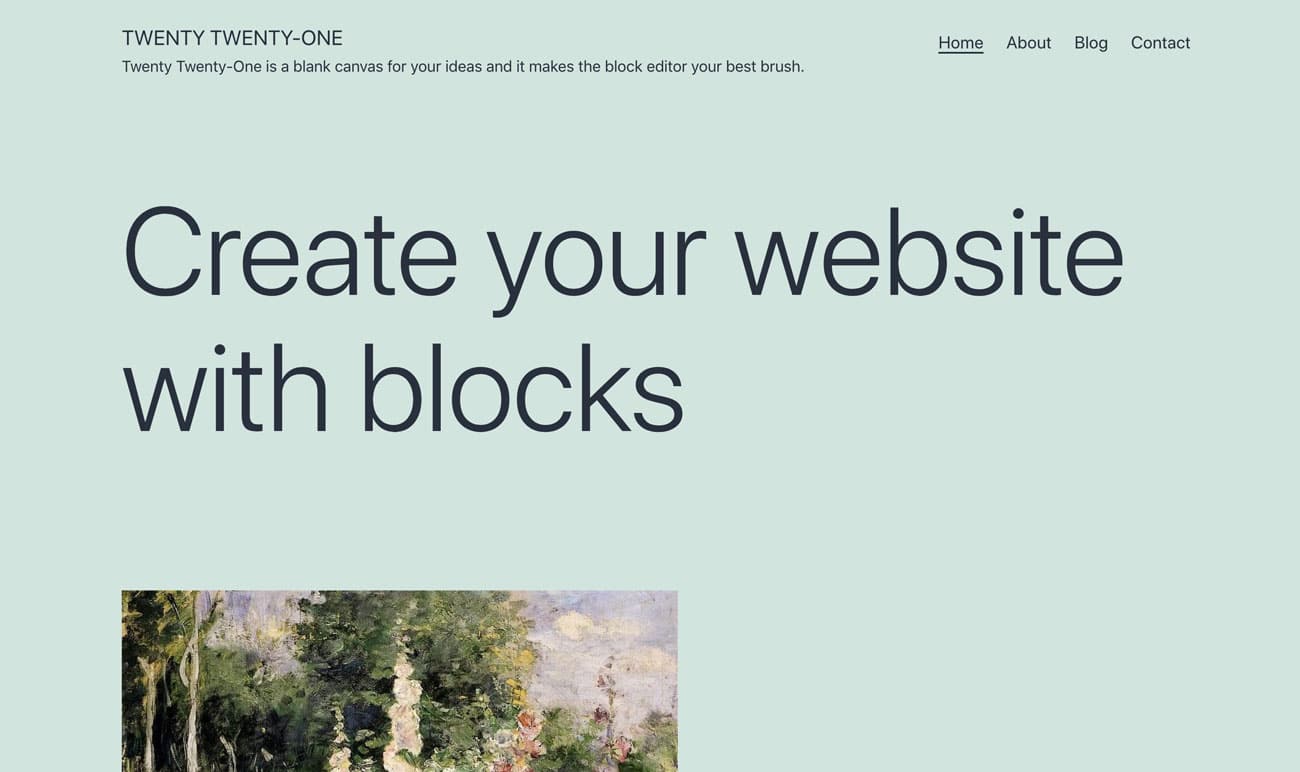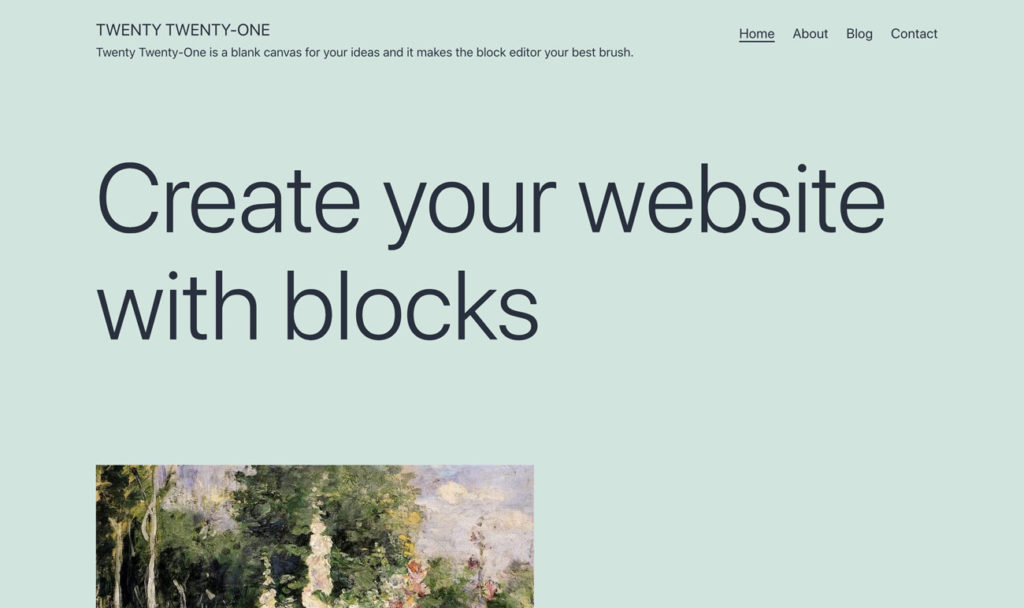 3. Check SSL/HTTPS Settings
Simply put, having an SSL certificate on your website makes sure that your website is safely delivered to your visitors' browsers.
When you create a new website or install with Bluehost, they will automatically add an SSL cert to your site.
Make sure you test your site's SSL status. To do this, simply follow these instructions:
1- Log into the Bluehost portal
2- Go to "My Sites"
3- Go to your site and click on "Manage Site"
4- Click on the "Security" tab
5- Under "Security Certificate," you'll see your "Free SSL Certificate" status
You should see a lock icon next to your domain name in the web browser. This means that the SSL cert is installed correctly.
It can take a few hours for the SSL set up to be completed.
Choose A Theme For Your WordPress Site
So you've purchased your very own domain name and hosting. You've installed WordPress on your server, set it up and now you're ready to venture into the online world with your new website.
It's time to make this site of yours look professional/awesome/cool, whatever you want it to be. This bit is so easy and we'll have you up and running in no time!
As I just mentioned, WordPress automatically installs a very basic new theme to get you started. If this isn't to your taste, then don't worry. There's literally tens of thousands of WordPress themes to choose from.
How To Find A Theme
Login to your WordPress Dashboard. You can do this by typing your web address along with /wp-login
Example: http://www.yoursite.com/wp-login
Type in your username and password and then you're in.
Once you're logged in, this is the view of your WordPress dashboard.
There are a lot of buttons, options, and functions here, which might look a bit complex, but trust me it isn't. In the next few stages, I will show you how to get started with your theme.
Once you spend just a few minutes exploring the WordPress dashboard, you'll understand how everything works and become completely fluent with this platform.
Getting Started With Free Themes
A "Theme" in simple terms is a collection of files that you can download from WordPress that work together to produce the front end styling of your website.
WordPress themes mainly contain the following:
The complete design or style of your site
font design
color themes
widget locations
page layouts (or templates)
styles for blog posts and blog archives
additional stylistic details
menu styles / structure
In most cases – Responsive design
WordPress has thousands of FREE themes that you can access via the "Appearance" section on the left of the dashboard.
Click "Appearance" then "Themes". This will take you to the main page for WordPress' free themes section.
Then click on the "Add New" button which will take you through to where all the free WordPress themes are.
Here you'll be able to search for themes via a range of really handy filters like: Most popular (Most downloaded + used themes) Featured (Themes chosen by WordPress and featured) Latest Theme (Latest themes to be released on the platform)
Then if you click on "Feature Filter" you then have even more options to help you find the best theme for your site.
Premium Themes
If you're looking for something a bit more professional, more design-led and more robust then premium themes might be what you're looking for.
Premium themes have many advantages over Free Themes such as reliable code base and superior support if something goes wrong with your site. Also, they just look and function better than the free themes you can pick up on WordPress Theme Directory.
Some premium themes are more like web design software, where you can actually design and build your own theme designs and page layouts/templates. This gives you more flexibility in the type of site you want to build.
I buy most of my premium themes from Theme Forest.
For support, quality of code, constant updates and improvements of premium themes, MyThemeShop are ideal for the beginner WordPress web builder.
Theme Forest is great for the sheer number and variety of themes available. If you're looking for a particular type of business site, then you'll be sure to find it on there.
Pre-made Design Elements – Inspiring and ready-to-use stock photos, CMS templates, fonts, and assets.
To really make your website stand out from the crowd, you may want to get a bit more adventurous and use some additional design elements.
There's a huge library of goodies for you to use at Envato Elements, which range from ready to use stock images for your blog posts (250,000+ fully licensed stock photos), web templates, fonts, backgrounds and much much more. Elements like these can save you so much time and are all ready for you to use for a single monthly subscription by signing up to Envato Elements.
There's 30,000+ Fonts, Illustrations, Backgrounds, and over 250,000+ Stock Photo for just $29 per month. There's also plenty of FREE stuff on there that you can use as well.
How to Install Your New WordPress Theme
So you have the theme you want for your website and you're ready to install it. This is really simple. Click on the option "Install" then the next step is to click "Activate"
Feel free to change themes as many times as you wish, as it has no effect on the content you already have on there (blog posts, pages, images). Rest assured they are all safe and won't be deleted or anything nasty like that.
How To Install A WordPress Plugin To Help You Get The Most Out Of The Platform
Plugins are modules or extensions that are installed into the WordPress CMS to increase the capabilities of your website. They add extra features, usability, tools and much more to your site that normally doesn't come with your WordPress Theme.
Plugins help to add functionality where once you would have had to build the whole site again if you missed anything out.
Plugins can turn a normal website into an online shop in just minutes. Or it can help you get up to speed on your SEO for your site, add a photo gallery, forum and just about everything else!
Installing A Plugin
To install a plugin, head over to the "Plugin" section in the Dashboard menu and then select "Add New". Use the search function to find the plugin you want for your site.
There are over 30,000 plugins available, so have a good look around and make sure you read the reviews. Not all of them are great, and you should look to see what people have said about them. Also, check to see if the Plugin is still being updated on a regular basis.
Installation is very simple. Just one click and you're done.
Plugins can turn a normal website into an online shop in just minutes. Or it can help you get up to speed on your SEO (search engine optimization) for your site, add a photo gallery, forum and just about everything else!
Useful WordPress Plugins
As there are so many different WordPress plugins I'll give you a few free plugins that I install on every single one of my websites:
RankMath or Yoast – if you plan on making sure your new website is set up for success with organic traffic from Google then this is an essential plugin. It helps you to keep your site SEO friendly and alerts you of any issues.
Site Kit By Google – allows you to access information from Google Search Console, Google Analytics, Google AdSense, and PageSpeed Insights from within the WordPress admin panel.
Contact Form 7 – is one of the most popular and oldest WordPress contact form plugins around. With it, you can create and manage multiple contact forms and easily customize form fields.
Step 4 – Adding Content To Your New WordPress Website
Well done. You're up and running with your domain name, hosting, WordPress install and theme. Now its time to bring your site to life by creating content for it.
I'm going to keep it real simple and cover the basics, so you can jump straight in with adding content to your site.
How To Add New Pages To Your New Website and Edit Them.
You are about to see just how easy it is to create a website with WordPress. Below I will be showing you the basics or entry-level tasks that you will need to know in order to add and edit content on your WordPress website.
The first page people normally create when they build a website is an "About Us" or "Contact Page" page. You can see my About page here. It's also at the top of this page in the main navigation.
To create a page like this you will need to…
1. Click on the Pages link which you will find on the left hand side of your WordPress dashboard. Click on the "Add New" option underneath.
2. You then land on a screen which will probably look to you a lot like Microsoft Word. It's very similar in function too. You can add text, images, video, shortcodes and loads more.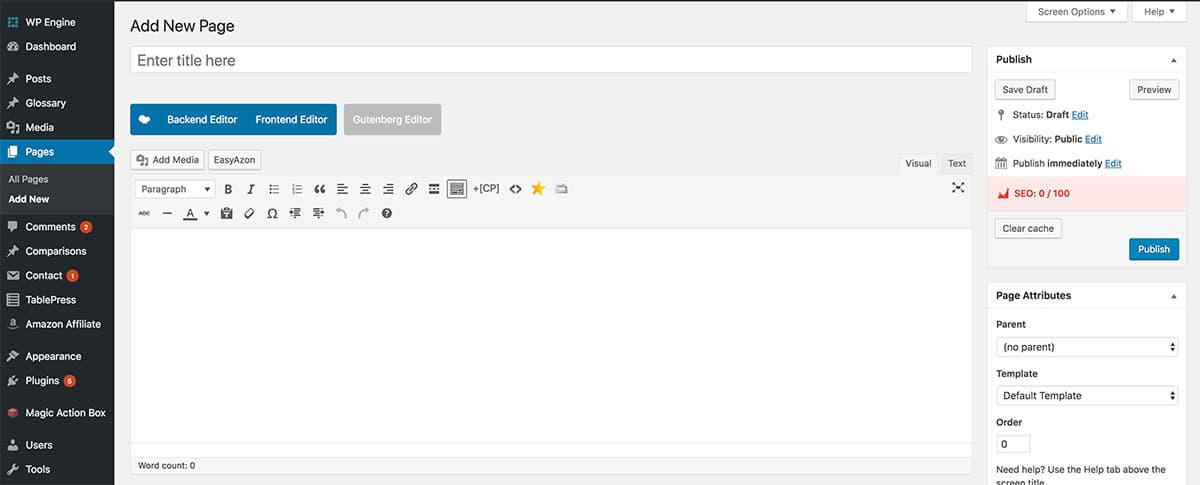 3. Once you've added your text that you want on the page, click the "Save Draft" button on the right menu bar and then click "Preview" to see what you've actually created before you publish it to "Live"
How To Create Blog Post Pages
"Posts" are web pages where you'll publish content via your blog. Posts are very different to pages. If your website is going to have a blog section, then "Posts" is where you'll need to go to publish this type of content.
Blog posts, when published will appear in your blog feed. If you click on my blog link at the top of this page, you will see all my blog content listed on this feed.
With posts, you can categorize the content really easily within WordPress, which makes it easier for the visitors to your website find your blog posts, especially the older pieces of content.
If you want to include a blog to your website, you can use different categories and posts. Let's say you want to create a category named "blog". To do so, simply add it to your menu and start making posts.
Creating a post
To do this simply hover over the Post link on the left of your WordPress dashboard, then click on "Add New".
Just like creating a page, you will see the same text editor layout. Write your blog content in the large white space, add the blog title in the smaller white box at the top of the page.
Creating a category for your blog post
When you create a blog post, you should also put it into a category. WordPress gives you the ability to sort your blog posts into categories which helps to organize your blog content into relevant topics, subjects and sections.
It makes your content more discoverable for the user and for search engines.
You can find the categories and tags meta boxes in the right-hand column of your WordPress dashboard, under the "Categories" section.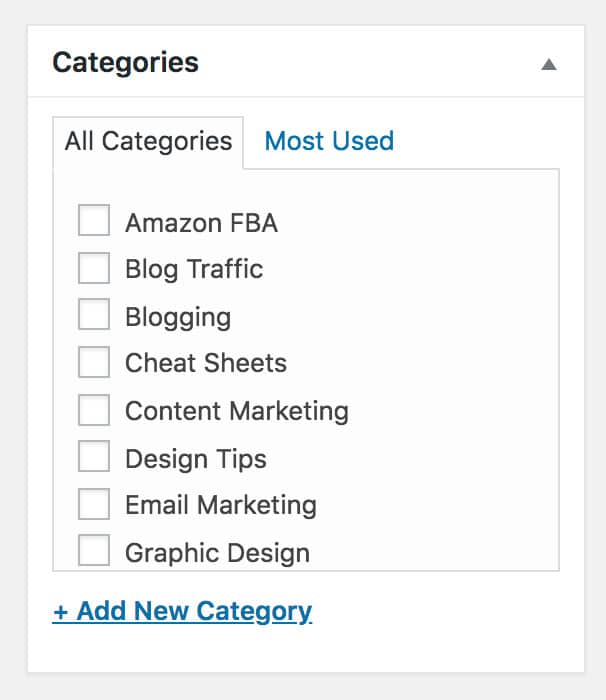 How To Add Menus
If you want to add any pages, categories or posts to your main navigation bar, then you will need to create a menu. You can do this by going to the left of your WordPress dashboard, hover over Appearance > then clicking on Menu.
Once you're on the Menu page, click on the text link "create new menu" which will be near the top of the page.
Give your menu a name and then click on the "Create Menu" button.
Then you can add in the pages you want on that particular menu.
Once you're finished, press the "Save Menu" button.
You can then assign this menu to your main navigation bar by clicking on the "Manage Locations" tab, which is at the top of the page.

How to Add Pages To Your Menu
To show your new page in the top navigation bar of your WordPress website, you'll need to do the following 3 easy steps.
Save your work. To make sure you don't lose any of your content that you've created on your page, click "Update"
In the Dashboard sidebar Click "Appearance" and then "Menus"
The page that you've just created will be displayed in the "Pages" box to the left of center. Click on the tick box to the pages you want to be added to your menu, then click "Add to Menu". In the "Menu Structure" section, you can move the order of the pages around by just clicking and dragging into position.
Congratulations! Your website is live! Now what?
So your website is now live. It's looking good and you're ready to welcome your first visitors.
Now what?
Well the next step is to start promoting your site. You can do this through a number of ways which I will briefly cover in this section.
So here's what you need to do next…
1. Web Analytics
In order to measure the effort that you put into promoting your website, you're going to need to be able to see the traffic data from your site.
The best way to do this is to sign up to Google Analytics and install their tracking code in either the header or footer of your website. It's really simple to do and you'll be able to see what sources your website traffic is coming from, the number of visitors coming to your site, the location of the web traffic and so much more.
2. Google Search Console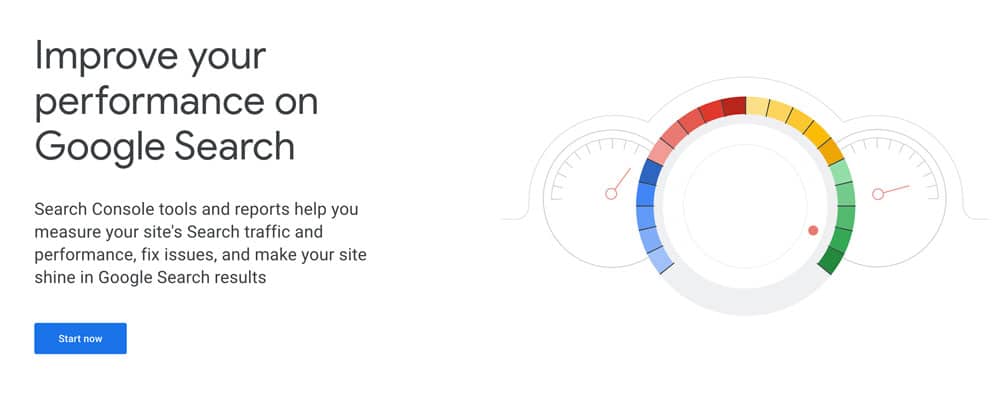 Another great service that you need to sign up to is the Google Search Console.
This will help Google to properly crawl and index your website, so that you appear in their search results.
It also monitors and measures your site's search traffic and performance as well fixing issues that may arise with your site.
Again, it's very simple to install. Google's step by step instructions are very clear to follow.
3. Social Media
Social media plays an important role in promoting peoples' websites, whether it be personal, professional or business. Set up social media profiles on platforms where you think your potential audience hangs out. Facebook, Twitter, Instagram, Linkedin and Pinterest are a few social networks where you can siphon traffic from by creating content relating to the subject matter of your website.
4. Email Marketing
Creating an email list can be a great way to build and audience and an instant source of traffic. How do you build an email list? Check out my guide here. It explains the different tactics you can use in order to get people to give you their name and email address.
And that's it! Well done on creating your first website!
Creating a website can be quite complicated and daunting for someone who has never learned how to code or had any experience with websites. This guide helps people to get online quickly, effectively and without the need of a web developer.
If you have followed all these steps in this guide, then chances are you now have a website! I've really enjoyed putting this guide together and I hope it's helped you produce the website you've always wanted.
If I can be of any more help, please feel free to get in touch via the contact form or email me.
Last word from me…
If you love what I do then please share my work with your friends, family, work colleagues and anyone who might be interested in setting up their own website.
Check out our other web resources that will help you in making your own website, as well as our CMS Comparison Infographic. Once you have got your website online be sure to follow my guide on setting up a professional email for your new website.
All the best!
Jamie