Blogging is a great way to connect with the world. It's how I managed to escape the matrix, the 9 to 5, the full-time job.
Whether you want to escape the matrix, blog to express your passion for your hobbies, to connect on a personal level with others or to help promote a business, starting a blog can be rewarding in so many ways.
In this article I will be reviewing each of the popular blogging sites available today, in detail, so you can make an informed decision on what blogging platform is right for you.
Since blogging is much more than just writing or posting photos, finding the best platform is vital. You'll want to have a platform that's easy to use and provides you with the customization tools you're looking for to give your audience everything they need to read and interact with your blog.
If you have never blogged before, you will want to choose blog platforms that cater to beginners. This means in many cases you will be giving up the option to change HTML or CSS code. If you who have been blogging for a while, these options for coding may be more important to you.
As a blogger you will also have to decide whether you want to pay for the options that come with some platforms or stick to the free platforms that may have less options available. This choice can be determined by what your blog's focus is and whether you plan to make money from the blog itself.
There are also blogging sites that provide both free and paid services, which can be useful when your small blog turns into a big hit. Here are some of the top blogging sites that are available and the pros and cons of using each to create your next home on the Internet.
What To Look For When Choosing The Best Blogging Platform?
If you're starting out as a beginner it's important to opt for a blogging platform that is easy to set up, doesn't require you to do any coding and that is easy to learn.
You might want to consider where your blog is going to be in 2 or 3 years time. What ambitions do you have for your blog and does it fit well with the platform you're thinking of using?


Choosing a blogging platform that will grow with your blog is an important consideration. You might need additional features and functionality as your blog grows. Can the blogging platform cope with that/
If you choose the wrong blog site at the start, it can cause you a lot of trouble in the future.
One last thing that you need to consider…
If you plan on making money with your blog either now or in the future, say with ads from Adsense, then make sure you choose a blogging platform that will allow you to do just that.
Ok, let's get to it!!!
The Major Blogging Platforms Compared ( Best Blog Sites – Free & Premium)
Here are the following blogging sites that I'm going to be covering in this guide. The popular blogging platforms all have positives and negatives, especially when you take into consideration your level of skills as a blogger and as a coder.
#1 – WordPress.org
(free blogging platform – hosting + domain required)


As a full-time blogger and online entrepreneur, there is no better blogging platform than WordPress.
Fact!
WordPress is the most popular blogging software in the world and powers more than 40% of the websites on the internet.
The .org version of WordPress provides many of the same features as its .com counterpart, but it also provides advanced features and additional customization tools.
The WordPress.org option works out well for people who want to have complete and full control over the customization of their blog, monitor traffic via Google Analytics and to freely monetize their website.
It's not 100% easy for beginners to use effectively, but there are lots of free and paid options to learn WordPress. Once you get the hang of it, you won't look at any other platform.
WordPress.org lets you install your own custom plugins and free themes to make your blog look exactly how you want it to look.
To use this platform for your blog, you will have to find your own web host, perform routine backups and maintain the blog on your own.
For this I recommend you use BlueHost as your blog hosting provider. They offer an easy one-click WordPress installation process, reliable up time and excellent support.
Their hosting services are also officially recommended by WordPress.
In fact, I use Bluehost for many websites that I own.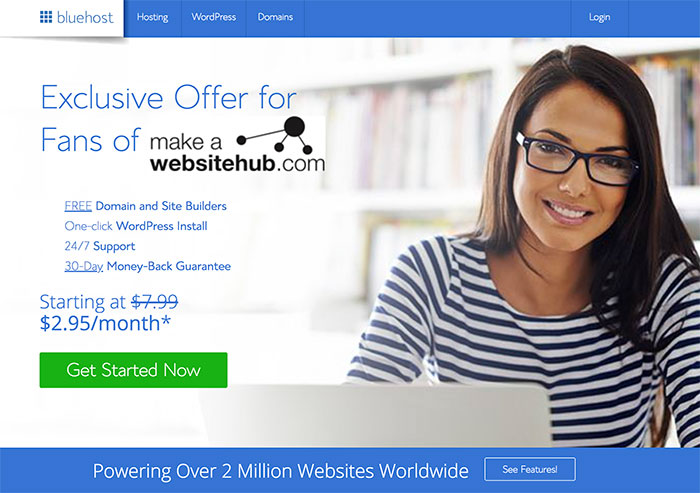 You can now get BlueHost's high quality hosting plan for just $2.95 per month – (36 months sign up) plus you get a free domain name.
Normally $7.99 per month. Personally I'd go for the Choice Plus plan for just $5.45 ( was $14.99 per month ) It's actually the same price as the Plus plan!
Use this link to get a FREE DOMAIN NAME with your hosting.
If you're looking for a managed WordPress hosting solution which then I'd also recommend Cloudways.
Pros of WordPress.org
Extremely flexible platform gives you complete control over every single aspect of your site.
Over 54,000 plugins, apps, and extensions available for full customization
Endless variety of mobile responsive themes to choose from
An excellent and cost effective way of getting started on line, especially if you're just starting out in business or blogging
Search engine and social media-friendly
Large developer community with a ton of support options
Cons of WordPress.org
Beginner-friendly, but there is a slight learning curve
Security, performance, and backups are your responsibility
Pricing
WordPress.org is completely free to use.
However, you'll need to pay for a domain name, hosting, and a premium theme should you choose to use one. You'll also need to pay for any premium plugins you may want to add to improve the flexibility of your blog.
Again, we recommend Bluehost for hosting & domain.
Best for…
Professional bloggers and those wanting full site control
Business blogs
Just about any site online today
Check out our guide on how to start a WordPress blog for easy step by step instructions.

Wix.com is a website builder platform that is mainly set up to build websites, but it can also be used to start a blog. The key feature of Wix is that the web pages or blogs you create with the platform are supported for portable devices, so your readers can see your work easily displayed on their smartphone or tablet. Wix also provides a good amount of information and support for its users, including email and phone support for customized answers to your questions. Although Wix offers an easy to use solution it has a lot of negatives from an SEO perspective.
Pros of Wix
Easy-to-use interface with no coding skills required
Plenty of third-party apps and templates to customize your site
Quick and easy to set up with hosting included
Provides a lot of design options
Unique A.I. feature will design your blog automatically
Comes with lots of stock images to choose from
Cons of Wix
Free account features Wix branding and limited capabilities
Limited number of free apps
Limited ecommerce functionality
Stuck with a template once it's chosen
Unable to migrate your site to another host
Add-on charges can rack up quickly
Pricing
While Wix offers a free account, it's extremely limited and full of Wix branding. This is only ideal for learning the ropes of web design.
Wix paid packages start at $4.50 a month. At this price, you get a custom domain name, 500MB of storage, and 1GB of bandwidth.
Higher plans offer more storage, bandwidth, apps, and the ability to build an online store. The highest plan also comes with around-the-clock VIP support, but it will run you $24.50 a month.
Best for…
Artists, musicians, and other creative types
Small websites
People with little to no web development experience
Businesses in need of a blog to complement their website
Gator by HostGator
(premium blogging platform – hosting + domain required)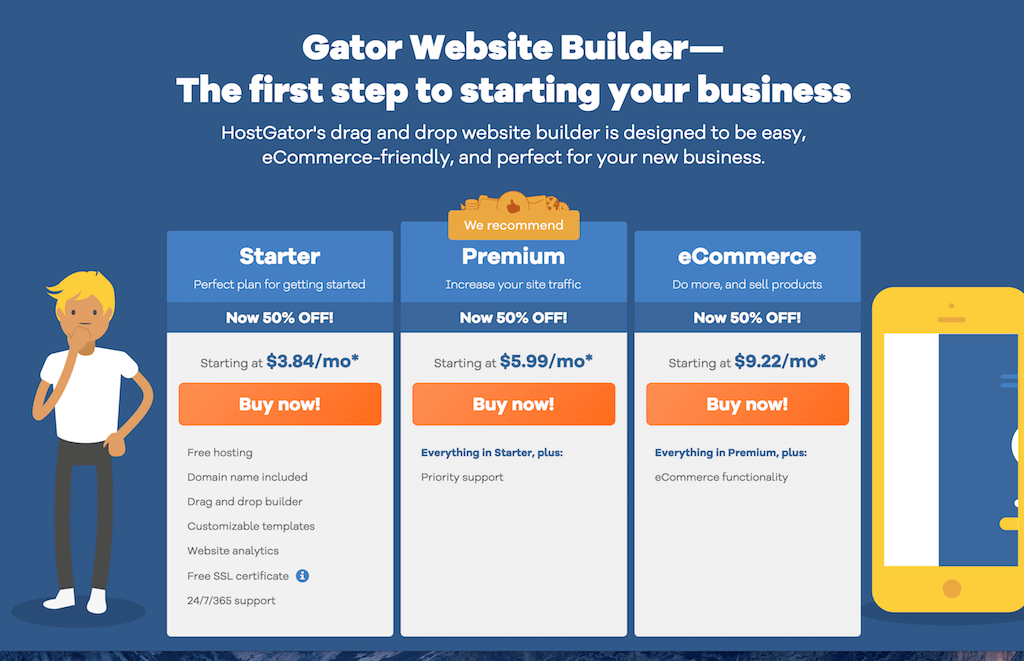 Created by the popular hosting company HostGator, Gator is an easy-to-use, drag-and-drop blogging platform and website builder you can use to build any website, including blogs. Gator can even be used to create an online store.
The Gator builder is separate from HostGator's website hosting. Many bloggers use HostGator hosting with WordPress to start a blog, but Gator provides you with an all-in-one hosting solution and blogging platform, allowing you to control every facet of your site from a single location.
Pros of Gator
User-friendly, drag-and-drop website builder and blogging platform
Quick & easy setup with no technical know-how needed
Free domain name and SSL certificate included
Performance, security, and backups handled by HostGator
Adding ecom functionality only takes a few clicks
Cons of Gator
No free account, but there is a money-back guarantee
Limited apps and extensions
Can only access ecom features with higher-priced plan
Pricing
There are three different Gator website and blog builder plans. The Starter plan starts at $3.84 a month and includes free hosting, free domain name and SSL certificate, the drag-and-drop builder tool, customizable templates, site analytics, and 24/7 support.
The Premium plan starts at $5.99 a month and includes everything in the Starter plan plus priority support. Lastly, the eCommerce plan starts at $9.22 a month. It includes everything in the other plans but offers ecommerce functionality as well.
Best for…
Beginning bloggers
First-time website owners
Anyone interested in an all-in-one blogging/hosting solution
Constant Contact Website Builder
(AI Powered Web Builder – Ideal for new bloggers)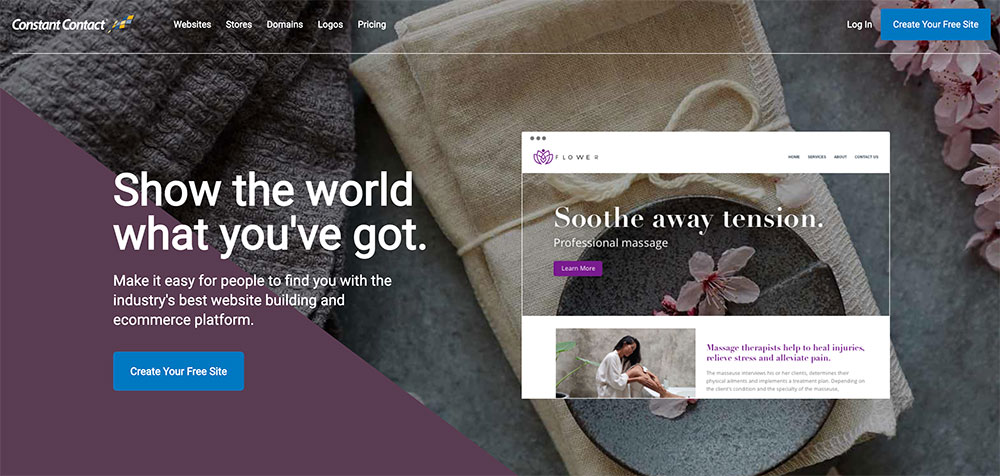 Constant Contact is best known for its email marketing service, but they also claim to have the "industry's best website building and ecommerce platform." I take claims like this with a grain of salt, and while I wasn't blown away with the web builder, it has plenty of redeeming qualities.
Not only does it use AI to auto-generate a website for you, but unlike Wix, it walks you through the site building process step-by-step in a simple and straightforward manner.
You simply tell the platform what your site is about, pick a title, add a main image and/or logo, pick a color scheme, choose your font, and you're good to go. If you already have content created, you can create a website in mere minutes.
Pros of Constant Contact
• AI makes building a site easy as 1-2-3
• Not bombarded with advanced features and options
• Excellent email functionality
• In-depth yet simple to understand analytics
• Generous free plan
Cons of Constant Contact
• Features are basic and not great for advanced users
• Designs are a bit underwhelming
• Backend glitches from time to time
Pricing
There are three Constant Contact pricing plans to choose from. There's a Free plan, a Starter plan at $10 a month, and a Business Plus plan at $20 a month.
The Free plan offers a generous helping of features. In fact, it includes all of the features discussed above, and then some, which is quite impressive considering the fact that it's, well, free. That said, there are some strings attached.
For instance, you can only use a Constant Contact subdomain and not a custom domain name. Your website will also display not-so-subtle Constant Contact ads. The paid plans also come with $200 in Google and Bing ad credits, which you won't get going the free route. You also won't get phone support or the ability to sell more than three products. However, it's worth noting that these drawbacks are typical of most free plans offered by other web builders.
The Starter plan is geared to those wanting a more professional-looking website. At $10 a month, you get all of the features of the free plan and more without the drawbacks of having to use an unprofessional subdomain or display Constant Contact ads all over your page. With this mid-level plan, you can also sell up to 10 products, which is great if you're looking to dip your toes into ecommerce.
On the topic of ecommerce, if selling is your main motivation for building a website, the Business Plus plan is the way to go. In addition to unlocking the power to sell an unlimited number of products, it also unlocks more dynamic and robust analytics. Most importantly, however, it eliminates the three percent transaction fee imposed by the other two plans.
Best for…..
• New bloggers
• First-time website owners
• Online marketers
• People with limited web development skills
• Anyone interested in a simple web building solution
Drupal
(free blogging platform – hosting + domain required)

Drupal is a great option for blogs associated with businesses because it is not just a blogging platform, but a complete content management system. This means that along with your blog, web pages and other online content can be created and organized within this platform. Drupal does not host blogs for users, so bloggers using this platform will have to find their own host someplace else. Drupal is also not a platform that readily accommodates beginners, so it is better for those upgrading from a free blogging platform rather than for the blogger just starting out.
Pros of Drupal
Great for building advanced, feature-rich sites
Access to tons of free modules and features
Custom content types for added flexibility
Built-in access control system helps manage user permissions
Great taxonomy system for handling tons of data
Core multilingual site support
Cons of Drupal
Not very beginner-friendly and as easy to use as WordPress or Joomla
Installation requires technical expertise
Need to add modules to get rid of Drupal's out-of-the-box feel
Pricing
Drupal is an open-source platform, so it's completely free.
Best for…
Developers
Designers
Editors
Anyone with the patience to learn the ropes
Joomla
(free blogging platform – hosting + domain required)

If you are looking for a full content management system, Joomla is another great option for bloggers. In terms of the ease of use, Joomla may have more of a learning curve than WordPress, but can be much easier to use than Drupal. Many businesses and large corporations prefer this type of platform because it can give you flexibility with a wide range of content options.
Joomla in an open source content management system and free to use, however, you will need to buy hosting and a domain name. For many novice bloggers, this can be a high cost unless the blog is attached to an existing business that already generates a profit.
Pros of Joomla!:
Very flexible and suitable for creating several types of websites, not just blogs
Dozens of professional-looking templates
Easy to make design changes
Lots of extensions available for more blog features and functionality
Cons of Joomla!:
Not beginner-friendly
Requires some HTML and CSS coding knowledge
Security, performance, and backups are your responsibility
Pricing
Like several other blogging platforms that require a little knowledge and work by their users, Joomla is completely free to download. When building a blog with Joomla, you simply need to pay for a domain and hosting.
Best for…
Technically advanced users
Business websites
Large, dynamic blogs
Online stores
WordPress.com
(free / premium blogging platform)

WordPress is one of the most popular free blogging platforms on the Internet. Millions of WordPress website users like the options it provides for simple, free blog creation and maintenance.
The platform is free and offers services such as hosting, the ability to have a custom domain name, integrating your blog with social media and popular features such as comments and polls are available without installing WordPress plugins. A number of paid upgrades are also available.
The biggest issue with this version of WordPress is that options such as custom themes, plugins and editing HTML are not available. However, WordPress.com also has a sister site, WordPress.org that provides many more customization options.
Both WordPress.com and WordPress.org are also known for the detailed amount of support provided. Not only do these sites have the standard tutorials to get you started building on these platforms, but WordPress also has a large community of users that are more than willing to help out a fellow user with common questions and concerns about various aspects of blogging on WordPress.
With all of the information available, it can be easy to learn this platform quickly so you can start customizing your site without too much trouble. I am a huge WordPress fan and recommend it for all my clients, check out my free tutorial if you want to start blogging with a WordPress site.
WordPress.com in my opinion is probably the best free blogging site around. If you're a novice to blogging and you're just starting out on your blogging journey, then WordPress.com is worth considering. It's great for those who don't want the advanced features that come with WordPress.org. A simple and easy to use blogging platform.
Pros of WordPress.com
Hosting is included
Installation wizard makes setup a breeze
Streamlined, easy-to-use interface
Built-in community functions
No need to worry about site maintenance
Dedicated support
Cons of WordPress.com
Free version is very limiting
Few customization options
Access to third-party plugins and themes only available with Business plans
Free account includes branding and ads
Pricing
Wordpress.org is open-source and completely free. WordPress.com is not. While a free version is available, it's extremely limiting and filled with branding.
The paid plans range in price from $4-$25 a month with annual billing. With each tier you go up, you receive more storage space, support, and features.
Best for…
Hobby bloggers
Beginner bloggers
Non-dynamic websites
WordPress.com is an excellent starting point for people new to blogging. As your blog grows and you want greater control, you can easily migrate your blog from WordPress.com over to Wordpress.org and continue growing from there.
Medium
(free blogging platform)

There are many great publishing platforms out there for starting your own blog. They include sites with customizable HTML and CSS for those with more advanced skills. Medium.com is a place to share your thoughts and writing with a wide audience.
Unlike some of the other blogging platforms, Medium has a built-in audience, which makes it often debatable whether it's a publisher or a platform.
Signing Up
Individuals or businesses can sign up for a Medium account since it's free. Those individuals or businesses can publish their own posts, add their voice and style to other publications or curate posts or publications. Publications are collections of posts that are curated by users and Medium itself.
Posting and Commenting
Readers can comment on other's posts, recommend posts and follow and share their favorites. The process is like many other blogging platforms except Medium has a slight twist on the commenting process. Readers can highlight and focus parts of the text and make their comments in the margins.
Embedding
Medium allows third party embedding from other sites around the web. Creators can embed videos from YouTube or Vimeo. They can add content from Twitter, Vine, Instagram and SoundCloud.
Traffic and Views
On every post, readers get to see how many minutes it would take to read a post. They'll immediately know whether they have time to read through the story or whether they should bookmark it for later. Another feature on the front page for viewers to see is how many views it's gotten on the platform. Recommendations and reads are also available to creators. The dashboard allows creators to see where traffic originated from too.
Best Practises to Create Posts
There is no minimum word count for posts, but Medium suggests that content over 400 words are popular. The headline should be compelling and clickable, but should also stick to the topic of your content. They recommend high quality photographs for the content as well.
Great for Beginners
The platform is a terrific starting point for beginners to the blogging world. It's simple to use and doesn't require coding knowledge. It's also used by brands to recycle their content onto another platform to gain further reads and new readers of their content. A highly recommended free blog site for small business owners and freelance professionals.
Pros of Medium
Completely focused on blogging and content creation
Quick and easy to sign up and get started
Excellent user interface
Embed content from Twitter, YouTube, and more
Cons of Medium
Very few customization options
You don't control your content
No site migrations
Limited marketing features ad monetization options
Pricing
Medium is free to use. You can hook your domain up to individual stories, but you're unable to sync it user accounts.
Perfect for…
Professional writers and bloggers
Hobby bloggers
Anyone looking to improve their brand visibility through great curated content
Squarespace
(premium blogging platform – $12 – $40 pm)

When it comes to customization, Squarespace is a platform that offers a wide variety of options. The best part about customizing your blog on this platform is that you can change everything without knowing how to code.
It is also a platform that lets your expand your services which is a great option if you are using your blog for your business. It also has its own analytics dashboard, so you can see where your website's traffic is coming from, what pages your visitors are looking at, how they're engaging with your content and so much more.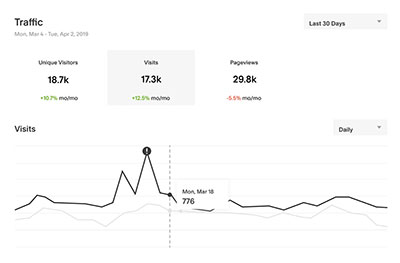 The downside to Squarespace for bloggers is that theme and plugin support is not a great as it could be. If you want these options on Squarespace, knowledge of code will be necessary.
Pros of Squarespace
Very beginner-friendly and easy to use
Hosting and custom domain name included
Variety of professional design templates to choose from
Built-in SSL encryption
Ecommerce functionality
24/7 support
Cons of Squarespace
Limited to only using the platform's features
Very few third-party integrations
Personal plan allows for limited number of pages and contributors
Pricing
Like many other paid blogging platforms, Squarespace operates via the subscription model. You can choose from one of two plans. The Personal plan is $16 a month and the Business plan is $26 a month.
Both plans offer unlimited bandwidth and storage. However, the Business plan also includes several marketing features, the ability to customize designs, and the ability to create an online store.
Best for…
Professional and hobby bloggers
Business owners
Ecommerce stores
Portfolio websites
Weebly.com
(free / premium blogging platform)

Another blogging platform that is great for businesses who want to maintain a blog on their website is Weebly. This platform provides a wide range of easy-to-use features, including drag and drop options for those who do not want to learn coding to make simply changes.
Since Weebly can be used for blogging and web building, business owners find this platform a lot easier to use than other platforms where blogs and websites are created separately. To start with you can sign up to their free plan which will give you some practice writing and constructing blog posts without spending any money.
Related Guides: Weebly Pricing – Weebly Review
Expert coding options are also not available on this platform. If you are a blogger who wants to be able to change and customize HTML or CSS on the blog, this Weebly.com makes it difficult to do so because it focuses its services on those who want to quickly create and update a blog without a lot of hassle.
Pros of Weebly
Easy to use with drag-and-drop blog building tool
Good selection of mobile apps
Strong SEO features
Integrates with Google Analytics
Cons of Weebly
Few integrated features
Limited number of third-party integrations
Difficult to export sites
Free plan features Weebly branding and subdomain
Pricing
Weebly offers a free account, but it's limited to 500MB of storage and includes Weebly branding and a subdomain. As far as paid plans go, the initial plan comes with a custom domain name and costs just $4 a month.
If you want site statistics, membership options, video backgrounds, and other features, you'll need to go with one of the higher-tier plans, which costs $8-$25 a month. If you want to create an online store, Weebly has separate ecommerce plans that cost a little more.
Best for…
Beginner bloggers with little technical skills
Business websites in need of blogging capabilities
Portfolio websites
Typepad
(premium blogging platform $8.95 to $49.95 pm)

Typepad is a blogging platform that provides an easy-to-use interface for beginning and experience bloggers. The platform provides a wide range of themes to choose from as well as plugins so you can make your blog your own.
A key drawback to using Typepad is that all of the blogs are hosting by them on their server, so you do not have the option to use the platform with your own blog host.
It is also a platform that makes editing code difficult because it is geared towards bloggers who may not be as confident in editing HTML code for example.
Pros of Typepad
Active dashboard for quick drafting
and publishing of content
Several social media integrations
Google-friendly posting features
Supports live audio and video podcasts
Unique tip jar and other monetization features
Both blog and individual post data analysis
Cons of Typepad
Free 14-day trial, but Typepad is a paid platform
Restrictions on the number of blogs you can create
Few integrated widgets
Pricing
Typepad offers several pricing plans to meet the needs of a variety of users. The Plus plan is $8.95 a month. With it, you get unlimited storage, an array of design templates, domain mapping, and personal support.
The next step up is the Unlimited plan at $14.95 a month. With it you get everything in the Plus plan as well as fully customizable designs and the ability to publish unlimited blogs.
Meanwhile, the Premium plan is $29.95 a month, and it includes all of the above plus priority support. There is also an enterprise plan for $49.95 per month.
A free 14-day trial is available with all of the plans.
Best for…
Professional bloggers
Industry influencers
Large organizations
Blogger.com
(free blogging platform)

If there is one platform that is easy for beginners to use, it is Blogger. This is a free blogging platform that is simple to use for anyone just starting out with a blog.
With this platform a user can just type their content, add photos and publish. Blogger.com also lets users edit HTML and add widgets to blog, which many blogging sites for beginners do not offer.
Blogger is a Google service, so users will have to have a Google account and may find the Google-related add-ons redundant or useless for their blog. It is also one of the blogging platforms that many bloggers grow out of once they learn more about blogging since it does not have any upgrade options.
Here's a more detailed comparison of Blogger versus WordPress.
Pros of Blogger
Free and easy to use
Takes care of hosting, maintenance, and more
Several mobile responsive templates to choose from
Integrates with Google Drive and other Google products
Useful anti-spam comment feature
Cons of Blogger
Limited blogging tools
Zero integration with third-party apps and services
Few design options
Ads are displayed on your blog
Pricing
Blogger has been around for what seems like forever, and while it lacks the functionality and design options of WordPress and several other of today's popular blogging platforms, it costs absolutely nothing to use.
In fact, the only expense you'll have with a Blogger blog is a custom domain name, but going this route is completely up to you. If you want to use a custom domain, you need to buy from a domain registrar.
If you don't go for a custom domain name, then you'll receive a free Blogger subdomain like https://example.blogspot.com.
Best for…
Hobby bloggers
Personal blogs
Tumblr.com
(free blogging platform)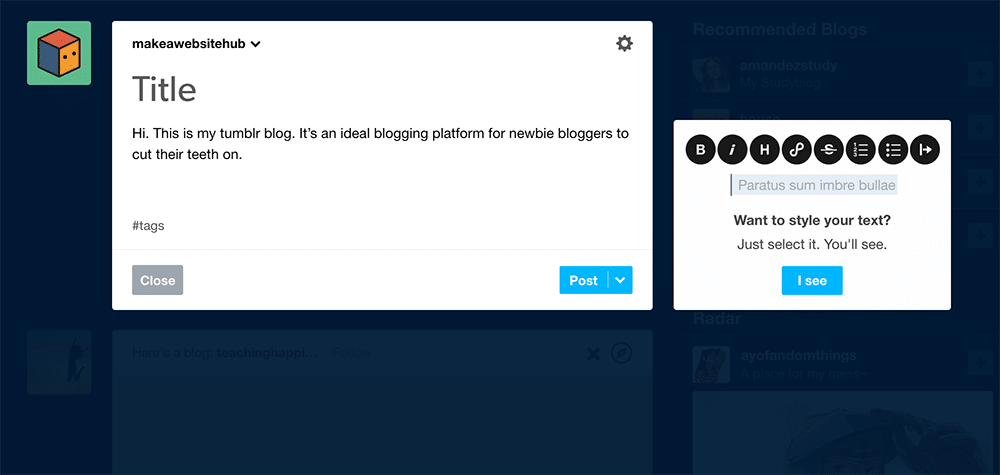 Tumblr is a blogging platform that is very popular with younger audiences. Traditionally created for "microblogging", the platform itself is very simple to use and enables the user to obtain a free website ( although you will never own the content or domain name.
One of the best features of Tumblr is that it is focused on the community of bloggers, so it provides a variety of options for sharing and reblogging content. The downside to blogging on Tumblr.com is that it does not focus on text content, but photos and GIFs. Visual bloggers will love it, but writers may want to find another platform to use.
The idea of reblogging content may also lack appeal with bloggers, particularly if you are blogging material that you want to have complete control over copyright and other such protections.
Pros of Tumblr
Free and easy to use
Includes hosting, but uses a subdomain
Integrated sharing and re-blogging social features
Several design options
Easy to publish images, videos, audio, and other multimedia
Cons of Tumblr
Features are quite limited
Backing up your files and content isn't impossible, but it's definitely not easy
Pricing
Like Blogger and several other blogging platforms, Tumblr is completely free to use. There are costs for a custom domain name and third-party themes and apps, but these are optional.
Best for…
Hobby bloggers
Personal and micro blogs
Ghost
(premium blogging platform – $9 – $199 pm)

Ghost is an open source blogging platform that provides a simple, clean interface that makes it very easy to use. It also provides a live preview of your post while you are writing it, so you can easily correct any writing or coding mistakes as you go along.
This platform can be great for beginners because of its ease of use, but expert bloggers may also prefer it because of its interface compared to other blogging services.
The downside to Ghost is that it can be difficult to install at first but once it is, it can be a great tool for any blogger.
Again for running a blog on Ghost you will require web hosting – I recommend BlueHost.
Pros of Ghost
Emphasis on blogging
Clean, streamlined, and intuitive interface
Built on JavaScript, so it's super-fast
Live blog post previews
Built-in social media and SEO capabilities
Accelerated Mobile Pages function
Zero setup for hosted version
Cons of Ghost
Customizing could be easier
Limited configuration options
Limited number of themes
Self-hosted version is difficult to set up
Pricing
The self-hosted version of Ghost is completely free, but it's difficult to set up and definitely not for everyone. Fortunately, Ghost offers paid hosted plans as well. As with most paid plans, the more you pay, the more storage, bandwidth, and features you receive.
The Starter plan costs $9 a month. With it, you get a blog, SSL encryption and CDN.
Pricing is quite complex. There's a sliding scale pricing mechanism on their site which shows you the price in accordance to the level of traffic your site gets.
Best for…
Bloggers in need of advanced technical solutions
Professional bloggers with a growing online presence
Serious publishers
Conclusion…
The best way to find the right platform for your needs is to understand whether each platform focuses on beginners or experts, how much it costs to use and how much customization your audience will demand.
Remember that it can be easy to upgrade to a better platform in most cases, so starting with an easy-to-use option is great for anyone just starting out in the blogosphere and wanting to learn how to start a blog.
That's the end of our guide. If you haven't decided on a blog platform yet – don't worry.
You can head right over to BlueHost to get your web hosting, and pick up a subscription of Envato Elements too.
That way, you can play around with all of these different blogging platforms, while at the same time having access to some of their most premium themes, and unlimited stock photos too.
That way, you can get started with actual hosting and unlimited creative freedom for less than $35 per month!
The Blogging Platforms Frequently Asked Questions (FAQs)
We get a lot of questions about blogging platforms. So many in fact that we thought it might be useful for our readers to publish them here.
#1 – What blogging platform is best if I'm planning on making money blogging?
I think there's two options that stand out above the rest.
A self hosted WordPress blog is my #1 choice. You can get a WordPress blog with Bluehost + a free domain. It's hassle free and you'll be up and running in no time.
My #2 choice has to be Wix.com. It's easy to set up and has all the features you need to monetize your blogging efforts. With easy to use drag and drop web building features, you literally can be live with a great website in less than a few hours.
#2 – What is the best 100% free blogging platform?
If you don't want to spend a penny on your blogging platform, then there's a few options that stand out.
1- WordPress.com
Completely free, but you won't be able to have your own custom domain, nor will you be able to monetize your blog with ads / affiliate offers etc.
2- Linkedin.com – Ideal for business / finance bloggers
Not exactly a blogging platform, but if you're blogging about business then you will want to write where your audience hangs out.
3- Medium – Ideal for traditional bloggers / high-end content
#3 – What is the best blogging platform for beginners?
Without a doubt, WordPress.org or WordPress.com. Both are easy to use and set up and you can have a solid blog up and live in just an hour. The other option would be Wix.com. With WordPress.org, you will need to self host with a custom domain.
#4 – What the best blog site for business?
Linkedin. Again, its not really a blogging platform, but it certainly lends itself to blogging about business. If you crave to be a thought-leader in a certain industry then LinkedIn is one of the best places to blog on, as LinkedIn users are highly engaged, ready to interact with your content and content hungry.
#5 – What the blog site has the largest audience?
Facebook has the largest audience. Again, its not really a blogging platform, but it certainly lends itself to blogging about any given subject. The audience on Facebook is vast, so it makes sense to populate it with your content. Even if it's just used to syndicate your blog site content, Facebook can be a very useful blogging tool.
Alternatives To Blogging Platforms
An alternative to setting up your own blog and building your own audience is to piggy back on some of the big social platforms. LinkedIn, Facebook or Instagram aren't blogging platforms as such, but can be used to as your own blogging channel.
People get huge amounts of success from posting on these social networks as it's so much easier to get your content in front of millions of people.
It takes very little time to set up and to build an audience in your niche. The only downside is that you have to adhere to the rules and algorithms of these platforms and you won't own your own content.
The Ultimate Blogging Platforms Comparison Chart 2023 For Both Premium & Free Blogging Sites

To help you even further with your quest to find the best blogging platform for your new or existing website or blog, I have put together a pretty comprehensive comparison chart. The chart is easy to digest and covers the pros and cons, features, detailed information and ratings on each blogging platform for both premium and free blogging options.