In this article we'll cover some of the best domain registrars out there and also cover the ones you definitely want to avoid.
Domain names are your gateway to the online world.
Once you have a brilliant idea for starting a website or blog, then you're going to want a compelling domain name to go with it.
I've probably bought well over 3000 domain names in my time as an affiliate marketer and business owner, so I think I'm well qualified to write this guide on the best domain name registrars. I've used every single one of them personally.
If you want to purchase a domain name for your website, you're going to need to work with a domain name registrar. Domain name registrars are the companies that manage the domain names behind all of your favorite websites. Now, it's time to add yours to the list.
Most registrars come equipped with a similar sets of features, but also have distinct advantages and disadvantages.
Below we dive into what a domain name registrar actually is, how to choose the right registrar for you, what to watch out for, and the good and bad of some of the most popular domain registrars out there.
My List Of The FIVE Best Domain Name Registrars for 2023…
#1 Domain.com – 25% off Exclusive Offer Fast checkout, Multi year purchases, Few annoying upsells, excellent pricing.
#2 Bluehost Ideal for beginners. Get A Free Domain With All Hosting Packages.
#3 Hostgator Get a free domain name when you buy hosting.
#4 Namecheap Easy to use, nice user interface, excellent prices.
#5 Hover Easy purchasing process.
Disclosure: When you purchase web hosting or a domain name through links on this page, we may earn some commission. This helps us to keep this site running. There are no extra costs to you at all by using our links.
Let's get to it.
What is a Domain Name Registrar?
To put it simply a domain name registrar is a service that lets you register and purchase domain names. Domain name registrars have been accredited by ICANN (Internet Corporation for Assigned Names and Numbers), which is a non-profit who has been delegated the responsibility to manage the Domain Name System.
Without the domain name system all we would have is confusing and hard-to-remember IP addresses, instead of the easy to use and remember domain names we have today.
For example, let's say you're planning on selling custom Google Pixel cases and you want to build a site around that. You'd head over to a domain name registrar and register the domain name "custompixelcases.com". Of course, you could only register this domain name if it is still available.
During this time you'd also choose the top-level-domain for your URL. This are the extensions like .com, .org, .co, .io, etc., that follows your custom domain name.
Most domain name registrars today make it dead simple to purchase and renew your domain names, still you need to choose wisely, as each register has their associated positives and negatives. Below we'll show you what you need to look out for when choosing the right domain name registrar for you.
What Do Domain Registrars Do?
Domain registrars essentially give consumers the tools to purchase and manage domain names. These changes can be made easily and through their easy to use dashboard.
All domain names records sit in a centralized database called a registry. For a domain name to be valid and recognized, it has to be added into that database with all information related to that domain name. The domain registrar is given permissions by ICANN to edit and make changes to your domain name's data and information on the centralized database registry.
How I Go About Ranking These Top Domain Name Registrars
There's a number of criteria I go by in order to rank the best domain name registrars on the market. Like I've said earlier in this guide, I have used and still use all of these domain registrars, so personal experience goes a long way with my rankings.
That being said, I also consider the following factors:
Ease of which to search for domain names
Simple, no hassle checkout process
Easy configuration
Intuitive dashboard for users to manage their domains
User-friendly DNS settings
Excellent customer service on both live support, knowledge center and phone.
Number of upsells in the buying process
Long history and a good reputation
Domain Name Registrar Price Comparison Table
Take a quick look at all of the domain registrars prices for the most popular domain name extensions.
| Registrar | .com | .org | .net | .co | |
| --- | --- | --- | --- | --- | --- |
| Domain.com – with 25% discount – use code: sitehub | $8.24 | $11.24 | $9.74 | $5.24 | Get deal |
| Bluehost | $11.99 | $8.99 | $12.99 | $9.99 | Get Deal |
| Hostgator | $12.95 | $12.95 | $12.95 | $12.95 | Get Deal |
| Hover | $12.99 | $13.99 | $15.45 | $25.99 | Get Deal |
| Namecheap | $8.88 | $11.98 | $11.98 | $8.49 | Get Deal |
| GoDaddy | $12.17 | $10.17 | $14.17 | $11.99 | Get Deal |
Best Domain Registrars Compared
Below we offer an inside look into some of the biggest domain name registrars out there. Not every choice below will be the perfect fit for every situation, so take what we have to say, and do your research thoroughly.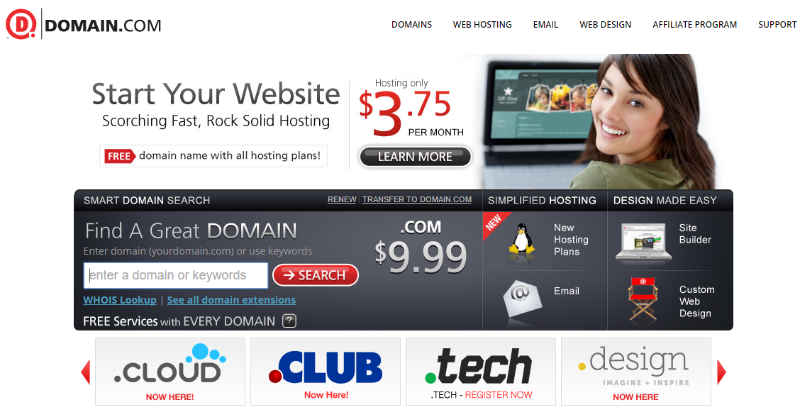 Domain.com is a popular domain registrar that offers and extensive range of tlds ( top level domains) and inexpensive hosting options along with useful tools for small businesses and blogs such as ssl certificates, web design, online marketing services and VPS hosting. Personally I have around 400 domains with them currently. This is how much I trust Domain.com
The company has been around since 2000 and continues to be the go-to option for new website owners and experienced Internet entrepreneurs alike.
What else do they offer?
These days, Domain.com offers a lot more than just domain names. The company has expanded to be a full-service provider. You can get web hosting service, email hosting, and more.
There are even a user-friendly free website builder you get a drag and drop website builder, tons of mobile-friendly templates, up to six pages, SEO tools, access to stock image library there are and full design services available at additional cost.
Despite all of the brand's offerings, being a domain registrar is still its main game. The registration and checkout process is very straightforward. From the homepage, you can search for your desired domain. If you have a specific web address and top-level domain in mind, you can also type that out in the search bar.
Domain.com will let you know if your desired name is available. If not, the site will present you with all of a substantial list of TLDs you can choose from. It makes finding a suitable extension a breeze.
This registrar offers a wide range of extensions. You can find all of the obvious choices, such as .com and .org extensions. However, Domain.com also provides new generic top-level domains that are more distinct, which is great for branding.
Pros
Easy to use interface
Very few annoying upsells
Very easy to transfer domains to and from
Large range of domain extensions.
Cheap.
Features
As I mentioned, Domain.com offer WordPress hosting, VPS hosting as well as cheaper shared hosting plans.
With each of these plans, you will receive a free domain name as well as a free SSL certificate, unlimited disk space and loads of marketing tools to help you build traffic to your site. Domain.com also offer a free website builder with every domain purchase.
Let's recap on the features – Every domain gets the following…
Transfer Lock Security – TLS
Free SSL certificate
Email and URL forwarding
Complete DNS control
24/7/365 customer support
Extensive knowledge base resource
Pricing
It'll cost you just $9.99 a year to register a domain name at Domain.com. Domain name privacy will cost you an extra $8.99 a year.
Due to our great relationship with Domain.com throughout the past couple of years, I have managed to negotiate an EXCLUSIVE 25% discount on all domain extensions for readers.
All in all, Domain.com is a great registrar to work with. Getting your domain is a simple and quick process. Plus, there are hundreds of different TLD options to choose from. The company has solid customer support to help you out should you encounter any issues during the registration process. Pair that with a bevy of optional features that you can take advantage of whenever you need them and Domain.com is a great one-stop-shop for all your domain registration needs.
Popular domain TLD Pricing
.biz – $5.99 for first year, $12.99 a year for renewals
.com – $9.99 for first year, $13.99 a year for renewals
.stream – $2.99 for first year, $2.99 a year for renewals
.bid – $2.99 for first year, $2.99 a year for renewals
Visit Domain.com today and get a 25% discount with coupon code SiteHub.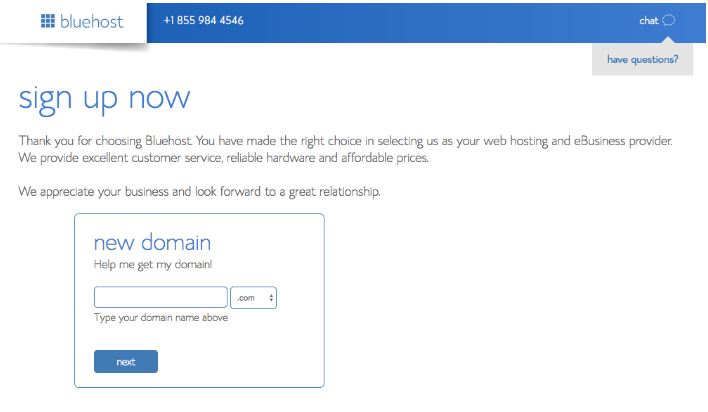 Bluehost is the best option if you want to bundle your domain and web hosting together. It's all the more attractive an offer as bluehost will give you a domain name for free if you buy a hosting package. Use this link to get a free domain.
Bluehost is well known as a recommended WordPress hosting provider. They're typically regarded as one of the best hosts for those just getting started online. But, they also let you register domain names as well. If you're planning on purchasing hosting at the same time you register your domain name, then Bluehost might be a good fit for you.
Features & Pricing
Bluehost offers high quality hosting at low prices. You can get your hands on a shared hosting plan for just $2.95 per month + email + a free domain. Other hosting plans include WordPress, VPS, dedicated, and reseller hosting.
When you purchase one of their hosting packages you'll actually be setup with a free domain name. So, if you need to purchase hosting and a domain at the same time, this could be a way to save a little bit of cash.
All domain registrations with Bluehost come with the following standard features:
Easy to use domain management dashboard
Domain locking (keeping your domain safe from thieves)
Free SSL certificate (not all registrars offer this)
Auto renewals
Complete DNS control
24/7 expert support
Self-service knowledge base
You can also use this handy little tool to see if your domain name idea is available to buy.
Bluehost has a stellar support team and are available 24/7, 365 days a year. A lot of people end up choosing Bluehost due to their support alone. They have the main tlds available, but if you require a larger range, then maybe Domain.com is a better option.
If you just want to buy a domain name from Bluehost and nothing else, then expect to pay $11.99 per year for a .com .net .org
Register your domain name with Bluehost


HostGator is a great place to register domains, no matter where you're at on your online journey. Beyond registering domains they're mostly known for their hosting. They also offer low-priced hosting and domain registration bundles for as low as $3 a month, which is a total steal. Hosting, Email & a Free Domain for $3 p/m.
If you do purchase a bundle package and decide to get hosting as well, then you'll be happy to hear that they have a 99.99% uptime, meaning your website will very rarely, if ever, go offline.
Plus, the currently host over 9 million websites on their platform. HostGator provides a solid foundation for you to start your online journey.
Get your domain name FREE when you buy hosting. Click through to see more details

Namecheap offers a solid choice for registering your domain name. Plus, their site is incredibly intuitive and easy to use, especially on their domain management pages, which can be incredibly helpful. They offer reasonable priced domains, and have a free DNS service, and WHOIS protection. They also offer SSL encryption, for those looking to beef up the security of their domains.
Registering a domain with Namecheap normally costs $10.69/year, but for a limited time only you can get a .com for $8.88. That comes with a 1 year's free WHOISGuard. Plus, if you run into any issues getting your domain setup they have a ton of easy to follow tutorial videos.
Namecheap has a swift and easy-to-use checkout process, and also have a helpful knowledgebase if you do run into any setbacks. However, they do only offer chat support, so you won't be able to speak to someone if the need arises. That being said their support is incredibly responsive and helpful.
I have a tutorial for signing up with Namecheap in my guide on how to register a domain name
Visit NameCheap.com today and get a .com for just $8.88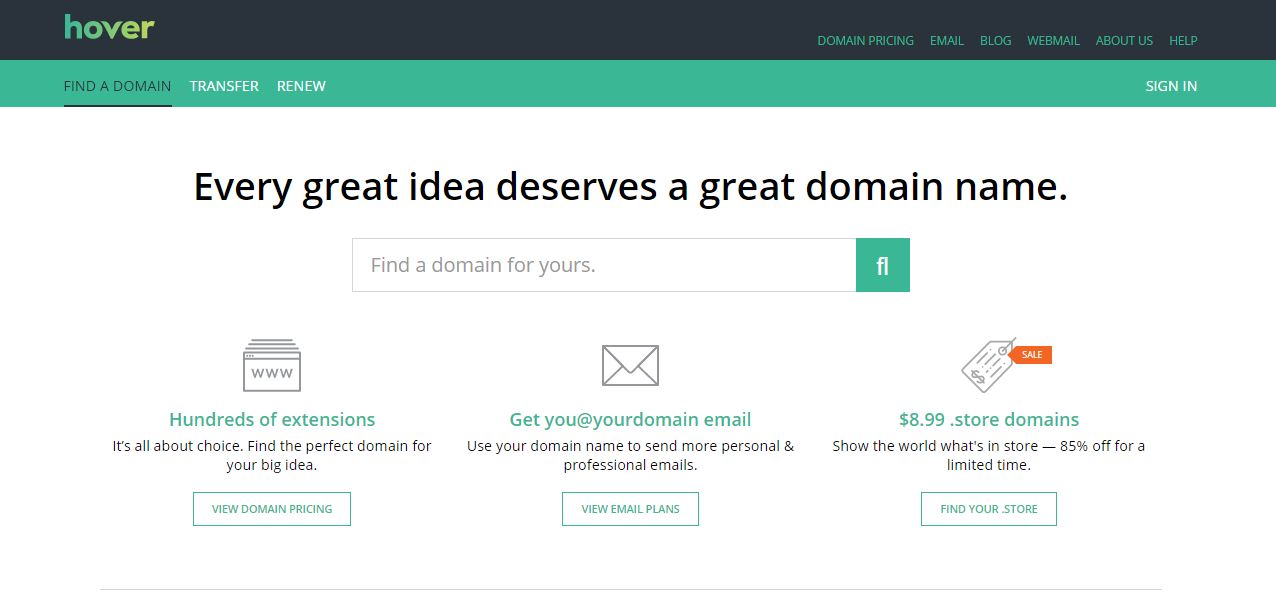 Hover officially launched in 2009, but it's an offshoot of Tucows Inc., which is the third-largest ICANN accredited registrar online. Hover is essentially a merger of three big players in the domain registrar space.
Hover is great in that they're incredibly straightforward. They offer domain registering and that's it. For that reason it's very easy to register a domain with them, because that's all they do. You won't be bombarded with endless upsells and advertisements for other services of theirs.
The process of setting up your domain names is also quite seamless and their backend is quite nice to use.
Since they just focus their service around this one thing there support is also excellent, and you'll always have a real person handling your request.
However, there are certain drawbacks to Hover. For starters, they don't offer hosting, if you're looking for a bundled package, then you'll have to look elsewhere. They are also pricier when compared to other domain registrars.
They offer different pricing schemes based upon which top level domains you're going to be using. However, .com domains start at $12.99 for domain registration, $14.99 for a renewal, and $10.99 for transferring a domain name. For a more comprehensive pricing list, take a look at their guidelines on their website.
Additional Extras
Email forwarding at $5 a year
10GB email account for $20 year,
1TB inbox with file sharing, a calendar for $29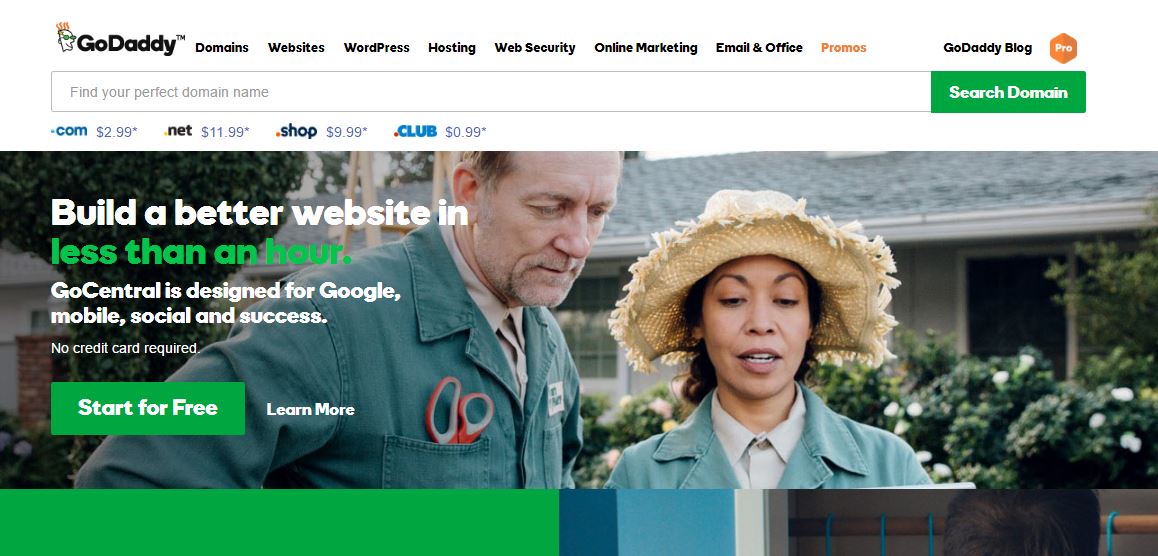 GoDaddy has been around for a very long time. They're a domain registrar and a hosting company, so they can do a lot for your site without you having to turn elsewhere. They are the world's biggest domain name registrar and they also sell a lot of other services to support larger sites, eCommerce sites, and much more.
They cost $14.99/year to register a domain name, but they often run promos where you can register a domain for as little as $0.99.
GoDaddy does offer a great service, but their design and ability to use the service could be improved. You can get the things done you need to get done, but you'll have to wade through constant upsells of other products and services and their cluttered layout.
Overall, they do offer stellar phone support, if you're one of those people who would rather speak to a person, than email. And their chat support is simply okay.
The one thing I absolutely hate about Godaddy is the hard sell once you select your domain name. The extras that they try to add in your basket is a bit too much, and for a newbie, can be quite confusing. Personally I'd use Namecheap, Bluehost , Hover or Hostgator over Godaddy, purely for this reason.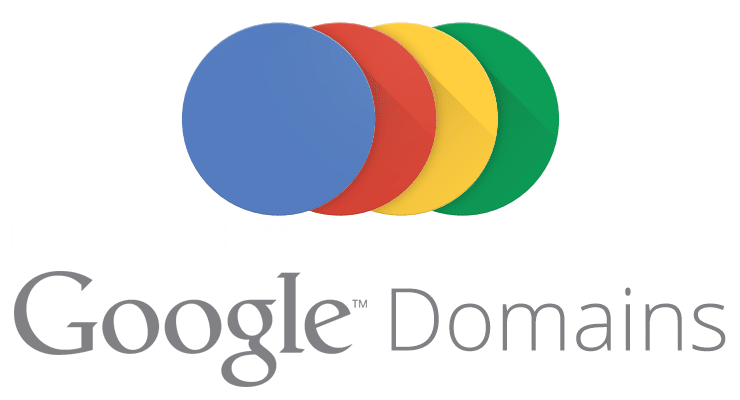 The Google Domains interface is very easy to use. Just choose a domain name and then link up to any website builder or any of the popular web hosting providers.
You can also sign up for a custom email address using your new domain name. This is an additional paid service, but it's affordable and makes you look more professional with a custom business email.
Google Domains – Pros:
Google Domains has privacy included without any additional cost to protect your contact information.
You can seamlessly sign up for your G Suite branded email.
Customer support is provided through phone, chat, and email from Monday through Friday, 6 AM to 9 PM PST.
You can make up to 100 email aliases using your purchased domain name.
The domain management tools offer domain locking and DNS configuration.
You're able to make up to 100 subdomains
Google integrates with a wide range of site builders and hosts. Many of them have one-click installations.
Supports two-factor authentication.
Google Domains – Cons:
The main issue I can see with Google domains and why it is not ranked higher on this list is that by default your domain registrations are linked to your Google Account. I recommend that usually people separate their domain registrar, hosting and DNS for additional security reasons.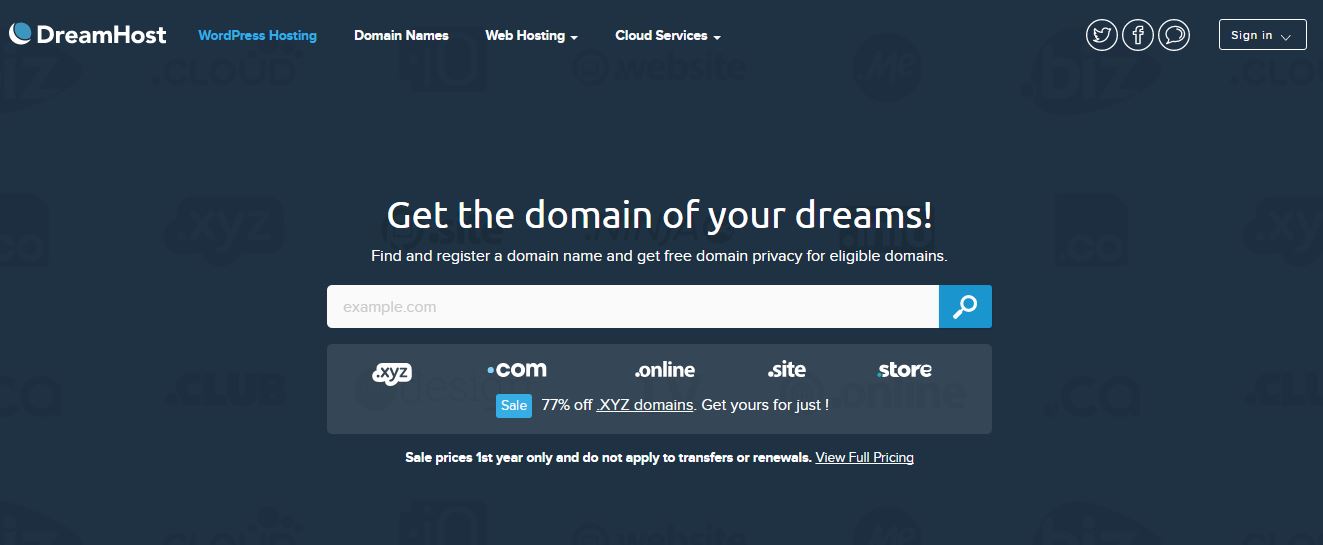 Dreamhost was founded way back in 1997. Today they're a full fledged hosting provider and domain name registrar. They now host over 1.5 million websites and have over 400,000 customers. If you're looking for a domain name registrar that also offers hosting, then Dreamhost might be a good choice for you.
Dreamhost has a host of cool features, like, having a nearly unlimited supply of domain name extensions, offering free domain privacy, easy control over your domain's settings, and as a plus they're an environmentally friendly company.
On the other hand, they don't offer a discount if you already have a domain name and you're looking to transfer it over to them. They also have a very solid refund policy, but sadly it only transfers over to their shared hosting plans.
Dreamhost costs $13.95 per year to register a .com domain name, with the pricing of other domain name extensions being much lower.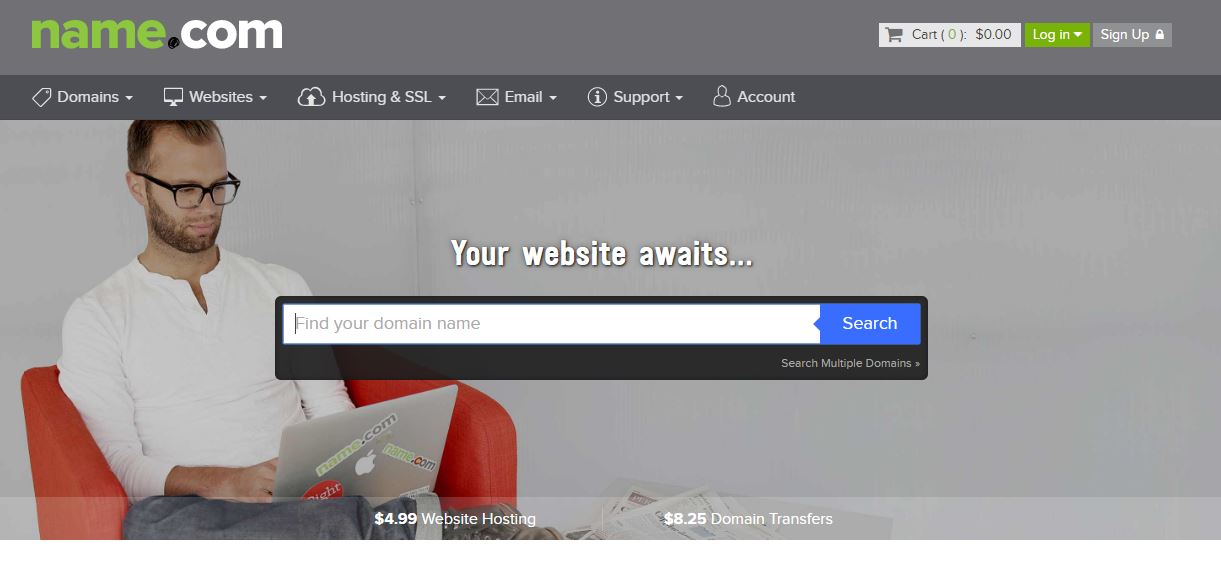 Name.com is another long-time player in the domain registrar space. Beyond offering simple domain registration they also offer tools like hosting, email, and even a DIY website builder. So, if you're looking for a great place to take care of all your website needs at once, then this could be a great choice.
One thing great about Name.com is that their pricing is very straightforward, you don't have to keep an eye out for hidden fees. For starters, purchasing a .com or .net will only cost you $12.99, while a .org will only run you $10.99.
One cool feature is their built-in search interface, which will automatically enable you to see which domain extensions are currently available for your chosen domain. They do have add-on services that they will upsell you with, but luckily these aren't as invasive as other sellers.
However, their support is not 24/7, so hopefully if an issue does arise with your registrar or hosting, it falls within their support window. They also only offer free WHOIS Privacy protection with the use of a coupon.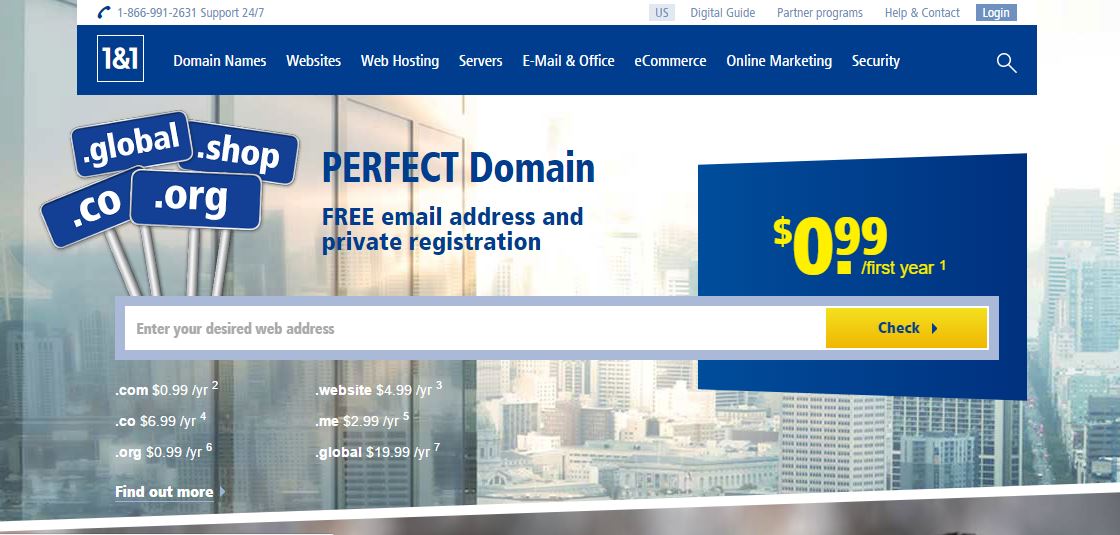 1and1 is another domain name registrar that's been around for an incredibly long time. They currently manage around 19 millions domains across the globe.
Plus, they offer a great deal for those who are looking to register their domain names and don't have much of a budget. They have a first year registration plan and frequently run promos, so you can grab a domain for less than $1.00. Now, that's a steal!
However, the $0.99 domain registration is only for the first year. After this initial period the yearly cost of a domain renewal will jump back up to $14.99.
As another bonus they don't tack on any additional ICANN fees or private registration fees, so the prices you see are the same ones you'll see during checkout.
Beyond being a domain name registrar they also offer web hosting, a website builder, eCommerce solutions, and even email hosting.
Network Solutions is a very flexible domain registrar and hosting provider. They're very flexible and can mix and match hosting and domain solutions to fit your needs, so if you have a unique circumstance, or require something very custom tailored, then they're worth checking out.
They're very affordable and allow you to register a domain name for $9.99, plus they will custom tailor any extras you might need. Their support is also available 24/7 and is extremely tech savvy, so they can easily solve your most pressing issues.
That being said, they only offer the ability to purchase and setup one domain, no matter what package you're currently using. The interface is also pretty complex, and it's a little difficult to figure out. However, their handy support team is there whenever you need them.

Hostinger has been around for years. A well established web host and domain registrar, Hostinger attracts 15,000 people a day to its brand, selling hosting and domain names.
Pricing is spot on too, with .coms for $11 for a year including taxes and ICANN fees, which is one of the cheapest offers around for a Dot Com. It renews at $10.99, so it pays to buy the domain for 2 years or more.
If you fancy going for a less well known domain extension like .xyz or .tech, then you can get these domains from Hostinger for as little as $0.99
Check to see if your domain idea is available.
13. Flippa
Flippa is different from the rest of the registrars on this list in that they're primarily a marketplace for buying and selling domain names and websites. However, they also have a ton of domains for sale, sometimes for less than a dollar.
However, this can be a great way to start your online journey. Especially if the domain you're purchasing already has a strong backlink profile to give you a boost in the search engines. Once you purchase a domain from Flippa you'll need to register the domain with a new registrar and choose a host as well. Depending upon the details of the sale and where the current domain is registered and hosted.

This site isn't a domain registrar, but I wanted to add it anyway, as its a genius tool if you're looking for one word domains. The site is called Dictionarydomains.io. It gathers up all the available one word dictionary names from .com, .org to .co and .io and displays them. This makes it incredibly easy to source brandable domain names for your blog, business or personal websites.
15. Namesilo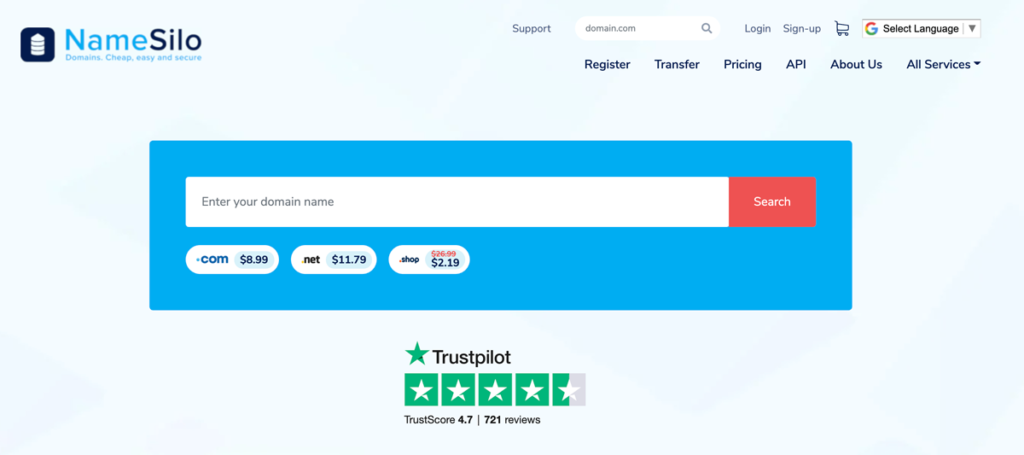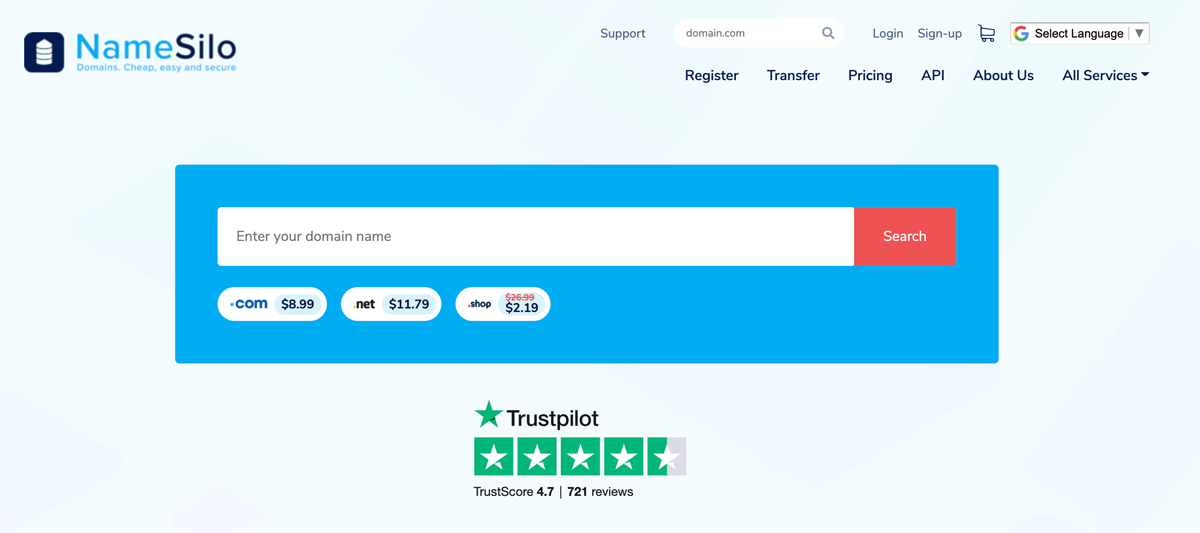 Namesilio is a registrar that has been making some positive waves in recent years. Prior to 2018, the company didn't have the best reputation. The website was outdated in terms of design and the member interface was years behind some of the competitors.
However, that's all changed. The company was purchased by a software company and underwent some major changes. The site is now sleek and well-designed. Not only that, but there has been some major growth in terms of numbers.
The company is one of the fastest-growing registrars in the world. It even beat out the heavy hitters. Namesilio managed to do all of that without heavy-handed marketing tactics that some of its competitors use. This alone is a great testament to the service and support Namesilio provides.
What about Namesilio do people like so much? Well, one of the biggest things is that Namesilio is a domain registrar and nothing else.
While other domain companies have evolved into full-service providers, that's no the case with Namesilio. The brand doesn't have hosting or a bevy of extras. Thus, there isn't any upselling involved. Once you choose a domain, you can check out and start configuring it in no time!
Namesilio does not disappoint when it comes to domain availability. Many traditional and generic top-level domains are up for grabs. One thing we like about Namesilio is that pricing information is readily available. While a search system is ready to help you see what's available to you, there's also a dedicated page to see registration, renewal, and transfer prices for every domain extension.
Speaking of prices, Namesilio has some of the lowest in the industry. The registrar even beats out companies like Namecheap, which is known for having very low prices. That's not all. Namesilio has a discount program for those who buy domains in bulk. You can save even more on top of the already low prices. As if that weren't enough, domain privacy is completely free with every purchase as well.
Getting everything registered and set up is very easy. After you've chosen your domain name, you can opt in or out of domain privacy, input your payment information, and you're good to go. With the intuitive knowledgebase and 24-hour support, Namesilio does wonderfully on the customer support front, too.
Namesilio has gone through a lot of positive changes in recent years and continues to offer some great service. It's poised to become a heavy hitter in this industry.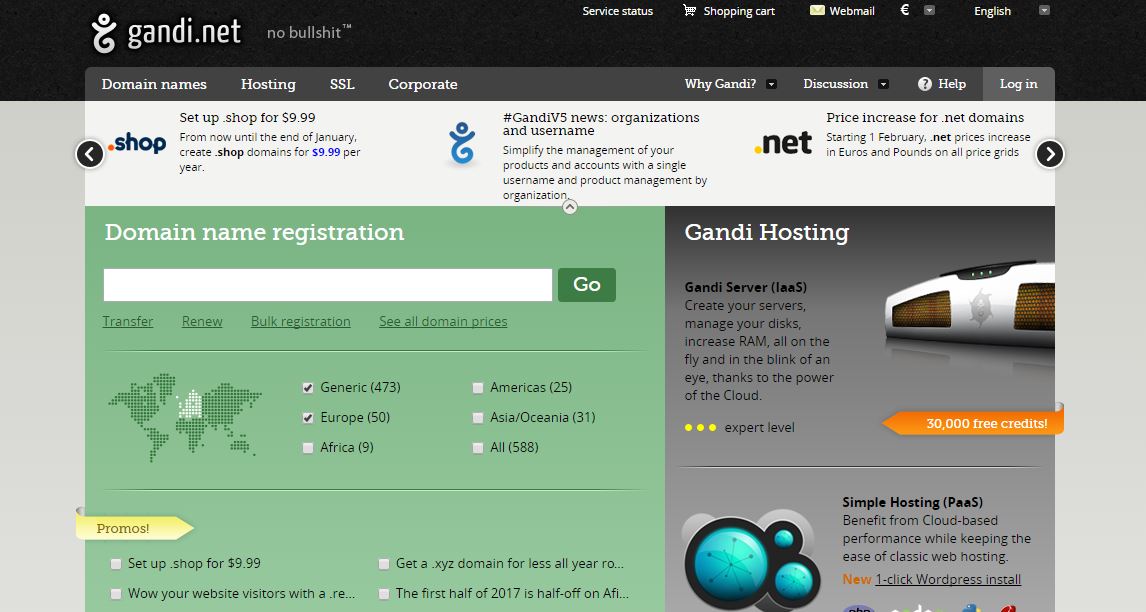 Gandi was founded way back in 1999, which in Internet years makes it about 100 years old. Currently, the company offers over 350 different domain extensions and manage over 1.5 million domain names worldwide.
They're great in that you don't have to worry on being sold on additional services you aren't looking for. Their business plan is to offer the best possible domain registration experience for the most reasonable price possible.
Gandi is also very upfront about their pricing. They give a clear breakdown of the varying pricing levels and what each each level of service entails. Currently, they charge $15.50 to register a domain and the domain transfer fee is $8.00.
However, if you're based in the U.S., then you might run into a language barrier, due to their company being based in France. Their support channels also aren't as abundant as other platforms, currently they only offer a contact form on their website to deal with support issues.
If you're looking for a hosting company that's as straightforward as can be, then Gandi might be the right choice for you, after all their slogan is "no bullshit".
How to Choose the Right Domain Name Registrar
Today there are hundreds of domain name registrars to choose from.
Once you've found the perfect domain name for your needs you need to take special care in purchasing it through the right registrar.
Below we highlight a few factors you'll want to consider during your search.
1. Domain Transfers
You probably won't want to transfer your domain right away (if you've done your research), but it is something that might arise in the future. Domain transferring is the process of moving your domain from one registrar to another.
Make sure you check the transfer details in your policy. In most cases, you won't be able to transfer a domain for 60 days following your registration. Some domain name registrars don't allow for transfers, or they'll even charge you a fee.
On the other hand, some registrars allow for easy transfer of your domain, all without an additional charge.
2. Contract and Pricing
This is probably your most immediate focus. When looking through various domain name registrars you'll come across a variety of pricing options. For starters, you can usually register your domain for a period of one, three, five, or even ten years. In some cases you can do it even longer.
If this is your first time registering a domain then we usually recommend just registering a domain name for a year. You can usually turn on automatic renewal, so your domain doesn't expire, and this will give you the freedom to switch registrars if needed.
Make sure you examine any associated costs in dealing with domain transfers, cost of renewal, and any additional fees they might tack on.
3. Customer Support
You'll want their support staff to be on your side. You'd hate to be scrambling to get in touch with support when something goes wrong with your site. You want to make sure their support is responsive and helpful well before you actually need it.
When examining the different levels of support you can either read reviews from past and current customers online, or put in a support request and see how quickly they handle your question.
4. Additional Services
A lot of registrars will offer additional web services well beyond just allowing you to register a domain name. If you're looking to host your domain names, build your site out, and purchase other certificates, then a lot of domain name registrars can help you do this as well.
So, if you're looking for an all-in-one domain name registrar and prefer to keep everything under one roof, then you'll want to compare the pricing of these bundle services as well.
5. Drop Catching
Sometimes you might forget to renew your domain name registration, or your credit card on file might expire. This leads to your domain expiring and it being opened up for other people to purchase. Sometimes your domain can be purchased by another competitor in your space, or it could be purchased completely accidentally.
Whatever the reason, now the domain is no longer in your possession, which means the future of your site, and your business is in jeopardy.
Now, a lot of domain registrars offer a service that holds onto the domain for you for a certain period of time to prevent this from happening. At the very least the registrar you choose should send out reminders that your domain is expiring, before it actually occurs.
The Bad & The Ugly…. What to Watch Out For When Choosing a Domain Name Registrar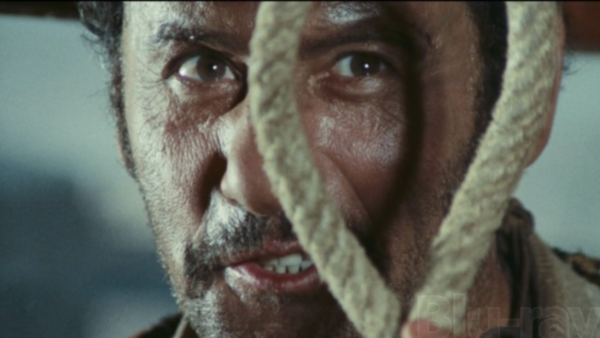 Now that you know a couple key features you'll want to keep an eye on, we're going to show you a few things you'll want to look out for. Some of these might be a little hard to track down, and you'll have to look into the fine print. That being said, it'll be well worth it, and you'll end up with an even better domain registrar choice.
1. Pricing Add-ons
Some domain registrars will tack on added fees just as you're about to purchase your domain name. The most common added fees are WHOIS registration and privacy protection. So, when you see a domain being advertised for a super cheap price this might not always be the final price.
Before you complete your purchase make sure you're not paying too much for your domain. A lot of domain registrars are very straightforward with their pricing and don't tack on added fees, what you see if what you get.
You'll also want to watch out for upsells that you might involuntarily add to your total, like additional web hosting, multi-year domain registration, and others.
2. Transfer Fees
You might not want to stay with your current registrar forever. Or, maybe you're eventually planning on selling your current domain. Whatever the reason you'll want to look out for hidden transfer fees.
Some domain registrars will do this for free, while others will charge a small fee. Make sure their fees are communicated clearly before you end up signing on the dotted line.
3. Poor User Experience
Once you have a domain name in your possession there are certain things you're going to need to do to get your site up and running, like, setting up the DNS servers, installing a CMS such as WordPress, and creating any associated email addresses.
This can be a real headache if their domain management systems are hard to use. If this is your first time purchasing a domain, then choose a domain registrar that is user friendly.
Now that you know what to keep an eye out for, we're going to give you a virtual tour of some of the top domain name registrars out there.
Choosing the right domain name registrar isn't something that you'll want to take lightly. And we hope the guide above will give you enough information to choose the best domain name registrar for your needs.
Once you've chosen the perfect domain, you might want to check out this guide to help you choose the best blogging platform to launch your website on. Pro-Tip: Keep it simple. Keep it WordPress.org