What is Sendible?

Sendible is a very popular social media management tool amongst marketing agencies, businesses and freelance social media consultants.
Sendible offers you a wide range of features that comes with excellent usability and most importantly, allows you to manage your social media campaigns and daily tasks with ease, speed and accuracy. The platform has a slick and intuitive user interface which is insanely easy to use and navigate around. It's similar to the service offered by Hootsuite, but with a few key differences, which we will go through in this review.
Pegged as a social media productivity tool, Sendible has over 20 integrations with key social media networks, blogs, social sharing sites and even the communication tool, Slack.
As a social media marketer, it's tough to continuously source and create fresh content and this tool helps you keep your editorial calendar busy.
The Content section of the dashboard is a gold mine as it houses your content suggestions, RSS feeds, and the content library where you can store evergreen content you can use again and again, or the content you simply want to keep for later. The tool will search the web for articles on relevant topics for your business and can be sorted by influencers as well. You can also subscribe to the RSS feeds of your favorite blogs and news sites, then share posts automatically as soon as they're published or approve them before they go out.
All posts are edited in the intuitive Compose Box where you can select the social network you're posting to (you can select multiple if you wish), and schedule them as far ahead as you like. Sendible's sophisticated algorithms can also predict the most optimal times to post on your social media networks to maximize engagement. What's more, you can group social media posts by theme and queue them to go out at random times – this is ideal for shares from other websites and content that's not time-sensitive.
Visual content is as important as ever and so it should be simple to add to your strategy. With Sendible, you can upload images, source them via URL, add them from your team's DropBox or Google Drive as well as source royalty free images on Google and Flickr – all without any tab-switching. Sendible also supports adding video to Facebook, Twitter and YouTube.
Sendible has developed a few handy automation tools. On Twitter, users can set up automatic replies (tweets or DM's), retweets and welcome messages – all super useful if you're running a campaign with a unique hashtag, promotion or participating at an event. But the recently developed Instagram automation tool is miles above what Hootsuite and other tools offer as it automatically searches for posts with a hashtag and likes them. It's also possible to automatically follow the profile of the post and unfollow them if they don't follow you back in 24 hours!
The cherry on top is Sendible's new Reports Hub that lets you create stunning and accurate social media reports in 15 minutes or less. Supported for all key social media networks and available on all plans (even Lite), these reports give you an overall view of your social media activities including engagement, top posts and top followers in a neatly presented way. Sendible also has a custom report builder with over 250+ modules that make proving your ROI to your clients or boss a piece of cake.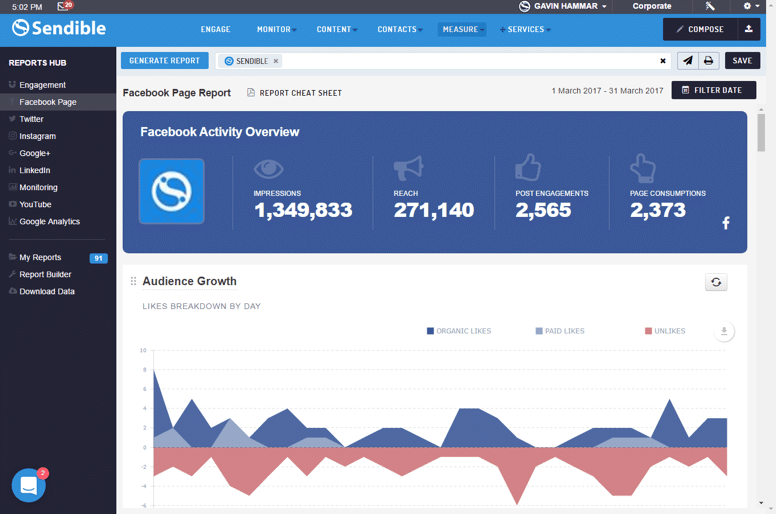 The tool also has CRM functionality that lets you create contact lists within the app. Think Twitter Lists, but for all social media networks in one place.
All in all, Sendible focuses on being the most efficient social media marketing tool that takes away the pain from repetitive tasks, giving us more time to plan and analyze findings.  
Sendible Plans and Pricing 
Sendible's pricing for their plans are very competitive, especially if you pay up for the whole year
Try any Sendible Plan with this 7 day FREE Trial
Pros of Sendible.com
Integration with all key social networks (Facebook, Twitter, LinkedIn, Instagram, Pinterest) and blogs (Medium, WordPress, Blogger.com).
Makes it easy to keep your social media calendar busy with an RSS Feed poster, content suggestions, in-built content library and easy access to the design tool, Canva.
Bulk-scheduling content with images via uploading a CSV file.
Has handy automation tools that drive engagement and increase your following on Twitter and Instagram.
Visually stunning and accurate reports that can be created in 15 minutes or less, plus the ability to create custom reports with your logo and the modules you need.
User permissions and team workflows are easy to set up.
Mobile app available for iOS and Android.
Cons of Sendible
No free plan, but a 7 – day trial is available

Geographic keyword monitoring isn't always accurate