The world has awakened to the power of social media, which explains the comprehensive use of social media by individuals and businesses alike in our day-to-day lives.
Whether it is from the comfort of our homes or offices or even on the go, most of us access social networking sites. And, this increased use of social media can be attributed to the considerable rise in the use of smartphones and internet across the globe.
Moreover, our social media presence is not restricted to just one website. For example, many have a profile on Facebook, Twitter, Instagram and LinkedIn.
So, it becomes difficult to handle that many social media accounts, which means that there is a chance that some social media profiles are not regularly updated.
This is why you need a comprehensive social media management tool, such as Hootsuite. These tools make it relatively easy to deal with multiple social networking accounts, profiles or even business pages.
The major benefits offered by Hootsuite are that it has an easy-to-use web interface, without you being required to install any software, and you can manage social media profiles in multiple streams from a single dashboard.
It also enables you to schedule your messages and publish them at your preferred times, get detailed analytics reports about your campaigns, get more likes and followers and more. Also, Hootsuite offers flexibility with regard to pricing, as you can avail its free plan or any of the premium plans.
But, are there any other social media marketing solutions which can be used rather than Hootsuite. Well, let us take a look at some of the alternatives to Hootsuite in this article.
The objective is to review the features, pros and cons of various popular and highly effective SMM tools that are good competitors of Hootsuite.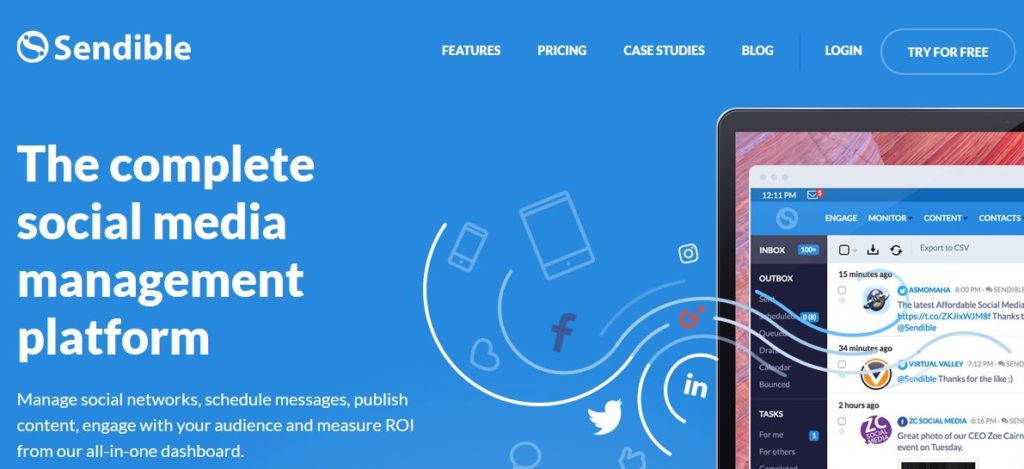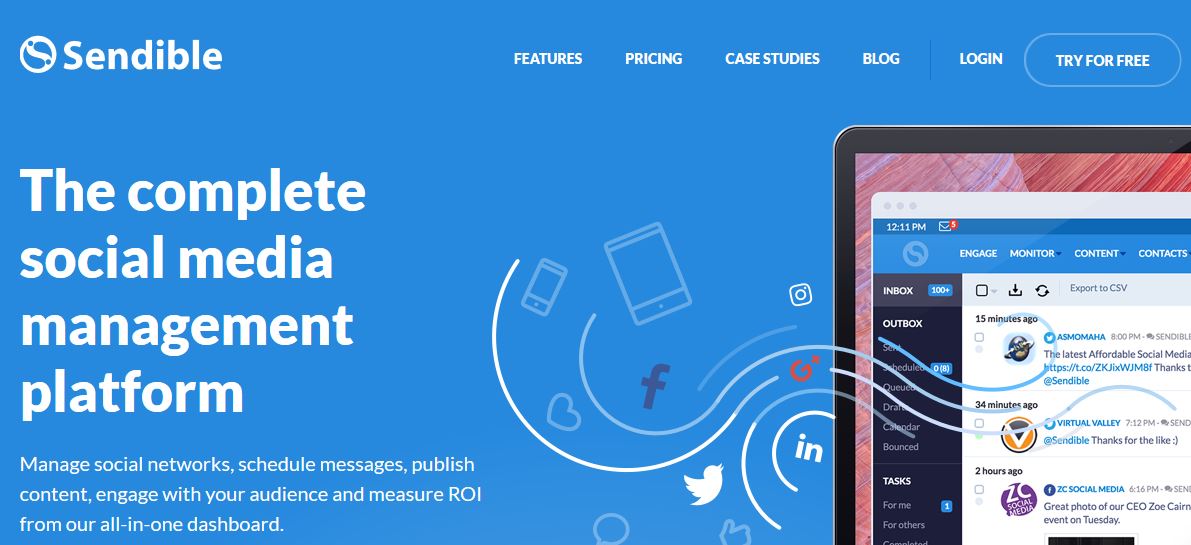 Top of the list is Sendible. Everything about this service screams quality and exceptional user-experience. Sendible offers you a wide range of features that comes with excellent usability and most importantly, allows you to manage your social media campaigns and daily tasks with ease, speed and accuracy. The platform has a slick and intuitive user interface which is insanely easy to use and navigate around.
Pros of Sendible.com
Integration with all key social networks (Facebook, Twitter, LinkedIn, Instagram, Google+, Pinterest) and blogs (Medium, WordPress, Blogger.com). Innovative set of Instagram tools.
Makes it easy to keep your social media calendar busy with an RSS Feed poster, content suggestions, in-built content library and easy access to the design tool, Canva.

Bulk-scheduling content with images via uploading a CSV file.

Has handy automation tools that drive engagement and increase your following on Twitter and Instagram.

Visually stunning and accurate reports that can be created in 15 minutes or less, plus the ability to create custom reports with your logo and the modules you need.

User permissions and team workflows are easy to set up.

Mobile app available for iOS and Android.
Cons of Sendible.com
No free plan, but a 30-day trial is available

Geographic keyword monitoring isn't always accurate
Sendible.com Plans and Pricing
[supsystic-tables id=5]
Try Sendible with this 30 day FREE Trial
Still need convincing? Read our Sendible review to find out more.
AgoraPulse enables you to manage all your social media posts or messages from one place. It does so by using a social media inbox, which is similar to an email inbox, that can also retain all your old conversations.
Additionally, you can easily sync your social media accounts in real time and get updates about every like, tweet or comment that you may receive. This allows you to reply to it, review any filtered content, assign or tag in quick time and get to inbox zero within a few minutes every day.
You can also monitor your progress and the engagement of your target audience through the stunningly customised reports which are made available to you in PowerPoint format with amazing graphics.
Top Clients
Pepsi, Yahoo, PlayStation, McDonald's, Volkswagen, Nivea and more.
Plans & Pricing
AgoraPulse offers the following four plans:
Medium – $99.00 per month
Large – $199.00 per month
X-Large – $299.00 per month
Enterprise – $499.00 per month
You can also use their 100% no questions-asked refund policy to cancel your monthly subscription plans at any time.
Pros
It enables you to manage Instagram, Facebook, Twitter and so on.
The analytics reports are extremely easy to understand due to the use of great graphics.
It gives you the ability to categorise your audience (who engages the most, who posts messages about you the most and so on) automatically through qualification badges or manually by tagging your users.
Try AgoraPulse with this 30 day FREE Trial


With Buffer, you can smartly schedule your content across a wide range of social media sites by using the virtual queue.
In other words, you can easily add your posts in the form of articles, news, videos, photos and more to the queue, irrespective of whether you are at home or the office or on the go. You can then stagger the posting times of the content as per your convenience.
In fact, the Buffer app shares your posts with your target audience at the best possible times throughout the day, giving it the best possible chance of being noticed.
To enable you to achieve such consistent scheduling, Buffer also offers you browser extensions (for Google Chrome) and mobile apps (for iOS and Android).
And, it does not just attract traffic to your social media profiles, but also provides you with valuable reports and insights to help you understand the effect of your posts on your audience.
Top Clients
Business Insider, Fortune, About.com and so on.
Plans & Pricing
If you are an individual and have multiple social media profiles, then you can either use the free Buffer plan or the Awesome plan (price starts at about $10.00).
If you run a business, you can choose from the small, medium and large plans, the prices of which range from $99.00 to $399.00. Additionally, Buffer also provides you with an enterprise plan, which costs around $899.00 per month.
Pros
It enables you to manage Facebook, Twitter, LinkedIn, Google+, Pinterest and more.
You get the ability to post content to your social media profiles or pages, without having to individually schedule them.
Buffer enables you to create your own images (using Pablo) which have the perfect size and format for Instagram, Facebook, Twitter and Pinterest.
Buffer supports RSS feed integration with all its plans.
Cons
All Buffer paid plans are configured for a team of at least five members. So, if you have a team of only three members, you still have to purchase the plan for five members.
This tool equips you with a clean dashboard to scale your social media marketing efforts in an organised manner.
You can use its unified inbox to have all your social media messages under a single stream, track and join conversations and remain engaged with your audience. It also allows you to divide your workload by delegating different SMM tasks to your team members.
And, the team can easily collaborate with live activity updates, ensuring that there is no real-time message collision (no duplicate posts from two members at the same time).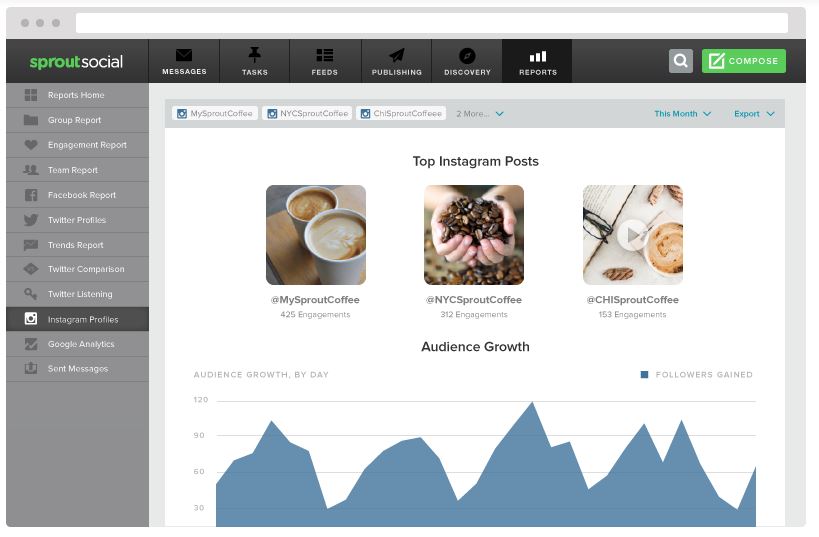 Moreover, this SMM tool helps you stay up to date with your social media engagement activities across all your profiles by analysing the results of your efforts with weekly reports. You can even monitor the various keyword searches performed.
This enables you to measure your performance with simplified analytics reports, containing easy-to-understand data. You can also get hold of unlimited presentation-ready reports at no extra costs, which can be exported to PDF or CSV format.
Top Clients
Dove, Hyatt, PepsiCo, UPS, Stanford University and more.
Plans & Pricing
Sprout Social provides you with three different plans, namely Deluxe, Premium and Team, with prices starting from as low as $59.00 per user per month.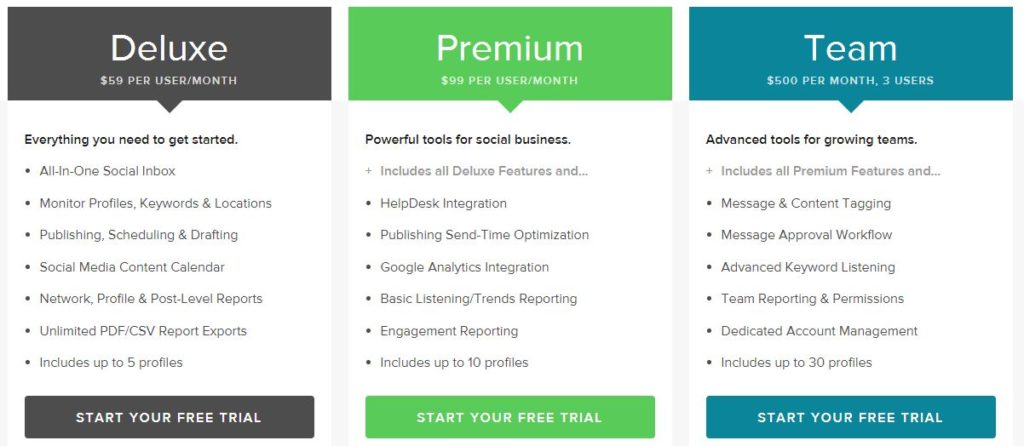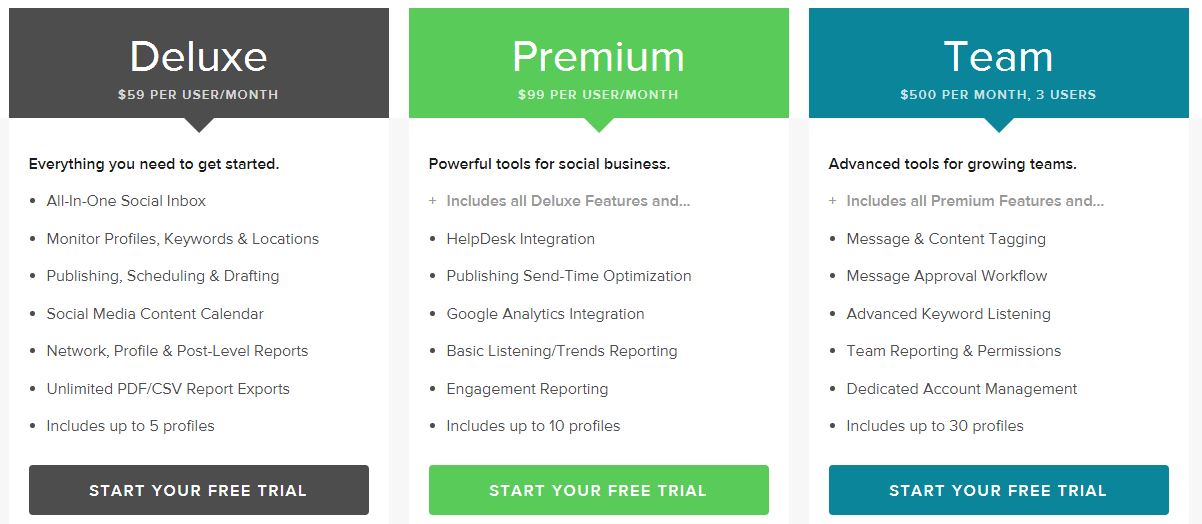 The detailed pricing for each plan is as below:
Deluxe – $59.00 per user per month
Premium – $99.00 per user per month
Team – $500.00 per month (three users)
You can change or cancel your plan at any time, as per your convenience.
Pros
It enables you to manage Facebook, Google+, Twitter, LinkedIn and so on.
Sprout Social allows you to add customised logos to the analytics reports, which is useful for agencies that need to submit such reports to their clients.
You can try out its features during the initial free trial period of 30 days.
With Sprout Social, you can use the highly effective social CRM tools, including shared customer records and advanced scheduling tools (for example ViralPost).
Cons
It does not support the management of Facebook groups, LinkedIn groups or Pinterest.
This tool was launched primarily focused on increasing productivity solutions through the effective management of Twitter.
Hence, it was previously known as TweetLater.com. However, slowly and steadily it also started looking at improving the overall productivity of different social media sites and changed its name to SocialOomph.
For Twitter, SocialOomph offers a wide range of features, including:
Keyword searches,
Digital Marketing (DM) inbox clean-up,
Tracking mentions and retweets,
Tweet via mail, and
Following those people who follow you.
In addition, for all social media platforms supported by SocialOomph, it is possible to schedule posts, track quality profiles (along with the chance to follow them) and monitor social media activities.
It even allows you to schedule blog posts from unlimited blogs. And, its auto-responder feature ensures that you stay engaged with your audience on your profiles.
Plans & Pricing
SocialOomph gives you the opportunity to get several SMM services for free or buy different enhanced productivity services for your platforms.
Also, payments for professional accounts can be made every two weeks (prices starting at around $17.97), after the free trial period of seven days.
For more Twitter management features, you can subscribe to the SocialOomph Twitter Unlimited plan for $6.97 every two weeks.
Pros
It enables you to manage LinkedIn, Facebook, Twitter, Pinterest and more. In addition, you can manage Tumblr, blogs, RSS feeds, Plurk and App.net.
You can even manage unlimited accounts with the free plan.
It helps you stay clear of spam through advanced DM management.
Cons
Due to its initial focus on Twitter, a lot of the advanced features are only meant for that social media platform.


This is another comprehensive SMM solution that enables you to track all your conversations across a wide range of social networking platforms by creating smart streams. It also provides you with the ability to identify trends as well as analyse and review them to make well-informed decisions for your website, blog, business, brand or products.
Additionally, ViralHeat is able to capture the most relevant data across all your social channels in real time to empower you with an appropriate measurement of your social efforts.
Moreover, ViralHeat helps you get plenty of content for reference, schedule your own posts in advance and stay organised through its content calendar.
It also allows you to be an active part of various social conversations and interact with your audiences in real time.
It was acquired by Cision, the industry's premier global media intelligence software company. And, this is bound to raise the bar of communication with smart services and tools for PR professionals, social and content marketers, brand managers and more.
Plans & Pricing
No specifics about the pricing of its plans are mentioned on their website. In fact, it offers custom pricing plans, which could be a good option for some users.
Pros
With ViralHeat, it is possible to manage Pinterest, Twitter, Google+, Facebook, LinkedIn, FourSquare, YouTube, Instagram, Tumblr, Glassdoor and so on.
On the basis of key metrics, such as sentiment (for specific keywords or profiles), reach and impact, this tool is able to alert you about any new trend or crisis through customised emails.
It gives you the ability to customise a number of social media accounts and a number of users.
Cons
The acquisition by Cision may bring about some changes to ViralHeat's functionalities in the near future, which may not be too favourable for all its user.
It lacks transparency regarding the pricing of its plans.
It does not offer a free trial period, which can be a major drawback for several of its new users.
This SMM tool is focused on getting the most out of your social efforts to engage with your audience. So, it offers you detailed reports based on the scientific analysis of data that helps you or your business make better decisions.
Above all, this tool also enables you to remain engaged with your audience by consistently tracking all your social conversations and maintaining a good relationship with all your customers and key stakeholders.
The real-time feedback empowers you to formulate better business strategies for the future. It also enables you to monitor keyword searches and use an NLP-based sentiment analyser to learn about your audience's opinion about your products, brand, business and so on.
In fact, Social Clout even provides you with an analysis about your competitors' profiles, so that you can determine where you stand against them.
Plans & Pricing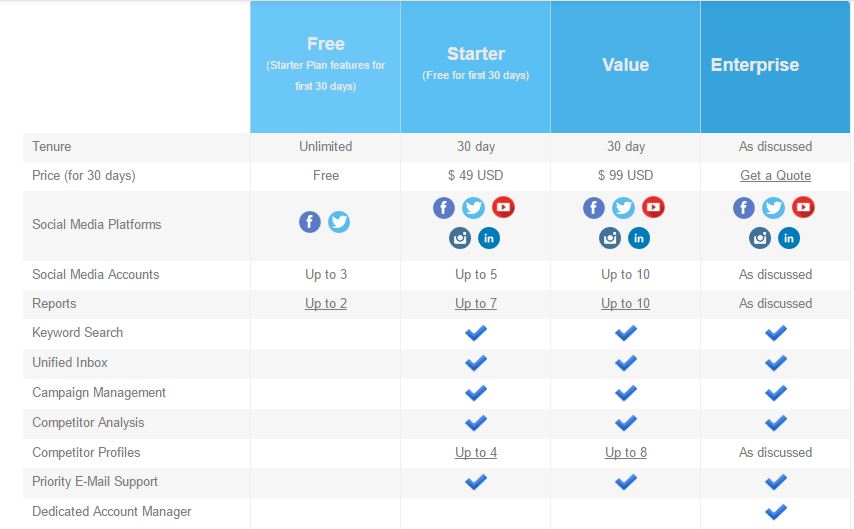 It offers a free plan and three paid plans as given below:
Starter – around $49.00 per month
Value – about $99.00 per month
Enterprise – no fixed prices, as you need a quote based on your requirements
Pros
You can manage Facebook, Instagram, Twitter, LinkedIn, YouTube and more. Additionally, you can also manage online forums, news sites, blogs and so on.
It helps to monitor your brand mentions on social networks in real time.
You can use the Starter paid plan for free for the first 30 days.
Cons
It does not offer unlimited analytics reports.
It is only possible to manage Facebook or Twitter profiles with the free Social Clout account.
Clearly, there are many good Hootsuite alternatives that can save you a lot of time and can result in better engagement, while managing multiple social media accounts.
However, Social Booster emerges as the best option among this list of SMM tools due to its unique features, such as 500 free Twitter followers, 24×7 customer support and the ability to run ads directly from the dashboard, in addition to the standard SMM functionalities for individuals and businesses.
If you have used or are currently using any of the above listed SMM tools, please share your valuable experiences in the comments section below.
Affiliate disclaimer: I recommend Sendible because I've been using them to manage my social media accounts with great success. I truly believe they offer a superior service to Hootsuite and other SMM tools. That's why I'm singing their praises. All Sendible links on this page are affiliate links which means that I will get commission if you buy a subscription with Sendible via one of my links. This helps me to run makeawebsitehub.com and keep all the guides on this site free to use and share.