In A Hurry?
Here's a quick list of the awesome Hootsuite alternatives we review below:
The world has awakened to the power of social media, which explains the comprehensive use of social media by individuals and businesses alike in our day-to-day lives.
Whether it is from the comfort of our homes or offices or even on the go, most of us access social networking sites. And, this increased use of social media can be attributed to the considerable rise in the use of smartphones and internet across the globe.
Moreover, our social media presence is not restricted to just one website. For example, many have a profile on Facebook, Twitter, Instagram and LinkedIn.
So, it becomes difficult to handle that many social media accounts, which means that there is a chance that some social media profiles are not regularly updated.
This is why you need a comprehensive social media management tool, such as Hootsuite. These tools make it relatively easy to deal with multiple social networking accounts, profiles or even business pages.
The major benefits offered by Hootsuite are that it has an easy-to-use web interface, without you being required to install any software, and you can manage social media profiles in multiple streams from a single dashboard.
It also enables you to schedule your messages and publish them at your preferred times, get detailed analytics reports about your campaigns, get more likes and followers and more. Also, Hootsuite offers flexibility with regard to pricing, as you can avail its free plan or any of the premium plans.
But, are there any other social media marketing solutions which can be used rather than Hootsuite. Well, let us take a look at some of the alternatives to Hootsuite in this article.
The objective is to review the features, pros and cons of various popular and highly effective SMM tools that are good competitors of Hootsuite.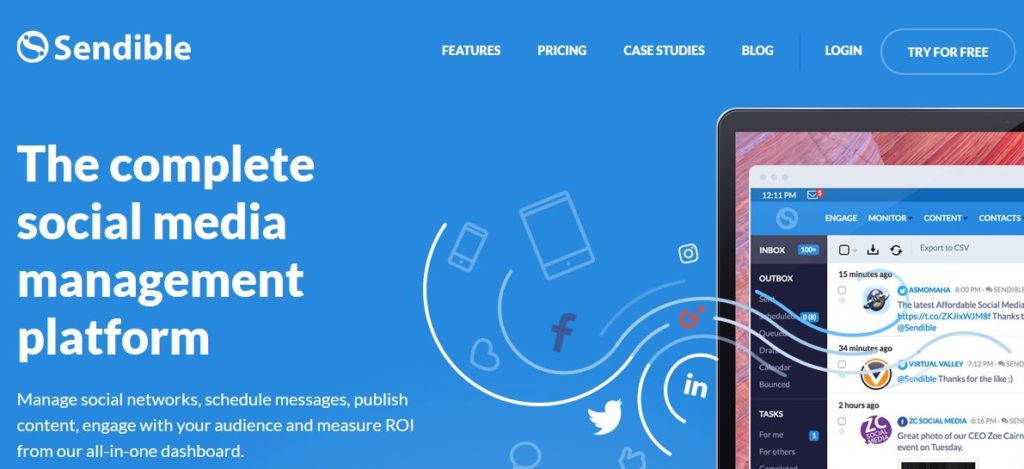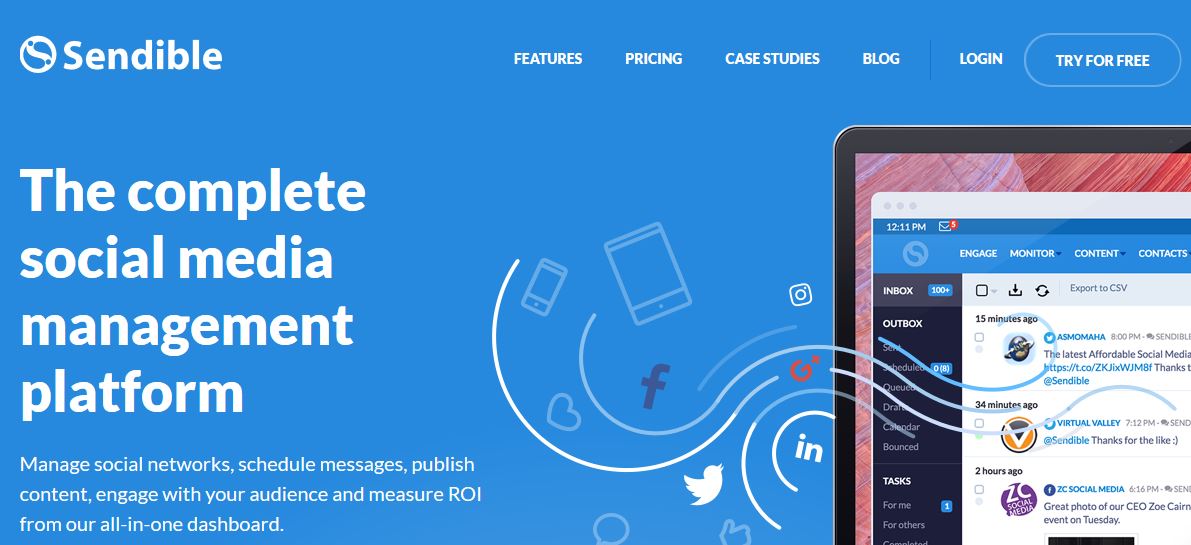 Top of the list is Sendible. Everything about this service screams quality and exceptional user-experience. Sendible offers you a wide range of features that comes with excellent usability and most importantly, allows you to manage your social media campaigns and daily tasks with ease, speed and accuracy. The platform has a slick and intuitive user interface which is insanely easy to use and navigate around.
Pros of Sendible.com
Integration with all key social networks (Facebook, Twitter, LinkedIn, Instagram, Google+, Pinterest) and blogs (Medium, WordPress, Blogger.com). Innovative set of Instagram tools.
Makes it easy to keep your social media calendar busy with an RSS Feed poster, content suggestions, in-built content library and easy access to the design tool, Canva.

Bulk-scheduling content with images via uploading a CSV file.

Has handy automation tools that drive engagement and increase your following on Twitter and Instagram.

Visually stunning and accurate reports that can be created in 15 minutes or less, plus the ability to create custom reports with your logo and the modules you need.

User permissions and team workflows are easy to set up.

Mobile app available for iOS and Android.
Cons of Sendible.com
No free plan, but a 14-day trial is available

Geographic keyword monitoring isn't always accurate
Sendible.com Plans and Pricing

Try Sendible with this 30 day FREE Trial
Still need convincing? Read our Sendible review to find out more.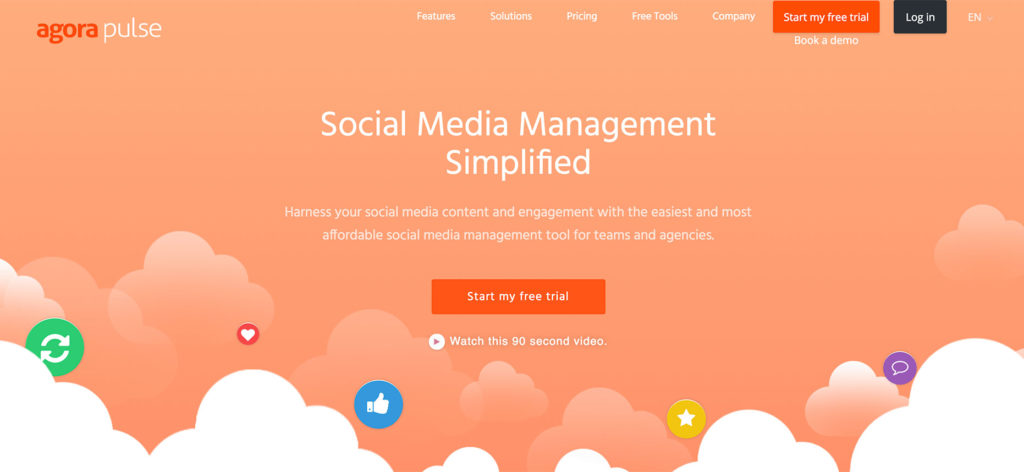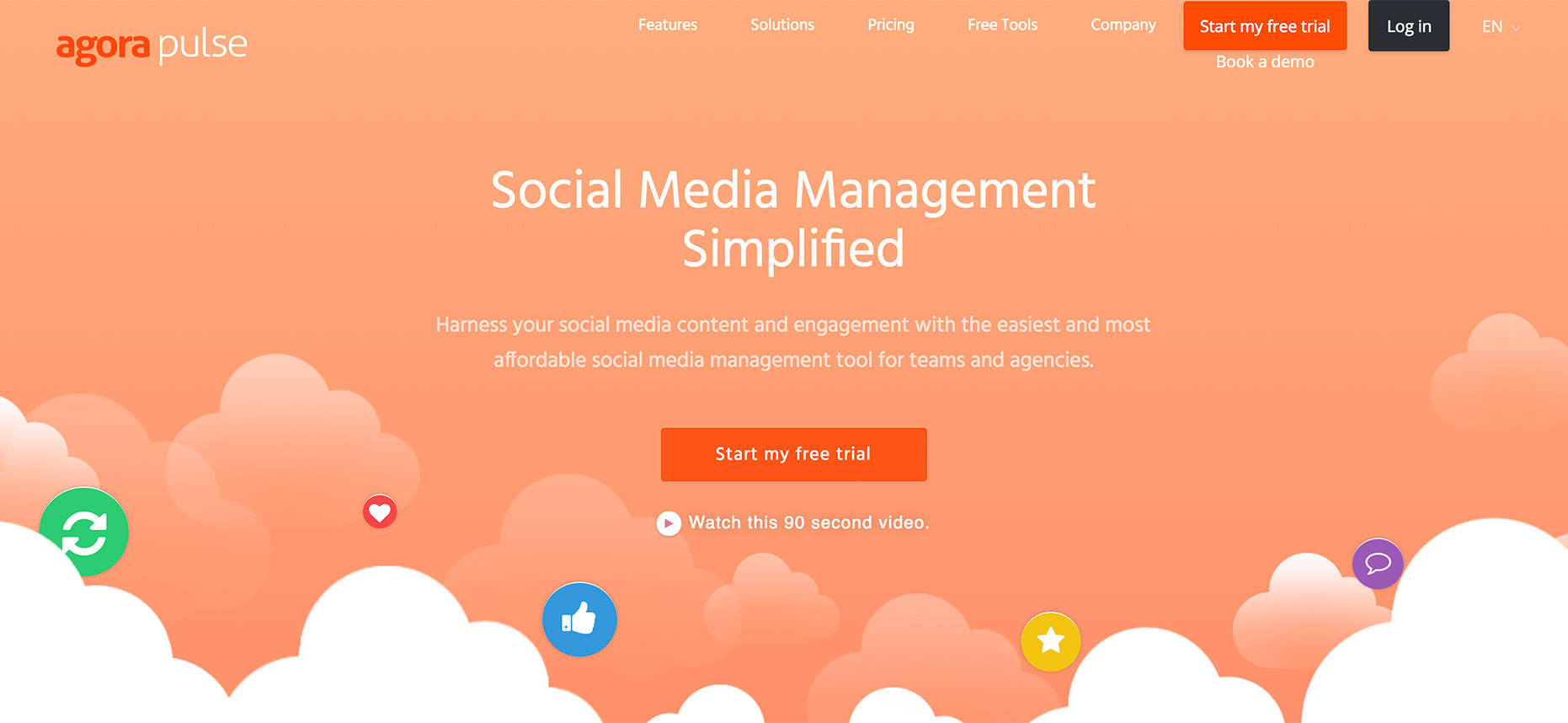 AgoraPulse enables you to manage all your social media posts or messages from one place. It does so by using a social media inbox, which is similar to an email inbox, that can also retain all your old conversations.
Additionally, you can easily sync your social media accounts in real time and get updates about every like, tweet or comment that you may receive. This allows you to reply to it, review any filtered content, assign or tag in quick time and get to inbox zero within a few minutes every day.
You can also monitor your progress and the engagement of your target audience through the stunningly customised reports which are made available to you in PowerPoint format with amazing graphics.
Top Clients
Pepsi, Yahoo, PlayStation, McDonald's, Volkswagen, Nivea and more.
Plans & Pricing
AgoraPulse offers the following four plans: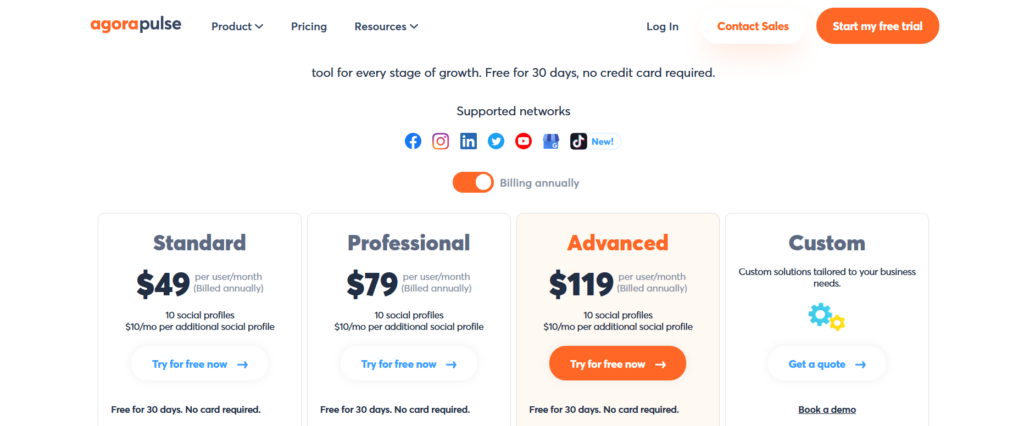 They also offer a limited free account that allows you to connect to 3 social accounts for a single user, with a handful of scheduled posts and basic reporting.
You can also use their 100% no questions-asked refund policy to cancel your monthly subscription plans at any time.
Pros
It enables you to manage Instagram, Facebook, Twitter and so on.
The analytics reports are extremely easy to understand due to the use of great graphics.
It gives you the ability to categorise your audience (who engages the most, who posts messages about you the most and so on) automatically through qualification badges or manually by tagging your users.
Try AgoraPulse with this 30 day FREE Trial


With Buffer, you can smartly schedule your content across a wide range of social media sites by using the virtual queue.
In other words, you can easily add your posts in the form of articles, news, videos, photos and more to the queue, irrespective of whether you are at home or the office or on the go. You can then stagger the posting times of the content as per your convenience.
In fact, the Buffer app shares your posts with your target audience at the best possible times throughout the day, giving it the best possible chance of being noticed.
To enable you to achieve such consistent scheduling, Buffer also offers you browser extensions (for Google Chrome) and mobile apps (for iOS and Android).
And, it does not just attract traffic to your social media profiles, but also provides you with valuable reports and insights to help you understand the effect of your posts on your audience.
Top Clients
Business Insider, Fortune, About.com and so on.
Plans & Pricing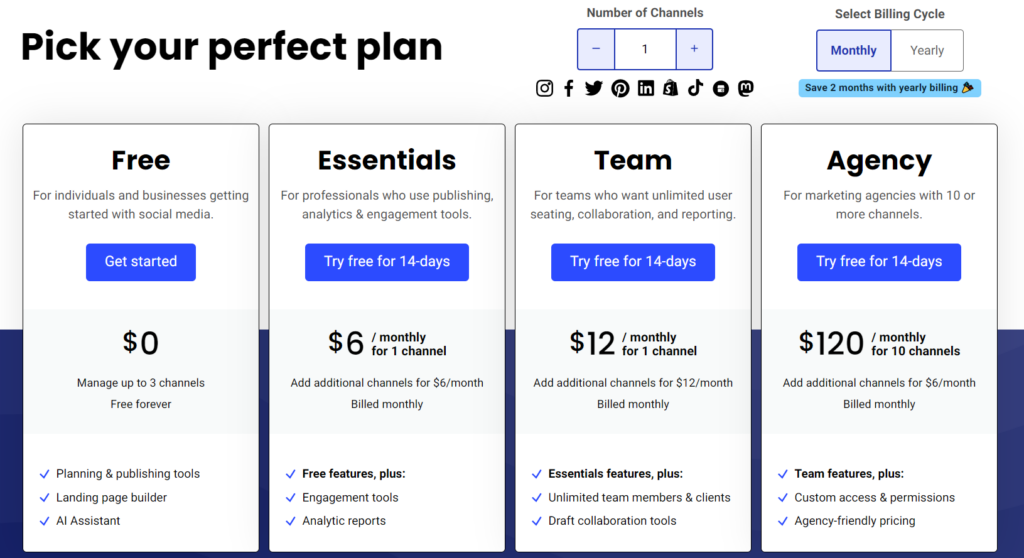 Buffer offer incredible layers of scalability for your needs that can change as you grow. For users that have 3 or less social channels to manage, you can opt for the free account, or for either the 'Essentials' or 'Teams' paid packages that offer additional services and features.
You can choose up to 10 channels for these two premium packages, and the price scales up as you add more channels. This scale up is $6 extra monthly for every additional user on the Essentials package, and $12 extra monthly for every additional user on the Team package.
For over ten users, the Agency packages offer the best value for money, and can scale up as far as you need to go for your business. When choosing the best package to suite your needs, you can select the number of channels you need, your billing preference (annual/monthly) and compare the packages.
Pros
It enables you to manage Facebook, Twitter, LinkedIn, Google+, Pinterest and more.
You get the ability to post content to your social media profiles or pages, without having to individually schedule them.
Buffer enables you to create your own images (using Pablo) which have the perfect size and format for Instagram, Facebook, Twitter and Pinterest.
Buffer supports RSS feed integration with all its plans.
Cons
Buffer doesn't show notifications for any received direct messages or comments on posts.
This tool equips you with a clean dashboard to scale your social media marketing efforts in an organised manner.
You can use its unified inbox to have all your social media messages under a single stream, track and join conversations and remain engaged with your audience. It also allows you to divide your workload by delegating different SMM tasks to your team members.
And, the team can easily collaborate with live activity updates, ensuring that there is no real-time message collision (no duplicate posts from two members at the same time).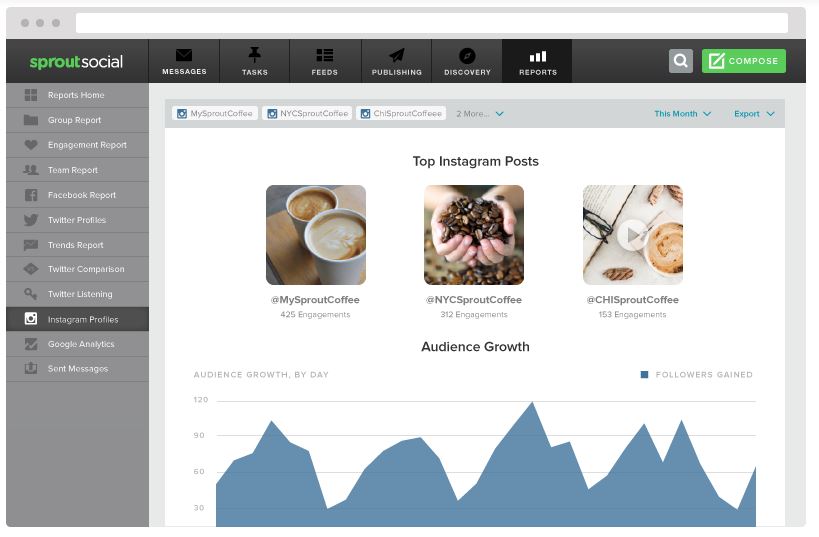 Moreover, this SMM tool helps you stay up to date with your social media engagement activities across all your profiles by analysing the results of your efforts with weekly reports. You can even monitor the various keyword searches performed.
This enables you to measure your performance with simplified analytics reports, containing easy-to-understand data. You can also get hold of unlimited presentation-ready reports at no extra costs, which can be exported to PDF or CSV format.
Top Clients
Dove, Hyatt, PepsiCo, UPS, Stanford University and more.
Plans & Pricing
Sprout Social provides you with three different plans, namely Standard, Professional and Advanced, with prices starting from as low as $199.00 per user per month.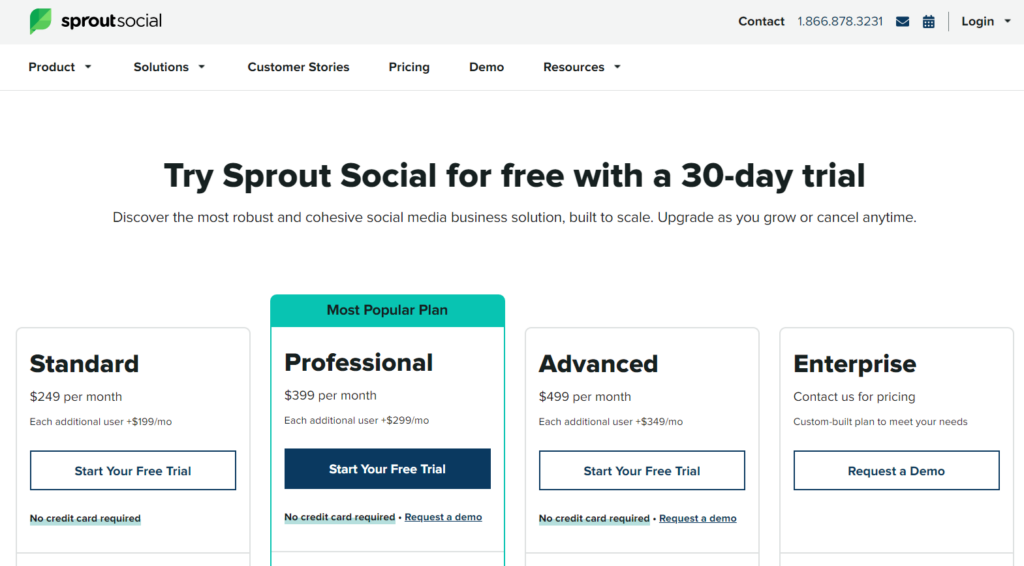 The detailed pricing for each plan is as below:
Standard – $249.00 per month plus $199/month for every extra user
Professional – $399.00 per month plus $299/month for every extra user
Advanced – $499.00 per month plus $349/month for every extra user
You can change or cancel your plan at any time, as per your convenience. Custom packages are also available for enterprise level requirements.
Each tier moving up the scale offers all the features of the tier below with a host of additional features. They are all available to compare when evaluating the pricing on the site.
Pros
It enables you to manage Facebook, Google+, Twitter, LinkedIn and so on.
Sprout Social allows you to add customised logos to the analytics reports, which is useful for agencies that need to submit such reports to their clients.
You can try out its features during the initial free trial period of 30 days.
With Sprout Social, you can use the highly effective social CRM tools, including shared customer records and advanced scheduling tools (for example ViralPost).
Access to chatbots and automation tools
Conduct Twitter feedback surveys, and collect data specific to post types and keywords.
Cons
It does not support the management of Facebook groups, LinkedIn groups or Pinterest.

This tool was launched primarily focused on increasing productivity solutions through the effective management of Twitter.
Hence, it was previously known as TweetLater.com. However, slowly and steadily it also started looking at improving the overall productivity of different social media sites and changed its name to SocialOomph.
For Twitter, SocialOomph offers a wide range of features, including:
Keyword searches,
Digital Marketing (DM) inbox clean-up,
Tracking mentions and retweets,
Tweet via mail, and
Following those people who follow you.
In addition, for all social media platforms supported by SocialOomph, it is possible to schedule posts, track quality profiles (along with the chance to follow them) and monitor social media activities.
It even allows you to schedule blog posts from unlimited blogs. And, its auto-responder feature ensures that you stay engaged with your audience on your profiles.
Plans & Pricing

SocialOomph gives you the opportunity to get several SMM services for free or buy different enhanced productivity services for your platforms.
Also, payments for professional accounts can be made monthly or annually, and they offer a 30 day free trial period on the largest' Business Suite' package.
The premium packages range from $15 to $55 per month, with a discounted rate available when paying annually.
Pros
It enables you to manage LinkedIn, Facebook, Twitter, Pinterest and more. In addition, you can manage Tumblr, blogs, RSS feeds, Discord, Plurk and App.net.
It helps you stay clear of spam through advanced DM management.
Cons
Due to its initial focus on Twitter, a lot of the advanced features are only meant for that social media platform.
Can be a bit complicated to set up at first.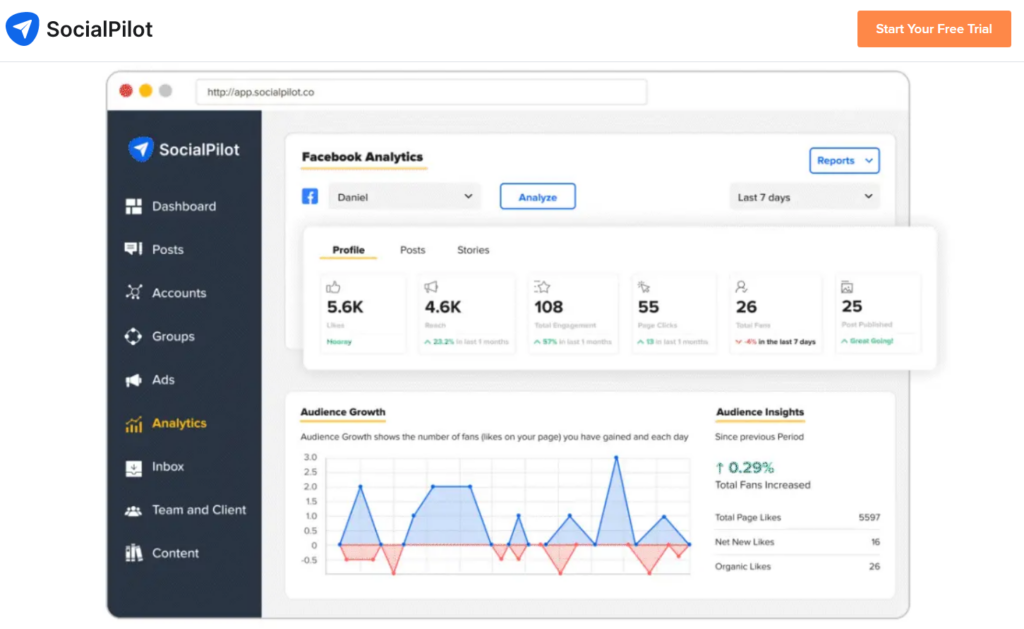 SocialPilot offers a wide range of features, including scheduling and publishing content, monitoring social media activity, analyzing performance metrics, and managing team collaborations.
One of the key advantages of SocialPilot over Hootsuite is its user-friendly interface and dashboard, which is intuitive and easy to navigate . The platform offers a variety of customization options, including the ability to create custom post types, add multiple social media accounts, and automate content publishing across multiple channels.
Another advantage of SocialPilot is its competitive pricing. For a package that supports up to 30 social accounts and 6 users, you can expect to pay around $100 per month, or $85 per month when paid annually.
For a similar sized package on Hootsuite, supporting 5 users across 35 social accounts, you would need their top-end Enterprise plan, and expect to pay over $700 per month.
SocialPilot's analytics and reporting capabilities are also quite advanced, which can help you gain insights into your social media performance and optimize your marketing efforts accordingly. They are perhaps not quite as advanced as Hootsuite however. The platform provides detailed reports on engagement rates, audience demographics, and other key metrics.
Plans & Pricing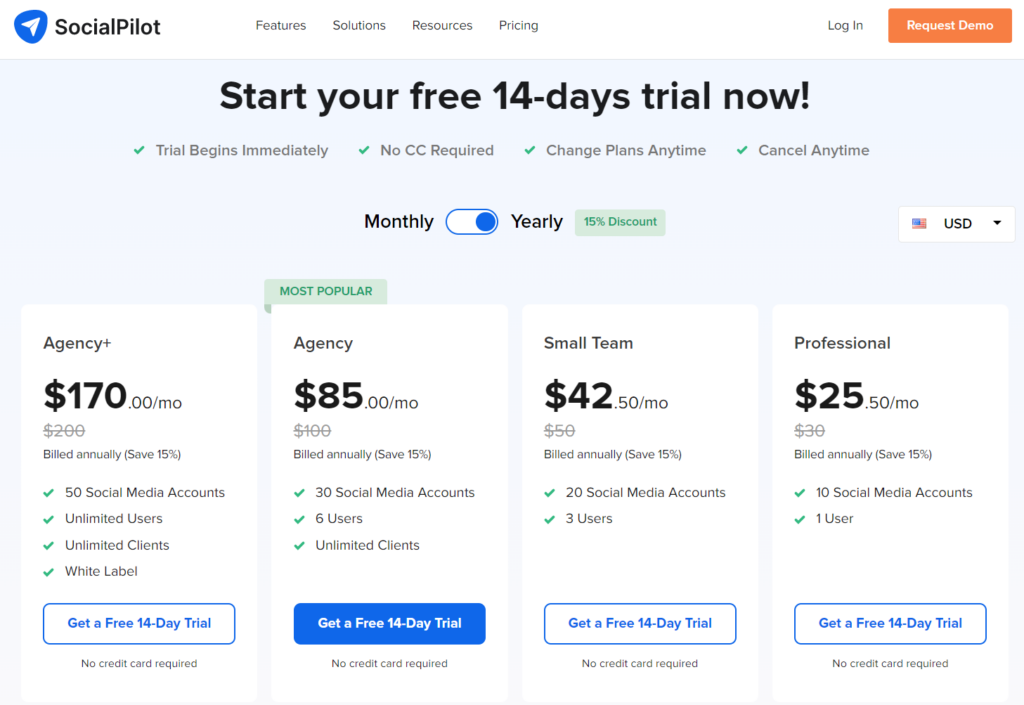 SocialPilot offer a free 14 day trial on all their packages, and you can scale your package up or down depending on your changing needs. The pricing for the four premium packages is as follows:
Professional – $25.50 per month for annual billing, $30 for monthly billing
Small Team – $42.50 per month for annual billing, $50 for monthly billing
Agency – $85.00 per month for annual billing, $100 for monthly billing
Agency+ – $170.00 per month for annual billing, $200 for monthly billing
Pros
With SocialPilot, it is possible to manage Pinterest, Twitter, TikTok, Facebook, LinkedIn, FourSquare, YouTube, Instagram, Tumblr, Glassdoor and many more.
Can integrate and import your designs from Canva
SocialPilot uses third party app Zapier for integrating with many other apps
SocialPilot has a handy browser extension
Advanced RSS Feed Integration & Publishing
White Label dashboard
Cons
They don't offer reel scheduling.
No phone support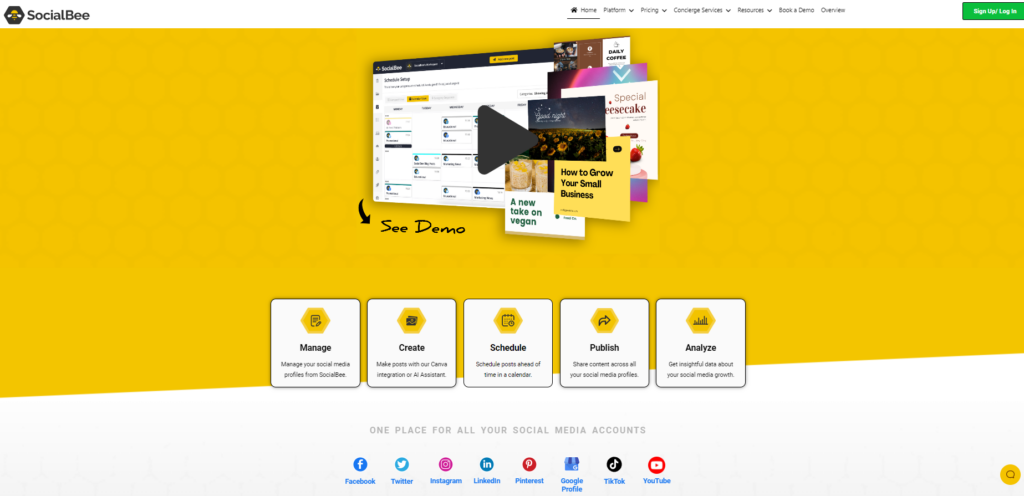 SocialBee offer a comprehensive range of tools for managing social media accounts, with a particular focus on scheduling, creation and publishing of content across your feeds.
One of the key features of SocialBee is the ability to work with content categories. When publishing, you can schedule for content to be pushed as a one off piece, or to be added to one of your predetermined categories. You can choose when content is published depending on their category and even schedule expiry dates for content that you only want available for a certain time. This is handy when running, for example a limited promotion or monthly contest.
SocialBee is integrated with many tools such as Zapier and Quuu to provide ample features for creating and distributing content too. There is even a handy Chrome browser extension you can use to schedule straight from your browser.
SocialBee started out as a scheduling tool, and as such this is where it excels, though it may not offer some of the monitoring or listening features you would get with other Hootsuite alternatives.
Plans & Pricing
SocialBee offer a range of packages for standard users, and a range larger packages for agency level accounts.
The standard packages are as follows: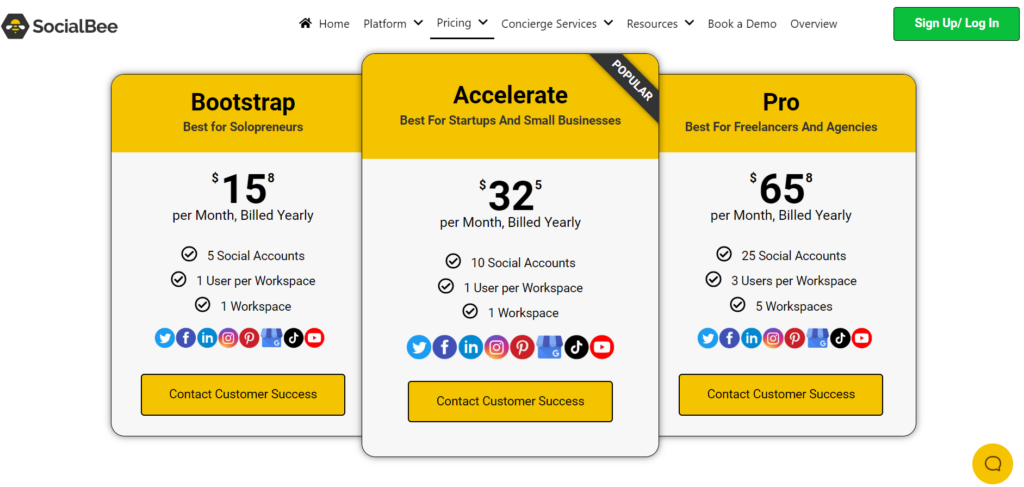 The standard packages are aimed at individuals or small businesses, that require between 1 to 3 users and a limited range of social accounts. There are three of these packages available:
Bootstrap – $15.80 Per month billed annually, or $19 per month
Accelerate – $32.50 Per month billed annually, or $39 per month
Pro – $65.80 Per month billed annually, or $79 per month
There are four agency level plans available: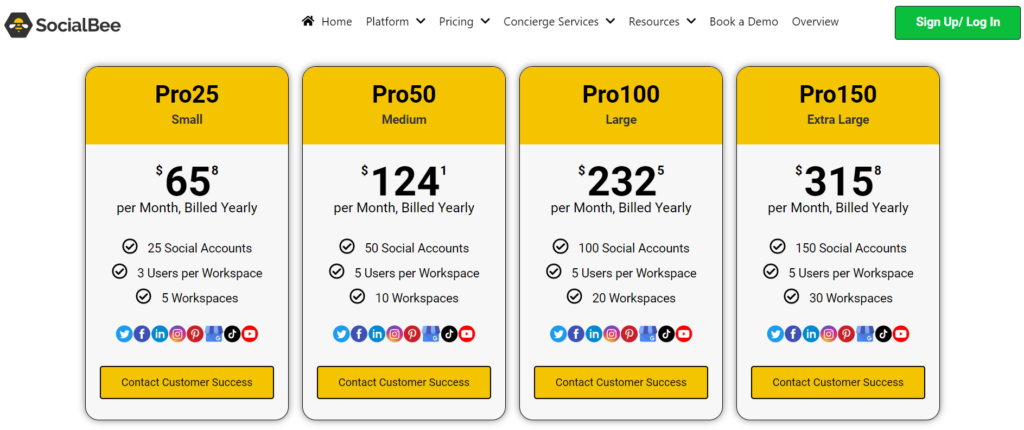 Pro25 – $65.80 Per month billed annually, or $79 per month
Pro50 – $124.10 Per month billed annually, or $149 per month
Pro100 – $232.50 Per month billed annually, or $279 per month
Pro150 – $315.80 Per month billed annually, or $379 per month
Pros
You can manage Facebook, Instagram, Twitter, TikTok, LinkedIn, YouTube and more.
Supports TikTok video scheduling
AI Caption Generator
Multiple workspaces to keep projects and brand work separate
Great tools for scheduling, creating and categorising content
Can schedule in bulk or via RSS feed feature
Analytical suite with up to 2 years of historical data
Free Trial available on all packages
Cons
It does not offer a social inbox
No monitoring features
Zoho are a company that offer many different products to help streamline many online processes for businesses of any size. From managing your books to optimizing support services or CRM solutions. They also offer a platform called Zoho Social which is a comprehensive set of tools for managing, monitoring and scheduling content from multiple social media accounts.
While Zoho Social is mostly aimed at medium to large businesses managing multiple brands, their packages for smaller businesses are very competitive too.
You get a lot for your money on even the Standard and Professional business packages. While some other products have grown from being good at one specific thing (like social oomph) and perhaps lack in some other offerings, Zoho are pretty well equipped.
There are tools for scheduling, monitoring feeds, analysing clients and performance of content, integrations with third party apps like Canva, and a whole host of other features.
One area in where Zoho Social is lacking though, is that they don't have a built in RSS feed integration.
There are also only a limited amount of brands and team members that come as standard for each of the packages. Even the agency packages only support 5 team members and up to 20 brands on the standard offering. You can increase the number of members and brands at an additional monthly cost for every extra one added.
It is a comprehensive tool that is offered, but the price can soon stack up for large businesses that need to add more users or brands.
Plans & Pricing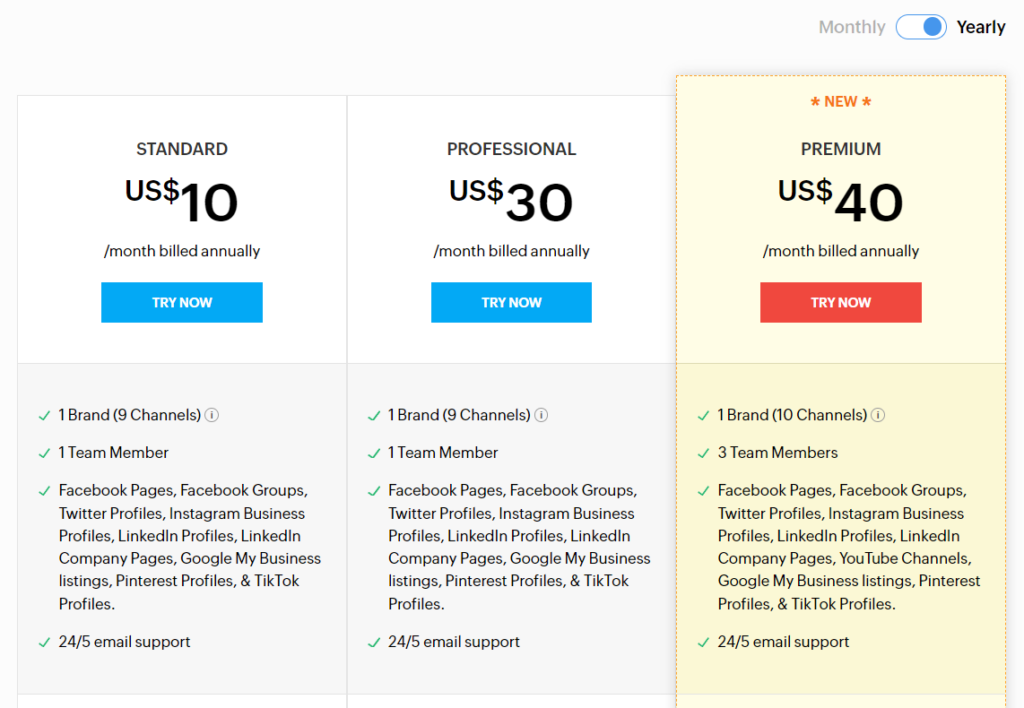 Zoho Social offer a range of different packages for businesses of various sizes, and larger packages for agency level solutions.
The Business packages are:
Standard – $10 Per month billed annually, or $15 per month
Professional – $30 Per month billed annually, or $40 per month
Premium – $40 Per month billed annually, or $65 per month
The Agency level packages are:
Agency – $230 Per month billed annually, or $320 per month
Agency Plus – $330 Per month billed annually, or $460 per month
On every package other than the 'Standard' package you can add extra users at a cost of $10 per user per month.
On every package other than the 'Standard' package you can add extra brands at a cost that ranges between $14.50 to $76 per month per brand, depending on your base package.
Pros
Comprehensive solution for publishing, monitoring, analytics and collaboration across many social media accounts.
Tells you the best time to post for optimal reach and engagement
Facebook and LinkedIn Lead Ads
Listening dashboard
Cons
Data on listening dashboard is not always accurate
Only supports a few users even on the top end packages as standard, unless you want to pay more every month to add users.
Clearly, there are many good Hootsuite alternatives that can save you a lot of time and can result in better engagement, while managing multiple social media accounts.
However, Social Booster emerges as the best option among this list of SMM tools due to its unique features, such as 500 free Twitter followers, 24×7 customer support and the ability to run ads directly from the dashboard, in addition to the standard SMM functionalities for individuals and businesses.
If you have used or are currently using any of the above listed SMM tools, please share your valuable experiences in the comments section below.
Affiliate disclaimer: I recommend Sendible because I've been using them to manage my social media accounts with great success. I truly believe they offer a superior service to Hootsuite and other SMM tools. That's why I'm singing their praises. All Sendible links on this page are affiliate links which means that I will get commission if you buy a subscription with Sendible via one of my links. This helps me to run makeawebsitehub.com and keep all the guides on this site free to use and share.
The following two tabs change content below.
Jamie Spencer
My name is Jamie Spencer and I have spent the past 10 years building money making blogs. After growing tired of the 9-5, commuting and never seeing my family I decided that I wanted to make some changes and launched my first blog. Since then I have launched lots of successful niche blogs and after selling my survivalist blog I decided to teach other people how to do the same.
Latest posts by Jamie Spencer (see all)