Today, there are more transportation options to meet the needs of the average commuter better than before. Thanks to companies such as Uber who employ independent drivers throughout the world, you now have affordable options that don't involve questionable cabbies or packed subways. Best of all, you can do all your booking through a convenient mobile app which gives you the flexibility of calling a driver wherever you go. Gone are the days where the frustration of trying to flag down a cab or master a bus schedule was necessary to get from Point A to Point B.
Uber as a Multi-Billion Dollar Company
Uber is a ride-hailing company with a mobile app for iOS and Android devices that allows passengers to connect with drivers for hire. Payment for services rendered is acquired through the app, making it a fast and easy way to arrange transportation from one location to the next. Uber drivers from across the globe charge different amounts for their services as dictated by demand in their city.
The company is headquartered in San Francisco, California. It was born after Garrett Camp and Travis Kalanic, the company's co-founders were unable to hail a cab in Paris. Uber launched in 2009 and did not receive the initial money from investors it hoped to generate.
It took the company time to get to the place that it is today, a multi-billion dollar entity with 19,000 employees worldwide. The ride-hailing app is now a household name with appearances on TV shows and movies regularly. Lyft is the company's biggest competitor currently.
Although it may appear that Uber is a serious business, it also knows how to have fun and form mutually beneficial partnerships with non-profits and organizations to leverage its visibility and build upon its reputation as a company that cares. You'll find some fun facts about the company listed below.
Fun Facts You May Not Have Known About Uber
Uber isn't all work and no play. In fact, it's many partnerships with non-profits have helped make it a more approachable concept for many people. The following fun facts have accelerated Uber's success by making it a think-outside-the-box company full of unpredictability.
Fun Fact #1: Uber Delivers Ice Cream
Uber drivers in July 2012 were responsible for delivering frozen treats such as ice cream, gelato, and glace in seven major cities throughout the United States on-demand.
Fun Fact #2: Uber Loves Animals
The company also launched UberKittens in August 2014 to help animal shelters get more kittens adopted. By request, people can have kittens delivered to their workplaces for a nominal fee. Anyone who decides that they can't leave work without a furry friend has the option to adopt a kitty thanks to animal shelter staff onsite.
Fun Fact #3: Uber Wants You to Rethink Drinking and Driving
A partnership with MADD made people rethink driving drunk. Thanks to the wide availability of Uber in most cities around the globe, people have the option to call a safe ride home rather than get behind the wheel of a vehicle and harm themselves and others. Many people already count on the company's drivers as their non-official designated drivers.
Fun Fact #4: Uber Has Seen Its Share of Babies Being Delivered
The first baby born to Uber riders is Ella Melanie. She was delivered in a vehicle in 2015 on the way to the hospital. Since then, Uber drivers have had close calls and births inside their autos.
Fun Fact #5: Uber Drives Itself Over 2 Million Miles in Self-Driving Vehicles
By December 2017, the push for more advanced technology existed. Uber answered the call by putting self-driving and autonomous vehicles on the roadways. The autos clocked several million miles during that time.
Fun Fact #6: Uber Reunites Passengers with Lost Phones
Uber passengers often forget things inside the cars of their drivers. The most commonly found item is a phone. The app has an option now that allows passengers to "Contact my driver about a lost item" to make arrangements to retrieve whatever has been left behind.
Fun Fact #7: Once the tipping option was added to the app, drivers raked in massive amounts of cash.
Drivers praised the update and credited it to earning them $600 million in tips in the first year the feature was offered alone. That's no amount of small change. Anyone wanting to tip their driver could do so with great ease because it charged their debit or credit card for the tip through the app the same way pay for the ride was collected.
Fun Fact #8: UberEats, a food delivery service, has helped the company grow by leaps and bounds.
Sometimes you need a ride and other times you need your food brought to you. With this unique service, people can have food delivered to their choice of destination by an Uber driver. It's an option for restaurants who don't have their own delivery drivers, too.
Uber has proven itself to be a forward-thinking company with great potential. Used worldwide by riders of all ages, it's important to know more about who predominantly uses Uber and why they prefer ride-hailing over other types of transportation. Knowing these things helps you better understand what makes the ride-hailing app preferable over its competitors.
Uber Users & Demographics
Uber is a global company that offers services in 65 countries and over 600 cities. It caters to all ages of passengers but is predominantly used by customers aged 16 years old to 34 years old. They make up two-thirds of the company's business.
The least represented age group are individuals aged 55 years old to 64 years old. Older passengers often have vehicles of their own, prefer public transportation or have a family member or friend who drives them where they need to go. Still, a small percentage of the age group request frequent rides from Uber drivers.
Uber's Main Market is in the United States with Brazil Being a Close Second
Uber's main market is US-based. As of March 2018, there was a record 41.8 million users. Brazil follows by being a close second with 17 million users utilizing the ride-hailing app. London is Europe's biggest Uber market with over 3.5 million people catching a ride with drivers throughout the city.
Surprisingly, India also values Uber. Over five million rides are taken on a weekly basis. The global reach of the company speaks for itself with over 10 billion trips completed since July of 2018 worldwide.
The Most Expensed Item Next to Starbucks Coffee
Business travellers of all types find writing off Uber as an expense lucrative. In fact, Certify determined that the company was the vendor that was listed the most on expense sheets. Starbucks came in as a close second with only four percent of total expenses being attributed to coffee.
Thanks to its wide availability in countries around the globe, corporate travellers have the option of hiring a driver versus renting a vehicle. The pluses that come with accessing Uber include not needing a place to park, avoiding the hassle of trying to navigate a city they don't know well, and the cost of obtaining a driver's license for the different countries being visited. Ride-hailing eliminates the hassle that people traveling for business encounter regarding transportation.
In some countries, however, Uber isn't the only company willing to cash in on the need for reliable transportation. Taxicab companies still acquire a lot of revenue. Other companies such as Lyft and Didi see their fair share of riders daily.
Below, you'll see how Uber compares to the competition. You'll discover ride-for-ride who comes out on top as well as which companies profit the most from their services. Delving into the histories of the competitors helps you see what makes them appealing to riders, too, and why Uber isn't the only one making money in the ride-hailing industry.
Uber's Stiffest Competition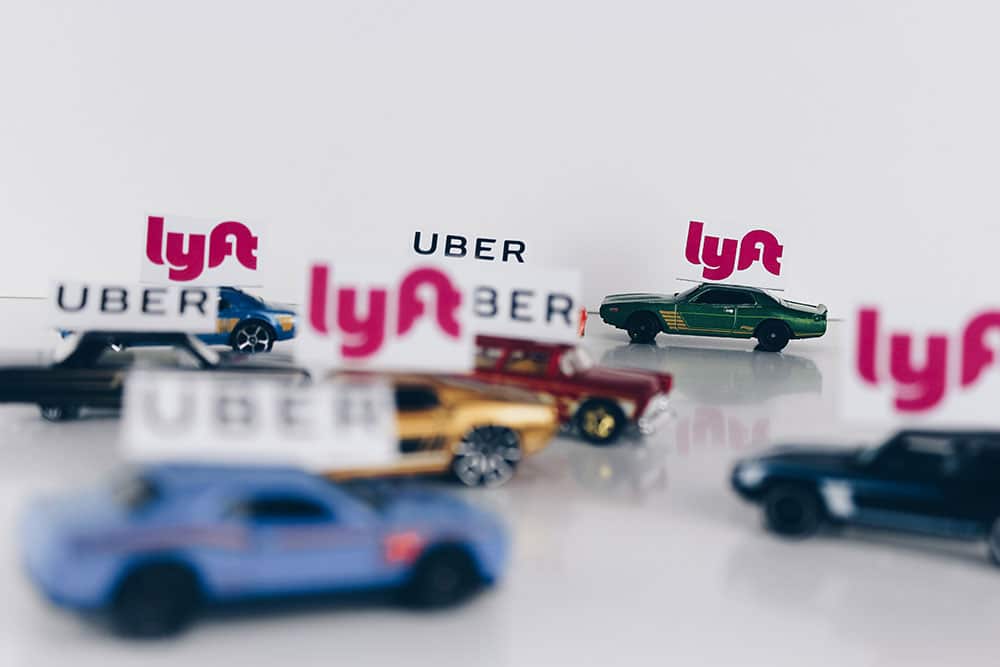 There are companies out there that want to give Uber a run for its money. In fact, they don't want the ride-hailing app to be a monopoly so they compete for riders every day of the year. Among the most notable competition that Uber has is taxicab companies.
The traditional way to get around major cities such as New York, cab companies exist in massive quantities to-date and still get a good share of riders who haven't yet adopted ride-hailing technology. Some people prefer a cab ride over the 'hassle' of using a mobile app. They simply stand on the sidewalk and wave the cab down or call the taxi's dispatcher and have a vehicle meet them at their chosen location.
Taxicab Companies
Traditional taxicabs are among the company's stiffest competition. In major cities such as New York City, cab companies are abundant. Step into the street at any given time and you'll see a sea of yellow.
TLC summary data taken in January 2019 concluded that the people in New York took 462,113 Uber rides per day while 271,135 taxi rides took place, and 149,142 rides were given by Lyft drivers.
So, what makes cab rides appealing? It's likely to do with their availability as well as the fact that they take cash. Some people are reluctant to share their credit card information online and avoid using apps such as Uber's and Lyft's because they fear their financial data will be misused.
Private-Hire Companies
Companies with their own for-hire drivers have emerged from the woodwork since the founding of Uber. More business owners want to capitalize on the market created by ride-hailing apps. Having a dedicated driver to take a person wherever they want to go throughout the day is often what is advertised by the said company.
In London, this type of business is booming. In fact, at one point, the mayor proposed capping the number of private drivers allowed in the city. As of 2017/2018, there were 114,000 private hire drivers to the 24,000 black cab drivers in London.
Lyft
Lyft is one popular Uber substitute. The company offers a similar service with independent drivers picking up passengers and dropping them off at their destination. Booking through the Lyft app takes seconds for customers who have already set up a profile and payment information.
The ride-hailing app is available in 300 US cities and two cities in Canada. It has 23 million users and 1.4 million drivers. It was founded in 2012, three years after Uber was in San Francisco.
The revenue of Lyft is $2.2 billion. Its valuation is $15.1 billion which pales in comparison to Uber. The older of the two companies has a valuation of $72 billion.
Grab
Grab is Southeast Asia's answer to Uber. The company is headquartered in Singapore and boasts a revenue of $1 billion and a valuation of $11 billion. According to statistics, it has 36 million users and 2.6 million drivers.
The company's drivers supply riders with 4 million rides a day. To date, Grab has delivered 2.5 billion trips. Uber sold its Southeast Asian company to its competitor for an undisclosed sum and for a 27.5% share in the company.
Didi Chuxing
Didi Chuxing or Didi for short is available for use in 400 Chinese cities as well as Brazil, Japan, Australia, Taiwan, Mexico, and Hong Kong. It has 550 million users and 21 million drivers. Over 30 million rides per day are given by Didi drivers.
With a valuation of $56 million, it's easy to see why it's Uber's stiffest competition in places such as Brazil which is the company's next biggest market when compared to the United States. Didi grossed $25 to $27 billion.
Now that you know how Uber compares to its competition, learning who drivers for Uber, how much they make, and how busy they are counts. It allows you to see the bigger picture of the company so you can understand its popularity and financials better. The most important Uber stats to know are listed in the next section for you to reference.
Uber Driver Stats
Uber drivers don't fit a specific mold. In fact, some of the things you'll learn about them are shocking. They're highly unexpected considering the vision you likely have of gig economy workers.
There are a reported 3.9 million Uber drivers worldwide. The ratio of domestic to international drivers is 1:3. The drivers themselves vary in age but currently seem to be around the ages of 30 to 49, equipped with a college degree, and non-white.
More Male Drivers Than Female Drivers
Most drivers are male. Females account for 27% of the company's drivers. Commanding less than their male peers could be why fewer women drive for the company.
Millions of Rides Given Each Day
Over 14 million Uber trips take place each day of the year. Worldwide, there have been over 10 billion trips completed. Although data isn't consistent, it's said that in the United States, ride-hailing accounts for 65% to 69% of the gig economy.
In the peer-to-peer ridesharing market, Uber commands 77% of the business. Its competitors have tried to give it a run for its money but the company continues to dominate. Riders know Uber well and feel confident using its services.
Now, that you have a better idea as to who drives for Uber, you'll see how they contribute to the company's overall success. Taking a look at the ride-hailing app's financials allows you to see its placement in the economy. Dominating the peer-to-peer ridesharing market, Uber built its reputation gradually, over time, and with the help of investors and corporate sponsorships.
Uber's Financials
Curious about where Uber stands as a corporation? In the short time that it has been in existence, it has amassed financial revenues beyond what its co-founders imagined for the ride-hailing app. To learn more about what has driven the company to success, check.
Uber is a Multi-Billion Dollar Company Worldwide
Uber's revenue has increased considerably in recent years. It saw a 43% increase from 2017 to 2018 when financials amounted to $11.3 billion. Bookings were also up to 45% which brought the total to $50 billion. Some losses were reported, too, with them amounting to $1.8 billion in total because Yandex and Grab were both sold.
Uber Drivers Clear Several Hundred Dollars a Month in the US
Uber drivers, on average, clear about $364 in income monthly. The median hourly rate can be as little as $8.55 with female drivers making significantly less than their male counterparts. They make on average seven percent or $1.24 per hour less.
Toyota Invested in Uber in 2018 to the Tune of $500 Million
The idea behind the investment was to develop self-driving vehicles faster. Partnering with a major auto manufacturer has its benefits. It's especially so if the business that you own is vehicle-dependent in nature!
A wreck involving a self-driving auto caused Uber to go back to the drawing board. Working the kinks out of the business model requires time and lots of trial and error. Fortunately, with Toyota's assistance, it will likely be sooner than later that Uber makes self-driving vehicles a part of its company's offerings.
The Company's IPO Valuation in 2020 Was Outstanding
Worth $82.2 billion, the company is clearly in it to win it. You won't see it going away anytime soon. Uber has been through the trenches but wound up on top despite its early troubles.
How Uber Stacks Up in the Sharing Economy Pay-Wise
When data was analyzed about the sharing economy, it was determined that the most lucrative option was being an Airbnb host. The average monthly income garnered by such a role was $924. The second most promising option was TaskRabbit with a person's monthly income being $380 on average.
Lyft inched Uber out by just a few dollars. The competitor brings its drivers $377 in average monthly income whereas Uber only commands $364 in average monthly income. Finally, driving for DoorDash brings in $229 in income on a monthly basis for most drivers.
Understanding how Uber makes its money and at what price the company is valued at allows you to see the global impact it has made. Changing the way that people view transportation, it put a friendlier face on ride-hailing by making it more accessible, less unpleasant, and much more comfortable. Had the co-founders of the company caught that cab in Paris on that snowy day, the company would likely never exist and people wouldn't know what it felt like to ride in or drive for Uber.
Final Thoughts
If there is one thing to learn about Uber's story is that determination is everything. Through hard work and persistence, the company has grown exponentially to form a global corporation that now is a household name. Everyone knows what it means to take an Uber or to drive for Uber, much to the delight of the company's CEO and co-founders who took an idea and went with it.
As the statistics have proven, Uber continues to be a driving force in the ride-hailing marketplace worldwide. Even where it isn't present, it owns a stake in the companies that are. As a pioneer in the industry, the company has certainly paved the way for other similar services such as Lyft and Didi.
Now that you know all there is to know about Uber, you can feel more confident using the ride-hailing service app in the future. You're well-aware of the company's policies and what to expect from the drivers it employs. You'll know what steps to take to ensure a smoother, safer ride experience, too.
You may even find driving for Uber to be an enticing idea. The proof of the company's success has been presented right before your eyes. It's now up to you to determine how you view the ride-hailing app.
Is it something you can't live without or a service you access on occasion when you don't feel like driving or taking the bus?
Image credits:
Featured image: Victor Xok
[vc_empty_space height="50px"]
We have even more stats for you!
Chinese Social Media Statistics
The following two tabs change content below.
Jamie Spencer
My name is Jamie Spencer and I have spent the past 10 years building money making blogs. After growing tired of the 9-5, commuting and never seeing my family I decided that I wanted to make some changes and launched my first blog. Since then I have launched lots of successful niche blogs and after selling my survivalist blog I decided to teach other people how to do the same.
Latest posts by Jamie Spencer (see all)