GreenGeeks Hosting Review – 2021
Written by Jamie Spencer – Updated 22nd August 2021
Their environmental morals are spot on, but what about the hosting?
Is it any good? Worth the money? Let's find out!
Best Green Web Host
GreenGeeks
Free Domain Name + Hosting + Email:
From $2.95 per month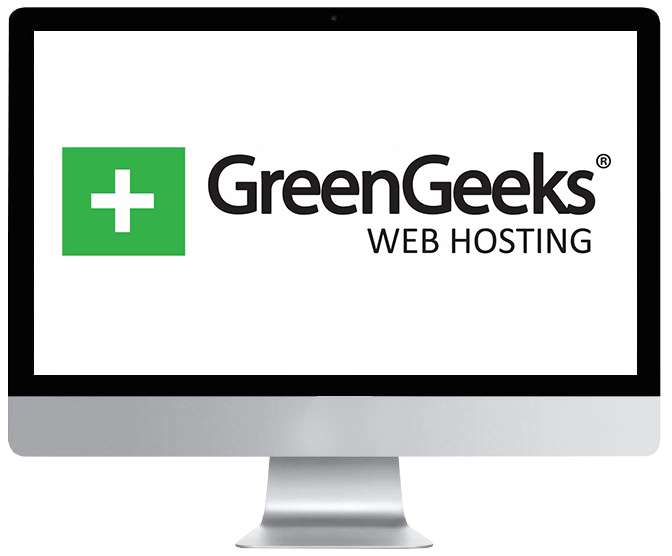 Web hosting providers are a dime a dozen these days, which means more and more web hosts are mixing up their business philosophies and hosting solutions to stand out from the pack. Meet GreenGeeks.
While I can't get rid of all of the terrible hosting services out there today, I can share with you every detail about one of the most unique and reliable web hosting providers out there today: GreenGeeks.
Greengeeks Pros
Great Uptime: 99.97%
Fast Load Speeds
New Blogger Friendly
One-click Installs
FREE Domain for 1 year
Web hosting is a vital component of running any successful website, and GreenGeeks has a lot going for them. In addition to being, well, green, they also knock it out of the park in terms of uptime, speed, affordability, customer support, and more, making them more than viable for all sorts of websites large and small.
For this GreenGeeks review, I purchased the Shared and WordPress Hosting Plans, dove headfirst into every feature just like a newbie starting a blog for the first time, and put GreenGeeks to the test for several months, month after month. User experiences are subjective, but the stats don't lie. Want to know what I discovered?
Latest Deal!
You can get Greengeeks high quality Lite WordPress hosting plan for special price of just $2.95 per month (Normally $9.95 per month – 36 months sign up)
+ a FREE DOMAIN NAME worth $15 ( free for the first year ).
A FREE domain name
Fast, high quality & reliable web hosting
Unlimited web space
One-click WordPress Install and 24/7 support.
Disclosure: When you purchase web hosting from GreenGeeks through links on this page, we earn some commission. This helps us to keep this site running. There are no extra costs to you at all by using our links.
A Bit About GreenGeeks.com
Founded by Trey Gardner in 2008, GreenGeeks hosts over 300,000 websites and operates secured data centers in the United States, Canada, and the Netherlands. Prior to launching GreenGeeks, Trey worked with several hosting companies, including iPage, Hostpapa, and iPowerweb just to name a few. In other words, he has plenty of experience, which is huge.
On the GreenGeeks website, they make a couple of really bold claims. The first is 99.9 percent uptime, which everyone seems to claim these days. The other is 100 percent customer satisfaction. They also claim to be as friendly for the environment as a hosting company can be.
So, do they live up to these claims, or are their promotional claims just that – claims?
You'll find out in this GreenGeeks review. Here's what we'll cover.
General GreenGeeks Info and Hosting Overview
• Hosting Plans – WordPress, Shared, Reseller, and VPS
• Speed – Average of 448ms
• Uptime – 99.97 percent
• Apps – WordPress, PrestaShop, Joomla, and WHMCS
• Features – Unlimited storage and bandwidth, email accounts, free one-year domain
• Site Migration – Free for a single site
• Support – 24/7 email, phone, and live chat
• Pricing – from $2.95 a month
• Verdict – Best Green Web Hosting Company
Features and Advantages Of GreenGeeks
If you've read GreenGeeks reviews from other actual users just like us, then you already know they're a solid web hosting provider with a lot to offer. From strong uptime and security to great customer support and a focus on renewable energy sources, there are plenty of good things to like about this innovative web host.
Uptime: 99.97%
GreenGeeks has very impressive and consistent uptime levels.
Support
10/10 for support and assistance. Always very helpful and quick get in contact with them.
Compatibility
WordPress hosting which has 100% compatibility with all WordPress features and plugins.
1. Eco-Friendly
It's no secret that servers consume their fair share of energy. GreenGeeks didn't just address this issue; they've tackled it head on.
We'll get to the web host's hosting plans, uptime, cPanel, WordPress integration, and all of the other important factors in just a minute, but we found it fitting to lead off this GreenGeeks review with the company's emphasis on being "green." Let me explain.
As their name suggests and you'll see the moment you visit greengeeks.com, the company claims to offer green hosting by focusing on the use of renewable energy – specifically, wind energy.
How so? Good question.
Most GreenGeeks reviews only gloss over this benefit, but given its importance for, well, the fate of mankind, let's dive in.
Unlike other web hosting providers, GreenGeeks is recognized by the U.S. Environmental Protection Agency, or EPA, as being a Green Power Partner. This definitely helps bolster their claim of being today's most eco-friendly hosting provider.
What does this mean?
Here's a look at what makes GreenGeeks so eco-friendly:
• Wind Energy Credits
They compensate for the energy use of their servers by purchasing wind energy credits. In fact, they purchase three times more energy than their data enters use to help sustain the supply of wind energy to the grid.
• Replace 615,000+ kWh a Year
They replace over 615,000 kWh of electricity each year. The average American consumes a world-leading 12,000 kWh a year, so that's quite a lot.
• Energy-Efficient Hardware
They equip their data centers with energy-efficient hardware to reduce their energy consumption and carbon output.
• Promote Green Awareness
They issue webmasters green certification badges to add to their sites and promote green awareness and environmentally-friendly practices.
As you can see, being a GreenGeeks customer means you too are positively contributing to the world we live in and making it a better place.
2. Reliable Infrastructure
In the world of web hosting, it's all about power, security, and speed. Achieving this trifecta takes an uber-reliable infrastructure with state-of-the-art data centers. As other GreenGeeks reviews will agree, GreenGeeks hosting excels in this regard.
The green hosting company operates five highly secure, technologically advanced, and eco-friendly data centers around the world in the following cities:
• Toronto
• Montreal
• Chicago
• Phoenix
• Amsterdam
With a strong presence in Canada, GreekGeeks is one of the best web hosts for Canada based bloggers and businesses.
Each of these data centers is state-of-the-art. However, you can choose which one you want your site to be housed in, allowing you to deliver your content to your customers anywhere in the world as fast as possible. Doing so can have a huge positive impact on your website's speed, SEO, and overall performance.
That said, regardless of which server location you choose, you can expect high-tech facilities and servers with some impressive features and specs, including:
• Dual-city power grid feeds with battery backup and automatic transfer switch
• BGP4 gigabit connectivity with multiple Fiber GigE Tier-1 backbones
• Latest generation Intel Xeon processors
• RAID-10 SSD storage arrays
• SSD acceleration
• EEC-registered 64 GB DDR3 minimum memory
• SAS 70 Type-1 certified with full audit reports
• Server-safe FM200 fire suppression system
• Key card and biometric security system with rack-level locking and man-traps
• 24/7 on-site SingleHop engineers and techs
• Automatic temperature and climate control with humidity and temp sensors
On top of all that, this GreenGeeks hosting review wouldn't be complete without mentioning they also have access to major bandwidth providers for minimum downtime and maximum uptime, guaranteed.
Not to mention, they also never oversell their services, which is unfortunately quite common but often overlooked.
As far as reliability goes, you can rest assured GreenGeeks goes the extra mile to ensure your data is safe, secure, and speedily transferred with state-of-the-art servers and other cutting-edge tech.
3. Excellent Uptime Levels
GreenGeeks web hosting reviews always mention at least three things: eco-friendliness, security, and uptime. We'd like to stray from the pack, but it's hard to ignore the company's bold 99.9 percent uptime guarantee.
As you'll learn in this GreenGeeks review, they offer WordPress, Reseller, Shared, and VPS hosting plans. However, since it's by far the most popular and a good representation of GreenGeeks' uptime across the board, we chose to put its shared hosting to the test.
So, do they live up to their 99.9 percent uptime guarantee?
In short, yes. In our in-depth analysis, the green hosting provider was able to deliver an impressive average uptime of 99.7 percent. Considering how much downtime can affect the performance of your site, this is great news.
During a full year of tracking, GreenGeeks actually had six months with absolutely no downtime at all. If it wasn't for one low month, they would certainly top our list of web hosts with the best uptime. Still, they're not far behind.
Here's a look at how they fared each month in 2019, just so you know what to expect:
• January – 100 percent
• February – 100 percent
• March – 99.98 percent
• April – 99.94 percent
• May – 99.99 percent
• June – 100 percent
• July – 100 percent
• August – 100 percent
• September – 99.98 percent
• October – 99.98 percent
• November – 99.99 percent
• December – 100 percent
Needless to say, if you open a hosting account with GreenGeeks, you can feel confident your site will stay up and running like a champ nearly every second of every day.
4. Fast Loading Speeds
No GreenGeeks review 2020 would be complete without discussing page loading speeds, so that's what we'll cover next.
In addition to uptime, we also tracked page loading speeds during our GreenGeeks hosting review process. We were happy and admittedly a little surprised to find their servers were fast, really fast.
In fact, our pages only took 454ms on average to load, which is 50 percent faster than the industry standard 890ms. Best of all, this was with their Ecosite shared hosting services, not a dedicated server.
So, in terms of speed, GreenGeeks is right up there with HostGator and a handful of today's other top web hosts.
Once again, this is great news for you. The faster your site loads, the better experience your visitors will have. In fact, most visitors will leave a site if it takes longer than two seconds to load.
While you can do plenty of things to optimize your website's speed and performance, it's always nice for your hosting company to help out in this regard as well.
How does GreenGeeks achieve such speedy loading times?
Well, unlike other GreenGeeks reviews, we'll tell you – it's all about their servers.
Each GreenGeeks server utilizes:
• LiteSpeed web and MariaDB database servers
• SSD Hard Drives configured to Raid-10 storage arrays
• Custom in-house caching technology
• CloudFlare CDN services
• PHP 7
• HTTP/2
As you can see, GreenGeeks doesn't mind investing in the latest speed technology to deliver its client web pages in lightning fast speeds.
Not bad, right? Hold on, it gets even better.
As a GreenGeeks user, you can optimize your site right from their cPanel for even faster load times. With the Optimize Website setting, you can actually adjust the way requests are handled by Apache by compressing the text/plain, text/xml, and text/html MIME types. When doing this for our test, we were able to improve the load times by 30 percent.
All in all, it's safe to say GreenGeeks websites load pretty darn fast. Plus, there are things you can do to optimize your site and speed it up even more.
Best of all, if you don't experience the same results, which you will, you can always cancel your subscription and take them up on their 30-day money back guarantee.
5. Security
Along with uptime and load speeds, knowing your site data is safe and secure should be a major factor when reading GreenGeeks hosting reviews and choosing a hosting provider. Knowing this, GreenGeeks.com also excels in the security of the websites they host.
From a security standpoint, here's what they offer:
• Container-based technology
• Power and hardware redundancy
• Proactive server monitoring
• Nightly data backups
• Real-time security scanning
• Hosting account isolation
• Enhanced SPAM protection
• Automatic app updates
Diving deeper into security in this GreenGeeks web hosting review, let's start with GreenGeeks' container-based approach to their data centers and hosting services.
What does this mean? Well, when utilizing this approach, your resources are safely contained to keep other website owners from negatively impacting your site via increased resource demands, traffic spikes, or a security breach.
Next, to make sure your website remains up-to-date with all of the latest security protocols, GreenGeeks automatically updates the system cores of WordPress, Drupal, Joomla, and other content management systems. This will reduce your site's vulnerability to security threats.
All websites hosted with GreenGeeks also receive nightly backups, and each customer is given their own unique Secured visualization File System, or vFS, to combat any malware or suspicious activity. With this security feature, it's impossible for any other user to access your account. Plus, if suspicious activity is found, it's isolated immediately to minimize damage.
GreenGeeks also offers built-in spam protection to prevent spam attempts on your site, and their servers are constantly monitored to identify problems before they negatively affect their customers' websites. This also goes hand-in-hand with their impressive uptime.
Lastly, websites hosted with GreenGeeks also benefit from secure sockets later, or SSL, technology. While this is usually an add-on with other web hosting companies, GreenGeeks offers each customer a free SSL certificate to help keep their sites safe and let their visitors know they've landed on a secure site as well.
6. Free Domain Name and Website Migration
Whether you're reading this GreenGeeks review hoping to find the best web host for the launch of your new site or you already have a site but aren't fond of your current hosting provider, you're in luck with GreenGeeks.
Even GreenGeeks' budget-friendly shared hosting plans come with a free domain name, domain registration, and website migration, all of which can be setup from your cPanel.
Best of all, you don't just a get a free domain for a year. Unlike other web hosts, GreenGeeks will never charge you for the cost of registering and renewing your domain name as long as you're using their hosting services.
7. Intuitive Website Builder
In addition to taking care of your domain name, domain registration, and even offering free SSL with all of their hosting plans, GreenGeeks also provides an easy-to-use and surprisingly robust website builder.
A lot of GreenGeeks reviews speak highly of this website builder, and for good reason. With it, site creation is truly a breeze. Not only does it offer one-click functionality, but it's also loaded with the following features:
• Drag-and-drop design
• Hundreds of dynamic design templates to choose from
• Wide-variety of fully responsive, mobile-friendly themes
• Built-in SEO optimization
• Extensive knowledgebase and 24/7 customer support
8. Free CDN
Bluehost has a massive application library that allows you to enable different services, and software. Not only can you enable eCommerce functionality and CloudFlare, but you can also plug your hosting account into Google Apps. Giving you an even large plugin library to draw from.
If you're looking to add more functionality to your site and hosting account, then you'll have multiple options with the app library.
9. Nightly Back-ups
As a website owner, bad things just happen sometimes. Regardless of whether it's your fault or someone else's, such as a hacker with malicious intent, safeguards must be put in place to keep your site up and running as it should.
GreenGeeks provides plenty of these safeguards, one of which is performing free nightly backups. That's right; in addition to SSL, spam protection, real-time scanning, and more, they also back up all of your site data each and every night while you sleep. There's no need to log into your control panel or anything else. They take care of it for you on autopilot.
10. Ecommerce-Ready
No GreenGeeks reviews 2020 can be complete without bringing up the topic of ecommerce. In this regard, GreenGeeks also doesn't disappoint.
All of their hosting plans come with a variety of ecommerce features, making them a good option if you're running an online shop. To start, as we just mentioned, you'll receive a Let's Encrypt Wildcard SSL certificate for free.
Customers now know to look for the SSL lock icon when shopping online, so having any SSL certificate is a big plus. However, the Wildcard certificate is arguably the best type of SSL certificate you can have as it can be used for an unlimited number of subdomains.
With GreenGeeks and their one-click install software, you can also easily add a shopping cart with the press of a button. Since GreenGeeks servers are PCI compliant, you can also rest easy knowing your site data and visitor information will stay safe and secure.
11. Customer Support
For a hosting company, GreenGeeks offers pretty strong customer support. In addition to 24/7 email support, they also offer live chat and phone support, which is quite refreshing.
To put their email, chat, and phone support to the test for this GreenGeeks.com review, I contacted their support staff through each of these channels individually to see how they fared.
It only took a minute for someone to respond via live chat, which is par for the course. While the initial support rep couldn't offer the assistance I needed, I was directed to another member of their support team, who responded promptly via email.
All in all, the process was smooth and my questions were answered. However, I did detect some grammatical errors in their responses.
Either they outsource their support to non-native English countries (big surprise) or they were simply overworked and stretched thin, this is very understandable and almost to be expected these days.
Whatever the case, they provided a pleasant experience overall. After digging deeper into GreenGeek reviews from other users, it's clear they were just as satisfied with the level of support they received too.
Of course, if you would rather search for the answers to your questions rather than speaking to someone on their customer support staff, you can always go that route as well. In fact, GreenGeeks has an extensive knowledgebase with articles and video tutorials covering a wide-range of hosting-related issues.
So, whether you need help learning the ropes of the control panel, tweaking some PHP coding, setting up a shopping cart to accept credit card transactions, or anything else related to your website and hosting, GreenGeeks offers plenty of help.
12. 30-Day Money Back Guarantee
As we've already talked about in this GreenGeeks hosting review, the web host makes a number of guarantees, and they stand by them. This includes their hassle-free 30-day money back guarantee.
Whether you sign up for their WordPress, Reseller, or Ecosite hosting, if you're unhappy with it for any reason, just let them know within 30 days and you'll receive a full refund.
That being said, there are a few exceptions worth knowing about. We'll talk about these exceptions next in the Cons section of this GreenGeeks review.
Disadvantages Of GreenGeeks
Unfortunately, like most things in life, not all that glitters is gold.
As you can see from this and other GreenGeeks reviews, there's a ton of upsides to using this hosting provider. However, there are a couple of things you should know about before making up your mind on whether or not GreenGeeks is right for you.
1. Questionable Pricing
In the world of hosting, misleading pricing is standard industry practice. While GreenGeeks goes above and beyond to stand out from the crowd in a number of ways, it definitely doesn't go against the grain in its pricing policies.
How so? Well, like 99 percent of hosting companies, GreenGeeks advertises a super low monthly rate of just $2.95. However, they don't tell you right off the bat that this price is only available if you sign up with them for three years. This means the entire cost for three years of service is due up front.
If you've been around the block as a website owner, then this is nothing to new. However, if you're launching your very first website, it can certainly be a letdown.
If you don't want to be locked in for three years and prefer the flexibility of paying monthly, GreenGeeks will charge you $9.95 a month for their shared hosting plan. Plus, if you want to pay month-to-month from the get go, you'll have to pay a separate $15 setup fee!
2. Misleading Refund Policy
The only other drawback we could find with GreenGeeks also has nothing to do with their uptime, speed, or performance – it has to do with their refund policy.
Despite offering a 30-day money back guarantee and a free domain name when signing up for their services, you'll be disappointed if you cancel within 30 days expecting a full refund. In fact, a $24.95 domain registration fee will be deducted from your refund.
Needless to say, in this case, "free" has some strings attached.
You also won't be refunded for any setup or transfer fees. So, as is the case when signing up with other web hosts, it's a good idea to read the fine print first.
GreenGeeks Plans and Pricing
Like many other hosting companies, GreenGeeks offers several different plans and pricing options to choose from.
Here's a quick overview of each:
Shared Hosting
Most of today's website owners don't want or need any bells and whistles. They simply want speed, uptime, seamless workflow, and scalability all combined into a neat and tidy package. This is what GreenGeeks offers with its shared hosting plans, and there three different plans to choose from, including:
• Lite
At $2.95 per month, the Lite shared hosting plan offers hosting for a single website. With this plan, you also receive a free domain name, unlimited storage, unlimited data transfer, a one-click app installer, free Wildcard SSL, and GreenGeeks' PowerCacher feature.
• Pro
At $5.95 per month, the Pro shared hosting plan allows you to host an unlimited number of websites. It includes all of the features of the Lite plan but provides up to two times the speed and performance.
• Premium
The last shared hosting option is the Premium plan. It costs considerably more at $11.95 per month, but with it you get all of the features of the Pro plan plus a free dedicated IP and up to four times the speed and performance.
Of course, each shared hosting plan also comes with all of the great features and benefits talked about above.
Regardless of which plan you choose, you can count on GreenGeeks to provide a reliable infrastructure and platform that works without hiccups as it should.
WordPress Hosting
Many cheap WordPress hosting reviews include GreenGeeks in their top ten lists for their straightforward, streamlined, and reliable WordPress hosting solutions. However, save for a few features, the WordPress and shared hosting plans are just about one in the same.
Similar to the shared hosting plans, there are three WordPress hosting plans to choose from: Lite, Pro, and Premium. As you can see, the plans even share the same name. The prices are the same too, so it's not really worth diving into each.
Nonetheless, if you plan on powering your website with WordPress, it would be wise going with one of these WordPress-specific hosting plans. From a speed, performance, and reliability perspective, you can't go wrong.
Reseller Hosting
GreenGeeks mixes things up with their reseller hosting. Instead of three plans, there are five different reseller plans to choose from:
• Reseller 10 Plan – $19.95/month
• Reseller 20 Plan – $34.95/month
• Reseller 30 Plan – $44.95/month
• Reseller 40 Plan – $54.95/month
• Reseller 50 Plan – $59.95/month
Each of these plans comes with unlimited bandwidth, unlimited SSD storage space, a WHMCS license, and GreenGeeks platform deployment. The only real difference between them in the number of cPanel accounts they offer, which is directly reflected in the names of the plans.
For example, with the Reseller 10 plan, you get 10 cPanel accounts. With the Reseller 20 Plan, you get up to 20 cPanel accounts. You get the idea.
High-Powered VPS Hosting
Last but not least, GreenGeeks also offers fast and affordable VPS hosting for high-traffic websites requiring a little more performance juice.
There are three managed VPS plans to choose from:
• 2GB – $39.95/month
• 4GB – $59.95/month
• 8GB – $109.95/month
Each of these plans comes with a cPanel, free SSL certificate, free site transfer, 10 TB transfer, special GreenGeeks managed support, and a 30-day money back guarantee.
You get 4 vCPUs with the 2GB and 4GB plans, and the 8GB plan provides up to 6 vCPUs. Each plan also offers 50, 75, and 150 GB SSD disc space respectively.
As is the case with choosing any type of hosting plan, it all boils down to your site's specific needs, both now and in the near future.
GreenGeeks FAQs
Who is GreenGeeks?
GreenGeeks is an eco-friendly web hosting company headquartered in Agoura Hills, California. Launched by Trey Gardner in 2006, it's the world's leading "green" hosting company, has an "A" rating by the BBB, and is known for delivering reliability and speedy performance.
What types of hosting plans do they offer?
GreenGeeks offers all of the usual hosting plans: shared hosting, WordPress hosting, reseller hosting, and managed VPS hosting. Whatever your needs, chances are they can meet or exceed them.
Does GreenGeeks accept credit card payments?
Yes, you can use a credit or debit card to make your one-time payment or monthly payments depending on the type of plan and payment schedule you choose. You can also make payments via PayPal.
How can I migrate my site over to GreenGeeks?
If you're a current website owner, you can migrate your site over to GreenGeeks for free. Just submit a ticket with their migration team and they'll help you out. It's a pretty simple process, but they help make it even easier.
What type of control panel does GreenGeeks use?
GreenGeeks uses the same standard cPanel used by nearly all of today's hosting providers.
Are add-ons available?
Yes, as a GreenGeeks subscriber, you can make use of several premium add-ons for ecommerce functionality, backup restores and requests, WHMCS licenses, PCI compliance, and more.
Final Thoughts – Does GreenGeeks Live Up To The Hype?
So, after all is said and done, do we recommend GreenGeeks?
In one word – yes.
GreenGeeks isn't perfect, but no hosting provider is. However, their pros definitely outnumber their cons. I certainly would make a website with Greengeeks.
Sure, GreenGeeks can be a bit misleading with their pricing and refund policies, but name a web host who isn't. The question is are their servers fast, reliable, and secure? We can honestly answer yes, yes, and yes.
In addition to a first-class server infrastructure and the latest cutting-edge hardware and technology, GreenGeeks is also as environmentally-conscious as a web host can get. They not only make a concerted effort to consume less energy, but they also promote green awareness.
Considering everything they offer, and more importantly stand for, it's safe to say GreenGeeks is an above average web hosting solution. It's earned our approval and definitely deserves a long-hard look.
More Hosting Reviews That You Might Like….
If you want to read more of our reviews about hosting then check out the following: