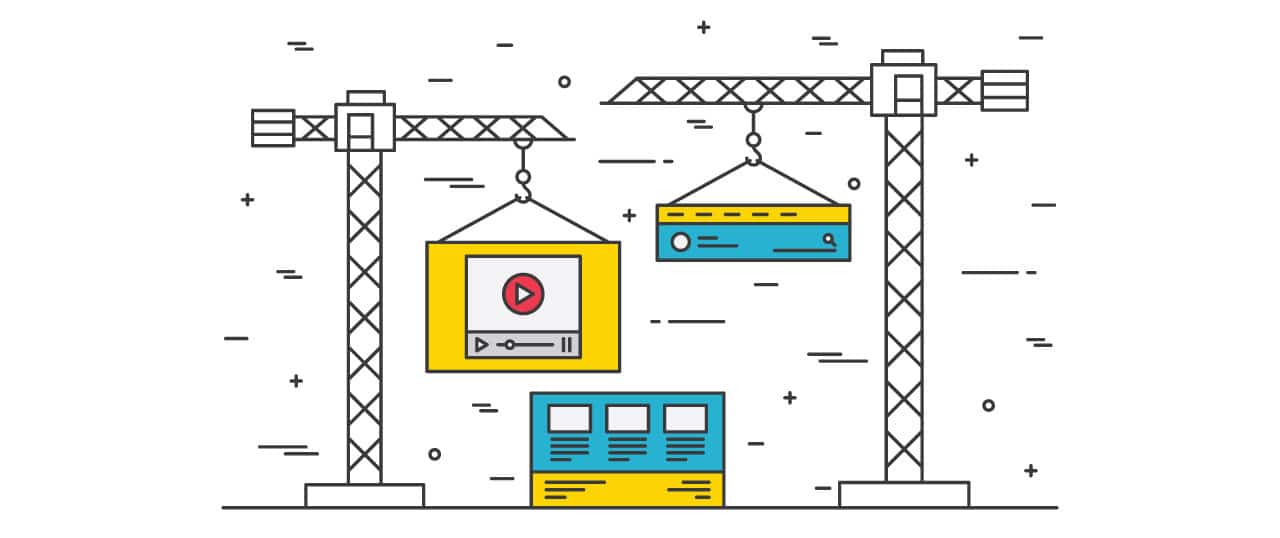 Best Website Builders
Compared For 2023
Written by Jamie Spencer – Updated 31st December 2022
We have compiled this website builder review guide based on our first hand experience trialing them.
We've signed up to them all. These are our honest reviews.
Do you want to learn code and stare at lines of code all day?
Didn't think so, but believe me, you're definitely not alone.
However, that doesn't mean you can't build a website. In fact, thanks to Wix, Shopify, and a bunch of other easy-to-use website builders and blogging platforms out there to choose from today, creating a website is simpler than ever before.
Finding the best website builder, on the other hand, can be a bit more challenging. Sure, having plenty of options to pick from is a good thing, but too many can lead to analysis paralysis and keep you from getting your site up and running online.
From GoDaddy to Jimdo, there are more than 30 website builders on the market all claiming to provide simple, easy-to-use platforms with drag-and-drop tools. However, not all site builders are created equal.
Some offer reliability in terms of uptime and speed, while others provide greater flexibility and fewer limitations. In an effort to find the best of the best, we put each one to the test.
Keep reading to learn all about today's top website builders and discover our expert pick for the best website builder 2022.
Disclosure: When you purchase a web builder package through links on this page, we earn some commission. This helps us to keep this site running. There are no extra costs to you at all by using our links. The list below is of the best website builders that I've personally used and tested. 
Best Website Builders Quicklinks
Best Overall Web Builder
Is a Website Builder Right for You?
Web Developer vs Website Builder
Our Website Builders Breakdown
Best Website Builders
– Wix
– Shopify
– Weebly
– Constant Contact Web Builder
– Site123
– BigCommerce
– Jimdo
– Godaddy Web Builder
– SiteBuilder
– SquareSpace
– Duda
– Gator Web Building Tool
Best Overall Web Builder
WIX.com
Wix came out on top in all of our tests. Probably the easiest web builder to use, as well as having an amazing stock of easy to use functionality modules, where you can buy stunning features for your website. Pricing is extremely competitive as well as being a robust web builder. Read more on Wix.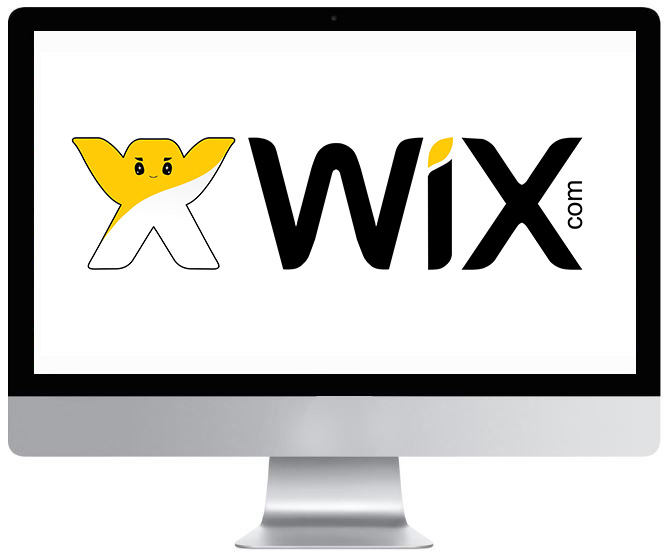 First Things First – Is a Website Builder Right for You?
Website builders aren't for everyone. However, when used correctly, the right website builder can be a fantastic asset to your personal, professional, and financial life.
To determine whether or not a website builder is right for you, ask yourself:
Do I want to create a personal blog?
Do I want to create a small business website?
Do I want to create an online store?
Do I want to create one of these fast and cheap?
If you answered yes to any of these questions, then you will definitely benefit from the drag-and-drop functionality of today's best website builder sites.
That being said, a website builder probably isn't for you if:
You want to create a billion-dollar website with thousands of pages
You're already comfortable at using WordPress, HTML, and CSS
In general, website builders like the ones below are best for:
Small business owners
Bloggers
Freelancers
Artists
Writers
Photographers
Musicians
Wedding planners
Etc.
Basically, if you want to create any type of website other than the next Facebook, a website builder is right for you.
What types of sites can a website builder create?
The best thing about site builders (like Wix) is the vast array of premium-quality templates they provide. There are options for a wide-range of industries. You simply select the template you like the most and add your own images and content.
That's right – long gone are the days of starting with a blank slate. Armed with the best website builder software, you can achieve incredible results in no time at all.
The only caveat to this are sites requiring a database or super complex sites like eBay, Trulia, or Airbnb. Sites like these require a more complex tool like WordPress or the special skills and expertise of a web development team.
Hiring a Web Developer vs. Using a Website Builder
You could easily spend $2,000 or more on a web developer to design and create the site you're looking for. You would also need to spend additional money on a webmaster or freelance designer to continually update the site.
However, for just a few bucks per month, you can have everything you need to build functional, great looking sites at less than a fraction of the cost.
With a website builder, not only can you create a wonderful site from scratch in just a few days, or weeks if you're really taking your time, but you can add new pages, upload images, or make changes to copy within seconds with zero html knowledge. Best of all, it will cost you pennies and you'll never have to deal with tech support.
So, the answer is a clear one: using a site builder for your website design is definitely the way to go. Unfortunately, choosing the best website builder to use can be a bit more challenging.
Whether you're looking for the best website builder for small business or the best website builder for photographers and artists, here are some tips to help you find the right one:
Tip #1 – Make sure it is easy to use.
Most website builders are specifically designed with ease of use in mind. However, some are simpler and easier to use than others.
If you have a tight launch window and want your site up and running yesterday, choose the one with the most user-friendly platform. It may not have all of the features you want, or need for that matter, but it will make the entire process much easier and less time consuming.
Tip #2 – Take a free trial or two.
Most quality site builders offer a free one week trial to let you test the waters of their web design software before ponying up for the service. Some even offer a free basic plan with web hosting, but there are limitations to what you can do.
Tip #3 – Check their customer support.
Check to see what type of support a website builder offers. Some only offer chat or forum support, while others offer each of these as well as phone support, which may come in handy.
Tip #4 – Look for specific features.
While each project is different from the next, there are some common features to look for, such as: a shopping cart, customizable SEO options, a quality blogging system, attractive templates, mobile-friendly designs, and the ability to have registered users. Anything more is simply icing on the cake.
Tip #5 – Keep your options open.
Some website builders include a free domain name or the use of their hosting services but don't allow you to use your own private domain or other hosting companies. Although the one-stop-shop simplicity of this model can be nice, it's best to have the freedom to control your site how you see fit.
Now that you know a bit more about website builders and what to look for when choosing the best one for you and your site, let's have an in-depth look at 10 of today's best drag-and-drop website builders and get you up and running pronto.
Our Best Rated Website Builders – Breakdown
When choosing a web builder, I look for 5 main factors. These are as follows ( in order of importance ).
1. Ease of use
2. Functionality
3. Uptime of the server
4. Speed
5. Price
The web builders listed below are the ones that scored highly in all 5 areas and the ones that I absolutely recommend.

With endless jaw-dropping templates, dead simple ease of use, and star-powered marketing campaigns featuring the likes of Wonder Woman Gal Gadot, Jason Statham, and Heidi Klum, Wix has made quite a name for itself in recent years.
In fact, in the world of website builders, it's become the biggest player. From a startup not long ago, it now hosts a mind-boggling 110 million websites, making it the go-to website builder of choice for millions of users worldwide.
As one of today's most popular paid and free website builders, Wix offers a user-friendly drag-and-drop editor, 100s of stunning design templates, a huge app market for added functionality, and more.
Needless to say, it's our top pick for best website builder. Let's have a closer look at why.
Pros:
• Easy to use
• Hundreds of appealing themes and templates
• Fast speeds and strong uptime
• Great for small business websites, blogs, and online stores
• Free trial and 30-day money back guarantee
Cons:
• No live chat
• Must pay extra for email accounts
Ease of Use
Wix is remarkably easy to use. In fact, it's not a stretch to say it's one of the most intuitive website builders on the market. If you want to build your own website but don't want to hire a web designer and lack the know how to create web pages from scratch, wix.com makes it easy to do exactly that.
Like other easy-to-use website builders, Wix utilizes a What You See is What You Get, or WYSIWYG, editor with drag and drop functionality. This means, you can select, position, and resize anything with the push of a button or click of the mouse.
While other site builders only allow you to drop elements in specific blocks or areas, the Wix drop builder gives you free reign to place elements wherever you want on the page. Wix is also only one of a handful of website builders that allow you to easily animate page elements like text.
Thanks to its easy-to-use platform, Wix has become a favorite among small businesses, freelance designers, photographers, artists, musicians, and the like. Whether you're looking for the best website builder for small business, the best website builder for artists, or anything in between, you can use Wix to create stunning websites with little to no web development experience.
Templates
This is Wix's strong suit. In fact, as arguably the best website builder online, Wix offers some of the best design templates available. Not only are they modern, innovative, and aesthetically exceptional, but they're all free.
Wix groups its templates into categories, like photography, music, online store, services and business, personal, and so on. There is literally a category for almost anything.
The only negative about working with one of these templates is their lack of customization. Sure, you can make changes to the backgrounds, colors, and other elements, but the main structure of the templates can't be changed.
Features
When it comes to features, Wix upped the game. One of its best features is the Wix ADI. Short for Artificial Design Intelligence, it makes building a website light years easier than using the platform's standard web building tool. It literally creates a website for you.
As one of the best website builder platforms, this innovative tool is extremely easy to use. You simply enter in any social media profiles and the Wix ADI will search through each one just like a Google bot and extract your personal or business information from these sources. It will then populate the information into an initial version of your website for you to review and get started with.
Sure, you will need to make some changes and refinements, but it does about 70 percent of the work for you. This alone makes it the best website builder free for 99 percent of its users.
The Wix web builder offers a lot more too. As arguably the best website builder for SEO and the best website builder business, it comes loaded with features for building an online store, creating a blog, connecting to social media, SEO to get noticed by the search engines, and much more.
For even more features not available with the free plan, you can visit Wix's very own app store, which is packed with free and paid apps to allow you to make your site look and function any way you want. From adding shopping carts and PayPal buttons to newsletters and live chat, there are widgets for just about everything.
Support
Wix offers an easy-to-use interface with plenty of tips and instructions. For instance, there is a question mark next to each site element to give practical advice and information about using the element. This is great for learning while you build your site.
However, you can also turn to the forums or Wix's customer support center if you run into a problem or have a question that needs answering. Here, you'll find a ton of video tutorials and be able to contact support directly for help. While it lacks a live chat function, you can reach out via email or phone for support whenever it's needed.
Pricing Plans
Like many website builders, Wix offers a free plan. Unlike other site builders, however, Wix's free version never expires. Unfortunately, while it's a great place to start, this plan has limited storage and bandwidth, so it's only suitable for a small site with few visitors or customers. It also incorporates a branded URL and several Wix ads into each site, making them very unprofessional.
Needless to say, paid plans are the way to go. The cheapest paid plan is the Combo Plan, which only costs $14 per month. On the other end of the spectrum is the VIP Plan, which costs $39 per month. In between these two plans, you'll find the Unlimited Plan at $18 per month and the Pro Plan at $23 per month. Wix also have a range of plans for Business and eCommerce with features aligned to selling online. There is also the Enterprise level package, with a price tag to match, for large solutions tailored to specific needs. You can see details of these additional packages on the Wix site.
Do We Recommend?
Yes
Wix is a dynamic website builder with a beginner-friendly interface, robust features, and an excellent reputation. It scores high marks for its ease of use, high-quality templates, and app store filled with both paid and free apps to improve site appearance and functionality with just a few clicks. With so much to offer, it's not surprising most experts put Wix at the top of the class for users with minimal tech skills.
#2 Shopify


The Best E-Commerce Web Builder By Far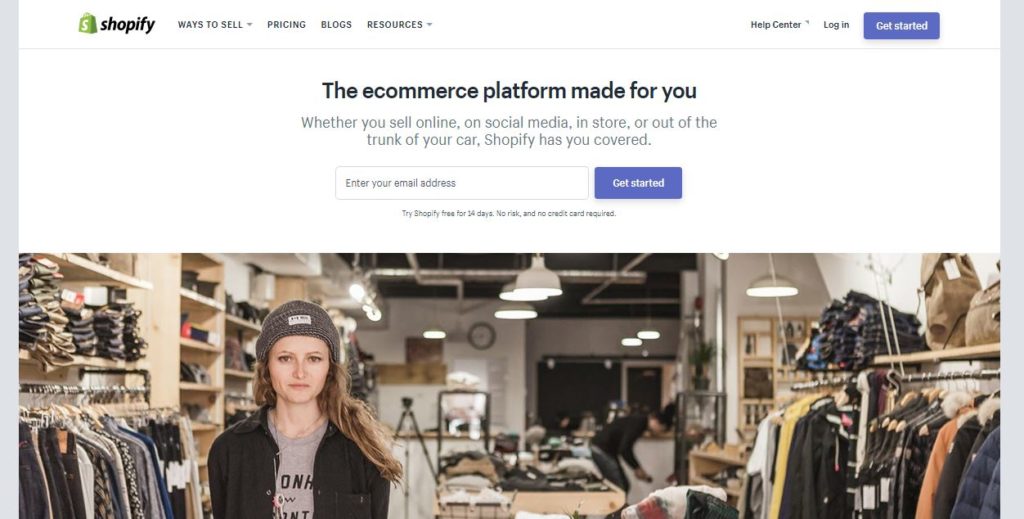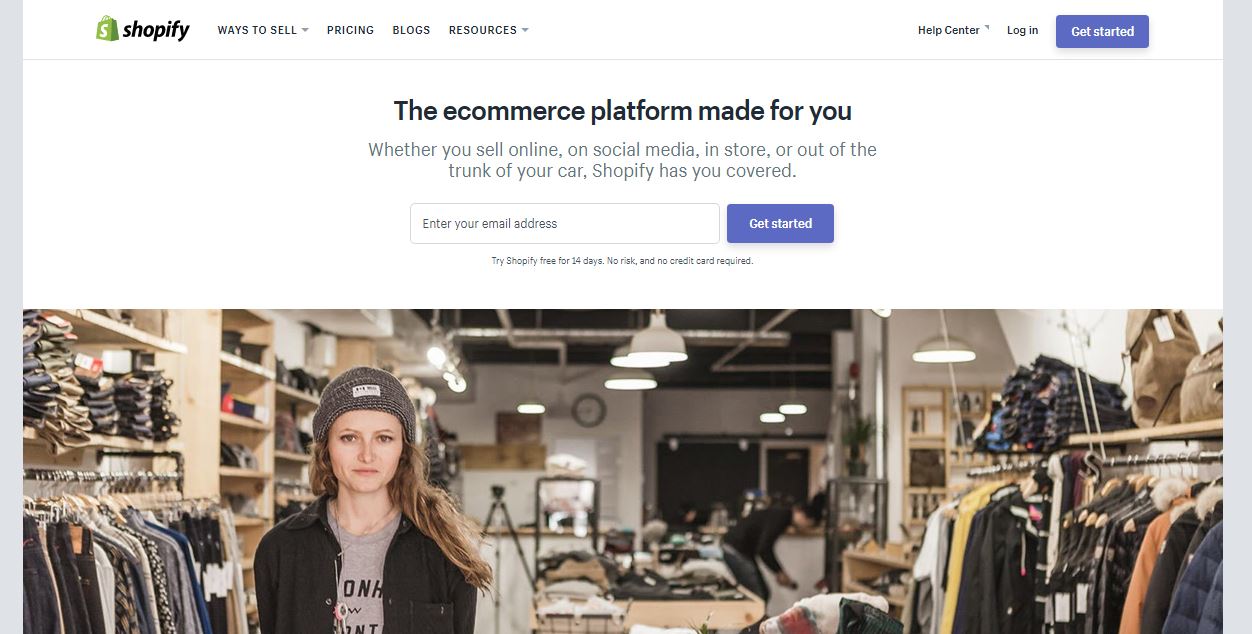 If you've spent any amount of time looking into how to launch an online store, chances are you've run across Shopify. You've also likely learned that Shopify is the best website builder for ecommerce due to its solid features and reasonable price.
What you've learned is true. Since its inception in 2006, the cutting-edge ecommerce store builder has grown into an industry leader and now hosts nearly one million stores worldwide. In terms of dollars, it's helped generate and facilitate billions in transactions, resulting in cold hard profits for smart online shop owners.
Although the hugely popular platform lacks some more advanced features, it's highly deserving of the praise it's received and is our top pick for best ecommerce website builder.
Pros:
• Super popular
• Easy to use
• Attractive templates
• Several integrations
• Excellent design tools
Cons:
• Add-ons are often needed
• Customer support could be better
Ease of Use
Shopify and ease of use go hand-in-hand. While some blog-focused website builders are stripped down to be stupid simple, for everything it can do, the interface is easy to use and get comfortable with rather quickly.
Despite not offering a setup wizard or tutorial video, the platform gives suggestions to get you started and features a clean dashboard that's easy to navigate.
Like most things with Shopify, adding products to your e-commerce site is a breeze. In fact, all it takes is a few clicks!
Creating product variants is also super simple. In the "add a product" section, you can add variations for different colors and sizes, make price adjustments, create new SKUs, and more. If you have dozens of product variants, you can also use the bulk editor to speed up the process.
Adding images, shipping rates, and just about everything else involved with configuring an online store is also a walk in the park with this ecommerce store builder.
Templates
As the best website builder for ecommerce and any small business looking to sell products online, Shopify's web designs are nothing short of beautiful. In all, there are 60+ mobile responsive themes or templates to choose from, and most have at least two different style variations.
However, only 10 of the themes are free and actually supported by Shopify. The others are paid themes supported by third-party developers and cost approximately $150 each.
While this may seem like a negative, the beauty, style, and function of these themes are well worth their one-time investment. In fact, when it comes to form and function, they are without a doubt some of the best in the business.
Best of all, each can be completely customized with Shopify's first-class design tools. In terms of its themes and the quality of its designs, Shopify knocks it out of the park.
Features
Shopify strikes the perfect balance between ease of use and customization capabilities. In order to keep the core of the platform simple and streamlined for superior ease of use, much of its advanced functionality and many of its ecommerce features require add-on applications. Some features are also only available by paying more for a higher level plan.
Listing every single one of Shopify's features would be ludicrous and honestly require too many bullet points for these tired hands, but many of them are certainly worth mentioning.
One of these features is Shopify's abandoned cart recovery. It will automatically send an email to encourage customers who leave before buying to return and finish their purchase.
Another neat feature is the ability to list an unlimited number of products. In fact, you can create as large a store as you want and list as many products and product variations as you want.
The automatic tax and shipping rate calculations are also nice. Using this feature, you can automatically calculate the tax rates of each purchase based on customer locations and do the same for all USPS, UPS, DHL, and Canada Post shipping rates.
As the best website builder online store, Shopify also allows you to connect your store to Amazon FBA, Shipwire, HubLogix, Inventory Source, eCommHub, or Rakuten Super Logistics for automatic product fulfillment.
Other decent features include:
• SEO – Boost the SEO of your store by customizing the H1, title, meta, and product tags. A sitemap.xml file is also automatically created.
• Social media and email integration – Connect your shop to Instagram, Facebook, Twitter, Pinterest, and more for added exposure and sales. You can also connect it to your MailChimp account for email marketing campaigns.
• Discounts – Enjoy the freedom to create coupons and discount codes, including "Buy One, Get One offers.
• Analytics – Integrate with Google Analytics and take advantage of Shopify's built-in reporting to view traffic reports, product reports, and much, much more.
• Unlimited bandwidth – Benefit from unlimited bandwidth and 99.9 percent uptime.
Support
Shopify's customer service can be reached anytime through all of the usual channels (ie: live chat, email, and phone). While there have been some complaints regarding poor support, this is true of almost anything and the opposite of what most users experience.
In addition to contacting support and seeking help through these channels, there is also a Help Center, training courses, countless video tutorials, guides, webinars, forums, and more.
Pricing Plans
With so much to offer, the fact that there are no free plans isn't surprising. However, you can take advantage of a free 14-day trial to experience the platform and see whether or not it's right for you. At the end of the free trial, you will have the following pricing plans to pick from.
The cheapest plan is Shopify Lite. At only $9 a month, it's one of the least expensive ways to begin selling products online. While it doesn't allow you to actually build on online store, this plan allows you to add ecommerce functionality to a current WordPress site.
Next up is the basic plan. At $29 a month, it gives you full access to the store builder and features that are far from basic for complete ecommerce functionality.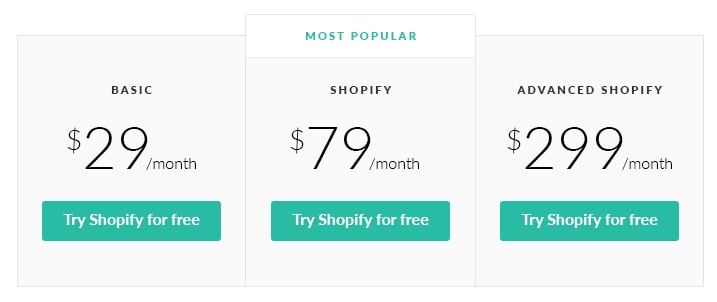 That being said, if you're looking to grow and scale, you may be better off with the standard plan. Although it costs significantly more at $79 per month, you can benefit from additional features. Some of these features include the ability to create up to five staff accounts, offer gift cards, increase conversions with abandoned cart recovery, create advanced reports, and more.
The advanced plan is aimed at thriving online businesses and offers even more. At $299 per month, it allows you to create over a dozen staff accounts and take advantage of calculated shipping rates, high-level reporting, and lower credit card rates and transaction fees.
Last but not least, is the Shopify Plus plan. This plan isn't for ordinary, everyday store owners. Rather, it's custom tailored for each business. As such, unlike Shopify's off-the-shelf plans, the pricing isn't published. Read more here about Shopify Pricing plans.
Verdict
All in all, this ecommerce store builder is tough to beat. It's loaded with features and slick designs at a competitive price, making it the best website builder ecommerce and an ideal option for anyone looking to launch an online shop or take their current store to the next level. As the most popular ecommerce store builder on the market, it's definitely a quality product worth checking out.
#3 Weebly.com


Best for Unmatched East of Use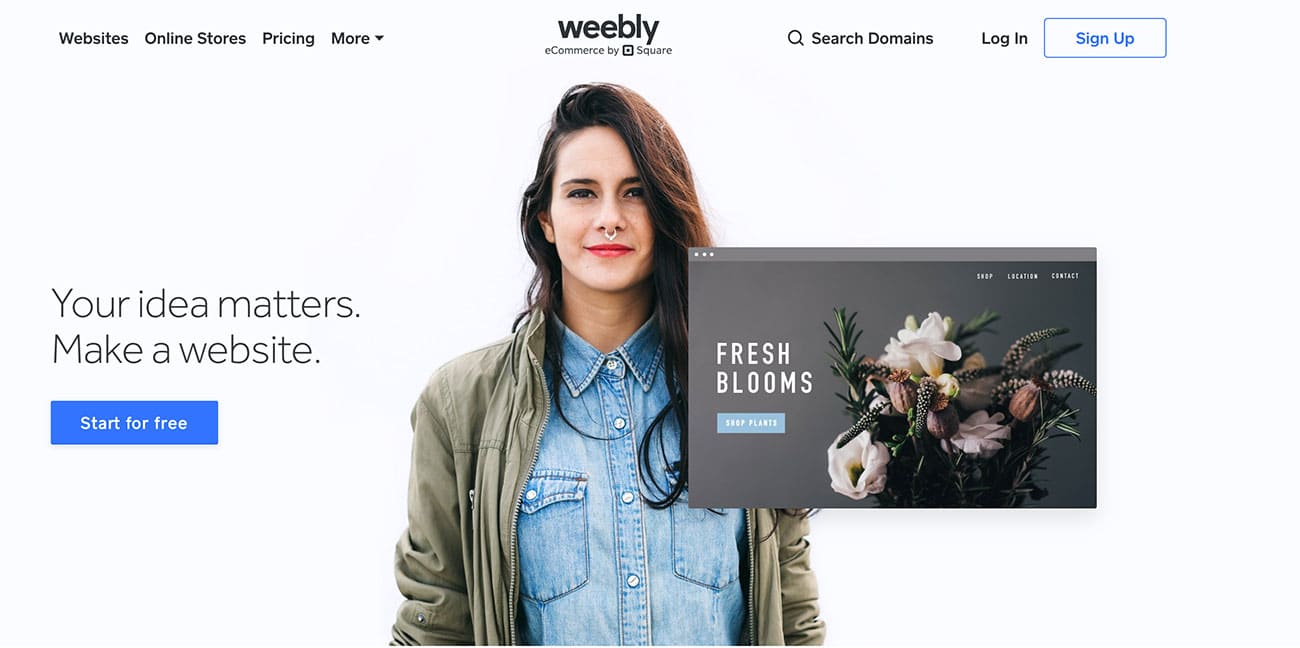 Weebly is another popular website builder for people looking to create a new website. With millions of users, many put it right up there with Wix as one of the best website builder programs available.
Pros:
• Makes creating an online shop easy
• Mobile-friendly templates
• Good speed and uptime
• Affordable pricing
Cons:
• A bit underpowered
• Fewer design and customization options
• Limited phone support
Ease of Use
As one of the best website builder DIY options on the market, Weebly makes website building easy as 1-2-3. You simply drag elements and drop them onto a page. It's as simple as that.
Like other WYSIWYG website builders with drop functionality, you can build your entire site simply by dragging elements onto a page. You can also resize them or move them around without touching a single piece of code.
Unlike WordPress, there's no need to flip back and forth between editing and preview modes. What you see in the editor is exactly what visitors will see when your site is published.
Needless to say, Weebly is right up there with Wix as far as user experience is concerned.
Templates
Despite its user-friendly nature, Weebly has taken a lot of flack over the years for its less than stellar templates. However, they seemed to have gotten the message as new theme designs have been added to the Themes Gallery.
In addition to looking like they were created by a top-notch web designer, many of these newer themes are also fully mobile responsive. Weebly also gives you access to your website's code via an HTML and CSS editor. Using this, you can make extensive modifications to your site's design for a fully customized look regardless of which template or theme you choose.
Nonetheless, Weebly's template designs pale in comparison to those offered by Wix. However, if you're simply looking for the best website builder blog and don't need to create a huge site with highly stylized designs, it's a solid option worth considering.
Need some ideas for your next Weebly website? Check out our curated collection of Weebly example sites.
Features
Weebly offers plenty of features to get almost any website off the ground, starting with a free domain. That's right; sign up for any plan and receive a free .com domain name for one year. After that, it will cost you $19.95 for each additional year. You can also transfer an existing domain to your Weebly site.
Weebly is also strong when it comes to widgets. From image galleries and video players to social media widgets, calendars, and more, you can find tons of useful add-ons in the editor as well as the Weebly App Center.
There's also Weebly's "Promote" newsletter service, which you can use for your email marketing campaigns. External providers are also available in the app store for you to plug into your site if you choose.
As one of the today's top website builders, Weebly also allows you to add ecommerce functionality to your website with an SSL encrypted shopping cart linked to a variety of payment options. Inventory management tools and an automated shipping and tax calculator are also available.
You can also customize meta, title, and description tags as well the ALT text of your images in order to boost your SEO. Headline tags, however, are limited in Weebly.
Plus, you can create contact pages including Google Maps integration and a contact form with a single click. If you select the Pro plan, you can also protect specific pages or your entire site and create a password protected membership area. Pretty neat indeed.
Support
Like its ease of use, Weebly's support staff is top-notch. You can reach support via live chat, phone, or by opening a support ticket.
Live chat is available Monday-Friday from 6am-6pm PST and Saturday-Sunday from 8am-5pm PST. Meanwhile, phone support is available for paid plan subscribers Monday-Sunday from 6am-6pm PST. Support tickets, on the other hand, are answered 24/7 in the order they're received.
In addition to these support channels, you can also post questions on the Weebly Facebook page and contact support via Twitter as well. Plus, there is a Weebly community forum and a help center with informational videos full of helpful tips.
Pricing Plans
Weebly can save you thousands of dollars on hiring a web designer, and its least expensive plan is completely free. That's right; building a website using Weebly's software is not only easy, but it won't cost you a penny.
While it provides plenty of basic tools, the paid versions are relatively affordable and are often worth their low monthly costs. Weebly's Connect Plan costs just $5 a month, while the Pro plan only costs $12, the Business plan costs $25, and the top-tier Business Plus Plan only costs $38.
With any of these plans, you'll gain access to Weebly's support personnel and entire suite of site building tools and marketing tools for comparatively less than the competition. As far as value for your money goes, Weebly is pretty tough to beat.
Do We Recommend?
Yes
Weebly is an incredibly popular website builder for a variety of reasons. Some love how easy it is to use, and others like the simplicity of its designs. However, they all appreciate its low price. If you're looking for an affordable no-frills site builder with value and ease of use in mind, look no further than Weebly.
Further reading: Weebly Pricing Guide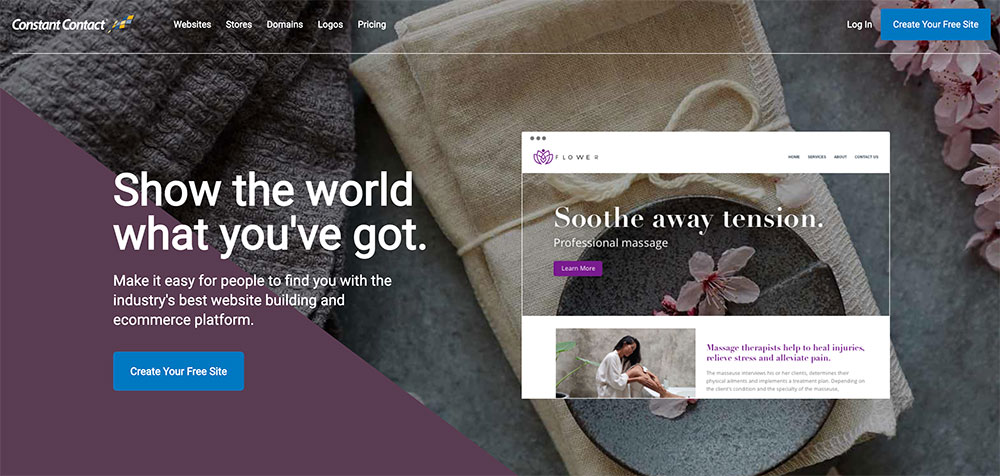 This website builder is designed for professional sites and businesses interested in seamlessly incorporating email marketing campaigns. Powered by artificial intelligence, it's perfect for small business owners with limited techie skills.
Pros:
• Professional-looking templates
• Unique niche features
• Intuitive website builder
• High email delivery rates
• Good customer support
Cons:
• Not great for artistic or creative sites
• Email accounts are extra
• Limited autoresponder reporting
Ease of Use
In addition to offering one of the world's top email marketing services, Constant Contact's web builder is both powerful yet simple and easy to use. As the first web builder to utilize artificial intelligence, it allows you to create a website in mere minutes – not hours, days, or weeks.
In fact, you can do so two ways. You can either automatically build a website by syncing it to your business Facebook page, or you can utilize the A.I. wizard to easily create a custom site complete with personalized images, content, and more.
With drag and drop functionality and a comprehensive library of 500,000+ professional-quality images to choose from as well, it's an ideal solution for bloggers and small businesses in need of a professional looking site with business-focused features.
Templates
Unlike Wix and many of the other site builders on this list, Constant Contact's design templates are limited and simplistic in nature. However, thanks to its vast image library and impressive lineup of page editing tools, creating a professional, visually stunning site is not only doable – it's surprisingly easy.
That being said, it's definitely not the best website builder artists. With limited template options and "artistic" sensibilities, it's much closer to being the best website builder small business than it is the best builder for artists, photographers, musicians, and the like.
If you own a landscaping company, pool service, law firm, or any other service-oriented business, it might be the best website builder for your business needs.
Features
This simple yet powerful platform provides a variety of features for both marketing and website building. As we touched on above, one of its most obvious new features is its ability to harness A.I. and sync with your business Facebook page. It will pull posts, photos, and branding from the page and automatically upload it to your site in minutes.
Of course, there are plenty of other features as well. For instance, when you sign up for Constant Contact, you will receive a free domain for one year.
While many other hosted site builders offer the same, they often place ads on sites in exchange as part of a combo deal, so it's not really free. This isn't the case with CTCT. There are no ads. You simply get a free domain for a year with no strings attached.
As far as the platform itself goes, other neat features include ecommerce functionality, lead capture contact forms, a log maker, full website analytics, and more. it isn't the most feature-packed website builder, but it offers enough to satisfy the needs of most professionals and small businesses.
Support
Constant Contact's customer support is first-class all the way. Not only do they offer support through all of the usual channels (phone, email, and live chat), but they offer swift, actionable responses as well. Email and live chat support are available 24/7, while phone support is available each day of the week during daylight hours.
There are also several tutorials to turn to for help and pop-ups that offer advice throughout the site creation process. Plus, there are webinars, community forums, a blog, and an active social media page to find the answers to any questions you may have.
Pricing Plans
Like many website builders, CTCT offers a free plan and several paid plans with different levels of features and functionality. The Free Plan comes with standard functionality and offers 24/7 email and live chat support, unlimited bandwidth and storage, and the ability to add an online store with a maximum of three products.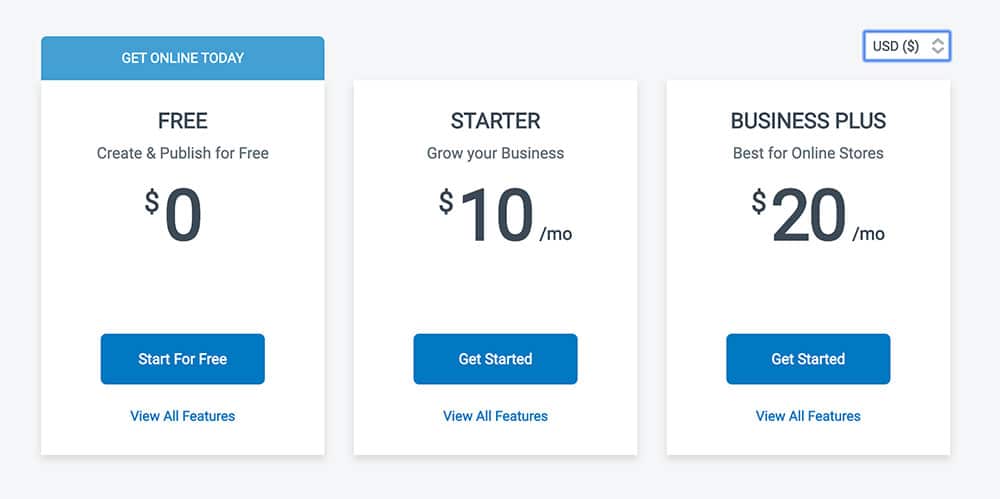 The Starter Plan costs just $10 a month, and in addition to the features above, it comes with a free domain for one year, advanced analytics, and optional phone support.
Last but not least, the Business Plus Plan starts at $20 per month and comes with all of the Starter Plan's features as well as the ability to add an unlimited number of products, advanced shipping management, zero transaction fees, and priority support. You can add an email account to any plan for an additional $6 per month.
Do We Recommend?
Yes
Damn right we recommend Constant Contact. They provide an affordable, comprehensive email and website building service. It's professional in every aspect yet very intuitive and user-friendly. As such, it's great for just about any business in need of an optimized, good looking website with a variety of capabilities.
#5 Site123


Best Budget – Friendly Website Builder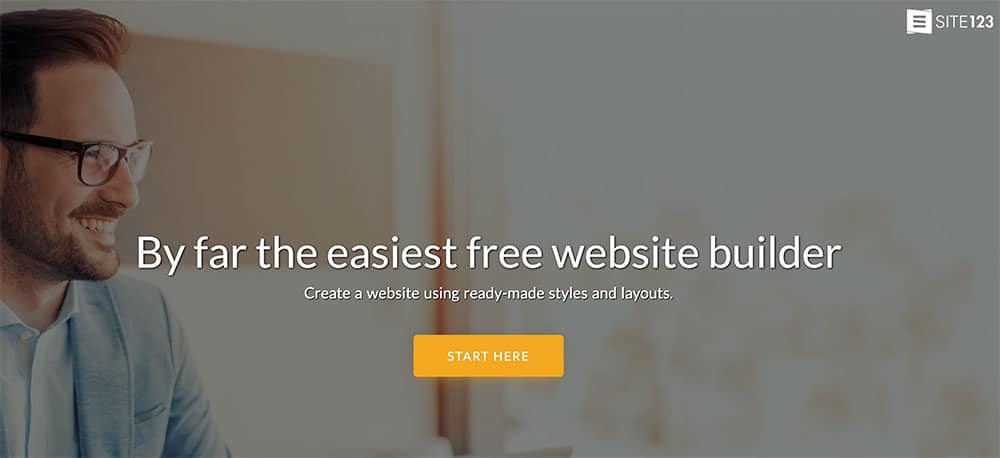 Site123 isn't the best website builder software out there, but it's right up there and offers non-tech savvy people and business owners a quick and easy way to get online with minimal headaches. Although it isn't the best for large and complex websites, in terms of efficiency and affordability, you'll be a hard-pressed to find one better.
Pros:
• Affordable plans
• Easy-to-use page editor
• Modern, fully responsive templates
• Good app market
• Plenty of support options
Cons:
• Could provide more creative flexibility and freedom
• Some features are lacking in quality and depth
• Can't edit templates once they go live
Ease of Use
This drag-and-drop website builder strikes a decent balance expert and beginners alike. Advanced users will enjoy some of its hands-on features and the ability to customize the designs and pages, while beginners will appreciate being able to create their own website and make changes with just a few clicks. For both, however, it's designed to make website creation fast and easy.
Similar to Wix, Weebly, and other popular site builders, you can drag and drop images, text, and so on onto your site and then edit them as needed. However, the real beauty of Site123 is its design assistant.
Using this, you can create a custom template specific to your needs with zero tech work. In fact, all you have to do is answer a few questions, such as the site's name and the type of site you want, and it will create a template with all of the right features. Talk about easy!
Templates
Much like WordPress with its seemingly unlimited number of themes, Site123 offers hundreds of templates suitable for a wide-variety of sites. Whether you want to create a portfolio-style site to display your photography, a site for a local restaurant, or a dynamic online store, you'll have no trouble finding the right template.
Features
While a content management system and open source viewing would be nice for all of the techies out there, Site123 has several features to appeal to people and businesses of all backgrounds. One of these features is a free domain for one year. That's right; like many other website builders, its premium plans offer users a free domain for one year.
With over 100 domain extensions to choose from and a handy built-in domain search tool, finding the perfect domain for your site is both quick and easy.
Site123 also includes social media integration. In fact, it allows you to link out to dozens of social media platforms. However, icon links can only be displayed in the footers of pages, and there's no way to embed live social feeds. So, if you want social media to play a significant role in the functioning of your site, it might not be the best solution for you.
In terms of SEO and marketing, some core SEO tools are available to help your site rank in Google and other search engines. In addition to editing the meta, title, and description tags, you can add alt text to your site's images and customize URLs. Best of all, there's a handy guide that shows you exactly how to do each of these optimizations.
Site123 also allows you to connect your site to Google Analytics for tracking your site stats. Whether you want see how long users spend on your site or which pages receive the most views, Google Analytics will provide the answers.
You can also add an SSL certificate to your site free of charge. This is great from a security standpoint and provides visitors with peace of mind in knowing your site is safe and secure.
Backups and restores are also important. Thanks to Site123's convenient autosave feature, your site data will never be lost in the event of a crash. You can restore all of your content to the last autosave point and keep your site running at a high level with just a few clicks. I can't stress enough how important this feature is.
Of course, there are plenty of other site building features too, but you can explore them all by signing up for a free plan and taking it for a spin.
Support
Site123 offers support throughout the entire site building process. Not only do they have an outstanding onboarding process that shows you how the editor works, but they also provide help via a knowledge base, social media, email, and live chat support.
The latter is particularly helpful. It's available 24/7 and accessible from whatever page you're working on in order to quickly give you insightful responses and help you move forward with your project.
Pricing Plans
As you can see, Site123 has a lot to offer. Best of all, you can take advantage of most of its features for free. The free basic plan includes all of the most important site building features and comes with 1GB of bandwidth and 500MB of storage. While it doesn't come with a free domain, it allows you to add a subdomain, which is perfect for blogs and blog posts.
The Premium Plan only costs $12.80 per month. This is much cheaper than many of the other site builders we've reviewed. With it, you'll receive access to all of its site building features, 5GB of bandwidth, 10GB of storage, and a free domain for a year.
For even more storage and functionality, you can upgrade to the Professional Plan. At $22.80 per month, it includes 45GB of bandwidth, 90GB of storage, a free domain, multiple mailboxes, and access to payment gateways. it also allows you to process up to 500 ecommerce orders per month and send email messages to up to 2,500 subscribers.
Finally, the Gold Plan costs $28.80 per month and provides 135GB of bandwidth, 270GB of storage, and the ability to have a mailing list of up to 10,000 subscribers. You also get 10 mailboxes instead of five, access to payment gateways, and support for up to five languages for any international visitors. In other words, it's the complete package.
For all that it offers, even the most expensive Site123 plan is a value compared to its competitors.
Verdict
This budget-friendly website builder delivers everything you need to create and maintain a high-quality site. While more experienced users will likely want more features and options to tinker with, its usability is more than enough for most novices.
#6 BigCommerce


Best Ecommerce Web Builder – Runner-up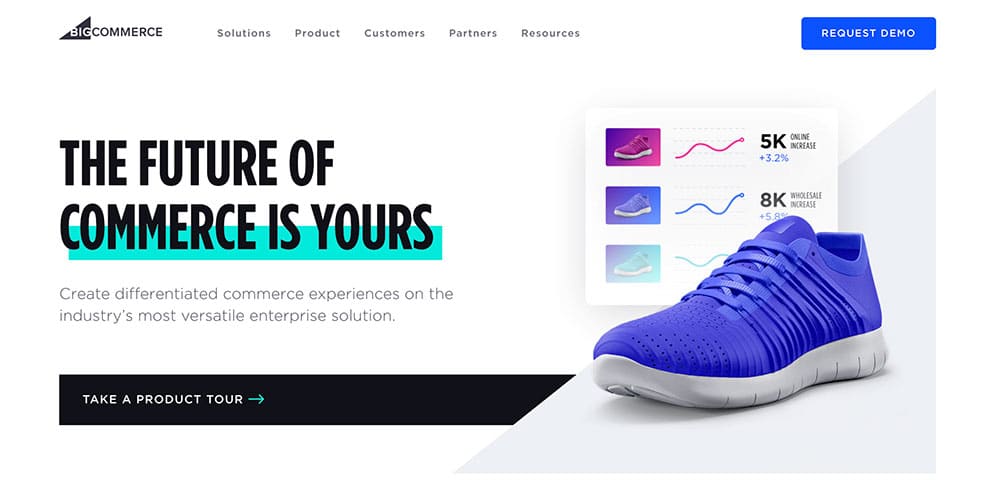 Like Shopify, BigCommerce is on the rise and quickly becoming one of the more popular ecommerce website builders on the market today. For a monthly fee, this hosted ecommerce solution allows small business owners to quickly and easily setup an online store and begin selling online.
That being said, like Wix and WordPress, it's not just for small business owners. With customers like Toyota and Gibson Guitars as well, it's perfect for businesses of all sizes and definitely one of the larger, more established names in the ecommerce industry.
Pros:
• Very scalable
• A ton of built-in features
• Great SEO tools
• Excellent social media integration
Cons:
• Not the best for beginners
• No mobile app
• A bit pricey
Ease of Use
BigCommerce's platform is relatively intuitive and straightforward to use. It includes a vertical menu with labels like "Analytics" and "Storefront Design" for easy access to all of its key features. After selecting a menu option, the data or content will appear for viewing or editing.
As a whole, it's much easier to use than Volusion, but it's slightly less intuitive and more complex than Shopify. While most will find very little difficulty navigating and using the interface, some less experienced users may struggle a bit.
Needless to say, if you're used to the simplicity of wix.com or some of the other best website builder options on this list, BigCommerce may take some getting used to.
Templates
BigCommerce offers a pretty decent selection of design templates, including 10 free themes and about 130 paid themes that cost anywhere from $145 on the low end up to $235. Similar to Shopify, each theme contains several different variants, giving you plenty of design layouts to choose from.
Although the free themes look modern and professional, many of them are quite similar to one another. So, to get a different feel and appearance, a paid theme may be a must.
This is a little disappointing considering the platform's price point, which we'll get into in just a minute. Overall, it provides less bang for the buck in this department compared to Wix, Shopify, or even SquareSpace.
Features
As is the case with many website builders, the exact features BigCommerce provides depends on which price plan you chose to go with. However, there are certain important features provided by each plan.
One of these features is the ability to sell a wide-range of physical and digital products. Another important feature is its shopping cart. Not only is it integrated with PayPal, but you can utilize several other payment gateways as well.
Best of all, BigCommerce doesn't charge transaction fees. Although there are credit card transaction fees, these go hand in hand with selling just about anything online and off.
Of course, there is also an abandoned cart feature. Arguably one of the best in the business, this tool lets you create automated emails that get sent out to customers who leave your store during the sales process without buying anything. This feature alone can increase your bottom line with very little effort.
Other neat features of this popular ecommerce solution include:
• Full content management functionality
• Unlimited staff accounts
• Several terrific SEO options
• Automated image optimization
• Email marketing integration
• Coupon and gift card creation
• Professional reporting and more!
Support
When you sign-up for a free trial, you'll receive several resources and support emails to help you get up and running. In fact, there's more hand-holding available than you'll find with many other website builders, making it easier to get your store created, published, and making sales.
If you decide to take the next step and purchase a plan, you'll also gain access to live 24/7 support. However, before reaching out for support, you're encouraged to browse the "Help" section for the answers to your questions. You will only be given relevant contact details after you have searched the help articles.
Some users will find this annoying. The good news is you can work around this and get immediate support by selecting the "skip this step" option. When you do, the live chat and phone support options will appear.
Of course, if you would rather skip this and seek out the answers to your questions yourself, there's a multitude of articles and video resources available for you to view as well.
Pricing Plans
In addition to a free trial, BigCommerce offers several monthly pricing plans to choose from. The Standard Plan is the cheapest at $29.95 per month.
Unfortunately, this plan lacks an abandoned cart saver and has a relatively low annual sales limit of just $50,000.
Next, is the Plus Plan at $79.95 per month. In addition to everything offered in the Standard Plan, it includes the ability to segment customers and store customer credit card details. It also includes an abandoned cart saver feature, which is a must when selling online. This plan has an annual sales limit of $150,000.
The third option is the Pro Plan at $299.95 per month. While this plan doesn't provide much more functionality than the Plus Plan, it allows you to sell up to $400,000 in products annually. If you want to exceed this limit, you can pay an extra $150 per month for every extra $200,000 in product sales.
Last but not least is BigCommerce Enterprise, which is geared towards successful businesses with $1,000,000 or more in annual sales who require advanced features, functionality, and support. Pricing for this "plan" varies according to the individual needs of each business customer, but let's just say it isn't cheap.
Verdict
BigCommerce has become a top ecommerce builder in a short amount of time, and it ranks second on our list when it comes to ecommerce for a variety of reasons. Despite offering an excellent interface, great themes, and a diverse range of features, it's pricing and ease of use lag behind our top pick – Shopify.
#7 Jimdo


Best for Quick and Simple Websites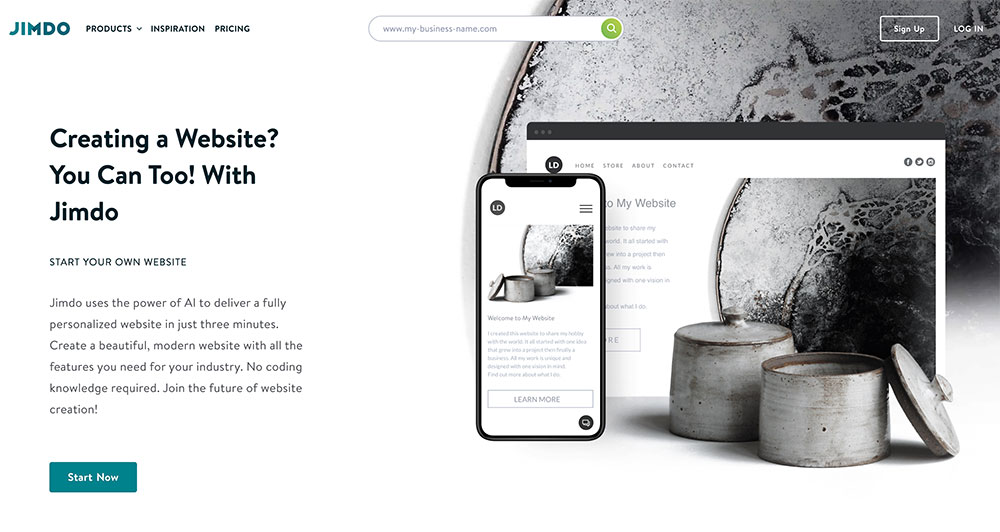 Jimdo is a barebones website builder for making quick and simple sites both affordable and accessible. Although it provides you with everything you need to create a site and get it up and running online, its editor can be tricky and it offers less functionality than wordpress.com, Wix, and many of its other competitors.
Pros:
• Affordable pricing plans
• Long history in the industry
• Unlimited storage space with some plans
• Support is concise but helpful
Cons:
• Poor-quality templates with limited options
• Arranging and editing elements could be easier
• Limited number of themes
• No restore option
Ease of Use
Website builders are inherently easy to use. They all feature some sort of drag and drop functionality and require no coding knowledge. Jimdo is much the same.
However, despite its clean and simple interface, its page editor could use some work. It just feels clunky and more difficult to use than many other great website builders available today. In this regard, it could use some modernizing and a little work.
Nonetheless, if all you want is an affordable way to launch a simple site with just a few pages, it should serve you just fine.
Templates
If you want to create a simple business website with a few pictures, a little content, and your contact info, then Jimdo will do. However, if you're in need of something with more dynamic web design, it may not be for you.
Although Jimdo's templates were recently overhauled and modernized to bring them more up-to-date, there are only 16 templates in all to choose from. This would be okay if they could be greatly customized, but this is limited with Jimdo as well.
In other words, its templates are great for simple one-page websites, but if you need something bigger, you would be better of going with Wix or another more robust website builder.
Features
Despite some of its drawbacks, Jimdo has a number of features to boast about. One of these features are its use of POWr Plugins. While having to use these plugins can be a chore and some require coding knowledge, they allow you to add almost anything you could imagine to your site.
In addition to these plugins and Jimdo's other editing features and apps, there are a number of features too point out. One of these is a free domain name. Like many other hosted website builders, Jimdo offers a free domain for one year for any of its paid plans. The free plan, on the other hand, comes with a subdomain, which may be great for a blog but isn't exactly professional.
The renewal price of "free" custom domain is a whopping $80 after the end of the first year. This is considerably higher than it is with most other website builders. Fortunately, you can transfer your own domain from an existing site if you already happen to have one.
Jimdo also comes with some handy SEO tools to give your site a rankings boost. Similar to other website builders, you can customize URLs, add alt text to your images, and edit both meta title and description tags. Since Jimdo supports third-party apps, you can also use those to help your site rank even higher.
Support
Jimdo offers support through email and social media, but it lacks both live chat and phone support. However, through the support channels it does offer, you can expect clear and concise answers to any questions you may have.
It also offers a helpful FAQ section and knowledgebase, with the latter being particularly useful. In it, you'll find an assortment of videos, images, and articles to expand your knowledge and provide you with the answers to your problems.
Pricing Plans
Jimdo offers a free plan and four other paid pricing plans to choose from. The free plan is great for getting started and testing out the site builder to see if it's for you. However, any site you create with it will have a Jimdo subdomain and a branded footer, which will look tacky and unprofessional to say the least.
If you plan on creating a website with this site builder, investing in a paid plan is definitely recommended. The most expensive plan costs $19 a month, and is by far the most popular. With it, you get the ability to create an online shop, accept credit cards, and begin selling online. However, even this most expensive plan comes with limited bandwidth and storage, and a limited number of store pages you can create for your site. The other plans include the eCommerce Basic Plan at $15, the Grow Plan also at $15 but for business rather than eCommerce and the Start Plan at $9 which is suited mostly to small, personal websites.
Verdict
Jimdo is a clean and simple website builder that's ideal for small personal or business websites. While it isn't for everyone, if you're looking for a simple "out-of-the-box" website creator for near instant results, there are much worse options than Jimdo.
#8 Godaddy Web Builder


Excellent Choice For Small Businesses

GoDaddy is a huge name in the domain and web hosting industry, but thanks to its new "GoCentral" website builder, it's starting to make a name for itself amongst site builders as well. With a completely new look and user interface, it now claims to provide the "easiest way to get online." Does it live up to its billing? Let's find out.
Pros:
• Quick and easy website creation
• Smartphone-optimized
• Affordable pricing plans
Cons:
• Limited editor layouts
• Lack of creative freedom
• Templates could be more visually appealing
Ease of Use
If you're wondering which is the best website builder, chances are ease of use is a big concern. With GoDaddy, however, it definitely shouldn't be.
Like Wix, it's extremely user-friendly. Not only is there no need to know html or CSS, but it uses Artificial Design Intelligence to expedite the website creation process.
You simply enter in some information and it will automatically produce a customized website in just a few minutes. In this sense, it's perfect for beginners.
The only downside to this level user-friendliness is its inherent lack of creative control. In fact, editing with GoDaddy can be frustrating at best, which is one of the chief reasons it's so low on our list.
Templates
GoDaddy offers 20 templates or themes to choose from, but the differences between them are minimal at best. In fact, aside from some subtle differences, they all have basically the same layout. In other words, if you want a highly customized site that stands out from the pack, you might want to look elsewhere.
Features
As one of the world's largest domain registrars, GoDaddy makes setting up web hosting and a domain name easy as can be. While they don't offer a free domain, you can purchase one for as little as $9.99 a year with a one-year plan. If you opt for a two-year plan, then the first year will only cost a penny, so it's basically free. You can also transfer a domain from another host to GoDaddy as well.
As one of today's top 10 best website builder options, GoDaddy also offers some helpful social media tools. For instance, if you have a Facebook store, you can connect it to your site. You can also link out to several other social media sites.
Unfortunately, this is about as far as GoDaddy's social media integration goes. Unlike many other site builders, it doesn't allow you to embed live social media feeds or give visitors the ability to share content from your site through their social channels.
As far as analytics go, you can connect your site to Google Analytics to see everything from which pages are viewed the most to how much time the average user spends on a certain page or your website as a whole.
The SEO wizard feature is also quite nice. You simply answer a few questions to determine your SEO goals, and then it will suggest keywords to include.
When it comes to marketing your site, GoDaddy allows you to perform cross-channel marketing by connecting your site to your Facebook store. It also allows you to perform targeted email campaigns and conveniently run them right through the builder.
Other neat features include SSL encryption, 99.9 percent uptime, and a helpful autosave function that allows you to back up your site should it crash or get hacked.
Support
In addition to 24/7 phone support, which is quite rare in the world of website builders, GoDaddy also offers live chat support Monday-Friday from 5am-6pm. If you don't like being put on hold or talking on the phone and need help at night or on the weekends when live chat isn't available, there's also a handy forum and knowledgebase you can turn to for help.
As the best website builder, Wix offers better support. However, GoDaddy's proven support team does a good job and isn't far behind.
Pricing Plans
GoDaddy's pricing plans are competitive to say the least. In addition to a one-month free trial, they offer a Personal Plan, Business Plan, Business Plus Plan, and Online Store Plan costing $5.99, $9.99, $14.99, and $24.99 per month respectively.
With the Personal Plan, you'll receive blogging functionality, access to mobile responsive templates, lightning-quick page loading, and the ability to add video, audio, and image galleries.
For a few dollars more each month, the Business Plan offers everything included in the Personal Plan plus SSL security encryption, the SEO wizard, and the ability to embed a PayPal "Buy now" button.
The Business Plus Plan offers even more functionality. With it, you can enjoy a bevy of new features like client management tools, social media syncing, and the ability to view payment histories and accept credit card payments.
Finally, the Online Store Plan offers every feature GoDaddy provides. With this premium plan, you can take advantage of faster checkouts, inventory management tools, automatic tax and shipping rate calculations, abandoned cart recovery, the ability to offer promotional discounts, and more. You can read more about each of these plans on the GoDaddy website.
Do We Recommend GoDaddy?
Yes

and

No

With an intuitive interface, affordable pricing plans, and enough features to appeal to most webmasters, GoDaddy is an ok website builder. Certainly worth considering. Although you'd probably be better off with Wix, Constant Contact or Shopify if you're going down the ecommerse route.

While its templates are a bit lackluster and it isn't as dynamic as some of the other website builders on our list, it's an ok option for small businesses looking to create an online presence or begin selling online ASAP.
#9 SiteBuilder


Excellent Choice For Simple Websites
The SiteBuilder barebones website creator is very intuitive and easy to use, but it's limited in features and designs. As such, it's best suited for creating small, simple websites fast.
Pros:
• Easy to use
• Can quickly build simple sites
• Offers ecommerce functions
Cons:
• Features lack quality and depth
• Templates are inflexible and a little outdated
• Pro plans are on the expensive side
• No SSL certificates
Ease of Use
The SiteBuilder design editor is simple and easy to use. In fact, aside from the vast number of templates, which we'll get into in a minute, it's probably the best thing it has going for it.
With a simple control panel and drag and drop functionality, it's definitely an easy page editor to master. The learning curve is virtually non-existent, allowing anyone with little to no eb design experience to create a simple site and get it published fast.
Templates
SiteBuilder scores high marks in the sheer volume of templates it provides its users. However, the quality of its templates leaves a lot to be desired. They simply lack the professionalism, sleek designs, and wow factor of templates or themes from Wix, SquareSpace, Wordpress.org, and many of its competitors.
However, since nearly all of SiteBuilder's templates are business-oriented and categorized according to different industries, it's a great starting point for businesses
Features
From mailing list buttons and contact forms to video players and social feeds, SiteBuilder offers several features designed to improve the functionality of every site it creates. Unfortunately, while it's nice some of these features aren't add-ons like they are with other website builders, they lack the quality and power needed to take your website to the next level.
Compared to Wix and other top website builders, SiteBuilder's features are also somewhat limited. There's no way to include member's areas, calendars, site search functions, slideshows, and many other features available with other site builders, even at a cost.
Plus, it only provides a maximum of 10GB of storage. Wix, on the other hand, offers 50MB. This is just another example of why SiteBuilder is ideal for simple small business sites rather than large sites with pages of products and services.
Support
SiteBuilder offers live chat and email support, but it lacks phone support. There is phone support for billing questions, but as far as phone support for technical issues, there isn't any.
That being said, the live chat support is quite attentive and helpful. In fact, most users report having friendly answers to their questions within minutes. In this regard, SiteBuilder's support is top-notch.
Pricing Plans
At one time, SiteBuilder offered a free plan, but it now only offers paid premium plans. This is a huge departure from the norm as free plans, albeit with limited functionality, are offered by most of its competitors.
As far as SiteBuilder's paid plans go, there are three to choose from. All three plans include free hosting, a free domain for a year, drag-and-drop site builder, somewhat customizable templates, advertising credits, and priority support. However, as you move up in plans, you only receive an added feature or two.
The good news is SiteBuilder regularly offers a half off discount, but it's limited to your initial payment term. So, when it comes to long-term value, it really misses the mark.
Verdict
If you're the owner of a small casual startup or a newbie with a great site idea but little to no site building knowledge, SiteBuilder could be a good fit. It's simple by design and takes all of the guesswork out of building a website.
Unfortunately, SiteBuilder's simplicity limits its abilities and only makes it suitable for simple sites with no more than few pages. If you simply want a piece of online real estate to sell a few things or share your ideas, then it might be for you.
#10 SquareSpace


Best For Photographers and Creatives
SquareSpace is a popular content management system and website builder launched in 2004. Headquartered in New York, it specializes in offering web hosting services, website builders, and blogging platforms. To date, it has powered nearly two million websites, yet it faces stiff competition. Let's see how it stacks up.
Pros:
• Excellent for image-based websites
• Hundreds of modern, attractive templates
• Great for achieving a "custom" look and feel
• Relatively easy to use
Cons:
• Not the most beginner-friendly
• Must pay extra for an email account
• Support could be better
Ease of Use
Despite all it can do, SquareSpace's website editor is surprisingly simple to use. it's intuitively designed and everything is nicely labeled, so there is little guesswork, especially for those with previous website building experience.
That said, it's not as easy to use as a few of the other options on this list. However, there is plenty of help content should you have questions or need guidance throughout the website creation process.
Themes
The richness of Square Space sites is due in large part to its premium-quality templates. As the best website builder photography or the best website builder for blogs with a lot of images, its focus is clearly on quality, not quantity. Rather than hundreds of poorly designed templates, it provides just 32 templates to choose from. However, each of these templates are slick enough to make any web designer jealous.
Whether you want to create a beautiful image-rich blog or a website to display your portfolio of photography, artwork, fashion, wedding events, and so on, there's a template category that's sure to work great for each.
Best of all, each template is fully responsive and mobile-friendly as well. If you know code, you can even customize each template with CSS.
Features
As you've probably figured out, SquareSpace is packed with features. While it remains a top pick for photographers and businesses needing to display their portfolios, thanks to its "Commerce" feature, it can also be used to create beautiful online stores.
With its user-friendly interface, you can easily add product descriptions, images, and more. The intuitive interface also allows you to systematically process orders and manage your inventory. You can even set up different shipping methods, tax rules, and discount coupons for hassle-free online shopping.
SquareSpace also features a Stripe payment gateway, allowing you to accept credit card payments. Plus, it uses 128-bit SSL encryption to win over untrusting online shoppers.
If that weren't enough, this ecommerce feature is also integrated with ShipStation, allowing you to connect with Amazon FBA and Shipwire for hassle-free shipment processing and delivery. It isn't the best ecommerce website builder, but all in all, it's more than capable.
This impressive image-heavy website builder also does a good job in terms of SEO. You can customize URLs, edit tags, and even have it automatically create a sitemap for faster indexing and improved optimization.
As a hosted solution, you can simply focus on designing a beautifully functional website and forget about sweating the small stuff. Of course, there are other design and social media tools as well, adding to the site builder's impressive functionality.
Support
Despite being very user-friendly, SquareSpace offers a healthy dose of support options. While phone support isn't available, you can reach out via email or live chat and usually receive a thorough response within an hour.
Like most website builders, there is also a helpful knowledgebase you can reference for quick answers to most questions and comprehensive video tutorials to learn more about what the site builder can do. You can also ask a question in the builder's discussion forum and other users or a support member will get back to you in no time at all.
Pricing Plans
SquareSpace doesn't offer any free plans, but it does provide a two-week trial to test its waters. As far as the paid plans go, each includes a free domain name for one year. Afterwards, it renews annually for $20.
In addition to a free custom domain, each plan also features 24/7 customer support. The lowest priced Personal Website plan costs $12 per month and includes an SSL certificate, free domain, 24/7 support, unlimited bandwidth, and the ability to create an unlimited number of pages, blogs, and image galleries.
The Business Website plan costs $18 per month and features everything included in the Personal Website plan as well as a fully integrated ecom platform, promotional pop-ups, a $100 Google Adwords credit, professional Google email servicing, and an array of bonuses and advanced features.
At $26 per month, the Basic Online Store plan is the next step up. It includes everything in the previous two plans and allows you to create an online shop and sell products with zero transaction fees. It also includes several additional features for tracking, analyzing, and optimizing your results.
Last is the Advanced Online Store plan, which costs $40 per month. It includes everything mentioned thus far plus abandoned cart recovery, real-time shipping rates, and the ability to create and process discounts and gift cards.
You can add email functionality to any plan by paying an additional $6 each month.
Verdict
SquareSpace is a reliable, comprehensive website builder designed with photographers and other artists in mind. If you're in a creative industry and need to deliver image-heavy content, it will certainly fulfill your web design needs.
#11 Duda


Best For Multilingual Websites
Duda is a website builder that isn't as well-known as some of the giants such as Wix and Shopify. However, it boasts many great features and can be used by both professionals and beginners. One main feature it holds over it's competitors is the ability to create multilingual websites.
Pros:
Multilingual websites
Desktop, tablet and mobile friendly
Customization across all devices
Website personalization tools
14 day free trial
Cons:
Expensive in comparison to competitors
Ease of Use
Duda is aimed at those who make a lot of sites and has a strong focus on designers and design agencies. That being said, it is an easy-to-use website builder and could be used by anyone who is looking to create an online presence. There is a drag and drop editor feature and you can choose from various navigation styles.
Duda allows you to edit and customize not just a desktop website, but also sites for both tablet and mobile. This means you can make your website accessible on any device and modify it easily to work. Customization can be done from anywhere too, even on your phone or tablet.
While Duda boasts many features that allow you to create a professional looking site, the navigation of Duda is easy and could be used even if you don't have experience.
Themes
There are a number of templates available with Duda, all of which you can actually see on their website before you even pay for your site. These templates are professional looking and are split into categories, so you can easily find the template that is right for you.
These templates can be customized to your needs, and Duda is constantly adding new templates should you want to switch things up. What's more, if you chose and customized a template you like, you can save this template for use again some other time.
Duda offers predesigned sections that can be added to your website, which speeds up the process. You can also create your own sections and reuse them as often as you like. You can also share sections with others who are helping you to build the website.
Features
Duda has some great features that makes it stand out amongst other website builders.
As mentioned, one of Duda's biggest feature is it's multilingual support. Duda allows you to create sites in over 55 different languages. This is great for those who have struggled to find this feature on other website building platforms and really makes Duda stand out. There is also the option to improve your international SEO with language-specific URLs based on geo-targeting.
Duda offers e-commerce features, but these features are add-ons and must be paid for per site. This can make running an e-commerce platform expensive with Duda, and therefore other website builders such as Shopify may be better for you if you have a large store.
There are "website personalization tools" available with Duda. These allow you to show fully customized content to your visitors, for example, based on their location or the time of the day. You can also access detailed data analytics, such as form submissions, time on page and search history, so you can customize it easily to your customer's needs.
Duda offers free images and GIFs from a stock photo library, perfect if you are a small business and don't have access to high-quality images or photography yet. You can further edit these images inside Duda to make them fit perfectly for your website, too. Videos can also be displayed.
Support
The price plan you pay for affects what type of support you receive from Duda. On the basic plan, you receive only email support, while the most expensive plan gives you access to priority support via phone, chat and email.
Duda has a support page that can be accessed by everyone. This page has answers to some FAQs and offers support to common problems encountered while building a website.
There is also "Duda University", which is a bank of courses that can be undertaken to learn more about Duda and building a website in general. What's more, there is the ability to check the status of the Duda website, so you can see whether the website is running smoothly or if there are any faults that need to be fixed.
Pricing Plans
Duda has great features, but these all come at a price. Duda is one of the more expensive sites, with add-ons that will cost even more. The most basic plan costs $14 per month, with the most expensive costing $44 a month, both of which are billed annually. If you wish to pay on a monthly plan, the prices rise to $19 a month and $59 a month, respectively.
There are three different plans: Basic, Team and Agency. The Basic plan, at $14 a month (billed annually) includes one website and email support. This doesn't include a domain name or email accounts.
The Agency plan, at $59 a month (billed annually) provides four websites, priority support, dynamic pages, access to team and client management tools. While this offers much better features, it's going to cost you over $500 more a year than the Basic plan, and that's without e-commerce add-ons. The Team plans costs $29 a month, and allows you to add four editors to your site.
E-commerce add-ons cost $8 a month for 100 products, $22 a month for 2,500 products, and $49 a month for unlimited products.
One great feature of Duda is that it offers a 14 day free trial with no credit card information. This way, you can be sure you won't be tied down to the website builder even if you don't like it.
Verdict
While Duda isn't as well known as other website builders, it offers many of the same features, as well as extras such as multilingual websites and personalization tools. The biggest downside to Duda is it's starting price and add-ons price, which can make opening an e-commerce store with Duda expensive.


#12 HostGator's Gator Web Building Tool


Great Value For Small Businesses
Gator is a website builder created by HostGator, which is one of the biggest web hosting providers in the world. This web building tool is great for small businesses because it is both a website builder and a website hosting platform.
Pros:
Fully hosted platform
Affordable pricing plans
Save-history feature
Mobile-friendly themes
24-hour support
Stock photo library
Cons:
Lack of features
Limited e-commerce store with cheaper plans
No free plan or free trial
Ease of Use
Gator is a very simple website builder that doesn't include any advanced features. This means it won't be right for large businesses, but could be perfect for a smaller business that needs a simple website and have a store with limited items.
Gator is a fully hosted platform, meaning that once your website is up and running, you don't need to worry about the software, updates, or backups.
The software has a drag and drop feature that is easy to use, and any item of the page can be customized with a simple point and click interface. This means Gator is easily accessible to everyone, even if you are not all that confident with computers.This also makes Gator a good choice for getting a website up quickly, as there isn't much of a learning curve.


Themes
Despite being a simple website builder, Gator has over 200 web templates, which makes it stand out from the crowd. Each of these templates is fully customizable so you can get your website looking just right.
With the simple editing tool you can edit any item on a page, and add in and move around items such as images, videos, photo gallery, text, columns, maps, and contact forms.
That being said, you cannot hire a developer to help you significantly modify your website design or add new features to your website with Gator, so if you're looking for a larger website with more complex features and customization, it may not be for you.


Features
Gator comes with some impressive features even though the builder is simple. As with many website builders, the features you get largely depend on which price plan you pick.
The Gator Website Builder package includes free web hosting, a domain name, website analytics, and a free SSL certificate to keep your site secure and help you rank high in search engines. Gator also has mobile friendly themes that ensures your website looks good on all devices, similar to Shopify and Weebly, and there is a logo maker tool, too.
If you're a small business and don't have access to high-quality images, Gator comes with a built-in stock photo library so you can make your website look professional. There is also a save history feature with Gator which some website builders are missing. This means if you don't like a change you made, you can easily revert your website to a previous version with no issue.
With the Store plan on Gator, you can sell an unlimited amount of products and there is no transaction-fee. Unfortunately, with the two cheaper plans, there is a limit on products and a 3% transaction fee.
What's more, because Gator is a paid product, they don't sell your data or show any ads on your website.


Support
Gator comes with 24-hour tech support on hand for all users. This can be done either by phone or through the live chat feature. There is also a support portal where you can find answers to common troubleshooting questions.
There are video tutorials to assist you in creating your website. There are also free analytics solutions to let administrators know how their site is performing, and you can check the status of the network on the Gator website to know if everything is running smoothly.


Pricing Plans
Gator doesn't offer any free plans, nor does it offer a free trial. This can make Gator less desirable than other website builders, because you don't know what you're getting yourself in for. That being said, there is a 45 day guarantee, so you can get a refund if you're not happy within that time.
Each plan includes a free domain for a year and a free SSL certificate. The most expensive plan, the Store plan, gives you the ability to create 10 email campaigns per month, while the Site plan offers only 5 email campaigns and the Start plan only 3.
The Store plan offers unlimited products in your online store, while Site and Start offer 10 and 3 products respectively. There are also no transaction fees with the most expensive plan.
The more expensive plan you choose, the more features you receive. However, many of the features are the same across the three plans, so, unless you are looking for e-commerce support, paying much more may not be worth it.


Verdict
Yes! While Gator doesn't offer as complex website building as some other sites, it is a great option for small business that want a website up and running quickly. There are plenty of templates to choose from, each of which is customizable, and further options to pay for such as an e-commerce plan.
However, if you're a bigger business and looking for e-commerce features, you would be better off choosing Wix or Shopify.
Making the Decision
What is the best website builder? That's a good question. By now you know the answer depends on your needs.
If you need to create a simple website for your small business, then Jimdo or SiteBuilder may do the job. If you're an avid photographer who wants to showcase your work, you're better off going with SquareSpace. If you want the best of everything, then Wix is your best bet.
The truth is it all comes down to your specific needs. So, give them a thought and try out one, two, three, or even all of these website builders today. Most offer a free plan or a least a free trial, so you can make up your own mind about which is the best.
The important thing is that you get online. Today, it's not only how you get noticed, it's also how you make sales. So, take the next step and start building your very own website today. You'll be glad you did!