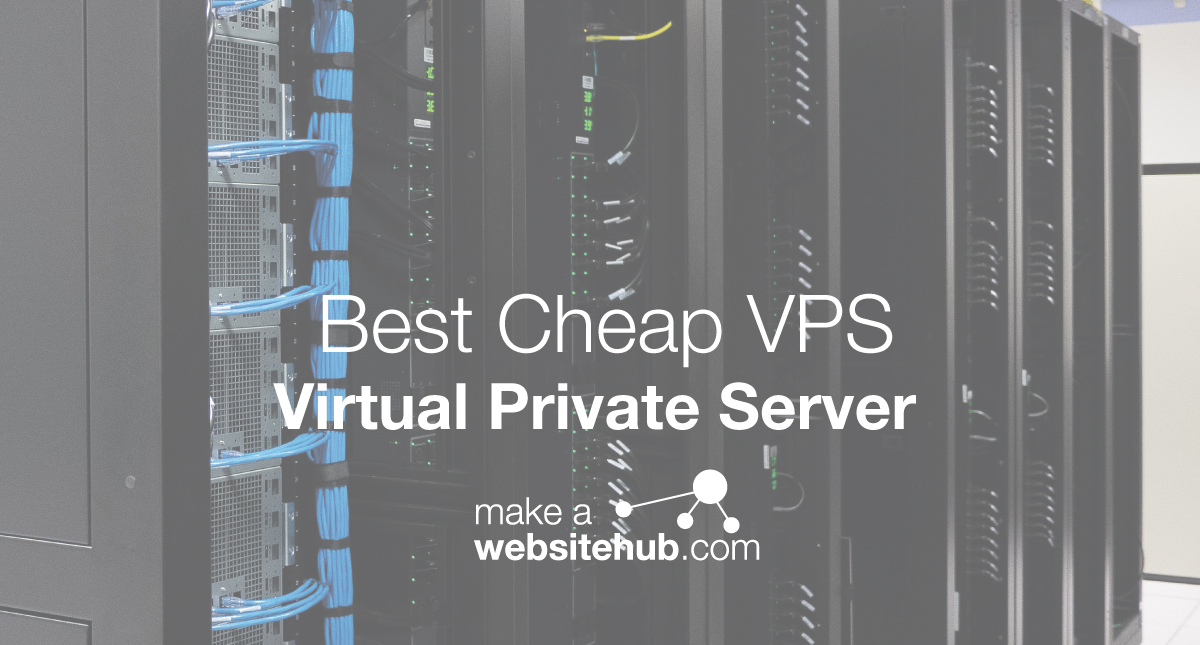 Are you looking for the best cheap VPS plan? You might get stuck in a sea of offers that all seem "pretty good," but what determines a good VPS from a bad VPS host? With any business, you should know exactly the value of what you are purchasing so that you get the best rate, and you never exacerbate your resources. That can be difficult when trying to build a new website and not knowing where to start.
Virtual private servers (VPS) are not that expensive nowadays. You can find a relatively good VPS host for pretty cheap. The world is awakening to how these servers work and finding out that they can build their own servers or create their own web hosting options with a little know-how. That is why your VPS in today's world should provide a lot of features and storage for a relatively low price. The market is flooded with all types of VPS plans, so there is no reason you should pay over $20/month for a VPS plan.
---
Balancing Cost Vs Features
We think that you should pay even less for cheap VPS hosting. However, you also want to get a host that has customer support, good uptime, and security features. These are important to keeping your website stable and free of issues. While some VPS hosts will promise the world for less than $5, you should make sure that you are getting a good value for the product.
VPS hosting is unlike other hosting in that it is more space than shared hosting but not a whole dedicated server pricing. You typically get a space on a large server that has its own port and bandwidth that you do not have to share with anyone else.
The reason we chose the VPS service providers below is because they had a good combination of cost and value based on the following factors:
Customer Reviews
You can visit a few different websites for unbiased reviews, but the best way to tell how customers like a company is to go on Facebook and see comments on their posts. You can tell how much a customer has been scorned by the way reviews and comments are written on promotional posts. There are also customer reviews on Google and PCMag.com.
Uptime Guarantees or SLA
Every VPS hosting provider should provide a SLA so that you know you are going to get a good value for the cost. Some may do this in the form of a money-back guarantee if the uptime is not as promised, or if your website fails during the first 30 to 90 days. Uptime monitoring tools can be installed on your website as well.
You can use this Uptime Calculator to check the differences between different web hosts.
Support Quality
When you purchase a VPS, you are typically also getting managed support services. This means that your technical support should be on 24/7 for any questions or issues that may rise up while you are operating your website.
Storage and Bandwidth
Most websites today should be running 8GB of RAM or more with at least 200GB of storage for a small website and at least 2TB of SSD storage for a larger site. There are differences in equipment and quality, so always check that you are getting a good processor (dual-core or Intel Xeon) and that you have a lot of security options to go with it.
Cost
This is a big factor in determining the cheapest VPS hosts online. Right now there are plans as low as $2/month in some cases. The cost should balance out with the value and what you are getting however. You also want to make sure that you can scale up your servers so that you can build as you grow.
---
Here is a look at the Best Cheapest VPS hosting providers and what makes them good or bad as a choice for your next project.
VPS Hosting Plans: Starting at $8.24/month
From Tulsa, Oklahoma, Hostwinds has always promised to be fast and reliable. The hosting provider has been open for well over a decade now, and has made some significant strides in the past few years to improve their offerings and price to match the competitive market of VPS hosts today.
Hostwinds gets a high rating from customers on reliability, but does the price match the value? Most customers say yes! In fact, Hostwinds gets a lot of praise for its uptime and VPS plan options. They have some good tiered options if you want a budget VPS.
There are hosting packages available for both Linux and Windows VPS hosting, with 10 different pricing tiers to choose from for each. The pricing is broken down as follows:
Hostwinds Linux VPS Pricing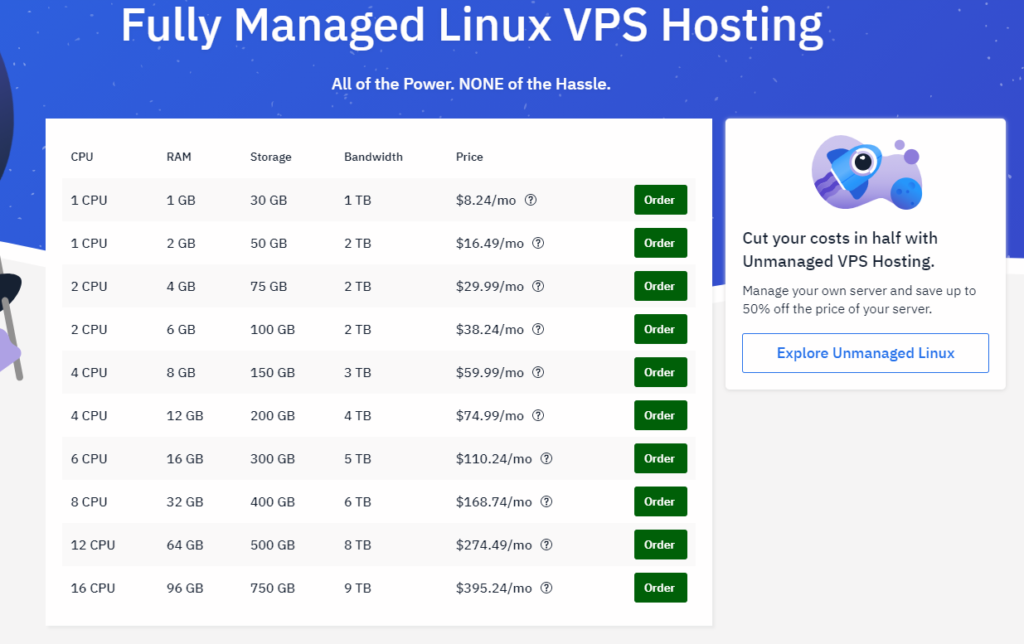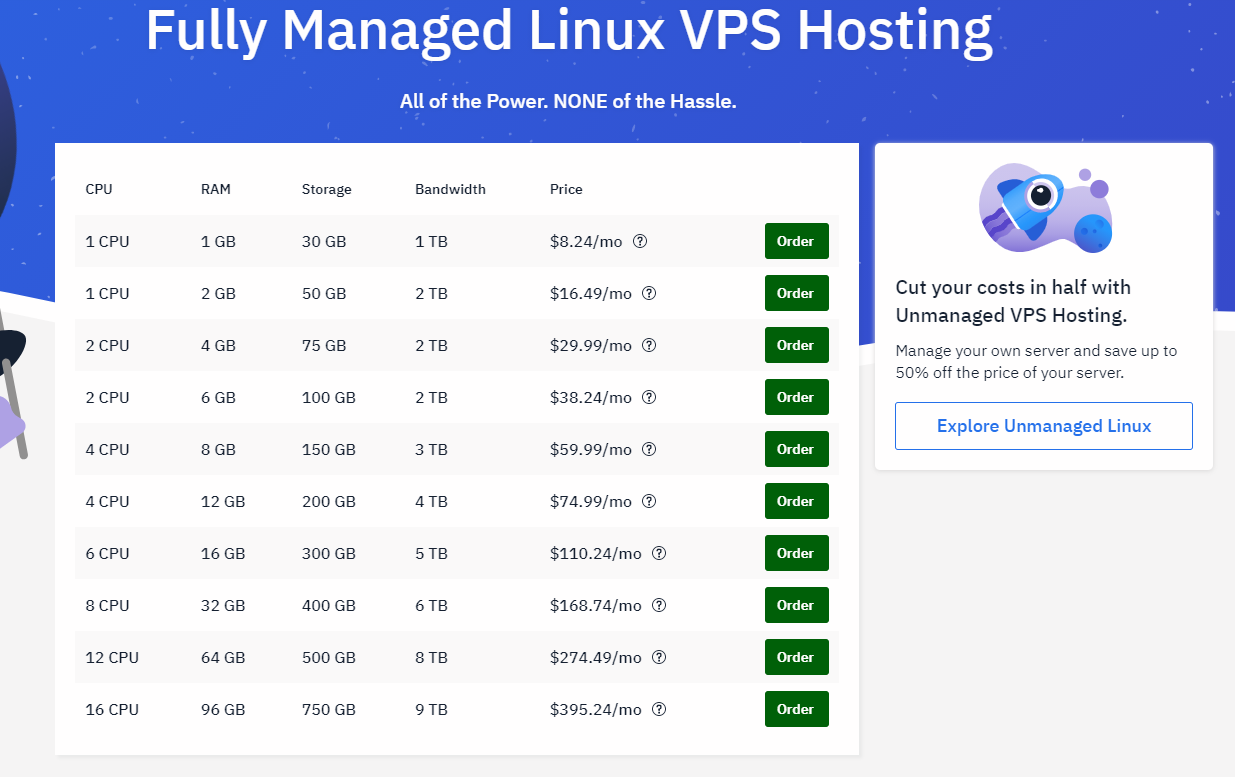 Hostwinds Windows VPS Pricing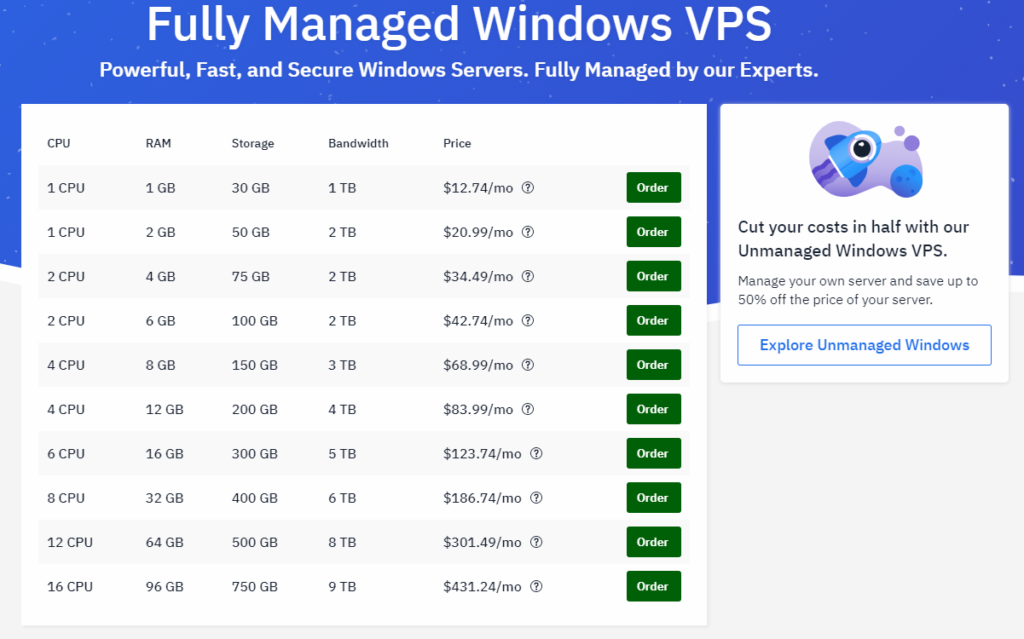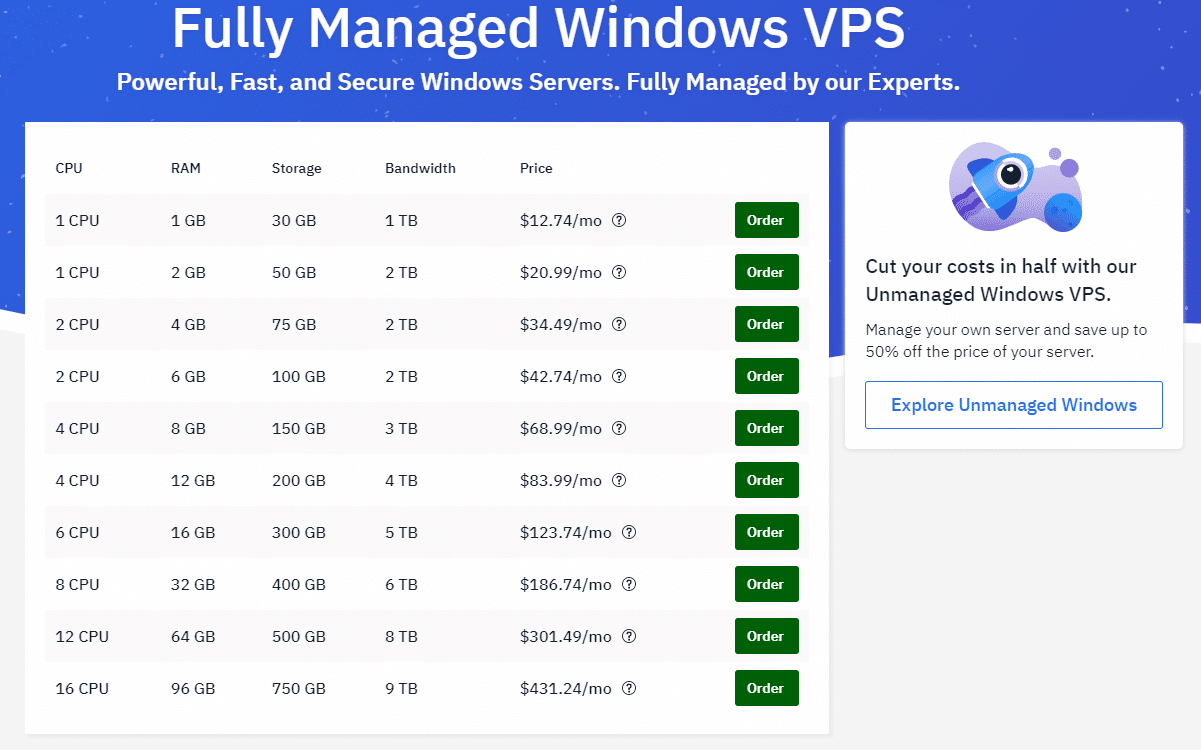 While Hostwinds in the past, were not set up to offer support for online enterprises or very large databases, today they offer real scalability. A budget VPS will give you 1CPU, 1GB RAM, 30GB storage and 1TB bandwidth on either Linux or Windows systems, for a marginal $8.24 or $12.74 per month respectively. This can scale up massively making Hostwinds a good choice for those that want to start small, with room to maneuverer.
Hostwinds provides a 99.99% SLA guarantee as well as a money-back guarantee.
These are just a few of the perks that bring Hostwinds up a notch. There are also multiple data centers to choose from and full VPS management options so you do not have to worry about security updates, malware scanning, or performance issues. Your site should be up and running within 60 minutes as well.
Conclusion
Hostwinds has a great package to offer those who want to build smaller websites for a cheap price. For a much larger VPS, you are also looking at a pretty good deal per month with their add-ons and security features.
---
IONOS By 1and1 VPS Hosting
VPS Hosting Plans: Starting from $2.00/month
Following their merger with ProfitBricks in 2018, 1&1 has since rebranded as IONOS by 1&1 (or 1&1 IONOS). The packages and services on offer however, remain largely the same as before. VPS hosting for $2.00/month is questionably cheap. So great attention was paid to the offering here to see exactly what is provided.
This VPS host has several different plans, across two different packages, 'Standard' and 'Memory Optimized'. Every package, with exception to the base 'VPS S' package comes with an introductory offer price for the first six month, increasing to full price after that.
Standard VPS Packages
The base VPS S package is a true entry level service suitable for very casual websites. But then, what do you expect for $2 per month? This package provides 1CPU core, 512 MB RAM and 10 GB SSD storage. These servers come with an Intel Xeon E5 processors, which are the highest quality available in the industry. In addition, your storage is on a fast SSD rather than an old HDD.
You can purchase packages with more bandwidth, storage, and traffic just by looking at plans their different Cloud plans. There is an additional cost for these plans, but to increase scale required extra resources and this will always come with a price.
For 1&1 IONOS better packages, you will want to look at the Memory Optimized packages. These offer, for a higher price, a greater level of RAM, CPU cores and storage space.
Memory Optimized VPS Packages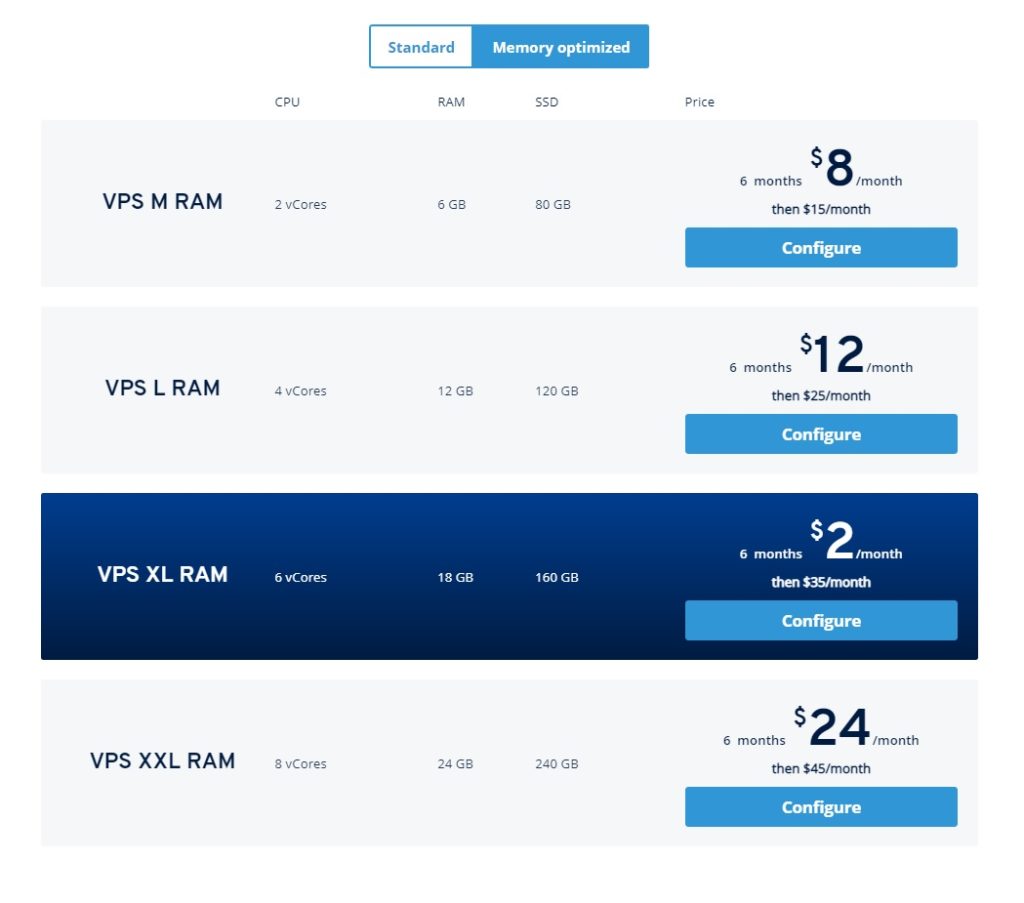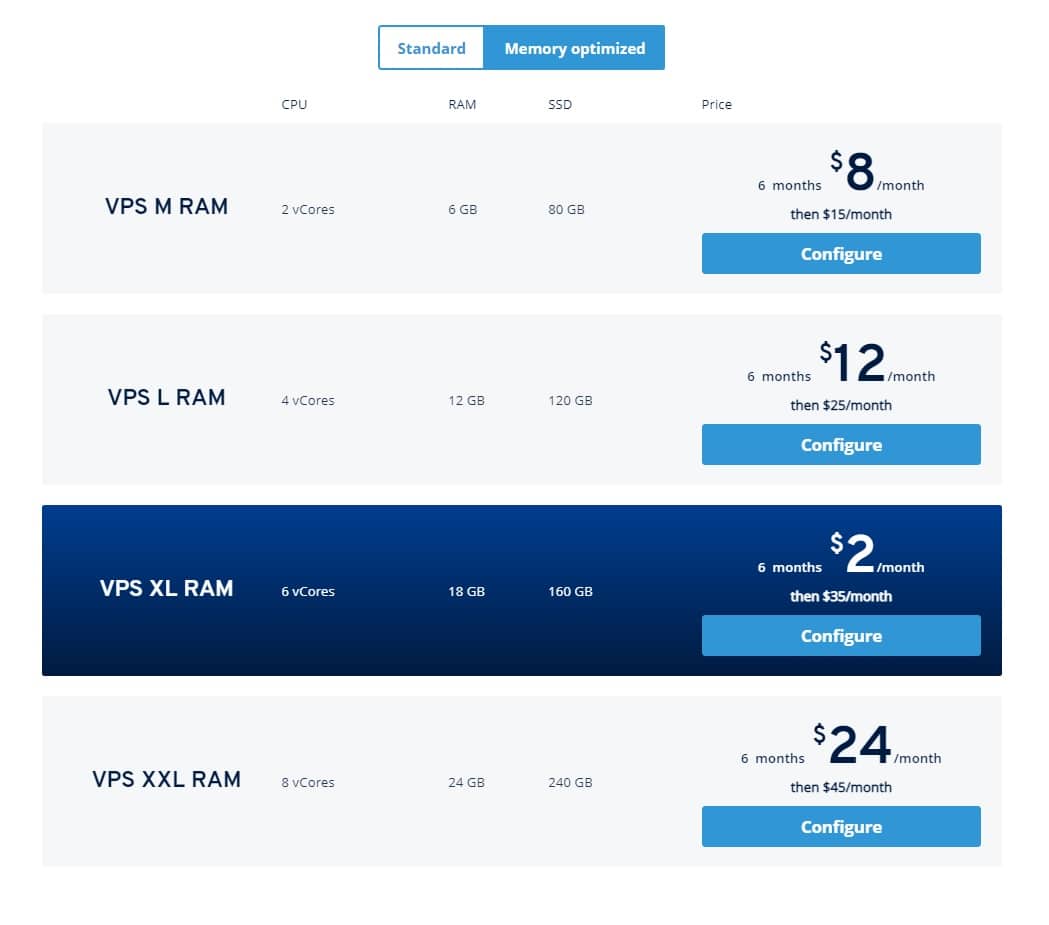 IONOS by 1and1 also provides full root access so you can configure the server how you like. Your VPS will also come with 1 to 8 core machines, VMWare optimization, 24/7 customer service, Linux or Windows operating systems. You also get a KVM console so that you can access the server wherever you are and install performance tools to make sure that it is up and running correctly.
Some features come at an extra cost so it is important to look through their features carefully. For example, Linux servers come as standard, but for the Windows Server OS, this comes at a premium of $10 per month, per CPU Core. This can add quite a additional cost to your monthly outlay.
There are a good choice of data centers that you can choose from, to provide great coverage across Europe and the USA. Also, IONOS has a 99.99% uptime rating and a guaranteed SLA. You can get your money-back if you run into issues with your website failing or experiencing slowdowns. The best way to check this is through a performance monitoring tool.
1and1 IONOS does a great job of making its hosting services affordable and valuable for the customer. You can also find a number of discounts for 1and1 if you want to get a much cheaper rate but you may possibly have to pay upfront to get the monthly rate you want.
Conclusion
The pricing at IONOS by 1and1 is hard to beat for what you are getting at the base price. But for larger sites, enterprises and solutions, they might not scale to the level that you need.
---
OVH VPS Hosting
VPS Hosting Plan: Starting from $5.52/month With 12 Month Commitment
Building a site on a budget has its tradeoffs. If you choose OVH, you might have to deal with some issues like poor reliability and not-so-great customer support. There have been several complaints against OVH for its uptime reliability and account complications in the past few months.
However with OVH, you are not paying as much for customer support as you are for the exact space and size of your server. The basic plan offers 1 single core processor, 2 GB RAM, 40 GB SSD, and 250Mbps unmetered bandwidth. If purchased annually, you can get the rate to as low as $5.52/month. There are also biennial (every 2 years) packages, and monthly with no commitment.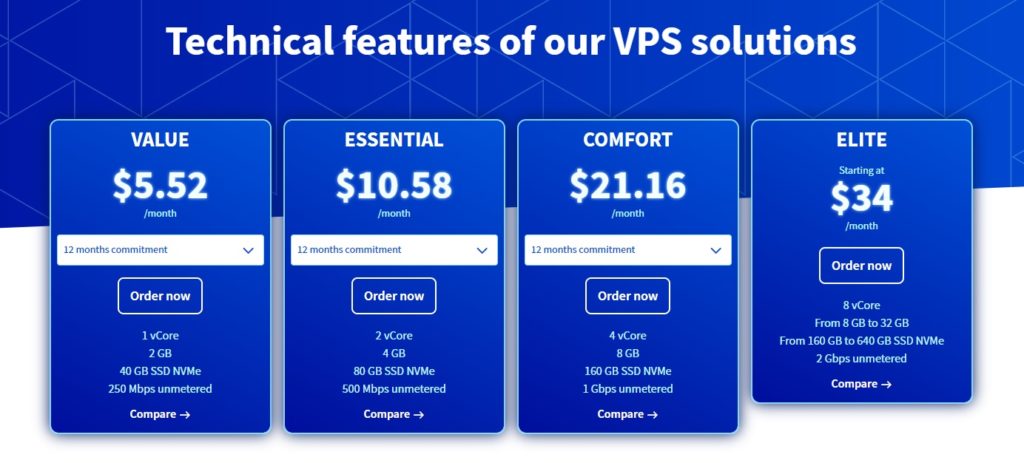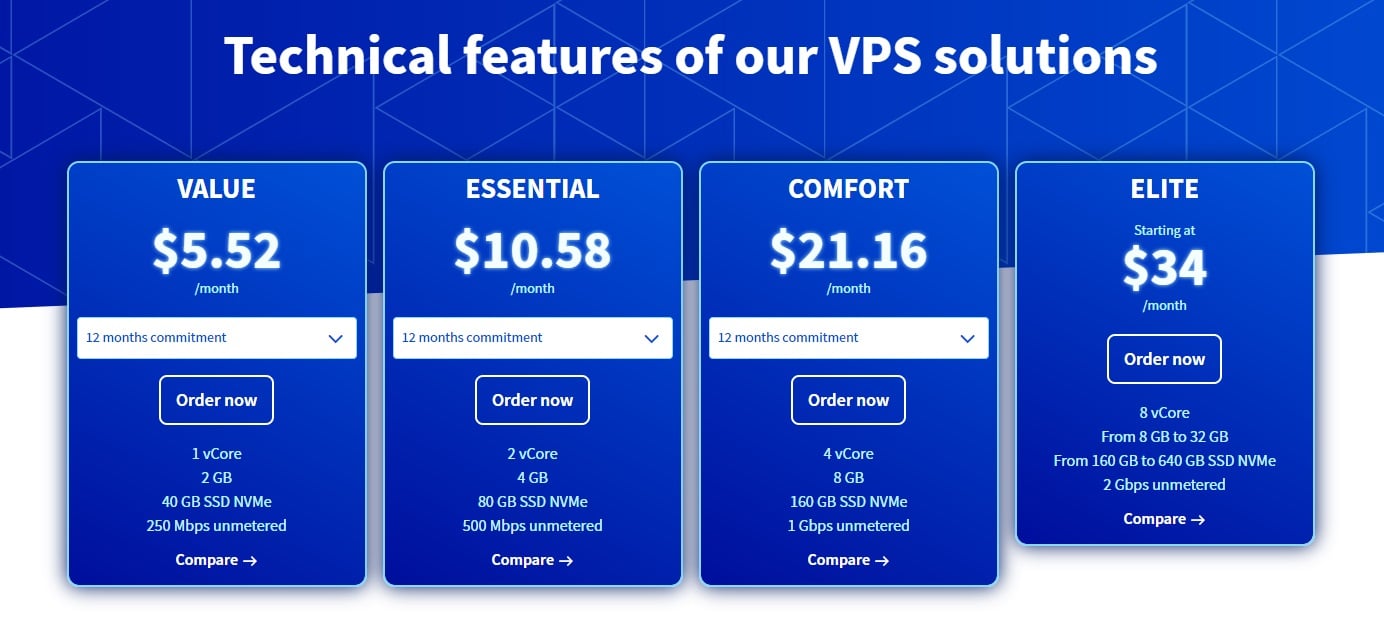 OVH promises 99.95% uptime, but this promise does not always seem to be verified by customers who have canceled service in the past because OVH went down. There are multiple plans available so you can scale resources. There is a control panel that lets you make changes and add-on to your site, which makes it very self-reliant. OVH offers unlimited traffic with each plan and anti-DDoS protection. However, customers have pointed out that OVH does not provide a ton of customer support options on the website.
When customer support is available, there have been instances of poor English language or just downright bad customer service, which has led to some poor reviews of OVH overall.
Conclusion
Most customers say that the first 30 days is okay, but you may experience some downtime and lots of server errors. You should read some customer reviews before starting to use a service like OVH.
---
Virpus VPS Hosting
VPS Hosting Plan: Starting from $2.08/month
We could not believe the rates for this host's VPS packages. Even with such a low rate, Virpus offers a lot of value for a very small price. To get these prices, you do have to pay upfront annually. However, that is just $25/year for VPS hosting for the base package. This includes a Linux-based server using SSD-caching and a full VPS management panel included. The basic package has a dual-core processor with 512 MB of RAM, 25 GB, and 1.5 TB of bandwidth.
Customers can choose to scale up to 48GB of RAM and 1,500 GB of storage with 9 TB of bandwidth for $180/month. Each VPS plan includes XEN virtualization, RDNS/PTR management, and 1 IPv4 address. In addition, 24/7 customer support is available for Virpus customers, however you may be speaking to them through a ticketing system rather than on the phone. Virpus has a slightly poor uptime at 99.94%, and customer reviews have not been favorable on reliability. However, some of these reviews are dated a year ago.
One thing very noticeable is the lack of customer support and technical support on the phone or by live chat. Most hosting providers have extensive customer support, but Virpus is a smaller web hosting provider and may not be able to accommodate all customer requests. The site features a sales number, but that will not help if your server is crashing.
Conclusion
If you are looking for a very cheap server and do not mind the occasional downtime, then this could be a good option to try out and play around with a server for building purposes. If you are looking to purchase for a business, you might want something that is a little bit more reliable.
---
VPS Hosting Plan: Starting from $7/month
Excellent support and tons of options come with the VPS hosting plans at VPSDime. At the basic level, you will get a solid VPS for a decent price at $7/month. However, you should not expect some of the features that are available on other hosts for this price. Their lowest Linux VPS package includes 6GB of RAM (4GB on Windows VPS), 30GB SSD space (50GB on Windows VPS), 2TB traffic (4TB on Windows VPS), and 10 Gbps uplink. The value here is the amount of RAM, but the 2TB of traffic is not as good as unlimited, which is available through some of the other cheap VPS hosts.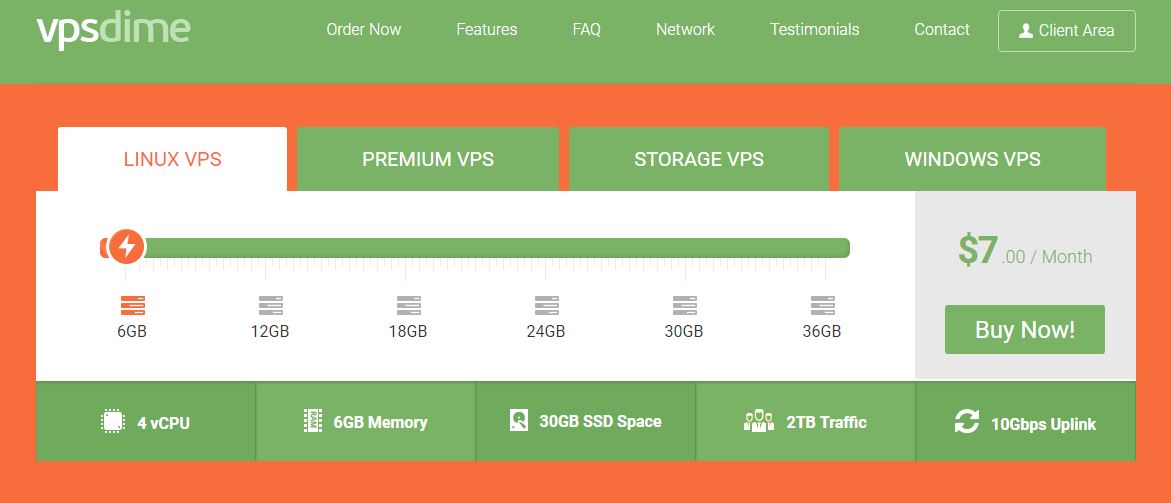 In addition, VPSDime's base package is for both Linux and Windows servers, but there are differences between the base packages for each. These servers come with full root access, inclusive control panel, full SSD storage, and a fast network guarantee. There are data centers all over the globe with VPSDime, so it doesn't matter where you live, you can pick a server that meets your specifications and location.
You can also read a lot of testimonials about VPSDime on their website. Other reviews reveal that they have excellent customer service, lots of scalability, . You can read all of their testimonials and social tweets on their VPS hosting page, which lets you know that they have a dedicated customer support team. They promise a 99.99% uptime and also have Idera backup and restore. This means that even if you think you have lost your site, you will have an automatic backup ready and waiting to restore.
Conclusion
VPSDime has excellent value for the cost at 6GB of RAM for just $7/month. They have also received rave reviews for their 24/7 support and pricing.
---
VPS Hosting Plans: Starting from $6/month for Linux and $10/month for Windows
Interserver is very scalable and starts out with a single core processor, 2048MB memory and 30GB of SSD storage space for $6/month on a Linux-based system. Unlike other hosting providers, you can also get base plans with Windows for a very cheap price, starting at $10/month.


The Linux plans are scalable up to 16 Core Processors and 32GB RAM, whereas there are 10 available Windows server plans.
This VPS hosting provider claims that it makes cloud VPS hosting much easier than other hosts. You get an easy-to-use control panel, and you can install hundreds of apps right to your cloud VPS from your control panel. It also comes with a free migration service.
One of the best parts about this host is that you get a 99.99% uptime guarantee. You will not have to worry about downtime and can even get your money back if you experience problems with your server.
Conclusion
With instant provisioning, backups and snapshots, and multiple language servers, you can do a lot with Interserver and pay next to nothing for the service. One issue that we found is that the support did not answer all of our questions about the VPS or was not able to understand some of our questions about uptime and types of processors available with their VPS systems. However, they do have 24/7 customer support.
---
a2 Hosting
VPS Hosting Plan: Starting at $4.99/month with a multi-year term
A2 Hosting is an excellent hosting company with a lot to offer. One of the unique things about this company is that it's independently owned. Unlike other providers out there, A2 Hosting is not owned by a massive conglomerate, and its top-notch service certainly reflects that!
Based in Ann Arbor, Michigan, A2 Hosting has data centers in the United States, Amsterdam, and Singapore. The provider offers a 99.9 percent uptime guarantee. Should anything go wrong with your service, the customer support team is available 24 hours a day, seven days a week.
When you sign up with A2 Hosting, you have a slew of options at your disposal. You can go with a standard shared hosting plan, dedicated hosting for ultimate customization, or one of two different kinds of virtual private server hosting. This provider has both managed and unmanaged VPS plans.
Unmanaged VPS Plans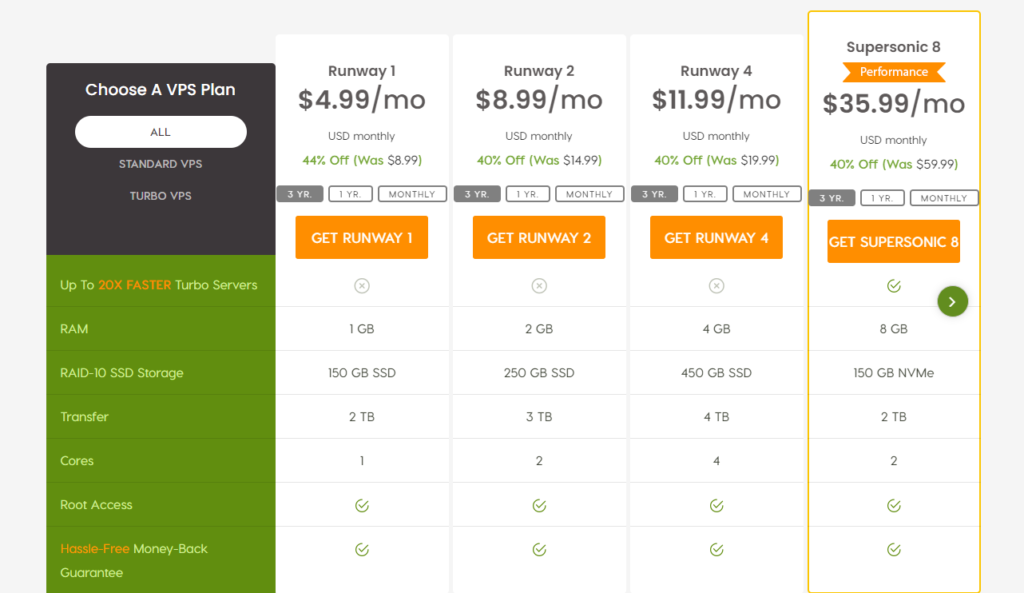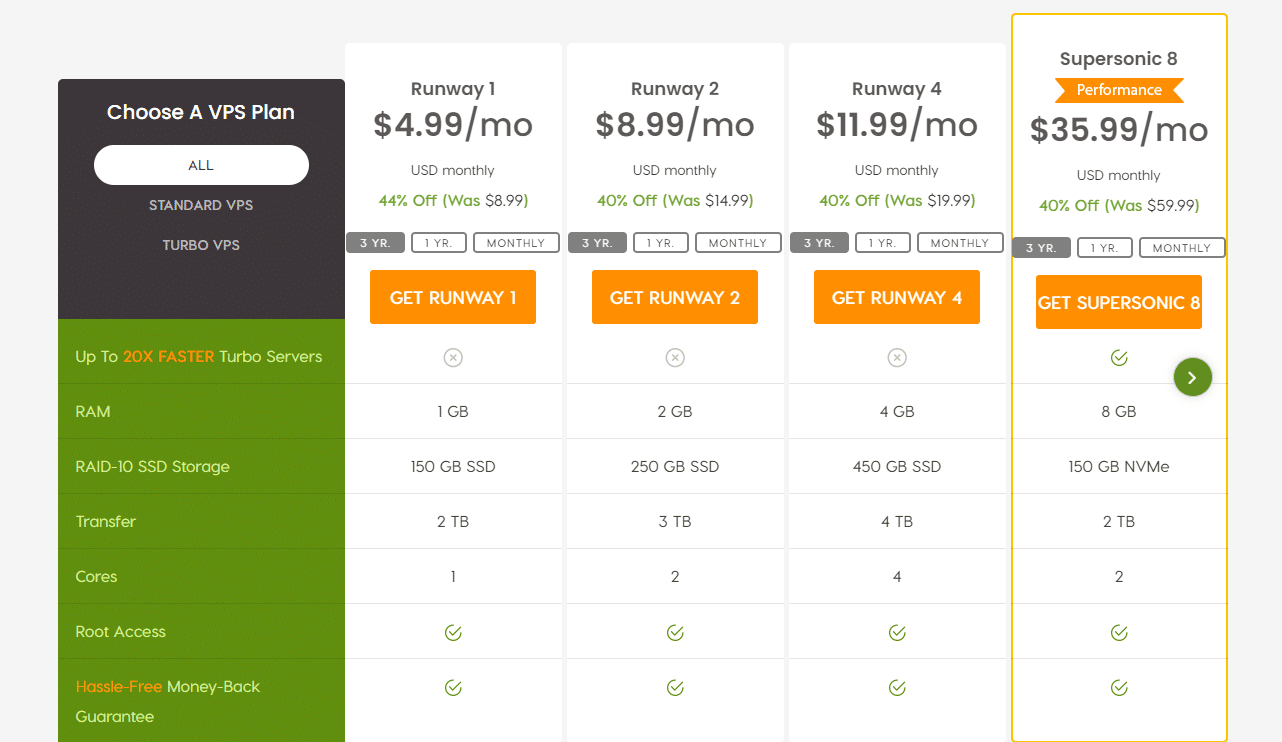 Managed VPS Plans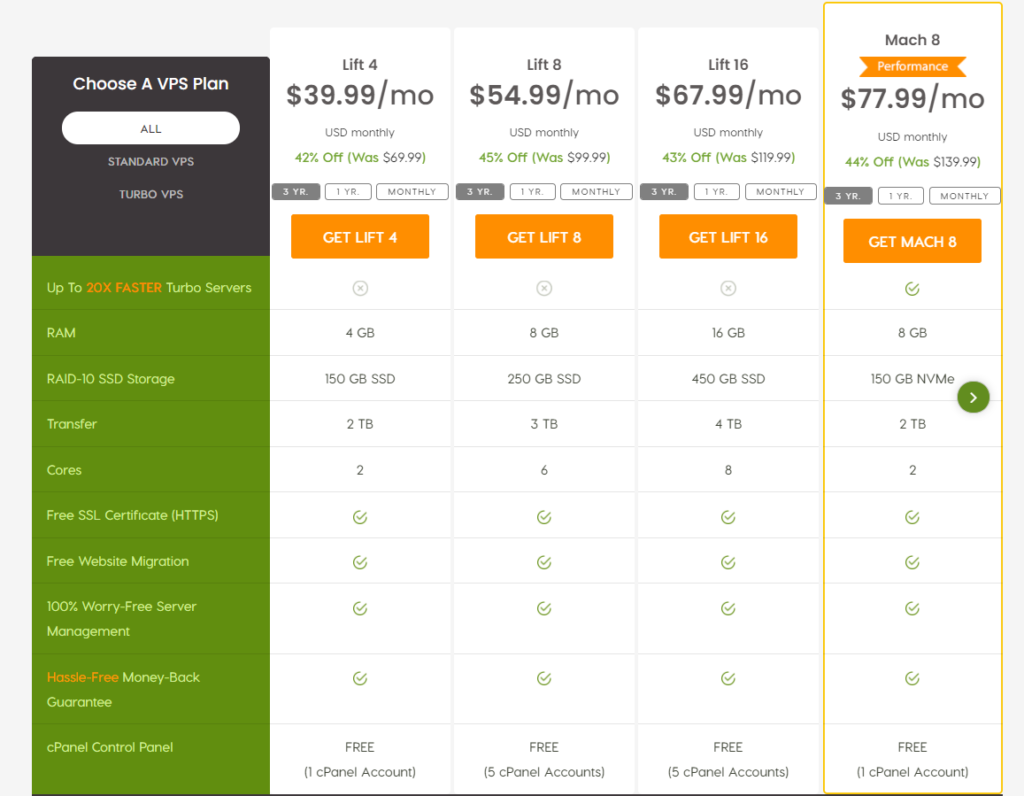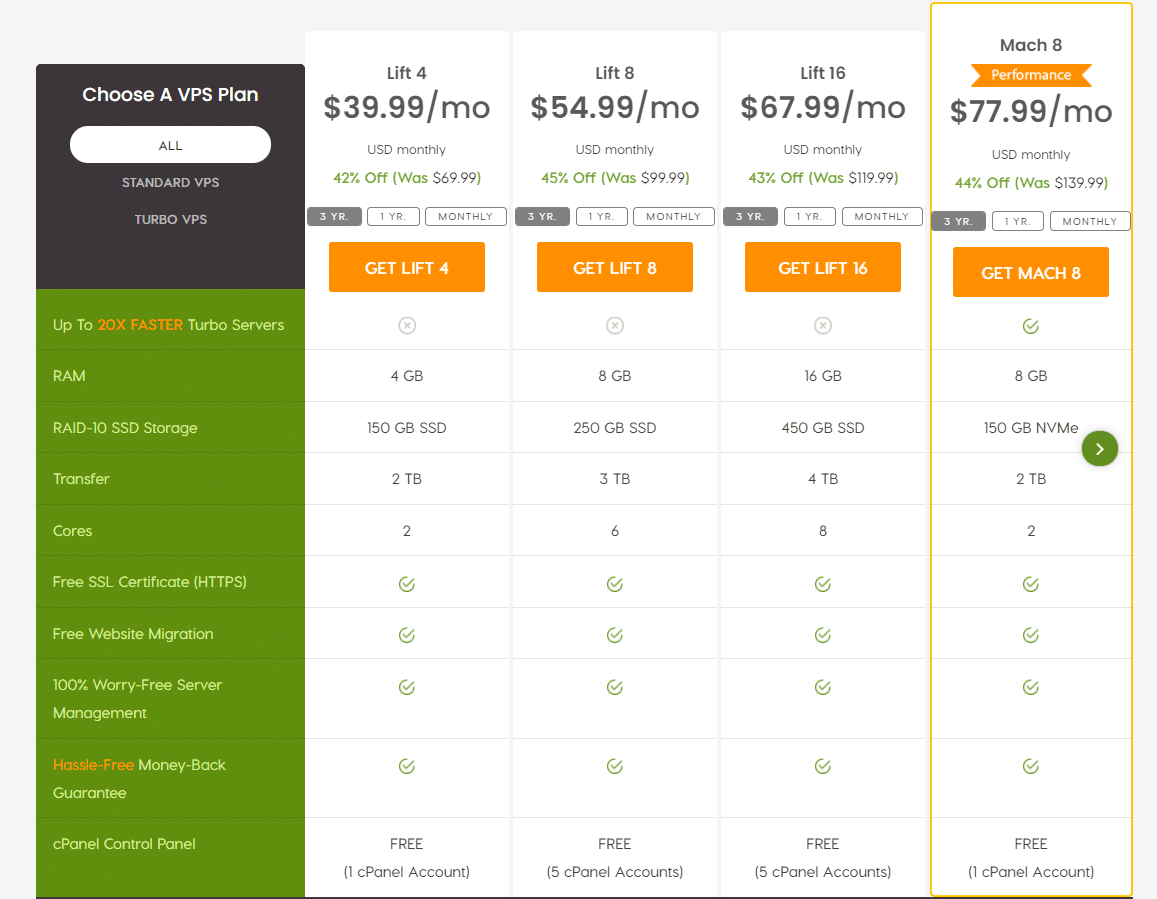 The managed VPS hosting packages provide you with a more hands-off approach. A2 Hosting takes care of your infrastructure. The provider handles the network and hardware to ensure that your service is as reliable and efficient as possible. Managed VPS plans even come with server security and automatic patching. On your end, the feature-rich cPanel interface lets you take control of the more minor details.
A2 Hosting's managed VPS plans start with 4GB of RAM, 150GB of SSD storage, and two cored of processing power. However, you can scale up to the Turbo VPS plans to get up to 32GB of RAM, 450GB of NVMe storage, and eight virtual processors!
Going with a managed option is excellent if you don't want to worry about the technical side of things. But, those plans do come at a premium price. Fortunately, A2 Hosting offers far more affordable unmanaged VPS plans. They're available with the same VPS server configurations. The main difference here is that you have more flexibility with how you want to run things.
Choose your preferred operating system and have full root access from the jump. A2 Hosting still manages the hardware and network, but these plans are self-configured and flexible enough to work with your unique needs.
Conclusion:
All in all, you can't go wrong with A2 Hosting. The service is reliable, and there are several plan options at your fingertips. The managed VPS hosting options come at a premium price, but even the cheaper unmanaged options have many valuable features to help your site reach its full potential.
---
Hostinger
VPS Hosting Plan: Starting at $3.95/month with a multi-year commitment
Hostinger is a cheap VPS hosting provider that with some of the lowest rates in the business. But don't let that fool you: The quality of service you get is anything but poor.
Like most providers, Hostinger offers several scalable tiers of service. The most affordable plan comes with a single vCPU, 1GB of RAM, and 20GB of storage. As your needs evolve, you can invest in even more resources to support your site. The upper tier includes six virtual processors, 8GB of RAM, and 160GB of SSD storage.


Many of the VPS plans also come with unique features. For example, you can get a dedicated IP address with full IPV4 and IPV6 support. There's also the option to get full root access, a free SSL, and a free domain name. The VPS servers are relatively easy to use, and you're free to utilize one of many available operating system templates. Hostinger uses Linux-based systems like Ubuntu, CentOS, Debian, Suse, and Fedora.
As a whole, Hostinger is one of the best VPS hosting providers out there. Seven global data centers provide blazing-fast performance across the board. Plus, Hostinger recently partnered with Google to offer cloud hosting and cloud computing capabilities. Pair that with Hostinger's existing server-level caching systems, and you have super reliable performance that your visitors can utilize to its fullest.
Conclusion:
The low price of Hostinger's most affordable VPS plan certainly makes this provider worth the consideration. The 30-day money-back guarantee, dedicated live chat support, and the 99.9 percent uptime commitment are just icing on the cake!
---
inMotion
VPS Hosting Plan: Starting at $5.00/month
With a low price of only five bucks a month, InMotion is an enticing provider for those looking to get VPS hosting without breaking the bank. Fortunately, the service quality doesn't disappoint. InMotion VPS hosting services are cloud-based and scalable to meet your needs.
The cheapest VPS plans are all cloud based and self-managed. These hosting solutions cater to knowledgeable system administrators and more advanced command-line users. On the lower end of the resource scale, you can get a single virtual processor, 1GB of RAM, and 25GB of storage. The lowest plan also comes with 1TB of bandwidth. Those parameters continually improve as you go through the many self-managed VPS plan tiers. The most robust option is an 8-core plan with 32GB of RAM, 640GB of storage, and 7TB of bandwidth.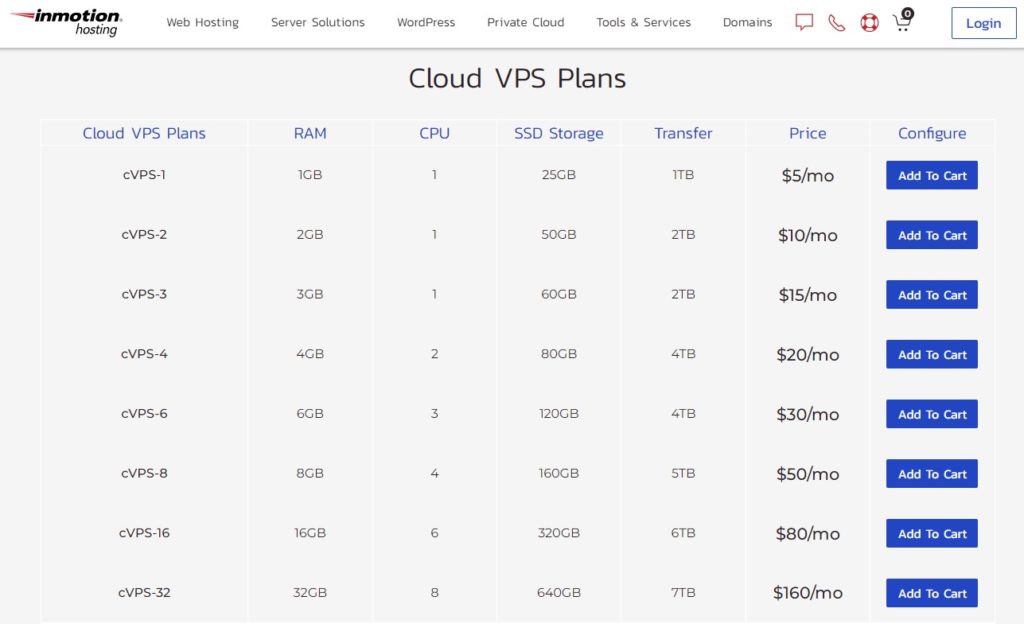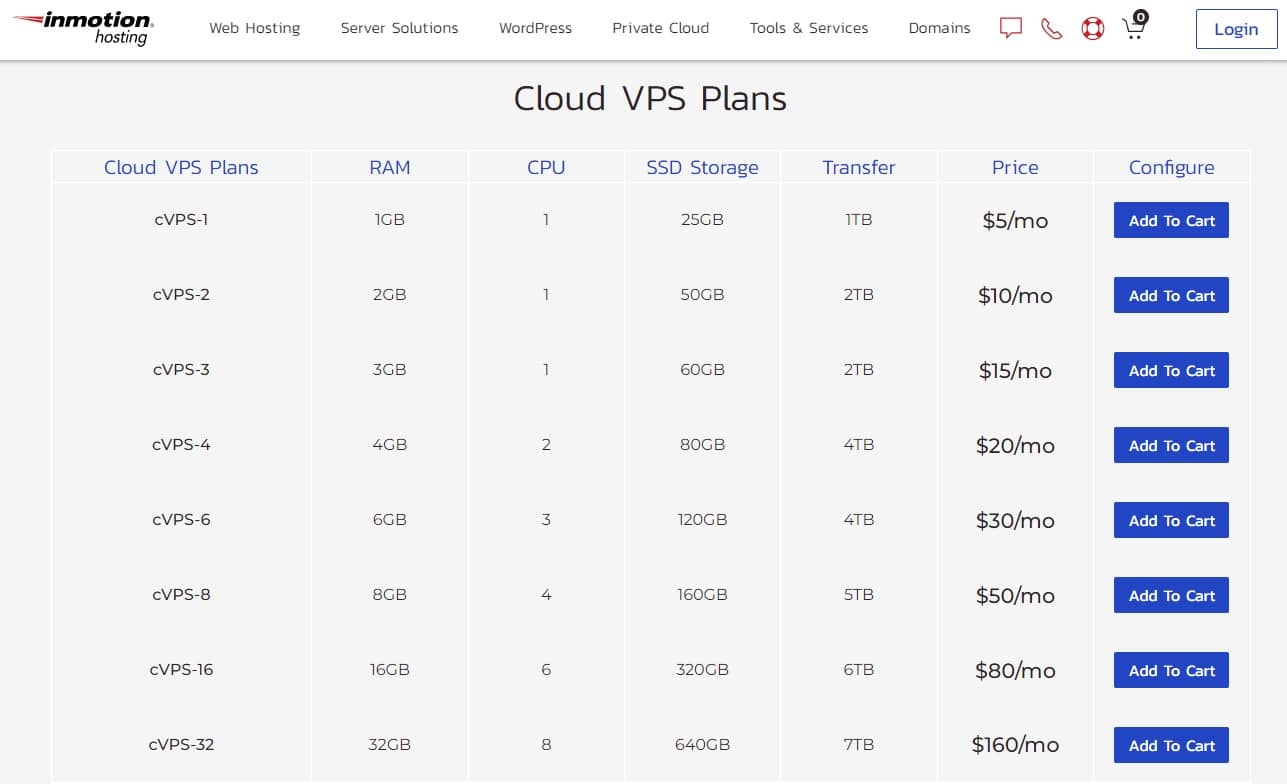 Each unmanaged VPS hosting plan comes with full root access with the Linux operating system of your choice and a dedicated IP address. InMotion also does server snapshots for easy rollbacks, resource monitoring, and Corero DDoS protection.
Those who prefer something a little simpler will have to shell out the big bucks for managed VPS hosting. These plans start at around $31.99 a month with a long-term commitment. InMotion hosting handles the technical side of things so that you don't have to. Experts will manage your network, help with site migration, and more.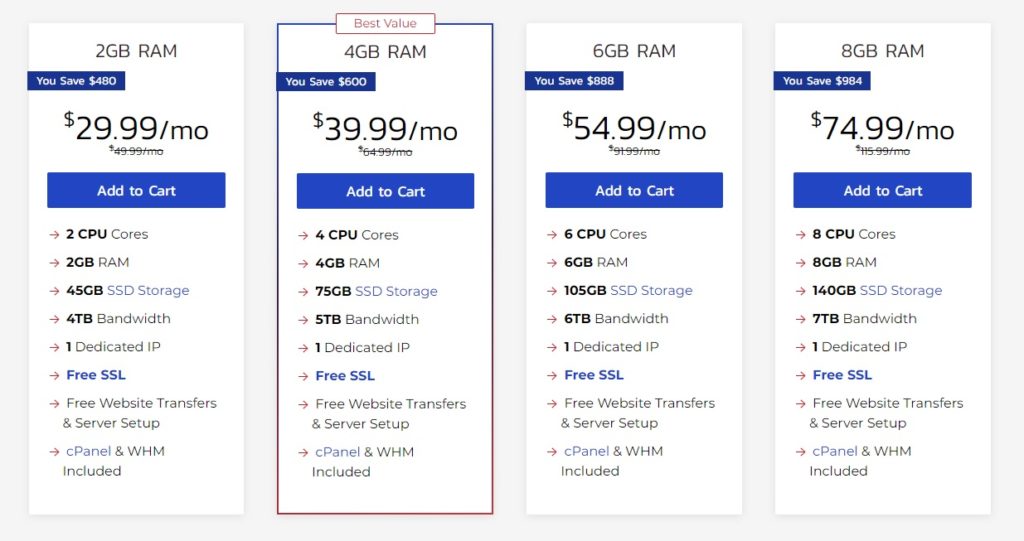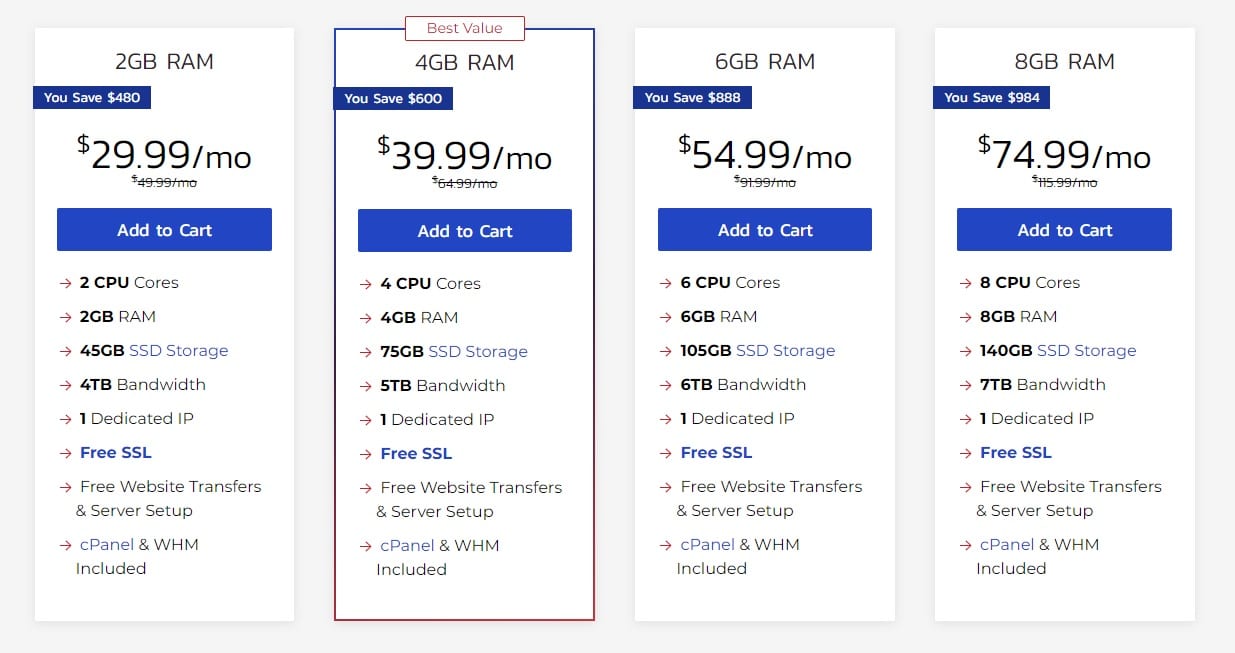 Managed plans include up to five cPanel licenses and a customizable firewall for protection.
Conclusion:
InMotion provides a lot of bang for your buck. The self-managed VPS plans are feature-rich and flexible enough to meet the needs of most. Plus, you get the reliability of InMotion's redundant hardware clusters. This hosting provider recently invested a lot into its infrastructure. Today, InMotion has a 99.99 percent uptime guarantee, impressive bandwidth capacity across the board, and robust redundancy protocols. That makes the service well worth the consideration.
---
DreamHost
VPS Hosting Plan: Starting at $10.00/month
DreamHost is a versatile provider that takes the confusion out of VPS hosting. All of the VPS plans have managed performance capabilities and security features. Automatic software updates and security patches are included as well. You don't have to do a thing but manage your site through the DreamHost control panel.
Now, this provider does offer plans with root access and more flexibility. However, those packages revolve around cloud compute technology and more robust customization. For most website owners, the standard VPS plans have more than enough to offer.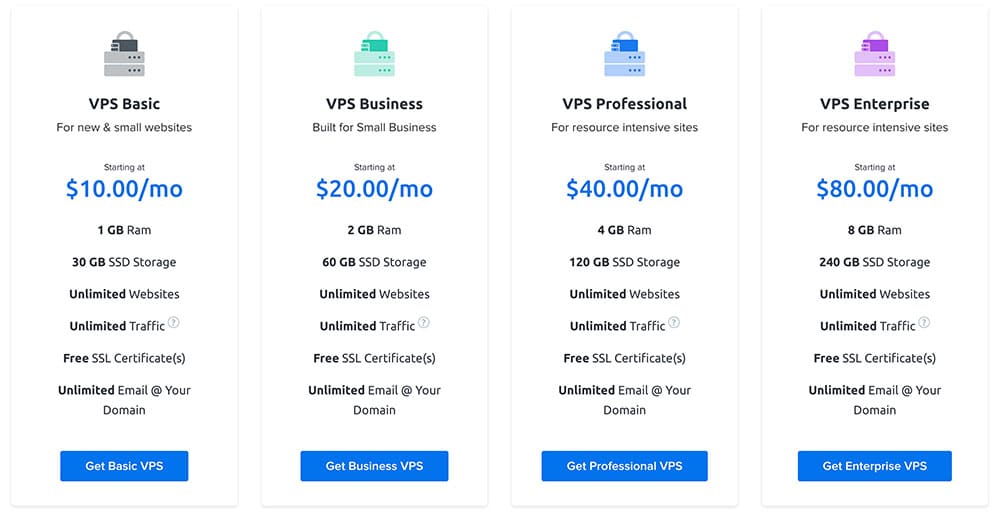 As always, DreamHost's managed VPS plans are scalable. The packages start with 1GB of RAM and 30GB of storage. However, you can invest in more resources as your needs change. One great thing about DreamHost is that every plan includes unlimited bandwidth and unlimited websites. That means your visitors will experience efficient performance no matter how busy things get.
If you use WordPress, DreamHost has some high-performance specialty plans to consider. They're fine-tuned to provide greater control over WordPress and its capabilities. It's similar to standard WordPress hosting options, but you have the flexibility and isolation of VPS technology. Fully managed and easy to set up, the WordPress VPS plans come with isolated resources so that you don't have to worry about performance dips during peak traffic periods.
Conclusion:
What you get with DreamHost VPS plans is nothing short of impressive. Every detail is managed by professionals, allowing you to focus on running the best web space possible. DreamHost is one of the only providers out there to have a 100 percent uptime guarantee, so you can rest easy knowing that your site is up and running at all times.
---
Here is a look at the Best Cheapish Mid-Range VPS hosting providers.
VPS Hosting Plans: Linux plans start from $17.99, and Windows plans start from $27.99
When you want to get a cheap VPS, your mind may go straight to GoDaddy. After all, they promise to be the cheapest. This isn't the case though with their VPS hosting plans. However, you can pick and choose, scaling as you like, as there are a dozen different plans to choose from.
There are plans available for Linux and Windows based servers, for 'Standard RAM' and 'High RAM' solutions and a host of customizable features. There are also self managed and fully managed VPS packages available. The managed hosting packages are much more expensive than the self managed. For this post, we will concentrate on the self managed, as these are the cheaper VPS packages, we would not consider the fully managed plans as cheap.
GoDaddy wants you to customize your VPS and provides different plans to cover small to medium businesses, gaming, and large enterprise websites and applications. If you are a small business looking to start small, then you can go with the economy package starting as low as $4.99 per month (Linux Only). This basic plan provides 1 CPU Core, 1GB memory, 20GB storage, unmetered bandwidth, additional dedicated IP available on request, and a free 1-year SSL certificate.
Self Managed VPS Packages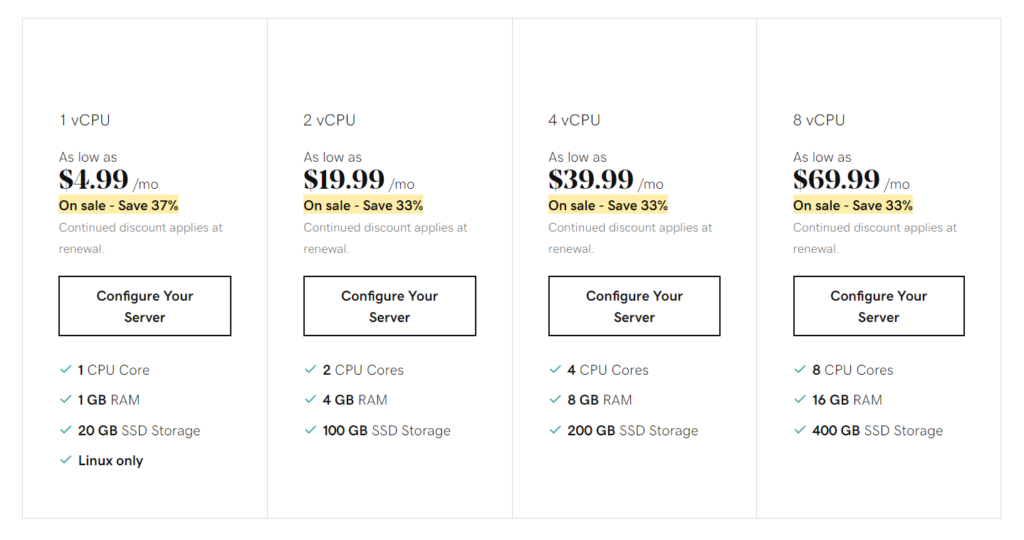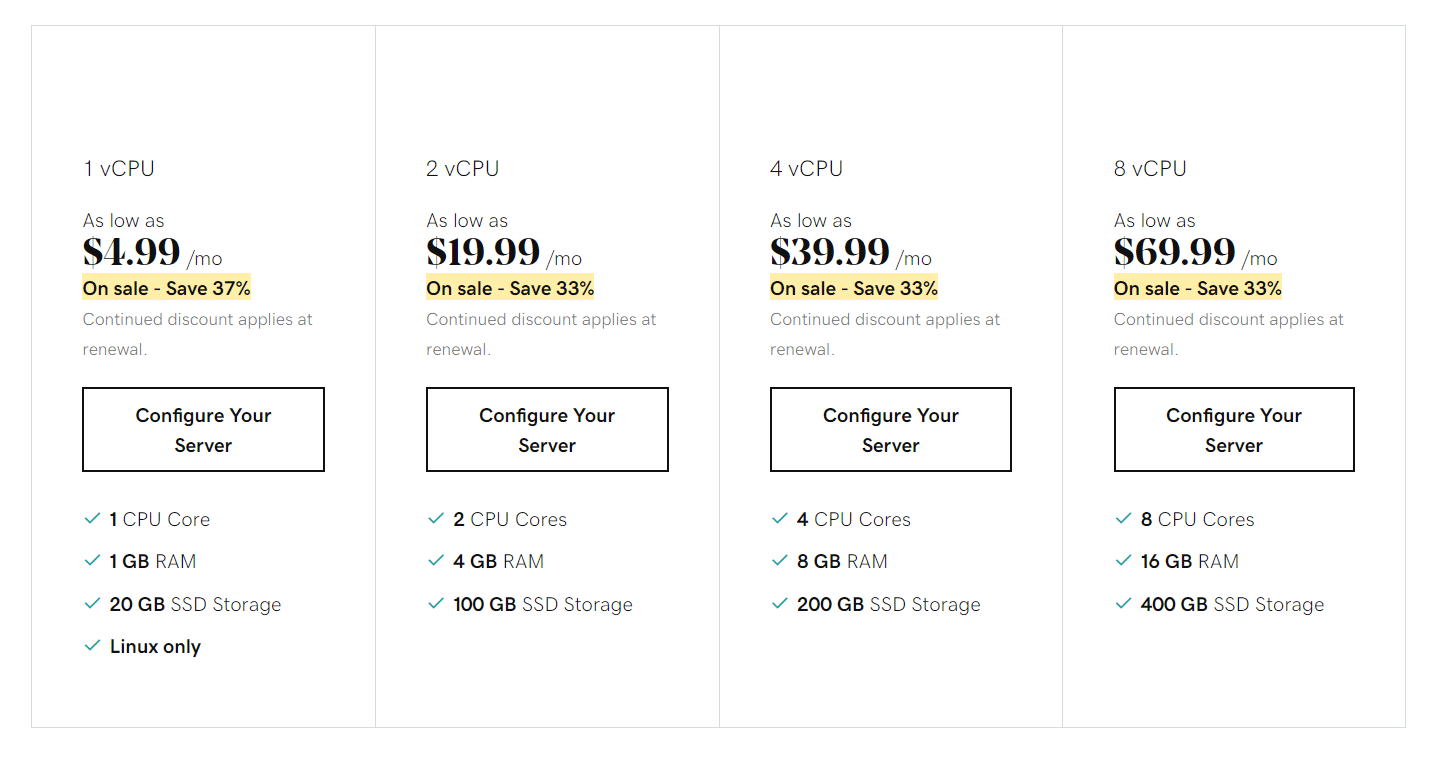 Your VPS hosting plan can scale all the way up to the final "ultimate" package for $69.99. This package packs a great deal for those who want to build a larger website as it includes 8 CPU Cores, 16GB of memory, 400GB of storage, and unmetered bandwidth. Each VPS plan comes with additional dedicated IPs on request, and a free 1-year SSL certificate.
You will not have uptime issues, and if you do, GoDaddy also provides a guarantee so you can get your money back. Uptime for GoDaddy averages at about 99.99%, and the website provides 24/7 phone support with mostly in-house techs. Your VPS is a mega Internet machine. All VPS hosting plans come with dual-core Intel E5 processor with double 600GB HDD. Windows or Linux servers are available.
Conclusion
GoDaddy will let you scale as much as you want, and you typically will not pay as much as you would with some competitors for their larger hosting plans.
---
HostGator VPS
VPS Hosting Plan: Starting from $19.95/month, discounts available
Even though it breaks our $10 threshold, HostGator has a lot to offer with its base plan that makes it very valuable for a small business. HostGator also has one of the highest reliability ratings for a VPS host.
HostGator offers numerous plans and scalability options that give you a lot of control in a VPS environment. If you want to go with their most basic packages, Their most basic package offers 2GB of RAM, 2 Cores CPU, 120GB of disk space, and unmetered bandwidth. While that is not a lot of RAM, the dual-core and disk space on SSD is worth the cost. Plus you can always find sales and discounts for HostGator.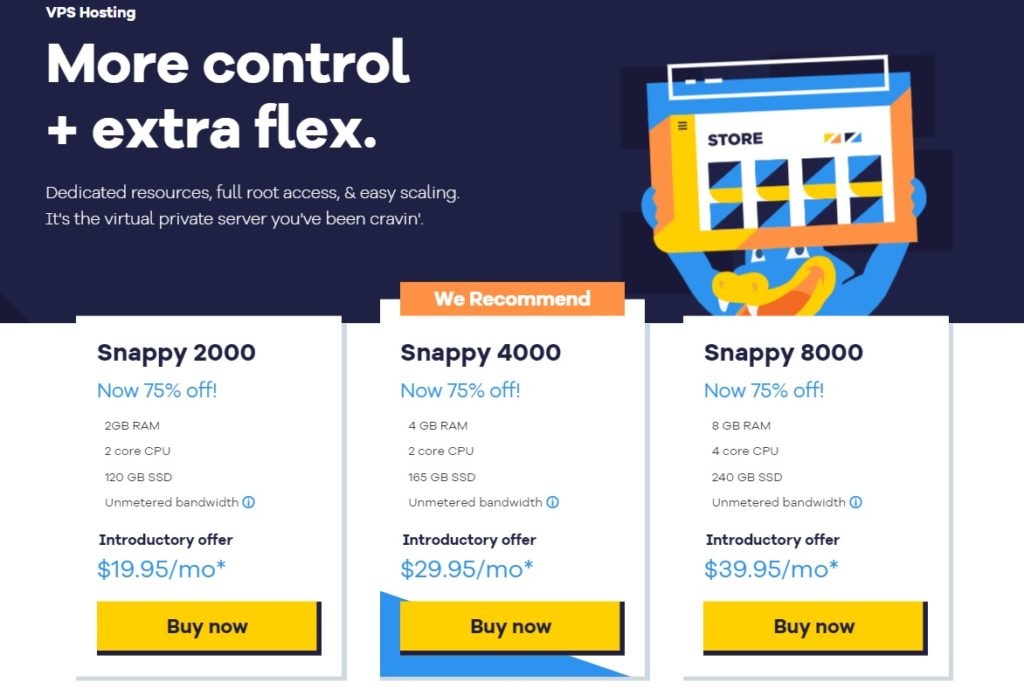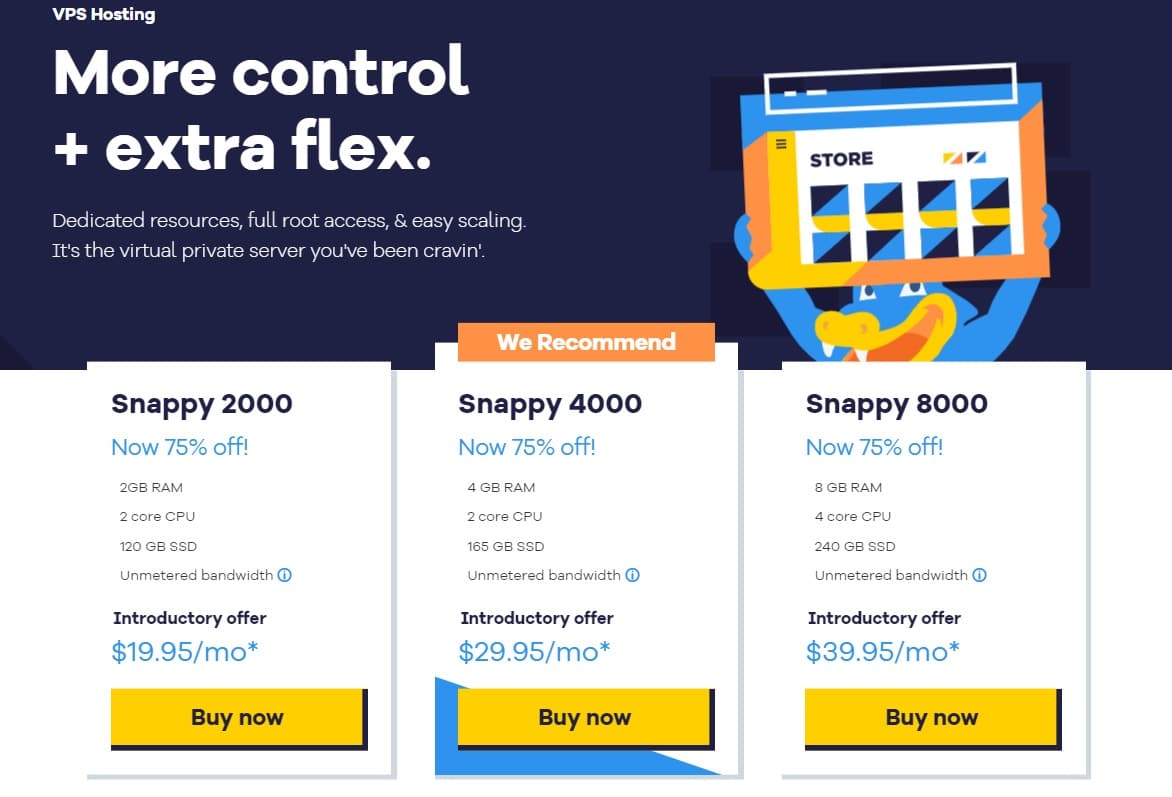 HostGator VPS is all about how you customize your machine and set up your own applications. HostGator gives you total control over your environment but also still helps you manage with security features and upgrades that can be automatically installed so your server is always stable. HostGator can also provide custom installation and configuration options. All of their plans allow you to pick your VPS. You should know that their data center is state-of-the-art and comes with redundant HVAC units.
Everything is available to you with root access on HostGator, so your VPS can be set up the way that you like. Customers can create custom scripts and applications as desired. You can host an unlimited amount of domains, sub-domains, email services, databases, FTP accounts, and private nameservers. This is beneficial if you plan on partitioning out your services to clients and paying for your server by selling off hosting.
There are various site development tools, free website templates, and different script installations to quickly get up and running. If you already know what you want to do for your website, this makes it easy to build a store or setup a website with a template and start selling online.
There is a money-back guarantee and promise of 99.99% uptime with all websites. Their customer support offers 24 hours a day, 7 days a week phone system. HostGator also provides a knowledgebase for common answers to website hosting questions.
Conclusion
HostGator provides a lot of value for the price, even if it is on the higher side of the hosting providers that we have reviewed. This is because you get a lot of features that are not included with other hosting plans. You also have access to 24/7 customer support and hundreds of site templates to make building your sites a breeze.
---
Bluehost VPS Hosting
VPS Hosting Plans: Bluehost VPS plans start from $18.99 per month ( Normally $29.99 p/m – Use this link for discount ).
When you want to get a cheap VPS, your mind may go straight to Bluehost. After all, their shared and dedicated web hosting prices are known for being some of the cheapest on the market. However, they are not so cheap with their VPS hosting plans, but believe me they are high quality and come with decent features.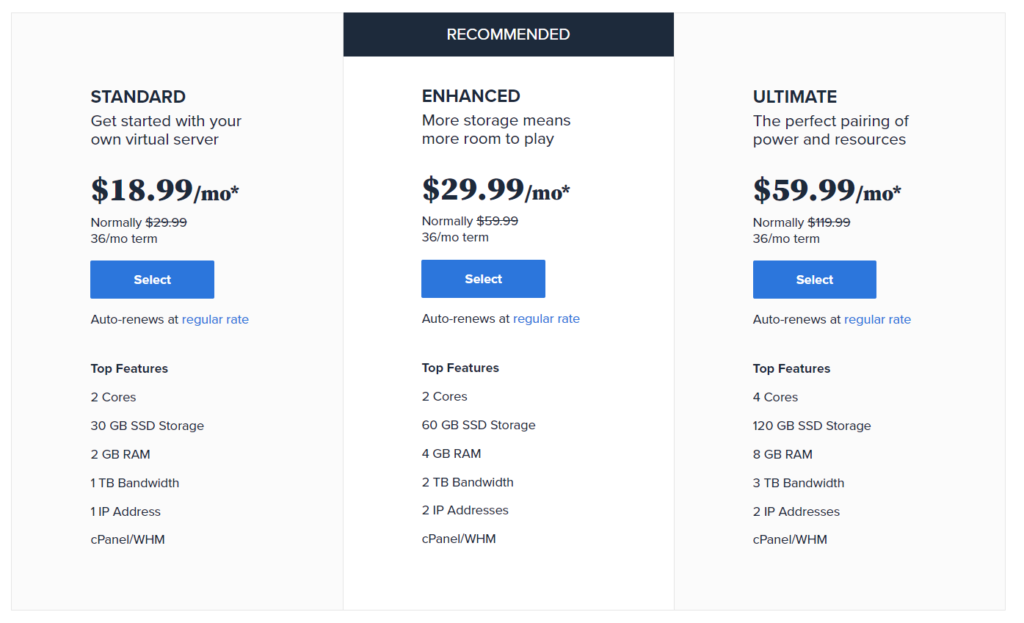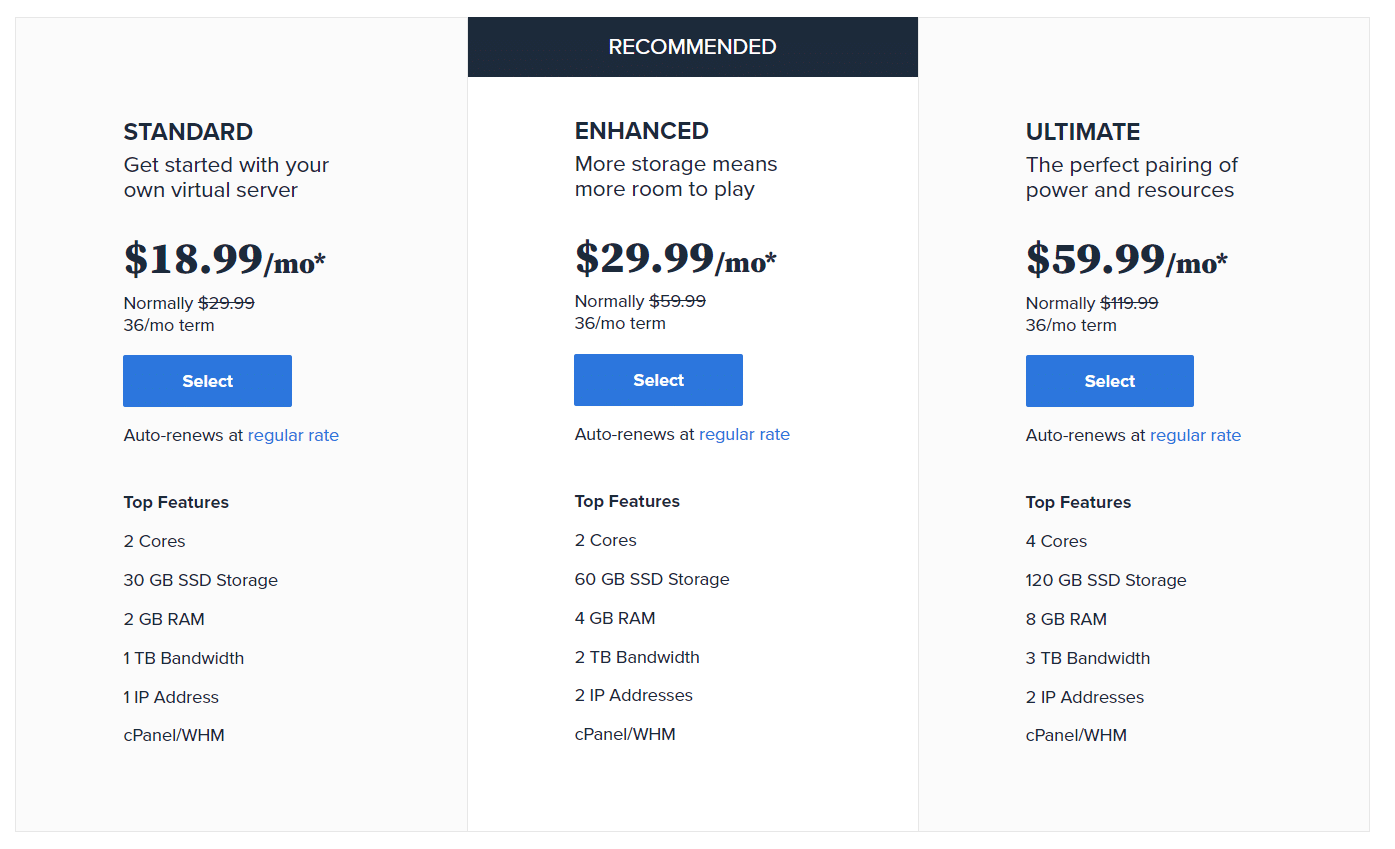 Bluehost wants you to customize your VPS and provides different plans to cover small to medium businesses, gaming, and large enterprise websites and applications. If you are a small business looking to start small, then you can go with the standard package, starting at $18.99 per month. This basic plan provides 2GB memory, 30GB SSD storage, 1TB bandwidth, 1 dedicated IP, a free 1-year SSL certificate, 2 cores and 24/7 managed servers.
Your VPS web hosting plan can scale all the way up to the final "ultimate" package for $59.99  ( Normally $119.99 p/m – Use this link for discount)  This package packs a great deal for those who want to build a larger website as it includes 8GB of memory, 120GB of storage, and 3TB bandwidth. This VPS plan comes with 2 dedicated IPs and a free 1-year SSL certificate as well as 4 cores and 24/7 managed servers. These are very competitive plans within their price range.
Conclusion
Bluehost will let you scale as much as you want, and you typically will not pay as much as you would with some competitors for their larger web hosting plans.
---
LiquidWeb
VPS Hosting Plan: Starting at $15.00/month
LiquidWeb doesn't have the lowest prices available. But, the base-level plan comes with tons of features that make it a great value proposition for businesses and small website owners. The most affordable package uses two vCPU and comes with 2GB of RAM and 40Gb of SSD storage. However, you can scale up to 8 vCPU, 16GB of RAM, and 200GB of storage. Regardless of the tier you choose, all plans come with 10TB of monthly bandwidth.
LiquidWeb Linux VPS Pricing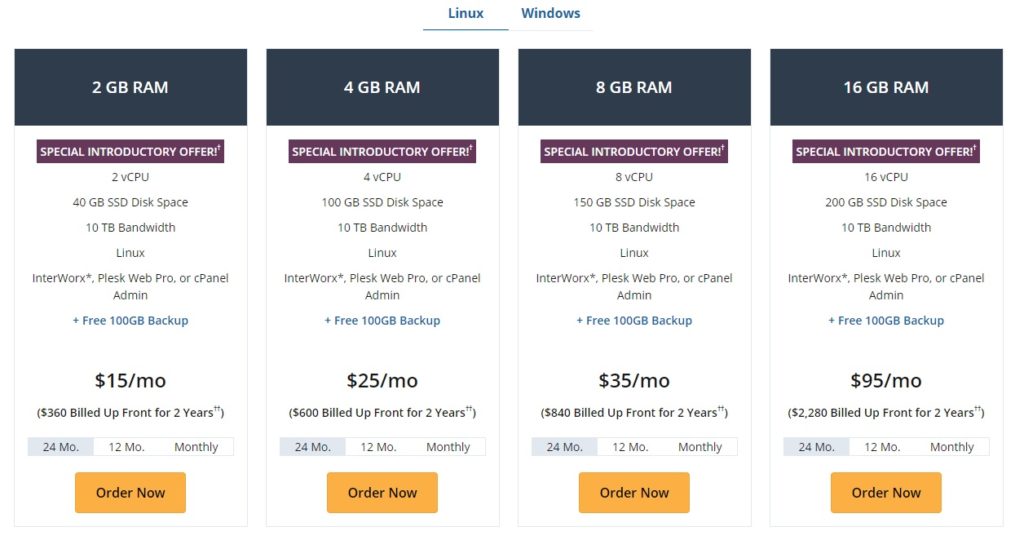 LiquidWeb Windows VPS Pricing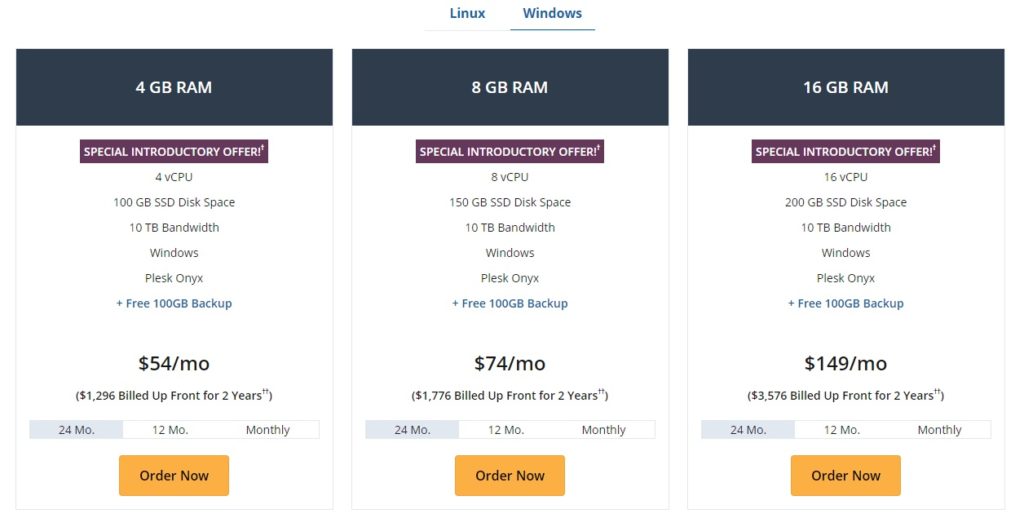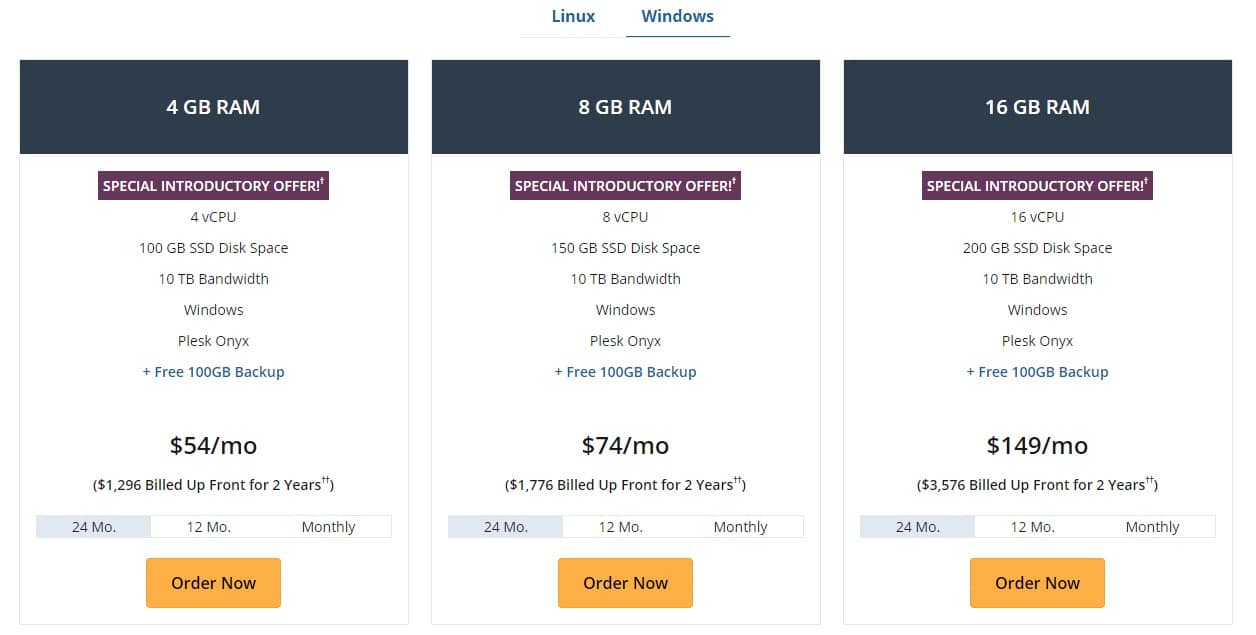 Liquid Web is a cloud VPS provider that. As a result, the resources are scalable, reliable, and surprisingly fast. The servers use gigabit bandwidth to transfer huge amounts of data in an instant. Plus, you get access to features like CloudFlare CDN to manage load and increase performance across the board.
When you invest in a Liquid Web VPS server, you get a slew of must-have extras, too. Every plan comes with standard SeverSecure protection, an integrated firewall, real-time monitoring for DDoS attacks, and more. You also get a dedicated IP address, full root access whenever you need it.
At its core, Liquid Web is about providing a fully managed server environment. However, thanks to the cloud infrastructure, there's plenty of flexibility. Not only that, but Liquid Web gives you many choices to customize your package as you see fit. Choose between Linux or Windows VPS hosting, Plesk or cPanel, and more. Liquid Web even has ala carte add-ons and curated feature packages.
Conclusion:
If you want a virtual private server hosting that's managed yet flexible, Liquid Web might be the hosting solution you're looking for. The provider has rave reviews and clearly cares about customer experience. Round-the-clock support and a 100-percent uptime guarantee are standard.