Hostinger Review – 2021
Cheap & Cheerful Hosting
Written by Jamie Spencer – Updated 22nd August 2021
A perfect web host for those on a budget. But is it worth the money?
We test out Hostinger to find out if their hosting is actually any good.
Best Budget
Web Host
Hostinger
Hostinger is perfect for small businesses and people wanting to start their first blogs or websites, but who don't have a lot of money to spend on hosting. One of the cheapest starting prices for web hosting at just
$0.80 per month.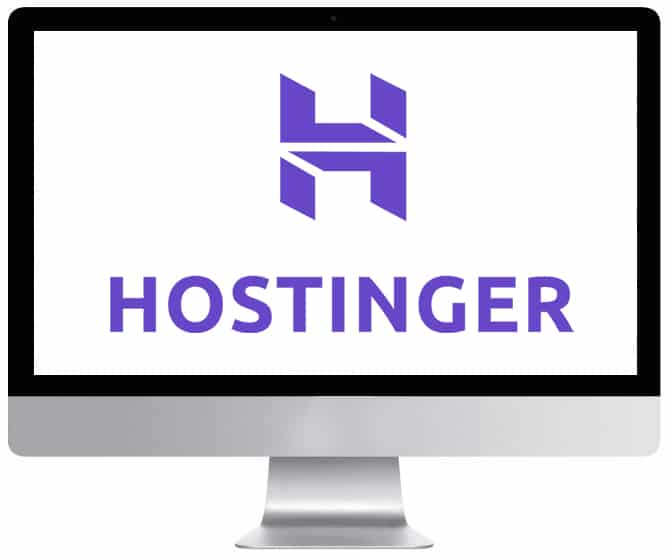 Hostinger is recognized globally as one of the most popular hosting providers around. Many prefer it since it has the most affordable hosting prices of all its competitors. It was founded in 2004. It has been in operation for over a decade and has grown rapidly over the years. Hostinger has over 29 million clients in 178 countries. Every single day, over 15,000 people register to for hosting with Hostinger.
Hostinger is a web hosting company that has undergone some adjustments and improvements to make it the best. In 2007, they became 000webhost.com. This meant that they became a free hosting service with no advertising. In 2011, the hostinger web-hosting brand was invented. By 2012, the company had now grown globally with a new incorporation in Cyprus. By May of 2014, Hostinger had already gotten over ten million users. By January of 2017, over 29 million people had not only heard of Hostinger, but also registered as users.
The company's headquarters are located at Europos, Kaunas, Lithuania. It is now evident that Hostinger has really grown over a short period. Most people love this company because of the many unlimited and free features. They also provide many services including WordPress hosting, domain name registration, web hosting, cloud hosting and many others.
Features and Advantages of Hostinger.
Customer support
It is no longer a secret that hostinger really values communication with their clients. The customer service team works 24/7 to make sure that the entire client's needs are catered for. They help you as soon as you communicate your concern to them. The customer service team is very polite, friendly and only concerned about the client's welfare. The customer service gives you very useful information that helps you learn more about web hosting. The customer care team makes sure to help their customers in a very detailed way to impress them and make them happy with great services of the company. Free to contact customer care anytime and get all the answers to your queries.
Speed/performance/quality of products in Hostinger
Hostinger offers you excellent value for your money by providing the best services available in the market. It has a wide range of unlimited features and great deals to make them very affordable to users. Many users, because of its fast speed, appreciate this web host company. You will enjoy and love how fast their servers are, especially if you purchase either a premium or business package that Hostinger provides. Hostinger is known all over the world for providing high quality products at very affordable prices.
This company makes sure that they maximize the success rate of their customer by showing them how to perform better in the web hosting industry. They do this by proving guides, general information and even tutorials. All that this company wants is to see their clients prosper. They are dedicated in very special way such that they even have a very knowledgeable customer service staff that is available 24/7 for their clients.
1. Hostinger has fast servers.
Many customers are always frustrated when a website loads for a long time. Many even leave the website and will never visit it again. They will term it as very slow if it takes more than ten seconds to load. Luckily, this can never be the case in Hostinger. Hostinger has servers in Europe, the Unites states of America and Asia. Their servers use a 1000 mbps connection. Having such fast connection, this will definitely affect your speed. With this kind of server connection, a webpage takes a second to load. I believe very strongly that Hostinger is preferred by many because it is very fast compared with other web host companies.
2. It is very easy to use.
Comparing it with other web host companies, Hostinger is the easiest to use. Allow me to explain to you why. The control panel has large icons that make it very simple for one to find exactly what they want when they need it. This really helps beginners to know how to get and make a website up and running. Hostinger actually offers you an interface where you can find everything that you need in one location. This makes it very easy and convenient to use.
3. Has a good customer service.
The support staff of Hostinger is very knowledgeable, friendly and polite. Their main goal is to help the customers and make sure that all their queries are solved. Although, you may hold for a long time when waiting for them to answer the call, you are assured of great services when they answer the phone.
4. Has excellent email tools.
You can agree with me that email tools are very important. When a customer registers as a member of Hostinger using the top 2 tier plans, they automatically get access to unlimited email accounts without being charged even a single cent. You can also manage and access the accounts from anywhere. You will get email tools like auto responders, email forwarding and spam assassin protection. We both know that you cannot get such an offer when using any other web hosting company. We can agree that these features are some of the best features in any web hosting service.
5. Hostinger has very affordable deals.
Hostinger has the cheapest hosting deals. Imagine that registration of one domain name is free and for the others you have to pay for are at a very cheap cost. I can assure you that Hostinger has the cheapest deals compared to all the other web-hosting companies. They allow you to pay very little money to get many features.
6. Hostinger has a knowledge base.
Hostinger share their knowledge with you since they want you to excel. They give you general information, tutorials, video walkthroughs and guides. These will help you understand more about web hosting. This will also be of great help to the beginners who want to work and excel in the web hosting industry. It will also help you learn a lot and if you have any questions please feel free to contact the customer service staff. The customer service staff will be sure to answer all your questions to your satisfaction.
7. Hostinger have free website builders and a free domain name.
This web hosting service helps you to build your website. Hostinger offers you the opportunity to create an attractive website that is original and unique. They avoid the cookie-cutter themes, which make every site look similar. With Hostinger, you are free to design a website that suits your needs and make it a website of your dreams. When you have completed designing your site and you now feel ready to put your site in the internet, you will pick a free domain name. You will be allowed to do this if you are using either the premium or business package.
8. When using Hostinger, you get to enjoy good security and privacy.
You agree with me that you need many security measures to protect your site. Everyone just wants an assurance that his/her site is secure. Hostinger understands that and gives you nothing but the best. Every plan that you choose to enroll in comes with spam assassin. Spam assassin is an email spam that automatically scans and removes email spam. There is nothing that Hostinger takes more seriously than security.
The reason am saying this is that every plan you choose comes with some security measures. This security measures include cloudflare protection, daily to weekly data backups, bitninja smart security protection and the Ssl certificate.
9. Many customer support options.
The customers need to know that the website is committed to help them in web hosting. There is no other way that the customer can know that you are dedicated other than having a committed customer service. Hostinger has a very efficient way of communicating to the clients. Not only does hostinger offer live chat support, but it also offer support tickets. Live chat can only be in operation if you are logged into your Hostinger account.
10. Has a strong uptime record.
Just like every other web-hosting platform, Hostinger keeps their site online for most of the time. Every web host has occasionally had downtime because of maintenance or some updates. Hostinger makes sure that they do not have downtime that brings down their uptime levels to less than 99.9% of the time. It makes sure that the downtime does not stay more than five hours over the course of the month.
Cons of Hostinger
1. Has slow customer support.
Having said that, they have a very outstanding and knowledgeable customer support staff, I have to add that at times it is difficult to access them. The live chat is very useful and they create support tickets so that you can follow their protocol. Having said this, you may stay for a very long time considering the fact that your account is already logged in without receiving help from the customer care team. Sometimes when you finally get hold of the customer support staff, they may refer you to another staff for further details. One can really get tired of waiting upon them and just hang up.
The other issue is that one cannot contact the customer care until they go through the sign in process and log into your account. This simply means that you cannot contact the customer care service if you have not signed into your account. Even when you finally log into your account, the response will still be delayed.
2. Removal of the cpanel.
Every web hosting service has been having a cpanel for over a decade. Now, Hostinger has removed it. New website owners are not affected like those who spent many hours and year working on their web hosting service. They feel so frustrated because of this change .the company has implemented a simple set up of their customized control panel. Many advanced users are very disappointed with this change and would prefer the cpanel to Hostinger's control panel.
3. Pricing.
Many plans in hostinger only costs some few dollars per month. The issue of price comes in because you have to pay annually. Though they advertise monthly prices, one has to pay annually. Once you add the security charges and tax, you realize that it is not as cheap as you thought. You now find the budget turns to $200 per year that is not quite affordable. Though most web host play this money tricks on us, it is very annoying to see that hostinger is part of them.
You also have to commit 48 months to Hostinger. Otherwise, if you decide to change your mind about Hostinger after thirty days of services, it is almost impossible to get your money back. However, they have no problem if you want to upgrade to a tier higher. The only most annoying thing according to me is how they use low prices to attract people and then shock them with the total bill.[/vc_column_text][/vc_column_inner][/vc_row_inner][vc_column_text]
Hostinger Pricing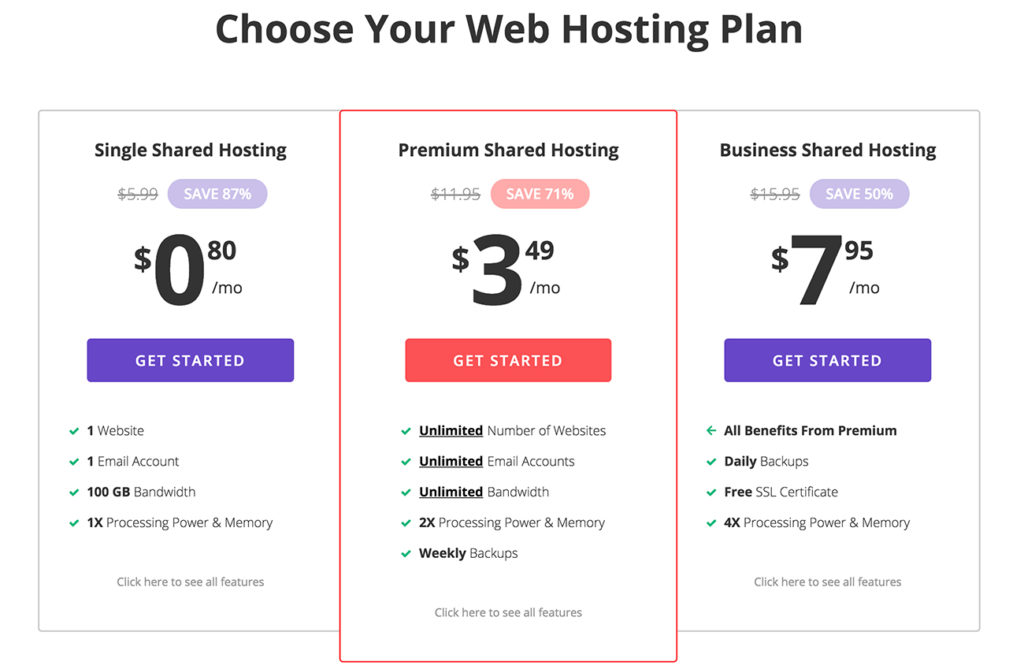 Compared to other web host companies, hostinger has very cheap and affordable web hosting service cost. One can enrol in Hostinger to three packages. These are single, premium and business packages.
Single Shared Package from Hostinger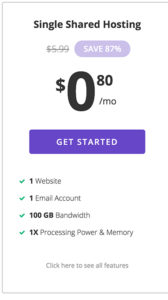 In single package, you pay $0.8 per month. This plan has a very limited number of features. The user can only have one website and have a disk space that is limited to 10 GB. Users have a website builder and a bandwidth of 100Gb. In this package, you're privileged with weekly data backups. The money back guarantee is valid for only 30 days. You will only allowed to have one email. It's not most attractive plan in terms of the bells and whistles, but can still work for those who cannot afford the premium or business package.
Premium Package from Hostinger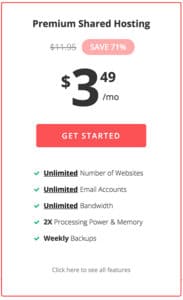 In the premium package, a customer pays $3.90 per month. This package allows you to have unlimited websites, emails, bandwidth, disk space and databases. A website builder is provided. Data backups are done weekly. The speed is optimized thrice and one has very good security. The money back guarantee is valid for only 30 days. As if not all this is enough, Hostinger gives a free domain name to those who subscribe to this plan. This is a standard plan that is affordable to many. WordPress users are advised to take advantage of this plan because it is optimized for wordpress users. This is because it is said to increase the performance by three times over the standard wordpress hosting. This plan is also recommended for users who want to host some medium sized websites. Most of the Hostinger customers have subscribed to the premium package.
Business Package from Hostinger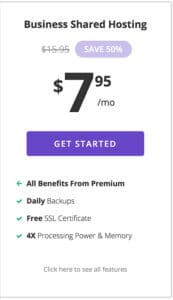 In the business package, one pays $7.95 per month. One is allowed to have unlimited websites, disk space, bandwidth, emails and databases. The speed is five times optimized.one is provided with a website builder. Data backups are done on a daily service. The money back guarantee is valid for only 30 days just like all the other packages. There are few people who have subscribed to this in Hostinger package.
There some few hosting features that I think any prospective client should know. These include SSD hosting, website builder, security and WordPress optimization. These features are what makes Hostinger very special because this company goes beyond to provide these features. I can bet that no other web hosting company can provide these features in a better way than Hostinger. These features is what makes Hostinger unique and very competitive in the web hosting industry. The fact that this features are provided in such affordable prices is one of the reasons you should be hooked up with Hostinger services right away.
These are the packages offered in Hostinger. Feel free to enroll to the package that fits your needs and at the same time favors your budget. You should also bear in mind the ongoing permanent sale in Hostinger for your first 48 months payment. To be quite honest, this are the most affordable deals that you can even get in any web hosting company. You cannot get any cheaper prices than these offered by Hostinger even with their permanent sale that is ongoing. What you have to do is just contact them and am sure you will find an offer that you will love.
If you are looking for the best and affordable web-hosting provider, Hostinger is exactly what you are looking for. I have cared to tell you all about this company so that you can make this decision proudly. I can assure you that this is one of those decisions that you will not regret making. It does not have very many features but compared to how much you are paying for, then it is worth it. Hostinger is actually the best deal that you will find with such sweet offers and at the same time irrestible features. Have you also been looking forward to host word press sites? Please call the company today. Hostinger web Host Company is the best company for word press sites. I can advise you to choose either premium or business package and enjoy great and unlimited features. I hope that you found this review very helpful and you will have a clearer picture in mind of whether to choose Hostinger or choose a different web-hosting provider.
More Hosting Reviews
If you want to read more of our reviews about similar hosts to Hostinger, then check out the following: