Best ECommerce Platform
Shopify
Editor's Rating:
9.0 /10
Shopify is one of today's most popular ecommerce solutions. As you'll see in this Shopify review, individuals and small businesses with little to no experience creating websites and selling online can create an online store and begin taking payments in minutes rather than days. For many, this makes it an ideal out-of-the-box solution. Unlike Magento, WooCommerce, Volusion, and other ecommerce website builders, Shopify requires minimal work and absolutely zero web development skills. There's no need to worry about coding, hosting, or even purchasing a domain name through a third-party.
Sure, there are other simplified solutions that can boast the same, such as Weebly and Wix, but Shopify is loaded with dynamic tools and designed with scalability in mind. From small starter stores to large online shops bringing in millions each year, everyone seems to be using Shopify these days.
Nonetheless, not everything that glitters is gold. If you're looking to start an ecommerce business, keep reading my review to learn more about Shopify, get the scoop on its pros and cons, and discover whether or not it's the right ecommerce platform for you.
EASE OF USE 95/100
Slick and simple editor. Very easy to use particularly for beginners.
THEMES 97/100
Extensive range of well designed themes and templates
FEATURES 90/100
Great features for a simple sight, limited for anything advanced
SUPPORT 88/100
A wide range of contact options for support
Last updated: 24th April 2023
What is Shopify?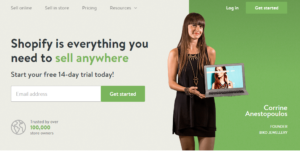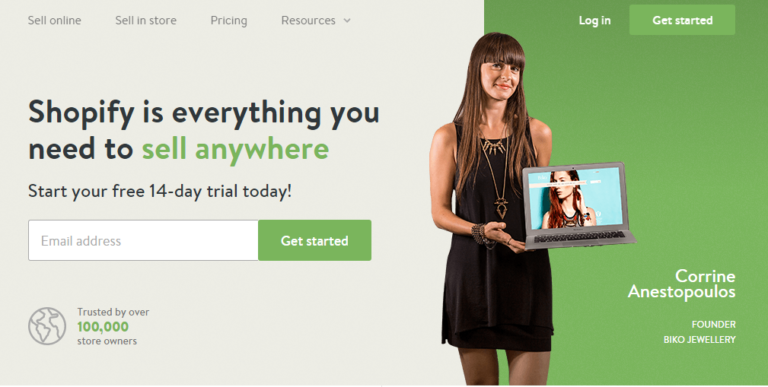 Shopify is an SaaS, software as a service, website builder that allows you to design and launch your very own online store for a monthly fee. Developed for users without advanced design and technical skills, it features point-and-click functionality and an endless range of templates to get any ecommerce site up and running in no time at all.
Since Shopify is a hosted ecommerce solution as well, there's no need to worry about hosting or anything else. It provides you with everything you need to create and manage your Shopify store right 'out of the box.' As you'll see in this Shopify review, all you need is access to the internet and a web browser.
The Shopify Story
Based in Canada, Shopify was launched in 2006 by Scott Lake, Daniel Weiland, and Canada's CEO of the year, Tobias Lütke. Since the company's launch, its ecommerce site builder platform has grown leaps and bounds, transforming from a small player into one of today's leading ecommerce solutions.
In fact, according to Shopify, it's currently powering nearly a million online stores, and some of its most notable users include Tesla Motors, General Electric, Encyclopedia Britanica, Amnesty International, and the Foo Fighters, just to name a few. Needless to say, if you're searching for an easy-to-use, feature-packed ecommerce solution to sell physical or digital products, Shopify is definitely worth a try.
While it has some cons, which we'll get into below, it's an ideal platform for selling online. For some businesses, a physical store may still be the way to go. However, more and more people are shopping online each and every day. Shopify allows you to jump on this trend and focus on creating new products while your online store does all of the selling for you. From payment gateways to shipping rates and inventory management, it does it all.
If you are ready to get started then visit my tutorial  how to build an eCommerce store with Shopify
Shopify Pros and Cons
Before we get into the nuts and bolts of Shopify and examine everything it has to offer, here's a snapshot of its pros and cons.
Pros:
• Extremely popular
• One of the least expensive ways to begin selling online
• Zero transaction fees with Shopify Payments
• Clean and easy-to-use interface
• Excellent for dropshipping
• Abandoned cart saver
• Ability to sell from Facebook and/or an existing site
• Wide range of appealing themes and templates
• POS, AMP, and VAT MOSS functionality
• Huge selection of apps
• Built-in blog included
• On-the-go management via mobile device
• Ability to purchase profitable pre-built stores
Cons:
• Only three product options
• Some functions require app investment
• Professional reporting requires a higher plan level
• Shopify Payments is only available in certain countries
• Unavoidable fees for third-party payment gateways
• No MailChimp integration
• Image aspect ratios may need adjusting
• Only sends one abandoned cart follow-up email
• Difficult to export blog posts
• Lack of technical support
We'll dive into the features of Shopify and what you can do with the platform shortly, but let's first have a look at its pricing and the various plans it offers.
Shopify Pricing and Plans
Since Shopify is a business, just like yours or the one you're creating, they don't offer any free plans. However, knowing the features and value their platform offers, they do provide first-time users with a free 14-day trial to test the waters and experience all it can do. Read our Shopify Pricing Guide for more detailed pricing information.
If you decide Shopify is right for you at the end of your free 14-day trial, which is highly likely, there are five core pricing plans to choose from, including:
• Shopify Starter
At only $5 per month, Shopify Lite is one of the most least expensive ways to sell products online. While the lite plan doesn't allow you to actually create an online shop, it's an excellent option for anyone who already has a WordPress site up and running but wants to include ecommerce functionality. By giving you access to the Shopify buy button, you can sell products on any existing site.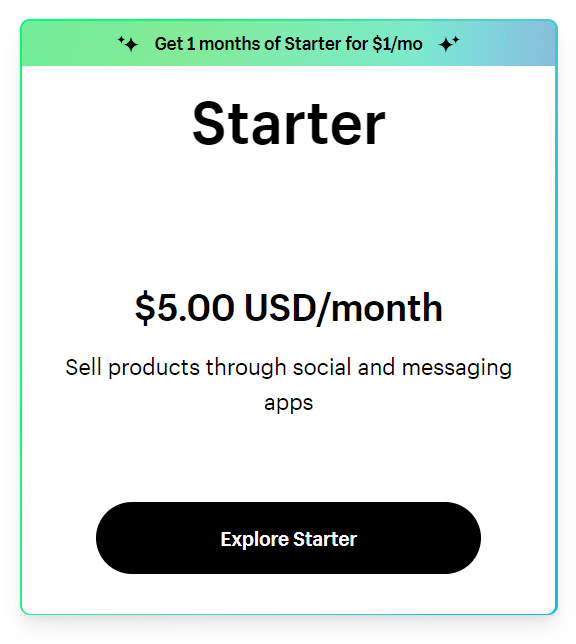 Shopify Lite can also be used for monetizing Facebook pages. With it, you can showcase products and sell them, take credit card Shopify payments, track orders, and provide chat support.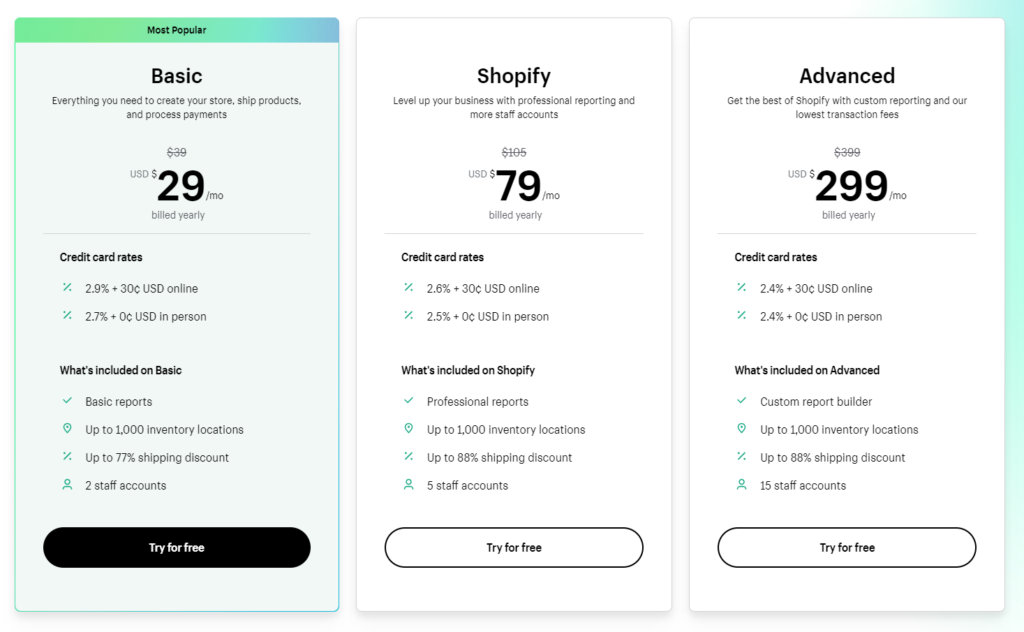 • Basic Shopify
At $29 per month, Shopify's basic package provides an out-of-the-box ecommerce solution that is far from basic in terms of features and ability. With this basic plan, you get access to Shopify's store builder, allowing you to create your own ecommerce website.
Furthermore, you can also create not one but two staff accounts, so two people can log in and work on the site at any given time. That's right; someone can handle orders while someone else works on the design or updates products. This makes it an ideal solution for any small business.
With Basic Shopify, you also benefit from unlimited bandwidth and storage, so you can upload an unlimited number of products to your store. This makes it great for scaling up.
You can also create discount codes and place orders manually, which is particularly useful for customers who prefer to order over the phone rather than online. That being said, the plan comes with SSL certificates and built-in fraud and payment analysis tools for peace of mind for both online shoppers and shop owners.
Basic Shopify also grants you access to Shopify Payments, which doesn't charge any transaction fees. This is a big plus as these fees can add up over time and affect your bottom line. However, if you choose to use PayPal or another third-party payment gateway, you'll be responsible for additional payment fees.
Lastly, you get access to Shopify support. Although Shopify is pretty straightforward and easy to use, questions are sure to pop up and there are times when a helping hand may be needed. So, access to store support is a big plus.
If you have a physical store as well, Shopify also offers an add-on retail package for $89 per month. It can help you manage your Shopify POS (point of sale) system, tills, barcode scanners, and even your staff.
• Shopify
As its name suggests, this is Shopify's standard plan. Ideal for businesses looking to scale and grow, it costs $79 per month. However, as is the case with the basic version, those who opt for an annual or bi-annual subscription can save up to 20 percent.
With this standard Shopify plan, you can enjoy all of the same benefits of Shopify's basic plan as well as some important additional features. One of these added features is the ability to create five staff accounts, not two. This is perfect for a growing online business with more than a few employees.
Another neat feature is being able to offer and accept gift cards. However, perhaps the biggest advantage of this plan is its abandoned cart recovery feature. This allows you to bring back some customers who add items to their cart but leave before completing the payment process. If you've sold anything online before, then you know how common of a problem this is for an ecommerce store.
Whenever a customer abandons their shopping cart, Shopify will send an email prompting him or her to click on a link within the email to return to their cart and complete the ordering process. Some people need a little time to think before making a purchase, and this feature allows them to do exactly that.
Another nice feature of this plan is its professional reporting, which is great for tracking inventory, product popularity, geographical hot spots, revenue, sales projections, and much more. To top it all off, you can also benefit from lower credit card transaction fees. If you sell more than a dozen products each month, this alone will make up for the added cost of the plan.
• Advanced Shopify
This Shopify plan is the company's flagship out-of-the-box ecommerce solution. It costs $299 per month, which is significantly more than Shopify's other ready-to-run plans, but you get to harness the full might of Shopify's abilities and enjoy some really neat advanced features.
For instance, Advanced Shopify store owners can create up to 15 staff accounts rather than five or two. This allows you to have an entire team operating your online store in different capacities.
With this supercharged plan, you'll also benefit from even lower transaction fees and credit card rates. Speaking of rates, one of this plan's key features is the inclusion of calculated shipping rates. Thanks to this feature, you can use several different shipping companies to ship your products and show the different real-time rates of each.
Another nice feature of this plan is the Advanced Report Builder, which is great for generating a variety of low and high-level reports for various aspects of your ecommerce business. The other plans are perfectly fine for most, but this plan was made for businesses in need of a powerful and scalable solution.
• Shopify Plus
Designed for enterprise-level businesses, Shopify Plus isn't a solution for ordinary store owners who sell products on a smaller scale. Rather than the off-the-shelf plans above, it's specifically tailored to the needs of each client.
Needless to say, the pricing isn't published, and neither is the scope of what it offers as each varies from client to client depending on their individual needs. This advanced solution is designed for large Shopify stores with high volume and global businesses who need more functionality, development, and support than an out-of-the-box solution can provide.
Overall, Shopify's plans and pricing are quite consistent with those of Bigcommerce, Squarespace, and other key competitors. In fact, the largest difference lies with Shopify's 'Starter' plan, which allows you to use Shopify's key features on another site for a small monthly fee but lacks the functionality to build a fully hosted store.
Accepting Payments with Shopify
There are two payment options available for customers of a Shopify online store. The most straightforward and least costly option for store owners is the platform's built-in payment solution, Shopify Payments.
However, Shopify Payments is only available in the following countries/regions:
• United States
• Canada
• United Kingdom
• Germany
• Spain
• Ireland
• Australia
• New Zealand
• Singapore
• Japan
• Hong Kong
If you're not based in one of these countries, you will need to use a separate third-party payment provider, which will have its own fees to take into consideration.
If using Shopify Payments, however, there's no need to worry about transaction fees at all, which can save you considerable money. Nonetheless, you must still take credit card fees into consideration. Also known as a credit card rate, these fees can range from 2.4 to 2.9 percent in the US or 1.5 to 2.2 percent in the UK.
That being said, the exact rate may differ depending on the type of Shopify plan you're on. The more expensive the plan, the lower the fees will be.
As an alternative to Shopify Payments, a third-party payment gateway can also be used. With Shopify, there are more than 100 of these payment gateways to choose from, which is far more than the choices available with Bigcommerce and similar Shopify competitors.
Using third-party payment processors or gateways, however, takes a little configuration. A merchant account must be set up, and depending on the provider you choose, you'll need to pay a monthly fee, transaction fees, or both. Plus, Shopify will charge a transaction fee as well, the amount of which once again depends on the type of plan you select.
Whether or not it is cheaper to use a third-party payment processor or Shopify Payments will depend on the Shopify Plan and/or the payment processor you're using.
With payment handling and processing out of the way, let's move on to Shopify's themes and the visual appeal of Shopify stores.
Shopify Themes – An Endless Selection to Choose From
Shopify provides its users with 12 free themes to use for their ecommerce site, and there are multiple variants of each theme, resulting in several different actual design templates. In addition to being attractive, the templates are also responsive, so they display quite nicely regardless of the device being used.
If these free templates don't exactly work for you, there are 120 premium, fully responsive Shopify themes available in the theme store to choose from as well. However, since they are 'premium,' each once costs an additional $140-$360.
If you have an idea of what you're looking for, there are several filters you can use to narrow down your options. In fact, you can view theme templates by layout style, home page type, industry, and more, so finding the right theme for your online store isn't very difficult at all.
As far as aesthetics go, each of Shopify's store builder templates are visually appealing and have a slick, professional appearance. Some themes even allow for video backgrounds, parallax scrolling, and other modern design features. All in all, there are no complaints in this department as Shopify's themes are some of the best in the ecommerce marketplace.
If you have something different in mind, you can always use Shopify to design your own theme as well. Not only does Shopify grant access to the theme code, but they also provide a bevy of support materials to help users develop their own theme templates.
Visit this page if you are looking for more Shopify theme ideas.
It's worth pointing out, however, that some of the premium templates are not supported officially by Shopify. If you opt for one of these rather than a free template, you may need the help of a third-party developer for help with installation or customization.
Now, let's have a look at Shopify's core features.
Shopify – Main Features
As we already touched on, Shopify's features vary depending on the plan you select.
Basic Shopify:
• Sell both digital and physical goods
• Choose from dozens of free and paid themes
• Organize products into categories
• Process credit card transactions using Shopify Payments or third-party payment gateways
• Integrate with PayPal for more payment options
• Choose your preferred shipping method and automatically calculate shipping rates
• Avoid shopping cart abandonment
• Optimize for first-page search engine rankings
• Include a blog for improved brand awareness and rankings
• Manage content with CMS functionality
• Edit the HTML and CSS of your online store
• Import and export customer data
• Offer discount codes
• Create multiple staff accounts
• Access a POS app
• Print shipping labels and more!
Shopify:
If you choose the slightly more expensive standard Shopify plan, you get all of the above plus the ability to:
• Access professional reports
• Utilize full POS functionality
• Offer and redeem gift cards
Advanced Shopify:
If you opt for the Advanced Shopify plan, you get all of the above plus:
• Real-time shipping data
• Advanced reporting
Shopify Plus:
This enterprise-level Shopify plan provides all of the above plus:
• A dedicated Merchant Success Manager for top-tier support
• A dedicated IP address
• API support
• Advanced security features
• Guaranteed uptime
Whew, that's a lot of features. Let's take a closer look at this popular ecommerce platform and dive into its most important features in order to gain a better understanding of what it can do.
The Shopify Interface
Unlike some website builder platforms, which all strive to provide a user-friendly interface but somehow miss the mark, Shopify is streamlined and straightforward to use. It has a modern, clean interface that allows you to create and manage a Shopify-powered online store.
Beyond that, it also lets you:
• Embed a buy button to sell directly from any blog or website
• Manage your Shopify products and Amazon listings from a single location
• Use your Shopify store to list products on eBay
• Embed a tab or button on your Facebook page for showcasing and selling your products on Facebook
• Directly sell to customers and provide support in Messenger
• Sell products on Buzzfeed, Houzz, Instagram, and other social media channels
All in all, the Shopify interface is straightforward and makes selling via each of these channels remarkably easy. However, there are few interface-related problems worth mentioning.
For instance, the Shopify interface doesn't automatically crop uploaded images with different aspect ratios. This means your product catalogue may contain images in different shapes, which will negatively impact the design of your site.
That being said, you can easily resolve this with any photo editing program, but you must adjust the aspect ratios prior to uploading the images. This can be a time-consuming hassle, especially if your site contains hundreds of products.
Another potential drawback relates to Shopify's Facebook integration. While using Shopify to populate the shop section of a Facebook page is rather simple and easy, there is only a buy button and not an 'add to cart' option. So, you can only sell one item at a time via your Facebook page.
Although this is fine for some online sellers, merchants who average multiple items per sale will find this single item setup downright frustrating. To be fair, however, these limitations are due to Facebook, not Shopify. However, you should be aware of them and may be better off encouraging followers to click a link or button that directs them to their actual Shopify store.
Aside from these minor gripes, Shopify offers a clean, user-friendly interface with a minimal learning curve, making it an excellent option for most busy or technically challenged users.
Importing Data into Shopify
It's not the sexiest topic, but no Shopify review would be complete without discussing the importing of data, which can make or break your experience with an online shop builder.
Fortunately, Shopify makes this process simple and easy by allowing you to import important product data directly from a CSV file. This is extremely helpful and will save considerable time if you're migrating data from a different platform or bulk uploading several products to your Shopify store.
Shopify Plus customers can also utilize new features like the command-line tool and Transporter app to import products as well.
As far as text-based data goes, you can also import content from WordPress, Tumblr, and other blogging platforms. To do so, you can simply copy and paste the content, use a third-party app, or if you know what you're doing, use the Shopify API.
Creating Product Variations with Shopify
Shopify allows for up to 100 product variations. However, these variations can only be applied to three different product options.
For instance, if you're creating an ecommerce website to sell hats, you can have up to 100 variations of a single hat based on size, style, and color.
While the number of product variations is quite generous, this can be an issue for certain products requiring more product options. Shopify's strict limit of three product options may require a creative workaround, like combining multiple product options into a single choice. Although you may be able to do so and be relatively happy with the results, it may result in a longer build time and affect the overall user experience.
Fortunately, you can find third-party apps in the app store to solve this dilemma. In fact, there are several apps available that can lift this limit, but they come at a cost. If you don't want to pay for one of these apps, you can also integrate 'line item property' coding into your Shopify site. However, this will cost you time. Plus, you must know how to edit code and feel comfortable doing so.
Ultimately, if you're selling products that don't require boatloads of options and variations, Shopify will definitely work for you. That said, more out-of-the-box flexibility with product options would be nice.
Shopify's Approach to Product Categories
While there is some room for improvement when it comes to Shopify's handling of product pages and options, its handling of product categories is top-notch and much better than many of its ecommerce website building competitors.
Not only can you can add products into a 'collection' manually, but you can also save a heap of time by using Shopify's 'automated collections' function. With this, you simply establish rules pertaining to product tags or titles and the platform automatically places imported products into the right category or collection.
This automated categorizing function can literally save you hours or even days of tedious work, especially if you have hundreds of products in your store.
However, in order to utilize this automated functionality, you must exercise extreme consistency when naming or tagging each product as it only works when product titles and/or tags are consistently named across the board.
Nonetheless, when done right, it's a great feature capable of saving you a ton of time and effort.
Shopify POS
Another extremely unique and advanced feature of Shopify is its point-of-sale, or POS, functionality. With Shopify's tills, receipt printers, barcode readers, and other POS hardware, you can sell both online and in a physical store or location. All you need is the right hardware and an Android or iOS device.
With several applications available for these Shopify POS tools, you can sell the same products in your online store offline at an event, pop-up shop, market, or even in a brick and mortar retail location. Not only will your stock count and inventory automatically sync across all sales channels, but you can benefit from accurate reporting as well.
Best of all, you don't need to go with one of the more expensive plans to take advantage of Shopify's POS functionality. In fact, you can use a card reader and sell in person with any plan, including Basic Shopify and Shopify Lite. In order to register shifts and create staff pins, however, you will need at least the standard 'Shopify' plan.
Nonetheless, Shopify's POS functionality is a huge selling point, and it can be a game-changer for any small business looking to exploit every sales channel possible.
Shopify's Abandoned Cart Recovery
If you already have an online business, then you know how aggravating abandoned shopping carts can be and how much they can eat into your bottom line. In fact, according to most stats, abandoned carts can cost businesses up to 15 percent in monthly revenue. Shopify's abandoned cart recovery functionality solves this problem.
It's designed to help boost conversion rates by selling your products to visitors who added items into their cart but didn't follow through with the checkout for a variety of reasons.
Not long ago, this feature was only available with more expensive plans, but Shopify recently added it to all plans. Now, you can benefit from abandoned cart functionality at a much lower price. Rather than paying $50-$80 per month for cart recovery, which is what Shopify's competitors and the previous version of Shopify cost, you can now save big time for as little as $5 per month.
Sounds great, but how does it work? That's a good question.
Shopify's abandoned cart recovery tool compiles a list of visitors who abandoned their carts, allowing you to send follow-up emails to entice them back to finish their transaction. This is the manual option.
Since automation is the key to success for most businesses, Shopify can also automatically send an email with a link to their cart page to each visitor who abandons their cart. This is a huge time saver and email marketing in its truest form.
While automated, Shopify allows you to specify how long after cart abandonment to send the email. However, they recommend sending cart recovery emails 10 hours after abandonment as this time interval has proven to produce the most abandoned cart conversions.
Despite costing less and being relatively effective, it's worth pointing out that Shopify's cart recovery functionality isn't quite as comprehensive as other ecommerce platform options. For example, Bigcommerce allows you to program up to three automatic emails rather than just one. While both allow you to insert discount codes to encourage visitors to complete their transactions, the process is also more straightforward with Bigcommerce.
Given the price difference, however, and everything else Shopify offers, most store owners find Shopify's abandoned cart recovery functionality more than suitable.
Shopify and SEO
Search engine rankings play a crucial role in traffic generation for just about any website, so you can't talk about Shopify or any other ecommerce site builder without discussing SEO. While Shopify's SEO features are far from amazing, they're quite good for the most part and compare favorably to Squarespace and other hosted website creation solutions.
How so? Well, Shopify makes managing on-page SEO surprisingly easy. Adding or changing title tags, meta descriptions, headings, and alt text is both simple and straightforward. Adding 301 redirects with Shopify is just as easy. In fact, the platform automatically prompts you to add redirects and even creates them for you whenever page URLs are changed.
That being said, Shopify's SEO functionality could be improved in a few areas. For example, while being able to customize URLs is nice, Shopify adds prefixes to products and pages. Ideally, the platform wouldn't add these as Google prefers pages with simpler URL structures.
Changing the names of image files could also be easier. For instance, in order to change the name of a file for SEO purposes, you must re-upload the file after renaming it locally.
Overall, however, Shopify offers robust SEO features that leave little to complain about.
Shopify's App Store Add-Ons
Shopify's core features are quite impressive and nothing to scoff at, but it also has a dedicated app store filled with free and paid apps to maximize the functionality of your online store.
Not content with simply creating an app or two, Shopify offers more apps than any other platform. Most of the apps are designed to add a specific function, but some serve no purpose other than allowing the platform to communicate with other tools, like Zendesk.
Nonetheless, the sheer number and variety of apps in the Shopify app store is one of the platform's biggest selling points. However, they can also be a potential drawback.
Despite providing you with a gigantic range of add-on options to improve site functionality and integration with other tools, many of the Shopify apps must be purchased. Other platforms provide the same level of functionality right out of the box, so you spend less on apps.
Some of Shopify's most popular types of apps include:
• Advanced reporting and accounting apps
• Data capture apps
• Abandoned cart saver apps
Needless to say, if you need a little more functionality than Shopify's off-the-shelf features can provide, the platform's app store is worth a look.
Before moving on, however, we need to address the monkey in the room, or lack there of. MailChimp is one of today's most popular email marketing platforms, but Shopify lacks an app to officially integrate it into its ecommerce platform. In fact, due to some issues regarding privacy and data protection, the much-anticipated integration of the two platforms has been put to a halt.
While you can still use both Shopify and MailChimp, the only way to do so is to perform some time-consuming manual workarounds.
Shopify and Dropshipping
Dropshipping is huge these days, especially with smaller startup stores. With dropshipping, there's no need to purchase, store, and ship products – a dropshipper does it all for you. In essence, you're the middle man. You simply send the customer's order to the dropship supplier, and they're responsible for delivering the product(s) right to their door.
Keeping pace with the popularity of this business model, Shopify offers a wide variety of dropshipping apps, making the entire process easy as 1-2-3. In fact, when it comes to dropshipping, it's arguably the best ecommerce platform around.
Shopify's VAT MOSS Function
A huge plus of using Shopify that rarely gets mentioned in Shopify reviews is its VAT MOSS, or VAT Mini One Stop Shop, functionality, which is extremely important if you frequently sell digital products to customers in the EU.
VAT MOSS is an EU requirement in which digital products must have the value added tax, or VAT, added to every digital product for each individual EU country. For instance, A VAT rate must be applied to every digital product sold in the UK, and another one must be added for France, and then Italy, and so on.
Unlike many of Shopify's competitors, Shopify automatically calculates the appropriate VAT rate. This means there's no need to do this manually, which can be a real hassle. For many, this alone is a powerful unique selling proposition for Shopify over its competitors.
Digital Products and Shopify
Speaking of digital products, while most people use Shopify to sell physical goods, it can be used to sell digital products as well. In order to do so, however, you need to visit Shopify's app store and install the 'Digital Downloads App.'
While this is an extra step, the app is free and extremely easy to use. It can also be configured to work automatically. After ordering with a credit card through Shopify Payments or a payment gateway, the download link is automatically emailed to the customer to fulfill their order.
That said, there is a limit on how large the product files can be. With Shopify, only products 5GB and under can be sold. Once again, there are ways to work around this through the use of third-party apps, but with this comes added costs.
Reports, Reports, Reports
Reports certainly aren't fun, but there a necessity when running an ecommerce store. The good news is Shopify offers a comprehensive selection of reporting options.
With Shopify, you can create several different:
• Marketing reports
• Customer reports
• Abandoned cart reports
• Sales reports
• Tax reports
• Search data reports and more!
In other words, if you like data, Shopify is for you. However, all of these reports are only available with their more expensive Shopify, Advanced Shopify, and Shopify Plus plans. If you're on a less expensive Shopify Lite or Basic Shopify plan, you'll only have access to a much more basic dashboard offering little more than a handful of stats.
If you crave even more data and want custom reporting functionality, a comprehensive report builder is also available. However, you must be on the Advanced Shopify or Shopify Plus plan in order to use it and enjoy its benefits.
Blogging with Shopify
Blogging is a popular and proven way to boost traffic to an online store. Recognizing this, the Shopify platform includes a helpful built-in blogging tool. With it, you can create the right content to improve your search rankings and get your site organically noticed for free.
Unfortunately, when it comes to blogging, Shopify pales in comparison to the sophistication and functionality of WordPress. For example, unlike WordPress, Shopify's blogging tool doesn't include Yoast-like SEO plugins or allow for content versioning. It also only allows you to use tags to categorize posts. Unlike other blogging platforms that allow for the use of both tags and categories, there are no blog categories available.
Exporting blog posts with Shopify could be easier as well. In fact, Shopify advises its users to copy and paste blog content manually to a new location. Once again, however, you can work around this, but doing so requires the use of Shopify's API. This may be difficult for sellers with fewer technical skills.
All that said, Shopify's built-in blogging capabilities are a nice surprise as many ecommerce site builders don't allow for blogging at all. Although its blogging tool can be improved, it will meet or exceed the needs of most online sellers.
Shopify and Mobile Devices
Like to keep track and manage things on the go? If so, you'll be happy to know Shopify offers not one but two primary apps, for doing exactly that.
With the 'Shopify' app, you can view reports, add and edit products, communicate with staff, and view and fulfill orders via an iPhone, iPad, and any Android mobile device – not too shabby.
Meanwhile, as its name suggests, the 'Shopify Pont of Sale' app allows you to physically take credit card payments for offline selling, send text receipts to customers, and track inventory with each offline sale.
In addition to these sale and management-related apps, Shopify has recently released a new 'Ping' app, which allows you to chat with customers, answer questions, and share product details via Facebook Messenger. However, this app is currently only available or iOS devices.
That said, according to Shopify, the 'Ping' app should soon be available for Android devices as well, and they also plan on offering support for additional chat services in the near future.
Other apps for mobile functionality currently include an 'Entrepreneur Articles' app, a business card design app, and a logo maker app.
Most Shopify users won't find much need for anything other than the 'Shopify' app, but more options and mobile functionality is always a plus.
Using Shopify for AMP
Accelerated mobile pages, known as AMP to those in the know, is a Google project designed to speed up content delivery on mobile devices by streamlining the code of web pages.
Like mobile use, AMP is becoming more and more popular with each passing day. When implemented well, it can speed up page load times and reduce the bounce rate on mobile sites that historically load too slowly.
AMP can also have benefits in terms of SEO, because Google's algorithm often shows more love to AMP posts by showing them above the other search result.
Up-to-date on the latest Google trends, Shopify makes using AMP possible for both blog content and product pages. Other online store builders are a little behind on this and don't allow their users to use AMP this way.
As mentioned, since AMP increases the load times of mobile pages, it can potentially allow for longer dwell times, lower bounce rates, and increased customer engagement with your products.
On the downside, AMP functionality is only available via a paid app. However, given Google's increased emphasis on promoting AMP content, it's worth the additional costs.
Shopify's Customer Support
Shopify customers benefit from comprehensive support. In fact, the company outshines the competition by offering 24/7 support via email, phone, and live chat. Nonetheless, there is still room for improvement.
For example, if you have a technical issue and need help with code or something similar in in nature, you may not receive the help you need from Shopify's standard support service. Some customers have even found better help by posting technical queries in an ecommerce forum. In this regard, there is room for improvement.
Since Shopify only provides support phone numbers for North America, Australia, New Zealand, and the UK, it's also unclear whether Shopify offers global phone support.
Plus, in order to gain access to support phone numbers, you must first search for answers to your questions in Shopify's help pages. This can be frustrating, especially if you have an urgent issue. However, it is becoming common practice for web application support desks, and Shopify's support structure is better than many.
The Shopify Exchange Marketplace
If you have money to spend and not much time to develop an online store, you can utilize Shopify's Exchange Marketplace to buy an already built Shopify store.
This marketplace contains dozens of listings for already made Shopify stores available for sale. Not only can this take all of the leg work out of becoming an online seller, but some of the stores are active and profitable. So, if you don't want to waste your time and money on designing an unsuccessful store or jumping into an unprofitable niche, the Exchange Marketplace is definitely a viable option worth considering.
Shopify also vets each and every store listed on its marketplace, and it uses the escrow method for even more risk reduction. Similar to purchasing a home, the payment is held by an independent third party until both the buyer and the seller are content and ready to close the deal. This means you purchase a store from the marketplace with complete confidence.
Just remember, it's always wise to seek legal and/or financial advice before venturing into such proceedings.
Summing It Up – Is Shopify safe and legit?
Overall, Shopify is hard to beat. It's one of today's best hosted eCommerce solutions and an ideal option for anyone interested in creating a great looking online store with superior functionality. It's also a good choice for anyone interested in dropshipping or selling both on and offline.
Shopify is also competitively priced, especially when you consider all that it offers, it's huge range of attractive themes, and how well it integrates with both Shopify and third-party apps.
Given all of this and everything it can do, it's not surprising that Shopify is the most popular online store builder on the market. With nearly one million users, you can rest assured it's a quality product supported by a quality company.
However, nothing is perfect, and Shopify is no exception. In addition to charging transaction fees for third-party payment gateways, which aren't charged by some of its competitors, it only offers three product options, such as size, color, and style.
To enjoy full functionality with Shopify, you may also need to purchase and install third-party apps. Many apps are free, but others are not and may cut int your bottom line.
That being said, don't take our word for it. The only way to determine if Shopify is the right eCommerce solution for you is to try it out.
Shopify offers a free 14-day trial, so there's no excuse not to take it on a test drive and see firsthand all that it can do.