What is Weebly?

Weebly is one of the most popular website builders amongst people looking to start their own website, reportedly with 40 million users back in 2014. It is a very robust website builder, easy to use and aimed at business, professional or personal websites. Let's get to know some short facts about Weebly:
Founded in 2007
Based in San Francisco, USA
Uses USA servers
Has 100 employees
Founded by David Rusenko (CEO), Chris Fanini (CTO) and Dan Veltri (COO)
Has five plans, charged monthly: Free ($0), Starter ($4), Pro ($8), Business ($25) and Performance ($38). These prices are based on taking out an annual subscription. The price varies for taking out a shorter or longer subscription term and we take a look at this further down the post. The free version features a small advertising link in the footer, but the subscription of any premium plan is sufficient to remove the link.

Available in

Portuguese

, English, French, Spanish, Italian, German, Dutch,

Chinese, Japanese

, Polish,

Turkish

and Russian.

In addition, has a specific tool that helps users creating a multilingual site.
Weebly is a platform that I personally have been using for over 4 years now and I just love it. Traditionally my skills in design, so as a designer this platform is perfect, as I can execute my concepts into beautiful reality fairly quickly. The great thing about Weebly is their understanding of peoples' needs when it comes to creating websites and the thoughtfulness behind the product.
They understand that not everyone can code, or wants to code. This is what is special about this platform. You need no coding experience and can get your website live in a matter of hours. Ease of use coupled with power makes Weebly the best website builder on the market.
The Editor
Weebly is very stable, robust and its tools are extremely reliable. Their interface is fully packed with essential features to create a professional website. In the Editor, the user designs the site by dragging elements within a preset area (which means that the dragging is not entirely free) and dropping them within that area so that they automatically snap into the right place. Those elements can be text, images, galleries, slideshows, maps, forms, embedding codes and several other useful applications. The builder also allows you to edit the HTML and CSS source codes of your website and pages.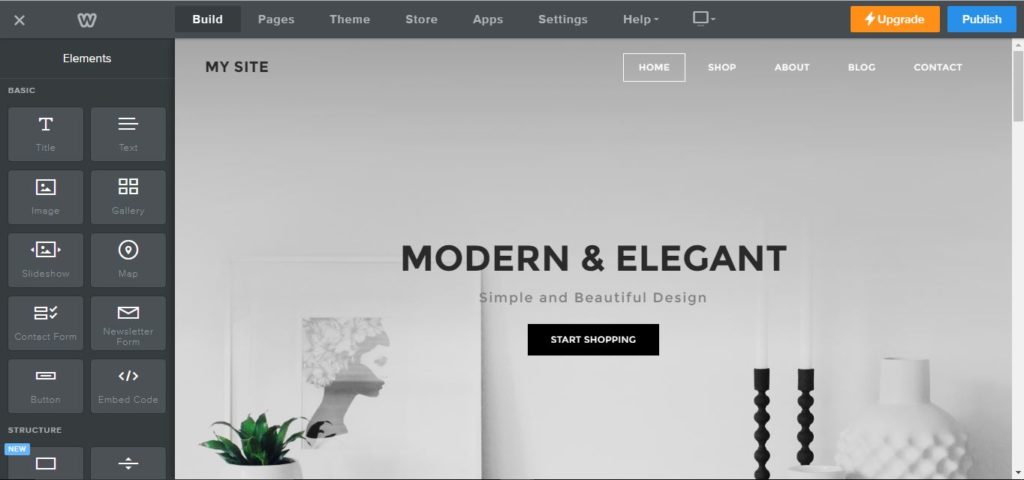 The Editor is, relatively speaking, the weak point of Weebly. For those seeking "creative freedom", Weebly may not be the best choice because, as stated above, the editor itself delimits spaces and organizes where in the elements may or may not line up.
Weebly Templates
There is a wide range of modern and well-designed templates to choose from. For those who have expertise in design and programming, Weebly allows for the editing of source code, making it easy to customize the template via CSS. Another positive thing is that a template can be changed any time, even if the site is ready and published. When choosing a template, a mobile version of it is automatically generated. The mobile version of the site can also be edited at any time. Here are some of my favourite Weebly Examples.
SEO, Adsense and Publicity
Title, keywords and meta descriptions are allowed and fully customizable, both in the general configuration of the site, as in each page individually. Weebly also allows the inclusion of codes in the site header and pages, which is a major benefit since as it makes possible for the user to add scripts or other external tools to Weebly, like as online chats, payment buttons, and so on. This allows also to monetize sites with publicity or Google Adsense blocks. A while ago, Weebly retained 50% of the generated Adsense revenue, but now the site owner gets all its revenue (100%).
This website builder does not have its own email marketing tool, but can be used along other marketing tools like Mailchimp, E-Goi, Aweber, and others.
Weebly App Center
This is what sets Weebly apart from other website builders. Their app center is just stunning!
This is the place that lets you install "apps" that add a cool new feature or functionality to your website, without the need to hard code it into your site. For example, Team Cards allows you to easily create a team page of your company and to showcase individuals in your organization. Or Schedulista allows visitors to your site to book appointments, which is handy if you own a service business such as beauty salons or dentists.
In all there are about 250 different apps (give or take) in the app store, that can all add value to a site for very specific functions. A blogger may wish to add apps to allow Facebook likes, social sharing, a scheduler or image cards. Whereas an online store may benefit from adding apps to allow simple comparison tables, coupons and discounts, live chat or PayPal buttons. All of this and much more is possible through the app store. Most of the apps have a free version as well as premium for added functionality.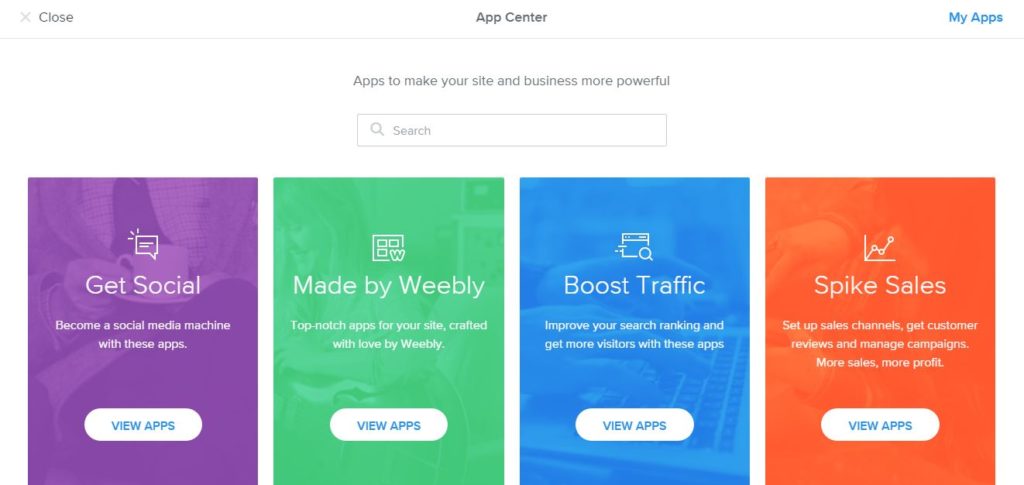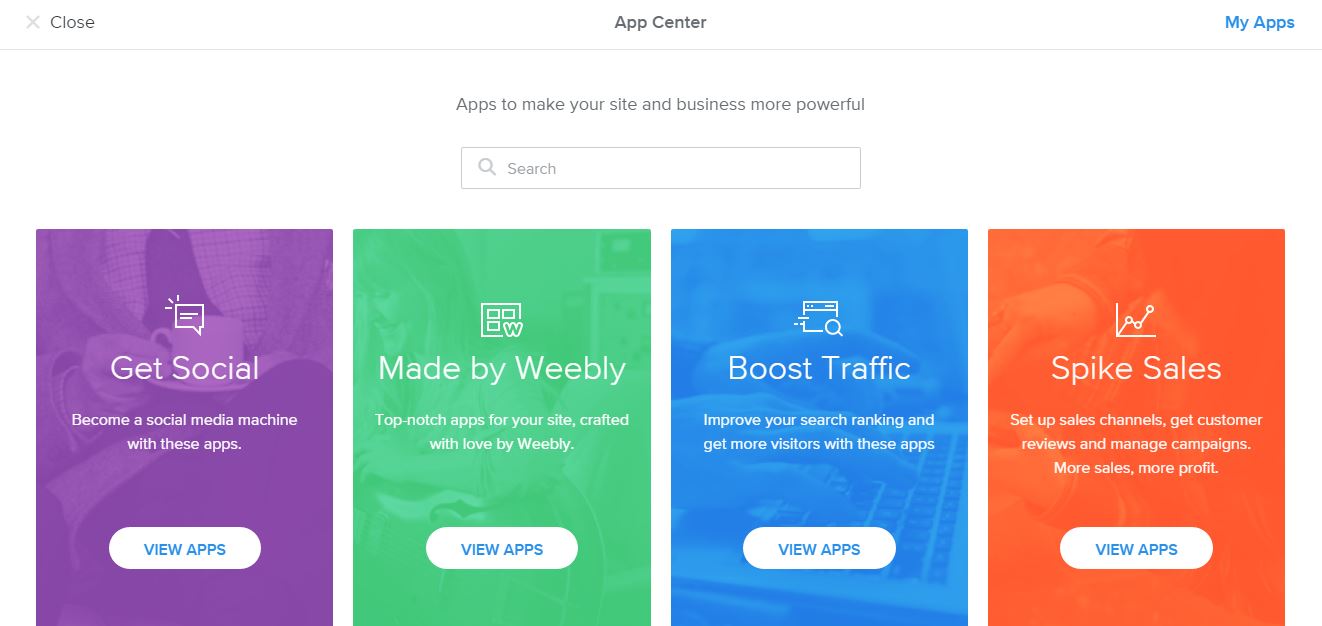 Widgets and Navigation
Weebly offers the possibility to directly add widgets to a site, like galleries, videos and music players, polls, forums, files, documents, flash and others. In terms of navigation, it provides unlimited levels of submenus, meaning that a menu can have several submenus.
The favicon of a site can be changed, but only for users subscribing a premium plan. Weebly has its own tool for statistics, but allows for the integration of Google Analytics.
Weebly features a very easy way of creating contact forms, forums (needs integration with Talki) and support for site and pages password protection, even though this latter feature is only available in paid plans.
Membership Creation
With Weebly's Pro Plan or any plan above Pro, you get the ability to create memberships to your site. You may wish to have some private pages with offers to exclusive members, or restrict access to an area of your site for a particular group. Perhaps you have content writers and you want them to have access to areas under construction but not available to the public without giving them access to the full backend of the site. This feature is handy for managing these scenarios.
Weebly For eCommerce
Weebly over the past few years have drastically improved their Ecommerce capabilities by creating an exceptional online shop management solution, as well as designing some pretty amazing Ecommerce themes. You can now track your cash and manage your store with ease. With a single click you can track the health of your business and manage orders.
Weebly provides a range of eCommerce packages from the basic to the complete. All are easy to configure and features SSL encryption. Payment methods are somewhat limited, though: Authorize.net, Stripe and Paypal, as well as major credit cards.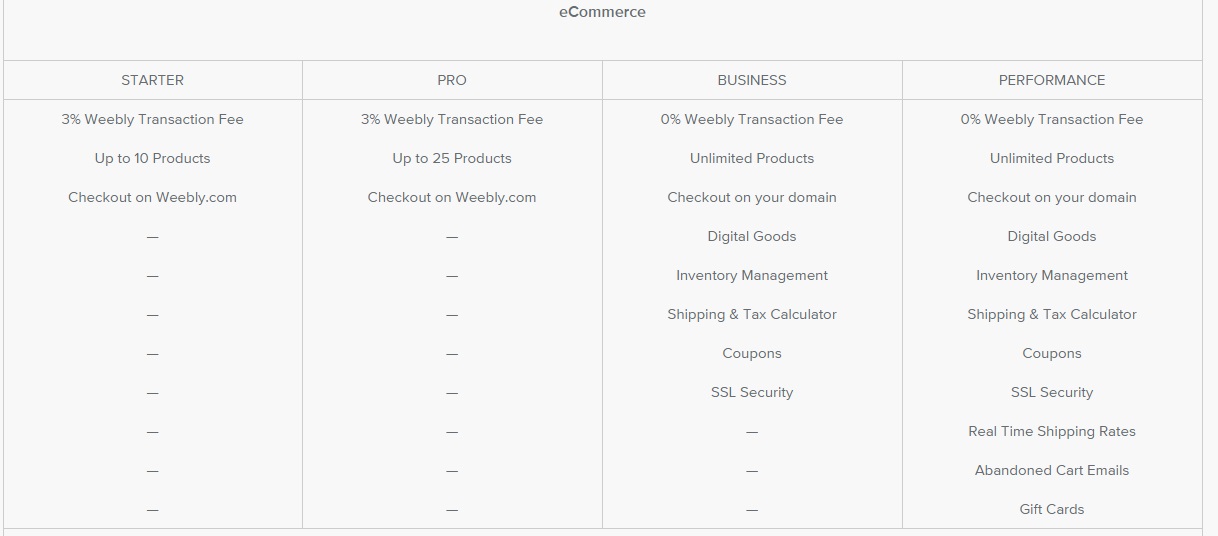 Weebly For Blogging
Excellent blogging platform. Drag and drop functionality and elements help you to create your own blog posts. You can use text, galleries, maps, videos, quotes and lots, lots more. Create categories, schedule posts to be published later and add featured images.
It also features a flexible and practical blog creator, with almost all the common features of a Content Managing System (CMS) – for example, comments from a moderator. The structure follows the same pattern of the major blogging platforms, like WordPress and Blogger.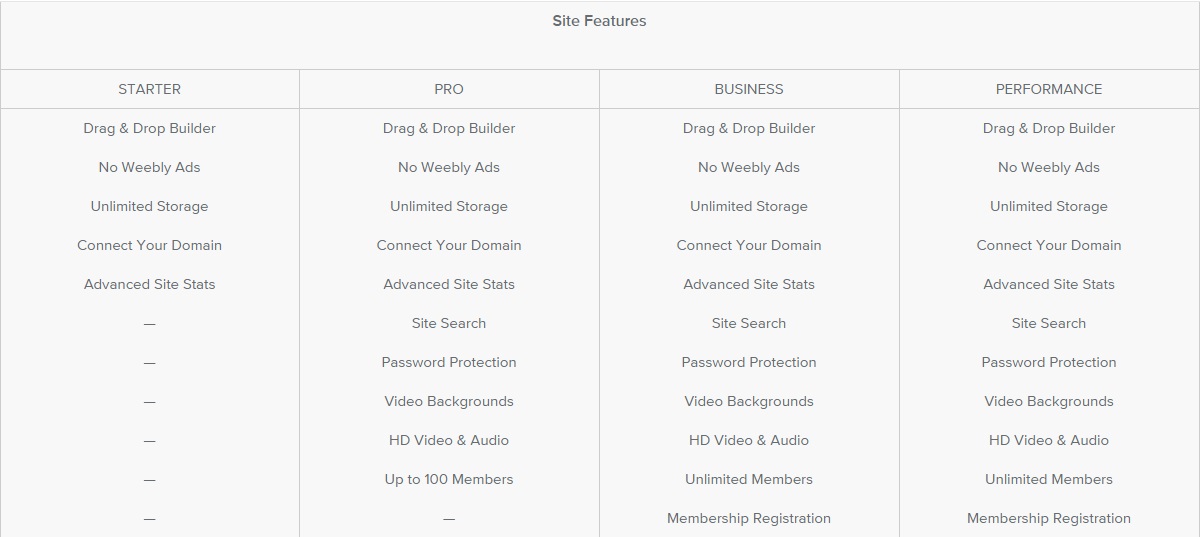 Hosting
This is a place where Weebly is really innovative: it has a very rare feature in site builders, which is allowing users to download their sites to be hosted on any server, if so they desire. There is also no storage or bandwidth limits in the premium plans, which is also a truly impressive feature. However, each individual file can be up to 10MB in the free plan, and up to 250mb in paid ones.
Customer Support
Weebly support is good, they do answer all e-mails and if you have a top end package you get phone support too. Agents know the suite well and can help with a variety of issues that might pop up from time to time effectively. There is also lots of useful documentation on the site that can help answer a lot of your queries personally. One thing to be aware of though, is that support for premium account subscribers takes precedence over free accounts. So they may take longer to get back to you on a free account as paying account holders get priority for support. It's only fair really, you want preference if you are paying for the service.
Weebly Plans

Weebly Free Plan
The free plan is as basic as it comes, which you would expect when it costs you nothing. The free plan is good for personal projects but not really suitable for a business. It is in all respects a 'vanilla' plan but that being said, it is a good place to test out some of Weebly's functionality and get familiar with the platform. Storage is limited to 500MB, your URL is limited to a weebly.com subdomain (weebly will be in your url) and your site will display Weebly ads. None of these things matter for a personal project, small club or informal site, but you wouldn't want this on a business site.
Weebly Starter Plan
The Starter Plan is Weebly's entry level premium plan. While still basic, there are some distinct benefits of this plan over the free account. For a start, you can connect your own domain so you are not limited to a weebly.com subdomain. The Weebly business ads are also removed in the Starter Plan as well as all other premium plans. Storage space is unlimited which is pretty awesome for an entry level plan, and there are some basic eCommerce functions. The starter plan is not really suitable for a business store, but more where eCommerce is not the core function of a site. I say this, because the store is hosted on Weebly rather than your own domain, Weebly take a 3% fee on sales and you are restricted to 10 products. So this package is best for blog sites or personal projects where a small amount of eCommerce is required.
In terms of price, the Starter Plan is offered at the following rates over the following terms. For a month to month subscription you can get the Starter Plan for $14 per month for a monthly contract, for annual the rate is $8 per month and for a biennial subscription the rate is $5 per month. For longer subscription periods you have more to pay upfront, but less over the long term.
Weebly Pro Plan
Weebly's Pro Plan is the intermediate offering, with many more features than the Standard Plan, but still only really suitable for small sites or businesses with a small eCommerce offering. The Pro Plan does offer you a good portion of the tools to enable you to build a much better website, including unlimited storage, phone support, password protection and video backgrounds. However, the eCommerce elements of the Pro Plan are still rather limited. The checkout is hosted via Weebly, you can have up to 25 products and Weebly do take a 3% transaction fee. This package is really for those that have a small business or project that want to build a more professional site but with a small eCommerce element.
Pricing for the Pro Plan starts at $18 per month for a monthly contract, $12 per month for an annual subscription and $9 per month for a biennial subscription.
Weebly Business Plan
The Weebly Business Plan is toward the top end of the premium packages on offer. With the Business Plan, you get all the features of Pro but with the addition of a more comprehensive suite of features for eCommerce. This is where you want to be at a minimum for any small business or site where eCommerce is at the heart of what you are doing. The extra eCommerce features you get include inventory management, SSL Security, you can set up coupons and codes, shipping and tax rules, you can sell digital goods and the checkout is also hosted on your own domain rather than Weebly. On top of that you can display unlimited products and Weebly take no transaction fees. Like I said, this is where you want to be as a minimum if you want to have a professional store at the heart of your site.
As for pricing, a monthly subscription will cost you $35 per month, for an annual subscription the rate is $25 per month or for a biennial package the price is $21 per month. Some real savings to be made if you can commit to a biennial subscription.
Weebly Performance Plan
The Performance Plan is Weebly's swan song. It is there ultimate package for eCommerce and marketing. You get everything from the Business Plan with some extra features. These extra eCommerce features include Real-Time Shipping Rates, the ability to incorporate Gift Cards and Abandoned Cart e-mails. The abandoned cart e-mails can be particularly valuable at recovering potential revenue where a customer fails to complete payment from the checkout on first visit. You can also carry out e-mail marketing campaigns, up to 5 per month, to incentivise and promote the store to a targeted audience.
In terms of Pricing, the Performance Plan will set you back $46 per month for a monthly subscription, for an annual subscription the rate is $38 per month or for a biennial package the price is $35 per month.
Weebly vs Others
If we compare Weebly with other builders Weebly with other builders, we have a technical draw, since Weebly has features that others lack, and vice versa. But Weebly really stands out for having better performance with editing the header codes and the possibility of migrating an entire site for any other hosting service. Still, unlimited storage on all the premium packages is something that does stand out as another perk with Weebly that you might find hard to find with others. That itself is something to consider depending on how large you would like your site to grow.
Conclusion
Weebly is, without a doubt, a good website builders, with a set of excellent tools that help users to create complete and professional websites. It features a modern editor and supports multiple languages, which is a very strong positive aspect of this builder.
However, users with limited technical skills or without any knowledge in web design and programming, Weebly may prove somewhat hard to work with. First, because it has a somewhat big learning curve (which is the time and effort to be held for a person to learn how to move in the editor). Nothing extremely hard, though, but it can really be an inconvenience for people with little to no coding knowledge or used to other builders.

Another positive aspect is the consumer support which, despite the fact that most users should not have any big problems when creating a website with Weebly, gives professional assistance very easily, that can be contacted via email or chat. Another way to get in touch is to post your question on the Facebook fanpage or via Twitter.
All and all, Weebly is great for creating simple websites with pleasant design and basic functions, portfolios and powerful online stores, making this a great choice for people looking for website builders & overall it comes out in 6th in my best web builders list. See how it fairs against other site builders in this comparison.
Do I Recommend Weebly?
In one word….Yes. But I would say try Wix first, as it's a fair better web builder with a lot more features and usability benefits.
Head over to my best weebly alternatives post to find out more.[/vc_column_text][/vc_column][/vc_row]