Best Overall Web Builder
WIX
Editor's Rating: 9.1 /10
If you want a beautiful website that has loads of functionality, but you don't want to pay a web developer thousands of dollars to build it, then Wix is the ideal choice. Wix is heaving with interactive features that are simple to integrate. An intuitive web building platform that empowers the least tech savvy. In this Wix review we cover everything you need to know about Wix to make an informed decision on the web builder that's right for you.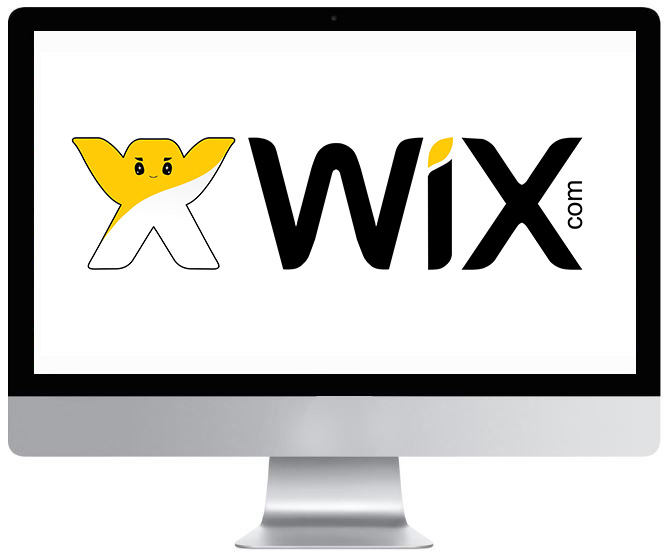 ---
What is Wix?
Wix is one of the most popular site builders on the web. It was founded back in 2006 and entered its beta phase a year later. Nowadays, it provides its services to over 37 million websites worldwide. It's legacy will be empowering non-tech people to be able to build their own website, and to greatly reduce the cost of a website. Because the platform allows the normal person on the street to create a website or a blog with no prior knowledge of web design or development, it has reduced the need of employing a web designer / developer.
Initially, when it entered the site builder market, Wix was a platform based on Flash. With all the well-known problems related to Flash, in March 2012 the Wix team changed their base technology to HTML5. This change was very successful, as it greatly reduced the amount of problems and glitches happening on the platform, resulting in annual profits around $60 million.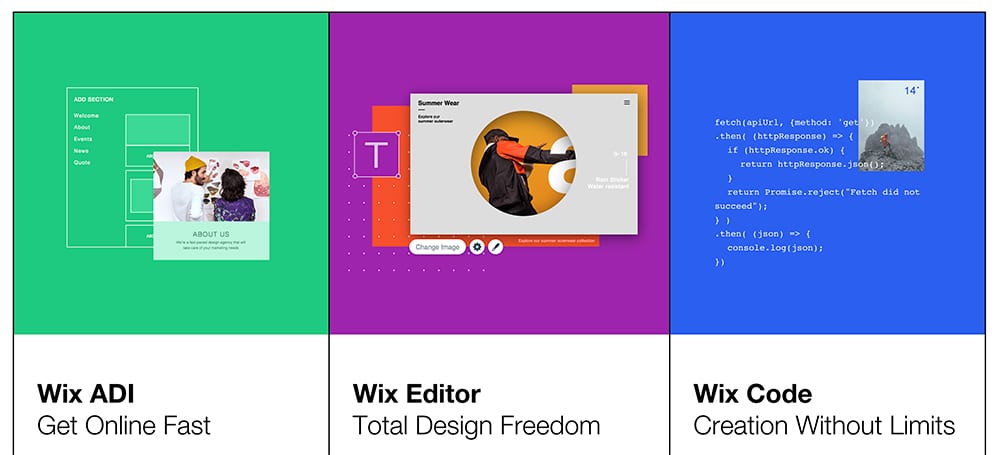 This platform always had regular updates being announced from time to time, something that continues in recent days. Back in 2013, there was the introduction of a series of powerful management applications and the improvement of its support for e-commerce sites. In March of the same year, Wix incorporated Appixia, an Israeli start-up related to the development of mobile commerce (m-commerce) applications.
Wix are proud of their product and very confident with it. So much so, that they invested in a grand marketing campaign at the 2017 Super Bowl, featuring Jason Statham and Gal Gadot. Two major stars promoting a product at the grandest stage of them all is one hell of a campaign and just a slight indication of why the popularity of Wix now sees them hosting over 110 million websites by some accounts. Remarkable.
WIX is Ridiculously Easy To Use
Wix is probably one of the most user-friendly and intuitive website builders out there on the market today. It uses What You See Is What You Get (WYSIWYG) editors and drag & drop in the best possible way. This means that users can select, resize and position any virtual object within the platform, with great ease. A key difference here is that, while in many other website builders, users can only drop elements in certain predetermined areas or blocks, with Wix users are free to place elements anywhere they desire. Wix is also one of the few site builders that give you the ability to animate text and other elements.
Because of its user-friendly platform, Wix is certainly a favourite among businesses in the creative niches such as photography, design agencies, freelance designers and musicians as they provide very niche specific tools and functionality that people can simply drag and drop into their websites. A stunning web building platform for people with very little knowledge of web development or design and makes it an ideal web building solution for businesses such as:
Law firms
Builders
Restaurants
Mommy Start-ups
Hobby Businesses
Small Businesses
Artists
Wix ADI – Artificial Design Intelligence
As a long standing player in the web building niche, Wix tries to innovate and push the boundaries when it comes to developing new features for their platforms. The latest is a feature called ADI ( Artificial Design Intelligence ). This tool makes building your own website even easier than if you were just using the standard Wix web building tool. Wix ADI quite literally builds the website for you for you.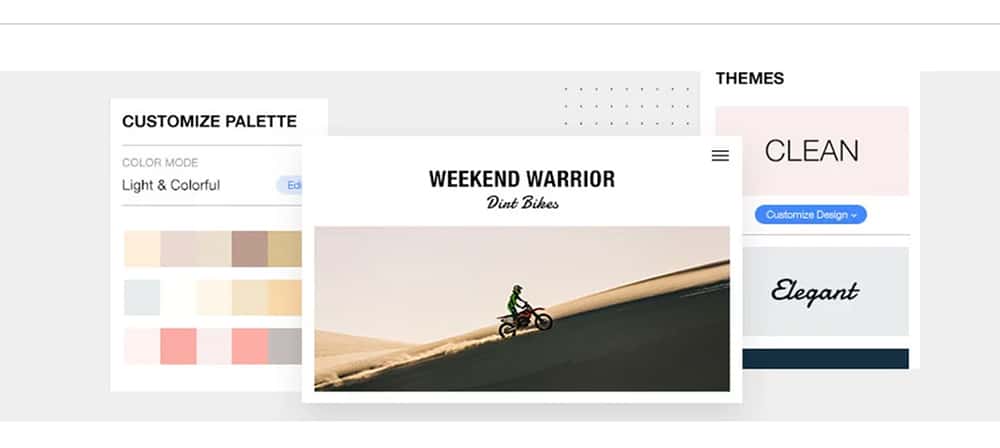 It's really simple to use. All you have to do is enter in any existing website or social profiles (Facebook, Twitter, MySpace, Linkedin etc), and Wix ADI will crawl and extract all the information about your business from these content sources. The information will then be used to create a first version website for you to perhaps get started with or if its awesome first time, all you have to do is press publish! I've tested this out myself and to be completely honest with you, it's about 70% the real deal. You will have to make some refinements and update the information, but other than a few font style changes, new images and color scheme amends, you are good to go!
I've added a video below to show you exactly how it works.
Properties and flexibility
This website builder has a lot to offer – even its entirely free plan has a long list of included properties, like SEO, blog and webstore building, connection to social networks, and others. To get additional features, users can resort Wix's own App Store, that has free and paid available apps available, or make an upgrade to premium plans. The App Store has hundreds of third-party apps that you can use to add various additional functions such as live-chat or newsletter widgets.
Thanks to all those apps and extensions, that can bring tools like live support, newsletters, contests, reservations or testimonials, Wix can be suitable for different types of site, from simple personal portfolios to larger and more complex e-stores. It is, however, important to note that Wix has its own e-commerce platform, which offers a good set of customizable properties (payment options, coupons, management fees, and others). Whatever services you want to add to your site to add value for the customer, there is likely an app for it if it's not already part of the core package.
Wix is also among the first site builders to offer features for mobile optimization, enabling site owners to optimize their pages to be responsive and properly viewed on smartphones and tablets only with just a few clicks. A positive aspect of this features is that there is no need to have two separate sites, nor two separate links for each site: there is only one site, and its correct version will be displayed according to the device it is being accessed on. So, the very own definition of responsive web design.
In terms of SEO, Wix provides some interactive tutorials to get users going on this subject, in order to improve a Wix website's Google ranking. Like most website builders, Wix SEO tools let users control things like page descriptions, titles, and keywords. In addition, there is a free Wix SEO app that can be added to a site, offering an easy-to-follow, step-by-step guide to improve the visibility of a site.
Designs
Design is really one of Wix's strong suits, as it offers some of the best templates available on website builders. They are always innovative, modern and exceptional, and they can all be obtained for free.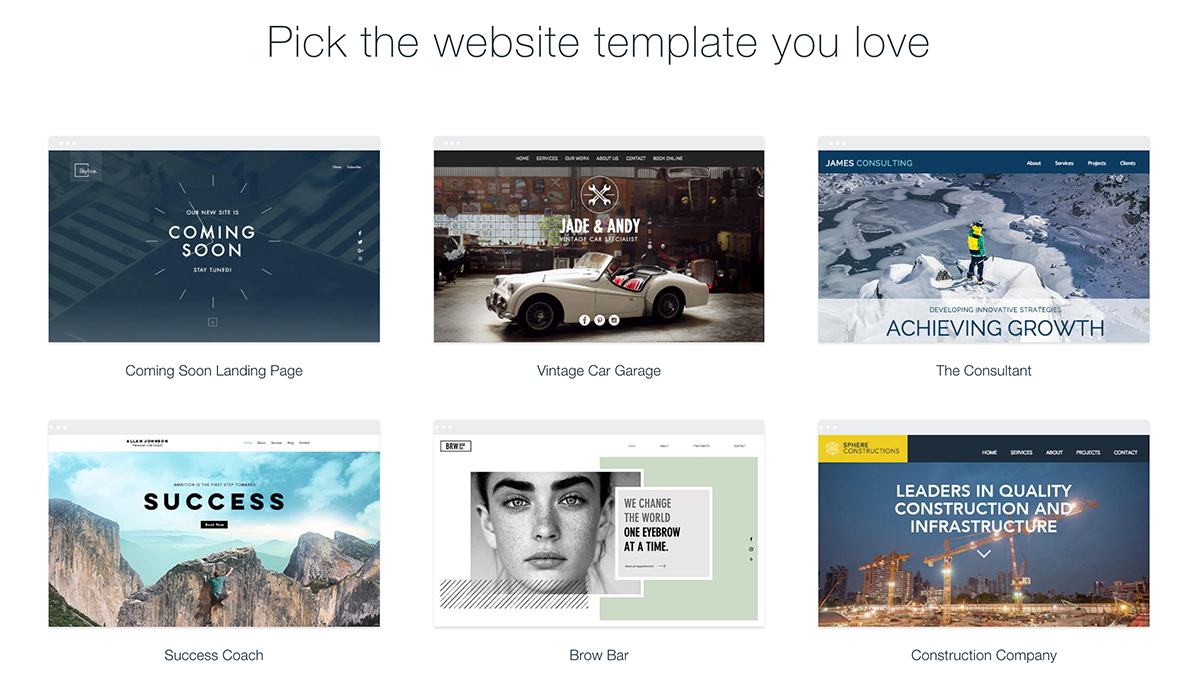 The templates are grouped by categories, like Services and Business, Music, Entertainment, Photography, Online Store, Personal, and many more. However, there is a slight downside about these templates – they cannot be changed deeply changed. Things like some colors, backgrounds and other design elements can be changed, but not the template's main structure.
Wix App Market
Wix has plenty of built-in tools, which are excellent. But as with most web builders, they just can't do everything. So if there's something that Wix built in tools can't do, there's probably a Wix app that can.
The Wix App market is similar to WordPress Plugins, or the 'extensions' you can add to Chrome, in the way that they are built by 3rd party developers to help Wix users add functionality to their websites that isn't on offer within the Wix web building platform.
It is jam packed with advanced tools that will enhance your site, make it even more powerful and give you options to add functionality to improve your website's overall performance. Overall it allows your website to do more. Most of these apps are free to use and they can be added with just a few clicks.
Wix For Blogs
There are a few layouts that Wix offer for creating blogs, as well as a ton of templates. To complement these templates, Wix has some incredibly helpful tools and elements. The post editor is incredibly user friendly and universal – making the process of getting your posts from conception to publication very easy. You can easily integrate your written posts for taking Facebook comments and sharing on social media feeds, the usual tagging and categorizing posts. On top of that you can schedule them for publication to a frame that suits.
Wix For eCommerce
Wix is really good for setting up an e-commerce environment. You can customize every page in your store, including the layout of your product pages. There are multiple options for setting the language or currency in your shopping cart area and tailoring the back end of your site is really easy. WIx provide everything you need to set up the product specifics and shipping elements of your store such as setting discount rates or coupon codes on products, shipping rules for free/standard/international, and speaking of international, for sales overseas you can set up specific tax rules to abide by local laws. There really is a lot on offer here.
Customer support
Wix offers a very user-friendly interface with lots of instructions, tips and incentives (each editable element in a site has a question mark on the side – a click on it will show additional information and practical advices). Users will learn alongside their building. However, if some serious problems that users cannot fix themselves, they can always count on the Support Center or the Forums. There, it is possible to find many tutorials, videos, and even directly contact with their team.
---
Wix Price Plans
Wix provides a free plan that never expires, as well as a range of other premium plans that can be billed monthly, annually or multi-year. The premium plans are very democratic, compared with other site builders. They are split across two different types of plan. There are Website Plans, which are spread across 4 tiers. Then there are also Business & Ecommerce Plans which are spread across 3 tiers.
Customers in the USA or UK that have large scale projects can also opt in for enterprise level packages that are customized to spec. These are not available to EU customers currently.
Website Plans

Business & eCommerce Plans

The packages on offer from Wix vary depending on where you live. In the UK for example, the cheapest package is the Connect Domain, costing £4 per month, while the most expensive is the VIP plan, billed at £21 per month. However, in the USA, which is the basis of the remainder of this pricing analysis, the cheapest package is the Combo which prices in at $16 per month. The most expensive of the 4 website packages here is the VIP Plan at a cost of $45 per month.
In between those plans are two other alternatives, the Unlimited plan ($22/month) and the Pro plan ($27/month).
The three business or eCommerce packages, aimed at those that need a shop and payment facilities on their site are a bit more expensive. The cheapest of these is the Business Basic at $27 per month . The mid-range package is Business Unlimited which will set you back $32 per month, and at the top end is Business VIP with a cost of $59 per month. These prices are based on an annual subscription paid yearly in advance.
Regardless of the plan, all these 7 premium plans include the following features: free hosting, no set-up fee, templates, Google Analytics, premium support, fully customizable sites and the possibility of connecting an existing domain. The Connect Domain plan does however contain Wix Brand ads, which are removed from any of the other premium plans.
Free Plan
The Free Plan is a really good place to start if you want to test Wix out before considering a premium account. Also, if you are just looking to set up a small personal website or informational blog for a niche where traffic and sales are not a huge priority. For example, a local group or club where you want to share information and ideas amongst a small community, without spending much time or money. The storage and bandwidth are limited on the free account and it's not really as suitable for a professional business site. Your URL will be Wix branded, as well as your site being littered with Wix Branded ads. This isn't really appropriate for a business site but not so much of a problem for a small, casual niche focussed site, club or blog.
Connect Domain Plan
This is the ground floor, basic Premium Plan that Wix offers in areas outside of the USA. This plan again is not really suitable for a professional business as you still have the Wix ads plastered on your site. One of the benefits of the Connect Domain Plan over the free account though, is that you can transfer your own domain name over to Wix with this plan. You can't do that with the free plan. You still get a limited 500GB of storage and 1TB bandwidth as with the free plan, and even with a small site, that is pushing it for storage space.  The other benefit of the Connect Plan over the Free Plan, is that you have access to the Wix premium support, google analytics and free hosting.
Combo Plan
$16 per month for annual subscription
$23 for month to month
The Combo Plan is the lowest of the Premium Plans that have the Wix Branded Ads removed. Again, this package with its 2GB bandwidth and 2GB storage is best for personal blogs and projects rather than businesses. We would say that this is an entry level package. For the personal blog that has a bit of an audience or a good active following but on a casual and informal basis rather than a professional site.
Unlimited Plan
$22 per month for annual subscription
$29 for month to month
Now we're starting to get serious. The Ultimate Plan has everything you need to get a professional site up and running, as long as there is no eCommerce element required for that site. You get a reasonable amount of storage at 5GB and unlimited bandwidth, which is a real step up from the Combo Plan.
Pro Plan
$27 per month for annual subscription
$34 for month to month
The Pro plan offers you all the benefits of the Unlimited Plan, with one exception and that is a real step up in storage. The Pro Plan offers you 50GB which should be ample for all but the largest stores.  In addition to all the perks of the Unlimited Plan, you also get the Form Builder App ($48 value) and Site Booster App ($60 Value). It should be known that in the UK, you get these features with the Unlimited plan, but with less storage.
VIP Plan
$49 per month for annual subscription
$45 for month to month
The VIP Plan is the top of the Website plans from Wix, and it is no small offering. You get all the benefits of the Pro package, with the added benefits of a professional site review and priority customer care. If you take out the annual or biennial subscription you also get 2 free premium apps ($108 value).
Things To Note About Pricing Plans
Each of the plans gives you the option to subscribe triennially, biennially, annually or month to month. However, if you take a month to month subscription you do not get the free domain, ad vouchers, Site Booster or Form Builder on any of the plans. That could see you losing out on quite an amount of added value. On the flip side, if you take an annual subscription or biennial one on either the Unlimited, Pro or VIP Plan, you also qualify for 2 free premium apps. Good to know.
Advantages (Pros) Of Using Wix
With Wix, you get a free domain for 1 year on all but the cheapest package. The multitude of templates tailored to specific industries take all the hard work out of designing and building your site, you can have a professional looking site up quite literally in minutes. The extensive app market can provide a variety of customer focussed, value adding functions to your site and the help centre is quite impressive.
Disadvantages (Cons) Of Using Wix
Let's be realistic. Web builders aren't 100% perfect. There's always going to be a few downsides to everything in life. Now I am a big Wix fan, but there's a few things that bug the hell out of me.
Let's quickly go through them.
1. Ads on the Free Plan.
First, the fact that the free plan includes some ads. Despite being quite annoying, these ads make some sense – after all, people use their service for free. But still, some of these ads can be really pesky. Over the years, I have found that they're a lot more prominent. Maybe this is just a tactic of Wix to get free users to sign up to premium accounts.
2. Not 100% Mobile Friendly
The majority of the time Wix themes are very good when it come to being responsive across devices and browsers. But on the odd occasion they are annoyingly not.
In other website builders, when you publish your site it will automatically add all your content and fit it perfectly into the mobile template. With Wix.com I find that I have to annoyingly edit the site to fit into the mobile version of the site.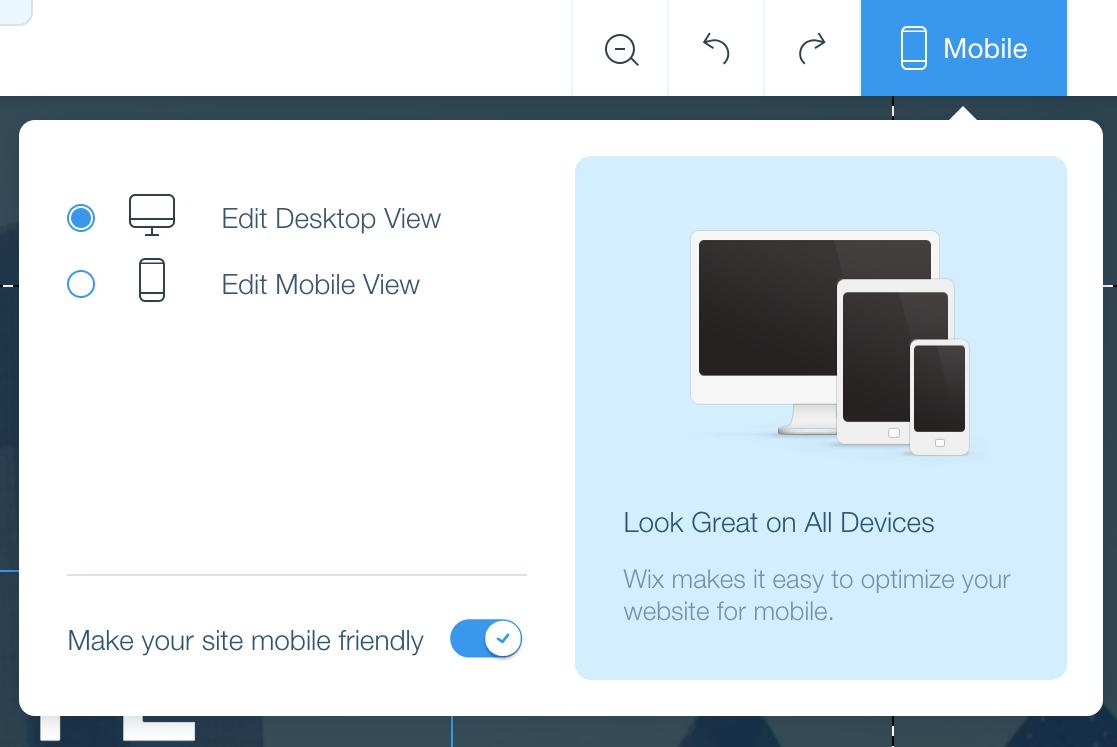 Above you can see the mobile edit feature on the Wix platform. This is how you edit the template for each device. While the transfer of most content to the mobile template is normally ok, more dynamic content like scrolling timelines can be cut off when viewing on mobile devices. A lot of fiddling about it needed.
3. Short Money Back Guarantee Time Frame
In addition to this the 14-day money back guarantee, while appreciated, is a little short in comparison to others in the industry. It doesn't give you a lot of time to acclimatise or become familiar and happy with the environment. It's not really until you have your first issue, that you can test the metal of the customer service of a company and while I'm comfortable with the support provided by Wix, the guarantee period just feels a bit short to be honest.
4. No Live Chat or Phone Support
This is a strange one. You'd think with the sheer number of users that Wix have that they'd have both phone and live chat support.
They do have an extensive support section on their site as well as a Twitter account dedicated to helping people out with their issues, but sometimes you really just want to speak to a human
Wix Competitors
The web builder space is very competitive. Wix is ahead of the game slightly, but competitors are making great strides on a weekly basis to try and take away market share from wix. Direct competitors of Wix include Weebly and Shopify to name a just a few. Take a look at some of our comparison guides to see how they fair with Wix.
Conclusion
Wix is a very robust website builder, with an impeccable reputation and it is great for beginners. Its most positive points are the easiness of use, the amount and quality of its templates, as well as the official app store, filled with free and premium apps that will improve all kind of sites. Last but not least, Wix can be used by virtually anyone, since it does not require any advanced tech skills, like coding.
However, it also has some things that can be looked at as setbacks, mentioned in the section above. So, with all this in mind, everyone should weigh all its pros and cons before using this platform, read other reviews, take a look at other sites built with Wix and even test it before actually using it, in order to get a better idea about this tool. However, it also has some things that can be looked at as setbacks, mentioned in the section above.
Wix is not the cheapest on the list of web site builders out there on the market, but that shouldn't put you off. With Wix, you're paying for much more than a domain name and some handy tools to build your site. You are paying for the user-friendly platform that removes any need for you to have reasonable technical skills. Seriously, the hard work is done for you. You get what you pay for and with Wix, that little more that you pay – which while not the cheapest is by no means expensive – is worth every penny.
So, with all this in mind, everyone should weigh all its pros and cons before using this platform, read other reviews, take a look at other sites built with Wix and even test it before actually using it, in order to get a better idea about this tool.