Got an idea for a website?
Maybe you feel it is time to upgrade from cheap shared hosting and look at other options. Then a VPS has the most options if you want storage and reliability. If you are not sure how a VPS works compared to shared hosting or dedicated hosting, here is a quick breakdown.
VPS is not to be confused with a dedicated hosting plan. With a VPS, you get your own server, which will store all of your data and files that complete your website. This is how people find your website, because it is hosted on a powerful server.
With a VPS, you get a virtualized computer to handle all of your bandwidth so that you can keep customers returning to your website again and again. This is unlike shared hosting, where you may "share" a server with another website, but the server is so large that it does not affect your piece of the pie.
A VPS is a little bit in between shared hosting and dedicated hosting. With dedicated servers, you have an entire server to yourself. However, it can be quite expensive and may not be necessary if you are just building a small website.
One of the best ways to make money is through building websites on a VPS for your clients. This is a good business opportunity as you can pay for your servers through private hosting plans as you build websites or applications for different businesses.
How to Pick a VPS
There are few things that these VPS hosting providers should have in order to be on the list of best VPS hosting. These include the following:
Cost
A VPS hosting plan should come with different options, and you should be able to customize the amount of storage with the plan that you purchase. A typical VPS hosting plan should cost between $8 and $20 for basic storage.
Security
What kind of security is included with your VPS, and how much does it cost? Some VPS hosting providers will customize your security options or add on some security features like website monitoring and malware scanning. You should not have to pay extra for these tools.
Uptime
People typically purchase a VPS because they want to send higher traffic to their website but do not want to go for a dedicated server just yet. In this case, uptime and server errors are very important to monitor for a web hosting provider. – check hosting my uptime calculator
Online Store
Are you building a store and want some e-commerce tools? Some VPS hosts understand that and provide some interesting website builders or eCommerce platforms.
Custom Software
Not all VPS hosts will come with extra features like performance monitoring or application control panels, but it would be nice to have. With some of the higher-priced servers, these features are more common.
The following VPS hosting providers are some of the best available right now. Our review looks at overall cost, uptime, storage, and additional features.
#1 Hostgator VPS


VPS Hosting Plan: Starting from $29.95/month
HostGator offers a few different plans for dedicated control in a scalable VPS environment. Their most basic package offers 2GB of RAM, 2 Cores CPU, 120GB of disk space, and 1.5TB bandwidth from $29.95 per month.
HostGator is all about customization. You can have total control over your environment, including custom installation and configuration options. Your VPS is also housed in a state-of-the-art data center with redundant HVAC units.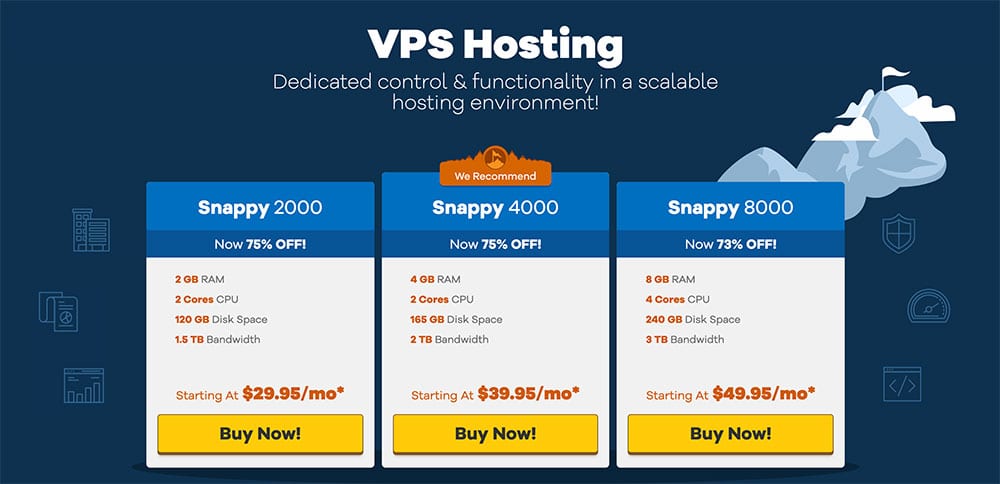 You have full root access with HostGator, so you can create custom scripts and applications as you desire. You can host an unlimited amount of domains, sub-domains, email services, databases, FTP accounts, and private nameservers.
You can choose from site development tools, free website templates, and different script installations to quickly get up and running.
Uptime for HostGator is almost as high as you can get for a hosting provider at 99.99% over the past six months. Their customer support offers 24 hours a day, 7 days a week phone system. HostGator also provides a knowledge base for common answers to website hosting questions.
Verdict
HostGator will give you a lot of value for your dollar, and it is a good option if you have a medium-to-high traffic ratio. The extended features and tools make it a great option at the basic price level.
#2 Liquid Web VPS Hosting


VPS Hosting Plan: Starting from $19/month
Liquid Web claims to have the fastest managed VPS hosting on the planet. That might be true. Their VPS hosting plans are a little bit more expensive than you will find with other hosts. However, their base plan comes with 2 vCPUs, 40GB SSD disk space, 10TB of bandwidth, and the choice of cPanel or Plesk Onyx. Their base plan is only for Linux-based hosting as well.

All of the cloud VPS hosting plans come with free premium business email. The VPN also comes with built-in backup system, gigabit transfer, unlimited sites, dedicated IP address, CloudFlare CDN, integrated firewall, server secure advanced security, cPanel/WHM or Plesk, root access, and lots of scalability options.
You can also add on some services for additional functionality. This includes VPN, load balancers, block storage, firewalls, and premium business email.
Uptime has been pretty average over the past six months for Liquid Web. They remain at 99.98% but have had no recent issues in the past 30 days.
Verdict
Your plan cost will be higher, but you get a ton of features for each option. In addition, every server is an Intel Xeon, which is very important as you want a powerful website.
#3 Dreamhost VPS


VPS Hosting Plan: Starting from $15/month
DreamHost has been a top hosting provider for several years. Their VPS plans come with a bunch of features that show real value for the price. The base package comes with 1GB RAM and 30GB SSD storage. Some of the core features include managed VPS security options, such as PHP release updates, manual security patches, latest WordPress security upgrades and more.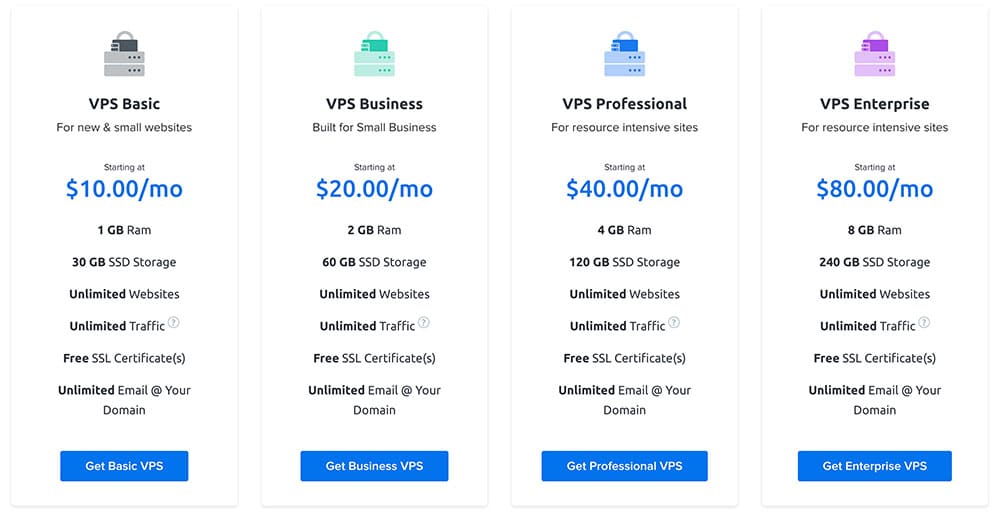 You also get unlimited 24/7 customer support. The customer service team is in-house, which means that you get to talk to a knowledgeable expert from DreamHost every time you call. Servers come with a control panel and scalable RAM so you are never left wondering what is going on with your website.
Uncapped bandwidth is also very important for a VPS. All DreamHost plans come unlimited traffic. DreamHost does have an unlimited traffic policy that customers are expected to follow. One of the really cool options that DreamHost offers is a free one-week trial of a MySQL VPS.
Verdict
DreamHost is a strong hosting provider with a verified uptime of 99.99%, and it is one of the highest-rated hosting providers from PCMag.com. The hosting provider offers a lot of value with tons of features and add-ons. However, the price may not be what you need for a smaller website.
#4 InMotion VPS Hosting


VPS Hosting Plan: Starting from $29.99/month
The basic plans on InMotion are a little old school for the price. You will pay $29.99/month for a basic package that includes 4GB of RAM, 75GB of storage, and 4TB of bandwidth. However, you do get a free cPanel or WHM control panel. There is also a live-state snapshot tool that will update you on the status of your server and websites.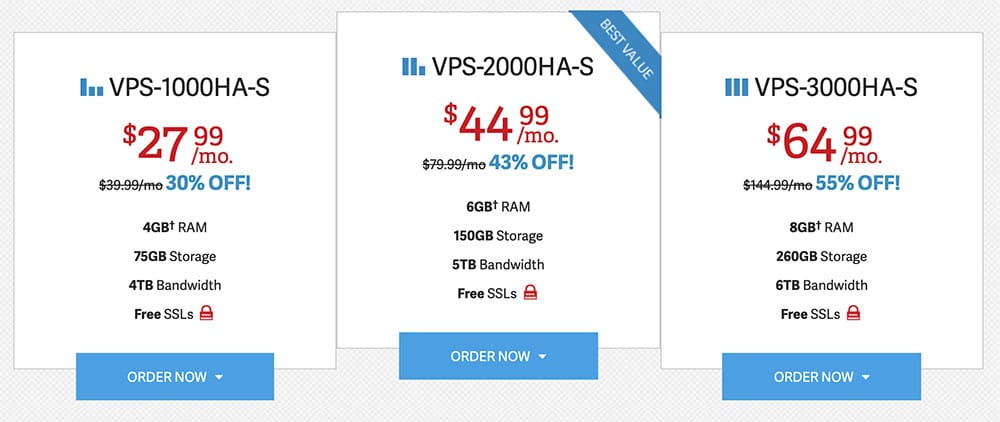 InMotion's plans are a little expensive for the storage options. At $74.99 per month, you do get 5 IP addresses instead of 3 with basic. This is more than the highest plan on GoDaddy as well. The highest RAM that you can get with InMotion is also 8GB. You may want more RAM and need a larger server to accomodate your needs.
The features included are a little bit typical, but you can build an online store very easily with InMotion's e-commerce builder tools. You also get a 90-day money back guarantee.
Verdict
InMotion gives you a few features with their plans that may make it worth the cost if you are building an online store and want additional functionality. If you are building a larger website with needs of 16GB RAM or more, you should pick another host.
#5 Bluehost VPS Hosting


VPS Hosting Plan: Starting from $19.99/month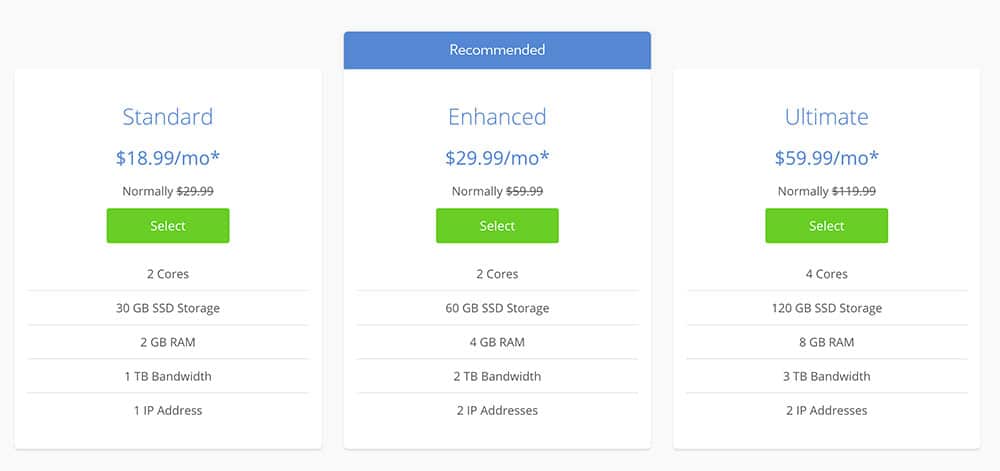 Bluehost is really becoming a top server hosting provider. Their website provides a few different plans that are very affordable and have a lot of value for the price. For example, the standard package comes with dual-core processor, 30GB SSD, 2GB RAM, and unlimited bandwidth for $19.99/month.
You also get a 30-day money back guarantee with Bluehost and managed 24/7 support, so if something goes down or it does not work as intended, Bluehost is ready to give you back your money.
The Unlimited Package comes with four cores, 120GB SSD, 8GB RAM, and unlimited bandwidth. This is a little bit steep compared to other hosting providers that gave you a little bit more RAM and IP addresses for the money.
Verdict
Features are not too well explained on Bluehost, but it looks like you can expect a cPanel interface and Linux-based only systems. The cost is a little steep for the base package at 2GB of RAM.
#6 Hostwinds VPS Hosting


VPS Hosting Plan: Starting from $7.49/month
Hostwinds has some good tied options if you want a budget VPS. For the tier one package, you will get a single core processor, 512 MB Ram, and 20 GB of disk space. This is not much, but at $7.49, you are not paying for a whole lot.
It does not look like their plans support online enterprises or very large databases. The last package plan offers just 2 CPU cores, 4 GB or RAM, and 50 GB of disk space. If you want to start adding on disk space and bandwidth, you can pay as much as $551.99/month for a 9TB/1 GB port in bandwidth.
Hostwinds provides a 99.99% uptime guarantee as well as a 100% money-back guarantee. You can pick from multiple data center locations and get fully managed VPS options, including resource isolation, high performance servers, and 24/7 monitoring.
Verdict
Hostwinds offers a great package price and scalability options if you want to do more with your hosting in the future. It also comes with a full suite of tools and full management options.
#7 Media Temple VPS Hosting


VPS Hosting Plan: Starting from $55/month
Their basic plan offers 2GB of RAM, 30GB of storage, and 2TB bandwidth for $55/month. Even some of the better hosting providers do not charge this much for 2GB of RAM. There are some features that Media Temple has that are new like Plesk Onyx with CentOS 6.
Much of the features on Media Temple are not of better quality or different than other hosting providers with a cheaper start-up for scalability. At the most, you will pay $350/month for 16GB of RAM and 200GB of storage. You can pick from cPanel and WHM or Plesk Onyx.
There are a few different payment plans included. The highest amount is month-to-month. If you want to get the most for your money, you can purchase up to 3 years of service from Media Temple.
The hosting provider has a 99.99% guarantee and offers 24/7 support like other providers. You can expect a fully managed DV server using Media Temple as well.
#8 GoDaddy VPS Hosting


VPS Hosting Plan: Starting from $17.99/month
GoDaddy offers every type of hosting plan under the sun, including for VPS. Whether you want to start out with something small, you can choose from the economy package, starting at $17.99. This basic plan provides 1 GB memory, 40 GB storage, unmetered bandwidth, 3 dedicated IPs, and a free SSL certificate for 1 year.
You can scale all the way up to an ultimate plan for $39.99, which includes 8GB of memory, 240GB of storage, and unmetered bandwidth, as well as 3 dedicated IPs and a free 1-year SSL certificate. GoDaddy also provides root access and a guaranteed availability statement.
Uptime for GoDaddy is consistently 99.99%, and the website provides 24/7 customer support and live chat. Your VPS is a powerful machine with GoDaddy and has a dual-core Intel E5 processor with double 600GB HDD. You can also pick between Linux and Windows servers.
Verdict
You get a lot of scalability with GoDaddy, but if your website starts to outgrow the storage and number of IPs, you will want to go with a more enterprise option.
Conclusion
Your website will never go down, but the price is pretty steep to pay for an entry-level website or even if you want to scale up to a site that can handle large amounts of traffic.