Best VPS Hosting Providers
Reviewed For 2021
Written by Jamie Spencer – Updated 28th July 2021
Got an idea for a website? Maybe you feel it is time to upgrade from cheap shared hosting and look at other options.
A virtual private server (VPS) has the most options if you want storage and reliability.
If you are not sure how a VPS works compared to shared hosting or dedicated hosting, here is a quick breakdown.
VPS is not to be confused with a dedicated hosting plan. With a VPS host, you get your own server, which will store all of your data and files that complete your website. This is how people find your website, because it is hosted on a powerful server.
With a VPS, you get a virtualized computer to handle all of your bandwidth so that you can keep customers returning to your website again and again. This is unlike shared hosting, where you may "share" a server with another website, but the server is so large that it does not affect your piece of the pie.
A VPS is a little bit in between shared hosting and dedicated hosting. With dedicated servers, you have an entire server to yourself. However, it can be quite expensive and may not be necessary if you are just building a small website.
One of the best ways to make money is through building websites on a VPS for your clients. This is a good business opportunity as you can pay for your servers through private hosting plans as you build websites or applications for different businesses.
The following VPS hosting providers are some of the best available right now. Our review looks at overall cost, uptime, storage, and additional features.
Contents
Best VPS Hosting Reviews
#1 Hostgator VPS


VPS Hosting Plan: Starting from $19.95/month
HostGator offers a few different plans for dedicated control in a scalable VPS environment. Their most basic package offers 2GB of RAM, 2 Cores CPU, 120GB of SSD disk space, and unmetered bandwidth from $19.95 per month.
HostGator is all about customization. You can have total control over your environment, including custom installation and configuration options. Your VPS is also housed in a state-of-the-art data center with redundant HVAC units.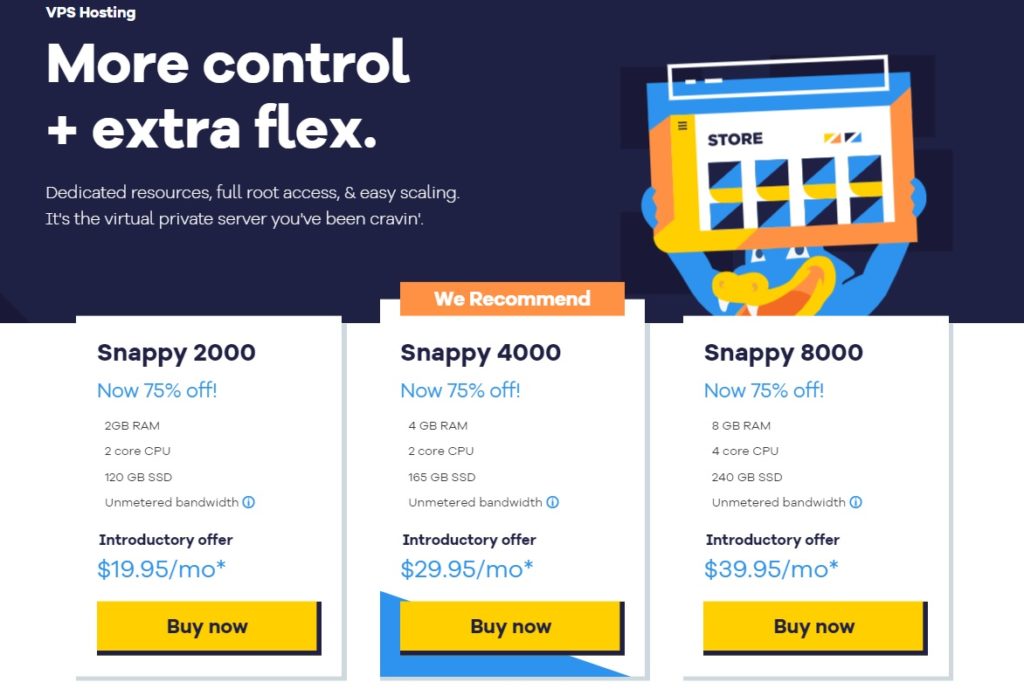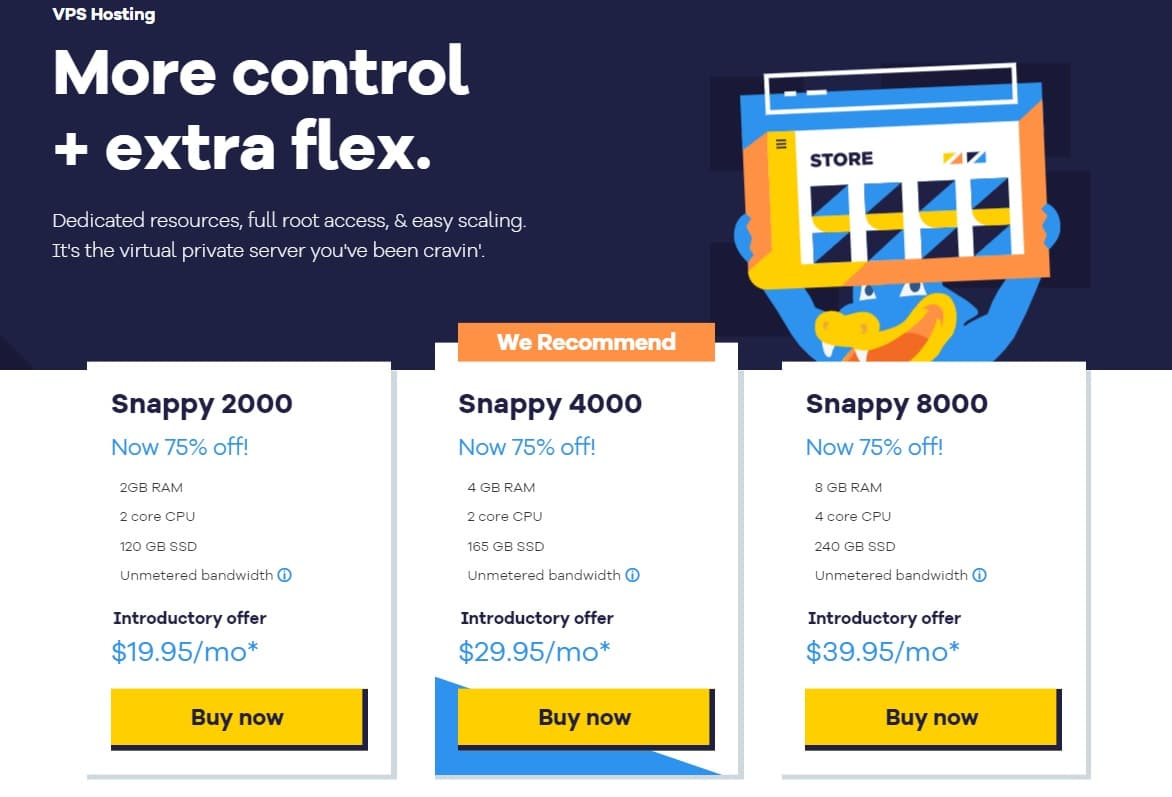 You have full root access with HostGator, so you can create custom scripts and applications as you desire. You can host an unlimited amount of domains, sub-domains, email services, databases, FTP accounts, and private nameservers.
You can choose from site development tools, free website templates, and different script installations to quickly get up and running.
Uptime for HostGator is almost as high as you can get for a hosting provider at 99.99% over the past six months. Their customer support offers 24 hours a day, 7 days a week phone system. HostGator also provides a knowledge base for common answers to website hosting questions.
Key Features:
Full root access
Up to 8 GB of RAM
Can add resources with a few clicks
Up to 2 IP addresses
Includes firewall and DDoS protection
Two control panel options
24-hour customer support
Verdict
HostGator will give you a lot of value for your dollar, and it is a good option if you have a medium-to-high traffic ratio. The extended features and tools make it a great option at the basic price level.
Liquid Web claims to have the fastest managed VPS hosting on the planet. That might be true. Their VPS hosting plans are a little bit more expensive than you will find with other hosts. However, their base plan comes with 2 vCPUs, 40GB SSD disk space, 10TB of bandwidth, and the choice of cPanel or Plesk Onyx. Their base plan is only for Linux-based hosting as well. The pricing structure of the Liquid Web plans is different for Linux and Windows, each are illustrated here:
Linux Pricing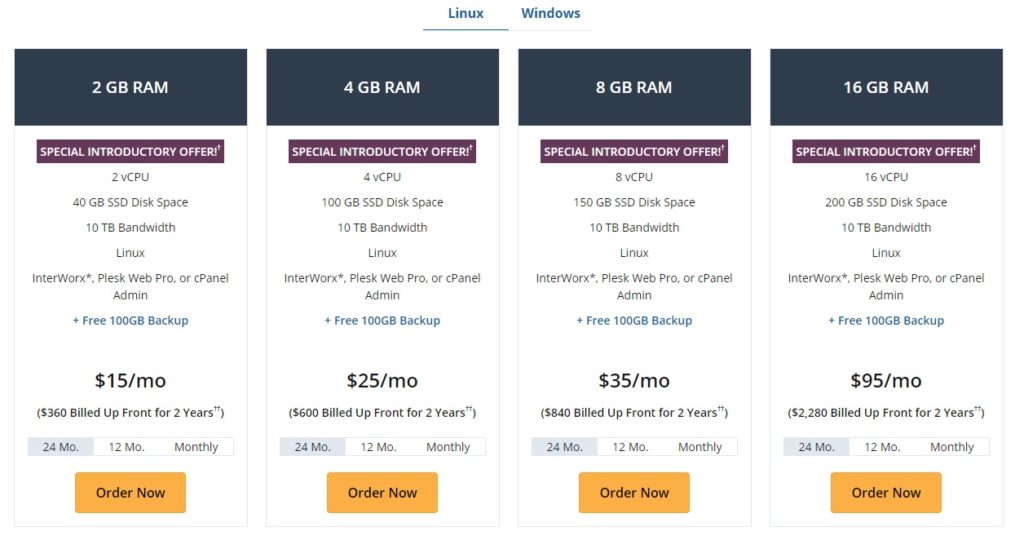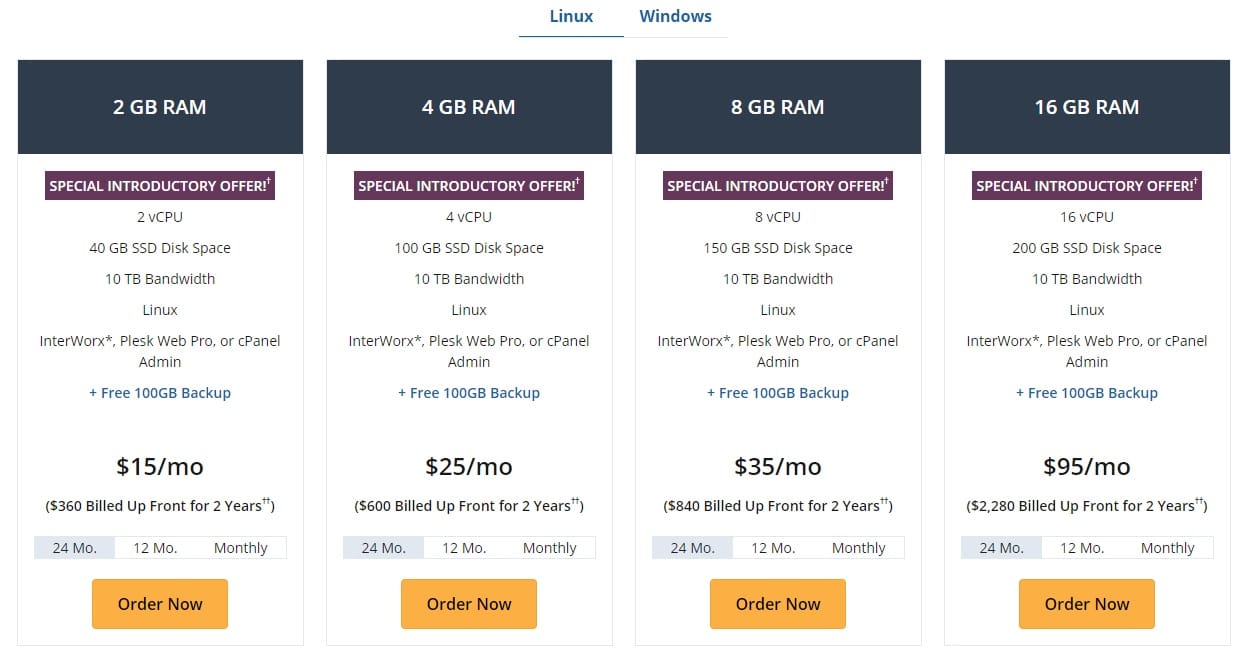 Windows Pricing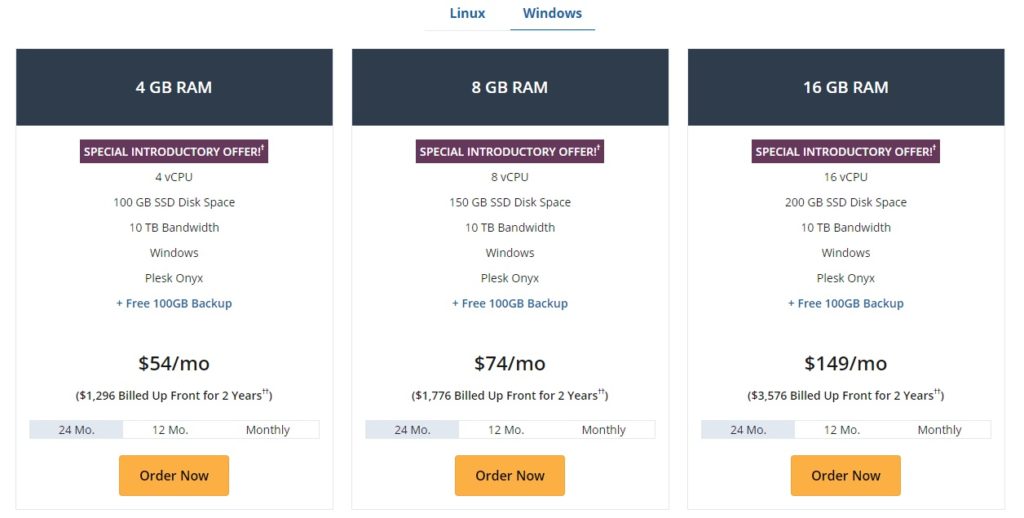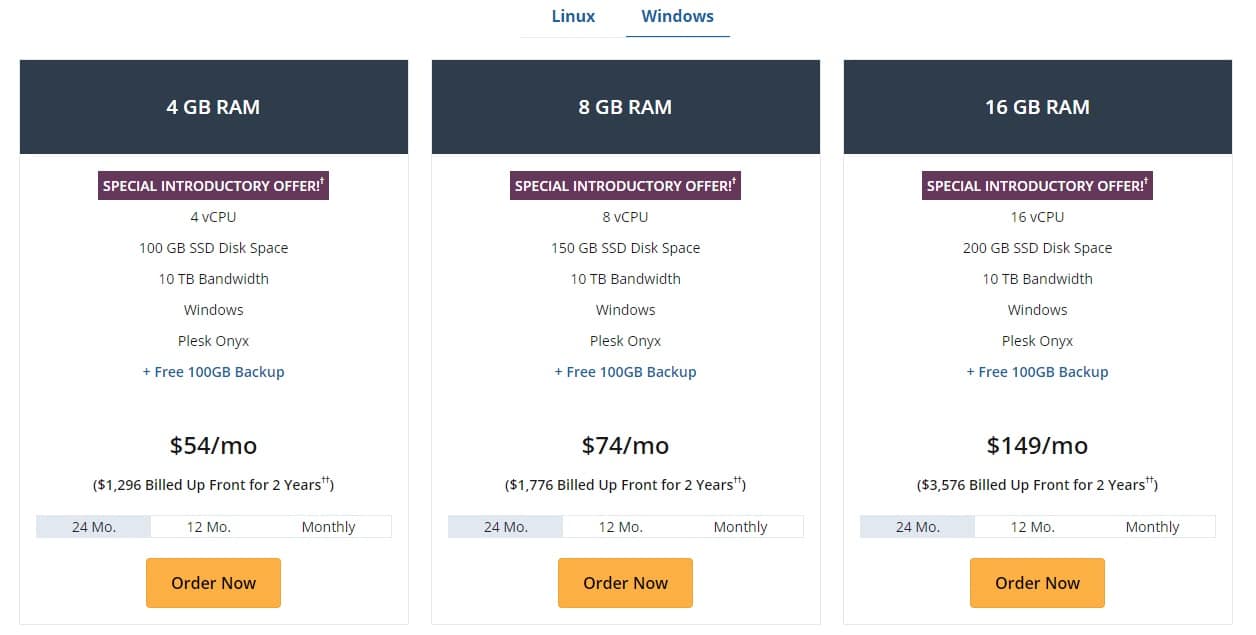 All of the cloud VPS hosting plans come with free premium business email. The VPN also comes with built-in backup system, gigabit transfer, unlimited sites, dedicated IP address, CloudFlare CDN, integrated firewall, server secure advanced security, cPanel/WHM or Plesk, root access, and lots of scalability options.
You can also add on some services for additional functionality. This includes VPN, load balancers, block storage, firewalls, and premium business email.
Uptime has been pretty average over the past six months for Liquid Web. They remain at 99.98% but have had no recent issues in the past 30 days.
Key Features:
Can be fully managed or unmanaged
Cloud-based VPS
Supports Linux and Windows
Support team is available 24-hours a day
Up to 16 GB of RAM
Easy to upgrade resources
Verdict
Your plan cost will be higher, but you get a ton of features for each option. In addition, every server is an Intel Xeon, which is very important as you want a powerful website.
#3 Dreamhost VPS


VPS Hosting Plan: Starting from $10/month
DreamHost has been a top hosting provider for several years. Their VPS plans come with a bunch of features that show real value for the price. The base package comes with 1GB RAM and 30GB SSD storage. Some of the core features include managed VPS security options, such as PHP release updates, manual security patches, latest WordPress security upgrades and more.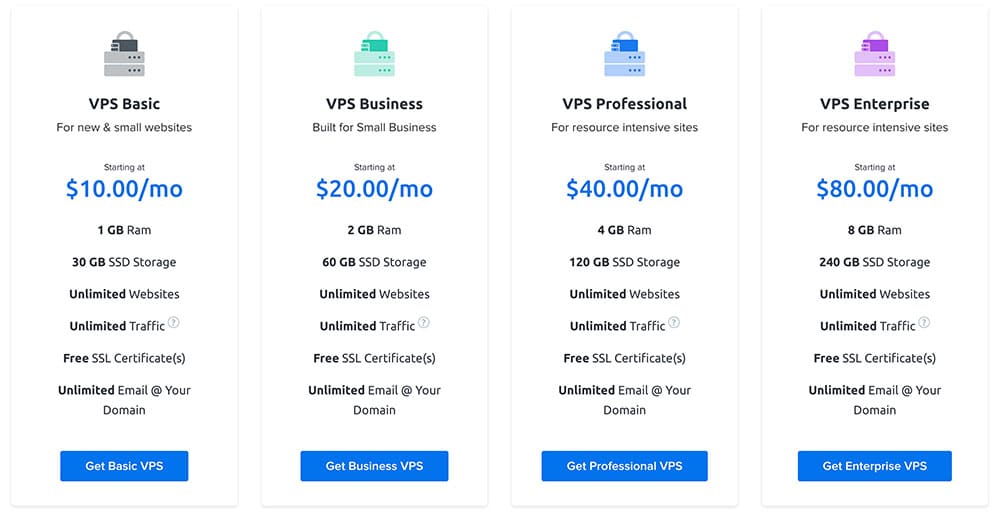 You also get unlimited 24/7 customer support including chat support. The customer service team is in-house, which means that you get to talk to a knowledgeable expert from DreamHost every time you call. Servers come with a control panel and scalable RAM so you are never left wondering what is going on with your website.
Uncapped bandwidth is also very important for a VPS. All DreamHost plans come unlimited traffic. DreamHost does have an unlimited traffic policy that customers are expected to follow. One of the really cool options that DreamHost offers is a free one-week trial of a MySQL VPS.
Key Features:
Unlimited bandwidth
Domain management tools
Free website builder tool
Fully managed
Free SSL certificate
Unlimited email
100 percent uptime guarantee
Verdict
DreamHost is a strong hosting provider with a verified uptime of 99.99%, and it is one of the highest-rated hosting providers from PCMag.com. The hosting provider offers a lot of value with tons of features and add-ons. However, the price may not be what you need for a smaller website.
#4 InMotion VPS Hosting


VPS Hosting Plan: Starting from $29.99/month
The basic plans on InMotion are a little old school for the price. You will pay $29.99/month for a basic package that includes 2GB of RAM, 45GB of SSD storage, and 4TB of bandwidth. However, you do get a free cPanel or WHM control panel. There is also a live-state snapshot tool that will update you on the status of your server and websites.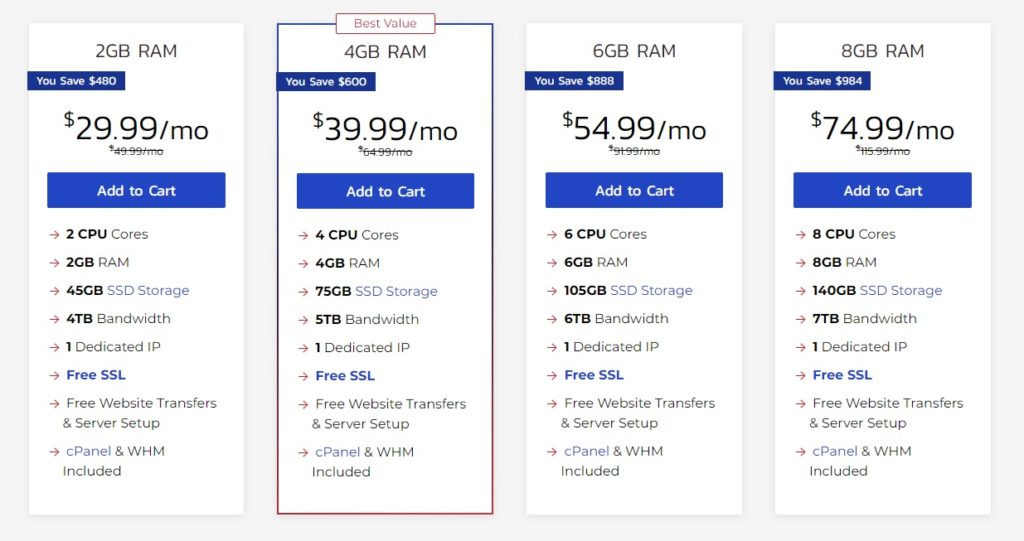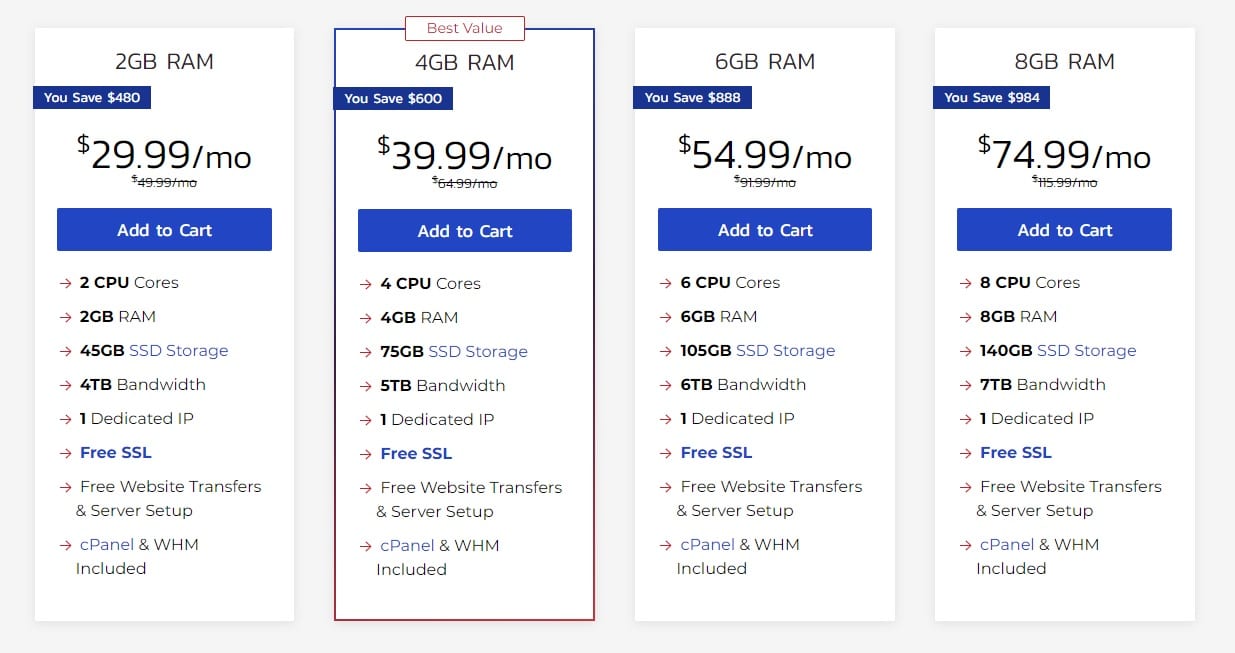 InMotion's plans are a little expensive for the storage options. At $74.99 per month, you still only get 1 dedicated IP address, the same as you get with basic. This is consistent across all the packages offered. It is also more than the highest plan on GoDaddy as well. The highest RAM that you can get with InMotion hosting is also 8GB. You may want more RAM and need a larger server to accomodate your needs.
The features included are a little bit typical, but you can build an online store very easily with InMotion's e-commerce builder tools. You also get a 90-day money back guarantee.
Key Features:
Manages, unmanaged, and cloud VPS available
Uses SSD storage
Free private SSL certificates
DDoS Protection
Launch Assist feature
Verdict
InMotion gives you a few features with their plans that may make it worth the cost if you are building an online store and want additional functionality. If you are building a larger website with needs of 16GB RAM or more, you should pick another host.
#5 Bluehost VPS Hosting


VPS Hosting Plan: Starting from $18.99/month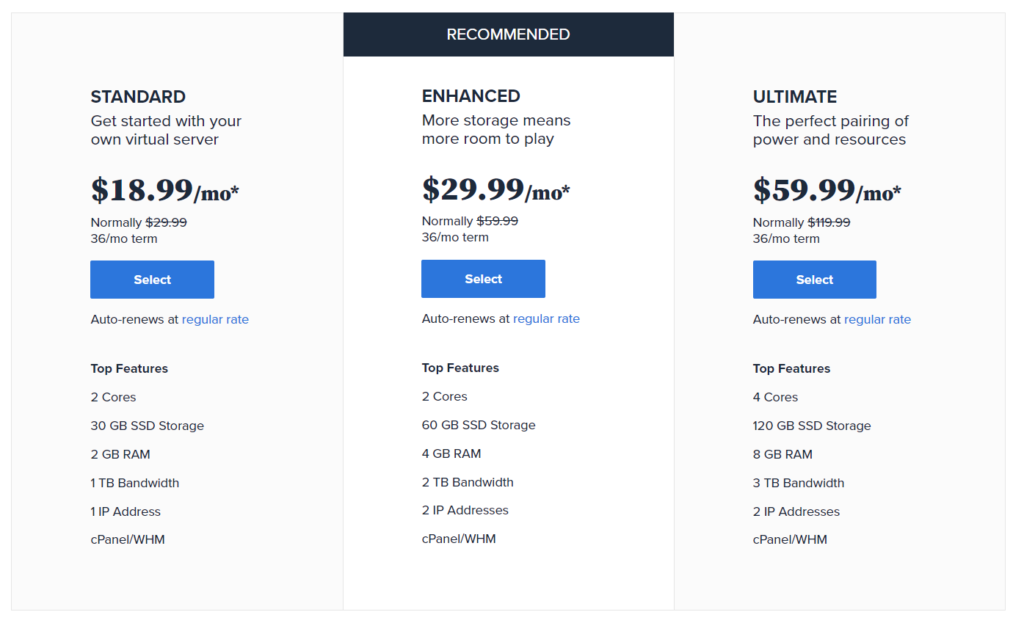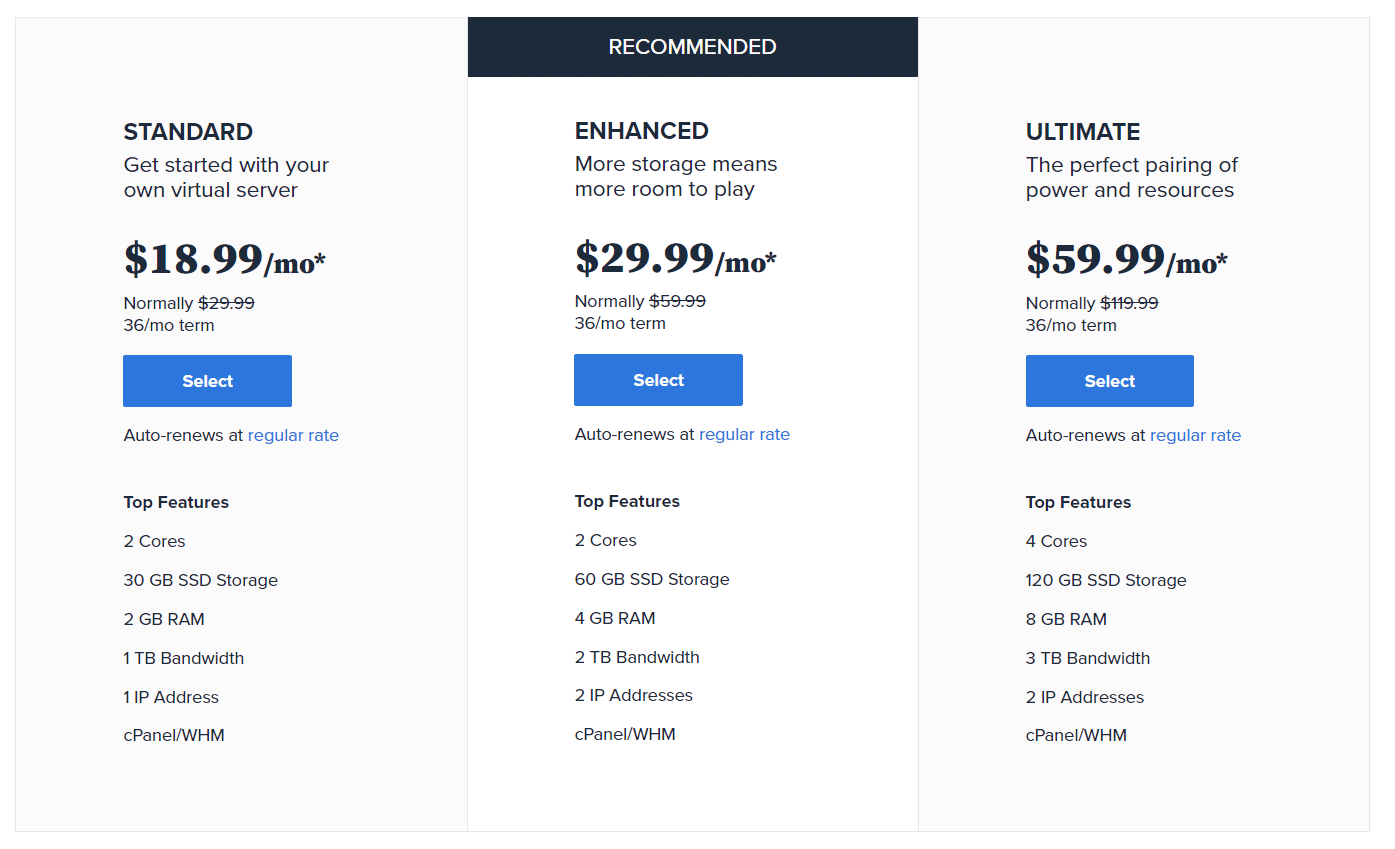 Bluehost is really becoming a top server hosting provider. Their website provides a few different plans that are very affordable and have a lot of value for the price. For example, the standard package comes with dual-core processor, 30GB SSD, 2GB RAM, cPanel/WHM, and unlimited bandwidth for $18.99/month.
You also get a 30-day money back guarantee with Bluehost and managed 24/7 support, so if something goes down or it does not work as intended, Bluehost is ready to give you back your money.
The Ulitmate Package comes with four cores, 120GB SSD, 8GB RAM, and unlimited bandwidth. This is a little bit steep compared to other hosting providers that gave you a little bit more RAM and IP addresses for the money.
Key Features:
Unlimited bandwidth
Up to 4 CPU cores
Uses SSD storage
Includes free SSL certificate
OpenStack and KVM access
30-day money-back guarantee
Fully managed
Verdict
Features are not too well explained on Bluehost, but it looks like you can expect a cPanel interface and Linux-based only systems. The cost is a little steep for the base package at 2GB of RAM.
#6 Hostwinds VPS Hosting


VPS Hosting Plan: Starting from $8.24/month
Hostwinds has some good tiered options if you want a budget VPS. There are hosting packages available for both Linux and Windows VPS hosting, with 10 different pricing tiers to choose from for each. The pricing is broken down as follows:
Hostwinds Linux VPS Pricing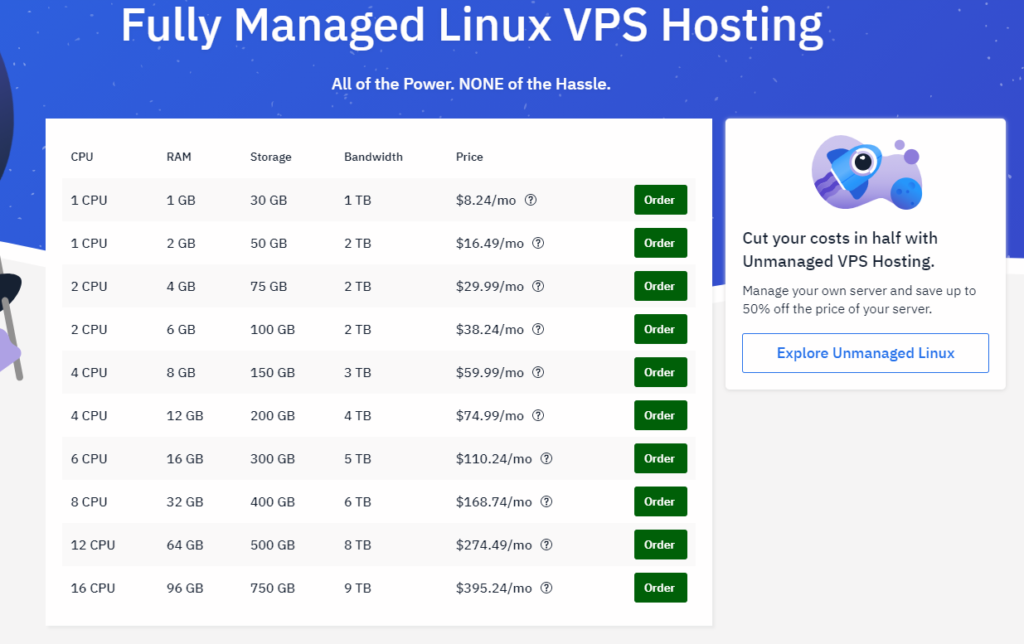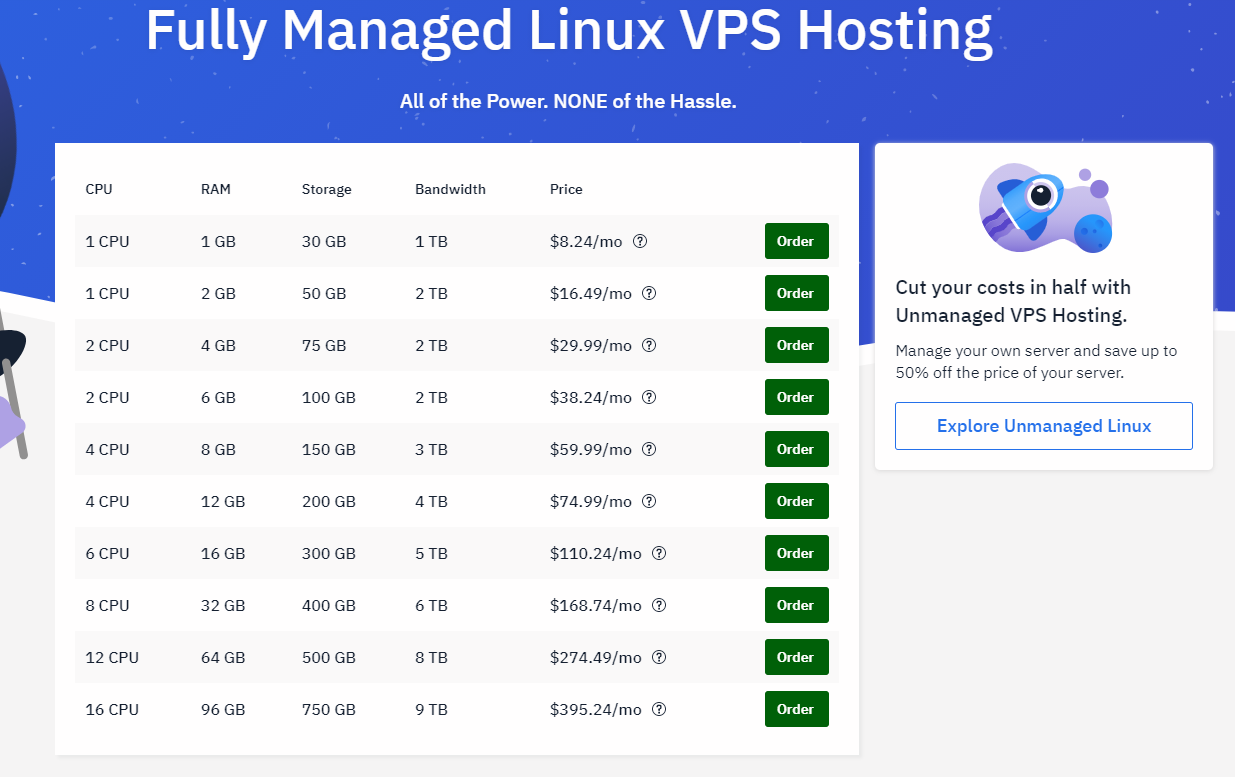 Hostwinds Windows VPS Pricing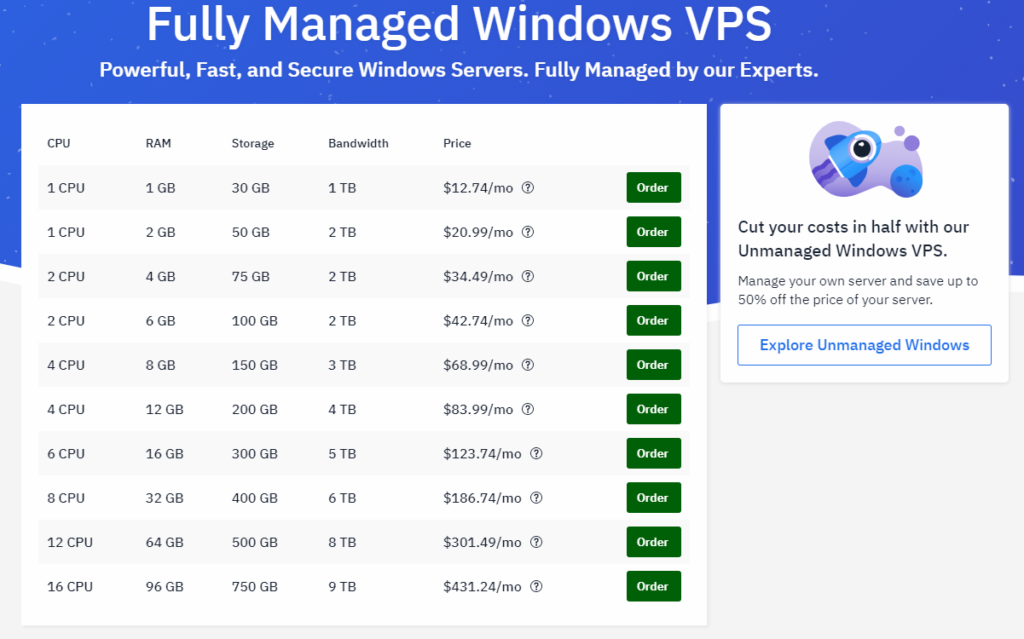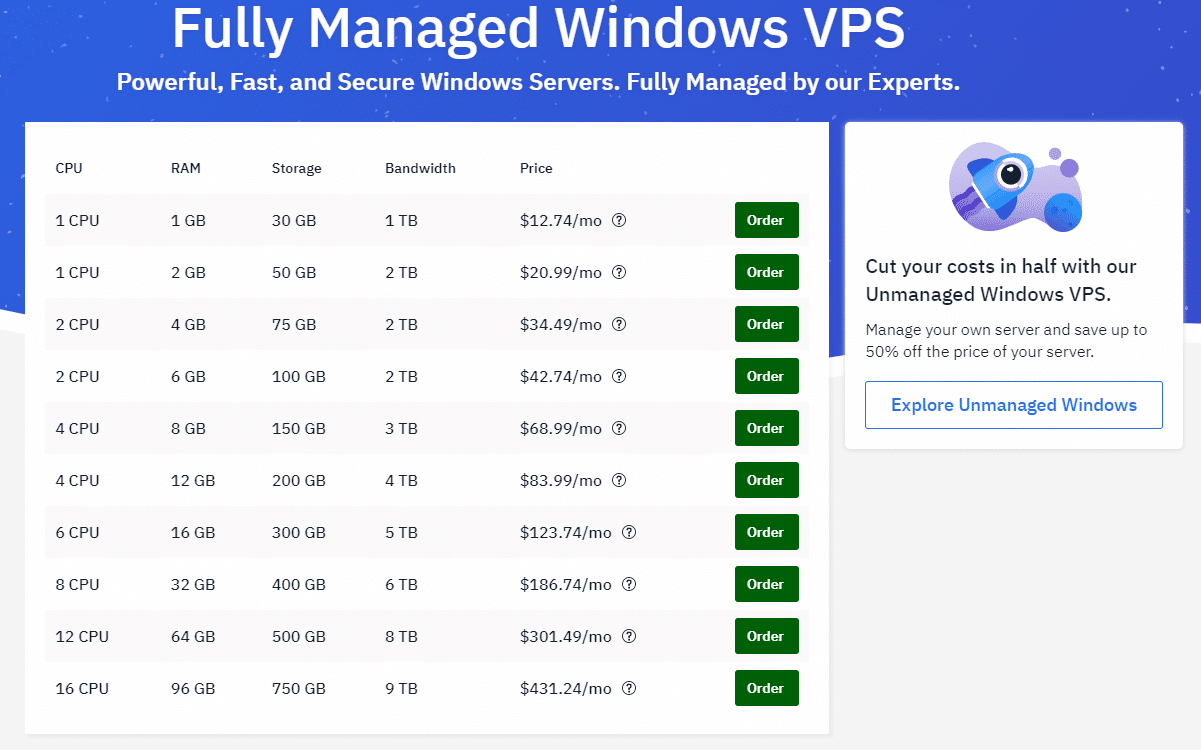 For the tier one package, you will get a single core processor, 1 GB Ram, and 30 GB of disk space. This is not much, but at $8.24 (on Linux), you are not paying for a whole lot.
In the past, Hostwinds did not appear to be well set up with their plans to support online enterprises or very large databases. Today however, the scalability of their plans right up to 16CPUs, 96 GB RAM, 750 GB Storage and 9TB Bandwidth makes them more suitable for those that see the need to scale extensively over time. Packages at the top end are very expensive though, up to $431.24 per month for the highest tier Windows VPS package. I'd maybe want a bit more storage for that outlay.
Hostwinds provides a 99.99% uptime guarantee as well as a 100% money-back guarantee. You can pick from multiple data center locations and get fully managed VPS options, including resource isolation, high performance servers, and 24/7 monitoring.
Key Features:
Unmanaged and managed plans available
Linux and Windows
Free website transfers
Up to 16 CPU cores
Enterprise-quality firewall
Verdict
Hostwinds offers a great package price and scalability options if you want to do more with your hosting in the future. It also comes with a full suite of tools and full management options.
#7 Hostinger VPS Hosting


VPS Hosting Plan: Starting from $3.95/month
Hostinger offers one of the cheapest VPS plans on the market. For only a few bucks a month, you can dip your toes into the world of VPS hosting. The most affordable plan only has 1 CPU core, 1 GB of RAM, and 20 GB of storage. However, the highest plan features 8 cores, 8 GB of RAM, and 160 GB of storage. There are eight plans in total, allowing you to choose the best one for your needs.


With every plan, you're getting a dedicated IP address. Hostinger provides both IPv4 and IPv6 for your convenience. You're also given full root access for ultimate control.
Key Features:
Cloud-based VPS
Up to 8 GB of RAM
SSD storage
Available Windows plans
Full root access
Dedicated IP addresses available
30-day money-back guarantee
#8 iPage VPS Hosting


VPS Hosting Plan: Starting from $19.99/month
With over two decades in the web hosting industry, iPage has a pretty solid reputation for providing some great customer service. The VPS plans are all managed. The support team will take care of security updates and important operational tasks so that you don't have to.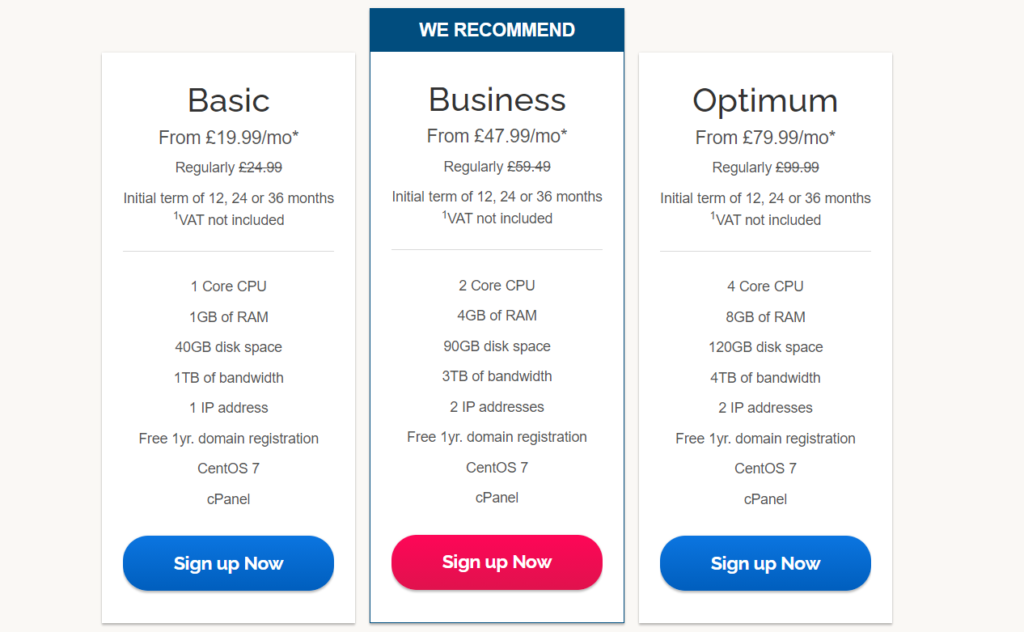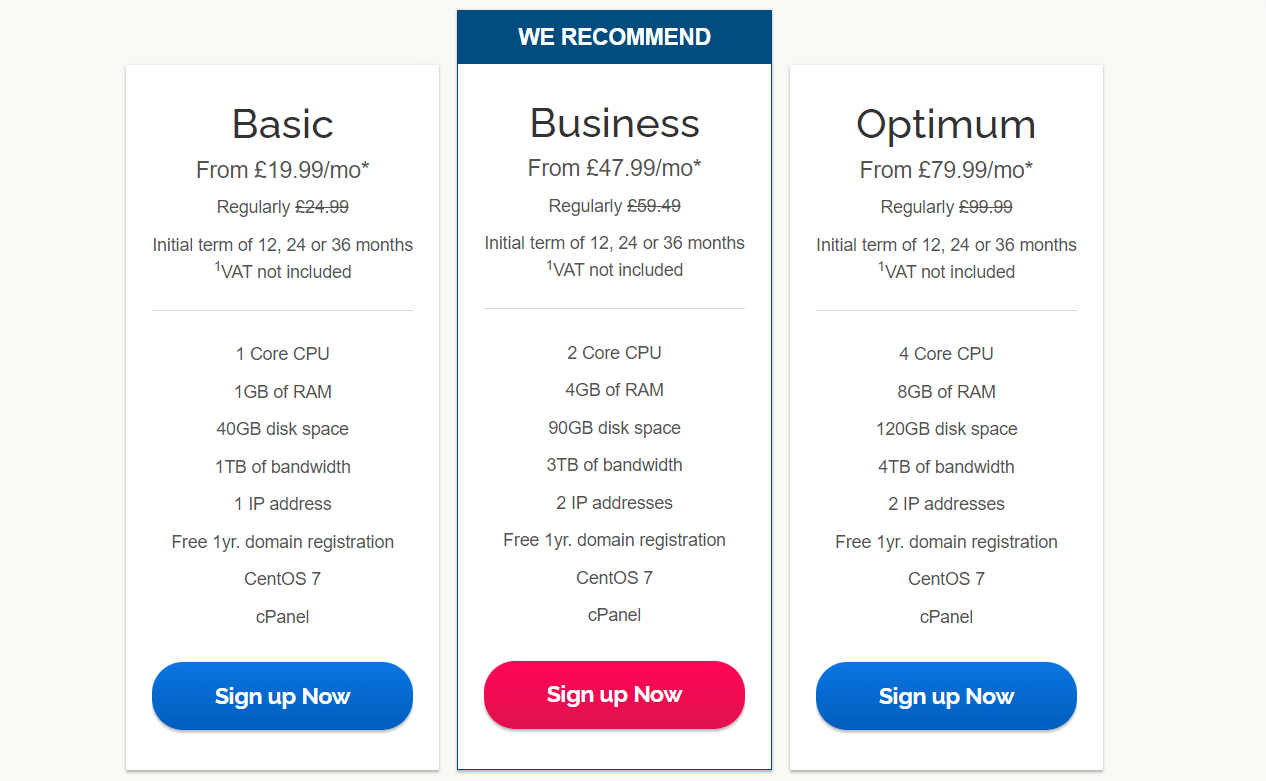 When it comes to performance, iPage does pretty well across the board. Depending on your plan, you can get up to 8 GB of RAM and a 4-core CPU for good performance.
A lot of great extras are thrown in as well. You get access to several proprietary software. This includes unique control panels, a free website builder, and much more.
Key Features:
Includes free SSL certificate
Free backups
Up to 2 dedicated IP addresses
Free domain name for the first year
Free cPanel access
Fully managed support
30-day money-back guarantee
#9 A2Hosting VPS Hosting


VPS Hosting Plan: Starting from $4.99/month
The VPS plans from A2 are built to serve you well no matter what your skill level is. The provider breaks things down on their website so that you know what you're in for before you sign up. There are six managed VPS plans and six unmanaged VPS plans available. In each case, three of the plans are standard VPS and three are Turbo VPS offering speeds of up to 20 times faster. This does come with a heavier price tag.
Here we break down the different pricing plans (not all the turbo plans are shown but you can find all of the plans on the A2 site).
A2 Managed VPS Hosting – Pricing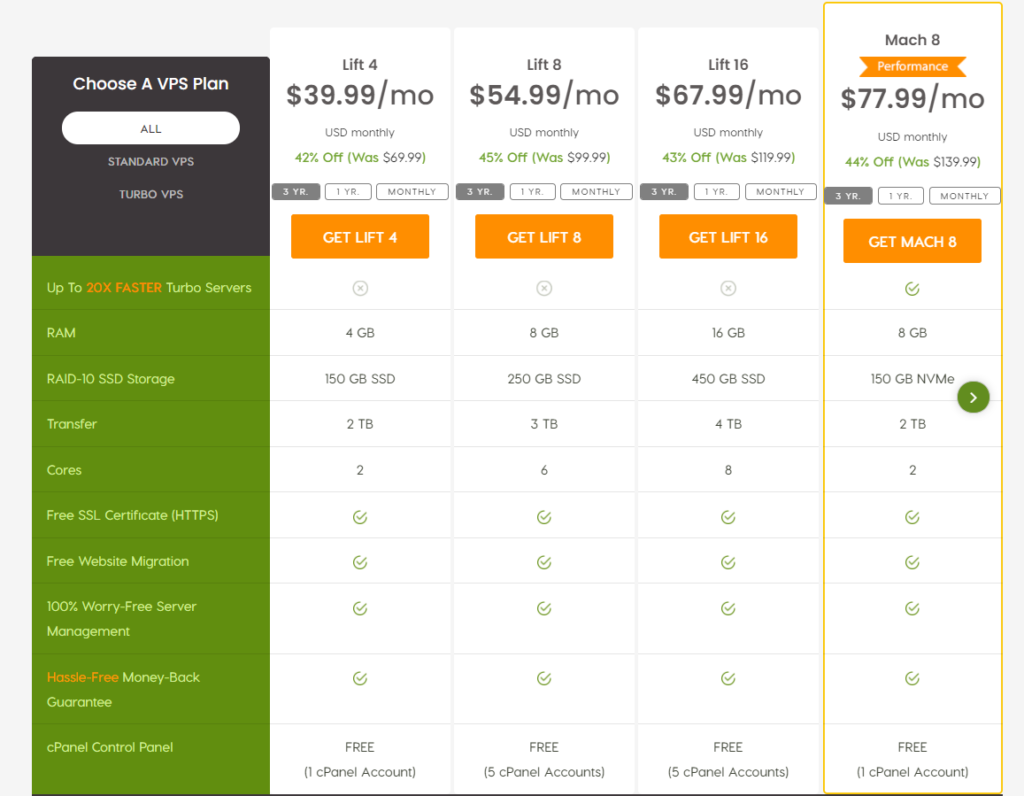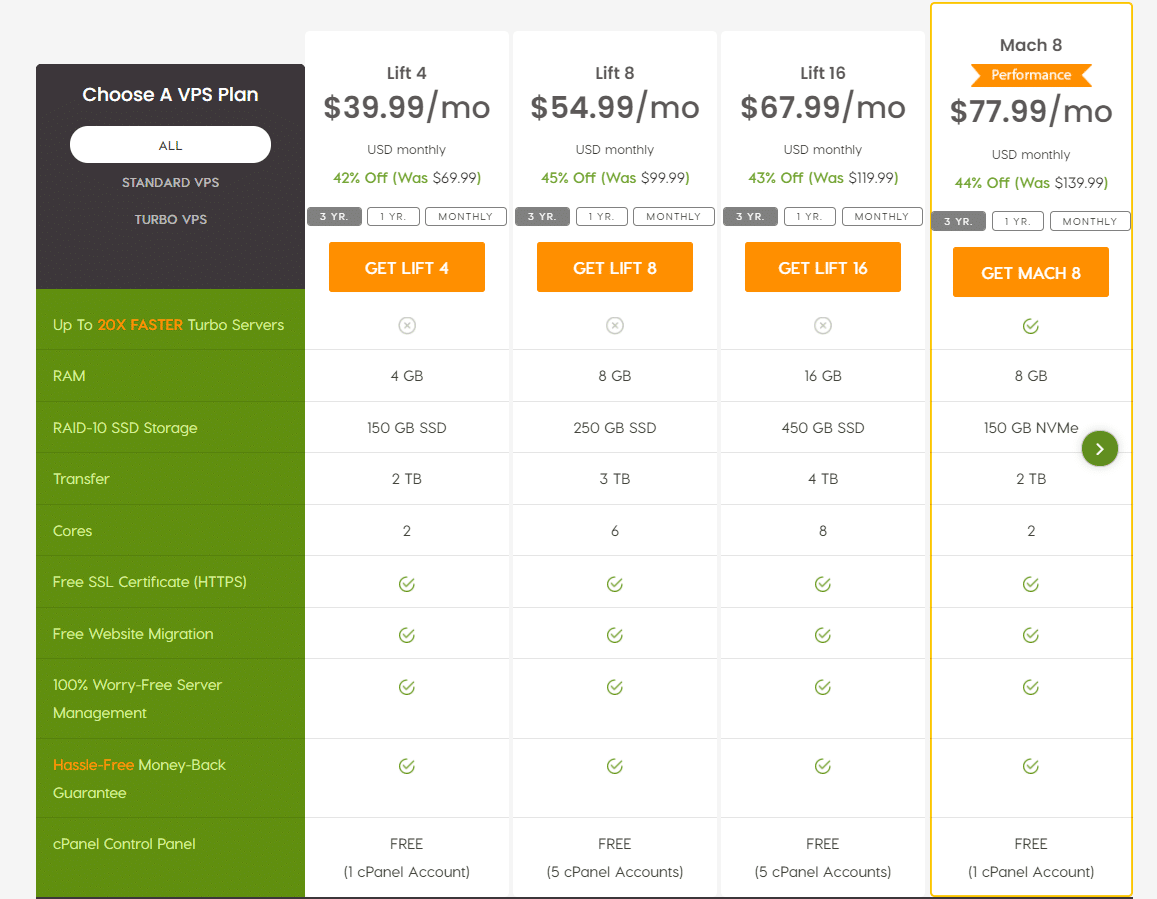 A2 Unmanaged VPS Hosting – Pricing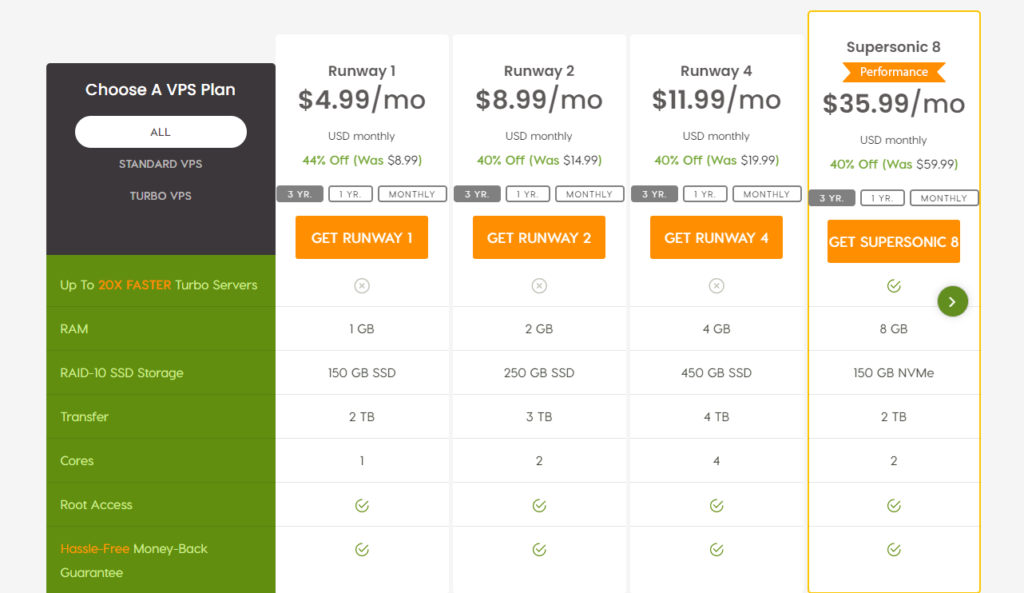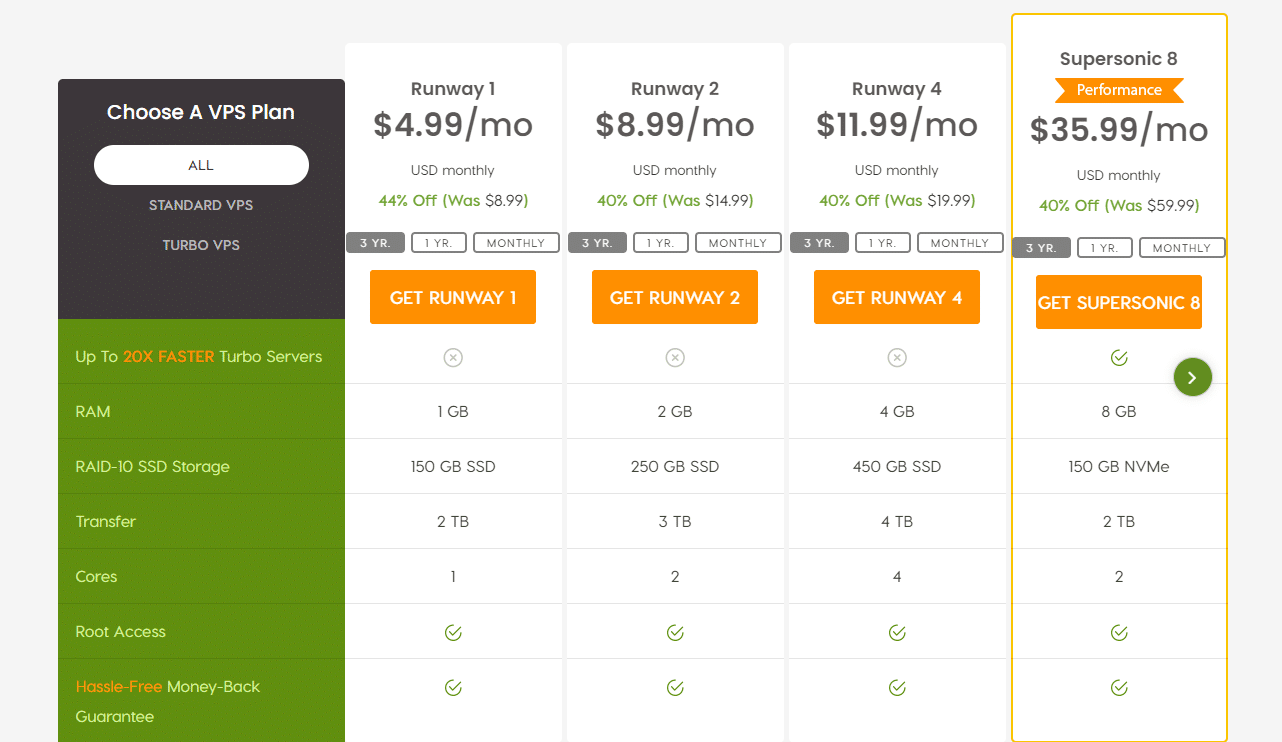 With the managed plans, you get access to 24-hour support and a slew of HostGuard management features. These include automatic updates, security patches, and cPanel access. This option is great for those who aren't familiar with VPS hosting and need a bit of extra help getting things up and running.
If you want ultimate control over your site, you can get the unmanaged plan. It comes with full root access, Turbo Speed package options for phenomenal speed, and more. This plan is also fully customizable. A2 Hosting will work with you to create the perfect solution.
Key Features:
Unmanaged and managed plans available
Some plans include root access
HostGuard management
Up to 8 CPU cores
Anytime money-back guarantee available
#10 Media Temple VPS Hosting


VPS Hosting Plan: Starting from $55/month
Their basic plan offers 2GB of RAM, 30GB of storage, and 2TB bandwidth for $55/month. Even some of the better hosting providers do not charge this much for 2GB of RAM. There are some features that Media Temple has that are new like Plesk Onyx with CentOS 6.
Much of the features on Media Temple are not of better quality or different than other hosting providers with a cheaper start-up for scalability. At the most, you will pay $350/month for 16GB of RAM and 200GB of storage. You can pick from cPanel and WHM or Plesk Onyx.
There are a few different payment plans included. The highest amount is month-to-month. If you want to get the most for your money, you can purchase up to 3 years of service from Media Temple.
The hosting provider has a 99.99% guarantee and offers 24/7 support like other providers. You can expect a fully managed DV server using Media Temple as well.
Key Features:
Up to 1 TB of SSD storage
Plesk and cPanel available
Can add resources on demand
Reliable customer support team
99.99 percent uptime guarantee
#11 GoDaddy VPS Hosting


VPS Hosting Plan: Starting from $17.99/month
GoDaddy offers every type of hosting plan under the sun, including for VPS. Whether you want to start out with something small, you can choose from the economy package, starting at $4.99 (Linux Only). This basic plan provides 1 GB memory, 20 GB SSD storage, unmetered bandwidth, 3 dedicated IPs, and a free SSL certificate for 1 year.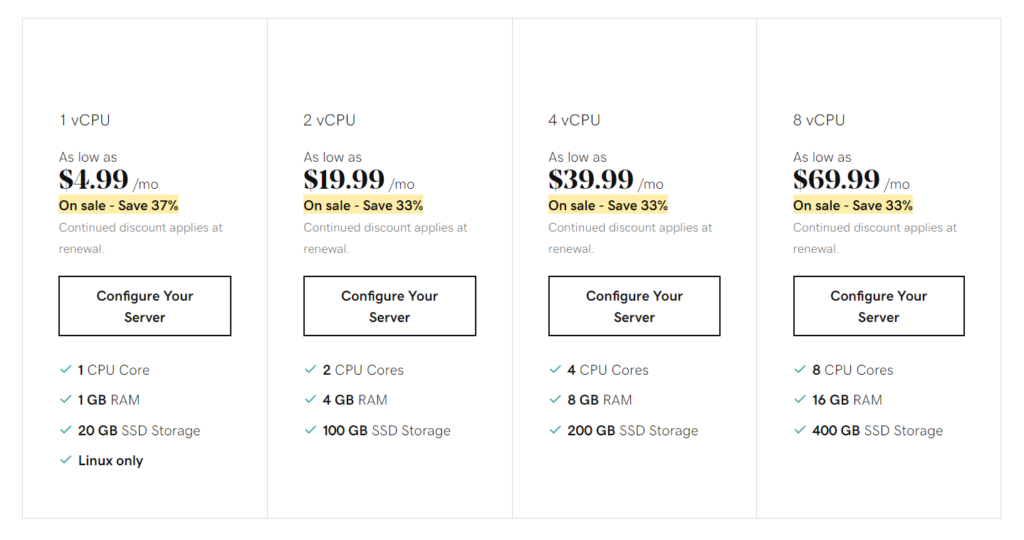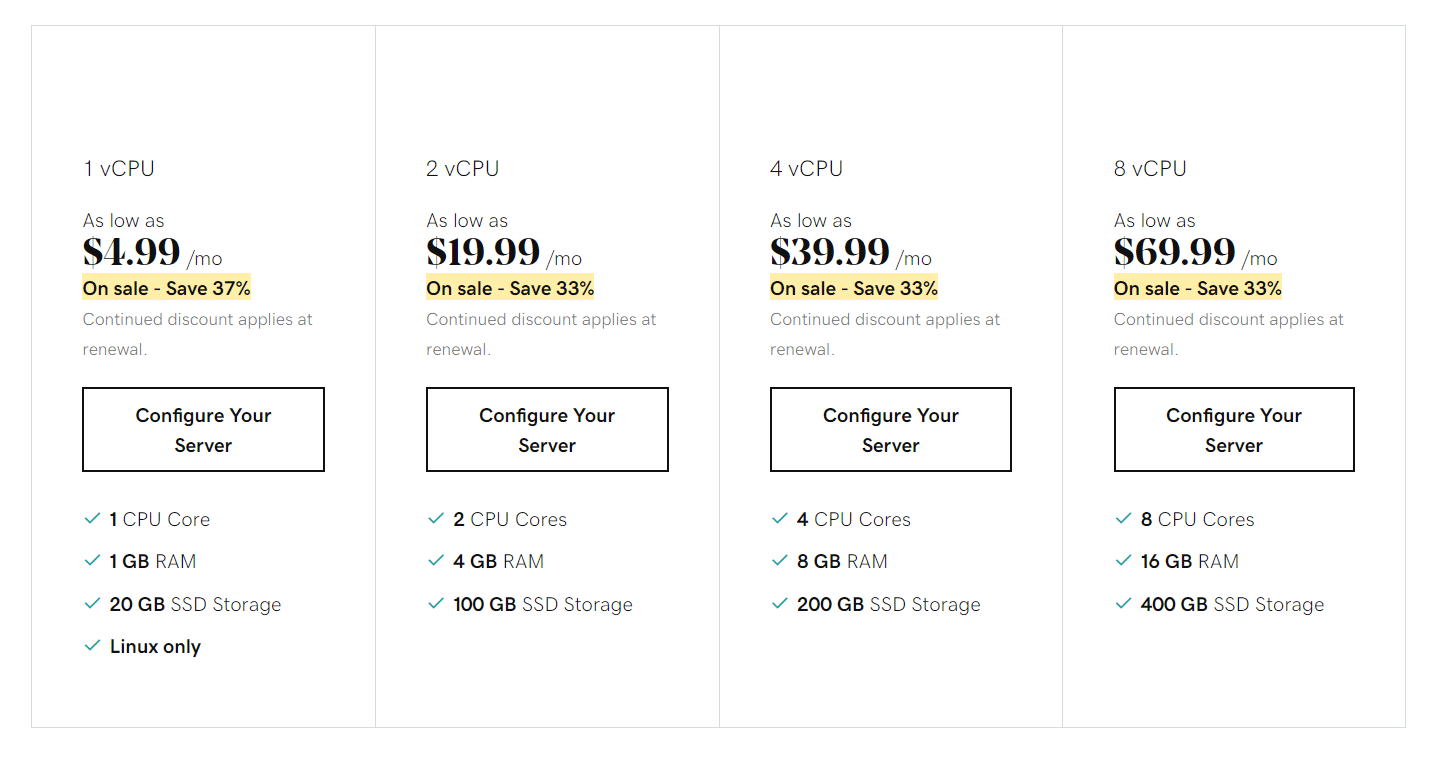 You can scale all the way up to an ultimate plan for $69.99, which includes 16GB of memory, 400GB of SSD storage, and unmetered bandwidth, as well as 3 dedicated IPs and a free 1-year SSL certificate. GoDaddy also provides root access and a guaranteed availability statement.
Uptime for GoDaddy is consistently 99.99%, and the website provides 24/7 customer support and live chat. Your VPS is a powerful machine with GoDaddy and has a dual-core Intel E5 processor with double 600GB HDD. You can also pick between Linux and Windows servers.
The packages shown above are the 'Standard RAM' packages. There are also 'High RAM' packages offered which are basically the same tiers but with double the RAM at a more expensive price. It's also worth noting that these package prices are for unmanaged VPS accounts. If you wish to purchase managed VPS hosting, these packages are significantly more expensive, but offer a lot of support.
Key Features
Windows and Linux plans
Unmetered bandwidth
Free SSL certificate for a year
Root access
Managed and unmanaged options available
Up to 8 CPU cores and 16 GB of RAM
Verdict
You get a lot of scalability with GoDaddy, but if your website starts to outgrow the storage and number of IPs, you will want to go with a more enterprise option.
Conclusion
Your website will never go down, but the price is pretty steep to pay for an entry-level website or even if you want to scale up to a site that can handle large amounts of traffic.
What is A VPS and Why Would You Need One?
In the grand scheme of web hosting options, VPS hosting is the next level up from a standard shared plan. A VPS hosting plan offers greater flexibility and more resources than a shared plan. These plans aren't as robust as having your own dedicated server. But, they offer a nice mid-level option for growing sites. With VPS hosting, your site is still stored on the same server as others. However, the key difference is that you're no longer sharing resources with other webmasters.
VPS stands for virtual private server. Web hosting companies will partition parts of the server equipment, allocating resources to individual accounts to create a virtual server. It acts very similarly to that of a dedicated server. Depending on the web host you go with, you may have full root access to control how the virtual server performs. But, VPS plans are much more affordable and can be scaled to meet your unique needs.
Why would you want to invest in VPS hosting? Well, there are several reasons why you should make the switch. The biggest is that you're given more control and better reliability.
With a standard shared hosting plan, you're at the whims of other webmasters who share the same server. Some companies put hundreds of websites on the same physical server. If one of those sites experiences significant growth or gets a sudden influx of traffic, your site's performance will suffer. There are only so many resources to go around. When one site needs more resources, it'll hog them and cause issues with the other sites.
If you get a virtual server, you don't need to worry about any of those issues. Despite sharing the same hardware, the sites are completely separate and have their own resources to use. This prevents hogging and ensures that your visitors can experience fast load times and smooth performance no matter what.
Another great perk of having your own virtual machine is that you can invest in more resources as you need them. VPS hosting plans are designed to be scalable. Instead of having to switch to a completely different server when you upgrade plans, the provider can simply allocate more resources to meet your needs.
Ultimately, VPS hosting plans are all about giving you more control of your site. Shared hosting is great for small websites that don't experience a ton of traffic. But, once you reach a certain point, those limited resources aren't capable of supporting your growth. That's when you should consider switching over to a virtual private server.
How To Choose The Best VPS Hosting Provider For You
Choosing the best VPS hosting solution for your needs requires a bit more technical know-how. This is especially true if you're upgrading from a standard shared plan. VPS hosting is more complex. Thus, there are more factors to consider. Here are some things to think about when you're choosing a plan.
CPU Power
CPU cores are responsible for processing information and handling the load of your content, databases, plugins, apps, and more. More CPU cores mean that your virtual server can take care of more tasks at once, much like your computer at home. With shared hosting plans, you don't have the option to choose how many cores you can take advantage of. That number is predetermined on the server levels.
However, VPS hosting providers give you the opportunity to customize your host environment how you please. Like with dedicated hosting plans, the number of cores with VPS hosting varies dramatically.
On the lower end, entry-level plans may include one or two cores. This is enough for smaller websites that don't display a ton of content. On the higher end of the spectrum, you can easily find providers that offer eight or more CPU cores. These VPS hosting plans are ideal for sites with large MySQL databases or processor-heavy applications. A higher number of cores ensures that your site runs smoothly for visitors. Though, it will come at a premium.
RAM Memory
Virtual servers have their own dedicated RAM as well. The RAM refers to Random Access Memory. Basically, it's responsible for transferring information to complete certain tasks. Like the CPU cores, RAM contributes to the overall performance and user experience. With more GB of RAM at your disposal, you're able to have a content-heavy site that runs like a well-oiled machine.
At the very least, we recommend getting a VPS plan that has 2 GB of RAM. With 2 GB, you should be able to run a well-designed site with a monitoring script, firewall, and a sizable MySQL database. If you want to rest easy knowing that your site isn't having any performance issues, bump that RAM allotment up to 4 GB for good measure.
As your site gets larger and experiences more traffic, you can upgrade your VPS server's RAM all the way up to 32 GB or more. With more RAM, you can have a massive MySQL database, use a content delivery network, take advantage of caching plugins, and so much more.
Bandwidth Allowance
If you already have some experience with web hosting, you should be familiar with the concept of bandwidth. Bandwidth is the amount of data that's transferred each time someone visits your site. Whether you offer downloads or not, bandwidth is used up. Some of the best VPS providers will have unlimited or unmetered bandwidth.
Having no hard data transfer cap is ideal. That's not to say that you shouldn't go with a provider that does implement a cap. After all, you can always add more resources to accommodate your growth. The biggest benefit of having unlimited bandwidth is that you don't have to worry about any performance dips due to a lot of web traffic.
Disk Space
Generally speaking, hosting companies will offer generous storage amounts for VPS plans. The included disk space is where you're going to be storing your content, so having several GB of disk space is ideal. Some providers do offer unmetered storage as well if you're looking for a future-proof plan.
When you're trying to decide which provider you want to go with, look out for the type of storage the company uses. Solid-state drives, or SSDs, are preferred over standard hard drives. They're more reliable and can provide a significant boost in connection speeds.
Control Panel
Now, let's talk a bit about control panels. There are several control panels available. However, the most common is cPanel. cPanel is very user-friendly and easy to figure out. Because it's used by a vast majority of hosting providers, many people prefer to stick with it. Other options include Plesk, Webmin, Direct Admin, and more.
It's important to choose a control panel you're comfortable with. This is where you'll be managing every aspect of your site. You can load content management systems like WordPress, install plugins, implement custom scripts, and more. All of those tasks are done in one place.
Also, your server management tools will be located within the panel. Remember, VPS hosting offers much greater control over how your site performs. You'll have an extra element to fiddle around with. Having a familiar control panel will make figuring the system out much easier.
Security Features
VPS providers typically offer security features for peace of mind. These days, the Internet is a minefield when it comes to cybersecurity. Malware, DDoS attacks, identity theft, and hacking have run rampant in recent years. Having some built-in security features with your virtual machine can make all the difference in how you and your visitors stay safe. Keep an eye out for free SSL certificates, built-in firewall protection, DDoS protection, and malware scanning. Also, go with a company that performs regular backups if you can. That way, you can minimize downtime and get your site up and running again if issues do occur.
Root Access
If you want to control your server from the deepest level possible, you're going to need to go with a VPS plan that offers root access. Root access allows you to edit all of the files on your virtual server. This includes system-critical files. Having this access can be beneficial if you're looking to install programs or implement complex coding. However, it's very easy to ruin your site when you have full root access.
As a result, not every web hosting company offers it. Those that do only provide one administrative access point to keep your site safe. Generally, it's recommended that you steer clear of the root zone unless you have a dedicated IT team or are highly proficient with web hosting technology.
Operating System
VPS hosting plans are available on either Windows or Linux-based operating systems. The best VPS solution for you will depend entirely on the framework you want to use. Windows-based virtual servers can only use Microsoft frameworks like ASP.net. Not every provider will offer a Windows server.
Linux servers are the most popular because they offer more flexibility. They work with more programming languages, databases, and frameworks. If you opt for a Linux system, you'll need to choose a plan that's compatible with your preferred distro. You can easily find options for popular distros like Ubuntu, CentOS, and more.
Managed or Unmanaged?
The decision between an unmanaged and managed VPS server comes down to your personal preference and skill level. As we mentioned earlier, operating a VPS server can get complicated. Many small businesses will hire dedicated IT professionals to manage the hosting environment efficiently. If you fall into this category or are comfortable with your own technical skills, unmanaged VPS plans may be for you. An unmanaged VPS service tends to offer a bit more control than managed alternatives.
If you're not comfortable enough handling the server on your own, there's no need to worry. A handful of web hosting providers do offer managed VPS servers. They tend to cost more than unmanaged plans. However, they come with the added benefit of professional assistance at every turn. The provider will take of crucial tasks to keep your site up and running smoothly.
Connection Speeds
Whether you're getting a basic shared plan or your own dedicated server, connection speeds should always be a top priority. No one is going to want to visit your site if it takes forever to load. To ensure that your site can reach its full potential, the provider you choose will need to be able to provide consistently fast speeds for all of your visitors. In addition to high-performance equipment, you need to consider the location of the data centers.
The data center is where your virtual machine is located. It's a good idea to choose a company with data centers near your target audience. Connection speeds are dramatically reduced if your visitors are in close proximity to the physical server. But what if you serve a global audience?
That's where content delivery networks come in. A CDN loads a cached version of your sites on a large network of server nodes. Instead of having to send a ping all the way to distant data centers, the user will connect to the nearest node to load up your site. This can reduce load times by quite a bit.
Uptimes
Last, but certainly not least, you need to consider the reliability of the service as a whole. All hosting providers strive to keep their equipment up and running. However, accidents do happen. Accidents tend to plague some providers more than others, which leads to lower uptime ratings.
The uptime rating refers to the amount of time the servers are online. If a power outage or data breach shuts down the equipment, your visitors won't be able to access your site. Depending on the contents of your site, this could lead to a loss of income and a host of other issues.
Look out for uptime guarantees and robust security systems at the data centers. Many providers go above and beyond to ensure that the data centers are protected, safe, and reliable.
VPS FAQs
How do dedicated and VPS hosting services differ?
Dedicated and VPS web hosting operate very similarly. The difference lies in power and price. The best VPS hosting is still, technically speaking, shared. The available resources aren't large enough to warrant separate equipment.
With dedicated hosting, your site is on an entirely different piece of server equipment than other sites. It's your hosting environment and your resources. Dedicated servers tend to cost significantly more than virtual servers. But, they do come with an enormous amount of resources to appeal to website owners with huge sites.
What's the difference between Windows and Linux VPS hosting?
Approximately 95 percent of all websites are hosted on Linux servers. That's because the system is much more flexible. Linux is an open-sourced operating system. Thus, you can install software like WordPress, Joomla, and more to create a truly custom website.
With a Windows server, you can create your site using the .Net framework. You'll also have access to a range of tools that can only be used by Windows equipment. It's more limited than Linux systems. Plus, it costs more due to Microsoft licensing fees.
Can you use WordPress with VPS hosting plans?
You can use the world's most popular content management system with VPS hosting. Some providers even offer managed WordPress VPS hosting where they'll take care of updates, staging, and more.
What is KVM?
KVM is a unique form of server management that some web providers offer. It stands for keyboard-video-mouse. Basically, it's a way to manage your virtual machine in a more intuitive way. Many webmasters prefer it because it makes the virtual server feel and operate like a dedicated machine.
Who is VPS hosting good for?
VPS hosting is a great option for anyone who has outgrown the basic features of a shared plan. It's perfect for small businesses that are steadily growing and gaining more traffic. You get more resources to support that growth and better control over how your site performs. Plus, you can easily adapt the hosting service to meet your needs as they change.
With that said, bloggers and Internet entrepreneurs can benefit as well. The extra resources are great for building content-rich sites that perform well for everyone.