A lot of online shoppers love the shopping experience that eBay offers. Being able to bid and find unique products for a bargain tends to draw a lot of people to actively use the site. In fact, eBay has been around since 1999, so they must be doing something right. However, the commissions you have to pay can end up being a deterring factor for a lot of people who are selling on that site.
So, what can you do if you'd like to build your own version of an eBay auction site? Whether you want to build a niche bidding store, or be able to sell more general items in an auction-like setting, WordPress is a great tool to help you get there.
Creating a bidding and auction site from the ground up would take a lot of time and a huge financial investment. Luckily, WordPress makes it easy for you to create a working auction site with little to no coding experience.
Below we outline the reasons you might want to create an auction site, as well as how you can use a variety of WordPress themes and plugins to create a functional eBay-like site.
Let's get to it!
Why Would You Create an Auction Site?
If you're reading this you probably already have a variety of reasons, or ideas, for starting a WordPress auction-based website. You don't have to go completely down the eBay route of creating a very general and large-scale auction based site. You can easily create a site that creates a more specific style of auction for a smaller group of users. In fact, this is usually the better route to go.
Smaller-scale auction sites are great in that you have control of the items that are being auctioned off and you can reduce, or get rid of the price, that's usually required to bid or post items.
The marketplace is already dominated by enough large-scale general platforms and bidding sites. If you want your site to succeed, then your best course of action is to start small on a very dedicated niche, then expand with time into new areas and niches.
A WordPress auction site is a great choice for you if:
You want to run a smaller site for personal use, non-profit work, event auctions, or have a niche auction site.
You want to create a site that avoids the fees of other auction sites.
You want to use WordPress, so you can easily find solutions to your problems, via the large network of developers.
A WordPress auction site isn't a great choice for you if:
You want to build a large-scale eBay rival.
You expect to do zero technical work yourself (WordPress does require a do-it-yourself mentality).
You don't want to work to build an audience around your auction efforts.
Types of Auction Sites You Can Create
Some examples that immediately come to mind include, creating an auction website that allows you to run a charity auction for select items. These are usually high end goods that people can bid on, and range from expensive trips, to upscale artwork. Or, an auction site that allows users to bid on fly fishing equipment (or another underserved niche).
The kind of site you can create is only limited to your own imagination. You could even integrate auction functionality into your existing site with one of the plugins we highlight below.
How to Setup Up Your Auction Website
WordPress began as a simple blogging platform, but now they've transitioned into a full-fledged content management system. This flexibility allows you to easily create a variety of different styles of websites.
One of those being a beautiful auction-style website!
The two main methods of creating an auction website involve adding a plugin to your existing WordPress site, or choosing an auction-oriented theme from the very beginning.
Choosing the Right Auction Plugins
Naturally, like anything WordPress related, you're going to have a lot of options to choose from when you're selecting the right plugins for your needs.
When choosing your auction plugin (or any WordPress plugin for that matter) it's important to use the criteria below, so you can ensure you're getting a high-quality plugin.
Has solid (positive) reviews
Has a dedicated support team in case issues arise
Can be downloaded from a validated source (WordPress.org)
Is easy to use, i.e., doesn't require coding experience to setup
Can be upgraded to premium (this isn't absolutely necessary, but can be helpful, if you'd like to increase functionality without having to learn a new plugin from scratch.)
Below we profile five of the main auction-related WordPress plugins that satisfy the requirements we laid out above. Depending upon your needs, any of the following plugins would be a great choice for your auction site.
Some are free and others are paid. The plugin you choose will depend upon how feature-heavy you need your site to be.

WP Auctions has both a free and an upgraded paid version of the app. With the free version of the app you can create and display your own auctions within any widget area of your website.
The free version allows you to create auction listings that include product descriptions, images, starting bid, and more. The payment options include check or money order, direct deposit, or PayPal.
The paid version allows you to create up to 3 bidding engines, include buy it now prices, completely customize each listing, and much more. The pro version also includes access to their dedicated support team.

This plugin is one of the most popular auction plugins for WordPress. It easily works with any theme and is packed with features. This plugin lets you create an auction listing that mimic eBay's listings.
The free version of the plugin allows your users to place bids on items, while giving you an array of customization options. You can even upload multiple product images and videos.
With the paid version of the plugin, users can setup an account, bid on items, and even post their own. You'll also notice an array of pricing options, regardless of the version you have.

The auction plugin Dutch Auction Masters lets you easily create an auction listing on your existing WordPress site. Setup is very fast and easy, and is similar to the process or creating a blog post. Once you've added all of the necessary details, just add the shortcodes to your website and you're all set.
This plugin allows you to customize price, dates, and other product information. The image features of this plugin are very similar actual eBay listings.
The paid version of the plugin has a ton of additional features, such as, the ability to include multiple categories, multiple images, additional payment options, additional shipping options, and even a cool My Auction feature that lets users see which auctions they've won.

Woocommerce is one of the most popular names in the eCommerce space, so it's only natural they have an auction plugin as well. If you already have Woocommerce active on your website, then adding the Woocommerce Simple Auctions extension is a great way to go.
This plugin has a ton of additional features, some of the most common include: allowing users to submit their own auctions, both normal and reverse auctions, auto bidding, setting the reserve price, buy now price, and price increments, adding user auction history, and much more.
This is a feature packed plugin and as a result is only available for a fee.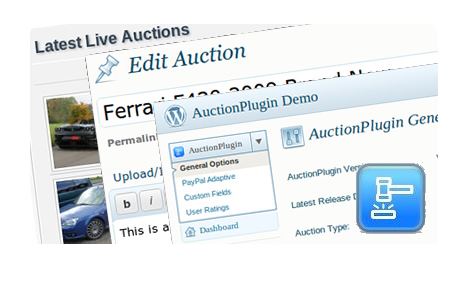 This plugin integrates nicely with most existing WordPress themes. When setting up the auction listing you'll simply be creating an additional custom post type, so it's easy to integrate into your existing workflow.
Some common features of this theme include: incorporating listing fees, highlighting featured auctions, multi-currency, email notifications, a rating system, as well as, the usual auction plugin features you've come to expect.
[divider]
Installing the Auction Plugin
For the sake of example we're going to assume you went with the Ultimate WordPress Auction plugin. All of the steps below are for this plugin. But, you can follow the general outline of steps for any plugin that you decide to download.
1. Download the Plugin From WordPress.org
Navigate to this page, and download the free plugin. Once you have it saved, install the plugin just as you would any other by navigating to the Plugins>Add New.

Choose your plugin and click 'Install Now'. Then, activate the plugin and you're all set.
2. Navigate to the Dashboard and Configure Initial Settings
Navigate to Ultimate Auction>Settings. Here you'll be able to configure all of your payment options, your currency, and even manage your auctions once they're up and running.
If your site needs any additional functionality you can upgrade to the Pro version of the theme from this screen as well.
3. Embed the Shortcode
In order to display the auction feature across your site all you'll need to do is embed the plugin shortcode into any page or post you want to feature auctions.
The shortcode should look something like this: [wdm_auction_listings]
You can find more information on shortcodes and theme questions here.
4. Create an Auction
Creating your first auction is a very simple process. To create your first auction navigate to the plugin home-page (Ultimate Auction>Add Auction).
On this page you'll find all of the necessary informational fields to create the ultimate auction listing. This page will allow you to list your title, description, short description, product images, videos, and all of the product pricing details. You can even set a buy now price, and a minimum bid listing price.
5. Manage Your items
On the 'Manage Auctions' tab you'll be able to manage all of your auctions from one place after they've been created. This screen will show you the number of bids that've been placed on the item, allow you to edit the auction item, and even bring the auction to a close.
If you have a large auction site, then being able to easily see all of your auctions from a bird's-eye-view, can truly be a blessing.
The great thing about using an auction plugin is that it enables you to add an auction page to your existing site, rather than having to build a website solely dedicated to auctions, from the ground up.
However, if you are interested in building an auction website that's solely dedicated to online auctions, then it's a good idea to choose a theme (in combination with the above plugins), that'll make the process easier for you.
WordPress Auction Site Theme Suggestions
WordPress auction themes are for those who want to build a dedicated auction website. These themes will have all of the functionality you need to build a smaller scale eBay-like website.
Below you'll find five WordPress themes that can do a great job at helping your build the perfect auction-oriented website right out of the box.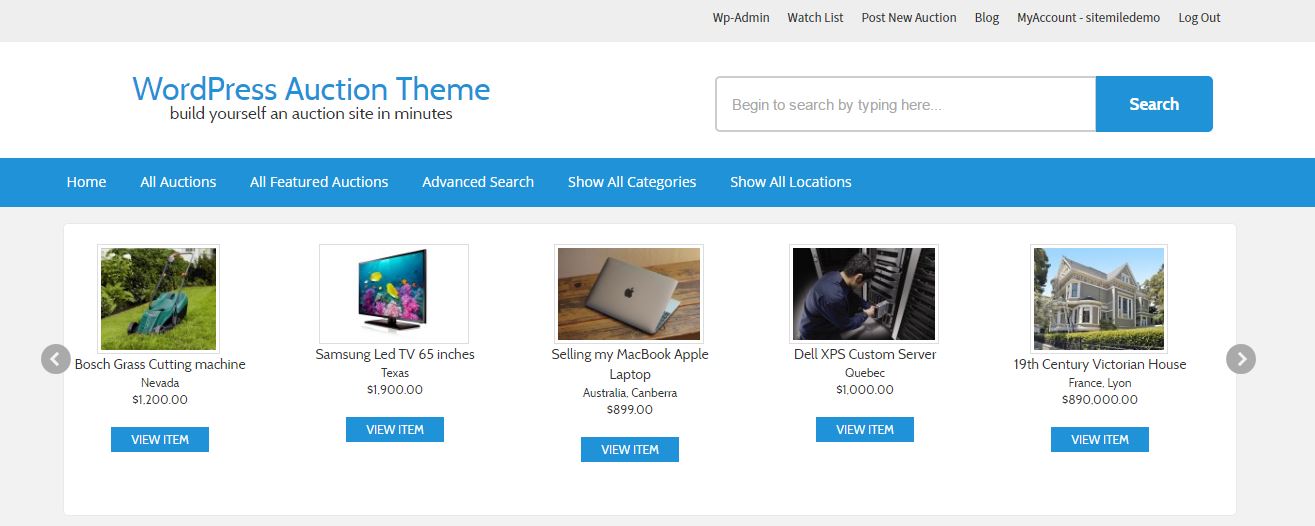 This theme is one of the most popular WordPress auction themes on the market. Your auction website needs to be simple. This theme will easily help you build an auction site that's heavily focused on the user experience.
Some of the common features of this theme include: several monetization methods, various auction options, the ability to embed auctions anywhere on your site, and plug and play functionality right out of the box.
2. Bingo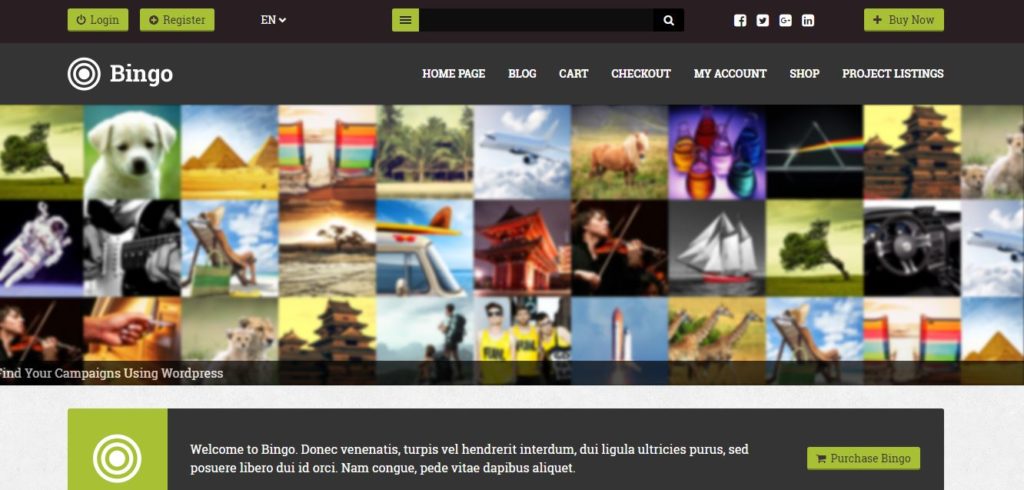 Bingo is an auction theme that can truly impress your users with every facet of your design. This is a great theme for beginners, or those that don't have any experience building websites. With the help of this theme you can easily have your very own auction site up and running in the shortest amount of time possible.
This theme includes a drag and drop theme builder, which makes customization easy, and is also ready to sell goods via WooCommerce and WPML.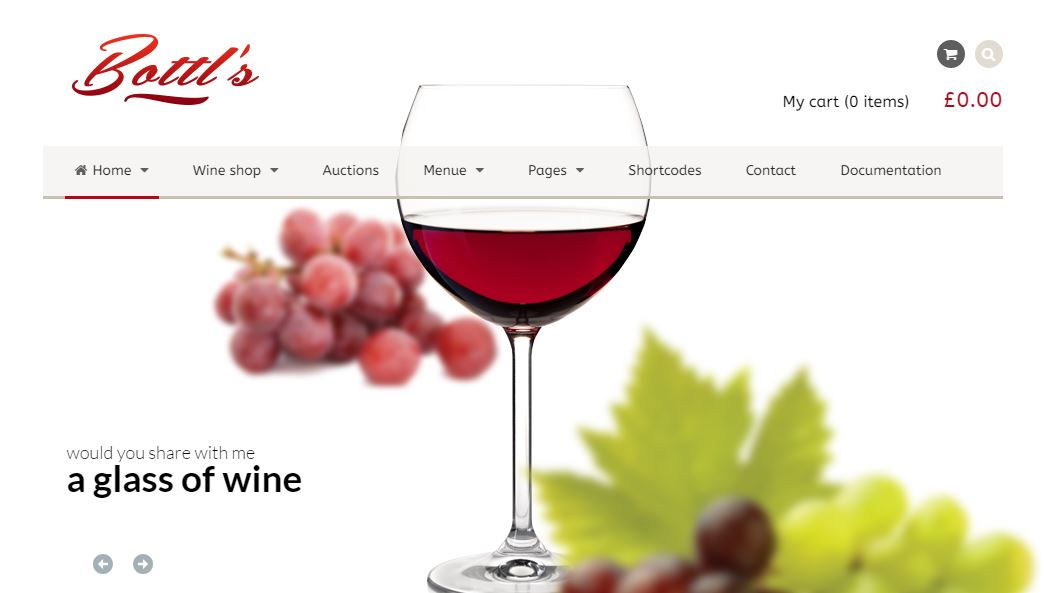 Bottls is a theme that enables you to conduct both regular auctions and reverse auctions. This theme can even work for offline auctions as well, which could be a necessity for some business owners. Bottls integrates with WooCommerce, so you can easily auction off physical or digital goods.
Bottls also allows you to easily showcase multiple products in several different categories, that also makes it easy for your user to navigate.
Some of the features of this theme include the ability to have automatic bidding, buy now prices (like eBay), and even countdown timers to encourage bidders to act fast.

This theme is exactly what the name entails, a penny auction WordPress theme. You can easily have your penny auction site up and running in a matter of minutes. A penny auction theme might seem simple, but this theme is incredibly feature packed, and very easy to customize.
If your auction site goals involve starting a penny auction site, you can't get better than this theme.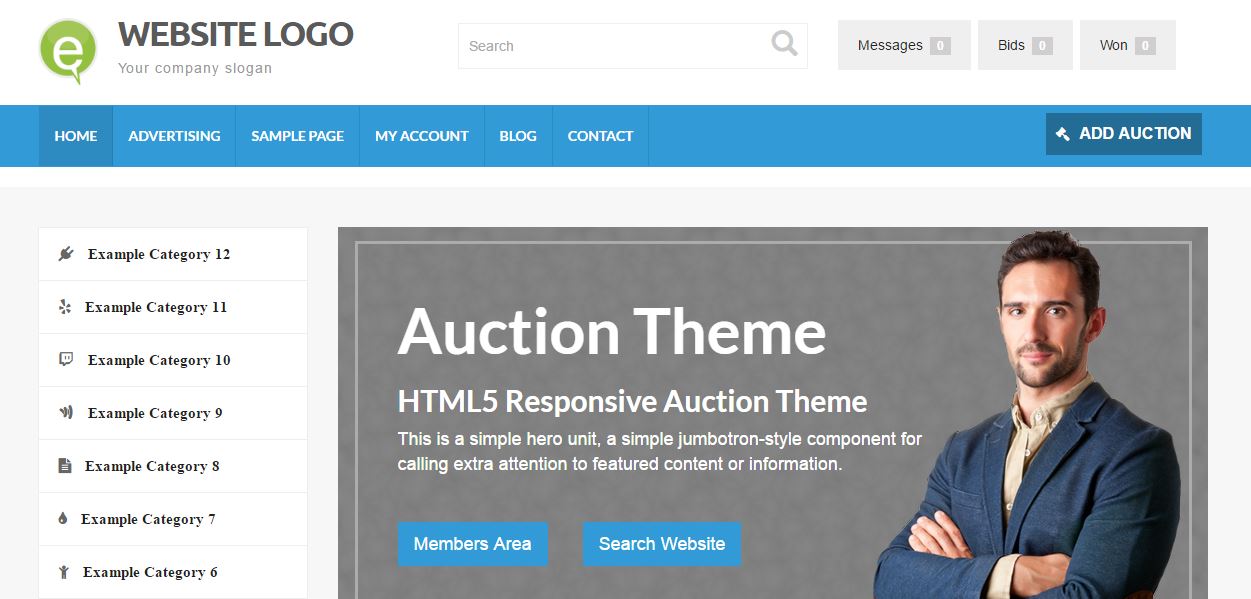 This auction theme by PremiumPress can be a great choice for your auction site needs. This premium theme has over 20 different auction site designs that'll enable you to find the perfect design for your needs.
No matter what design you choose, they're very easy to customize and are built to create an enjoyable user experience. This theme also comes equipped with a built-in messaging system that enables users to easily communicate throughout the bidding process.
Building your very own auction website is much simpler than it used to be with the help of WordPress. Whether you're interested in adding auction functionality to your existing site, or want to create a dedicated auction site, you can get there by following the steps above.
Best of luck in your auction site creation efforts!
The following two tabs change content below.
Jamie Spencer
My name is Jamie Spencer and I have spent the past 10 years building money making blogs. After growing tired of the 9-5, commuting and never seeing my family I decided that I wanted to make some changes and launched my first blog. Since then I have launched lots of successful niche blogs and after selling my survivalist blog I decided to teach other people how to do the same.
Latest posts by Jamie Spencer (see all)