Bloggers and marketers are doing busy work instead of finding what works and maximizing returns from them. This habit of trying out too many things instead of nailing in on what works makes marketing unduly expensive.
Webmasters want to get the most profit without spending an excessive amount of money. But a lot of them are going about it the wrong way.
These marketers and bloggers are investing their time and money in already crowded marketing channels and methods. Instead, they could benefit from finding less crowded, but equally effective, options.

According to Larry Kim, if you want better results, explore channels that have high user engagement and low competition. Think SMS, Facebook groups, LinkedIn, chatbots, Instagram, and search engine data.
Talking of search engine data, Larry says, "The genius is in the packaging." Since most marketing strategies rely on search data, let's look at that one a little closer.
Search Marketing Strategies
Ninety-four percent of your organic traffic will come from Google searches. Hence, you want your pages ranking in Google's top ten results, preferably top three or even number one. Ranking high on Google is critical to your success.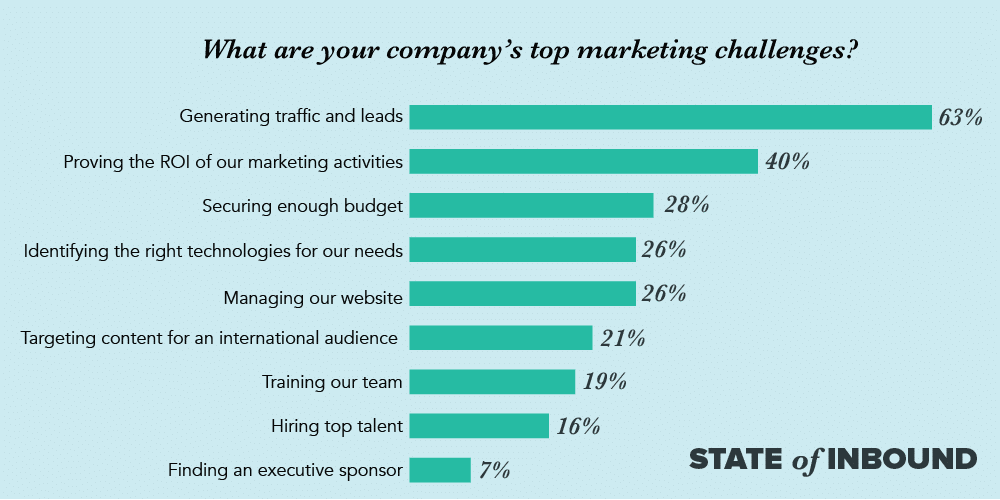 Image Credit: HubSpot
You can leverage paid or unpaid strategies in your search marketing effort.
However, what you do when someone lands on your site is equally critical.
It's easy to get carried away with strategies when you should be listening to what your website is telling you. For instance, popular statistics might tell you that people respond negatively to pop-ups, while data from your website says that's what converts the most.
The unicorn is in what your search data is telling you. Not what everyone assumes is true.
Leverage Chat Marketing
Customers prefer to chat with businesses rather than call or send emails. Albeit you want to have time to do other things that'll grow your business while communicating with your customers.
Hence you'll need a chatbot to keep your visitors engaged and answer all their questions.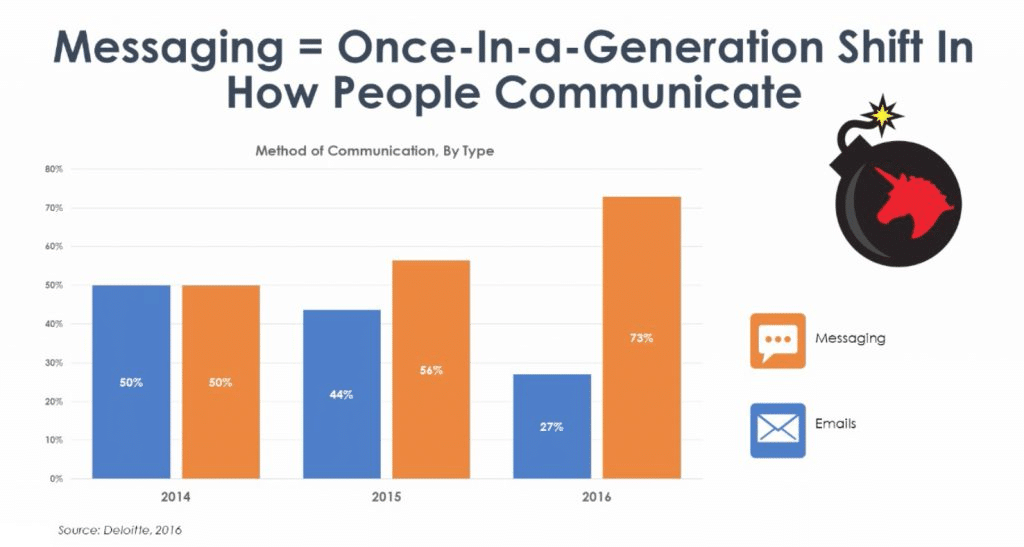 Image credit: mobilemonkey.com
With the advancement in machine learning and artificial intelligence, it's often difficult to tell that you're chatting with a chatbot. Chatbots have become essential lead generation, engagement and conversion partners for a growing number of businesses.
In short, they drive the conversations that dive conversions for businesses. Most unicorn marketers are already reaping the benefits of using chatbots in their marketing mix.
Being a Unicorn in a Sea of Donkeys
The whole idea of becoming a unicorn in a sea of donkeys is that you find and maximize ROI from contents or strategies that produce outsized results. Hence, you'll publish content, distribute them, and watch out for those that quite naturally engage your audience the most.

These observations also work with your marketing strategies and channels. Look out for what strategies and channels are driving outsized marketing value.
Once you've discovered the strategy, channel, and contents that gives you the most ROI, then you'll know where to put your money.
In this interview with Larry Kim, you'll learn to leverage content, search marketing, and chatbots in your journey to becoming a unicorn in a sea of donkeys.
My Discussion with Larry Kim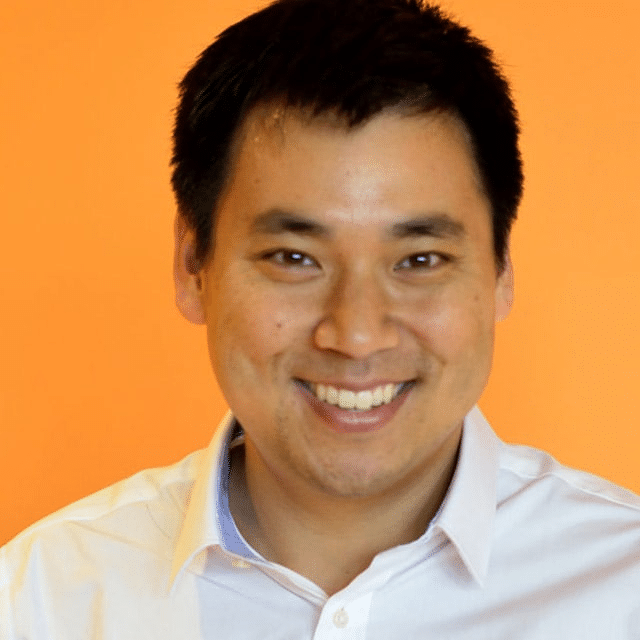 1. Hello, please introduce yourself.
My name is Larry Kim. I'm the CEO of MobileMonkey, the world's best chat marketing platform. Marketers can write chatbots that work simultaneously on Facebook Messenger, SMS and native web chat.
I'm also the founder of WordStream, a leading PPC advertising software platform managing over a billion dollars in ad spend.
My wife, Kay Lee, and I live in Boston with our 2 boys, 5-years-old and 1-year-old.
________________________________________________________________
Let's talk about your experience as an entrepreneur and your mission as a marketer.
________________________________________________________________
2. WordStream is one of the leading PPC platforms. What would you have done differently if you were starting WordStream again today, and why?

I regret that I didn't have even loftier growth and revenue goals for WordStream.
What I learned from starting WordStream by myself in a Panera Bread over a decade ago, to growing it to 300 employees, to selling it to Gannett for $150 Million last year is that you should have slightly delusional goals for your business.
When starting MobileMonkey, I took my business plan from WordStream and adjusted it to double the revenue in half the time.
3. What would you have done differently if you were starting MobileMonkey again today, and why?
We started MobileMonkey as a Facebook Messenger marketing platform. Hundreds of thousands of businesses around the world have used MobileMonkey to generate billions of leads through Facebook and Facebook Ads. Last year we won the MarTech Breakthrough Award for Best Chatbot Marketing Platform.

Obviously we are very proud of the technology, but we never intended to just be a Facebook Messenger platform.
This year we launched OmniChat.
OmniChat lets marketers write conversations that work simultaneously in multiple messaging apps – Messenger, SMS and Native Web Chat with more on the roadmap.
Businesses can manage all the conversations from across multiple chat channels in one integrated inbox on desktop and the MobileMonkey mobile app. It's getting incredible feedback from customers.
While I wish we could have launched OmniChat earlier, we started by creating value in a profitable, popular channel which gave us the launching pad to expand.
4. It looks like your core mission is to help determined marketers become unicorns in a sea of donkeys. Would you say that WordStream and MobileMonkey are helping you achieve this end? How?
One of the most common mistakes marketers make is trying to do different things instead of doubling down on the one campaign or idea with unicorn results.
MobileMonkey and WordStream are tools for marketers to find unicorn campaigns and make baby unicorns.
Chat marketing technology is still new so most marketers and advertisers don't have experience with it. Yet undeniably, customers would rather chat and text with businesses than email or call them.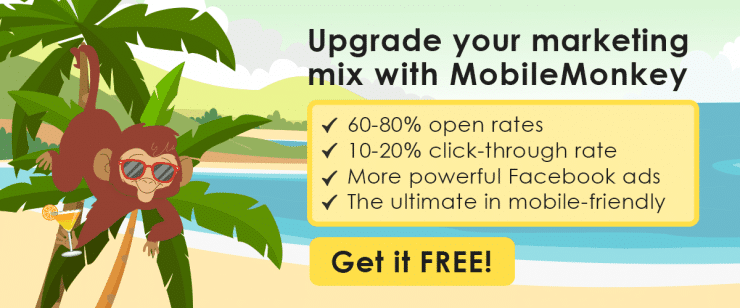 Marketers who make the shift to messaging today are taking advantage of being a first-mover to a communication channel that customers prefer.
We've been working really hard to make the world's most intuitive chatbot builder.
5. How did you grow your team, going from building your business alone while hanging out at a bakery to fully launching out with a team? How did you transition from a one-person entity to having a team that cares about what you care about?
Here is my unicorn hiring hack. Tell people about your slightly delusional business goals.
99% of people will look at you like you're crazy.
But 1% will say, "where do I sign up?"
These are exactly the people you want to join your team.
________________________________________________________________
About unicorns… You spoke in a C3 Conference on "Social Media Content Hacks." You advised marketers to find and promote their unicorn contents only. That is, they should invest in paid promotions of contents that show promises of outsized ROI.
________________________________________________________________
6. You are a big advocate of finding and focusing on content unicorns. When and how did you realize that content unicorns made all the difference?
One of the things I learned early on with WordStream was how important the 20-minute PPC work week was.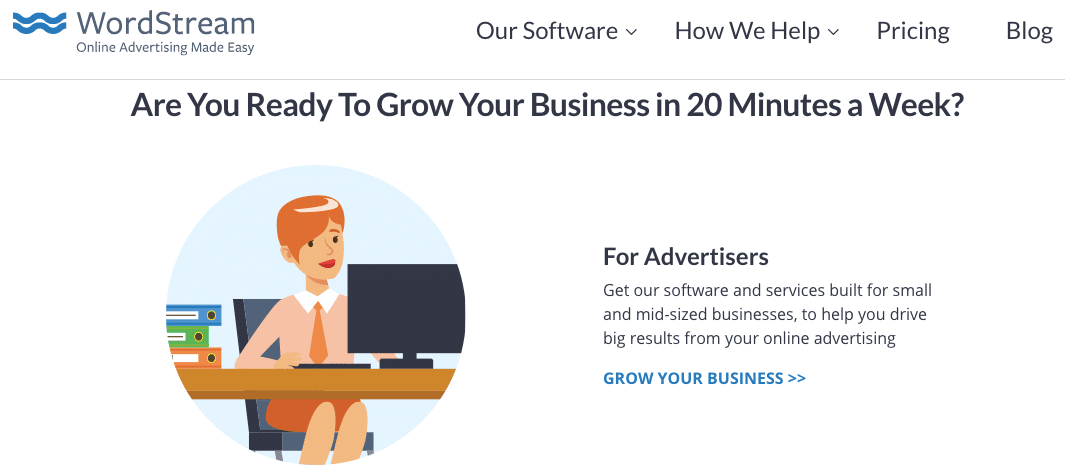 Advertisers are afraid that their money or their time is being wasted.
What we did at WordStream is package the information from a data-based tool into something that surfaces the top insights.
These are the top suggestions that will make campaigns perform better. The genius is in the packaging.
By nailing the messaging we saw a difference from a six-month sales cycle to a seven-day sales cycle.
7. Any ideas on how to use unpaid promotions to find potential unicorns to promote?
Unicorns are a metaphor for the top 1-3% of campaigns.
Find the top 1-3% of your campaigns and then do more of that.
Your unicorn content are your proven winners. Content that performs well organically just aced an audition. Then you can boost its reach with ads.
8. Is $50 still the benchmark of how much money marketers should aim to spend in testing a potential unicorn or has that changed?
You can learn a lot with a $50 testing budget.
9. In Marketing Festival 2015, you advised marketers to post their content on platforms that do not punish mistakes and only post their winning content on Facebook.
It's 2020; Facebook seems to have changed its algorithms. Hence, forcing businesses to use their paid ads if they want to reach and benefit from Facebook's user base.
So does your advice in 2015 still hold today? Should marketers focus on other platforms first and use Facebook to promote their unicorns only?
The marketing platforms I'm bullish on for 2020 are text and messaging, LinkedIn, Instagram and Facebook Groups.
They all have high engagement.
The Facebook ads with the highest ROI today are click-to-Messenger ads because they capture 100% of the leads that talk to your page. You can also get higher than average ROI with less popular placements like Instagram Stories.
Look for where competition is low and users are really engaged.
________________________________________________________________
MobileMonkey has many exciting features. It made me feel like a kid in a candy store. That's a good and a bad thing. Good because I can see that MobileMonkey solves all my chatbot needs. But it could be a bad thing for a beginner if s/he doesn't know where to start. Let's dig into chat marketing.
________________________________________________________________
10. Is it OmniChat that gives MobileMonkey its unique advantage? Why?

There's an endless list of things you can do in marketing. It's a matter of figuring out where the most leverage is from the campaigns you run.
OmniChat works across SMS, Web Chat, Messenger etc. No other chat marketing platform lets you build one conversation or automation that works on every end user's preferred chat platform. Marketers save time because you build campaigns once.
11. At what point in their business should an SME hire a chatbot to help with their business?
There's overlap between chat marketing and email marketing and PPC.
Businesses of all sizes that are running PPC campaigns or email campaigns can efficiently integrate chat marketing through existing marketing teams.
12. What misconceptions do leads or potential users run into about MobileMonkey, and how do you resolve them?
We've worked really hard to make MobileMonkey intuitive for anyone just getting started with chat marketing.
For instance, there is no coding when building a MobileMonkey chatbot for Facebook ads.
Embedding a chat widget on a website can be done with a WordPress chatbot plugin or copying and pasting code into Google Tag Manager.
Writing chat marketing campaigns that work for customers in a bunch of popular messaging apps, with the tools for businesses to manage conversations that span channels, it creates a ton of reach and leverage.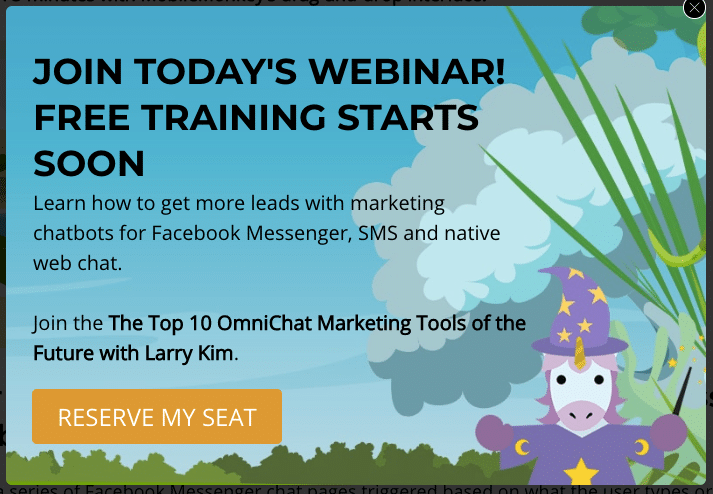 13. MobileMonkey is feature-rich. Where should beginner chatbot enthusiasts who want to implement MobileMonkey on their site begin?
A website chatbot turns anonymous website traffic into leads. Otherwise this traffic is anonymous with 96% abandon rate.
Use the website chatbot to capture leads while answering frequently asked questions.
We trigger chatbot notifications when web visitors ask high-intent questions like "how much does mobilemonkey cost?" and push leads to our sales team.
14. You said, "I started MobileMonkey because customer communications via messaging is 10x more engaging than sending regular emails." Based on that stat, can a business switch entirely from regular email to messaging communications and remain viable? Why?
People would rather chat and text with businesses than any other communication channel.
I don't suggest abandoning any activity generating ROI. Messaging is a high-engagement channel that you add to your marketing mix.
15. Business Insider reported in 2016 that 80 percent of businesses want chatbots in 2020. It's 2020, is this trend on track or off track?
The number of chatbots keeps growing. We expect to see messaging apps like WhatsApp and Instagram to introduce APIs that make chatbots possible this year.
16. Do you think MobileMonkey is causing any major shifts in the messaging and chatbots space in any meaningful way? Why and how?
More marketers are familiar with chat today than a few years ago and that's going to keep growing exponentially as chat marketing technology and how to build a bot becomes easier.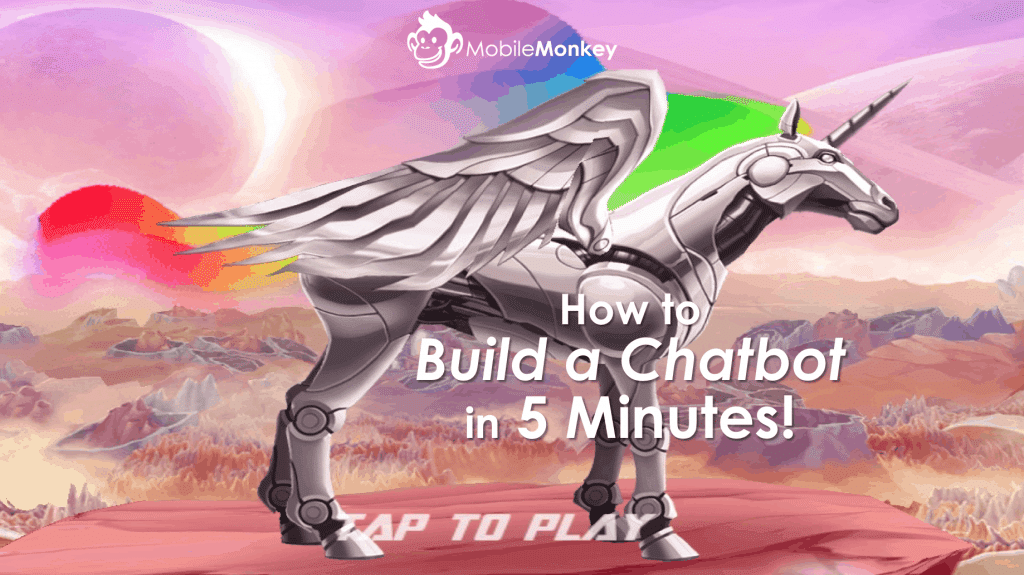 Image Credit: MobileMonkey
OmniChat multi-chat platform campaigns make chatbot campaigns more efficient and triple the reach of campaigns.
17. Is there a MobileMonkey feature that users have seen the most ROI from, and why?
Facebook post autoresponders turn Facebook comments into leads in Facebook Messenger contacts. Add to that the ability to collect SMS opt-in from Facebook or native web chat conversations. This is a very effective messaging funnel.
18. Should users expect any new features for MobileMonkey in the future?
OmniChat is a big step forward. We also have new features for Facebook Ads and Sponsored Messages that make ad creation easier with more available reporting.
I can't share the roadmap but stay tuned for exciting things this year.
Thanks for sharing your knowledge, experiences, and insights with us.
________________________________________________________________
Larry Kim is the CEO of MobileMonkey, the World's Best Facebook Messenger Marketing Platform and free chatbot builder. He's also founder of WordStream, Inc., the leading provider of Google Ads, Facebook Ads and keyword tools used by over a million marketers worldwide. The company employs over three hundred people and manages billions of dollars of ad spend on behalf of tens of thousands of customers. WordStream was acquired by Gannett for $150 million. Larry is ranked the #8 most popular author on Medium. He's a contributor to CNBC and Inc. Magazine. Key interests include: Chatbot Marketing, Google Ads, Facebook Ads, entrepreneurship and startups. He received Marketer of the Year awards from Search Engine Land, US Search Awards, and PPC Hero.
________________________________________________________________
The following two tabs change content below.
Nicholas Godwin
Nicholas Godwin is a technology researcher who tells profitable brand stories that tech buyers and businesses love. He covers technology topics on his website
TechWriteResearcher.com
, and has worked on projects for Fortune 500 companies, global tech corporations and top consulting firms, from Bloomberg Beta, Accenture, PwC, and Deloitte to HP, Shell, and AT&T.
Latest posts by Nicholas Godwin (see all)