Selling across multiple channels is a great way to increase your brand's exposure and customer base. If you already sell on your website, you can increase your revenue by 38% by also listing your product on a marketplace. This figure can go up to 120% if you sell on two marketplaces.
However, it's difficult to maintain a unified customer experience. It becomes easier to miss orders, messages, reviews, or even miss out on potential customers. You can also lose about two-thirds of your customers if your customer service is poor.
That's where SureDone comes in.
The multichannel retail solution helps you synchronize inventory, products, and orders across all of the most prominent marketplaces like Amazon, eBay, and so on.
In this interview, SureDone's Jason Nadaf explains how high-performers use multichannel eCommerce software to stay on top.
Effective Multichannel Ecommerce Management
Diversifying your ecommerce channels is great. But trying to manage them manually consumes time and manpower. 
Nonetheless, to avoid falling behind your competitors, you can automate your listings across marketplaces to stay in control.
Here are some guides to managing multichannel ecommerce effectively:
Choose Channels Based On Profitability
When selecting a channel, start with the channel that's best for your target customer, suitable for your niche, and cost-effective.
Choose one channel at a time. So you can calculate profitability and make effective forecasts.
Consistently Update Your Inventory
Make sure to consistently update product availability and prices across all your channels through one dashboard. 
Organized and active inventory management can make a huge difference in the success of your ecommerce. 
Prioritize Customer Service Across Channels
Strengthen your customer support when expanding across channels. This helps you sustain customers' trust. 
So as your business grows, enhance your customer service team and leverage CRM tools to improve customer experience.
Key Takeaway From The Interview
In this interview, Jason Nadaf enlightens us on the functionalities SureDone offers to multichannel retailers and the benefits of automation.
Here are some key takeaways:
Before choosing an Ecommerce platform, consider the catalog in the category you're looking to sell in and check out your competition. With the tools that SureDone offers, you'll identify gaps to fill in the market.

A cheap platform is not necessarily the best for your business. Look out for platforms that provide regular updates as your chosen Ecommerce platform changes. It should also provide tools that help you make informed decisions online.

To scale your ecommerce business quickly, automate all repetitive tasks so that you can focus on managing your business effectively.

Use the success stories of customers you've helped as case studies when reaching out to new prospects. That way, they're more confident that they can achieve the same results.

It's more valuable to make a hundred customers happy 95% of the time with shared experiences than to solve all the problems of one customer.

When your customers recognize that you're doing all it takes to help them grow their business, they'll also become willing to help you achieve your goals.
My Conversation With Jason Nadaf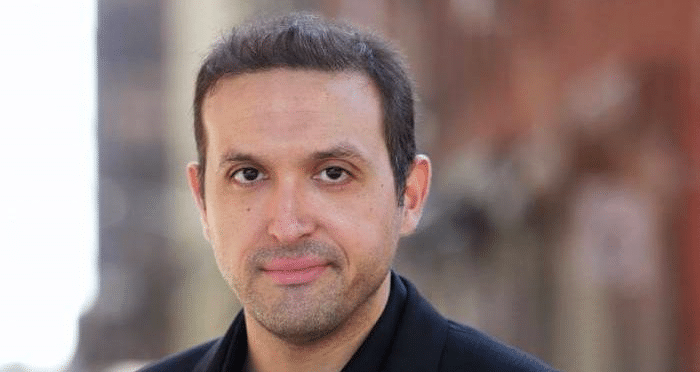 1. Please introduce yourself.
Hello! I'm Jason, founder, and CEO of SureDone. SureDone is an ecommerce platform. 
We help growing brands and retailers sell everywhere online, including eBay, Amazon, Shopify, Google, and so on. 
We also help automate repetitive tasks, so growing businesses can focus on managing their businesses instead of managing repetitive tasks.
2. I'm curious. With a sea of automation tools out there, what problem was it that you saw and wanted to solve?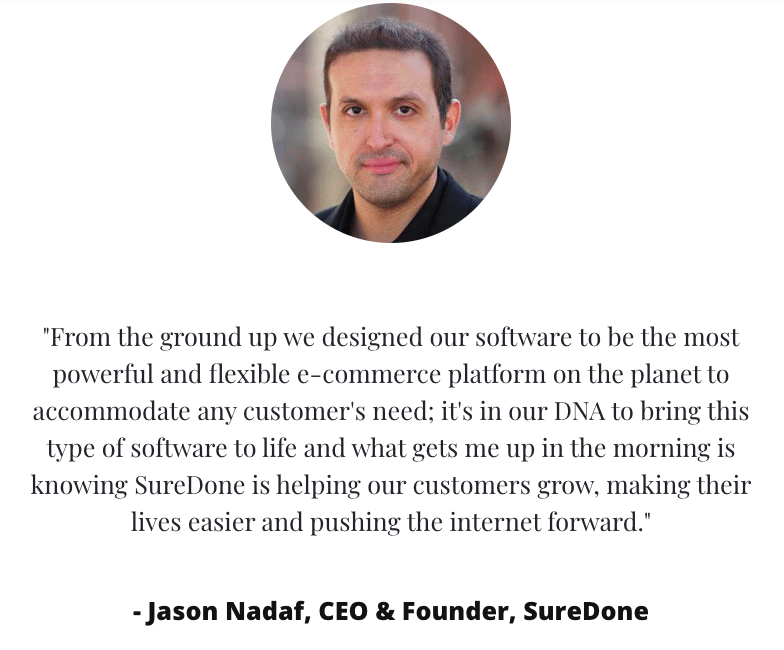 So, back when I started SureDone, I looked around the market, and everything available was either not mature or was just junk. The features were one-by-one or very buggy and didn't work, or they were just way too expensive. 
It was a time when Shopify was starting, and its goal was to be the best ecommerce storefront in the market.
I also knew many retailers that were selling online, and they had nothing accessible to grow their business. 
That's what started the idea. 
I wanted to create a platform that not only built storefronts but could also synchronize inventory, products, and orders across all of the biggest marketplaces like eBay, Amazon, and other big platforms at the time. I also focused on the automation part of it. 
In those days, if you were a seller with large capital and a hundred thousand products, you had no good way to manage it. You'll be using spreadsheets, then clicking things one by one. 
And that's where we got the idea initially.
3. How did you start? And, how were you able to secure your first customers? Since generally, new products don't gain that much trust in the beginning. So how did you initiate the trust of the first people that used your product?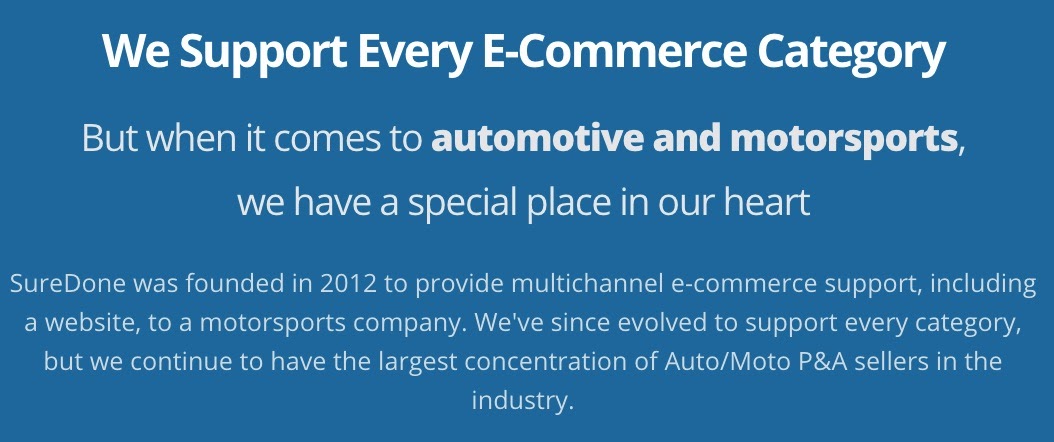 My background contributed a lot to that. My mother has been a jeweler for over 40 years, and she has a small business in Southern California. 
Then, I also met a guy who was selling motorcycle parts online. He would go on Craigslist, buy bikes, take them apart, and put them on eBay. And he was working 80-hour a week.
He's an ex-minor league baseball player, and he would list products all day and every day. 
So when I saw this, I thought I could solve their challenge. I can give them back their time. So I ended up securing the first customer after I developed the initial product.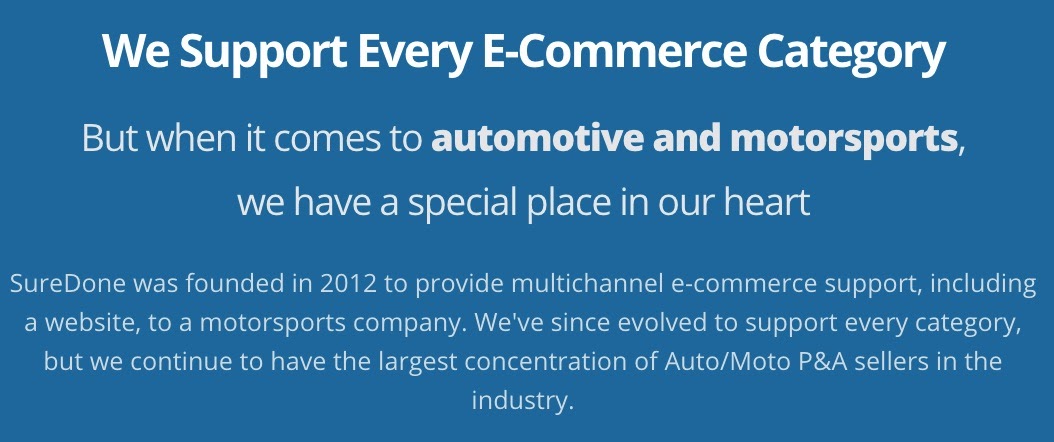 And I used that success for that merchant to go out and sell to other businesses that needed the same type of software.
4. As you scaled, what were the challenges you faced, and how did you handle that?
Well, I'm a self-taught engineer. I self-taught myself how to write code, how to do marketing, how to hire. 
I learned a lot of lessons, and unfortunately, I was not one of those people who had a mentor, and I didn't seek one out well enough. That didn't happen. 
So, I made a ton of mistakes in hiring and scaling, even with the technology. It was even surprising that the business worked so well. 
The technology I had built was doing over a billion transactions a month. Where the challenges came in when we were onboarding so many customers. because at the time the software was more enterprise. 
So we worked through the software and tried to streamline a lot of the bits that required automation. We tried to reduce the friction as much as possible.
5. Some of our audience is curious to know how SureDone works before signing up. Would you please enlighten us on how to go from hearing about SureDone, and knowing that I can automate a couple of things in my store, to getting started?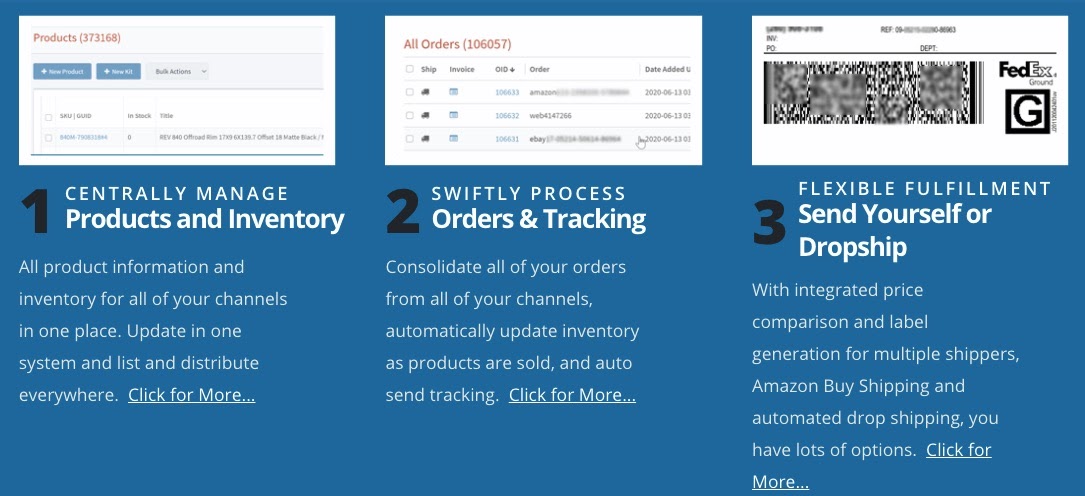 It's first important to know that we're focused on growing retailers and brands. 
So, imagine that you're a seller that's struggling to keep up with updating your inventory on eBay, Facebook, and Shopify. Or you're trying to actually expand your horizons by introducing inventory from a warehouse. Or you want to load a new catalog from an external source. 
That's what SureDone does best. And when you're ready for that, our website will guide you through an onboard that we made. 
…SureDone helps you automate repetitive tasks, so you can focus on managing your businesses instead of managing repetitive tasks.
It's a free account. You can go to the site and sign up, and you'll be asked to authorize some channels. And once you authorize those channels, you can import your products with one click. 
So you can import from your BigCommerce store, and it will import it. And you can import from your eBay account, and all the products will come in. 
From there, depending on what you're looking to do, you can work with one of our specialists to automate parts of your business. 
We can create something called automations that can automate millions of products from different sources, such as catalogs and warehouses.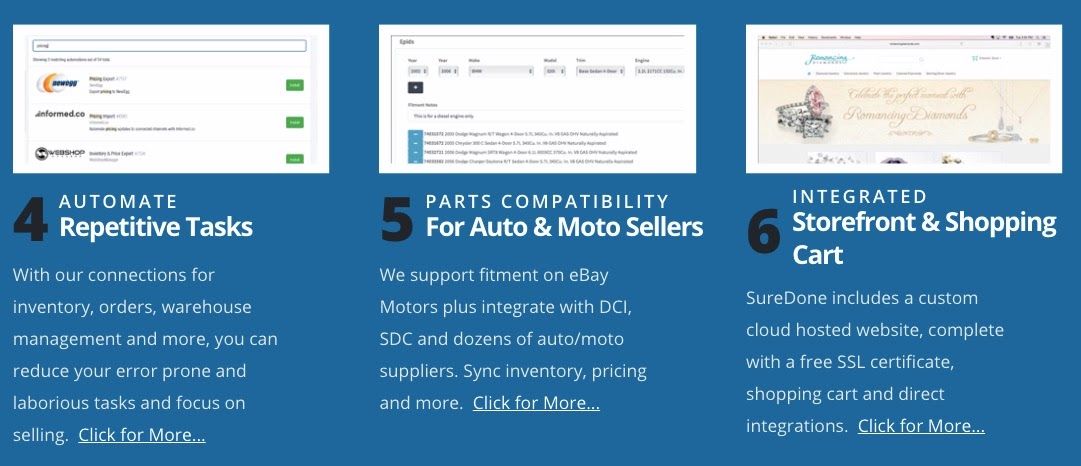 We can do dropshipping. So, if you're looking to make certain categories of your business hands-free, our software can help automate that entire process.
6. I love automations, but I'm wondering what makes SureDone stand out. What do you have today that others don't have. What makes you a go-to solution for ecommerce automation?
Yeah! One of the differentiators is that we're one of the platforms that have an inclusive storefront. 
If you're looking for one platform that includes your storefront and your channel management, SureDone is one of the platforms that offer that. We have a mobile responsive storefront that can be customized with checkout that can be used with your eBay or Amazon store. 
The second part of it is the automation rules. So we're heavily focused on that. In fact, one of our sellers recently got acquired, being a retailer on our platform, and grew over 300% in a matter of months. 
A big enterprise purchased their company, and they're bringing the entire enterprise into SureDone to achieve similar results. And what they're looking to get out of it is automation. You can use automating rules to update titles and other parts of your store.
So imagine you have a website, and you're displaying how long a product will take to ship once you buy it. 
Well, they have rules in place that automate changing it from next-day shipping to three-day shipping, depending on the inventory of the product. 
They have other rules that automate how to set their shipping service on their order fulfillment so that shipment will get to the end buyer at the fastest and lowest rate. So it's really for automating those pieces. 
So you can improve your margins, improve your customer success and streamline your business. You can focus on growing the business and managing it rather than the nuts and bolts of updating products and fulfilling that.
7. SureDone supports multiple ecommerce platforms like Amazon, eBay, Walmart, and these other ones. So it should be safe to say you have an idea of how these platforms function. What questions would a seller consider before choosing an ecommerce platform? Like, what should I bother about when I'm trying to decide what automation platform I want to use?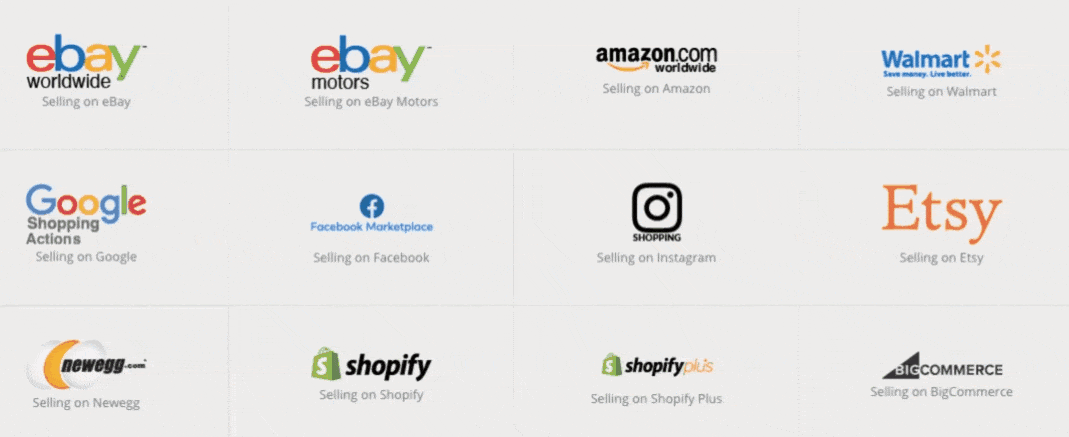 Yeah! I was just talking with a customer earlier this week, and they were asking this very same question.  
They were doing very successful business on one channel, and they were wondering, well, what should I consider? 
The first thing to consider, in my opinion, is the catalog you're looking to sell. Look at the actual competition on those products. Look at what the products look like in that category. 
What I mean by that is, let's say you're looking to buy new plates for your kitchen, and you go on to Amazon, and you type in ceramic plates, and you see that the listings are very bad. 
That's an excellent opportunity for you because you can use tools to figure out if it's a high-selling category and if it's lucrative. But more importantly, you can see that there's a gap in that market.

It's a challenge to break into being the top seller on any given channel if there's already an established incumbent. But if you're looking to break into a new category and have a unique offering and can be priced competitively. In that case, you can take ownership over that space, which gives you leverage to have more success in other categories. 
So to drawback, it's really about your product selection. 
The other thing that I'd like to advise is don't try to sell everything everywhere. 
That was a strategy that worked in the past ten years when products were still going online. But the stats are now changing. There's probably upwards of a billion, if not more, different SKUs online. Everything is online now.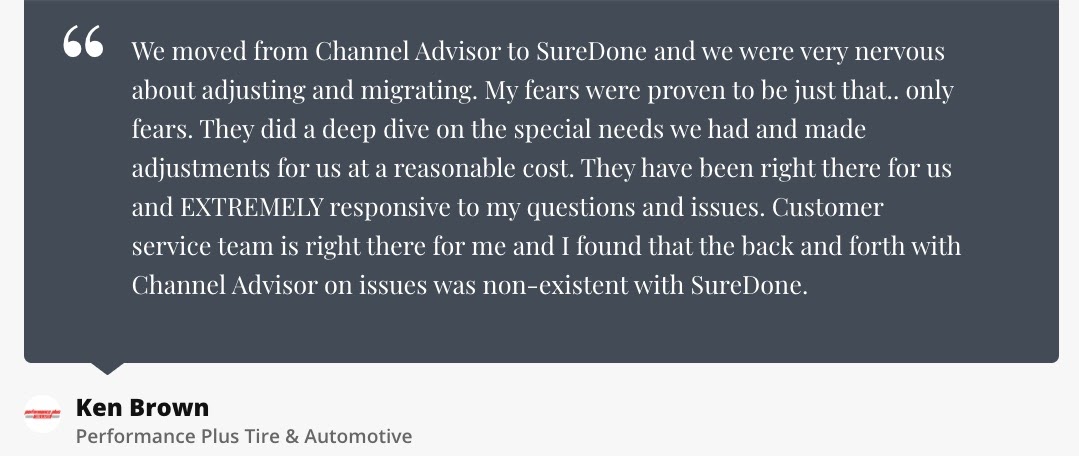 So it's about curating and being the best, the most experienced, most knowledgeable, and best customer supporting seller of a particular catalog rather than focusing on trying to sell everything everywhere.
8. What should SureDone's users expect from you shortly? What are your customers saying they need now and you're working on right now?

So, we've gotten to where our underlying technology, I mean the nuts and bolts, is one of the most reliable in the industry. 
We have customers with over 7 million SKUs that do millions of updates every single day. 
Today you come to SureDone, and you can get a reliable system that can successfully manage your products everywhere. 
Now we're focused on actually giving you intelligence so you can make better decisions around data. We are offering you reports on your orders so you can figure out your cost of goods and what to automate. 
We will give you a product and inventory report that tells you what you should be ordering next as you sell out of things on your different channels. 
Beyond the intelligence that we're layering on top of the functionality, we'll be looking to expand and continue to update our different channel integrations.
Because one thing that keeps us in business is that Amazon is constantly updating its integration requirements. eBay is continually adding new features. Walmart is continuously updating its integration.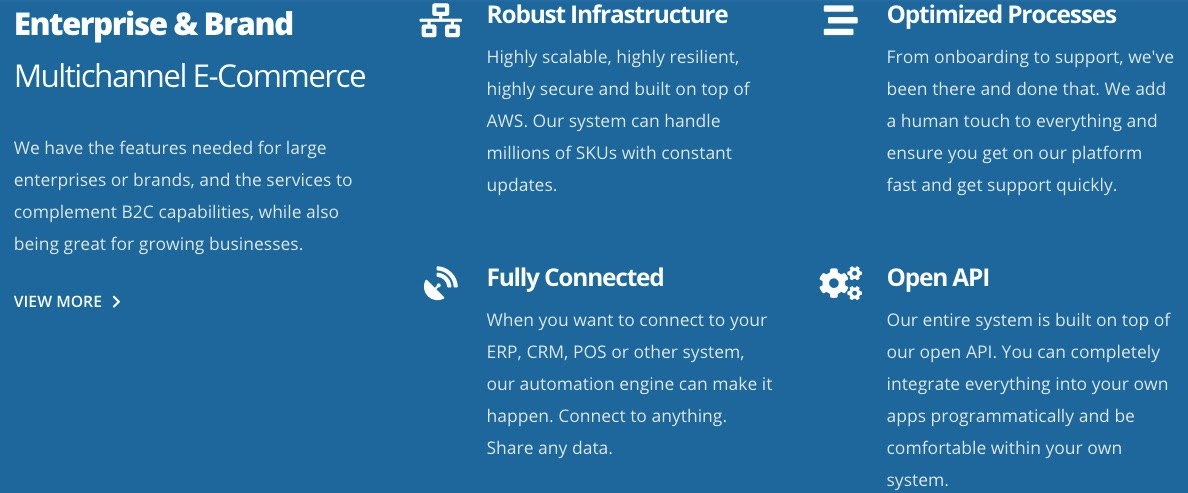 So sure, there are a lot of platforms out there that are lower price, but they're not necessarily keeping those things up to date.
It might be full of bugs. They might not work. And that could be deadly for a seller trying to keep their position in the online space. 
Whereas at SureDone we're constantly investing in making sure we have relationships with all the channels. And we're focused on being the best at doing that and maintaining that. 
But now, we're also providing our customer base with the tools they need to continue to grow their business, make better decisions on how to be more successful online.
9. When I looked at a couple of things people are saying about SureDone online, they were mostly positive things. But sometimes people experience bad things and don't want to say it to the business. So, how do you reach out to customers that aren't engaging as they used to, or left your platform? How do you make sure that you're keeping silent customers happy?

It's a challenge. But it's something that we've been focusing on for the past couple of years. It's about delighting your customers. 
It is making sure that you're continually showing value.
For example, we have a customer that's been with us for, and I think like seven or six years now, silently, never heard about them. We never even knew what they looked like for like four or five years. 
But when we started to focus on the customer success aspect of it. 
Reaching out to them periodically, trying to figure out how we can help them take it to the next level. 
Through delighting them and getting a better relationship with them, we were able to get these more personal interviews.
And similarly to how you're interviewing me here, we're going down to their warehouses and doing a video with them. And it's about building rapport and showing value with them. 
It gives us this champion customers that are not only invested to ensure that SureDone is successful. 
But also, it becomes a mutual proposition because it's a flywheel. 
We go back to the customers. We learn about what they need. 
We implement what we can to help them grow their business. And then, in return, they're willing to help support our business so we can continue to grow and bring on more customers and help more of the industry become more successful.
10. What is the best thing anyone ever said to you about SureDone?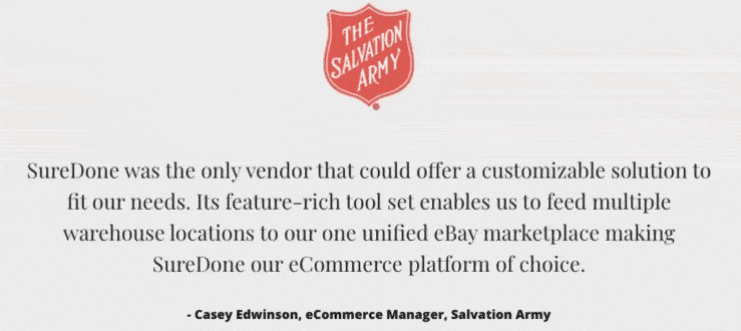 The best or the favorite? I have a lot in my memory. 
I remember one time, one of our customers had signed up and had just grown 700% in a matter of four months using SureDone. 
They had automated some things, they had a centralized place, and they used our storefront. 
And they sent us this package in the mail. It wasn't even an online review. 
When I opened the package, I saw first a knife, and I was surprised. I was like, oh no, did you do something wrong to the seller? And then I reached down then pulled out some lemons. And then I reached out some more and found out they created these shot glasses with our branding on them.
They also gave us this lovely bottle of Tequila and a letter showing us how appreciative they were.
Again, there was another seller who used to do 80 to 90 hours a week, just trying to maintain their success. And now the seller was hiring people. He was taking more time with his team, and it was a testament.
And we get gifts like these from time to time from those that appreciate what we do. And I know it's those customers that are connecting with the software and connecting with our team. 
They are seeing the success we're aiming to achieve with everyone who comes on with SureDone.
11. Most times, people get too hooked up on just automating everything. And you probably have some other things on this platform that solve some other problems, and people aren't paying attention to that, but it could be potentially helpful for them. So do you have anything on the platform that people are not paying attention to, and you think that they really should pay attention to those things?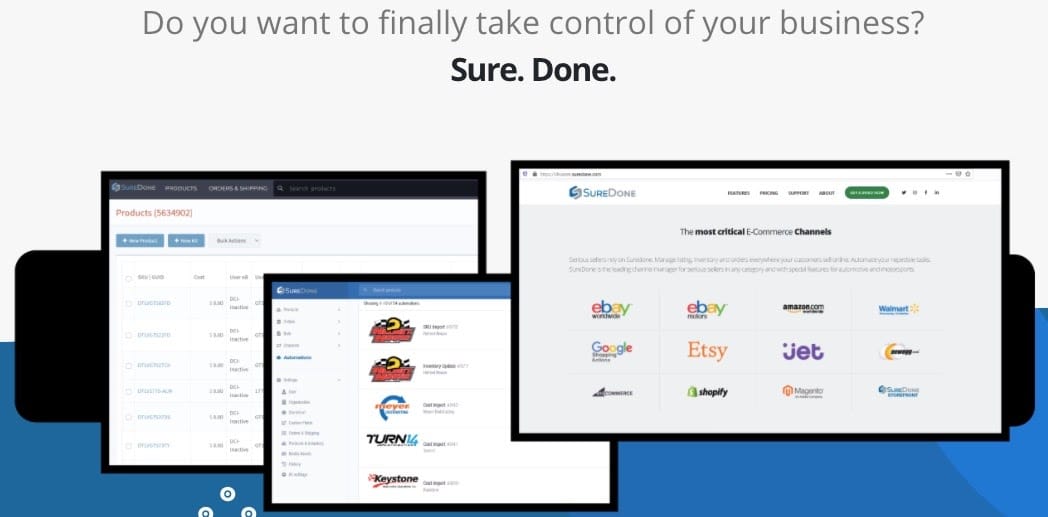 It's the automation side of it. 
In terms of lessons learned as a founder, we were trying to do everything for everyone at the beginning. And that's the advice the industry would tell you isn't what you should be focusing on if you really want to grow. 
It's one thing to make one customer happy for everything that they possibly need. But in my opinion, it's more valuable to make a hundred customers happy 95% of the way that have all shared experiences. 
And with that, SureDone again is best in class for ensuring you do high volumes updates, automating your business from end to end.
That's a big deal for us. Even our older customers haven't even had enough of their business.
And now we have a lot of tools that can help businesses:
Bring in their inventory.

Automate their catalogs.

Automate their pricing rules.

Better-streamlined performance for fulfillment.

Make rules for automating the different shipping services that will get sent to be used instead of just trying to do this one by one. 
It's the automation that we're heavily focused on, and we're going to continue to focus on. And being explicitly focused on what we're best at is what I would recommend at this point. 
But in the future, maybe when we do this call again in another year or two, it will be much more extensive, and we'll have much more to focus on at that point.
About SureDone
SureDone is a one-stop multichannel ecommerce solution for growing brands, enterprises, and retailers. It helps sellers on multiple platforms to manage, list, and sell products, sync inventory, manages orders, and automate their repetitive tasks.
Jason Nadaf founded SureDone to be a customizable platform that scales with the users' businesses. It focuses on integrating with big marketplaces like eBay, eBay Motors, Amazon, Walmart, Facebook, Instagram, Google Shopping Actions, BigCommerce, Shopify, Magento, and more to manage bulk ecommerce sales.
SureDone offers both professional and managed services. So, beyond the capabilities for selling on any marketplace category, they strive to improve their already high level of customer support. And it doesn't matter if you've been on the platform for ten days or ten years.
The following two tabs change content below.
Nicholas Godwin
Nicholas Godwin is a technology researcher who tells profitable brand stories that tech buyers and businesses love. He covers technology topics on his website
TechWriteResearcher.com
, and has worked on projects for Fortune 500 companies, global tech corporations and top consulting firms, from Bloomberg Beta, Accenture, PwC, and Deloitte to HP, Shell, and AT&T.
Latest posts by Nicholas Godwin (see all)