PDFs is one of the most popular document types used online today. It's the preferred document used in business, from online brochures to invoices. PDF editors are fast becoming the must have tool.  If you work in an office or run a business, you might even find yourself dealing with PDFs multiple times a day!
Whether you're reading an e-book in PDF format, drumming up a character sheet for a tabletop, or assembling a project for work, you need to be able to alter PDFs on the fly, and preferably with as little hassle as possible. To that end, I've put together a list of the best 12 free PDF editors!
Here's My List Of The Best Free PDF Editors
1. ApowerPDF
2. AbleWord
3. PDFcandy
4. PDF-XChange Editor
5. Sedja
6. PDFsam Basic
7. PDFescape
8. InkScape
9. SmallPDF
10. PDFelement Pro
11. PDFbuddy
12. FormSwift
Honorable mention:
If you've got student access—or you're just a patron—Microsoft Word has superb PDF editing capabilities. Just load up the PDF and give it a few minutes to convert, and you're ready to rock'n'roll! But if you don't have Word, or you're looking for something a little more niche, scope out the rest of our list! In particular, a couple of these programs are only useful if you find yourself in a very specific scenario.
Bear in mind, too, that—as PDF documents were once the proprietary format owned exclusively by Adobe—there aren't an absolute flood of truly free PDF editing programs on the market. Many will cover your PDF in watermarks or have severely limited functionality. Some of the programs on this list have their usage limits, but each one will allow you the freedom to fully edit multiple PDFs back to back.
So, without further ado…
1. ApowerPDF
ApowerPDF's functionality is almost bizarrely open-ended. Seriously—you won't find many genuinely free programs that provide you with as much rope as ApowerPDF gives you. For starters, you've got two roads to take here: A web-based PDF editor or a dedicated download for the program itself. So, maybe you're in a rush and just trying to bang out a quick edit to a PDF that somebody else garbled—you don't need to download and install a whole program, right?
You barely even edit PDFs in the first place! Though that does make us wonder why you're even reading this list, it is a totally valid life scenario. With ApowerPDF's online tool, you just have to install a quick launcher app and you're set.
ApowerPDF has a feature for creating a PDF form too. It's like having Adobe Acrobat Pro but without paying for it.
What We Like:
No joke, ApowerPDF's web-based app lets you edit/format text, add images, encrypt documents, convert your PDF into an image file and even add comments. Get this—you can even put together your own PDF from scratch with ApowerPDF! Very, very few free programs let you create PDFs from whole cloth, so if that's what you need, ApowerPDF is one of your only options.
It's quick to start, intuitive to use, and completely free. What else could your little heart desire?
What We Don't Like:
Okay, so that two roads analogy? Well, we weren't being entirely truthful. ApowerPDF's desktop program offers all the same functionality… but it's just the free trial of their premium product. Which means you have to pay to play. What a surprise, right? But hey, no need to fret—just use their browser plug-in and you'll have everything you need in the web app!
Conclusion:
ApowerPDF is at the top of this list for a reason: It's one of the best free online PDF editors available. This one's a no-brainer, folks—check it out!
2. AbleWord

What we've got here is a two-in-one deal! AbleWord isn't just a PDF editor—it's also a word processor! Admittedly, AbleWord isn't the cleanest PDF editor around, but it makes up for that by being one of the most versatile programs on this list. It can easily read, convert and edit PDFs on the fly, allowing you to make use of standard word processor functions such as find and replace, alignment, indentation, bullet lists, tables, frames, adding and resizing pictures, not to mention a standard built-in spellcheck.
You can even convert a PDF into a word document, if that's what you need to do! Otherwise, making quick, simple edits to a PDF file with AbleWord is a breeze. If you don't like having to be connected to the internet to work for free, as is the case with ApowerPDF, then you'll love AbleWord!
What We Like:
We absolutely adore AbleWord's simplistic and familiar user interface, as well as its slew of basic editing features. It really does kill two birds with one stone, reducing the number of programs you need to install on your machine to get your work done! And, of course, it can be downloaded to your desktop and used without paying a single cent.
AbleWord also gives you the power to save a file in multiple formats, including doc, docx, txt, rtf, html and pdf! We weren't joking about this program's versatility! Whatever format you need to work in, AbleWord's got you covered.
What We Don't Like:
Unfortunately, AbleWord lacks a couple run of the mill features, like header/footer implementation and tracking document revisions. In our opinion, these aren't deal breakers, but it's understandable if they are for you!
Conclusion:
AbleWord's downfall is that it is neither the best word processor on the market, nor is it the best PDF editor available. However, very few programs give you the freedom to do both, so if you're looking for the intersection of simplicity and function, you've found it.
3. PDF Candy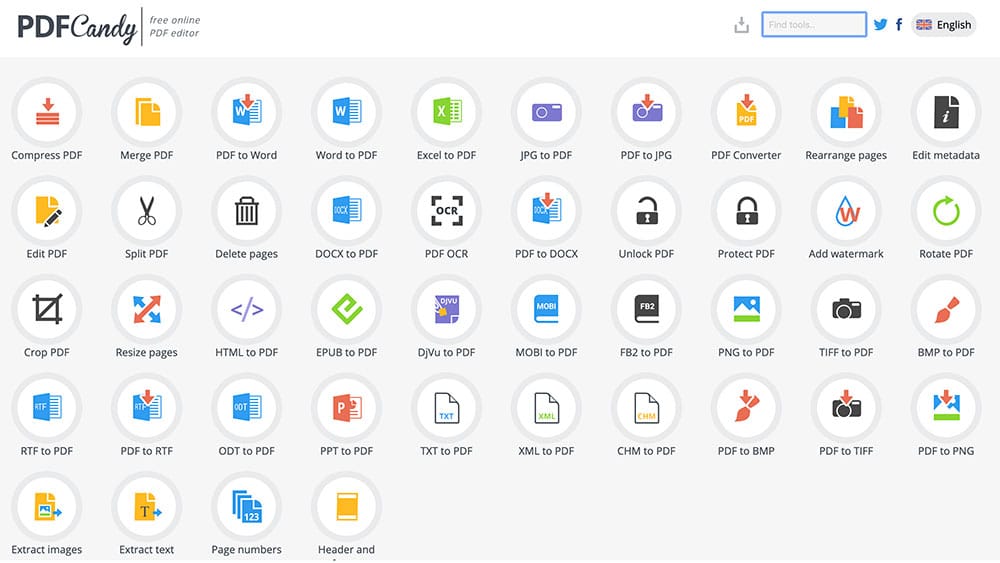 Though its suite of editing tools isn't as comprehensive as some of the other entries on this list, PDF Candy is intuitive, lightweight and still reasonably functional, considering the price point of zero dollars. You can convert, split, and merge PDF files, as well as extracting and altering images in the file.
You can even edit the metadata of your PDF and alter its permissions so that, should you be sharing the PDF with dozens of other people, nobody can change its content but you! Metadata editing is also invaluable if you need to redact segments of a PDF for legal purposes.
What We Like:
PDF Candy's biggest pro is its simplicity of use. You won't be stumbling in the dark, desperate to figure out how the program works—it's all very straightforward and streamlined. If you're burning through tens of PDF files in a workday and only need to make basic edits, PDF Candy is definitely the tool for you!
What We Don't Like:
There's nothing particularly egregious about PDF Candy, but if you're looking for a program that has advanced editing functionality, it just isn't the way to go. There are certainly other entries on this lift that give you more options when it comes to file editing.
Conclusion:
PDF Candy's a little lukewarm, as compared to some of the other entries on this list, but it's a perfectly good tool for people who handle a lot of PDF documents in the workplace. If you need to burn through a bunch of documents without making many complex changes to them, PDF Candy will get the job done!
4. PDF-XChange Editor
If you're on the hunt for a program that can specifically edit the text in a PDF file, PDF-XChange Editor is the right program for you. You can change and delete pre-existing text without trouble using PDF-XChange Editor, and it can even adapt to fonts that aren'ts installed to your hard drive on the fly!
What We Like:
PDF-XChange Editor's biggest pro is its features list, including adding comments, splitting PDFs, page extracting, and—this is the big one, folks—using optical character recognition (OCR) to identify text in scanned documents. That's right! Even if your PDF is a scanned printout, PDF-XChange Editor will pick up on text and let you edit it at will.
What We Don't Like:
Unfortunately, you can't access every single feature that PDF-XChange Editor has to offer without paying for premium. There are a handful of features in the program, like polygonal shapes or new text boxes, that are more or less locked behind a paywall—which is to say, you can still use these features, but it'll slap a watermark on your document. Fortunately, a warning message pops up whenever you use one of these tools, so you'll know not to save your document if you don't want it to be watermarked.
Conclusion:
PDF-XChange Editor is, pound for pound, one of the best programs on this list. Some of its features require you to pay, but they're also sort of extraneous, so it's unlikely that they're make-or-break functions for you. As far as standard editing features go, everything you'll need is completely free.
5. Sedja
Like APowerPDF, Sedja's a browser-based PDF editor—but without the paid-for desktop component. Oh, well! It's still free, and puts plenty of tools at your disposal: adding text, images and links; signing documents; adding comments, and—handily enough—letting you add rectangles and ellipses!
What We Like:
Sedja's biggest plus is its exhaustive list of features, including cloud storage functionality. You can even send your saved doc directly to Dropbox or Google Drive, or grab a shareable link to send to your friends or coworkers! That link expires after a week, though, so don't count on it sticking around forever.
What We Don't Like:
Here's a huge warning about Sedja: It has a three-hour cutoff, at which point it deletes your document! So if you have to do a LOT of work to your PDF, or you get distracted partway through, you'll want to make sure you've saved your PDF to your hard drive. Three hours is a very generous time limit, but be aware of it, all the same.
Conclusion:
Sedja's an awesome online-only tool for PDF editing! If you'd rather skip the hassle of downloading and installing a full program—and one that, like, PDF-XChange Editor or ApowerPDF's desktop client, may have locked premium features—Sedja's an excellent choice.
6. PDFsam Basic
While some of the other entries on this list are great for all-around PDF editing, PDFsam Basic is very situational: It's a well-designed program, but its non-premium version is primarily useful for people who need to chop down an unwieldy PDF document to its most important pages. While that may not be helpful to many users, it might be exactly what you're looking for if cutting unneeded pages out of a document is a part of your daily job!
What We Like:
If you have one specific goal in mind, PDFsam Basic really does it well! You can extract selected pages throughout your document, and even rotate pages if they were scanned improperly—which, as many of you know, happens more often than not.
What We Don't Like:
If you need to do any actual content modification, PDFsam Basic just won't cut it. All of its text and image editing features are hidden behind a premium paywall—but you can take advantage of a free trial to use the premium version's tools, if you absolutely need to! But once it's over, it's over, and you'll be stuck with PDFsam Basic's limited functionality.
Conclusion:
This one's definitely for the niche editors. If you're just Frankensteining a PDF document down to size, it's gold. Otherwise, you'll want to try one of the other entries on our list.
7. PDFescape
Like ApowerPDF, PDFescape sports a free online-only editor, while also offering a premium desktop client. It comes with a free trial, of course, but that only lasts for so long!
What We Like:
PDFescape lets you create new text boxes, create simple geometric shapes—to redact information, for example, via "whiteout"—and even create simple text field forms, which isn't the most common thing in free PDF editors.
What We Don't Like:
PDFescape's free web-based component doesn't actually let you edit pre-written text, so if that's a must, it's not for you. Also, be aware that using the "whiteout" function to delete text won't actually remove any hard data, so somebody with the necessary skills to do so could recreate redacted sensitive information if they so desired.
Conclusion:
If your editing needs are simple, PDFescape's got enough mojo to make the changes you need! If you absolutely must alter text that's already been added to the PDF, however, you can't—but fortunately, other programs can fill that gap if need be.
8. Inkscape
Inkscape's primary function is to view and edit images for free, but fret not! It also includes PDF editing features—some of which many free dedicated PDF editors don't even have! How peculiar is that?
What We Like:
Considering its core design, Inkscape is definitely the best free software for editing an image-heavy PDF. If you need to resize, delete, or add new images to a PDF, no other program can handle it like Inkscape!
What We Don't Like:
If you aren't big into graphic design software, you might find Inkscape's suite of image editing tools a bit much. Moreover, its text editing tool isn't quite as intuitive as some of the other entries on this list.
Conclusion:
For those of you that work with PDF files that are more image-heavy than text-heavy, Inkscape is a dream come true. If you're working with a lot of words, though, you might want to look elsewhere!
9. Smallpdf
Smallpdf is very similar to a couple other entries on this list: It's free and online-only, and it lets you import shapes and add new text to a PDF on the fly. Given its limited functionality, its UI is super easy to utilize, and it is overall very intuitive software.
What We Like:
Key among Smallpdf's features is that it functions properly regardless of what OS you're using! Whether you're on a Mac, Windows or Linux-based PC, you can make use of Smallpdf.
What We Don't Like:
Unfortunately, Smallpdf doesn't let you edit pre-existing text in PDF documents. What's more, it has a hard limit of two PDFs per hour, so if you've got multiple documents that you need to work through, you're out of luck.
Conclusion:
If you don't need to edit pre-existing text, and you don't want to make an account or download any software, Smallpdf's a great option. If you need more advanced functionality or want to edit quite a few PDF documents back to back, you'll want to look elsewhere.
10. PDFelement Pro
PDFelement Pro has the largest amount of features of any entry on this list! It's an astoundingly powerful, intuitive program, with one major drawback.
What We Like:
Okay, seriously, here we go: direct text editing, adding images and links, custom watermarks, background editing, headers and footers, PDF document merging, page cropping, OCR, embedding PDF forms, password-protection, AND it's available on Windows, macOS, Android, and iOS.
PDFelement Pro is the heavyweight champ of this list. That said…
What We Don't Like:
After that long, long list of amazing features, there's gotta be a major caveat, right? Well, there is: PDFelement Pro's free version adds a watermark to every page of your PDF document.
That said, it isn't the most invasive watermark, and if you're not working on a document in a professional capacity, you can easily live with that watermark to make use of the rest of the tools the program has to offer.
Conclusion:
PDFelement Pro is an awesome program if you can get past its watermark function. Its free version never expires, and its features list may be inclusive enough that you'll forget all about that watermark the second you start digging into your PDF.
11. PDF Buddy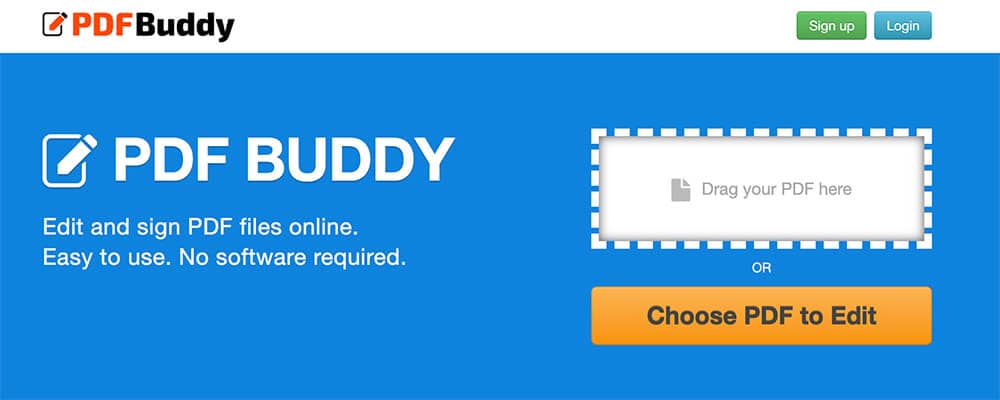 Another online-only editor! PDF Buddy does require you to sign up for an account on their website to upload and edit documents, but it is completely free, and fairly intuitive—mostly due to its limited functionality.
What We Like:
Setting up an account and editing your document is quick and easy, and, of course, it costs no money. You can't beat free, right?
What We Don't Like:
PDF Buddy's features list is a little on the light side, and the more security conscious among you might be concerned about the security of documents uploaded to their website.
Also of note: You can only edit three PDFs for free per month on PDF Buddy, so if you make a habit out of editing PDF documents, this just won't work out for you.
Conclusion:
PDF Buddy is quick and intuitive and will allow you to make changes to your documents without much hassle. Unfortunately, you'll run out the clock pretty quickly at a hard cap of three PDFs a month—so this certainly isn't the first editor we'd recommend!
12. Formswift
Like some of the other entries on this list, Formswift is a somewhat niche, online-only PDF editor that will be most useful to people who are editing a PDF specifically to fill out its contents—for example, if you've been given an NDA or contract to sign for an employer.
What We Like:
If you're looking to fill out a PDF document, Formswift has a lot of incredibly useful features: You can add text and images, not to mention checkmarks and signatures, then send the edited document to your e-mail or download it directly.
What We Don't Like:
Formswift's lack of other features makes it very situationally useful, so if you need to actually alter the content of a PDF file, you'll want to look elsewhere.
Conclusion:
For those of you seeking a form-filling PDF editor, look no further! But if you've got more complex requirements than that, you'll want to take advantage of one of the other programs on our list.
There you have it! A dozen of the best free PDF editors the internet has to offer! Some of those programs are definitely more useful than others, and some are only useful to those of you in very particular situations—but we hope that we've provided a nice, rounded list that can lead you to the product you need, no matter your situation!
The following two tabs change content below.
Jamie Spencer
My name is Jamie Spencer and I have spent the past 10 years building money making blogs. After growing tired of the 9-5, commuting and never seeing my family I decided that I wanted to make some changes and launched my first blog. Since then I have launched lots of successful niche blogs and after selling my survivalist blog I decided to teach other people how to do the same.
Latest posts by Jamie Spencer (see all)