When it comes to laptops specifially made for video editing, experienced videographers know that the right equipment can make or break your projects.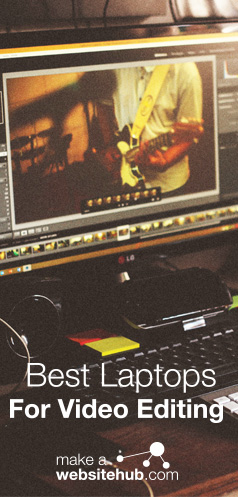 In fact, your progress may be determined solely by the technology that you are using. When it comes to graphics and pictures, a laptop that cuts your time and half and yet provides the vibrancy that results in twice the expertise will propel you forward, career-wise or in terms of developing your own video content for your blog.
It can be tricky to find the right machine for video editing as you have to make sure you're getting just the right amount of RAM and processor speeds capable of editing large files of video. After all, one of the tasks most taxing to a laptop is video editing, so you can just imagine how hard it is going to be for a laptop!
Finding the right laptop is key to an easy, breezy time editing videos. Plus, when you take the time necessary for finding the perfect laptop, you will save so much time editing videos in the process.
The good news is that laptops that allow you to do video editing are now a reality compared to ever before. Laptops are now faster, more powerful and quite modern. While there has seemed to be a dip in the appeal of video cameras and standalone camcorders, the rising of digital cameras, smartphones and YouTube with capabilities for video, drones, dash cams and action cameras as well as free video editing applications have resulted in much-needed software for editing videos. The good news is that unlike the old days, you almost ever need the right ports to import your videos.
In this post, we will talk about the most important characteristics for a new laptop and how you should think about narrowing down your list of potential buys.
Power
 
There are two parts of the laptop that are related to the power or speed of the machine: the CPU and the video card. Both of those determine how fast you can edit, process, and render video. What complicates the issue is finding the right balance of video card vs CPU when you are on a limited budget. If it was a desktop computer, then you would be able to upgrade both the CPU and video card in the future, but that is much harder to do with a laptop. You are generally limited to what comes with the machine out of the box.
There is one more important power and speed consideration, and it is something that most users don't need to worry about: the hard drive. Different hard drives have different speeds. Usually, this isn't that important, but with video editing the large amount of data that will come into and out of storage when you open and export your files. The fastest type of hard drive on the market right now is the SSD, or solid state drive. It is a serious upgrade over the old technology, but it does tend to be more expensive.
Size of Storage
Video files take up a lot of space. Having a large hard drive will give you the space you need, but there are a few issues that you need to resolve. First of all, the sheer space required means you might need one or more external hard drives. These can act as backups in case your main hard drive fails, or just as additional space. Speaking of failing drives, you should never leave important work saved in just one place. It is rare, but hard drives can break or become corrupted. The more you use them, the more likely this is to happen. Having several drives to ensure backups will protect you, but it is expensive and unwieldy, especially if you have to travel a lot.
An interesting solution that is only just now becoming accessible is cloud storage. Finding a cloud service that can store a lot of data isn't hard, because that is a big part of what the cloud can do: hold much more than what local storage can handle. Cloud storage is quite durable and reliable, and you can rent as much space as you need.
However, the cloud presents a new set of issues. You have to be able to connect to the cloud in order to access the data, and that won't always be possible if you are traveling. In addition, transferring files to and from the cloud will probably take longer than transferring them to and from a local plug-in hard drive. You'll have to make a choice about how much to use cloud services, if at all. You can treat them as a backup, as main storage, or as a hybrid.
RAM
Aside from the CPU and video card, the onboard RAM of a computer also plays a major role in how fast it will run. RAM is memory that your computer uses for short-term operations and temporary needs. The more RAM you have, the faster your computer does just about anything, including editing video.
What makes things tricky is that RAM on laptops is harder to get and harder to upgrade than on a desktop. With a desktop, you can easily slide in a new stick of RAM and expand your capacity with almost no effort. On a laptop, you generally can't add more RAM. So you need to stick with what you bought originally. To be happy with your speed, you will probably want at least 8 and more likely 16 GB of RAM. More is better, but it simply isn't easy to find that much more on a laptop without spending more money.
Value
The CPU, the graphics card, the RAM, the hard drive, and more elements like ports for SD cards, the battery life, the display quality, the wireless card, and the cooling all cost money. It is usually better to try to balance them all than to focus your attention on one part and neglect another, because the slowest part of your computer will become the bottleneck for your workflow. That means if you opt for a fancy video card but a mediocre CPU, the CPU will slow down processing and the power of the video card will be wasted. So the best bang for your buck is to get lots of good components instead of one or two excellent ones.
The truth is that desktops will offer better value for the same performance than laptops do, and they are much easier to upgrade in the future. But if you must have a laptop for portability or convenience, prioritize the core performance features and then see how much of a budget you have for a better battery, display, mouse, and so on.
Although it will seem like a waste of money, do not neglect to invest in some backup storage. Ideally you will never need to use it. In practice, you might lose a hard drive when you least expect it. Whether it is a cloud account, other hard drives, local network storage, or something else, make sure that you have a backup and that you use it frequently so that your most recent work is always stored in multiple places.
The bottom line is that to get a good laptop for video editing, you need to balance out the CPU, video card, RAM, and hard drive so that you have enough power and storage to get work done in a reasonable timeframe. You will have to fit in anything else you want into the budget after you have taken care of those four basic performance components.
Best Laptops For Video Editing – Comparison Table
Image
Product name
Features
Rating


HP ZBook 17 G4 WKSTN
Intel Core i7-7700HQ 2.80 GHz

8GB DDR4 | 256GB PCIe NVMe SSD

15.6" Full HD IPS Anti-glare Display
3.1 out of 5


Dell XPS 15 laptop
Utilizes Windows 10

Backlit keyboard

Responsive touch screen display
4.1 out of 5


Microsoft Surface Book 512GB
13. 5-inch PixelSense touchscreen display (3000 x 2000) resolution

Windows 10 Pro operating system

Surface Pen included
4 out of 5


ASUS UX534FTC-AS77 ZenBook
Utilizes Windows 10 Home

ScreenPad 2.0 technology

Intuitive touch element
4.3 out of 5


Acer Aspire 5 Slim Laptop
Utilizes Windows 10

Full-size backlit keyboard

Acer TrueHarmony audio
4.6 out of 5


Apple 15" MacBook Pro MPTR2LL
2.8GHz quad-core Intel Core i7 processor with Turbo Boost up to 3.8GHz

16GB 2133MHz LPDDR3 memory

256GB SSD storage
4.3 out of 5


Dell Precision 5510 Laptop Workstation
Intel Core i5-6300HQ (Quad Core, 2.30 GHz, 6MB SmartCache)

8GB 2133MHz DDR4

500GB 2.5 inch SATA 7200 rpm Hard Drive
3.8 out of 5


Dell XPS 15
Integrated Eyesafe display technology

Quad speaker design with Waves Nx audio

High-polished diamond-cut sidewalls
4.2 out of 5


Dell XPS9550
8GB DDR4-2133MHz

256GB PCIe Solid State Drive

NVIDIA GeForce GTX 960M with 2GB GDDR5
3.7 out of 5


ASUS ZenBook Pro
15.6" Touch IPS 4K Ultra­-HD display, 3840 x 2160 resolution

512GB SSD

Transfer speeds of 1400MB/s and 16GB DDR4 RAM
3.6 out of 5
Here's what I think are the best laptops for video editing on the market today.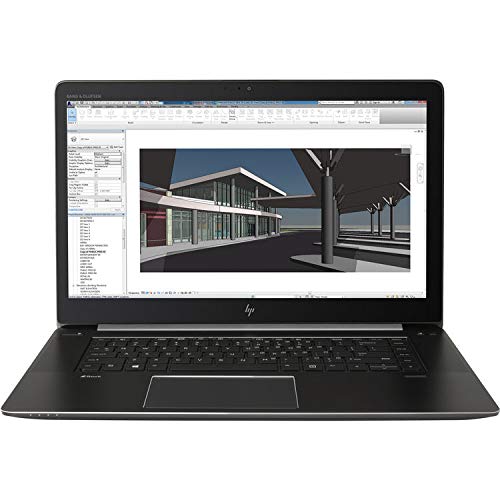 When you need performance with zero comprising in fields like engineering and architecture, you need the G4 by HP. In fact, we would go so far to say that this may just be the most powerful of workstations to date. You will love the ISV certifications and feel secure with the high-powered features of a veritable arsenal. Various professional applications will work with this machine, no matter what. In fact, you may even feel like you have a team of workaholics working for you, crammed within seventeen inches.
Designed to take with you no matter where you go, the HP ZBook Workstation offers reliable expandability, performance, and desktop power. Made for design and creative professionals with projects that demand everything they've got, there simply is no room for compromise. Reliable and stable, this laptop for video editing can work as hard as you do.
Demanding workloads are something the G4 can do with ease. Configure this with the latest processors by intel Xeon, three dual Thunderbolt ports, four terabytes of storage and Pro graphics by AMD Radeon, Quadro or NVIDIA. The most recent processors of Intel Xeon are also an option. There are a three-year limited on-site warranty and a reliable, durable workday you can count on. Enjoy the fusion of reliability, performance, and innovation all wrapped up in one little package.
Key Features:
Intel Core i7-7700HQ 2.80 GHz
8GB DDR4 | 256GB PCIe NVMe SSD
15.6″ Full HD IPS Anti-glare Display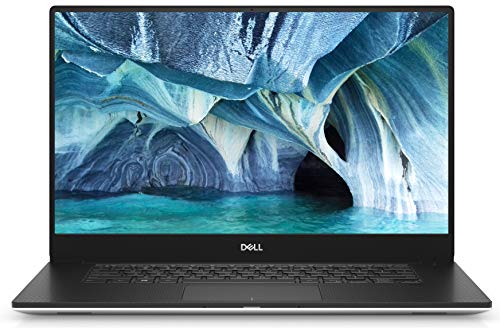 From Dell is this media-centric laptop. The device is sporting a 15.6-inch Infinity Edge display. It's a touch screen display that you can use to quickly navigate the OS or play games. However, the most exciting feature is the 4K resolution. Your games and movies never looked better!
As if the screen wasn't enough, Dell takes things further to help you enjoy your media. The laptop has Waves MaxAudio Pro, which produces booming sound with an ultra-resonant bass. Even on this compact device, the bass tones sound rich and warm. The computer also has Cinema Stream technology. No matter which streaming service you use, this technology helps make the process as smooth as possible with little to no buffering.
Key Features:
Utilizes Windows 10
Backlit keyboard
Responsive touch screen display
Fingerprint reader
Waves MaxxAudio Pro Audio
Cinema stream technology
Technical Specs:
15.6-inch InfinityEdge Touch display
4K screen resolution
9th Generation Intel Core i7 processor
Nvidia GeForce GTX 1650
16 GB of RAM
1 TB SSD
USB 3.0, Thunderbolt, and HDMI ports
SD card reader slot
Six-cell battery
It weighs 5.5 pounds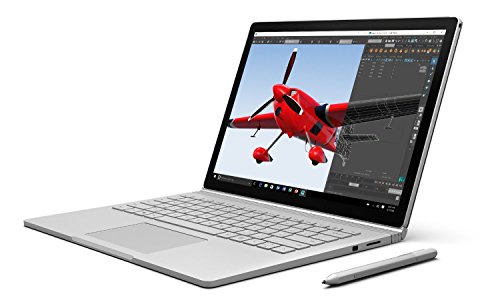 The Surface Book was introduced first as the "ultimate laptop, and for the most part, it was. This notebook is a two in one laptop with a comfortable key board, a well-constructed case, and a long battery life. There was a detachable display that worked fabulously as a pen tablet that was standalone. There was also extremely fast performance. Under the hood, there is a large battery and a second fan. In fact, this laptop lasts from twelve to sixteen hours depending on how you configure it to be. If you need this kind of power, don't forget that there is a price to match. You will most likely love the unique notebook spin on the format since there is nothing like it, to date.
It takes less than twenty seconds to open an OpenOffice Word doc. This swift performer is great not just for streaming music but also for juggling over a dozen tabs on the browser. This is a high-end tablet. It is half lighter since most of the batt is hidden in its base along with some components. The slim, smart body and Nvidia optional graphics are included, along with the new processors by Intel. It is a premium, feature-filled, power hybrid that does not forget it's a laptop.
Just like its first version, the Microsoft Surface Book 512GB is first and foremost, a laptop. However, with its sharp display, superb performance and great keyboard, you get more than what you bargained for. Its performance is a step up regarding configurations that boost graphics. There are the same clever elements of engineering that makes this portable so unique.
Key Features:
13. 5-inch PixelSense touchscreen display (3000 x 2000) resolution
Windows 10 Pro operating system
Surface Pen included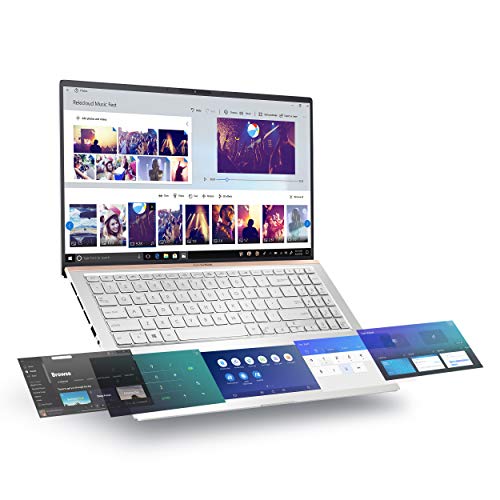 This Zenbook model from Asus is sporting one distinct feature. Take a look a the trackpad! Instead of a regular trackpad, you're getting the ScreenPad 2.0. It works like a standard trackpad. However, it also doubles as an intuitive touch screen. Use it to quickly swipe through apps or use widgets. It can positively impact your workflow, making you more proficient than ever!
Of course, we can't ignore the big screen. It's a massive 15.6-inch screen with a 4K resolution. With that many pixels, everything from movies to photos will look better than ever.
Key Features:
Utilizes Windows 10 Home
ScreenPad 2.0 technology
Intuitive touch element
Thin screen bezels
Facial recognition
Compatible with Amazon Alexa
Technical Specs:
15.6-inch NanoEdge display
4K UHD resolution
10th generation Intel Core i7 processor
Nvidia GeForce GTX 1650 Max
16 GB of RAM
512 GB SSD
IR camera
HDMI and USB-C ports
It weighs 3.6 pounds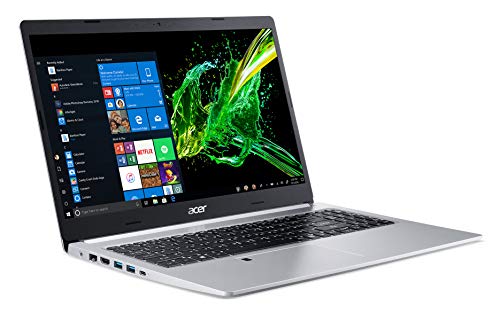 Check out this build of the Acer Aspire 5. It has the same great technology as other Aspire 5 models. However, this one is a bit more robust. It has more RAM and more extensive SSD storage to get you by.
With 8 GB of RAM, you can do a lot more with this build. The increased memory lets you cycle through tasks and work on resource-heavy applications. Whether you're playing an intensive game or editing video, the RAM will let you do so efficiently. Thanks to the robust i5 processor, any job is a breeze!
This model also has the same great design. The contemporary aesthetics work well with the streamlined button layout. You even get a fingerprint sensor for added security, which is a nice touch from Acer!
Key Features:
Utilizes Windows 10
Full-size backlit keyboard
Acer TrueHarmony audio
Built-in fingerprint reader
Thin bezels
Technical Specs:
15.6-inch display
10th Gen Intel Core i5 processor
8 GB of RAM
256 GB SSD
USB-C, USB 3.1, ethernet, and HDMI ports
Up to 9.5 hours of battery life
It weighs 3.97 pounds
Get an entirely new level regarding a notebook with the MacBook MPTR2LL. Get sharp graphics and get them fast, no matter where you happen to be. You will get smart storage and high-performance processors that deliver. The processor is 7th gen IntelCore, so this means rapid performance that is amazing. Even when encoding video and rendering three-dimensional models, you will most likely be able to do this faster than anyone else.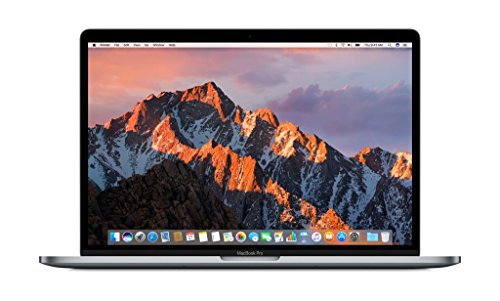 Plus, when you take on less-taxing tasks, you will be able to conserve energy to the max. Included features in this neat pack are the power efficiency and high speed. You will be able to import giant files, multiple apps and boot up with lightning speed. Get vibrant reds and emerald greens along with vivid details and realistic graphics. Get four times more stable keys compared to the traditional scissors mechanism. You also get a quick response and better comfort.
The latest laptop by Apple does not look too different than the previously released models. This computer is premium quality and performs with top notch quality and a matching price. As implied by the name, it is aimed at professionals in the creative field. The central workstation runs big time apps like the video editor Adobe's Creative Suite, web development programs and graphic design, as well as other more expensive apps.
Key Features:
2.8GHz quad-core Intel Core i7 processor with Turbo Boost up to 3.8GHz
16GB 2133MHz LPDDR3 memory
256GB SSD storage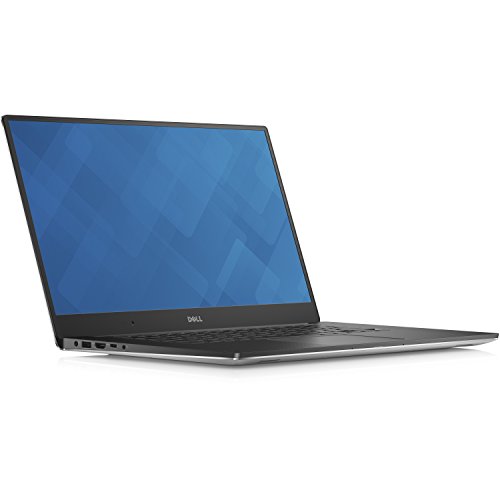 The Dell Precision provides big storage for big jobs. The new processor i5-6300HQ provides power for extracting top performance from the most important software you depend on to do your job. From complex modeling to rendering, you will note a boost in performance that is nothing but incredible, thanks to the 2GB memory and the NVIDIA Quadro graphics. Big jobs mean tons of storage so you can easily access, transfer and store complex and large 3D video and multimedia project files with the reliability and speed.
Key Features:
Intel Core i5-6300HQ (Quad Core, 2.30 GHz, 6MB SmartCache)
8GB 2133MHz DDR4
500GB 2.5 inch SATA 7200 rpm Hard Drive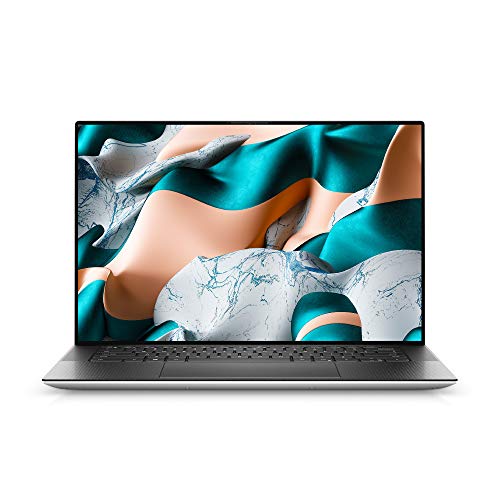 The XPS 15 by Dell is one of the highlights of this list. Not only is it practical, but it also looks great. For easy transport, this machine can be slipped into your carryall. The best part is that this laptop means business. There are no features that are unnecessary for this laptop, but you will find a dedicated graphics cards GTX960M and considering its size, it is surprisingly light. You will like the elegant premium design of black and silver. For the most part, the laptop exudes and expensive, minimalist allure. Only the base of the keyboard breaks that theme of "less is more."
At every angle, you will notice superb build with a body made of magnesium allow that stands up well to scrapes and knocks. This laptop weighs just under four pounds. Feel comfortable working on this panel whether you are a multimedia worker or a photographer. Productivity finally becomes a breeze on the 5510 Precision thanks to the under-the-hood computing muscle.
Whether you run multiple legacy apps or demanding apps, this notebook will be able to take it with no problem. Built for professional use, the XPS 15 takes everything up another level. You will love the vibrant, bold display of 400nits and that means outdoor use for this baby is okay, as well. Each half of the display is roomy enough for you to snap on applications.
This lightweight, compact and solidly-built workstation comes with top-notch displays. It is no wonder that this laptop is here to stay among professional video editors.
Key Features:
Integrated Eyesafe display technology
Quad speaker design with Waves Nx audio
High-polished diamond-cut sidewalls
This is the laptop that raises the bar. With the XPS8550 by Dell, you get a new era of productivity, performance and a boost in power. You get all the features of Windows 10 from the most popular system in the world plus enhanced features. There is a fifteen-inch display of InfinityEdge that maximizes the space on the screen, bringing the laptop closer to being fourteen inches.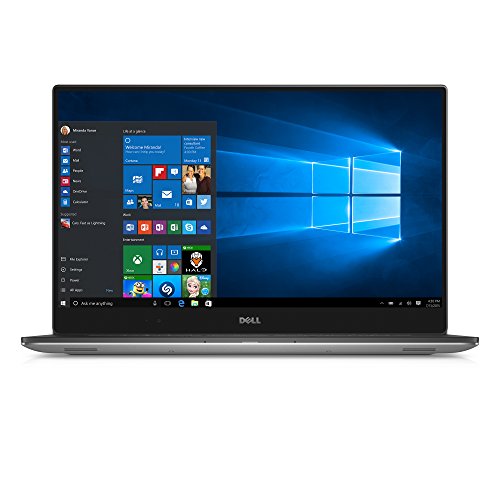 Under pressure, this notebook is cool. The carbon fiber palm rest is lighter and cooler to touch as it is thinking like aluminum and quite high. Right from the get-go, you will no doubt feel like an expert. All the apps you pin will carry over, so your productivity never suffers. Maximum storage and memory help you get quick content every time. The 8GB of the XPS provides so much room; you will be able to boot and continue working in less time than you can say "reboot." The multi-use Thunderbolt port lets you connect to a different device and charge your laptop. Enjoy up to 40Gbps data transferring which is eight times more rapid than the 3.0 USB. There are two ports for your convenience.
Did we mention that this fifteen-inch gadget is the planet's smallest laptop? It is also the first in the world with an Infinity Edge display that is virtually borderless. The innovative design display is the same award-winning one as the XPS 13. The best part is that this one is merely eleven to seventeen millimeters thin and begins at less than four pounds, making this the world's lightest fifteen-inch performance-class laptop.
Key Features:
8GB DDR4-2133MHz
256GB PCIe Solid State Drive
NVIDIA GeForce GTX 960M with 2GB GDDR5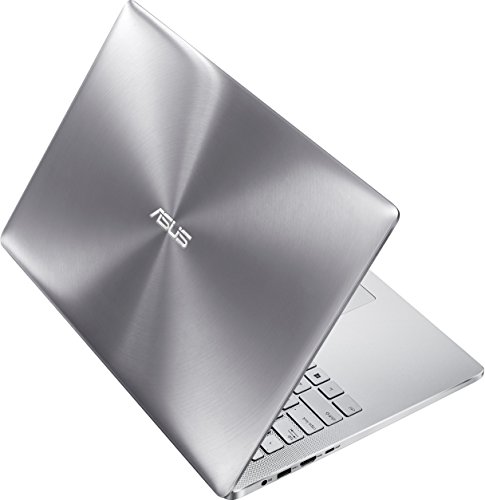 Create stunning visuals no matter when or where you want to with the Asus ZenBook Pro UX501. The UX501 ZenBook by Asus redefines its category with the combination of high-performance components and high standard craftsmanship. Featured is the IPS 15.5 touchscreen display with a host of technologies and a 4K resolution. Zen-inspired in both its exterior and interior, you would never have thought that what was possible on your pc at home is currently a real possibility even while you are on the move.
When precision is built-into your work when it comes to holding a stylus or hitting those small links, the ZenBook is perfect. Built into the glass display are actuators that are high-fidelity. You thus get a standard touchscreen with two times the accuracy. For tasks related to design, video editing and to photoshop, this version of ZenBook is the one that flourishes. Enjoy a full gamut of color and the calibrated factory color screen. You can thus boot up right from the unboxing. The astonishing resolution of every single inch having 282 pixels means that the tiniest text, videos, and photos are yours for good.
Key Features:
15.6″ Touch IPS 4K Ultra­-HD display, 3840 x 2160 resolution
512GB SSD
Transfer speeds of 1400MB/s and 16GB DDR4 RAM
Conclusion
It makes a world of difference to have the right editing tools, and that begins with your laptop. For this reason, we compiled the best ones for the job, hands down. Choose the wrong one, and you will waste hour after hour of wrestling with post-production issues. Finding a laptop with all the capabilities you need for a job in graphics will cut your time in half and produce results with twice the expertise and professionalism than all the rest.
In this list, the best laptop for video editing would be the Apple 15" MacBook Pro MPTR2L. This portable, light and slim laptop have a massive trackpad and an innovative touch bar that is unlike any other. In fact, it may not even come as a surprise to you that the most power-packed laptop by Apple is the best of the bunch. Video editing becomes a breeze with the vast trackpad, the immaculate display for the Retina and its remarkable power.
Related Articles
The following two tabs change content below.
Jamie Spencer
My name is Jamie Spencer and I have spent the past 5 years building money making blogs. After growing tired of the 9-5, commuting and never seeing my family I decided that I wanted to make some changes and launched my first blog. Since then I have launched lots of successful niche blogs and after selling my survivalist blog I decided to teach other people how to do the same.
Latest posts by Jamie Spencer (see all)