Whether you're a budding artist looking to make your photos pop, a blogger who wants to create awesome featured images and Pinterest pins, or a seasoned professional interested in streamlining your workflow, photo-editing software is a must-have. High-performance software is an important tool to have in your arsenal. It can help you make the most out of your digital images while giving you complete control over the final product.
While photographers do their best to compose shots perfectly, it's impossible to manipulate every fine detail in the real world. Lighting issues, color imbalances, and poor focus and turn an otherwise beautiful photograph into something that looks like it was done by an amateur.
The best photo-editing software takes care of all those finer details. It supplements your own skills and puts you in the director's chair. Instead of relying on raw images to show off your talents, you can use software to make your vision come to life.
There many photo editors for Mac and Windows systems out there. We're going to be taking a look at some of the best options that can serve photographers of any skill level.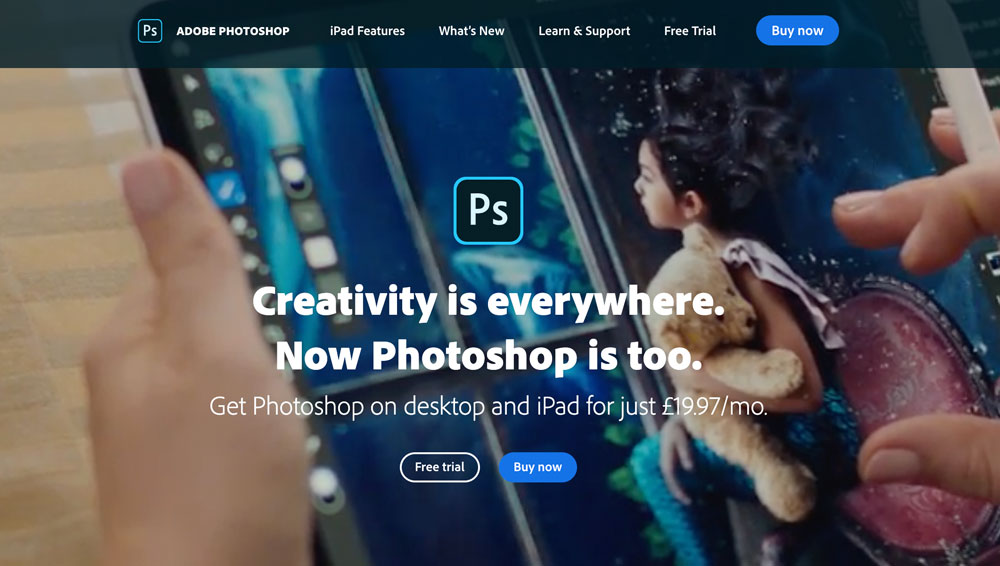 No list of photo-editing software titles is complete without mentioning Photoshop. This title is, without a doubt, one of the most well-known image editors in the world. It's so popular that the name "Photoshop" has become synonymous with the act of manipulating images.
While it's commonly viewed as a photo editor, this program offers tons of tools that go beyond the capabilities of some of its competitors. You see, Photoshop is built for graphic design. It has tools that artists can use to create digital works of art from nothing.
Of course, there are also several ways to retouch photos. You can take advantage of the powerful layering tools to completely transform your images. Or, you can use a lighter hand to adjust color and lighting. Whatever your needs may be, Photoshop is capable enough to meet them.
All in all, Photoshop has all the features you would ever need. It's perfect for photographers and artists that need the most versatility possible and the widest selection of tools available. If the full professional version is too complex for you, Adobe does offer many different variations of Photoshop. There's Photoshop Express, which is built for smartphones, and Photoshop Elements, which is designed for beginners.
Key Features:
Wide range of image manipulation and editing tools
Modern interface
Freehand drawing and art tools
Multi-layer editing
Large collection of filters and brushes
User-friendly retouching features
Subscription-based pricing model
Photoshop Express available for iOS and Android smartphones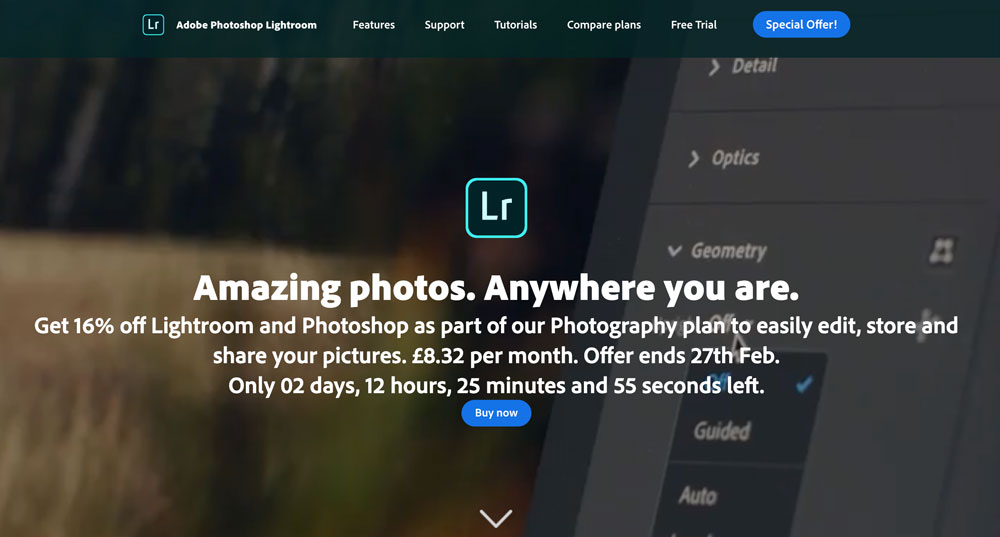 While it may not be a household name like Photoshop, Lightroom is an incredibly powerful photo editing tool that's used by professional photographers all over the world. It's also made by Adobe and is sometimes referred to as Photoshop Lightroom. Unlike Photoshop, Lightroom is purpose-built with photo retouching in mind. You won't find all of the crazy features of Photoshop.
However, that's a huge plus in our book. You see, Lightroom includes all of the key features that photographers need. You can make quick adjustments on the fly or dive deep to fine-tune every parameter. Whatever you decide to do, Lightroom keeps things straightforward.
The interface is clean and well-designed. There's also a great management system. You can upload your photos directly into Lightroom and use the management system to create folders or projects. There's even a face detection feature that automatically separates your collection based on the model or subject.
Adobe also makes it easy to choose the workflow that's best for you. The standard version of Lightroom has all of the features built into the app. However, Lightroom Classic is geared toward a desktop-focused workflow.
Key Features:
Powerful photo management system with face detection
User-friendly interface
Intuitive adjustment sliders
Flexible blurring tools
Collection of tools and brushes
Automatic camera and lens correction
Subscription-based pricing model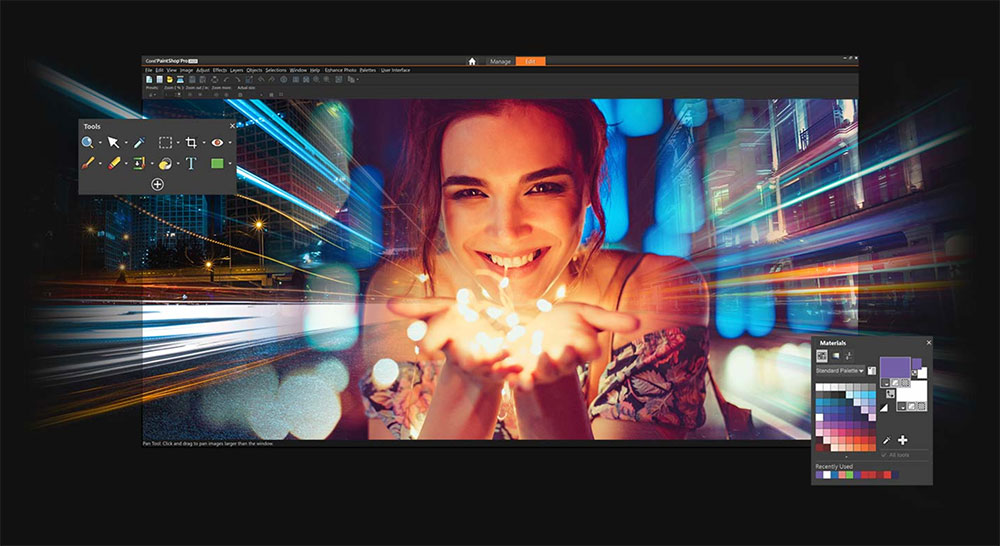 Corel PaintShop Pro is often regarded as the simpler version of Photoshop. It's a feature-rich image editor that's much more accessible than other professional software. Not only is the interface well-designed, but there are plenty of tutorials to help you get the hang of things.
One thing we like about Corel PaintShop Pro is that it's flexible enough to be used by photographers and graphic designers alike. On the photo-editing front, you can take advantage of stock effects and a sizable collection of brushes. Several preset enhancements are powered by artificial intelligence. The software analyzes your images and chooses the right enhancements to make.
When it comes to art creation, Corel provides you with powerful tools. They can be used to create photorealistic images or simple vector graphics.
Key Features:
Simple user interface
Integrated tutorials
Available presets enhanced by artificial intelligence
Vector drawing tools
Large collection of effects, tools, and brushes
Whether you're looking to create a quick piece of marketing material or you want to edit a photo for a print spread, Snappa has you covered. This program offers several simple tools that are geared towards graphic designers.
Vector-based drawing makes creating graphics a breeze. There's also a drag-and-drop editing system. You don't have to be a professional to take advantage of everything Snappa has to offer. It's easy to pick up and learn.
Best of all, everything is done online. You don't have to download any files or install the program on your computer. Just log on, upload, and get started.
Key Features:
Catered towards graphic designers
Online program
Simple editing process
Drag-and-drop features
Ability to share directly to social media
Many templates available
Includes stock photos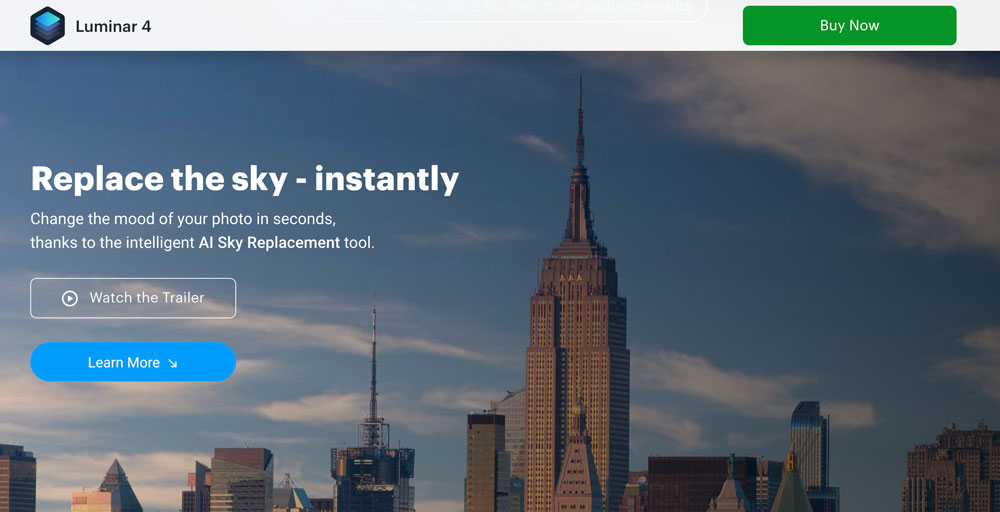 This powerful photo editor is very flexible. It has several tools that you can use to make your images look their best. One of the most popular features is the AI slider. By simply moving the slider, you can make quick adjustments to clarity, brightness, focus, and more. Artificial intelligence ensures that the process doesn't cause artifacts or distortion.
Like other image editors, Skylum Luminar has some manual tools you can use to make fine adjustments. The user interface is sleek and relatively straightforward. It's easy to pick up if you have some experience using other photo-editing software titles.
Another cool feature of this software is that it can be used as a plugin. If you already use Apple Photos, Photoshop, or Lightroom, it can complement your workflow. Skylum Luminar opens in the other editing app so that you can use its exclusive features without having to switch windows.
Key Features:
Automatic photo fixes
Many filter options available
Multi-layer image adjustments
Preset enhancements for drone images
AI-powered features
Can be used as a plugin
Flat-fee pricing

Looking to save some money? GIMP is a free photo editor that doesn't cost a dime to download. While it's not as feature-rich as some of the premium software options, it's certainly one of the best free photo apps you can get. Plus, it's completely open-source.
Within the software, you can manipulate composition and retouch images. There's no shortage of powerful tools to take advantage of. Not only that, but the software supports a wide range of plugins. You can use it alongside third-party apps to make your images look their best.
Key Features:
Free to download
Available for Windows, Mac, and Linux operating systems
Corrective mode
Simple digital retouching
Supports many plugins
Several enhancement tools available
File manager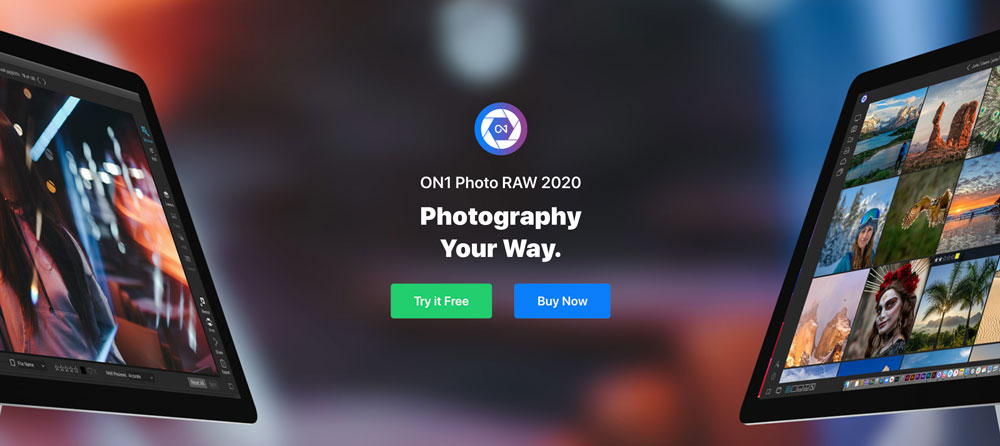 ON1 Photo RAW is a nice little image editor that's packing plenty of useful features. You can enhance photos in a variety of ways. Use manual tools to get rid of blemishes and composition issues. Or, apply some filters to make quick adjustments. ON1 Photo RAW allows you to stack filters to get the perfect effect.
Speaking of effects, this program has more than 170. They come in the form of preset enhancements, tools, and brushed.
The most noteworthy part of this image-editing software is that it works with RAW file formats. You can work on unaltered images straight from the camera.
Key Features:
Stackable filters
Works with many RAW formats
Free to try
Over 170 effects
Live adjustments
Available for mobile devices
Available as a plug-in for Lightroom and Photoshop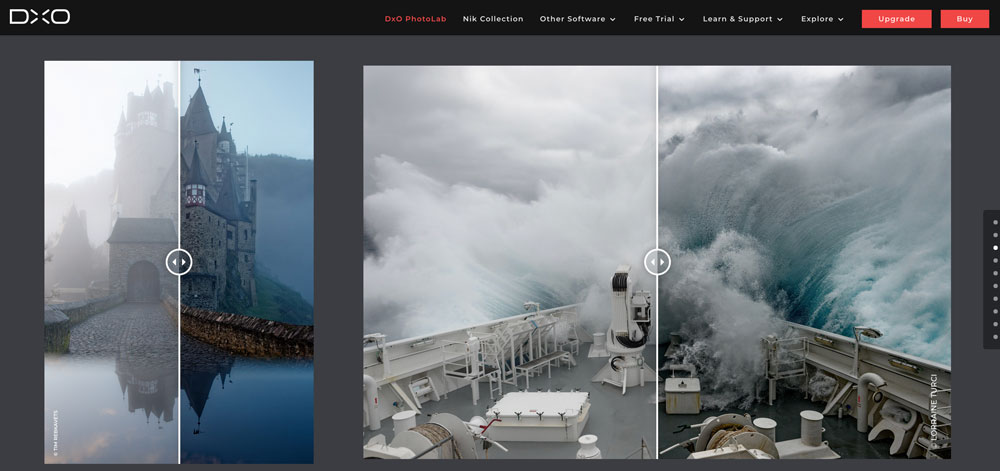 Also known as DxO Photolab, this is one of the simpler editing programs on this list. However, that doesn't mean that it doesn't offer professional-level options. There is a decent suite of processing tools that make your images come to life. You can also utilize correction tools or choose from a nice selection of automatic adjustment options.
This software is very popular for its noise reduction features. It's one of the best photo editors to get rid of unwanted image issues. The highest reduction setting can make your real-world photos look like digital art. It's a unique feature that's worth trying out.
Key Features:
Manual and automatic adjustments
Converts RAW files to JPEGs
Can create separate profiles
Powerful processing tools
30-day trial available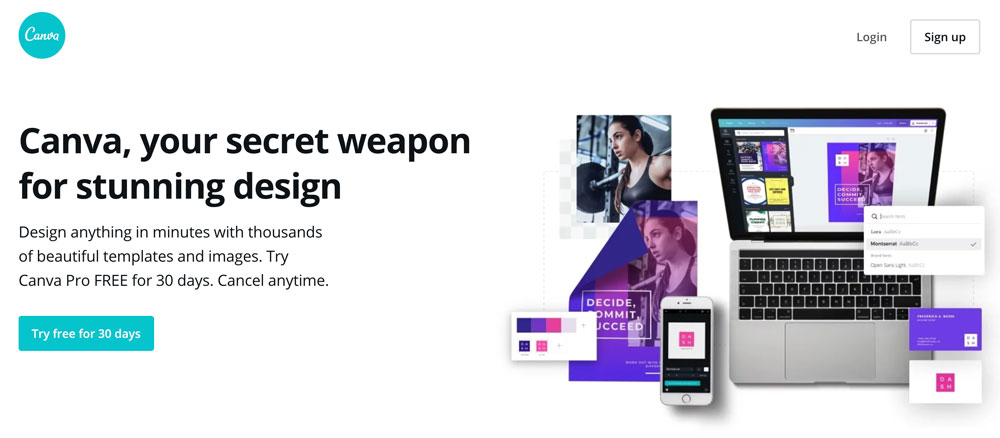 Canva is not like traditional editing apps. It's designed for casual users who are looking for fun and exciting ways to alter their photos. While some of the more robust tools can certainly be used by professional photographers, it's obvious that Canva is geared towards hobbyists.
This title can be downloaded directly to your smartphone. You can upload photos from your camera roll to create collages. Alternatively, you can add frames, stickers, and even text bubbles. Canva offers over 8,000 templates for you to get started. There's also the option to create something new from scratch using the many editing tools.
Key Features:
Cropping features
Large collection of stickers and effects
Ability to add frames
More than 8,000 image templates
Freemium pricing model
Available as a mobile app
If you're looking for a powerful RAW image editor, take a look at Capture One. This software is designed by the camera company Phase One. So, it has a lot of camera-specific features built in. One of the most notable is its ability to edit and convert RAW files. This allows you to make adjustments to your images before they get converted to other formats.
Another cool feature is the ability to customize the user experience. If you're not a fan of how tools are laid out, change things up! Not only can you modify the placement of key features, but you can also create your very own keyboard shortcuts.
From an editing standpoint, Capture One Pro has a decent amount of tools. You can make fine adjustments or rely on the quick presets to get things done swiftly. This program has a noteworthy color-editing tool. It allows you to adjust the granularity of color changes, giving you more control over how your images look.
Key Features:
Can convert RAW files
Customizable interface
Multi-layer editing
Collaboration tools
Quick import process
Available as a subscription or one-time purchase

Quirky names aside, ACDSee Photo Studio Ultimate is a powerful photo editor with a lot to offer. It's relatively new to the photo enhancement game. But, that hasn't stopped it from making quite the splash.
The software is well-made and is designed to be as simple as possible. It looks clean, making all of the tools easy to find. The tools are quite robust. You can make manual adjustments to manipulate photos or make some one-click automatic changes.
ACDSee offers up a unique way to work. While most photo-editing software options require you to import all of your images before you start working, that's not the case with ACDSee. You can edit files directly from the source. This saves tons of time. Once you're done working on a file, you can store everything in the cloud for easy access.
Key Features:
Responsive user Interface
Lens-based automatic corrections
Can edit photos directly from drives
Full suite of editing tools
Integrated cloud storage
Facial recognition and geotagging
Management system
Available with a monthly subscription or one-time purchase

Affinity Pro is a very powerful image editor that's comparable to Photoshop. Like the title from Adobe, Serif Affinity Pro is catered toward artists and photographers alike. The biggest difference between this title and Photoshop? The price. It's incredibly affordable, allowing you to take advantage of some robust features without breaking the bank.
There's a lot you can do with Affinity Photo. Not only can you edit RAW files, but you can make adjustments to several files with just one click. The batch processing feature is great for photographers who want to create a cohesive look across an entire collection.
When you're making those changes, this app lets you take control of every detail. You can create multiple layers and use a wide range of tools to make things perfect.
Key Features:
Available RAW editing
Batch processing
Huge library of brushes
Multi-layer editing
HDR merge
Available for Mac, Windows, and iPad
Affordable one-time purchase fee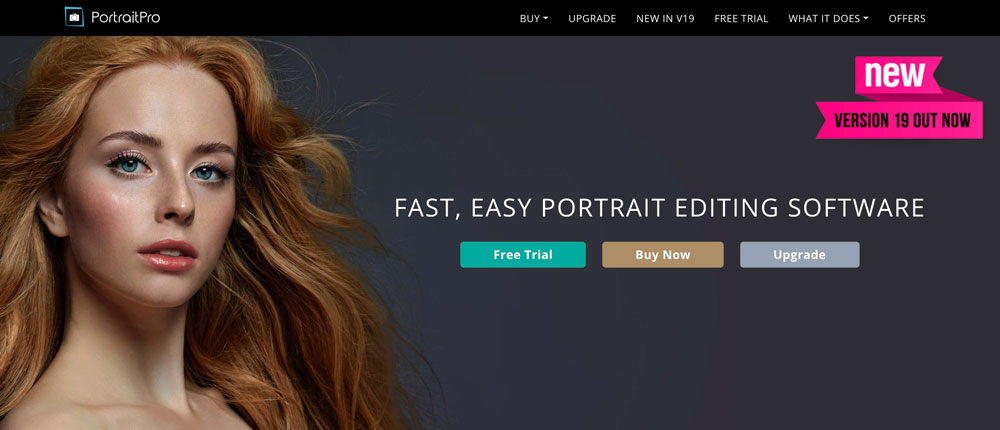 Professional portrait photographers can benefit from the power this title provides. PortraitPro is all about making human faces look their best. It's commonly used on tight closeup shots that expose a lot of skin imperfections.
Built-in tools allow you to take care of those imperfections in minutes. You can smooth out wrinkled skin, get rid of blemishes, and even minimize the appearance of pores. Want to add a bit of color to your subject's face? Digital makeup features are available. They can be used to make existing makeup more intense or provide some coverage for a barren face.
PortraitPro is relatively easy to use. If you're not comfortable using the manual tools to take care of skin problems, the app does have some traditional sliders. There are also automatic tools available.
Key Features:
Multi-layer editing
Automatic skin adjustments
Integrated digital makeup tools
Simple user interface
Quick slider adjustments
Available for a one-time fee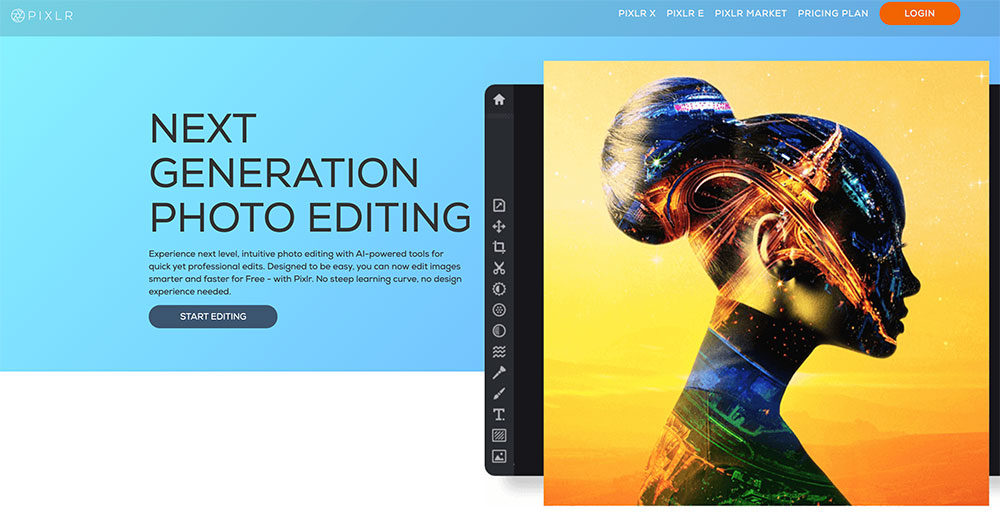 Don't want to download new software to your computer? Take a look at Pixlr Editor. This unique photo-editing software can be used entirely online. Just upload your photo to the site and start making changes. You can then download the finished product.
Alternatively, Pixlr Editor is available for download. It works on Mac and Windows computers. There's also a version for editing on the go with your smartphone or tablet.
Pixlr Editor doesn't have the same professional-grade tools as some other programs. However, you can use the app to add some whimsy to your photos. There are over 2 million free effects. These include filters and fun overlays. Retouching tools are available as well if you want to make detailed adjustments.
Key Features:
Millions of free-to-use effects
Several creation tools available
Easy retouching tools
Collection of filters and overlays
Online photo editor
Can be downloaded to Mac or Windows computers and mobile devices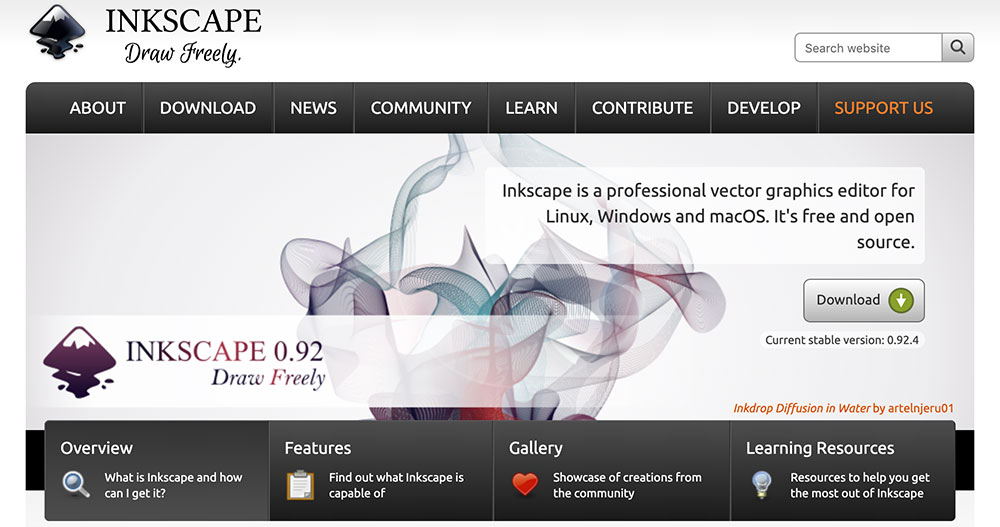 Inkscape is another free program that makes editing photos a breeze. It's available for most computer systems and offers a lot of flexible editing features. First, it's completely open-source. You can access the source code and implement the program's features into your very own photo editor.
This isn't going to provide you with the same experience as something from the Adobe Creative Cloud. However, there are some basic tools you can use. It's great for making basic adjustments quickly, so don't expect to create masterpieces.
Key Features:
Open-source
Integrated calligraphy tools
Works with many extensions and plugins
Simple tools
Free to download
Works with Linux, Mac, and Windows

Fotor is a consumer-grade photo-editing software title with many flexible features. It's a cloud-based app that's marketed primarily towards people wanting to make their smartphone snaps look their best. However, the tools included in this program are powerful and flexible enough for professionals to use.
You get everything from HDR effects to manual retouching brushes. Of course, automatic features can help you make quick work of your editing tasks. Just choose from one of the many available filters. You can also create fun collages or implement stickers.
Key Features:
Cloud-based online editor
Available as a downloadable desktop app
HDR effects
Collage options
Portrait retouching features
includes a collection of stickers and fonts
Comes with several filters
Effective image-editing tools

PicMonkey is another feature-rich online editor. Like some of the other apps in this guide, PicMonkey isn't exactly marketed towards professionals. You can't make extreme edits or do the same things you would with Photoshop.
This program is geared more toward the casual photographer who is looking to create fun prints. PicMonkey lets you create beautiful collages from a good selection of templates. There are also filters you can use to make images pop.
There are some basic editing tools. You can retouch blemishes, crop photos, and more.
Key Features:
Collage maker
Automatic social media editing
Decent selection of basic filters
Cropping tools
Simple retouching options
Graphic design features
Many templates available
Monthly subscription fee
Key Considerations When Choosing the Best Photo Editor
As you can tell from this guide, there are many different photo editors out there to choose from. So, how do you find one that's right for you? Well, there are several considerations to make. Here are some of the most important.
Professional vs Consumer Software
First things first, there's a major difference between an app that's made for professionals and one that's made for consumers. While anyone can use any photo-editing software they want to, the features you're going to get varies based on the developer's focus.
Typically, consumer-grade programs are simpler. They're designed with the average person in mind. Thus, you're not going to find any complex editing options. Developers want these programs to be as user-friendly as possible. Providing a range of complicated tools and confusing sliders is only going to be a turnoff for casual photographers.
Most consumer photo editors are also chock-full of predesigned settings and extras. Take, for example, filters. Filtering an image can be a lengthy process when done manually. It involves making fine-tune adjustments and manipulating color balance. No one has time for that in the real world. Consumers just want to press a button and apply a filter, so these types of editors will accommodate that. The same goes for things like stickers, text bubbles, and more.
Some good examples of consumer-level programs include Pixlr Editor, PicMonkey, and Snappa.
On the opposite side of the spectrum, we have professional software. These titles are the ones that going to be used by working professionals who need the very best that money can buy.
Professional software offers great control and flexibility in the final outcome. Most titles give you plenty of liberty when it comes to overall enhancement and design. Unlike consumer-level options, professional apps can get confusing pretty quickly. Seasoned photographers have spent years training on these programs, so there's no need to keep things simple.
Beyond the usability of photo-editing software, the biggest difference between professional and consumer options is the price. Professional titles, such as Lightroom and Photoshop, can cost hundreds of dollars to purchase.
Keep your skill level in mind when choosing photo-editing software. If you're new to editing, professional options may come with a steep learning curve that takes several months to get over.
Price
As we mentioned earlier, the price of a good photo-editing program can be quite high. You have to consider the upfront and long-term costs associated with owning a piece of software.
While the high price tags of professional-level software might seem insane to the average person, that's not the case with seasoned photographers. You see, photographers rely on that software to finish projects and get paid. It's an investment that supports their craft and career. Sometimes, paying more for a title you know you can rely on is better than going cheap and choosing an option that's a hassle to use.
One important thing to consider when looking at prices is how the software is sold. Do the developers let you buy it outright for one flat fee or are you going to need to pay an ongoing subscription? In the past, the flat-fee pricing model was the norm.
However, that way of doing business is slowly going out the window. Subscription-based models do come with some great benefits. For one, they're much more affordable. Without that high price tag, more people can utilize professional-grade software. Instead of paying for hundreds of dollars upfront, you can pay a small monthly fee to access the program.
The second perk is that you don't have to invest in constant upgrades. With a subscription-based model, software updates are included. You can stay up to date on the latest version of your software without having to do a thing.
So, what are the downsides of subscription models? Well, you don't actually own anything. You're simply paying for access to a service. Many developers require an Internet connection to verify your subscription. What if you're in an area that doesn't offer Internet or cell coverage? You'd be locked out of the program you paid for.
Furthermore, the lifetime costs of using a subscription-based title are astronomical. That affordable fee quickly adds up. Say for example, that you're paying $20 a month to use a professional-level title like Photoshop. If you use that program for only two years, you will pay almost $500! That's less than the price of most programs.
For long-term users, subscription-based pricing models just don't make fiscal sense.
Ultimately, however, it's a matter of personal preference and budget. Would you rather pay up front and have to deal with upgrades in the future? Or, would you prefer to pay more over time with a subscription and not have to worry about updates? There's a lot to think about!
Supported Files
Most image editors are compatible with a wide range of file formats. They can be used to edit everything from a JPG file to a BMP file. Before you commit to an editor, make sure that it works well with the format you use most. This is especially true if you like to work with RAW files.
RAW files are images that haven't been processed by a camera or computer yet. It's the raw data from the camera's image sensor. Photographers like to work with RAW files because it offers greater control during the editing process. There are fewer chances of corruption. Plus, the files haven't been compressed yet. This results in a high-quality photo that's true to life.
There are several RAW formats. Some of the most common include raw, dng, and tif.
You're not going to find RAW file compatibility with cheaper programs or consumer titles. Even with professional-level software, the ability to edit RAW files is not a given. So, make sure to check beforehand.
Photo Management Features
Photo management systems can make a world of difference when it comes to staying organized. Essentially, these systems act as a digital library for all of the photos you upload. They let you see brief thumbnails for reference. When you want to work on a file, you can access it directly from the management system to avoid sifting through your computer's directory.
Considering the fact that many photographers import hundreds of photos at a time, these systems can be a huge lifesaver. Not every program offers a management feature, so keep this in mind if staying organized is a priority.
Support for Plugins and Presets
Some photo-editing programs can be used with plugins. Basically, plugins allow you to incorporate specific features of another third-party application into your preferred editor. Say that you like the exclusive filters from Skylum Luminar. However, you prefer to use Adobe Lightroom for all of your primary editing needs.
Instead of having to jump back and forth between the two programs, you can use Skylum Luminar as a plugin within Lightroom. It's a nice perk that can improve your workflow tenfold.
Preset compatibility is important, too. If you're performing the same enhancements on several photos, a preset can help you get the job done quickly without having to manually edit every time. Some photographers even sell their own presets that you can load into your preferred program.
Conclusion
Which photo-editing software will you try? If you're still unsure, give a couple of these titles a shot. Each program is unique and offers a distinct editing experience.
Take a moment to think about how you work and what kinds of effects you need. If your edits are basic, you can fair well with an affordable option that covers all of the essentials.
Figure out your priorities as a photographer and use them to guide you in the right direction. Before you know it, you'll find the perfect editor that enhances your workflow while making your photographs look better than ever.
The following two tabs change content below.
Jamie Spencer
My name is Jamie Spencer and I have spent the past 10 years building money making blogs. After growing tired of the 9-5, commuting and never seeing my family I decided that I wanted to make some changes and launched my first blog. Since then I have launched lots of successful niche blogs and after selling my survivalist blog I decided to teach other people how to do the same.
Latest posts by Jamie Spencer (see all)