Have you been thinking about starting a membership site? If so, you're making a smart choice. Membership sites are springing up all over the Web, and for good reason!
A membership site will put you in complete control of your revenue. That's right; there's no need to worry about losing a huge deal, a major affiliate going elsewhere to promote a different product, or any number of other things you need to worry about with other revenue streams.
There's another advantage of owning a membership site too: there are tons of awesome WordPress membership plugins available to make your WordPress site look, feel, and function like a million bucks.
In this post, you'll discover the very best of these plugins. Then, I'll walk you through how to choose a WordPress membership plugin and provide you with some sage advice on which one to pick.
First, here's the rundown on all of the best WordPress membership plugin options on the market today.
Best WordPress Plugins for Membership Sites
1. MemberPress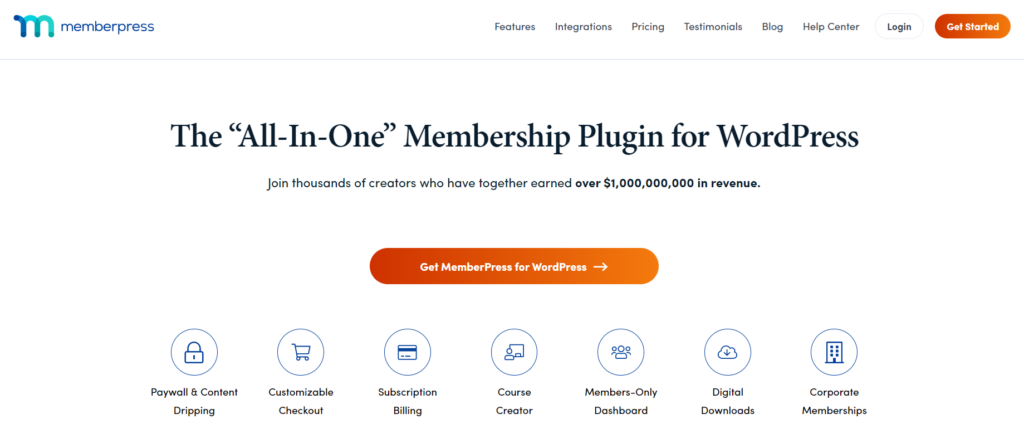 If you're looking for a great all-around WordPress membership plugin, MemberPress shouldn't disappoint. Popular and well-supported, many consider it the best membership plugin for WordPress, and I tend to agree.
MemberPress comes with all of the standard features plus several nifty add-ons. Firstly, you're able to create an unlimited number of membership levels with all sorts of payment and trial period options.
You can even place different membership levels into categories called "Membership Groups," allowing you to set up different upsell and upgrade campaigns. Pretty neat, right?
The plugin allows for content restriction as well. In fact, you can restrict content several different ways. You can restrict access to entire categories, posts or pages, certain parts of posts or pages, or even individual files.
Of course, you can use MemberPress for content dripping too. It lets you drip content on whatever schedule you choose to keep members engaged.
You also get access to a wide-variety of reports to track the performance of your membership site, and there's a neat "Reminders" feature to help you send out emails for subscription renewals and any other specific event.
Speaking of email, MemberPress integrates with MailChimp, AWeber, and other major email marketing platforms. It also integrates with PayPal, Stripe, and other major payment gateways.
Still not impressed? MemberPress integrates with LearnDash as well, allowing you to create and conduct online courses via WordPress.
As you can see, this plugin offers a lot. That said, if you're looking for WordPress membership plugins free, it may not be for you.
Price:
MemberPress subscriptions start at $179.50 a year for the Basic plan and runs up to $399.50 a year for the Pro plan.
Go To MEMBERPRESS.com
2. Paid Member Subscriptions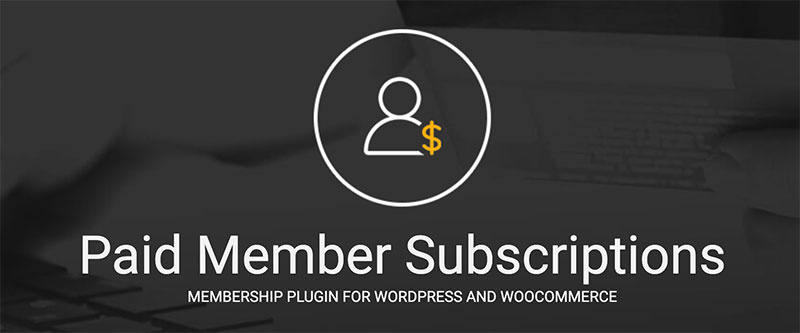 Paid Member Subscriptions is a flexible yet lightweight membership plugin for WordPress that's available in a free version and two premium versions for those who want to take advantage of a bunch of added features without busting the budget.
The free version provides more than enough functionality to get a membership site off of the ground.
With the free WordPress membership plugin, you can create multiple membership levels, place content restrictions according to membership level, accept one-time payments via PayPal for all of your different membership payments, create front-end login and member registration forms, and more.
Just with the free version, you can create a basic, fully-functioning membership site. This makes it a solid choice if you're only looking for a simple WordPress membership plugin.
However, if you're willing and able to pay for one of the premium versions of this WordPress membership plugin, you'll gain access to a lot of other really great features.
For instance, you'll have the ability to drip your content and set up parameters for automatic content restriction. You'll also benefit from a lot more payment options. In addition to being able to offer discount codes, you'll gain access to additional payment gateways like PayPal Express and Stripe.
Best of all, you'll be able to setup and accept recurring payments for membership subscriptions. Your members can also subscribe to multiple membership levels, which is a nice profit-driving touch.
Finally, there's the integrations. By going the paid route, you can create a members-only forum using bbPress or integrate with WooCommerce to offer special "members only" discounts for your ecommerce store.
As talked about above, a free basic version of the Paid Member Subscriptions WordPress plugin is available for any and all to use.
Price
The paid versions, however, cost $69 for Basic and $149 for Pro, per year respectively. As is usually the case, the more you pay, the more features and functionality you receive.
Go To Paid Member Subscription
3. Restrict Content Pro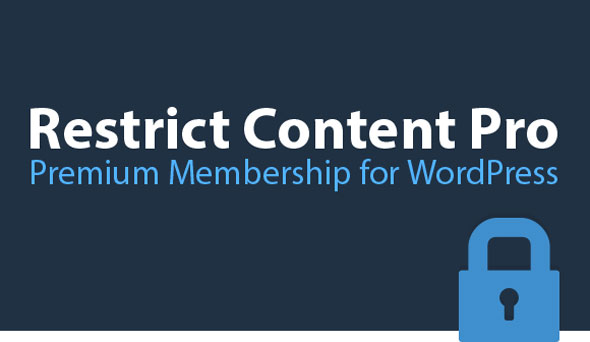 Whether you're a pro webmaster or launching your first membership site and want pro quality features, Restrict Content Pro has you covered. Created by the same team responsible for AffiliateWP, Easy Digital Downloads, and other top applications, it's arguably the best membership plugin for WordPress on the market today.
With Restrict Content Pro, you can create an unlimited number of subscription levels. Not only can you offer an array of premium subscriptions, but you can offer free and trial subscriptions as well, giving you plenty of flexibility to execute any funnel you concoct.
You also have plenty of flexibility with your pricing. With paid memberships, you can charge a specific fee for any amount of time you like, an optional one-time fee, or both. This flexibility allows for an endless variety of pricing structures.
Unlike many other WordPress membership site plugin options out there, Restrict Content Pro also lets users upgrade or downgrade plans, if you allow them of course. It can even prorate the difference to the new plan. Pretty cool, right?
As its name suggests, Restrict Content Pro's membership login plugin WordPress restrict content. You can either restrict content for each individual post, or you can restrict specific types of content using shortcodes.
You can also create coupon codes and choose to which membership levels to offer them to, providing you with a variety of promotional options.
As far as add-ons and integrations go, this top-notch membership plugin in WordPress allows you to integrate with Easy Digital Downloads, WooCommerce, and a bevy of payment gateways and email marketing services.
When you add it all up, Restrict Content Pro is a great membership plugin that's tough to beat.
Price
Prices for the premium version of the plugin start at $99 a year for a single site, which really isn't too shabby considering everything it can do. If you want to use it to manage up to 5 sites, the price jumps to $149 per year, and for unlimited sites the price is $249 per year. That said, if you're looking for a free WordPress membership plugin or something with a free version or trial period, they offer that too, but with some limitations.
4. Paid Memberships Pro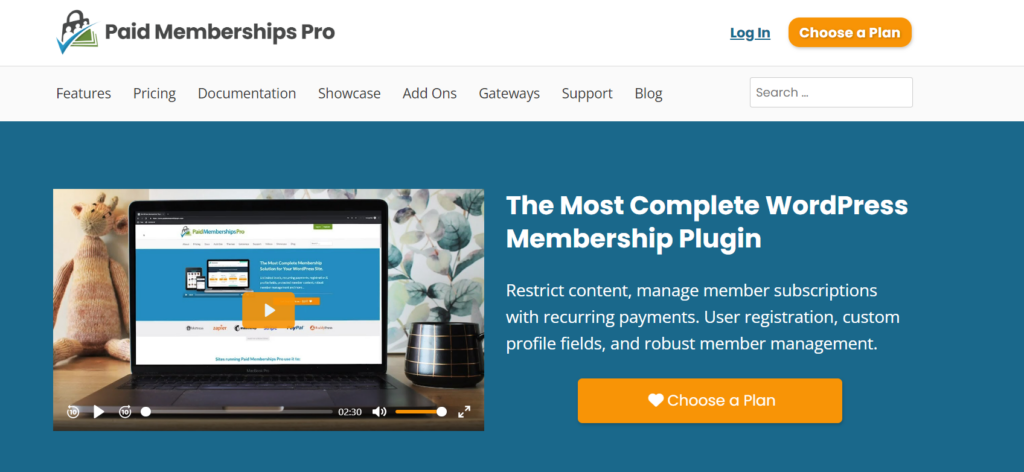 Paid Memberships Pro is another popular choice for creating WordPress membership sites. There's a lot to like about this WordPress membership plugin, but one of my favorite features is its very own dedicated WordPress theme. Since some themes and membership plugins don't get along right out of the box, this is a big plus.
With Paid Memberships Pro, you can also create unlimited membership levels with a wide-variety of prices and payment terms. You can opt for a recurring billing cycle, charge a one-time fee, or offer a free trial or discounted trial period.
In other words, it's much more than a simple WordPress membership directory plugin.
Of course, you can do a lot more with Paid Memberships Pro too, like restrict content. It adds a metabox to each of your posts or pages, allowing you to restrict the content for each individual one. If you want, you can restrict entire categories as well.
Another thing I like about Paid Memberships Pro is its ability to display snippets of restricted content to non-paying members. Not only does this lure them into paying for full access to the content, but it also helps your content rank in the SERPs. Talk about killing two birds with one stone!
If you're searching for a membership management plugin WordPress with some interesting advertising options, Paid Memberships Pro has you covered there too.
For example, it allows you to only display ads to certain membership levels, so you can show one or several sets of ads to paying members and another set to free membership tiers.
This high-powered plugin also offers plenty of integrations for different payment gateways and email marketing platforms. Plus, since its completely GPL, you can customize its shortcode for custom post types and to basically make it do whatever you want it to.
Price
Like many of the plugins on this list, most of this functionality will cost you. However, the Core version of Paid Memberships Pro at one time would cost you $97, and they now a scaled back version of this for free. The lowest of the premium packages costs you $247 per year, which includes everything in Core, plus 20 more addons and features. The prices and features scale up from there.
5. MemberMouse

When it comes to features, MemberMouse has them – in spades. This feature-rich WordPress membership plugin is loaded with functionality and lets you create both bundles and membership bundles.
As far as membership levels go, it offers pretty much what you'd expect from a membership site plugin. However, thanks to its ability to bundle, you can sell individual pages and posts or groups of pages and posts on a flexible one-off basis.
For example, you can boost your profits by selling a special one-time offer to premium members. You can also offer a one-time special sale for non-paying members and give them access to specific pages without going through a login form. If they like what they buy, they might become paying members themselves.
As one of today's best WordPress membership plugin options, MemberMouse also allows for content dripping. They also have a really cool feature that allows you to go through your course and experience it just like a new subscriber.
Plus, there's a widget for members to see the content they can access and the restricted content to come. Speaking of restricting content, MemberMouse allows you to restrict it by categories, custom post types, and individual posts and pages.
The plugin also includes several neat built-in optimization tools. With them, you can test upsells, downsells, split-test prices and more.
There's also a bunch of coupon codes you can offer, and it integrates with tons of payment gateways and email marketing services.
On the downside, MemberMouse doesn't offer a general Public License (GPL), so you can't tweak the code like you can with some membership plugins.
MemberMouse is great, but it isn't one of the best free WordPress membership plugins. As a WordPress paid membership plugin, using it will cost you $16.66 a month per month on the cheapest package for the first year, then $32.25 per month after the first year. The more members you have, the more you'll pay.
With that said, the cost is more than reasonable considering all of the plugin's features and what they can do.
6. aMember Pro

aMember Pro is another membership plugin for WordPress that's packed with features and can help you launch any type of membership site. However, unlike many of the plugins on this list, it's not a native membership plugin in WordPress, so it may result in some compatibility issues with your theme and other plugins.
Its interface is also a bit outdated, but despite this, you can use it to create unlimited membership levels, add unlimited products, and set dynamic product and subscription prices for people to choose from.
aMember Pro also features a complete member management area. From here, you can add, delete, and edit members as well as their subscriptions. Of course, there's also an admin area, where you can view data and detailed reports.
As one of the best membership plugin for WordPress options out there today, it also features integrated modules for email marketing, affiliate management, setting up a shopping cart, and more. There's even a helpdesk!
With aMember Pro, you'll also receive access to content dripping, coupon codes, and dozens of different payment gateways. It's also available in seven different languages. From the admin interface to your site's frontend, you can set the language to English, Spanish, French, German, Greek, Russian, and Chinese.
Price
Despite being a non-native plugin and having an outdated feel, aMember Pro isn't a free WordPress membership plugin. To use it, it will cost you a one-time fee of $149 a month for the cheapest single licence. With this fee, however, you can use it to setup and run unlimited membership sites, which definitely boosts its value.
7. iThemes Exchange Membership Add-on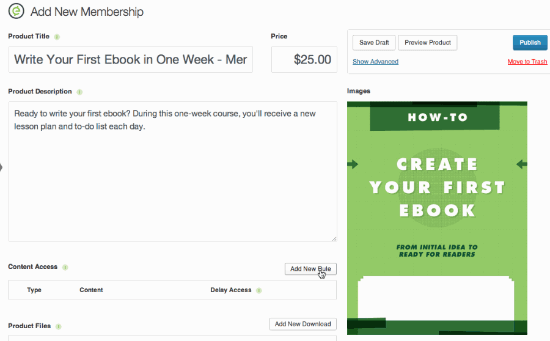 The previous WordPress membership plugins were all standalone products, but the iThemes Exchange Membership Add-on is anything but. Rather, it's an add-on product to the iThemes Exchange eCommerce plugin. We'll get to another add-on for WooCommerce in just a bit.
With this add-on WordPress member directory plugin, you can create unlimited membership levels for both paid and free users. Members can also switch levels whenever they want. Like Restrict Content Pro, it will automatically prorate their previous payment, so there's nothing at all for you to do.
This membership plugin for WordPress add-on also lets you assign membership hierarchies and restrict content by categories, tags, or posts.
However, what I really like about the iThemes Exchange Membership Add-on is the ability to combine paid digital products with your WordPress membership site. So, if you want to combine one-off digital purchases with membership subscriptions, you can.
Like other membership plugins, you can also drip your content. With all of these options, you can do some pretty neat things.
Unfortunately, once again, it's an add-on. This means you need to purchase the iThemes Exchange Ecommerce plugin and possibly some other add-ons to get the functionality you need.
Price
The MailChimp integration add-on, for example, will cost you $30. However, you can go out and purchase all available add-ons for a $197 flat fee. While the cost of the iThemes Exchange Membership Add-on only costs $97, these potential added costs should be taken into account.
8. Magic Members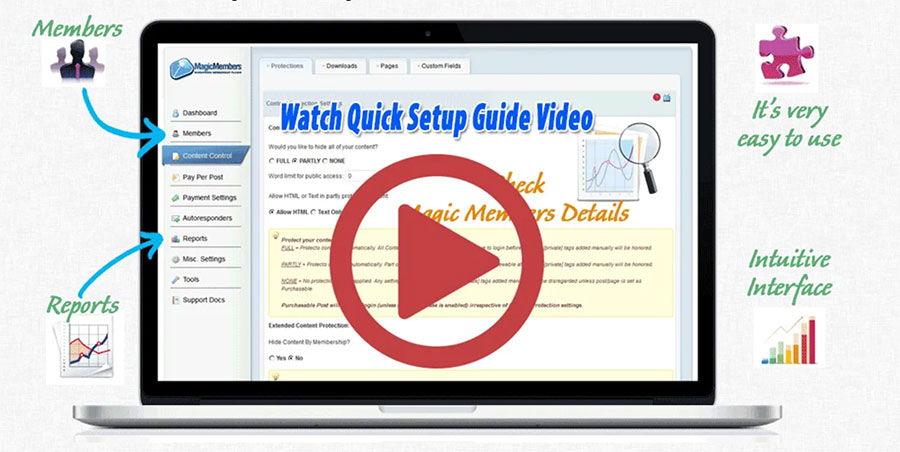 Like all of these plugins, I've messed around with Magic Members quite a bit. Although there's a lot to like about this WordPress membership plugin, it has one big drawback worth getting out of the way.
What is it, you ask? Well, much like aMember Pro, the plugin's interface is noticeably outdated. In fact, it may even bring back memories of the AOL dial-up days. That said, if you can overlook its clunky interface, its features might surprise you.
Firstly, with this membership directory plugin WordPress, you get access to unlimited membership levels. You also get several different pricing and trial options.
In terms of content restriction, you can restrict entire categories or individual pages and posts. if you're handy with shortcodes, you can use them to only restrict specific segments of your posts as well. This is a neat touch. Like other membership plugins, you can also drip content however you want.
Another cool aspect of Magic Members is its "Pay Per Post" feature. With it, you can sell individual pages or posts in addition to membership subscriptions. You can even charge per every single view if you want. It's hard not to like this flexibility.
Magic Members also integrates with PayPal and a number of other payment gateways, and it integrates with an impressive list of email marketing services as well.
Price
Unlike many other membership plugins, Magic Members offers a free 7-day trial, so you can test it out without risking a cent. If you like it and want to keep the plugin, prices start at $97.
9. s2Member

If you're looking for the best free WordPress membership plugin 2022, s2Member might be it. For a free plugin, it's loaded with features.
For instance, like the other best WordPress membership plugins in this guide, you can restrict content by categories, post types, and posts or pages. You can also restrict specific snippets of content within posts, specific URL fragments, file downloads, streaming media, and BuddyPress.
If that weren't enough, you can also employ IP restrictions and get custom login welcome pages, a variety of email templates, and strong protections. Pretty impressive for a free membership plugin, right?
Unfortunately, rather than unlimited membership levels, you only get four with the free version. It also won't let you drip content or create coupons.
So, if you're on a mission to create a great membership site, you'll want to upgrade to one of the premium versions, in order to unlock the above features and a variety of other restrictions. However, if that's the case, you may be better off with another plugin on this list.
Price
As mentioned, you can gain access to s2Member and get your membership site underway without needing to pay a dime. If you want more features, you can access the Pro versions for $89 and up.
10. WooCommerce Memberships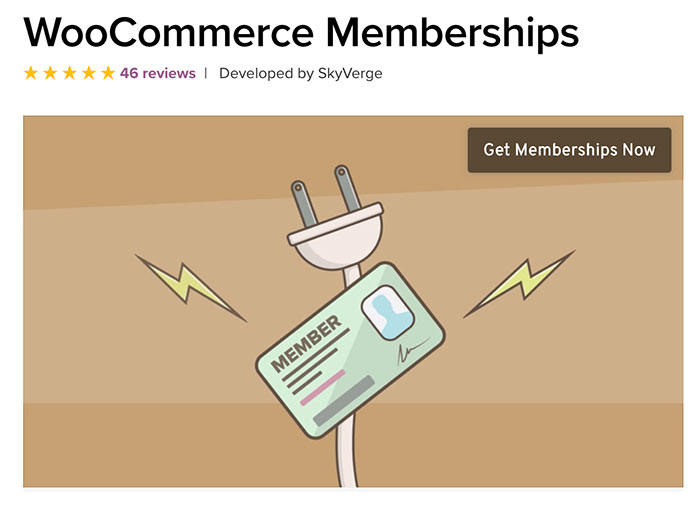 WooCommerce Memberships is another plugin add-on, not an actual standalone plugin like many of the other WordPress membership plugins on this list. It's built onto WooCommerce, which is free for anyone to use.
If you're already using WooCommerce to power an ecommerce store, you'll love this plugin. Thanks to its seamless integration into the platform, you'll get tons of functionality and some really cool membership options.
For example, you can choose to sell memberships all by themselves, or you can combine them as part of a bundle or product purchase.
Like other membership plugins, you can drip out restricted content as well, and you can also hand out special coupons to attract new members.
On the downside, recurring payments isn't an option with WooCommerce Memberships. If you want to bill members yearly or monthly, you'll need WooCommerce Subscriptions, which is another add-on that costs $199.
All things considered, WooCommerce Memberships is a good memberships plugin for current WooCommerce users. However, if you don't run a WooCommerce store and want a "normal" membership site, it may not be the best fit.
Price
The WooCommerce Memberships add-on costs $199 and up, per year.

WP-Members is a free WordPress membership plugin. While free is always nice, it certainly can't be considered one of the best WordPress membership plugins or deliver the functionality you need without investing in some paid extensions.
The good news is the extensions are more than affordable, so there's no need to worry.
Unlike the other plugins, WP-Members works by restricting all of your content from the get-go. It's up to you to mark any content you want members to see. This is the default setting, but you can reverse it if you find the other way easier.
WP-Members also allows you to add custom login and registration forms to your membership site. You can even create URLs specific to your registration page to act as a landing page for people coming from your ads.
If you know code, this membership plugin for WordPress is highly customizable as well. Plus, as mentioned, there are several premium add-ons for a variety of functions and integrations.
All in all, WP-Members is a solid "free" membership plugin. Although it isn't as powerful or functional as some of the other plugins right out of the box, it can be customized a number of ways to function just like you need it to.
Price
Best of all, there's no need to spend a fortune purchasing each extension or add-on separately. You can get every single one with a membership at Rocket G, which costs $59 a year.
12. LearnDash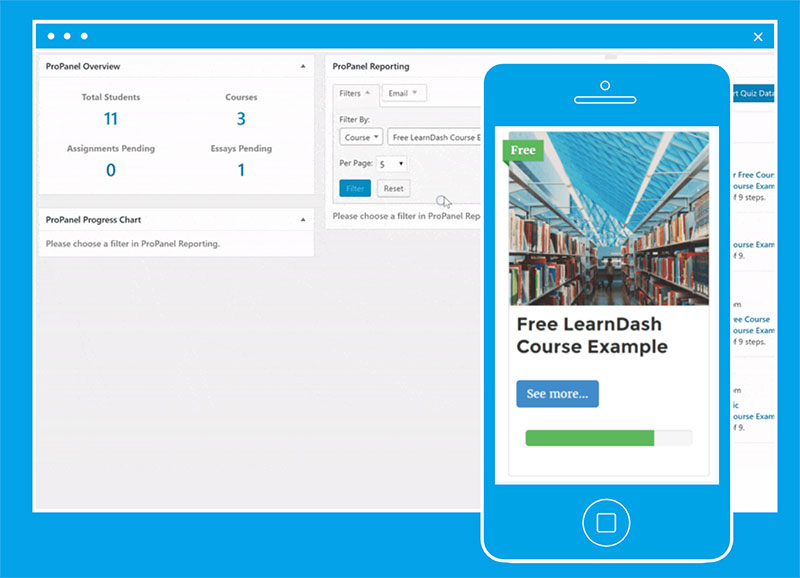 If a flexible, easy-to-use membership plugin in WordPress is what you're after, LearnDash may fit the bill. It's super easy to set up and comes with a myriad of tools to organize your content into different membership levels and restrict it to different groups.
The popular plugin also allows you to create and sell online courses, and it has several advanced features to help you manage your content better than many other WP membership plugins being sold today.
Of course, it allows for content dripping too. In fact, it's equipped with an impressive drip content feature that lets you deliver content pretty much any time you want.
However, LearnDash really shines with its array of built-in community features. With them, you can create a super engaging membership site with user profiles, badges, quizzes, certificates, level-specific forums, and more.
LearnDash offers tons of integrations too. From WooCommerce and Slack to bbPress and MemberPress, you name it and this plugin can integrate it.
On the downside, despite allowing you to create a highly engaging membership site, it lacks some features found in other membership plugins. So, unless you plan on selling courses via your membership site, you might be better off with one of the other membership plugins on our list.
Price
If you plan on selling courses and want to give LearnDash a go, you can get a single site license and one year of support starting at $199 per year.
13. Teachable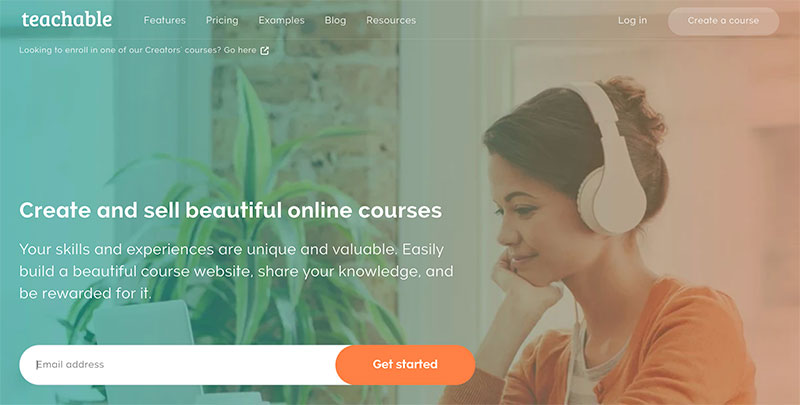 Unlike the other membership plugins, Teachable specializes as an online course builder and packs membership, forum, email marketing, and analytics capabilities all under a single, easy-to-use dashboard.
It doesn't require any technical know-how or skills at all. With its built-in tools, you can quickly upload text, PDF, video content, and more with just a few clicks. You can also drip content according to a member's subscription level or progress in the course.
Like LearnDash, Teachable also has built-in engagement tools to create contact forms, discussion forums, quizzes, certificates, and more to increase member engagement and build thriving online communities.
All that said, it's not exactly a WordPress plugin. Rather, you need to add a link or sub-domain in order to integrate Teachable into your WordPress site.
Price
The Basic plan is serviceable and costs $39 a month. However, the Pro plan unlocks everything and runs $99 a month. There's also a Business plan at $499 a month, but this is really only suitable for the power players in the online learning industry.
Why Should You Create a Membership Website?
There are endless options at your disposal to make money online. However, there are few as effective and lucrative as creating a membership site.
With a membership site, you can:
• Generate steady income
• Automate virtually everything
• Build a hungry email list
• Deliver value
Most importantly, a membership website will provide you with a profitable platform to become an authority in your industry or niche. By delivering high-quality content users must pay to access, you'll establish yourself as an expert who understands the value of your expertise and what you bring to the table.
What to Look for When Choosing a WordPress Membership Plugin
Choosing the right WordPress membership plugin is a bit more involved than picking other WordPress plugins. After all, the plugin you pick will play a significant role in your ability to create and manage your membership site.
Since there is sure to be plenty of setting up regardless of which plugin you choose, you should think less about the plugin's interface and more about it features. This way, you won't receive an unwelcome surprise hours into configuring your content restrictions and membership levels.
Here are some key things to keep in mind:
• Membership Levels
Many WordPress membership plugins allow you to create unlimited membership levels, but some put a limit on the number of levels you can create. The more, the merrier is what I say.
• Content Restriction
Again, every membership plugin lets you restrict content, but some give you greater flexibility than others in this regard. Some plugins only let you restrict entire posts and pages, while others let you restrict portions of posts and pages or entire categories. The best WordPress membership plugins give you all of these options and more.
• Drip Content
When you drip content, you can release the content slowly throughout a person's membership. It's sort of like going with DirecTV rather than Netflix – There's no binge watching, or in this case, binge reading. The plugin you choose should support content dripping.
• Coupons
Coupons are another crucial aspect of membership plugins. Most allow you to create coupons, but some give you greater flexibility than others and let you create a variety of custom discount offers.
• Integrations
Most membership plugins also integrate with dozens of payment gateways and email marketing services, but it's important to make sure the one you choose offers the integrations you need. For example, one membership plugin might support PayPal and not Stripe or AWeber and not MailChimp. So, if you love Stripe or MailChimp, it may not be right for you.
Which is the Best WordPress Membership Plugin for You?
As you can see from the list above, there are plenty of great WordPress membership plugins out there to pick from, so I'll try to help you narrow it down.
If you want flexibility and features for an affordable price, then it's hard to go wrong with Restrict Content Pro. It's flexible, well-designed, and has just about every feature you could possibly need in a membership website.
However, some of Restrict Content Pro's features, like content dripping, are only available with the more expensive plans. MemberPress, on the other hand, offers more functionality with its basic plan.
If you want to add a membership site to an ecommerce store, then WooCommerce Memberships or the iThemes Exchange Membership Add-on are your best options.
You get the point. Each of the plugins above are great in their own way, so you need to think about what's important to you and go from there. By doing so, you're sure to find the perfect plugin to crush it in 2023 and beyond!
The following two tabs change content below.
Jamie Spencer
My name is Jamie Spencer and I have spent the past 10 years building money making blogs. After growing tired of the 9-5, commuting and never seeing my family I decided that I wanted to make some changes and launched my first blog. Since then I have launched lots of successful niche blogs and after selling my survivalist blog I decided to teach other people how to do the same.
Latest posts by Jamie Spencer (see all)