The word "portfolio" has been around in the English language for more than 300 years. "Portfolio" comes from Italian by way of Latin and is a portmanteau of the verb to carry ("port") and sheets ("folio") of paper, referring originally to the valise or case that was used to carry such papers.
Over time, the word portfolio has evolved to refer to a collection of a designer or artist's work that best showcases their talent. In the digital age, online portfolios work in much a similar way, collecting and showcasing your best work all in one location. Whether you're a UX/UI designer, a graphic designer, a visual artist, a writer, a programmer, a photographer, or involved in another creative field, an online portfolio is an invaluable asset.
Guide Contents
Benefits of creating an online portfolio
Who would use an online portfolio?
How to design an online portfolio
Limitations to free online portfolio software
Best free online portfolio software
Benefits of Creating an Online Portfolio
Just a few years ago, job interviews involved face-to-face meetings where the designer or artist would show a physical portfolio of their finest works to prospective employers. These days, we all live in a modern, digital era, and so online portfolios are close to being mandatory for anyone involved in a creative line of work.
Having an online portfolio is a bit like having a dynamic business card that shows off your abilities, experience, and talent to prospective employers, teammates, clients, or collaborators. Instead of having to send physical or digital copies of your work to someone interested in working with you, your online portfolio is available online for viewing 24 hours a day, 365 days a year.
Whether you want to get hired, attract recruiters, demonstrate your proficiency, or simply want to showcase your accomplishments, an online portfolio can be a tremendous asset. Even artists, designers, and creatives which aren't actively looking for new work can benefit by having an online portfolio because simply having it available 24 hours a day on the internet can make their accomplishments publicly accessible and thus raise their visibility to potential future collaborators, clients, or employers. That's why even world famous designers have online portfolios – it allows others to admire and learn from their work as well as drive traffic to their websites, social media accounts, or e-commerce sites.
In essence, an online portfolio is similar to a highway billboard that advertises your skills, capabilities, achievements, and artistic flair. Unless you want to hide away your talents from the rest of the world, it is absolutely essential for every active artist, designer, and creative to have an online portfolio.
Easier Way To Demonstrate Your Skills
Online portfolios are also a much better way to demonstrate your skills than a resume or CV. No matter how impressive your resume/CV is, it's just a flat piece of paper with a brief synopsis of your experience, education, and job titles. How can a potential employer, collaborator, or client really understand what you can do just from your CV/resume? They can't. But an online portfolio lets you shine and stand apart from the rest of the crowd. It may just be one brief URL link in your CV/resume, but it can really open up the depth of your talent and ability to a recruiter, client, collaborator, or employer.
Last, but certainly not least, an online portfolio can also help you individually. As your talent and experience grow, you should, hopefully, keep adding new examples of your work to your online portfolio. Over time, your online portfolio will become a kind of mini biography that demonstrates how your abilities and skills have evolved over time. Many employers and clients find it very impressive when they can see how an artist or designer has improved as they aged and gained experience.
Probably the best way to think of an online portfolio is as the story that you get to tell about yourself. An effective online portfolio will give you the opportunity to illustrate what you can do, demonstrate how you think, and show how you solve problems.
Who Would Require an Online Portfolio?
The short answer is: pretty much anyone who is a designer, artist, photographer, programmer, filmmaker, or works in a creative field. Online portfolios are more than just a way for creative people to market and showcase their skills. They also serve as a visual story that tells their professional journey over time.
Many people mistakenly believe that you only need to create an online portfolio when you enter the job field and are looking for work. This simply isn't true. An online portfolio is essential as a way to document your progress over time beginning with your first forays into the field and continuing right up to the present day. That's why many artists think of their online portfolios as a kind of visual journey that chronicles both their day-to-day achievements as well as a way to shed light on their greatest accomplishments.
If you are creating things, you need an online portfolio!
How to Design an Online Portfolio
Knowing that you need an online portfolio is one thing, but how do you go about designing one? Are there any kind of guidelines, rules, or formats? And what should you include and not include in your online portfolio?
Unlike the much older resume/CV format, online portfolios are a rather new tool and so there are fewer established protocols for how they should be designed and formatted. Nonetheless, by examining some of the most innovative and successful online portfolios, it is possible to deduce the essential elements.
First, before you do anything else, it is mandatory that you understand the purpose of your online portfolio. Is it to get hired in your field or hired by a specific company? Is it to attract freelance clients? Is it to build your brand? Before getting started, make sure you understand the purpose of your online portfolio as it will inform all of your subsequent decisions.
Second, select the items that you want to showcase on your online portfolio. Best practices are to have no more than 20 different projects or items, and 10 is even better. What you want is a cohesive collection of your very finest work. It is also desirable to show the depth and versatility of your abilities. Choose different projects or creations that demonstrate the full range of your skills, keeping in mind that a simple, clean collection is always best. Last, but definitely not least, make sure that you choose the right platform to host your online portfolio to make it easy to share with others and attract visitors.
The Essential Elements Needed in an Online Portfolio
There a few things to keep in mind when creating your online portfolio:
Create your own brand
Whether you have an actual branded company or simply want to establish your personal "brand," it is essential to include branding elements in your online portfolio. This means using and creating a logo. If you're creating a personal "brand," then you can incorporate your initials or name into the logo. Best of all, you can use this logo for avatars on social media as well as on your business cards.
Tagline
A tagline is an industry term that refers to one sentence that best sums up the product or service. For an online portfolio, a tagline is a short, snappy sentence that best sums up who you are, what you've done before, and what you can do.
Tell a story
The way that your online portfolio is organized should tell a story, the story of your journey and evolution as a creative person. This doesn't necessarily mean showing all of your projects in chronological order. The story that you're telling is about your personal journey and how you tackled difficult challenges and then succeeded. The best stories are ones that are personal, so don't be afraid to include emotional elements.
Don't be afraid to write!
Many visual designers believe that simply including images of their work is enough to tell a story. This simply isn't true. Clients and employers respond to the person behind the work, not just the work itself. Don't be afraid to write about what you went through when you were designing each item in your online portfolio. Where did that particular job start? What were the challenges or issues? How did you address these? What insights did you gain during the design process? And how did you evolve as a person during this journey as you worked on each particular project?
Focus on recent projects
Best practices are to only show work that you've done in the past three years. If your experience spans a much longer period of time, and you feel that some older projects are worth showcasing, then you can include them. But make sure that your online portfolio has a focus on what you've done lately. Clients and employers like to see what you've been up to recently as well as know that you're still evolving and keeping up with current trends, standards, and technologies.
Show your results
It's nice to show some really beautiful images that you created on your computer, but clients and employers really appreciate results. If you designed a mobile app, can you show a video of the finished app being used? If you shot a great photo, can you show how it was used in a printed catalog or a storefront? The best online portfolios show not just the design work that the artist created but how these were used by the end customer out in the real world.
Avoid the flash
Whether it's literally Adobe Flash or just flashing, animated videos, the best online portfolios are clean, simple, and load very quickly. The last thing any artist wants is an online portfolio that takes forever to load or requires sitting through videos or other flashy introductions. If it takes more than two seconds for your entire online portfolio to load, then you need to pare it down to something more simple, basic, and streamlined.
Services
What services do you provide? It may seem "obvious" that you're a photographer if your online portfolio is a collection of your photos, but that still doesn't answer every question. Do you travel to shoot photos upon request? Do you work at parties, weddings, or special events? Do you have any restrictions? Before a potential client or employer can ask, make sure that you clearly explain the services that you offer, especially if they're different to work that you've done in the past.
Don't forget your bio!
As great as your online portfolio is for showing your professional skills, clients and employers also really love to know more about the person behind the talent. Don't forget to include an "About Me" section on your online portfolio. Talk not just about your work experience, education, and skills but also the kind of person you are and how you work with others. Are you more of a team player or an individual? How do you collaborate with others? Answering these questions ahead of time is always a winning strategy for an effective online portfolio.
Include your resume/CV
Yes, you may have already sent your resume/CV to a prospective employer or client, but you simply never know who might be visiting your online portfolio. Perhaps it's someone who hasn't seen your resume/CV or is unaware of your experience. Be sure to include a professional resume that's easily downloadable with one simple click and/or a link to your LinkedIn account.
Include your contact info – Can you imagine stumbling across an online portfolio from an amazing designer, but then you can't discover how to contact them? That's a very frustrating feeling. If you're experiencing success and lots of people are visiting your online portfolio, make sure you include an easy way for them to reach out and communicate with you. Always include, at a minimum, your email address in an easy-to-find spot on your online portfolio. You can also add links to your social media profiles, websites that you manage, books you've written, videos you've created, an e-commerce store, or even a phone number, where appropriate.
A few other things you might want to also add to your online portfolio include: having a blog, reviews or testimonials from previous clients, listing your biggest name clients, podcasts that you produce or in which you participated, ebooks that you've written, newsletters, and embedded videos (that feature you and/or your work). Whatever you think might better showcase who you are and what you can do can also be included in your online portfolio.
Limitations to Free Online Portfolios

As with anything that is free, there are always going to be some limitations. Most platforms offering free online portfolio impose restrictions on the available templates, the time before the free account must be upgraded to a paid one, the amount of storage that can be used to host media files, load times, bandwidth, and the formatting and layout of your online portfolio. But beyond each platform's built-in restrictions, there are also some rather important limitations when you use a free online portfolio.
The first limitation of an online portfolio is that it will some time both to create it as well as update it. Even if you're a photographer and your medium is already in a digital format, arranging, formatting, and designing the layout of your online portfolio to showcase your photos will take time. Furthermore, as you continue to work, you may find that older projects need removing or archiving. And if you're targeting a particular job or want to be hired by a specific company, you might want to fine-tune your online portfolio to best appeal to a prospective hirer.
Another limitation of an online portfolio is compatibility. Sure, digital images can be easily displayed on any browser, but is your online portfolio optimized for visitors using mobile devices? And are your software apps, text documents, or other media files in a format that might be incompatible with certain computer operating systems or apps? Whenever possible, try to avoid using restrictive media formats like Microsoft's ".docx" that might be incompatible with an employer or client's computer.
Unfortunately, another growing problem with free online portfolios is that some unscrupulous people may be tempted to plagiarize or copy your work. If your online portfolio is seen as a success, the very fact that it is available online in a digital format makes it very simple to download and copy it (or just take a screenshot).
That's why you need to make sure that you always watermark any visual media that is included on your online portfolio. As the old saying goes, "imitation is the sincerest form of flattery," but the last thing that you want is for a prospective employer or recruiter thinking that your original work has been plagiarized because it is available somewhere else online. Keep in mind that anything put online can be stolen by someone with the right skills, so never include anything in your online portfolio that you don't want the world to see.
Last, but definitely not least, it's essential to keep in mind that the internet is always evolving. A top-rated online portfolio platform today might be out of business and shuttered in a few years. That's why you need to make sure that you always maintain a downloaded copy of your online portfolio. If the platform hosting your online portfolio goes out of business, imposes a financial charge, changes the conditions of your user account, or closes your account, you need to make sure that you can easily port your online portfolio to another platform or host.
Our Reviews of the Best Free Online Portfolio Platforms
After carefully reviewing some of the best online portfolio platforms available, we have come up with a list of the best platforms that offer free portfolio hosting that is easy to use and widely accessible to prospective employers, clients, recruiters, and collaborators.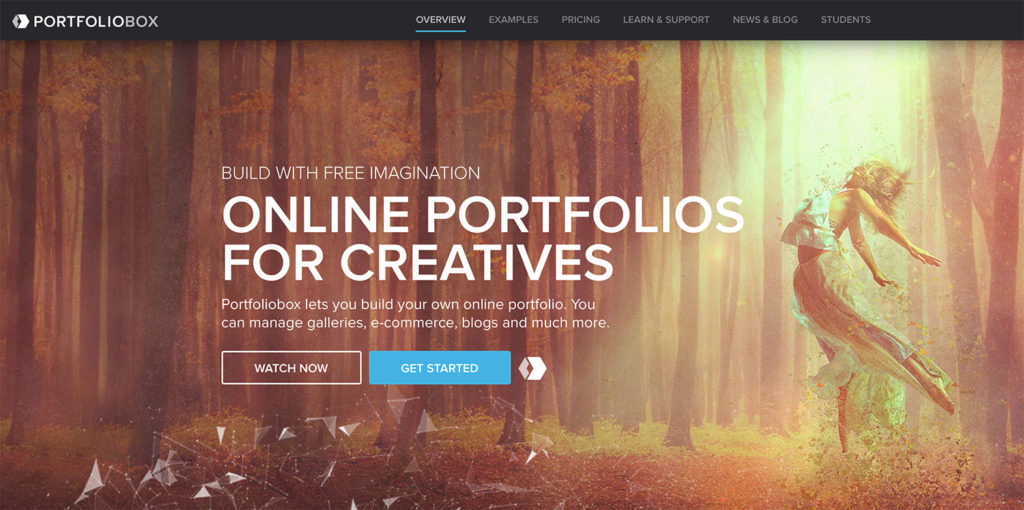 This is a very popular site with more than a quarter million portfolios being hosted. Perhaps its greatest strength is that you can easily create your own online portfolio directly from your browser without needing any special tools or software.
What's included:
• 30 images/10 projects/10 pages
• Galleries
• E-commerce shop
• Blog(s)
• Video hosting
• Domain name for your portfolio
• Multilingual support
• Responsive optimization of images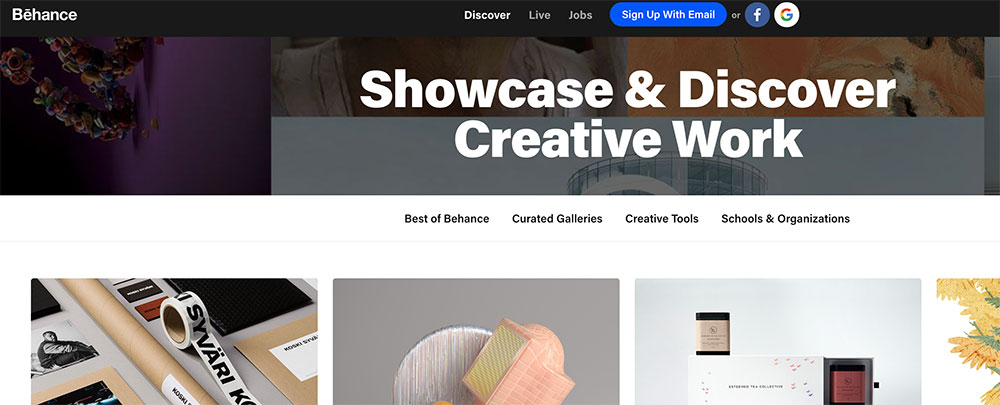 Behance is a separate business unit inside of Adobe and so is backed by one of the biggest names in the design business. Behance offers a really fresh and clean way to showcase your work. Behance also uses selections from online portfolios in galleries, a great way to gain additional exposure for your work. Behance also has a very active online community, a great way to get feedback or suggestions on your work.
What's included:
• Personal profile, including contact info and social media accounts
• Advanced file editing tools
• Ability to add other designers for a collaborative project
• Design kits
• Comments and feedback from other users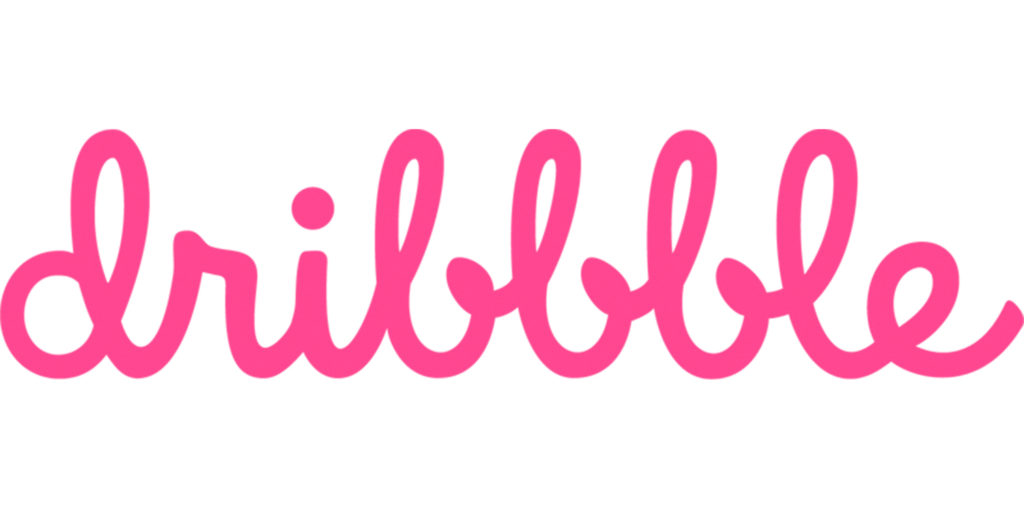 Perhaps the most well-known site on the internet for visual design, Dribbble with an extra "B" has taken the online world by storm. With so many online portfolios, Dribbble is a great place to see what other people are doing and learn more about the current trends. The one key difference between Behance and Dribbble is that Dribbble places restrictions on how much text you can include describing your work and your work process. This is why many Dribbble users place a Behance link in their Dribbble portfolio so that interested parties and read more.
What's included:
• Personal profile
• Included in site searches
• Regular Dribbble meetups to network offline with other designers
• Job postings
• Blog
• Super simple creation process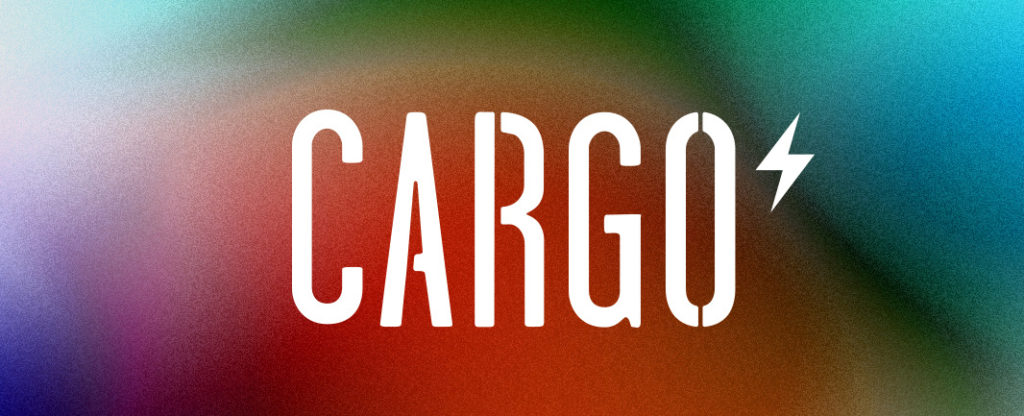 The Cargo Collective or just "Cargo" as it is known is a relatively simple platform but one that is very easy to use. The greatest strength of Cargo is that each portfolio gets its own unique URL. The main difference between Cargo and other similar sites is that you must be invited by a fellow designer in order to create an account with Cargo.
What's included:
• Unique URL for your portfolio
• 40 different portfolio templates
• Up to 12 projects/three pages
• A wide range of fonts and typography options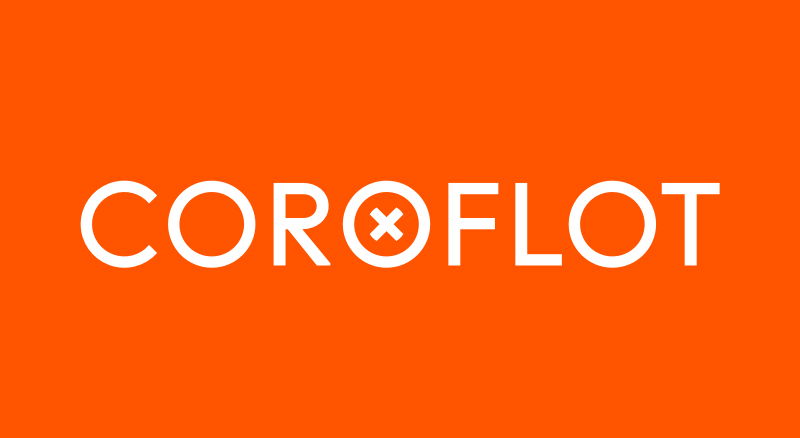 Although less famous and well-known than Behance or Dribbble, Coroflot has still managed to attract more than two million images published, and more than 150,000 projects are published on the site every month. Besides being a great place to showcase your work and browse through the work of others, Coroflot is known for having an active job board. In fact, Coroflot says that its job board is the most active place on the internet for people seeking UX/UI design jobs, 3D modeling jobs, motion graphics jobs, illustration jobs, industrial design jobs, photography jobs, and web development jobs.
What's included:
• Profile with personal information, work history, and education
• Very active job board
• Ability to view designer salaries in different countries/cities
• Easy to find other designers
• Your profile is instantly available to top recruiters and companies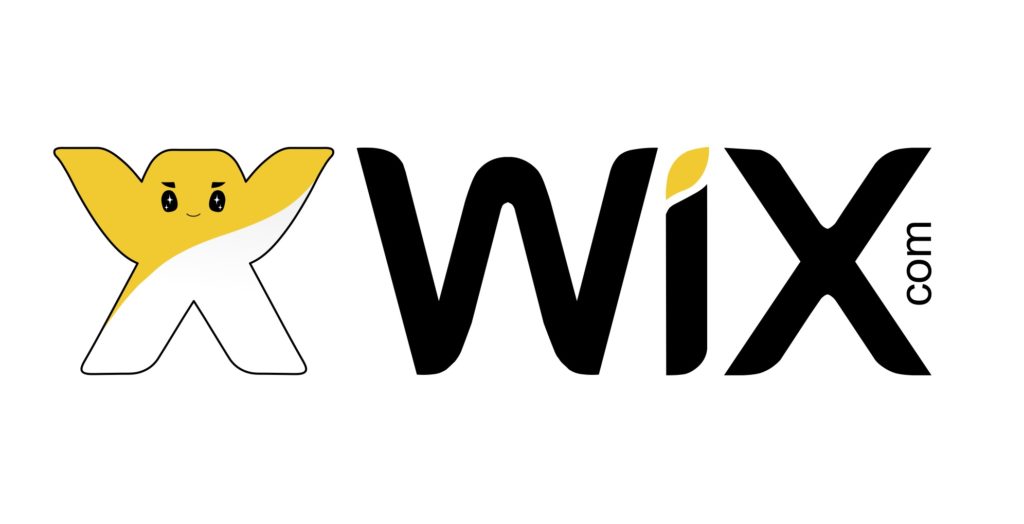 Wix has one of the easiest tools for creating an online portfolio because the entire process works on the drag-and-drop principle. Beyond just the built-in templates, Wix also lets you design one from scratch.
What's included:
• A large number of built-in portfolios (over 500 at last count)
• Simple drag-and-drop creation process
• Hosting images, videos, and galleries
• Scroll effects like parallax or fade-in zooming
• Over 100 fonts (and you can upload your own)
• App market for growing your business
• Fully optimized for mobile browsers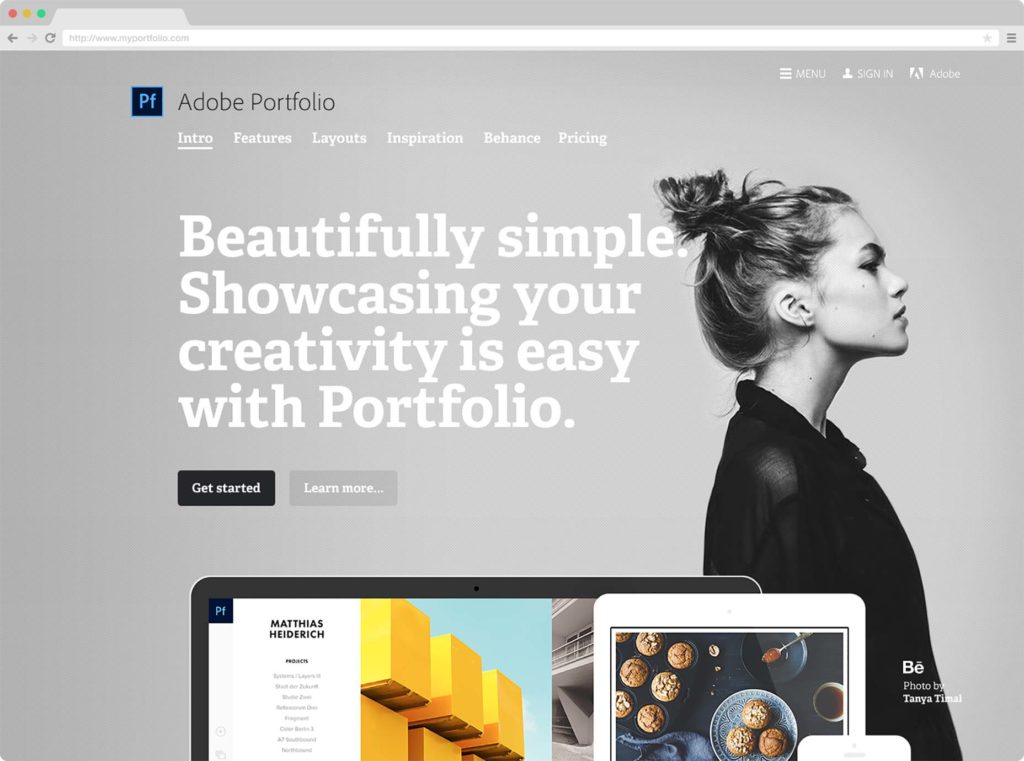 Adobe also owns Behance, so the Adobe online portfolio site is designed to work in conjunction with a Behance account. Adobe Portfolio is a more advanced and customizable version of Behance. And if you spring for a paid account, you also get the use of all of Adobe's creative application suite, including Illustrator and Photoshop.
What's included:
• One-click sync with Behance
• Easy to use design templates
• Free account with Adobe's Creative Cloud
• Access to the full Typekit font library
• Unique URL for your portfolio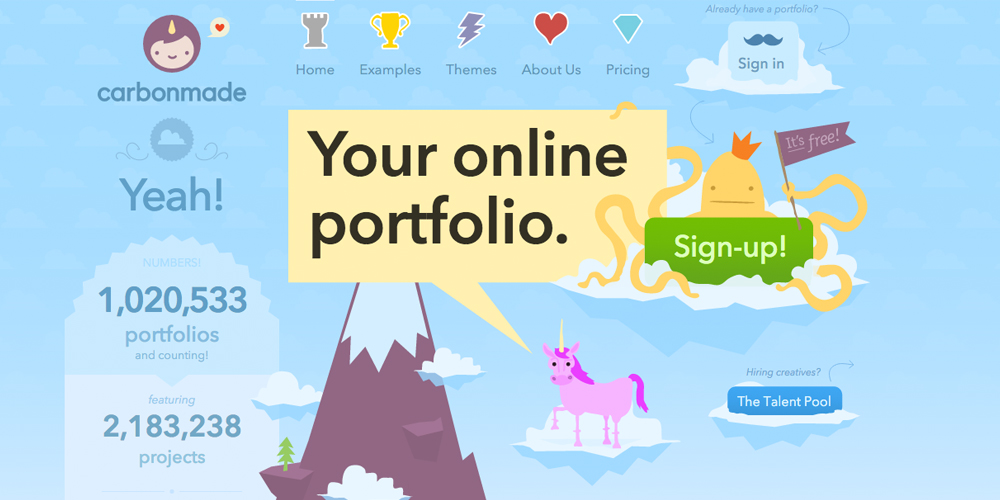 With a colorful, youthful design, Carbonmade is a friendly, easy-to-use site for creating an online portfolio. Designed by designers for use by designers, Carbonmade's simple design makes it an excellent good choice for designers and artists who want to build an online portfolio quickly and easily. More than 15 million pictures across one million portfolios are currently being hosted at Carbonmade.
What's included:
• About me page
• Work history page
• Contact info
• Custom logo
• Unique and customizable URL for your portfolio
• Ability to archive projects
• Gorgeous built-in themes
• Hosting audio and video
• Absolutely no coding, CSS, or HTML knowledge necessary
• Links to your website, blog, or e-store
• Fully optimized for mobile browsers
• Instant conversion of PDF files
• Ability to host audio files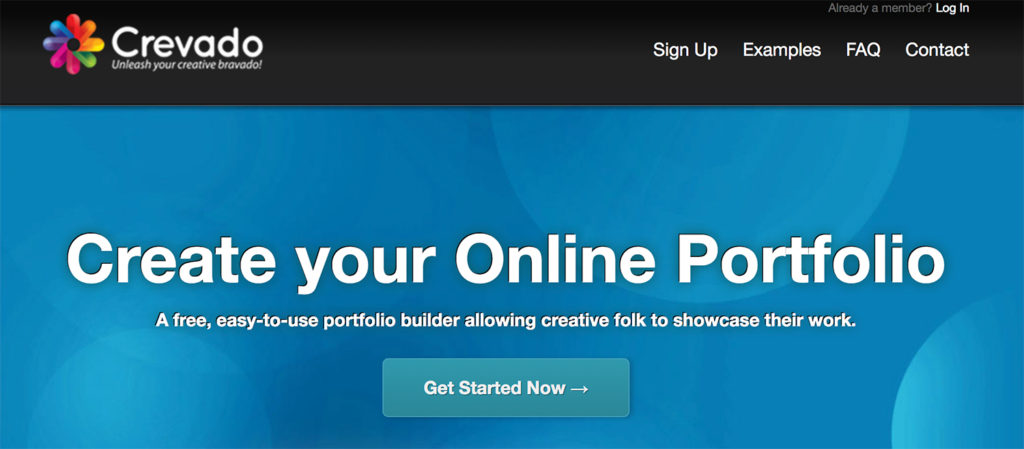 Crevado is another very simple-to-use platform that requires no knowledge of programming, HTML, or CSS to operate. Crevado is primarily attractive for active designers who want to not just showcase their work but sell images or other media online with Crevado's built-in e-commerce function. More than half a million portfolios are currently being hosted on Crevado.
What's included:
• Up to 30 images/five galleries
• Google Analytics information and other useful statistics
• Free trial of 14 days
• Large collection of design templates
• Ability to sell your work via PayPal or Fotomoto
• Simple drag-and-drop interface
• Hosting of videos, photos, PDFs, and more
• Fully optimized for mobile browsers
• Secure HTTPS hosting for added privacy protection
• Integration with Facebook for one-click "likes" and shares
Conclusion

Having an online portfolio is an absolute necessity for anyone who is a designer, programmer, artist, filmmaker, or working in a creative field. Thanks to the ubiquity of free hosting plans available from top-name platforms, everyone can now easily and affordably create an online portfolio. Whether you want to showcase your work to fellow designers, keep a personal record of your achievements, or quickly create a customized portfolio in order to impress a prospective employer or client, having an online portfolio is now an essential tool for every creative.
Be sure to carefully assess the various platforms to make sure that you can find one that best suits your needs. Many free hosting plans come with time limits, and more advanced functions may only be available with free plans, to always pay attention to restrictions on free plans. But by careful and savvy use of the available offerings from the different hosting platforms, anyone can now create a beautiful, stunning, informative, and useful way to showcase their work for fellow artists, teammates, recruiters, clients, and employers.
The following two tabs change content below.
Jamie Spencer
My name is Jamie Spencer and I have spent the past 10 years building money making blogs. After growing tired of the 9-5, commuting and never seeing my family I decided that I wanted to make some changes and launched my first blog. Since then I have launched lots of successful niche blogs and after selling my survivalist blog I decided to teach other people how to do the same.
Latest posts by Jamie Spencer (see all)