Whether you're looking to start a blog or you want to establish a solid Internet presence for your company, creating a website can be a costly endeavor. Most people are unaware of the expenses involved. Not only do you need to purchase the domain, but you also need to host it on a server if you ever want your audience to see your hard work. Depending on the web host you go with and the particular contents of your digital space, you can be spending a lot more on your website than you originally planned.
Luckily, there are ways to cut back on the costs. Free web hosting allows you to get your website up and running in no time. While paying for solid hosting can make a huge difference in the long run, free options are great for beginners. They can help you stay within your budget as your business grows and you learn more about what it takes to own a website. Free hosting can serve you well until you're ready to upgrade to an option that offers more features.
Not all free hosting companies offer the same perks or customer service. Free service often comes with many sacrifices. To ensure that you don't run into any problems setting up your free website, it's important that you do your research and find a host that meets your needs. Here's a collection of the best 10 free web hosting companies to get you started.
Hostinger.com – Almost Free – $0.80 per month ( 48 month contract )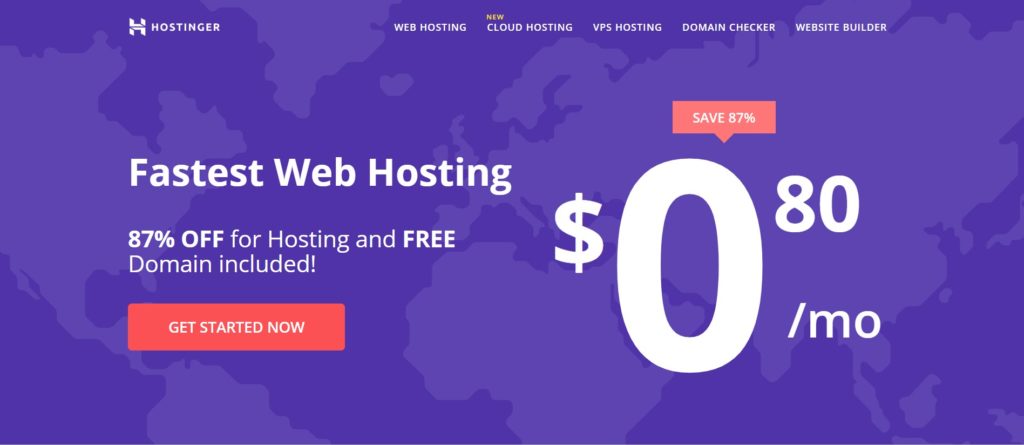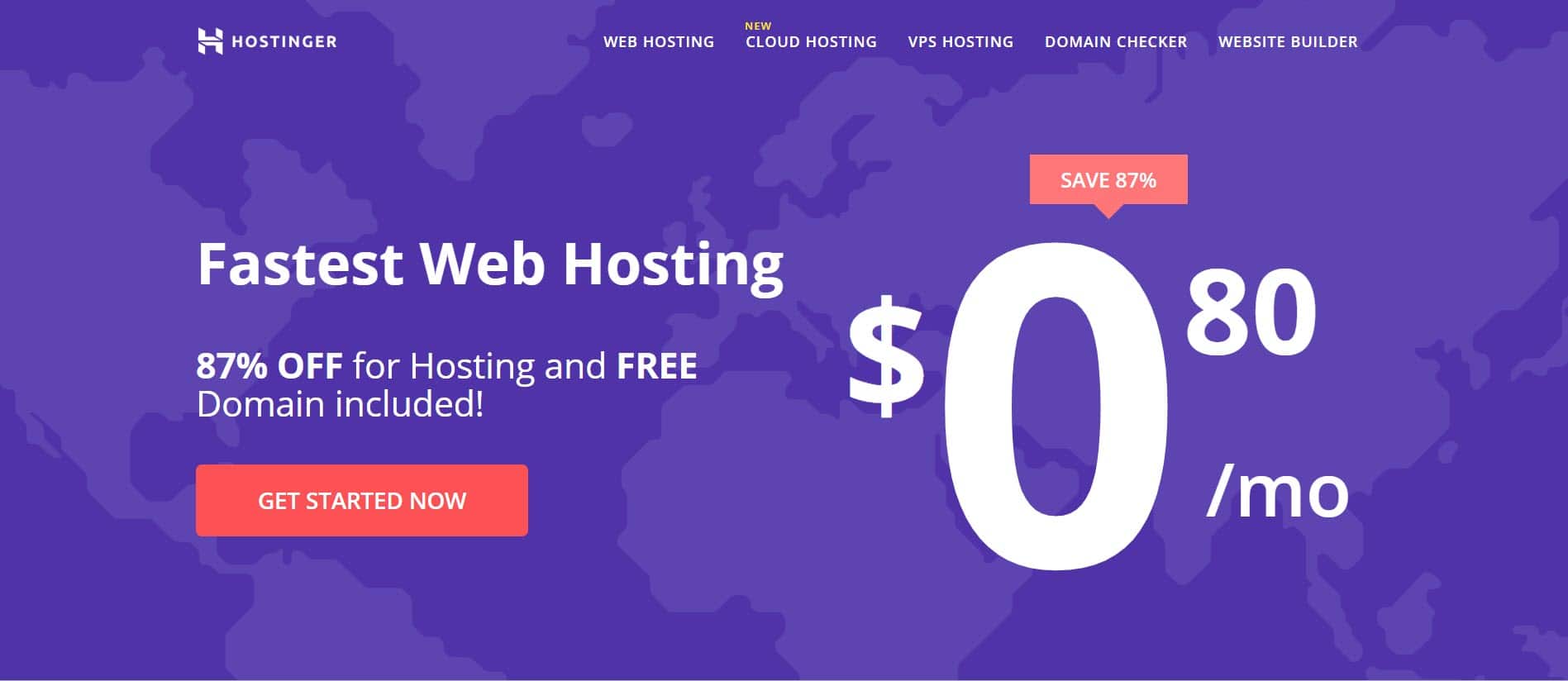 Hostinger is not exactly free, but it's pretty close. This company offers a range of affordable hosting services to accommodate a wide range of Internet entrepreneurs. Their most affordable option, the Single Shared Hosting plan, currently costs only $0.88 per month. With that nominal monthly fee, you're getting a ton of great features.
The shared hosting plan is ideal for novice developers looking for a quick and easy way to launch their website. Hostinger offers access to a feature-rich website builder. It's relatively easy to use, allowing you to create beautifully designed websites without much technical know-how. Once your site is up and running, you can maintain it on an intuitive control panel. It's not the Linux-based cPanel that you might be used to, but the in-house platform offers plenty of great features to put control at your fingertips.
The areas in which Hostinger stands out is its uptime and speed. This hosting platform rivals some of the most well-reviewed paid hosts in terms of speed. They also guarantee a 99.9 percent uptime, which is quite impressive for their low monthly rate.
The shared hosting plan includes 10 GB of disk space, so you can create a media-rich website without any issues. It also has 100 GB of bandwidth. One great thing about starting off with the almost-free plan is that you can easily migrate to higher tiers whenever you're ready. Hostinger offers a range of different plans, each with all-new features you can use to help your website grow.
Features:
1 free website
10 GB of Disk Space
100 GB of bandwidth
99.9 percent uptime guaranteed
1 email account
24/7 live chat support
One-click installation of popular CMS
1 MySQL database
Or read our more detailed Hostinger Review >>
000WebHost.com
100% Free – But your website will be offline for 1 hour per day…DOH!!!!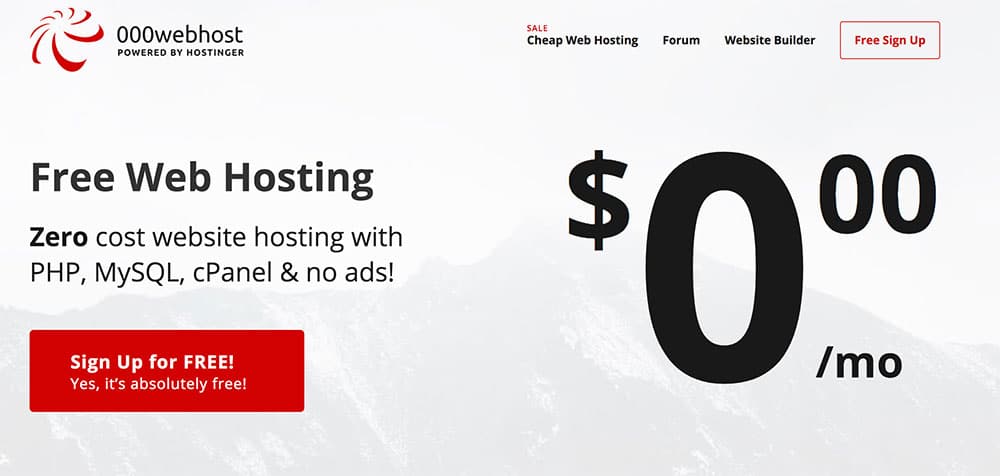 With over 10 years in the industry, 000WebHost has gained a great reputation among businesses and individuals across the globe. They offer a free hosting plan that's quite flexible in terms of features. Best of all, there are no ads whatsoever. 000WebHost doesn't force you to advertise for them or any other company, so you can create a digital space that's completely catered to your audience.
When you register with 000WebHost, you have instant access to their website builder. It has hundreds of templates that can be modified with just a few clicks. You don't need to understand complex coding or even graphic design to build a website that you can be proud of. The hosting platform supports most of the popular programming languages, such as PHP and MySQL. It's also one of the only free hosts that offer an AutoInstaller. Instead of struggling to get scripts working on your website, you can install many popular options with just one click. These include scripts from Joomla, WordPress Drupal, and so much more. You can make complex upgrades to your website with a simple click of your mouse.
Features:
1 MB of Disk Space
10 GB of bandwidth
99 percent uptime guarantee
Ad-free
Forum-based support
Script AutoInstaller
Free website builder
cPanel
Read our 000webhost review.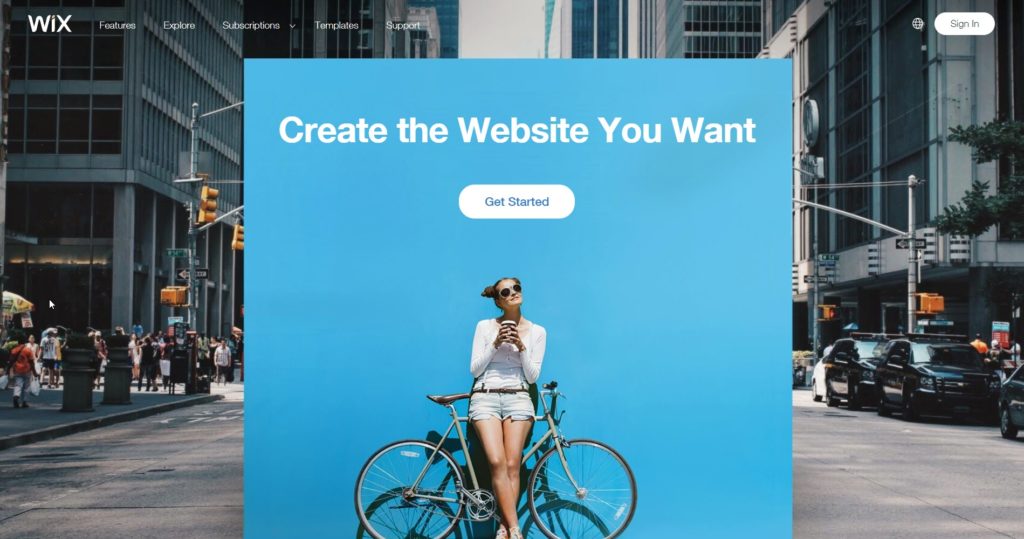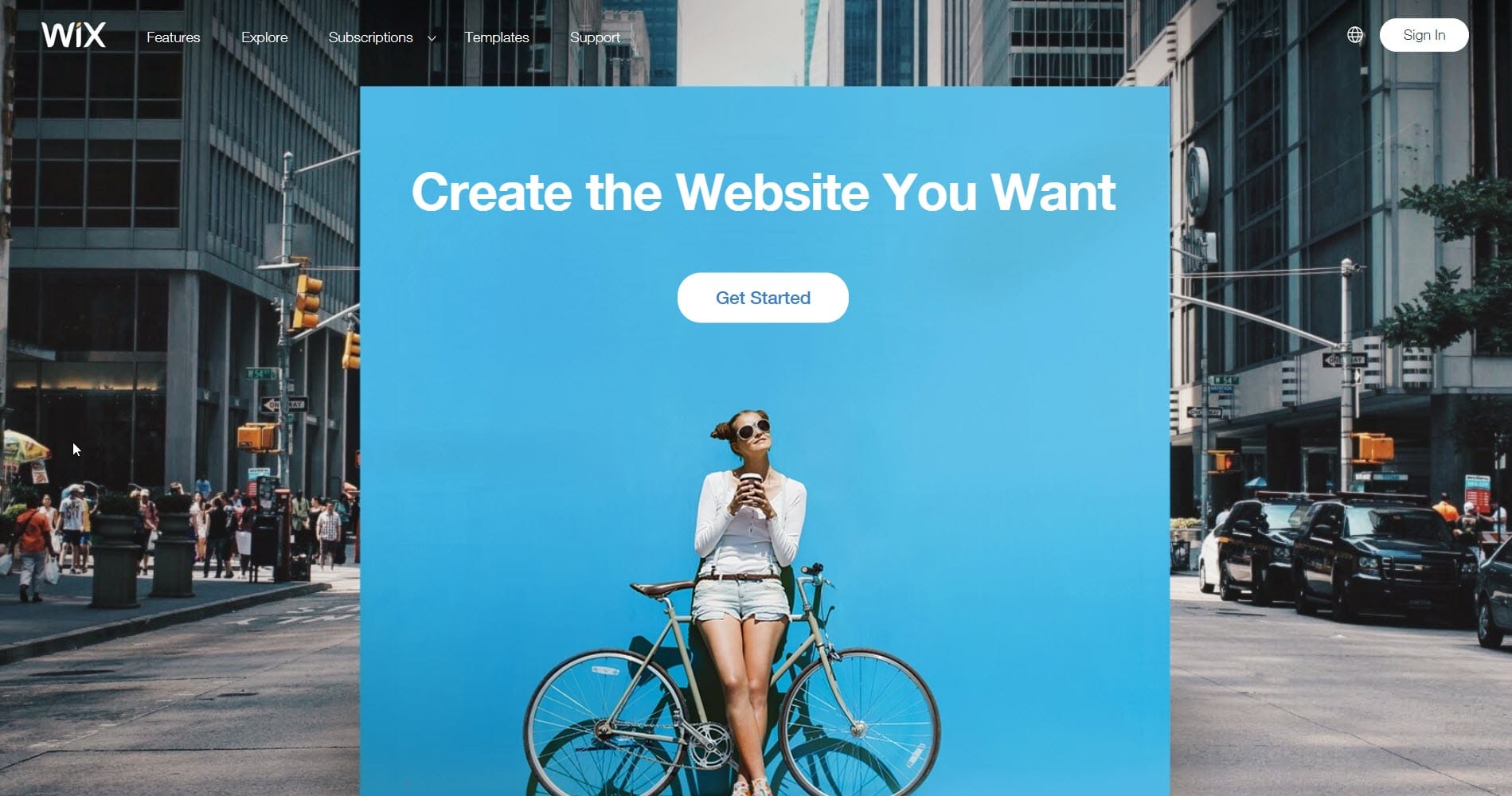 Another familiar name in website building, Wix offers free hosting services to those looking to publish a quick, easy, and beautiful site. Wix is ideal for smaller websites due to the limitations of its free hosting plan. They offer 500 MB of Disk space for your website and 500 MB of bandwidth for traffic. While that may not seem like much, the company's website builder allows you to do a lot with that limited space.
In fact, the website builder is one of the biggest "selling points" of the free hosting plan. It's perfect for people who have no programming or design skills. The interface is based entirely on graphic design. All you have to do is drag and drop design components to create a website that looks like it was made by a professional. There are also over 500 modifiable templates to provide some inspiration.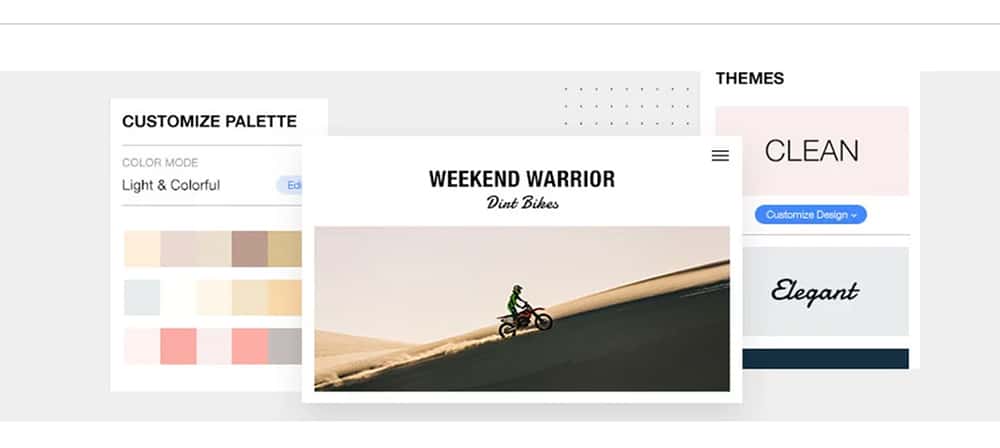 Wix also offers additional features to its hosting plans. For one, the company focuses a lot on security. Websites are hosted on servers that are located around the world. They're very reliable, providing a 99.9 percent uptime rate. Servers are constantly monitored for safety. In fact, Wix complies with international security standards to keep you and your visitors safe. When you are ready to expand your online offerings, Wix does have many paid plans. Some of these plans include search engine optimization, e-commerce capabilities, and more.
Features:
500 MB of Disk space
500 MB of bandwidth
Free Wix subdomain
99.9 percent uptime
Easy website builder
Free plan can be upgraded with a few clicks
Or read our more detailed Wix Review >>
InfinityFree.net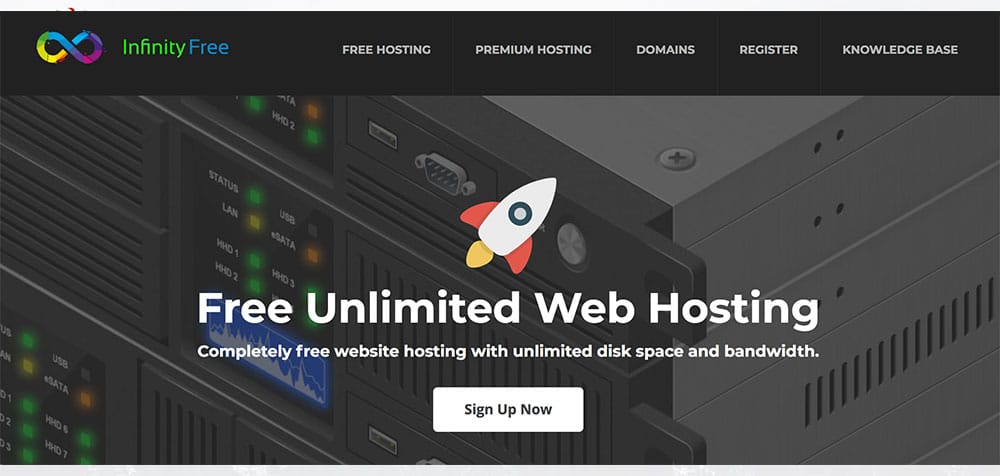 InifinityFree is one of the newest hosting providers to offer free services. As their name implies, they focus on offering many unlimited features. While most free companies have strict limitations in terms of how much space you can use, InfinityFree does not. They offer unlimited bandwidth and disk space, though the host does have its own unique set of restrictions you should go through before publishing your website.
The hosting company is a great place to show off media. The unlimited storage space allows you to implement streaming videos and music without any issues. In fact, InfinityFree encourages this. They do not, however, let you store links for download. Not only does this help to protect your website from possible security issues, but it can also keep other hosted sites on the server performing well.
InfinityFree also offers is peace of mind and convenience. Every free website comes with an SSL certificate so your visitors know that they have a secure connection. There are no forced ads on your finished website wither. While they don't offer free domains, InfinityFree does provide you with free subdomains. You also get 10 free email accounts, 99.9 percent uptime, and an easy-to-use script installer.
Features:
Unlimited Disk space
Unlimited bandwidth
Ad-free
Forum-based support
Script Installer
Free SSL certificate
400 MySQL databases
10 email accounts
x10Hosting.com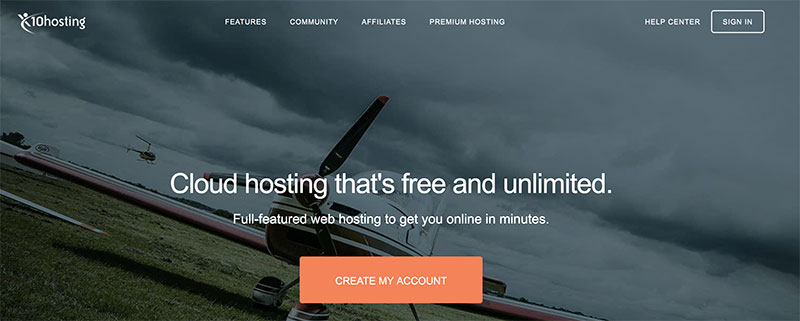 If you're looking for a complete hosting option that offers flexibility, take a look at x10hosting. This hosting company has been providing free service for well over a decade. They have developed their services to ensure that you're getting top-notch care, even if you're not paying a dime. For example, their cloud services are powered by enterprise systems with solid-state drives. The equipment is built to last. It's not some cheap hard drive that takes forever to load. Instead, the servers utilize speedy drives provide you with fast and stable service no matter how complex your website may be.
The hosting platform is designed to be as simple or elaborate as you need it to be. They offer a feature-rich website builder and a range of hosting tools. You'll have access to the latest cPanel X3 control panel. With this panel, you can make easy upgrades as your website grows. When it comes to scripts, x10hosting has you covered. The platform supports over 300 one-click installs. You can also use third-party packages or implement your own PHP scripts for ultimate flexibility. The hosting company also has the latest versions of PHP, CSS, MySQL, and more.
Features:
Unlimited Disk space
Unlimited bandwidth
Forum-based support
One-click script Installer
No free email account
cPanel X3
MySQL database management tools
AwardSpace.com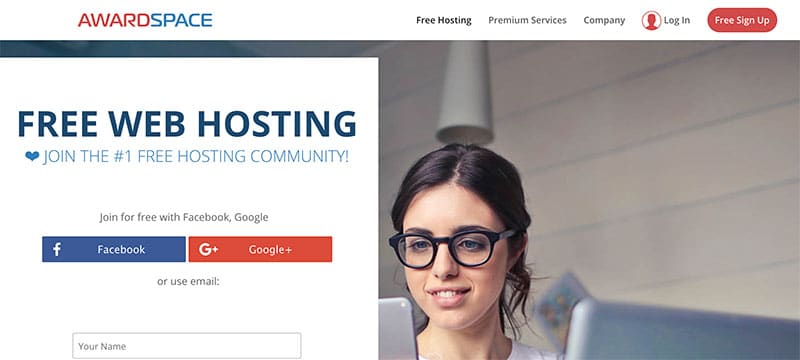 AwardSpace is a company that's focused on letting people create free websites quickly. They offer robust tools to help you build a website from scratch in only 30 minutes. Best of all, it's completely free. The hosting platform offers 1000 MB of disk space and 5 GB bandwidth. It's also ad-free, so you don't have to worry about unwanted advertisements on your finished site.
One thing that sets AwardSpace apart from other free options is that they also give you one free domain. It utilizes a dx.am extension. You can also add up to three subdomains, essentially giving you four websites to host. AwardSpace has an intuitive user interface that's easy to understand. Great extras, such as the web-based file manager, ensure that all your content, scripts, and programming files stay nice and organized.
Speaking of scripts, AwardSpace lets you implement scripts with only one click. The one-click installer works with many popular CMS, such as WordPress and Joomla. If you do come across any issues, you'll be happy to know that the host has 24/7 customer support. AwardSpace is much more than just a free web host. They also offer various paid tiers. Once your website starts to get more successful, you can easily upgrade your free plan and take advantage of all the extra features the hosting company has to offer.
Features:
1000 MB Disk space
5 GB bandwidth
Bandwidth tracker
24/7 customer support
One-click script Installer
1 free email account
Free domain name and 3 free subdomains
Full MySQL database support and PHPmyAdmin
FreeHosting.com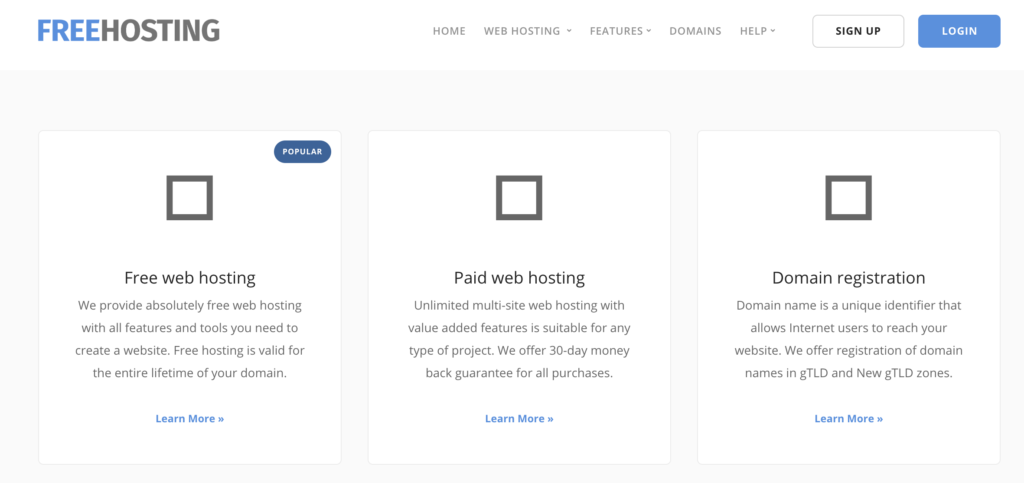 As their name implies, FreeHosting is about providing you with reliable free service and nothing more. This hosting company is very unique in the fact that they're quite upfront in what they do and do not offer. This can be a breath of fresh air, especially with so many hosting companies providing empty promises. With FreeHosting, you know exactly what you're signing up for. The company does not provide free domains, nor can you make changes to how your server performs. The free service plan is also not available to everyone. In fact, the company does not serve clients from a handful of countries.
For the companies and individuals they do serve, FreeHosting offers unmetered bandwidth for one website. Because they are offering free web hosting services, they do have some limitations. Included within their terms of service, you'll find guidelines on what types of content they deem acceptable. While this may seem a bit cumbersome at first, the limitations play an important role in keeping your website safe and secure. FreeHosting will remove websites from their servers if they don't meet their guidelines. This helps to protect your website and ensure that your audience can visit your digital space without any issues. As long as you fit within those guidelines, you can take advantage of a free website builder, convenient cPanel control panel, web applications, and more. You can also get an add-on to improve your site. They're only billed once, so you can make enhancements without recurring costs.
Features:
10 GB of Disk space
Unmetered bandwidth
Ticket-based support
Automatic script Installer
1 free email account
MySQL database server
PHPmyAdmin
FreeHostia.com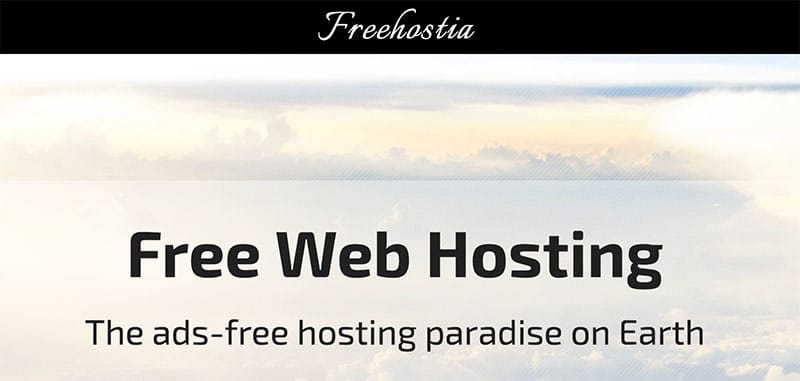 FreeHostia is a unique hosting company that offers a range of services to meet your ever-changing needs. If you're first getting started, you can benefit greatly from their free cloud hosting plan. Dubbed the "Chocolate" plan, their free service is versatile enough to help you establish a high-quality website without paying a thing. You can host up to five domains with your 250 MB of disk space. When it comes to traffic, FreeHostia gives you 6 GB of bandwidth each month for free.
FreeHostia focuses a lot on providing people like you with reliable service. Their data centers are located in the United States. Each server is installed in a controlled environment to ensure that they provide optimal performance. Even with their free plan, FreeHostia is touting a 99.9 percent uptime rate.
Features of your free hosting account are quite versatile. They have a website builder with a collection of beautifully designed templates that you can modify to meet your needs. There's also support for a wide range of scripts and programming languages. You can host up to five different domains with the free plan. However, the five domains count towards the overall storage and traffic limitations. Luckily, FreeHostia does offer a few different paid plans whenever you need to make an upgrade.
256 MB of Disk space
6 GB bandwidth
Ticket-based support and self troubleshooting
One-click script installer
3 free email account
Can host up to 5 domains
MySQL database storage
Byet.Host
This United States-based hosting company offers many great features to help you establish an online presence in only a matter of minutes. Their platform is very easy to use. Instead of the traditional cPanel interface, ByetHost has its own proprietary control panel, called VistaPanel. It's easy to use by users of any skill level. Whether you're a novice or a seasoned web developer, you won't have any issues taking control of your website with this control panel. They give you five email accounts and unlimited MySQL databases for your convenience.
When it comes to performance, ByetHost really delivers. The company manages its own hosting network. It's comprised of powerful servers that are arranged in a grid pattern. The equipment is constantly maintained for good performance. This ensures that your website has a high uptime rate.
ByetHost includes an Automatic Script Installer. It's compatible with many popular applications, such as WordPress, Mambo, 4Images, and so much more. The hosting company also provides you with PhpMyAdmin, bandwidth statistics, unlimited add-on domains, and free customer support around the clock.
Features:
1 GB of Disk space
5 GB bandwidth
Automatic script installer
5 email acounts
Unlimited MySQL database
In-house VistaPanel control panel
No forced Ads
Weebly is one of the most recognizable names when it comes to website building. The company has created a very user-friendly platform that allows you to make sleek and modern websites without the need to worry about complicated programming. To help you get your site seen by the masses, Weebly also offers free web hosting.
The free hosting plan is limited in terms of features. However, you can take advantage of Weebly's reliable server infrastructure to ensure that your site is performing well for your audience. They offer 500 MB of storage space. Thanks to the intuitive website builder, you can use this space strategically and produce a beautiful website you'll be proud to show off. Luckily, Weebly doesn't have strict limitations for bandwidth. They utilize a shared-hosting technique. While other shared hosting plans may have your website grouped with a small collection of other websites on a single server, Weebly does things a bit different. Your website is served across the entire server system. This helps to prevent performance issues that are caused by other shared sites.
Weebly offers some great perks with the free plan. In addition to unlimited bandwidth, they offer a free subdomain and free SSL security for peace of mind. There's also search engine optimization to help your website reach its full potential. Once you're ready, Weebly offers a range of other hosting plans as well.
Features:
500 MB of Disk space
Unlimited bandwidth
Free Weebly subdomain
SSL security
Free SEO
Works seamlessly with Weebly website builder
Or read our more detailed Weebly Review >>
Is Free Hosting Right For You?
Everyone likes free things, so it's not uncommon for companies and bloggers to forgo paid hosting options in favor of free alternatives. Unfortunately, many of them realize quite quickly that doing so was a huge mistake.
While free hosting can be a wonderful option for budget-conscious Internet entrepreneurs looking to get started, it's not a feasible long-term solution to your hosting needs. Free plans are very limited in what they can offer. Oftentimes, the free service comes with a lot of sacrifices. Because you're not paying for anything, hosting platforms don't have to provide you with the level of customer service that they would to those who are paying each month. This can lead to many problems, including unreliable service, lost content, and deleted websites.
You can always start your website with a free host and eventually migrate to a paid plan. If you still want to save some money without sacrificing on quality, you can go with more affordable paid plans. Companies are constantly adding new features to their hosting services. As technology advances, the costs of adding more storage space or bandwidth goes down. So, you can easily find new customer discounts or save money by purchasing service for multiple years in advanced.
It doesn't have to cost an arm and a leg to host a feature-rich website. All you have to do is find a suitable hosting provider that offers the features that are most important to you. They should also be able to provide you and your website visitors with fast, reliable performance.
Why We Always Recommend Paid Hosting
The free hosts that we've covered in this guide are the best around when it comes to offering quality free hosting, but they do find it hard keeping up with demand, which means that their service suffers. Often you'll find your website is offline, slow, unreliable, and unusable from a users' point of view. This defeats the object of being online. If potential viewers, subscribers, customers can't access your website properly because your servers are crap, then what's the point in putting in all that effort to design and populate a website with content?
Another reason why we recommend a paid host is the fact that you have 100% control over your website. With the free services, they own your site. They essentially own your content and can delete your website or online business at a moments notice.
Alternatives To Free Website Hosting
There's loads of alternatives to free web hosting. Take a look at our Cheap Web Hosting Guide, to see the most competitively priced web hosts for people and businesses on a budget.
We recommend Hostinger for those who don't want to spend much on hosting but still require decent hosting.
The following two tabs change content below.
Jamie Spencer
My name is Jamie Spencer and I have spent the past 10 years building money making blogs. After growing tired of the 9-5, commuting and never seeing my family I decided that I wanted to make some changes and launched my first blog. Since then I have launched lots of successful niche blogs and after selling my survivalist blog I decided to teach other people how to do the same.
Latest posts by Jamie Spencer (see all)