Affiliate marketing has changed the e-commerce landscape. While the concept has been around since the early days of the Internet, affiliate marketing has become a massive part of the e-commerce world in the last couple of decades. Today, it's a must-have part of the branding puzzle for companies big and small.
Whether you're looking to start an affiliate program to gain more exposure for your product or you're looking to use your existing content to become an affiliate marketer yourself, getting started has never been easier. WordPress plugins let you implement the best affiliate networks and programs into your site. Not only do they simplify the process tenfold, but they create a seamless marketing experience and help to generate endless leads.
There are tons of great WordPress affiliate plugins out there. They can be used by website owners and brands, streamlining the entire marketing process. We've created this guide to provide you with all the information you need to find one that's right for you. Check out our list of the best affiliate WordPress plugins below.
Is Wordpress a Good Platform for Affiliate Marketing?
WordPress is one of the best platforms for affiliate marketing. It's the world's most popular content management system and is powering millions of sites on the web. Thanks to the flexibility that WordPress offers, it's accessible to a wider range of marketers. With the right plugin, the process gets even simpler.
If you plan on getting into affiliate marketing, make sure that you use the WordPress platform, not the service. The platform can be downloaded and installed onto your site from WordPress.org. It can be used on virtually any hosting server of your choosing. Creating a website from WordPress.com is a bit different, as hosting is taken care of. Because you don't have much say in hosting, there are more strict regulations regarding plugin usage.
What Does an Affiliate Plugin Do?
Ultimately, the goal of an affiliate marketing plugin is to streamline the process and help manage a program. Affiliate marketing can be a labor-intensive job without the right tools. This doesn't just apply to affiliate marketers, but also brands who are paying them to promote.
An affiliate plugin is designed to take care of the more complex tasks for you. When you're looking for the right WordPress plugin to help you out, here are some of the most important features to look for.
Commission and Performance Tracking
For both sides of the marketing equation, tracking is a must. Brands need to be able to track leads and commissions so that they know what to pay marketers. Affiliate marketers, on the other hand, must be able to track performance. It's an essential part of growth. Having one place to view all of that information makes a significant difference.
Plugins should have some type of management tool where crucial information is displayed. It should be well-designed, user-friendly, and regularly updated. Some plugins can provide information in real-time, which is a nice touch.
Reports
Final reports covering a set period are important, too. While it's great to track leads as they are occurring, you also need to see how certain products or marketing techniques are paying off. Reports should provide you with final figures that show you how much sales or leads are generated. This information can be used to help you move onto other marketing techniques or adjust your current methods.
Link Generation
Finally, an affiliate e-commerce plugin should be able to generate the right links. Link generation is one of the most important tasks to complete. If you don't have the right link, visitors aren't able to view the product or service that's being promoted.
Most plug-ins can add affiliate links to individual posts or images. Some will even help you manage those links from a central dashboard.
Those are just a few of the essential features a WordPress affiliate plugin should have. Add-on features and extra capabilities are available as well.
Other Features to Consider
Beyond the basics, there are some additional considerations to make. Extra features can help to improve the overall user experience and take care of other management tasks.
Integrations
Plugins with built-in app integration are great for brands. You can find an app that integrates with an e-commerce platform or shopping cart program. This lets you view payment data from services like PayPal or Stripe. Alternatively, you can find plugins that integrate seamlessly with contact form plugins, calendar apps, and so much more.
User-Friendliness
While not a lot of people pay close attention to the design features of a plugin, they make a huge difference when it comes to the user experience. A well-designed affiliate dashboard makes it easy to find the things you're looking for. Stick with simple interfaces that are easy to figure out. Otherwise, you may end up spending more time just trying to figure out how the plugin works!
Price
Last, but not least, you should think about the price. Plugin prices vary across the board, so you won't have any trouble finding an option that works with your budget. There is also a great selection of plugins that you don't need to pay for at all.
With that said, it's important to remember that this plugin is a smart investment that's going to improve your bottom line in the long run. Don't get too hung up on the price. You can always upgrade to a more feature-rich plugin in the future. As long as the plugin offers the essentials you need, it can serve you well now.
Best Affiliate Plugins for WordPress
Pretty Links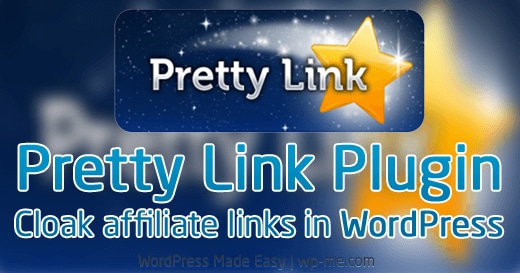 Price: Free – premium starts at $59 per year
Pretty Links is a widely-used plugin that's all about making your links a bit more presentable. Rather than implementing a string of random letters onto your site, the plugin creates short and memorable links in seconds.
Of course, the plugin is about more than just aesthetics. It can be your mission control center, allowing you to manage all of your links from one place. You can even create reports and see how those links are doing whenever you want.
Key Features:
User-friendly interface
Automation features
Ability to brand and advertise links
Built-in analytics and performance metrics
Can be used to manage redirects
Thirsty Affiliates
Price: $49 for one site
The ThirstyAffiliates plugin is a no-frills option that seamlessly integrates into the WordPress editor. You can add affiliate links from the editor in just a few clicks. If you need more capabilities, you can dive a bit deeper and take a look at the reporting features.
The plugin offers full visual charts, geographic information about leads, and more. ThirstyAffiliates can even check existing links for 404 errors and fix them automatically.
Key Features:
Simple reporting feature
Automatic link creation
Add banners and photos
Integrates into WordPress editor
404 Checker
Affiliate Royale

Price: $85
This affiliate plugin is geared towards brands looking to start a new affiliate program. It can also be used to create memberships to access your site. Whatever you choose to use it for, the plugin creates individual dashboards for your affiliate members. All they have to do is use their affiliate ID to log in.
The plugin is designed to be a one-stop-shop for your affiliates. Rather than having to download a separate app, members can check on their data on your site. You can also track performance and manage commissions from one place.
Key Features:
User-friendly design
Created for brands
Customizable performance charts and reports
Integrates with shopping cart plugins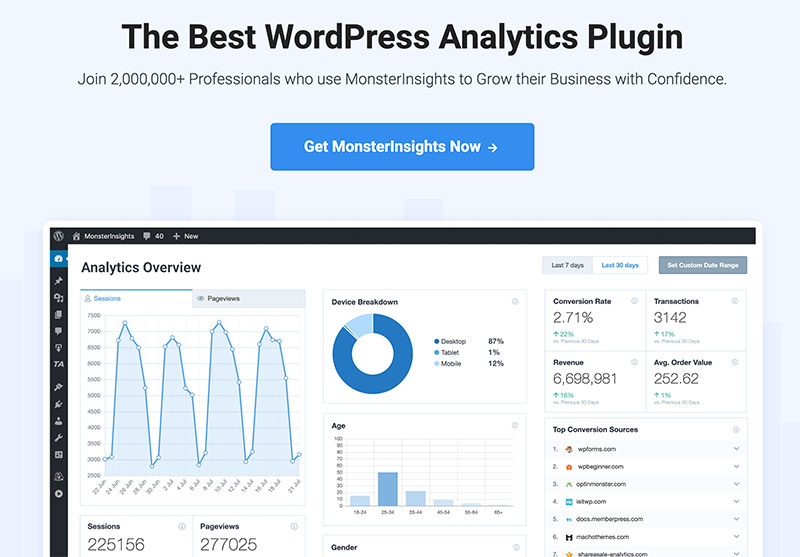 Price: $99.50 per year for Basic version, $199.50 per year for Pro version
At its core, MonsterInsights is an analytics plugin. It provides in-depth performance data about your site using Google. You can get real-time statistics about virtually anything. This includes affiliate links.
It's particularly useful for affiliate marketers because it can track links and provide detailed reports about your efforts.
Key Features:
Affiliate link tracking
Produces reports
Provides Google analytics
Well-designed dashboard
Top-notch support

Price: Starting at $49 per year
AdSanity is a lightweight plugin with a lot of big features. Thanks to its design, the plugin can be loaded onto your site without having to worry about performance. Within the plugin, you can create ads, links, widgets, popups, and more.
The cool thing about AdSanity is that you can create timed ads to coincide with a specific campaign period. While viewing reports, you can also set periods of view data from one specific event.
Key Features:
User-friendly design
Creates timed links and ads
Powerful analytics
AdBlock detection
Flexible display options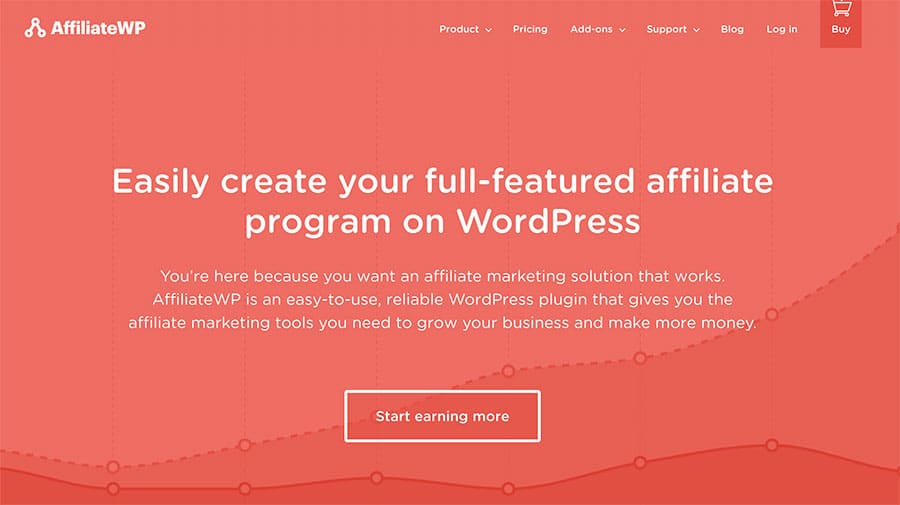 Price: Starting at $99 per year
AffiliateWP is designed for brands that want to push their affiliate marketing efforts to the next level. It's one of the most feature-rich options out there. Not only can you perform all of the basics, but you can manage everything from one place.
The analytics system deserves a special shoutout. It's very flexible and allows you to export data as a CSV file. The plugin also has many integrations to help you customize your program how you want.
Key Features:
Several available add-on features
Many integrations
Powerful analytics with export feature
Referral and coupon tracking
Flexible link management tools

Price: Free
This plugin is free to use. The free version contains many great features to take advantage of. This includes the ability to import links, track clicks, and more. If you want even more functionality, you can pay for premium add-ons. Some of the options available include A/B testing, geographical data, and more.
Key Features:
Track monthly and lifetime clicks
Premium add-on features
A/B testing available
Link cloaking compatible with Amazon
Import function

Price: Free
Affiliates Manager can turn your WordPress website into a place to attract and manage affiliates. It's designed to make the management process simple. The plugin can recruit new affiliates and get them registered. You can also manage commissions, send messages to your affiliates, and more.
Your affiliates can then login to use many of the analytics features. It's a very well-designed that's easy for anyone to use. It also works well with several e-commerce platforms and provides in-depth reports about the performance of campaigns.
Key Features:
Integrates with many e-commerce platforms
Affiliate registration and management
Real-time tracking
Intuitive design


Price: Free
Auto Affiliate Links is another free plugin that takes a lot of the hard work out of being an affiliate marketing. Once it's installed on your WordPress site, it can create links based on your content. It will find the most used keywords and implement links without changing your content. You can even set those links to follow or nofollow.
The plugin also has the great ability to connect your newly created links to affiliate programs automatically. It's great for Amazon affiliates. However, the plugin also works with programs from Clickbank, Walmart, eBay, Commission Junction, and so much more.
Key Features:
Automatically connects to affiliate programs
Link cloaking
Easy to adjust links
Doesn't modify your content
EasyAzon

Price: Starts at $47
EasyAzon is perfect for marketers looking to promote Amazon products on their website. You can create links straight from the WordPress post editor. Thus, there's no need to constantly switch back and forth from WordPress to Amazon.
There are several link management tools available. The plugin can create shortcodes, cloak links, and even create unique buttons. Amazon buy buttons can be used for maximum lead generation while giving your site a professional look.
Key Features:
Amazon.com buy buttons
Can create shortcodes, buttons, and more
Geographical stats
Creates links from WordPress editor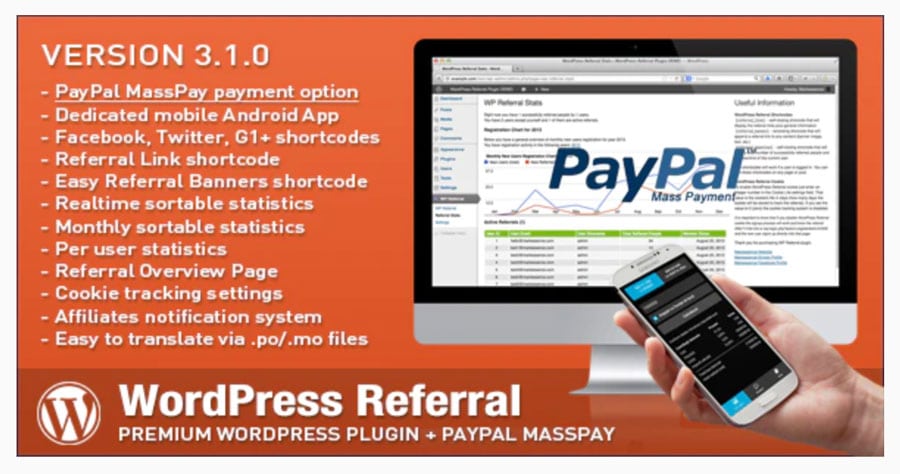 Price: $21
This plugin from OceanicBreeze is very simple. It's designed to make it easy for your existing visitors to refer your website to others. While it can be used by bloggers, it's particularly useful for companies looking to promote their site or service. The plugin creates shortcode instantly that can be used on various social media platforms.
Detailed reports are created. You can also view analytics in real-time. When it comes time to pay affiliate commissions, the plugin has a mass payout feature that works with PayPal.
Key Features:
Creates shortcode for referral banners
Creates shortcode for social media
Mass payment system
Real-time reporting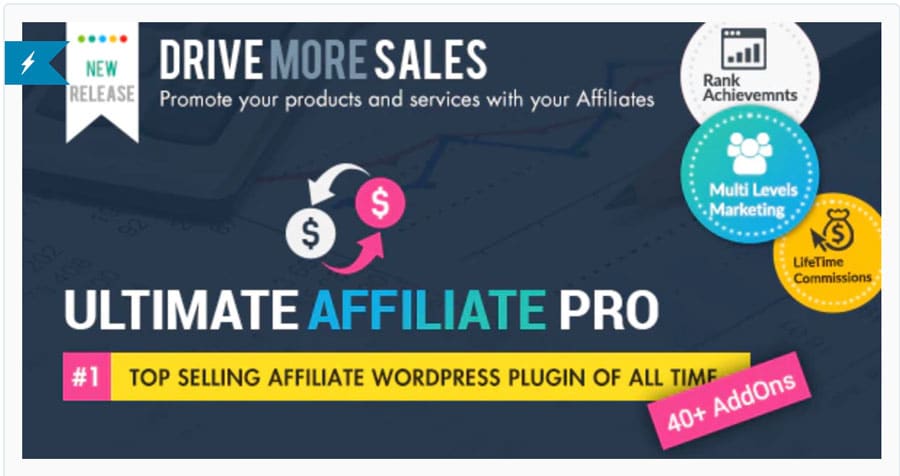 Price: $49
If you want to create your own affiliate program, this plugin has you covered. Ultimate Affiliate Pro is a feature-rich plugin that lets you track data, manage campaigns, and more. It doubles as a membership plugin, allowing your affiliates to view their performance and set up their own campaigns for you.
The plugin is designed to help you foster a good relationship with your affiliates. Not only can you pay commissions, but you can also grant bonuses, create achievements to get affiliates pumped, and more.
Key Features:
Many integrations
Ability to create multi-level marketing campaigns
Ranking and bonus system
Great support
PayPal and Stripe payouts

Price: Free
The Affiliates plugin can benefit both companies and marketers. It's a simple plugin that's very well-designed. You can easily implement links within your content in seconds. For brands, the plug-in can also be used to complete affiliate registration or create membership websites.
Regardless of how you use it, the plugin has some powerful reporting tools. You can track affiliate link performance in real-time through the dashboard.
Key Features:
Works with WooCommerce, Events Manager, and more
Creates affiliate links
Real-time reporting
Available premium features
Intuitive dashboard

Price: Free
YITH is a very popular e-commerce plugin. It allows any WooCommerce store owners to set up their own affiliate system. You can register new affiliates from your site. Of course, affiliate management systems are included as well. The plugin allows you to adjust cookies, track performance, and more.
Your affiliates can take advantage of the plugin too. Once they use their affiliate ID to log in, they will be presented with their own personalized dashboard. There, they can track their own progress or see new marketing opportunities.
Key Features:
Personalized affiliate dashboard
Automatic commission calculation
Adjustable cookies
Affiliate registration

Price: Free, $59 for the paid version
Affiliates WooCommerce Lite is a relatively simple plugin. However, it's great for brands that are looking to start small and create a partnership program. The plugin lets you built an affiliate and referral program. It can automatically create referrals and grant customizable commissions. The plugin comes in a couple of different forms. The Lite version includes basic features to get you started.
Key Features:
Free version available
Create a custom affiliate program
Adjustable commissions
Automatic referrals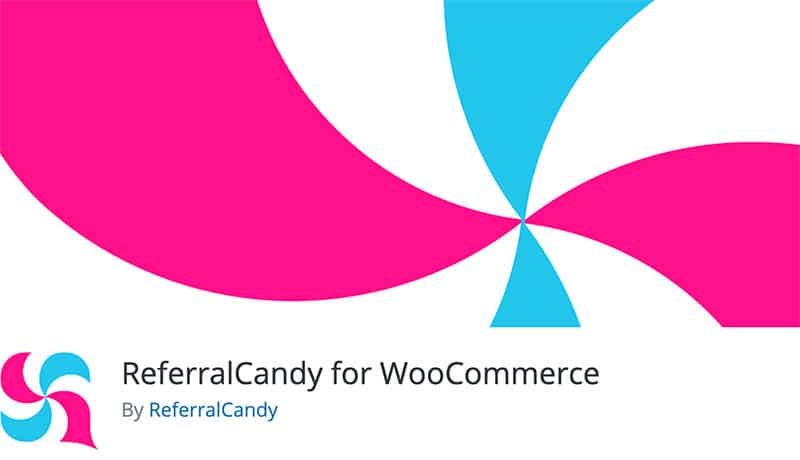 Price: Free version available, $49 per month for the paid version
ReferralCandy is all about rewarding your existing customers. With this plugin, you can create a custom referral program to gain more sales. The process is very simple. Whenever someone buys something from your site, the plugin will automatically send them referral links. Those links can then be shared with friends and family.
You can set a custom reward for original customers that generate a sale. There's also the option to provide discounts on the referral links to attract potential sales.
Key Features:
WooCommerce integration
Custom referral program
Easy to use
Well-designed interface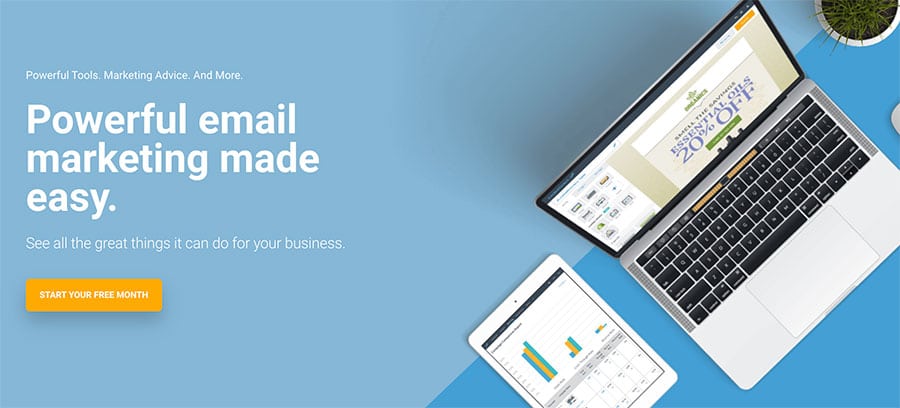 Price: From $20 pm
If you'd like to take a shot at email marketing, Constant Contact has a great plugin to help you out. The plugin creates a custom contact form that your visitors can fill out for more information about your product or service. The forms can be personalized how you want. This even includes appearance.
The Constant Contact plugin is designed to work alongside the Constant Contact email marketing service. The company can take care of your marketing needs. However, it is free to use for anyone even if you don't have a Constant Contact account.
Key Features:
Integrates with Constant Contact service
Available to all WordPress users
Create custom contact forms
Many theme options
Amazon Associate Plugin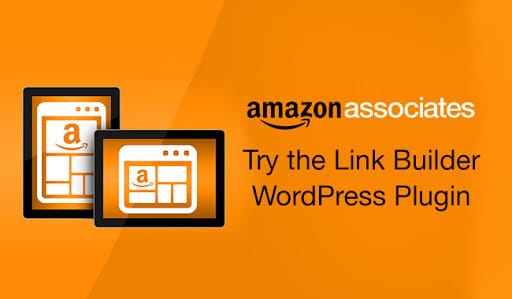 Price: Free
If you're an affiliate marketer that works with Amazon, this plug-in is a no-brainer. It's completely free to use and provides you with all the versatility you need to create affiliate links. The great thing about working with Amazon is that you have a wide range of products you can promote.
Within the plugin, you can search through categories and find something that works for your niche. Then, the plugin will automatically create links. You can customize the link to work with your WordPress theme, ensuring that the advertisements cater to your audience.
Key Features:
For Amazon Associates
Search for products
Create custom links in seconds
Create widgets or custom templates
There you have it; a comprehensive look at some of the best affiliate WordPress plugins available. All of these plugins have a lot to offer. They can be used to create custom links, track performance, and more. Whether you're an affiliate marketer or you want to create your own program to help your business grow, give these plugins a shot.
We went with well-designed plugins that are easy to use. Regardless of how much experience you have, these plugins have the potential to help you become an affiliate marketing pro!
The following two tabs change content below.
Jamie Spencer
My name is Jamie Spencer and I have spent the past 10 years building money making blogs. After growing tired of the 9-5, commuting and never seeing my family I decided that I wanted to make some changes and launched my first blog. Since then I have launched lots of successful niche blogs and after selling my survivalist blog I decided to teach other people how to do the same.
Latest posts by Jamie Spencer (see all)