Do you hate having to swap out your Instagram bio link weekly, daily, or even several times a day? Want to supercharge that link and get more from it? Guess what, you're not alone.
The good news is despite being limited by Instagram to a single bio link, we can do a lot more with this link than many people think.
In this helpful post, you'll discover a number of tools designed to allow you to get the most from your Instagram bio link.
First, however, let's discuss why you should use one of these handy bio link tools in the first place.
Instagram Bio Link – Why Should You Optimize It?
As any Instagram pro knows, the popular platform only provides a single link for you to place in your profile's Bio section. There's no way to add other links pointing to individual posts.
This is why you often see Instagram captions close with "link in bio." Talk about frustrating!
As a marketer, this is extremely limiting. Although you can tweet links all day long and launch as many Facebook ad campaigns as you want, Instagram makes marketing a little more difficult and forces users to make their campaigns short-lived in comparison.
In addition to not being able to promote each blog post you publish, it's impossible to promote different products whenever you want.
Instead, you must market fewer products for extended periods of time or shorten the marketing campaigns for each piece of content or product you promote.
This means you have to regularly swap out your bio link. There has to be a be a better way, right?
Fortunately, there is. In fact, there are several different tools designed to help optimize Instagram bio links in clever and unique ways.
The first tools we'll talk about were specifically made to extend the limits of Instagram bio links. Rather than linking to a single page, like your business website or blog, these tools give you the ability to link to additional pages and content.
For example, with Shorby, you can include links to your website, all of your most popular content, and a lead generation page.
Shorby can also be used for other social media networks, allowing you to cross-promote your social media profiles, and you can use it to create custom campaigns exclusively tailored to your Instagram audience as well.
Ultimately, using Shorby or another of the Instagram bio link tools below will enable you to extend the reach of your marketing campaigns and get more creative with them.
The Best Instagram Bio Link Tools in 2021
1. Shorby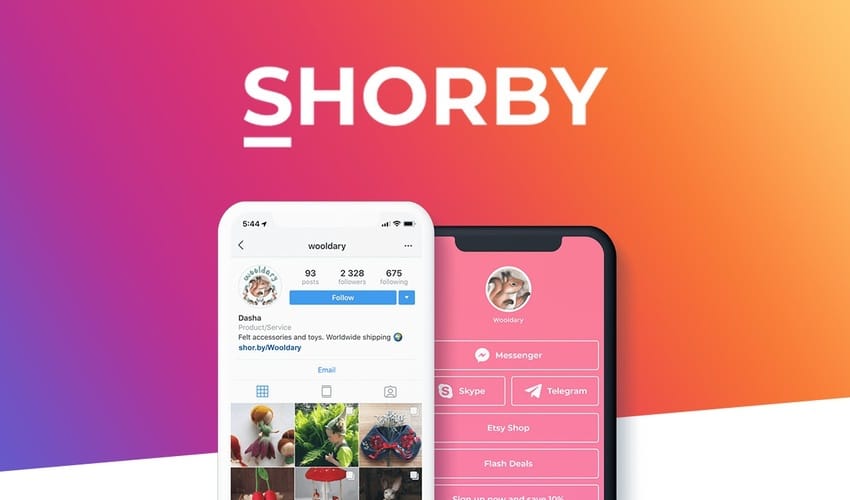 Shorby is really two tools combined into one. The first Shorby tool provides the ability to retarget anyone clicking on your custom created links. The second tool, on the other hand, allows you to create a page filled with links for users to click, giving you the power to "get the most out of your Instagram bio link."
Here are some of Shorby's great features:
• Unlimited links
• Unlimited clicks
• Three unlimited bio links
• 10 unlimited branded URLs
• Retargeting
• Link tracking
• Up to one million smart clicks
• Completely customizable
Every custom Shorby landing page features an icon, a colored background, and several links you can customize and configure anyway you want. Links to your social media accounts can also be included.
Basically, you can use this feature similar to any other landing page and do with it what you want. You can even add contact links for Facebook Messenger, Skype, Snapchat, and of course, your contact page.
Since you can essentially add any link you want, the rest of the page can be used a number of different ways. For instance, you can add links to your top blog pages, links to products you're promoting, shop links, your site's navigation links, links to your most popular YouTube videos, and more.
Meanwhile, with Shorby's other feature, you can create shortened links using "shor.by." These links can also be tracked whenever they're shared, allowing you to retarget visitors and customers on Instagram, Google, and Facebook.
Recently, Shorby released another tool they've aptly named SmartPages. With it, you can create custom backgrounds, videos, GIFs, animated avatars, and other eye-catching designs. Even with the basic version, you can do a lot with this new page feature.
A free trial is available, but Shorby's plans start at a reasonable $9 a month. Of course, as is the case with just about any other marketing tool, you can upgrade for even link sharing power.
2. Linktree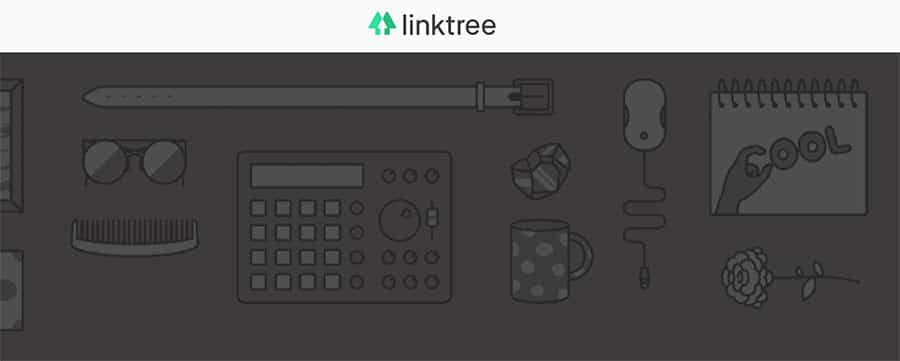 Linktree is one of Shorby's main competitors, but unlike Shorby, it offers a free version and doesn't restrict the number of links you can create. You can also view how many times your links have been clicked. However, unless you upgrade to a paid plan, you'll have to display the Linktree logo.
Here's the rundown on some of Linktree's top features:
• Unlimited links
• Scheduled links
• Link tracking
• Retargeting
• Email integration
• Fully customizable
Linktree's layout is pretty much the same as Shorby's. Instead of "shor.be," you'll use "linktr.ee" to shorten your links. Your Instagram handle and profile pic will also show at the top of the page.
However, unlike Shorby, there aren't any social media or contact buttons. Even the premium version lacks these features.
That said, you're able to include an email opt-in form on your page, which is a big plus. You also have more button styles and page customization options, including access to additional themes. There's even a custom theme, and you can get rid of the Linktree logo to avoid any confusion amongst potential customers if you want.
Another cool feature is the link scheduler. With it, you can schedule specific links to appear at specific dates and times.
If you don't mind Linktree's branding, you can get started with this nifty bio link tool for free. To get rid of the branding, which we recommend, it will cost you $6 a month.
3. Lnk.Bio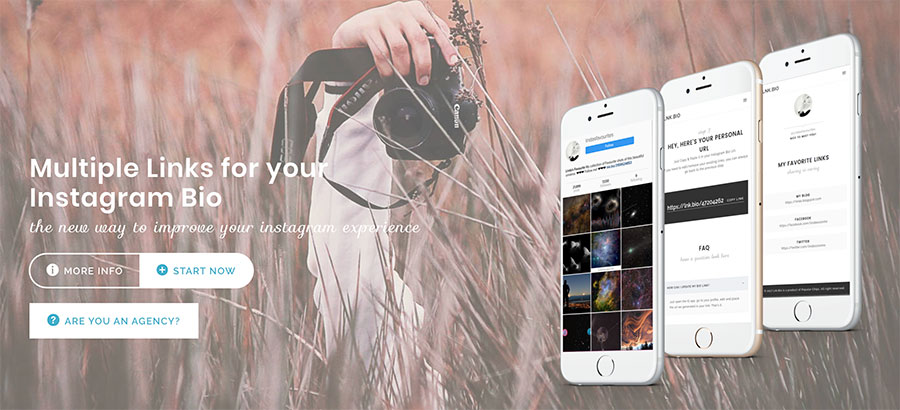 Lnk.Bio is a much simpler bio link tool. It's elegant style seamlessly blends with Instagram's UI to create an enjoyable user experience. Unfortunately, it's not customizable like the two tools above.
Here's a look at some of its key features:
• Unlimited links
• Link tracking
• Custom URL available
• Social media profile cross-linking capabilities
As you can see from these features, Lnk.Bio is simple by design. It features a simple page layout with your Instagram handle, profile picture, and all of your important links. You can also place a heading above the links for easier navigation.
Despite its simplicity, Lnk.Bio is surprisingly effective and offers everything needed in an Instagram bio link tool. Not only can you add links, but you can track them as well and view several key stats.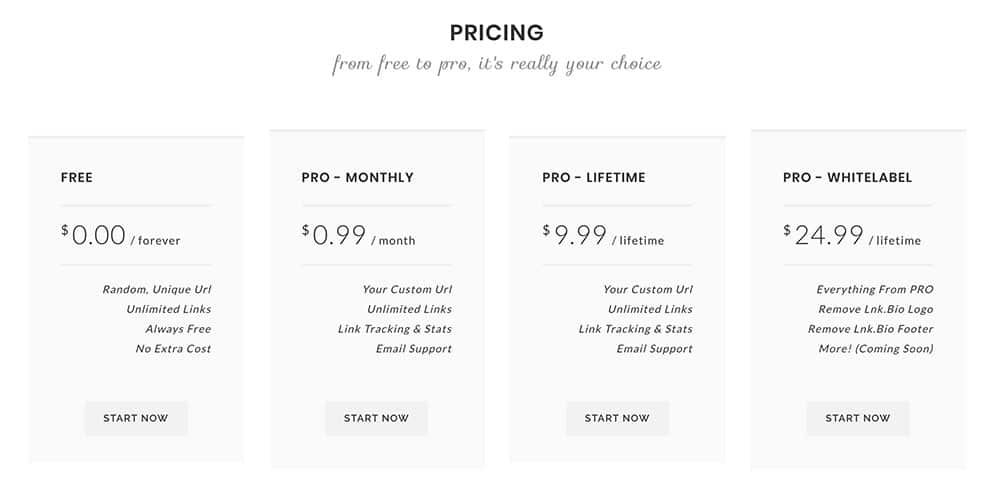 Similar to other bio link and marketing tools, you can get started with Lnk.Bio for free. However, you can unlock more features with the premium plan for less than $1 a month or a $9.99 one-time fee. A white label option is also available for $24.99.
4. Linkin.bio by Later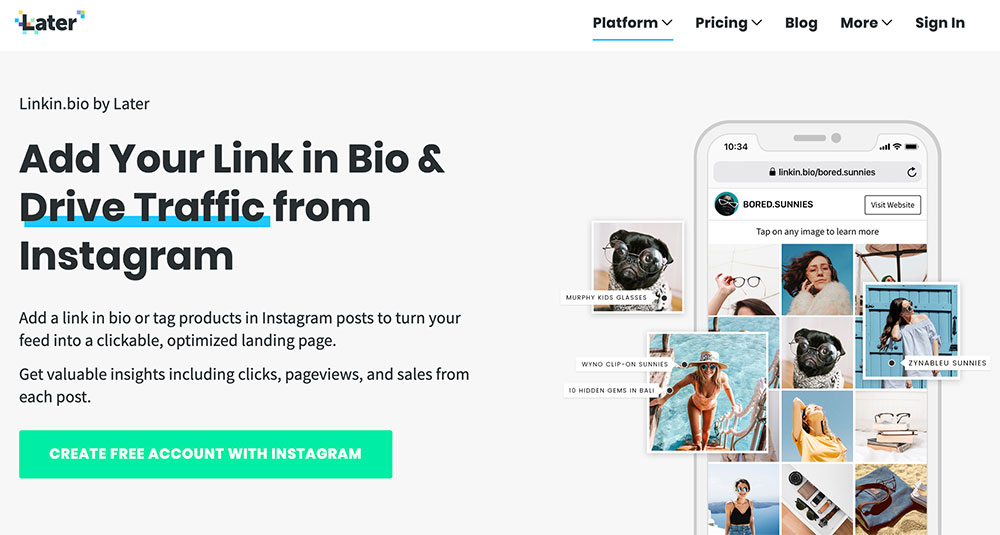 If you're searching for a more advanced bio link tool for Instagram, Linkin.bio by Later may fit the bill. With this tool, you can create a landing page that recreates your Instagram account, allowing you to add links to individual pages and posts. You can even add multiple links for each post.
Some of Linkin.bio's top features include:
• Add up to five links per post
• Ability to add links to your feed
• Link scheduler
• Link tracking
• Can be used for up to two Instagram accounts
While the other tools we've talked about allow you to add as many links to your page as you want, Linkin.bio only offers the ability to add a single link. All other links need to be assigned to an individual post.
The purpose of the tool is to allow you to share links via Instagram posts rather than having to constantly change your bio link.
When someone clicks on your bio link, they'll simply see a recreated version of your Instagram feed. However, instead of clicking on a post that says "link in bio," they'll be able to click on the actual link you want inserted in the post.
This tool is mostly used for ecommerce as it allows Instagram followers to shop for products directly through Instagram feeds rather than redirecting them to online stores where they must search for the product they're looking for.
While customization isn't an option, the landing page created by Linkin.bio blends very well with Instagram, so lack of customization isn't much of an issue.
Linkin.bio's plans start at $19 a month. However, you can save a little by paying $192 for an entire year upfront. A free version is also available, but it's limited in what it can do.
5. Sked Link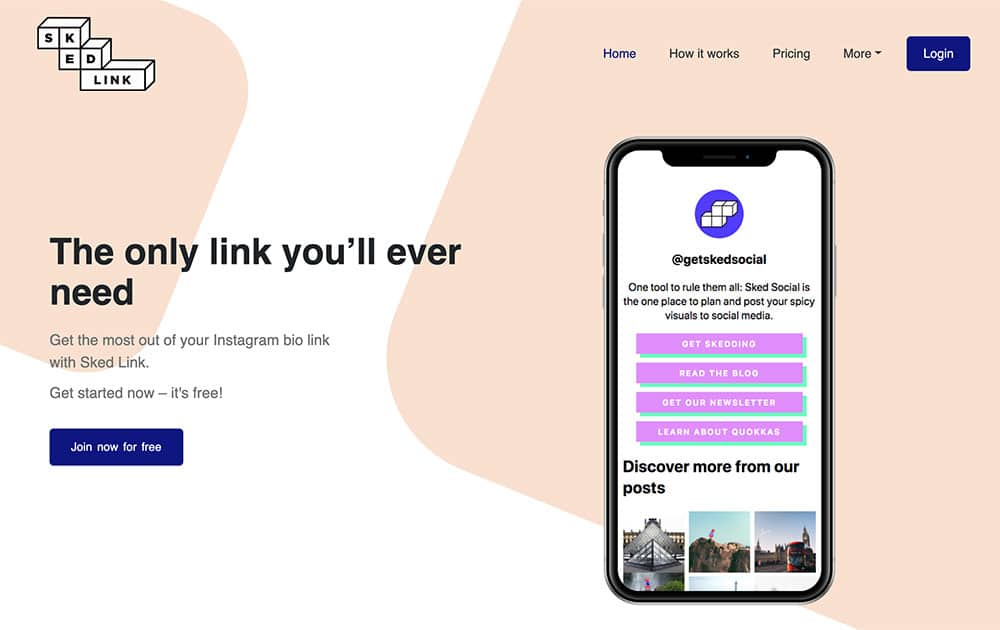 [vc_empty_space height="10px"]
Sked Link gives you the power to create a fully custom landing page and link it anywhere. You can link it to Twitter, Facebook, your website, blog, or even an engaging contest page. Essentially, it's a link for linking Instagrammers to other links.
Here's a bit of what Sked Link can do:
• Sked.link/username bio link
• Landing page creator
• Several themes to choose from
• Custom welcome message and design options
• Facebook pixel integration
• UTM tracking parameters and link analytics
It does a lot, but in a nutshell, Sked Link acts like other bio link tools by allowing you to set up your IG bio so it can send visitors anywhere you want.
Powered by Sked Social, which is an incredibly powerful Instagram scheduling tool, Sked Link gives you the power to take your Instagram marketing to another level.
If you're a Sked Social user, you can enjoy added features and deep integration. However, Sked Link can be used independently as well.
The basic plan is free for everyone to use. While the Pro Plan is free for Sked Social users, non-users must pay a monthly fee to enjoy its added features and functions.
6. Link In Profile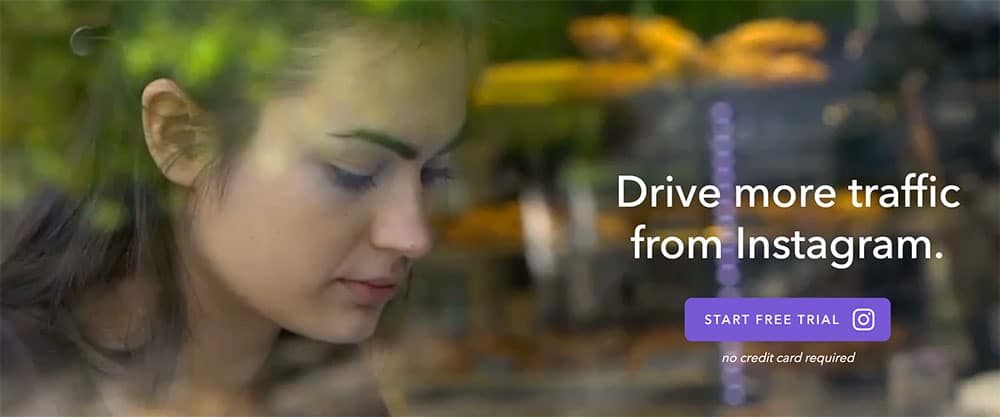 Link In Profile allows you to link your Instagram account and never worry about swapping out your bio link daily or several times a day ever again. Just include the URL in the caption of the post of where you want your visitors to go and send them to your profile bio link to check it out. That's how it works.
Here's a quick glimpse at what Link In Profile can do:
• Automatic link monitoring
• Link/image/caption integration
• Stats and analytics
Basically, Link In Profile will keep an eye out for links in your Instagram captions and associate the links with the images they appear under.
When a follower visits the link in your profile, Link In Profile will take them to your feed, which is nothing but a stream of your Instagram profile images.
Each image can be clicked on, sending them directly to the link featured in the caption for that particular image. From there, you can send them just about anywhere.
You can also see how many times a link has been clicked and a variety of other helpful stats.
The Link In Profile Instagram bio link tool costs $9.99 a month. There's also a 30-day free trial to see how it works and what it can do without risking a cent.
7. ShortStack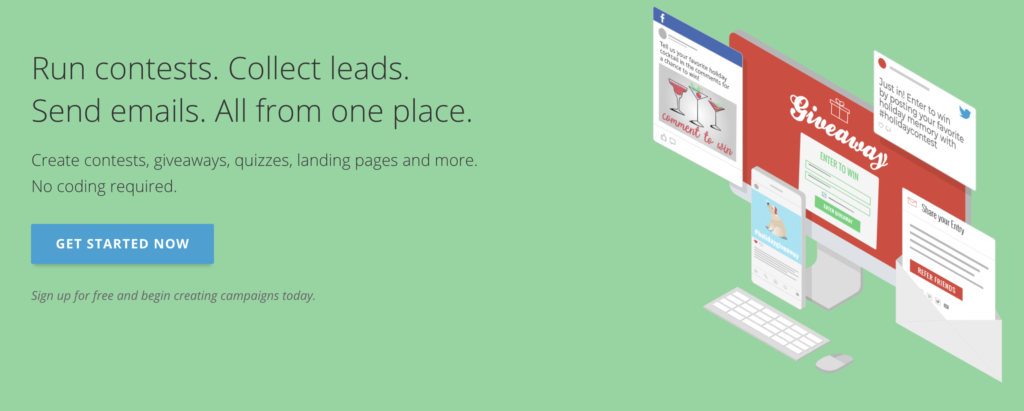 ShortStack isn't a dedicated bio link tool per se, but it can be used in a similar way. This landing page builder specializes in creating powerful marketing campaigns.
Here's an overview of its best features:
• Drag-and-drop editor
• Over 60 templates to choose from
• Up to 10 marketing campaigns
• Optimized for contests
• Ability to embed in your site
• Email marketing
• Unlimited emails
• Social media platform support
• Analytics
When using ShortStack to create a landing page for your Instagram bio link, you'll be able to target your Instagram followers and launch a variety of unique marketing campaigns.
Unlike other bio link tools, it's optimized for contests, including photo contests. This gives your followers to interact, vote, and potentially win something to increase engagement and brand loyalty.
With ShortStack, you can also create regular landing pages with contact and email forms. That said, you can also use the tool to create personality quizzes, giveaways, friend referrals, and several other interesting campaigns.
Despite all it can do, getting started with ShortStack is free. However, to unlock all of its features, you'll need to upgrade to a premium plan, which start at $29 a month.
8. Thrive Architect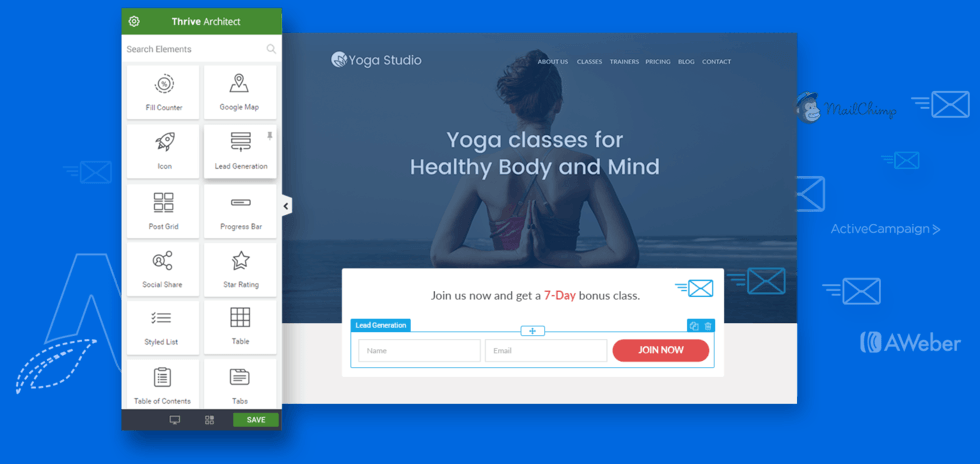 Thrive Architect is a WordPress plugin that allows you to create dynamic landing pages. With an intuitive drag-and-drop page editor and more than 200 templates to choose from, it's a powerful landing page creation tool, and it will also work to solve your Instagram bio link dilemma.
Here are some of the plugin's highlights:
• 200+ landing page templates
• Drag-and-drop page editor
• Pre-built and customizable styles
• Dozens of content blocks
• Full-width layouts
• Email marketing capabilities
Since Thrive Architect is a plugin for WordPress, the pages are created and hosted from your WordPress site. You can choose from one of the 200+ templates, so you can simply add content and tweak the style to suit your needs.
Developed by Thrive Themes, Thrive Architect can be used alongside the company's other tools to create superpowered marketing campaigns. One of these tools is Thrive Optimize, which allows you to split test page variations to find the one that converts the best.
You can subscribe to Thrive Themes and use Thrive Architect as well as the company's other tools for $228 a year. For a single site license, you'll pay $67. You'll receive support for the license for one year, but you'll be required to pay a small fee for continued support afterwards.
9. Leadpages

In a similar vein, Leadpages is a dedicated landing page tool that provides you with the ability to easily create landing pages and host them on their platform. Like ShortStack, it's an excellent option for Instagram users who don't want the time and expense of having their own website.
Here are some of Leadpages best features:
• Dozens of templates to choose from
• Intuitive drag-and-drop landing page editor
• Built-in payments
• Variety of content elements
• WordPress and email marketing integration
• Access to stats and analytics
• A/B testing
With LeadPages, much like with Thrive Architect, you choose your design template and go from there. You can use the tool to create as many marketing campaigns as you want. However, if you want a more custom look, you can also use the drag-and-drop editor to come up with your own design.
When you've finished your page and launched your campaign, you can use Leadpage's A/B split testing tool and other stats and analytics to dial it in. You can the stats for individual pages, campaigns, pop-ups, and more.
You can also integrate your account with Facebook and use your campaign data to create new ads. Not too shabby.
Leadpage's plans start at $300 for a year or $37 a month. They also offer a free 14-day trial on all of their plans, so you can test the waters before jumping in.
[vc_empty_space height="40px"][vc_separator border_width="3″ type="normal"][vc_empty_space height="40px"]
Which Bio Link Tool for Instagram is Best for You?
Each of these bio link tools pretty much do the same thing, but they differ in the way they operate. Although this gives you plenty of different options for optimizing your Instagram bio link, it can make narrowing down your choices a bit difficult, even for the first four tools, which somewhat mirror each other.
To decide on the right Instagram bio link tool, you'll need to ask a few questions:
Do You Want Your Instagram Bio to Include More Links?
The answer to this question pertains to the types of campaigns you want to run. If you just want more links and to optimize them for your Instagram users, Shorby, Linktree, or Lnk.Bio may be best.
On the other hand, if you regularly promote content and products in your Instagram feed and find yourself constantly swapping your bio link, a better fit would be Linkin.bio by Later might be a better option.
The last few tools on the list (ShortStack, Leadpages, and Thrive Architect) are ideal for launching more advanced Instagram marketing campaigns.
Do You Run an Online Store?
If you're constantly promoting products via an e-commerce store or promote different content throughout each week, your best bet is to recreate your Instagram feed by using Linkin.bio by Later or a similar tool to create linkable posts.
That said, you could also use Shorby, Linktree, or Lnk.Bio to create a series of promotional links. These tools also work really well with Instagram Stories.
Conversely, if you plan on only promoting a piece of content or a single product in your Instagram feed for a longer length of time, you might want to consider creating an awesome landing page for each with Leadpages, ShortStack, ThriveArchitect, or another well-rounded marketing suite.
Which Tool is best for Increasing Engagement?
If you're having a problem engaging with your Instagram audience, you may want to consider running a contest with ShortStack to revitalize inactive followers.
On the other hand, if you have an active Instagram following, you may be able to boost your success by using Leadpages or Thrive Architect to implement more sophisticated marketing strategies.
Is Budget a Concern? Which Instagram Bio Tool is the Most Cost-Effective?
Unless you're already raking it in, budget is likely a concern. Of all of the tools on this list, Lnk.Bio is probably the most cost-effective, especially if you simply want to add more links to your bio link.
While ShortStack and a few other tools offer free plans with no strings attached, they are limited in what they can do and upgrading can get pricey.
If you run a WordPress site as well, then Thrive Architect might be the most cost-effective solution in the long run. You can use it to create unlimited landing pages without paying a hefty fee.
Now It's Your Turn
That wraps up this post. As you can see there are several uniquely different bio link tools for Instagram. Just remember, regardless of which one you choose, your goal should be to create marketing campaigns that strike a chord with your audience on the Instagram platform, not your audience in general.
Whatever tool you choose and campaigns you run should work to help you reach this goal. Onward and upward!
The following two tabs change content below.
Jamie Spencer
My name is Jamie Spencer and I have spent the past 10 years building money making blogs. After growing tired of the 9-5, commuting and never seeing my family I decided that I wanted to make some changes and launched my first blog. Since then I have launched lots of successful niche blogs and after selling my survivalist blog I decided to teach other people how to do the same.
Latest posts by Jamie Spencer (see all)