I am a big fan of Shopify, I think it is one of the best website builders out there especially for people who are interested in setting up an eCommerce store.
Shopify allows you to build a website from scratch by using ready-to-use templates or themes, without requiring you to write a single line of code, if you want to learn more then I suggest you check out my in-depth Shopify review.
The great thing about Shopify is that they allow creative designers to come up with their own themes and sell them on the Shopify Theme Store or via other popular outlets such as Themeforest.
Yet, with so many options for free and paid Shopify themes available out there, you would not be blamed if you are a bit confused about which one to shortlist or choose for your eCommerce website.
So, this article is aimed at helping you out by shortlisting through this huge range of Shopify themes into just the top 20 Shopify themes.
I do this by providing details of the top 10 free Shopify themes and the top 10 paid Shopify themes.
So, let us now take a look at the most popular Shopify themes that can reduce your Shopify theme selection headache. I'll be reviewing their features, pricing, advantages as well as their disadvantages.
Top 11 Premium Shopify Themes or Templates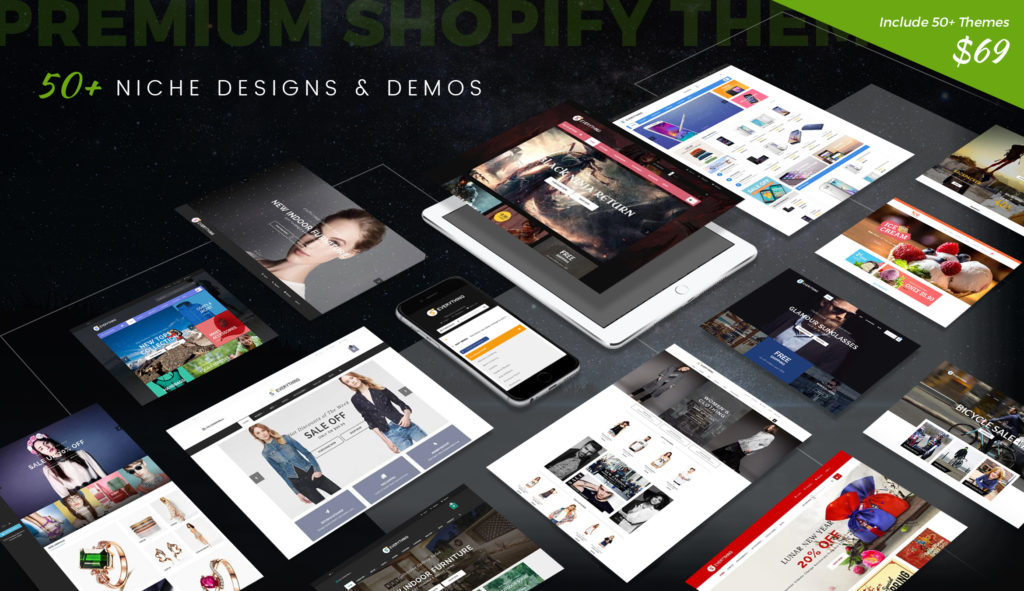 Everything is a Premium Multi-Stores Shopify Theme designed and developed by ThemeForest's Elite Author.
The theme is 100% responsive, mobile compliance. W3C, HTML5, CSS3 strictly valid and compatible.
The Everything theme is an incredible theme and suitable for any online product store, online shop or mega mall, fashion mall, shopping center, supermarket style website.
The great thing with this theme is that you have over 50+ different creative designs to choose from, which gives you an incredible amount of design resources to play around with. These range from fashion, furniture, decoration, interior, baby, glasses, sunglasses, eyewear, garden tools, watches, sport, jewelry, lingerie, cosmetic and beauty, high-tech, electronic, shoes, handbags, holidays, flower, gifts, game, bakery, food, cake, icecream, bicycle, pets, and many more…
Everything offers great features such as Mega menu, Advanced Filter, Flexible layout, Ajax Add to cart, Social sharing, Google Web Fonts library, Google Map, Mailchimp, Beautiful typography and Detailed documentation
Price – $69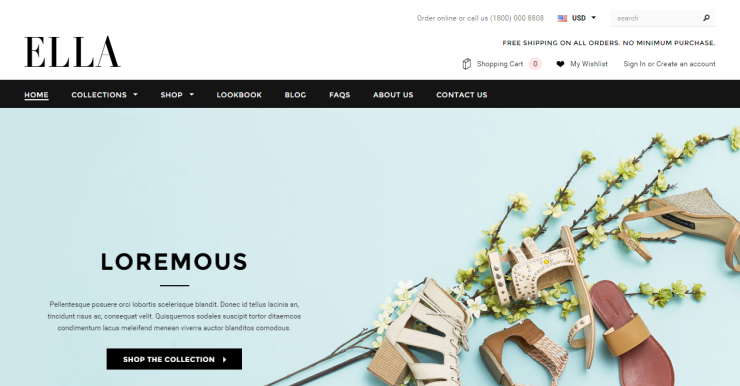 This is a great responsive Shopify template that is suitable for fashion and apparel businesses. It offers gorgeous layout options with a mix and match of different product image banners, colours, information blocks and more.
Moreover, this theme comes with an advanced Mega menu module for different categories, which allows your customers to find their preferred products very easily.
The layered navigation feature also helps your customers filter the products by using tags for sizes, prices, brands, colours and so on.
Price – $56 (as available on Themeforest)
Scope for Improvement
As a paid theme, it could possibly offer better flexibility for non-apparel stores.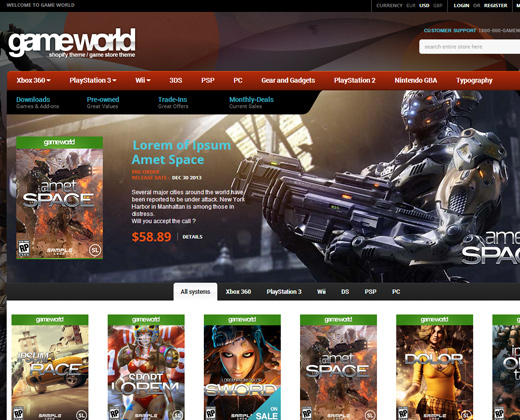 Styles supported – Dark and Light
If you have a business that deals with the world of gaming, then the GameWorld Shopify Theme could be the ideal one for you!
Selling games and items related to them online requires a different set of features that are more focused on graphics and visuals. This is where this theme can work wonders for your ecommerce gaming store.
The theme is built using the latest technology, which gives you a lot of customisation options. So, you can easily add a dropdown menu, attractive slideshows and featured products.
It also offers good typography options along with quick shop and product image effects.
Price – $56 (as available on Themeforest)
Scope for Improvement
This theme is ideal for gaming stores with not much scope for other stores. So, the only possibility for improvement is to add layout options for other types of stores in the future.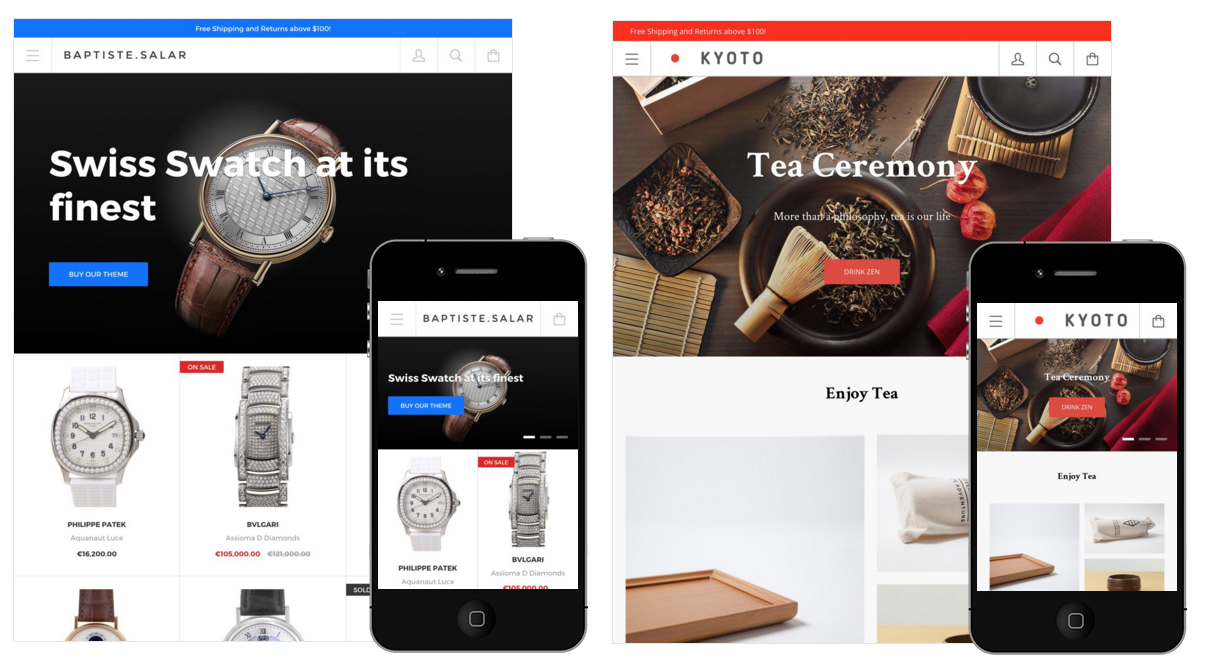 Styles supported – Kyoto and Baptiste
This premium Shopify theme is the ultimate for any online store, irrespective of the size of the store's inventory.
The benefit of Kagami is that even if your business is small, you can start with this feature-packed theme and then keep expanding without the need to look for a new template.
That is because it offers a sidebar with the possibility to expand it to infinite levels of navigation.
Furthermore, the unique and completely automatic masonry grid feature of the Kagami theme is bound to make your products appear more attractive than you would have imagined.
It also offers strong support for mobile responsiveness and SEO optimised content. Moreover, you can easily integrate the Shopify Reviews app with this theme for valuable customer feedback.
The search functionality is often a key component of an eCommerce site, as most consumers would want to be able to reach the products they are looking for easily.
This theme makes searching easier with the auto-completion search feature. It also offers social media support (for Instagram, Twitter and so on) without using any additional apps.
Price – $180
Scope for Improvement
There is hardly any scope for improvement since most things are taken care of.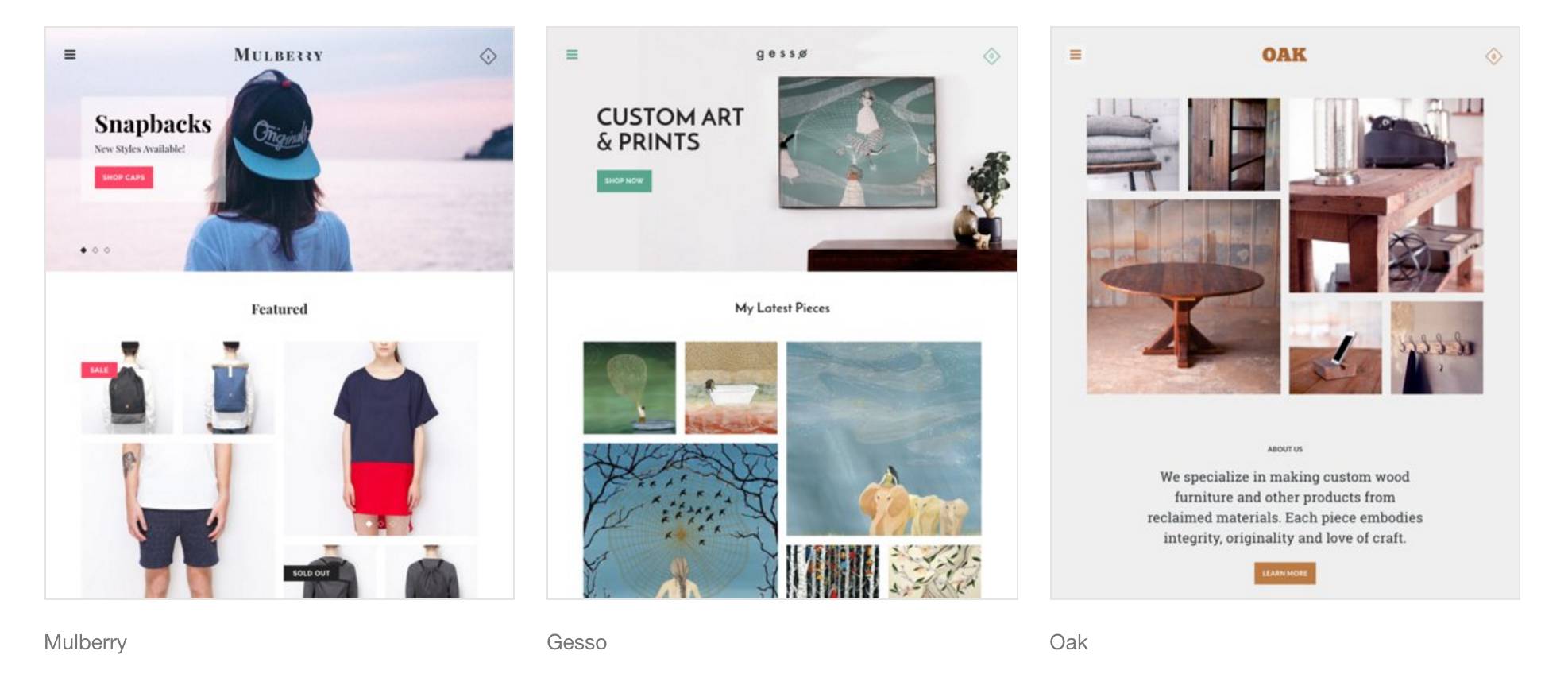 Styles supported – Mulberry, Gesso and Oak
This paid theme from Shopify is suitable for a variety of business owners, based on the style they select. For example, the Mulberry style is ideal for displaying a product range related to modern apparels or accessories.
The Gesso style is more suited for artists or freelancers who want to showcase their product portfolio to their visitors in order to influence their purchase decision.
The Oak preset style is the simplest of all the Mosaic styles, as it supports designing a beautiful homepage that is the source for all the product collections (grid, links and so on).
Some of the features offered by the Mosaic template include a large homepage slideshow and a mosaic display that features products (from multiple collections, from a single collection or from links to collections).
It also offers a collection grid to allow customers to shop directly from the homepage. You also get an Instagram feed and the newsletter Sign Up form option.
In addition, for the Gesso preset style, you get a gallery slideshow and a separate product page layout ideally suited for portrait-based photography.
Price – $180
Scope for Improvement
For a highly priced theme, this could offer more options, similar to the Kagami theme.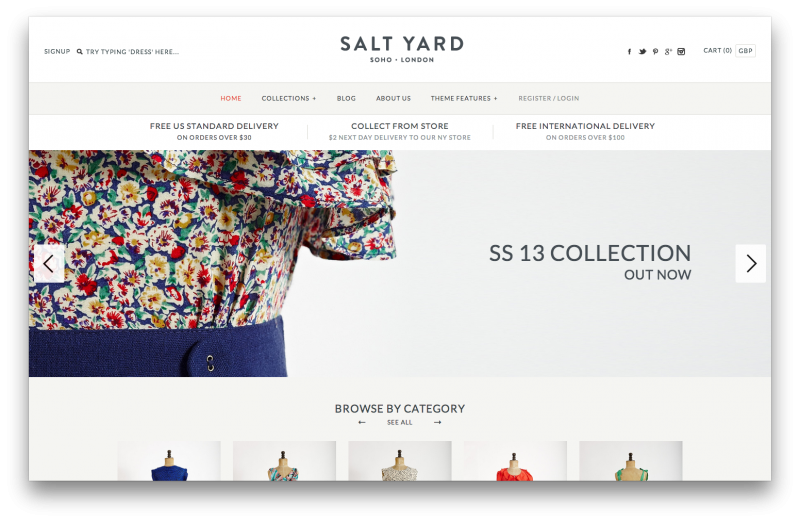 Styles supported – Beatnik, Chantilly, Salt Yard and Duke
Symmetry is regarded as one of the best eCommerce themes offered by Shopify, as it was built while taking into consideration all the best practices of eCommerce.
With as many as four highly responsive styles, you are spoilt for theme style choices for any of your devices.
You get multiple homepage options for the design selection, along with advanced features, such as a multi-level navigation menu, scrolling product collection rows on the homepage and Google fonts.
Also, you can place every row on the homepage in the order of your preference. Additionally, you can avail features like live search, stream and grid view for product collections as well as a full-width slideshow on the homepage.
Price – $180
Scope for Improvement
Shopify could possibly include more blog-related features, as blogs are now very important for ecommerce portals to keep their audience members engaged.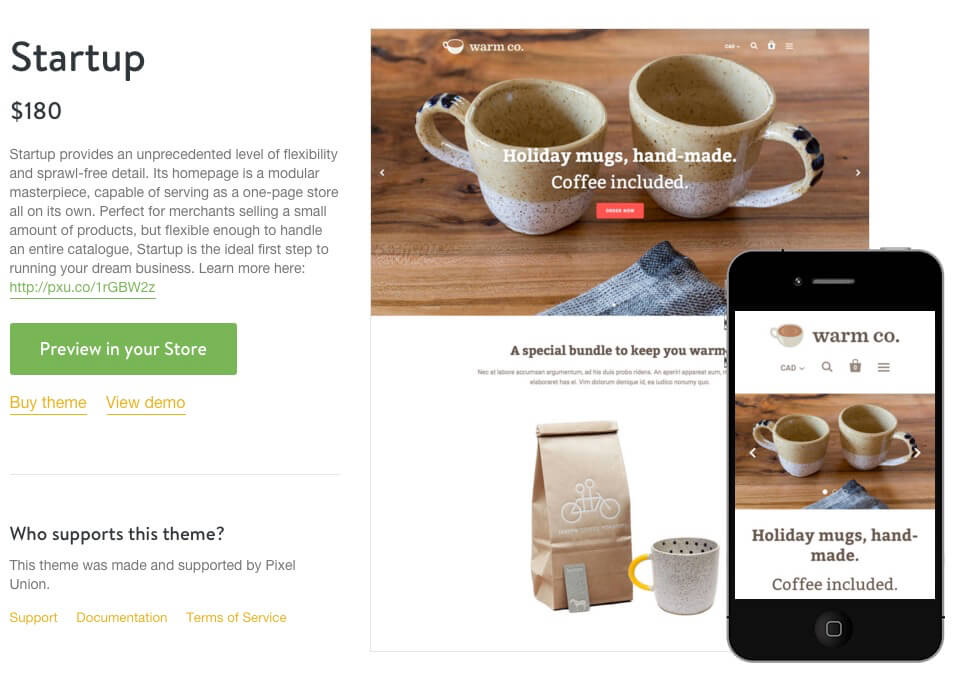 Styles supported – Home, Cloth, Tech and Art
As the name suggests, this premium theme is ideal for startups or small-scale businesses. It makes it really easy for anyone who is just starting out to have a feature-packed online store to win customers over.
And, yes, it even suits those who already have well-established businesses.
It offers an extremely modular homepage that can be adjusted to serve as a one-page online store in most cases.
This theme also offers great flexibility which is required by any startup. Furthermore, Startup provides you with retina compatible images, SEO optimisation, browser compatibility, full-width customisable slideshows, a live Instagram feed, and so on.
Price – $180
Scope for Improvement
More flexible features must be added to handle extremely large product inventories with ease.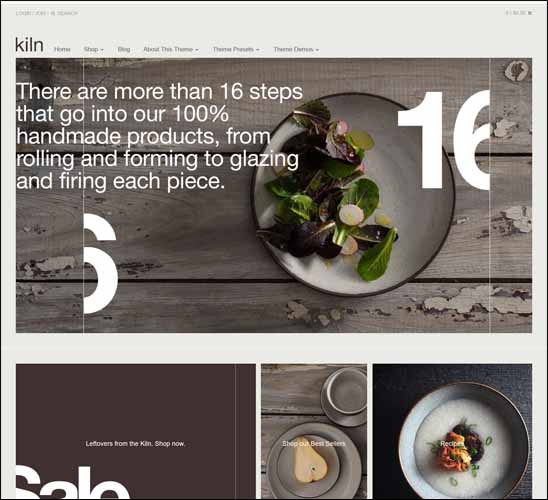 Styles supported – Kiln, Elda and Thread
Canopy is a versatile premium Shopify theme that can help you deal with inventories of all sizes. You can even control the order of every row on your homepage.
Every homepage row can also be filled with specific content and you can enable or disable it, as per your requirements.
This theme offers you the flexibility to have large menus for easy links to different pages and product categories from the site's main page itself. I addition, it is highly responsive and extremely customisable.
Price – $180
Scope for Improvement
The support could be improved for this theme, especially considering how expensive this theme is.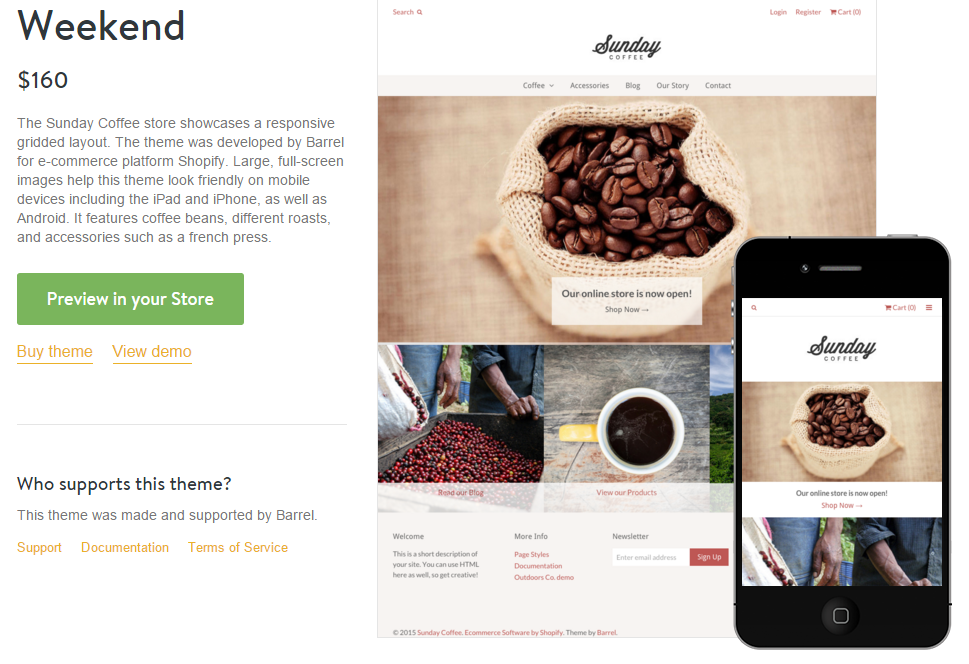 Styles supported – Bow Ties, Coffee and Outdoors
This premium theme offers ultra-responsive grid layouts.
However, it focuses more on offering a feature-packed theme with amazing visuals, which the choice to use full-screen images for your online store.
The Weekend theme offers good customisation options and a great "add to cart" feature. This functionality is bound to make the checkout process extremely smooth for your customers.
One of the most spoken about features for this theme is the terrific support offered by its team. That more than makes up for the slight difficulty that you may have during the initial stage in getting used to working with this theme.
Price – $160
Scope for Improvement
It could be made simpler to use, especially for absolute beginners (even though they have an incredible support team to help you with using it).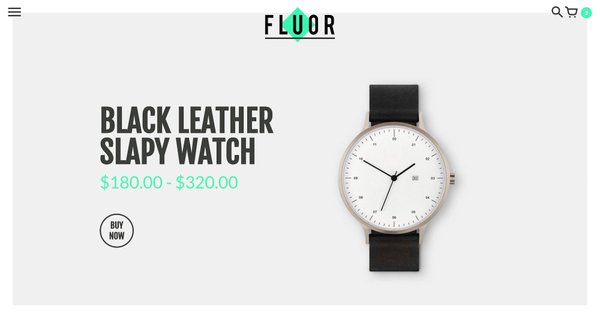 Styles supported – Fluor, Pastel and Generic
This paid theme is not only very easy to set up, but also very easy to use. Despite this, it possesses a strong support team to help you out in case you have any issues or queries.
It is a colourful theme that makes your products appear bright on different devices.
It offers wonderful product-based features, such as product reviews and product slides. It also helps you design an online store that offers easy navigation for the end users.
From an eCommerce perspective, this theme has several of the major aspects covered well.
Price – $180
Scope for Improvement
There is not much scope for improvement, as it does what it says!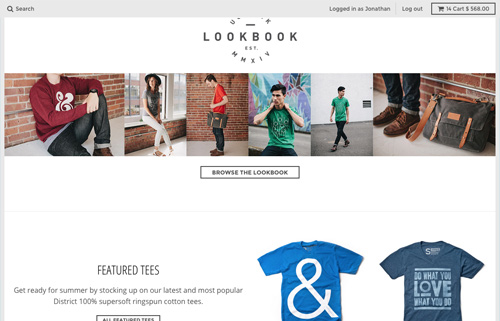 Styles supported – Coast, Energy and District
The District theme offers great levels of customisation for all three styles. Some typical features include Instagram integration and email marketing.
For the homepage, this premium theme also offers a mobile-responsive slider with several other good customisation options. And, yes, the overall theme is fully responsive to all devices.
Furthermore, it gives your site a professional look while staying dynamically fresh. In addition, the stellar customer support for the District theme makes it a cakewalk for anyone to start using it for any type of online store.
Price – $160
Scope for Improvement
For the price at which it is available, this theme offers most of what you could desire for your eCommerce store.
Top 10 Free Shopify Themes or Templates
Styles supported – Vintage, Fashion and Music
This free Shopify theme offers a beautiful design for your preferred online shop. You can give your online store a trendy look and feel with this theme.
And, yes, it works well on any device (even mobile devices), as it is a responsive theme.
If you are someone who likes to explore different ways to present your products or services, then this theme is for you as it offers plenty of flexibility.
You can customise a great deal with several intuitive layout options, typography choices, product views, collections, and even navigation styles.
Scope for Improvement
This theme needs to offer more navigation capabilities from the footer.
This Shopify theme is for you, if you are designing an online apparel store. The design and features offered are tailor-made for a modern apparel business that is going online with its range of products.
Some standard features of the Brooklyn theme include typography, a mobile-friendly and responsive design and a product grid that is dynamic in nature.
Furthermore, some peculiar features particularly suited for an apparel store include an edge-to-edge homepage hero and size availability at a glance on the product pages (for greater convenience for online shoppers).
Scope for Improvement
This free theme is not suitable for a lot of other categories of businesses since it has limited customisation options.
Styles supported – Blue, Soft Green and Dark
This free Shopify theme is ideal for business that will list a large inventory of products online across different categories.
The advantage of this theme is that it makes navigation across product categories extremely convenient and quick. Also, you can easily add items to the product page, even after the site is live.
It should be noted that the Supply Dark template is more suitable for royal or luxury items, such as jewellery.
Some typical features offered by Supply are multiple homepage collections, seamless navigation and sidebar filtering.
It supports the use of the Product Reviews app, which could help you get valuable feedback for your own products.
Scope for Improvement
It offers limited customisation capabilities.
Styles supported – White, Dark and Sepia
If you are looking for a clean and minimalistic design for your online store, then the New Standard theme could be ideal for you!
This theme comes with mobile responsive layout options, so your customers will be able to clearly check out your product or service details from their mobile devices.
It also offers great flexibility to customise the layouts. Some other features include a slideshow, featured collections on the homepage and products.
Scope for Improvement
Though it is suited for most types of products, it does not yet offer a sidebar filtering functionality.
Styles supported – Sharp, Light and Dark
As the name suggests, this free theme is ideal for those who want a traditional look and design requirements. This theme is suitable for an extremely large range of products that can easily be listed on a website.
This theme is mobile responsive and offers a rearrangeable homepage, along with a large sidebar that can contain custom ads for promotions.
Additionally, the sidebar could be used to feature many levels of navigation on your ecommerce site.
Scope for Improvement
In this modern age when eCommerce websites are increasing, the Classic theme needs to offer a few styles with a modern look and feel.
Styles supported – Boxing, Outdoors and Snowboards
Venture offers a modern and bold look and feel for online stores. It is suitable for many products across different categories on an eCommerce store. In fact, this theme is used a lot for selling sport goodies or products online.
It is an easily customisable theme that even offers customisation options for the colour and fonts. You can even design a layout that looks best on any device along with an attractive homepage slideshow.
Some other key features of Venture include a promotional bar, typography options and multi-column drop-down menus for quick navigation across the site.
Scope for Improvement
As this theme is bolder in its design, it is more suited for sports-related stores and may not be suitable for some other product categories, such as furniture or music. It also needs to offer some subtle layouts as well.
Styles supported – Vibrant and Black & White
If you want your product photographs to be the highlight of your ecommerce store, then the Boundless theme is ideal for you! With this theme, the focus is on putting your favourite photographs front and centre.
Moreover, the modern and minimalistic design of this free theme gives a professional look to your site while is it caters to bold and subtle layout requirements.
As the focus of this theme is on pictures, the typical features include a fading homepage slideshow along with edge-to-edge collection photos.
Of course, the template is compatible with most devices and offers good typography options, along with great customising capabilities (even for fonts and colours).
Scope for Improvement
This theme may not be preferred by those who do not like too many photos or large photos. Shopify could also work towards making this theme offer some layout styles that do not completely focus on pictures.
This free Shopify theme can help you design your preferred online store with a simple and elegant look. You can use it for various types of businesses that manage small-size to medium-size inventories.
It does not offer different styles like some of the other free Shopify themes do.
The Solo theme is mobile responsive, which means that your site will be easily viewable on mobile devices.
Furthermore, the unique benefit of this theme is that it allows you to display a single product (in focus) front and centre.
And, yes, it does offer a rearrangeable homepage so that you can play around with the look and feel of your site's main page.
Scope for Improvement
It needs to offer more customisation options, especially since it has the ability to be used for various types of products, irrespective of the type of business.
Also, it needs to adapt a bit more for the larger inventories store.
Styles supported – Bone and Toy
This free theme is extremely user friendly with great flexibility in terms of its customisation options. You can experiment with the layout for your homepage, which is totally rearrangeable.
It is, furthermore, ideal for businesses that manage small-size to medium-size inventories online.
Pop is mobile responsive and offers a fly-out shopping cart for easy checkout. The unique thing about most online stores which were designed with the Pop template is the large sidebar that makes your store's content easily accessible for your customers.
Thus, navigation across the site is pretty straightforward.
Scope for Improvement
There is not a lot of scope for improvement with this free theme. However, it should perhaps offer more alternatives to the large sidebar layout options for those who may wish to have edge-to-edge photos.
Styles supported – Light and Beauty
As its name implies, this free theme from Shopify gives your online store a simple and elegant look. It is ideal for those who want to have a no-fuss website theme that keeps everything simple.
Not only is the user interface clean, it is also easily customisable. This theme also allows you to showcase sub-categories for products that have tags.
Simple features sleek animations and is mobile-friendly. So, this theme looks good on either large computer screens or small mobile device screens.
Scope for Improvement
It needs to offer a better look and feel for the checkout page.
I hope that the above information about the top 20 Shopify templates will be valuable to you.
My objective has been to reduce your confusion a bit by shortlisting the most useful Shopify themes from which you can now select the one that best suits your business.
And, yes, there are many other useful Shopify templates available on the Shopify store. But, I have tried to pick only the best.
So, do you have a favorite? Would you like to share any points here? Please feel free to leave your comments below and thanks for reading!
The following two tabs change content below.
Jamie Spencer
My name is Jamie Spencer and I have spent the past 10 years building money making blogs. After growing tired of the 9-5, commuting and never seeing my family I decided that I wanted to make some changes and launched my first blog. Since then I have launched lots of successful niche blogs and after selling my survivalist blog I decided to teach other people how to do the same.
Latest posts by Jamie Spencer (see all)