This article was originally published in 2016… some of the themes featured are no longer available.
Last Updated May 2023
I am a big fan of Shopify, I think it is one of the best website builders out there especially for people who are interested in setting up an eCommerce store.
Shopify allows you to build a website from scratch by using ready-to-use templates or themes, without requiring you to write a single line of code, if you want to learn more then I suggest you check out my in-depth Shopify review.
The great thing about Shopify is that they allow creative designers to come up with their own themes and sell them on the Shopify Theme Store or via other popular outlets such as Themeforest.
Yet, with so many options for free and paid Shopify themes available out there, you would not be blamed if you are a bit confused about which one to shortlist or choose for your eCommerce website.
So, this article is aimed at helping you out by shortlisting through this huge range of Shopify themes into just the top 23 Shopify themes.
I do this by providing details of the top 12 free Shopify themes and the top 11 paid Shopify themes.
So, let us now take a look at the most popular Shopify themes that can reduce your Shopify theme selection headache. I'll be reviewing their features, pricing, advantages as well as their disadvantages.
Top 11 Premium Shopify Themes or Templates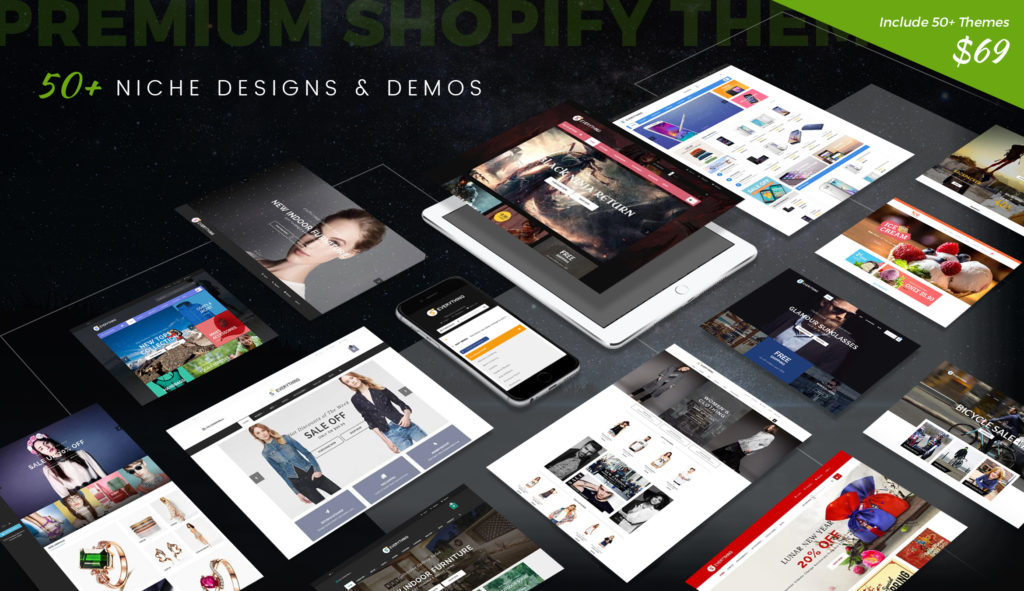 Everything is a Premium Multi-Stores Shopify Theme designed and developed by ThemeForest's Elite Author. The theme is 100% responsive, mobile compliance. W3C, HTML5, CSS3 strictly valid and compatible.
The Everything theme is an incredible theme and suitable for any online product store, online shop or mega mall, fashion mall, shopping center, supermarket style website.
The great thing with this theme is that you have over 50+ different creative designs to choose from, which gives you an incredible amount of design resources to play around with. These range from fashion, furniture, decoration, interior, baby, glasses, sunglasses, eyewear, garden tools, watches, sport, jewelry, lingerie, cosmetic and beauty, high-tech, electronic, shoes, handbags, holidays, flower, gifts, game, bakery, food, cake, icecream, bicycle, pets, and many more…
Everything offers great features such as Mega menu, Advanced Filter, Flexible layout, Ajax Add to cart, Social sharing, Google Web Fonts library, Google Map, Mailchimp, Beautiful typography and Detailed documentation.
Price – $69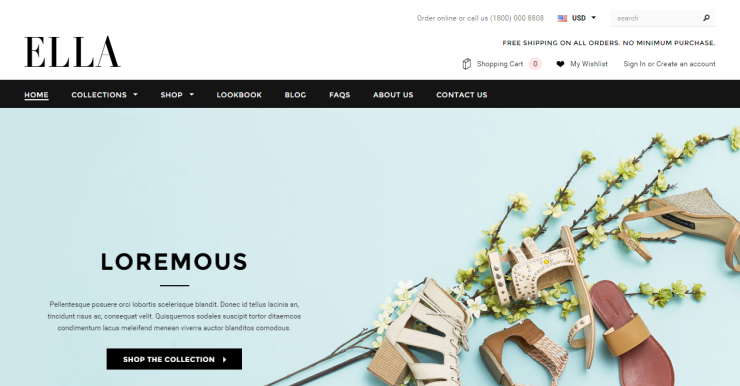 This is a great responsive Shopify template that is suitable for fashion and apparel businesses. It offers gorgeous layout options with a mix and match of different product image banners, colours, information blocks and more.
Moreover, this theme comes with an advanced Mega menu module for different categories, which allows your customers to find their preferred products very easily.
The layered navigation feature also helps your customers filter the products by using tags for sizes, prices, brands, colours and so on.
Price – $89 (as available on Themeforest)
Scope for Improvement
As a paid theme, it could possibly offer better flexibility for non-apparel stores.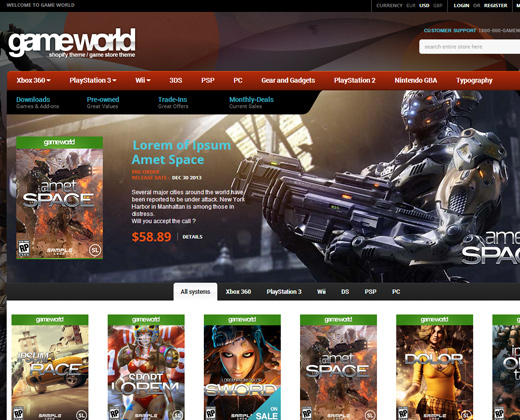 Styles supported – Dark and Light
If you have a business that deals with the world of gaming, then the GameWorld Shopify Theme could be the ideal one for you!
Selling games and items related to them online requires a different set of features that are more focused on graphics and visuals. This is where this theme can work wonders for your ecommerce gaming store.
The theme is built using the latest technology, which gives you a lot of customisation options. So, you can easily add a dropdown menu, attractive slideshows and featured products.
It also offers good typography options along with quick shop and product image effects.
Price – $69 (as available on Themeforest)
Scope for Improvement
This theme is ideal for gaming stores with not much scope for other stores. So, the only possibility for improvement is to add layout options for other types of stores in the future.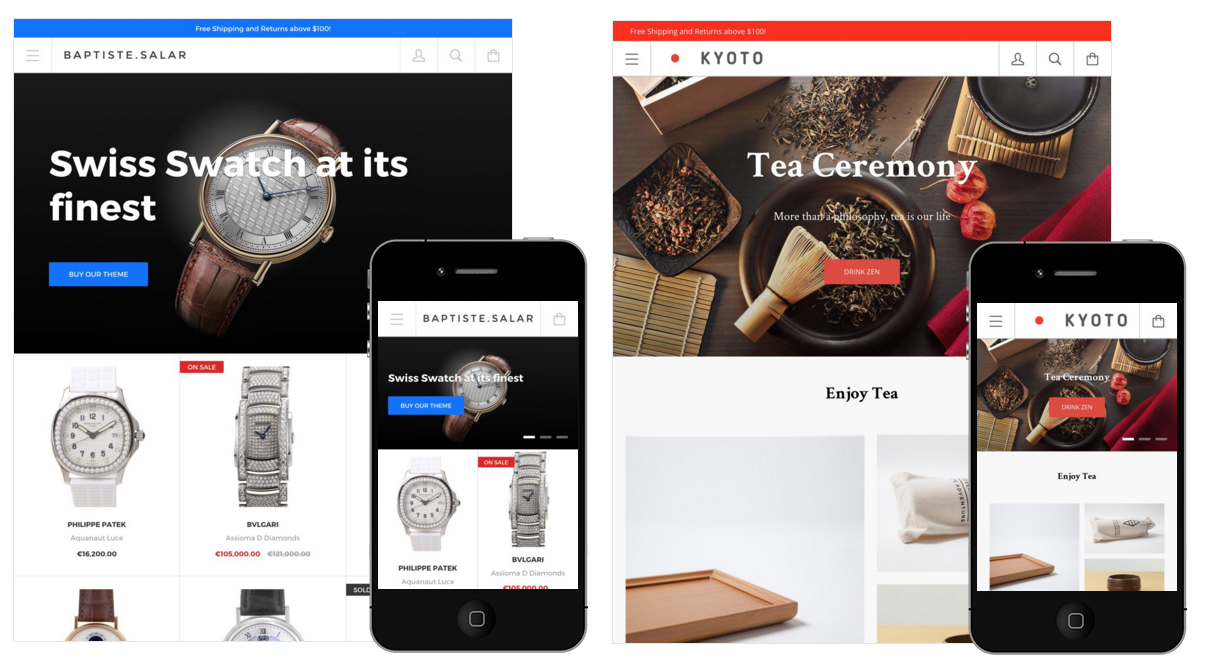 Styles supported – Kyoto and Baptiste
This premium Shopify theme is the ultimate for any online store, irrespective of the size of the store's inventory.
The benefit of Kagami is that even if your business is small, you can start with this feature-packed theme and then keep expanding without the need to look for a new template.
That is because it offers a sidebar with the possibility to expand it to infinite levels of navigation.
Furthermore, the unique and completely automatic masonry grid feature of the Kagami theme is bound to make your products appear more attractive than you would have imagined.
It also offers strong support for mobile responsiveness and SEO optimised content. Moreover, you can easily integrate the Shopify Reviews app with this theme for valuable customer feedback.
The search functionality is often a key component of an eCommerce site, as most consumers would want to be able to reach the products they are looking for easily.
This theme makes searching easier with the auto-completion search feature. It also offers social media support (for Instagram, Twitter and so on) without using any additional apps.
Price – $180
Scope for Improvement
There is hardly any scope for improvement since most things are taken care of.
Mosaic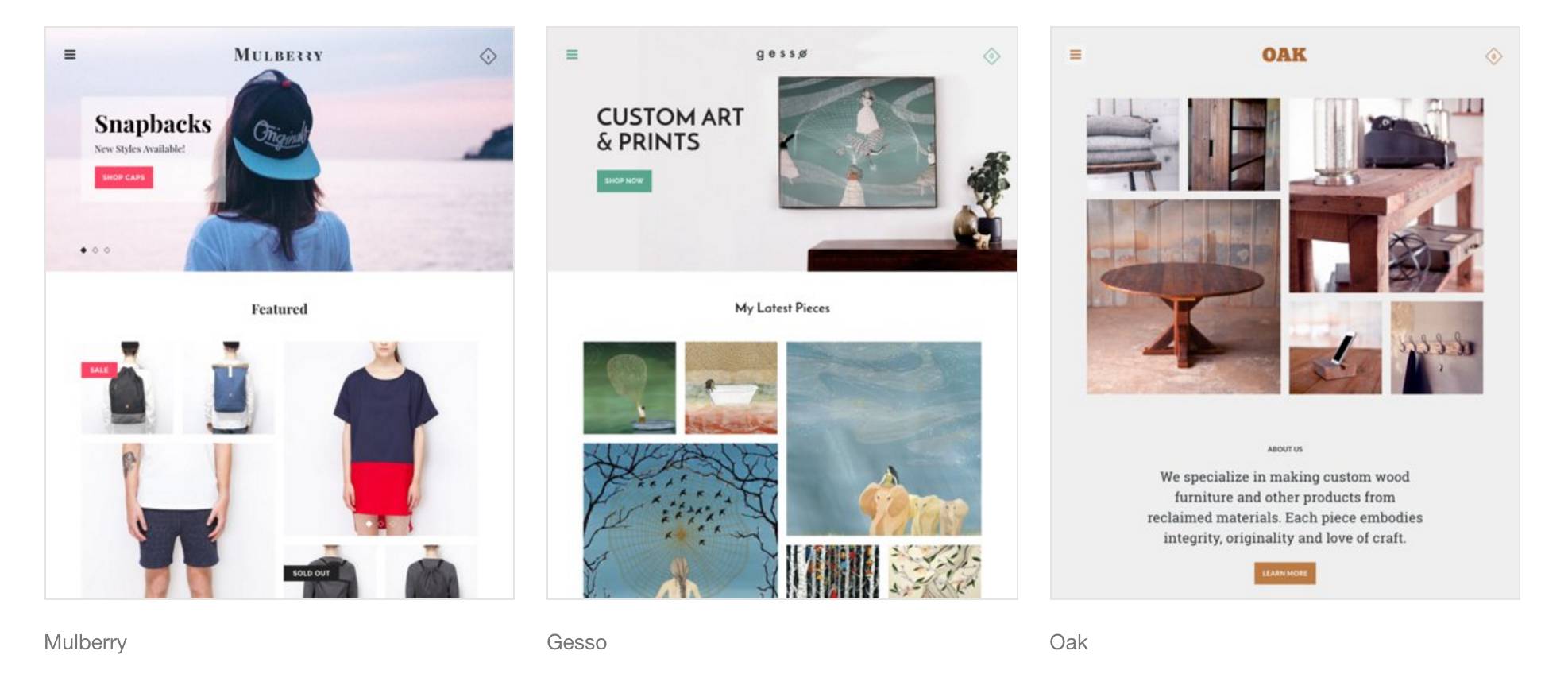 Styles supported – Mulberry, Gesso and Oak
This paid theme from Shopify is suitable for a variety of business owners, based on the style they select. For example, the Mulberry style is ideal for displaying a product range related to modern apparels or accessories.
The Gesso style is more suited for artists or freelancers who want to showcase their product portfolio to their visitors in order to influence their purchase decision.
The Oak preset style is the simplest of all the Mosaic styles, as it supports designing a beautiful homepage that is the source for all the product collections (grid, links and so on).
Some of the features offered by the Mosaic template include a large homepage slideshow and a mosaic display that features products (from multiple collections, from a single collection or from links to collections).
It also offers a collection grid to allow customers to shop directly from the homepage. You also get an Instagram feed and the newsletter Sign Up form option.
In addition, for the Gesso preset style, you get a gallery slideshow and a separate product page layout ideally suited for portrait-based photography.
Price – $180
Scope for Improvement
For a highly priced theme, this could offer more options, similar to the Kagami theme.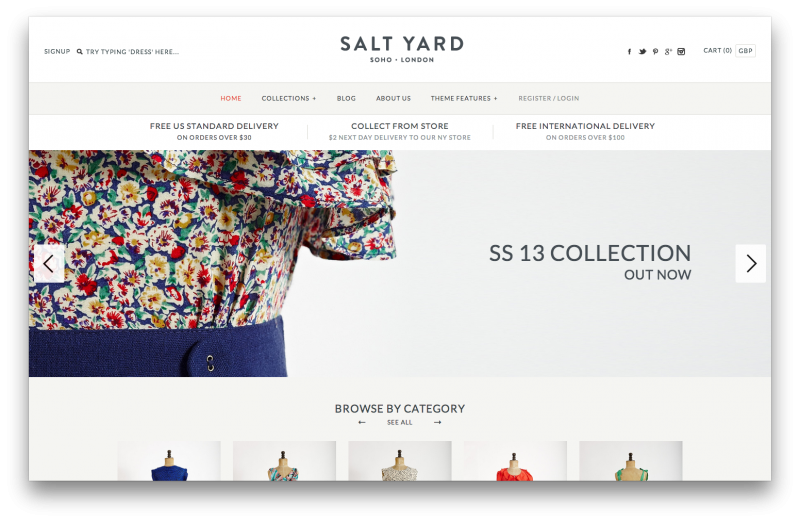 Styles supported – Beatnik, Chantilly, Salt Yard and Duke
Symmetry is regarded as one of the best eCommerce themes offered by Shopify, as it was built while taking into consideration all the best practices of eCommerce.
With as many as four highly responsive styles, you are spoilt for theme style choices for any of your devices.
You get multiple homepage options for the design selection, along with advanced features, such as a multi-level navigation menu, scrolling product collection rows on the homepage and Google fonts.
Also, you can place every row on the homepage in the order of your preference. Additionally, you can avail features like live search, stream and grid view for product collections as well as a full-width slideshow on the homepage.
Price – $320
Scope for Improvement
Shopify could possibly include more blog-related features, as blogs are now very important for ecommerce portals to keep their audience members engaged.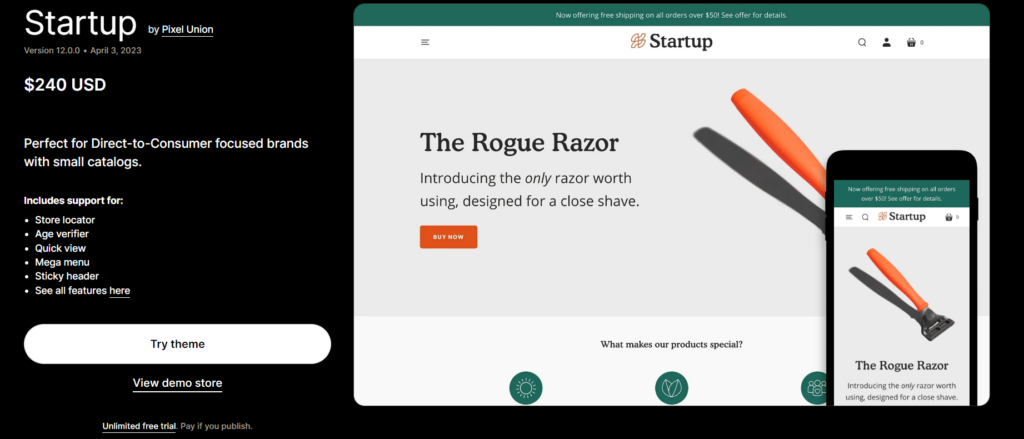 Styles supported – Home, Cloth, Tech and Art
As the name suggests, this premium theme is ideal for startups or small-scale businesses. It makes it really easy for anyone who is just starting out to have a feature-packed online store to win customers over.
And, yes, it even suits those who already have well-established businesses.
It offers an extremely modular homepage that can be adjusted to serve as a one-page online store in most cases.
This theme also offers great flexibility which is required by any startup. Furthermore, Startup provides you with retina compatible images, SEO optimisation, browser compatibility, full-width customisable slideshows, a live Instagram feed, and so on.
Price – $240
Scope for Improvement
More flexible features must be added to handle extremely large product inventories with ease.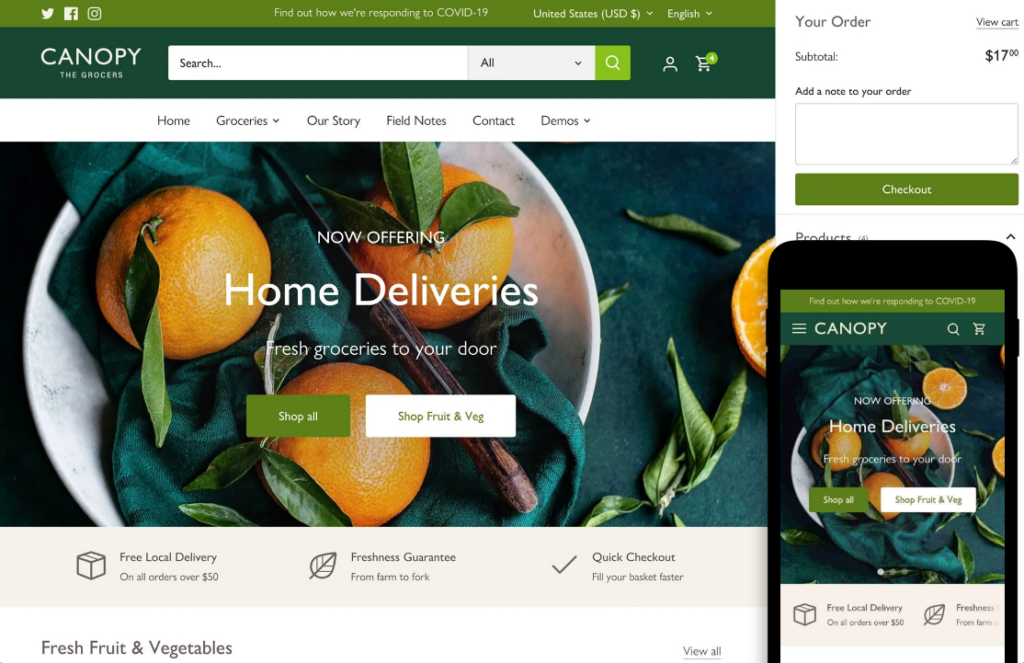 Styles supported – Natural, Light, Fresh, Elegant, Glow
Canopy is a versatile premium Shopify theme that can help you deal with inventories of all sizes. You can even control the order of every row on your homepage.
Every homepage row can also be filled with specific content and you can enable or disable it, as per your requirements.
This theme offers you the flexibility to have large menus for easy links to different pages and product categories from the site's main page itself. In addition, it is a highly responsive theme and extremely customisable.
Price – $300
Scope for Improvement
The support could be improved for this theme, especially considering how expensive this theme is.
Weekend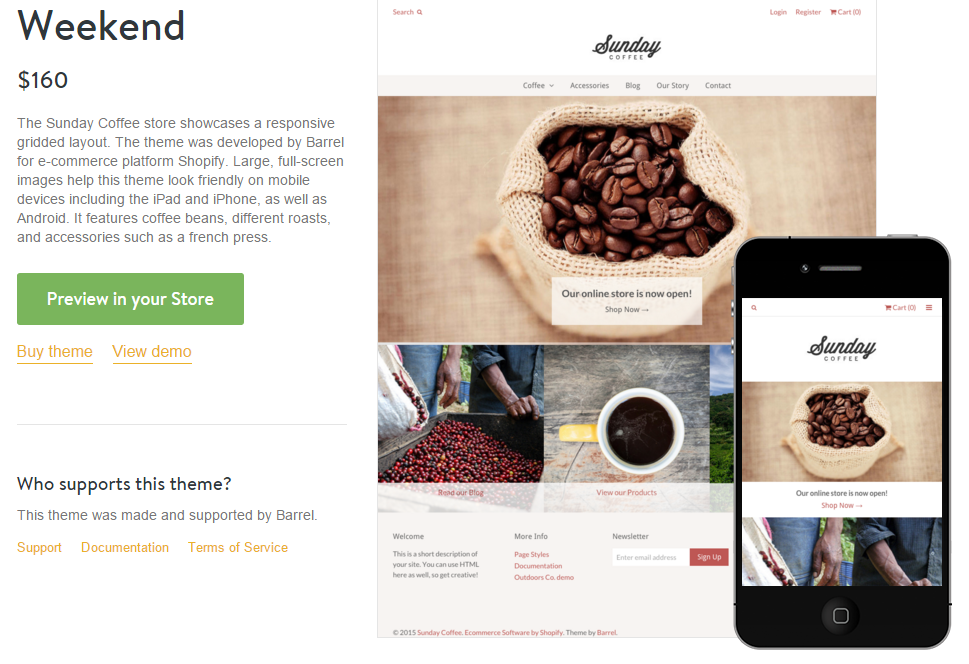 Styles supported – Bow Ties, Coffee and Outdoors
This premium theme offers ultra-responsive grid layouts.
However, it focuses more on offering a feature-packed theme with amazing visuals, which the choice to use full-screen images for your online store.
The Weekend theme offers good customisation options and a great "add to cart" feature. This functionality is bound to make the checkout process extremely smooth for your customers.
One of the most spoken about features for this theme is the terrific support offered by its team. That more than makes up for the slight difficulty that you may have during the initial stage in getting used to working with this theme.
Price – $160
Scope for Improvement
It could be made simpler to use, especially for absolute beginners (even though they have an incredible support team to help you with using it).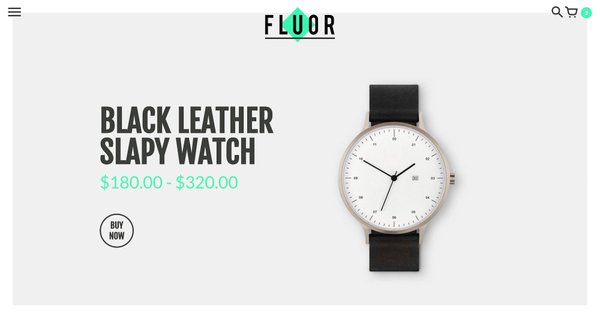 Styles supported – Fluor, Pastel and Generic
This paid theme is not only very easy to set up, but also very easy to use. Despite this, it possesses a strong support team to help you out in case you have any issues or queries.
It is a colourful theme that makes your products appear bright on different devices.
It offers wonderful product-based features, such as product reviews and product slides. It also helps you design an online store that offers easy navigation for the end users.
From an eCommerce perspective, this theme has several of the major aspects covered well.
Price – $210
Scope for Improvement
There is not much scope for improvement, as it does what it says!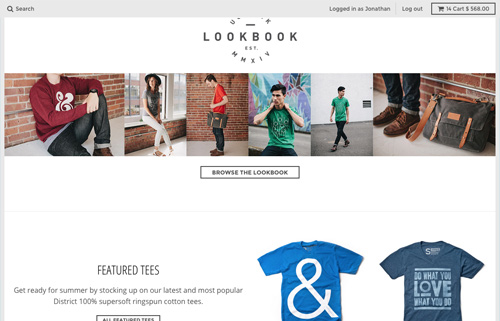 Styles supported – Coast, Energy and District
The District theme offers great levels of customisation for all three styles. Some typical features include Instagram integration and email marketing.
For the homepage, this premium theme also offers a mobile-responsive slider with several other good customisation options. And, yes, the overall theme is fully responsive to all devices.
Furthermore, it gives your site a professional look while staying dynamically fresh. In addition, the stellar customer support for the District theme makes it a cakewalk for anyone to start using it for any type of online store.
Price – $220
Scope for Improvement
For the price at which it is available, this theme offers most of what you could desire for your eCommerce store.
Top 12 Free Shopify Themes or Templates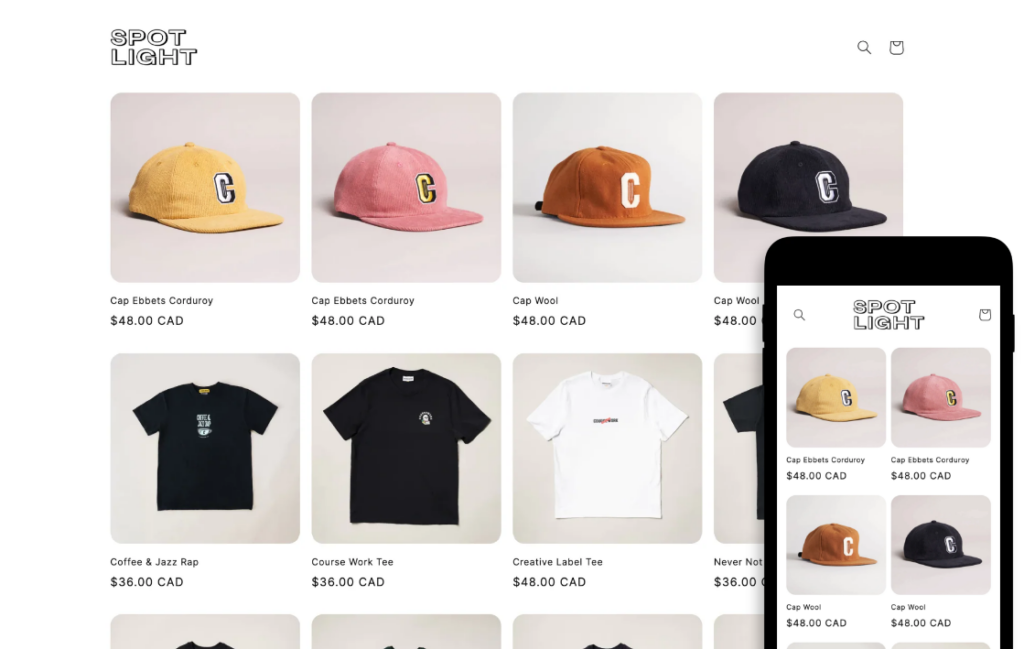 The Spotlight free theme is responsive and clean, perfect for businesses that want to showcase their products in a clean and minimal way. It's ideal for stores with a large catalogue, as it comes with a user-friendly navigation menu.
This theme is designed with minimal steps to set it up, which allows for a quick launch to which you can add more items as you go.
Spotlight's full-width image banners and grid-style product display let your products take center stage.
You can customise a great deal with several merchandizing and marketing features.
Scope for Improvement
One area for improvement could be the addition of more customization options for fonts and colors.
Refresh is another free Shopify theme that's great for small businesses selling a few products or services. It's designed with a minimalist approach, focusing on the essential elements of an online store.
This theme is perfect for businesses looking for big, bold headers with a simple and clean color palette. It also offers plenty of customization settings and easy navigation.
It's a good choice for stores selling physical rather than digital products, with adaptive section layouts, allowing yo to display content such as ingredients lists or testimonials.

Scope for Improvement
Refresh is a good choice for smaller stores, but I think there are better options for stores with a larger inventory.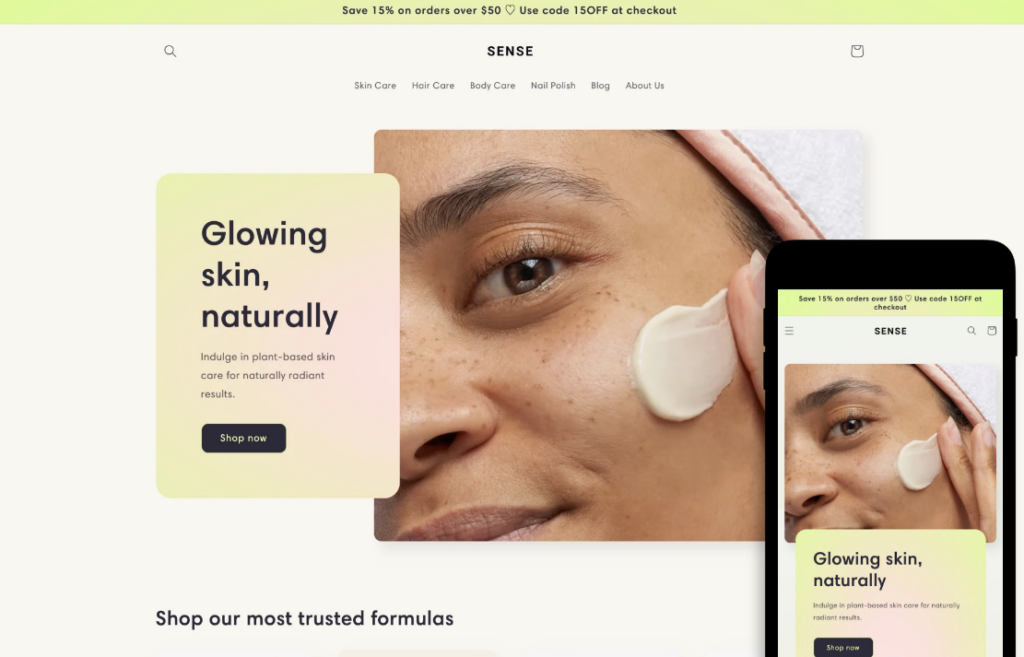 Sense is a modern, free Shopify theme that's perfect for fashion, beauty, and lifestyle businesses. It has a sleek design and customizable features, including color schemes and fonts. These features make it easy to match your brand's style.
Sense showcases products with a versatile grid layout, and its responsive design ensures an excellent shopping experience across devices. In my experience, some users might find the theme's minimalist approach limiting. For those looking for a clean and elegant online store however, it could be a good choice.
Scope for Improvement
With a few more customization options, this theme could be suitable for more store types.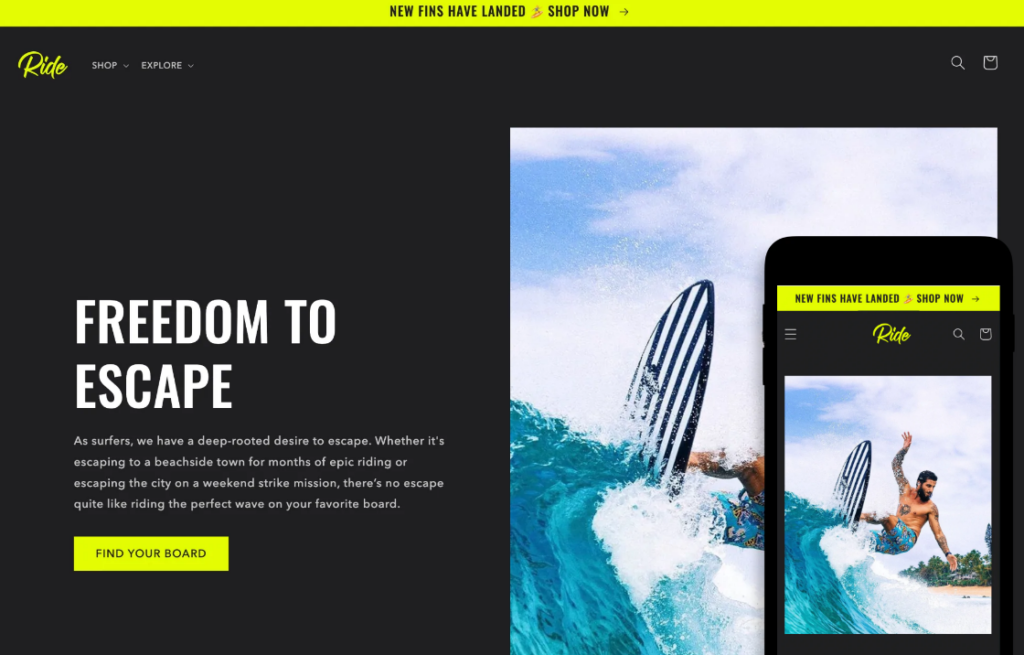 Ride is a free theme with an energetic and active feel, perfect for businesses selling sports gear or outdoor equipment. The theme is optimized to be mobile-first, ensuring your online store looks great on any device.
Ride's strong visuals and product highlights make it easy to showcase your best-selling items, while the easy-to-navigate menu ensures a smooth shopping experience.
Unlike the other free themes explored so far, Ride drops the soft and neutral tones for a dark background and bright, bold text. This is a template for making a statement.
One area for improvement would be for more advanced customization options, to allow more variety in your store design.
Scope for Improvement
One area for improvement would be for more advanced customization options, to allow more variety in your store design.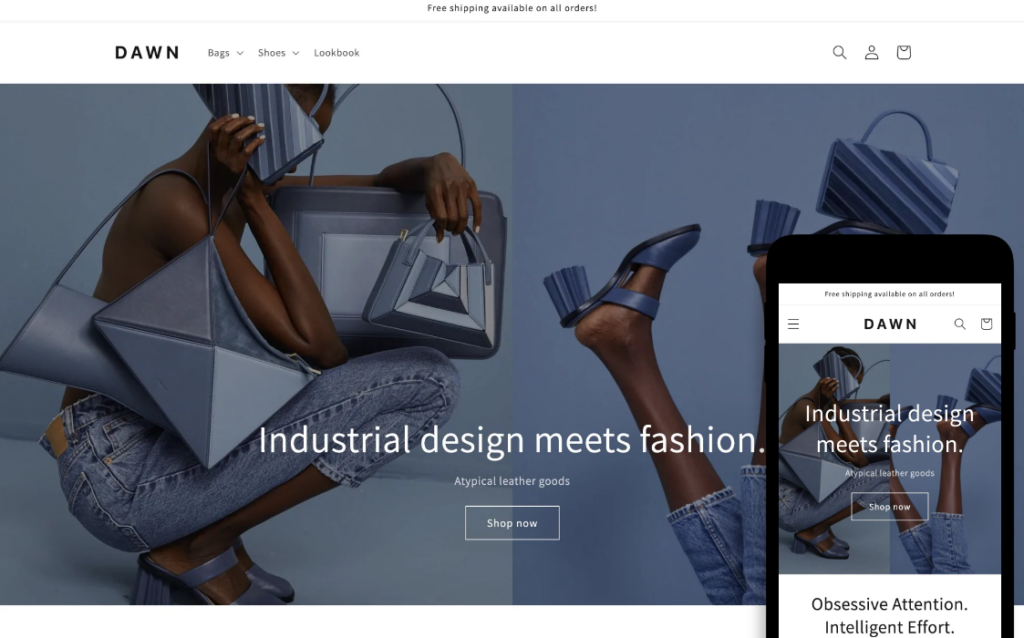 Dawn is a free, clean, and modern Shopify theme that works well for any type of business. It is both responsive and customizable, with features such as mega menus, product filtering and promo banners. The flexible design makes it easy to create an online store that reflects your brand's personality.
This is another template that takes the 'mobile first' approach, tailoring the design to visitors on the go, on a variety of different devices. The modular functionality makes it simple to put a site together very quickly with out the need to touch any code.
Dawn is excellent for businesses that want a clean and straightforward design without too many bells and whistles. However, some users might find the theme's customization options limited compared to other themes.
Scope for Improvement
This theme could do with more built-in options for customization, like additional color schemes or layout options.
It could also do with better support for different languages and currencies.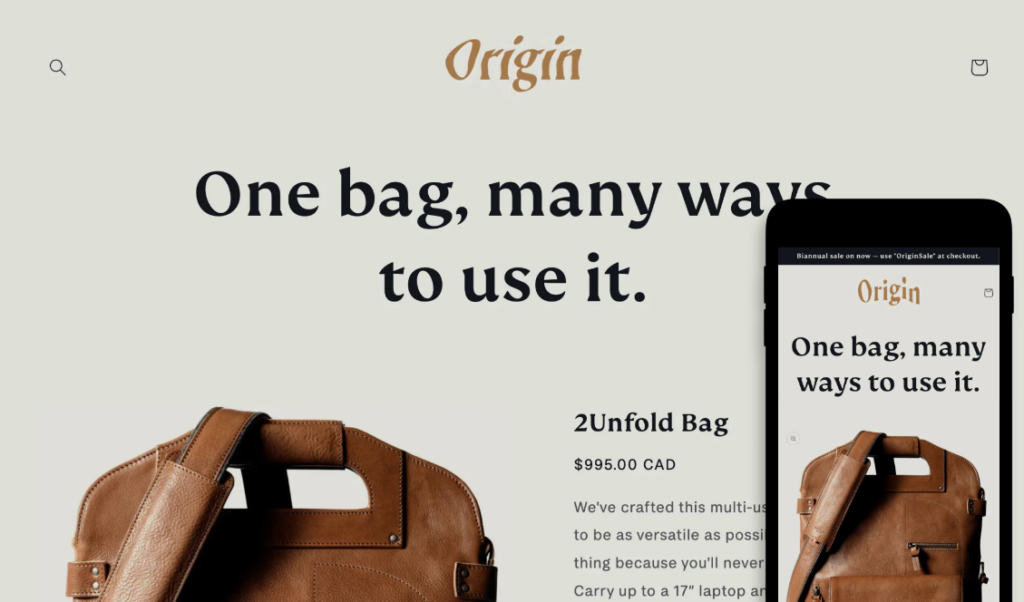 Released in late 2022, Origin is one of Shopify's newest free templates. This one is particularly geared towards businesses selling handcrafted or unique products. The theme's design emphasizes storytelling, making it perfect for sharing your brand's journey and showcasing your products.
It has a very unique, animated header which morphs the shape of your title heading periodically. I can see where this may work, but realistically its not for everyone. Some people love it and some not so much.
This theme is all about big images, and logical progression through a page. It uses clear structure and blocks to partition areas well and reeks an air of professionalism.
Scope for Improvement
One area for improvement might be the addition of more advanced customization options for businesses looking for flexibility in design. What it offers is nice, though perhaps a bit rigid and narrow.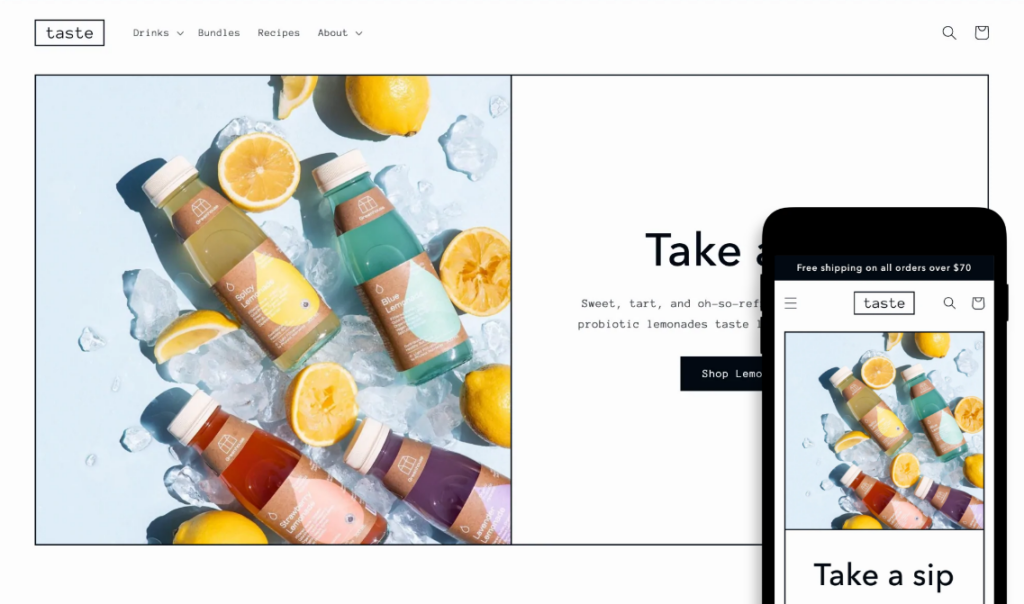 Taste is another relatively new free Shopify theme, released initially in February 2022. This one is designed with the food and beverage businesses in mind.
Its layout emphasizes mouth-watering images and allows for easy navigation through your store's product offerings. The theme's clean design and responsive layout make it perfect for businesses looking to showcase their delicious products, across any device.
Taste is designed to lean towards an inviting color palette and longer form content to complement large, attractive images. It's a good choice for simple stores with a lot to say about their products.
Scope for Improvement
One potential downside is that Taste might not be as versatile for non-food-related businesses. More customization options could help with this.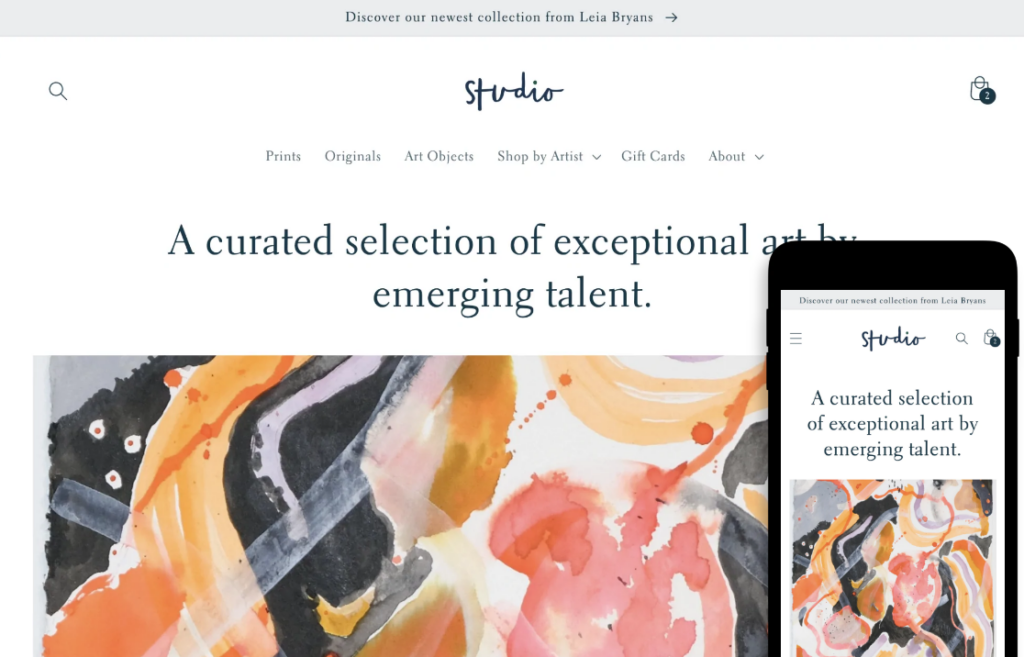 Studio is a free Shopify theme, initially released in early 2022. This one has a particular palette and typography that's tailored toward artists, designers, and creatives with a desire to showcase their work.
Its focus on visuals and minimal design creates a clean, professional look for your online store. Studio's responsive design is really simple, and responsive so your store looks great on any device. Customization options allow you to tailor the look to your brand's style.
It doesn't try to be all fancy and eye catching. It leaves that to the art portfolio or curation that you want to catch the visitors eye. Instead, it leans towards functionality that promotes galleries and profiles.
In the latest releases, users can add video files and auto loop them to further promote their products or work.
Some users might find the theme's minimal design limiting, but it's a great choice for those who want to focus on their artwork.
Scope for Improvement
It needs to offer more customisation options, especially since it has the ability to be used for various types of products, irrespective of the type of business.
Also, it would be helpful if it was adapted a bit more for larger inventories.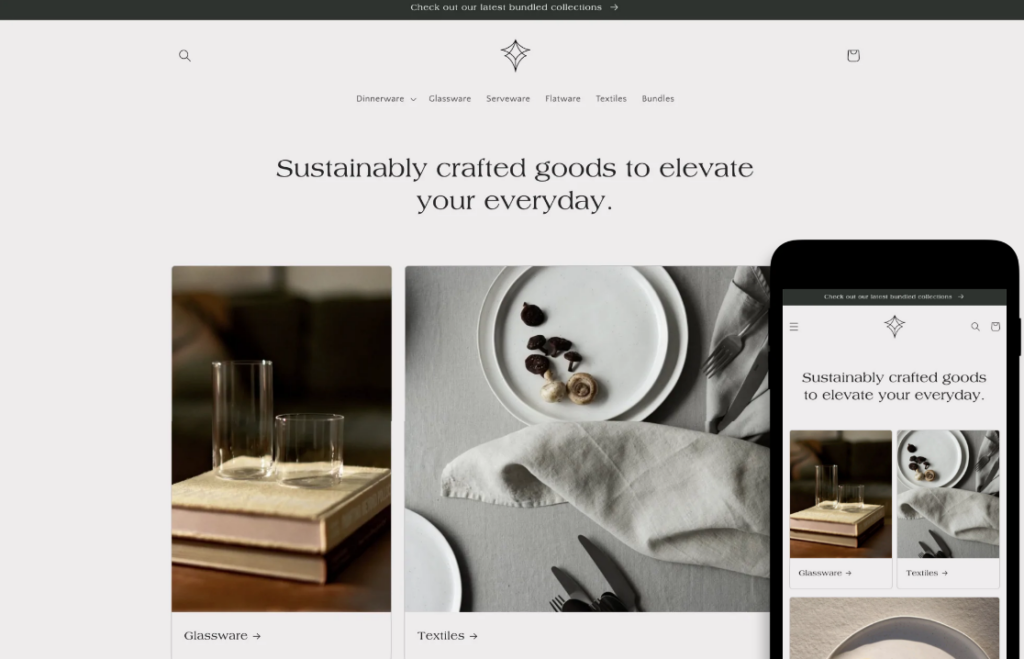 Craft is a free theme with businesses selling handmade or artisan products in mind. With its emphasis on showcasing your craftsmanship and attention to detail, Craft is perfect for creators looking to highlight their products' unique features.
The theme's responsive design is built to ensure your online store looks great on any device, while its customizable features let you match your brand's aesthetic. It utilizes grid based listings and image blocks for product and collection pages.
With a bit of tweaking, it could also be a good theme for fashion stores, but it's clear that the real target for this theme is artisans with small inventory sizes.
Scope for Improvement
This theme could do with more advanced customization options for those seeking a more personalized look. But that's picking at hairs, it is a free theme after all.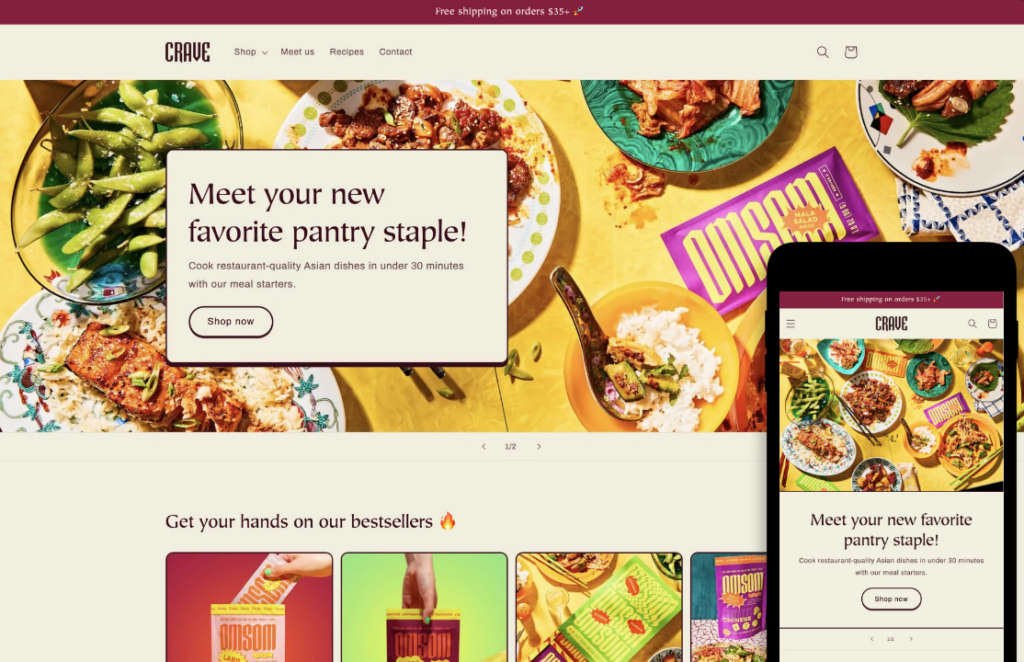 Crave is a free Shopify theme designed for businesses selling luxury products or high-end services, particularly those related to food. It has a busy, almost bohemian yet elegant design and several customizable features that make it the perfect choice for those looking to create an upscale shopping experience for users on the go.
The dynamic checkout and in-store pick up options are two examples of features that illustrate the aim of the template, to encourage and allow for shopping on the fly. Particularly useful for fast food and restaurant collections.
Crave's responsive design ensures your online store looks great on any device, while its product-focused layout lets your items speak for themselves. It comes with a stack of features that come as standard on most free Shopify themes. For merchandizing, the Ingredients or nutritional information, product videos and slideshow are particularly useful.
One potential downside is that Crave might not be as versatile for businesses that don't cater to on the fly shopping.
Scope for Improvement
Could do with more color palette options for those looking for a less busy and vibrant site.
Fairly narrow in target niches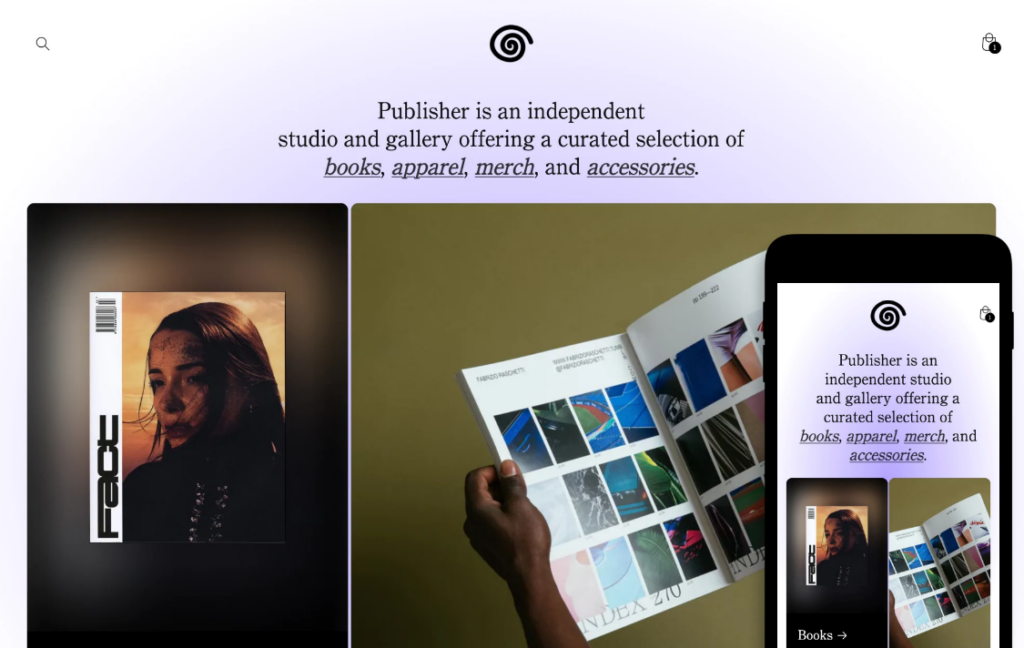 As the name would suggest, Publisher is a free Shopify theme that's aimed toward businesses selling books, magazines, or other printed materials. The first release was in November 2022, making it one of the newest entries to the selection of free themes.
It uses gradients and atmospheric tones to offer a presentation unique amongst the free themes. It doesn't try to be fancy or bullish, but at the same time offers a unique mixture of dark and light to provide an aesthetically pleasing design.
The clean and organized design highlights your products well and makes it easy for customers to browse, though the navigation could be better. It is responsive and looks good across devices, while its customization features allow you to tailor the theme to your brand's style.
Scope for Improvement
Some of the navigation views could be better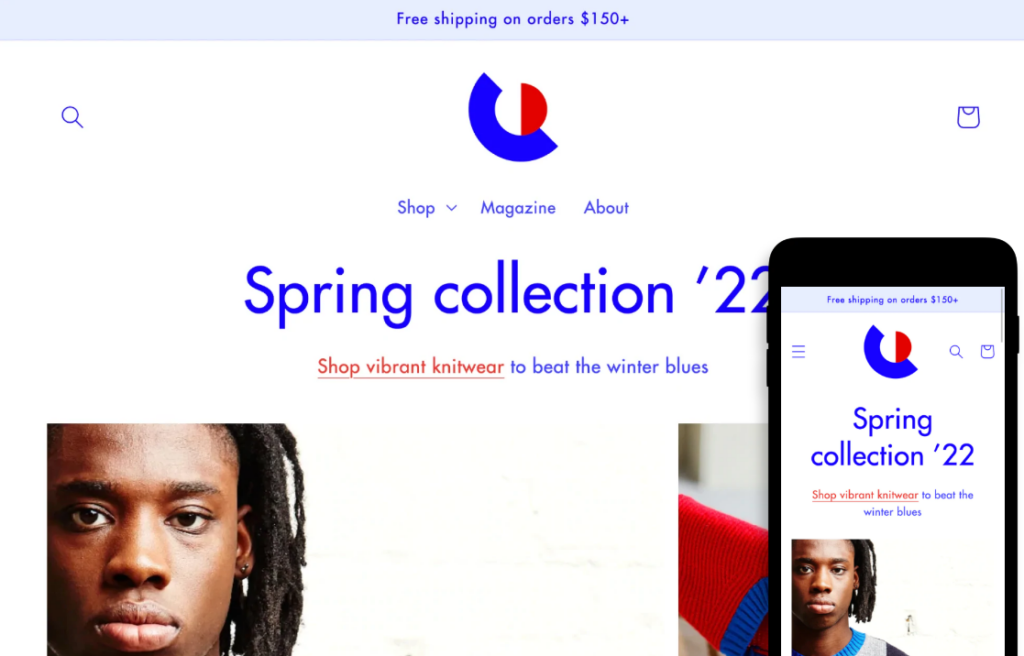 Colorblock is a vibrant Shopify theme that's suited to larger stores with a big inventory, looking to make a bold statement. Its colorful design and customizable features can appear both sporty or trendy, making it easy to create an eye-catching store.
As with all the free Shopify themes, the design is responsive and tailored to work well on any device. The navigation is good, and the layout provides a smooth shopping experience.
For a free theme, it's pretty well stacked with features to provide a good user experience for your customers.
Scope for Improvement
One potential downside is that Colorblock might not be the best choice for businesses seeking a more subtle or minimalist design. More color palettes and customization options would help with this.
I hope that the above information about the top 23 Shopify templates will be valuable to you.
My objective has been to reduce your confusion a bit by shortlisting the most useful Shopify themes from which you can now select the one that best suits your business.
And, yes, there are many other useful Shopify templates available on the Shopify store. But, I have tried to pick only the best.
So, do you have a favorite? Would you like to share any points here? Please feel free to leave your comments below and thanks for reading!
The following two tabs change content below.
Jamie Spencer
My name is Jamie Spencer and I have spent the past 10 years building money making blogs. After growing tired of the 9-5, commuting and never seeing my family I decided that I wanted to make some changes and launched my first blog. Since then I have launched lots of successful niche blogs and after selling my survivalist blog I decided to teach other people how to do the same.
Latest posts by Jamie Spencer (see all)