When it comes to storage space for digital files and backups, you can never have enough. It's impossible to plan for your future storage needs. As technology continues to advance, data files are only going to get bigger. While fixed cloud storage plans or free cloud storage services might be fine for now, you're going to need to upgrade at some point. So why not go with an unlimited cloud storage solution now?
Unlimited plans have no restrictions on how much you can store on the cloud servers. The best cloud storage solutions plans adapt to your ever-changing needs and are virtually future-proof. There's a lot to consider when you're shopping for the right service provider. Pricing, available features, and established security protocols vary from provider to provider. Plus, pricing models and plan parameters differ across the board.
Whatever the case may be, unlimited cloud storage is a worthy investment. It can simplify your storage methods while also giving you some peace of mind. Check out our guide below to learn more about some of the biggest unlimited cloud storage providers out there. For more on cloud hosting, check out our Best Cloud Hosting guide.
What is Cloud Storage?
Cloud service is an excellent alternative to physical storage. Instead of saving files and creating backups on physical hard drives, you send your data to a remote data center. The entire facility is managed by the cloud storage service provider. You can use cloud storage for media files, daily backups, collaborative documents, and pretty much anything else you need.
Investing in cloud storage has numerous advantages. First, the server is more affordable than buying dedicated storage hardware on your own. Most providers operate on a subscription-based pricing model, so you pay lower monthly fees to continue using the service. Cloud storage solutions are also controlled entirely by the provider. Thus, there are no maintenance requirements on your end. All of your files are saved on secure servers in a highly protected location far away from where you are.
Everyone can benefit from unlimited cloud storage. Individuals can use it to maintain their collection of files for many years to come. Meanwhile, businesses can use it to backup computer systems to stay protected in the event of hardware issues. Keeping those crucial files off-site ensures that they are safe at all times.
While free storage plans are available, those options are pretty limited when it comes to the amount of data you can store. You're often restricted to only a handful of gigabytes. Not only that, but security features may be lacking compared to paid alternatives.
Unlimited storage plans give you all the space you need. They can adapt to the needs of growing companies and will always have room for large files.
Types of Cloud Storage Services Available
Cloud storage is quickly becoming more widespread. To remain competitive and provide users with the features they need, cloud providers have begun to offer specialized services. While these types of services all work off of cloud-based storage, the core functions are quite distinct.
Traditional Cloud Storage
Traditional cloud storage is just that. It's a simple storage solution that can be used to keep virtually any type of file safe. Think of it as a cloud-based hard drive.
Standard storage plans are often viewed as a consumer-level product. Providers have apps and APIs to make accessing your files a breeze from any device. This service is great for individuals who are storing a wide variety of files that need to be accessible on the go.
Cloud Backup
Cloud backup services are typically used by businesses. Though, they can be useful for individuals as well. With these plans, your entire device is backed up. This means that every file, folder, setting, and program file is transferred over to the cloud servers.
If you ever encounter hardware or software issues, the backup will be there to restore your system to get you back up and running. Most online backup plans have features to automate the process, ensuring that you never forget to make copies of your files.
Cloud Sync
Cloud sync is, perhaps, one of the simplest forms of cloud storage available. Rather than saving your entire system onto the servers, individual files are backed up. Many service plans will start syncing the files any time a change is detected.
There's a good chance that you already have a cloud sync system set up. It's commonly used on mobile devices to save photos, sync contacts, or save calendar data across all devices.
Cloud Features to Consider
Like any other service, not all unlimited cloud storage solutions are made the same. The growing popularity of cloud computing has led to the rise of several service providers. Before you settle on just one, keep the following features in mind during your search.
Truly Unlimited Storage Space
It should go without saying, but it's important to make sure that you're actually getting unlimited storage. Check every detail of the plan you're interested in and read the fine print. You may find some caveats about the unlimited plans. For example, some providers put caps on individual file sizes. Others implement bandwidth limitations, which can affect how you use the service.
Fast Transfer Speeds
Cloud-based storage requires good Internet connection speeds to be successful. It's not like having a physical storage device connected to your computer with wires. Connection speeds can vary dramatically. Not only does your own Internet speeds affect the transfer rate, but so does the provider's features.
Check out the service provider's infrastructure if you can. Solid-state hard drives and up-to-date servers can improve connection speeds significantly. The better the provider's infrastructure, the quicker your upload speeds will be.
You can also look for speed-focused features. One such highlight is called block-level transfer. Instead of sending the entire file to the cloud, services with this particular feature will only send the parts of the file that have been saved. This can cut back on uploading time and bandwidth usage.
Security Features
Next, pay attention to the types of security systems used to keep your data safe. While providers will go to great lengths to prevent unwanted access and cyberattacks, there are no guarantees. Advances security protocols will decrease the likelihood of issues occurring.
Look out for good encryption techniques. Zero-knowledge encryption, 256-bit AES encryption, and end-to-end encryption are all good to have. Two-factor authentication and the ability to remove login information from devices remotely can be useful as well.
Apps and Accessibility
Finally, consider how you will access your files. Does the provider offer apps for Apple Mac and Microsoft Windows computers? What about mobile apps for Android and iOS? The answer to those questions can make or break an unlimited cloud service plan.
Most providers will have dedicated apps for a wide range of devices to make your data as accessible as possible. Even if an app isn't available, you may be able to access your files through a browser.
Beyond accessibility, it's good to see what types of sharing features are available. File sharing is great for large teams that want to collaborate on projects remotely. You can all make edits to files or work together in real-time. The ease-of-use helps to take the headache out of telecommunications.
Best Unlimited Cloud Storage Solutions
With pCloud, you get secure storage of your documents in the cloud without worrying about someone gaining access to private and confidential information. Unlike other cloud storage solutions that offer limited or basic encryption, pCloud offers the highest level of encryption available to ensure that you're satisfied with your storage options.
More than 10 million people use this cloud storage option on a daily basis. They like that they can choose between services designed for business owners and families. With a business plan, you can coordinate with coworkers and employees to make sure that everyone can access the same files and data. This even lets you work with employees who telecommute and work from home. With the family plan, you can share your cloud storage with up to four other family members. Both annual and lifetime plans are available too.
You also have the option of choosing premium packages with 500 GB to 2 TB of storage. Both can support up to the maximum amount of download traffic and use fair share, which lets you share folders with others. With link branding, you can customize your links to include meta descriptions, title tags and other information. When anyone downloads a link, they'll see your brand.
Though pCloud is a good choice, it does have some flaws. The packages a little expensive, even when you take advantage of the 65% discount. Some find that it's a little confusing to use too. You'll feel more comfortable once you use the storage a few times.
Key Features
– Annual and lifetime service packages
– Encryption on the client side
– Simple encryption and decryption options
– Up to 2 TB of storage
– Download link branding
IDrive – ( 5GB Free )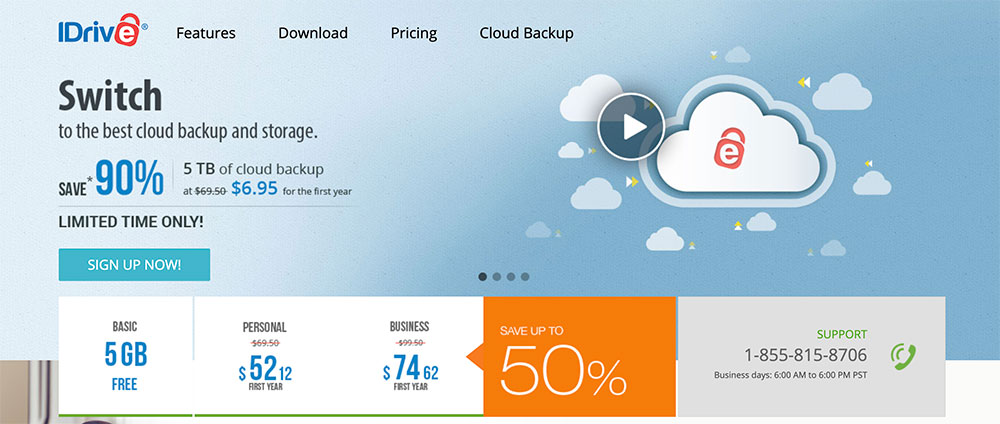 IDrive is an online backup and storage service provider. Rather than using a traditional subscription pricing model, IDrive offers a couple of different options. The personal plans come with a set allotment that you can use as you please. The same goes for the business plan. However, you can easily go over your allotment for an additional fee.
The fee is quite modest, making it a practical option for those who have a general idea of how much storage they'll need. If you ever use up more storage than you have, you'll simply pay for each gigabyte used.
One neat feature about IDrive is that you can create backups for all of your devices from one single place. You don't need multiple accounts to keep all of your systems protected. All you have to do is establish a connection through the app and initiate a backup. The apps are well-designed and easy to use.
Key Features:
Creates backups for multiple devices
Fees based on usage
Physical disk backup available
256-bit AES encryption
Intuitive app
Dropbox Business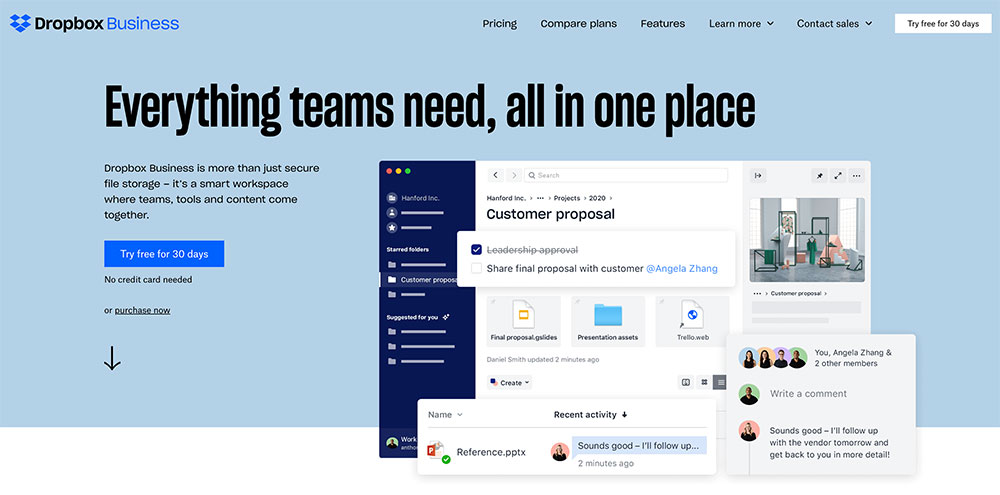 Dropbox is a name that's synonymous with cloud storage. While the provider wasn't the first to introduce cloud technology to the masses, it certainly is responsible for popularizing it. Dropbox Business offers two distinct unlimited plans catered towards small businesses. These include the "Advanced" and "Enterprise" plans.
For both of those service plans, you get truly unlimited online storage space. The unlimited plans combine several services into one. At its core, it's a traditional cloud storage plan where you can save work documents, media files, and more. However, it also includes the Smart Sync feature, which allows you to select individual files for automatic backups.
From a performance standpoint, Dropbox Business does a decent job across the board. Connections speeds are fast and reliable compared to some other providers out there. It also helps that the service uses block-level transfer technology to speed things up.
Dropbox did have a major data breach early on in the company's history. While this was bad news then, the provider has since used that experience to strengthen their infrastructure. Multiple forms of encryption are used to keep all of your data away from prying eyes.
Key Features:
Two unlimited business plans available
Block-level transfer
Smart Sync feature
256-bit AES encryption
Two-factor authentication
User-friendly apps and browser API
Flexible collaboration features
OpenDrive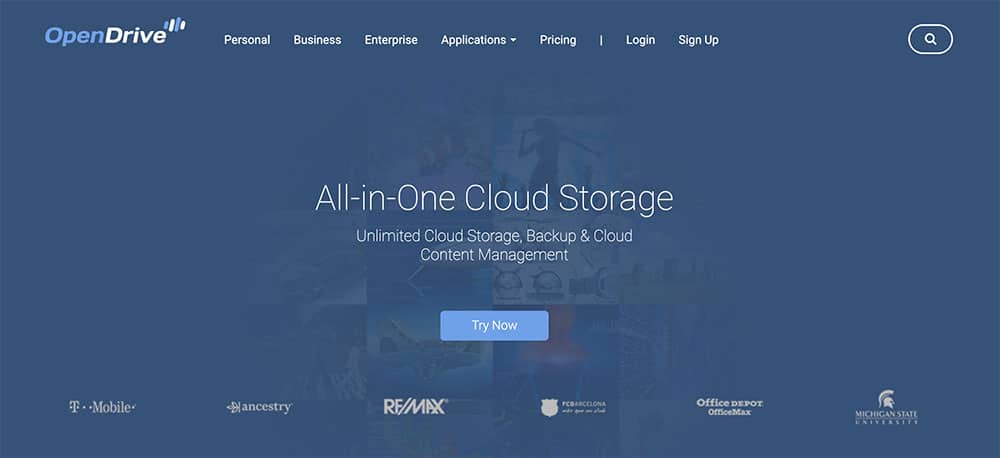 OpenDrive offers some unique unlimited storage options to meet anyone's needs. This provider is one of only a few cloud companies to offer unlimited storage space on a personal plan. Furthermore, the personal plan can be shared among four different users. The primary account holder is responsible for granting file-sharing access.
In addition the personal plan, OpenDrive has a business plan. The only difference between the business plan and the personal one is that it's a white-label service. It comes with custom branding and the option to get your account managed by a professional.
Finally, reseller plans are available. With this service plan, you can customize the resources you use to create and sell storage packages for others.
OpenDrive offers some decent security features. One thing that stands out most about this provider is that they allow you to choose between managed and private encryption. If you want the most privacy possible, you can go with private encryption so that OpenDrive doesn't have control over your key.
Key Features:
Multiple unlimited plans
Flexible encryption options
Reseller plans available
Backup and file sync service
Easy-to-use collaboration system
Box

Box has a selection of unlimited business plans that can serve organizations of any size. In fact, the provider touts its client base of several Fortune 500 companies. The two primary plans include "Business" and "Business Plus." The highest unlimited option, called "Enterprise," is a custom solution that's catered to your needs.
While there is no limit to how many files you can upload to the Box cloud server, there are restrictions on file sizes. You can only upload files that are 5 GB in size or smaller.
The good news is that these restrictions do keep the connection speeds relatively fast. Box doesn't so block-level transfers. But, there is a feature called Selective Sync. It allows you to select which files get backed up.
Otherwise, utilizing the backup service is as simple as moving all of your important files to one folder. Installing the desktop client generates a single folder that automatically syncs with the cloud. You can create smaller folders within this universal location to keep your data organized.
Key Features:
Three unlimited plans
Selective Sync feature
Simple backup solution
Simple apps and browser client
Strong encryption techniques
Backblaze B2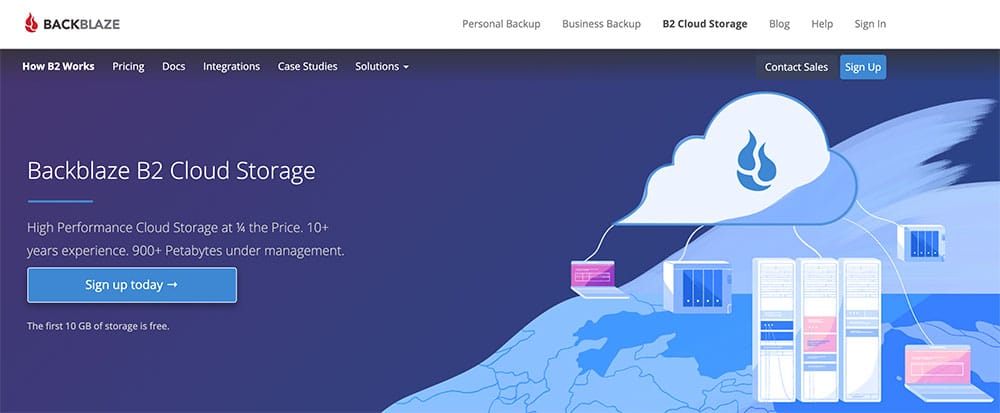 Backblaze B2 is not like a traditional cloud service provider. This company is an Infrastructure-as-a-Service provider. This means that they sell resources for you to use for your business. It's a unique alternative to standard cloud storage and offers plenty of flexibility to do the things you need to do.
Because the provider is selling infrastructure instead of storage, you can use the resources how you want. It's great for creating backups, hosting large files, and much more. There are no strict limits on file types or sizes. Best of all, it's incredibly affordable.
When you sign up, you get 10 GB of free cloud storage. After that, you're only charged half a cent for every gigabyte of storage space you use. Downloads are priced a bit differently at $0.004 per 10,000 downloads.
Key Features:
Affordable
IaaS provider
Scalable
AWS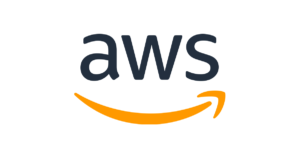 AWS, or Amazon Web Services, is ideal for those who only want to pay for what they use. The cloud storage plans are charged based on the amount of space you use up, effectively making all plans unlimited. When it comes to pricing, AWS is relatively affordable. A single gigabyte costs less than half a cent per month.
Amazon takes security very seriously. The AWS cloud storage service is no different. Data is encrypted using Transport Layer Security while its traveling to or from the data center. Once it's at the server, all of your files are encrypted as well. However, AWS uses customer-controlled encryption in the server. This provides you with greater control over how your data is stored, managed, and protected.
Key Features:
Pay-as-you-go pricing
Free plan available
Scalable
Multi-factor authentication
TLS encryption
Carbonite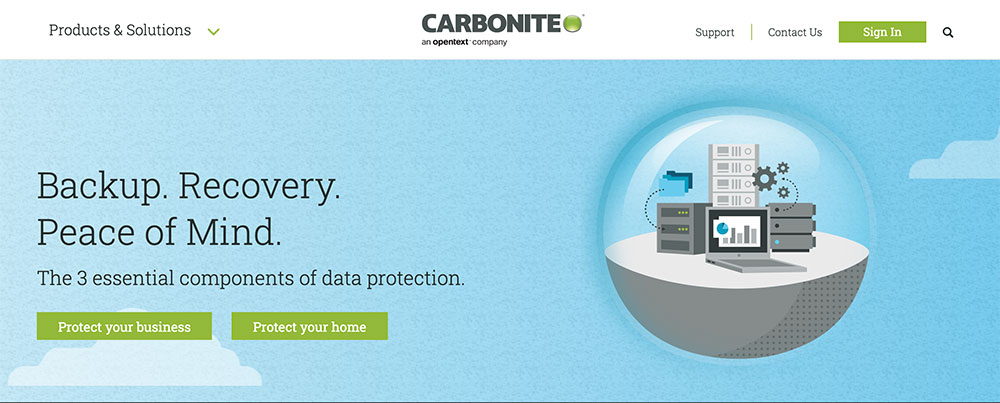 Carbonite offers an affordable backup solution for single-computer systems. The personal plan gives you unlimited storage for one device. There are no limits to the number or size of files saved. However, you cannot combine devices or store files traditionally.
The entire service is run by an app. It's available for Mac and Windows computers. You can also backup external hard drives. Once you have everything installed, you can set up your automatic backups in just a few clicks. Saved files can be accessed through a browser on any Internet-capable device.
Advanced security features are used from the jump. They are specifically designed to avoid man-in-the-middle attacks, ransomware, and other potential security threats.
Key Features:
Easy to install and configure
Backups run automatically
Unlimited storage for one computer
Advanced encryption
Files can be recovered from any device
LiveDrive

If you go with LiveDrive, you have a few different plans to choose from. We recommend the personal plan. It's built to serve individual users rather than businesses. The provider designed the service to be as simple and streamlined as possible.
Once you have initiated the automatic backup system, you can start accessing your files from any device. LiveDrive mobile apps are intuitive and well-designed. One LiveDrivefeature that stands out is Simple Restore. It's a quick and easy restoration system that uses the backed-up filed to get your system up and running. There are no complicated hurdles to get through. Just load up the software client and press a few buttons to start the process.
Key Features:
Catered towards individual users
TLS encryption
Business plans available
Simple mobile apps
Remote file access
Rackspace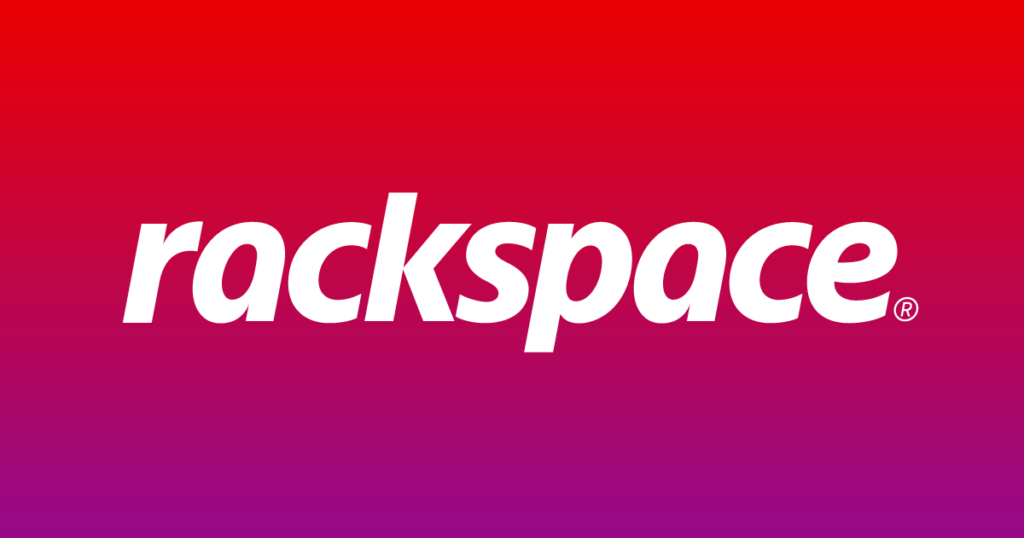 Rackspace Cloud Files is another Infrastructure-as-a-Service provider. Unlike some of the other IaaS options in this guide, Rackspace is completely customizable to meet your needs and preferred workflow. You can't access the cloud right out of the gate. First, you must use a compatible third-party platform.
Even then, you still need an API key to access the files. This has its advantages and disadvantages. On one hand, the sheer openness of Rackspace makes it difficult for others to gain unauthorized access. You can set up the security features how you want.
On the other hand, the service is far too complex for novice users. It requires a lot of configuration to work properly. If you're not familiar with cloud technology, you may fair better with a simpler alternative.
Key Features:
IaaS provider
Requires third-party software to use
Fast connection speeds
Pay for the resources you use
Customizable security
The following two tabs change content below.
Jamie Spencer
My name is Jamie Spencer and I have spent the past 10 years building money making blogs. After growing tired of the 9-5, commuting and never seeing my family I decided that I wanted to make some changes and launched my first blog. Since then I have launched lots of successful niche blogs and after selling my survivalist blog I decided to teach other people how to do the same.
Latest posts by Jamie Spencer (see all)