When it comes to email marketing software, Mailchimp has established itself as an industry renowned provider. With any marketing software sector, there will always be a stand out provider. Mailchimp is that provider when it comes to email marketing software.
With a large user base of small and medium sized businesses, Mailchimp also offers a pro version with additional features that larger organizations may desire. Thus, it has scalability factor. The software is so popular that it recently announced sending over one (1) billion emails on a recent Black Friday – – arguably the biggest shopping day of the year in the U.S. Part of its popularity lies in its ease of use and its inclusion of a number of the features already discussed above.
However, just as in life, the same is true for email marketing software in one size does not fit all. So if you are considering an email marketing software package without the monkey, then the following email marketing applications are worth considering as MailChimp alternatives.
GetResponse, like Mailchimp, offers more than just email automation. It is really a full marketing automation platform. In addition to being able to create an email marketing campaign, GetResponse offers a number of features and tools to assist in your overall marketing outreach.
With GetResponse, you get abundant flexibility with how you do your emails, what they look like and what they will be used for. The ability to send scheduled emails offers you the ability to optimize the timing of their delivery so that the likelihood of their effectiveness is increased. In addition to delivery tools like these, you get access to additional features, such as drag-and-drop email editing, autoresponders, email segmentation, A/B testing, campaign analytics, web form generation and numerous others in order to make your email outreach be as effective as possible. It even has a feature to measure and make sure your emails are not being identified as spam.
GetResponse also integrates in with other elements of your MA software, CRM or overall marketing outreach. A nice feature of GetResponse allows you to host your own webinars and then use the email features to manage the sign-up, invitations and webinar appointment time reminders. With the CRM tie-in, if your business already has a CRM application in place, then GetResponse easily integrates with that software to offer enhanced marketing focused information technology (IT). There is even API integration if you are comfortable with that level of IT development.
All-in-all, GetResponse offers a powerful platform for email marketing. It can also go much bigger with its efforts in your overall marketing efforts and act as a full-service MA package. Easy-to-use, GetResponse allows you to scale as to how big or how small you want your efforts to be with the abundant features that it offers.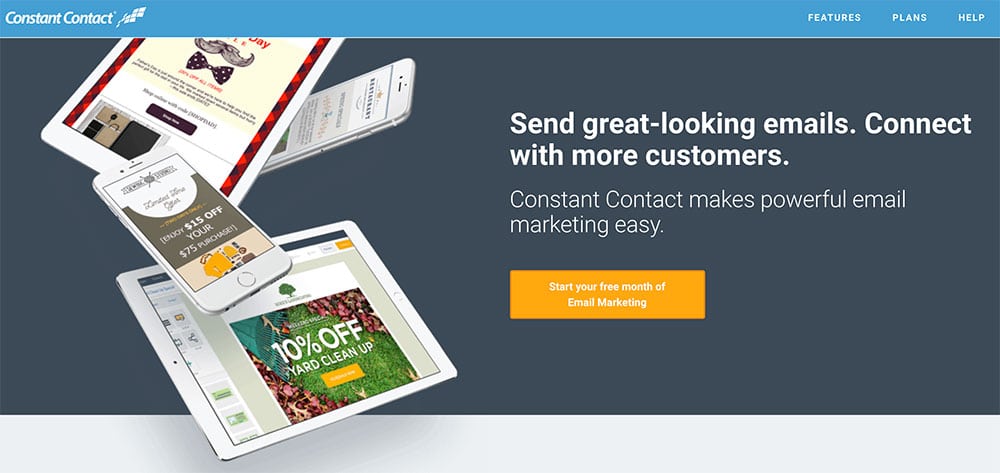 Like Mailchimp, Constant Contact is a premiere and very popular email marketing software platform. You get all the 'bells and whistles' to make the feature rich platform maximize your marketing efforts. Email campaigns also benefit from years of experience in providing this service with Constant Contact having been in business since 1995. Their focus is on email marketing and not as an MA platform, but they do have a large swath of integration available with other platforms like Shopify, Facebook, PayPal and others. Additionally, sync your contacts for emailing with tools such as Excel, Outlook, Gmail and others. API development is available for additional integration and web services (like REST).
Constant Contact has the features to help you create and run successful campaigns. Drag-and-drop editing, a wide array of templates, email list segmentation, A/B testing and many more enable you to effectively tailor your message to potential customers and other intended recipients. Make further use of emailing with coupons, deals, surveys, etc. from within the platform as specially designed and offered features. Deep data is available to provide deep analytics and reporting on elements of your marketing efforts from the success of campaigns down to individual recipient data and demographics, like the time of opening an email.
Constant Contact has consistently been a go-to company in the email marketing segment of the IT industry. With a long operating history and good customer reviews, Constant Contact is definitely a source to consider for your email marketing efforts. You may, however, need to do some additional work to tie-in with your CRM or other MA software, but all the tools to do so are readily available.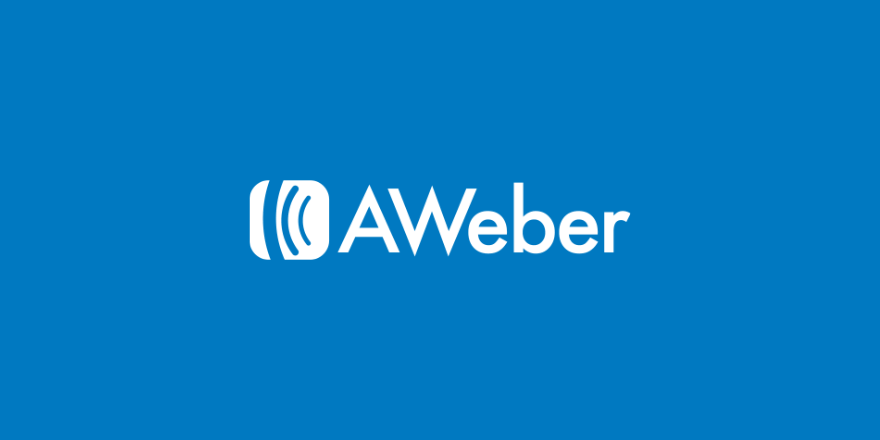 AWeber offers a feature rich email marketing tool for your outreach efforts. With a global, small business base of customers, it has positioned itself as a direct competitor of MailChimp. AWeber has been in existence since 1998, which is a long time for a technology company, and as of 2014, it had over 120,000 customers. That says a lot about its ability to deliver for its customers – – no pun intended!
With AWeber, you get a wealth of rich features to help in your marketing efforts. Drill-down data provides the basis for deep analytics. Things like being able to build an email with a drag-and-drop editor, sending that email with tools to help it avoid the recipient's spam folder, knowing the time of day the recipient clicks open the email, whether they click on any links in the email, where they then browse on the website and suggestions on the most appropriate time to follow-up and how are all ways that this platform helps you make a successful marketing operation occur. They also offer nice integration with other platforms, like PayPal, WordPress, Facebook and GoToWebinar.
Available features also include workflows to target and track recipient experience, split testing and RSS sending directly to email. Another nice feature offered is, whereas most other platforms limit the number of emails you can send per month (or charge more the more you want to send), you get the ability to send unlimited emails with AWeber. That can be a big savings to any marketing budget.
4. Sparkpost
Sparkpost is another direct competitor of Mailchimp. Like Mailchimp, Sparkpost offers a lot of dynamic and robust email marketing features that tie-in to an overall MA software strategy. You can do a full-fledged email campaign and integrate that campaign across other functional areas of your marketing outreach. Even though Sparkpost was founded in only 2014, it boasts a number of larger companies as its clients, like Pinterest, LinkedIn, PayPal, Groupon, Twitter, Zillow and quite a few others. The website also says that it sends 37% of the world's B2C emails too. Thus, it is quite a major force in the email marketing realm.
Sparkpost allows you to use a wealth of features in order to develop and use customized emails for your outreach and follow-up processing. From fully customizable templates, you build the HTML and text mock-ups of what you want your email message to look like and say. Sparkpost dedicates a significant amount of resources to help optimize deliverability of the emails once composed and offers a lot of detailed analytics and processing to help maximize any email marketing outreach. Features such as autoresponders, segmentation, A/B testing and many others are available in addition to the analytics.
They also offer the ability to do customization through development (i.e., coding). But this may be a little bit too much beyond the simplicity of drag-and-drop abilities for some, and drag-and-drop is not featured like some of the other providers.
The composition of the Sparkpost platform offers excellent performance and deliverability aspects. This software platform is focused on making sure that the emails are delivered, and timely. Through its dashboard you gain insight into powerful analytics covering email bounces, acceptances, rejections, delays, engagements and any associated email messaging events. The platform also does a nice job of managing email related activities such as sending out activation emails, onboarding, user invites/sharing, two factor authentication, product updates, password resets and activity notifications.
You can also use the software to do mobile pushes and SMS messaging. However, Sparkpost is a full-throttled email marketing package and not as much of a one-stop shop for all of your MA software needs. There are also extensive integration for customization and development with the API offered as well.
It is hard to argue with the abilities offered by Sparkpost when it comes to email marketing. Otherwise, so many titans of industry would not be using it as their preferred email campaign tool. The strength of Sparkpost lies in the deep dedication to making sure that your email campaigns are successful, both from a technical side (including delivery) and the deep analytics associated with the campaign to ensure that they are done right.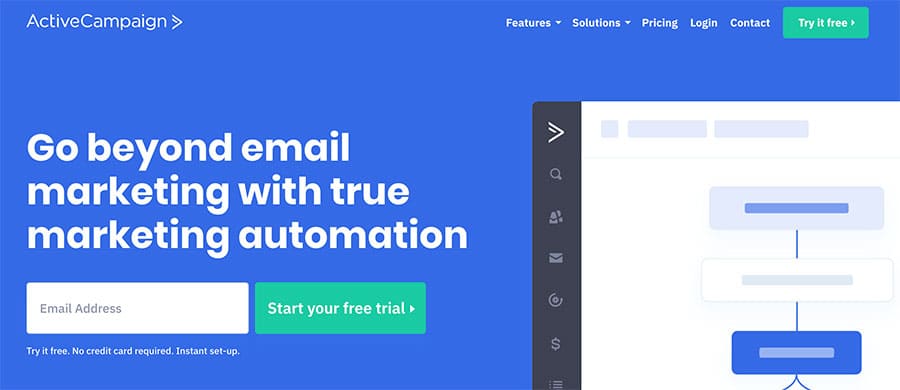 ActiveCampaign strive to keep your business active with a lot of features that lend to its abilities as a complete MA software package and not just for email marketing. The choice of Fortune 500 companies to small businesses, ActiveCampaign offers ease and simplicity to make your marketing efforts work seamlessly across its platform. Its platform includes an email marketing component, a marketing automation section, a fully functional CRM and direct site engagement messaging.
In terms of the email marketing features, you are not at a loss to do great things with your emails when using ActiveCampaign. Offering the ability to do things such as A/B email testing, lead scoring, automated campaigns (including with workflows), segmentation, engagement tracking and site messaging means that you have the tools to run a successful email campaign. How would you know?
The analytics are available for reporting to make sure that the campaign is successful and help point out wherever 'tweaking' is needed. Emails are also integrated into the CRM activities so that your pipelines/funnels are optimized, contacts are made relevant, deal updates are timely and follow-up messaging is well received.
ActiveCampaign offers one-stop shopping for your marketing, customer and outreach efforts. It is easy to see why so many successful companies in the Fortune 500 would choose this platform, but just as understandable, why so many smaller businesses would trust their marketing department to this platform. The integration across its suite of products makes it easy to get thing done in a meaningful and effective way.
With MailChimp, a significant portion of its customers are small and medium-sized businesses. When larger enterprises seek an alternative, Maropost is one of the platforms that they choose. Maropost, through the Maropost Marketing Cloud, allows your business to automate its email marketing campaign, personalize the message to make it more effective, orchestrate your outreach across multiple platforms (e.g., email, web, mobile and social media), produce real-time analytics and capture important lead data and demographics.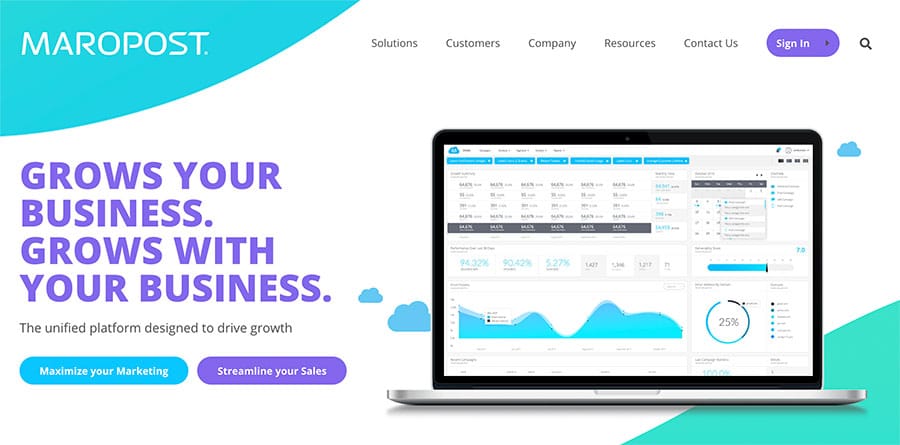 Maropost offers in-depth functionality in order to build a successful email marketing campaign. 'Your choice' style of building the emails themselves include a drag-and-drop editor, what you see is what you get functionality (WYSIWIG) takes the guesswork out what the email will look like once sent, workflows that are event driven based on user behaviors, segmentation and delivery scheduling are just a few of the things that make this platform deliver – – no pun intended. With its A/B testing, you can 'drill-down' to a granular level and go beyond just generic A/B analysis.
Maropost allows you to look at multivariate elements of the testing and adjust things like the subject line and send time, even for the same email outreach itself. This granular view is a part of the larger capabilities offered for deep and in-depth analytics designed to keep you in contact and truly 'in-touch' with your target audience/customers.
It is easy to see why Maropost is amongst email marketers' favorites when it comes to getting those emails out. Going well beyond just delivery, Maropost offers the tools and features needed to have successful audience engagement designed to lead to potential customers becoming actual customers, as well as retention of this consumer base for future transactions. Maropost lacked an API interface though.
This type of interface would make it easier if you wanted to do your own development along the powerful Maropost features or the integration of Maropost with your existing, non-Maropost CRM or other data platforms. New features are mentioned on the website as becoming available soon though.
Adobe is one of the premiere software companies out there. You have probably dealt with an Adobe product on some level. Whether it is Adobe Acrobat or Flash, or one of its many other software offerings, Adobe has a pulse on the products needed within computing environments. Hence, their email marketing offering is part of a larger MA offering. Adobe Campaign is typically embraced by mid-sized to larger entities and using this software offers the opportunities to access some enterprise level features for successful marketing outreach.
Adobe emphasizes the ability of its MA package to make an impact both online and offline for a business, and Campaign is integrated across other Adobe products in order to maximize its effectiveness.

An in-depth array of features matches the same or similar components you would find with Mailchimp, plus some additional options. Adobe focuses on multi-channel marketing (i.e., email, web, social, etc.) in order to be successful with your campaign. A/B testing, segmentation, deep analytics, potential lead profiles and others are all ways that Adobe tailors its features to yield success in your marketing campaign.
Cross coordination across its suite of products only enhances the performance of Campaign in yielding great marketing results. Packages like Adobe Analytics, PhotoShop, Illustrator and others means that you have some powerful digital and media software at your (marketing) disposal.
Adobe Campaign offers the features and comprehensiveness to make your marketing outreach efforts a success. Within Campaign, and across the other Adobe packages, there are many tools to help in your marketing efforts. Mainly mid-sized and larger businesses use Adobe Campaign, so smaller business sometimes wonder if the price-tag associated with all of its features are appropriate for them, or their marketing budget.
8. Omnisend
Whether you use Shopify, WooCommerce, or one of the many available stack integrations, Omnisend is one of the best MailChimp alternatives out there. It's a multi-channel marketing platform that helps you drive sales through automation. In addition, the software seamlessly integrates with many eCommerce platforms, which eliminates confusion during the setup process.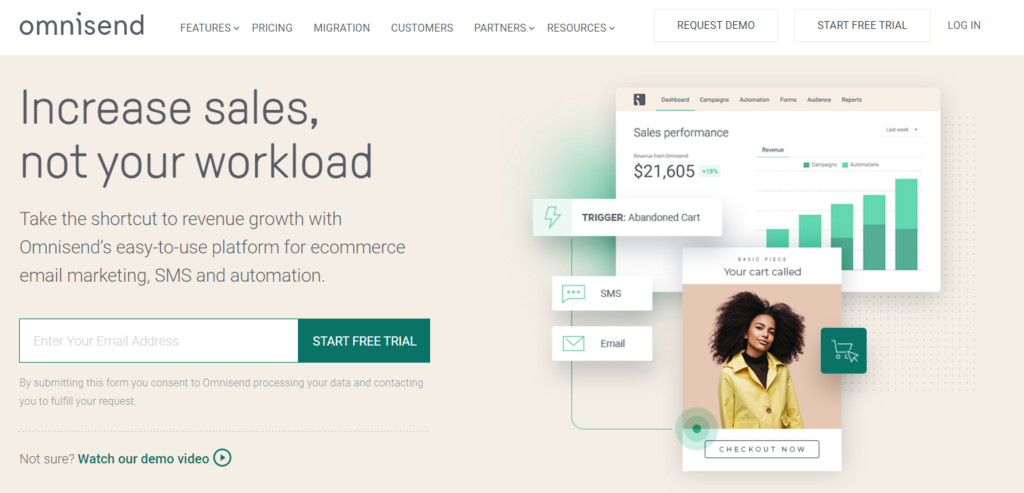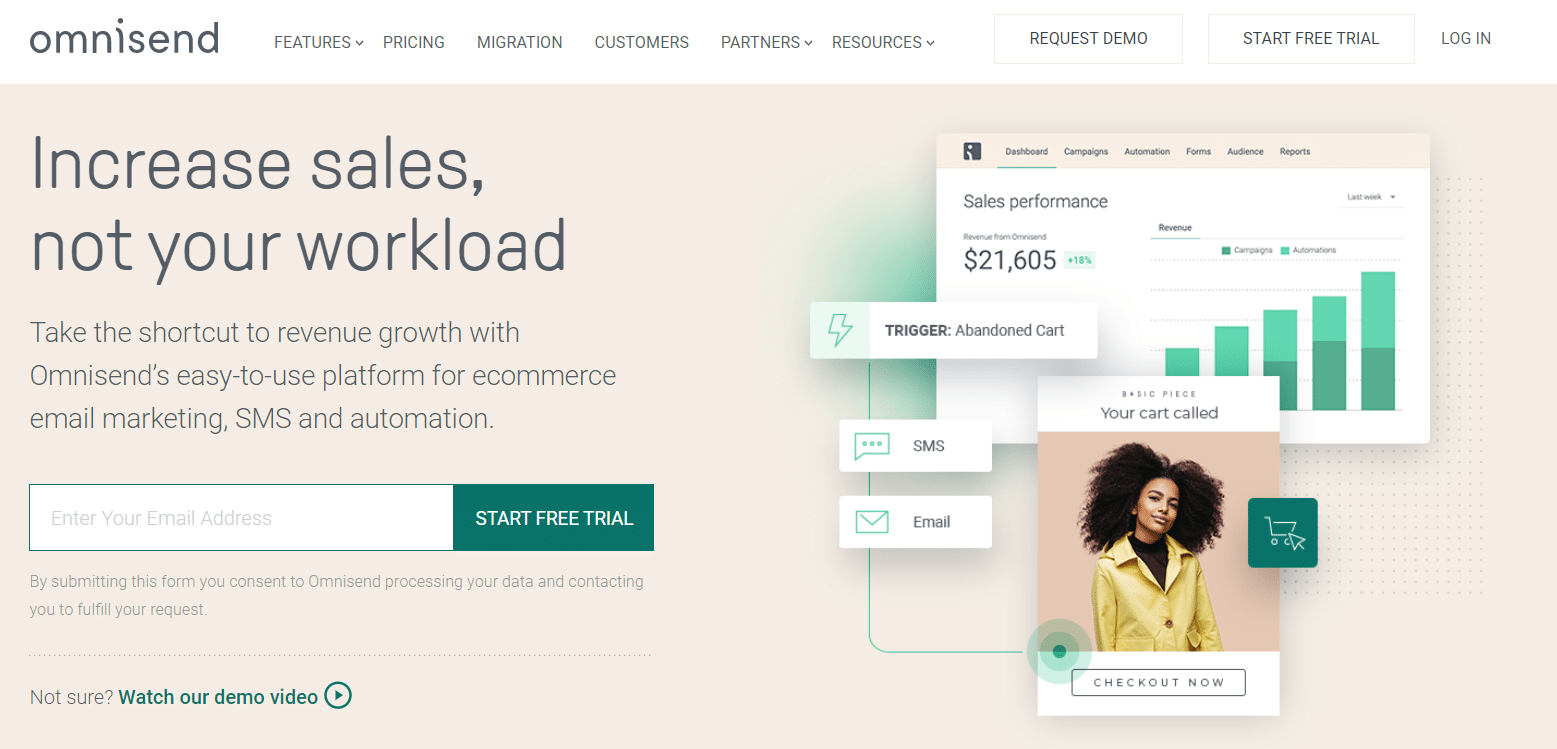 In terms of usability, Omnisend is one of the best. The interface is clean and straightforward, making it accessible regardless of your experience level with email marketing software. Not only that, but Omnisend has numerous pre-built options and email templates to get you started. Of course, an email builder and landing page builder are available for those looking to take a more hands-on approach.
The unique thing about Omnisend is that it doesn't just rely on simple emails that go out to all of your email subscribers. Instead, complex algorithms segment your customers based on their behaviors. As a result, your audience receives personalized messages that cater to their needs. For example, Omnisend can generate emails for cart abandonment, completed transactions, and more. There are also options to produce SMS messages, social media messages, push notifications, and pop-ups.
More colorful ways of communication are available, too. These include interactive scratch cards and gift boxes that help to maximize conversion.
Omnisend has a range of plans. The most affordable is the free plan. It comes with a set of core features and has a limitation of 15,000 emails per month. To take advantage of the more robust options, you'll need to upgrade to one of the paid plans. Fortunately, there are tiers for small businesses, larger enterprises, and everything in between.
9. SendinBlue
Sendinblue is an email marketing solution that aims to become your one-stop shop for all things customer relations. This service provider is still relatively new to the scene compared to competitors like MailChimp and HubSpot. However, the Paris-based company offers a wealth of features that continue to help businesses big and small.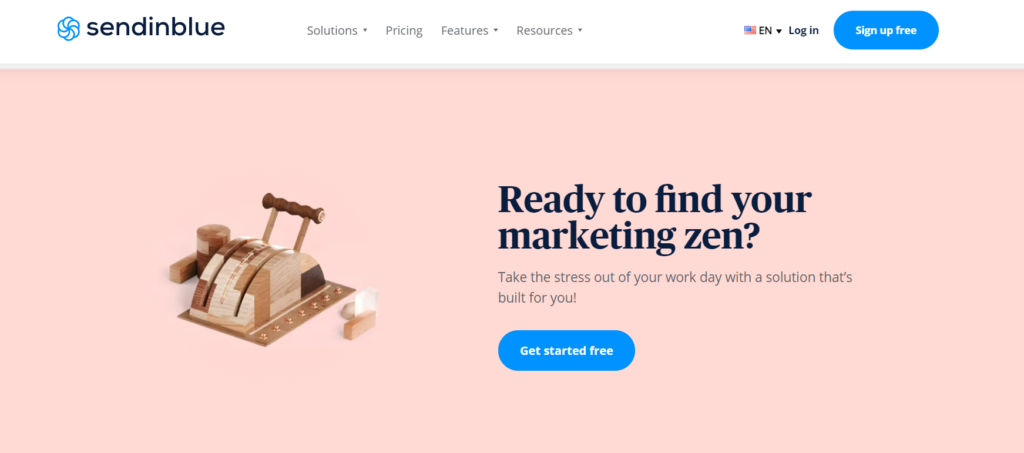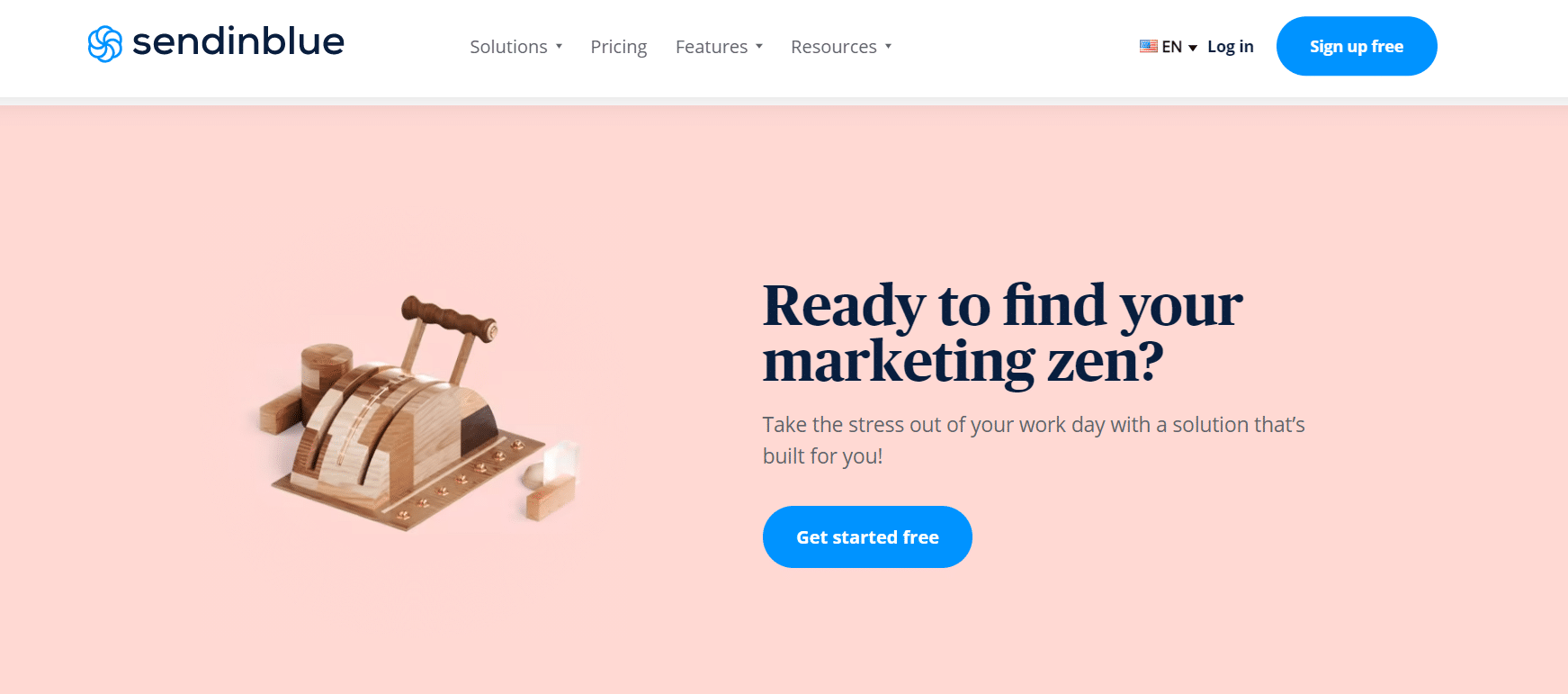 Like many email marketing service providers, Sendinblue offers advanced automation systems. Email marketing automation is the name of the game these days, and Sendinblue makes it easier than ever! Craft the perfect newsletters for all of your subscribers. Or, use the advanced segmentation features to add a touch of personalization. You have a wide range of tools at your disposal to help you work smarter and more efficiently.
Sendinblue is so much more than just an email builder. It's a platform that helps you communicate with your customers in a streamlined and impactful way. Use the instant chat system to answer customer questions on the fly. Then, set up transactional emails, cart abandonment messages, and more. Sendinblue even has features that are designed to turn casual visitors into paying customers. The platform helps you create eye-catching landing pages, subscriber signup forms, and more. You can even launch targeted Facebook ads to increase conversion rates.
As a whole, Sendinblue has a lot to offer. Whether you have a history of exhaustive marketing campaigns or you're looking to take your business to the next level, Sendinblue has the tools to generate leads and increase sales. Advanced testing tools and some handy eCommerce integration make your email pushes more effective than ever. The standard plan starts at an affordable rate and goes up based on your needs. For those just getting started, Sendinblue also has a free email plan with no limit on the number of subscribers you can have.
10. Moosend
Launched in 2011, Moosend is an all-in-one marketing service provider that many consider one of the best MailChimp alternatives around. It's a versatile marketing platform that caters to businesses of all sizes. From small startups with only a handful of subscribers to large enterprises with thousands of adoring customers, Moosend has a lot to offer any company.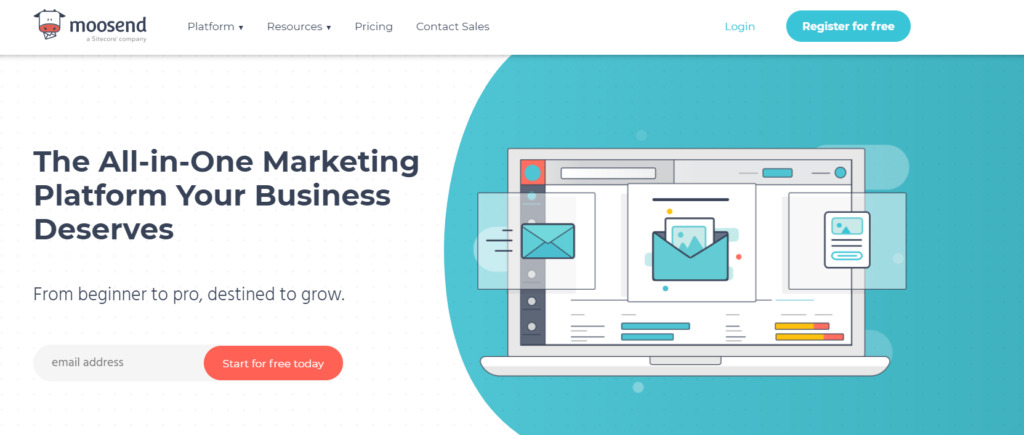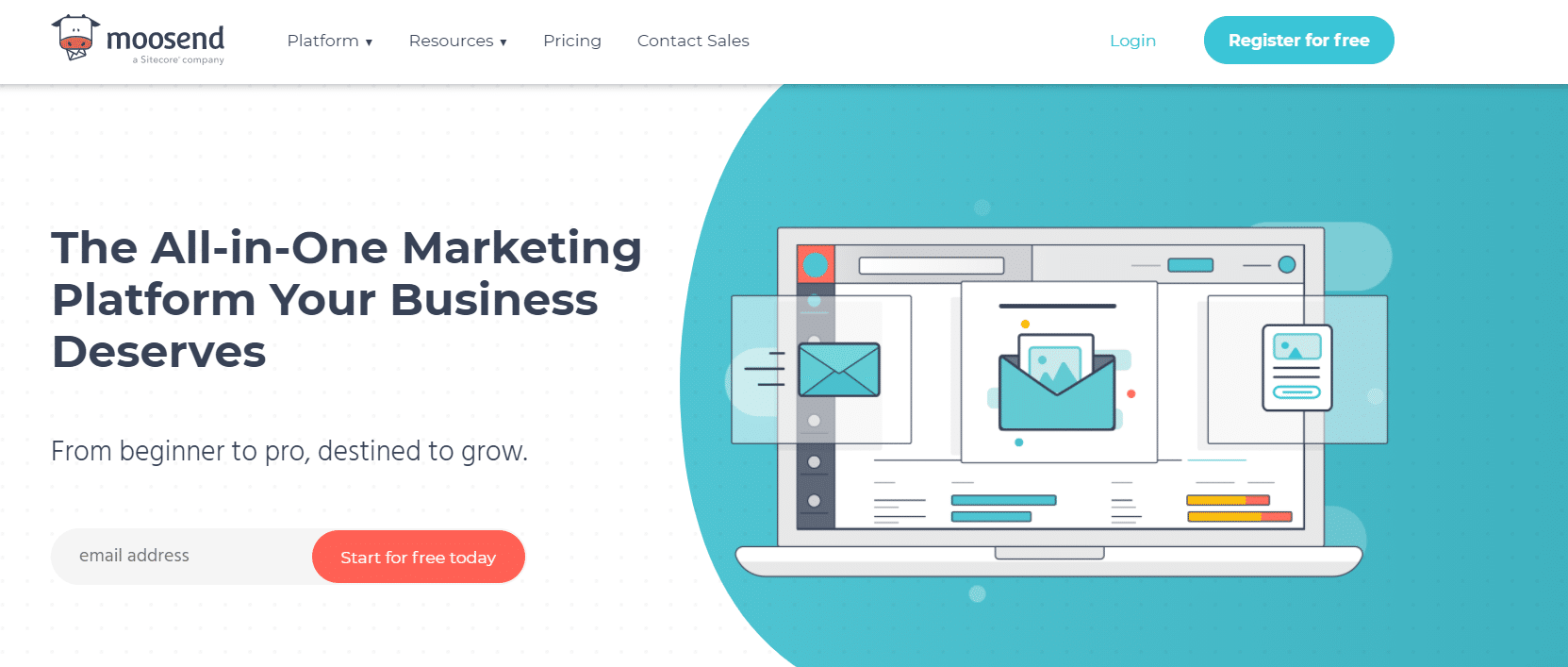 Moosend shines when it comes to automation. The list management features are impressive and flexible. A drag-and-drop automation editor helps you fine-tune your email efforts and personalize messages based on your audience's behaviors. It's not a simple email blaster. User tracking, real-time analytics, open rates, and tons of in-depth data make it easy to segment your audience based on their needs.
From there, crafting the perfect email is as simple as making a few clicks. Use one of the many beautifully designed templates. With some drag-and-drop moves, you can integrate everything from product recommendations to cart reminders.
Moosend also has advanced landing page features to generate leads from the jump. The landing page builder offers blazing-fast load speeds and many opt-in features for visitors. Add signup forms, enticing pop-ups, and user-friendly links to your online store.
There's no denying that Moosend is a worthy competitor to MailChimp. The platform has a slew of email marketing tools that make reaching your audience a cinch. Moosend's Free Forever plan is one of the best in the business. While limited to 1000 subscribers, it provides access to the core Moosend features. The Pro plan includes landing page features, more robust support, and more. Moosend also has custom plans for larger enterprises.
11. MailerLite
Want powerful email marketing features without all of the unnecessary fluff? If so, MailerLite is the way to go. This email marketing platform offers an award-winning service that prioritizes simplicity and efficiency. Make no mistake: Simplicity doesn't mean a lack of advanced features. MailerLite has all the robust features to stand next to MailChimp and other industry heavyweights!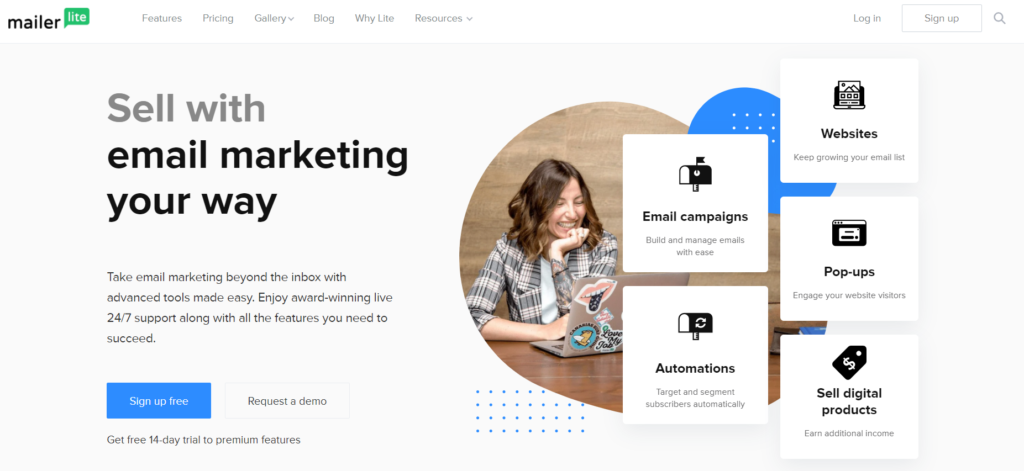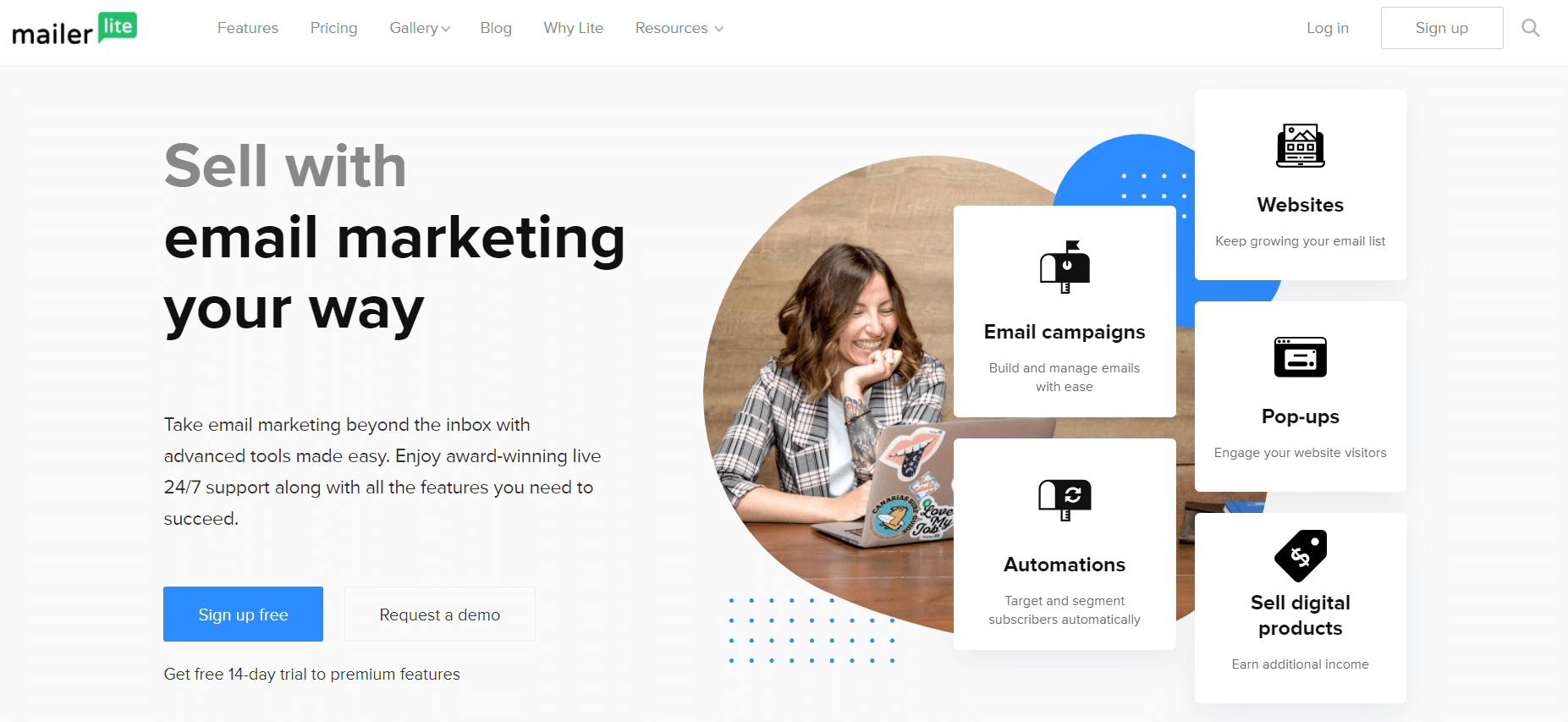 You can build and manage email campaigns from a single source. The campaign monitor makes it easy to keep track of current marketing efforts while also helping you optimize your content for better conversion. MailerLite has impressive testing systems to make the most of your marketing push. These include A/B testing, surveys, and more.
Like most email marketing providers, MailerLite has automation plugins to create personalized messages. The automation features are highly targeted. Depending on your settings, it can segment your customers based on activity, overall engagement, previous purchase history, and more. As always, the automation tools are customizable to meet your needs.
One of the most impressive aspects of MailerLite is the email editor. These days, standard text emails don't do much to attract potential customers. Luckily, MailerLite helps you create dynamic emails that pack a punch. Use the rich-text editor, implement custom HTML, and more. Alternatively, you can customize templates or use the drag-and-drop editor for full control.
MailerLite makes email marketing simple. The features are comprehensive and flexible. Whether you're looking to send email newsletters to all of your subscribers or you want more personalized messages for conversion optimization, MailerLite has the tools to help.
12. Mailjet
MailJet is one of the best MailChimp alternatives for companies looking to send transactional emails. While MailJet can handle many of the same tasks as other email marketing providers, this platform's technology is nothing short of impressive.
With MailJet, you can build transactional emails directly into your web or mobile app. It doesn't matter what eCommerce platforms you use. The email API is adaptable.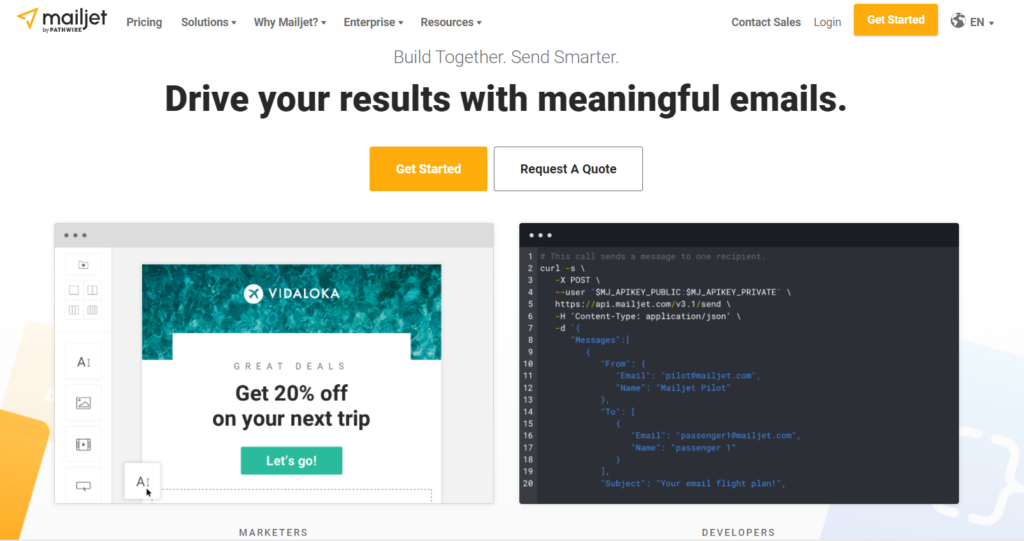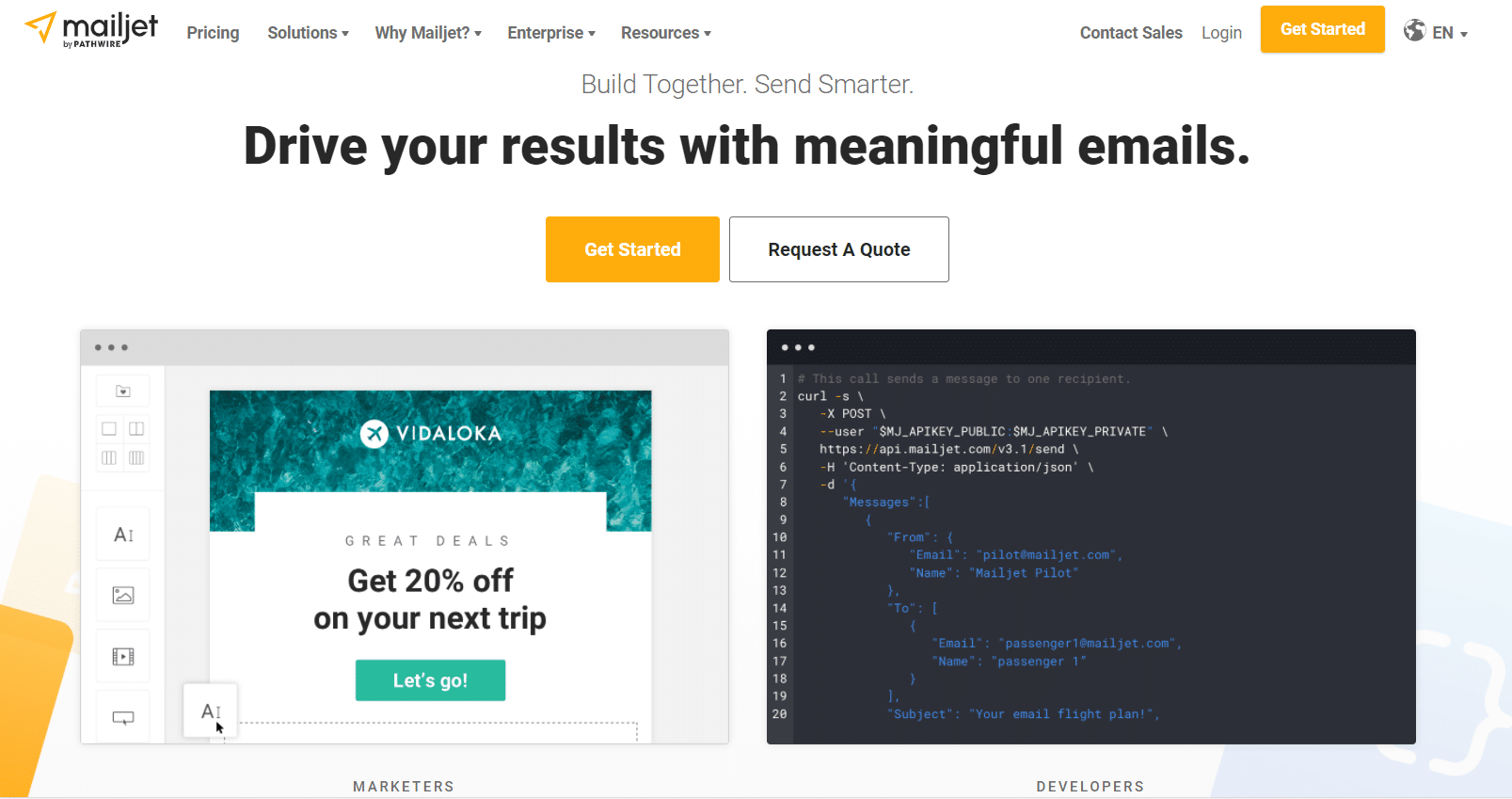 Best of all, it automates the entire process. Once it's set up, the API will take the reigns to send invoice notices, upgrade confirmations, receipts, and so much more. You also have the choice to take advantage of SMS marketing. While that does come with added costs, it can make a huge impact on both existing customers and potential clients.
Of course, MailJet the process of building emails is easy. The integrated email builder is feature-rich, allowing you to create dynamic messages that leave a lasting impression. Best of all, however, is the ability to work as a team. Members of your marketing and development team can collaborate in real-time. A convenient messages and editing system fosters back-and-forth cooperation no matter how many people are working on a campaign.
MailJet offers several plans to meet your needs. The free plan lets you send 6,000 emails per month without paying a dime. However, emails will have MailJet branding. Basic and Premium plan options remove the branding and include more robust automation systems. Of course, custom pricing plans are available to large companies. The MailJet enterprise service is infinitely scalable and comes with personalized customer support.
13. Zoho
Zoho is a multinational company that offers many different services. Email marketing is just one of them! The marketing platform is referred to as "Zoho Campaigns."
Like MailChimp, Zoho is designed to provide contextual marketing through the use of automation. Establish an automation workflow to deliver the right messages at the right time. Everything is personalized and easy to customize to your needs.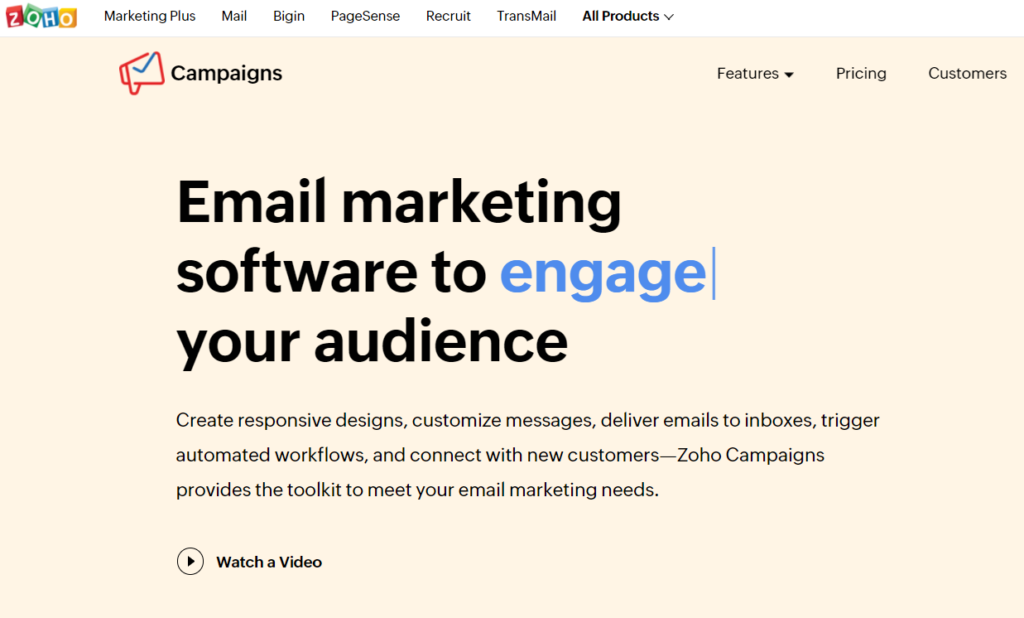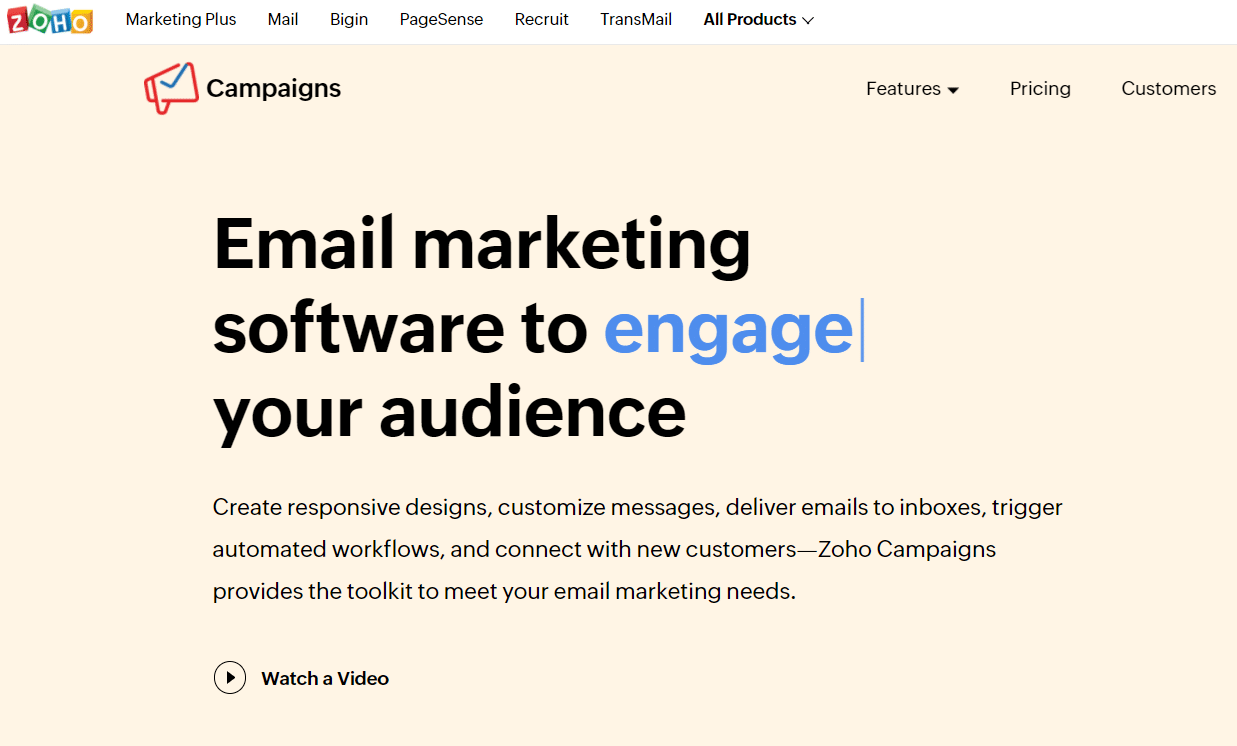 The email builder is feature-rich and easy to use. Dive into the details with HTML coding or use the drag-and-drop system. The choice is yours. Zoho Campaigns allows for interactive elements. You can add polls, moving GIFs, videos, and more to engage your audience and add a touch of interactive communication. Of course, A/B testing is available to ensure that each message makes the impact you're going for.
Zoho's strongest features have to do with automation. Automated workflows are nothing new in the world of modern email marketing. However, Zoho takes things a step further to engage leads and nurture potential sales. One way the service provider does this is through contact tracing. See where every person on your list is in the nurturing process and deliver custom emails to move things along. You can also establish a drip email series to provide engagement at every stage.
Zoho Campaigns is all about optimization and efficiency. Instead of blasting hundreds of emails, find the right cadence to keep the interest high without becoming overwhelming. Zoho's analytics tools let you monitor progress along the way so that you can make changes that benefit your online store.
14. Drip
Drip isn't just an email marketing provider like other MailChimp competitors. It's a CRM platform that utilizes email marketing as one of its core pillars for lead nurturing. The service Drip provides aims to turn one-time shoppers and potential leads into repeat customers. To date, Drip has reportedly helped marketers gain over $1 billion in revenue!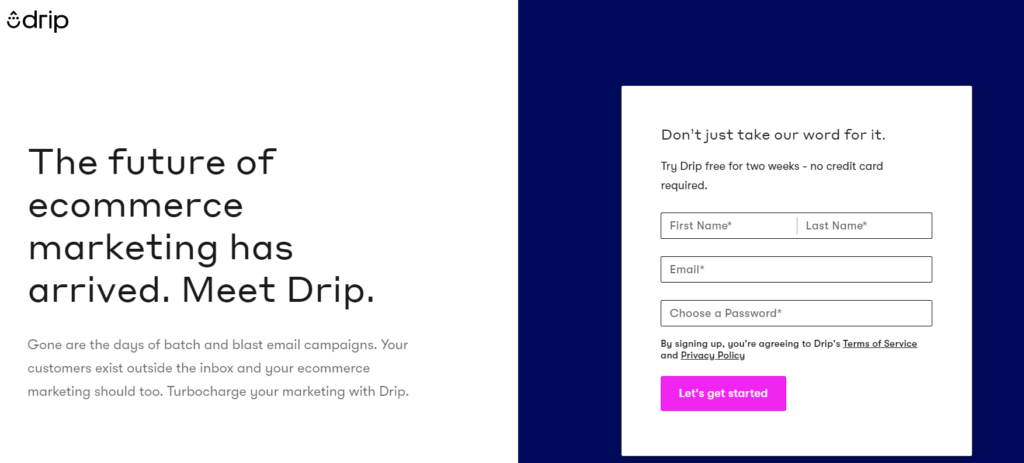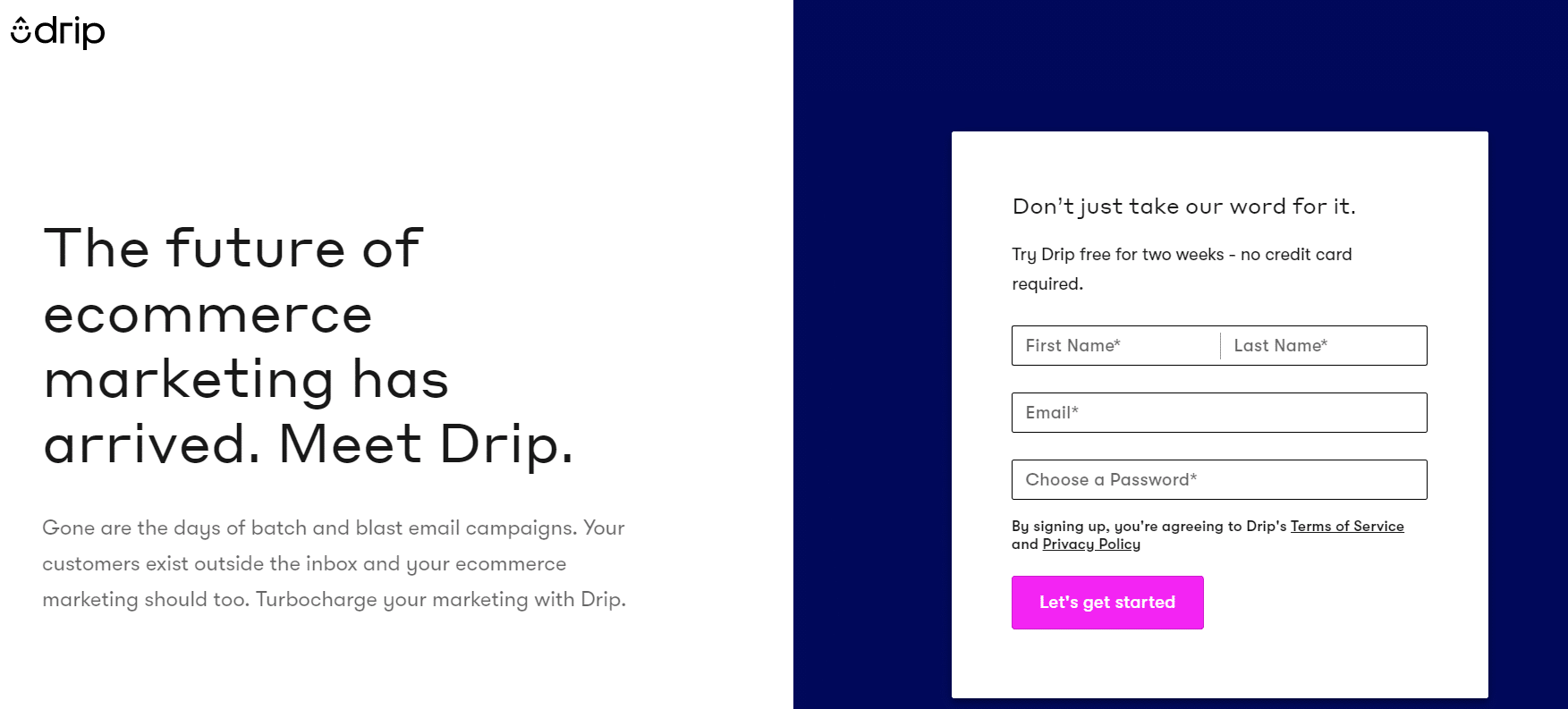 Compared to some of its competitors, Drip is on the pricier side. Plans start with a free trial. However, there are no Free Forever tiers. After the trial, you must pay based on the number of contacts you're sending emails to. The good news is that Drip's service is top-notch. The paid plans come with many features that can make all the difference in your marketing efforts.
It all starts with email building! Drip has a visual builder that anyone can use. You don't need coding knowledge to craft impactful messages. The builder prioritizes communication that feels personal. Emails are customized to the subscriber's behavior. You can send out reminders, product recommendations, dynamic discounts, and more. Not only that, but the language of the Drip email builder feels more human, giving the impression that it's a one-on-one conversation.
Like most email marketing services, Drip segments customers for easy personalization. However, Drip doesn't forget about visitors after they make a sale. Automation features continue to foster that relationship post-purchase to ensure that customers remain loyal to your brand for years to come.
Drip integrates with eCommerce platforms like Magento, Shopify, and WooCommerce. It also has a built-in sales CRM with tons of smaller native integrations. While it might be on the pricier side, the sheer number of features you get make Drip worth the consideration.
Conclusion
All of the email marketers reviewed here, including Mailchimp, offer their products via software as a service (SaaS) pricing models. This means that you can get a fully powered IT effect for your marketing efforts. You also save the million dollar IT and marketing budgets that you would incur otherwise if attempting to recreate these features in-house. Finding the right alternative is easy and just takes a comprehensive look at which features, support and service match your needs.
The following two tabs change content below.
Jamie Spencer
My name is Jamie Spencer and I have spent the past 10 years building money making blogs. After growing tired of the 9-5, commuting and never seeing my family I decided that I wanted to make some changes and launched my first blog. Since then I have launched lots of successful niche blogs and after selling my survivalist blog I decided to teach other people how to do the same.
Latest posts by Jamie Spencer (see all)